As much as we were in desperate need of sleep, the bus taking us the Tierra del Fuego National Park and to see the End of the World was going to be picking us up at 0750 and we had to have our bags all packed in in reception, be checked out and had our breakfast by the time the bus arrived – which meant another stupid early start with not enough sleep.
But we got there. Dressed, packed, checked out, bags in reception, breakfasted and ready for exactly 0750 on the dot. We then pottered around town picking up passengers from other hotels before heading directly to the Tierra del Fuego train station. I wrote quite a lot about the history of the prison train that operates in the Park and how it is now used to ferry tourists around, last time I was here so instead of repeating myself… here's a handy link for anyone who is interested in the history…   <cheeky re-used blog post>  😛
I decided to take the train in again – it was a beautiful trip last time and a beautiful day today, so why not. The train has a multilingual audio guide and we had a very noisy group of German tourists behind us last year when I was on the train, so I was hopeful of hearing more of the commentary this time. Alas, it was not to be, this time we had a bunch of inconsiderate Italians who wouldn't shut the hell up when languages they didn't need were coming across the PA system. Oh well… so be it. :/  Have I mentioned how much I hate tourists? Yes, I know, probably only every other post – but travel would be awesome without other tourists about.
The park was still beautiful and in spite of not being able to hear most of the commentary… again!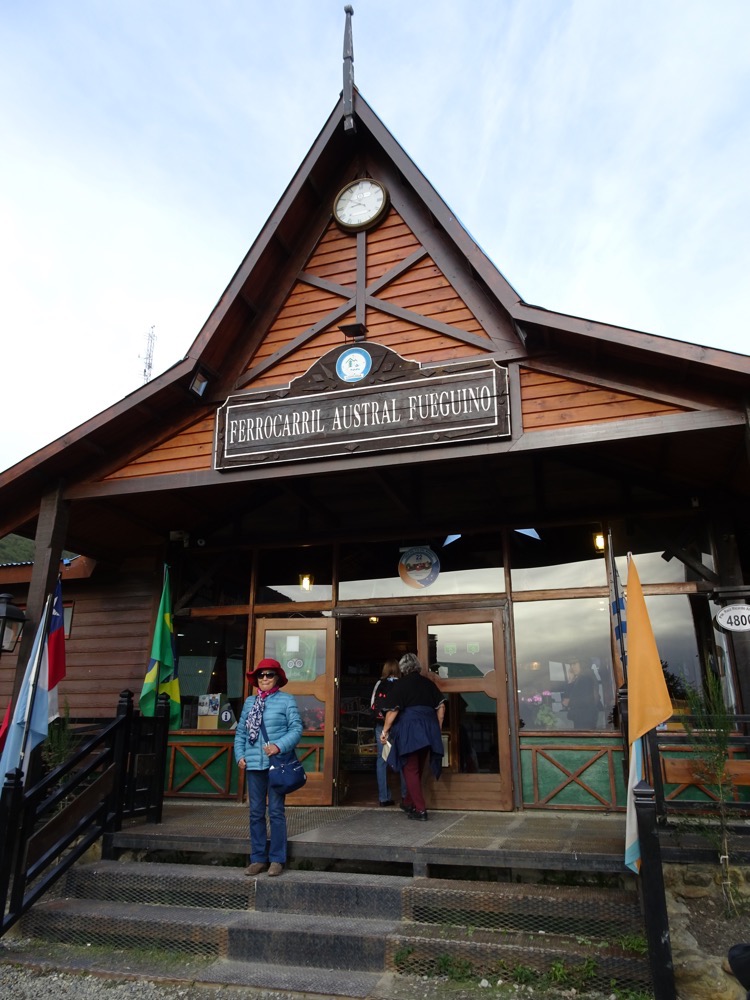 Okay – I can't explain this, but when I went into my travel wallet to dig up some currency to pay for our train tickets, of all the pieces of paper and entry tickets to all the museums and attractions I have been over the last year (from Hong Kong to Moscow, from Rio to Stockholm, from Tokyo to Vancouver) for some reason, I seem to have kept my ticket for this very train trip from February last year…  😮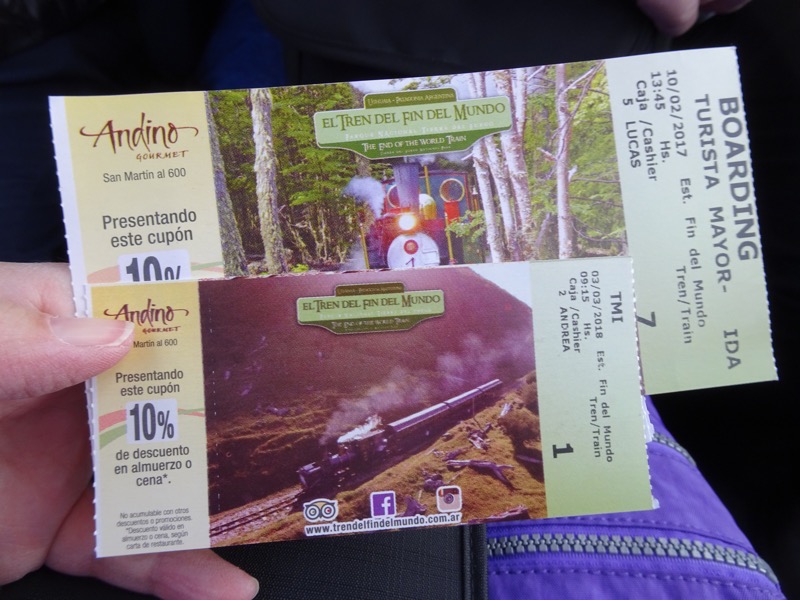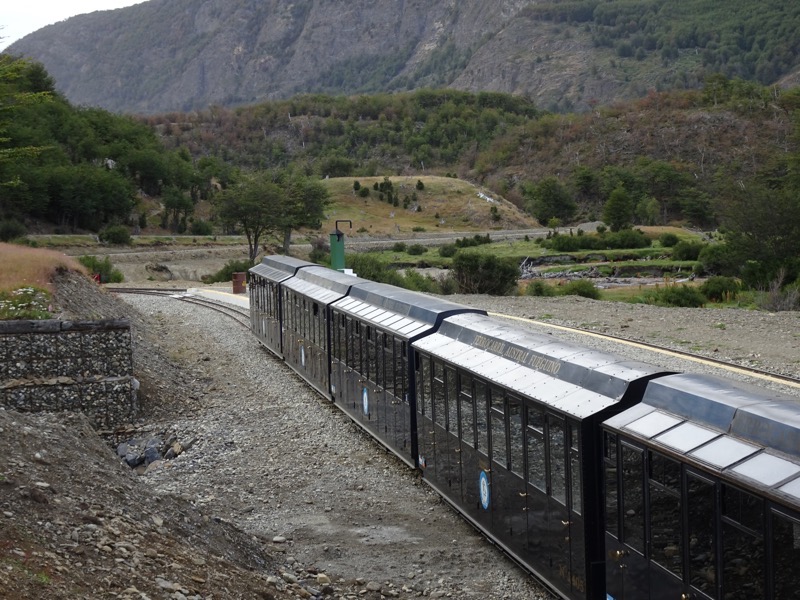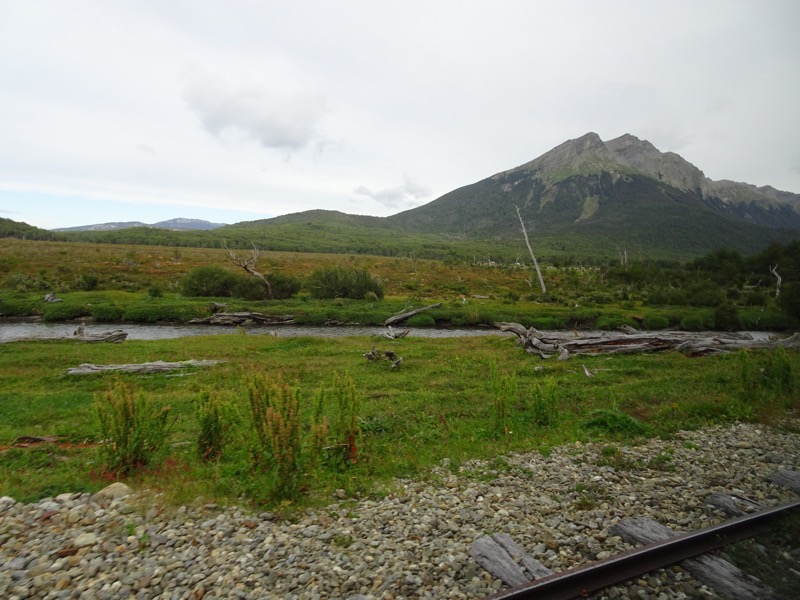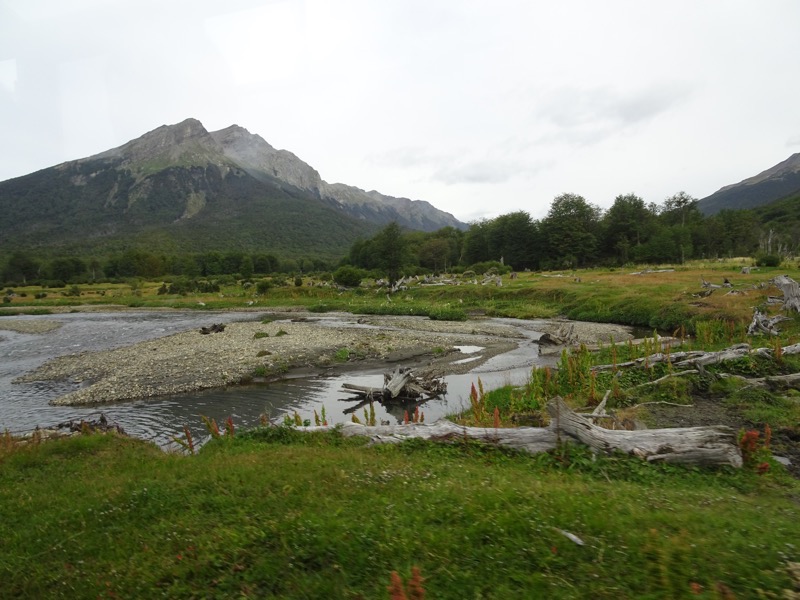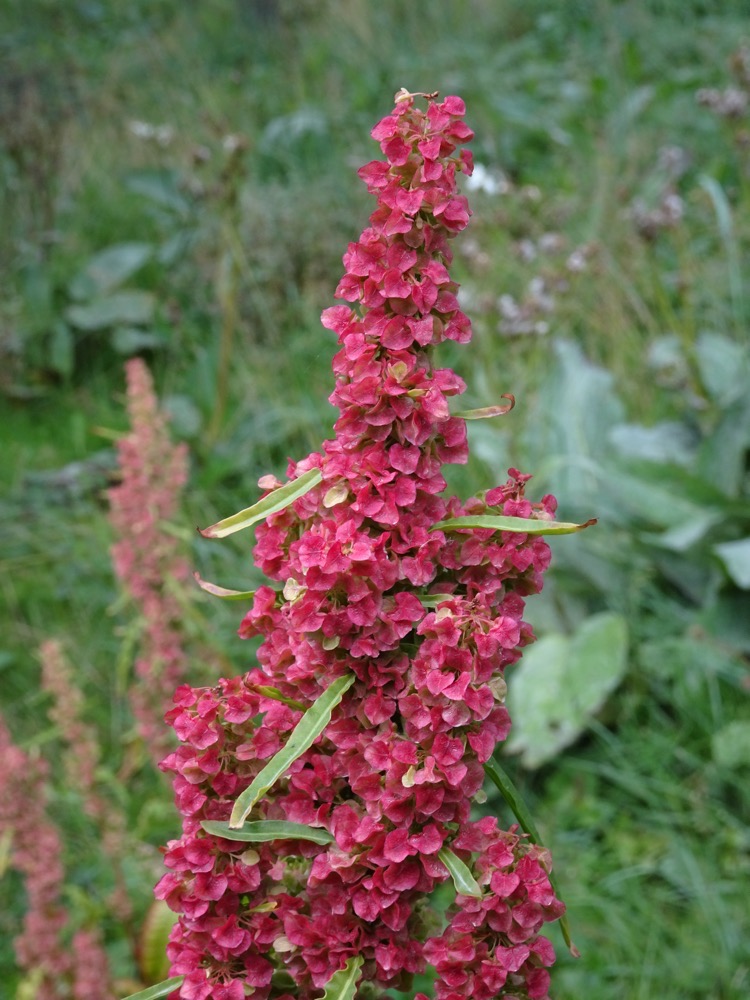 After the train ride, we met back up with our guide, Mikaela and head to Lake Agamaco to the exact same spot I visited last year. This tour we walked from the lake through to the large Visitor's Centre across the boggy peat around the lake. The walk was only about 20 mins long but we had a beautiful fresh breeze and gorgeous blue skies.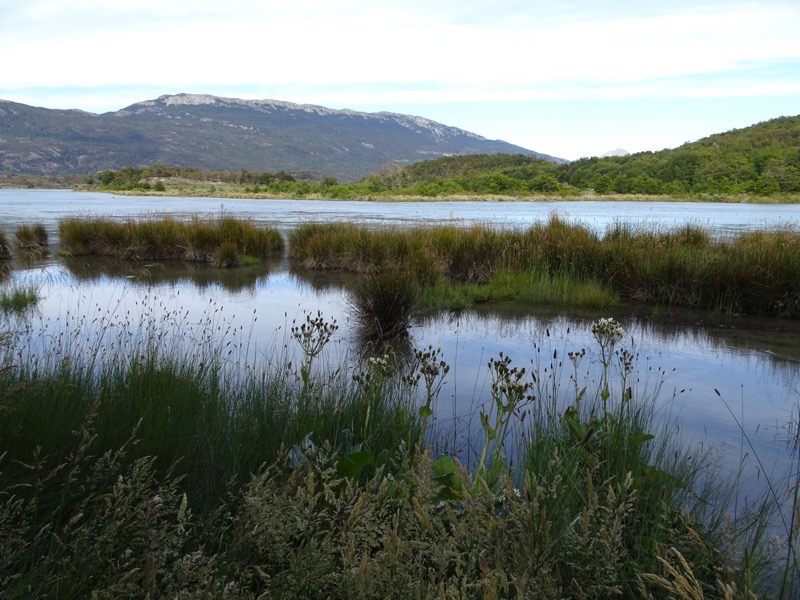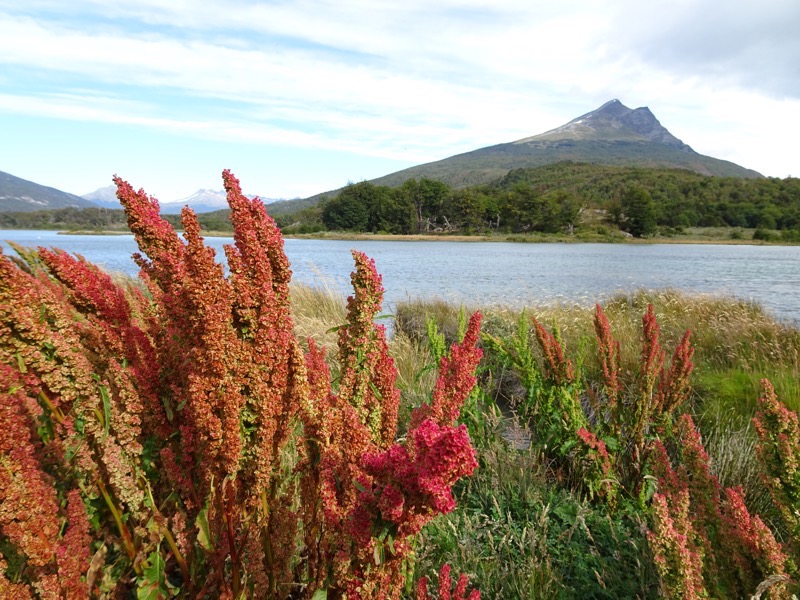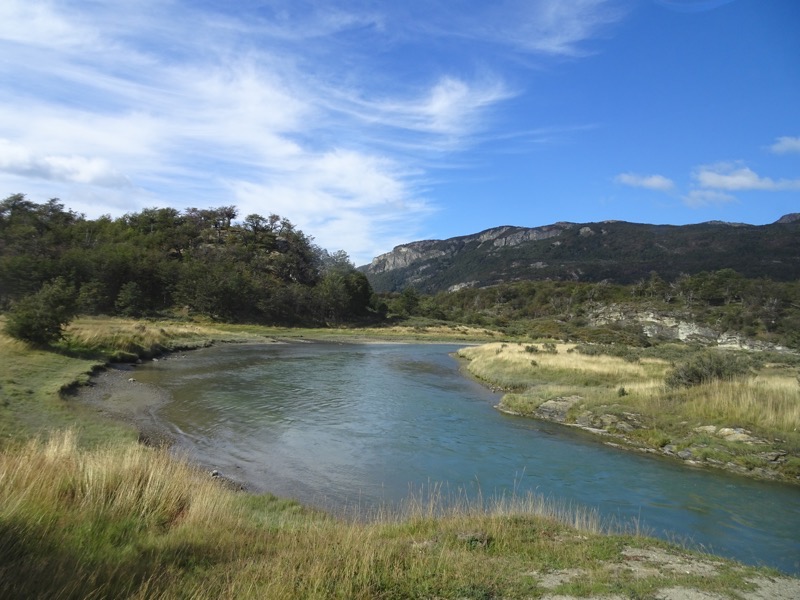 At the visitor's centre, which was packed for some reason, we had *the* most amazing hot chocolates ever, and a quick look around the museum/gift shop before hopping back on the bus for the picturesque drive down to the boardwalk at the End of the World.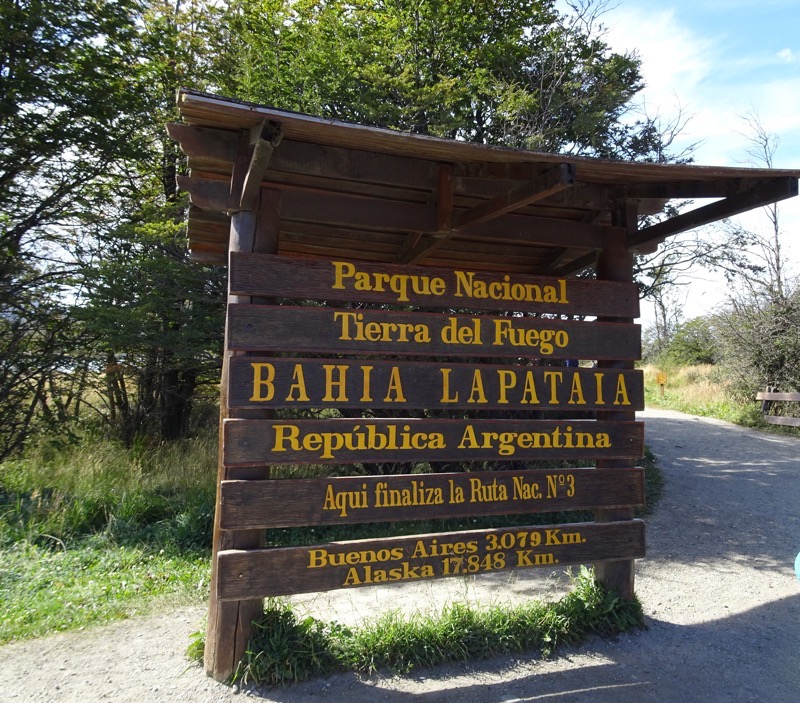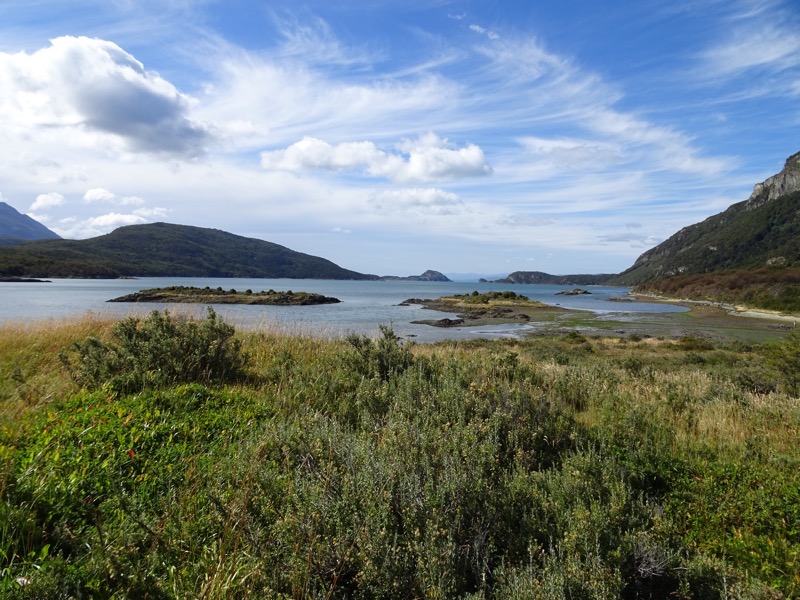 When I was here last year we arrived in this beautiful place and there was just our group of barely twelve people – today there were busloads of people here. Everyone was jostling to have their photo taken in front of the famous sign showing how far it is to Alaska, and then they were jostling for positions along the barriers to have their photos taken in front of the view. It's still an amazingly beautiful place, but decidedly less serene than my last visit.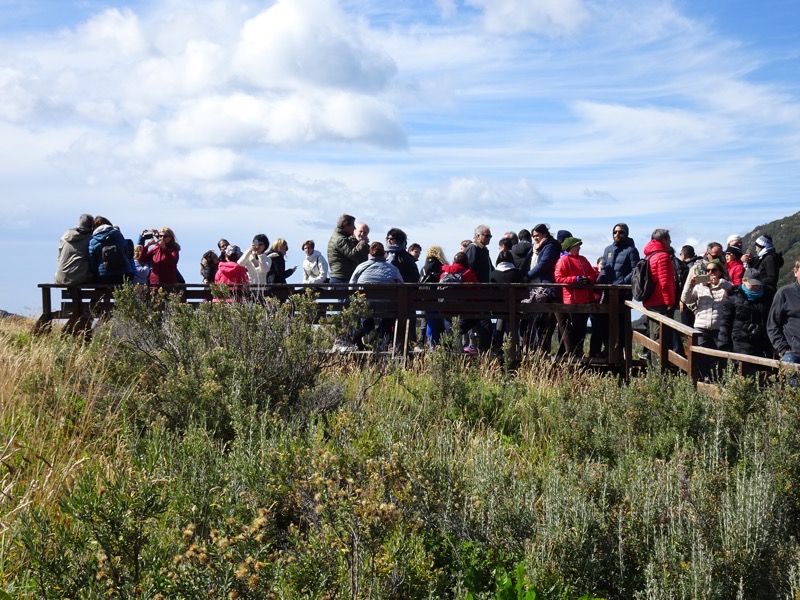 As a side note, I now quite strongly believe that whoever invented those Selfie Stick things should end up in Shepherd Book's 'Special Circle of Hell', which as you all know is reserved for child molesters and people who talk in the cinema – and now the inventor of Selfie Sticks.  People, when you travel, stop waving those things around inconsiderately – be social and ask someone nearby to take your photo, most of the time people are only too happy to oblige. </rant>
I am kinda pinching myself a bit today; I distinctly remember being here last year and thinking, "I want to just drink this place all in, I don't imagine I'll ever be back here."  The End of the World is singularly beautiful and I was so glad to be back here admiring the view again and looking at the gorgeous cloud formations, in spite of the crowds of pushy tourists.  Seriously – click on this picture, or right click and open it in a new tab or something to see it in a decent size, it is so beautiful here…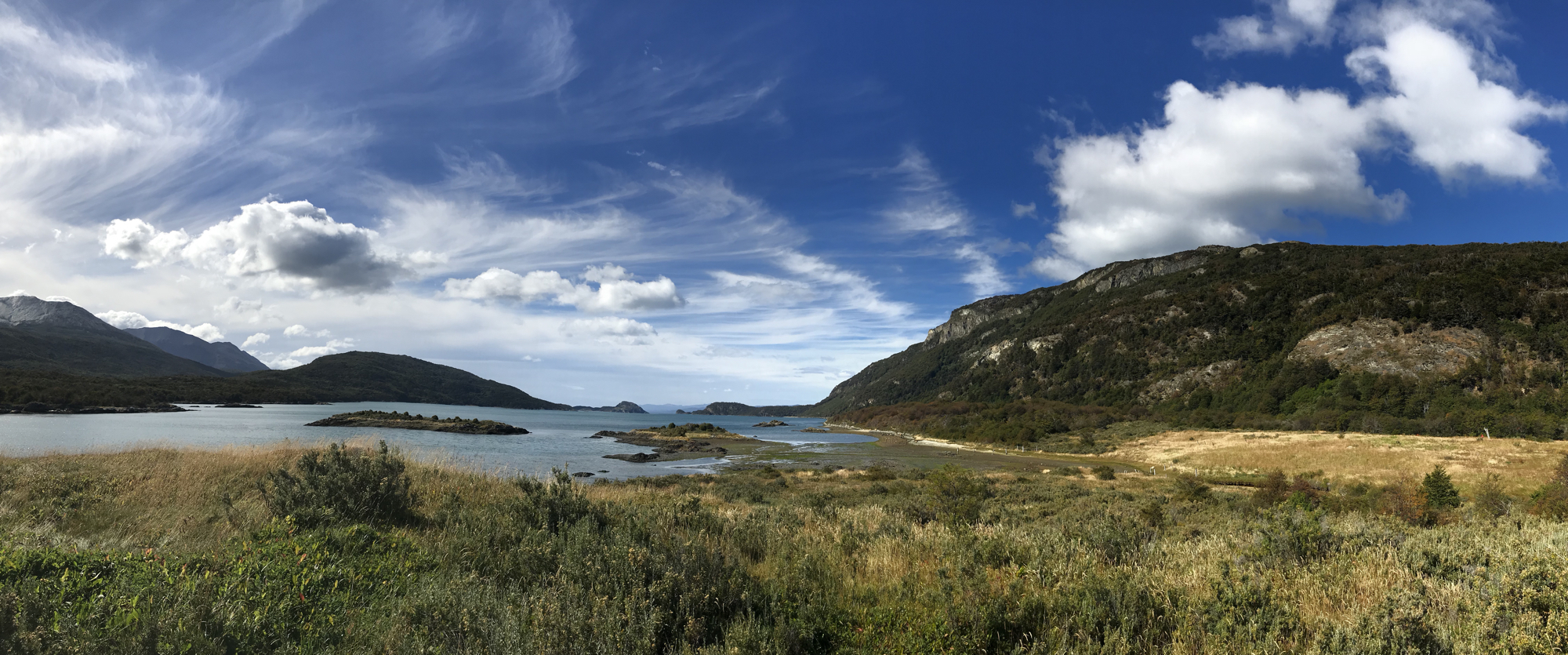 We head back into town after our walk around the End of the World and had about an hour before we had to head to our meeting point to embark the Ocean Diamond to begin our expedition. We decided to quickly find a few last minute supplies and then head back to the bar at the hotel we had stayed at last night because we knew they had reliable wifi and well… we already had the password. 🙂  The internet on the ship was a bit of a mystery – we had no idea how much it would cost or how reliable the access would be, so we figured we better say our goodbyes and send last-minute messages while we could.
So – what can you expect on a Quark Polar Expedition? We all still had absolutely no idea, but we were about to find out.
Eventually, 3:30 pm rolled around and we went down to the meeting point near the dock. We were filed onto buses and driven around the block into the commercial port area.   There waiting for us was our Quark Expeditions, Ocean Diamond expedition ship. The atmosphere was a mix of excitement and anticipation with a palpable sense of apprehension… see, no one of really knows what to expect from this trip – once we were on the ship we are entirely in the hands of the expedition staff and no one appeared to have had done this type of trip before.  Antarctica really is a once in a lifetime experience it would seem.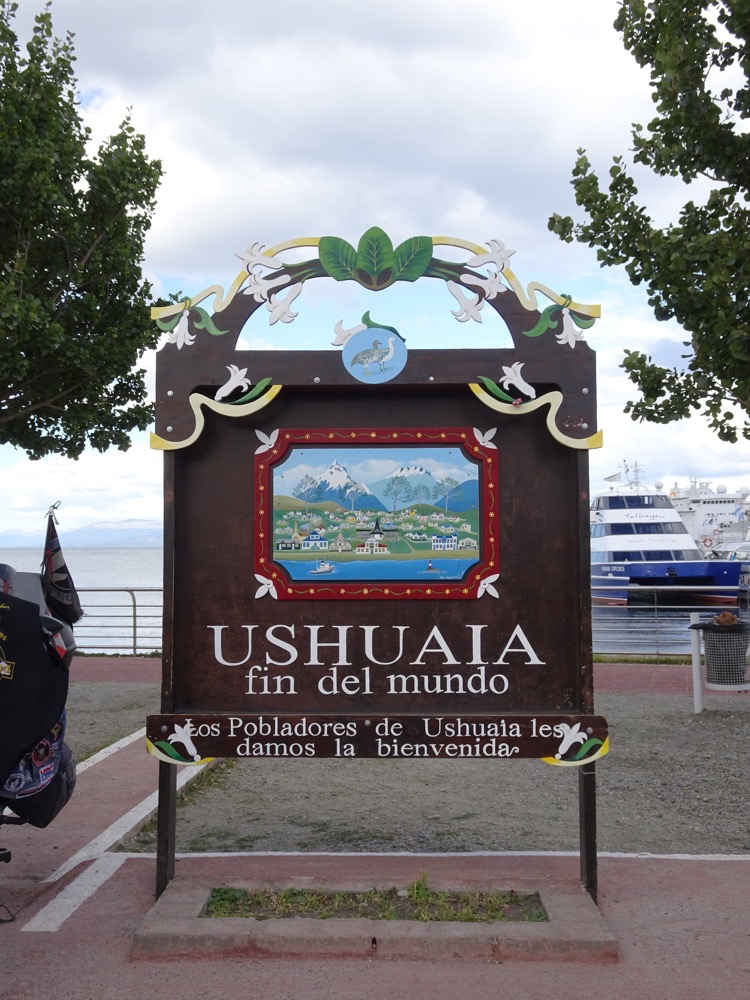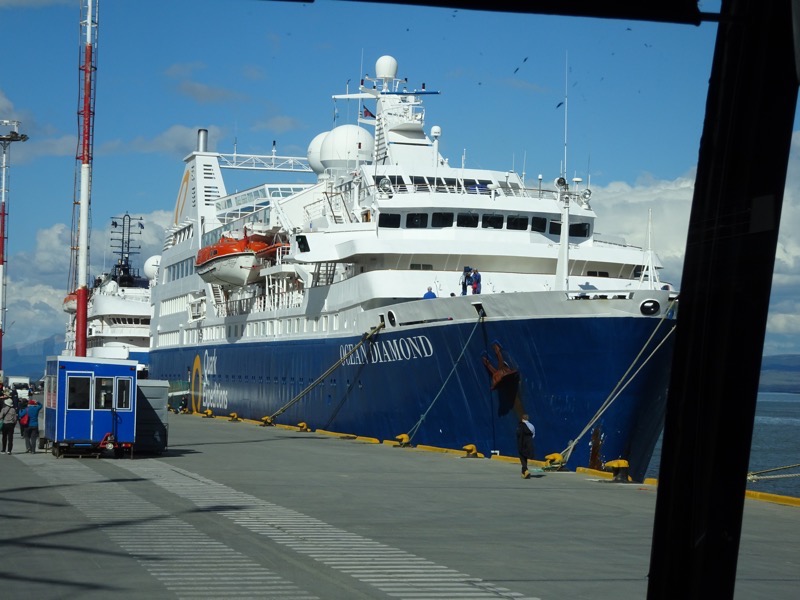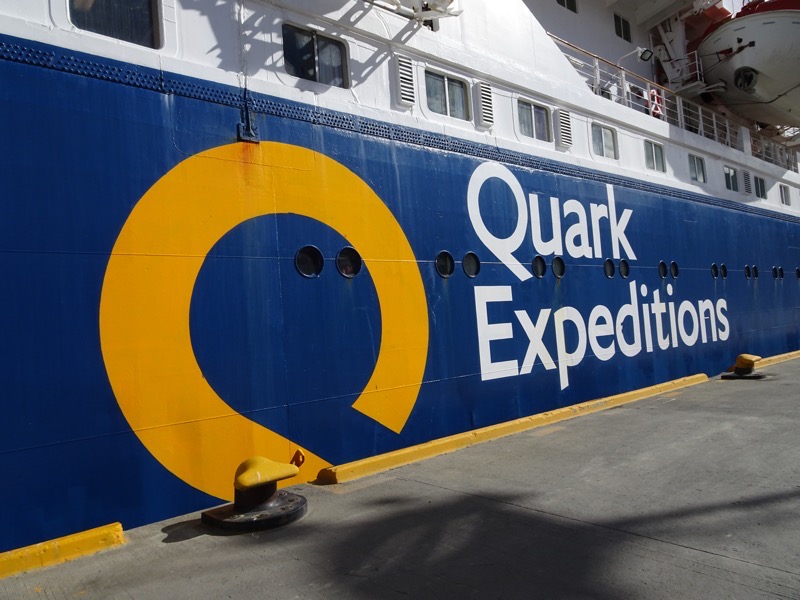 We were greeted by staff at the door and given our room keys and cruise cards, then escorted to our cabins to ensure our baggage had arrived. Our room is very cool – nice and larger than your average twin oceanview cabin.  It's well appointed and tastefully decorated – complete with cool penguin photos on the walls.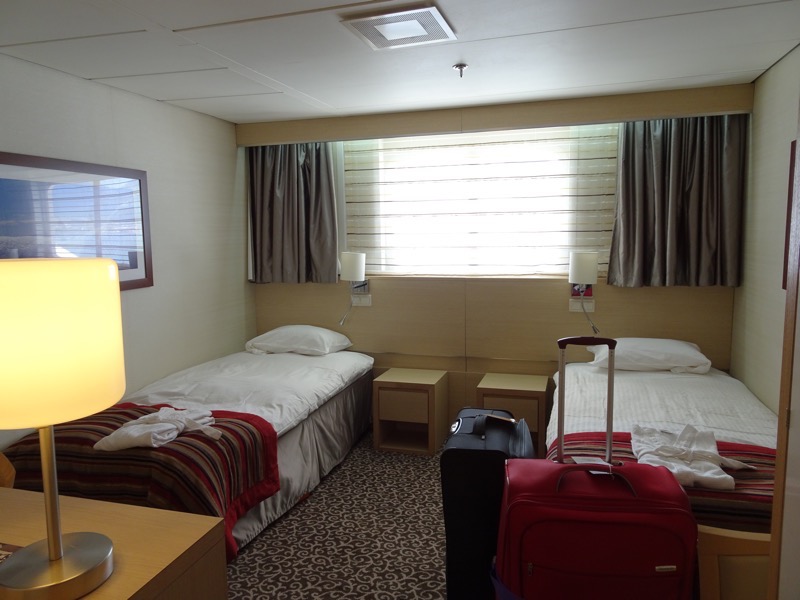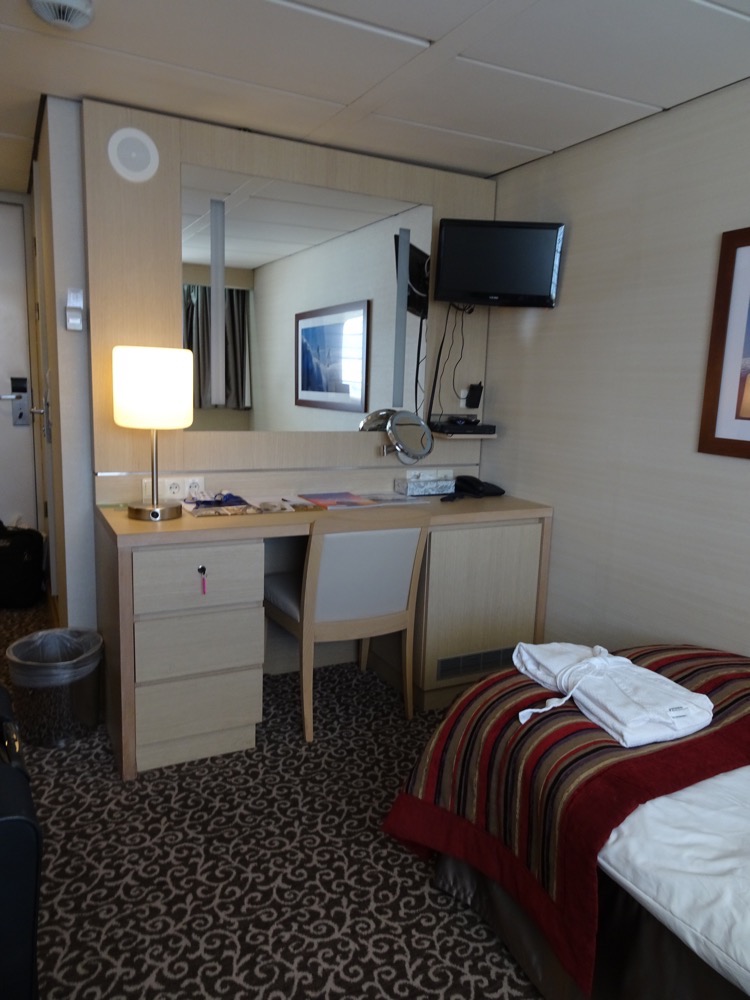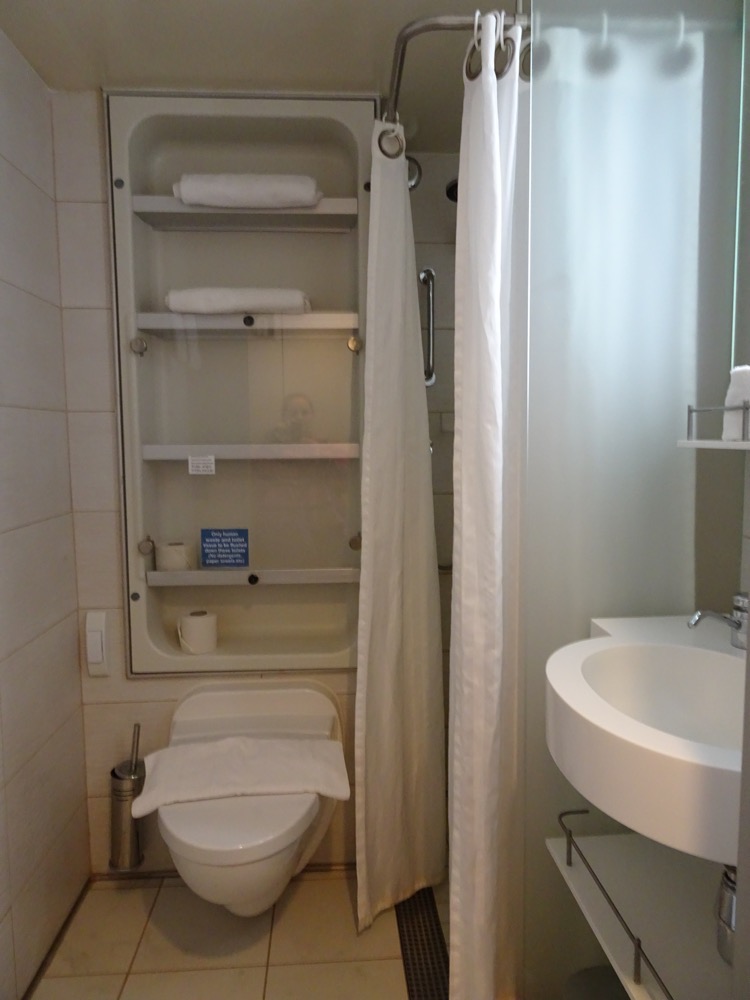 After this, we had our first briefing, where we were introduced to the Expedition Crew, which is comprised of about 20 polar experts from all over the world – geologists, ornithologists, marine biologists, a historian and all sorts. I will post up all their bios on a separate page or I'll get too distracted. They are an extremely well-qualified bunch and it was rapidly apparent that they seriously enjoyed their jobs and were full of enthusiasm for the expedition even though they have all done it many times before. We dispersed from our initial briefing to go unpack, check all our luggage items had arrived and to await a safety drill that would be happening in the early evening.
We stored all our stuff carefully in anticipation of the dreaded crossing of the Drake Passage, and explored the ship a little – it is a beautiful small ship, with the Main Lounge for lectures, a Club Bar for recreating, a Dining Room large enough to seat everyone on board at once, a small fitness centre, health and beauty Spa and a wee Gift Shop. With only seven floors, the gangways and Dining Room are on Deck 3 and our cabin on Deck 6, so I could foresee a lot of stairs in our immediate future. 🙂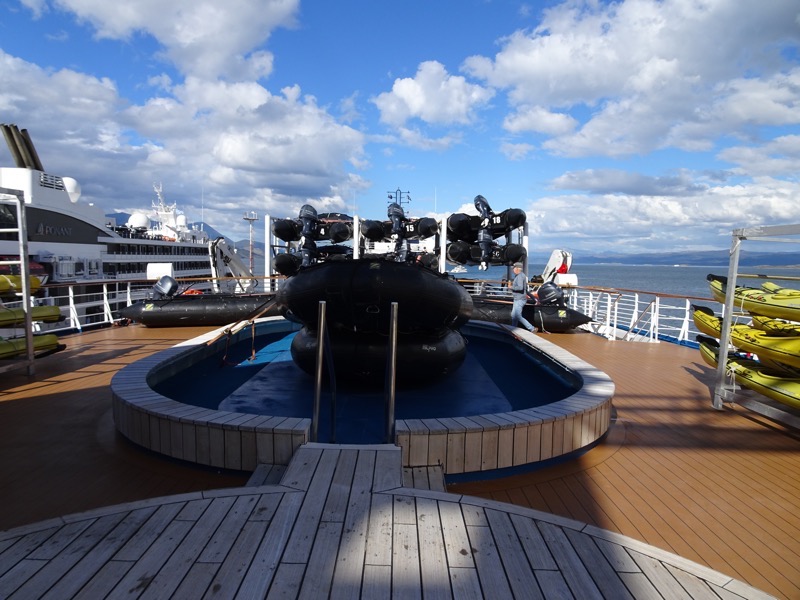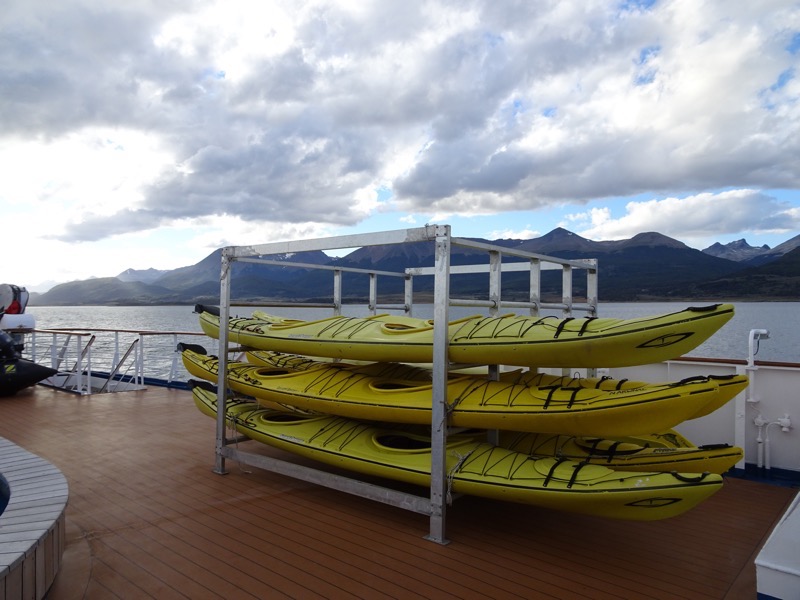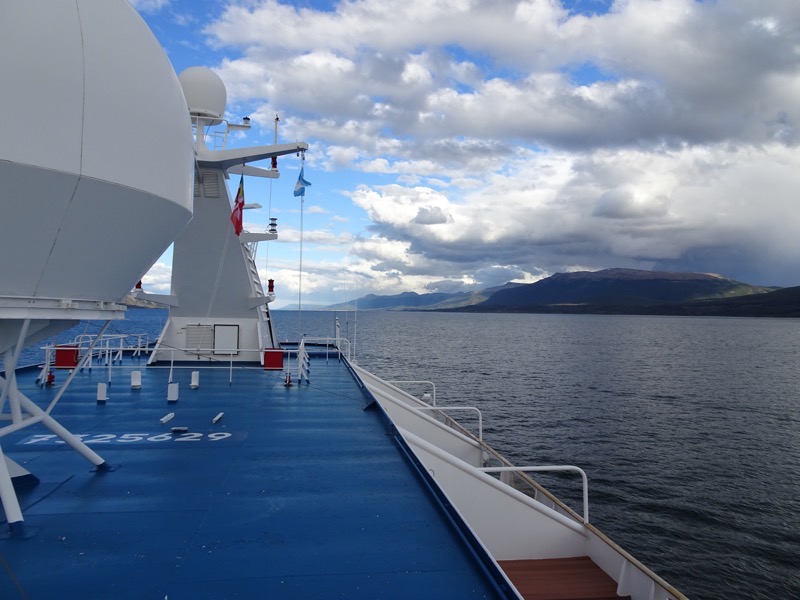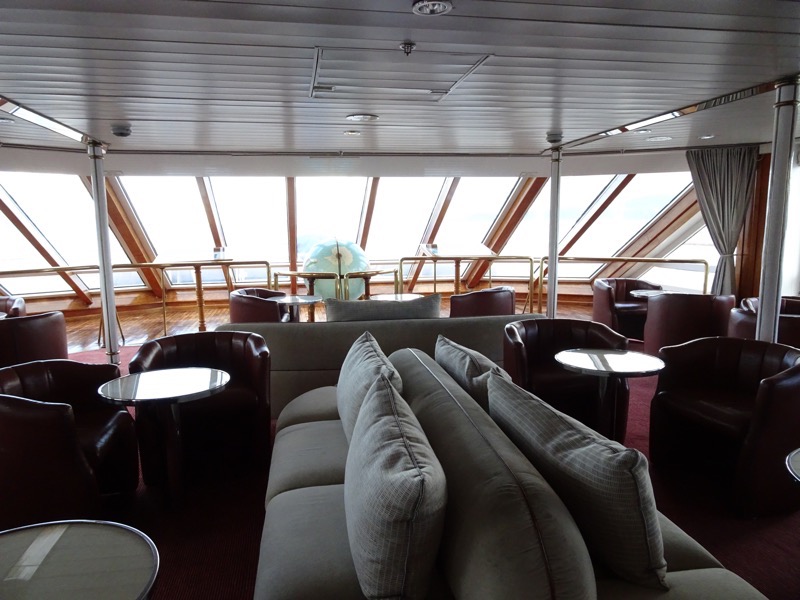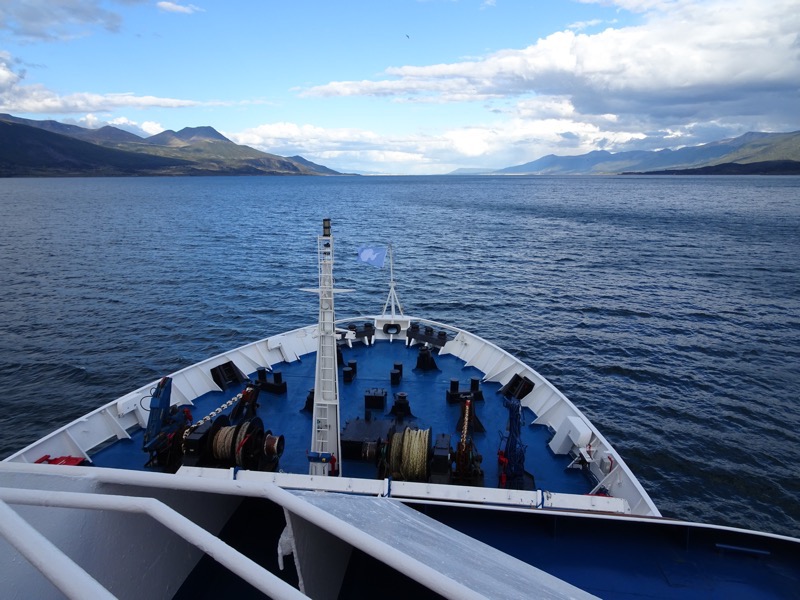 Safety drill was simple and pretty much as per every other ship safety drill I had done. We drilled in the Main Lounge with our life jackets and listened carefully to instructions about our muster points and what to do in case of emergency.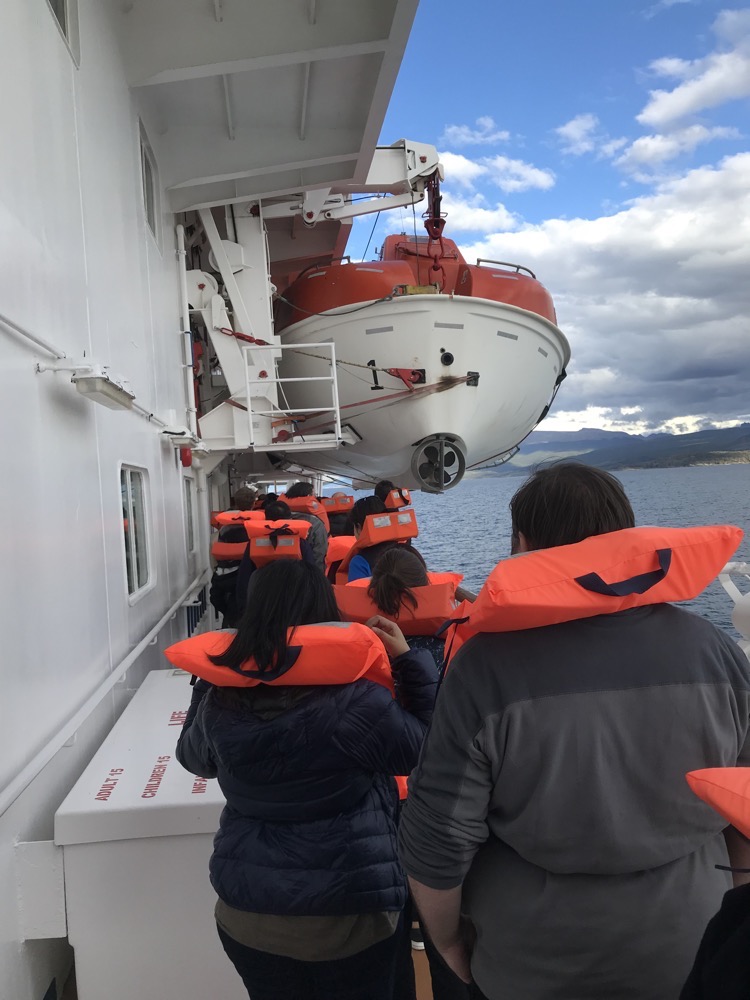 We were then shepherded down to our designated lifeboats where we were waiting for the crew to do their drills before we would be given the 'Okay' to head back inside.
While we were standing around underneath a happily very well secured lifeboat, waiting in our lifejackets for the drill to finish and some typical traveller small talk type conversations were happening around us – and while the following conversation is remarkable, it is also increasingly commonplace if you are a travelling Australian.
It went something like this:
Polite Man: "So, where are you guys from*?"
Me: (noting his Austrailian accent, I answered more local) "We're from Brisbane."
Polite Man:  Really? (with a smile) "We are from just up the range, in Toowoomba."
My Mum: (laughing) "I grew up in Toowoomba!"
Me: (also laughing) "And I was born in Toowoomba."
Nearby Stranger, joining our conversation: "I'm from Toowoomba too!"
Me:  (grinning now) "No way!"
Polite Man: "Unbelievable!  We live in such-and-such-suburb."
Stranger: "OMG, I grew up in SameSuburb too! And went to the SameSuburb School!"
Polite Man's Wife (also laughing): "I used to teach at SameSuburb School!  But you are far too young for me to have taught you."
Stranger: "My Dad used to teach at Same Suburb School too! Do you know Jeff H.?"
Polite Man & Polite Man's wife: "Yes! We know Jeff and Kate H… so that must make you, Jessica H.! Oh my! You know, I was just talking to your father before Christmas and… etc."
Talk about a 'Small World'… Happens on nearly every trip – someone runs into someone they know from a past job or an old school friend or an SCA acquaintance. It was a lot of fun to see this interaction unfold, with everyone shaking their heads at the coincidence of running into someone they were so closely connected to, some13,000 kilometres from home.
*Without variation, every single conversation between travellers start like this, by the way – "So, where are you from?"  🙂
Then it was time to be returning our lifejackets to our cabins and before long we were being summoned back to the Main Lounge to be issued with our official Quark Expeditions Polar Parka. Quark have for many years now issued their passengers with a parka of their own design for passengers to for use during the voyage, and which passengers get to take home to keep. I dare say it has stemmed from a recurring problem of people turning up ill-equipped to deal with the conditions here, and then over time has resulted in a jacket that best suits the type of zodiac expeditions that passengers will be taking part in every day – it is waterproof, insulated, hooded, has a pocket for room keys and plenty of snaps, bells and whistles. Very fancy, very warm and very bright fucking yellow. I dare say I will be very grateful for it over the next couple of weeks, but it is unlikely to ever see the light of day once I get back to Australia – so I opted for a Men's L size jacket which is long enough to keep my butt warm and will perhaps make a good ski jacket for Mr K down the track. Besides, yellow is so not my colour!  (NB:  That is Pato photobombing in the background, we will find out more about Pato later).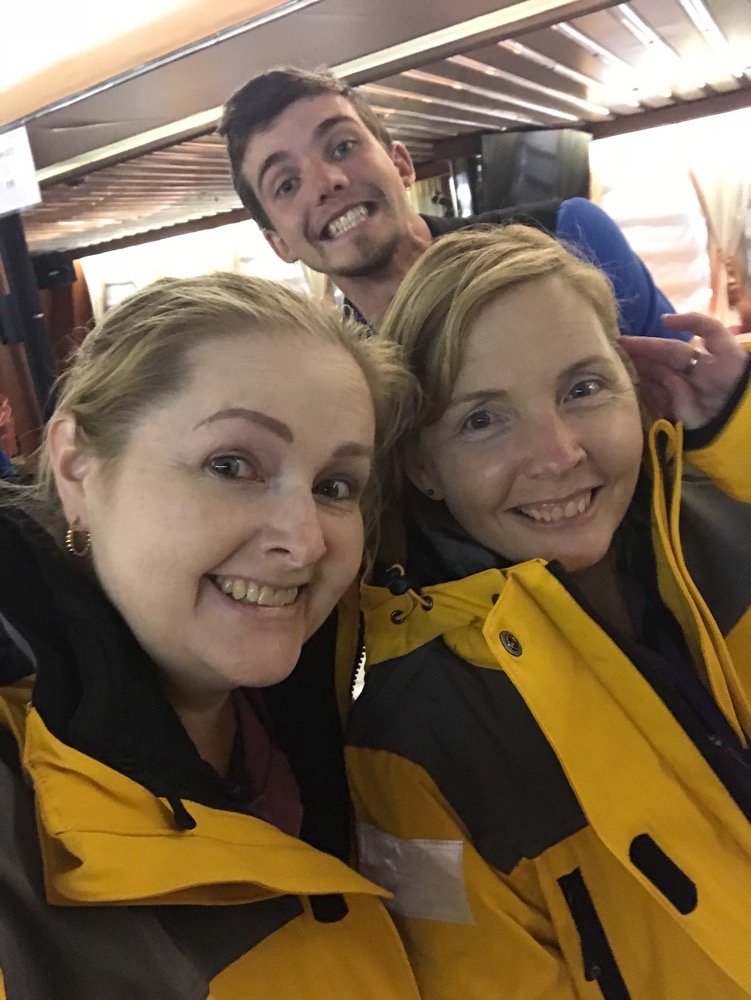 Before we knew it, it was time for dinner. At 7:30 we were greeted personally by the Maitre D'Hotel (Alex from Ukraine) and shown to a table with a very friendly waiter named Paulo.  We were treated to a lovely five-course meal with complimentary beer, wine and soft drinks to accompany our meals.
The sea was obviously expected to get a little rougher later tonight and we found this out in the traditional manner of passenger ships – sick bags had been placed in the stairwells for any guests who unexpectedly started to feel green around the gills!  Ominously, an announcement also came over the PA system just after dinner that Dr Shannon, our onboard physician, would be in The Club after dinner handing our free seasickness medication for anyone who needed it…
All up an exhausting first day and we turned in fairly early being rocked to sleep in what turned out to be moderately rough seas overnight.  I love being at sea!