Arrived in Darwin yesterday – had a lovely and uneventful flight.  Business class worth every penny (well, QFF points, but same/same) for the Tall Guy who for the first time had leg room to spare.  A couple of piccolo bottles of sparkling and the flight passed quickly enough.
Darwin is quite the change from my recent cool and relaxing trip to Tasmania. It's hot and unpleasant, and feels very deserted – literally no one was around and the streets felt eerily empty, at both 2pm when we arrived as well as 8pm when we went out for dinner. 
There's more CCTV cameras than central London and more massage parlours per square inch than Bangkok – together these give a palpable sense of imminent violence and/or criminal activity.  With signs that say children are not allowed in stores without being accompanied by parents (and similar), the local business owners aren't exactly doing their bit to dispel this notion either…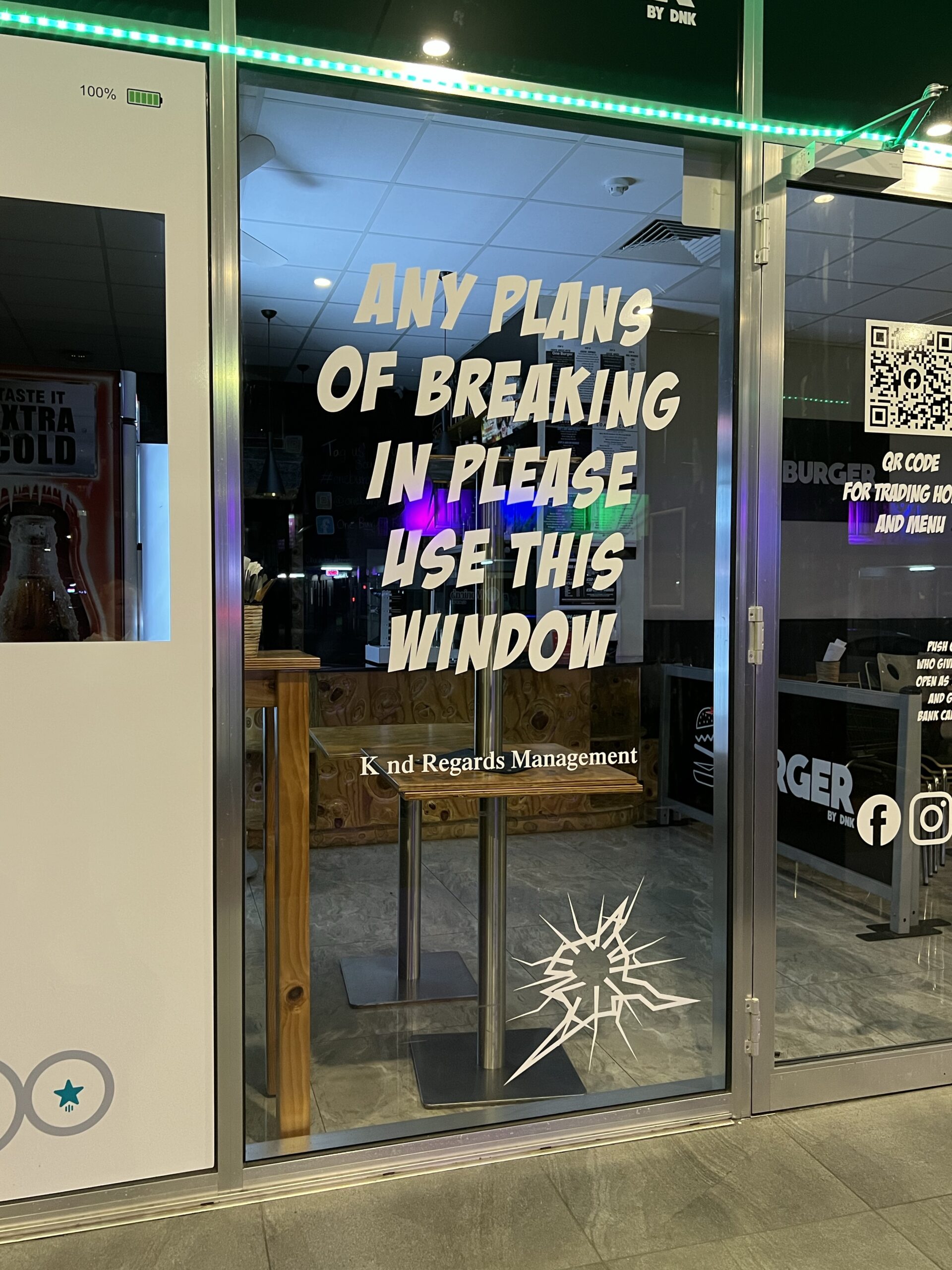 Had a late dinner reservation at a place called, 'Phat Mango' – was widely and positively reviewed as being a 'foodie favourite' in Darwin but actually was a bit of a disappointment.  The entire restaurant smelled of burnt olive oil from the moment we walked in, and every dish seemed to be deliberately charred.  For whatever reason, this restaurant that prides itself on local produce had exactly three seafood offerings – some barramundi (smoked and served cold; wasn't great), some king prawns (served charred with a nondescript creamy sauce) and peri-peri Spanish mackerel?! Go figure.  There was some kangaroo sausages (which of course, being kangaroo, fell into dry crumbly mince as soon as you cut it), a Brahman hump silverside bruschetta (served with some weird pickles that didn't complement the cold grey silverside), a beef marrow dish (which had oil drizzled all over it because marrow isn't rich enough?!).  For a 'local produce' restaurant – I was curious where all the buffalo, crocodile, emu the plethora of fresh fish options were?  We tried seven different dishes and shared them tapas style. None were super impressive. All up about 6/10, chef needs to buy a sous vide and branch away from the chargrilled everything.  
After our late dinner we wandered back to the hotel for a quiet night in… lest we be caught between all that CCTV, the heightened police and seemingly anticipated criminality of those visiting beautiful family friendly Darwin!
Thankfully, some friendly travellers named Mat and Iz left themselves logged into their Netflix account so we watched a rather good mini-series called 'Anatomy of a Scandal' (starring a rather sweary Michelle Dockery who we haven't seen this angsty since Cousin Matthew was killed in an automobile accident).
Tomorrow… I have BIG plans, (HUGE!), for staying out of the heat while we continue to wait for our train.
PS: thanks so much to the Branch Da-Gideons for their in-room bible… it's been super useful: as a support under our afternoon snackage of washed rind D'affinois, a block out for some annoying LEDs on the TV, a door stop for the odd plastic (?) bathroom door, a coaster and as a prop/chock to hold open the fridge cabinet which seemed to be overheating.