Generally speaking I don't like chocolate and can happily turn down chocolates, cake or slices and biscuits with no problems what so ever. I mean… there's a box of chocolates that I was given for Christmas that I opened last week and there's two chocolates eaten from the box so far and I have no desire to go eat the rest of them because they're really just too sweet.
There are however, some things that are just too yummy to exist and as such can not (and probably should not) be resisted if one is to maintain some semblance of mental health. One of these particularly therapeutic items is the White Chocolate Raspberry Creme Brulee they make at the 2 Small Rooms… or at least they used to make it there 🙁 But don't despair… we have their cookbook (silly, silly people selling their recipes of deliciousness for the measly sum of $35) and here 'tis…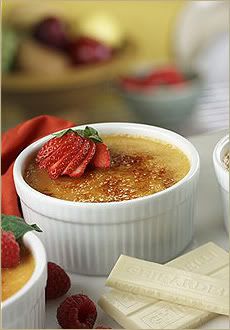 2 Small Rooms White Chocolate Creme Brulee
100gm white chocolate grated
300ml cream
8 egg yolks
100ml castor sugar
2 vanilla beans
6 tuile biscuits
castor sugar
2 punnets fresh raspberries
icing sugar
Split vanilla beans lengthways
Heat cream and vanilla beans gently (do not boil)
Whisk together egg yolks and sugar, add cream slowly to egg mix whisking continuously
Heat gently over a double boiler until mix reaches a custard consistency (25-30mins)
Stir in white chocolate until disolved
Place bowl over ice to cool remove vanilla beans after scraping out seeds into mix and stir gently to remove air bubbles
Spoon mix into ramekins and allow to set.
Lightly sprinkle castor sugar over the top of the ramekins
Spray with a little water and burn sugar with a blow torch until golden brown
Stack raspberries on side of plate and dust heavily with icing sugar
Prace brulees and tuile biscuits on plate and serve
Anyone got some time over the weekend to come cook? Oh and do you happen to have a handy blow torch in the shed?