We checked out of our Osaka hotel this morning and left behind another collection of empty saké bottles. Not sure what the cleaners might make of this, but I had fun!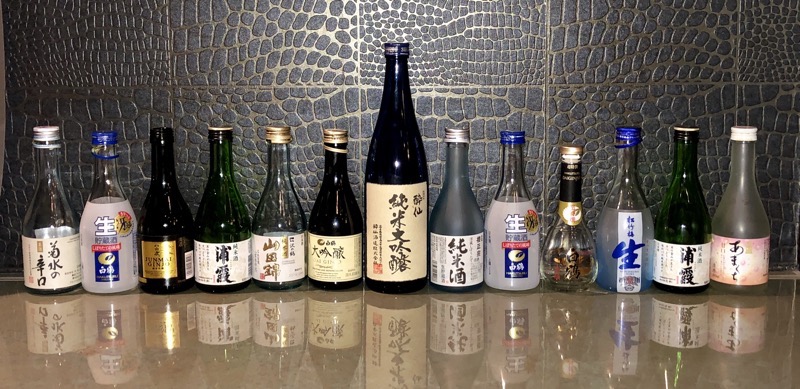 Today, we were leaving the Chuo Ward and heading to Osaka Station to put the bulk of our luggage into storage and head off for what we were hoping would be a seriously serene and very Japanese, traditional onsen (hot spring) experience in a ryokan (inn) in a town called Takatsuki.  Takatsuki is a town about the size of Toowoomba and roughly half-way between Osaka and Kyoto. But not before we did a spot of shopping at Osaka Station… it might sound odd to be shopping at a train station, but this particularly large station has two massive 13 and 11 floor shopping malls above it complete with food courts, restaurant halls, outdoor garden recreation areas – you name it.  We have been wondering what Japan's unemployment rate is like lately, (currently a seasonally adjusted 2.3%) because we keep seeing people doing jobs that just don't really exist at home… from elevator attendant, to gift wrappers, to doormen and taxi management staff. In one store I had four people assisting me to buy some chopsticks!  Everywhere feels overstaffed, it makes you wonder how companies are making any money.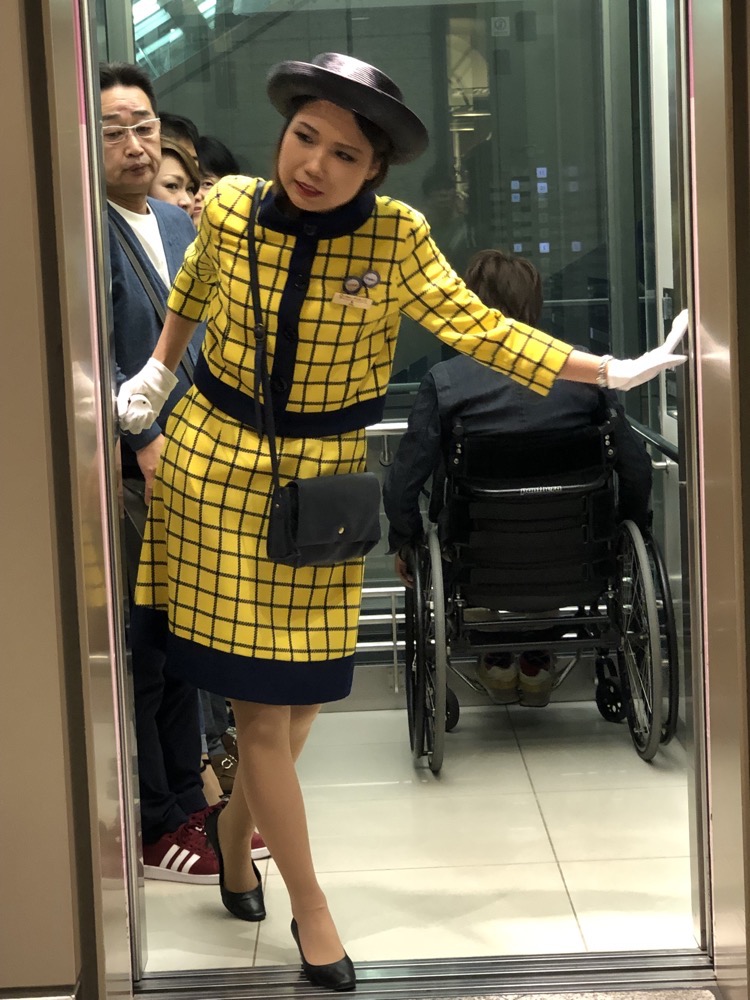 We did a bit of shopping and decided to stop for a nice lunch before taking our train out to Takatsuki.  The food in any large shopping mall or department store here is always confectionary, groceries and take out style food in the basement levels and more intimate cafes and restaurants on the uppermost levels – seems a bit counter-intuitive to me, if you can't find anything that takes your fancy, you find yourself traversing up to 12 floors of escalators to find the other food outlets.
We chose a restaurant specialising in beef dishes – and were pretty confident it was going to be good because there was a line 20 deep waiting to get in.
Mackerel 'cooked' in vinegar and salt.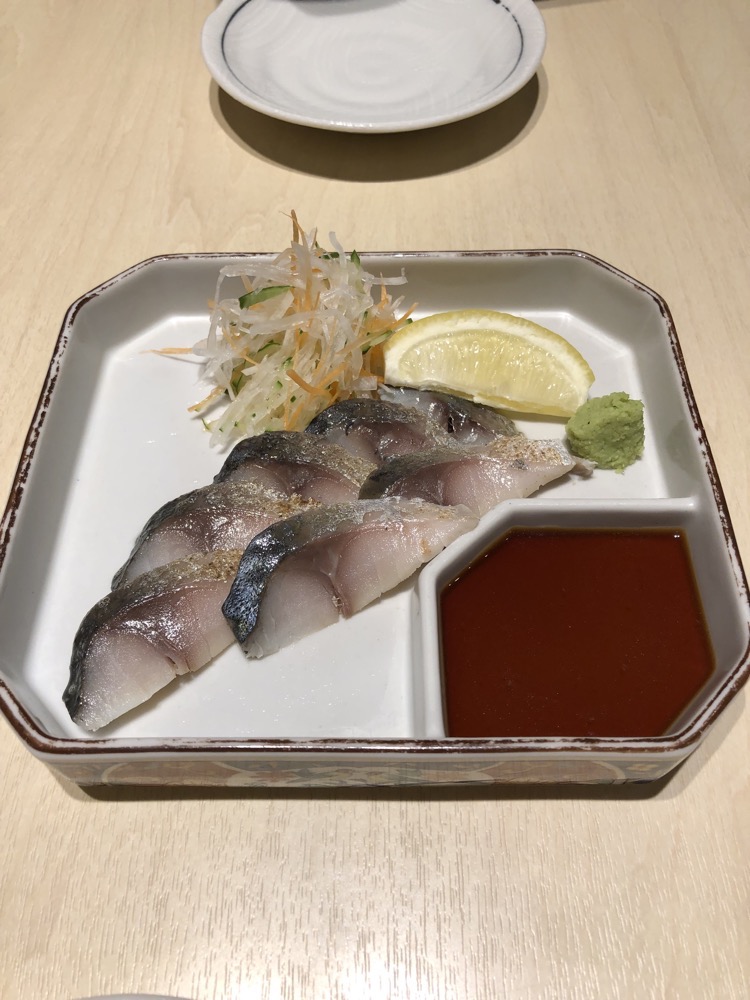 Fried tofu in some delicious but unknown sauce.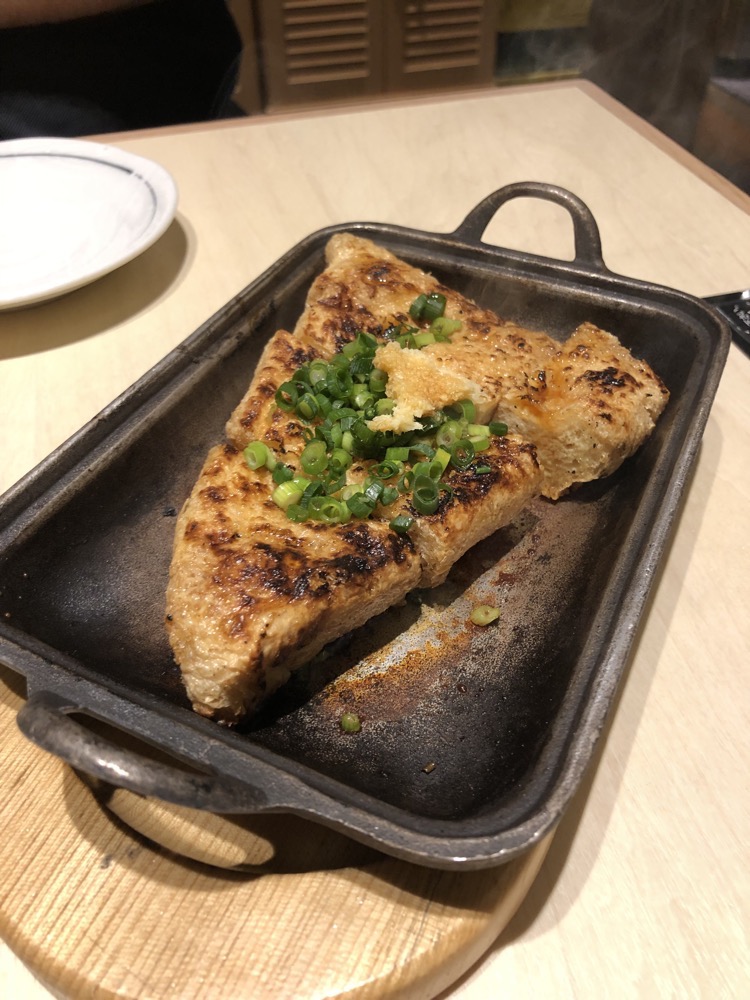 Beef three ways, beef stew, beef nibblets of some sort and seared beef tongue. It was really good.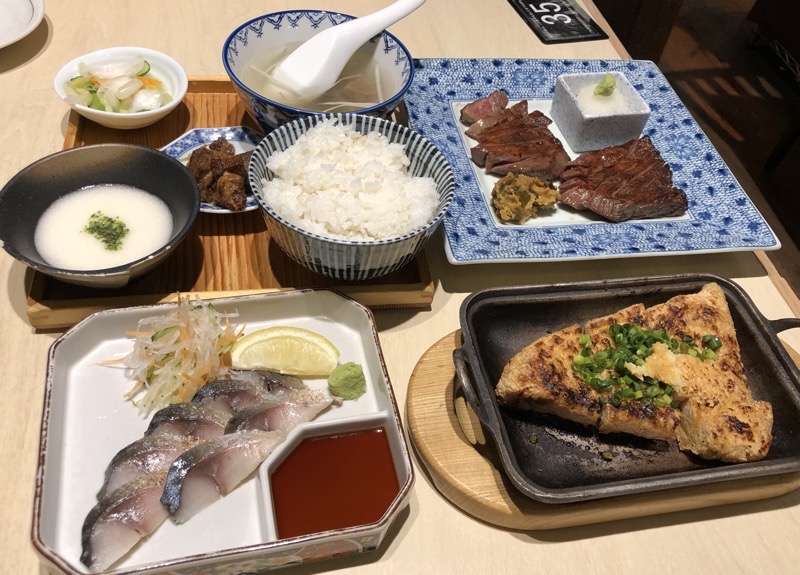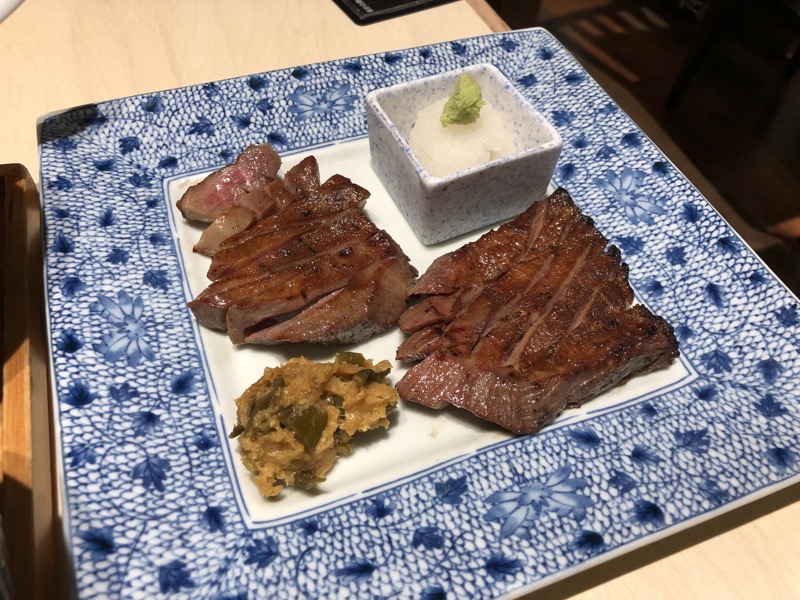 After lunch we made our way to the trains – yet again – and head out to the Sansuisan Ryokan in Takatsuki.  We had an uneventful train ride, though there was a pretty serious cockup at the other end.  We had requested a shuttle from the hotel to get us out to the onsen but were given no details where the shuttle bus meet-up point was.  When we called up about it, we encountered some pretty serious language barriers and couldn't make out what was going on. We ended up giving up and hopping a cab to get there, and on arrival were greeted by someone who told us that 'someone else had taken our shuttle who was booked in for tomorrow night not tonight'.  I kinda thought that missing the shuttle a lesser cock-up than turning up to a fully booked hotel on the wrong day and having to go away again… but it has made me determined to learn some useful Japanese before I come back here again.  "Please", "Thank you", "Excuse me", "How much is this, please?" and "Two sakes please" is just not enough to get by when the logistics start going pear-shaped.
We did, however, arrive safely and close enough to on time, so let's call that a win.  We were shown to our room and immediately treated to green tea and a rundown on which onsens were open for men, and which ones were open for women, and a discussion on how they would swap in the morning and to please check before entering any onsens!  Some yakutas (light indoor/summer kimono style gowns) and slippers were provided for our use during our stay, and I did some quick googling to make sure we didn't screw up on any onsen etiquette!  There is a great article here on ryokan and onsen etiquette, which I found pretty useful and took a bit of the mystery out of what to expect and how not to look like a boorish foreigner!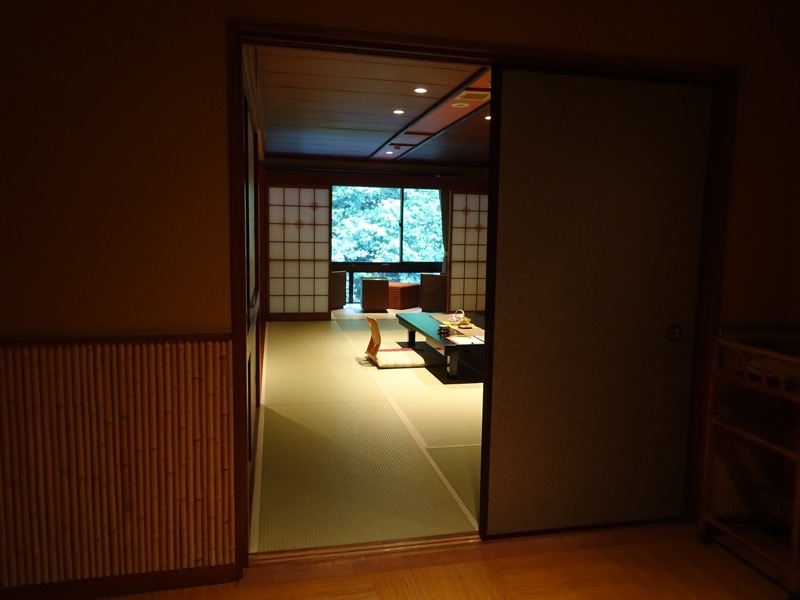 Our room made up for day use – later while we were dining someone would come in and set out futons for us… this seems like a great plan, as the room can accommodate one or half a dozen if needs be – none of this Western hotel 'family room with four beds' required type thing. The tatami mats are lovely to walk on, and it's socks or bare feet only once you step up into the room.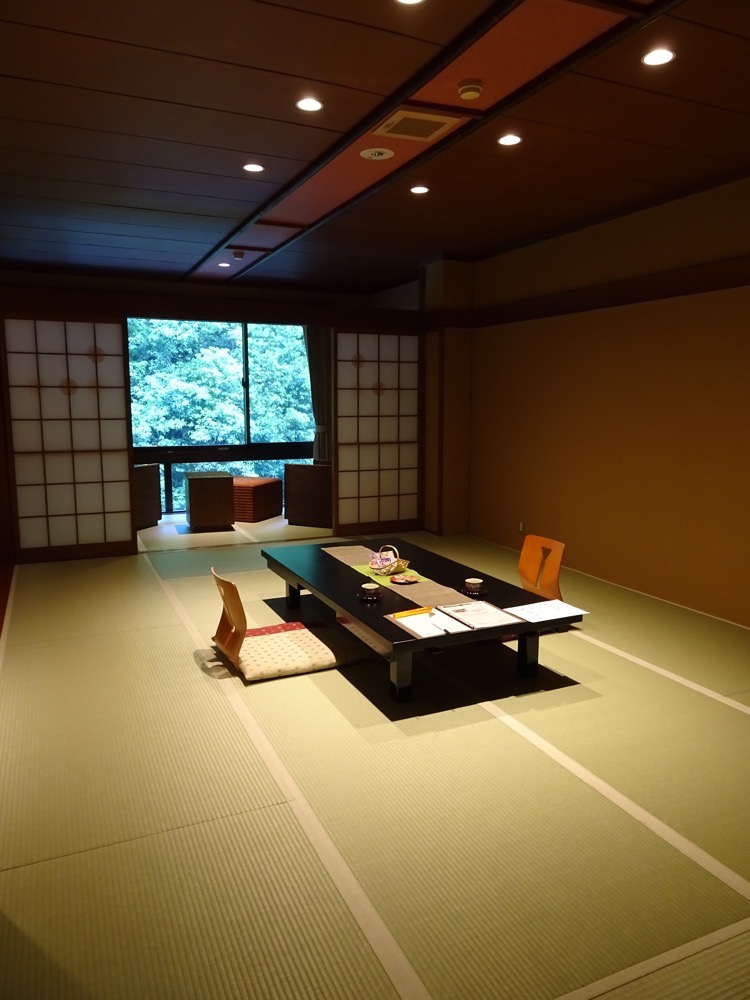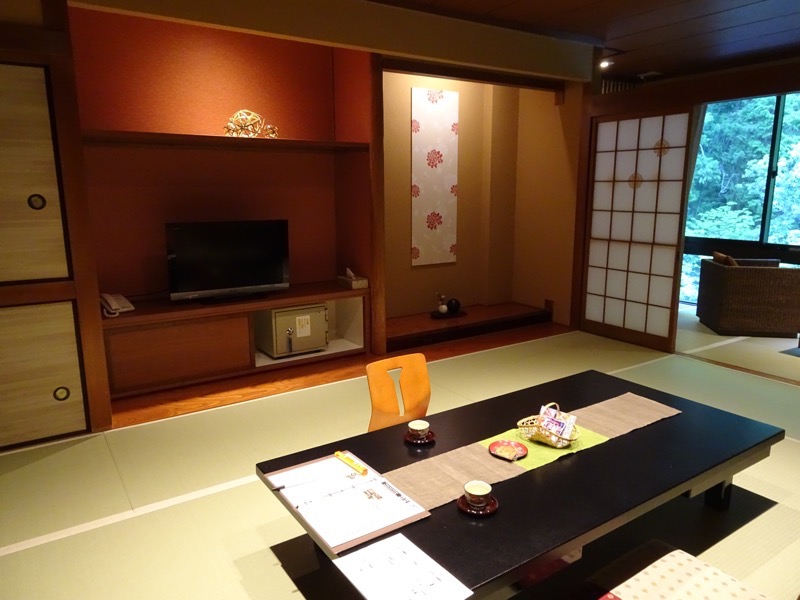 Our room had a view over the river and we could hear the moving water babbling outside the window all night.  We also saw many great cranes flying in and around the gorge.  It was truly very peaceful and relaxing after coming from the hustle and bustle of Osaka!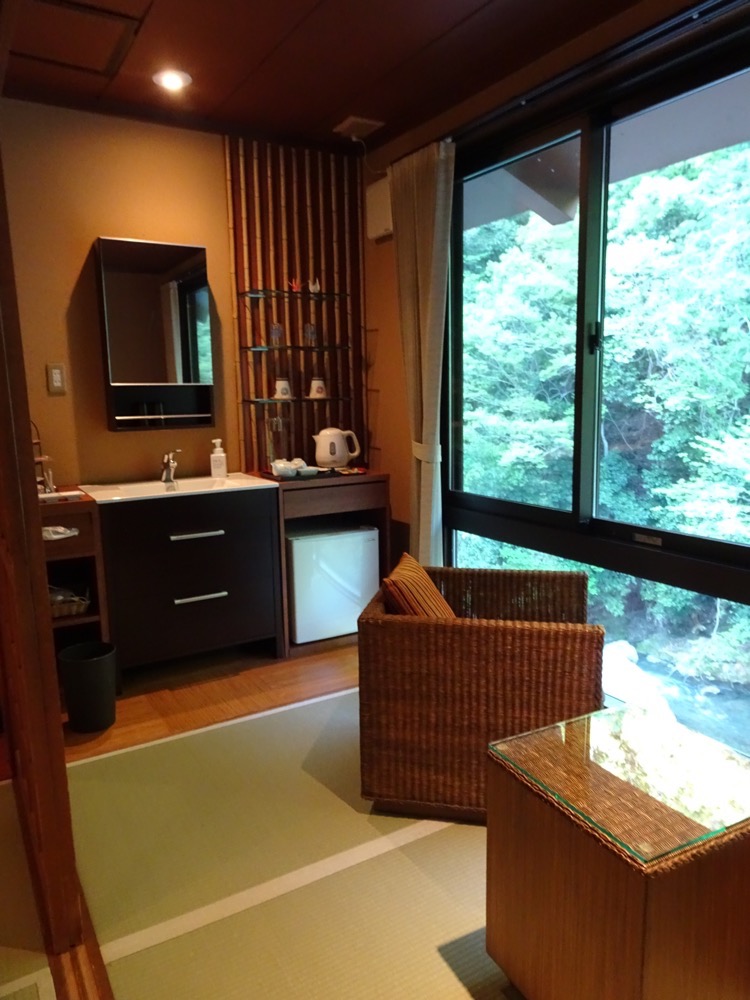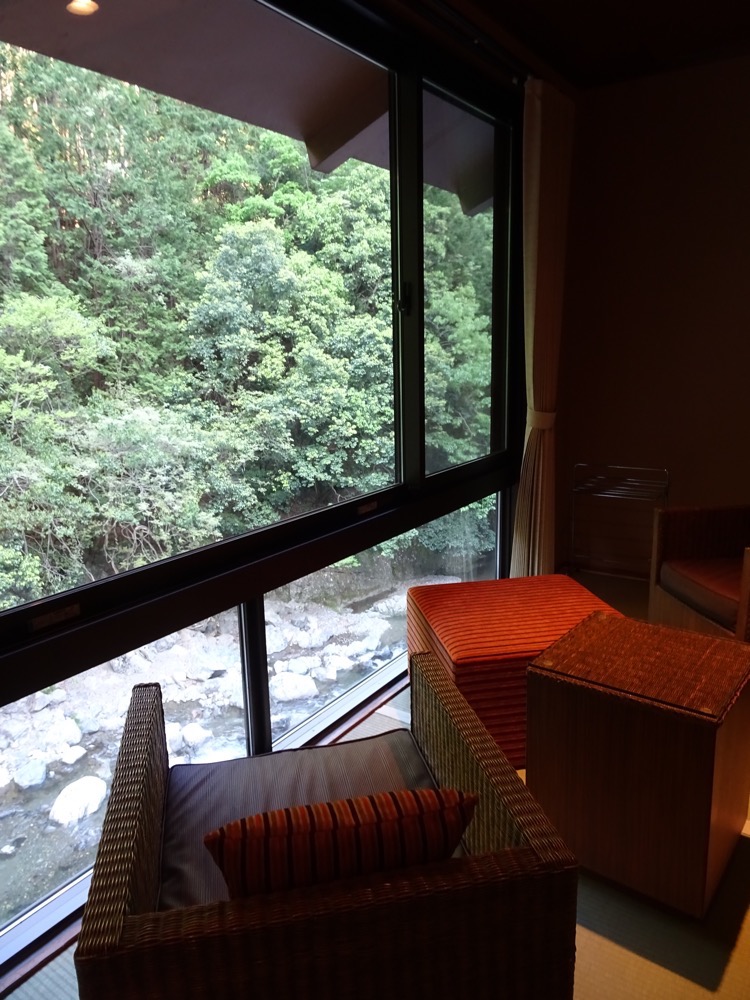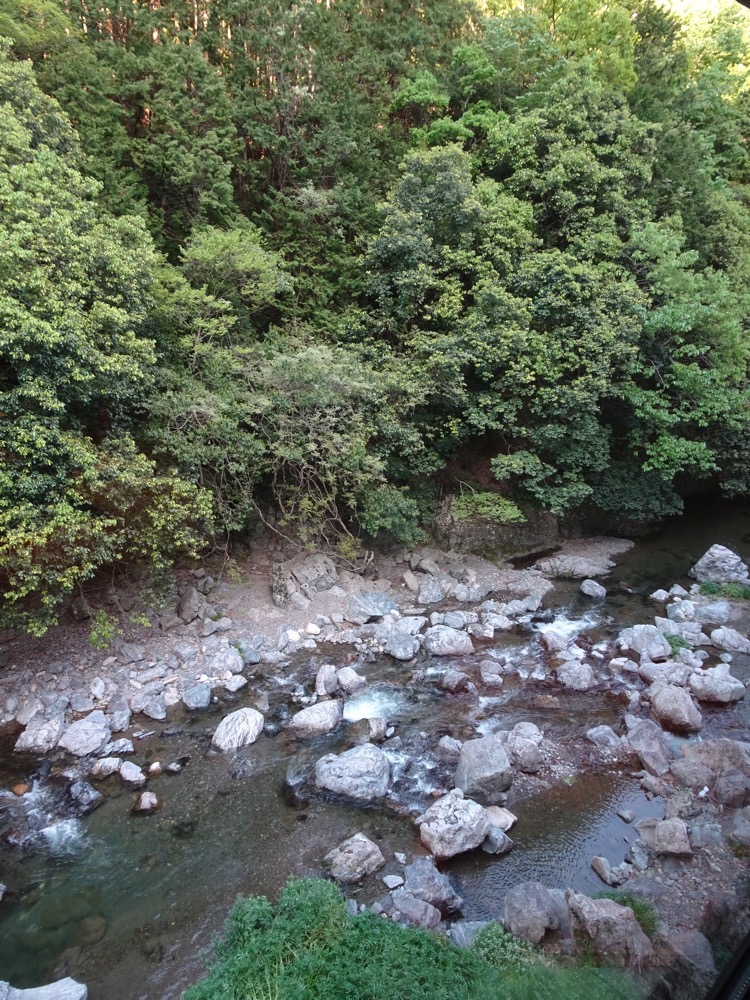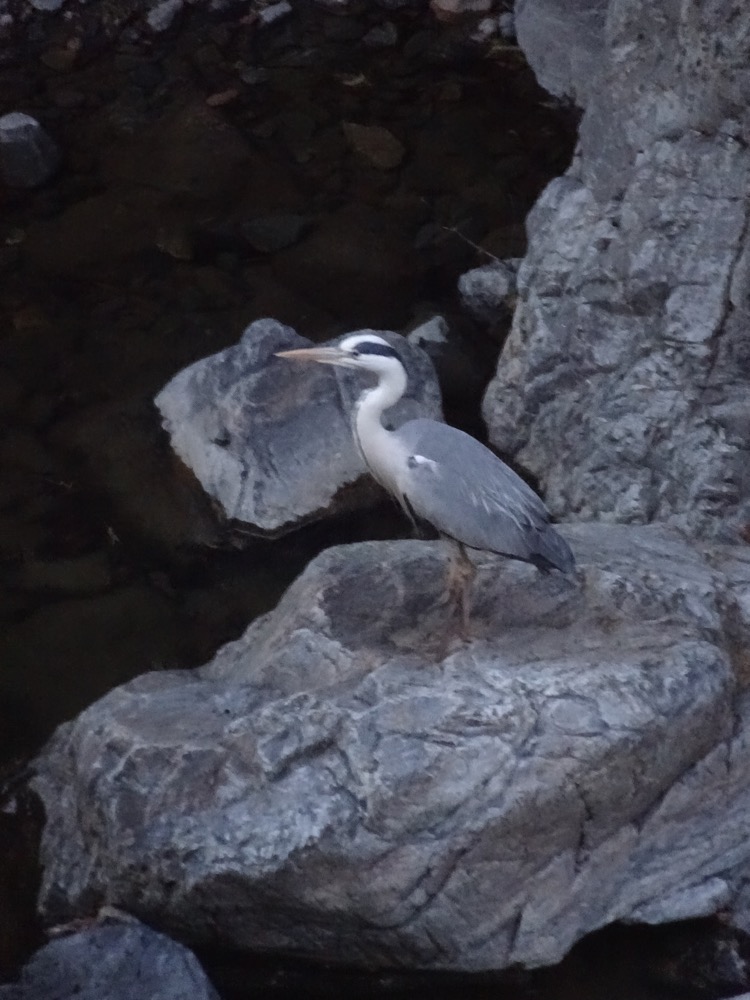 After we had oriented ourselves and had some tea, I went out to check out the facilities, in particular, the outdoor onsen which was accessible from the same floor as our room and currently marked for women's use… there is no photography allowed in the onsens as nude bathing is mandatory, but when I arrived there, it was unoccupied, so I took a number of photos, from the lovely canopy of Japanese maples that provided privacy and shade to the lovely natural looking rock pool.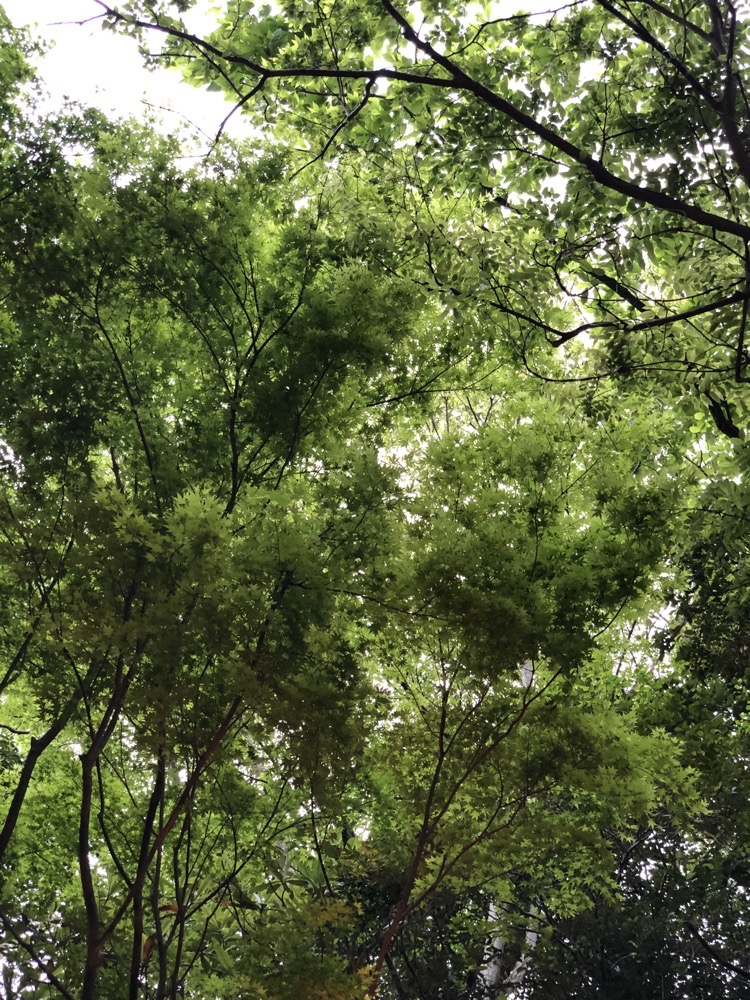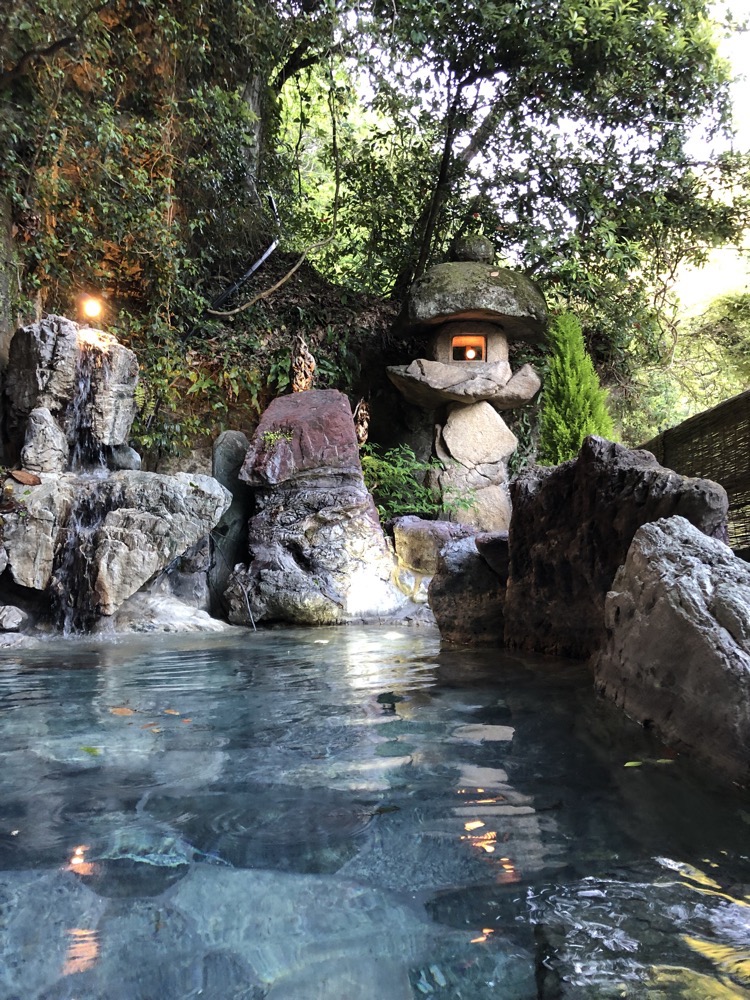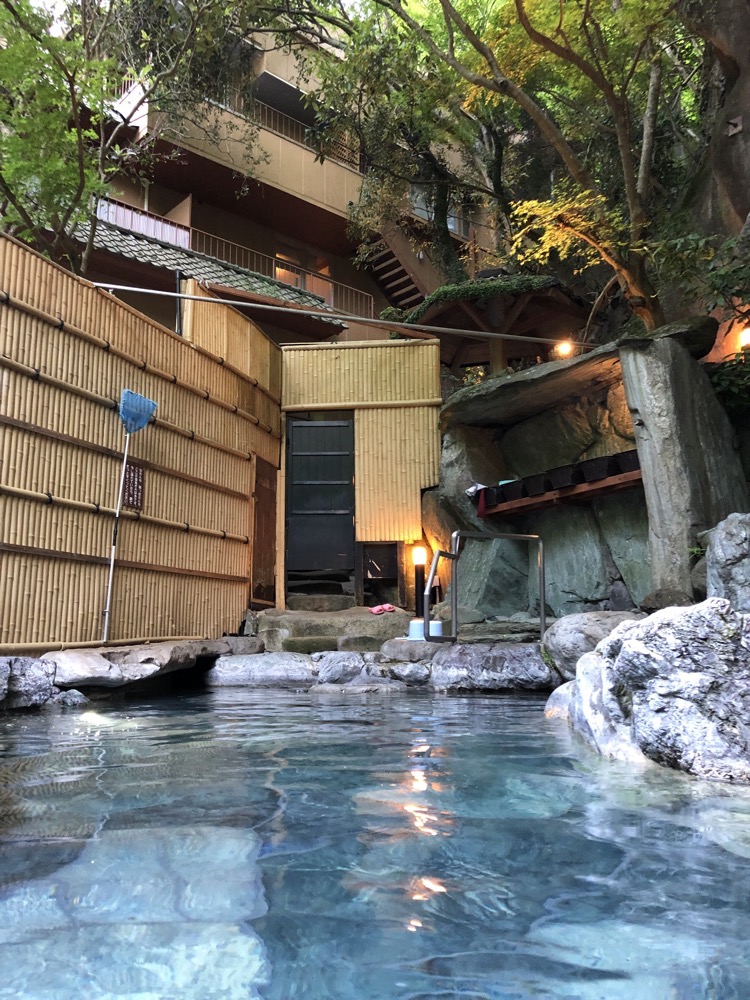 I was quite concerned about the general 'no tattoos' policy that applies in most public baths throughout Japan (tattoos being associated with Yakuza – organised crime gangs who would use the bathhouses to conduct business) but the host who greeted us waived away my concerns and said 'Tattoo – no problem, no problem'… I was still a bit apprehensive, as he had only seen the bee on my ankle, not the large Asian style dragon tattoo on my left shoulder!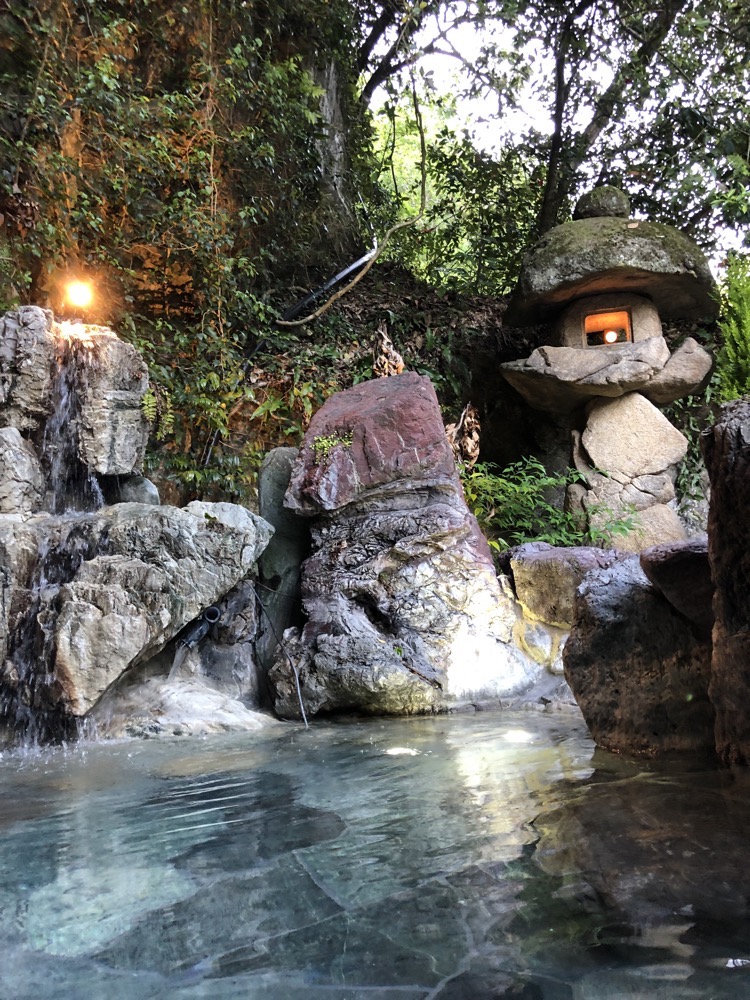 With the women's outdoor onsen empty, I raced back inside to change and come out for a nice private bath.  I got showered (as is custom before getting in the baths) and dressed in my yakuta and by the time I got outside, there was a Japanese lady and a small boy who I presume was her son in the bath.  Now, they modestly turned away as I slipped into the pool, but I was then faced with a dilemma – do I face them, leaving the poor lady to repeatedly remind her young not to stare at the big boobied (some gestures are universal regardless of language barriers!) or do I turn my back to her and display my large back tattoo?  Oi!  Within minutes the issue was quickly negated as she decided to remove herself and her son from the onsen… I hope I didn't chase them out, but I have a feeling I did.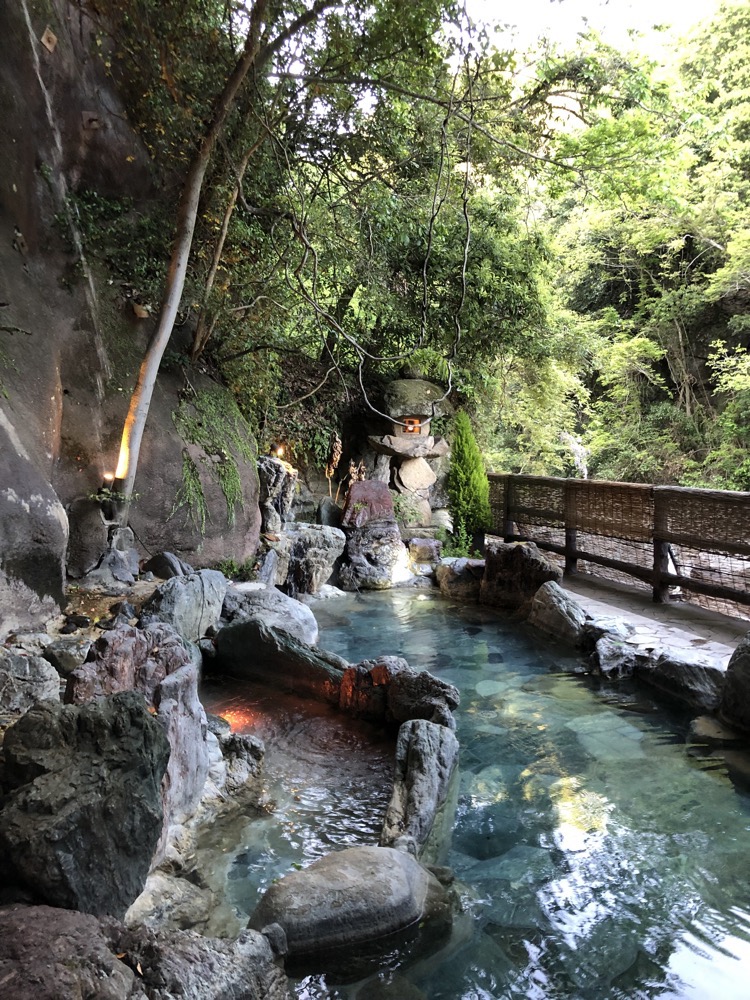 After they left I had this little paradise all to myself for about half an hour – I wish it was longer, but I found the water temperature was just a bit too hot for me at 42℃, and I literally couldn't stay in any longer.  I made a mental note to take some cold water to the private bath we had booked for after dinner, which is the only way that men and women can bathe together.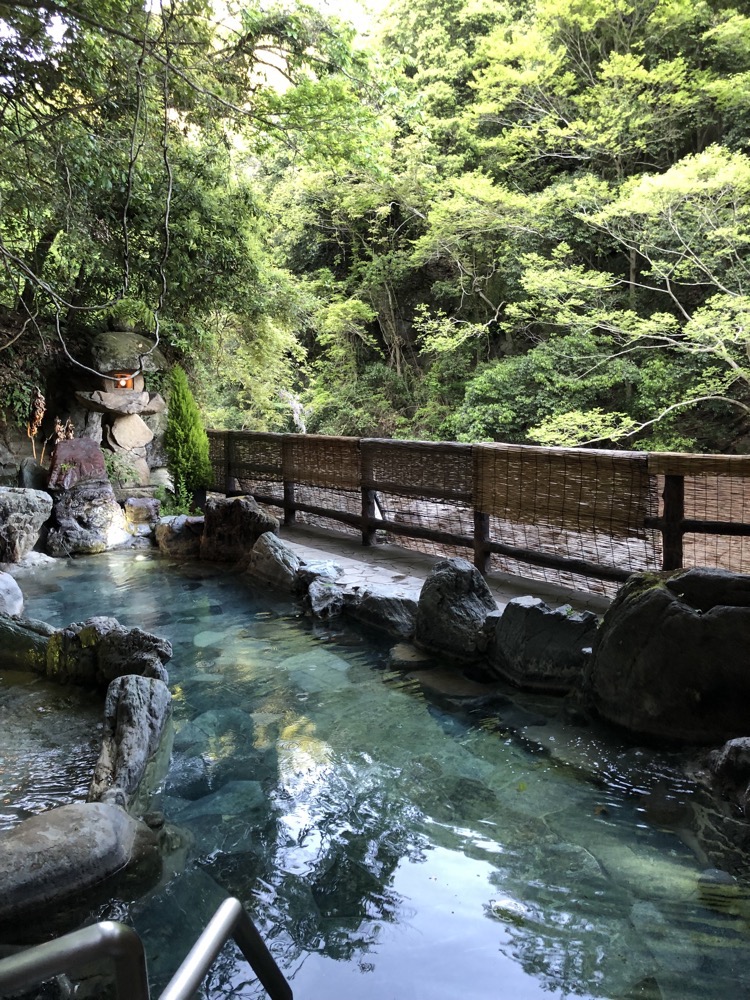 While I was in the outdoor onsen, Mr K was using one of the indoor onsens that was designated for men's use at that time. He said that onsen was very busy and had a more modern and formal change room with lockers etc, and a tiled bathing area.
After our first foray into Japanese style same-sex bathing onsens, we got dressed in our yakuta and went down for our 7:30pm dinner reservation. The dinner is a set menu that is included in our room rate, they merely enquired as to whether we had any allergies and then we were in their hands for the meal.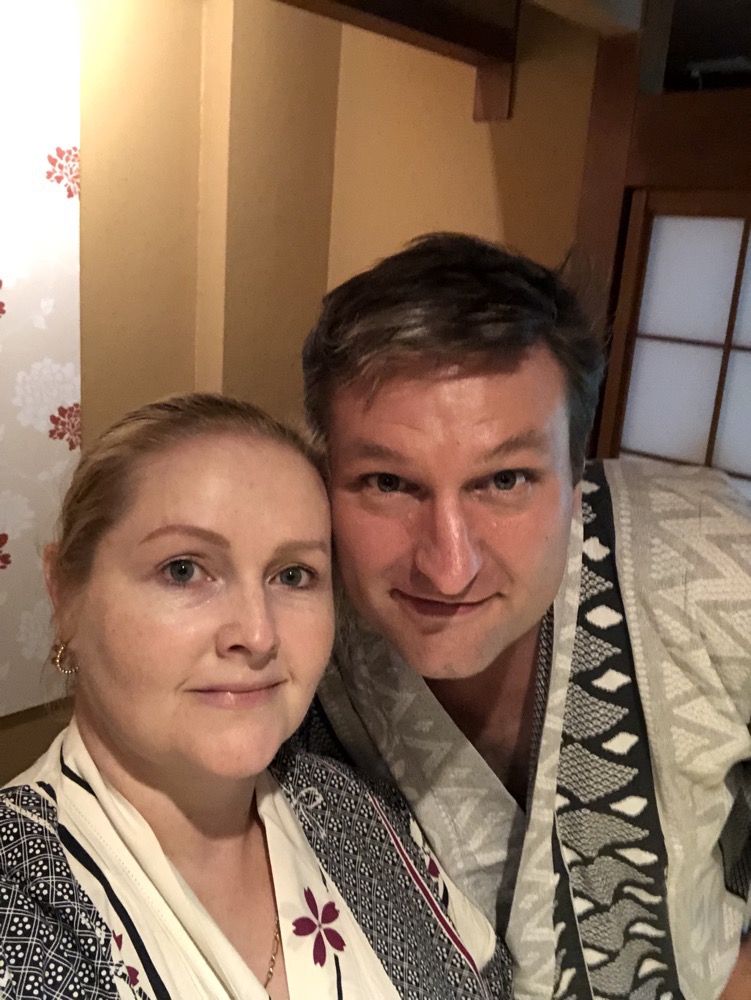 Our meal was exquisitely presented, everything on its own individual little dishes, served with the appropriate sauce, pickle or condiment.  First course consisted of some sort of green tofu served with wasabi, some mollusc of unknown genus, a very mysterious but tasty fern frond and some pickles.  In the little jar on the bottom right was some shrimp on a very tasty bean paste concoction.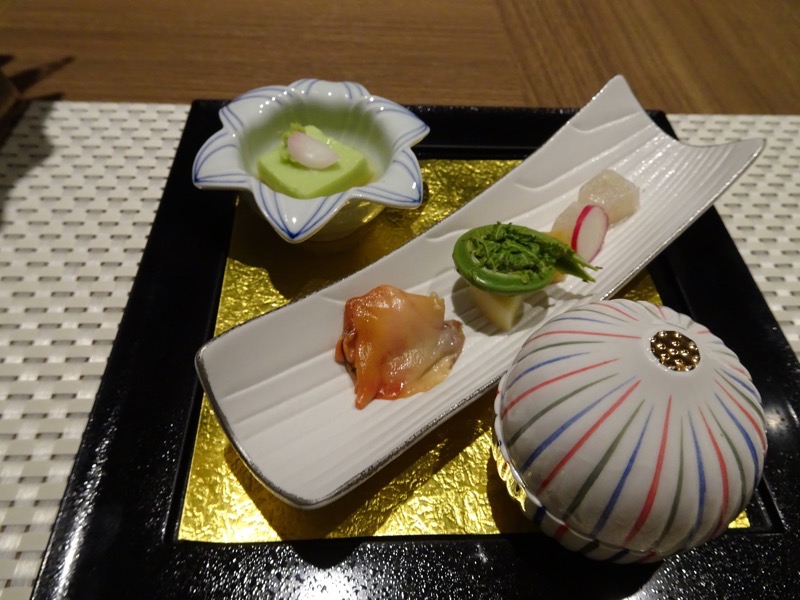 Off to our sides were individual steamboat chicken dishes, with mushroom and vegetables making a very tasty broth.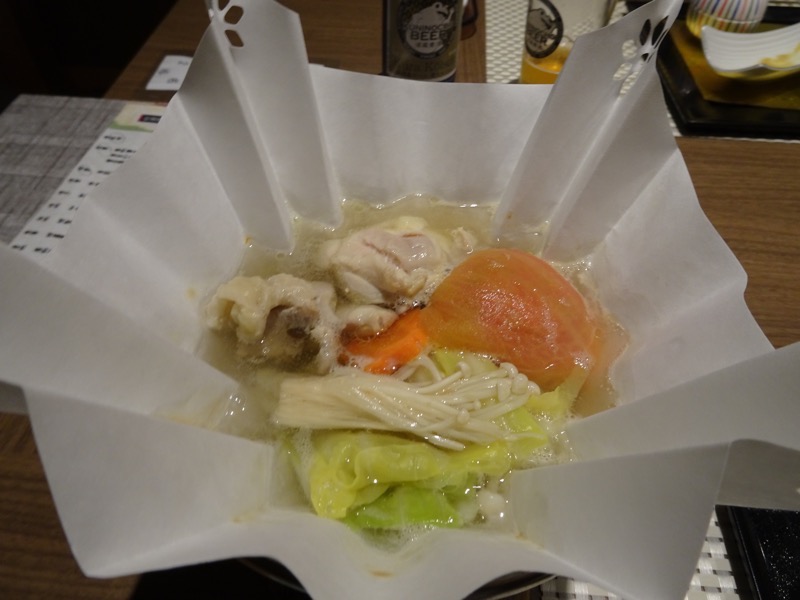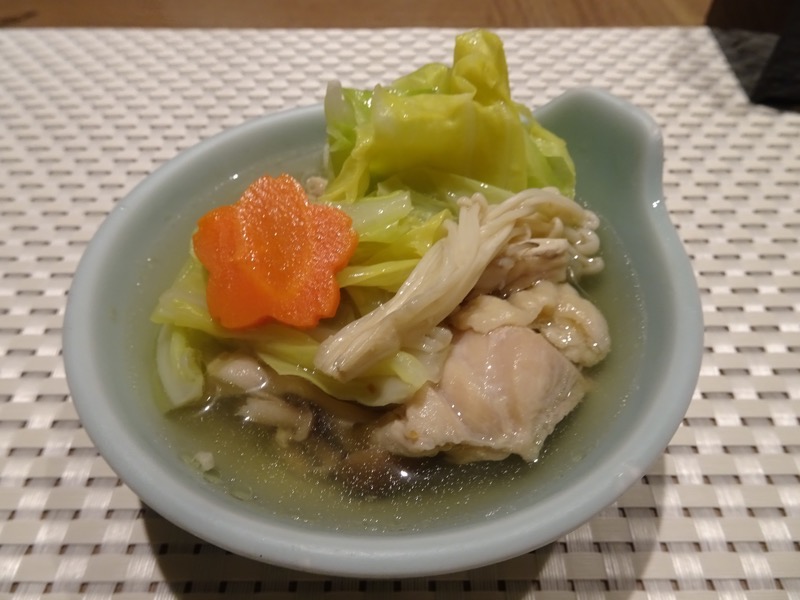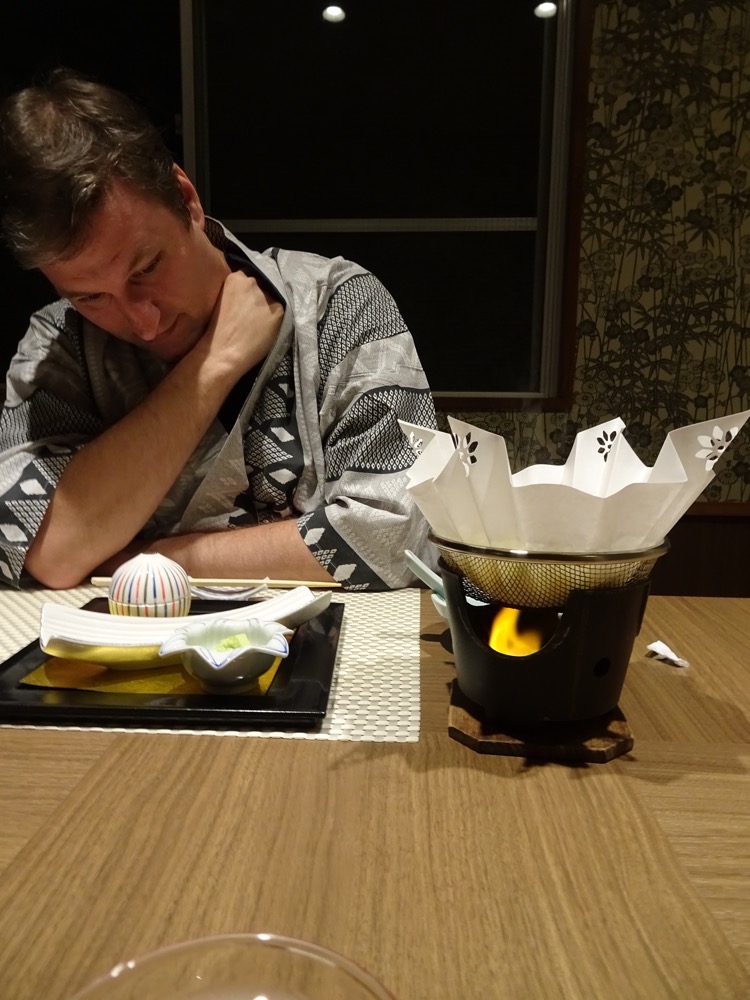 Of course, I ordered some sake, and Mr K tried a local beer.  Next course was some sashimi, with tuna, mackerel, salmon and shrimp.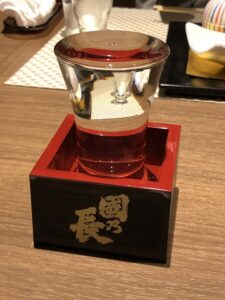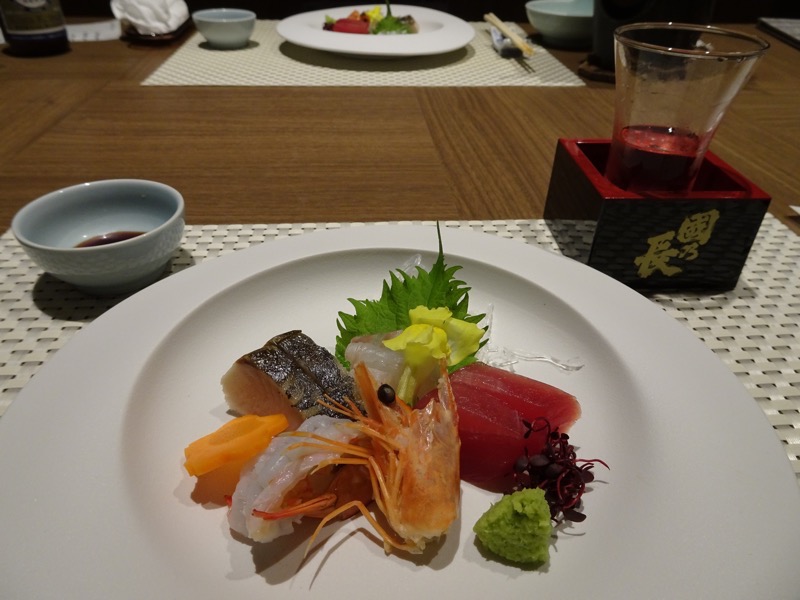 Followed by a yam cake with fish on it cooked in a cherry blossom broth… very unusual.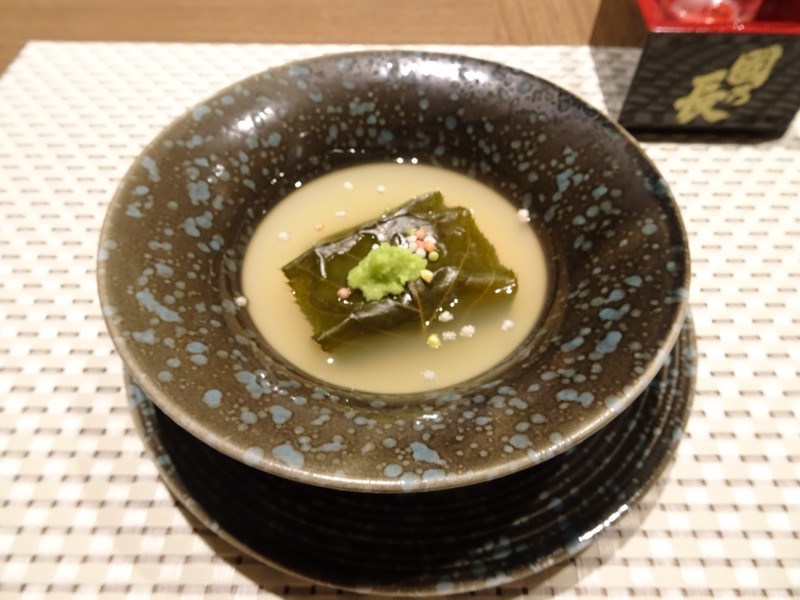 At this point I wasn't quite sure when the little meals were going to stop coming – the next dish was a baked trout with vegetables and miso flavours.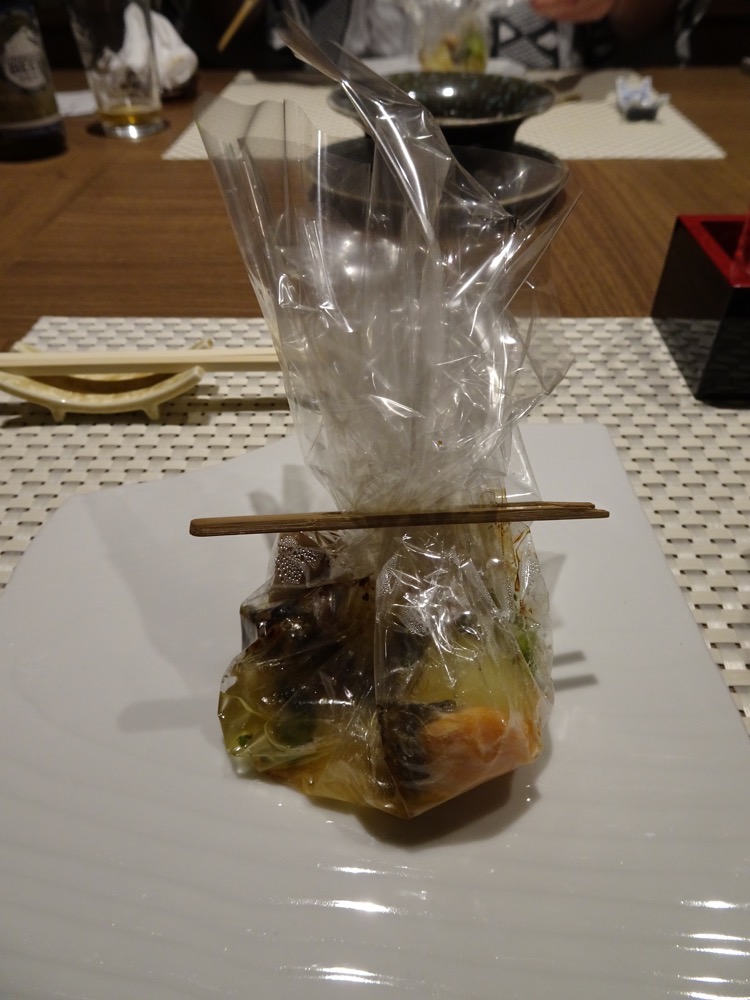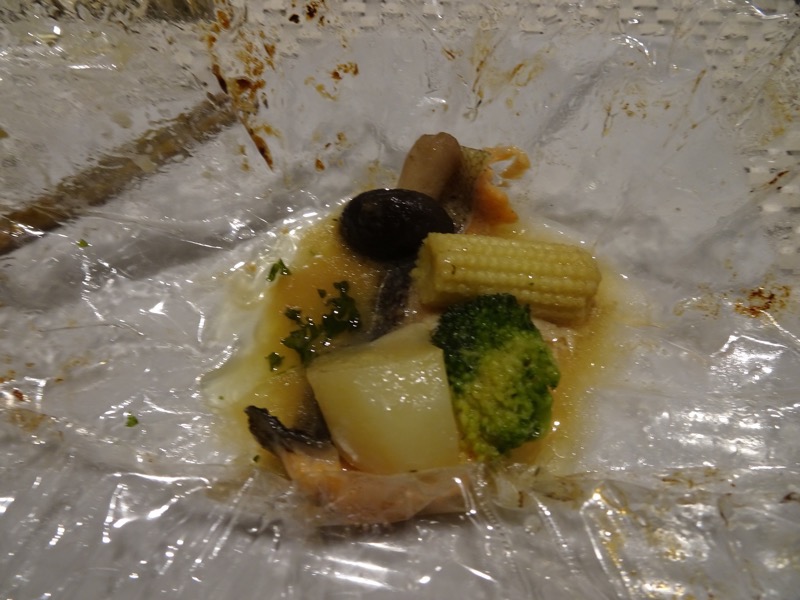 After that, our chef brought out thin sliced, rare roast beef also served with some unique sauce that I couldn't for the life of me tell you what it was.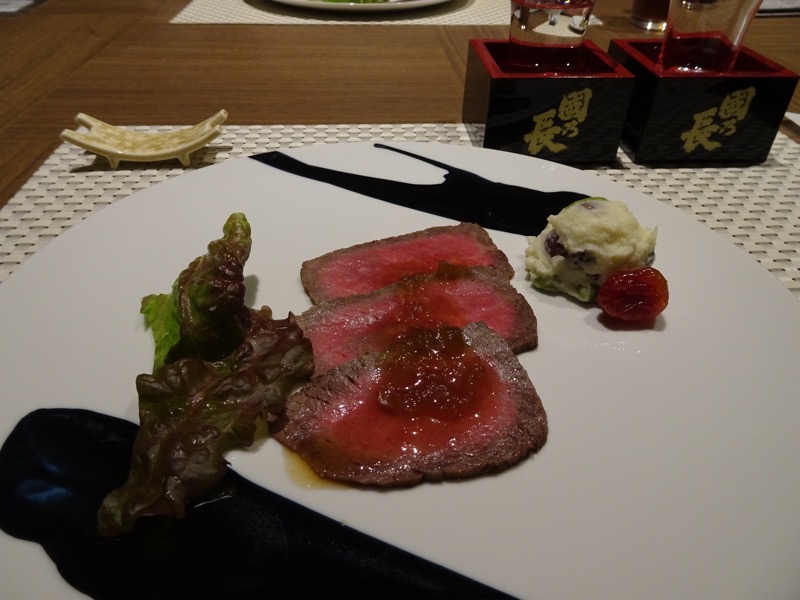 THEN… a soba noodle dish served with tempura seafood.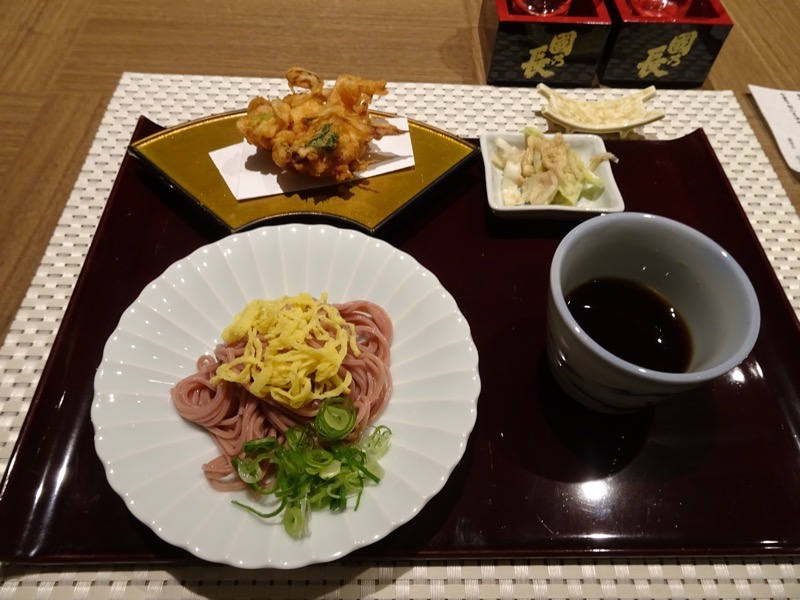 And finally a sake flavoured blancmange, with yuzu jelly and strawberry served with black tea for afters.  This is traditional Japanese 'all evening dining', where you have roughly the same amount of food you would have in an ordinary meal, but it is continually being brought out in small meticulously presented portions over the course of several hours. The meal was delicious, and even though the courses seemed to just keep coming, we both felt we had an elegant sufficiency.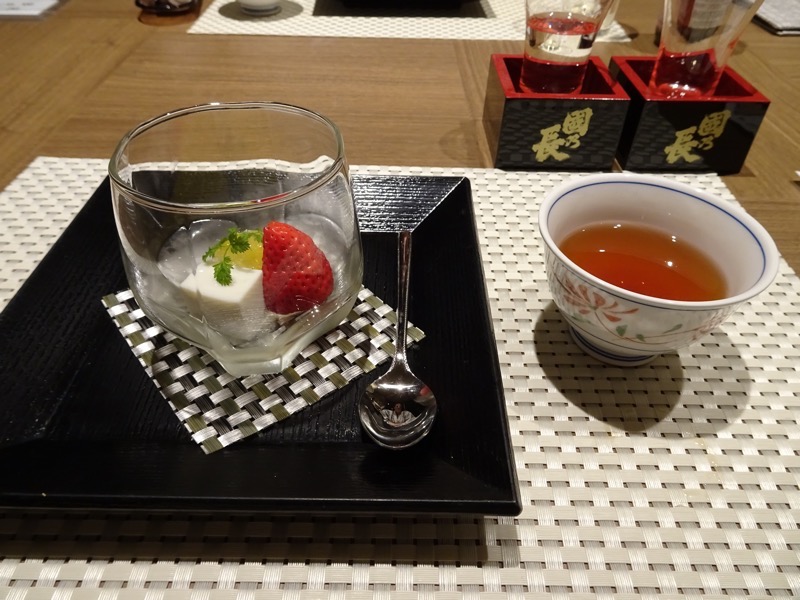 After dinner, we returned to our room to find the hotel staff had transformed our day quarters into a sleeping room.  Futons were laid out and we had the hardest pillows you could possibly imagine – they were heavy as, and if I didn't know better, I'd say they are full of grain as they had the texture of a wheatpack.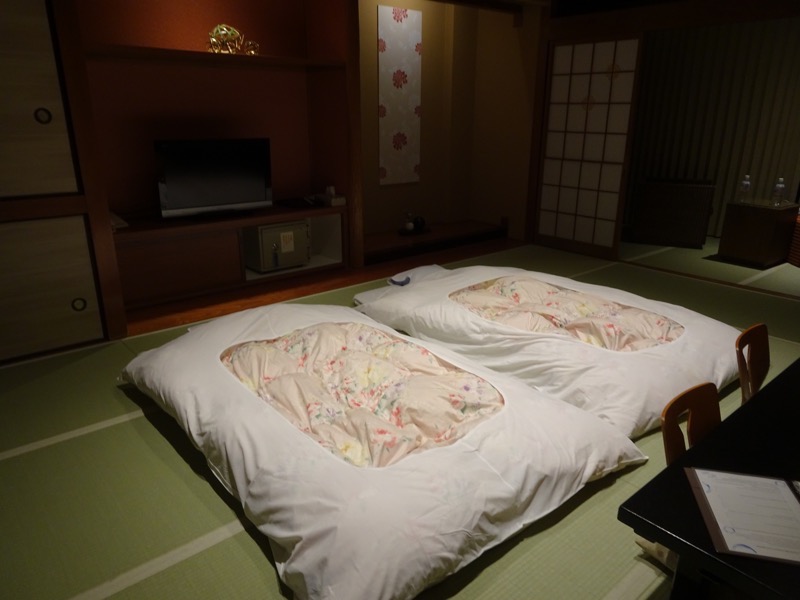 We went for the first of two visits to the private baths – these needed to be booked in advance and cost JPY3000 on top of our room rate, but it was totally worth it.  Mr K and I were able to relax in the bath and chat with each other – it's a totally different experience to using the large sex-segregated onsens and the conditions are just idyllic… right beside the river you can see out across the gorge and listen to the burbling cascades below and hear the occasional birds calls. My only lament is that I found the water a bit too hot for my liking (which is weird because I usually LOVE really hot showers).  The website says the water from the natural springs is at around 56-60C, but presumably, have cooled somewhat by the time they reach the baths dependent on ambient temperatures.  But it was okay, I just found I kept getting out and dousing myself in cold water Nordic style to cool down so I could hop back in!  It's my Scando/Viking genes I think!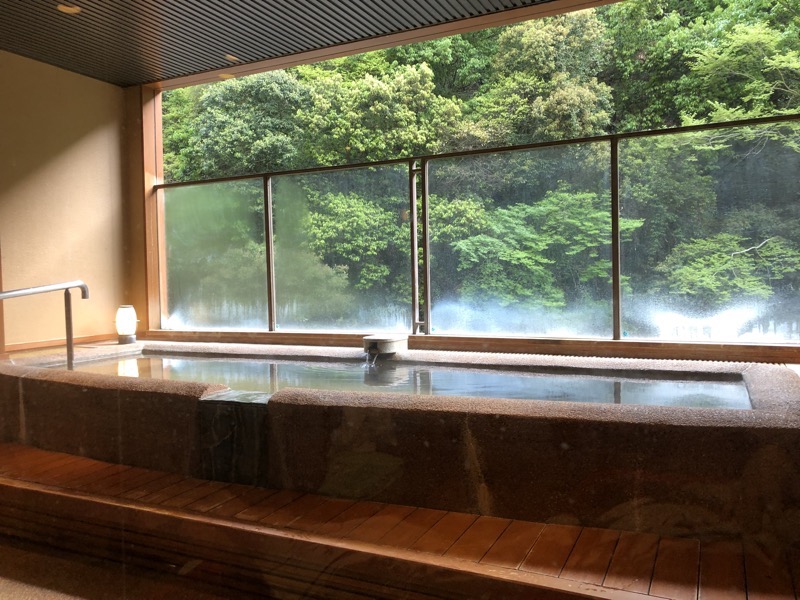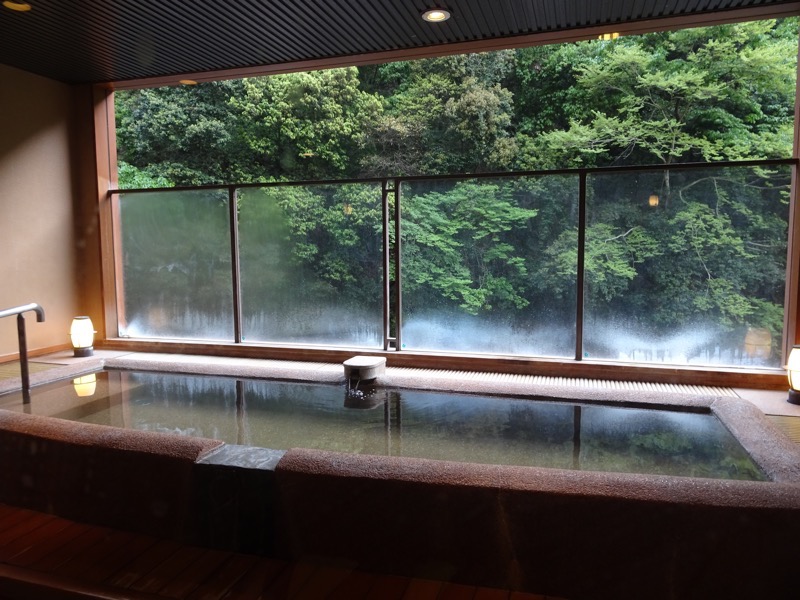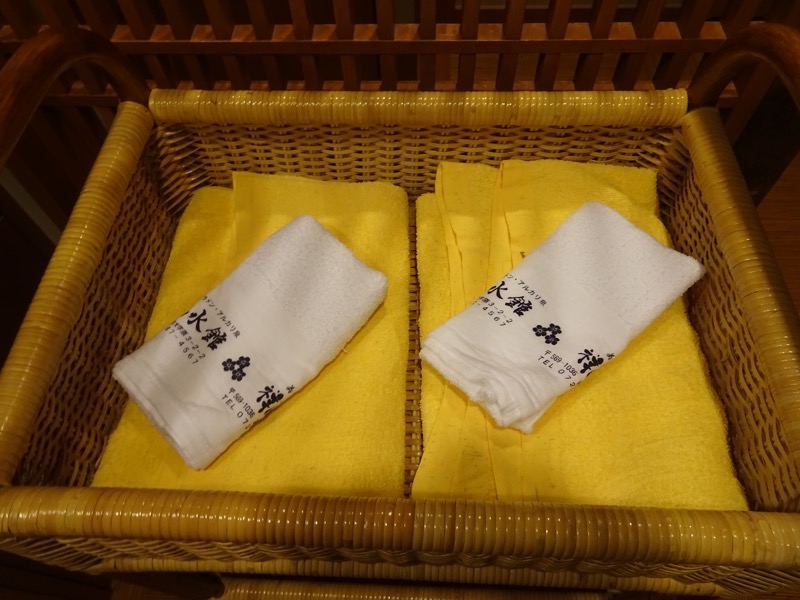 Showering space to get clean and wash your hair etc before hoping in the onsen bath. The round drum looking bucket is for filling up and dumping (cold?) water over yourself.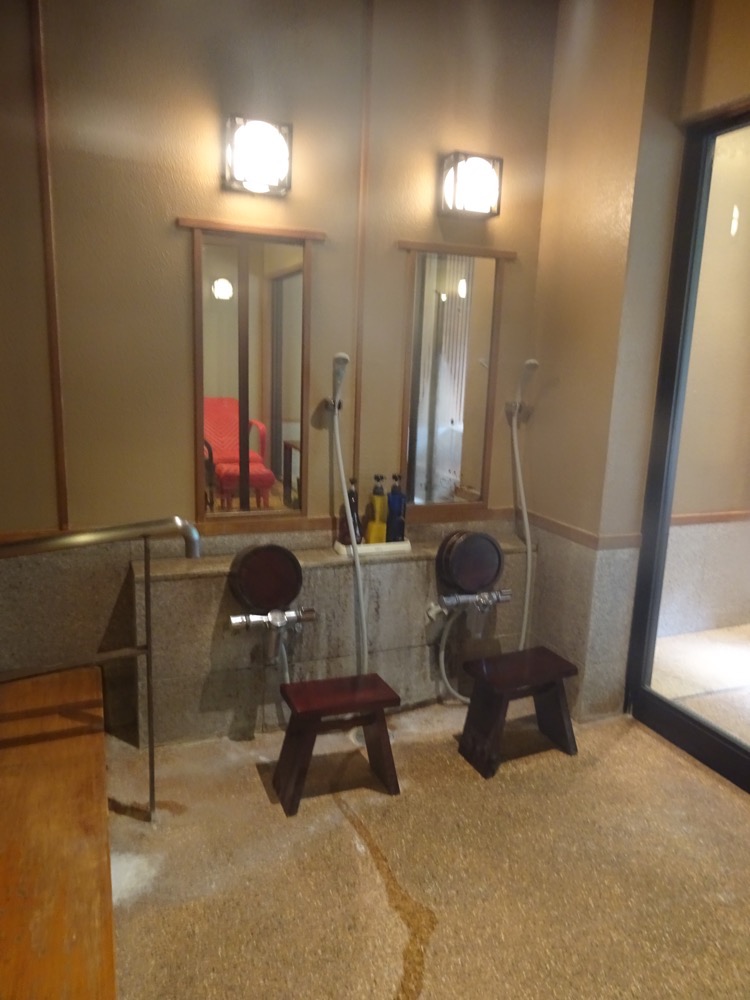 We had a second private bath booked for first thing in the morning and it was lovely and fresh in the open air bath – all the muscle tension just seeped away.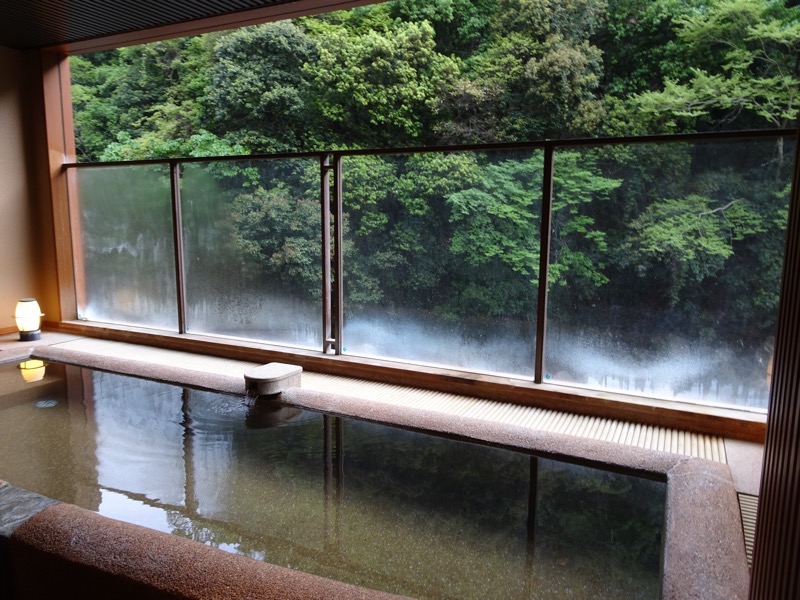 After our morning bath, we dressed and eventually made our way down to breakfast.  There was a large buffet with a mixture of Japanese and some western food offerings.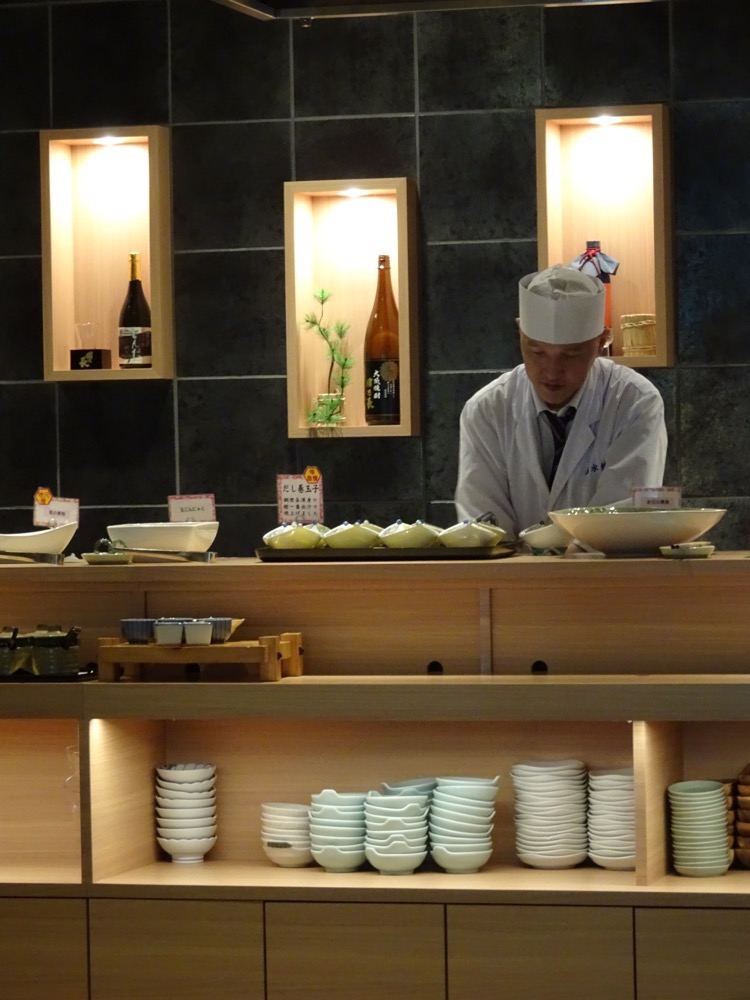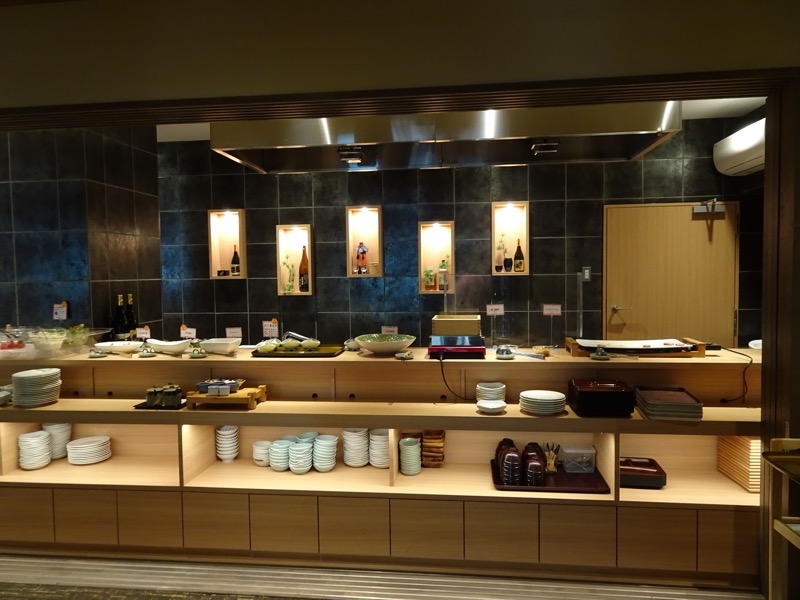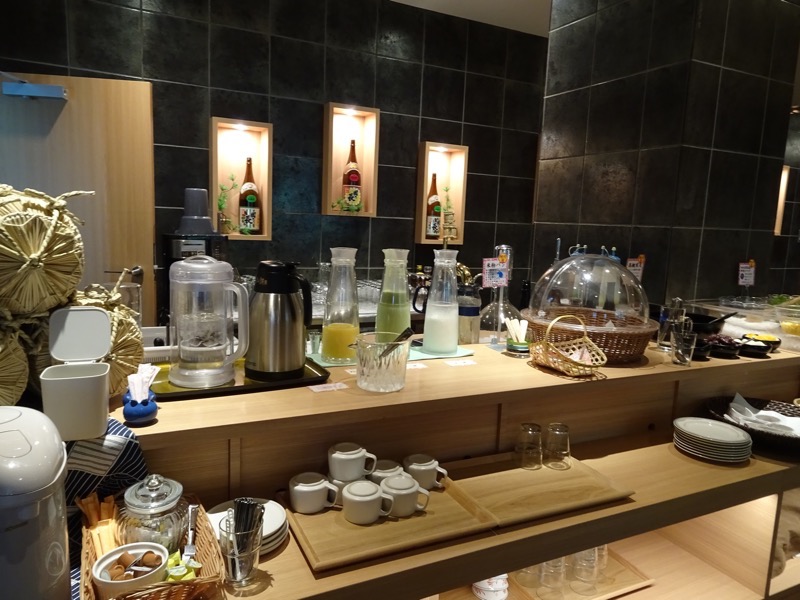 Again our meal was presented in beautiful lacquered boxes and small dishes for each individual little morsel…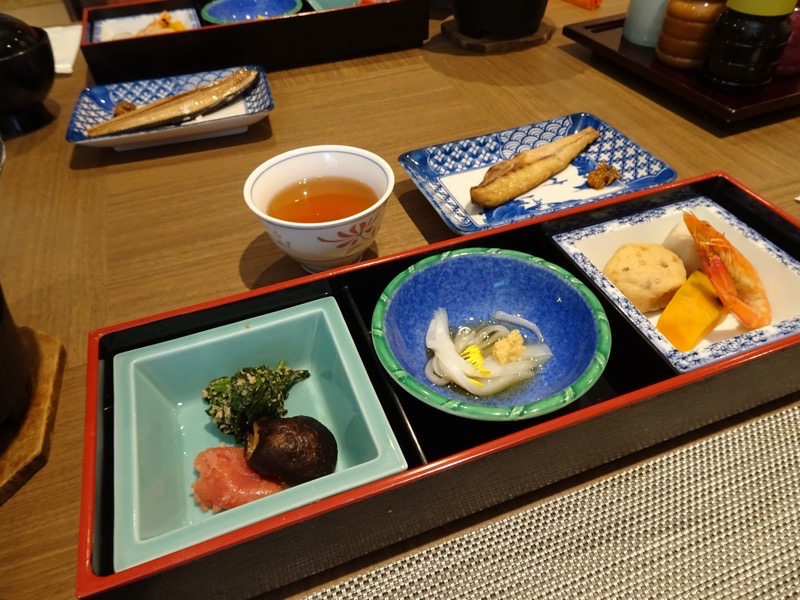 From left to right, fish roe, mushrooms, some baby spinach type leaf thing, marinated squid, boiled tofu, shrimp, yam and something I didn't recognise, and a serve of black tea and mackerel.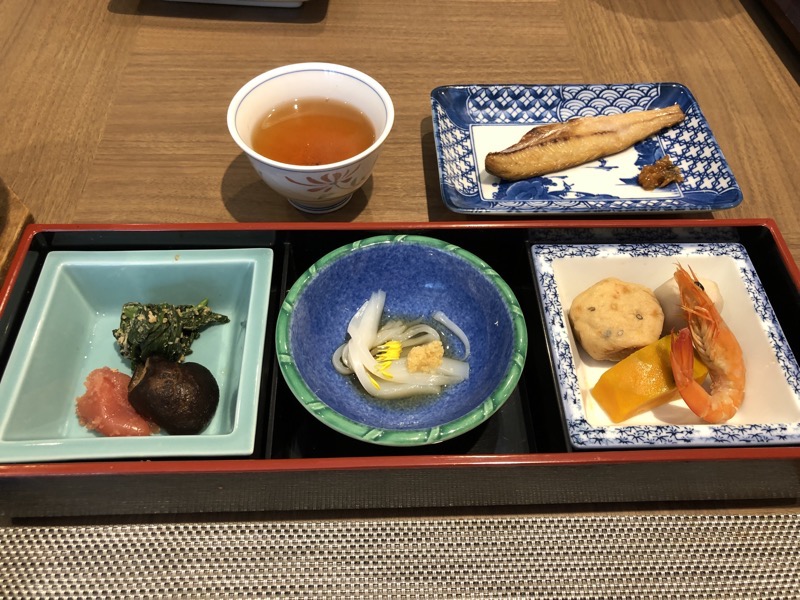 On the side was another steamboat with tofu and light vegetables, served with soy and spring onions.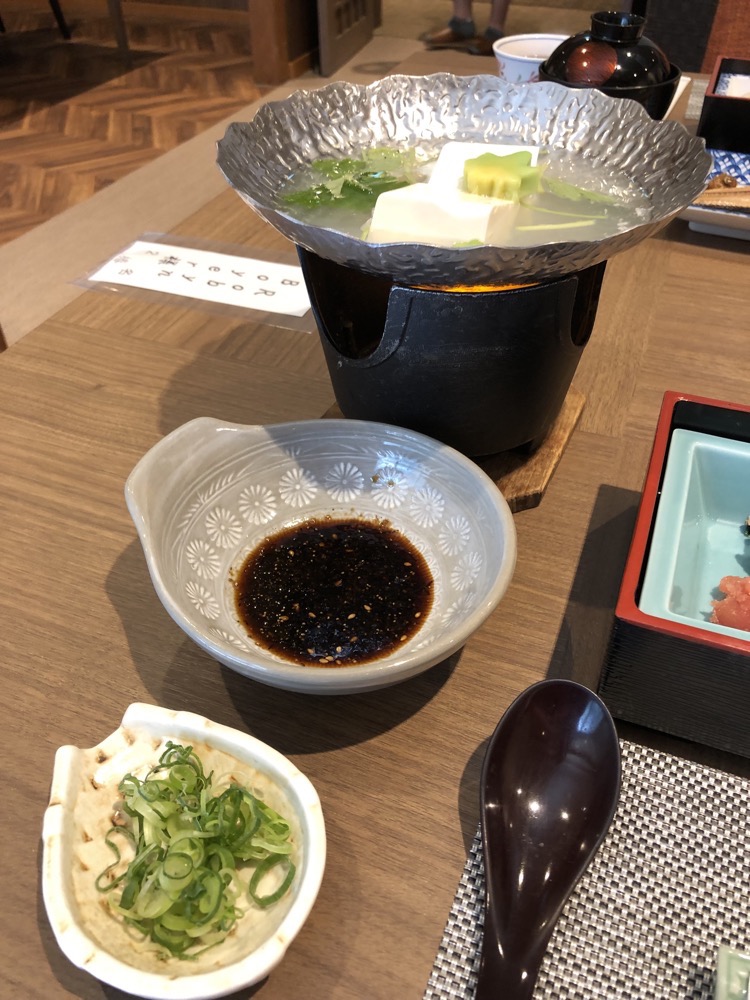 I have a feeling Japanese fine dining was invented by someone who doesn't like their food to touch!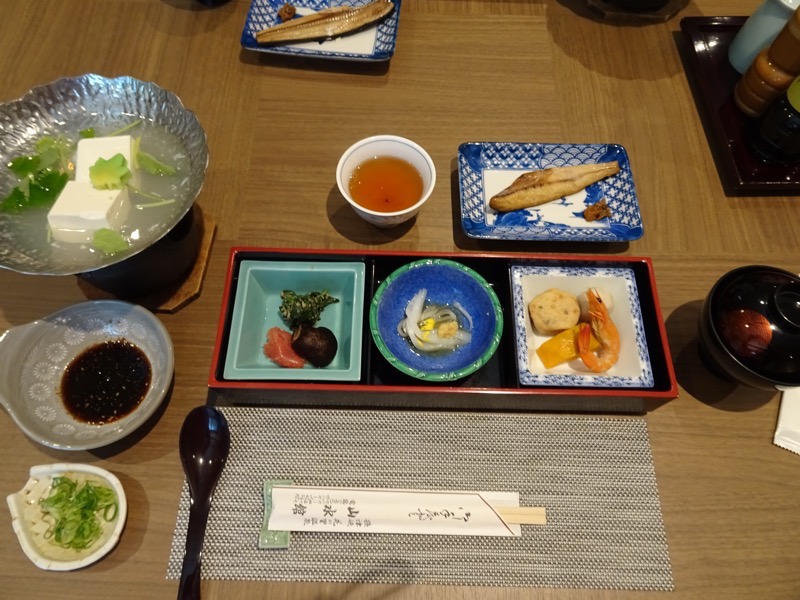 We checked out of the Sansuikan ryokan and went into Takatsuki to check out the Festa 1000 – the Children's Day Carp Kite Festival that is held each year to encourage the future well being of the city's children.  We discovered Takatsuki has it's own cute little mascot and lots of carp kites.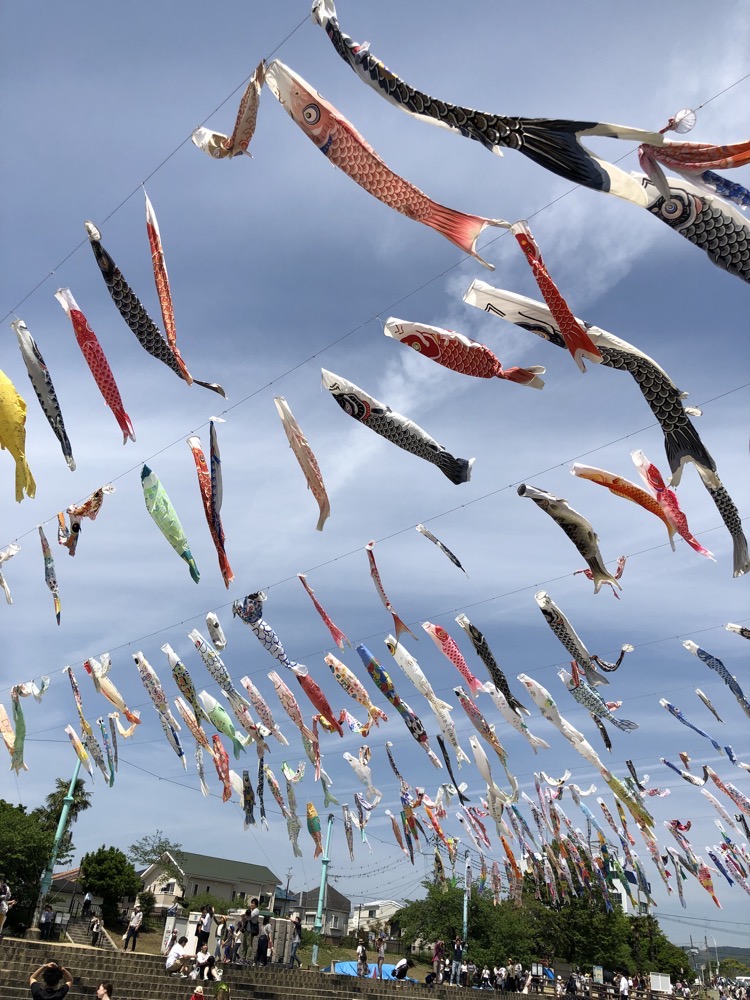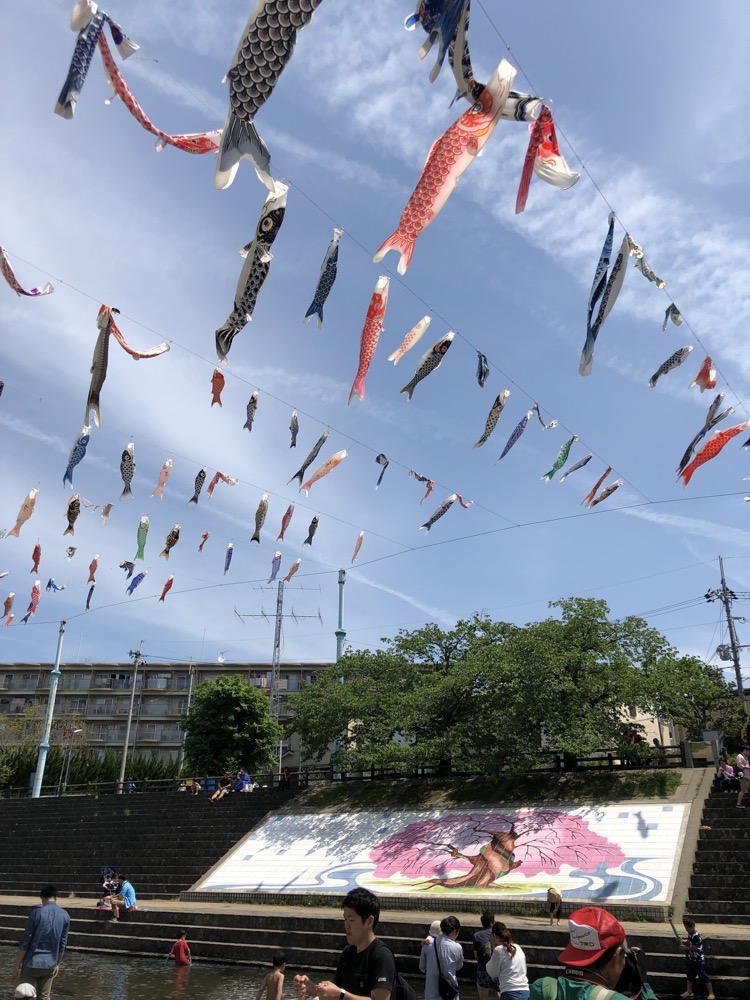 Then we took the train back to Osaka and we found some green spaces at Osaka Station to kill some time before our flight tonight (not this space though – it was too busy and noisy).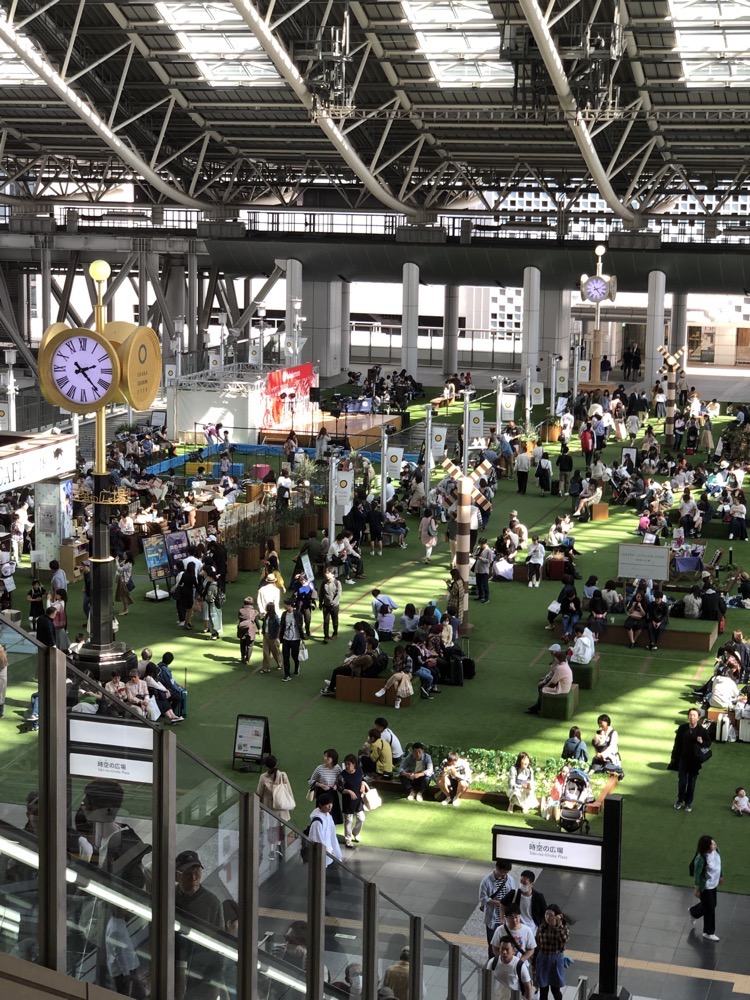 Kansai airport was decked out in wisteria which reminds me I need to find the huge wisteria tunnels that Japan is known for – if they're anywhere near as spectacular as the cherry blossom groves, it will definitely be worth the trains and hassle to go find them next time we are in Japan.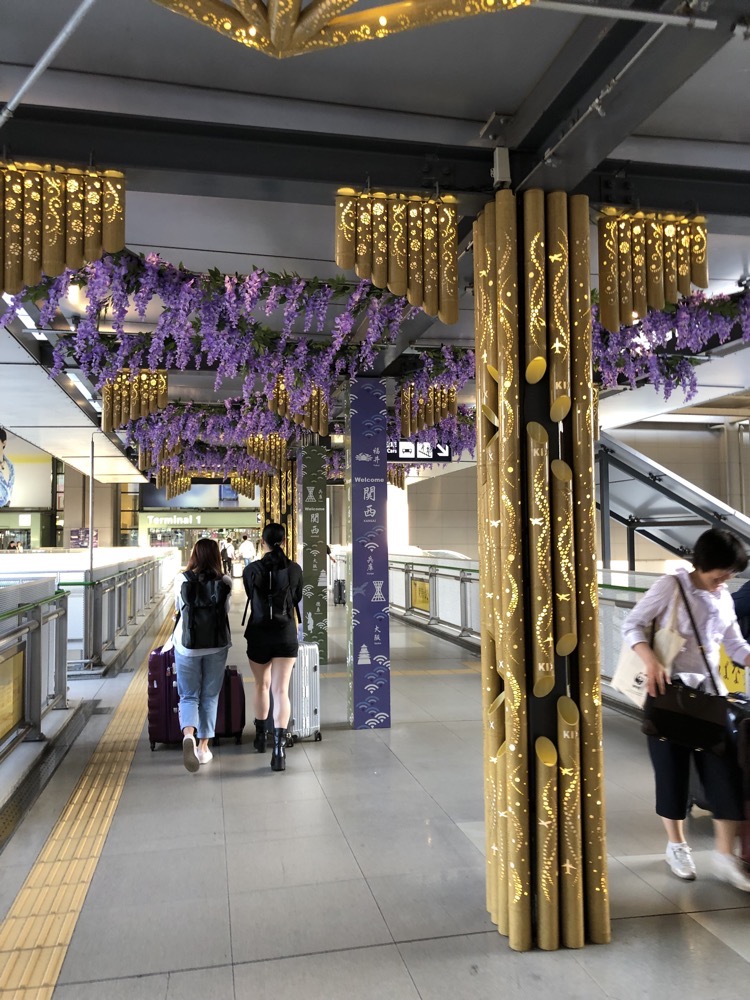 Kansai airport has two Pokemon Store and sooo many restaurants.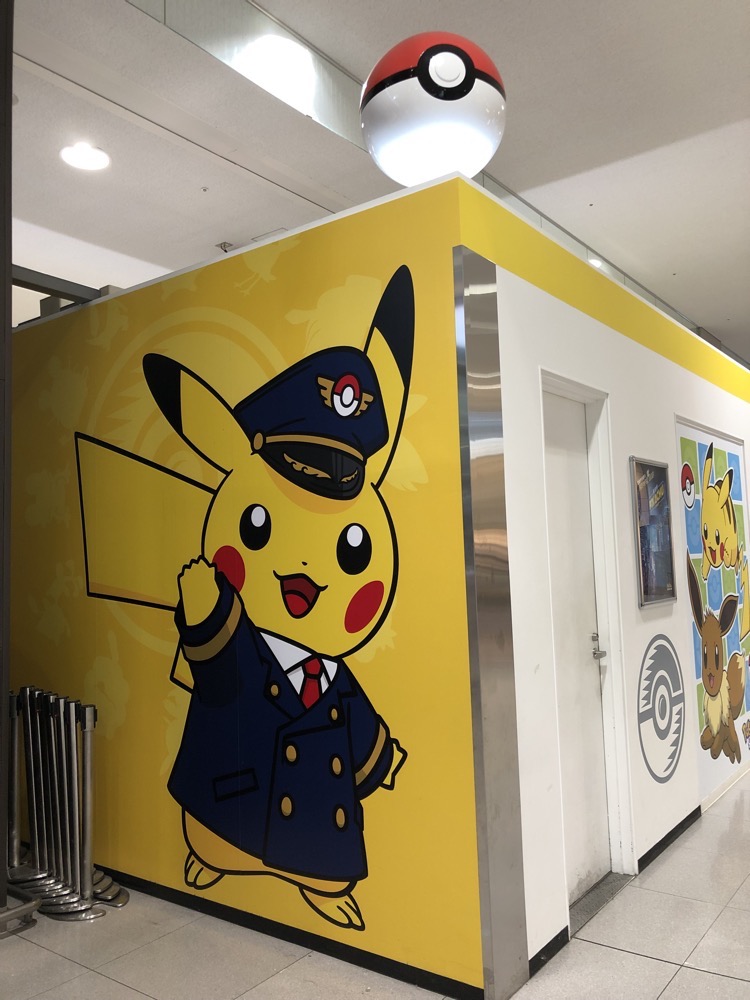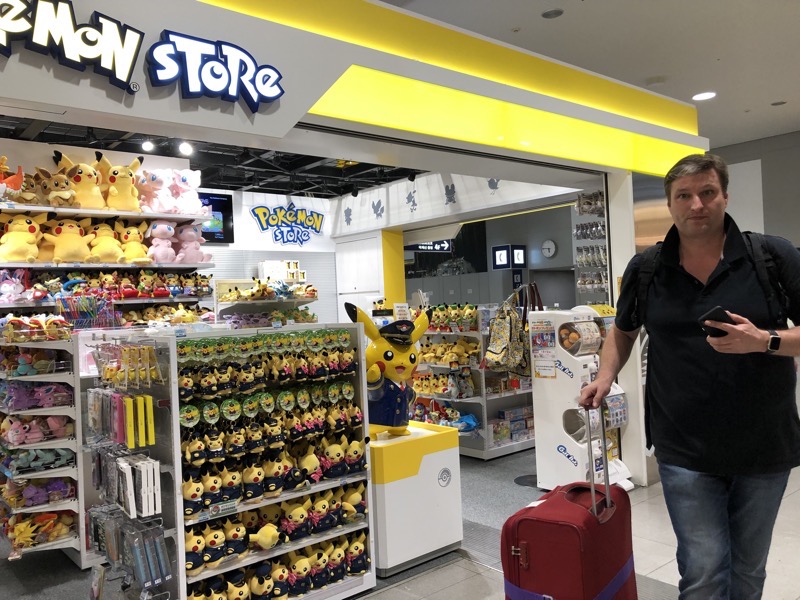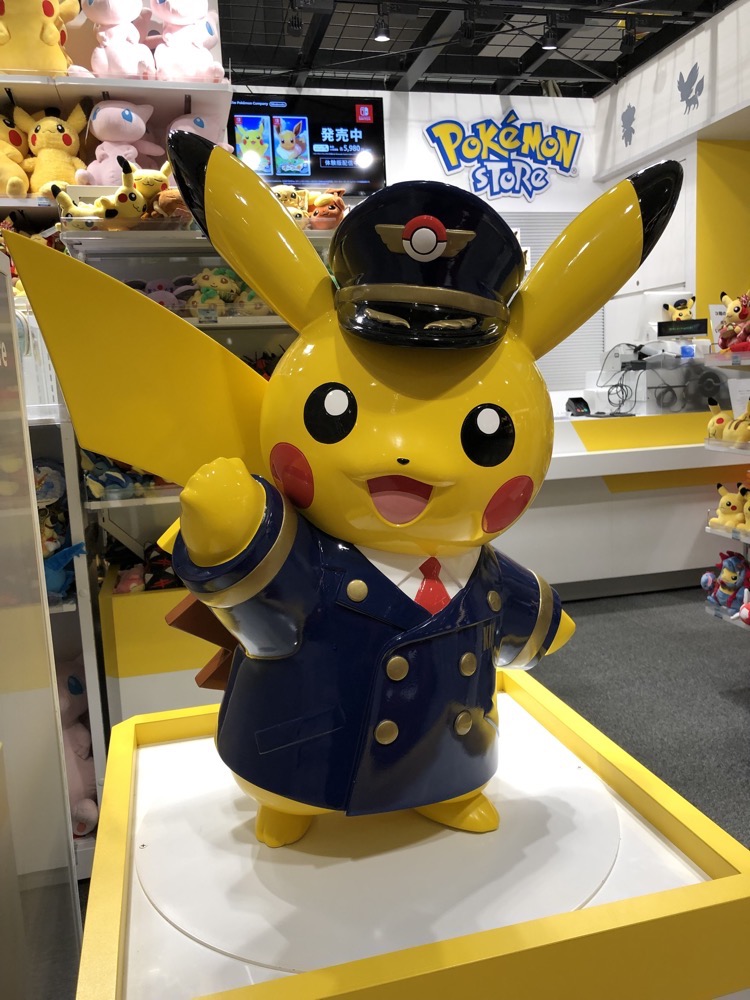 Thankfully the lovely people who checked us into our flight let us know there are stuff all restaurants once you go through security, so we stayed outside to have dinner. We ended up having okonomiyaki at a restaurant called Boteju which I'm only recording here because it had the best okonomiyaki we've ever had (across three trips to Japan) and it was highly unexpected for an airport restaurant – but then I found out they had been in Osaka since 1945 and have quite the reputation so if I had done my homework I should not have been surprised…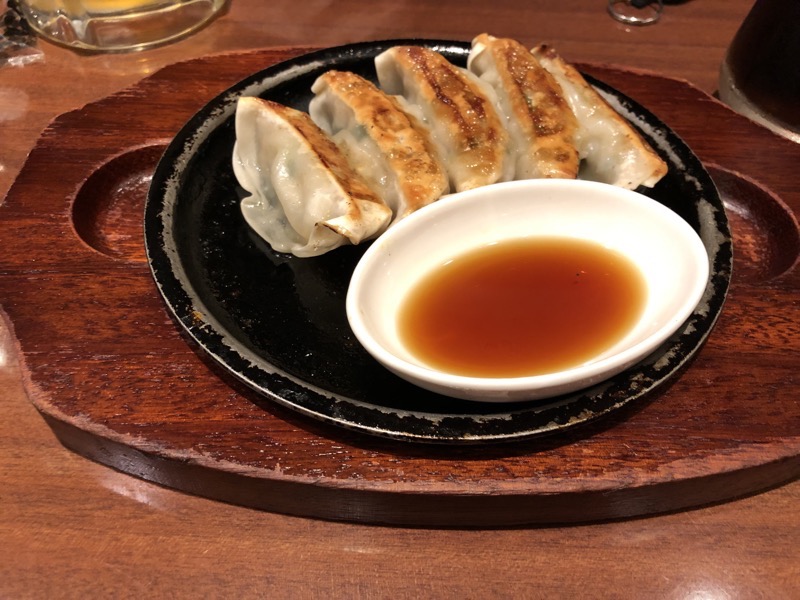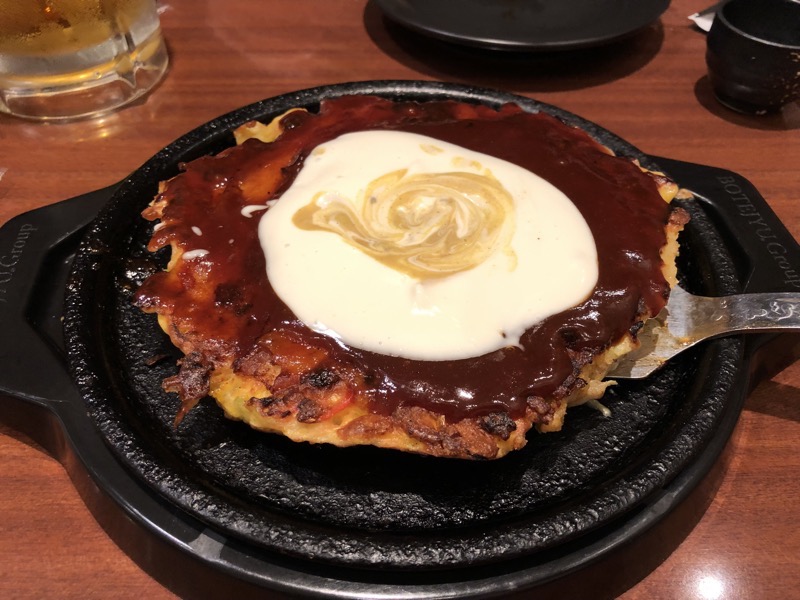 Finally, we were heading home on a blissfully empty plane!  Some earplugs and valium and maybe I'll arrive home in a half decent state. This flight was booked on QFF points, so I am thinking with three seats to myself and the ability to lay down and sleep all night for barely $70 in taxes – this flight probably represents the best value for travel $$$ I have ever spent!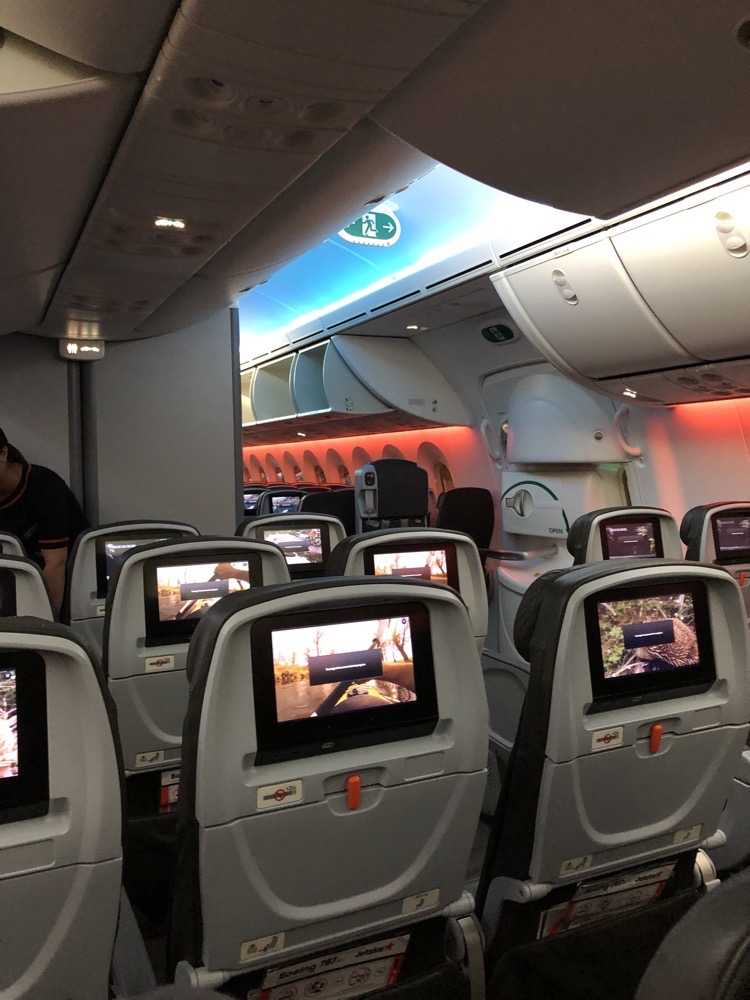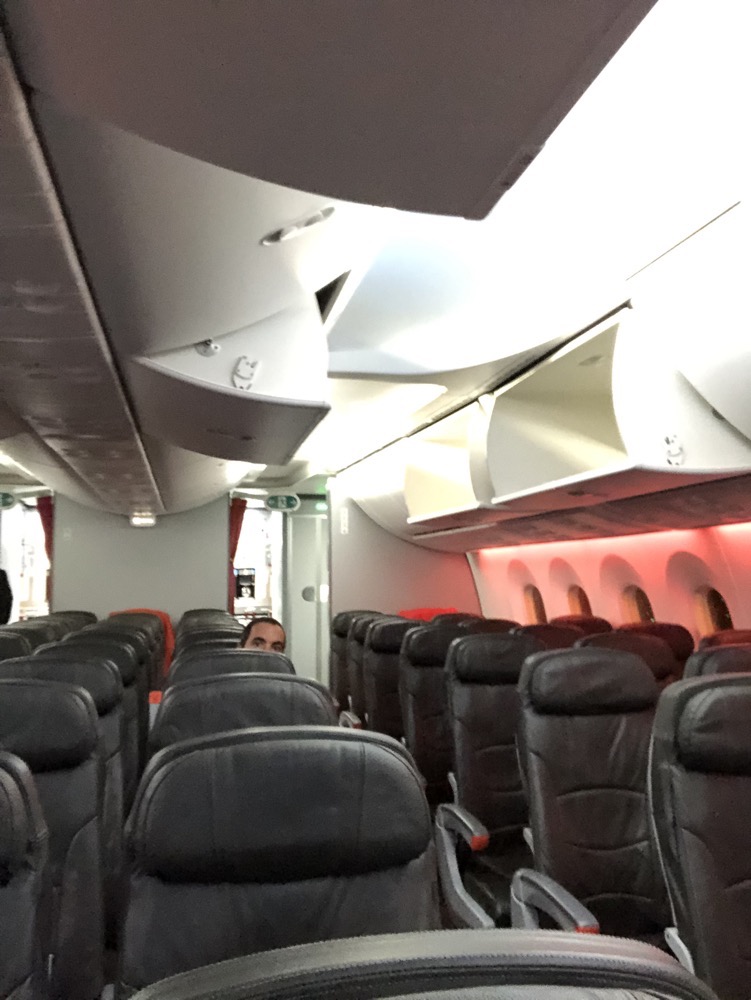 Highlights of this trip were definitely the cherry blossoms at Hirosaki Castle, the Miyako Odori spring dances in Kyoto and the lovely ryokan in Takatsuki – but we have seen so many wonderful things in Japan and enjoy every moment here.  I love the people, and the gentle courtesy they extend during everyday transactions, and the accompanying artfulness that is applied to even simple day to day tasks.  I also love the culture, art and history, it's so diverse from Western European culture. And we really love Japanese food culture – the restaurants, noodle bars, street food and izakayas all have a different dining experience to offer and we always enjoy trying new things.
So another amazing trip is over, and with no travel plans on the horizon (#stayhome2019 has gone out the window), I am counting the stamps in my passport and wondering where I'll end up next?