Well, we had a rocky start today. Not sure exactly what happened but at breakfast, we found out that we had to move hotels today at 09:00.  Either Samirr fucked up and failed to tell us, or Intrepid fucked up and hadn't booked properly for all of us… we haven't been able to figure it out.  But our plan had been to head down the Palais Royal this morning and instead, we were packing and moving our stuff to a different hotel just four doors down the street, and putting things into storage there as rooms wouldn't be ready until well after midday…?  We weren't overly happy, but there were some of our group who had breakfasted stupid early and head out to do things to miss the crowds, so they came back to the hotel late in the afternoon only to be told we had all moved?!  I haven't done an organised tour like this in years, so I can't say if this is 'normal' but a communication breakdown like this does not lead to good reviews nor does it lead to good tips at the end of the tour.
We eventually made it to the medina around 11:30 to do a bit of shopping before Zita and I had to meet up for a cooking class we had booked.  When we arrived at the Square it was even more madhouse than yesterday – if that is at all humanly possible.  Still plenty of noisy monkeys, snakes, watermen and whatnot, but the winding narrow alleys were CROWDED beyond belief.  Way too much humanity if you ask me!
Undeterred, we did manage to dive in and get some shopping done.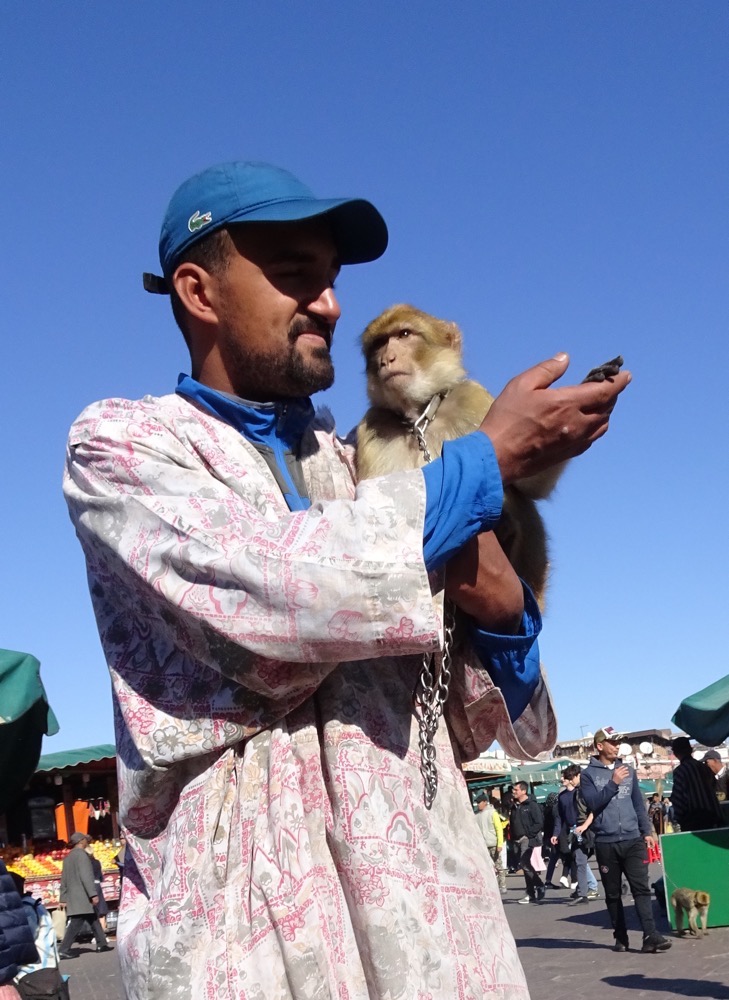 Grinding spices for the tourists… or rather tourists rather inelegantly and ineptly grinding spices for shits and giggles.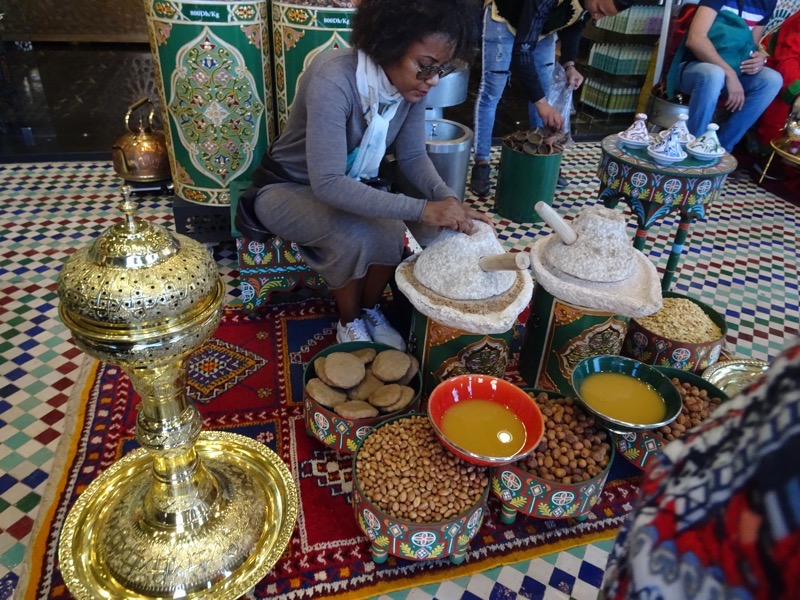 Cones of 'spices' for display… this is literally a timber or cardboard cone with spice coloured cement over it to lure tourists into the shop to look for things – this is not the bright coloured piles of spice you are looking for!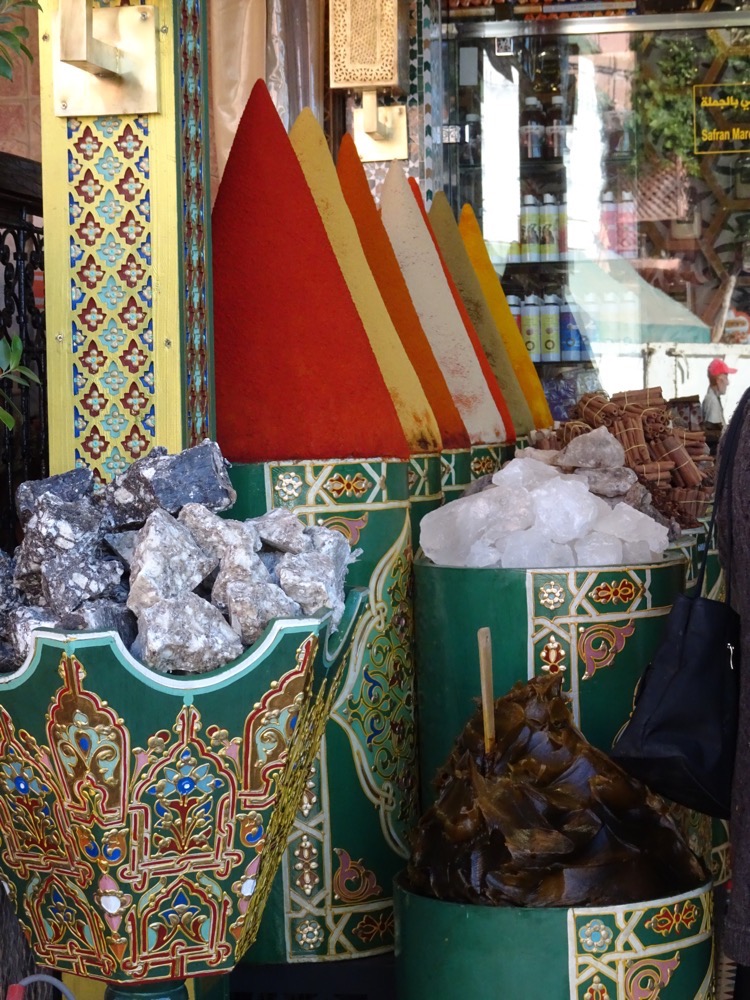 At the main entrance to the medina are two walls lined with a homage to the current king – lots of photos, trinkets and mementos. The populace seems to really love him and his modern ideas for improving Morocco and its infrastructure and social programs.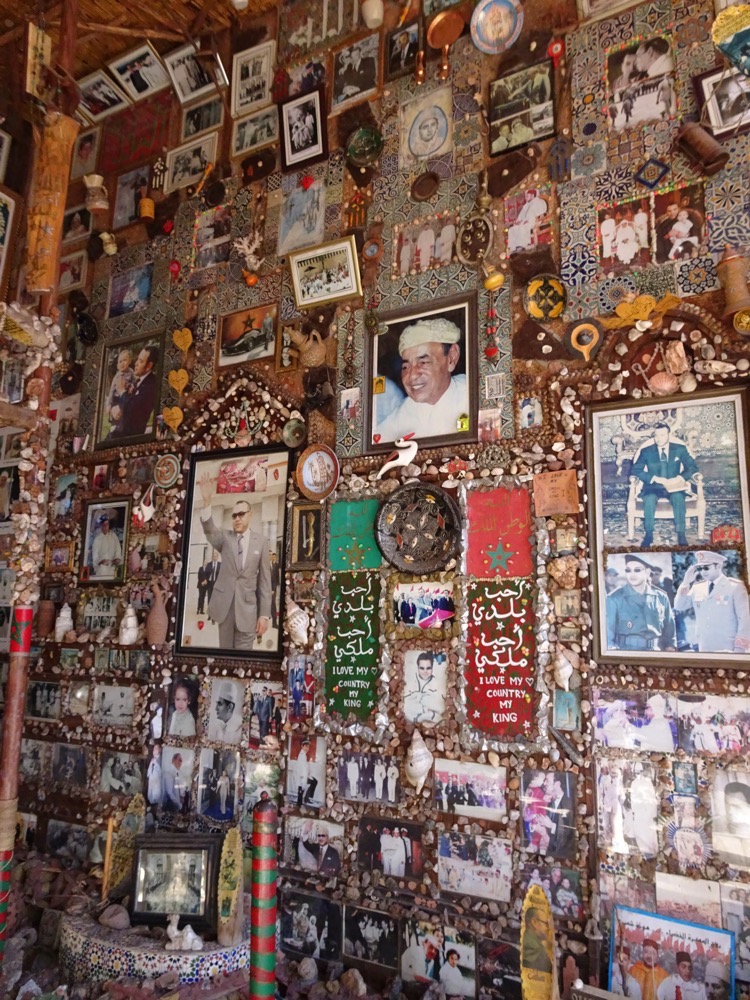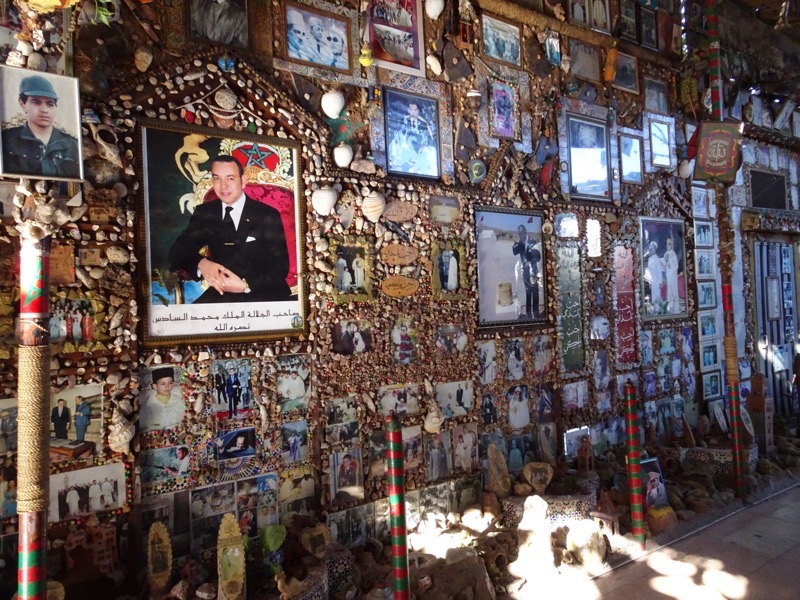 Shopping, shopping, shopping.  So many lovely things; so much of it so hard to bring home.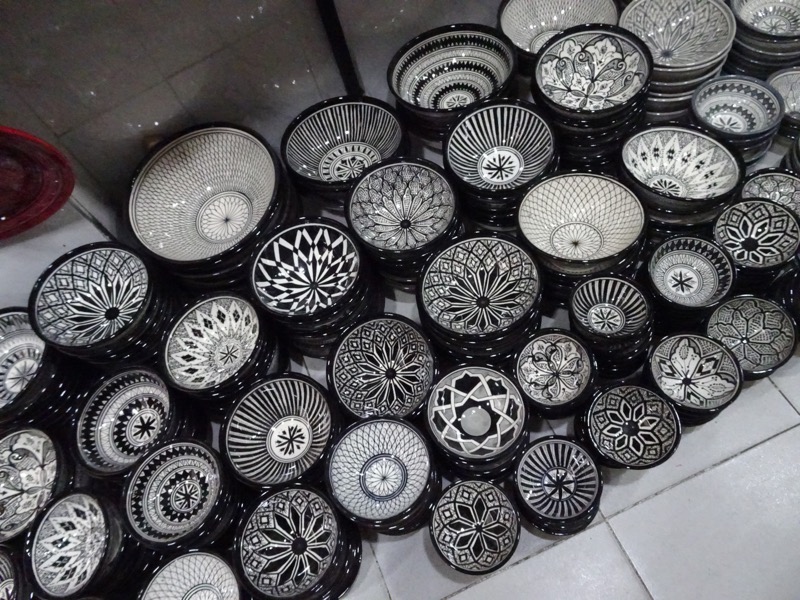 At least this stall had piles of spices that were actually made of spice.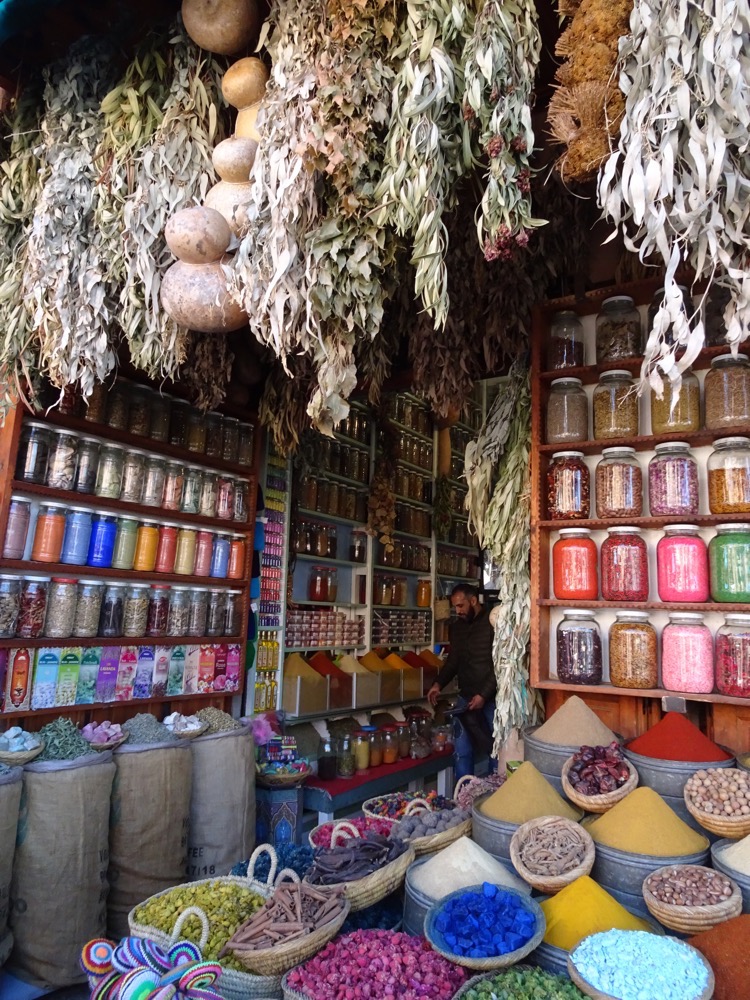 I'm in love with this silk rug – it's probably made in Turkey though, based on the design and the knot count. We managed to find the store again, so now I have a week or so to think about whether I really want it when we get back to Marrakech.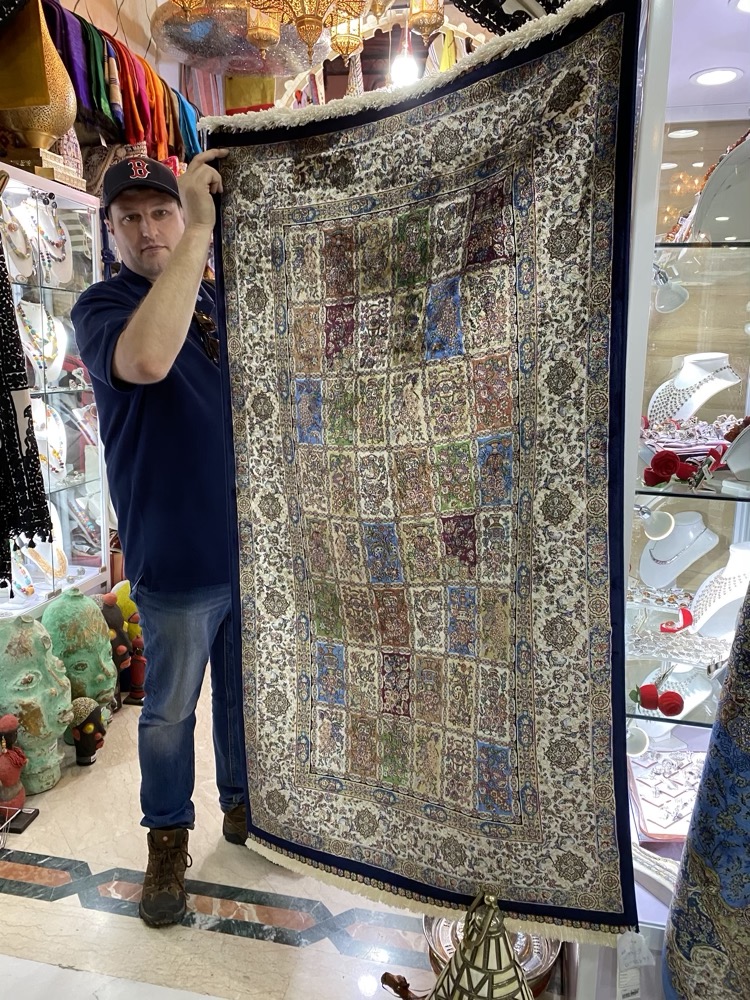 More knitted beanies in every size and colour…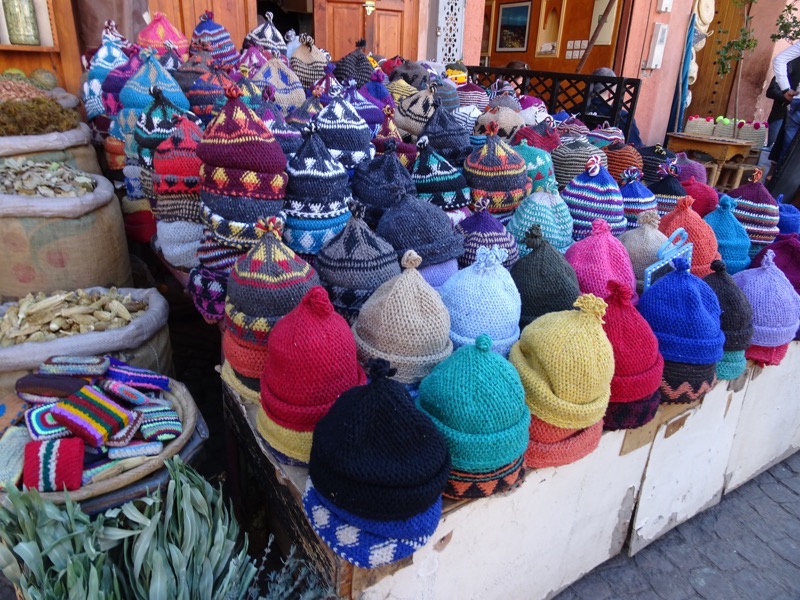 Rug stores. Everywhere.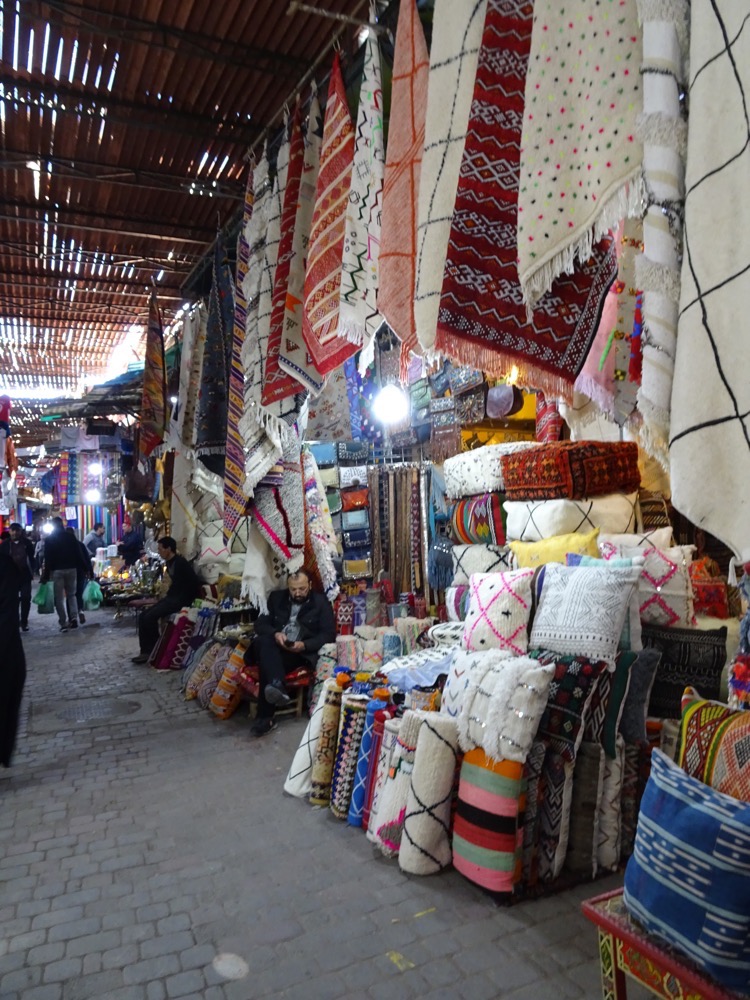 Cane and wicker baskets and handbags.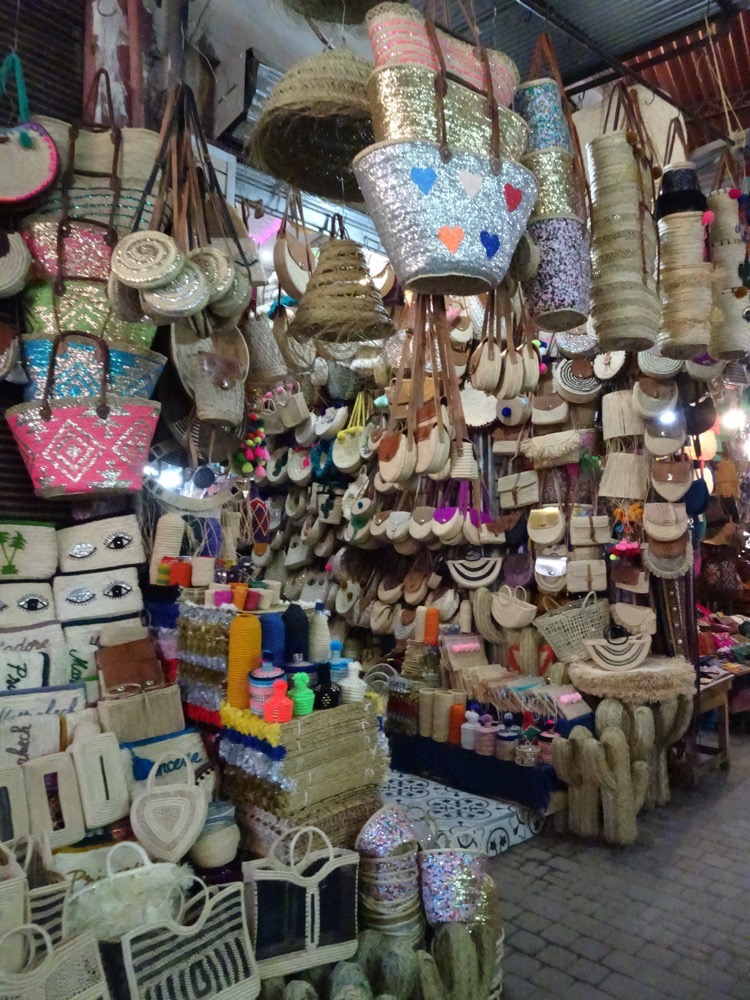 More leather goods – some of it fantastic, some of it tacky as all shit. The poofes aren't as nice as the ones we saw in Fez, which is a shame.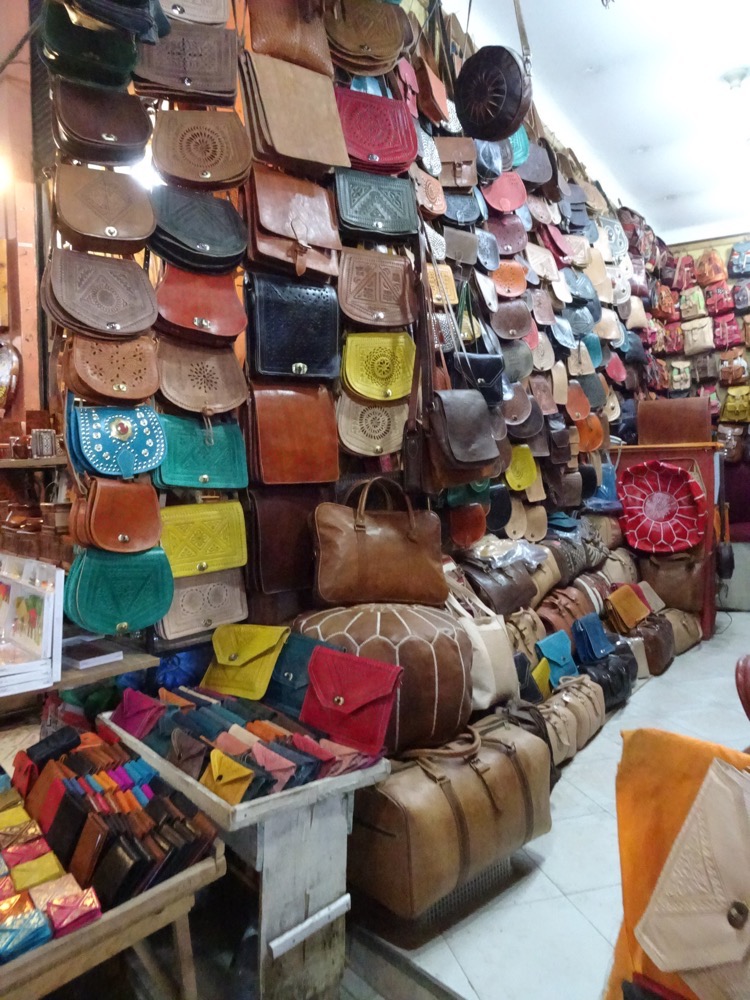 Carved timber – all I can see is having to get in the 'something to declare', line when coming back into Australia.  :/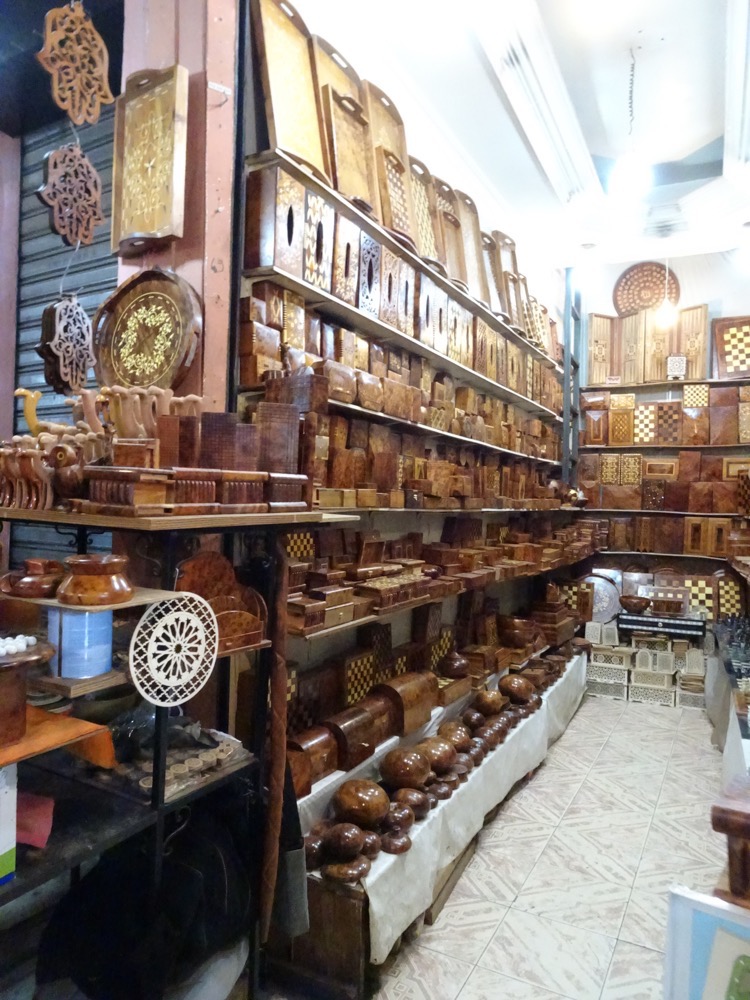 After nearly three hours and four kilometres of wandering around the medina, we found ourselves back out in the Square where we needed to meet our cooking class guide/teacher.  This is a very popular spot for tourists to sit and watch the world go by.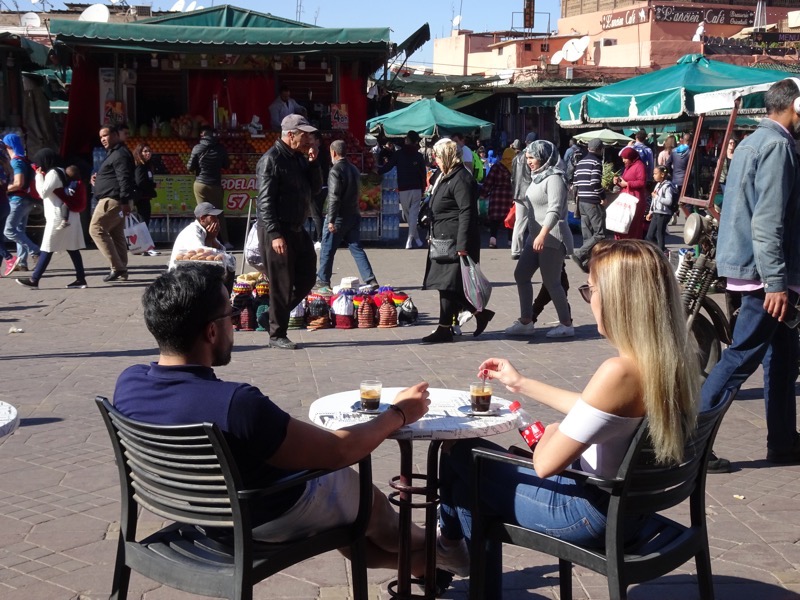 Zita and I met up with Hannan, our mentor for the afternoon, and she set us off at a brisk pace through the medina to buy ingredients for our meals.  Turns out that it was just the two of us, so we had a private little group which was lovely.  We marched past about a kilometre of touristy handicraft shops before popping out in a slightly slower-paced area of food shops more populated by locals.


I had a look at the map and we were well off the tourist track this deep into the medina (the Mhamid Marrakech site is the main Square).  First stop was the chicken shop, whereupon Hannan chose a live chicken.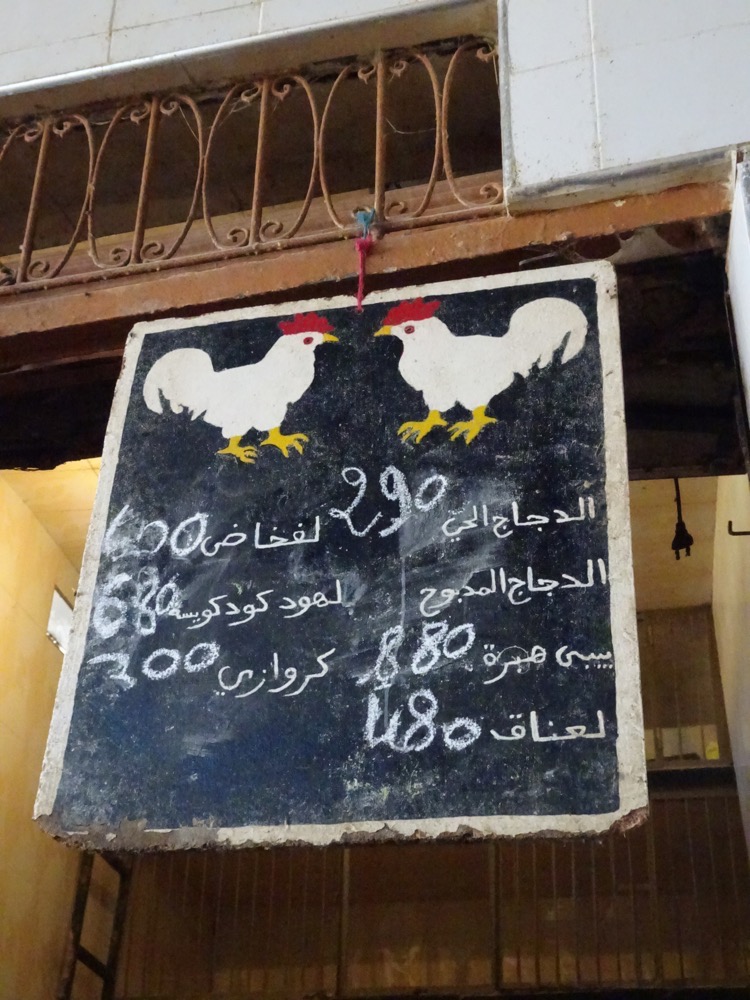 The poor thing was quickly weighed, and before Zita could say, 'Are we going to have to pluck it?', it was swiftly slaughtered and skinned.  Yep, that's right, skinned. I saw, just after the poor chicken lost its head and feet, the butcher de-feather and deskin the bird in a very swift very smooth and obviously practised motion – much like how one skins a rabbit.  I was actually quite surprised, I didn't know you could clean a chicken that quickly – the whole transaction barely took two minutes. Buying live chickens is no doubt the result of there being very poor (if any) refrigeration in the medina.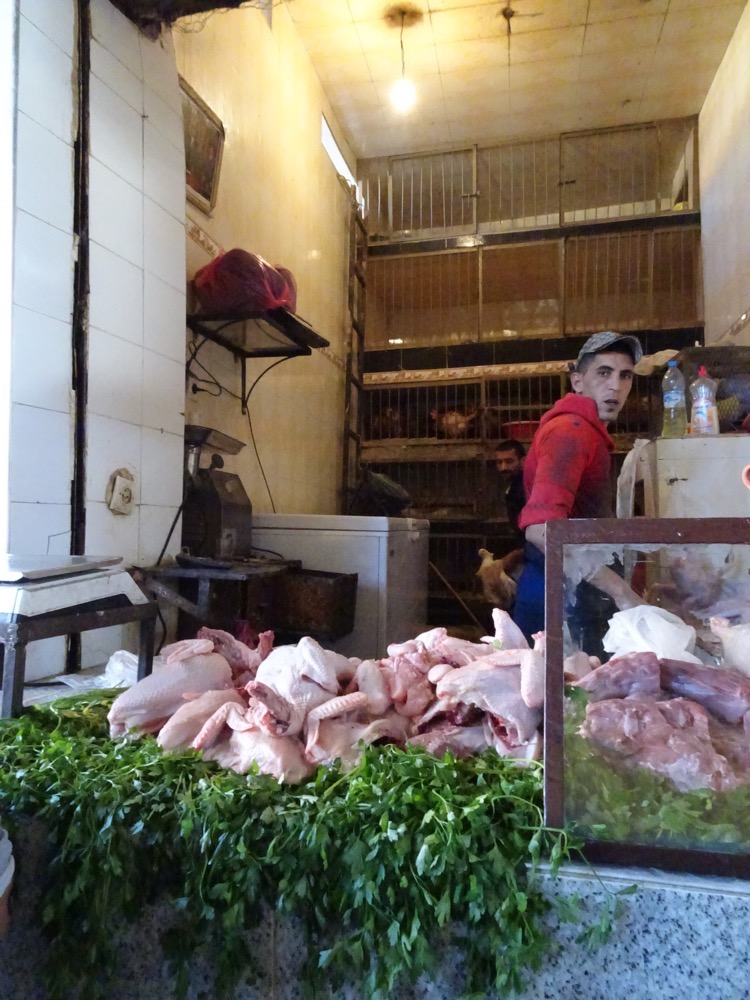 Next stop was to buy some fresh produce, some of which bounced off the ground a few times and yet still ended up in the basket to come back to the Riad.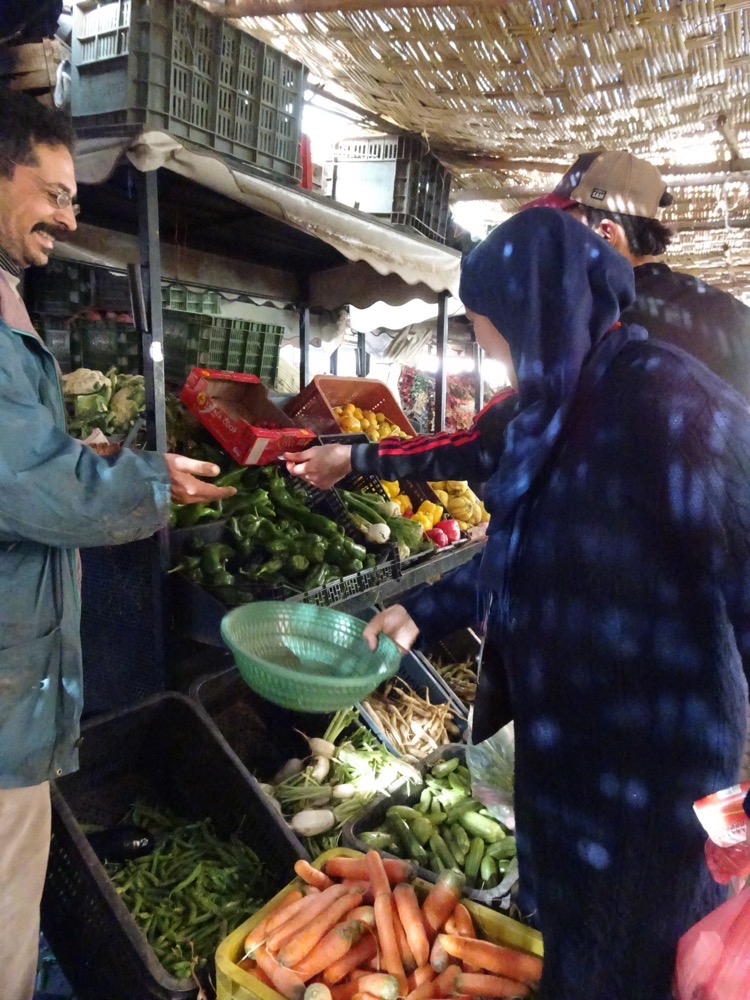 We bought tomatoes, onions, garlic, capsicum, sweet potato, beans and other various items that I probably would walk right past at home.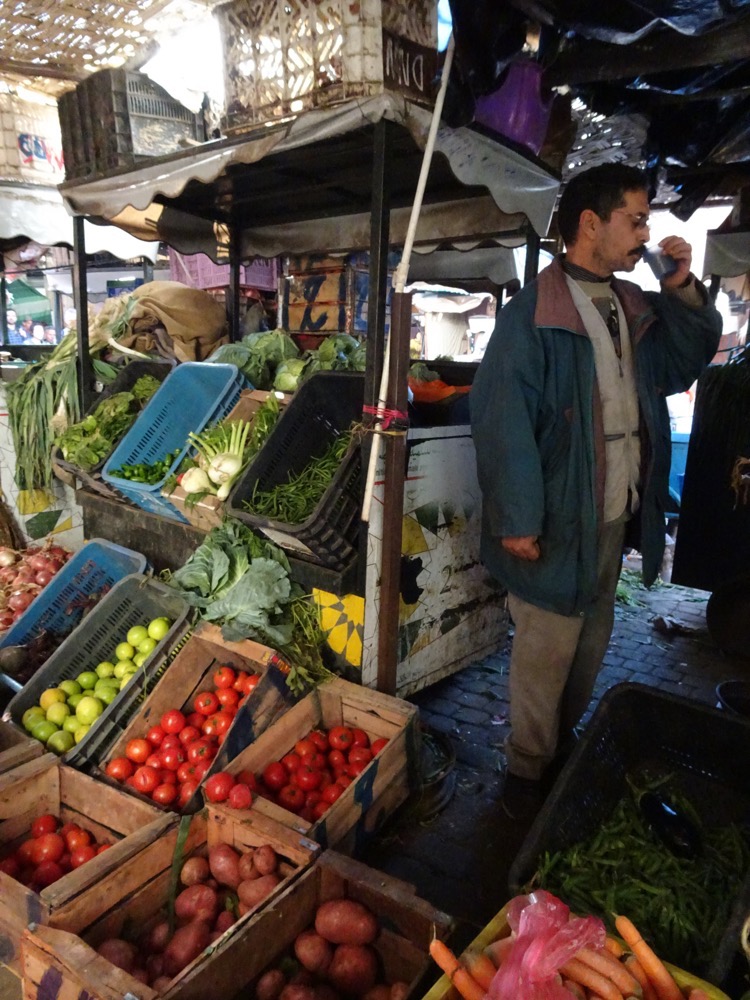 After this, we stopped to buy some preserved lemons and some olives at a different little store… preserving lemons is not difficult, but takes months, so the locals tend to buy them already preserved.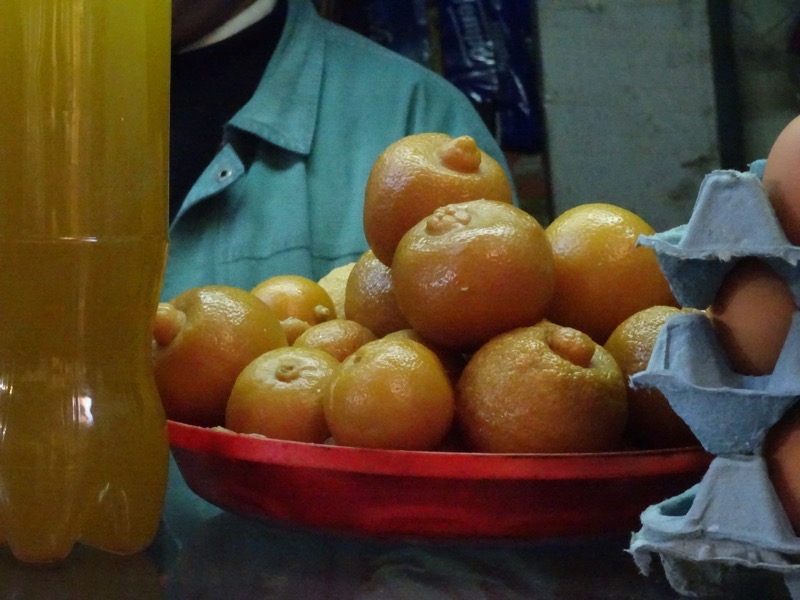 The final stop was to buy some spices – you'll note that this deep in the medina, there are no fancy cones of pretty spices to attract the tourists, just dump bins of spices for the locals to buy.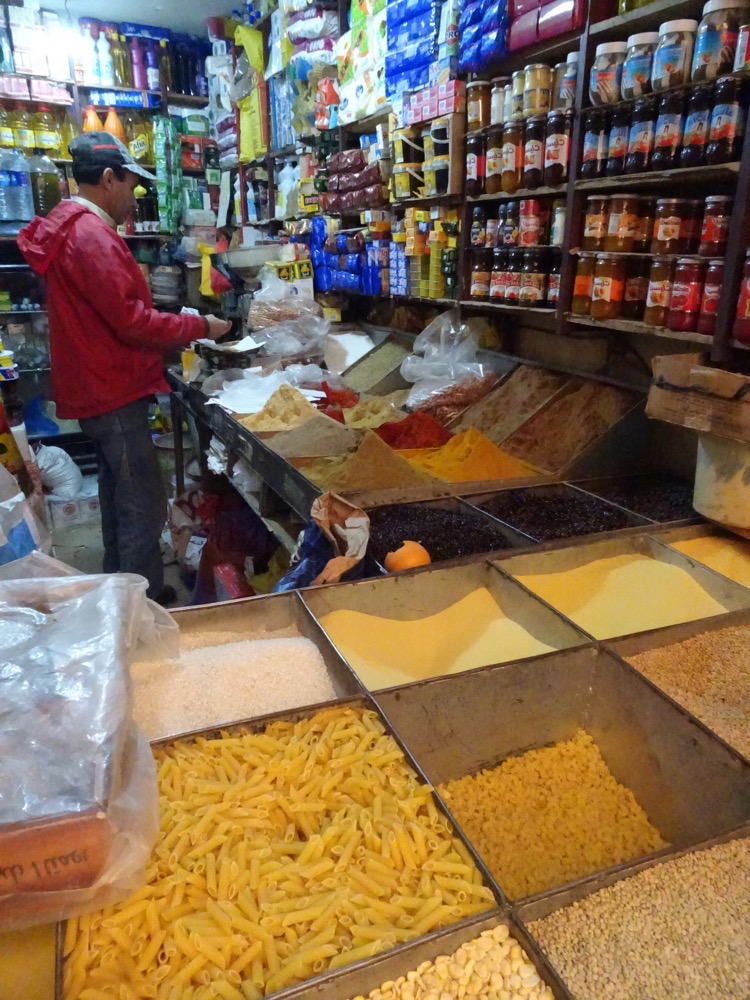 Here, we bought some ground ginger, cumin, ground coriander, mixed spice and sweet paprika.. not all of which ended up in our dishes?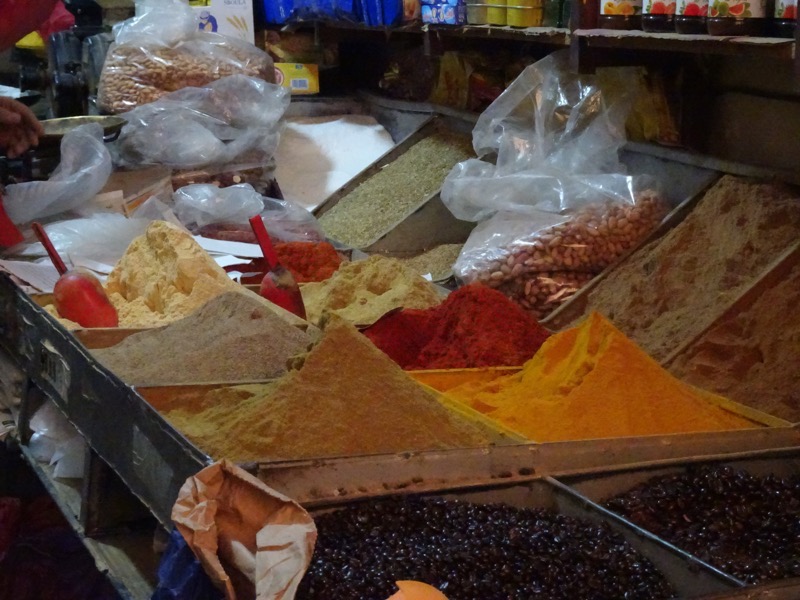 Another 600m or so of winding streets and we found ourselves at the Riad where we would be doing our cooking.  It was amazing how it was so chaotic out in the alleyways (full of women marching with purpose, motorbikes zooming around the alleys, bicycles pinging their bells, touts yelling for your attention, and under-employed men seemingly just loitering about everywhere), yet as soon as you stepped into the Riad, it was quiet and peaceful.  You couldn't hear a single two-stroke motorcycle going past and the sounds of the touts and tourists seemed miles away.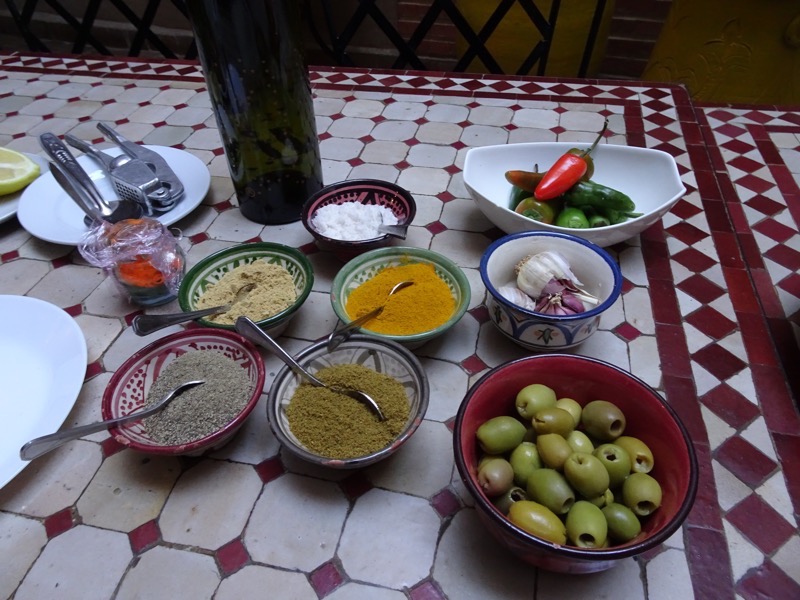 Hannan laid out all the ingredients we were going to need for our dish, while we made mint tea.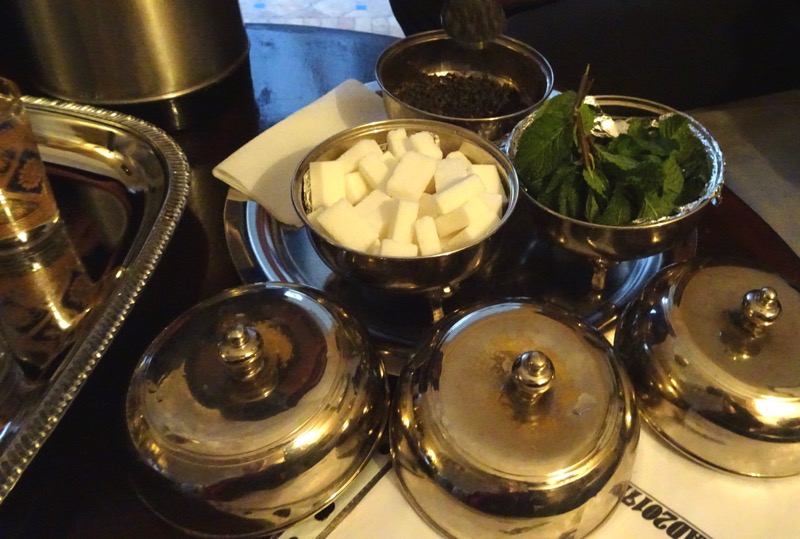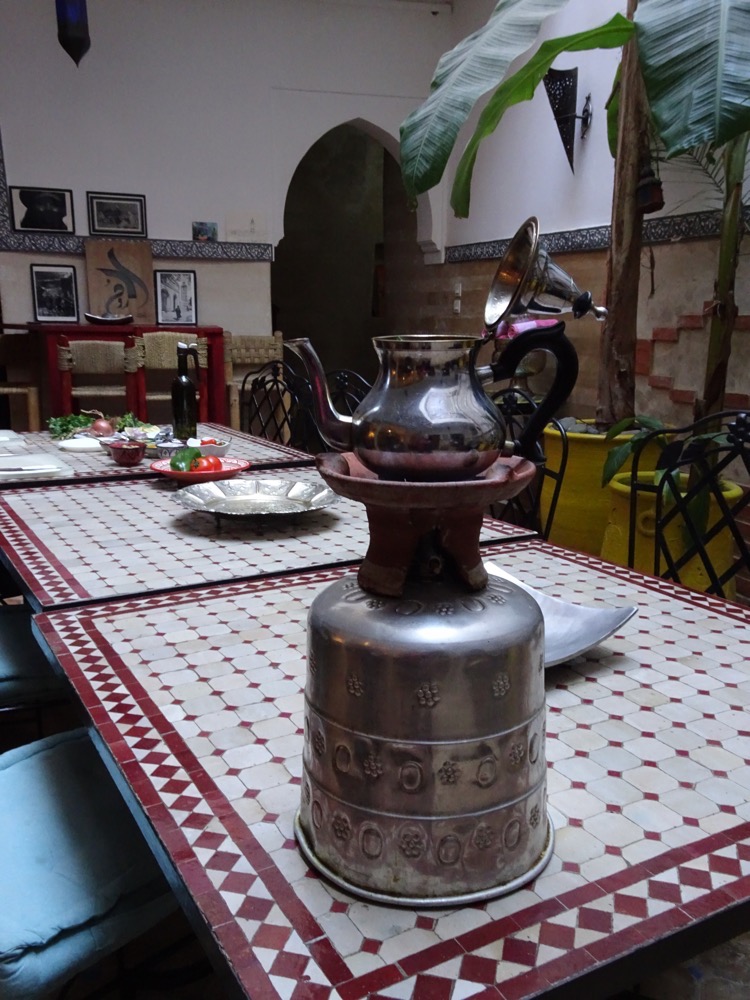 Making the mint tea is quite a process, and now I understand why it seems to take so long to prepare when you order it at a cafe.

Then it was onto the cooking!  We had our fresh chicken, produce and spices, and Hannan led us, step by step, through making a chicken tagine with preserved lemons and olives. It was a lot of fun and we learned a lot about Moroccan everyday life as well.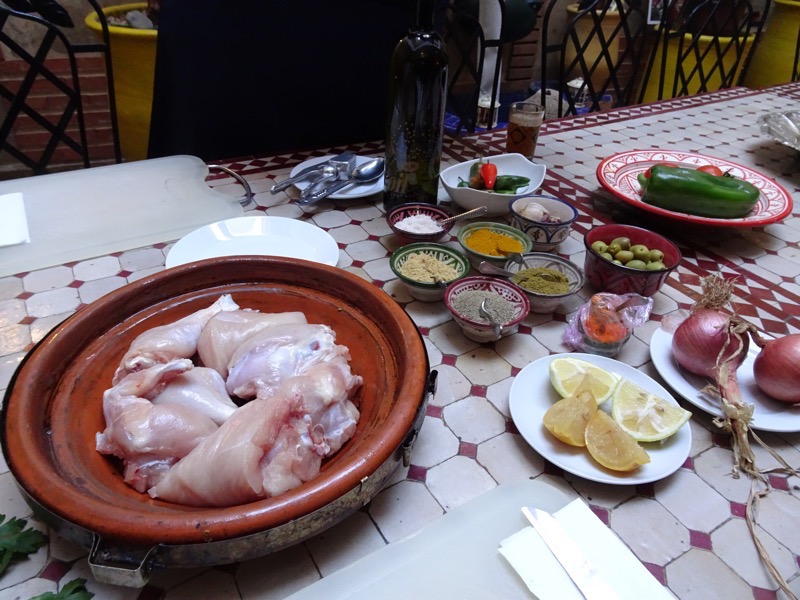 Zita wrangling the garlic press into submission.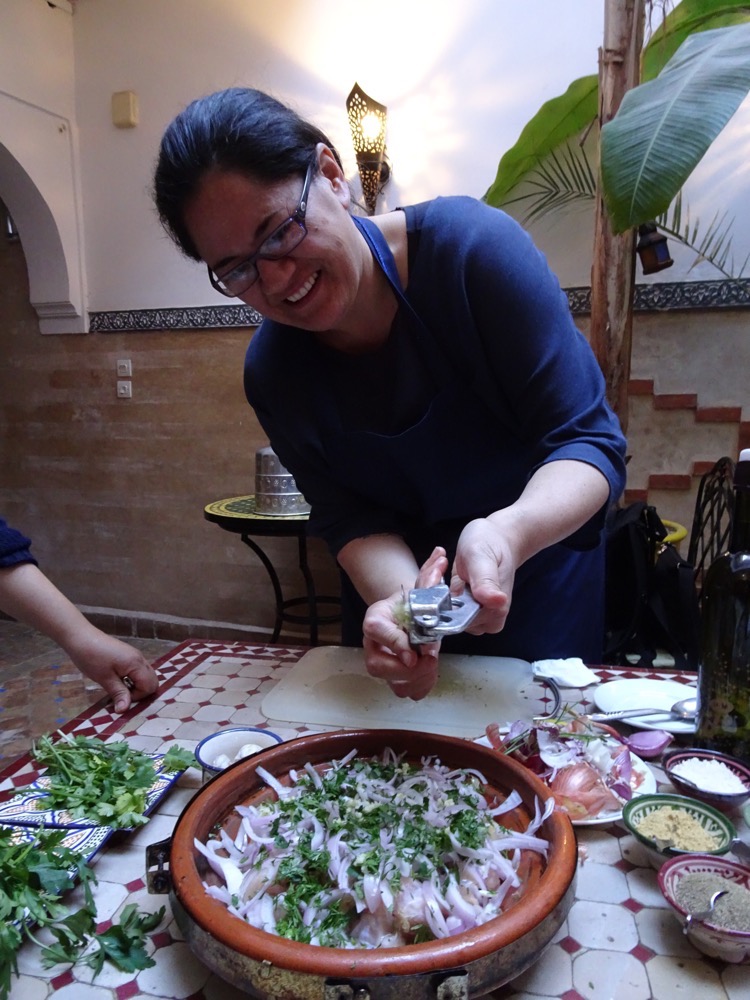 Eventually, all the onions had been sliced, the garlic all pressed, the chili finely chopped, fresh coriander and parsley minced, and spices added.  Then the mixing.  By hand…which I was somewhat reluctant to jump into…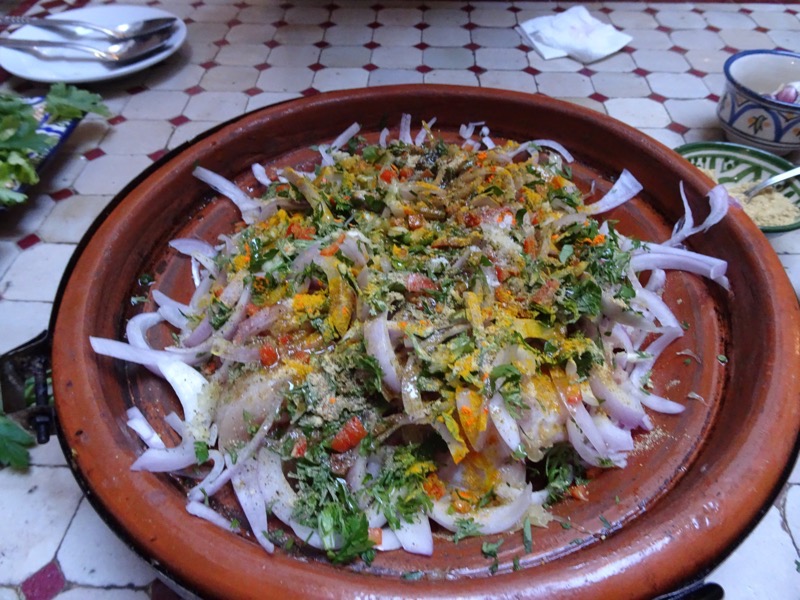 … And which, naturally resulted in this:  'Don't worry, don't worry, I have lotion to get it off later.'  Hmmm… sure.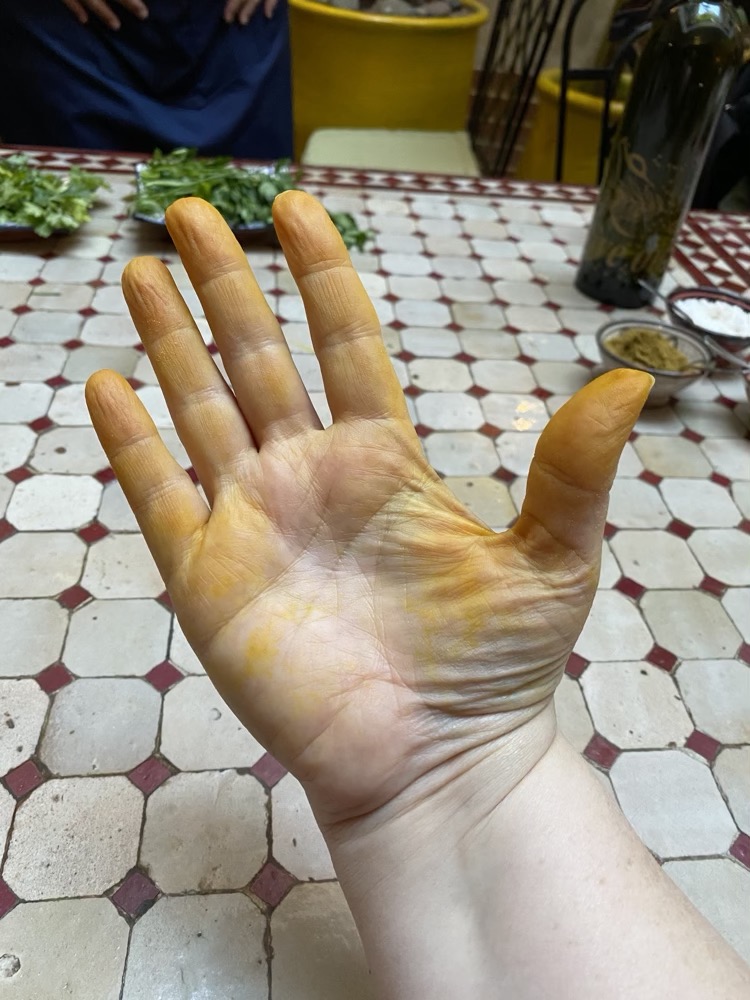 Our tagine went onto the gas while we prepared a Moroccan salad comprising of peeled and seeded tomatoes, red onion, and grilled green bell pepper, plus lemon, herbs, spices, and a tiny bit of olive oil.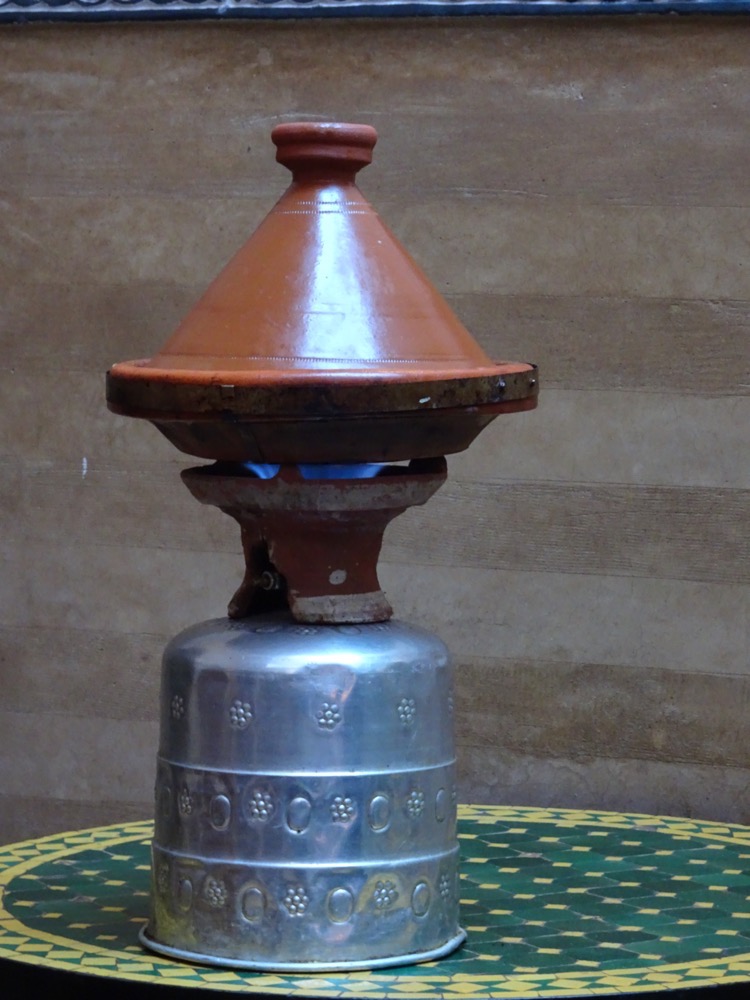 After the salad was set aside to soak in its own juices, we set to making the third course, a fruit dish of sliced orange, prunes, sultanas, honey, cinnamon and orange blossom water.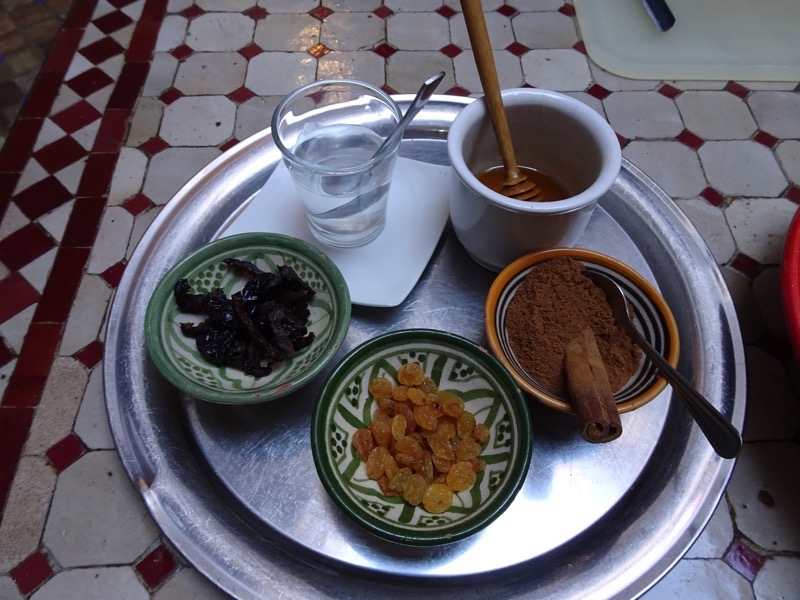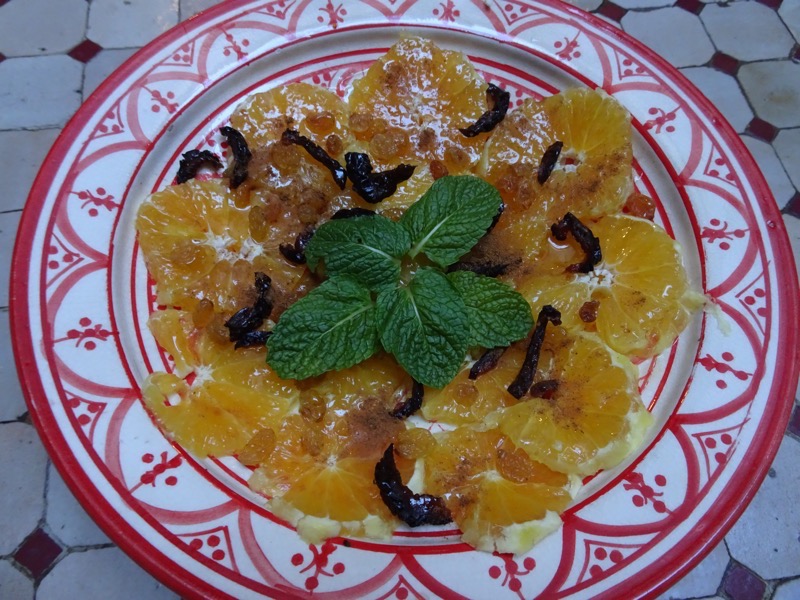 Which was perfectly timed to then check on the tagine and add some olives and the preserved lemon peel.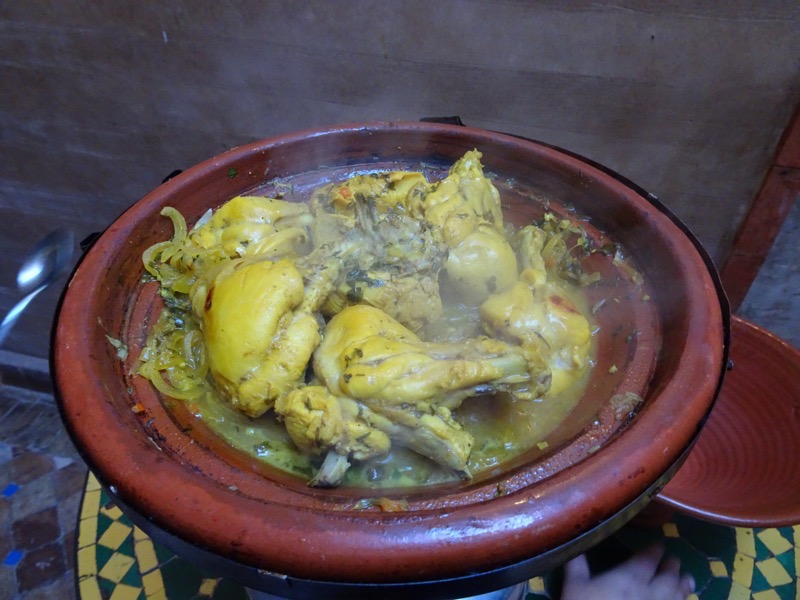 While the tagine was finishing cooking, we were encouraged to have a look around the Riad and found ourselves up on the roof.  Most Moroccan homes have a rooftop space to recreate on hot summer evenings.  A lot of people will sleep on the roof if the nights are really hot.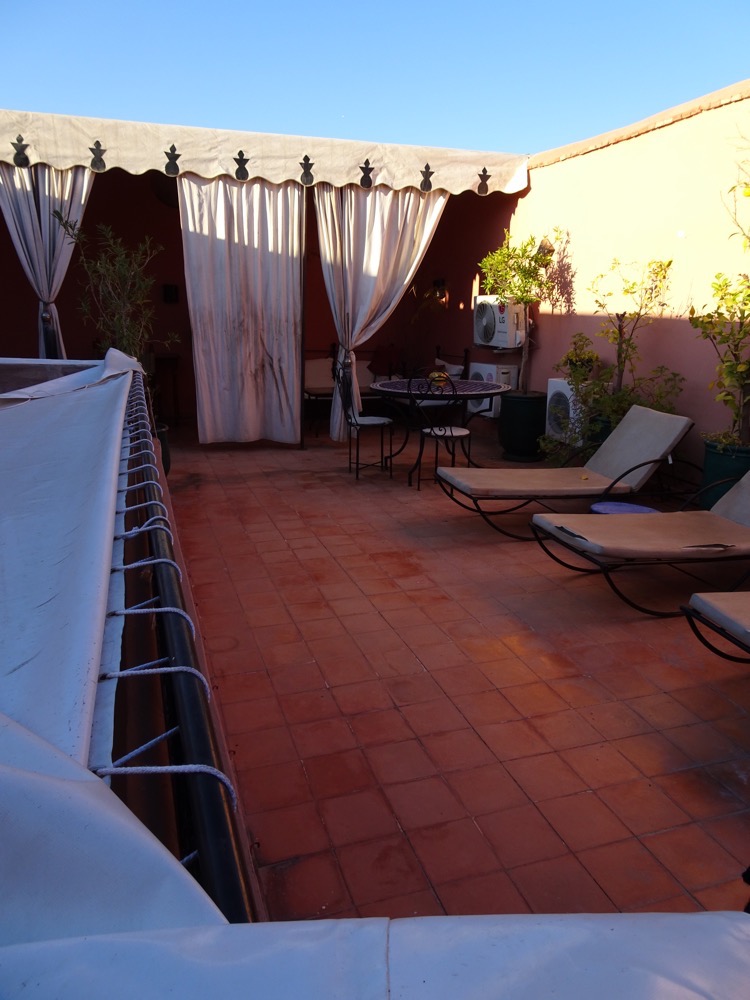 This Riad has created some particularly lovely spaces for their guests to relax and enjoy in a really nice rooftop patio.  You could hear the noises of the medina up here, but it still felt distant being four floors down.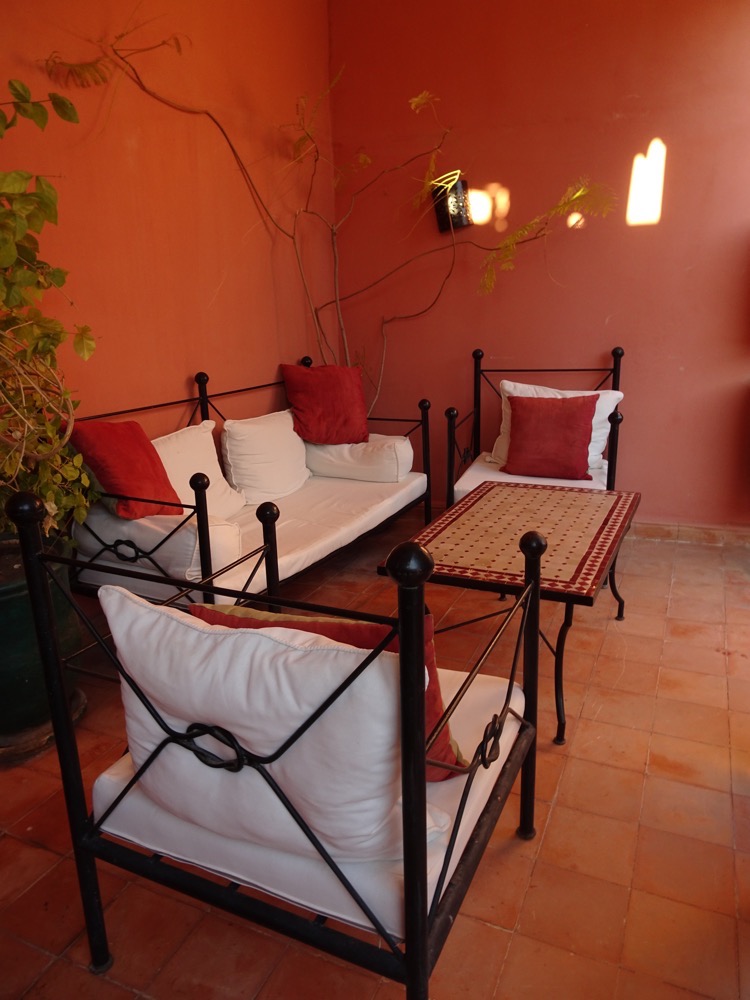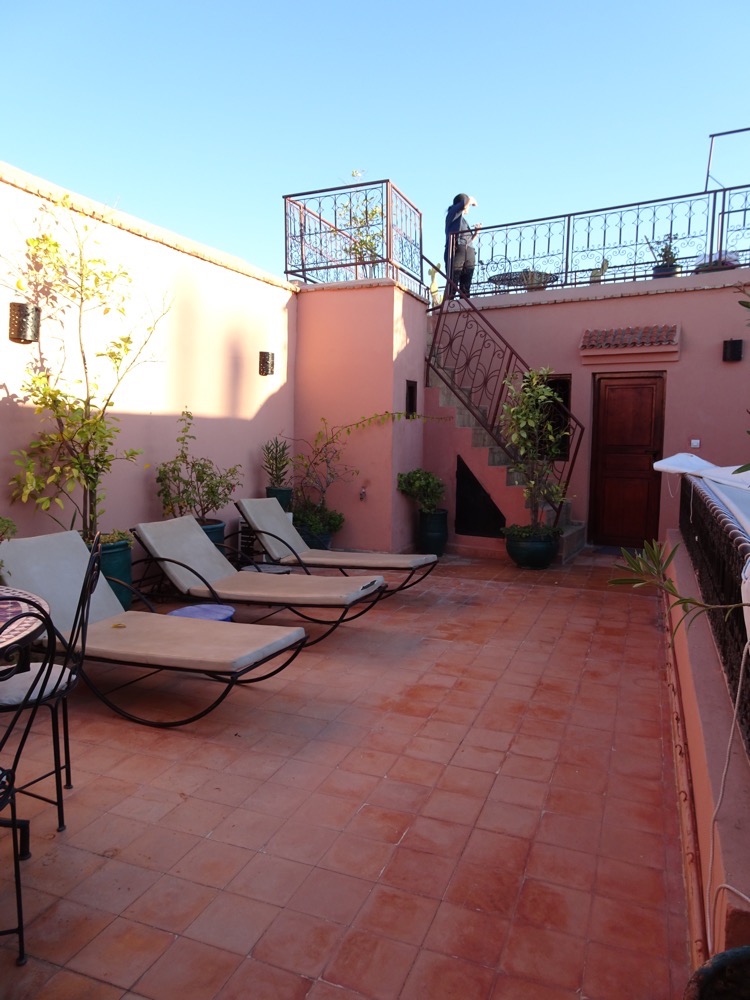 I was keen to see across the rooftops to see how crammed it all looked.  All the buildings are definitely packed in tight.  Medieval town design, clashing with modern living.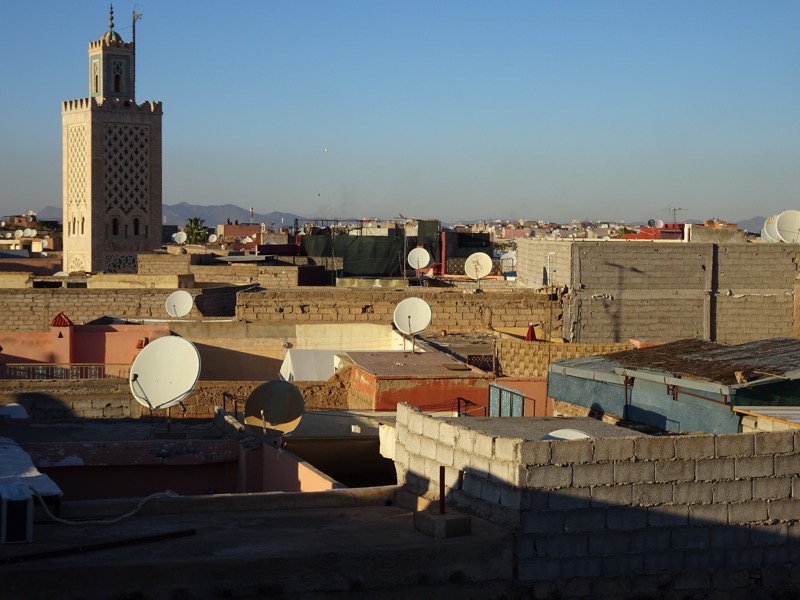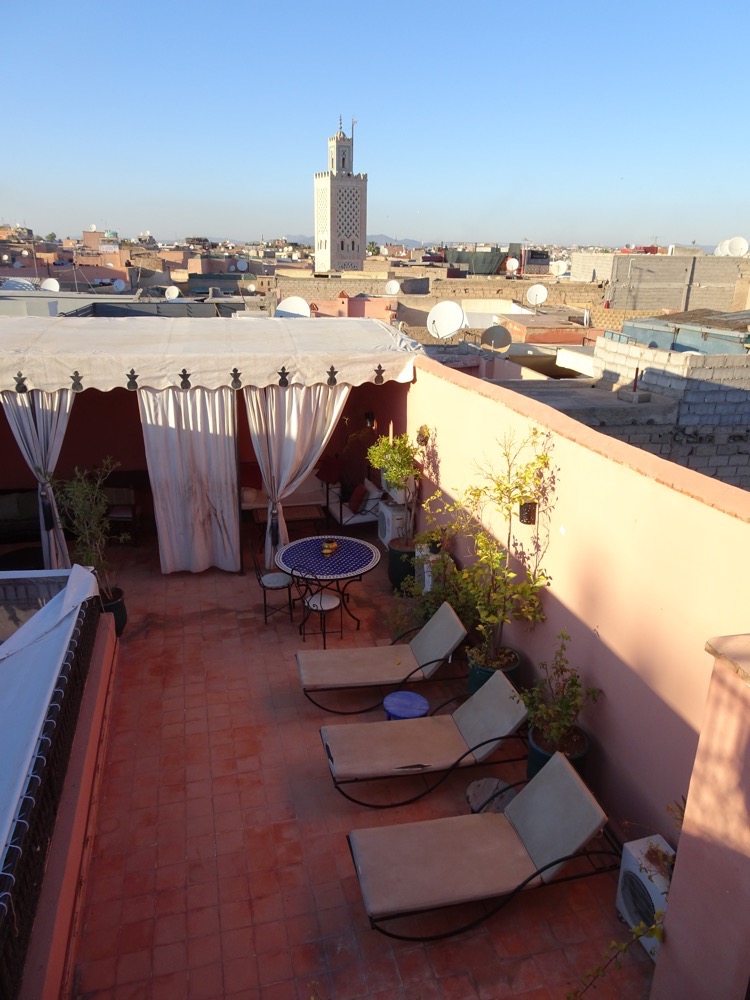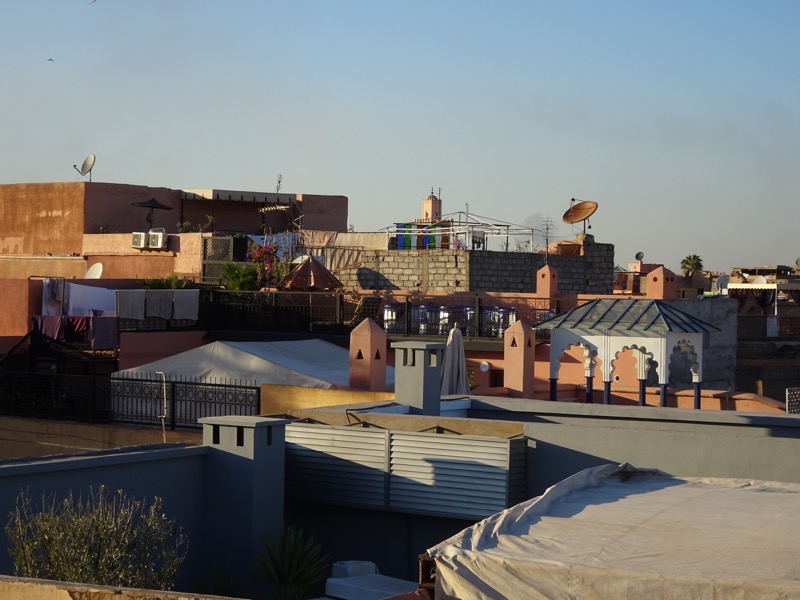 Unfortunately, when I looked down over the side of the patio, I saw this… on two sides of the Riad, were two enormous holes in the ground that are basically being used as rubbish dumps.  No one lives in these spaces, and no one is looking after these spaces.  It seems mad that there could be hundreds of these dilapidated spaces that were once buildings sprinkled throughout the medina when space is at such a premium.  I honestly can't understand it. Who owns the space? Why did they fall into disrepair?.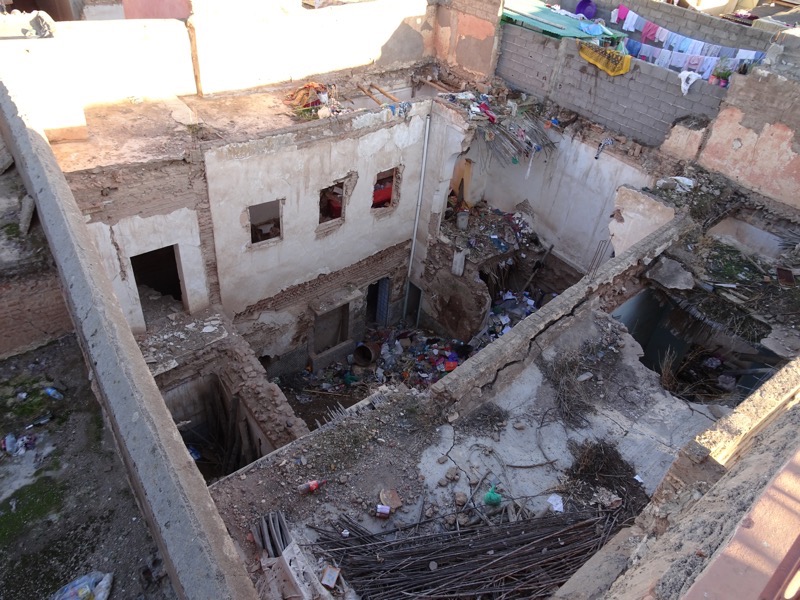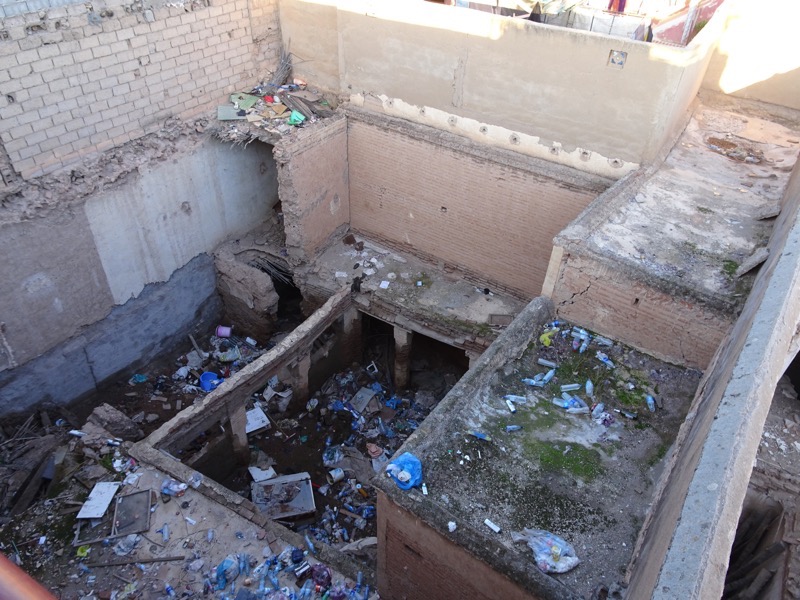 In stark contrast, by the time we came back downstairs, the table had been set with the good flatware, and our bread warmed under the fancy bread warmer, and the dinner we had prepared was served to us.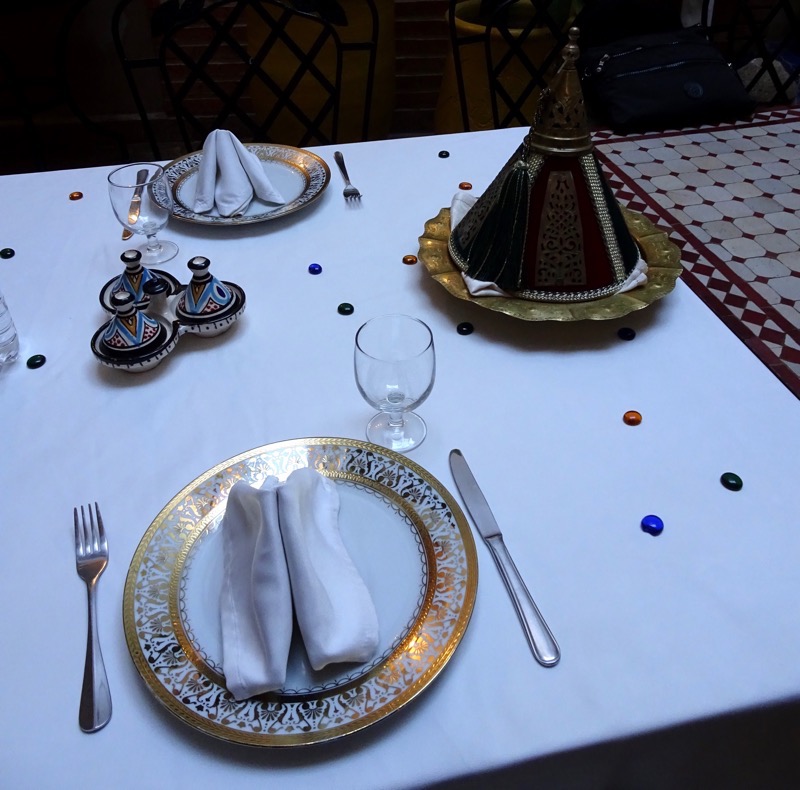 The Moroccan salad was really quite tasty, and I am not normally a fan of bell peppers at all.  Skinning and seeding the tomatoes made them extraordinarily sweet compared to how we usually serve tomatoes in salads at home.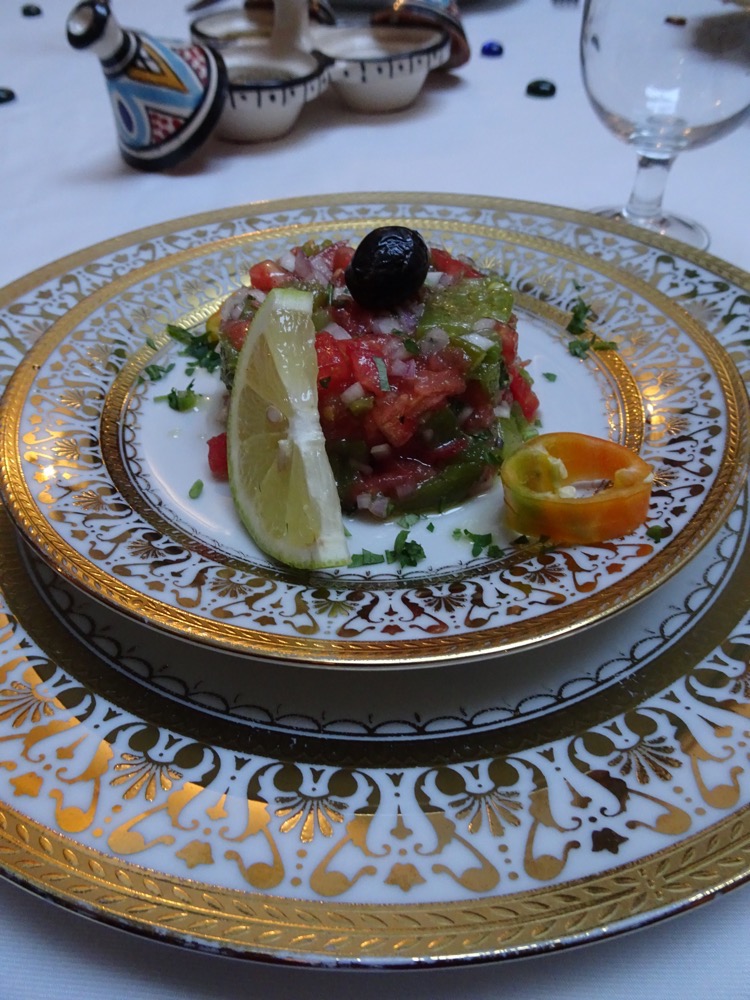 A little spice pot shaped like tiny joined tagines was on the table with salt, pepper and cumin to add to our dish if we so desired.  I have seen these little pots everywhere in the medina for sale and had no desire or plan to bring one home, but now it seems almost essential.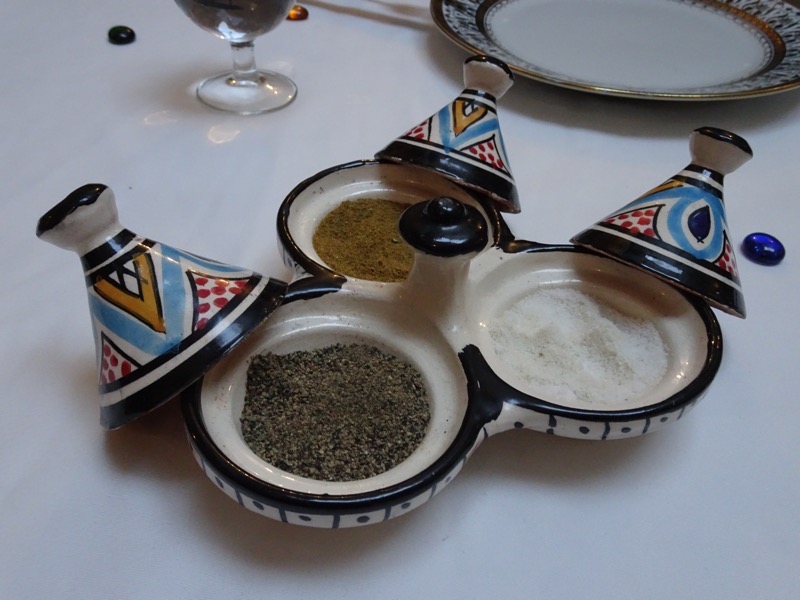 And, finally, 'la piece de resistance', our chicken tagine with preserved lemons and olives – and OMG was it delicious.  It was literally the best chicken tagine I've tried since we arrived in Morocco – and we've shared about five at various restaurants so far.  Just a really fabulous combination of fresh ingredients and a nice balance of spices resulted in spectacular flavours.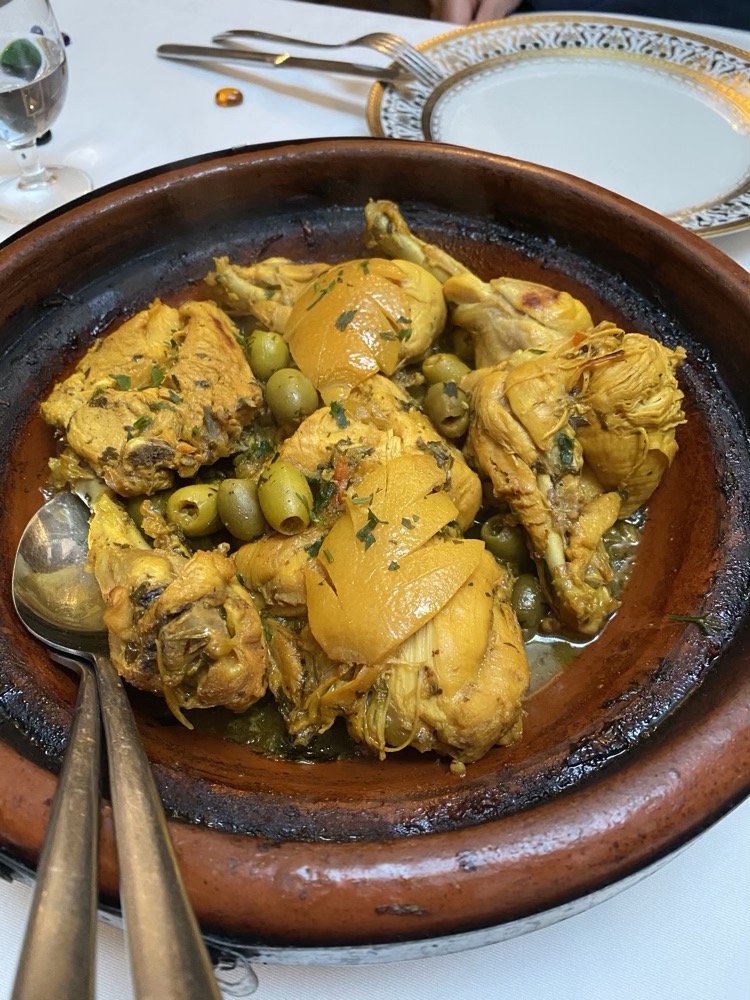 Admittedly, Zita and I couldn't come anywhere near finishing the chicken dish, so I hope the family's children enjoyed their dinner (no doubt they are sick to death of this dish!), but we had to leave some space to try the honied orange slices we had prepared.  This was a truly simple and refreshing finish to a lovely meal.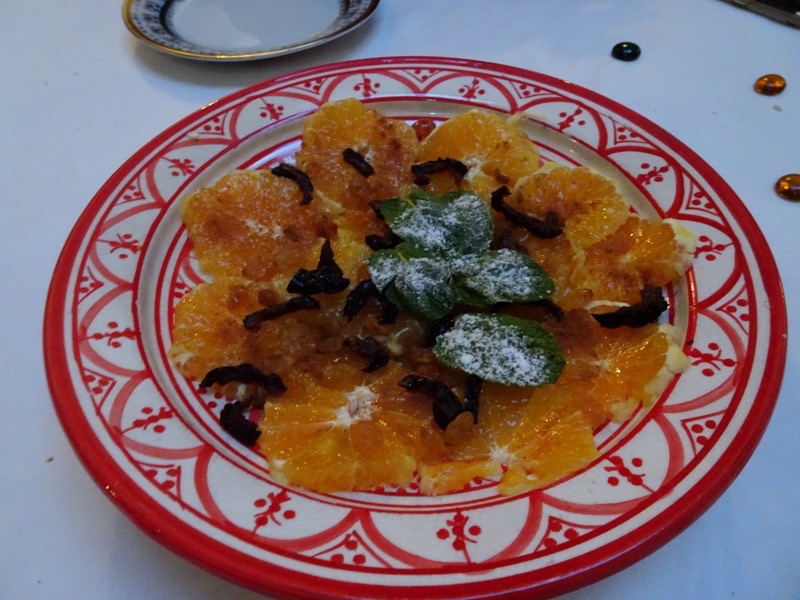 It was after eating, however, that I asked for the 'lotion' to try and remove some of the stains from my hands… only to be given a bottle of bleach.  Yeurck!  And now my hands are sort of burning, still a little bit yellow and well, they still stink of bleach five hours later.  Live and learn, I guess… not that they would have had any disposable gloves for me to use to rub the spice into the chicken anyway.  *shrug*
After this, it was time to dive back into the chaos of the medina – and holy shit!  I thought it was chaotic earlier in the day, now it was just beyond hectic.  As part of the end of year celebrations that were going on – there was a concert happening in the Square, some famous French performer who we had never heard of, but who was attracting a crown of some 40,000 people.  There were roads blocked off, traffic being re-routed, and a huge area covered in security for paid ticket holders and thousands of more people lining the outer areas of the Square and the surrounding rooftops.
Hannan power walked us through the medina and, to be honest, I'm surprised that neither of us either tripped or was run down by a motorbike. People, just everywhere! The locals on their motorbikes tear around the tiny streets – as soon as you hear one behind you or see on in front of you, you have to dive to flatten yourself against the walls or risk being run over.  Seriously, they don't slow down and they won't stop for anything other than a larger vehicle or maybe a donkey or a large handcart – it sure gave us an appreciation for Fez's vehicle-free medina.  We damn nearly ran the 1.9kms back to the Square where we grabbed onto our belongings for dear life and dodged and pummeled our way through the crowds to try and find a taxi.  It was an assault on the eyes and the ears, so noisy and dangerous and I have rarely been so glad to be out of a place.  Note to anyone thinking of coming to Marrakech – check the 'What's On' calendar before choosing your dates!  I honestly can't describe how crazy this was, and I really wish I had video'd part of our mad dash out of there – but I honestly could not keep my person safe, keep an eye on the uneven ground, another eye on Hannan who was weaving in and out of the people like a pro, as well as try to operate a camera that would be a target for an opportunistic thief!  It was totally nuts!
And now, I'm well-fed, have yellow hands and am fucking exhausted.