One of your 'must do' items in Buenos Aires is apparently a tour of the Tigre Delta. Tigre is actually a separate town about 25kms north of BA, that gets it name from the 'tigers' (jaguars actually) that used to be hunted here.  It is accessible by bus, car, train and of course, by river boats.
Tigre has become a huge tourist destination in recent years with large resort/spa locations being built in among the rivers and canals.  Important celebrities, 'such as Madonna, you know the Madonna?' have been known to holiday here.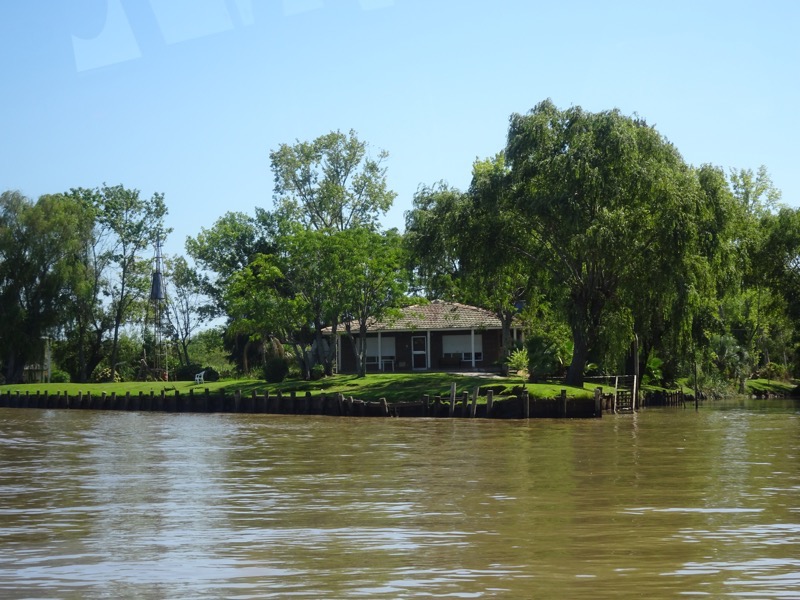 Oddly, touring the delta by river felt a lot of like doing a Florida swamp tour.  Tourists are loaded onto river craft of varying size and modernity, and are then taken powering up the Rio de la Plata (River Plate) until you reach the mouth of the delta.  From there you find yourself winding through canals and effectively peering into people's backyards!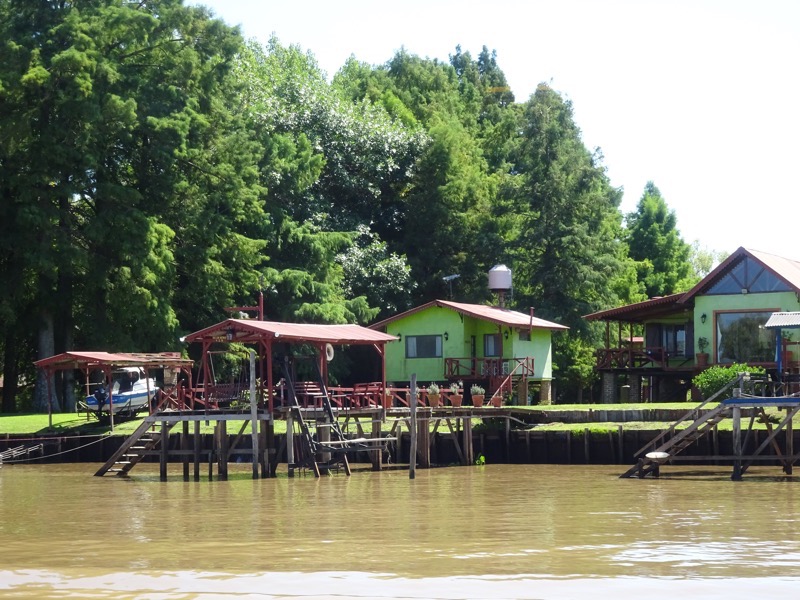 Each home has its own little jetty or pontoon as this is a community that thrives on its waterways.  They have mail boats, rubbish boats, supermarket boats and even ice-cream boats that service the community.  Kids get to and from school by boat.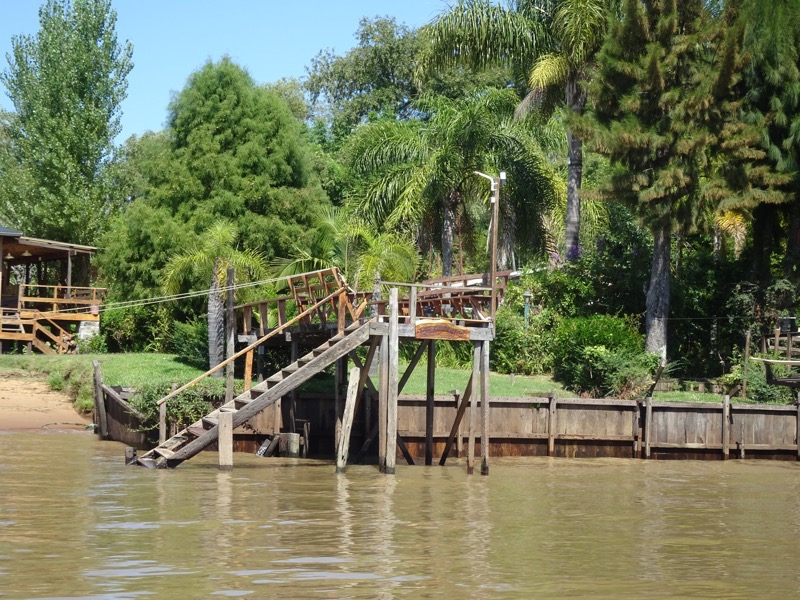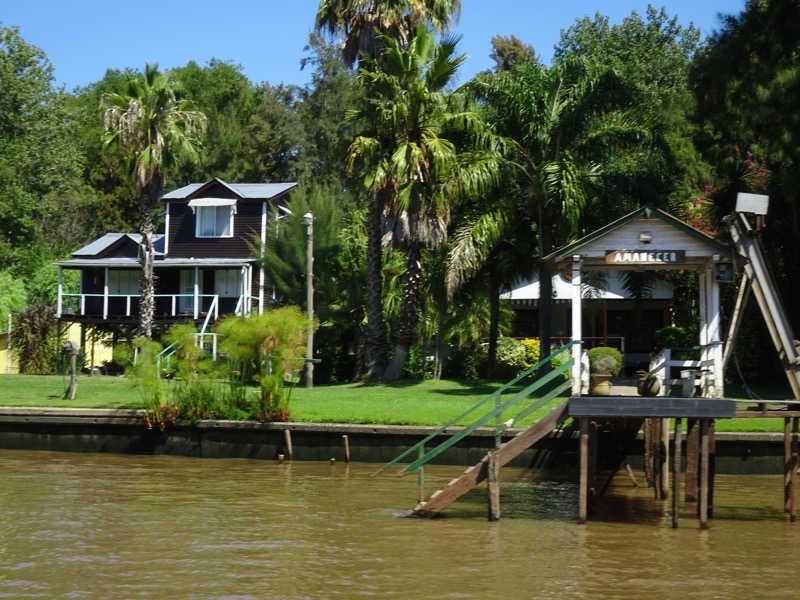 Houses are varying from grand to dilapidated, some have permanent residents and many are able to be rented as holiday destinations.  The guide on the boat mentioned that many of them are weekend homes for people who live and work in the city.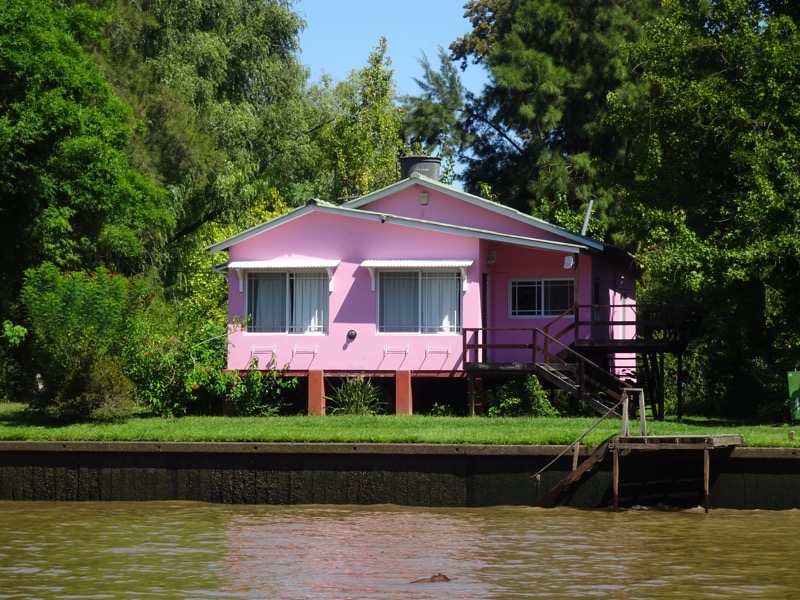 In the centre of the delta is this odd house covered by a glass cube – it is the house of one, Domingo Faustino Sarmiento, considered the 'Father of Argentinian Classrooms' or the founder of modern Argentinian education.  Built in the 1860s, the house has been placed in the glass cube to preserve it from the wind, weather and constant humidity.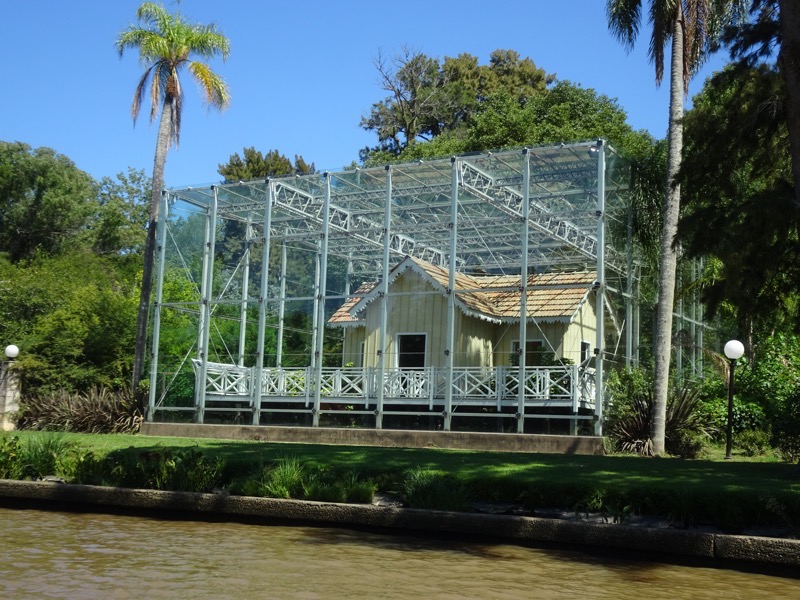 The area is well known for its rowers and the Argentinian Rowing Club is located in the delta… leading to the common site of crazy people out rowing at midday… without hats.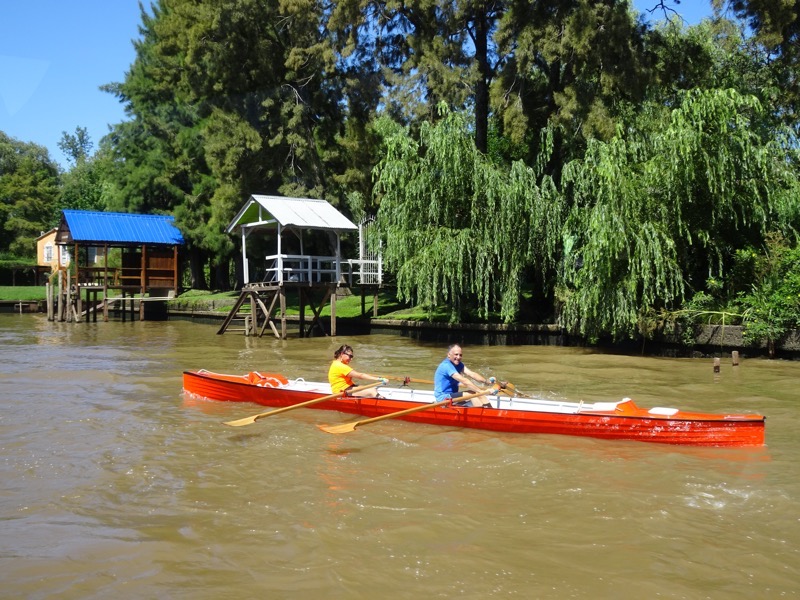 Further towards the town of Tigre, you can see large marketplaces where people can come (by boat) to do larger shopping and pick up supplies.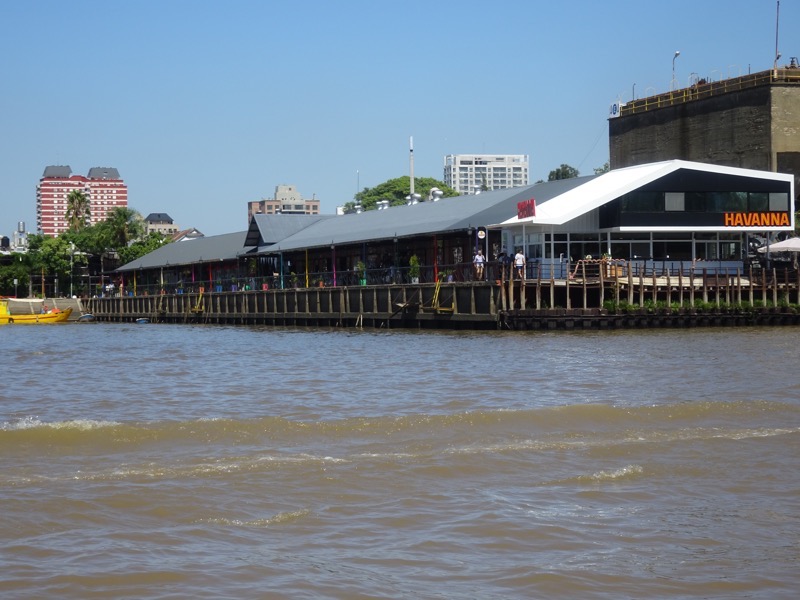 Also nearby is the famous Parque de la Costa, which is like the largest amusement park in Argentina or South America or something or other… I kinda wasn't paying attention when he said that bit  😛   In my defence, we do live barely half an hour from a handful of theme parks, so I'm not all that interested in them.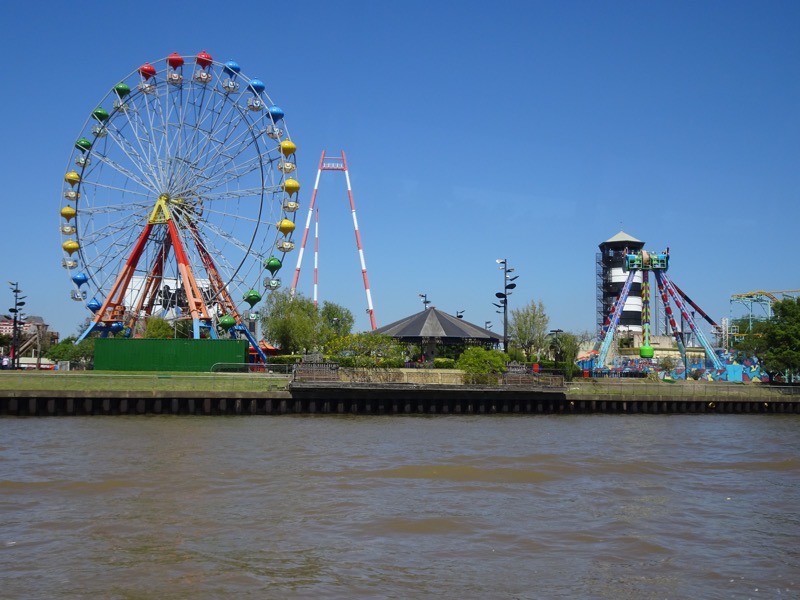 After our genteel pottering around on boats for the morning, we got to go visit the beautiful Cathedral de San Isidro which, oddly enough, is located in the centre of the small town of San Isidro.  The Cathedral was built in 1898 on the site where a cathedral had stood since the early 1700s.  As per usual for South American structures from this period (well, so it seemed from our extensive tour last year), it was designed by French architects and is built in a very aesthetically pleasing, neogothic style.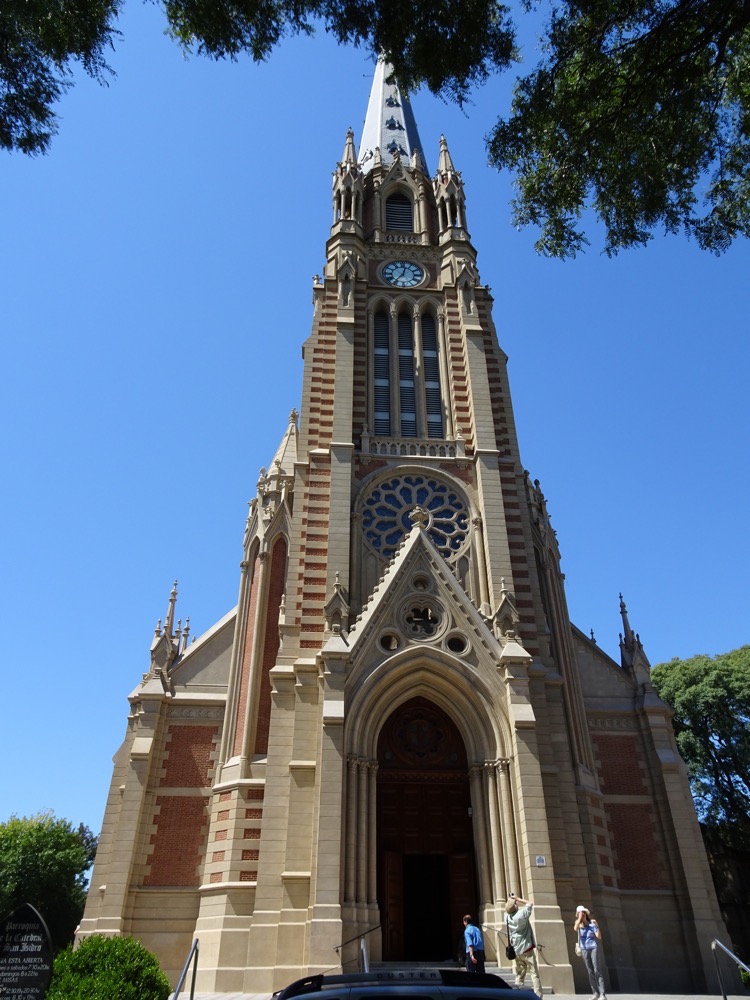 It has gorgeous stained glass windows and its spire reaches just shy of 70m tall (which is the same height as Buenos Aire's Obelisk, don't you know?).  It has recently undergone extensive renovations which is why the entire building looks brand new.  It is a truly lovely church.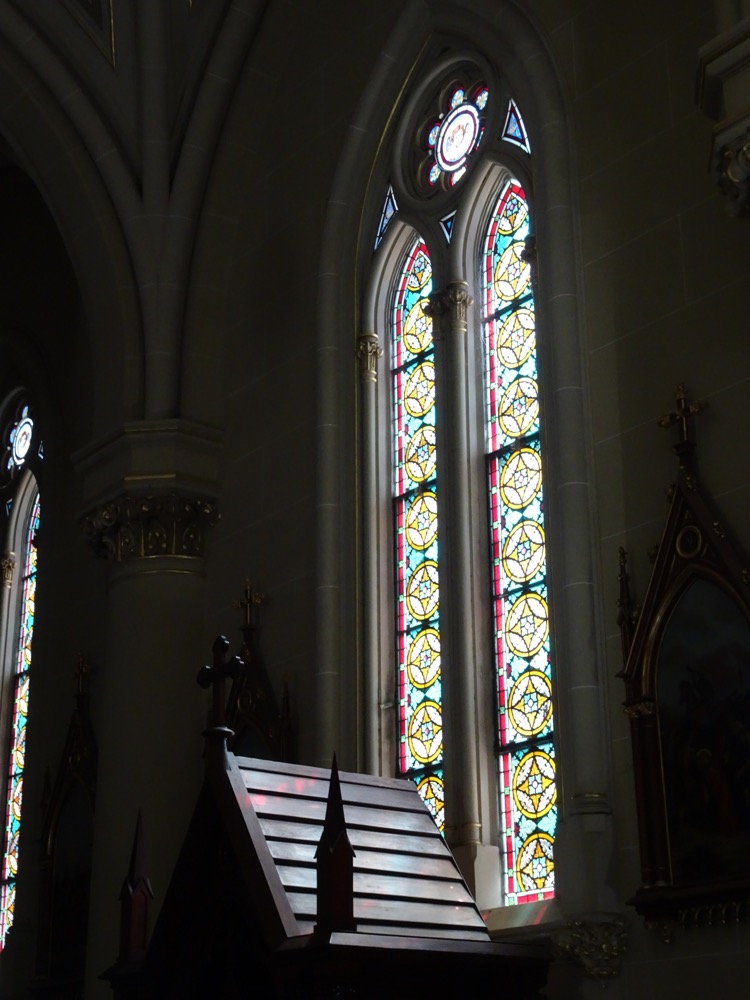 After we visited the Cathedral we had a quick stop, just long enough for a lemon gelato and then it was time to head back to Buenos Aires.  We decided to make like the Spanish for the remainder of the afternoon and have a much-needed siesta.
Now, yesterday Ceri – the loquacious Canadian – had recommended to us 'the best local Argentinian steakhouse in Buenos Aires' that has 'steak so tender you can cut it with a spoon!'.  Well, this is a pretty big call and we thought it needed to be checked out – but we were so tired yesterday that we had planned on going this evening instead.
The restaurant is called Desnivel and is on Defensor Av, about a kilometre and a half from our hotel. So we decided to walk down and cab it back.  It was a nice evening for a stroll through the cobbled streets of Buenos Aires.  🙂  Everywhere you walk you can see the strong European influence – and moving through the different streets feels like going from Paris to Italy just by going over a block or two.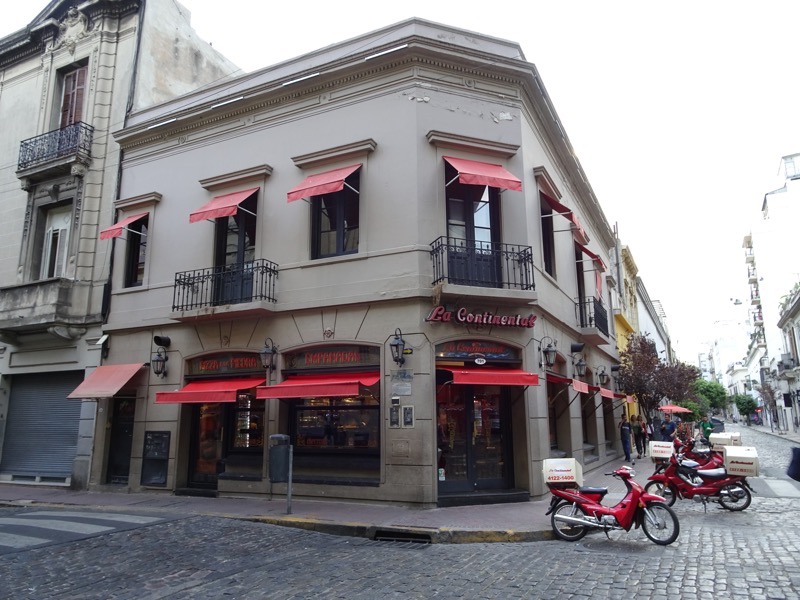 We stumbled onto these cute sculptures set up on a park bench – you can see these guys on souvenirs everywhere.  The little girl is called Mafalda and she is the star of a comic strip.   Mafalda, is supposed to reflect the Argentinian middle classes combined with the thoughts of the more progressive youth. She is often depicted concerned about world peace and the state of humanity and apparently has somewhat serious, but endearing attitude problems.  You see her on everything here – from aprons and stationery to mate cups and keychains.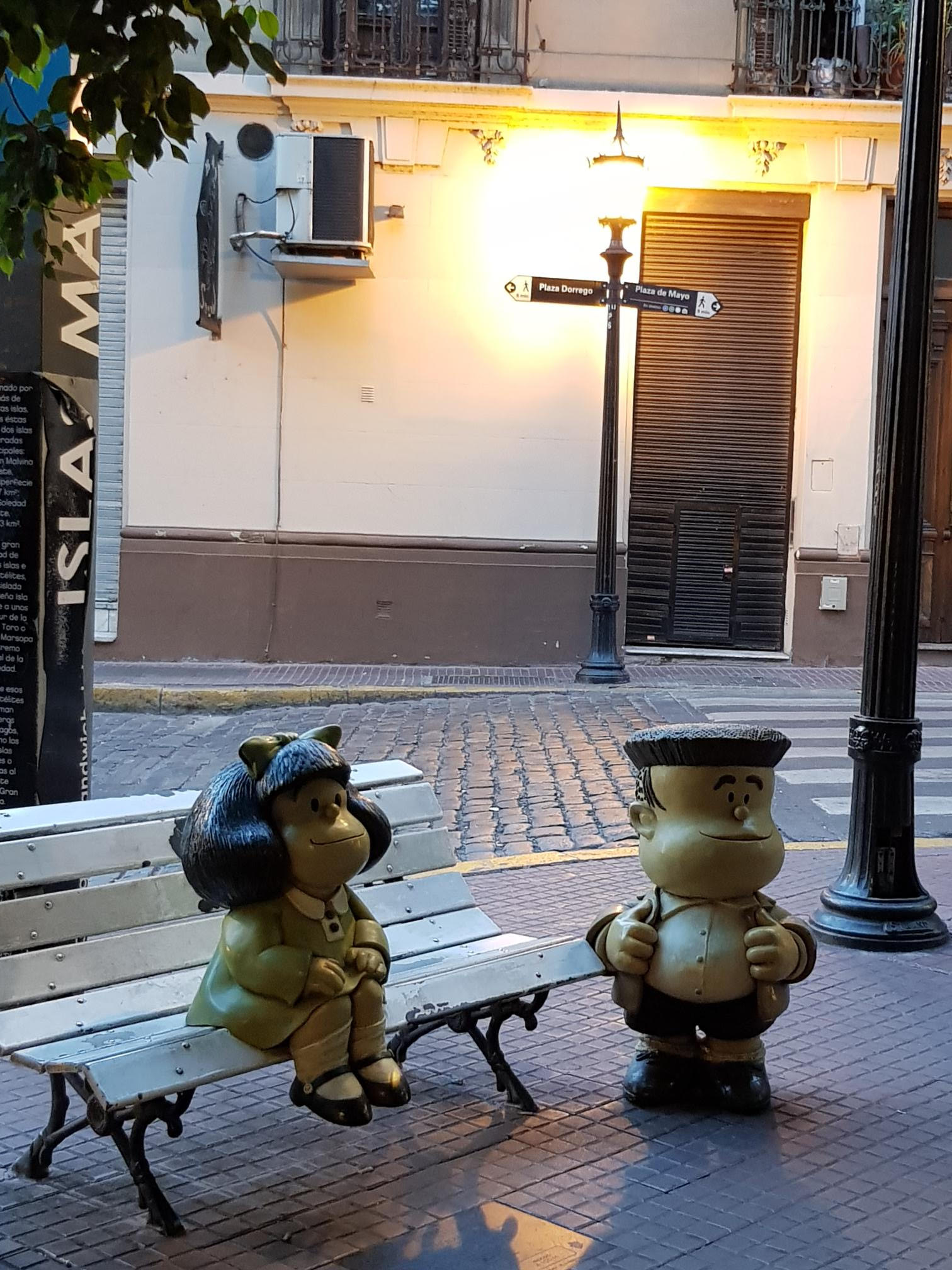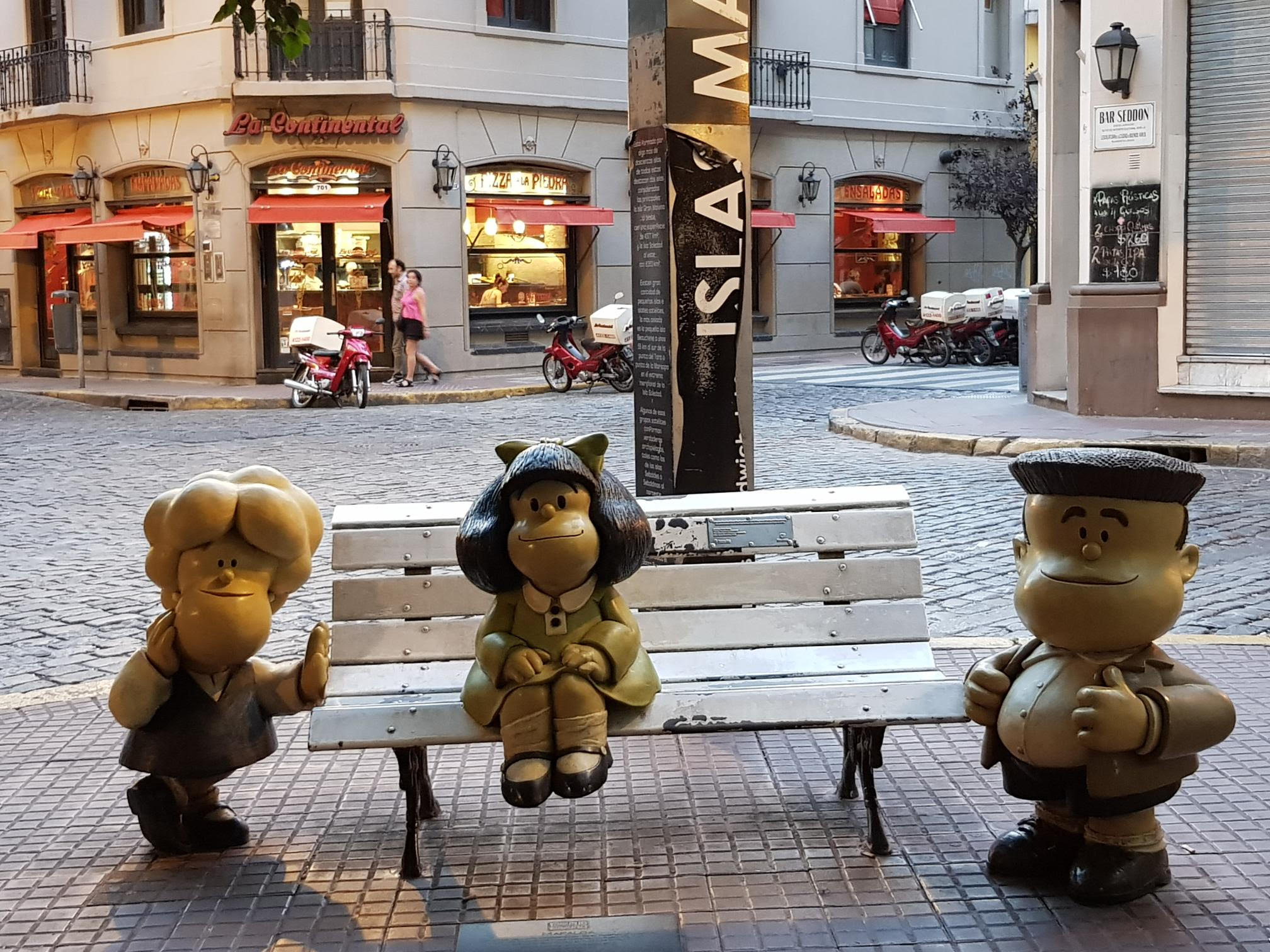 Anyway, we made it to Desnivel just as the place was opening at 7pm.  Argentines traditionally dine quite late and while we wandered into a nearly empty restuarant, the place was getting quite busy as patrons kept walking in as late as 9:30pm to 10pm.
As you enter, you get to parade past the BBQ, which smell absolutely delicious.  Ceri had told us yesterday they don't use any spices on the meats while cooking, just a light salt rub.  Any flavours are added after the cook.
AND we saw this massive stack of sliced provolne ready to be cooked… looks like piles of wax.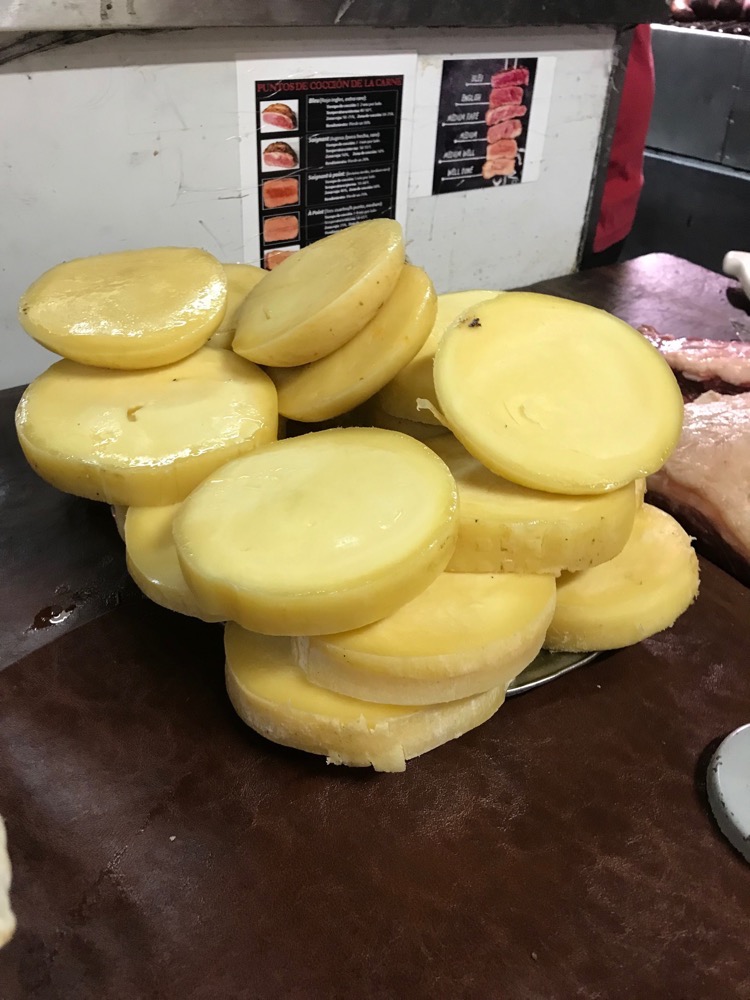 After we ordered some drinks – caipirinha, margartita, and pisco sours… our lump of wax came out like this – well cooked and covered in peppers, bacon, provoletta, and herbs.  Absolutely beautiful.  Add a tiny bit of chimichurri and Bob's your uncle.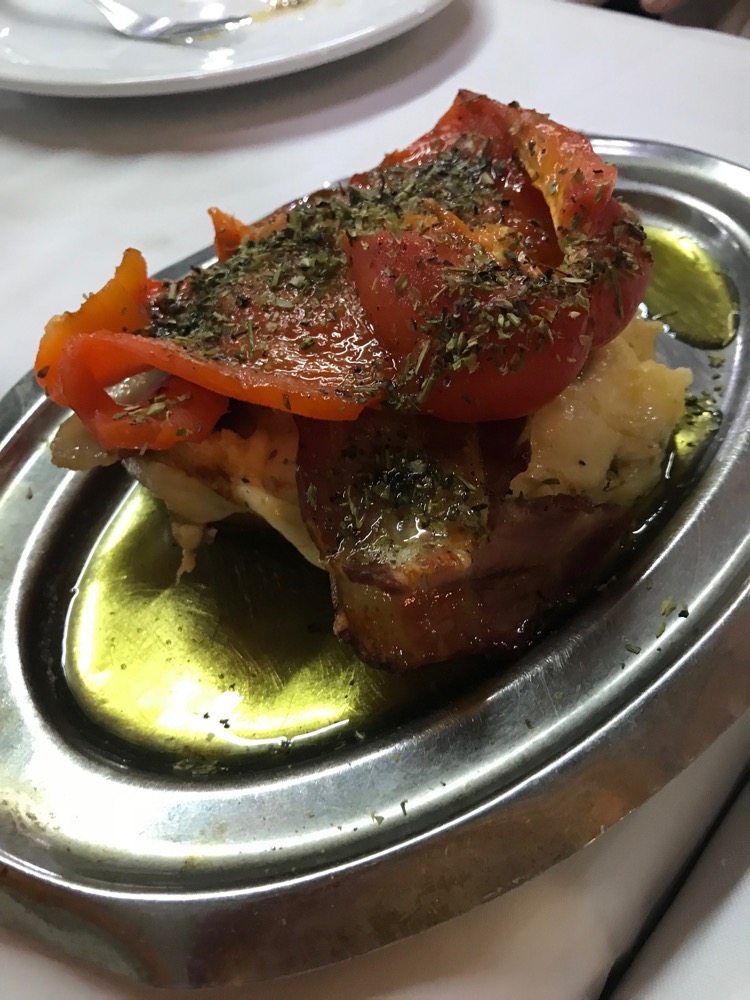 After sharing some provaletta for an entre, we had steak tenderloins (what we would just call a fillet steak) that was served drowning in delicious mushroom sauce and with pomme noisettes.  None a pesky vegetable in sight at this steakhouse  😉   And Ceri was right, I have never – and I mean that literally – I have never had such tender steak in my life. Thanks to Ceri's advice we ordered one steak between the two of us and didn't have to be rolled out of the restaurant.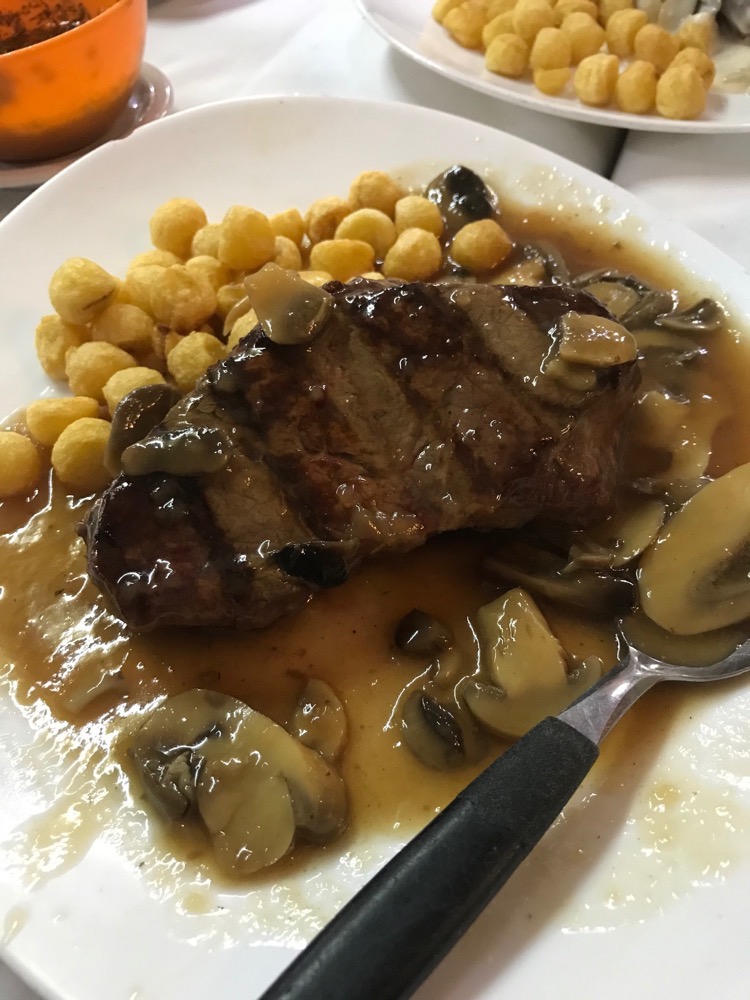 The steak cut like butter and almost melted in your mouth.  It was beautifully cooked and so light and tender.  Phenomenal… we were all commenting what a shame it was we hadn't made the effort to come last night as we would have been back for a second meal tonight as well, it was that good!
In lieu of dessert, we decided to have some limoncello… about nine shots later!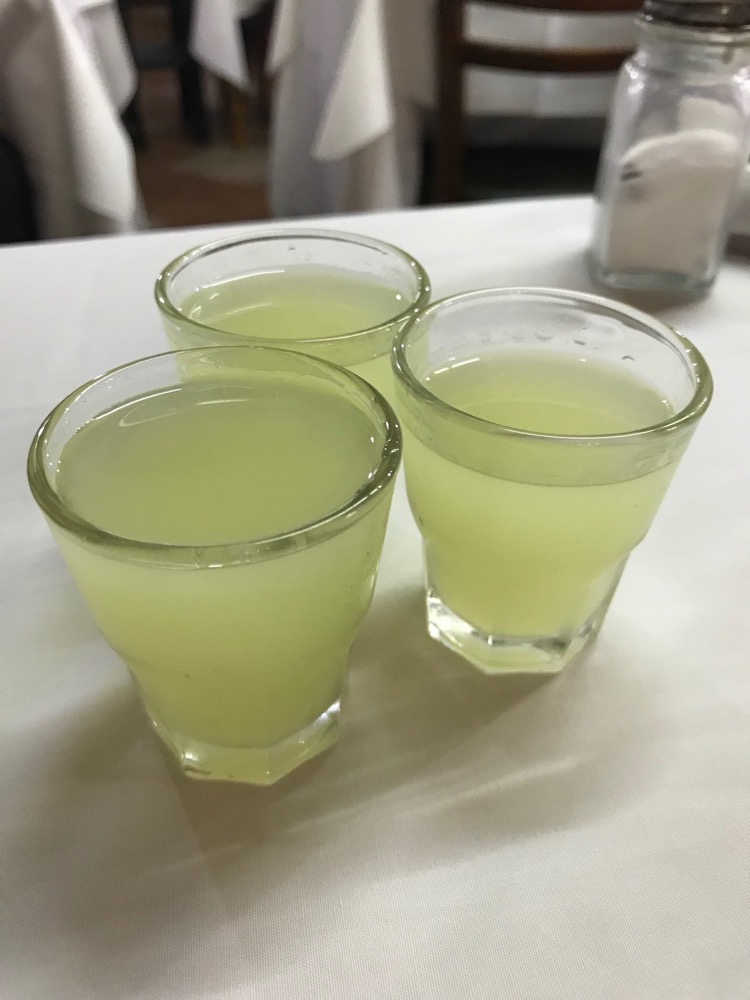 Eventually our waiter just brought over the damn bottle.  🙂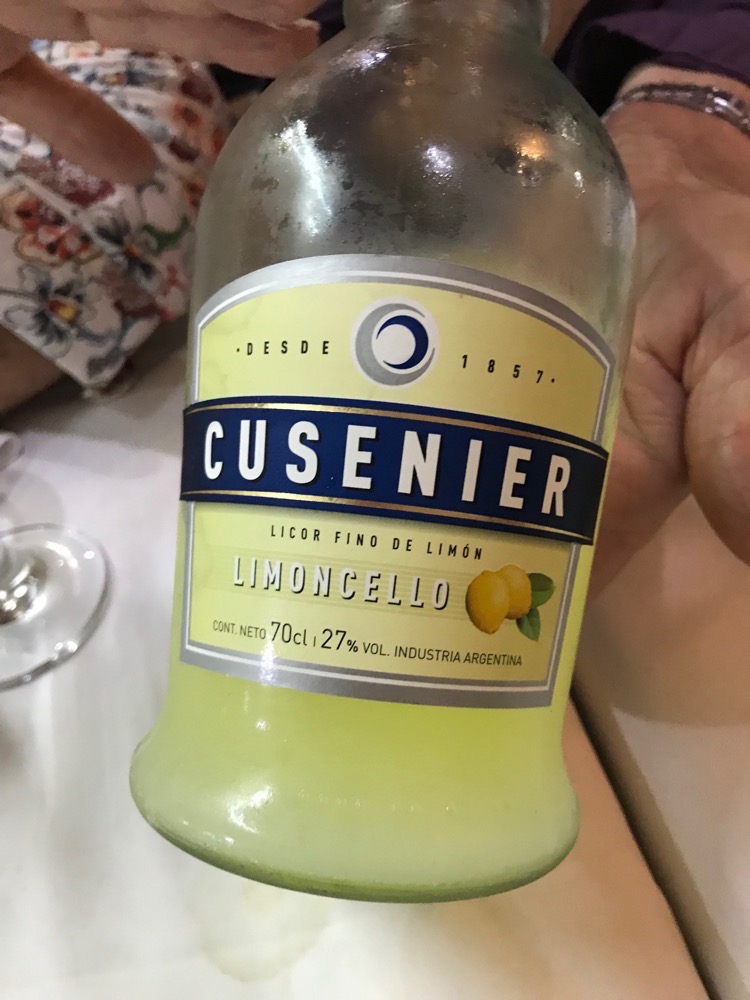 Finally, well fed and cheerful, we paid for our meal in what looks like a king's ransom and spilled out onto the street to find a cab.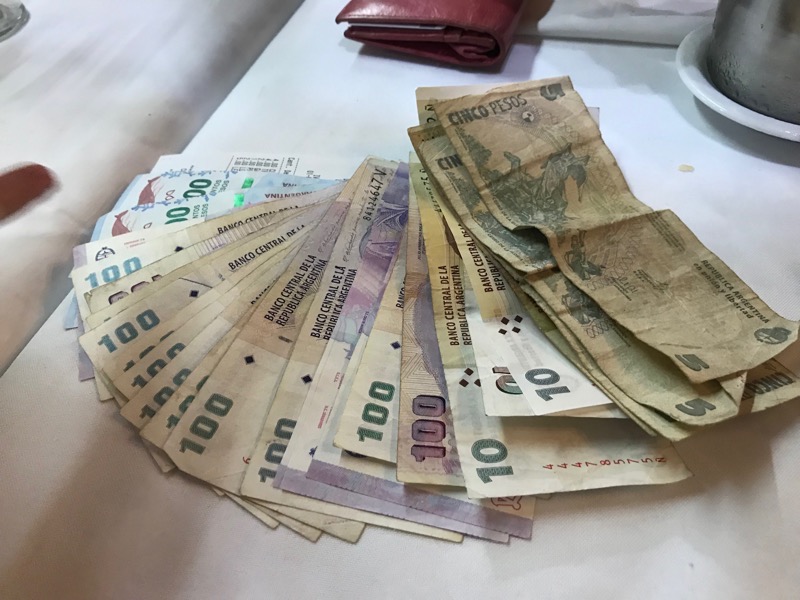 We finished the night with mojitos on the rooftop bar back at the hotel… nattering until the bar staff kicked us out!  😛  What a great night!  We will have to come back and do it again some time.