Had the worst night sleep yet at the Motel Marrakech – there was an annoyingly loud buzzing noise in the room that we couldn't seem to do anything about.  It was an electrical box (somewhat alarming) that sounded like something a hoard of angry bees, so I had barely four hours sleep, unfortunately.  :/
We left Marrakech by private bus this morning heading for the village of Aroumd. Aroumd is in the High Atlas Mountains and to get there, we needed to first take the bus to the village of Imlil (it was roughly 2 hours from Marrakech) On the way we stopped at what is known as 'Winston Churchill's Morocco', which is basically a spot where he came and painted a town – this one actually:i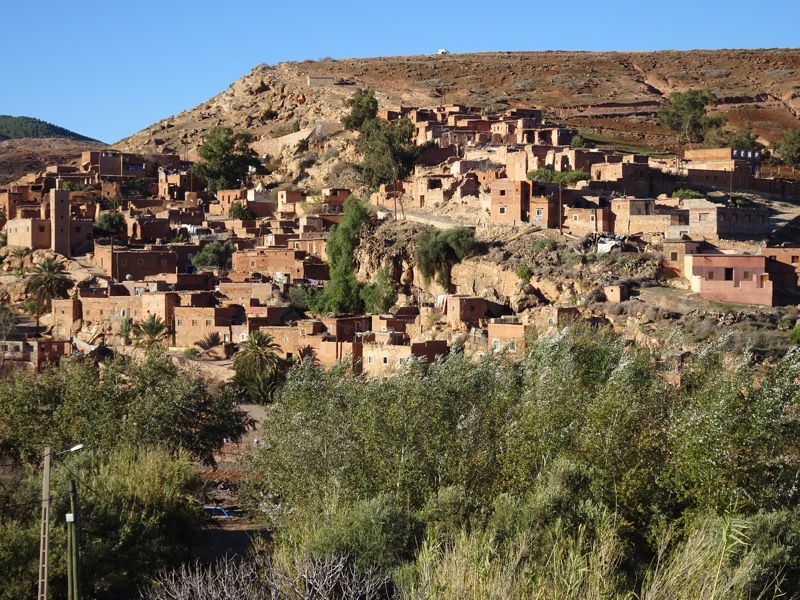 For some unknown reason there were people there hawking super cheap 'genuine' silver jewellery and some dude with a snake wanting to get it up into your face for photos.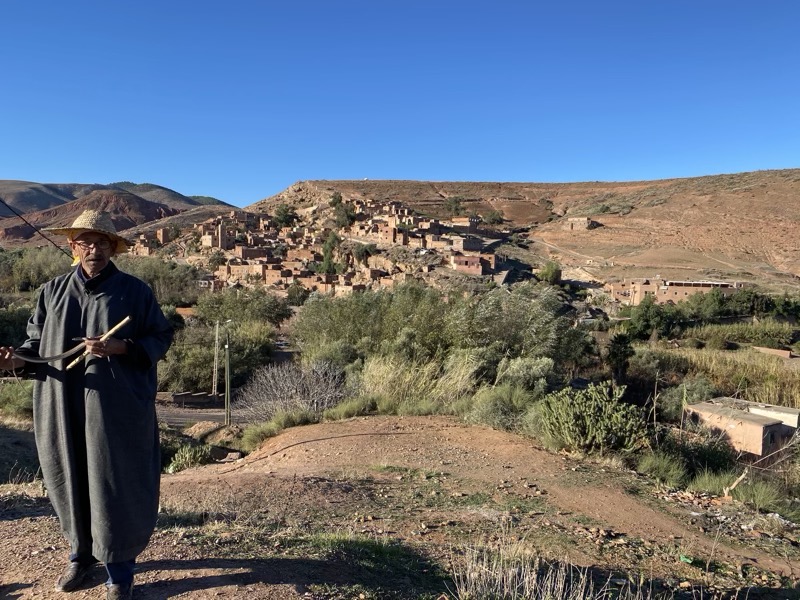 And a small tagine shopping village – whereever there are tourists there are shopping opportunities.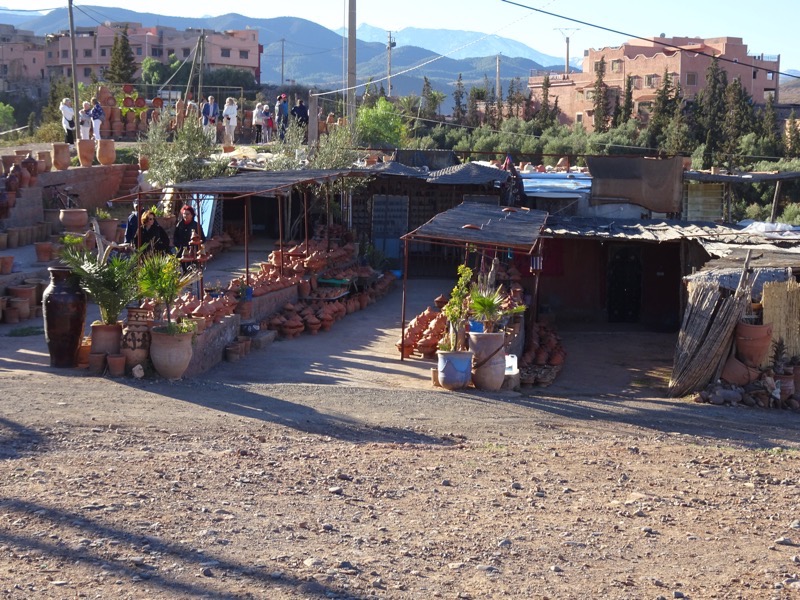 Local mosque: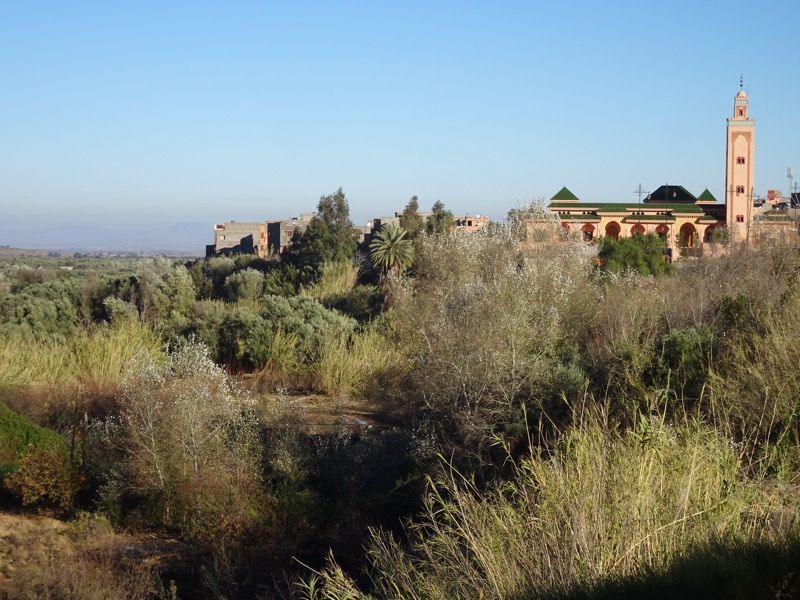 Some high-speed landscape photography on the way there…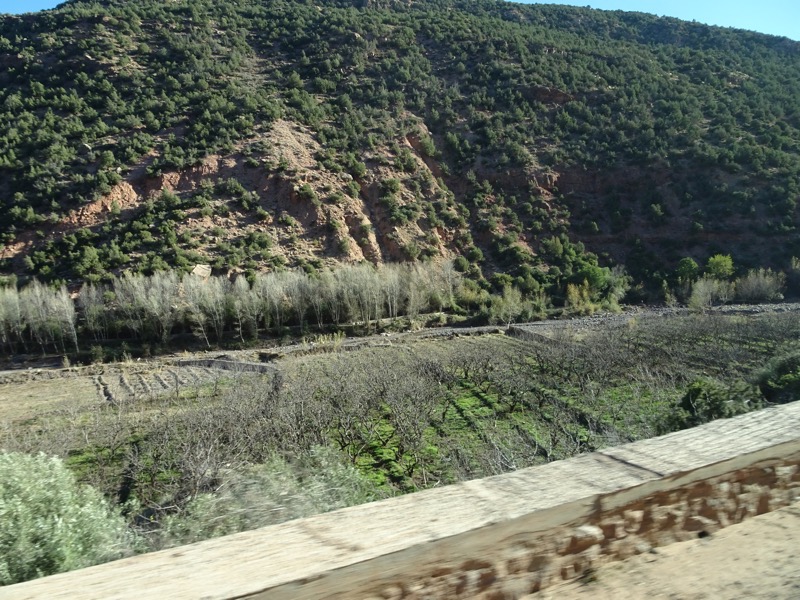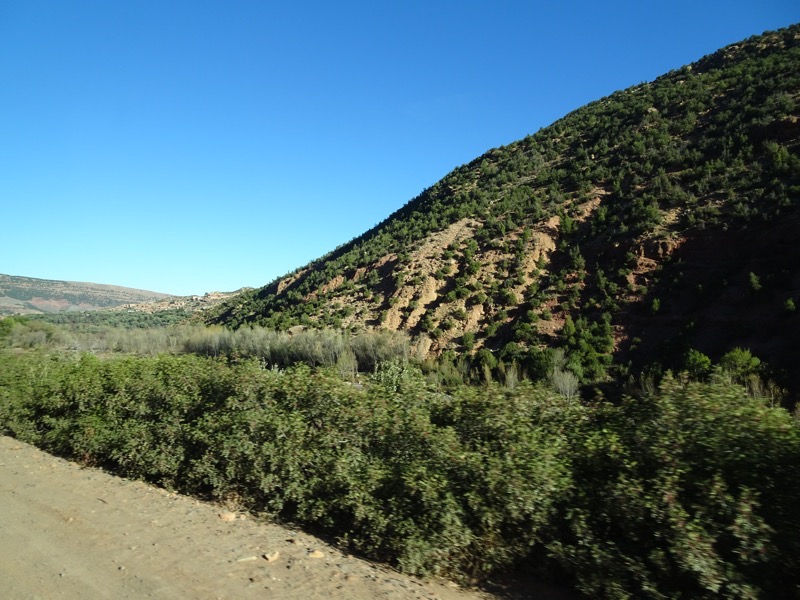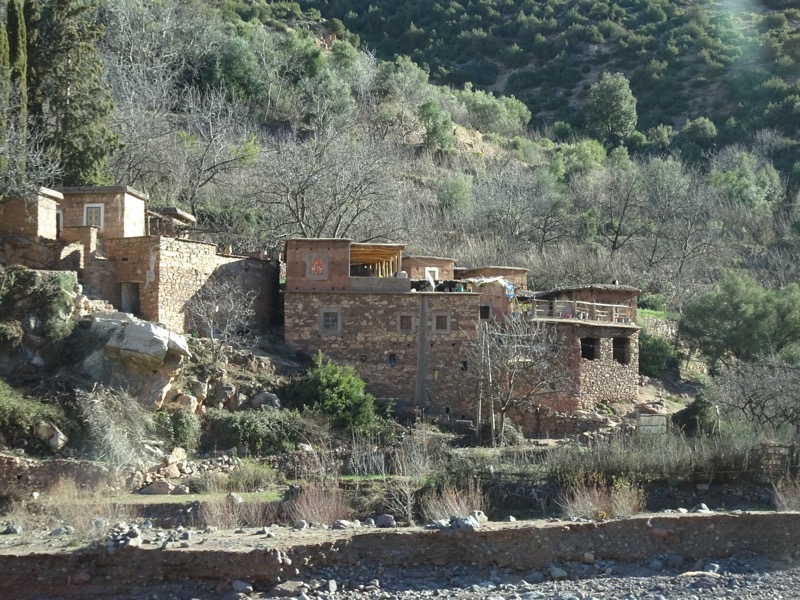 We arrived at the main village of Imlil, where we stored our main luggage and took an o'night pack to walk into the village of Aroumd.  It is a one hour trek up a bloody steep and rocky mule track to get to the village and if you're like me and you have a fucked back or mobility issues, you can ride a mule up instead.  I made a particularly sane choice and decided to ride the mule up…not that riding the mule is an easier option, you're hanging on for dear life on steeper sections and actual stairways, but I think this hike would have taken me about three times longer than anyone else, and I'm not sure my hips would have thanked me for it for days. I was given a mule and asked Samirr to ask the handler what his name was (my guide only spoke Berber, no English or French), and it turned out my sturdy friend had no name, so I promptly dubbed him 'Frank' for the duration.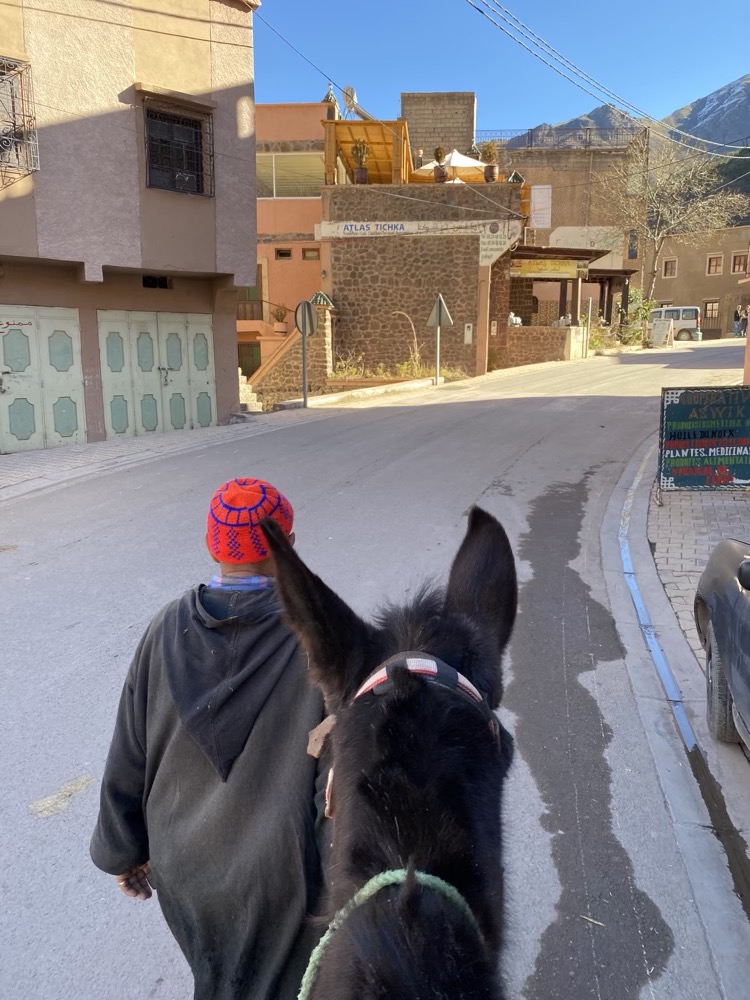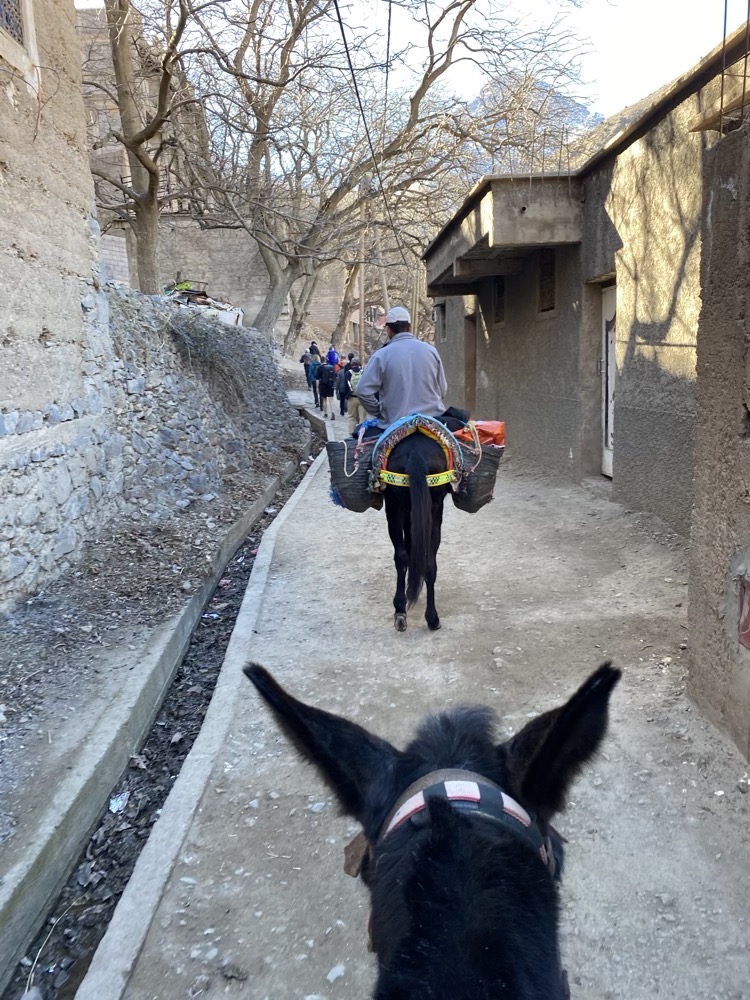 Anyway, Frank and I plodded up the mountain while most of the rest of our group walked up in front of us.  He was certainly sure-footed, though not quite as sure-footed as the mules I remember in Nemrut Dagi back in Turkey years ago.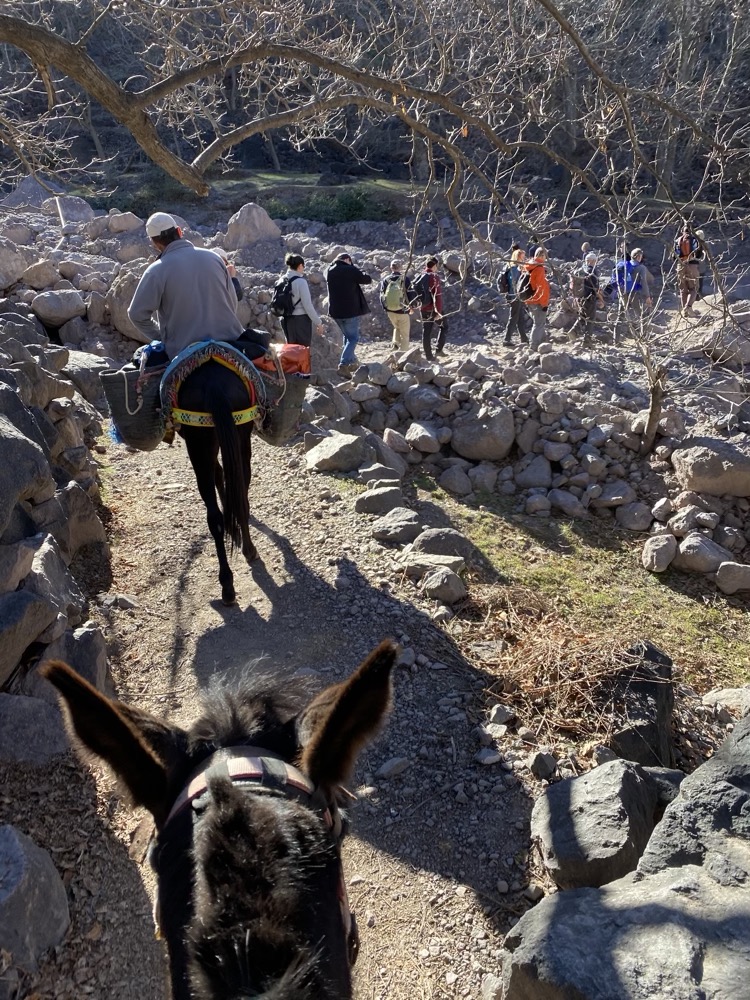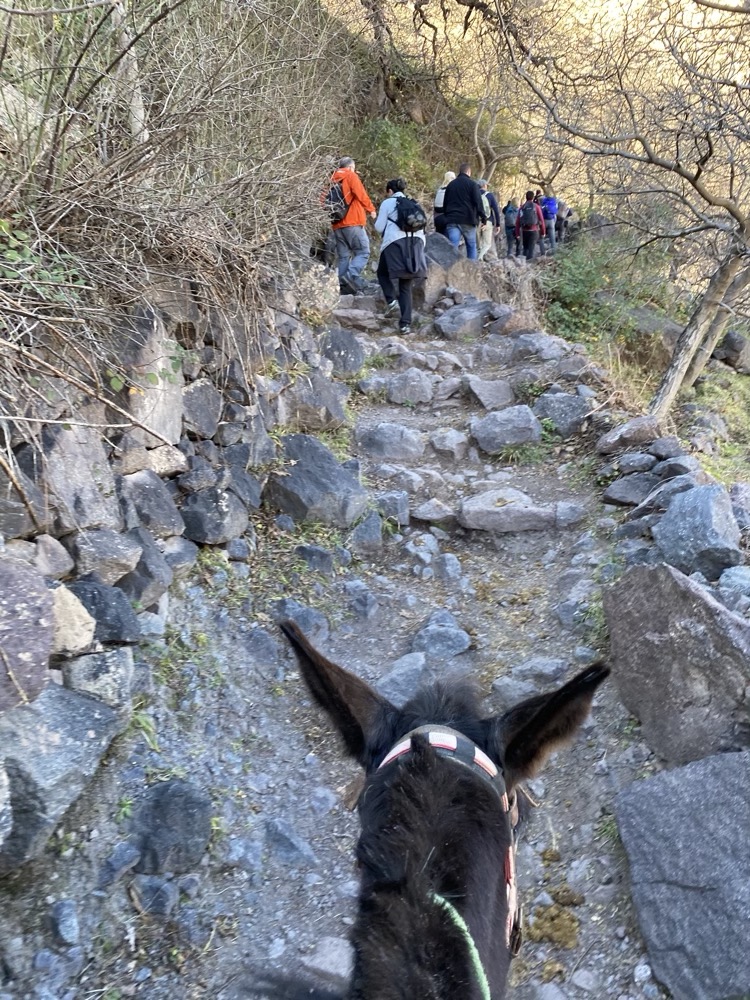 About half-way up we all stopped for a break, and I just sat around on Frank feeling like a noompty.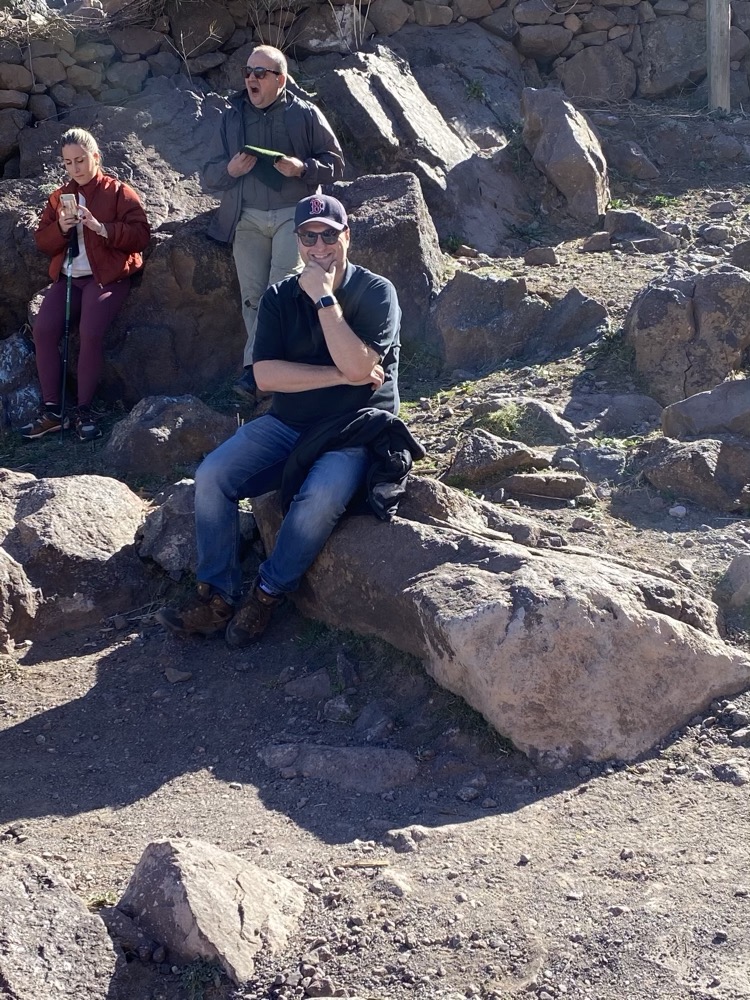 At the top, the views were magnificent.  Back down the valley, the village of Imlil seemed very happily situated.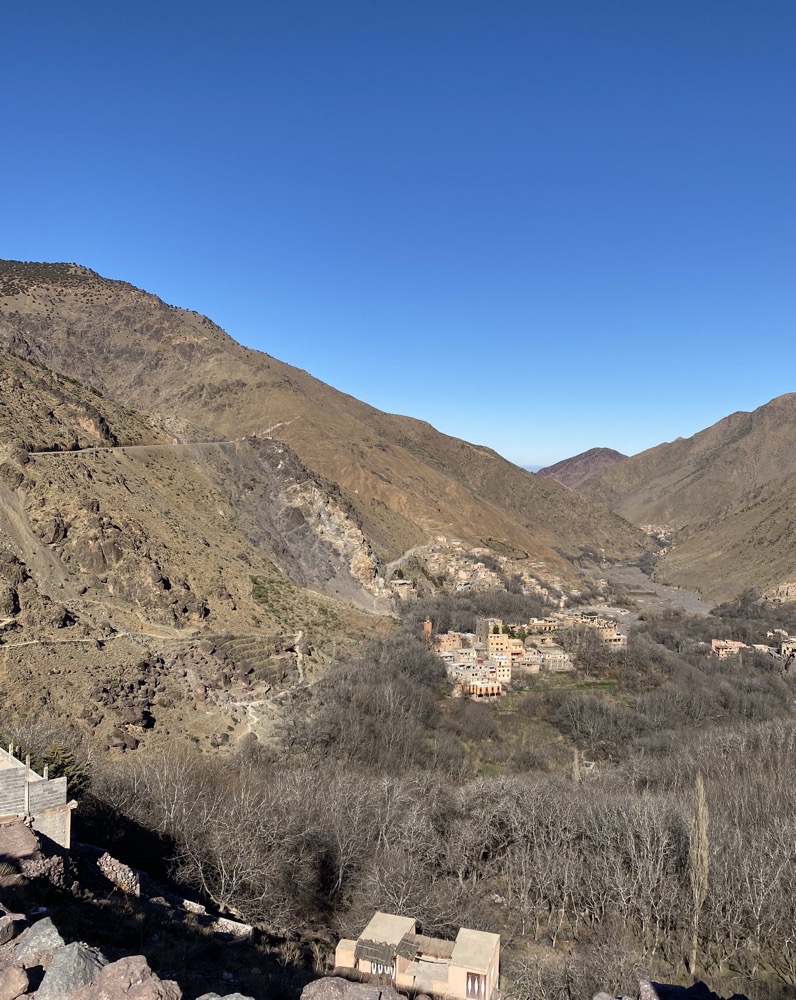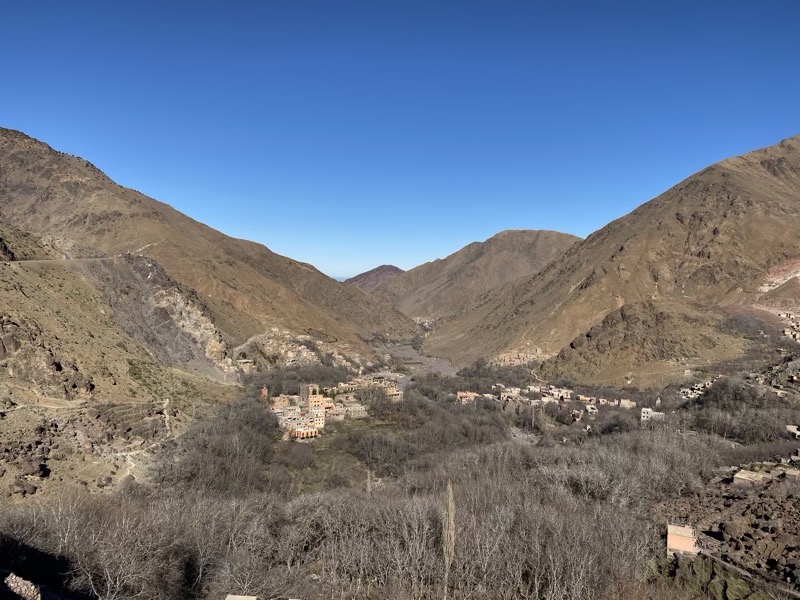 And once we reached the village of Aroumd there were lovely views of the High Atlas Mountains.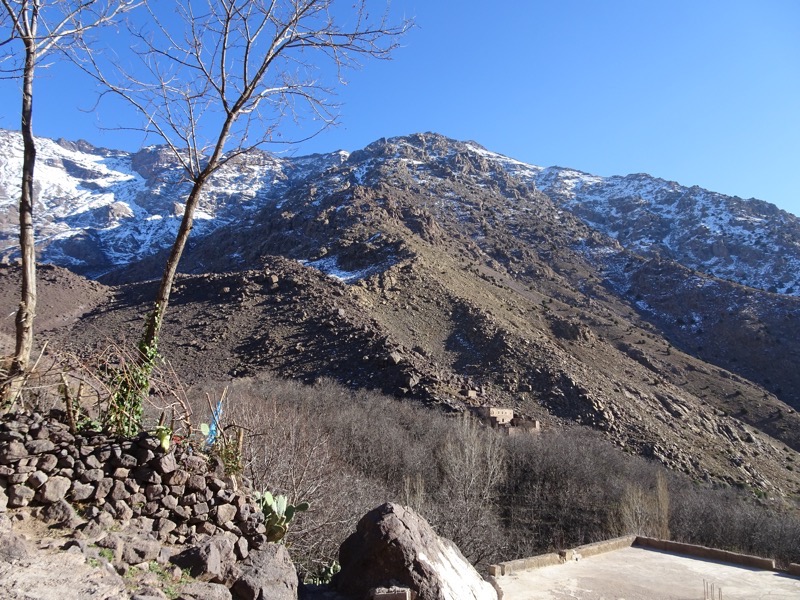 Wandering around the town, there wasn't a lot to see – there was a four hour hike down into another valley and to see a shrine (a painted white rock) where people pilgrim to be cured of epilepsy (the Berber people believe that epilepsy is a condition where the human is possessed by evil spirits and can be 'fixed' by miracles which occur when coming here and saying lots of Koranic verses over the afflicted).  It might have been interesting to go see it – but I kinda googled some images and decided the walk down and back simply wasn't worth it. So instead we went for a wander around the town to see how the Berber mountain people lived.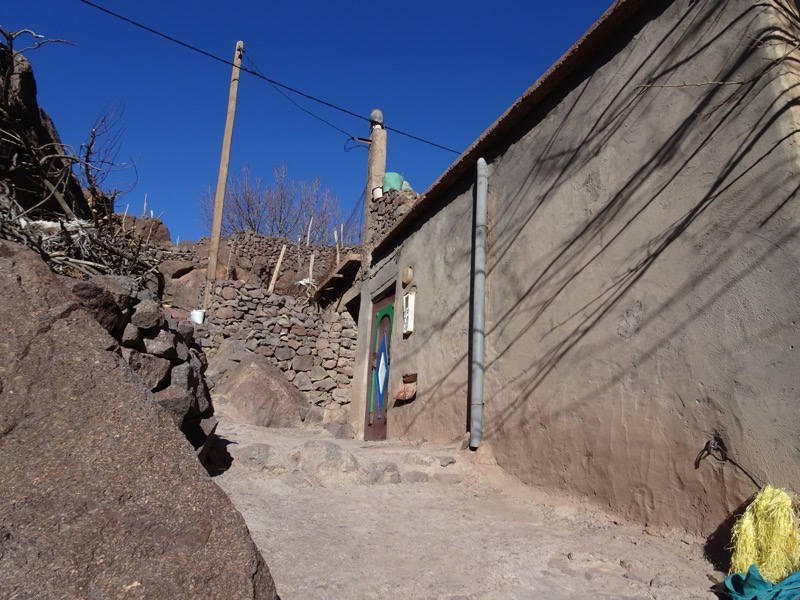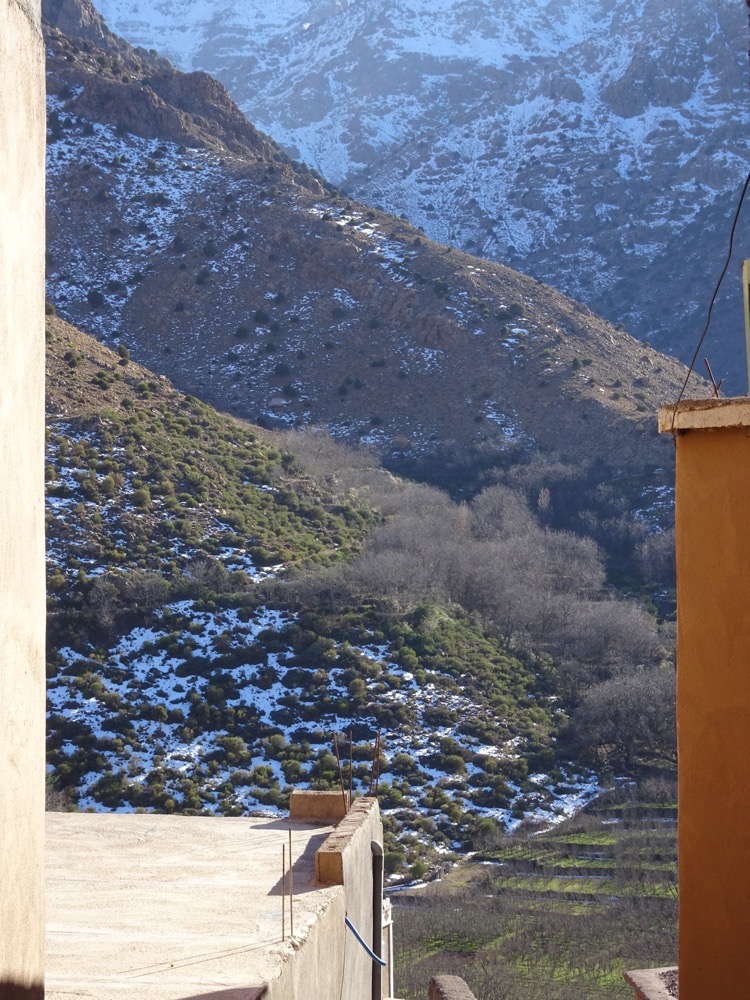 Life seems very simple here – the farming of apples, walnuts and other frost hardy fruits, some goat herding and well, fleecing tourists seems to be the primary industries.  We were staying in a traditional 'gite' or Berber guesthouse which was very colourfully decorated: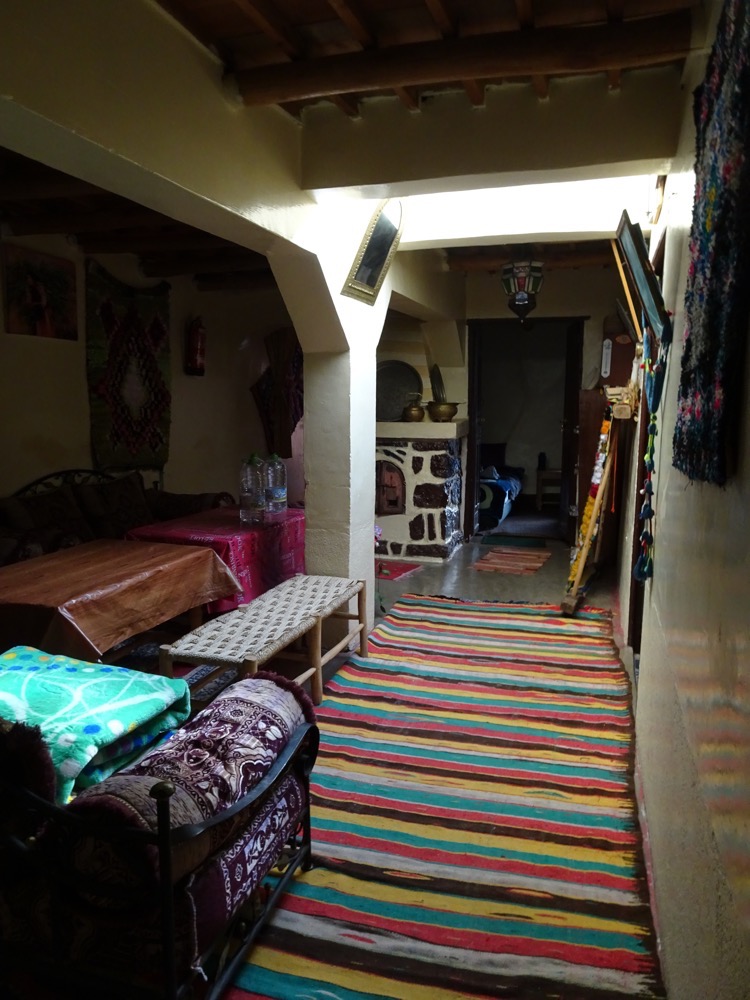 T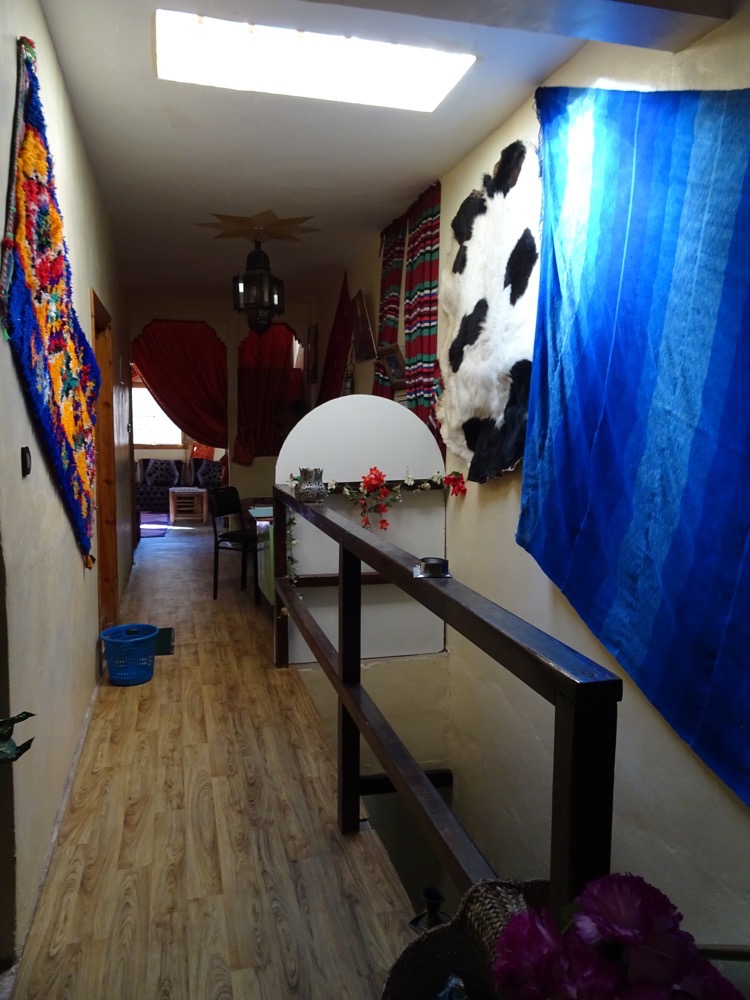 The purple and orange was a particular treat.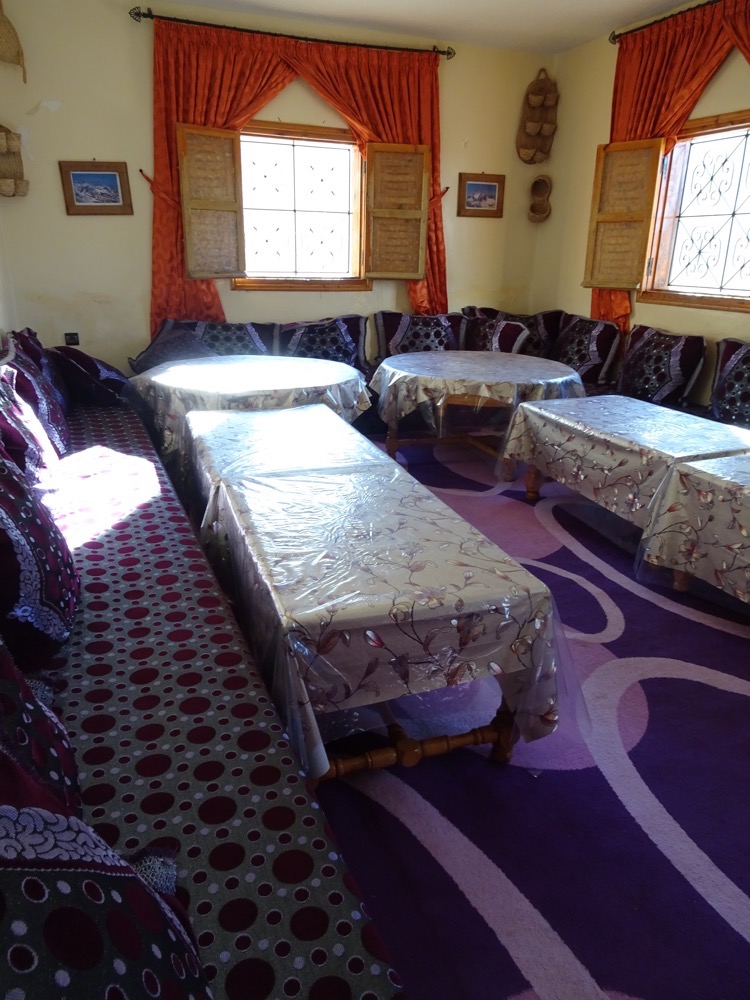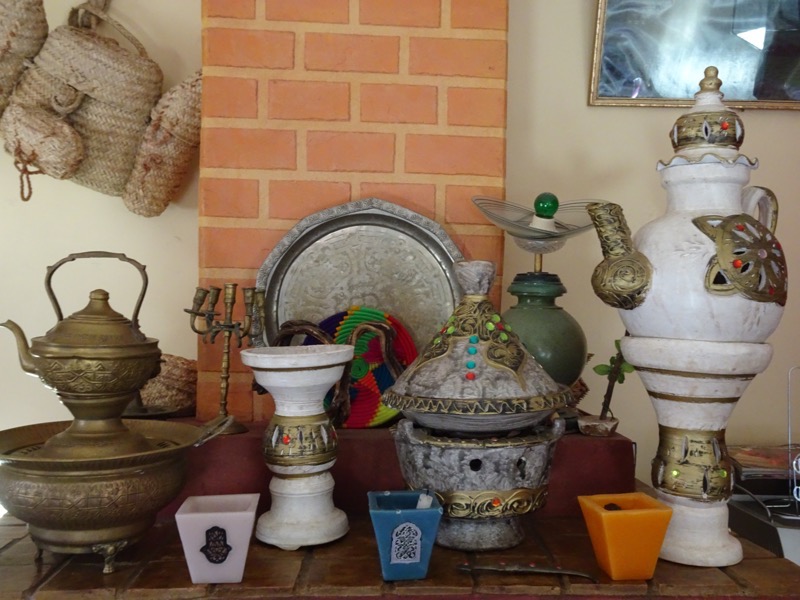 Our little room for the night was bigger than a Shinkjuku APA hotel room, but only just.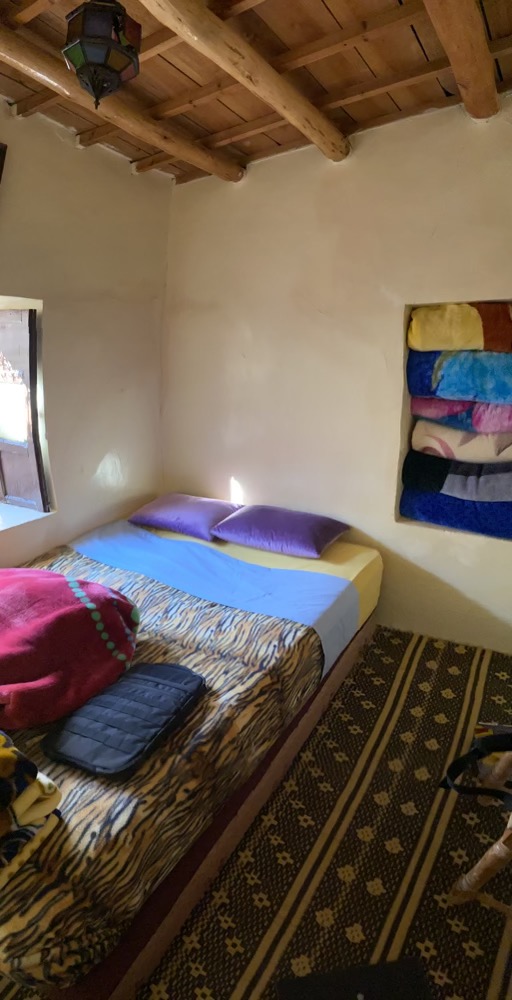 We discovered all the power points were at waist heigh above the ground and none of the furniture was – so necessity being the mother of invention.  😛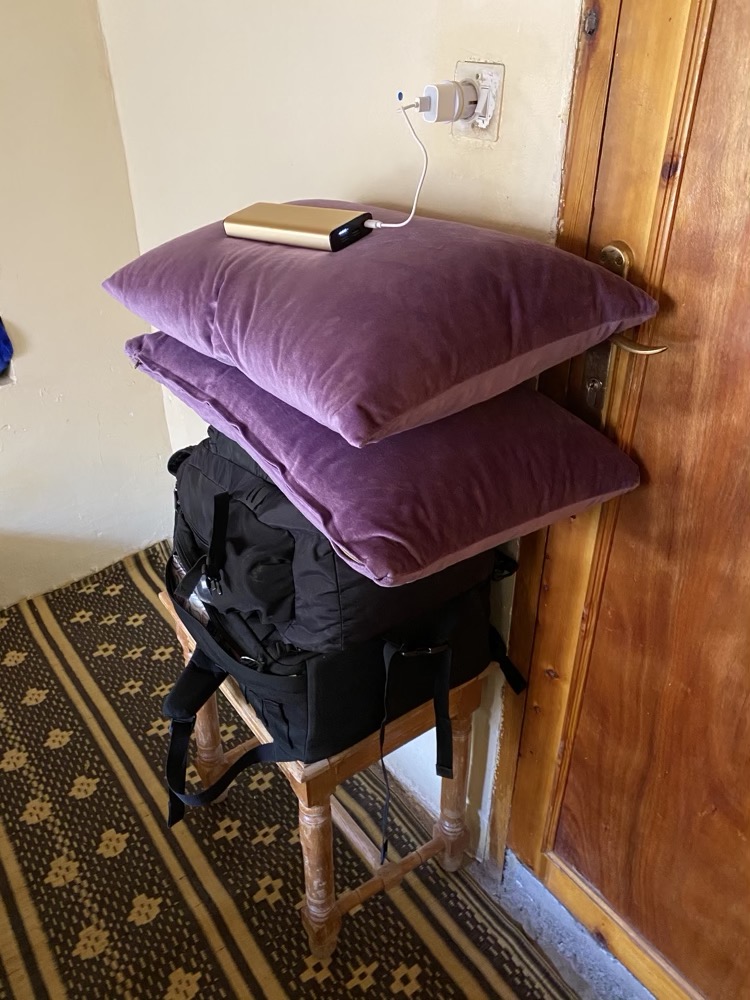 After everyone was done with their exploring (only the five new arrivals to our group went for the walk to the shrine)  we came back together for a traditional Berber meal consisting of lamb tagine and vegetables, and fruit.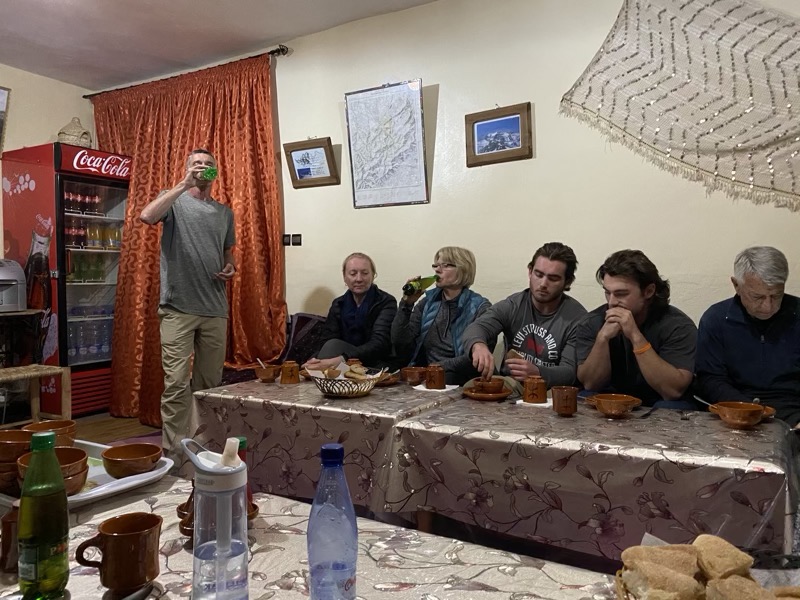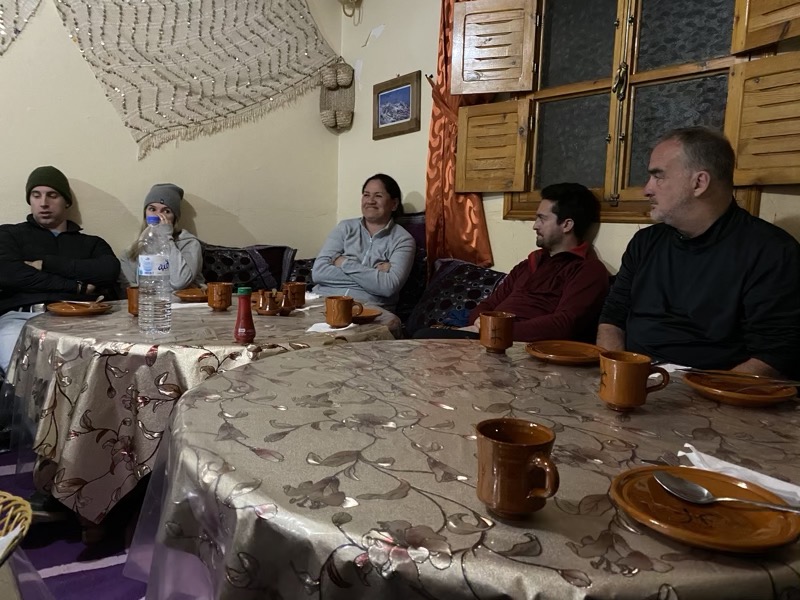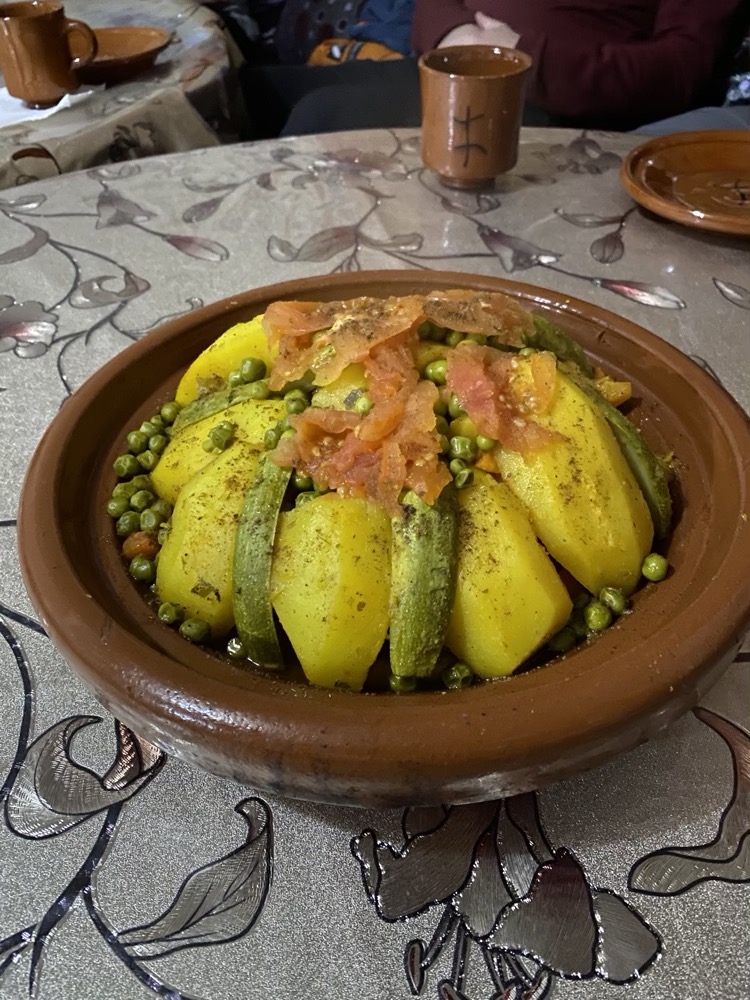 Then it was up onto the terrace for a bit of stargazing, which was super confusing because nothing was in the night sky where I expected to see it!  Before early everyone collapsing early.  My ride with Frank certainly made the day bearable, but hanging on like you have to has caused my neck and shoulders to feel like they're burning.  Stupid nervous system.
Hopefully nothing that some drugs and some sleep can sort out.