Just back from spending a short four night trip on the Pacific Dawn for Australia Day.  Aaand… it was a great reminder why we usually sail Princess!  The ship is quite small but packed to the gills (lots of quad rooms) and everyone in a party mood which was great.  The biggest problem with P&O in my not so humble opinion, is the dining.  The buffet tends average to poor, the room service is not included, and the only dining room (on most of their Australian fleet), the Waterfront Restaurant, isn't large enough to accommodate everyone onboard in two sittings – so getting bookings for dinner is a bit iffy tending towards difficult, to sometimes, just, nope.
Anyway, we went to the Waterfront the first evening on the ship and had what I would call the most ordinary meal I have had on a cruise ship in over 200+ days at sea.  Bland pasta, over cooked steak, and ridiculously pushy service edging us out the door (which was a stark comparison to a later lunch sitting where we were left nearly 40 mins with no one taking our order, and then two waiters each trying to say our table wasn't in their service area!).  Every breakfast menu was the same – poached eggs that were boiled solid, avocado that tasted like it was squeezed out of a tube, feta pieces so small as to be non-existent, and mixed up orders.  Lunches were likewise uninspiring due to the same menu offered everyday, and things like sliders with mushy pulled pork similar to the consistency of canned tuna, seafood and fish pie with soggy pastry and defrosted marinara mix in a mysterious flour based white sauce, and again with the bland pasta (it said gorgonzola pasta for crying out loud!  How can it NOT taste even a tiny bit blue?!).  So, all round uninspiring food and below average service… seriously, my local pub which does nothing more than cheap steaks and schnitzels, but for a mere $12 lunch specials provides a far superior meal with way better service.  Waterfront Restaurant – 2 out of 5… would not try again.
So we decided to check out the Luke Mangan's Salt Grill, one of the specialty restaurants on the ship in the hope of finding something that was actually nice to eat.  Others had said it was worth the AU$49 cover charge and by the time we'd had a couple of meals in the Waterfront, we were ready to risk it.
The restaurant is small, probably seats about 40 patrons, but has a lovely decor and enjoyable ambiance. Lovely quiet music and attentive staff which makes for a sharp contrast to the bustle in the MDR.  The menu, well it was fabulous… and the food turned out to be amazing!  So much so, we ended up booking to go back again so we wouldn't have to face the Waterfront's underwhelming offerings.  I took photos of all the different dishes we tried, so I could share them here.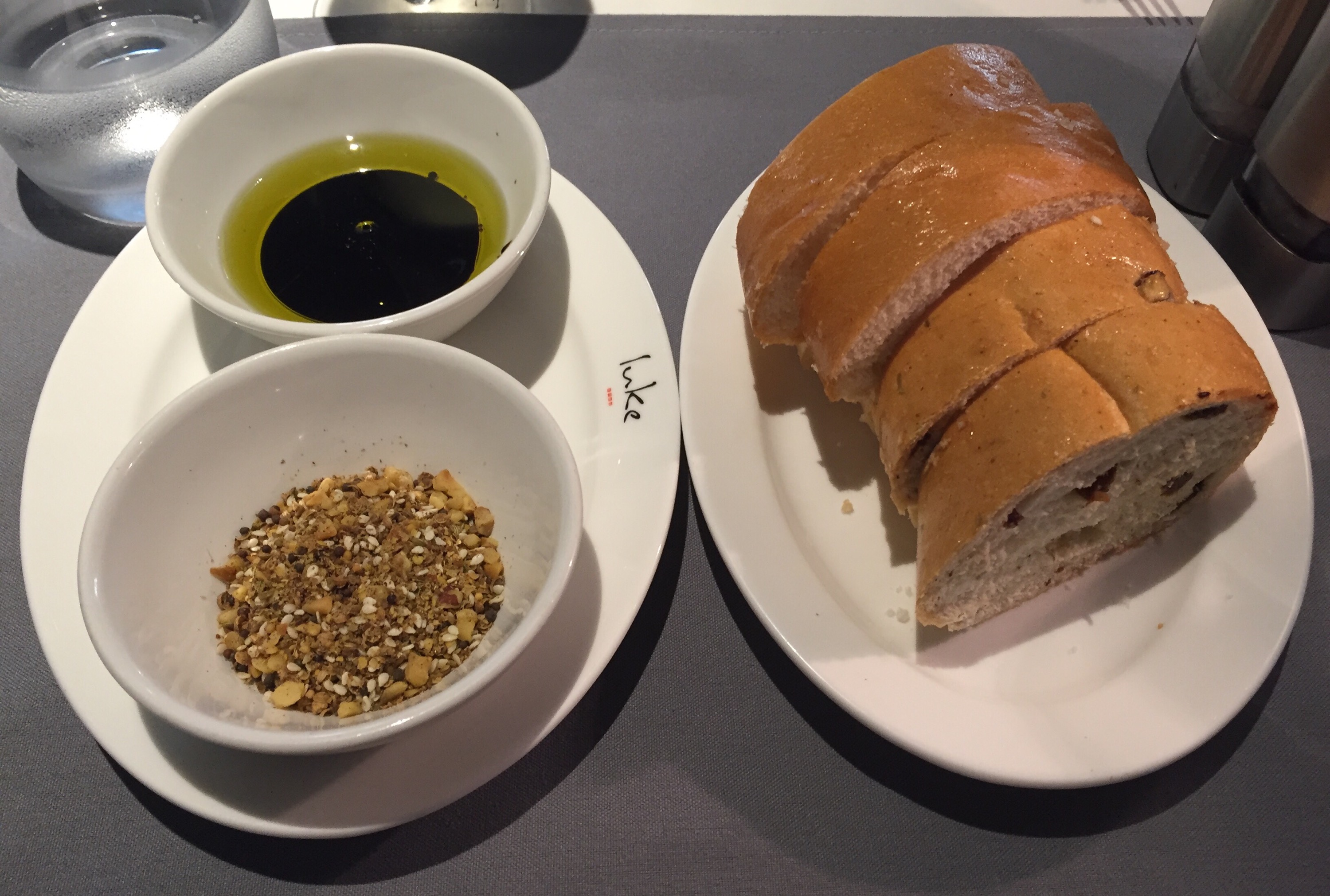 House baked plain and zartar bread with Luke Mangan olive oil, balsamic vinegar and dukkah.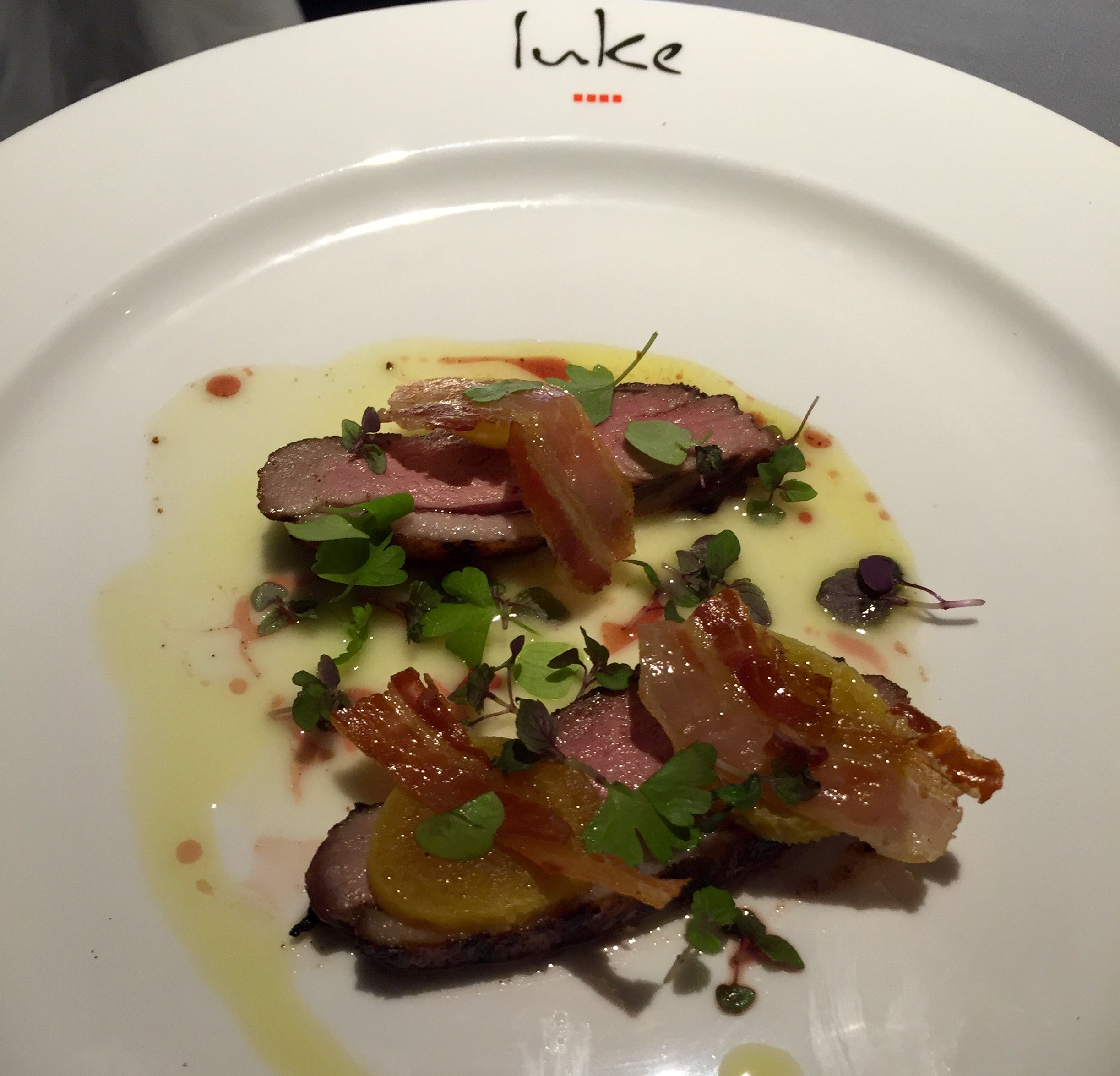 Five Spice Cured Duck – with golden beetroot, almond dressing and crisp pancetta.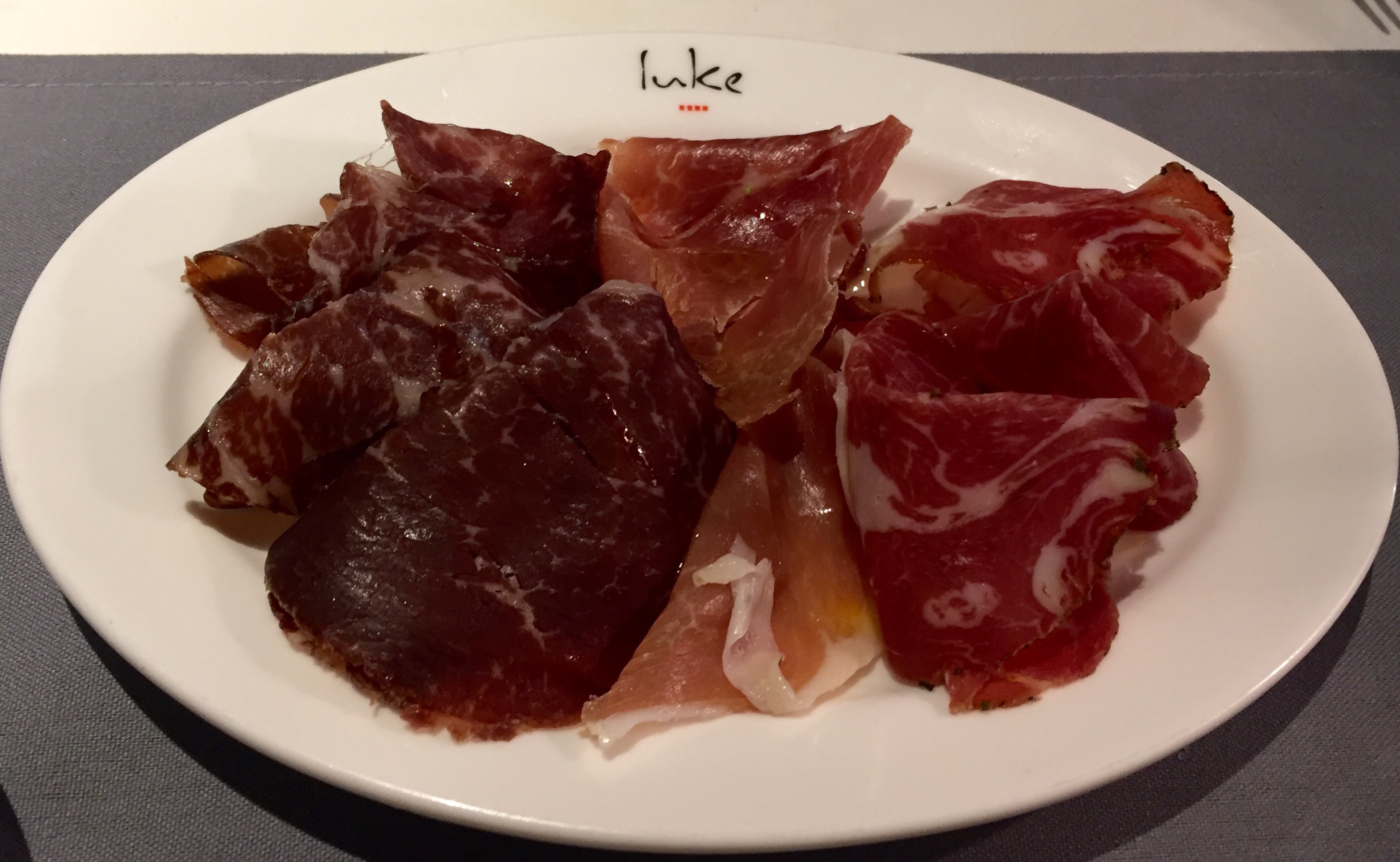 Charcuterie Plate – bresaola, capicola and proscuitto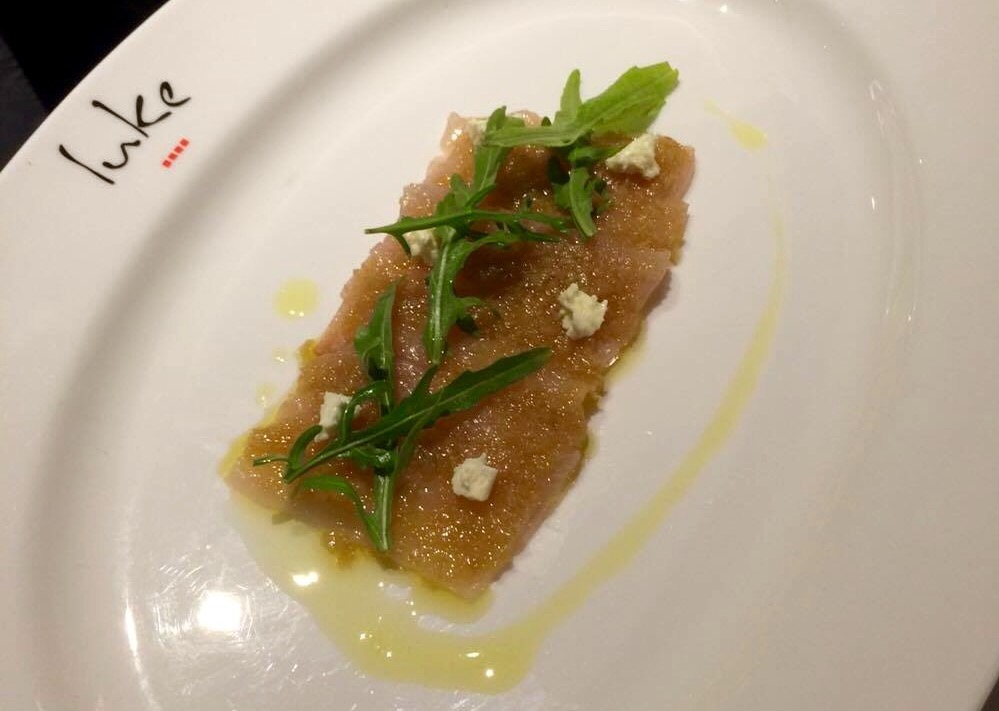 Kingfish Sashimi – with ginger, eschallot and Persian feta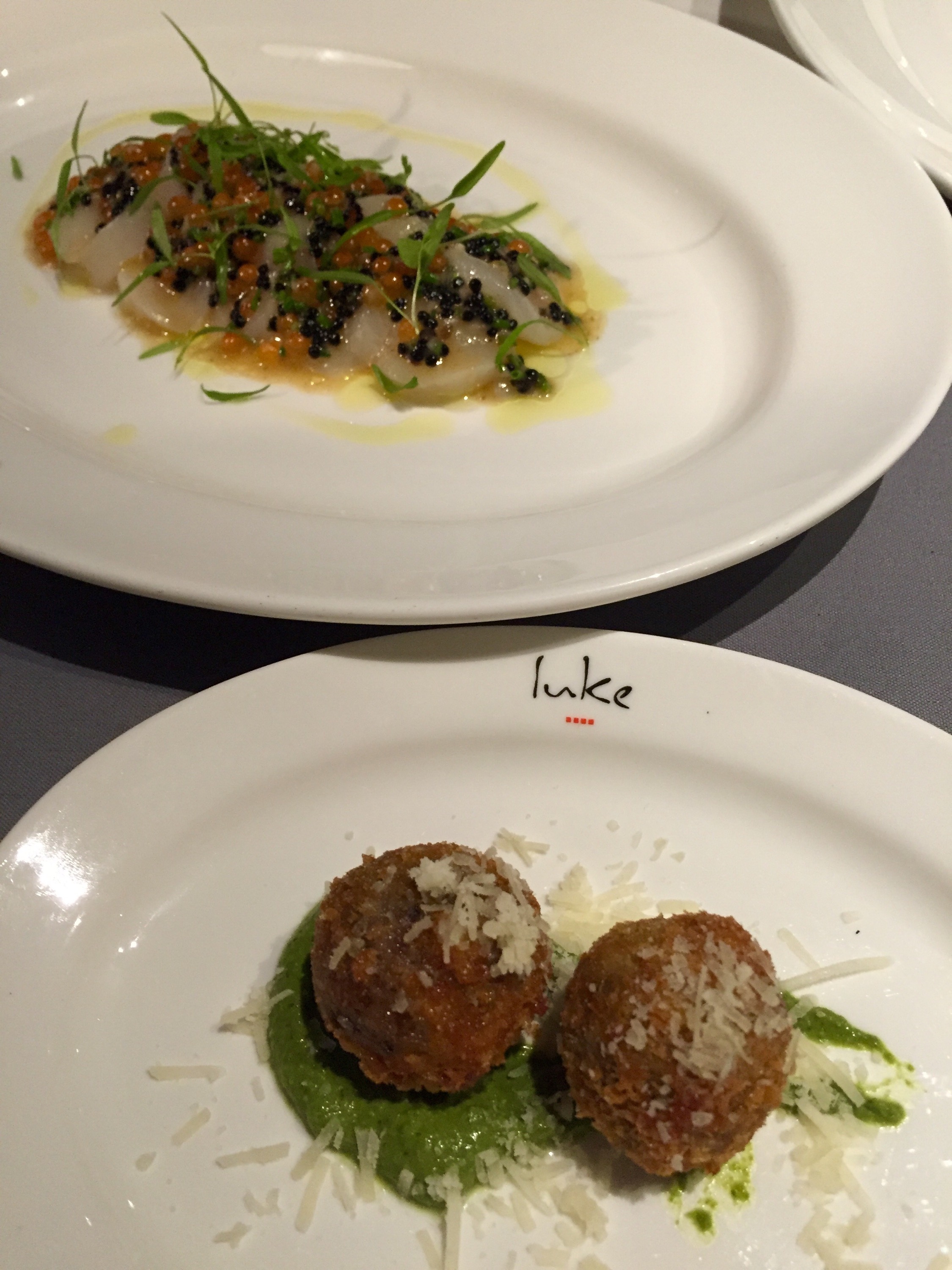 Top: Scallop Sashimi – with confit potato, salmon and avruga roe, truffle and chive dressing. Bottom: Arancini of Wild Mushroom and Leek – with taleggio and green golden dressing.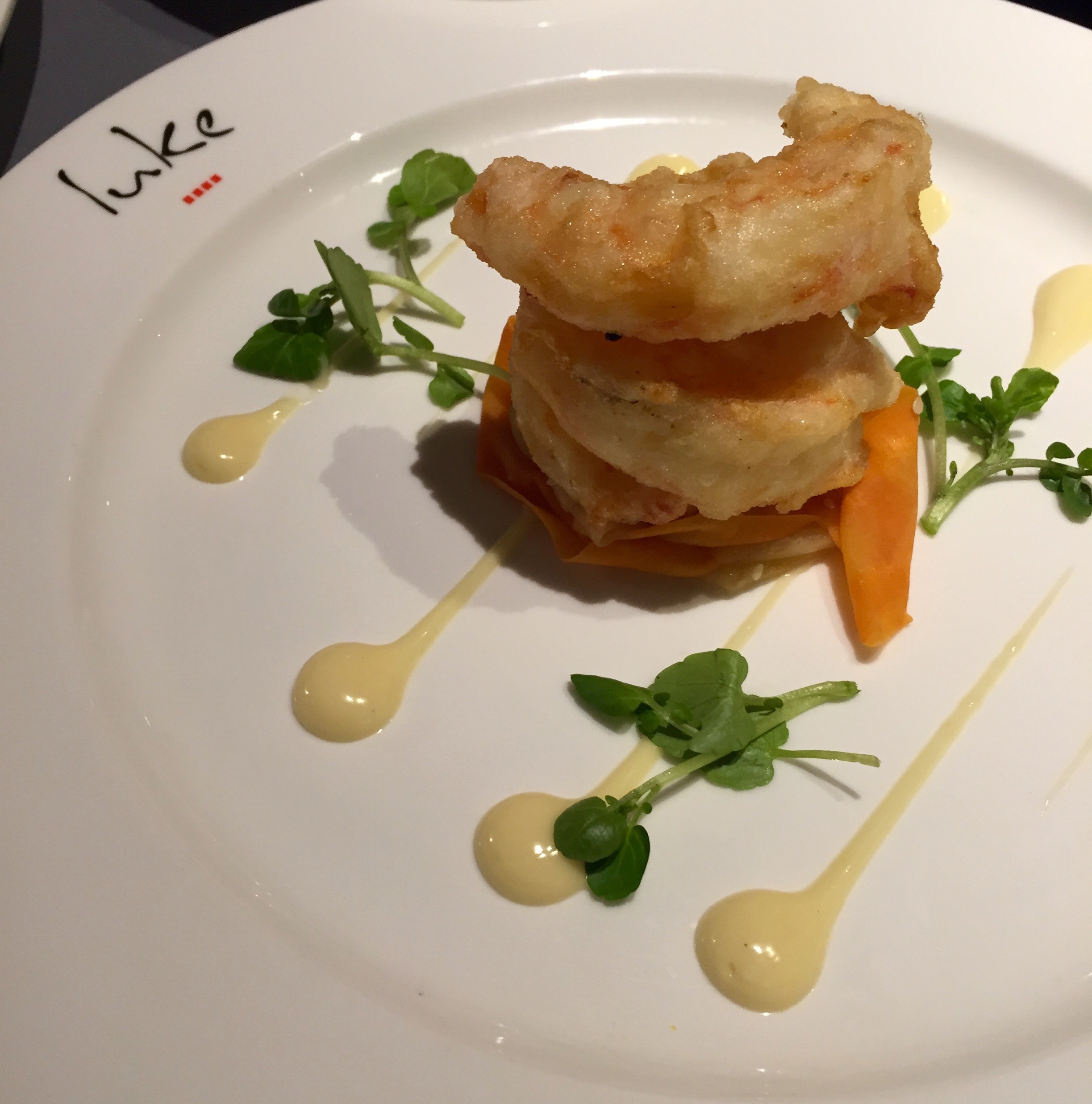 Tempura Prawns – with wasabi and sesame, daikon and carrot salad.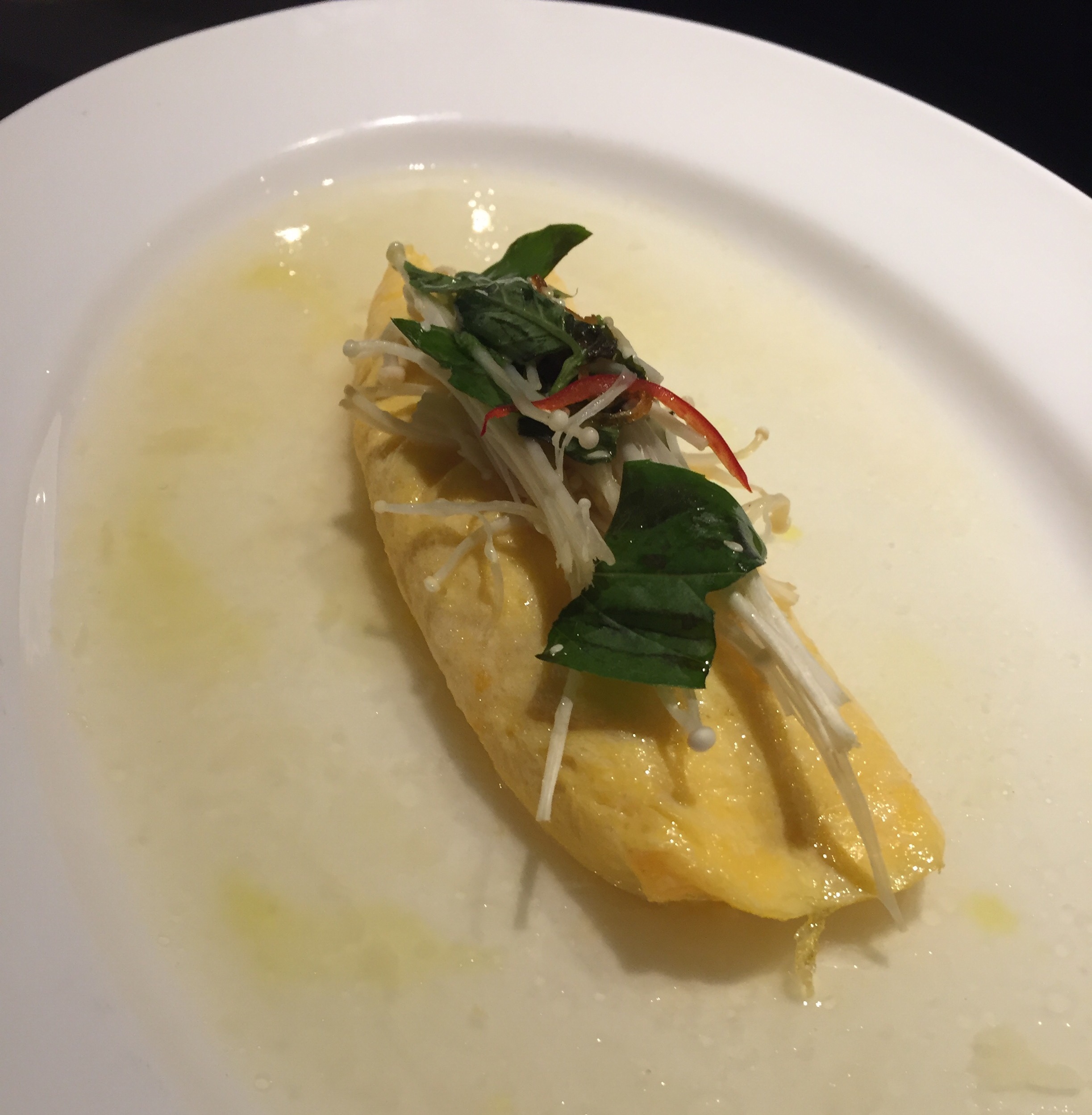 'Glass' Sydney Crab Omelette – with enoki mushroom, herb salad and miso mustard broth.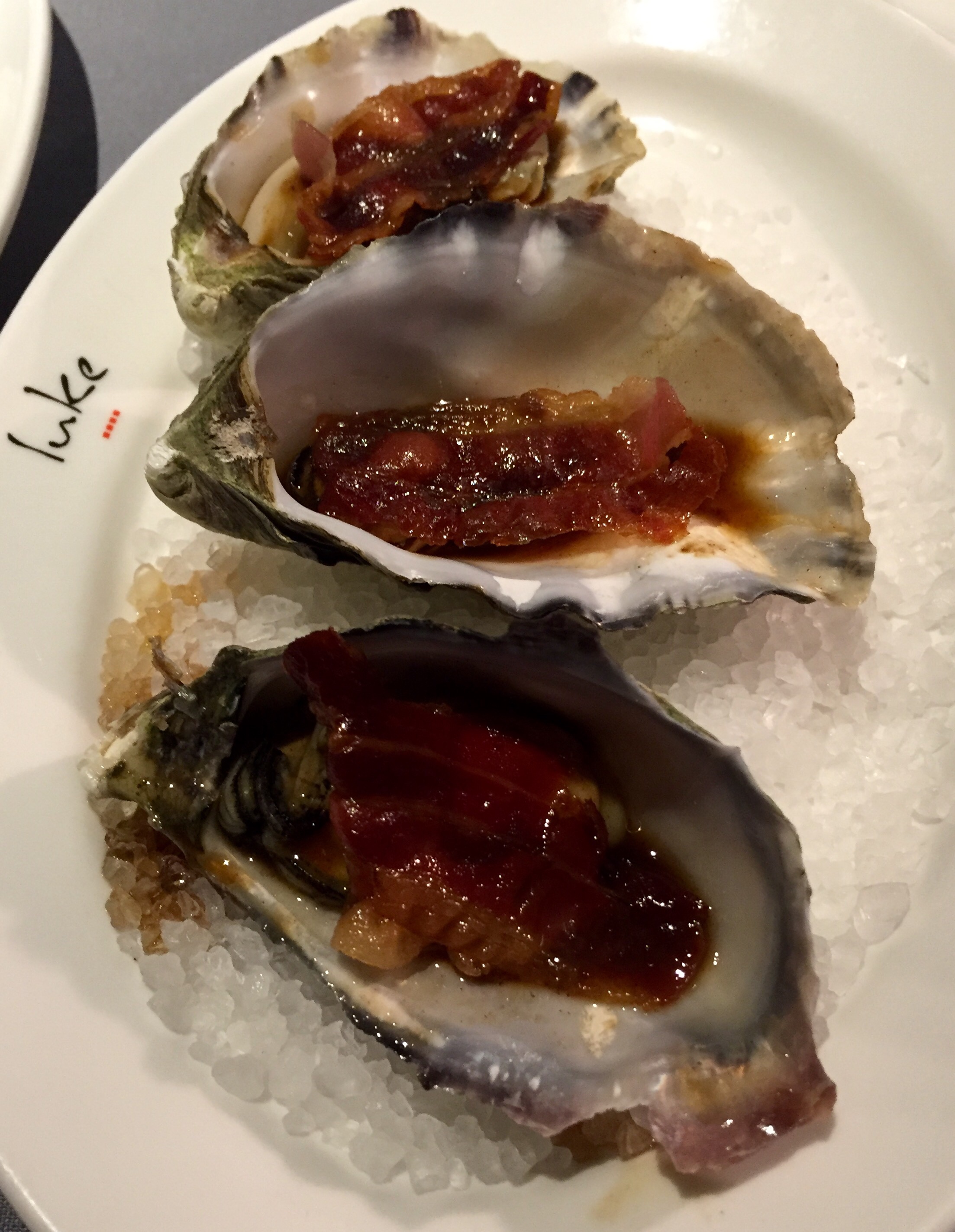 Oysters Kilpatrick
The oysters attract a $2 per oyster surcharge, and we thought we'd try them out – but to be honest, my own Oysters Kilpatrick efforts at home, wipe the floor with these.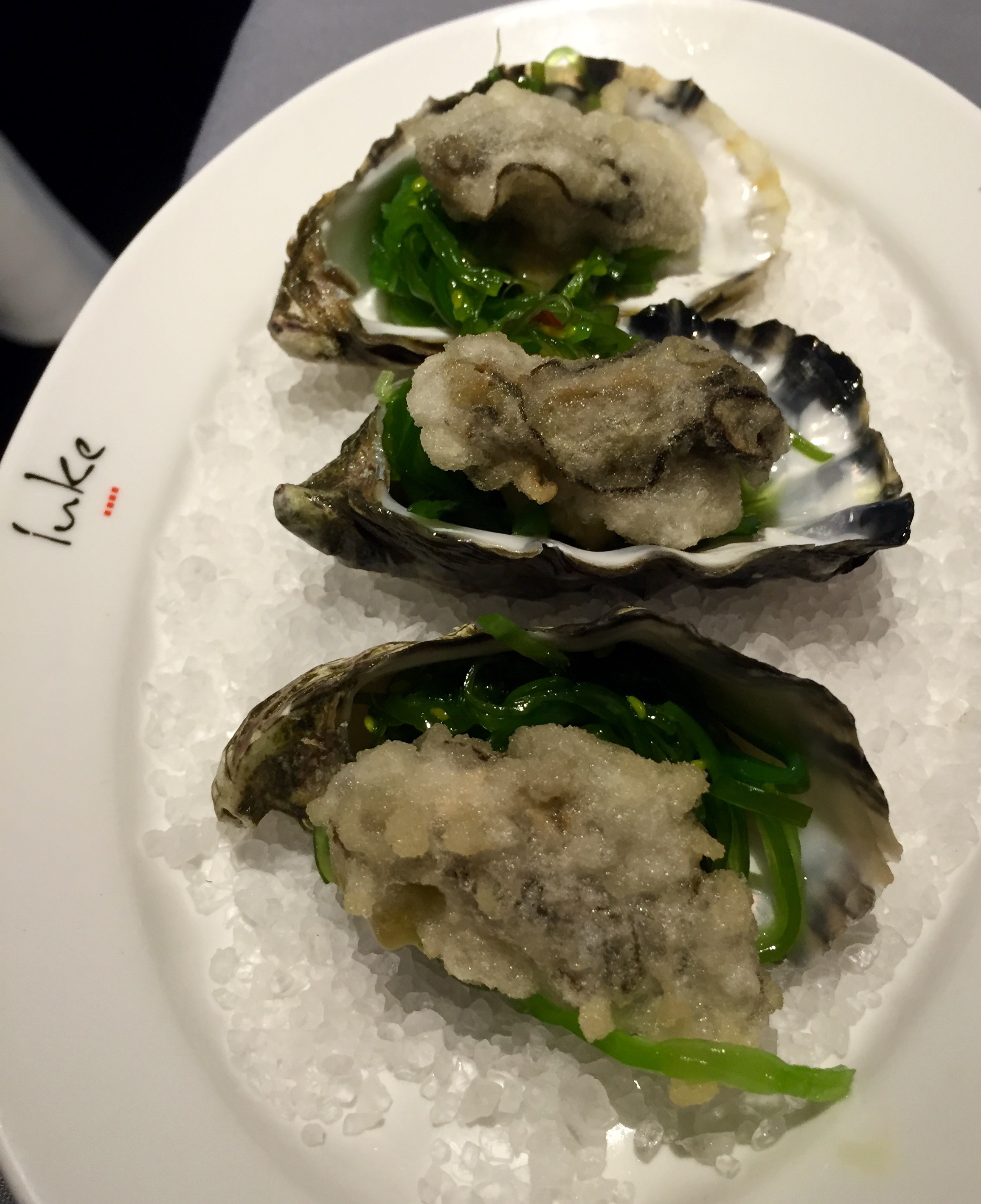 Oysters Tempura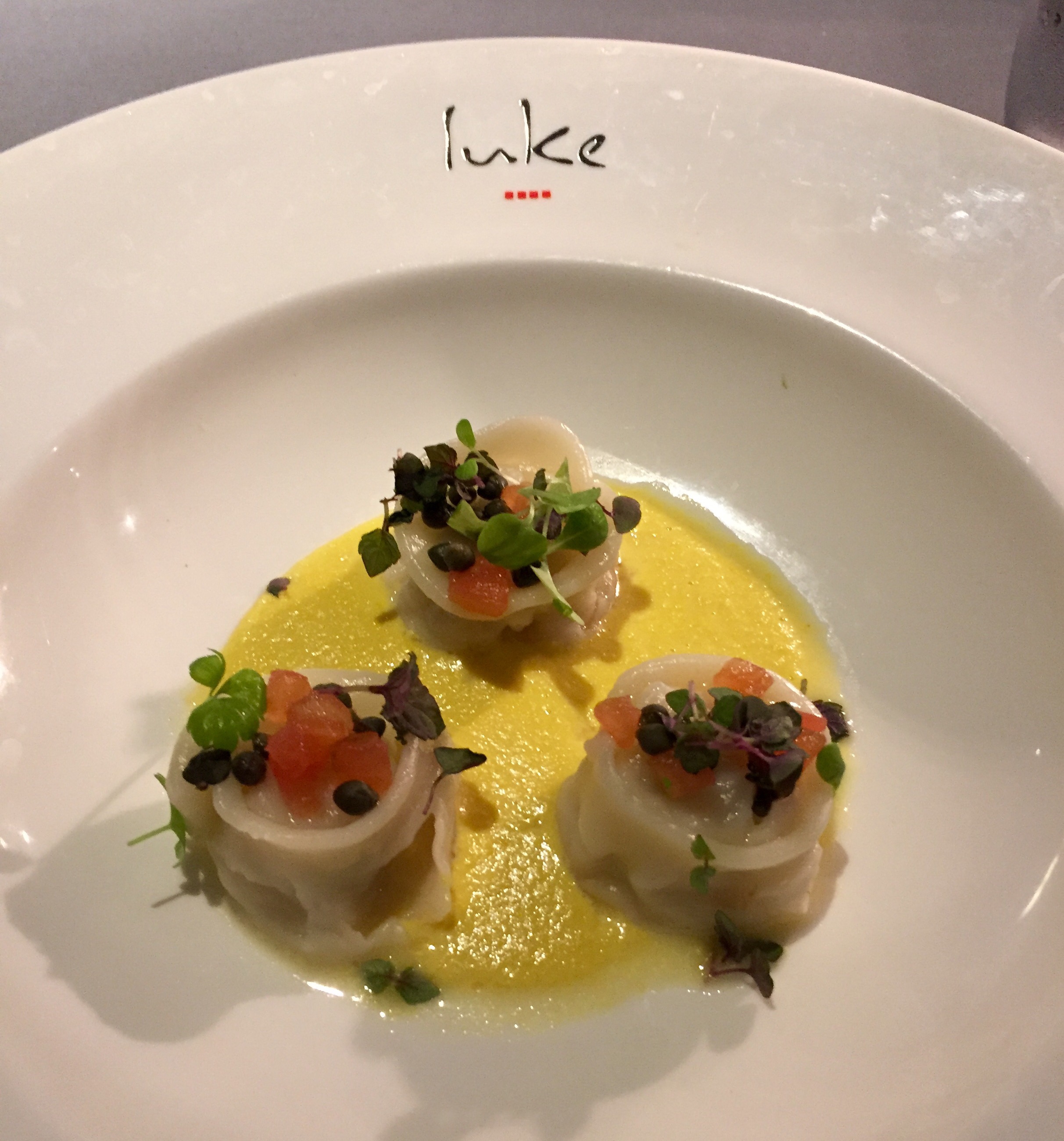 Lobster Agnolotti – corn puree, soft herbs, sauce vierge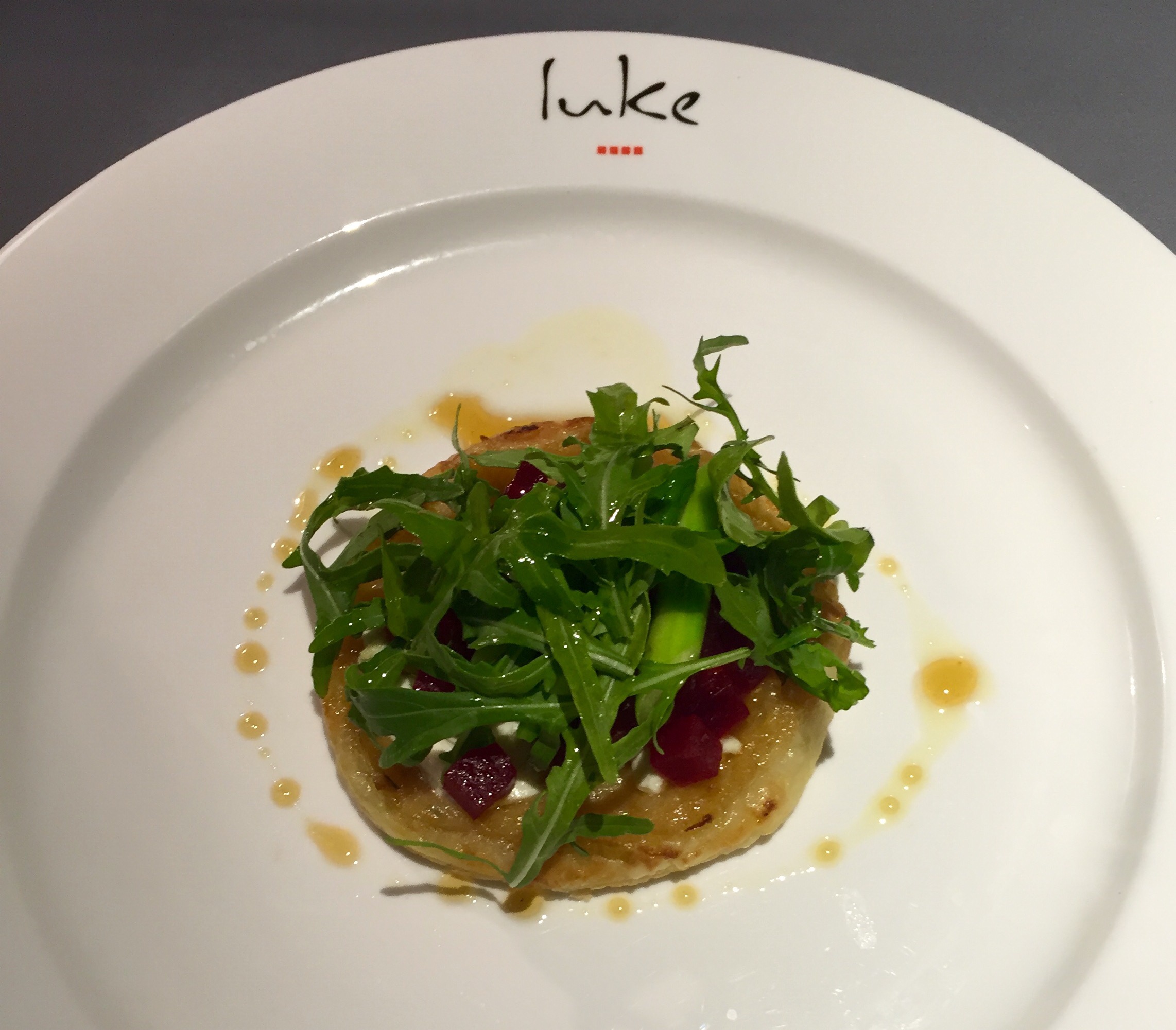 Warm Goat's Cheese and Caramelised Onion Tart – with beetroot salad
Highly recommend the goat cheese and caramelised onion tart – really fantastic blend of flavours on this dish… the sweet onion, tart cheese and slightly vinegar flavour of the beetroot was beautiful.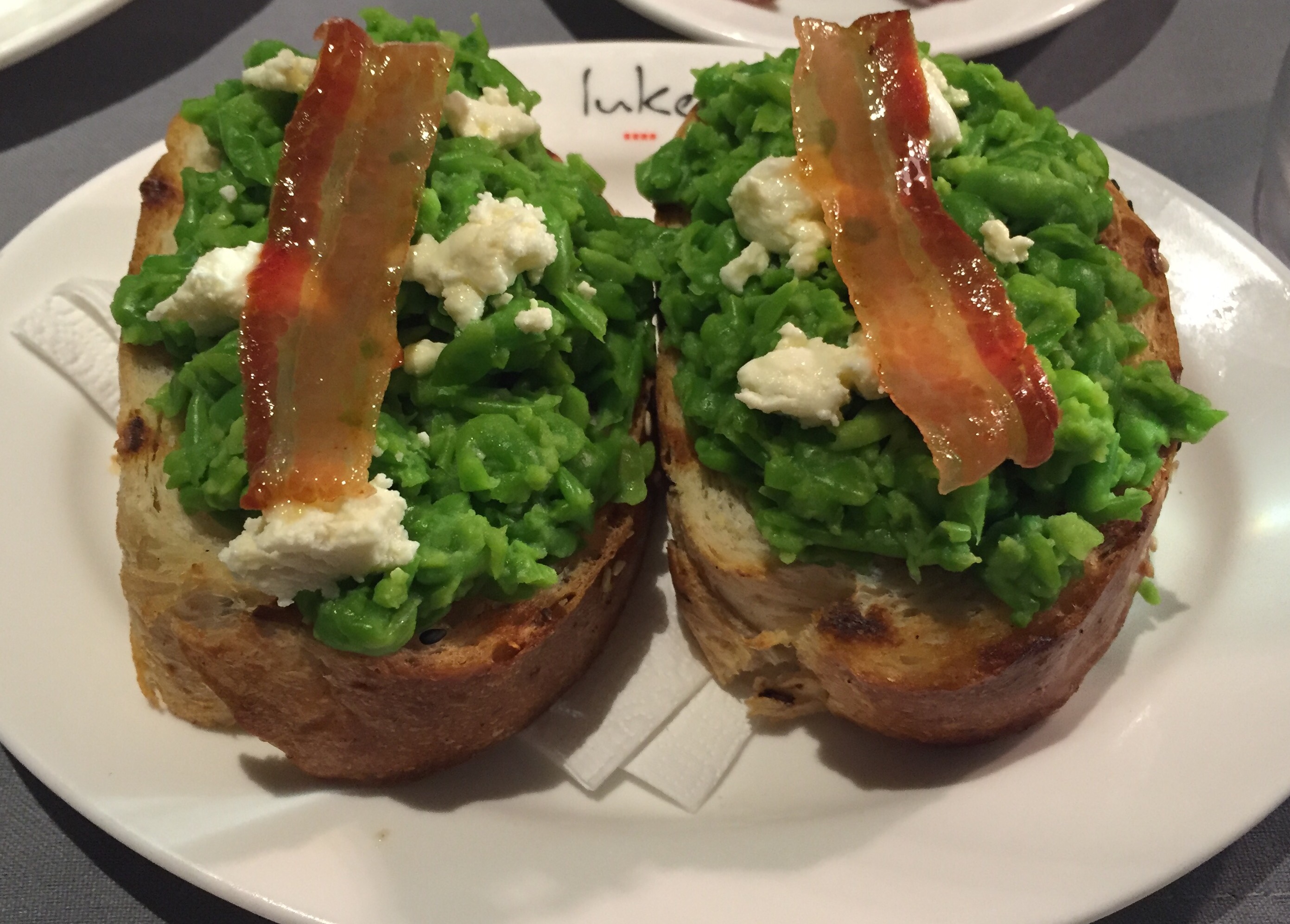 Brushetta – of crushed peas, feta and maple bacon.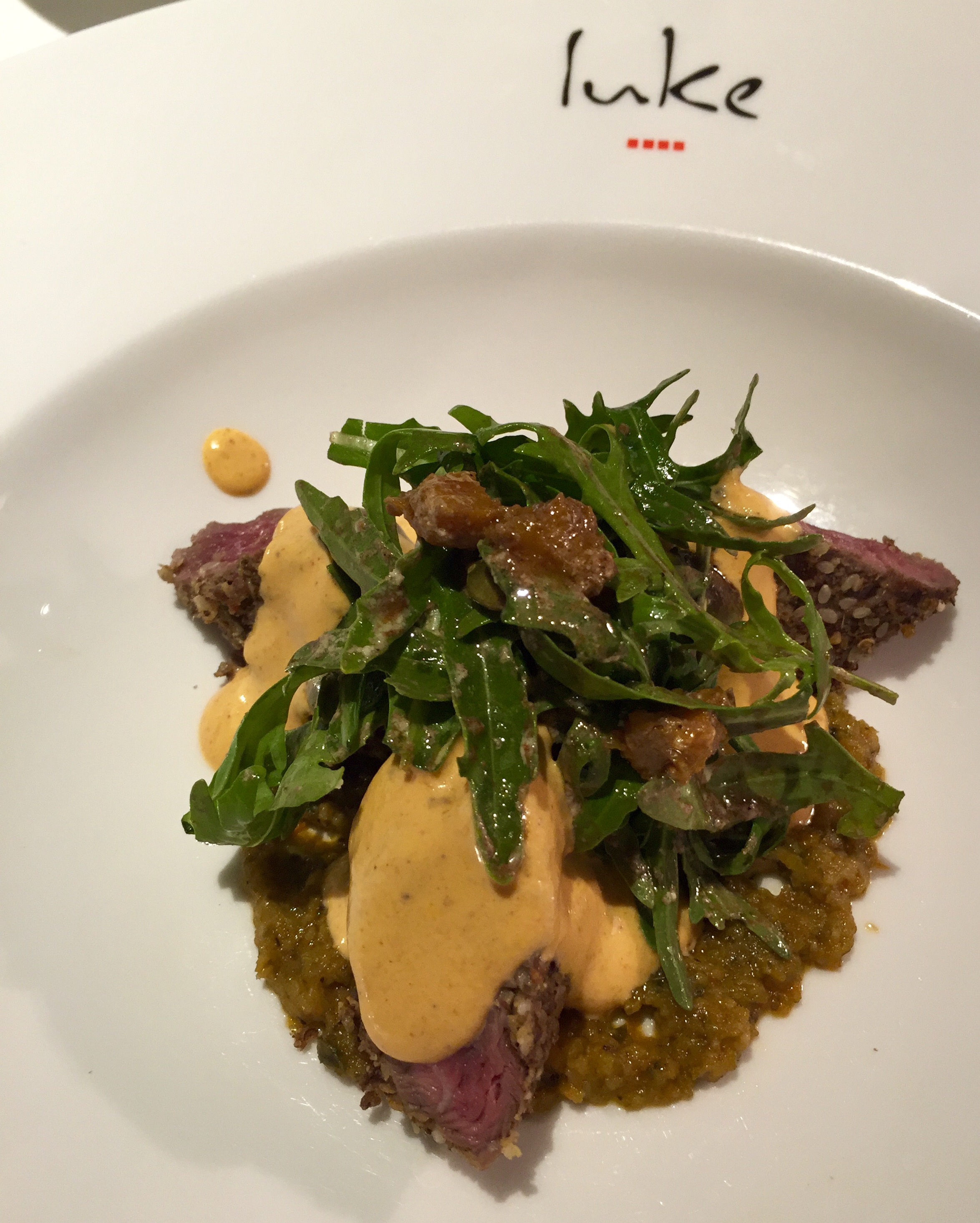 Dukkah Crusted Lamb Fillet – with roasted pumpkin, feta, rocket, green olive salsa, and harissa yoghurt dressing.
Another favourite, the dukkah crusted lamb fillet was superb – beautifully prepared lamb and lovely flavours and textures.  Fantastic, definitely try this if you get the chance.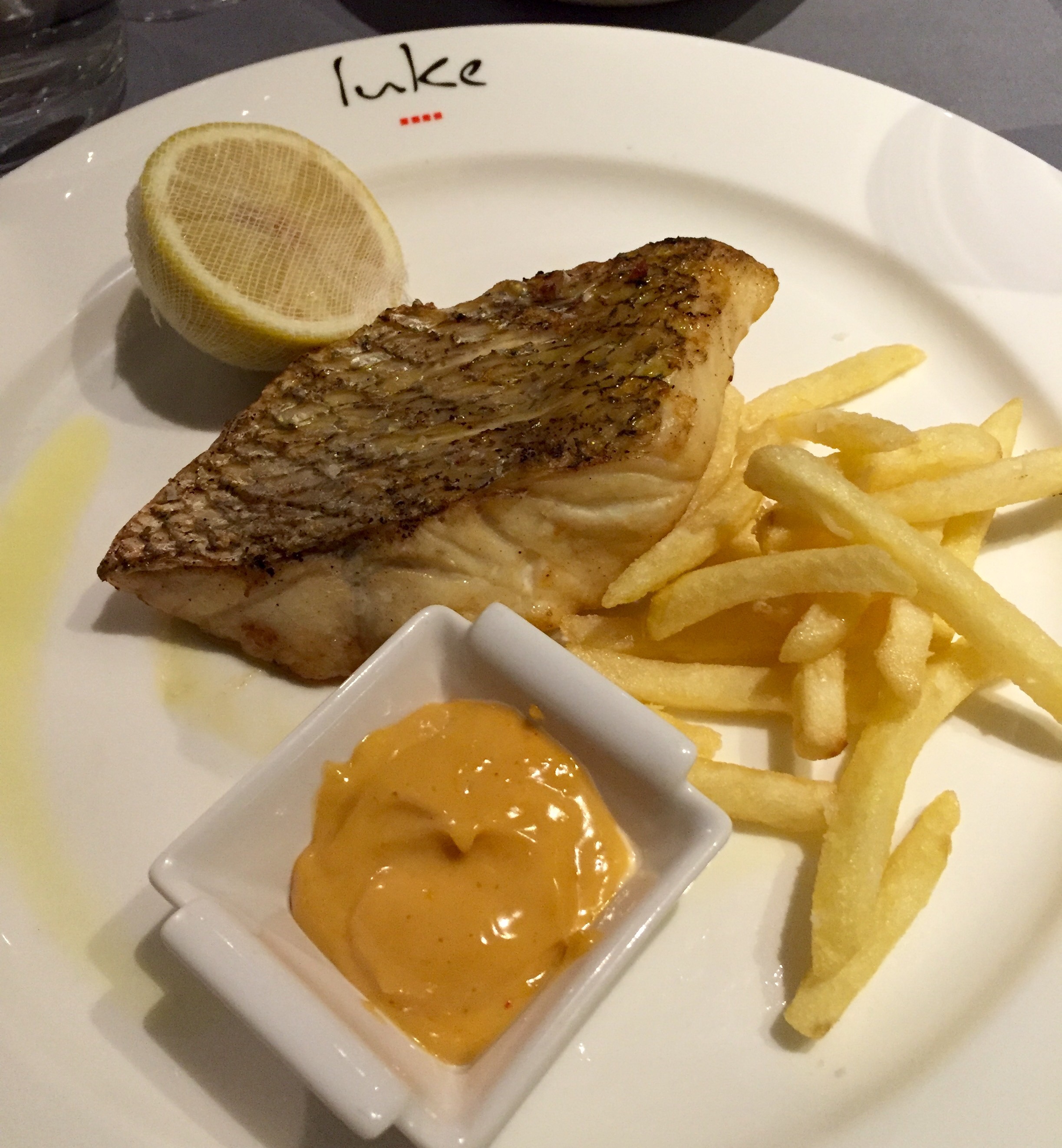 Grilled Snapper – with parmesean and truffle oil fries, served with chipotle aioli.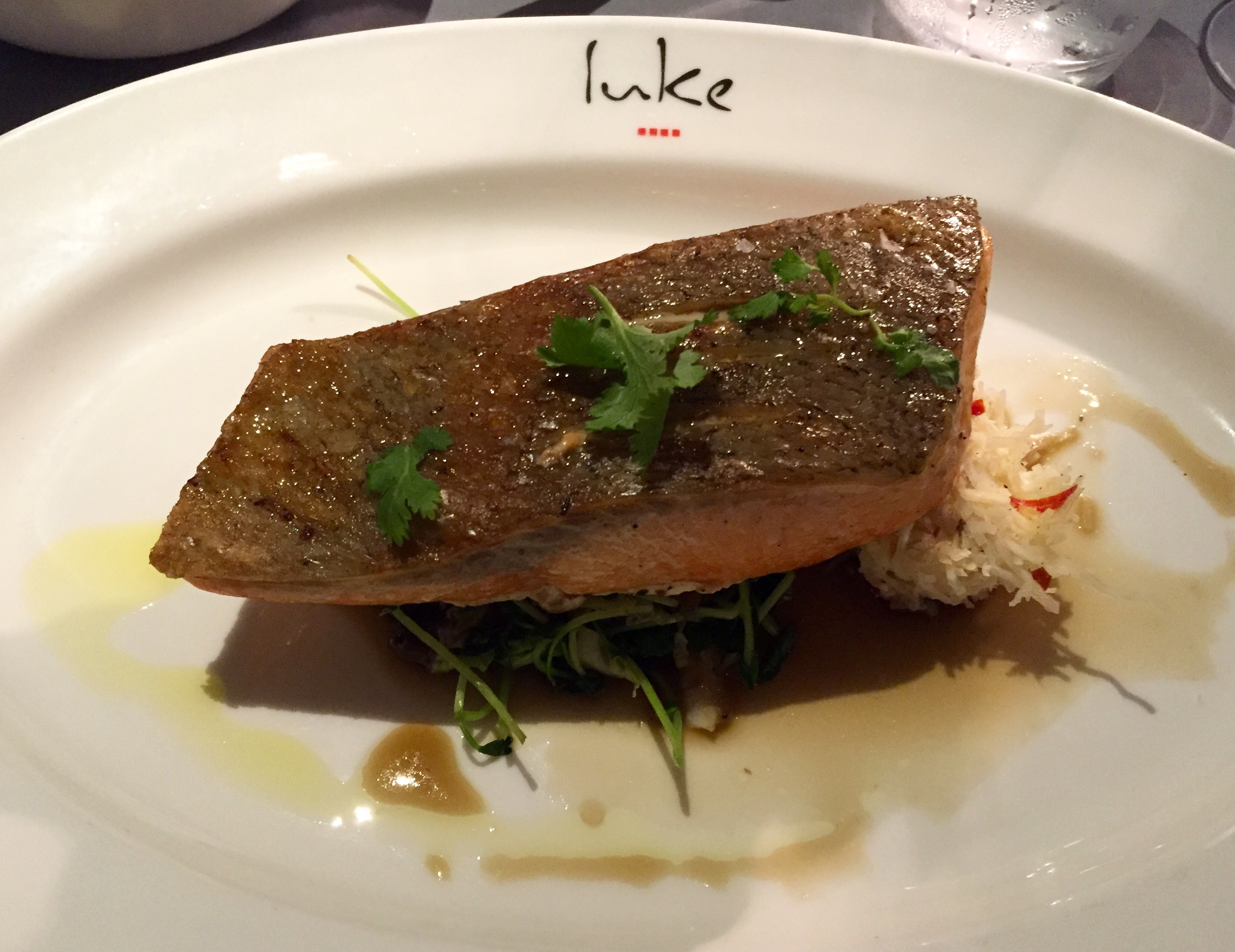 Petuna Ocean Trout – grilled, with teriyaki wok-fried vegetables and coconut sambal.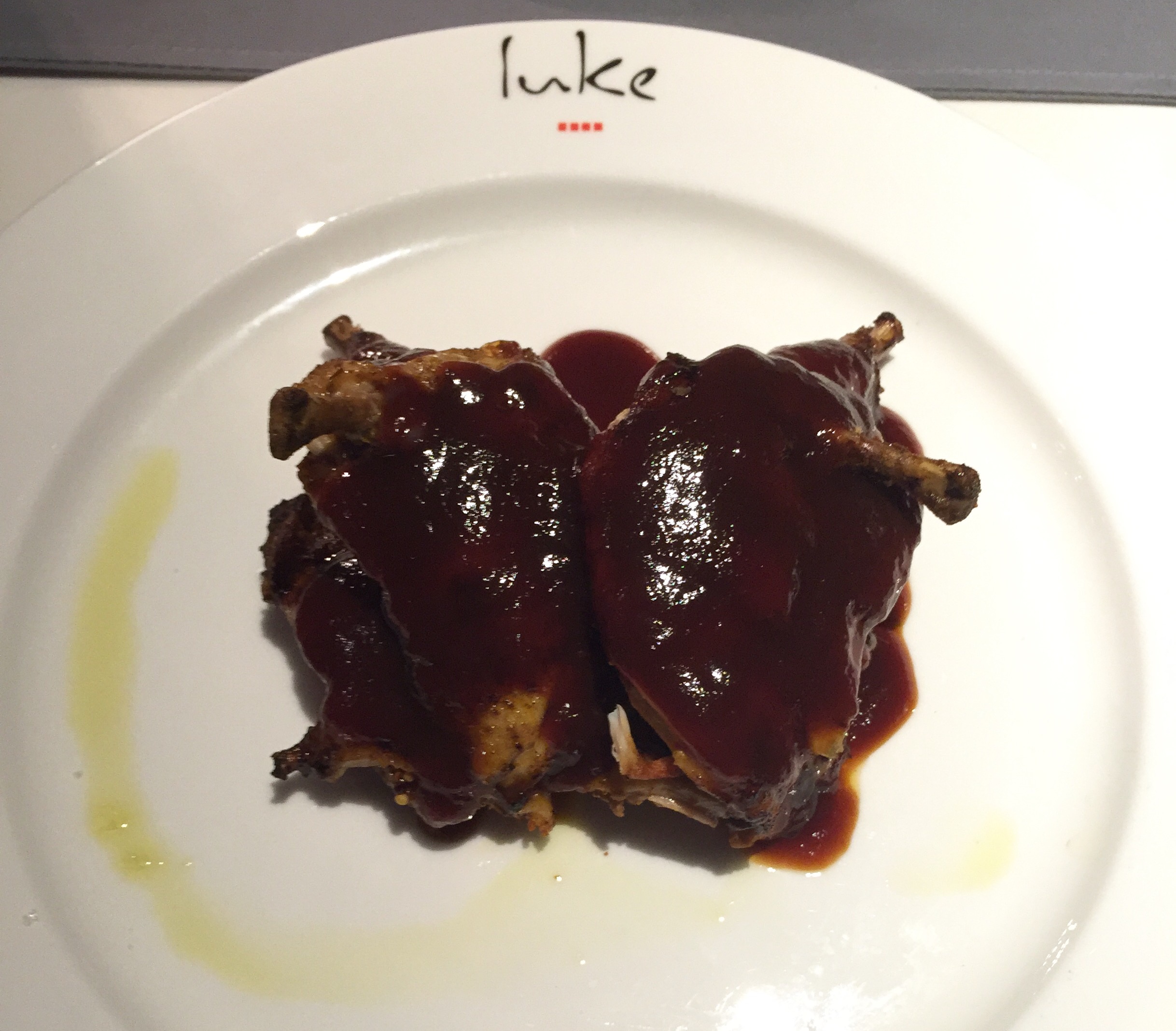 Cajun and Herb Spiced BBQ Baby Chicken – with homemade BBQ sauce.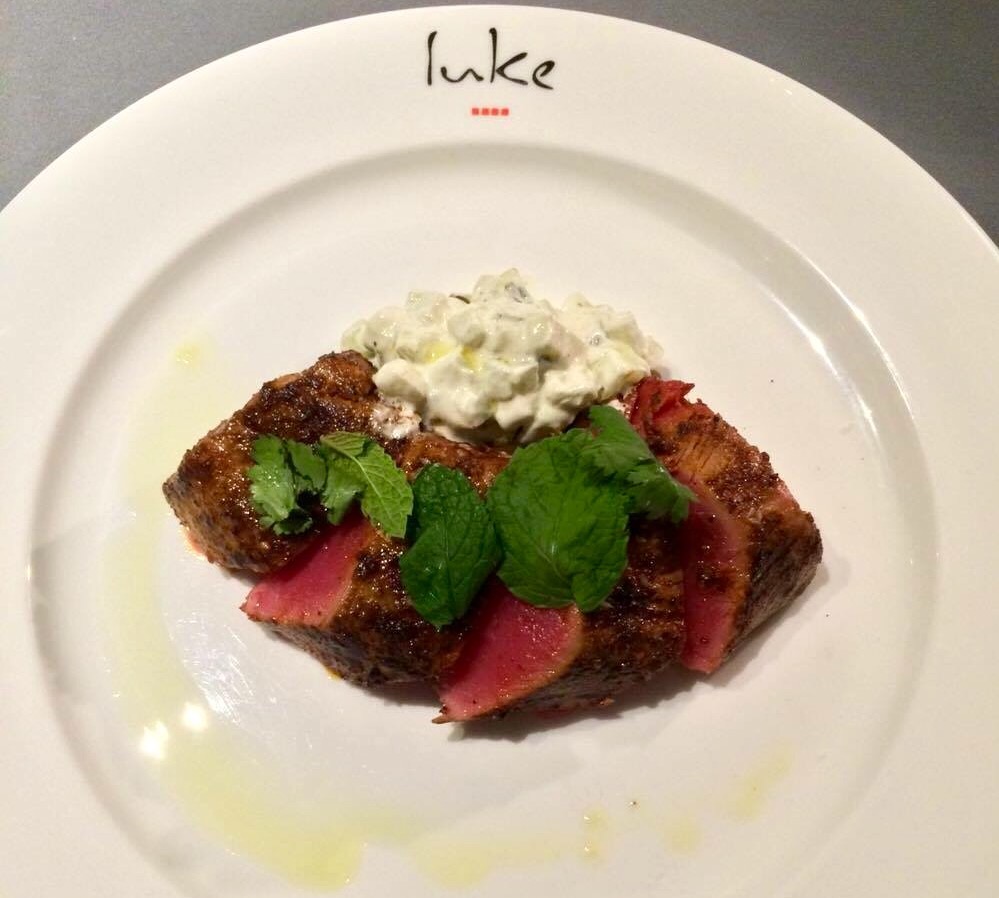 Tuna (Rare) – grilled, tandoori spiced, with curried lentils, cucumber and yoghurt.
Yale was really impressed with this tuna dish – unusual Indian flavours on rare grilled tuna that was quite distinctive. Very tasty.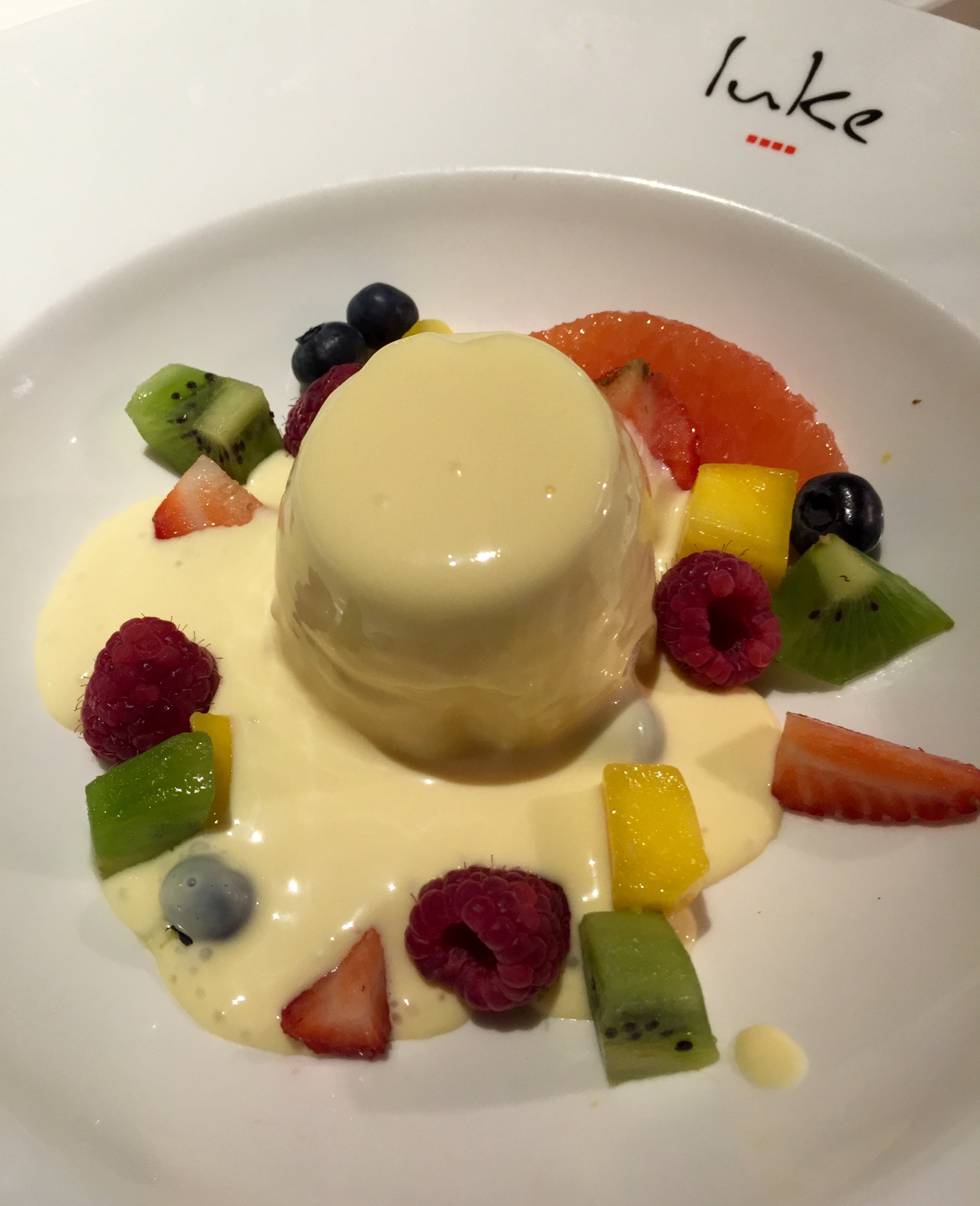 Floating Island – with fresh berries and fruit, served with Frangelico anglaise.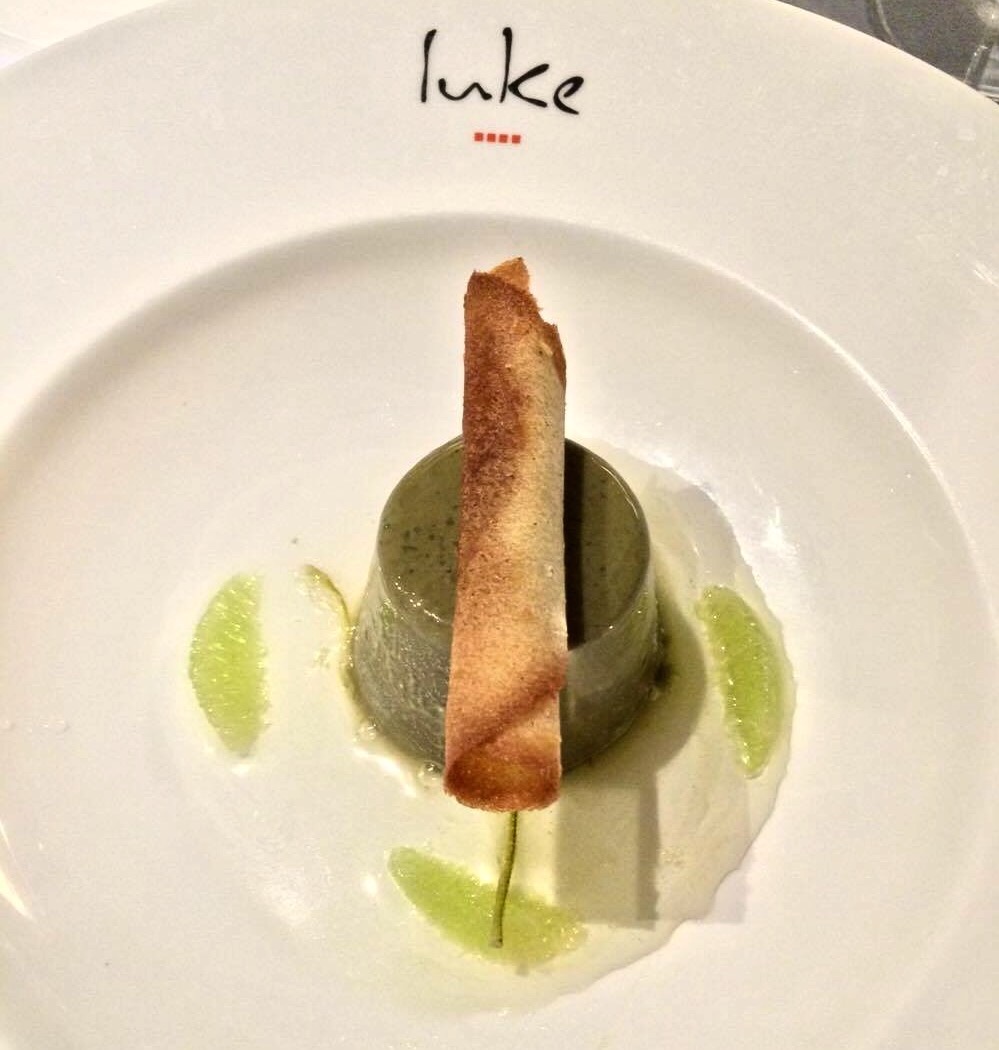 Luke's Liquorice Parfait – with lime syrup and tuile.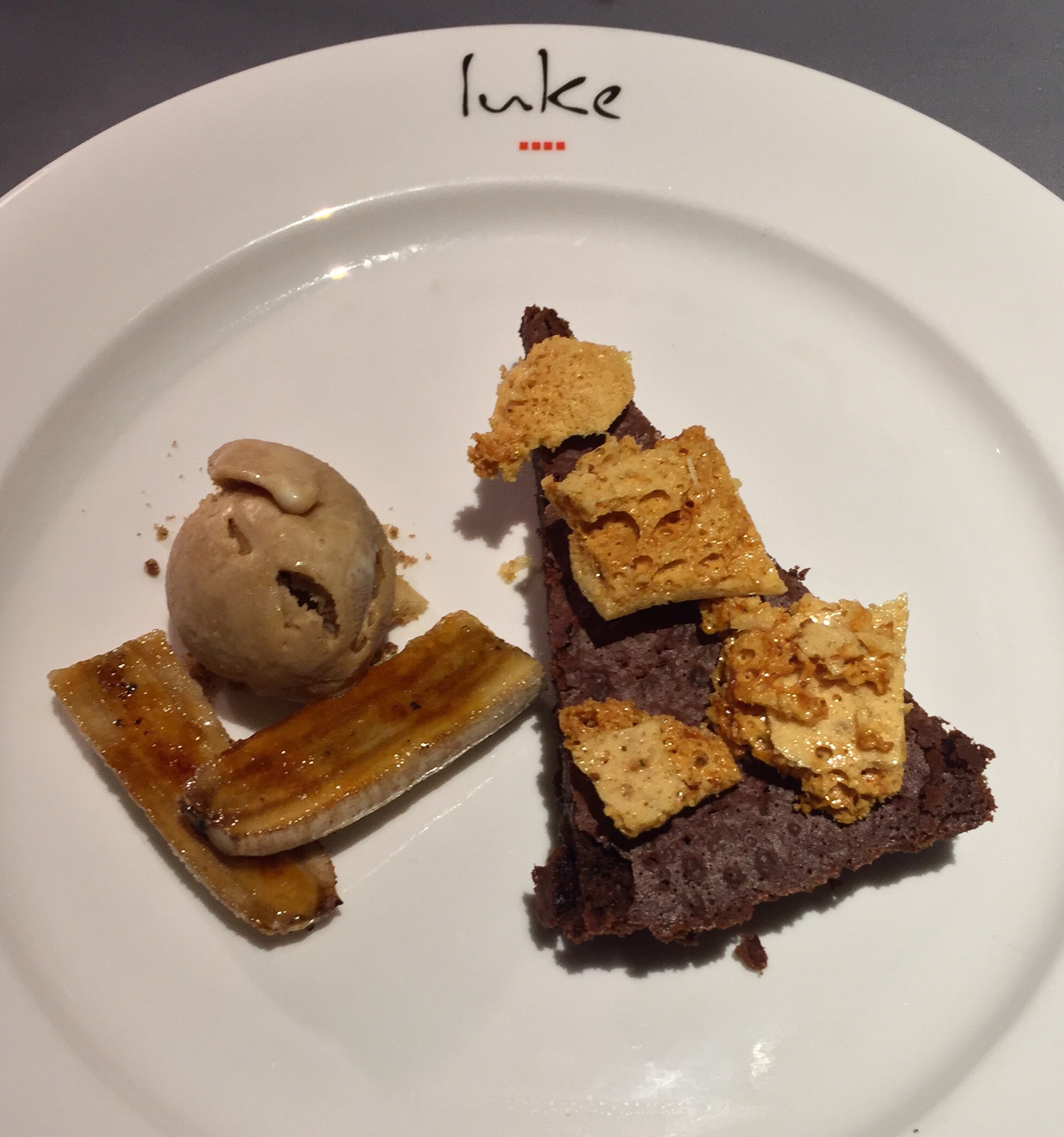 Goey Chocolate Tart, with banana, caramel ice cream and honeycomb.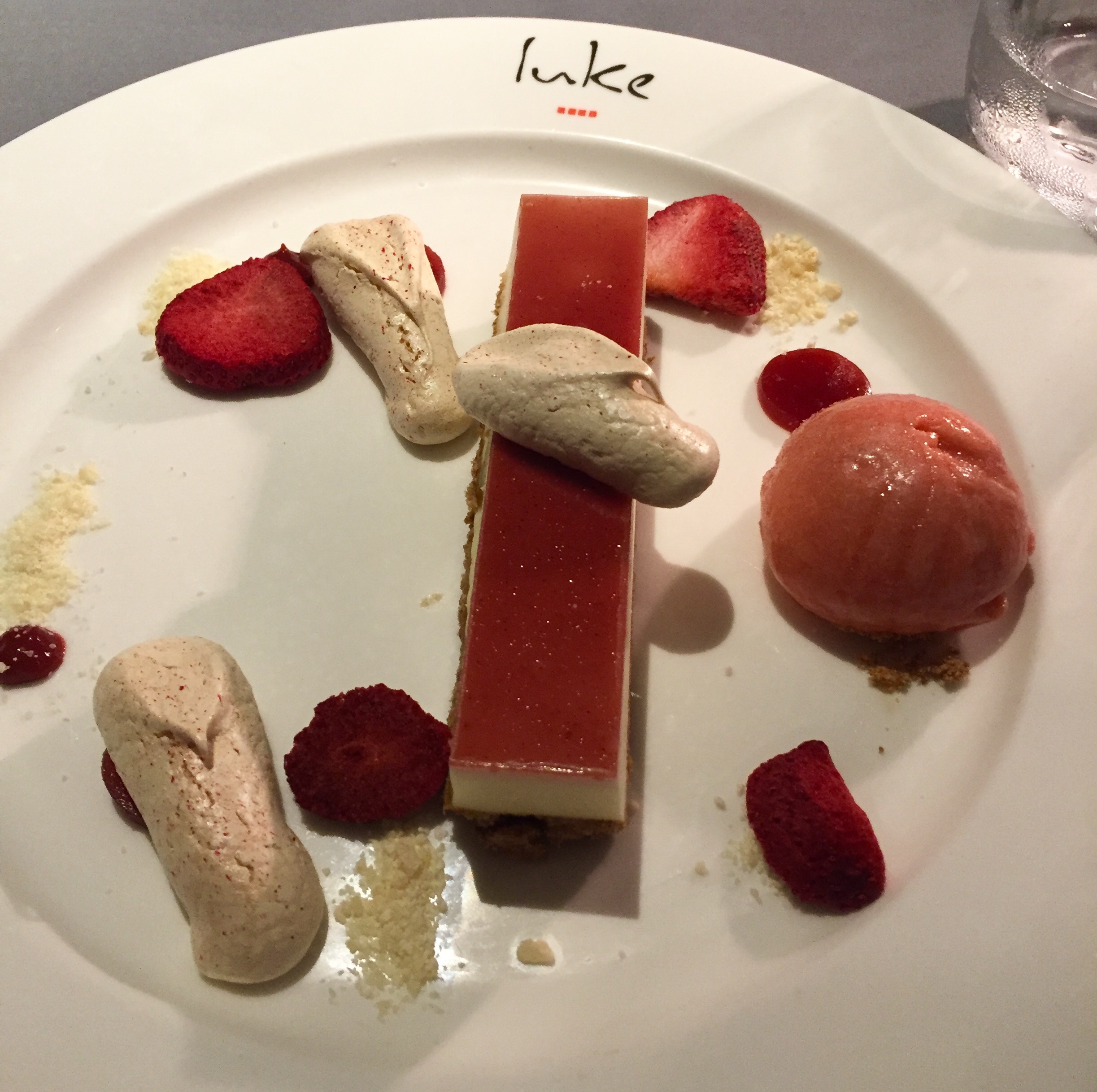 Strawberry Cheesecake, with jelly, sorbet, light meringue and freeze-dried stawberries
You wouldn't expect a strawberry cheesecake to be much to write home about, but this dessert was truly delicious and a little surprising.  What I thought was crushed toffee on the plate turned out to be something similar to popping candy.  Made a very pretty and tasty dish, a bit unexpectedly fun as well.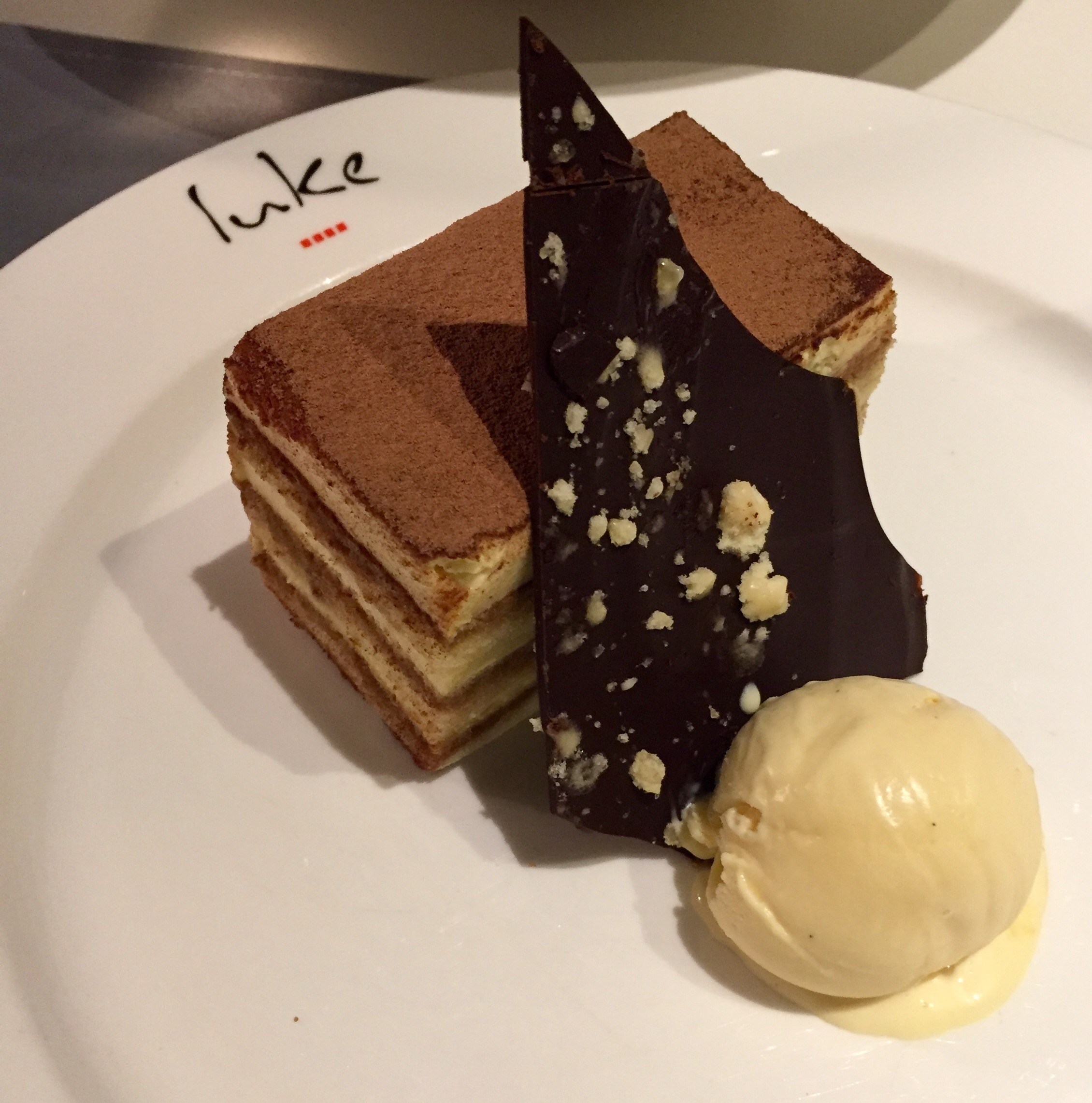 Tiramisu – with lemon custard Ice cream.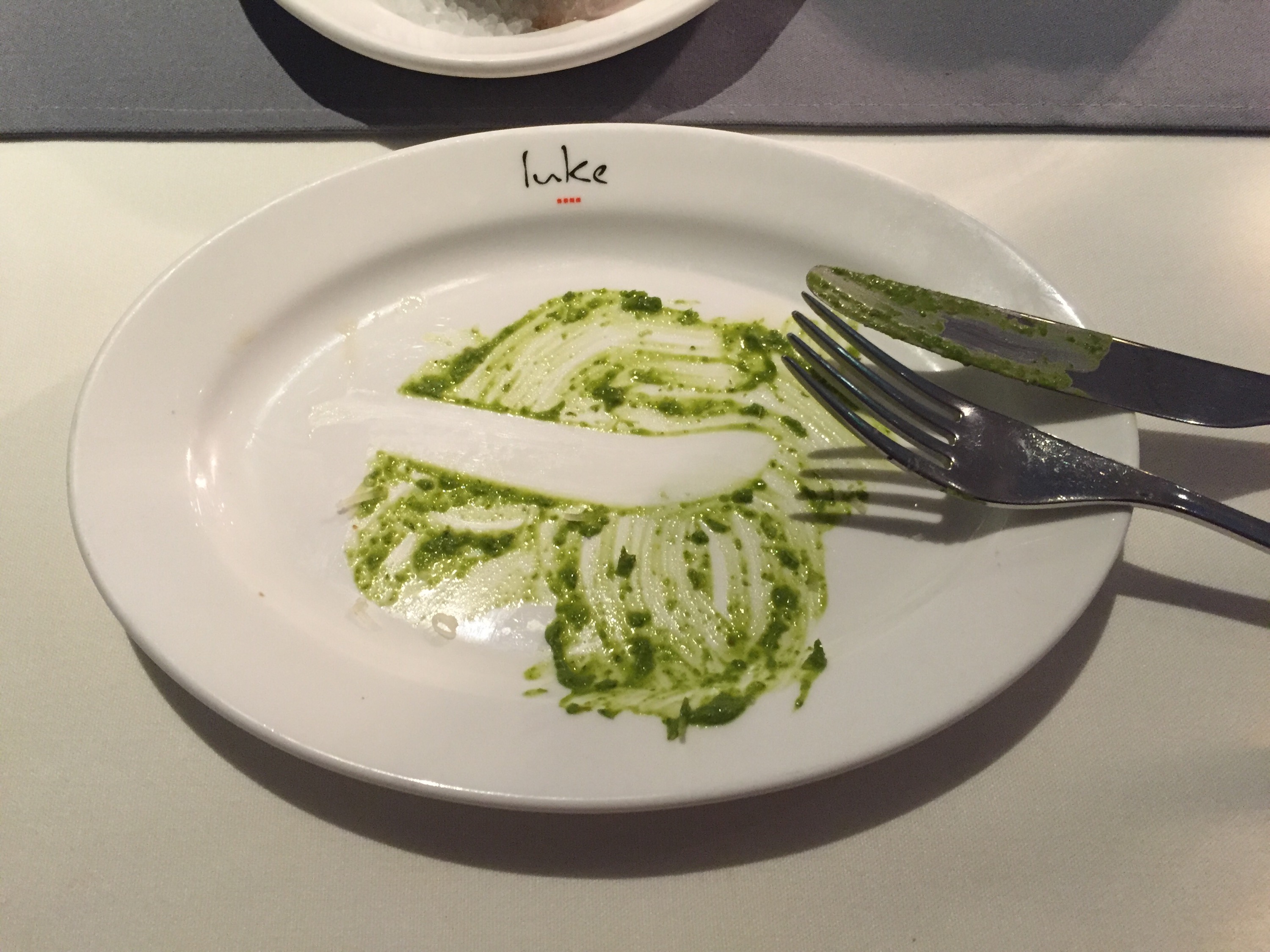 The verdict: everything we tried during our meals at the Salt Grill, was absolutely delicious.  And I have vowed, that should I be so foolish as to go on the Pacific Dawn for one of these short cruises again, I would seriously consider adding a $49 per night cost to our overall trip budget, so I can partake of the specialty dining every night and happily avoid the whole Waterfront Restaurant Disaster Area entirely!