Up bright and early for a 0700 breakfast so we can leave the hotel at 0830. Several of the group don't seem to get the memo though and we leave at 0915. It's barely my third day with these people and I'm losing a little patience for how self absorbed a couple of them are.
We have a two hour drive to get to a little town called, Sigsioara. The town has about 28,000 people living here and it is a popular tourist stop for the well preserved old town, which is a UNESCO world heritage listed area. First stop was the 13th centrum Clock Tower which is now a small history museum. The Clock Tower is the most obvious town landmark being 64m high and quite pretty.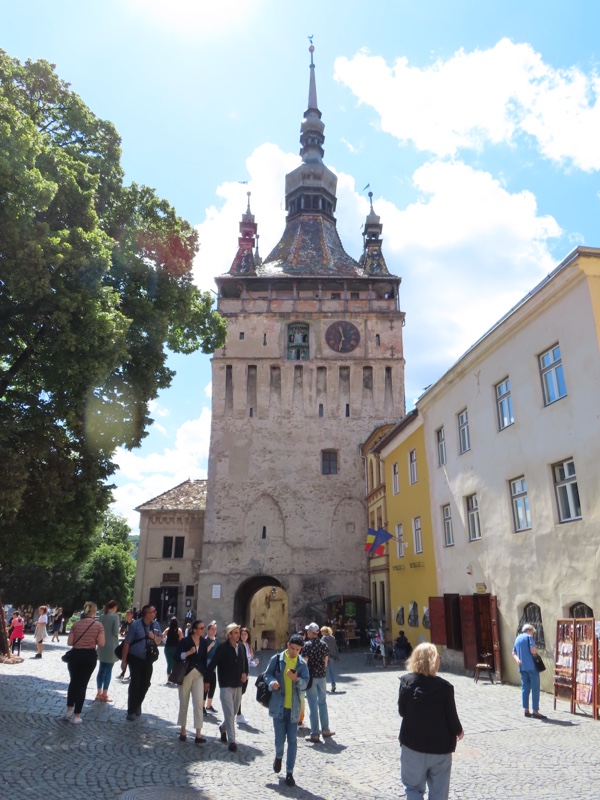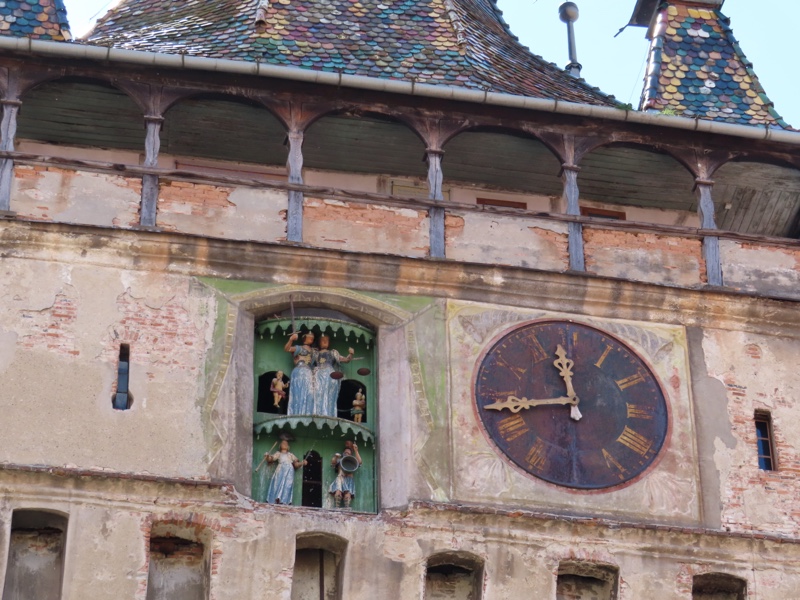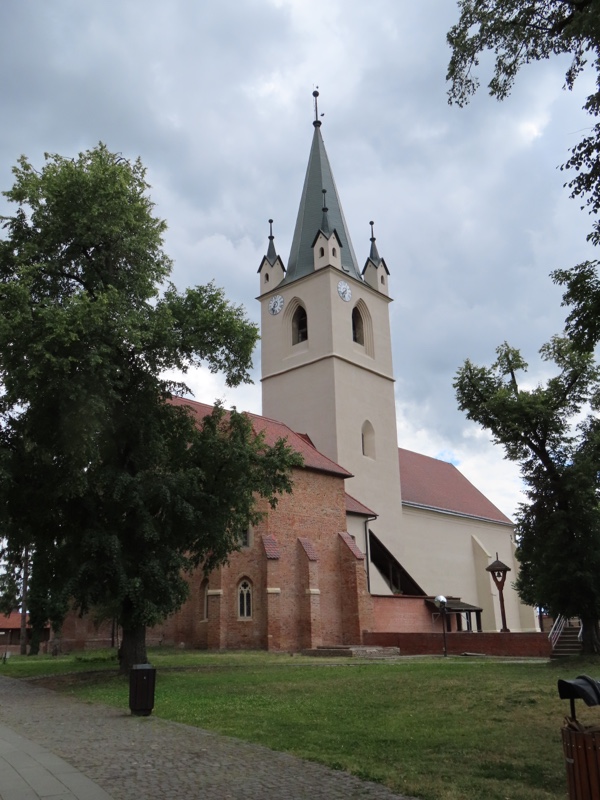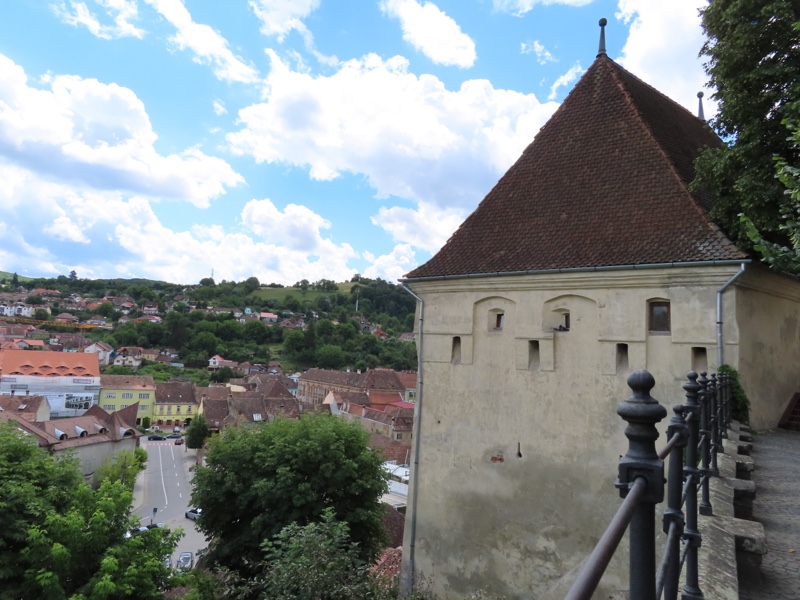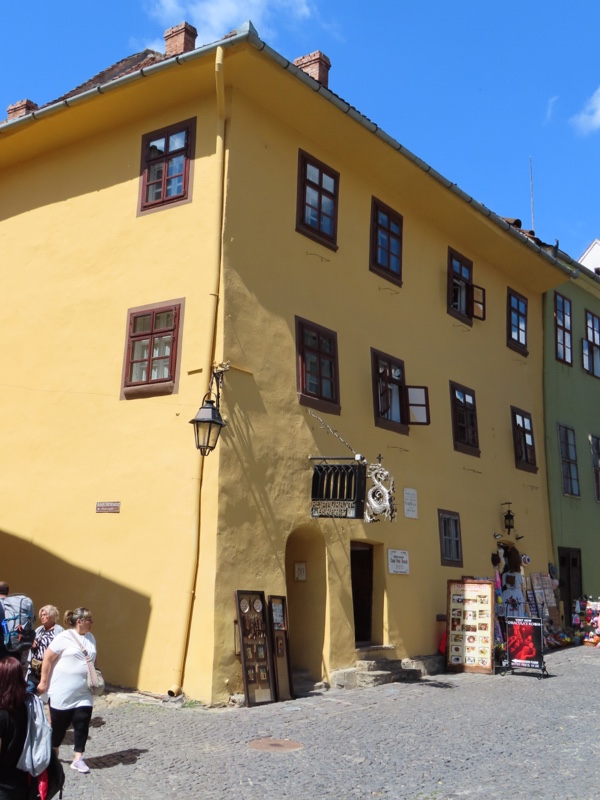 I did however take an opportunity to pop into the local 'Medieval Armour Musuem' a term which sadly must be used loosely because many of the objects on display in the Museum were quite late – 17th to 19th century swords and firearms. There were some cool breast plates though and some enormous muskets.
That pink thing on the left is my Beretta baseball cap… I can't imagine any soldier carrying this thing about.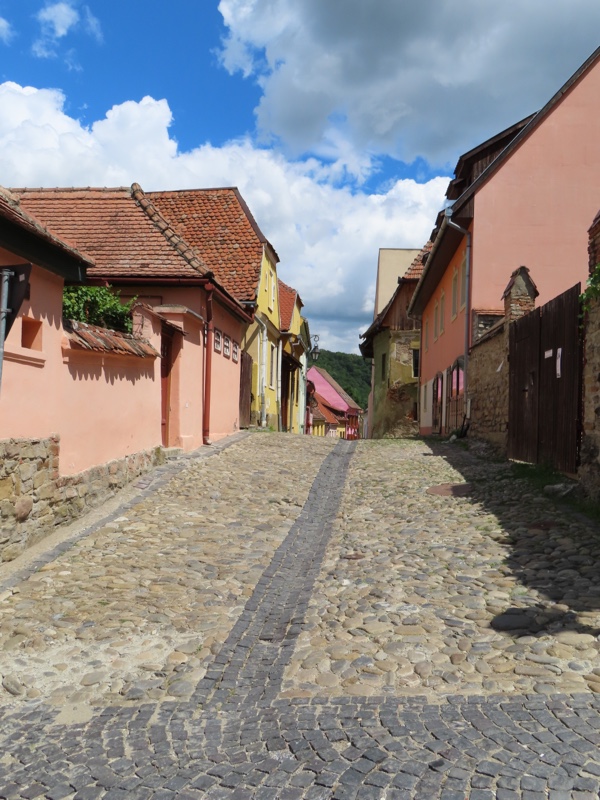 From Sigsioara we made our way to Targu Mures. Turns out that Targu Mures isn't a partially popular tourist spot and the only reason it was on our itinerary was so we could learn about the religious tensions that were happening thirty years ago by showing us the Citadel of the town and the Culture Square which encompasses a Catholic Church, an the Ascension Cathedral, which is an Eastern Orthodox Church and the Quo Ante Jewish Synagogue.
We were all a bit confused about it – even our 'expert' guide, Gorgy who had never been there before. The driver, Nick got us lost, driving around in circles several times (we went past one statue three times) before dropping us off near a school so we could find the citadel on foot. Not at all impressed by that.
Then it turns out that the Catholic Church (below) and the synagogue are not open to the public anyway, so we only got to go into the Eastern Orthodox Church..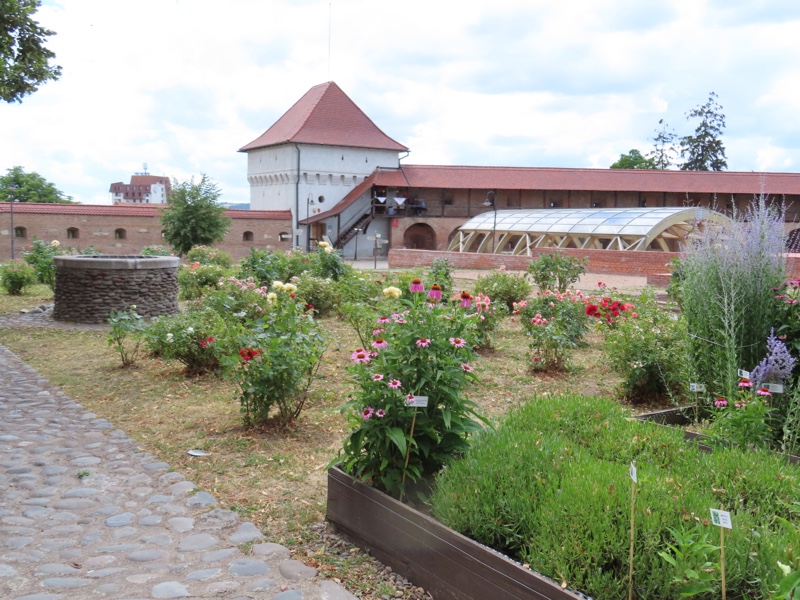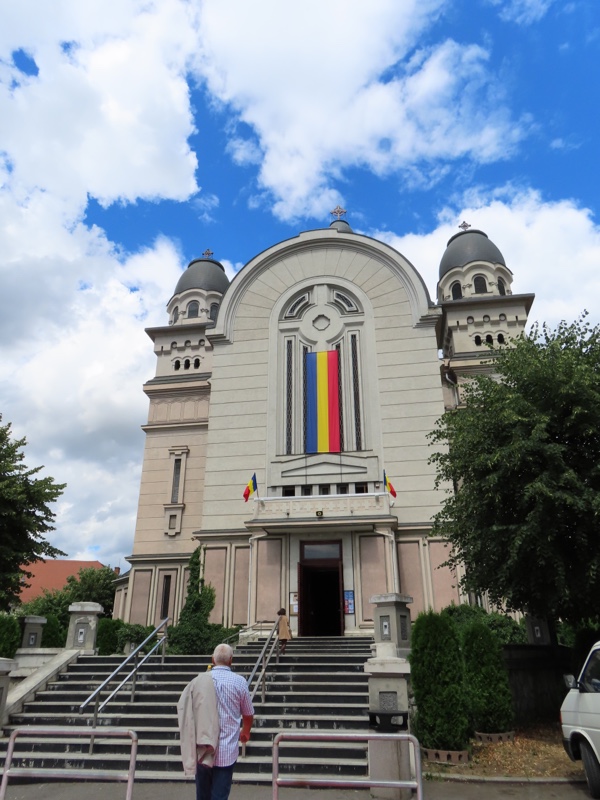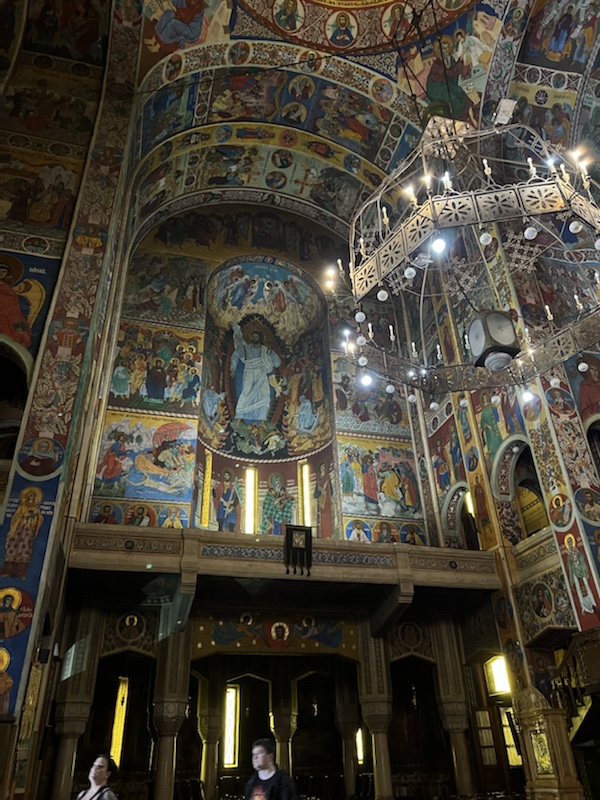 Still, it is a very beautiful church and reminds me very much of orthodox churches I went into in Moscow and St Petersburg, and I'm glad one of the buildings on our stop in Targu Mures was open to the public. We had had a very rushed day today, what with one thing and another (getting lost, people ordering lunch and then their meals taking forever to arrive, and people just not listening to instructions and skiving off), so we were kinda glad to be having a 20 min break to take a moment to soak in the atmosphere here.
When the rest of the group joined us, we jogged off up the road to the Mayor's house and to wait for Nick, the Boos Driver.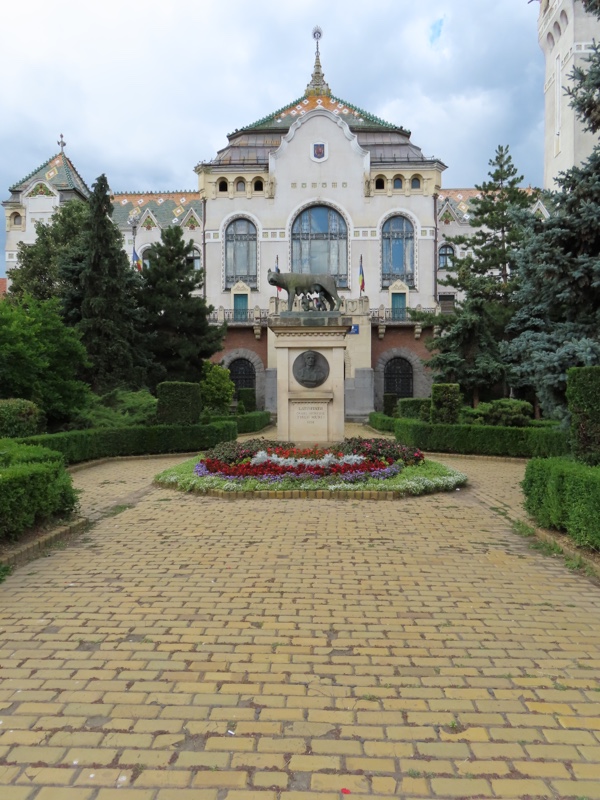 This is the Mayor's residence, right next door to the Mayoral offices, and it seems the mayor who built it in the early 1900s was heavily into Italian/Latin architecture styles – which ends up in a weird mishmash of an Italian villa with a Romanian looking roof and decoration… I have no idea why Romulus and Remus are prominently out front – it's a mystery?!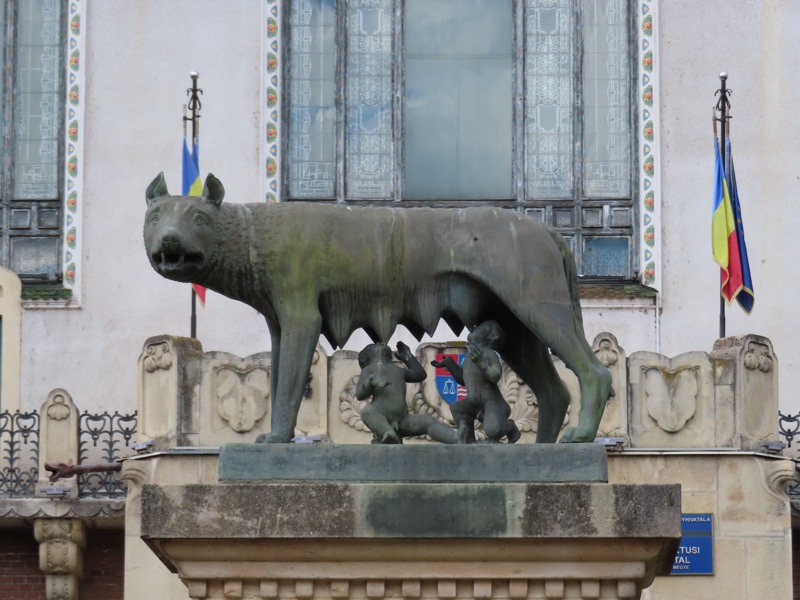 And here we remained while we waited for The Annoying American on our tour to finally deign to meet up with the group. Yes, there's three American's on our tour, and two of them are delightful – thoughtful, engaging and considerate beautiful humans… and one horrifically entitled, self involved fucking clueless inconsiderate c&%t!!! This person had lost her sunglasses the night before – left them on a table at a Greek restaurant in Brasov, and had been whining all fucking day about not being able to get hold of them to find them for her, 'My gawd, they're like, $400 sunglasses, like they should at least be able to find them and like, send them to me in Bucharest.' When she wasn't complaining to us about her lost sunglasses, she was skiving away from group trying to find some 'decent' sunglasses to buy. So, we had been playing 'Oh-FFS-Where's-The-Annoying-American' all day. Now we were all hurried up and getting ready to leave and she is nowhere to be found. Not answering messages on the WhatsApp group chat and eventually, she replies saying she's buying sunnies and found 'gold on special' (WTF?) and will be there soon. So the ten of us stand around on the footpath outside the Mayor's house cursing her and waiting for her to turn up.
She eventually shows up and she's all smiles and happy is wearing her new sunnies "Yo-yo guys, Bul-garee in the house!" … took me a few moments to realise that somehow in this dinky little town she found a department store selling BVLGARI designer sunglasses. She was also showing around the 'gold' she'd found and turns out that was a dainty gold necklace with an Irish harp charm on it??? Urgh, we've been rolling our eyes about the unbelievable selfish and boastful nature of this woman for the last four days but everyone seems to have comfortably taken to quietly bitching about her behind her back and not addressing the problem.
Which of course meant I was the one confronting her about not being able to leave the group like that and keep us all waiting. Even the tour guide didn't take her to task. This is the second time in three days that I left her standing agape looking like I'd slapped her.
Urgh… Annoying American finally acquired, so Gorgy called the bus driver and we head off to Cluj-Nepoca. When we get there – we find the Cluj-Nepoca's Union Square in the middle of evening summer concerts of traditional music and not-so-traditional tunes being played on weird traditional instruments – very loudly! Thanks to Her Nibs being late, we weren't able to check out some of the buildings around the square that were on the itinerary but we did manage to check out the cathedral very briefly because it was closing at 1900.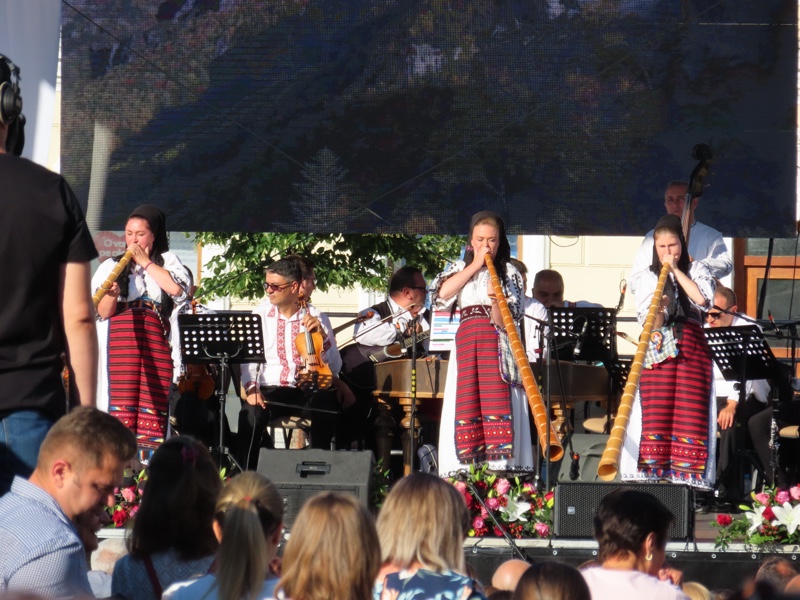 The square was full of locals out to enjoy the evening and the noise.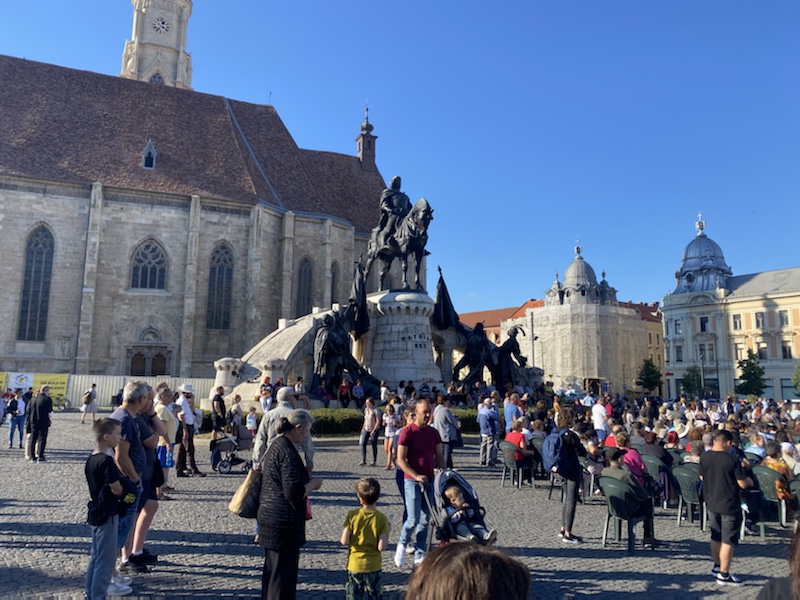 The Matthias Corvinus sculpture – you know, the guide didn't tell me who he was or why there was a statue to him and I didn't bother supplementing that for a change by googling it myself (which is another recurring theme lately), so this is him, but fucked if I know what he did to be worthy of a huge sculpture in the town square.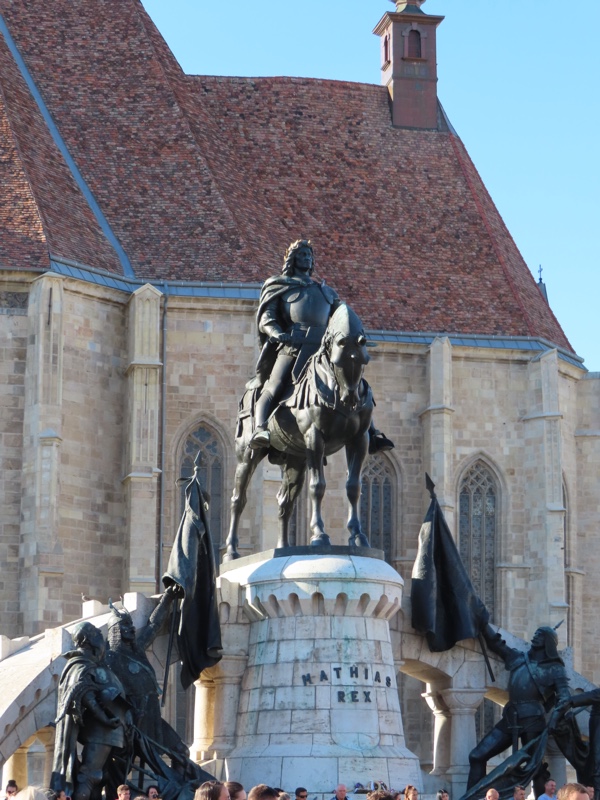 Ok, I lied… Fresh to you from Wikipedia: was King of Hungary and Croatia from 1458 to 1490 and after conducting several (presumably successful) military campaigns, he was elected King of Bohemia in 1469, and adopted for himself the title, 'Duke of Austria' in 1487. There's way more to the dude than that, like his lineage etc, but that's the TL;DR.
St Mikhail's Church is the second largest church in Transylvania (behind the Black Church from yesterday). The construction was begun in the St James Chapel (in the back of the church). The money to pay for this was largely collected from indulgence income apparently – man we should go back to the good old days of selling indulgences, only maybe the money could go to building housing for the homeless or something.
Anyway, the first documents relating to the building of the church date back to 1349. There are some fragmented frescoes in the church that make sense with that time period, but they're pretty dilapidated, covered over and poorly kept. The construction was completed between 1442-1447 apparently, the original tower was built between 1511-1545, but the tower that can be seen now was erected in 1862.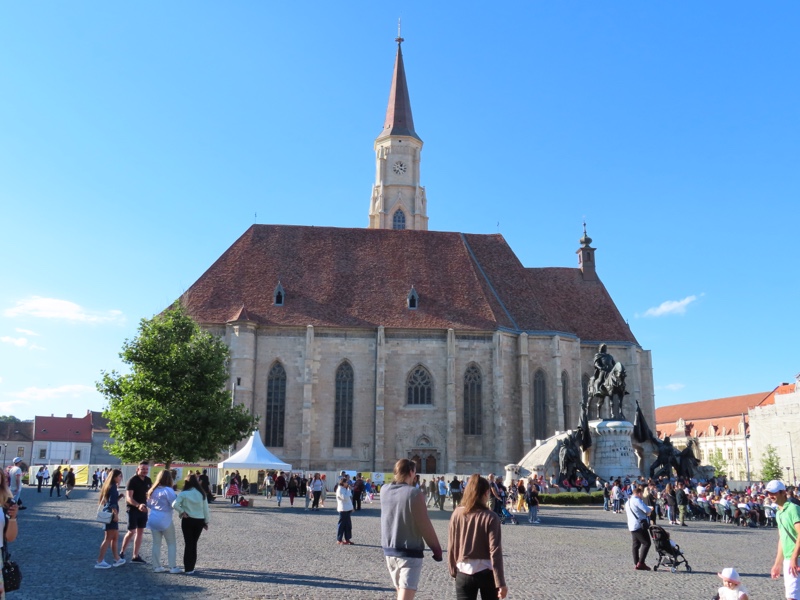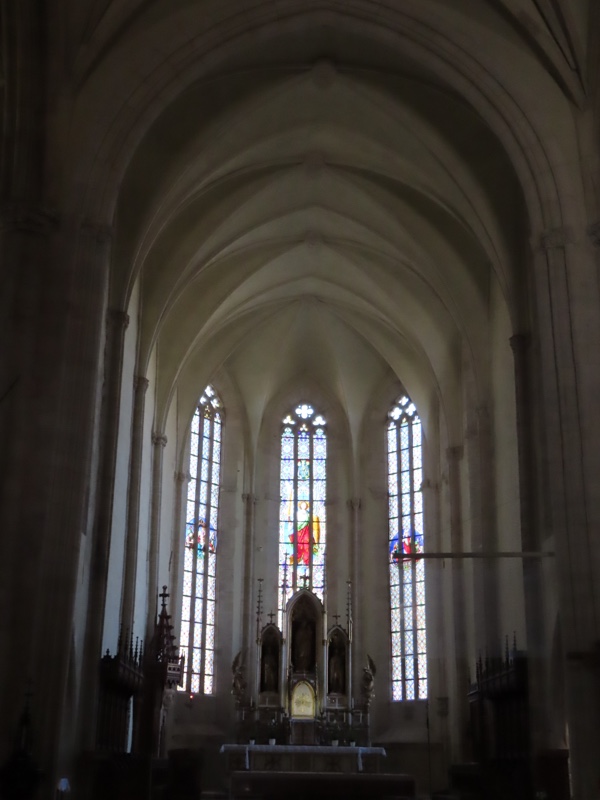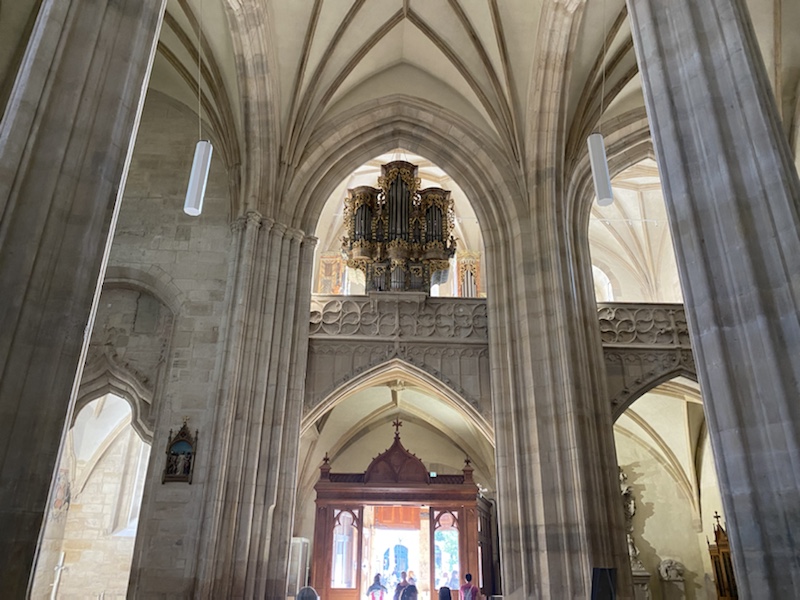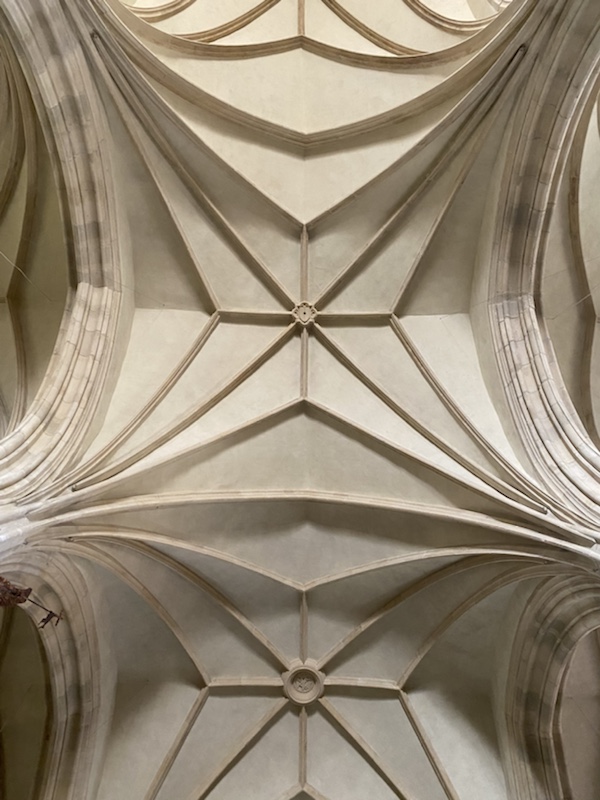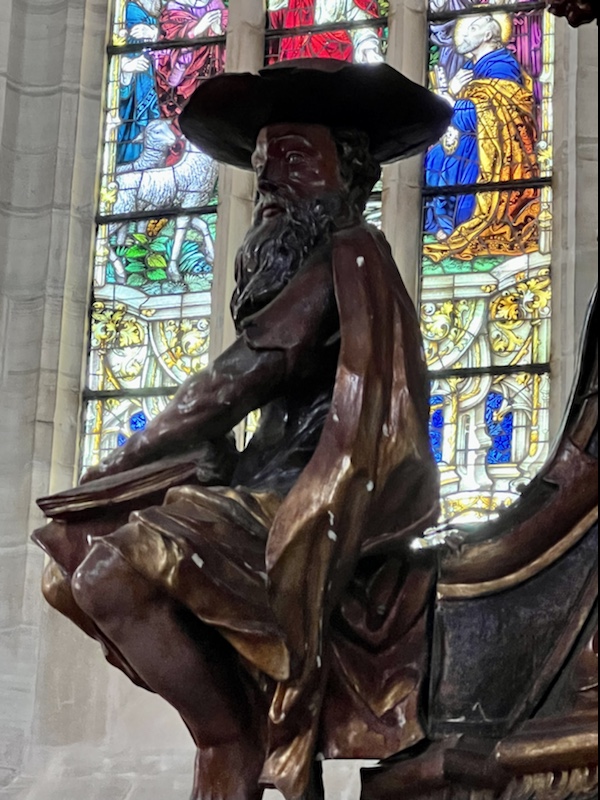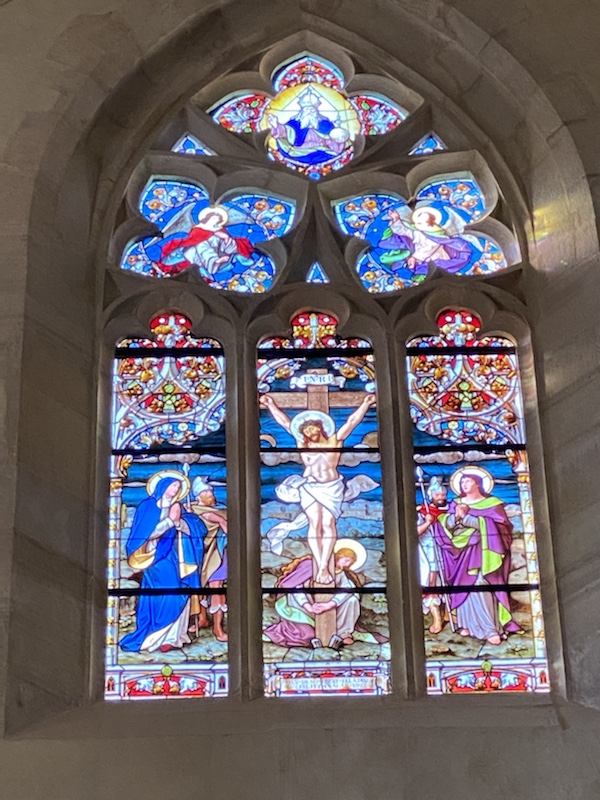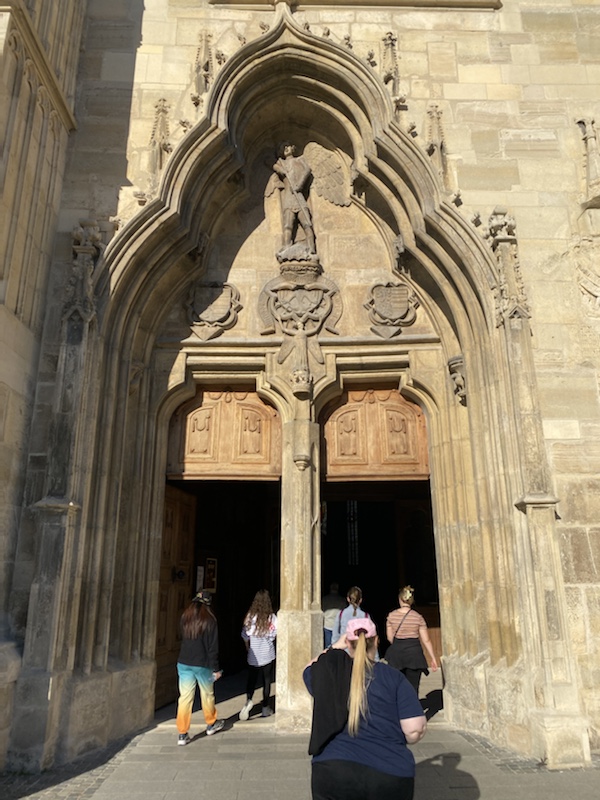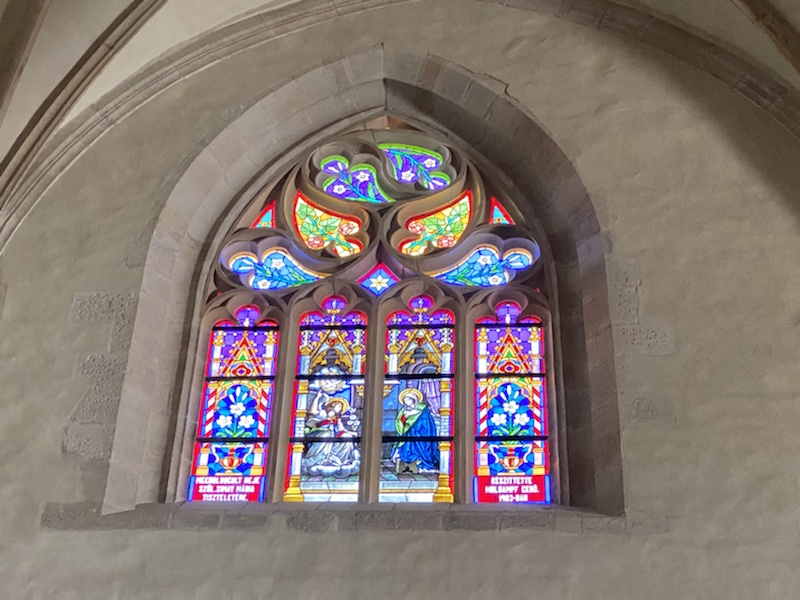 Small evidence of poorly kept frescos… I don't seem to have taken a photograph of the saints on the wall whose faces were all scratched off when the church was turned over to Lutheran hands in the 16thC.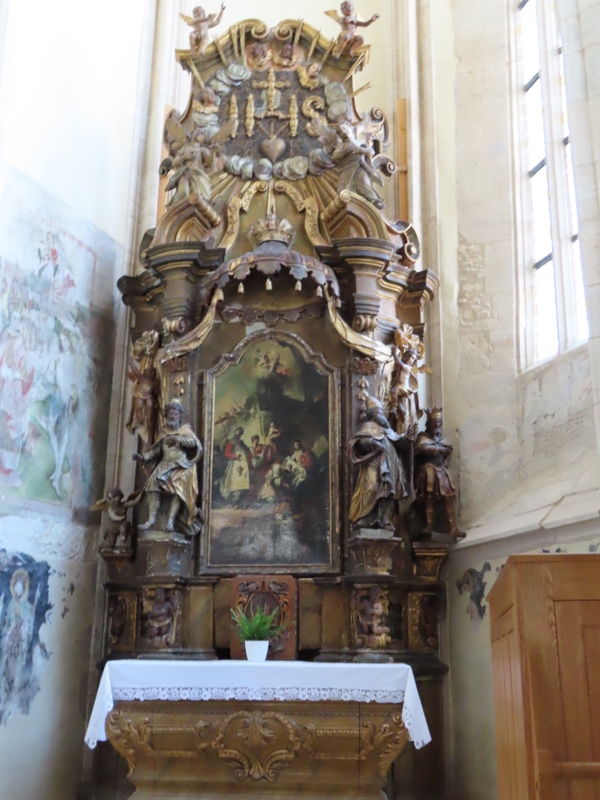 By this time it is well on 1930 and we are hunting for dinner, along with every other resident of Cluj-Nepoca by the looks of it. We eventually found a restaurant with a vacant table and wouldn't you know it a place called, 'Toulouse' in Romania doesn't have French or Romania food, but burgers, pizza and pasta. Sigh… there was one oddity worthy of taking note of; in the back of the drinks menu was a cigarette menu and every table had a Dunhill ashtray on it. Yuk. Thankfully there was a decent breeze (blowing the right way for us) and we were able to while away an hour or so over some cheap ciders – $4 bottles of Strongbow.
We leave town to go the hotel about 2130 because of course the Annoying American is late again. We serve up yet another episode of the Blind Leading the Blind as our guide and driver got lost. Again. Seems Nick is using a decade old Tom Tom to navigate us around Romania and Gorgy can't seem to read Waze properly but here we are in the back of the bus with Google Maps open trying to tell them the hotel is only 200m further up the street when Nick does a three point turn and goes back in the wrong direction only to discover they're moving further away from the hotel and to do another three point turn and go back the way we were… ugh. We eventually pull up outside a restaurant and the Hotel sign can be seen in the back and I'm like, 'Hello, according to the map, we need to go to the next driveway.' Gorgy goes in to check things out, Nick meanwhile is unloading baggage, and when Gorgy comes back, he says 'We need to go up to the next driveway.' So we all carry/drag our bags up to the next driveway to get in the hotel.
Such a long day. It's well and truly 22:30 by the time we got settled into our room and I had no energy to do this so, this was yesterday's clusterfuck. I'll get onto today's clusterfucks in a few moments.