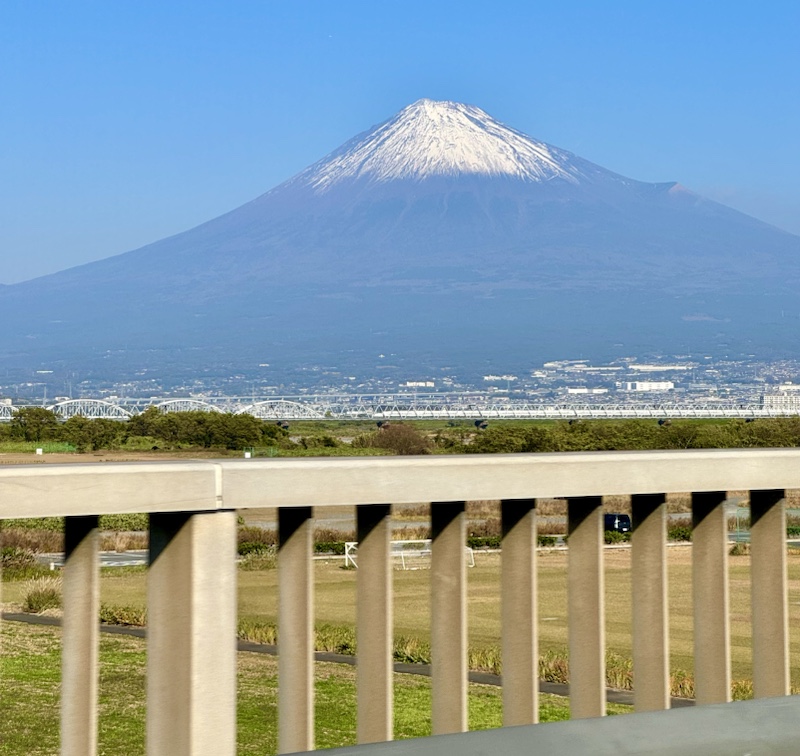 Gorgeous day today. As we drove from Shizuoka to Izu, Mt Fuji was our constant companion out the passenger window and my propensity for iffy high speed landscape photography reasserted itself in spades… This was Mr K's preferred shot, complete with Shinkansen in the mid-ground.
We'd had quite a warm day – somewhere in the low 20Cs all day, but as we neared Izu and entered the mountainous villages of the peninsula, the temperatures dropped considerably, and with it, the autumn leaves were more prevalent. It's interesting how you can see which slopes of a small valley are the coolest.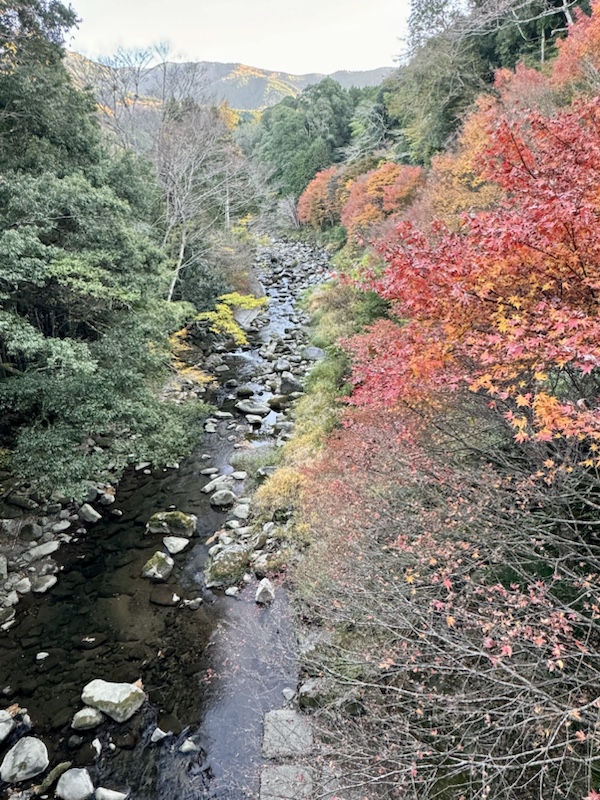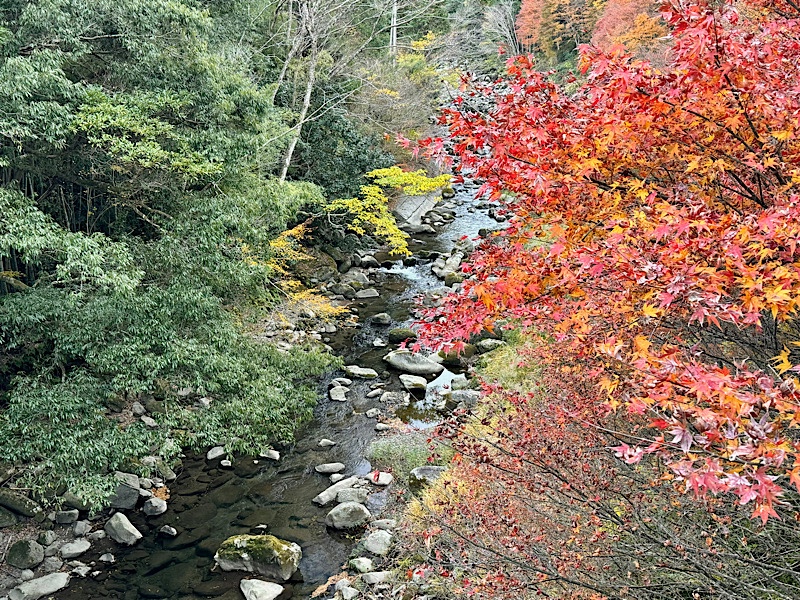 Our last weekend in Japan for this trip, thankfully we only minimal transport work this weekend (unless our Middle East clients start arcing up on Sunday just for shits and giggles!) and two nights of rest and relaxation, fun and frivolity in the beautiful Izu Peninsula staying at Tatsuta Ryokan.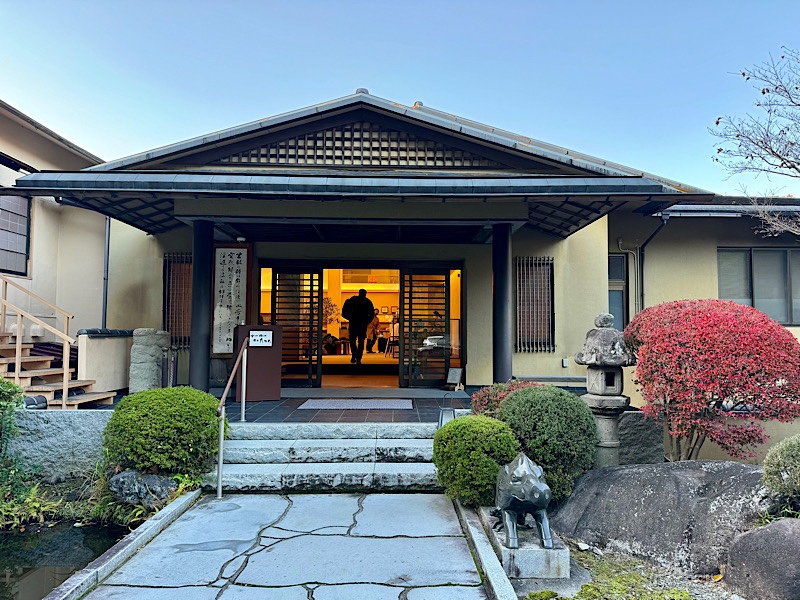 I saw this ryokan on a travel vlog and thought it looking lovely. Beautiful ambiance and a welcoming atmosphere. Sometimes it feels a little hit and miss when booking places in languages you are unfamiliar with, but I seem to have won here.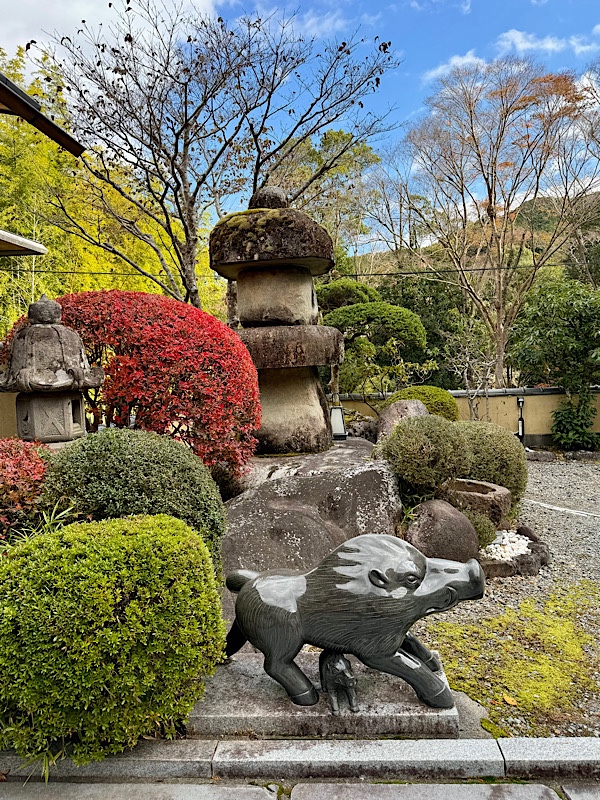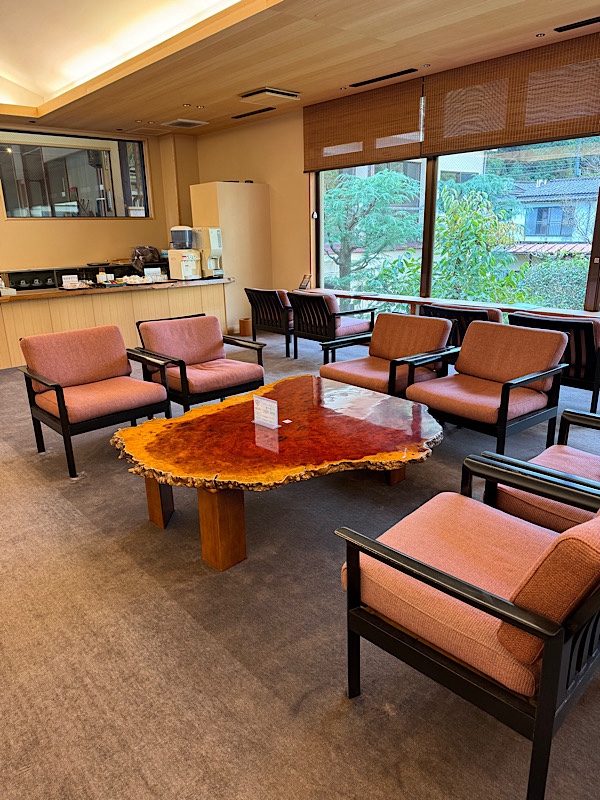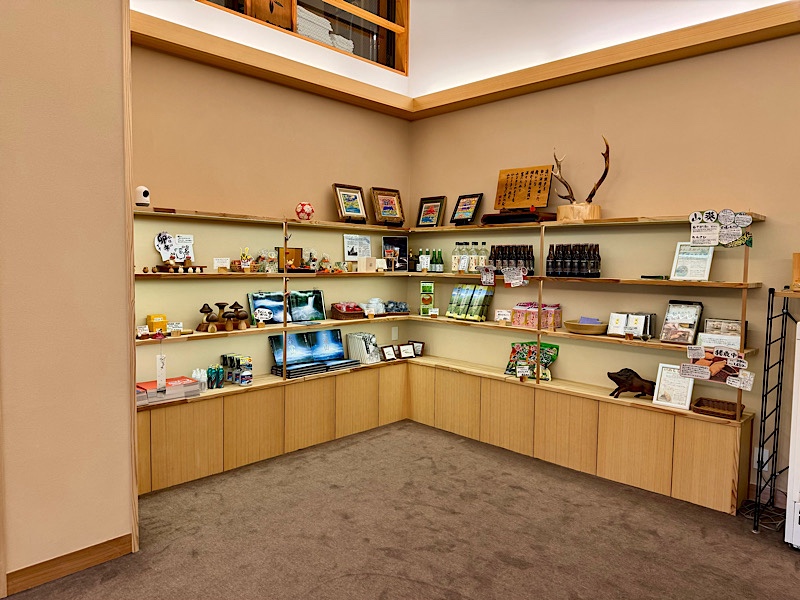 This was booked months ago, and I honestly forgot what type of accomodation I had booked for most of this trip,so it always felt like a wonderful surprise when we arrived at our ryokan stays. Here, at Tatsuta, because we are having guests on the second night, I remember booking a larger room with the private onsen bath, but damn… this room is palatial!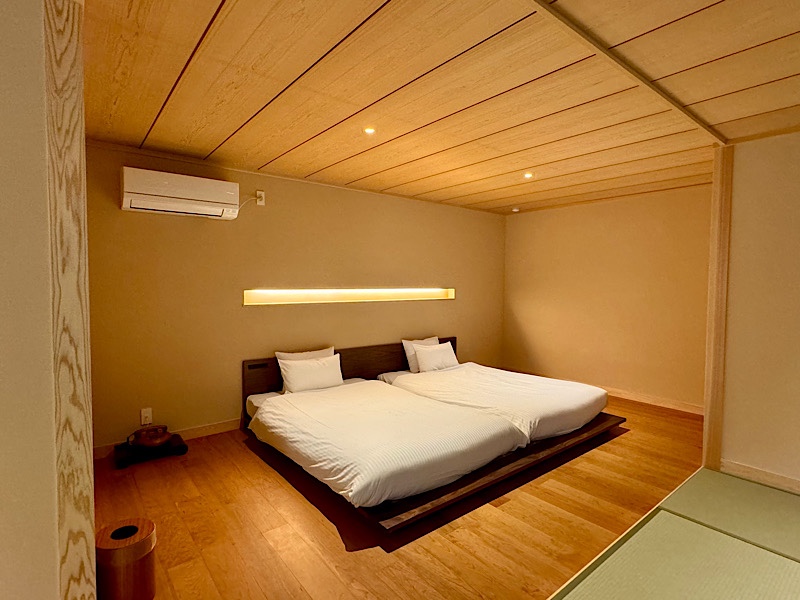 It's quite difficult to capture the size of this room – between the bed space above and the living room space in the picture below, is also about another six tatami mat of floor space? I also wish I could adequately convey the amazing smell of this room – the fresh cypress of the timber work, the tatami mats, and the fresh breezes coming in the large windows to the river… it's intoxicating.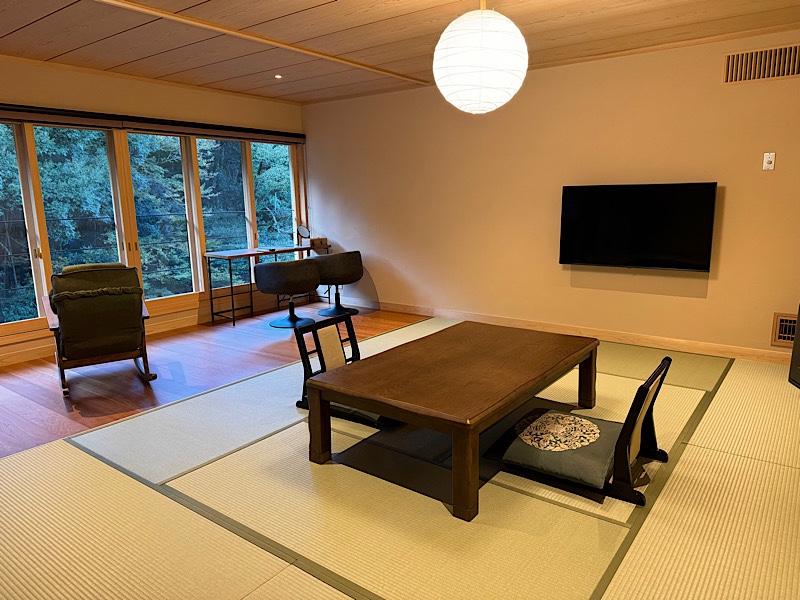 I noticed this quaint device by the bed… cute touch. 🙂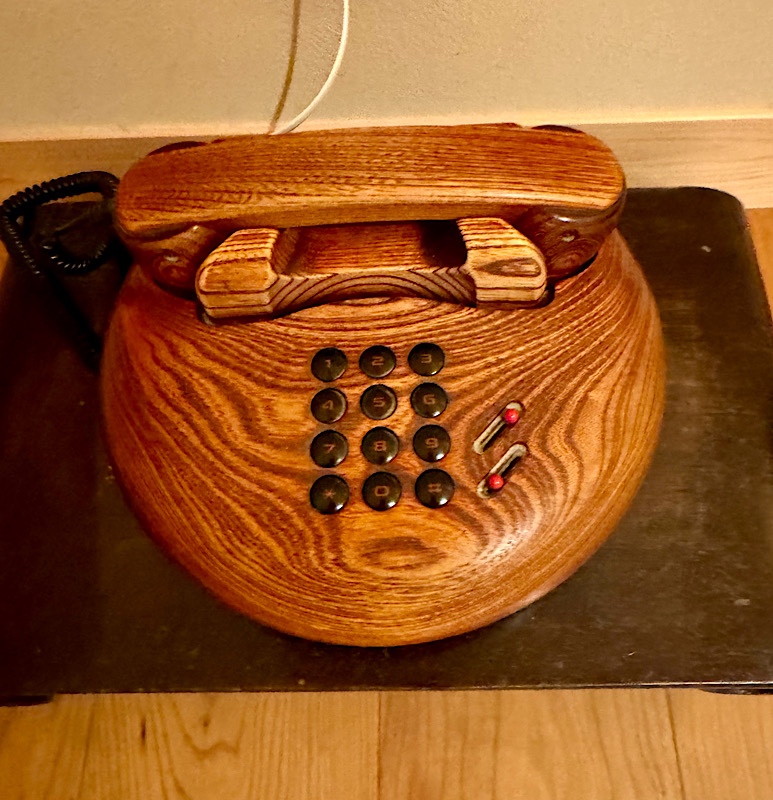 And of course, I'm starting to feel that no night in Japan is complete without your own private onsen bath on the balcony… just the sight of it is enough to make you start to relax.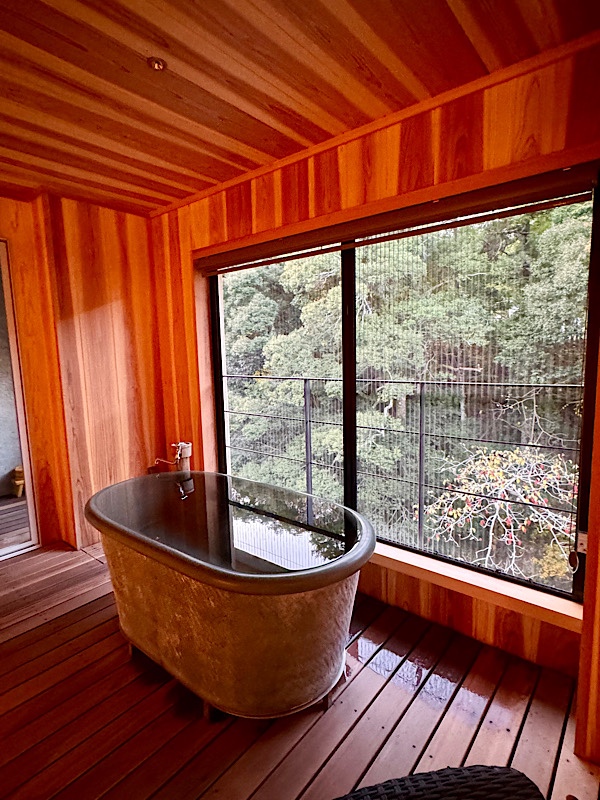 We also had a generous provision of coffee, hot tea, cold water, snacks and an amenities kit full of more pookie than you can poke a stick at…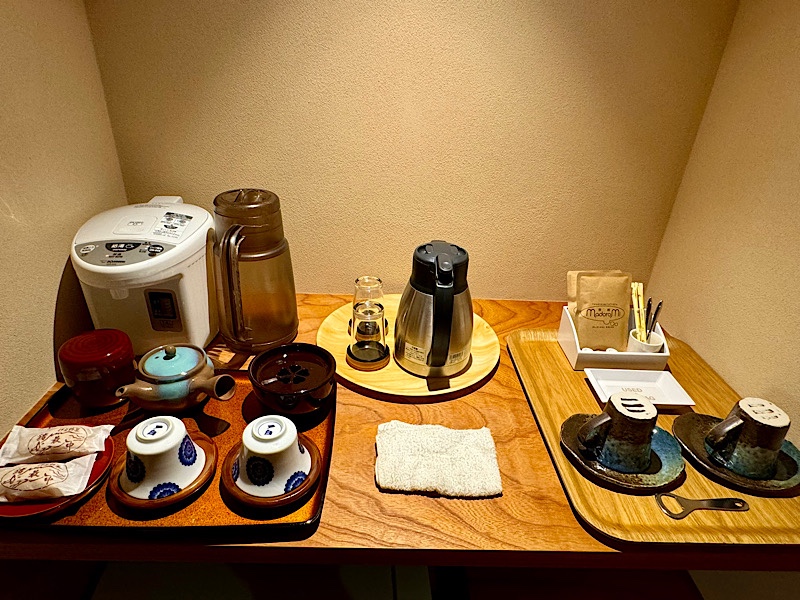 Toothbrush, razor, hairbrush, tabi socks, shower cap and so much more. Most of the ryokans have provided loads of amenities like this – the packaging always gives me pause though!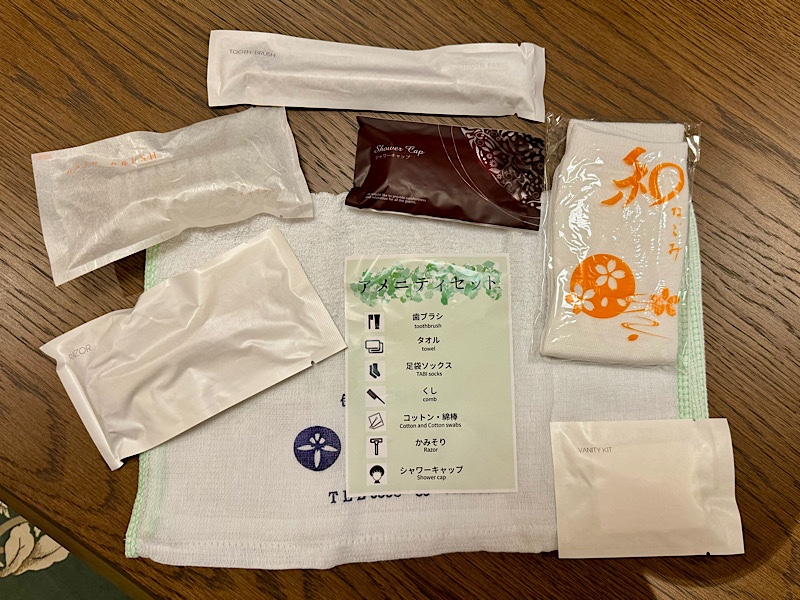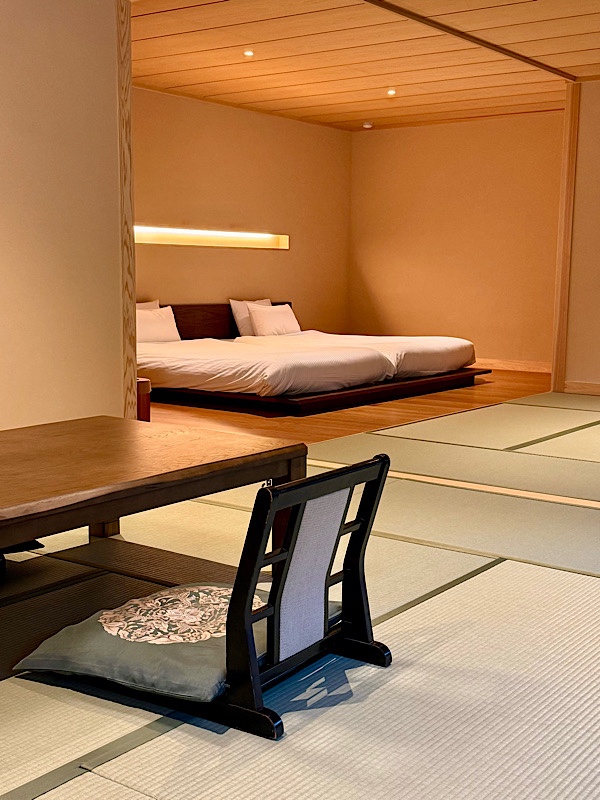 The view from our room of the Nekokoshi River.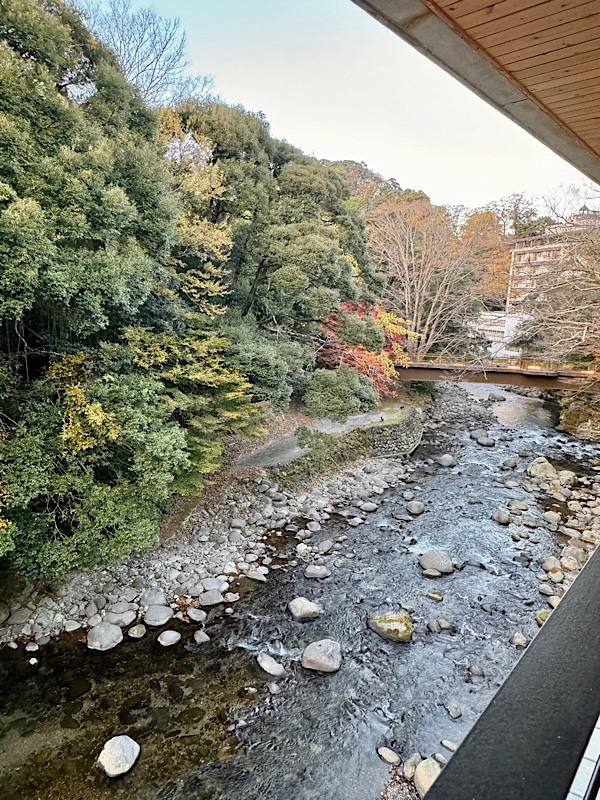 First things first of course we had to shower and then get in for a soak in the tub. It was amazing. The water was about 40C and felt fresh and clear. After that we did a little unpacking and cleared away some work before checking out the ryokan's other onsen baths. There were four other private onsen baths we could access – and they all had door locks that were electronically monitored so you could scan a QR code and find out which baths were free. This bath was directly at the end of the corridor on our floor, and we had time so we thought we'd go for a second dip before getting ready for dinner. It was lovely – and I imagine four or five people could enjoy this space together quite easily.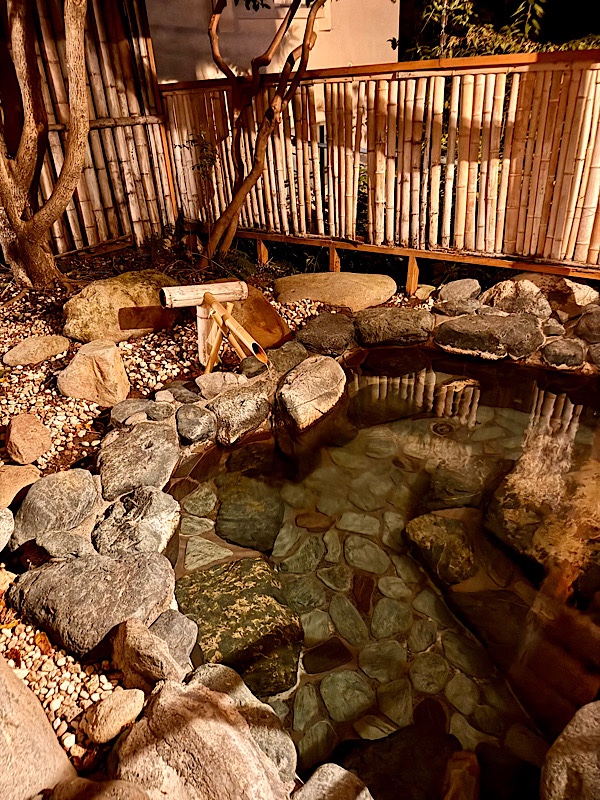 This is the view from the ryokan's riverside restaurant on the first floor… just beautiful.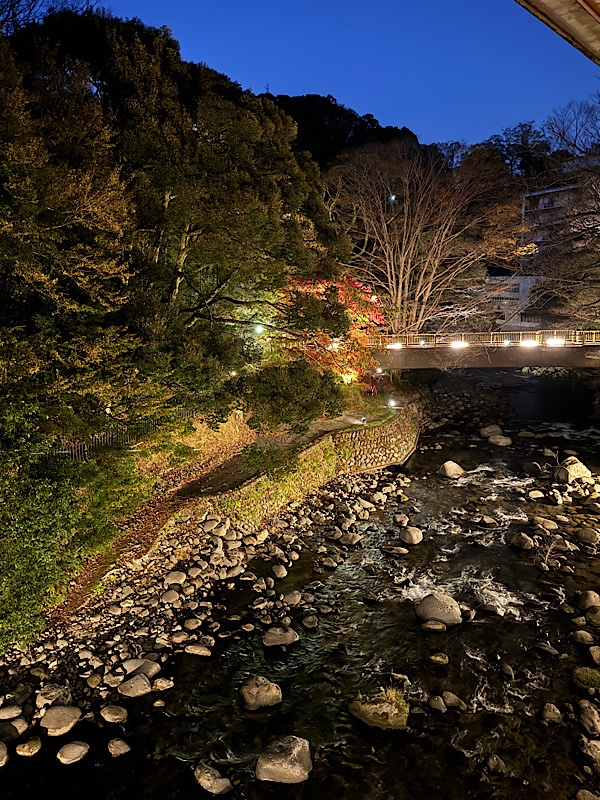 Looking all relaxed and ready for another delicious kaiseki dinner.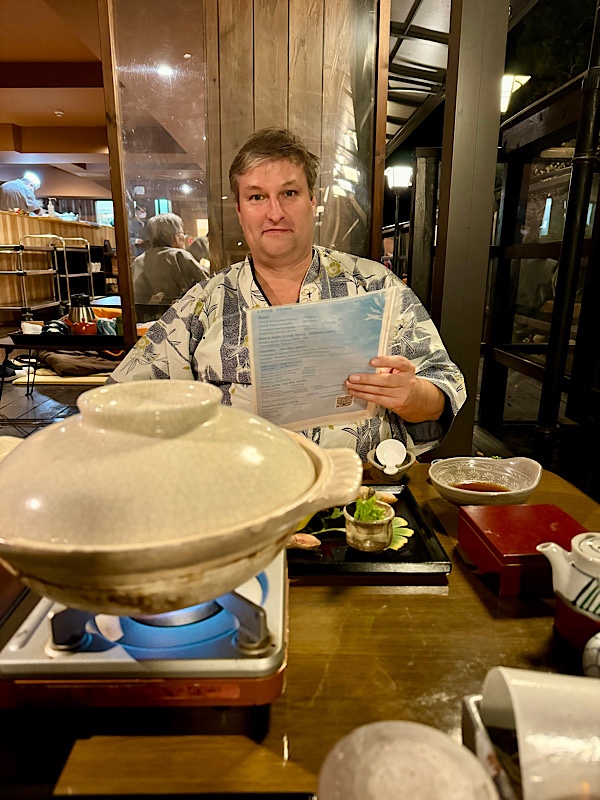 The menu is predominantly Kawadoko cuisine in this part of Japan (not entirely sure what that means, but I am writing it down so I can hunt for it later). The starters were as impressively presented as they were flavoursome – there was an umeshu aperitif, sakiwan golden soup, boiled rockfish, pork hachimanmaki, forest boar liver, and tengyo nanban (I need to look that one up too!).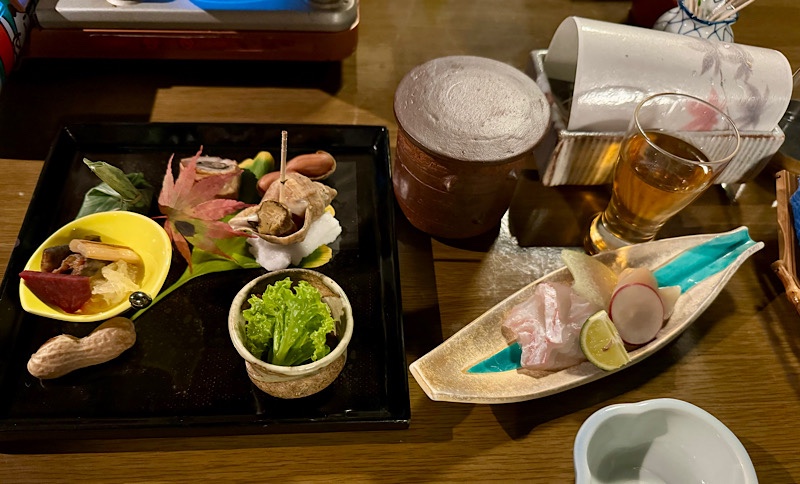 The sashimi was fresh kingfish from Ito port, and scallops.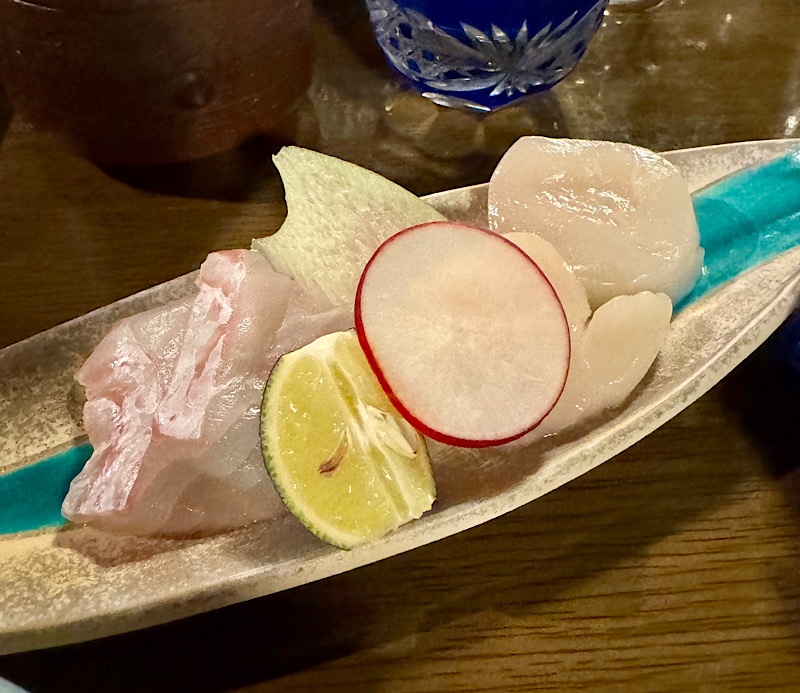 And as per what is now becoming quite the habit, I tried a local junmai saké with the meal.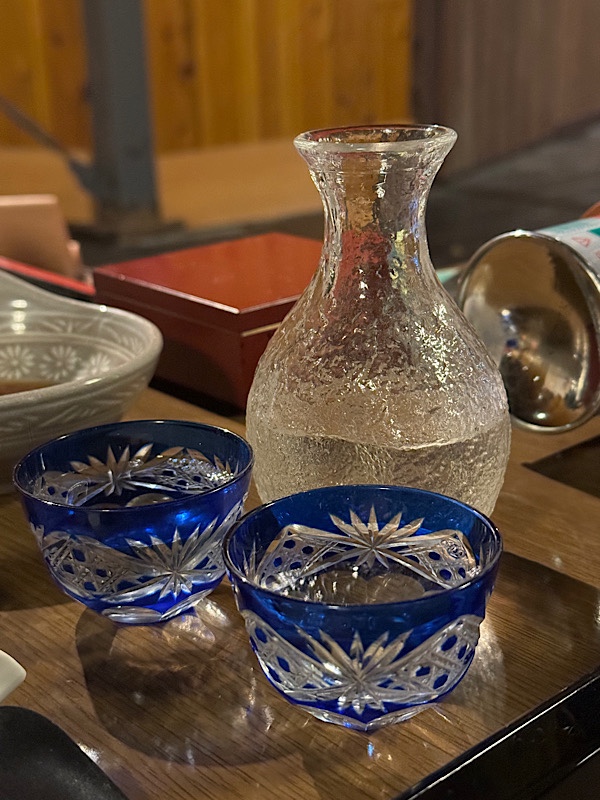 This was the little boiled rockfish – very fishy, with a very thick consistency, a bit like octopus, but not really.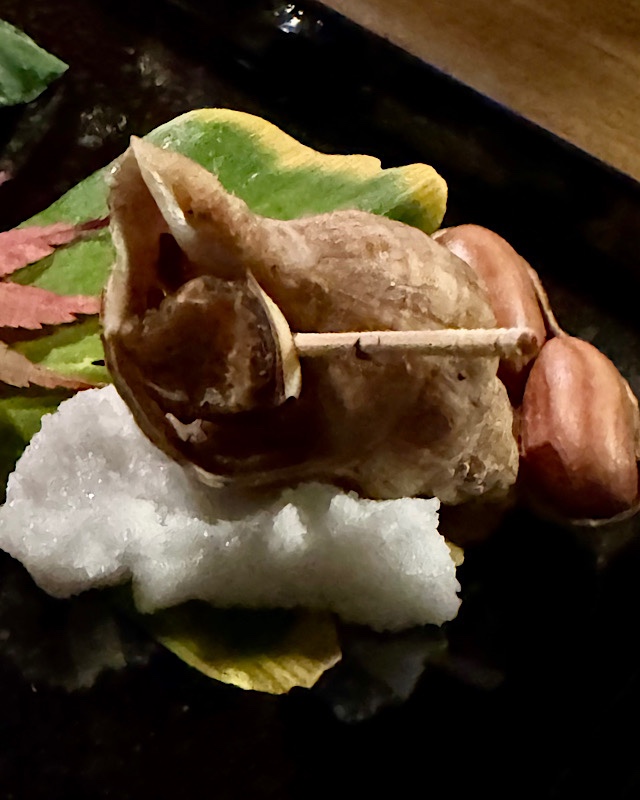 There was small box covered with decorative paper in the first picture that I hadn't noticed, and when I did uncover it – more sashimi! Yellowtail and tuna, so fresh and delicious. Amazing… I really am not going to have Japanese food for months after I get home, it just won't measure up.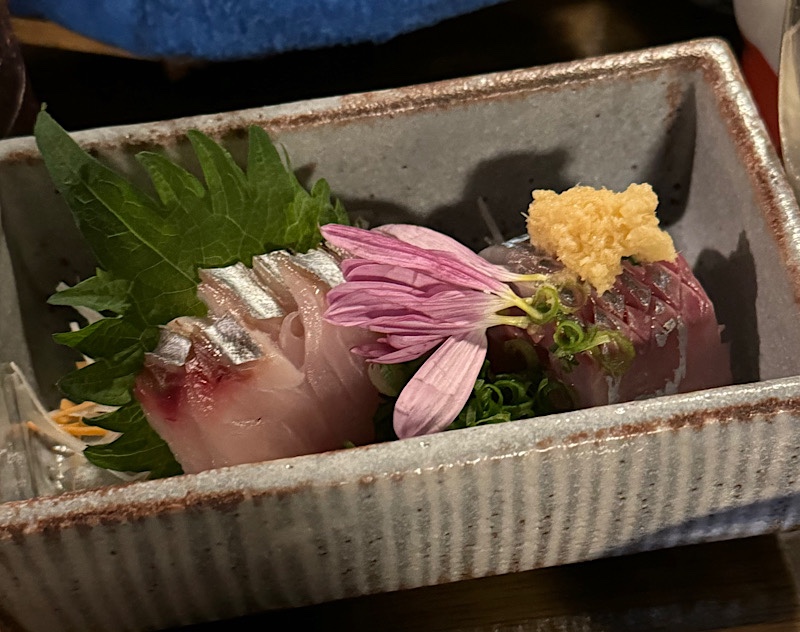 Next course, we were back to cooking our own shabu-shabu of delicious golden sea bream and specially prepared tofu.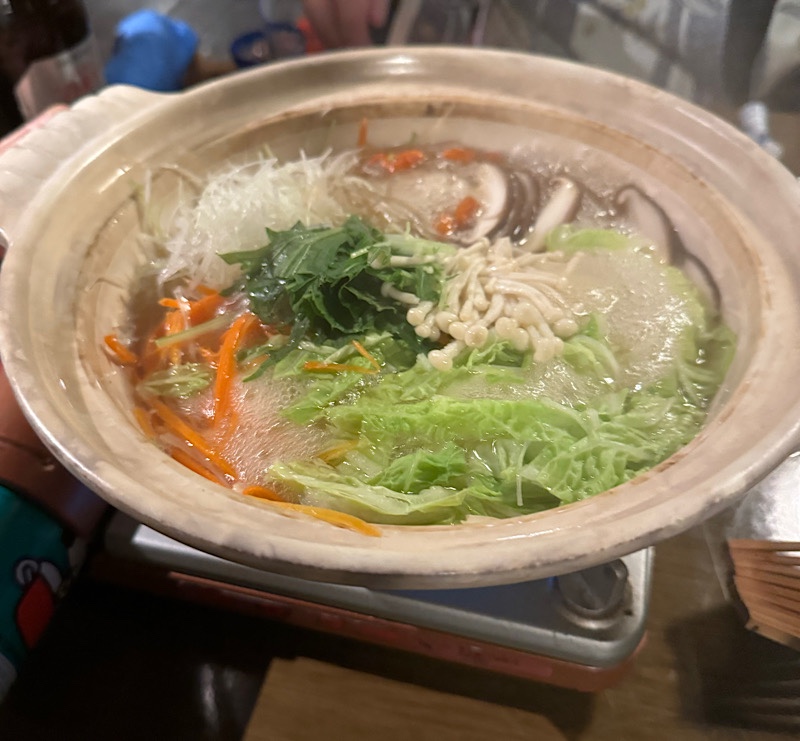 We were also served this interesting 'boiled fish', when we asked our attendant what sort of fish it was, he haltingly replied, 'Errr, red fish'. 🙂 I've since discovered it was known as kinmedai in Japanese which is a Splendid Alphonso to the English speaking world. It was served boiled in a light soy and was very tasty – though I did heave most of the raw ginger off the top… it was just too much!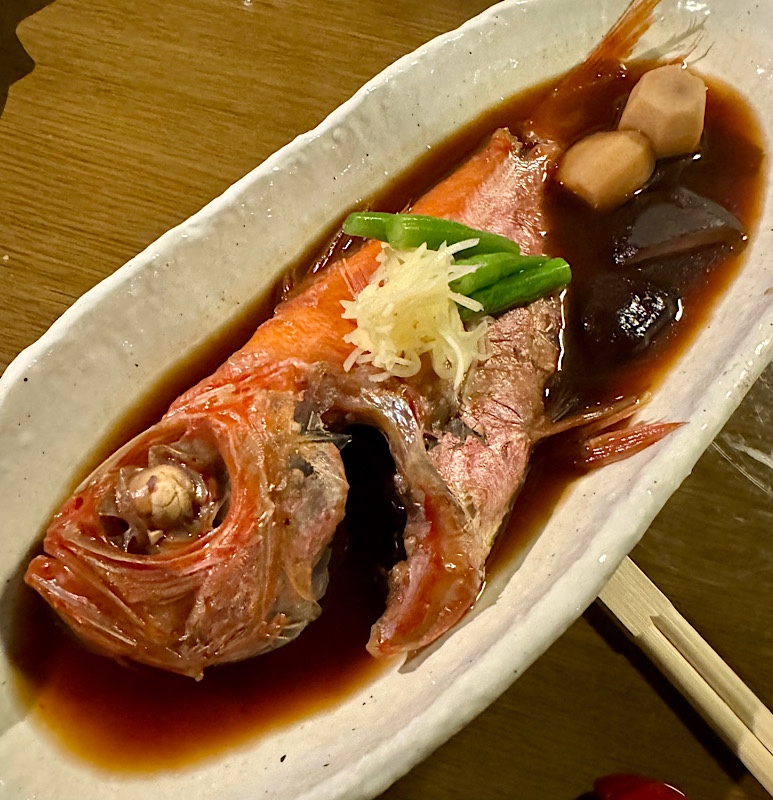 We were also served some tempura seasonal vegetables with wasabi salt – I never thought I was overly fond of tempura…. in Australia it tends to feel heavy in oil, and the one time we went for tempura in Asakusa with a Japanese friend, Amané, she took us to her favourite and she claimed 'best' tempura restaurant in Asakusa and I honestly didn't like it that much. But the ryokan meals we have had have served tempura that is light and delicate and doesn't taste like heavy deep fried food at all.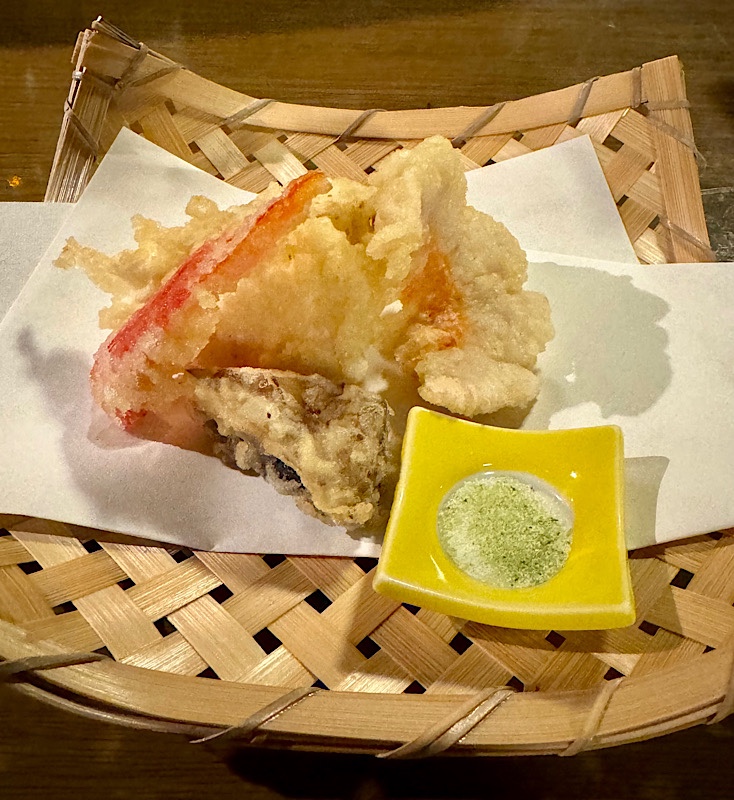 We discovered that Izu is really well known for their fresh wasabi – and we also discovered, when you grate your own wasabi and not using the squishy over processed stuff you see most places, it is more flavourful and less hot. Very nice.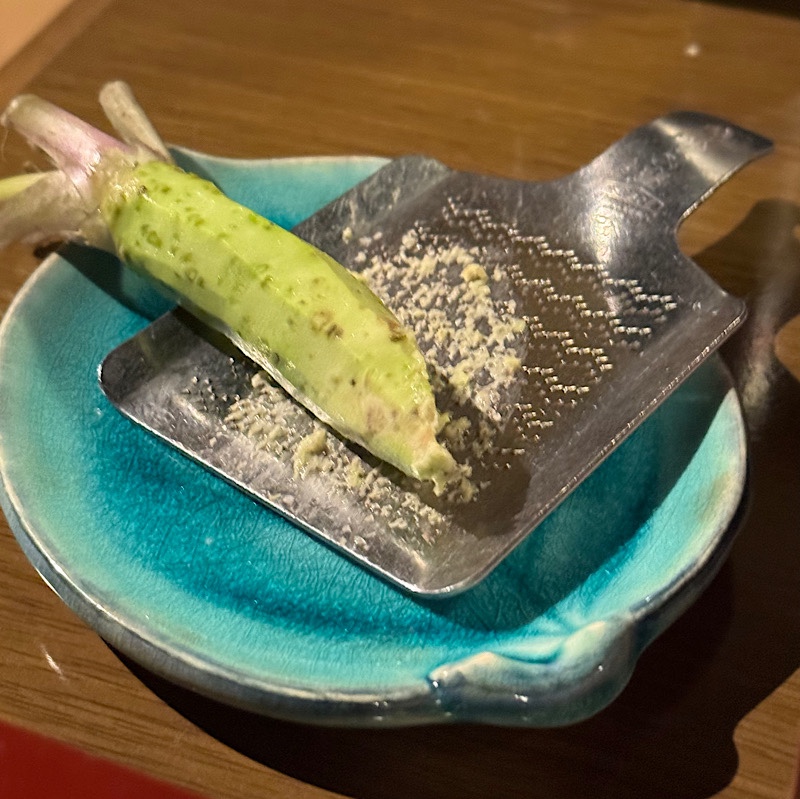 Dashi broth heating for our rice set course –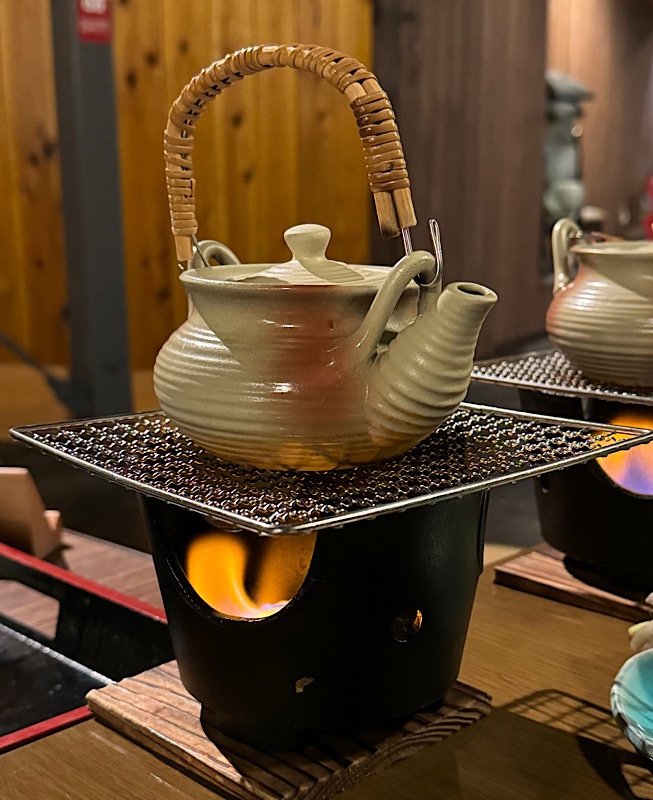 The rice set came with more red fish, sesame, miso pickles, nori, wasabi, and coriander (thank you so much for the heads up on the devil's weed!), then of course you pour some broth on once you have loaded up your rice.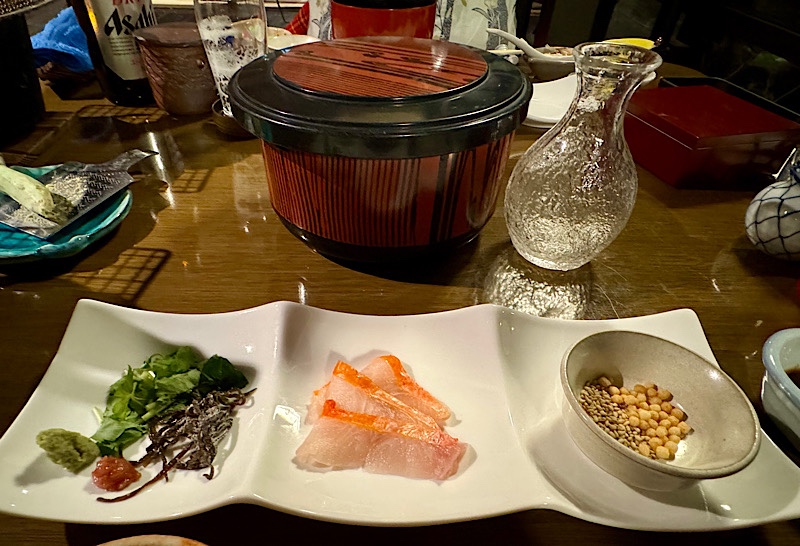 Ta-da! Super tasty. They gave us a large pot of rice and said to call if we wanted more rice – but after such a large meal, I nearly had more condiments than rice in my donburi.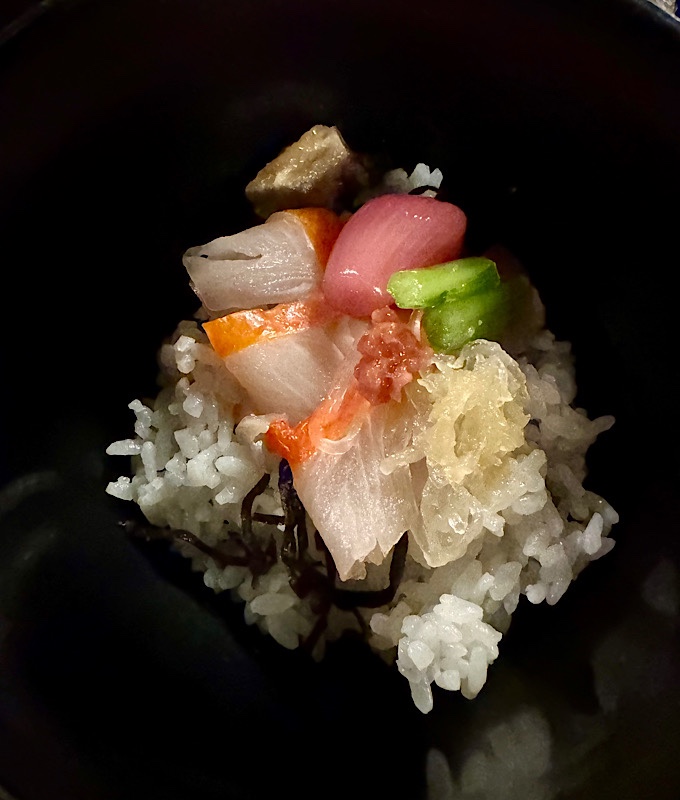 Thankfully, with these multi course kaiseki meals, the dessert/sweet courses are usually simple and small… I say 'thankfully' because many Japanese abhor waste when it comes to food and it is considered rude not to clean your plate – if you are at a buffet and choosing food for yourself, it is VERY rude to take more than you will eat.
Dessert tonight was some local Fuji apple, a couple of well chosen grapes, a piece of brown sugar pudding, and some sort of slightly cheese-layered-cake thing.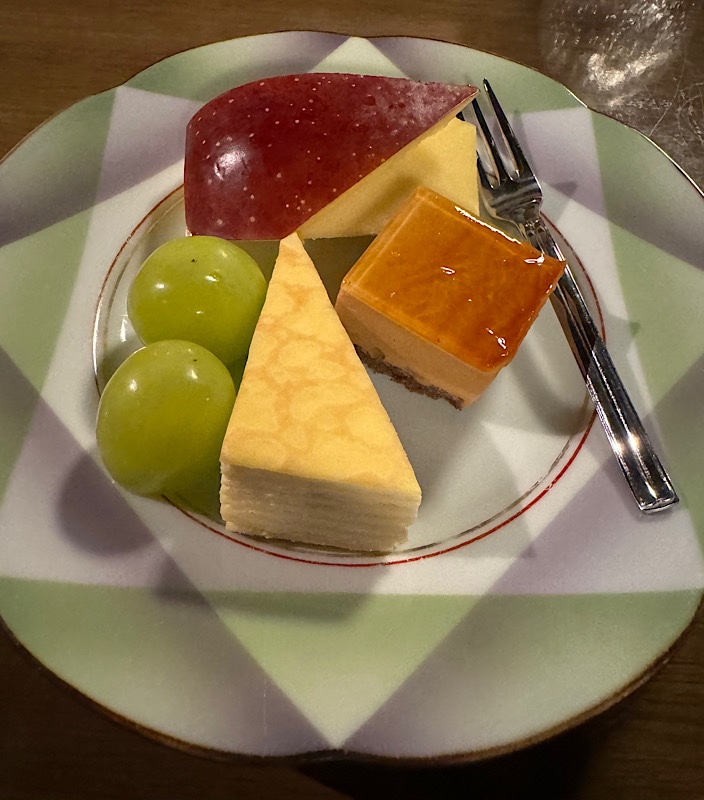 Looking very relaxed and chilled there Mr K.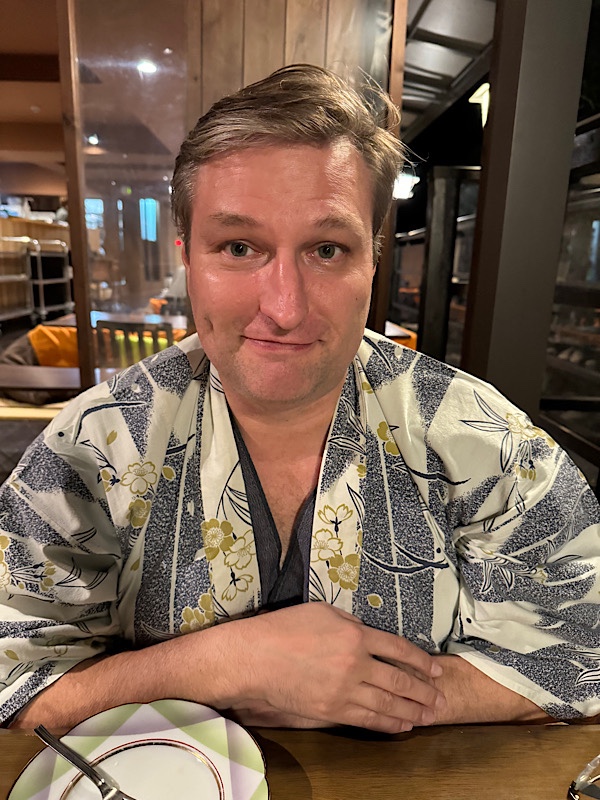 The restaurant as we were leaving – each table has blankets under the table top and heaters under the table. We were also given large fluffy Japanese parkas that we could wear if we got too cold, but seeing it was quite a bit warmer here than Takayama and up in the snow near Nagano, we felt a little too warm!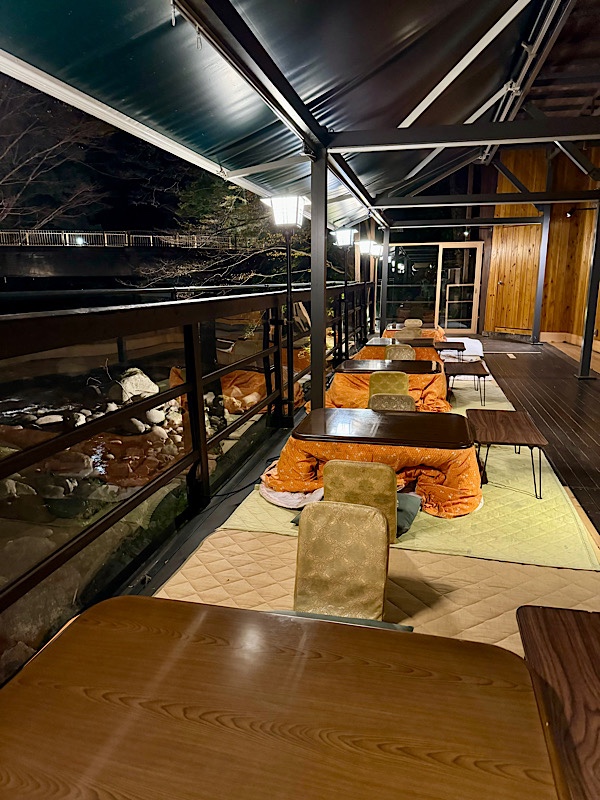 Having dinner by the stream was lovely – though I have to say the water was a bit loud for quiet conversation. I imagine in spring this area would look completely different and the river wouldn't be trickling past, it would be roaring!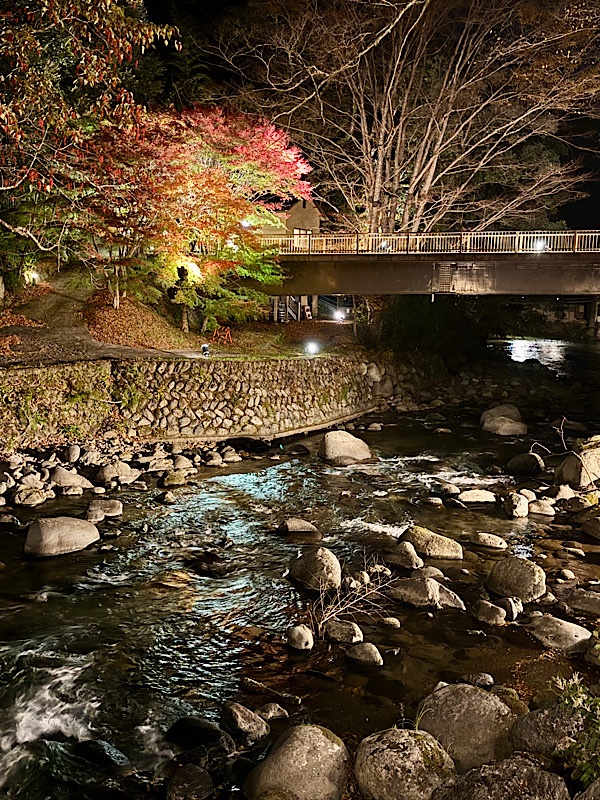 Waking up to this in the morning is something I could really get used to.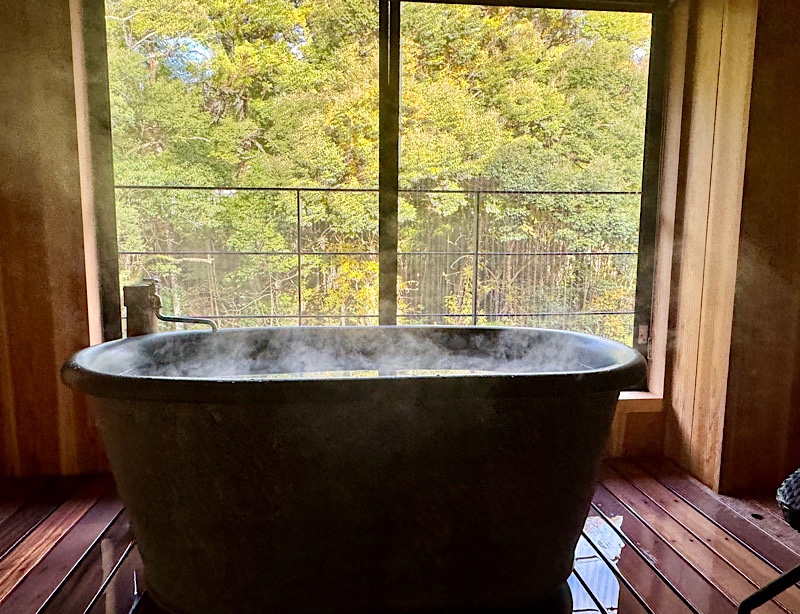 Took this snap of Mr K enjoying the view from the onsen bath before we went down from breakfast. 🙂 I reckon it's a pretty safe bet that 2,000JPY he is thinking about work on Monday already.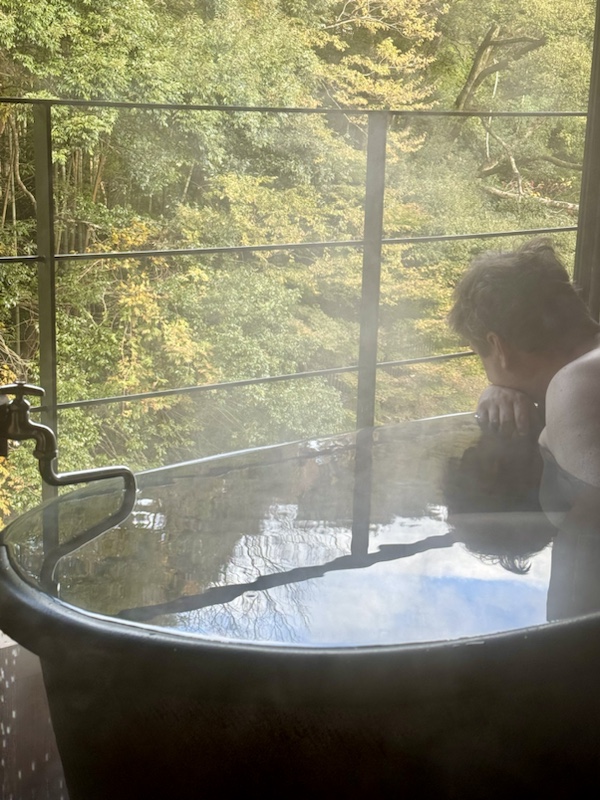 You can see the dining 'room' by the river so much easier to photograph in the morning – it is gorgeous here. It was chilly this morning so we rugged up a bit and settled ourselves in beside the river.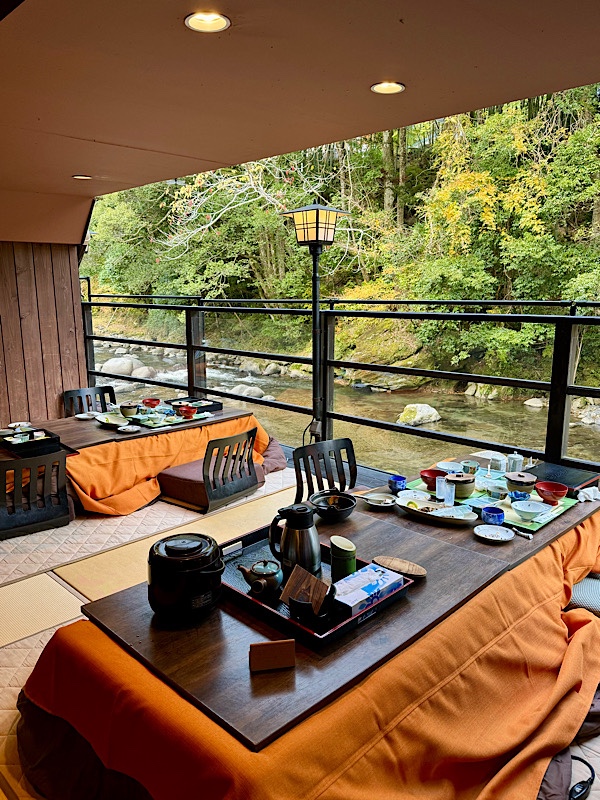 Breakfast full of all good things again – egg and a piece of boar bacon, miso soup, rice and condiments (below), pickled veggies, yoghurt, and green tea all beautifully laid out.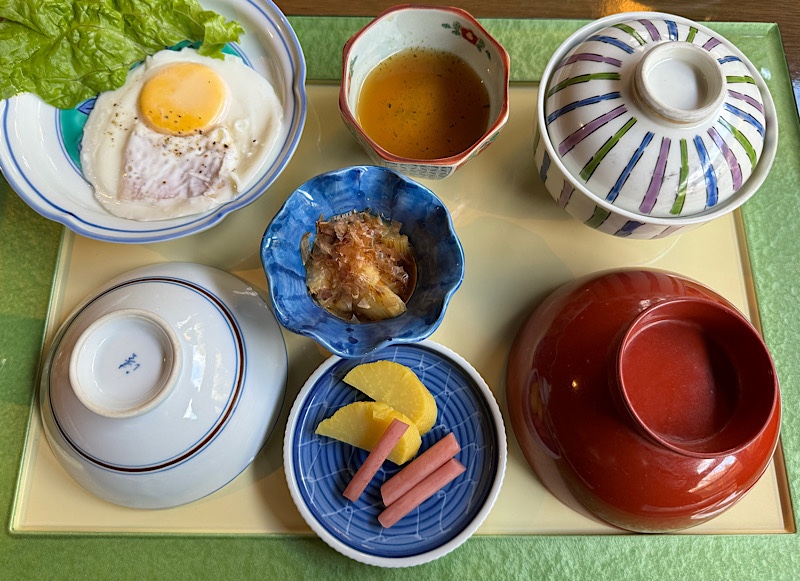 The donburi condiments box for breakfast is full of exciting and some unidentified things. 🙂 Beans-of-uncertain-preparation (?) at 12 o'clock, mushrooms in soy at 11 and 1, some slimy umami fishy things (on the middle left), some miso-ish onion flavoured something (on the middle right), seaweed dead centre, wasabi and bonito flakes!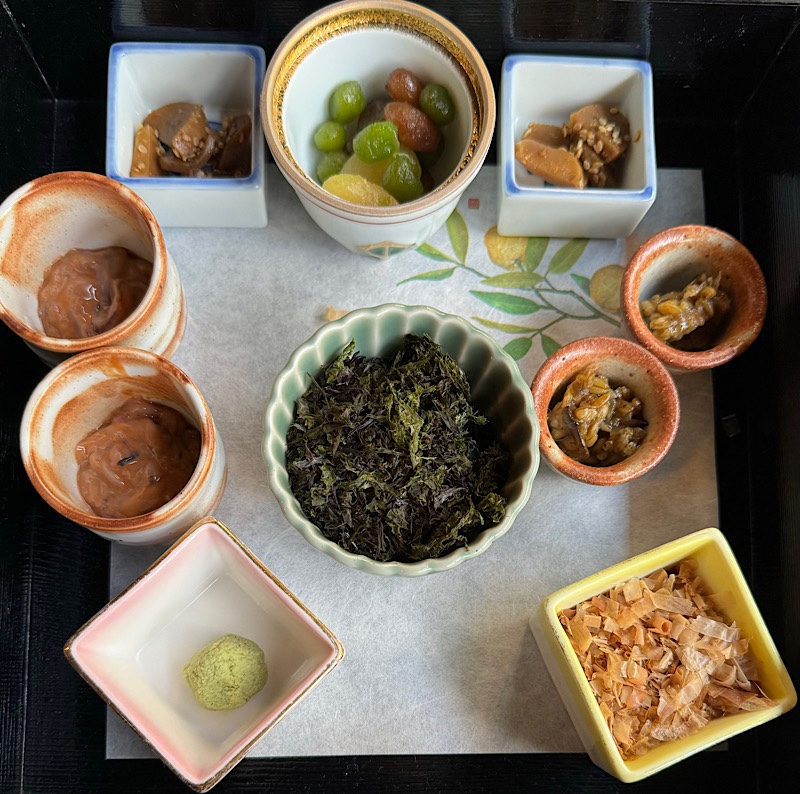 We also had some grilled fish (local whitefish and some sardine) to heat along with some boar's speck, which was really an interesting flavour – super gamey bacon.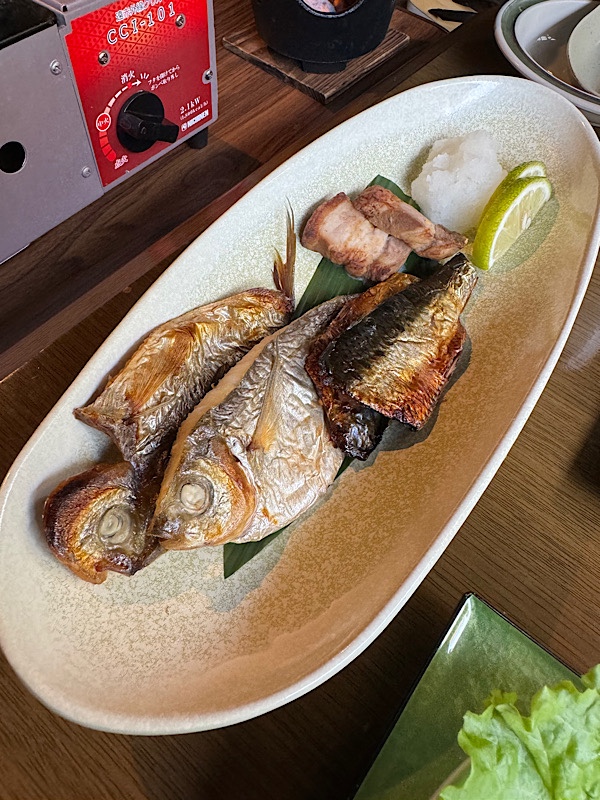 I'm getting used to cooking with the chopsticks and have even mastered removing the fish bones from the morning's grilled fish offerings, with my chopsticks.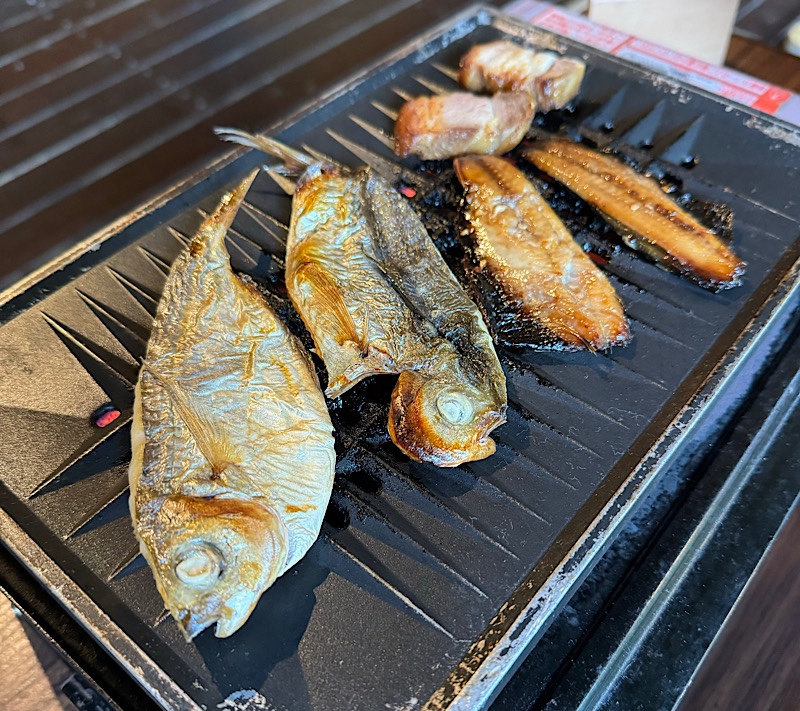 The miso soup here was excellent – one thing travelling around to so many different areas throughout the country is you rapidly learn that not all miso soup is made equal! Nor is all curry or all ramen.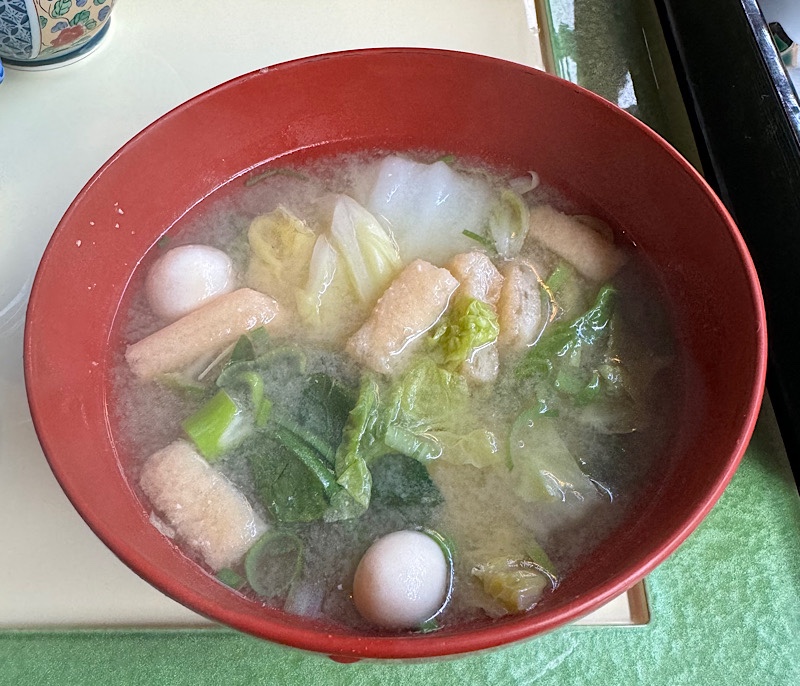 Oishi!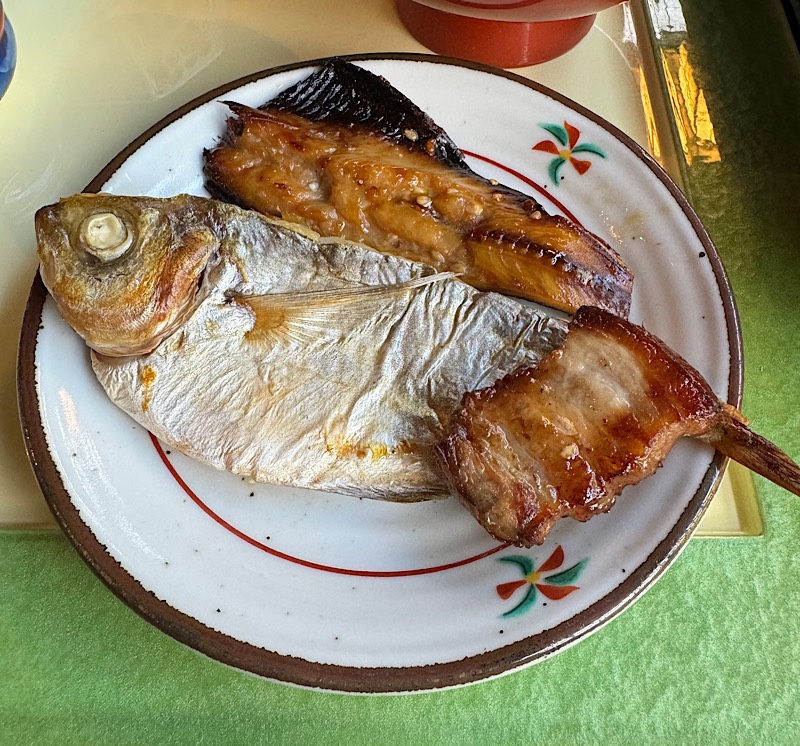 The morning light really brought out the colours along the riverbank…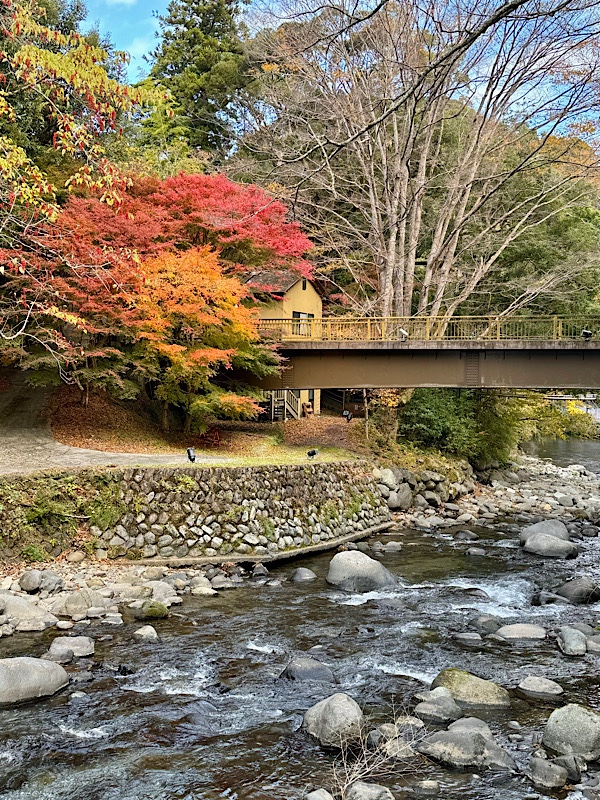 We are off to explore the Izu Peninsular today, in particular some interesting road infrastructure and how they're integrating their tourist transits from rail through to other passenger transport options ('cos that's how we roll!).
But this post continues because we stayed here for TWO days and on Saturday afternoon, The Boys arrived from Tokyo! I have so been looking forward to sharing this lovely ryokan experience with them. These guys have known each other since the first grade and this is their first holiday together like this. They've been in Tokyo all week and are now hitting the countryside and road tripping to Nagoya, Kyoto, Osaka, Kanazawa, Takayama, Nagano, Fuji and back to Tokyo… but this is the only ryokan/onsen visit they have booked (in fairness you can stay in ryokan at all price points, but places like this one aren't all that accessible for your average early 20s, budget conscious, backpacker types!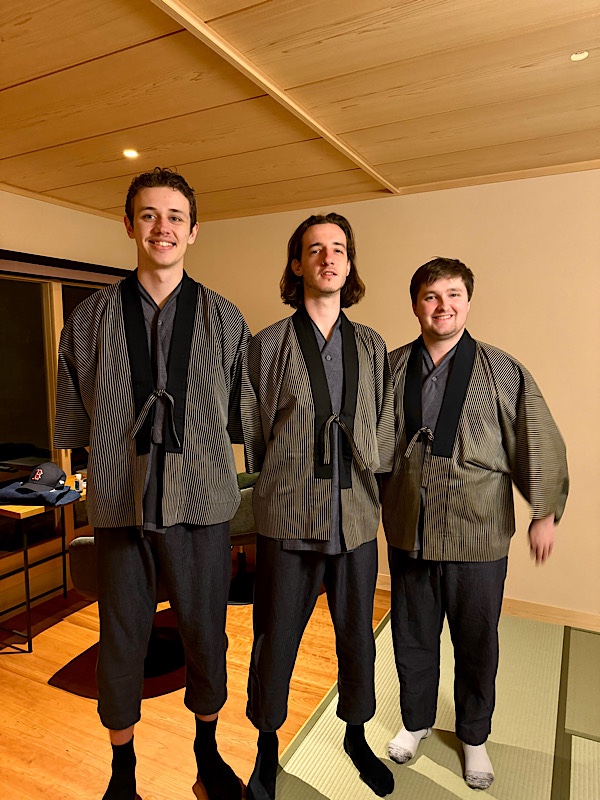 They all look great and super uncomfortable in their samue… I'm sure a bit of saké will dispel the discomfort quick smart.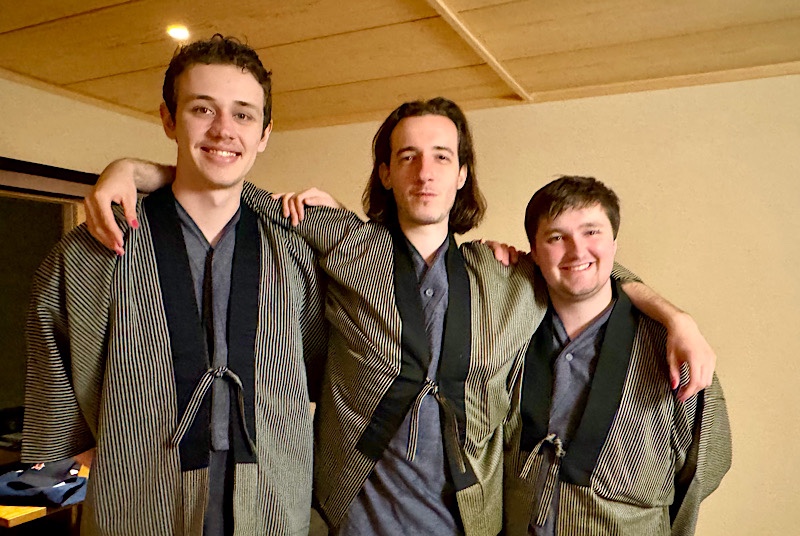 When they first arrived, I was busy re-packing our suitcases for our transit home tomorrow, while Keith took them to one of the private onsens so they could figure out how this whole thing works. Which suited me perfectly as I got the bath on our balcony to myself. We all scrubbed squeaky clean, got dressed and made our way down to dinner.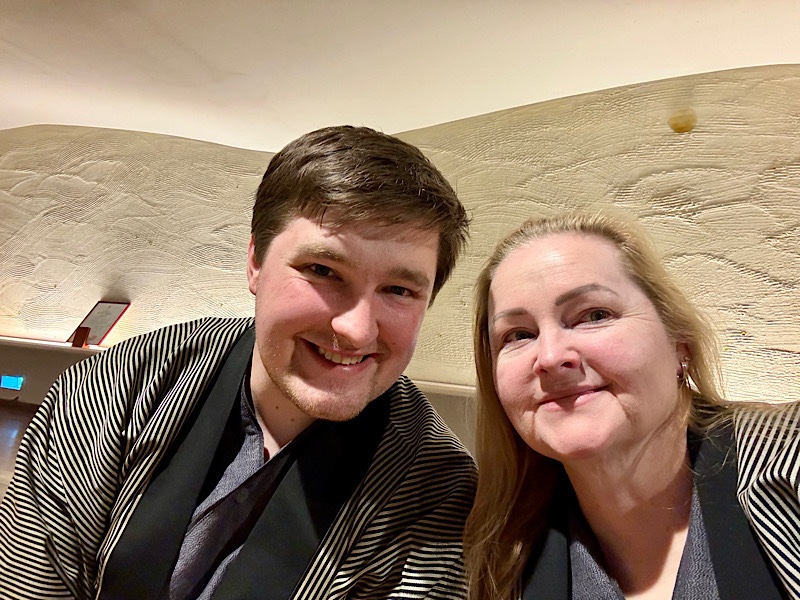 We had a significantly different menu to last night – still served out in the lovely open air river-side dining room… this time a table for five was made up for us.
We started with a yuzu aperitif, and the appetisers tonight were – ginko tofu, simmered sweet potato, tengyo (smoked salmon) with cream cheese, beef with myoko.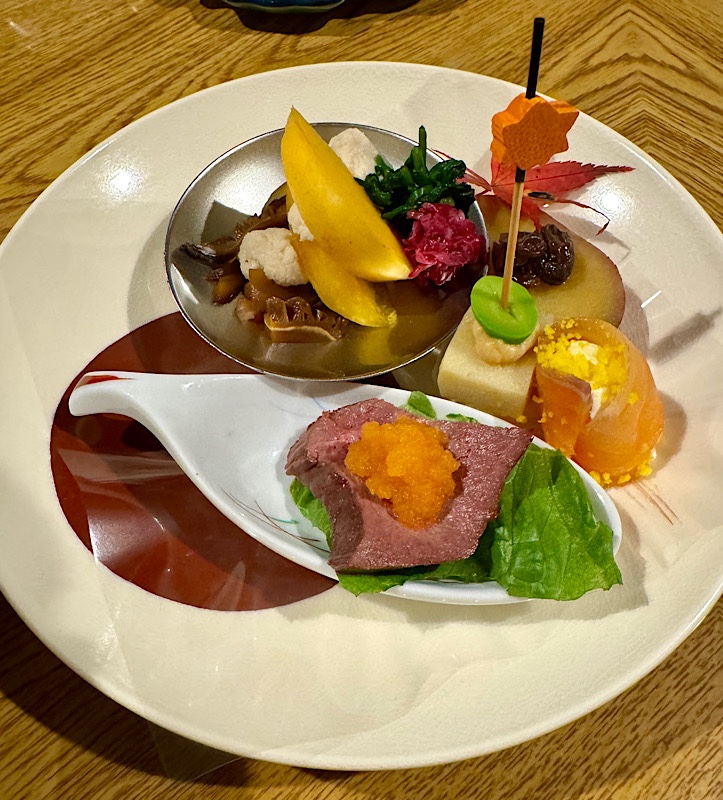 On the side was some more beef and green karachi egg in some delightfully delicious sauce made of shitake mushrooms. I have no idea what else was in this, but it was fabulous.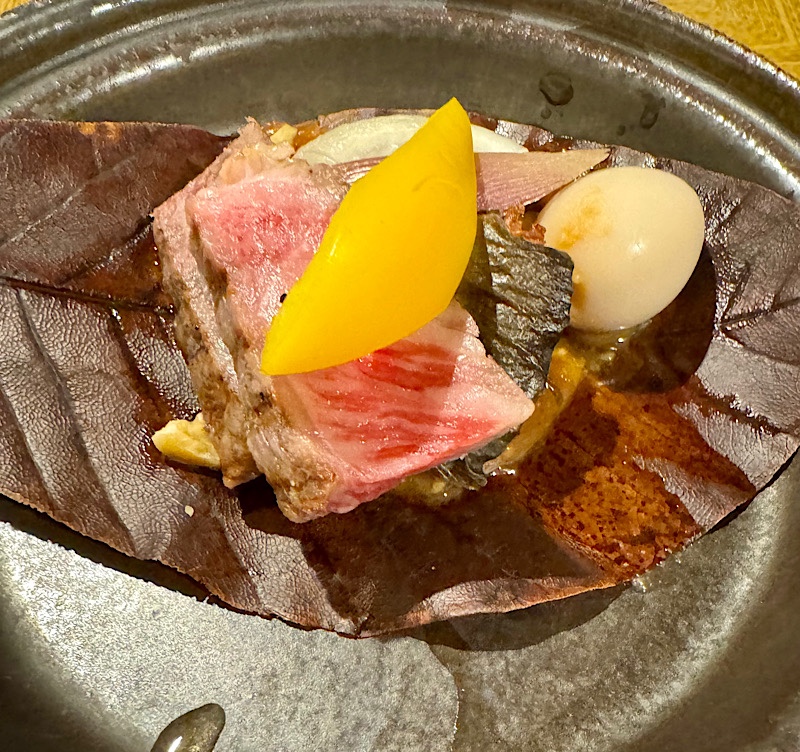 Tonight's sashimi was two kinds of Ito port fish, and various kinds of wives, (translations provided by google, they don't always makes sense?), Amagi natural shrimp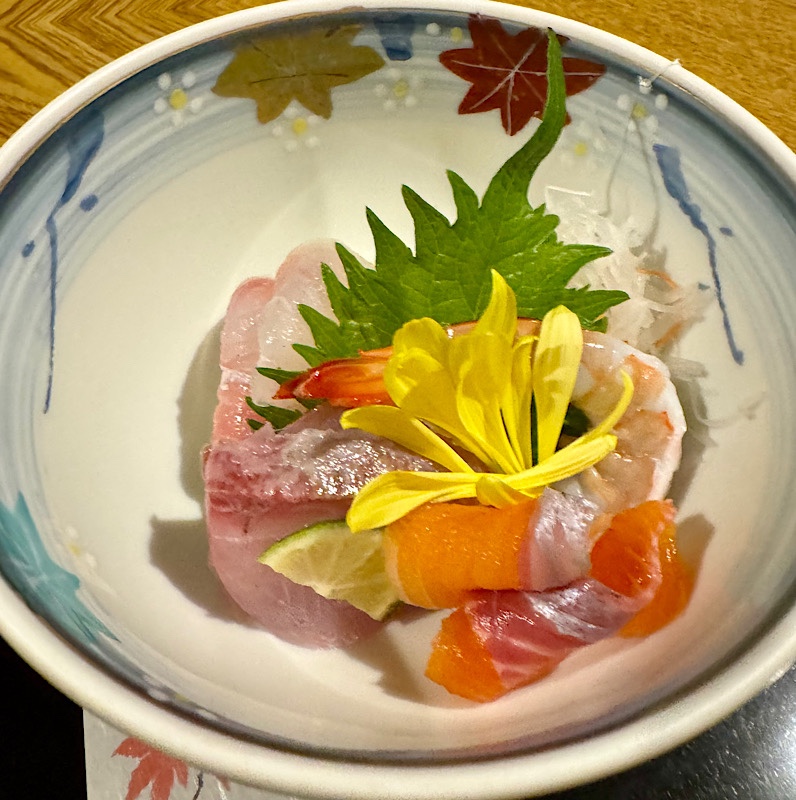 The Boys enjoyed grating their own wasabi – very novel.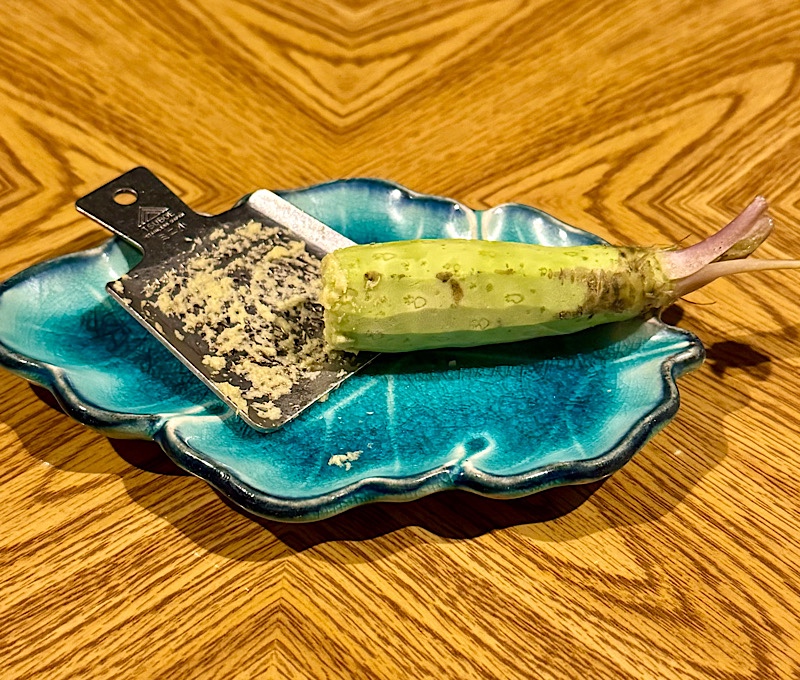 …and very serious business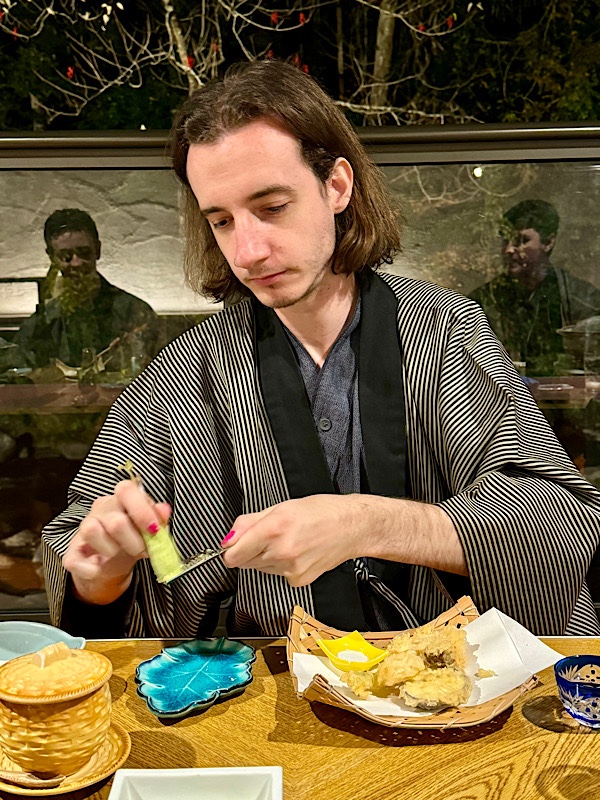 A small selection of tempura vegetables – this one had a large piece of sweet potato that I happily swapped for Mr K's mushrooms… though not passed between chopsticks of course!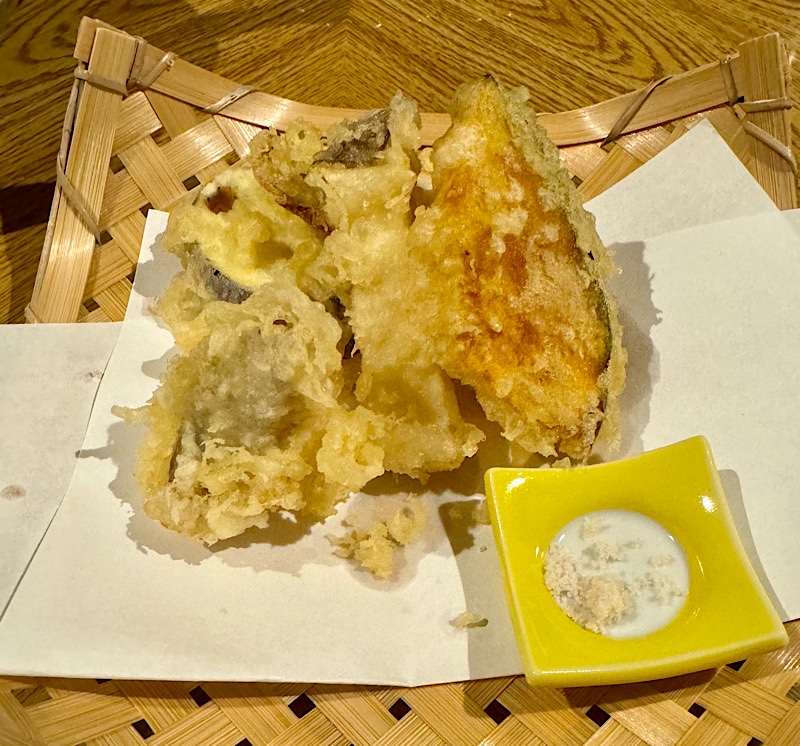 Amagi Shamo special wasabi hotpot that you make into a kind of porridge… the soup is made at the table and we were each served up some rice into a bowl, broke about three decent sized eggs and whisked it up and then mixed fresh egg through our rice. Added pickles, miso paste, wasabi, spring onions, and other things to taste, and then add soup to cook the egg… it's time consuming table side but was really tasty.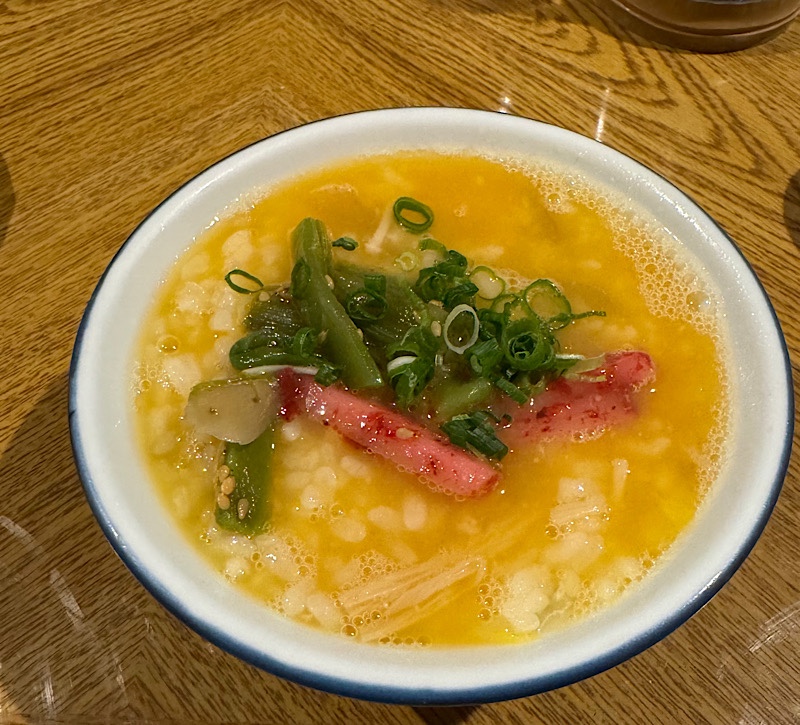 There was also a savoury egg custard made from tortoiseshell and yuzu paste (?), and some grilled swordfish with magnolia leaves, but I got busy with the cooking of the hot pot and failed on the photos. 🙂 Dessert again was lovely and light and simple: almond pudding, with orange and local melon.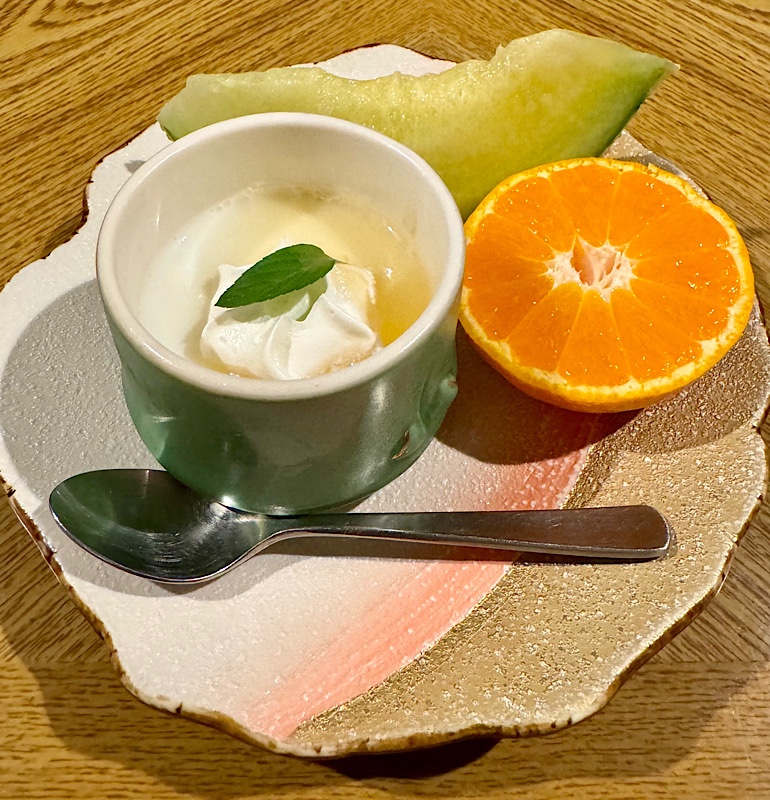 All up a fabulous meal with lots of very traditional Japanese flavours to try… which is a good thing because it sounds like these guys have landed themselves twice in CHINESE restaurants since getting here – and there is zero excuse for that! Japanese food is amazing… I have no idea why you'd opt for Chinese!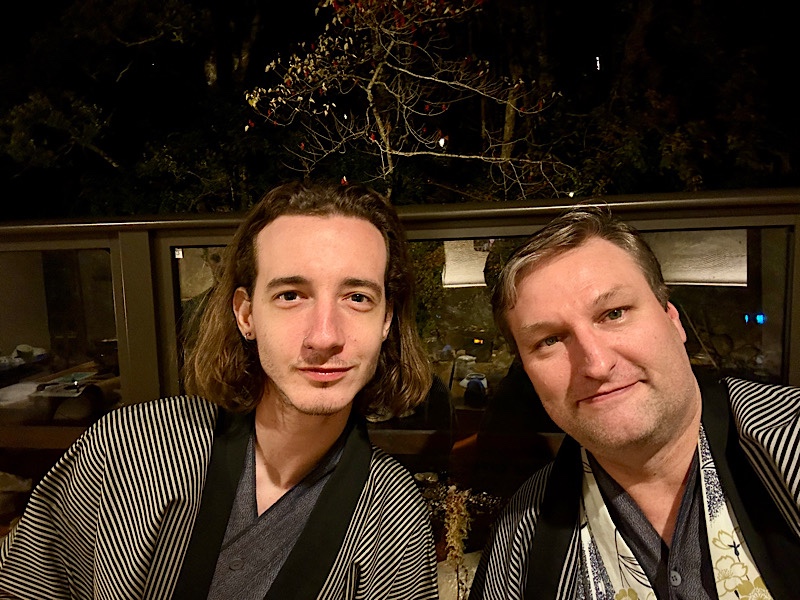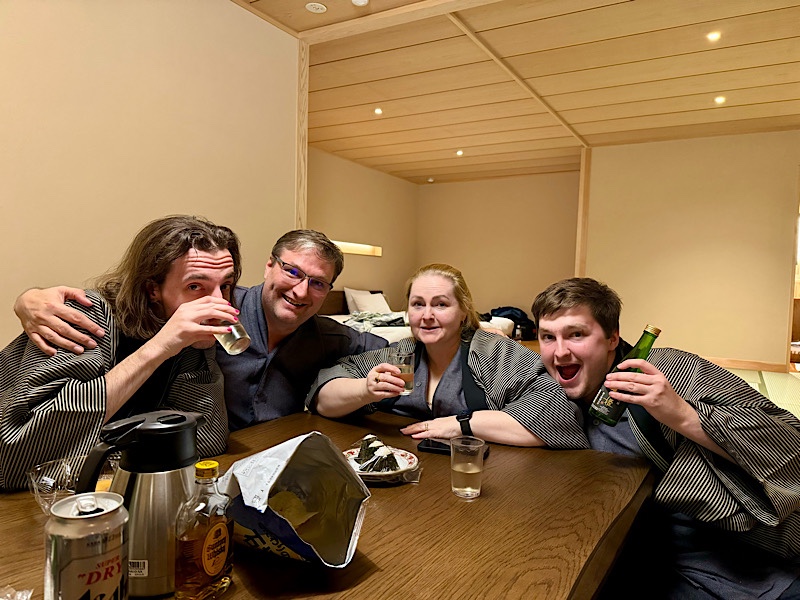 After dinner, we all went back to our room, (which all up was about four times the size of the room the Boys were sharing), because of course we had accumulated more saké than I could take home, and Mr K had left over beer and snacks we thought they could demolish or take with them for the rest of their trip.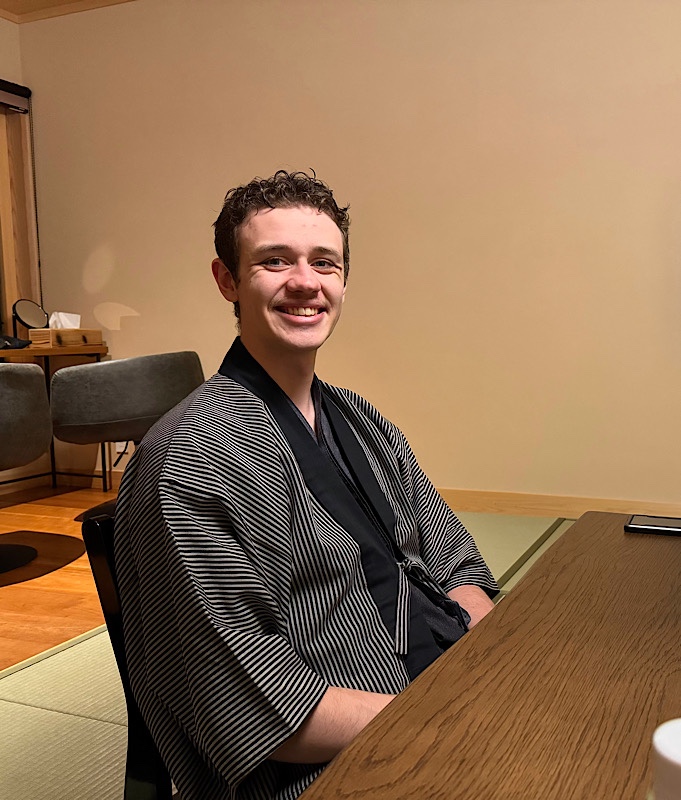 An impromptu work meeting transpired over saké…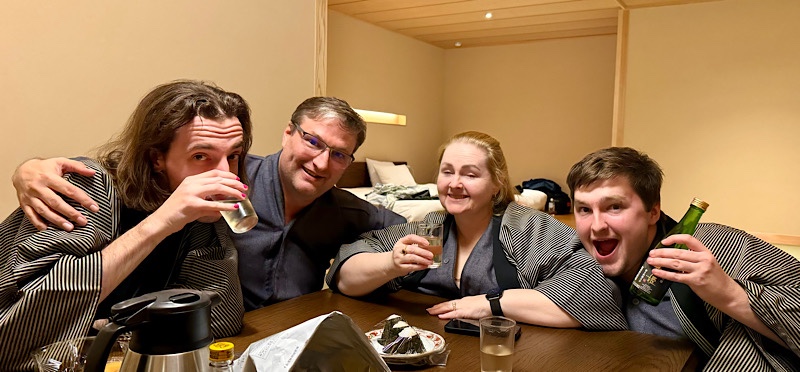 Less so as the night went on… 🙂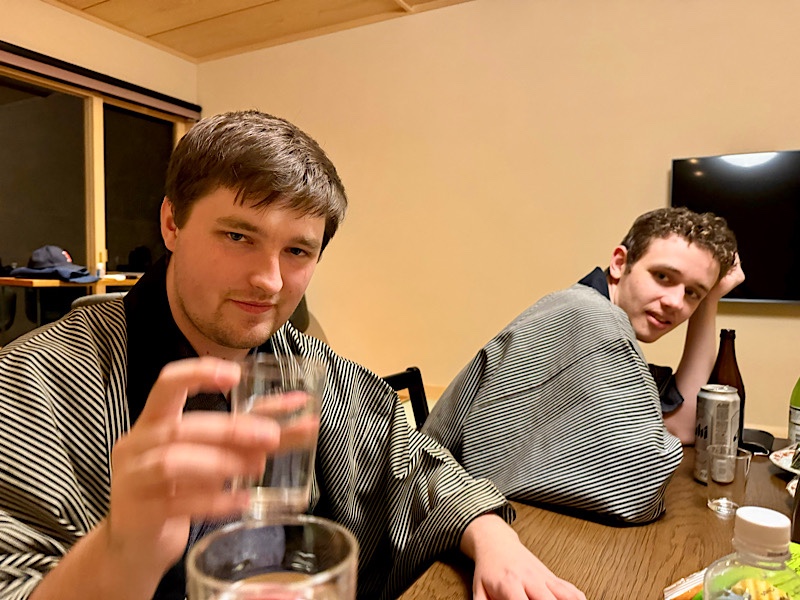 See? Way more comfy in their samue after sufficient application of saké. We managed to polish off quite a bit – which was nice, I knew I was buying more than I could consume or would be allowed to take home.
I also gave them a crash course in 'which saké to buy from which convenience store'. LOL… – 7/11 to stock up on cold Hakutsuru, Lawson's for affordable and reliable good, Tatayam Junmai, and FamilyMart? Well, FamilyMart is a bit of a crap shoot on what you'll find at any given store. 🙂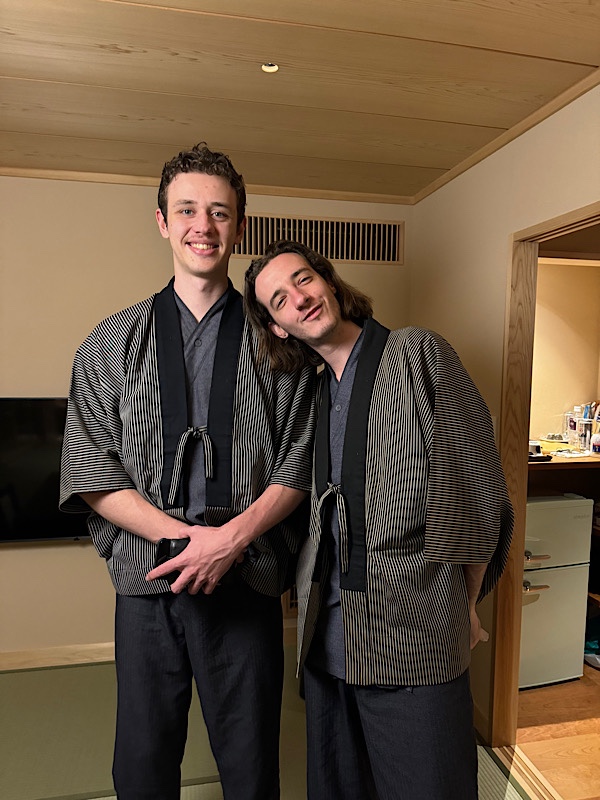 Breakfast time, we met The Boys down by the riverside. Tamago, pickled yam, miso soup, an egg custard, and another donburi set with all the amazing condiments. I have no idea what this dish was in the top right… but it was delicious and full of rich umami flavours – unfortunately the breakfast didn't come with a menu, and our attendants skills weren't up to a translation.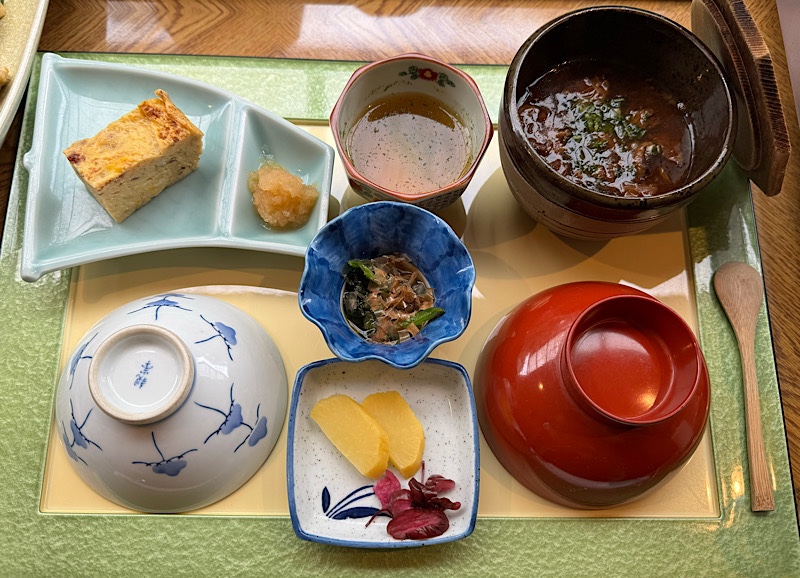 This morning's donburi condiments consisted of whitebait, pickles, seaweed, sesame, bonito flakes and dashi or soy sauce. It was kinda cool to be old hands at the Japanese way of serving dinner now – and to watch the confusion as The Boys tried to figure out what the hell they were eating.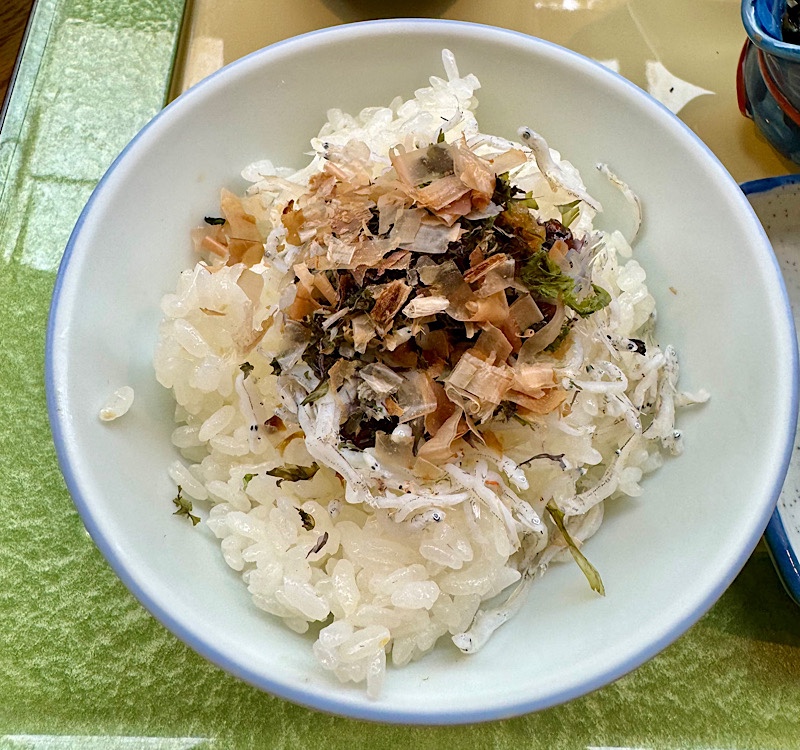 Breakfast miso soup should be a thing back home, I think. I'm gonna turn it into a thing when I get back. Miso soup for breakfast… can't think of a single reason why not to. Oh okay, other than the fact that the readily available miso soups at home are nowhere near as good as here!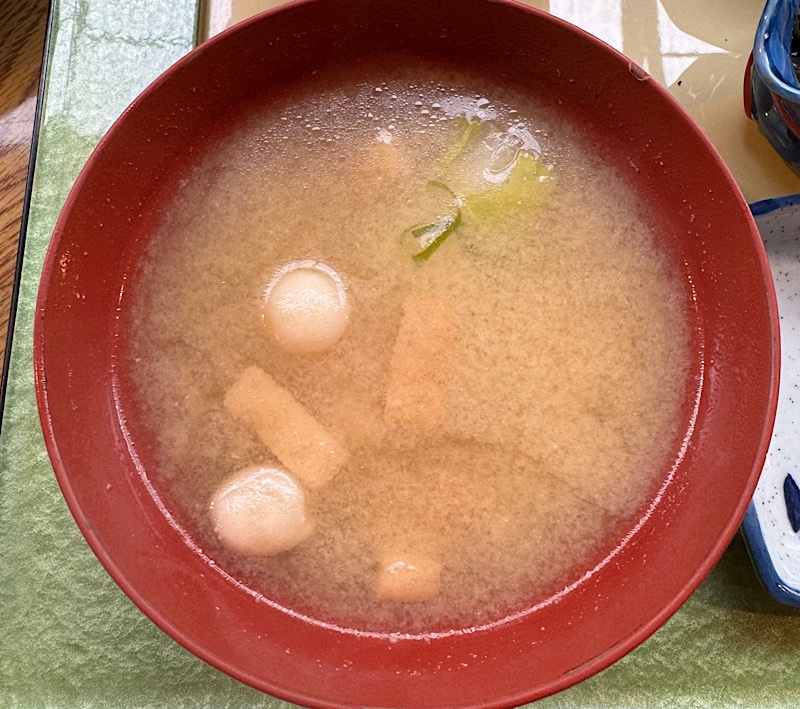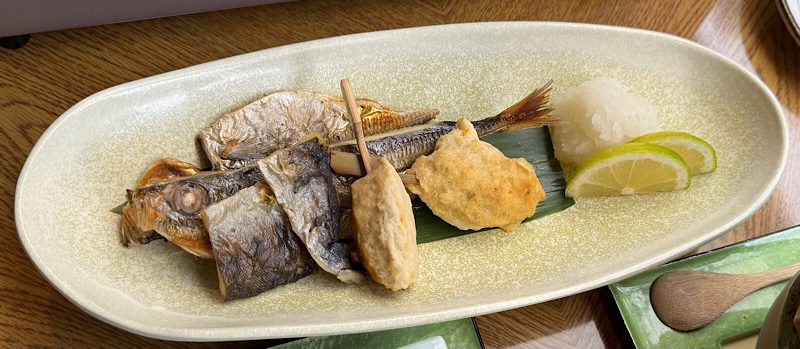 More grilled fish and sardines – plus a weird little chicken popsicle thing that tasted a bit of yuzu…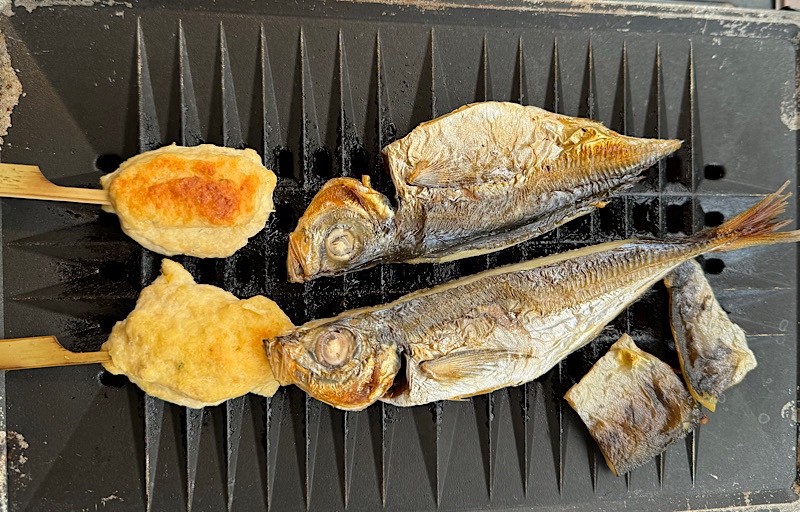 … but all too quickly, breakfast was over and it was time for us to try and hit the road for the long drive back to Tokyo where we had to return our rental car to Haneda and then meet a driver to take us to Narita (short but annoying story omitted here, where Qantas is the villain*)
We had a marvellous interlude in the mountains hanging out with the kids before they continued on with their adventures and we head off to travel home. This is the good stuff… the best stuff, really. Making memories that last a lifetime.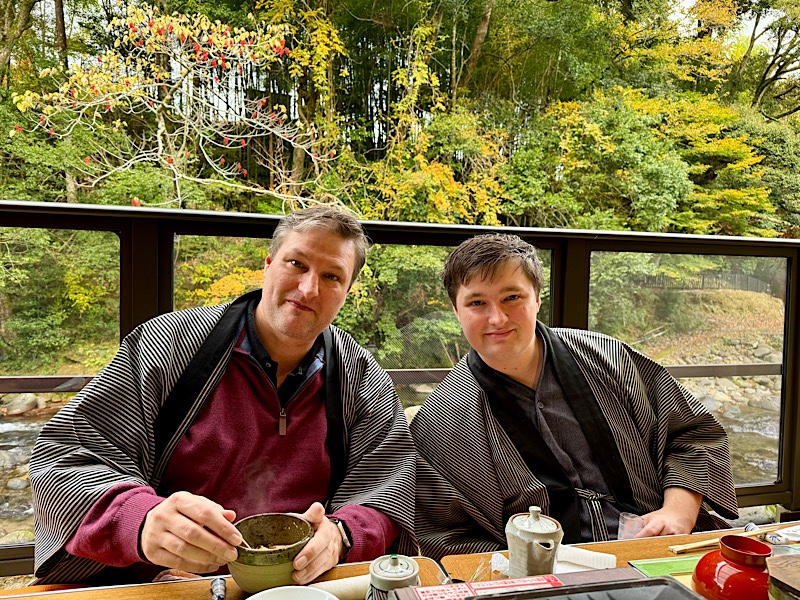 ≈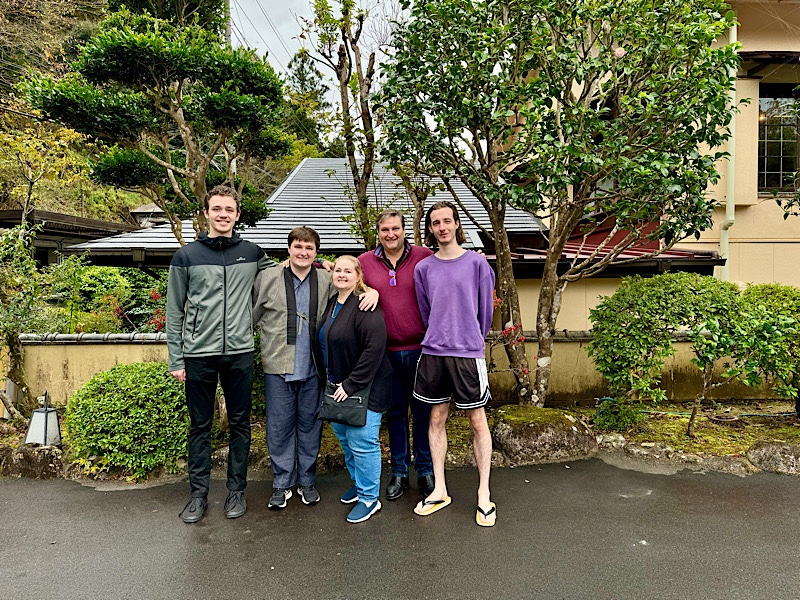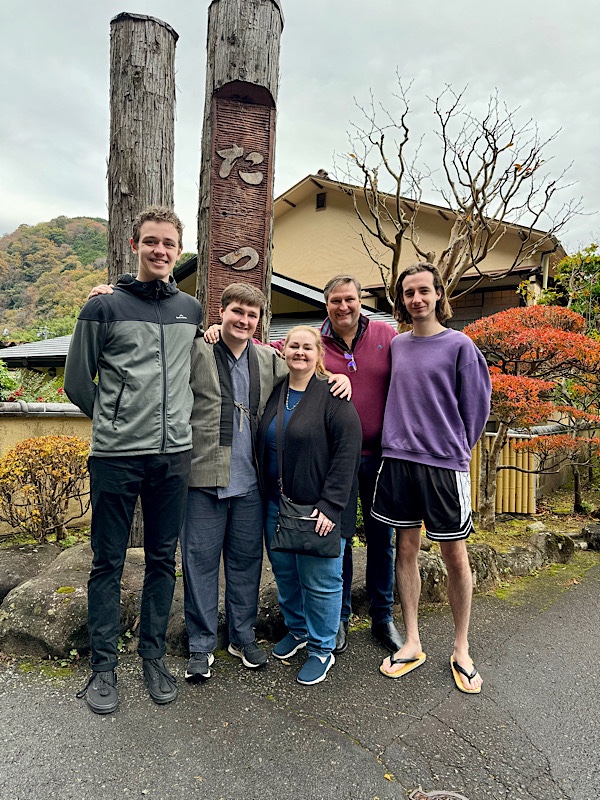 *Villain is probably being far too harsh a term for these circumstances; we booked return to Haneda back in April, but from today onwards, all QF62 Tokyo to Brisbane flights will be going Narita to Brisbane, not Haneda to Brisbane. We've known about it for months, so the only inconvenience was two hour transit across the city and the cost of a private transfer to haul our arses and our luggage. *shrug*