Today we were in the port of Aomori on the northern tip of Japan's main island of Honshu.  The region is mostly known for its epic mountain scenery and for being inhabited since the last Ice Age some 30,000 years ago.  The modern city as it now stands was founded in 1625.  The ship arrived nice and early in spite of some challenging wind conditions (according to the bridge) and we were greeted by one very noisy troupe of local drummers and flautists.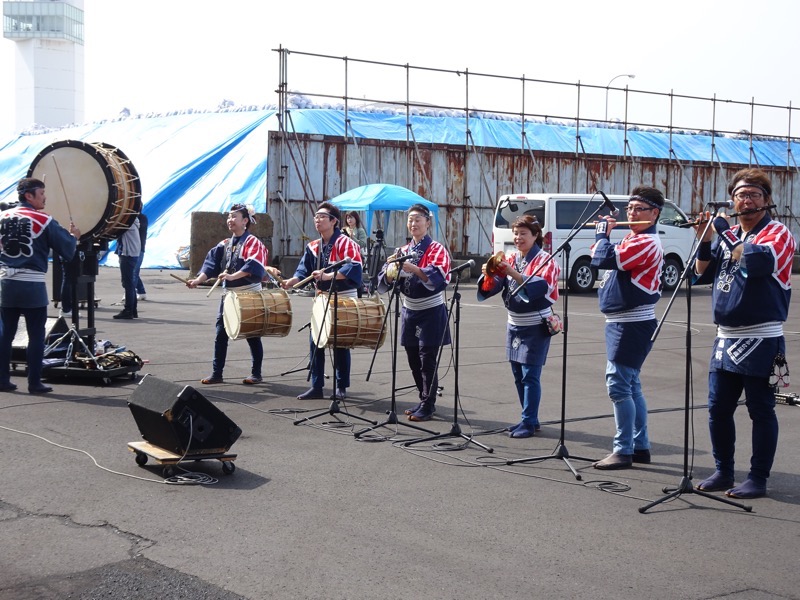 This our third trip to Aomori.  On my first visit here I took a day trip out to Lake Towada in the Towada-Hachimantai National Park and took a day cruise around the lake with Aunty Mary.  On my second visit here, I spent the day checking out the cultural highlights of the Nebuta House and the Wa-Rasse Museum, which houses all the beautiful floats that are used in the annual Nebuta Festival. Today we decided to have a nice relaxing day, hire a car and drive up to the nearby Hirosaki Castle – about 35kms from port – to hopefully see the famous cherry blossoms and have our own little hanami anniversary picnic.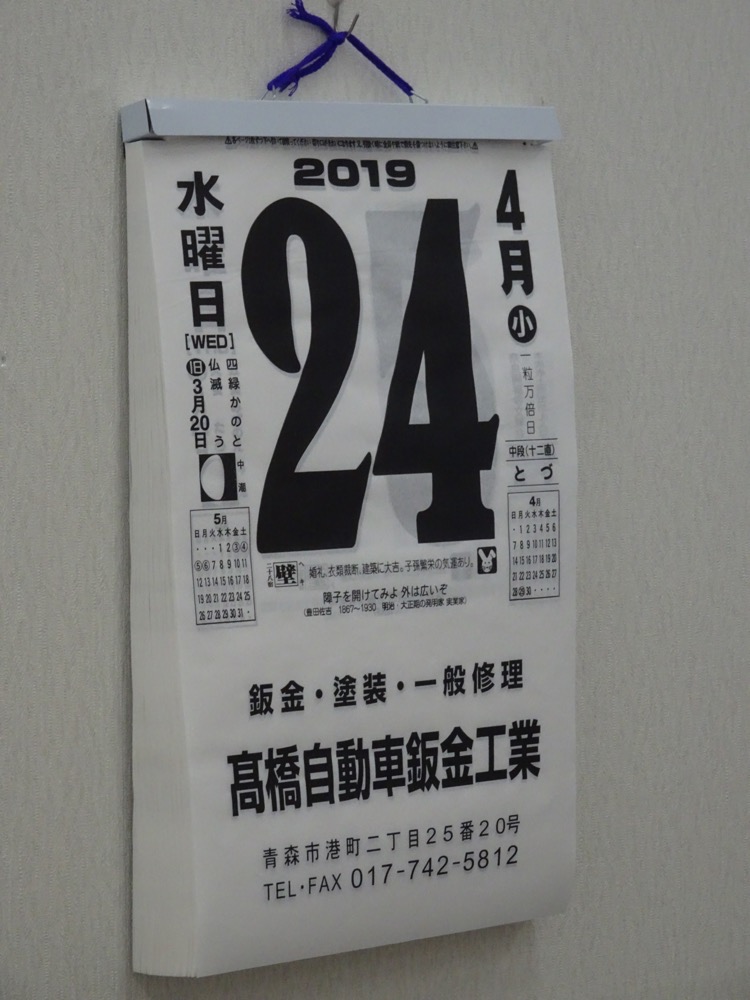 We picked up our rental car without incident, but the Japanese propensity for proper paperwork struck us yet again, this time in the form of needing to have an International Drivers Permit in order to be able to hire the vehicle.  We have hired cars in the US, Canada, New Zealand, Iceland, Poland, Germany, all over the place and usually have a permit, but they never really ask for it.  Here of course, they do like to dot the 'i's and cross the 't's, and luckily I still had a valid International Drivers Permit from my last trip and we were able to hire our gutless little compact Toyota for the day.
As I mentioned earlier, the drive out to the castle was only about 35kms, but the GPS was showing that it would take 1 hour and 15minutes to get there – which seemed ludicrous, but once we left Aomori proper, we discovered why.  The roads here are in an appalling state.  Major roads interconnecting major towns are often one lane only and have a speed limit of 50kmph – yes, you read that right, 50kmph!  Not only that, but there are innumerable traffic lights on these roads between cities that are operating on timers – so you can find yourself stopped at a traffic light that appear to be waiting for no one…?  After about 30 minutes of driving on a road like this we decided it must be because they have such excellent rail infrastructure that the road infrastructure feels like it has been designed as an afterthought.  Anyway, we eventually made it up to Hirosaki and found somewhere, only slightly precarious, to park the car and from there walked up to the famous Hirosaki Castle.
Hirosaki Castle sits atop a stone wall surrounded by an enormous moat.  It is a 17thC feudal castle with elegant roofs, a tower, and five different gates and the enormous gardens are filled with 2,500 cherry trees that blossom in the spring. Luckily for us – we are here at the beginning of the 130th annual Cherry Blossom Festival which attracts over a million visitors each year, and the cherry blossoms are in full bloom creating an unbelievably beautiful environment.
The very Japanese advertising posters for the event: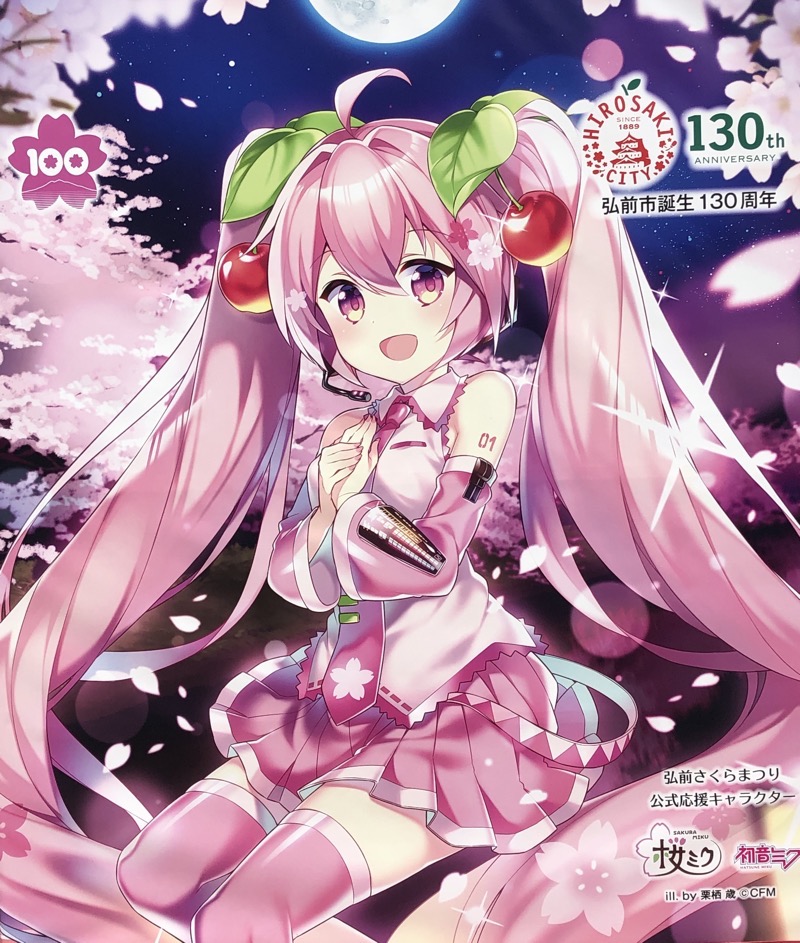 We entered through the famous Cherry Blossom Tunnel and were immediately overcome by the beautiful, almost surreal, atmosphere created by these ancient trees.  On either side of us as we strolled along the river banks were elegrant and graceful cherry trees that appeared to be just dripping in flowers.  The effect is hard to describe, a feeling of wonderment followed us around for our entire time here – I can only liken it to being engulfed in an enormous piece of installation art that overcomes all your senses… the beauty of the flowers, the delightfully subtle aroma of the blossoms in the air, the awed hushed and respectful tones of the people murmuring their appreciation as they moved among the trees, the gentle lapping of the nearby water, and an almost magical feeling in the air as everyone seemed entranced by this overwhelming sight.  I can only compare it to the feelings I had seeing St Peter's in Rome for the first time, or the sense of wonder and awe that I felt at Machu Picchu… it's hard to describe how these truly unique places can effect you.  And this was most unexpected – I mean, they're just flowers in lots of trees, but this felt like a truly special place and a truly special sight and I felt honoured and priviledged to be here to enjoy this. And I make no apologies for all the photographs I have included in this post, they do not in any way do it justice – in my mind, these photos are a pale imitation of what this place looks like and how it made us feel.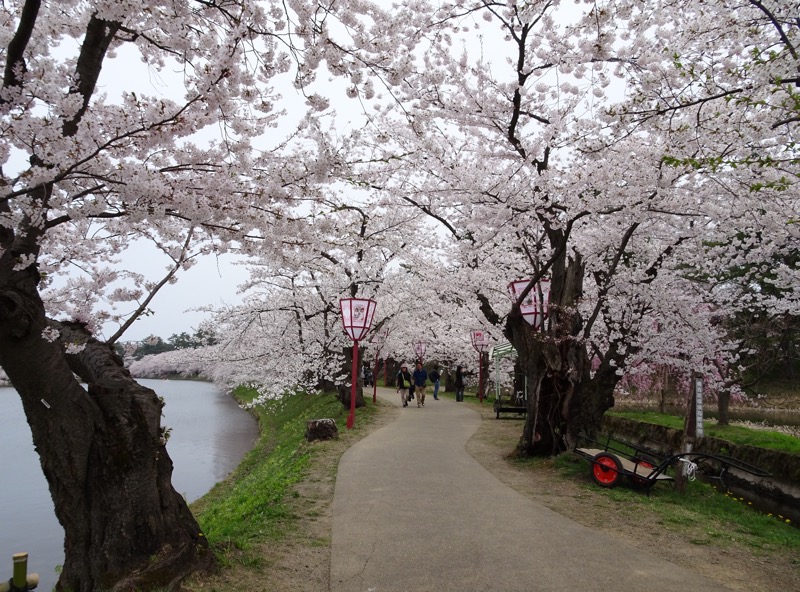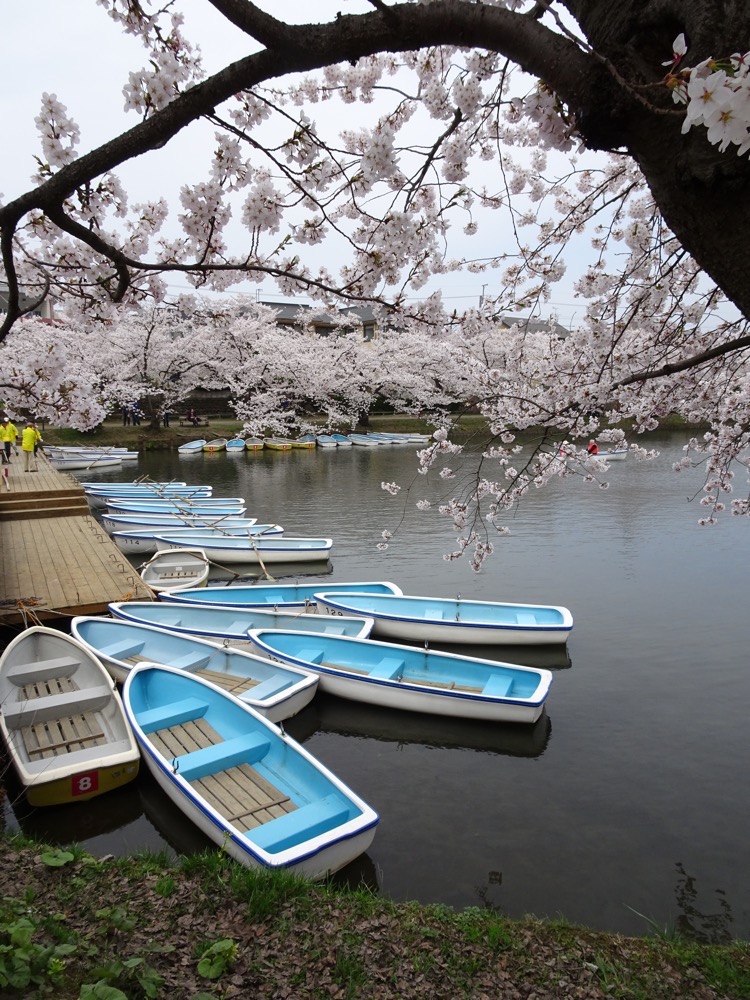 The gardens were largely filled with locals who were drawn to the park to enjoy the beautfy of the trees – you could tell they were on their lunch breaks from work, or were there with work colleagues to enjoy a hanami party – a traditional cherry blossom viewing party that typically involves picnic blankets, feast day foods, and sake on the grass under the beautfiul trees as you watch the wind rustling through the branches and the occasional petals falling from the trees like confetti.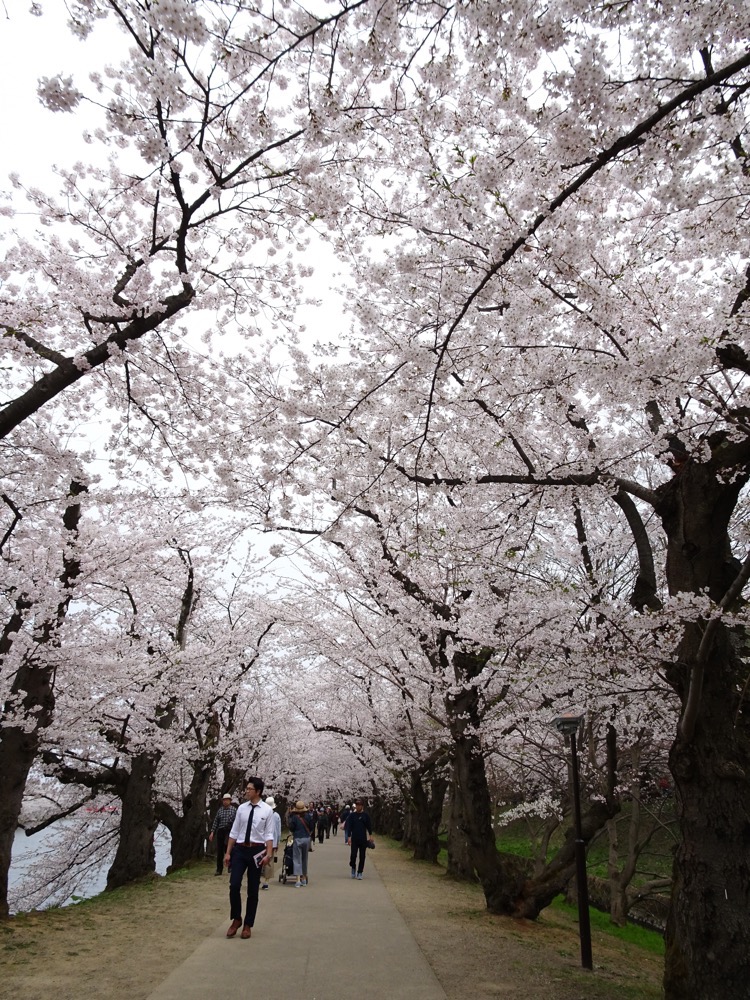 Every man and their puppy appeared to be out enjoying the gardens today… even that Dogue. 🙂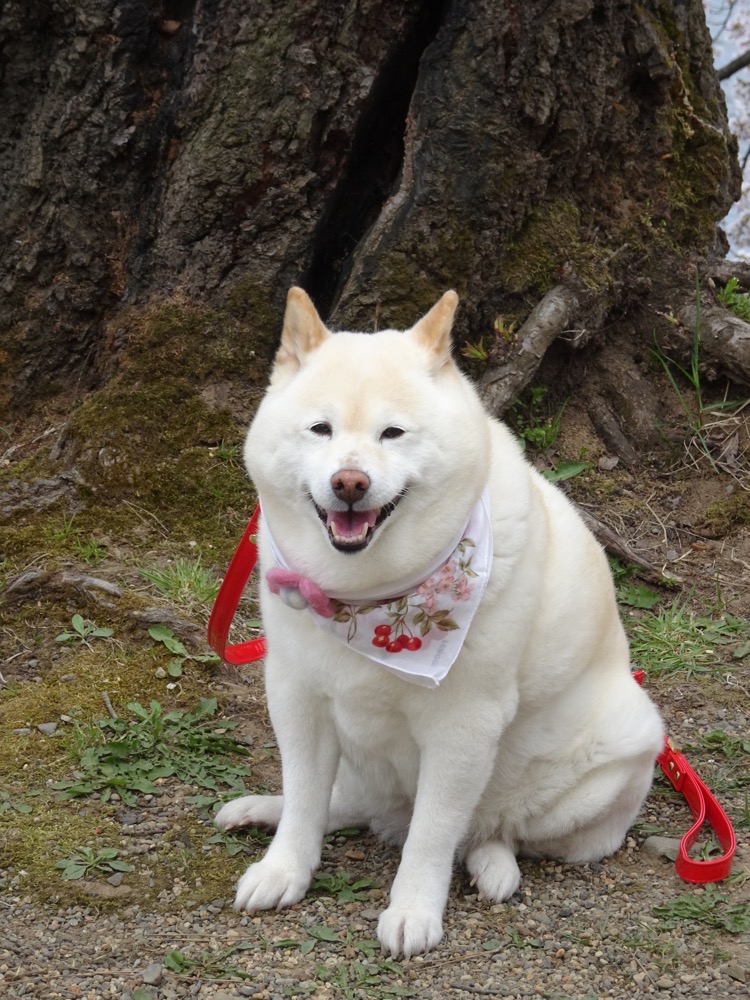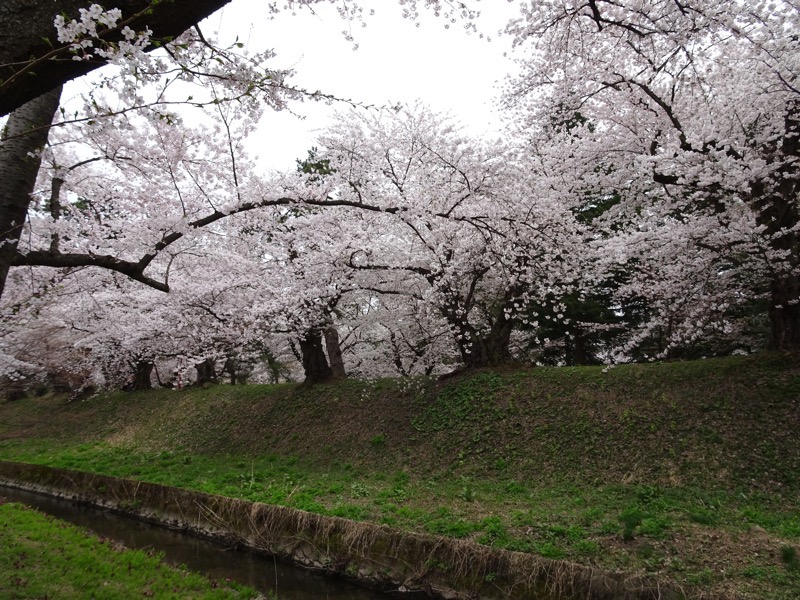 I have a feeling I am going to end up sounding completely repetitive here – but this place feels completely magical.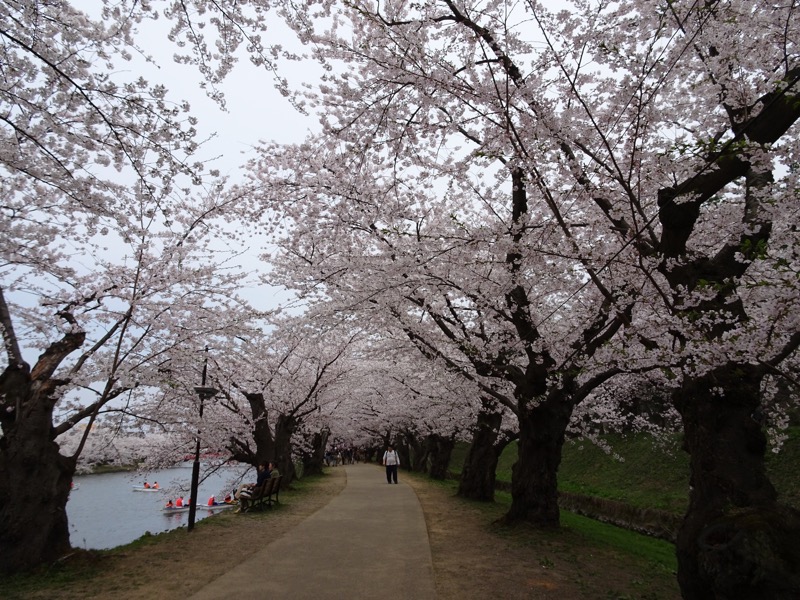 Further into the park, towards the end of the Cherry Blossom Tunnel was the start of the Festival Markets that spring up between 20th April and May 3rd this year.  This is known as Golden Week in Japan and many domestic tourists are taking their annual holidays.  Here at the base of the castle walls, the markets were full of knickknacks and toys for children, sideshow alley type games of chance and some interesting food stalls.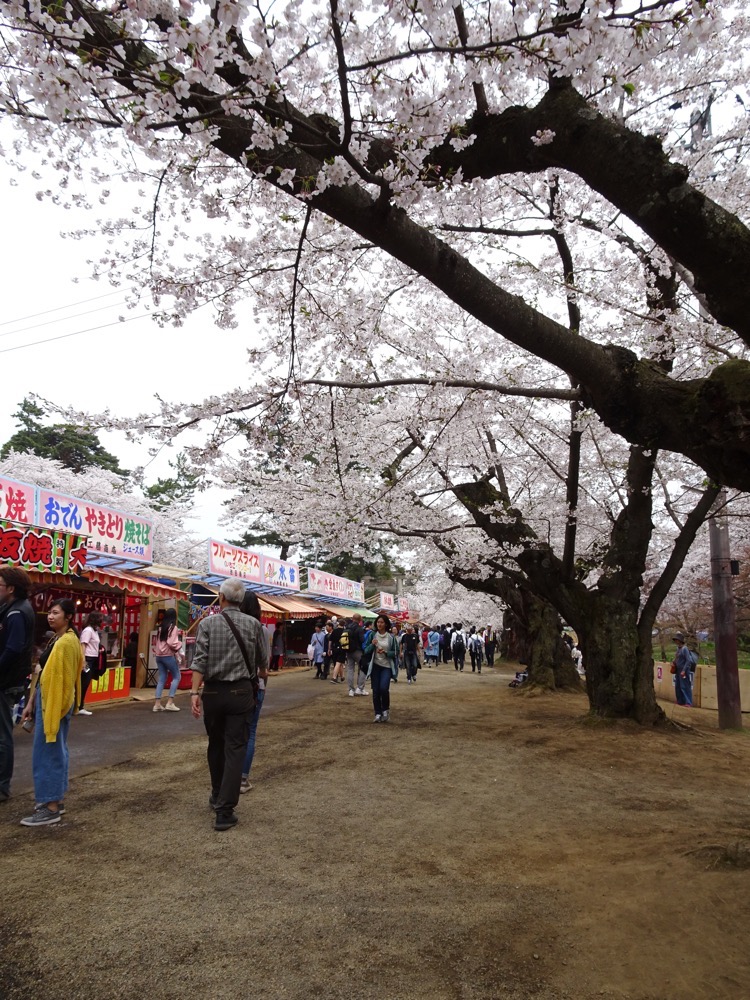 Chocolate coated banana-on-a-stick. Chocolate not being 'my thing', I did not try one.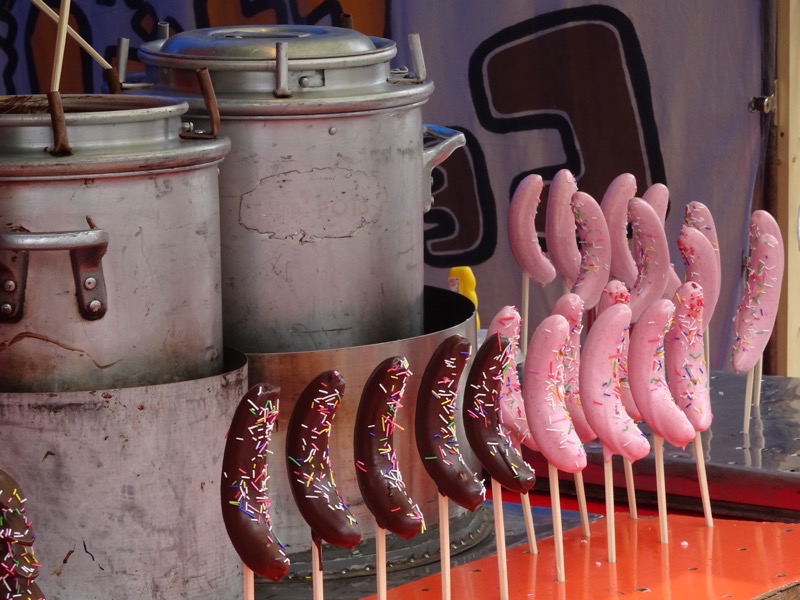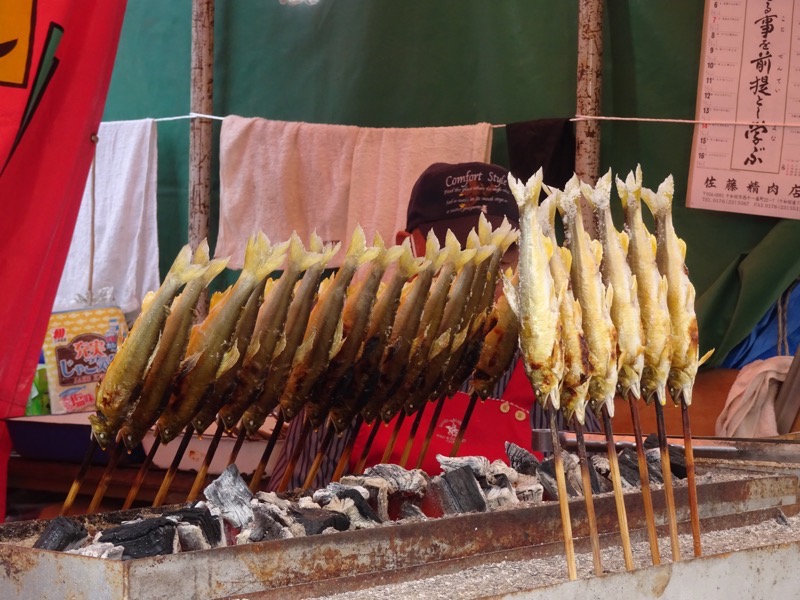 Takoyaki ladies were industriously making snacks for the masses – one baby octopus for each takoyaki ball.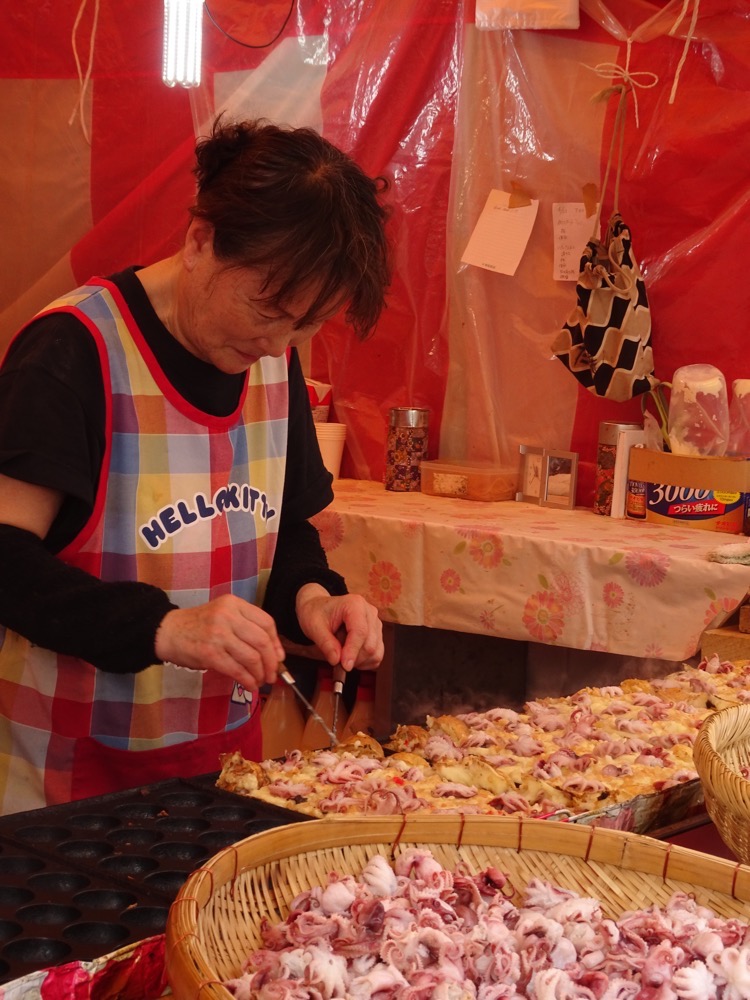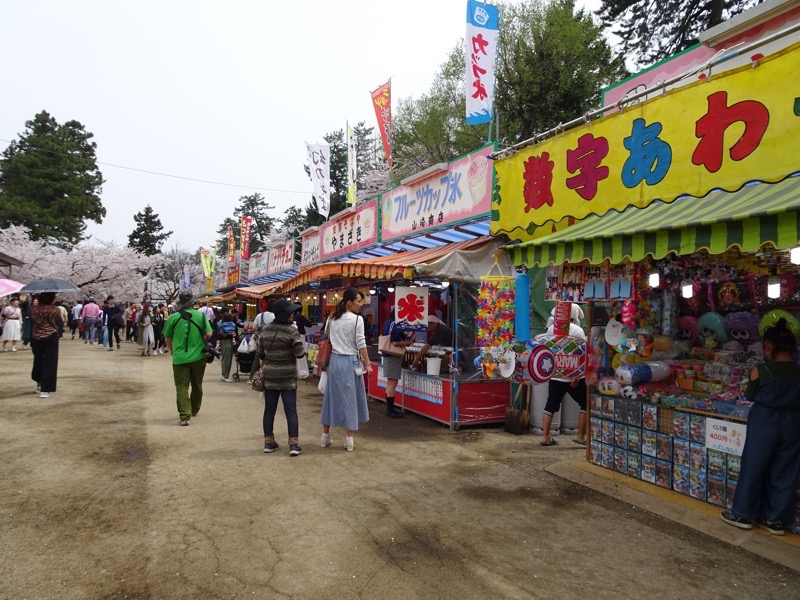 Another man and his puppy…not only are visitors required to pick up after their dogs here, but there are signs indicating that dogs must be carried in the grounds. Needless to say, we did not see any German shepherds or Rotweillers being ferried about. The Dogue from earlier had his own pram!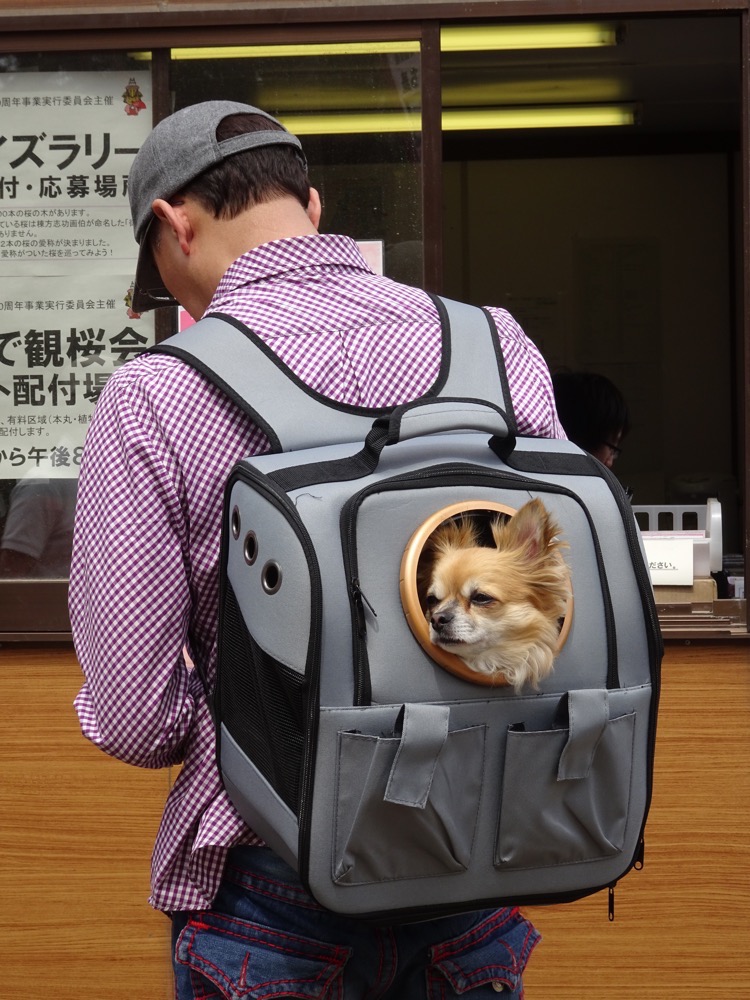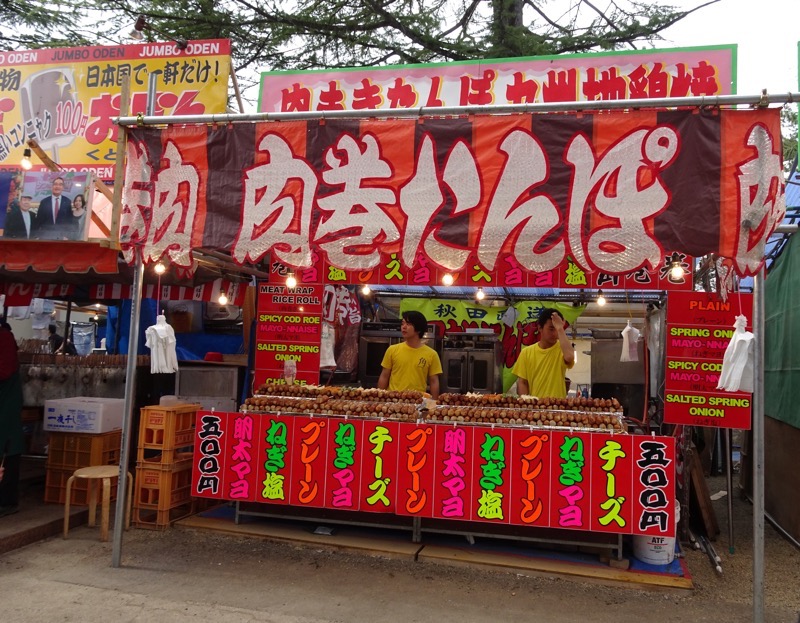 We walked further around the moat towards the entrance of the Castle and found several beautfiful ponds surrounded by ever more cherry trees – the stillness of the water reflecting the elegance of the blossom laden branches.  Just gorgeous!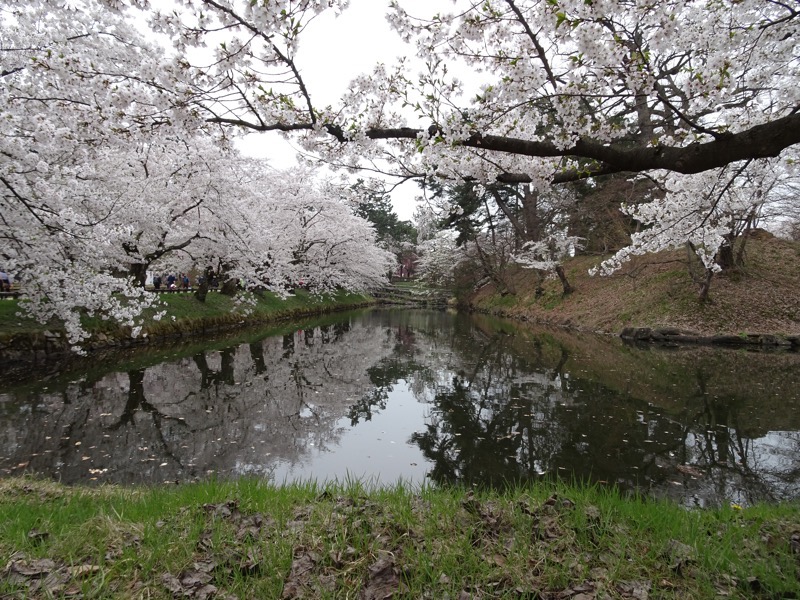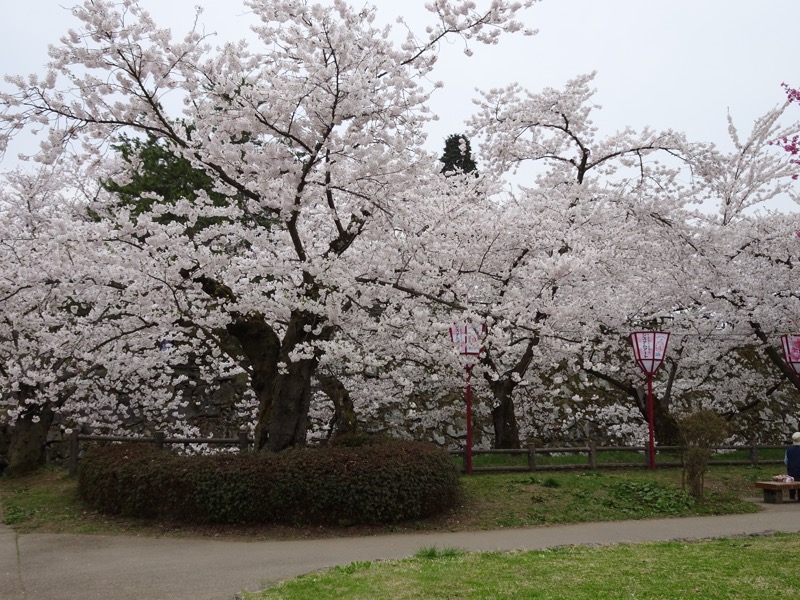 The entire complex has hundreds of lanterns placed in among the trees – I imagine it must look spectacular all lit up of an evening…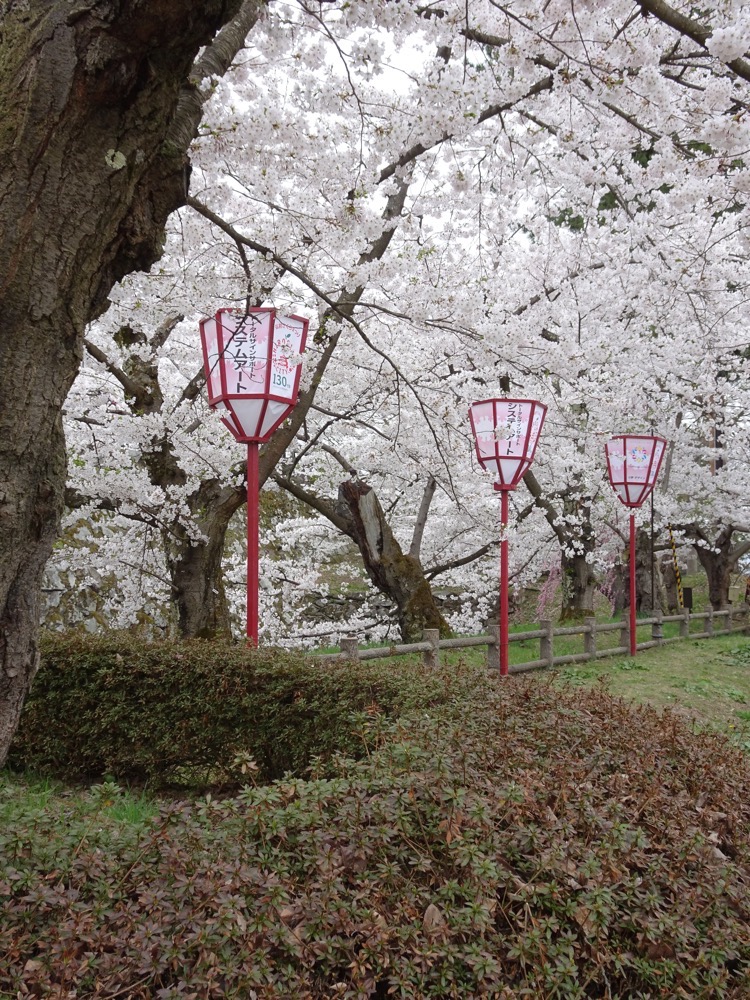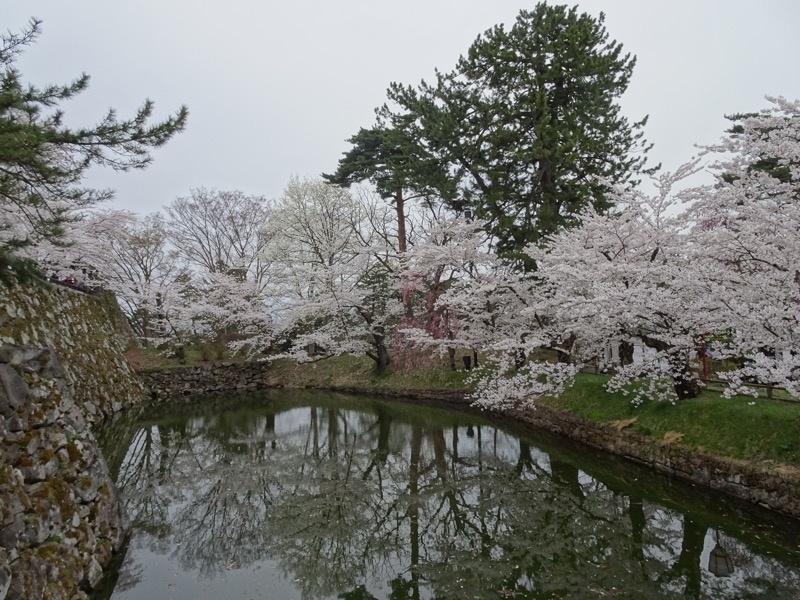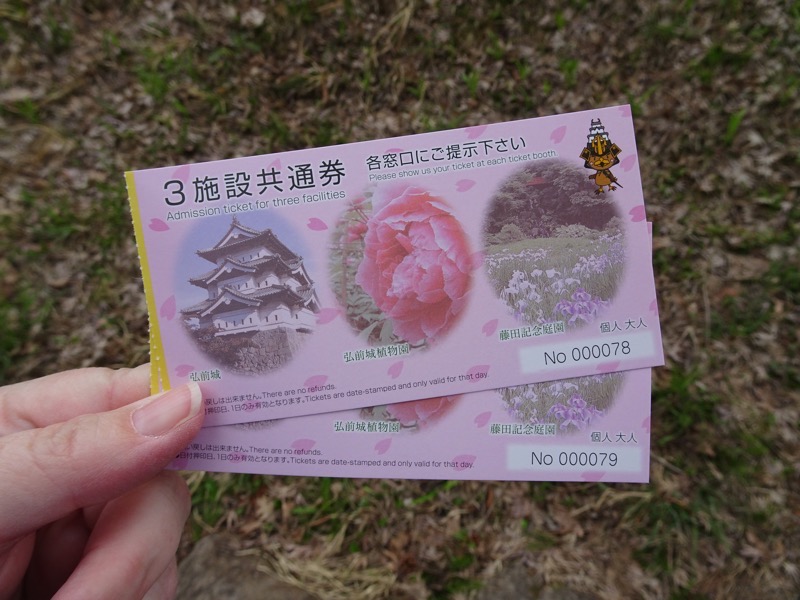 Hirosaki Castle is an epic fortress that at one time was six stories tall – lightening hit it in 1627, blowing up the tower that once housed stores of gunpowder.  In 1944, the Imperial Army stripped all the bronze tiles and artifacts from the Castle to be repurposed into creating munitions for WW2 efforts.  It is still quite an imposing edifice and so prettily situated in among the cherry trees.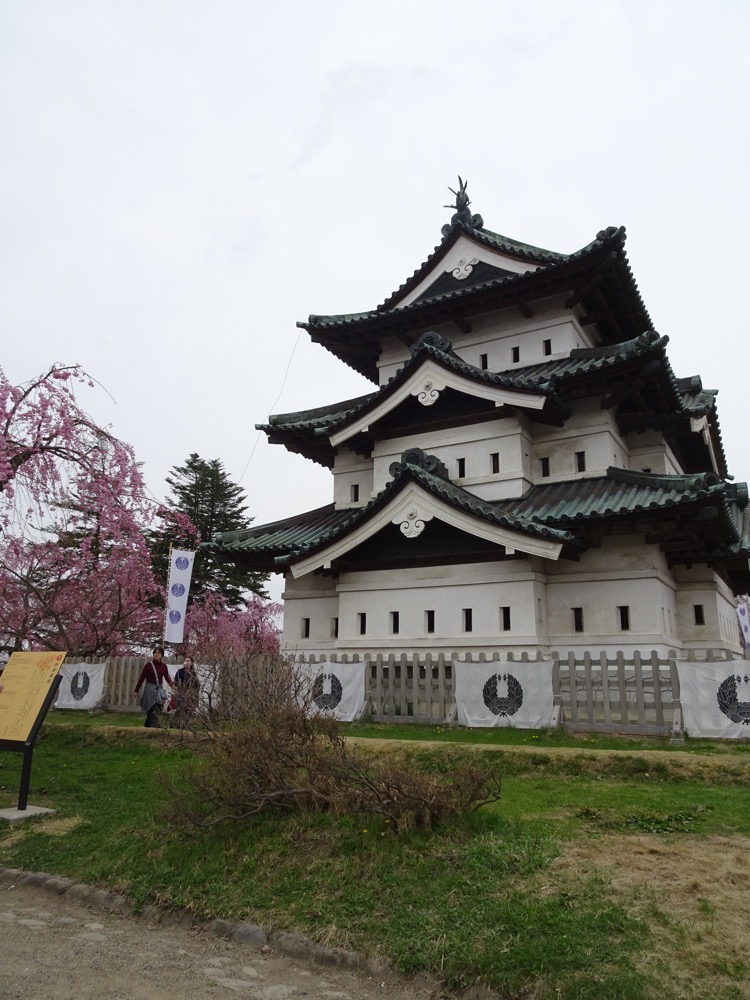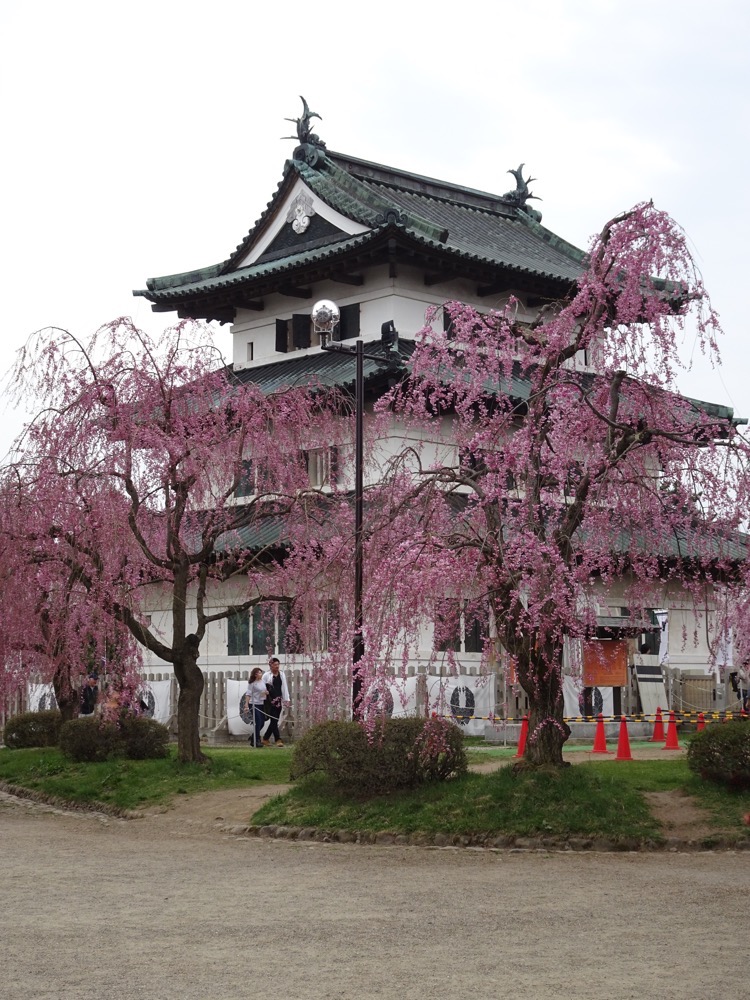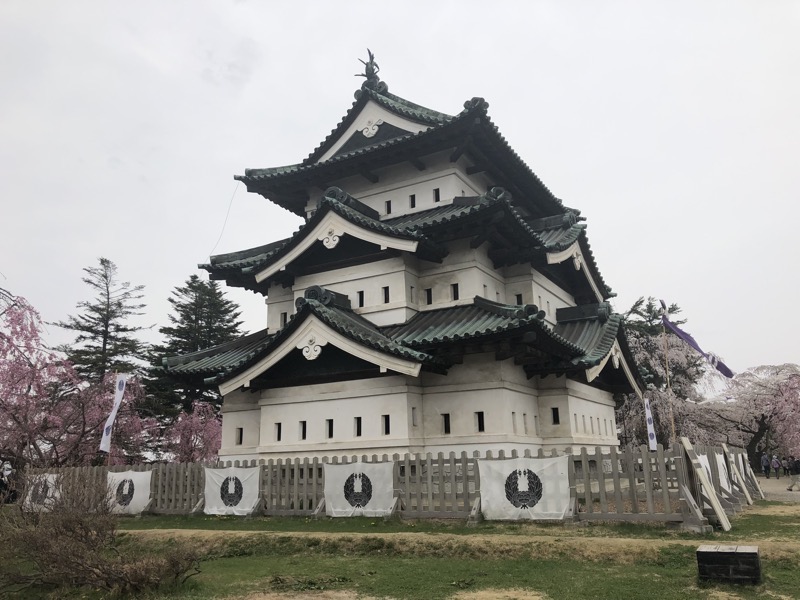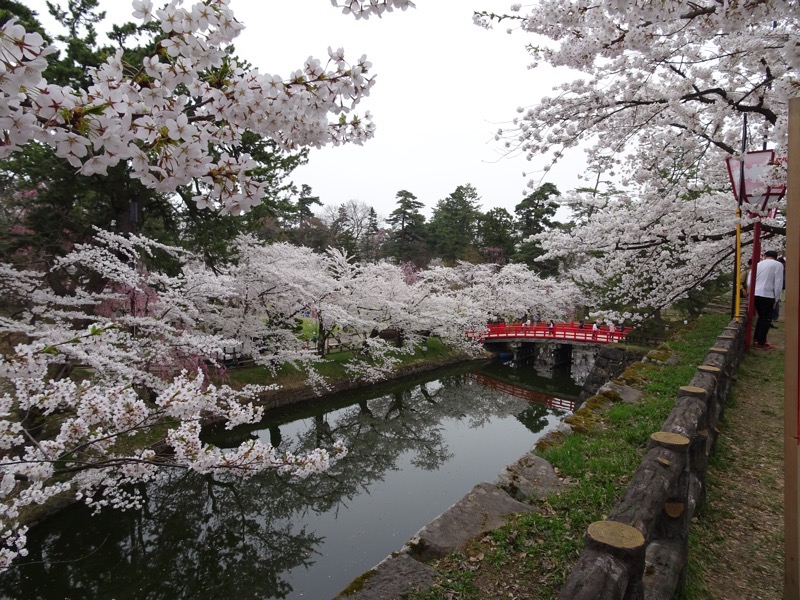 More of the locals enjoying hanami parties.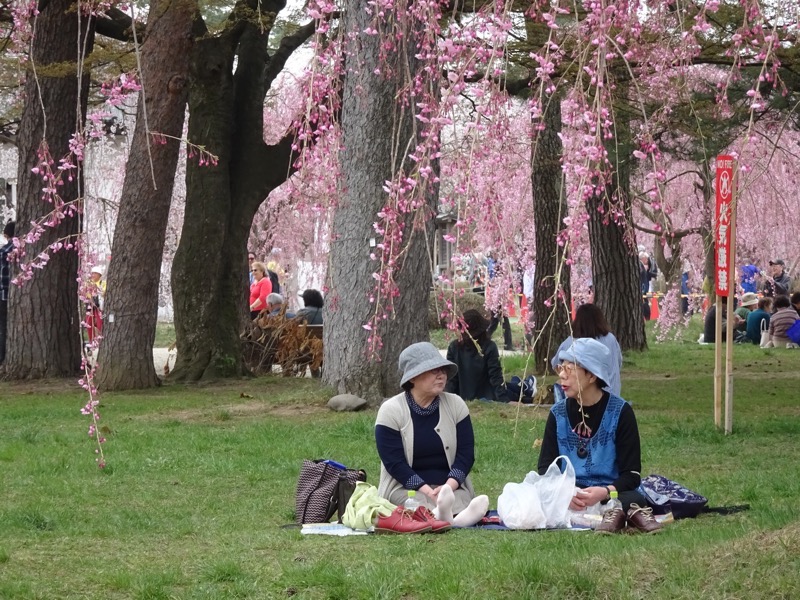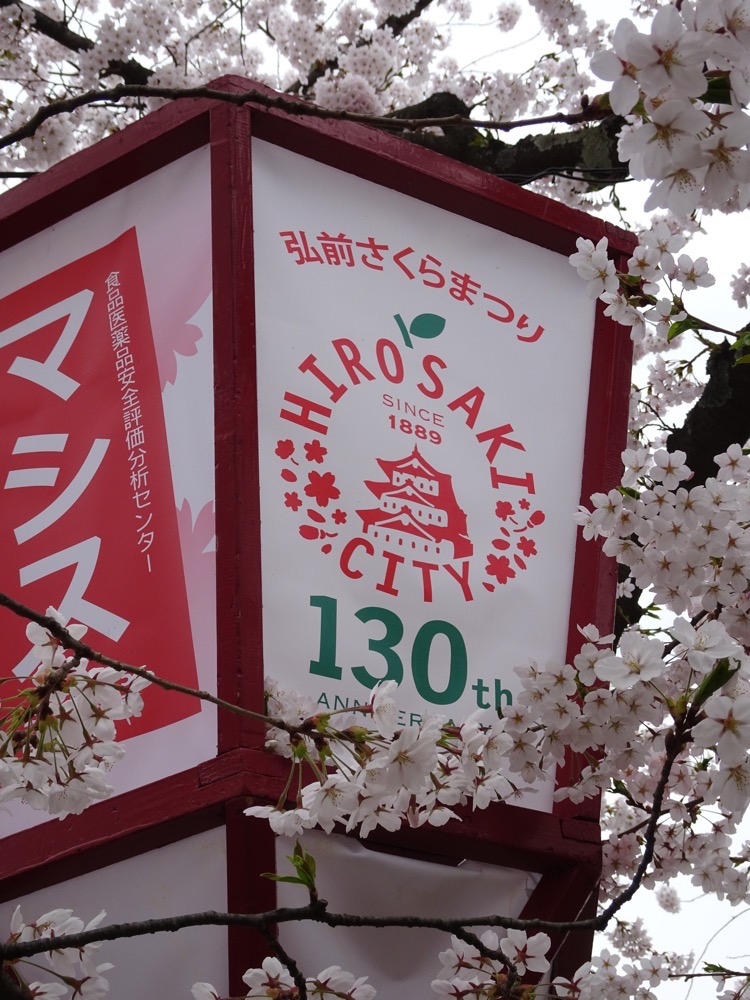 Today, it was our plan to come up to the Castle, hopefully see some cherry blossoms (little did we know what to expect!) and have some lunch under the trees to celebrate our 20th wedding anniversary… we did not know that the Cherry Blossom Festival was going to be like the international food on-a-stick festival, but as a result we ate very well – with tempura sweetcorn on-a-stick, chicken on-a-stick, pork on-a-stick, scallops on-a-stick, beers, and all good things for lunch at our picnic.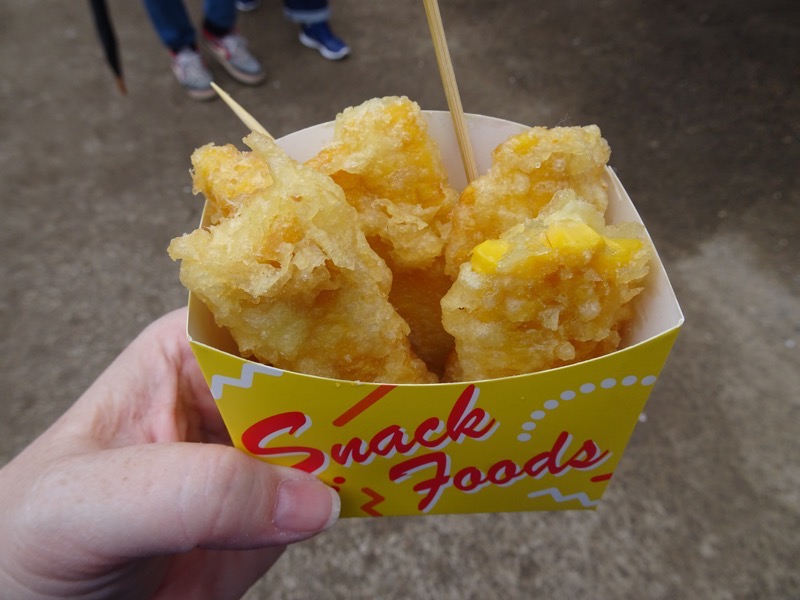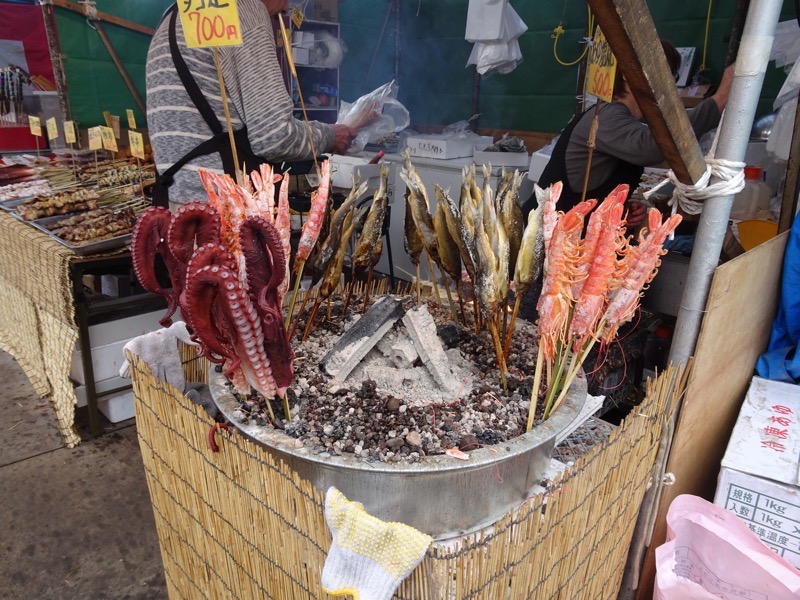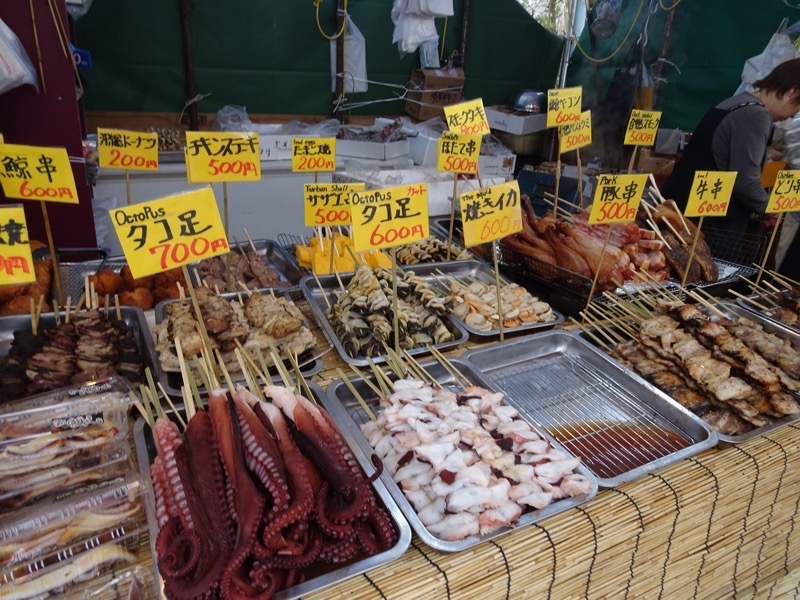 We found a nice quiet spot to lay out our (borrowed from the ship picnic) blanket and settled in for nearly two hours, watching the world go by, the petals floating down from the trees whenever the wind picked up and listening to a nearby musician playing a shamisen.  I have read many books on Japanese history and culture and in my mind's eye, it doesn't get more Japanese than this. I couldn't help but wonder what it must have been like here before WW2 when the grounds would have been graced by families in traditional summer yakutas with children eating crushed iced treats, and ornately dressed maiko and geisha entertaining business men under the cherry blossoms…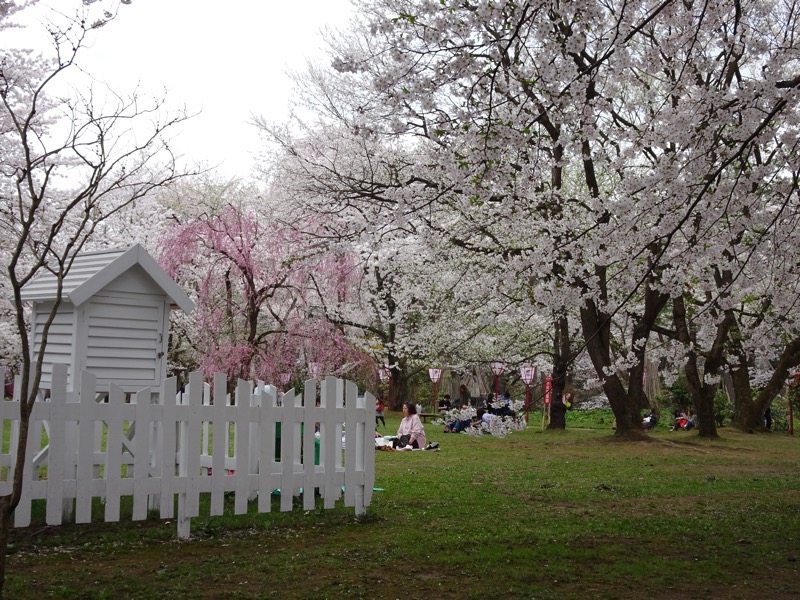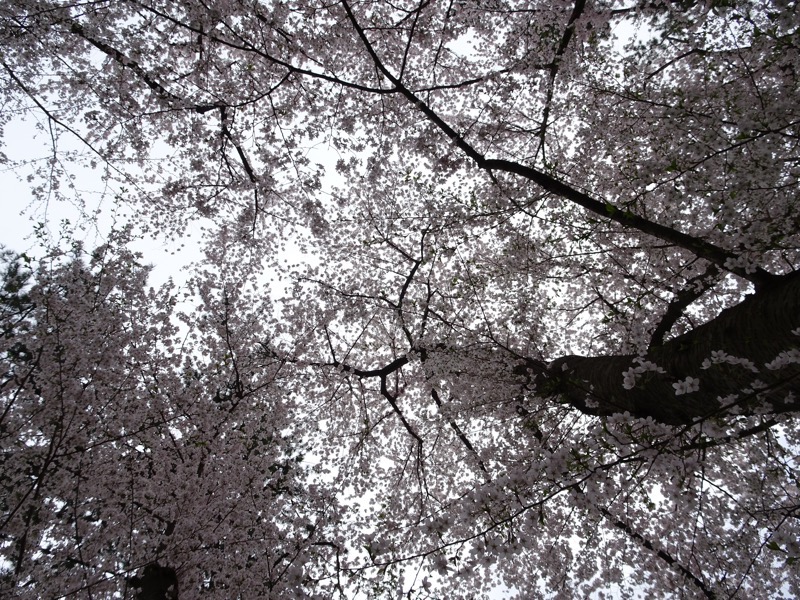 Looking up from our picnic blanket…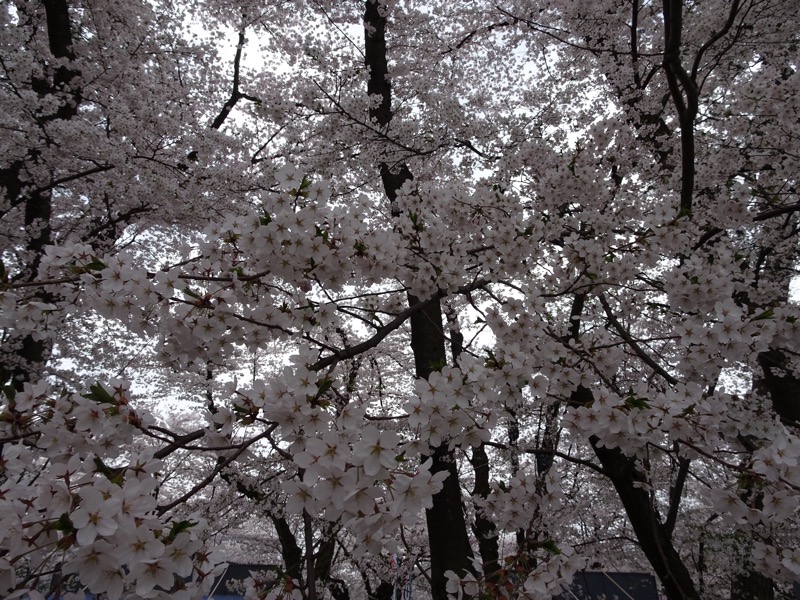 After lunch we continued to wander the gardens and at every turn were greeted by yet more and more beautiful vistas surrounded by the cherry blossoms.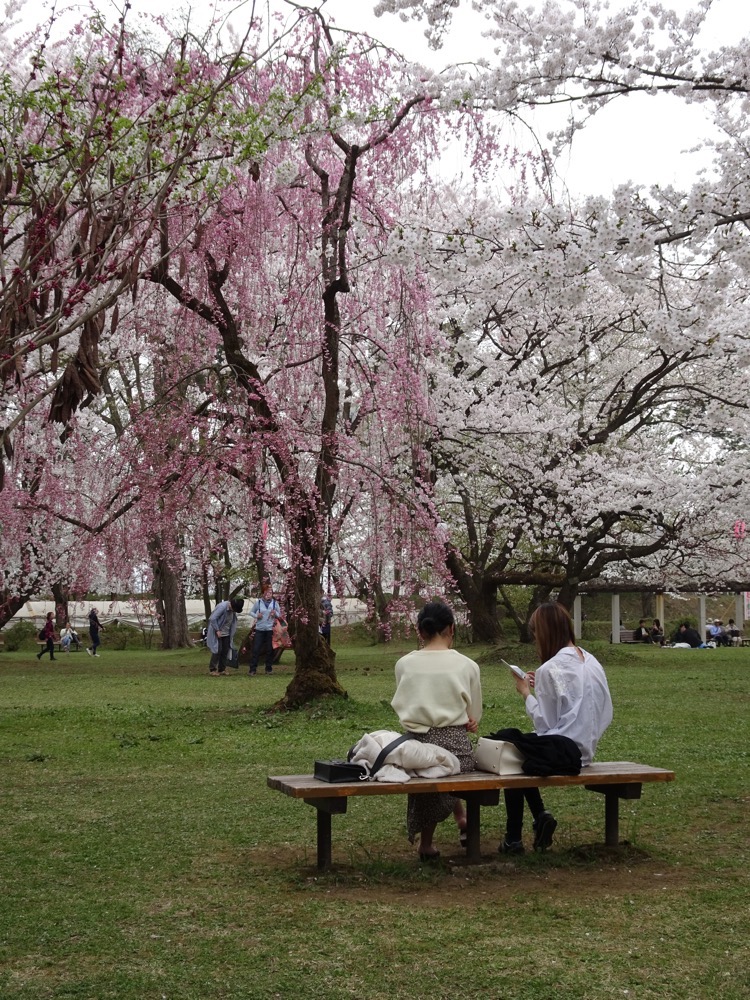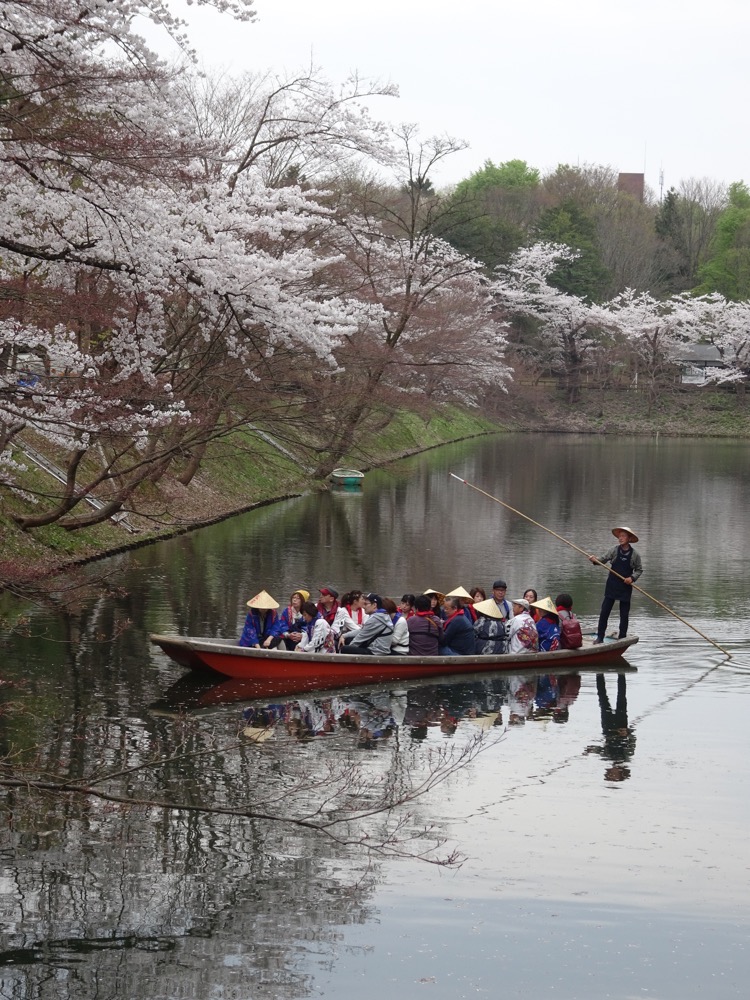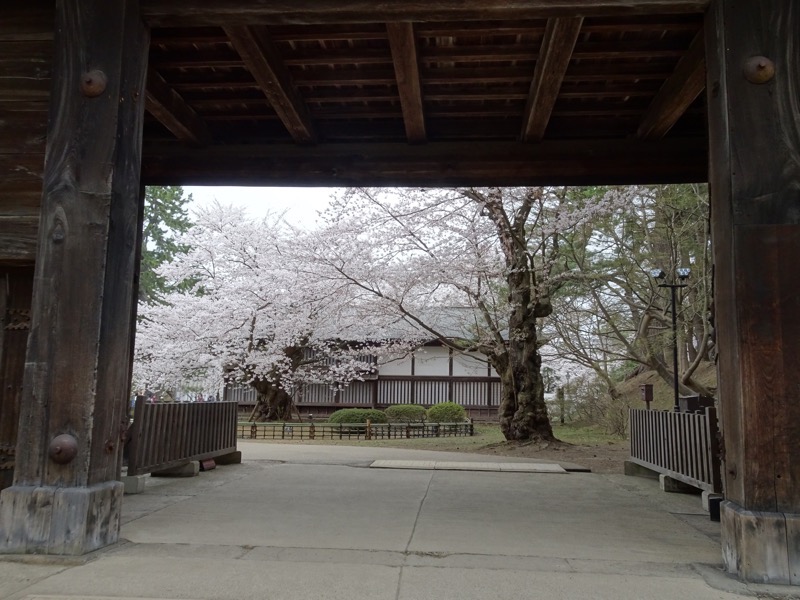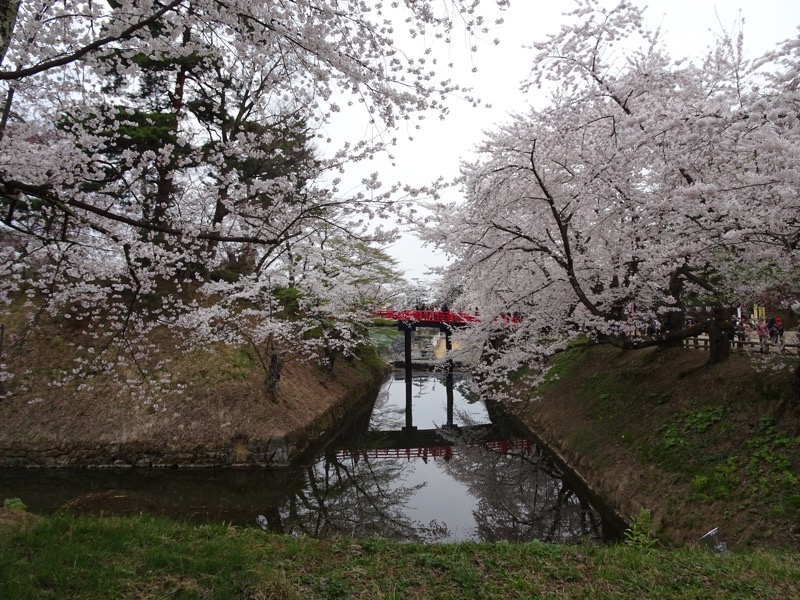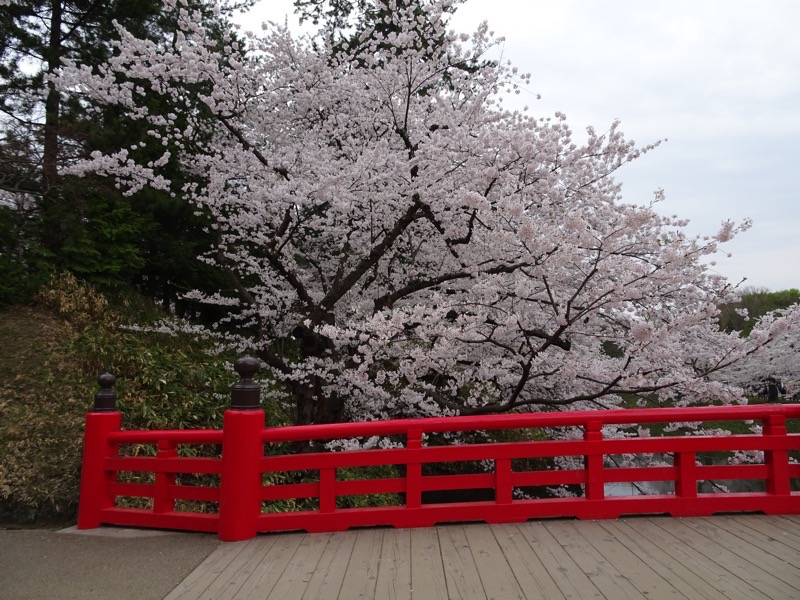 I know it looks like there is hardly anyone here in most of these pictures, but I am a very patient photographer and am only too happy to wait for all the selfie stick weilding bastards… err, I mean tourists to get out of my shot so I can get an unspoiled view.  🙂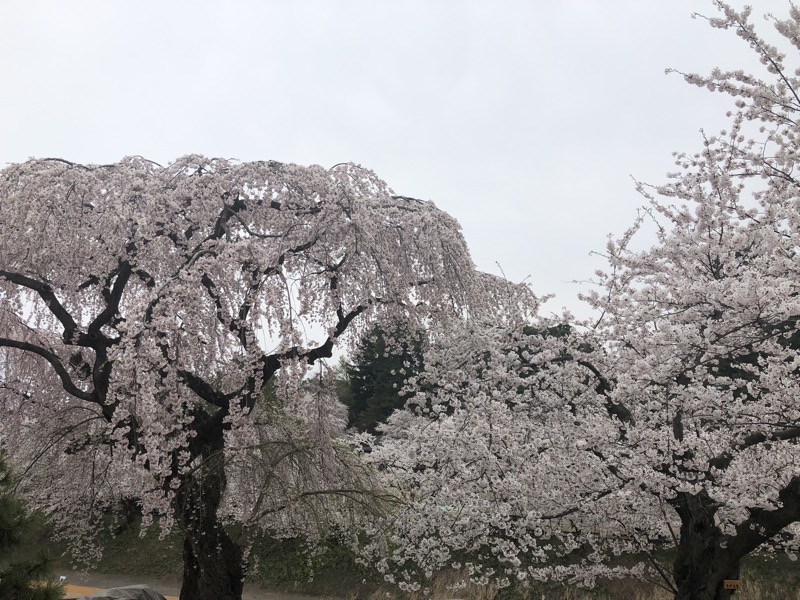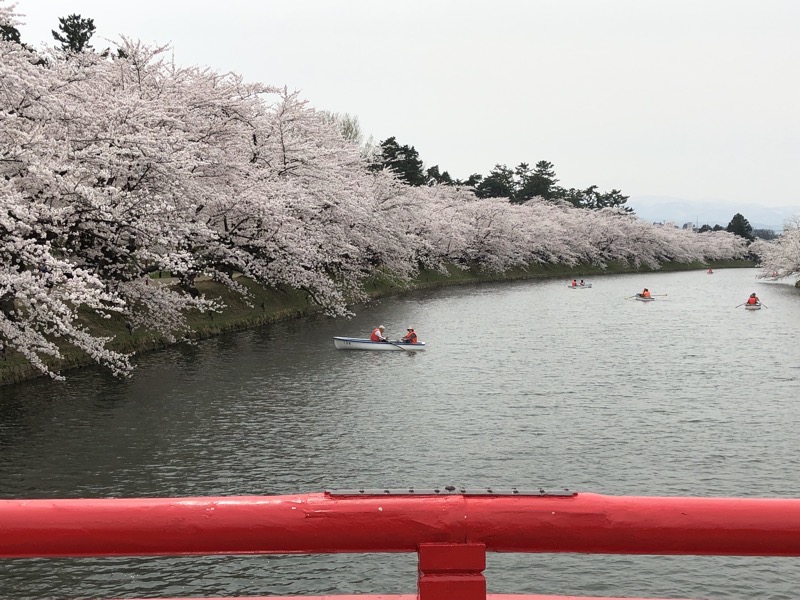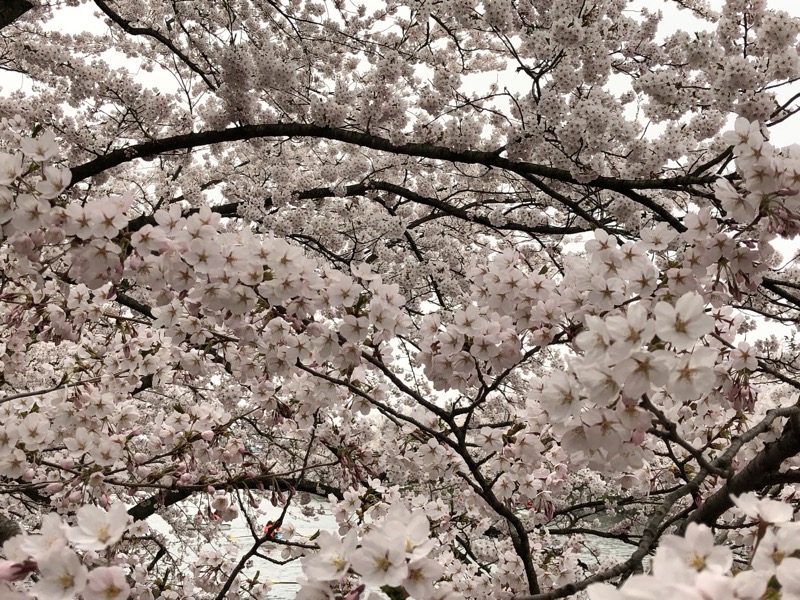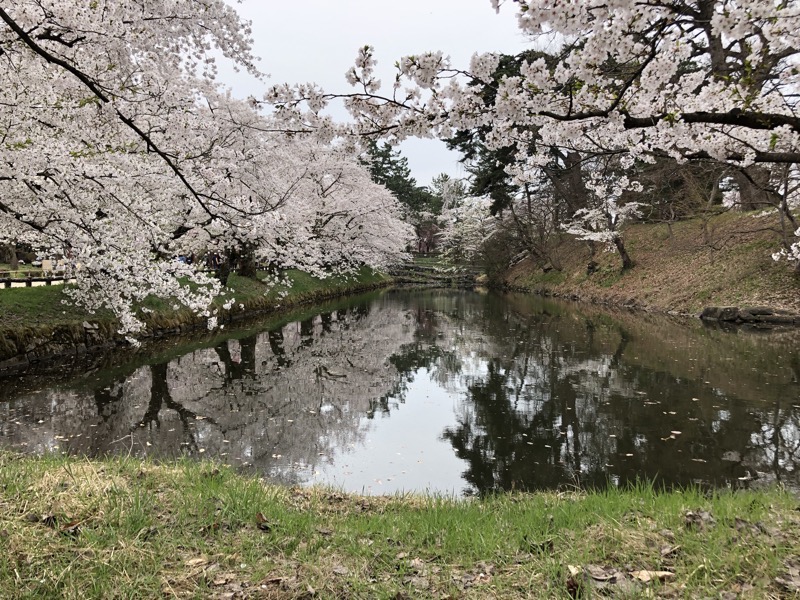 I fucking love this place…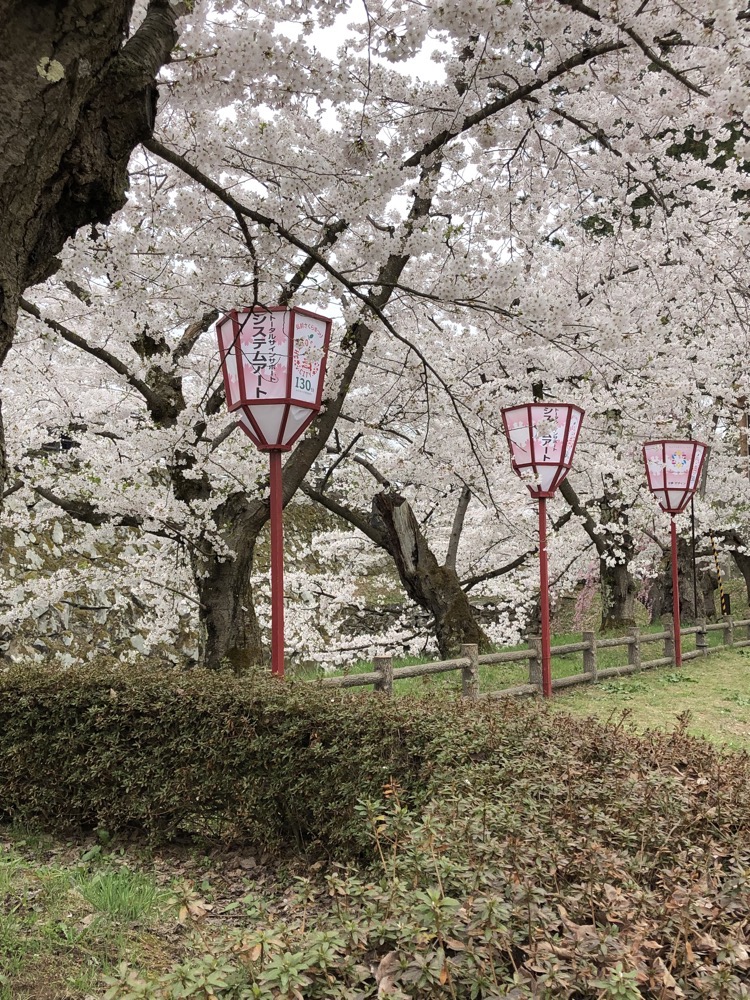 And, I fucking love this man.
Mr K, you and I have spent an amazing and challenging 20 years together.  Some of the trials we faced seemed insurmountable… many relationships would have crumbled under the pressure of seven years of IVF failures, and a decade of living with someone with chronic pain and other chronic illnessness.  You have been my dearest friend and my most unwavering supporter.  You have cheered me when I have been sad or depressed, you have encouraged me when I have been frustrated or overwhelmed, you have loved me when I have been at my absolute worst.  I am sure I don't deserve you, but I am awfully glad you haven't figured that out (yet!).  I love you more and more every day, and I look forward to the joys the next 20 years may bring.  <3