OMG – what a trial.  :/
So, Mr K and I have been looking for a property in Tasmania to semi-retire on… you know the sort of place we can keep working here and there but can live in for most of the year to basically get away from the Queensland heat.  We've put in offers on a few places over the last twelve months even though the market was going through one helluva crazy uptick of interest from Mainlanders wanting to avoid Covid lockdowns, so prices have gone up since I first started pondering this idea about six or seven years ago.  Anyway, we are hunting in the Huon Valley and found a few places that we loved.. there was one 30 acre lot up on Sky Farm Road in Deep Bay with beautiful views down the Huon and a wonderful guy named Jeff selling the place (Jeff lived next door); he already had a contract on it but the purchasers were just having trouble getting finance, so we made a back-up offer in case it fell through.  Seems our backup offer was the leverage Jeff needed to put some pressure on his purchasers and somehow they managed to pull it off at the last minute, so we missed out on that one.  Then there was another gorgeous 30-acre property on Rocky Bay Road (which for 'reasons', I kept mistakenly calling the Rocky Road Property, rolls eyes) with a large flat building envelope and views over the Huon that were to die for.  That property sold for $70K over the asking price within four days of being put on the market!  So we were outbid almost immediately.
And then there was this other place we recently found at Lot 1 Channel Highway, Gardners Bay Tasmania… it is listed as 20 acres (8.33ha) of Residential Land for sale on offers over $275,000.  Which I have to admit sounds a bit cheap for the area and the current state of the market, but we realized pretty quickly that the access needed some serious upgrading before you could get into the place without a 4WD.  So we contacted the agent to do some investigating on our last day in TAS on our most recent trip. The agent didn't show us the place, just told us how to access it, so we put on some walking shoes and hiked up to check it out… about 1.km from the road and mostly 'UP'.
This property too, has water views over the Huon – or at least it would once you built the road in and did some clearing, and was a really cool bush block with some fern-filled gullies and a large enough flat-ish area that could serve as a good-sized building envelope. Beautiful spot and so quiet compared to living barely ten clicks from Brisbane's CBD, next to the noisiest neighbours this side of … well, probably only this side of the Gateway, because let's face it, city living is full of noisy neighbour problems.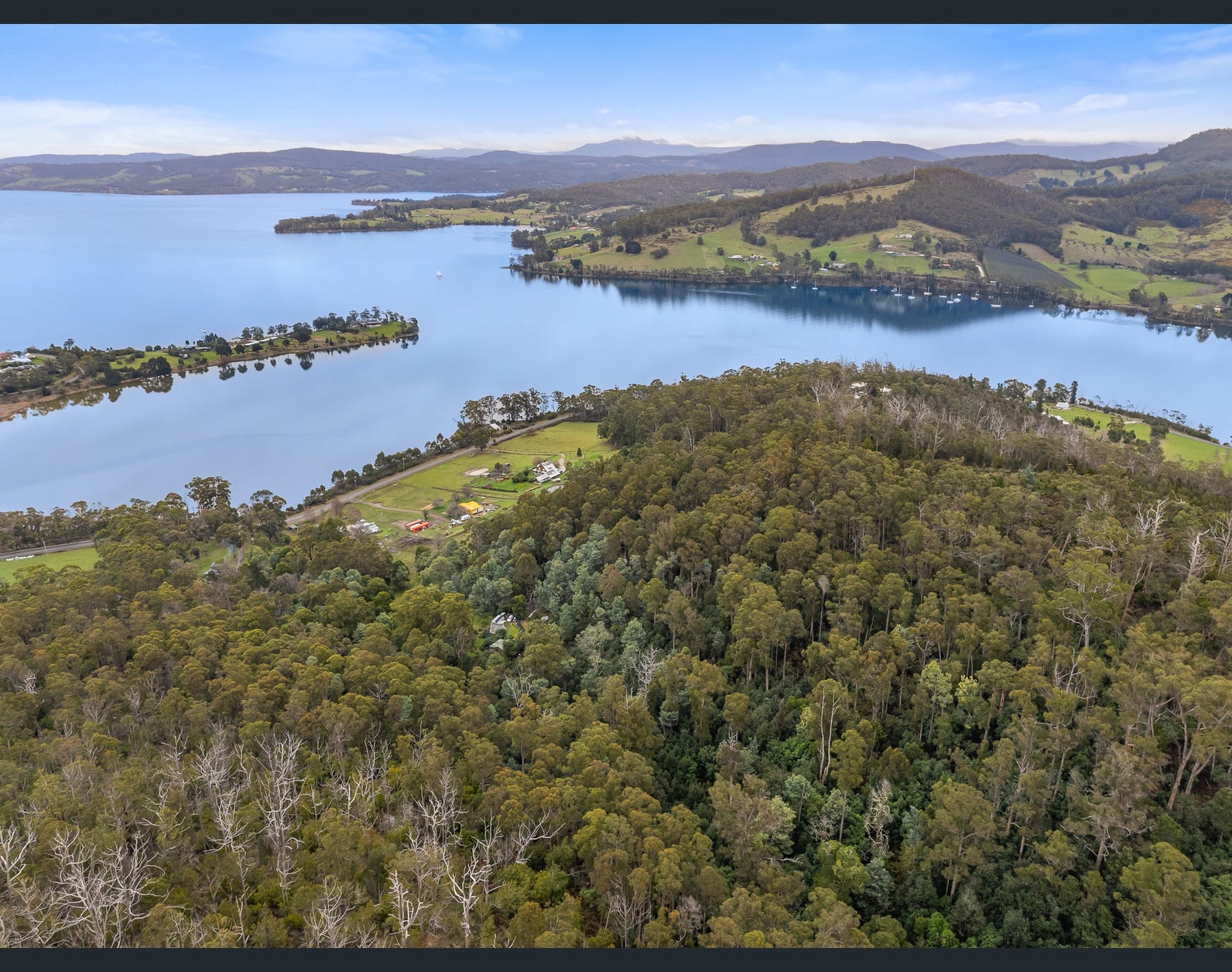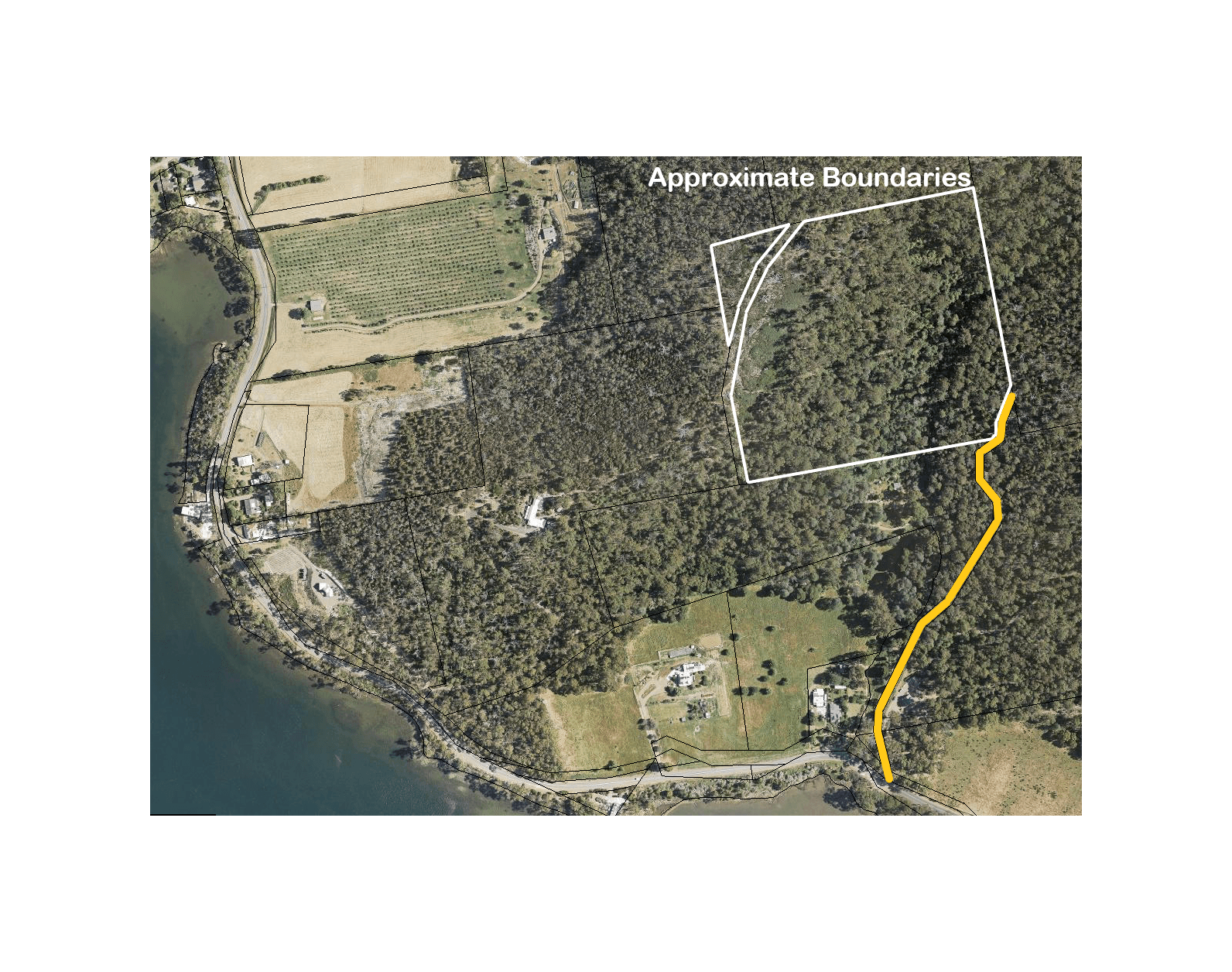 So we made an offer on this property.  Which was initially rejected because we had put a 21 day due diligence clause.  It took the vendors over a week to get back to us to say it was rejected, by which time I had well and truly started the due diligence (inasmuch as I am able considering I am not a lawyer and wasn't in TAS at the time!) by having several conversations with representatives from the Huon Valley Council, the Tasmanian Dept of Primary Industries, Parks, Water and Environment and I even started a dialogue with a local consulting engineer. From what we could find ourselves, the access to the property did look challenging.  Because the property is accessible from a State-controlled Highway, you needed to have an Access License – the existing owner has one such license and we couldn't obtain a copy without requesting it from the current owner or until we were the current owner.  I got conflicting information as to whether this Access License could be transferred to new owners – the State Government representatives I spoke to indicated that it could be transferred (and pointed me to a form and a $99 application fee) but a conveyancing lawyer later told me that you couldn't and that the existing Access License would expire and we'd have to apply for a new one at a $299.00 fee… which is neither here nor there and would be a bridge to cross when it came to settlement (We would have aimed to fill out the transfer form and if it didn't transfer you'd apply for a new one.  Given it's the only possible access to the property – the Govt would be unlikely to deny granting a new license).
The other challenge the property presented was a small segment of 'Reserve Road' which chopped through the property at a rather annoying spot which could reduce the building envelope significantly.  Bushfire planning insists that any building must have a 25m clearance around the house, and none of that clearance may consist of Crown Owned land.  So in the interest of gaining the best and largest possible building envelope, any buyer would likely have to go through a State Govt application process to have the 'Reserve Road' valued and request to purchase it.  I had a few conversations with people from Crown Land Sales that indicated a very high probability of this being doable – especially if you applied for a 'Small Adhesion' to the Folio Plan rather than requesting a Reserve Road acquisition.  I don't have a clear legislative picture as to why this would make it easier or have a greater opportunity of approval, but it seems a 'reserve road' that goes nowhere is not really considered 'reserve road' anymore, so may require less surveying etc if it's considered a Minor Adhesion. Either way, this would have taken about 9-12 months and a nearly $700 application fee for them to value it and hopefully approve the sale before they calculate exactly how much it would cost to buy.  There is no official appeals process for this application should it get refused, but there's often more than one way to skin a cat when you're dealing with Government. So this didn't overly deter us either.
So this is roughly where I'd gotten to when we sent in a counteroffer, we upped our price a little but dropped our due diligence clause to just 7 days – mostly because I had spent the last seven doing a LOT of it myself.  That offer was accepted and we thought we were off to the races!  We then hired a local conveyancing lawyer in Huonville and jumped into the formalities.  Things were progressing pretty much as expected with the conveyancer turning up exactly the things I had discovered (okay, almost as much information as I had discovered but I largely had covered off far more detail in my discussions that he found in his searches.  UNTIL last Friday when we discovered that the ListMAP for this particular property at Lot 1, Channel Highway, Gardeners Bay, Tasmania, property ID 5858700 was WRONG.
The property is NOT zoned RESIDENTIAL it is zoned RURAL RESOURCE.  Which is a massive pain in the arse!  Several years ago, the Huon Valley Council (and it seems many other regional councils in Tasmania) re-zoned huge swathes of undeveloped land from being 'residential' to being 'rural resource'.  This change was ostensibly done to keep the agricultural importance of the area and stop it from being 'gentrified' by part-time mainland owners.  At the time, people who owned properties impacted by these changes could apply to have it zoned back to Residential for a period or time without penalty… or so I was told by one real estate agent last year. Once the period had elapsed, people can still apply to have their properties rezoned back to being 'residential' but it now came with a hefty application fee (several thousand) and no guarantee of success. The more cynical (or pragmatic as I like to call it) may say this was a quick and dirty council cash grab, aimed at absent owners who weren't paying attention, and they're probably not wrong.  Either way, this changed this considerably.  No doubt… NO DOUBT… both the vendor and the real estate agent in this transaction were aware that the zoning of the property was not RESIDENTIAL as advertised, and the push to get a low or no due diligence clause into the contract is a hail Mary attempt to dupe some unwitting buyer.
But worse than this re-zoning application that would be required is the real deal-breaker… the property is roughly 290m x 290m… which is a goodly size.  HOWEVER, the property next door is zoned 'SIGNIFICANT AGRICULTURE'.  So what?  Well, zoning requirements require that any building under the Rural Resources Zoning provisions require a 200m setback from any 'Significant Agriculture Land' even if that's got nothing on it but some cows. So this would mean that the building envelope goes from being at the highest flattest point of the ridge to a narrowish strip of undulating gully.  Not at all ideal and would certainly have presented so creative architecture solutions.    So, we asked for an extension on the due diligence to see what the council might be able to offer by way of remedy (not that we were hopeful that there is any remedy because we are totally unable to exert control over how the neighbouring property is zoned or managed), but the vendor refused the extension which negated the contract – presumably because they knew the jig was up, that we had discovered the block is not just challenging to build on, but damn near impossible with so many restrictions you'll never be able to optimize use of the land, and you'll certainly never be able to build to get any views over the valley.
So, that's been the last three weeks of my life and $1000 of legal fees down the drain… now I just imagine the exciting things I could have been doing instead.