Invariably, transit days are always a horror show. Angus and I were both flying out today – Angus back to Aust and me heading back to the UK, so we packed ourselves up early, went for a quiet breakfast where we ran into the fabulous Holly who was so absolutely exhausted but had dragged herself out of bed in the hope of running into us. <3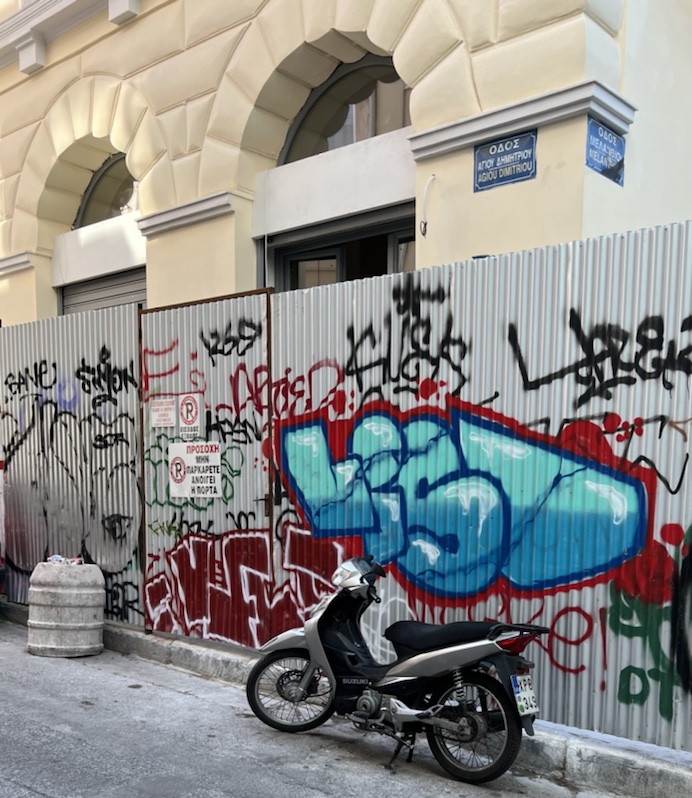 Took an Uber (got a cab, again) to the airport which was uneventful (so long as we ignore that this driver also got up to well over 130 kmph), and then walked into what can only be described as one of the most chaotic airports I've ever seen… rivalled only by our arrival in Moscow perhaps at Sheremetyevo Airport in 2018. At least there were some masks in the BA queue.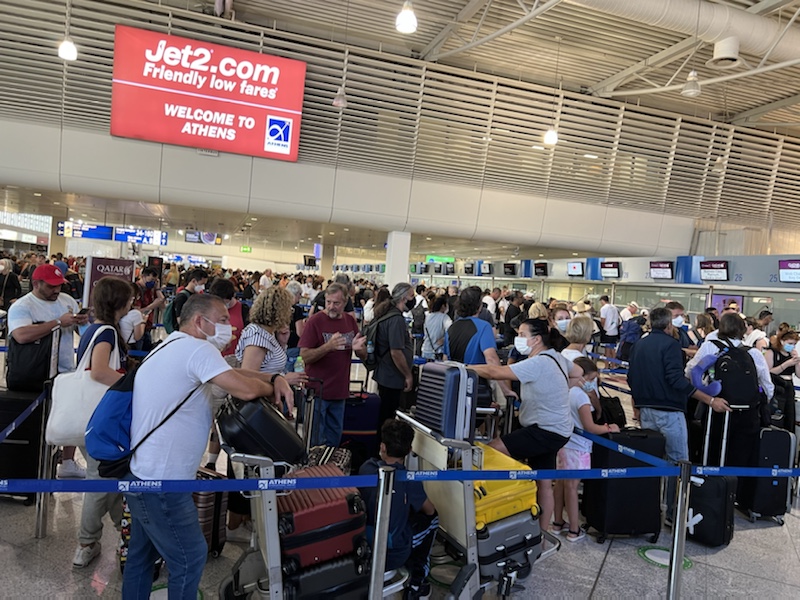 Anyway… turns out all the One World Airlines were in one section and Angus' Qatar flight, leaving 30 mins before mine, was happily in the check-in counters right near my British Airways one. The websites for both airlines said that check-in would be available from 3 hours before scheduled departures, so we joined our respective queues. I was about 7th in line to get checked and the check-in was supposed to start in about 5 mins. Angus was about 40 deep in his queue but it was already moving as he joined towards the back. I stood there (*right about now, I can't remember whether I have mentioned just how much my pain levels were ramped up atm… I literally can not stand for more than about 3 minutes before I find myself shifting from foot to foot, pain shooting from my feet to my hips, my knees feeling like they're going to collapse out from under me and of course I'm inevitably failing to breathe because pain does that to you), with the understanding our queue would open shortly and I would get checked-in relatively quickly – only problem with my cunning plan was that the British Airways staff didn't seem to have read the, 'three hours before scheduled departure' memo and about 25 mins of standing later, I was starting to feel really fucking desperate. I could see Angus moving up in his queue while mine hadn't moved. He texted that he'd get his stuff checked in and then come and stand in my queue for me, but I was like 'holy fuck I better not still be standing by the time he's checked-in'. But, you know, transit days being nightmarish at the best of times, of course I was still waiting when he got through his queue! He took my space while I limped off to the side looking desperately for somewhere to sit. I was on the side long enough to strike up a conversation with a nice Canadian man on his way to Baghdad who was calmly reading and thinking his Royal Jordanian flight wasn't open for check-in yet but as soon as I pointed out the queue behind us, he ran off and no doubt discovered he was now running late.
Finally! BA check-in opened at 2hrs 20mins before the scheduled departure (fuckers!), and it was at this point that the generic BA monitors above the check-in counters switched to say "London Heathrow – Checked In Online" and "Business and Priority Customers" queues… and wouldn't you know it? For some bizarre reason, the One World Sapphire, Emerald and Ruby were showing up as being able to use the Priority Lane and I needn't have stood in line at all. 🙁 Bees dick from tears and collapse at this point. As predicted though, barely five minutes after the check-in opened, Angus was up the front on the queue and I limped over with my passport.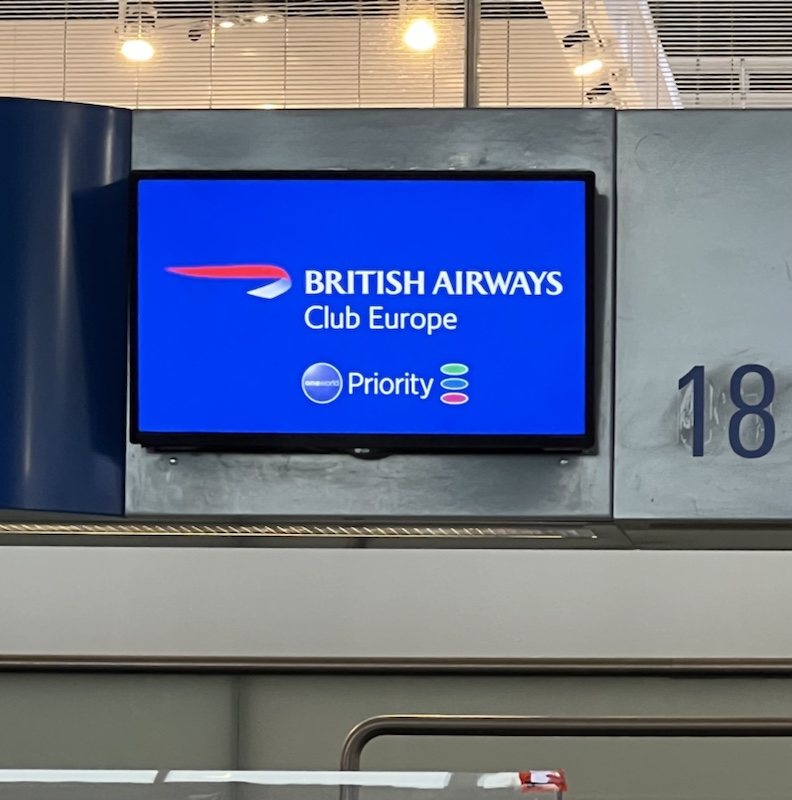 Got checked in and the woman behind the counter asked me if I was okay (What gave me away… the hunched over pained posture? Or the flushed face with tears forming in the corner of my wincing eyes?). I replied that I needed to rest and now I had two hours before my flight so I'd be fine – which is when she mentioned the stairs. My flight was leaving from a 'remote terminal' which is a euphemism for taking a bus to the middle of the tarmac and climbing a steep flight of steps to get on the plane. Oh FFS. I had to say 'No. I can't do steps today.' :/ So she insisted I get an airport assistance person to lead us through to the gate.
I took up my seat again and we waited for the assistance person – policy is they won't just give us a chair and let Angus push me through screening etc, I had to wait for them to have a staff member spare… and nothing about Athens Airport was screaming 'competence' or 'well-staffed' on this day. There was another young woman waiting for assistance also – she wasn't in pain, but had her foot in plaster and was hobbling on crutches so they were making her wait for help too due to the stairs. Eventually… like about 45 mins of sitting around… someone turned up with two chairs and attempted to push us BOTH at the same time through customs and security. It was shambolic – he kept running us into people and nearly into walls while Angus was trotting on beside us and could have easily guided one of us. :/ Some policies are just stupid.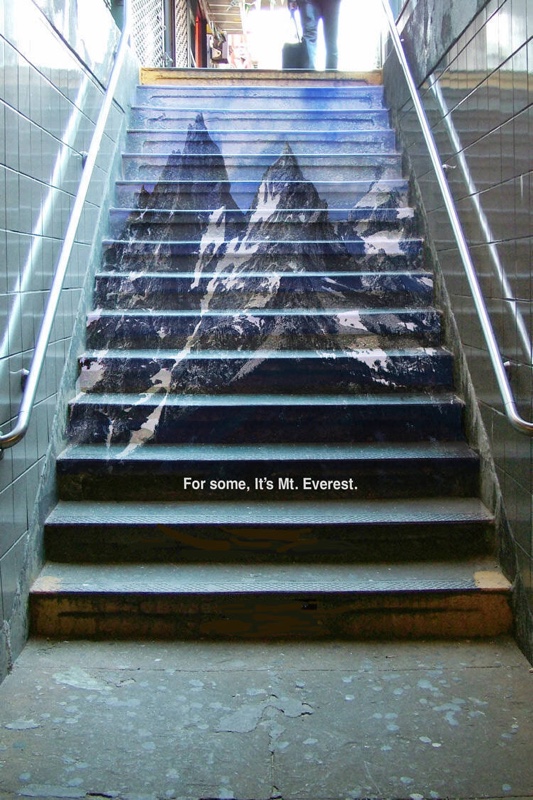 To their credit, we found ourselves through security and customs in very quick time, Angus' gate was off in another direction and I barely got to say a quick goodbye and squeeze his hand before I was being propelled towards my gate where I was unceremonious left 50 mins before my flight… which left one hour late. 😐
It was during this time where I was left twiddling my thumbs that I received a handful of WhapsApp messages that basically told me my driver that I had booked to take me to Aylesbury was ditching the job… oh dear, it's almost like he had belatedly discovered the planned rail strike (the same one I had a heads up on some two weeks earlier) and decided to ditch my booking in favour or screwing some desperate traveller who suddenly found themselves without options to get home! What the fuck, man? I made the booking days ago, it was fully paid for and now the driver is trying to say I gave them a different postcode? Seriously? The postcode I gave them in Aylesbury is the ONLY damn postcode in the entire UK that I know! So I'm pretty sure I didn't give them one only 18 miles away and not the 44 miles I needed to travel. So didn't need this aggravation.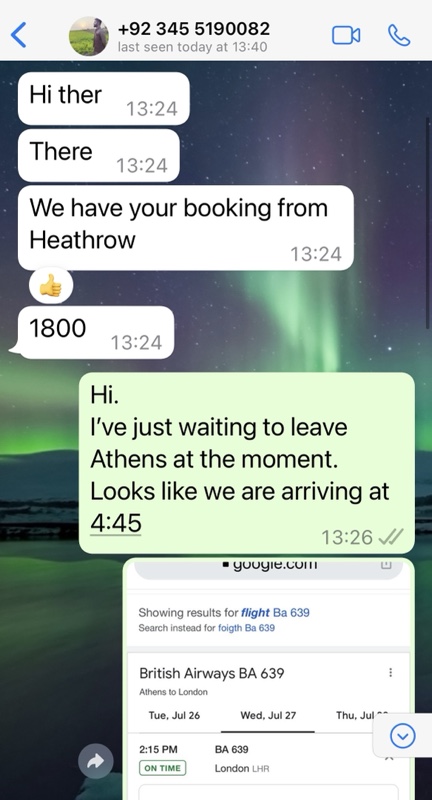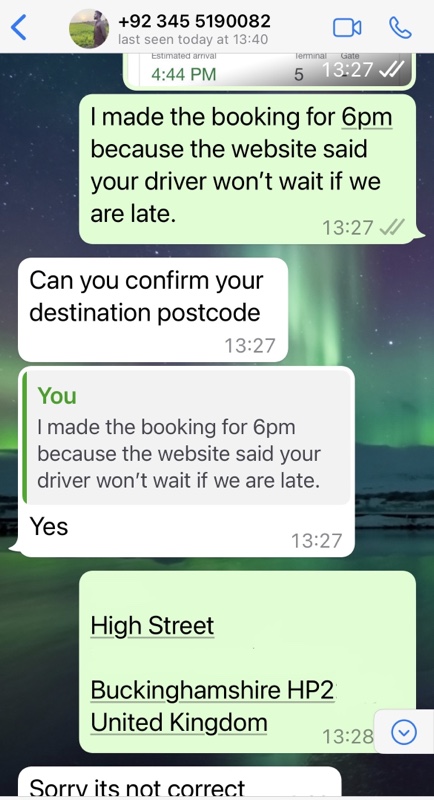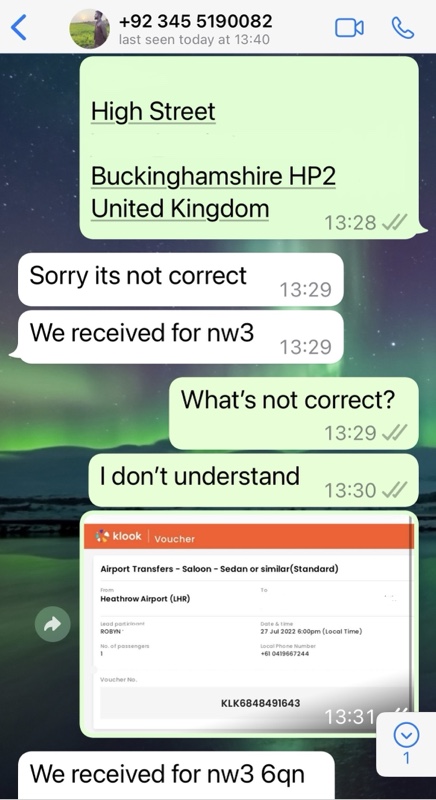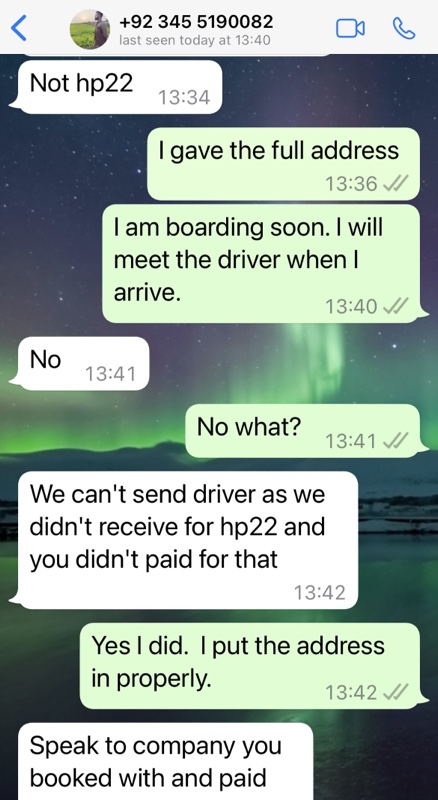 Got onto damage control real quick and made alternative arrangements with Stephola and figured I'd fight it out with the transfer company fora refund later. The motherfucking dodgy personal transport industry strikes again! Le sigh. Eventually got on the plane and, as I said before, our flight left one hour late – most of which we spent sitting in our seats waiting to get a new space in the queue to leave… air travel is definitely not what it was pre-pandemic. So much rolling of eyes, and even more 'hurry up and wait' than ever.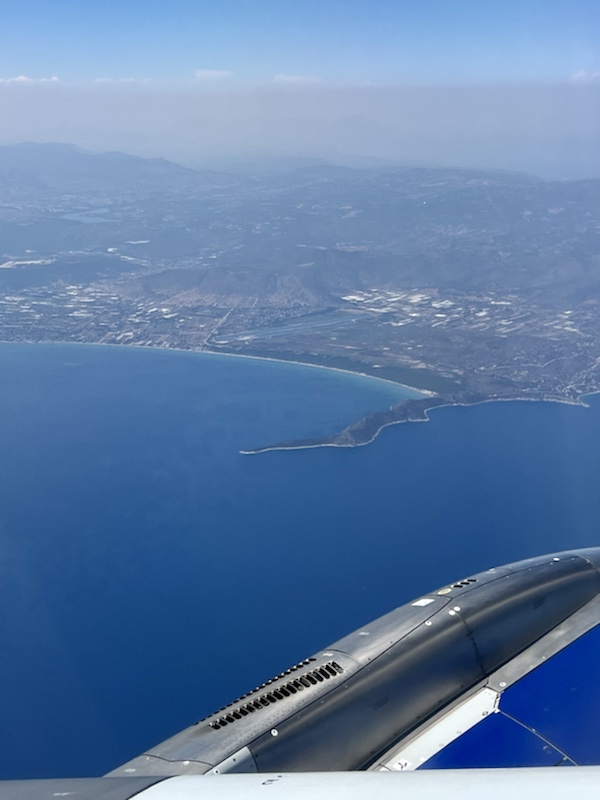 My flight was thankfully just how you like them – uneventful. British Airways has slunk the way of Jetstar and other budget airlines though… not even a cup of tea without whipping out your credit card if you happen to be seated in economy; which is kinda sad. They used to be a pretty reliably good airline.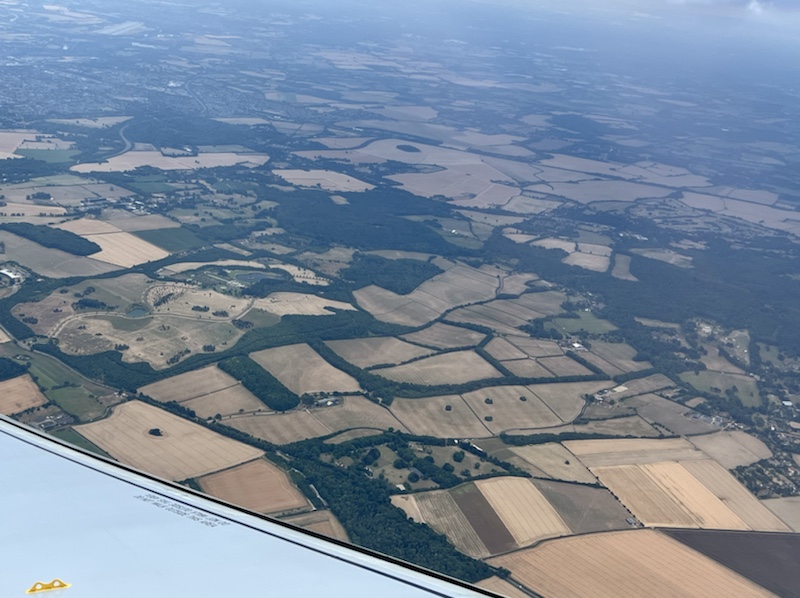 Arrived in Heathrow, and unsurprisingly, no one was there to assist me as I was promised on the other end so I limped my wait through border control, baggage collection, out eventually out through a two minute stop in the duty free to fix my driver up with two bottles of interesting gins (It was the least I could do on such short notice)… out and straight away I received a message from Stephola saying she had just parked. Thankfully my luggage made it, and thank God for Steph – there's not many I happily pick up at the airport, but Steph will always have a lift from me forever. <3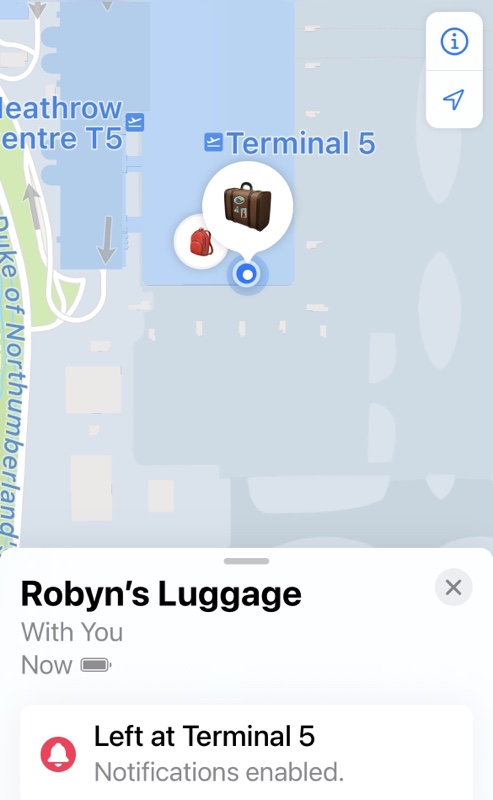 A quick hug, and out of the city we head to the comfort of the village… ever such a long and painful day. Further reinforcing why, 1) we do NOT sightsee or go touristing on transit days and 2) we always, (always!), travel with our drugs on our person not in our checked luggage!