So, as per the aforementioned Plan, we start getting everything in place and I can't wait to put fucking Russian-bogan Gold Coast in the rear view mirror! We check out from the hotel and are waiting in the reception area (yay, belatedly back on the functioning internet), for our driver. I get a message in garbled English and immediately think, 'Oh fuck, please don't ditch the job!' Hmmm… my lack of faith in passenger transport companies is showing. Angus and I are carefully inspecting everyone who pulls up outside or walks into the hotel reception. Angus is like 'Is that him?', 'What about that guy?' But my finely tuned sense of 'what drivers look like' goes, nope, nope, nope…and finally 'Yep! That's him. He's got the finely tuned bod of someone who spends their life on their arse in a car eating whatever crap they can pick up on the way – never mind, we are just thankful he's turns up.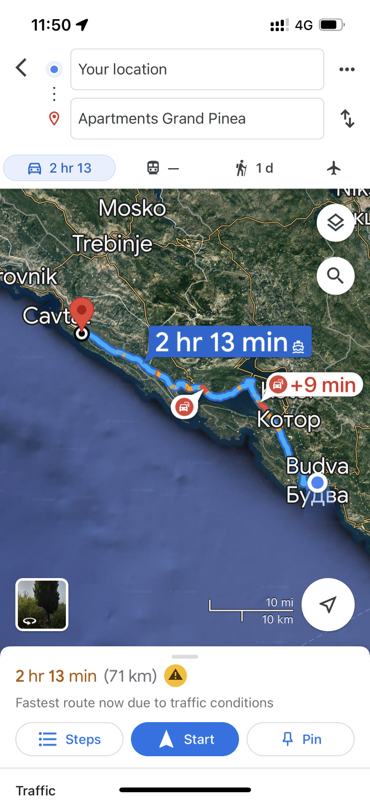 Traffic promises to be a right pain in the arse, but at this point, I don't care – if the driver had failed to turn up all the rest of the plan falls on its arse and I'd be trying to cadge an Taxi for a 71km trip, in a country that doesn't have Uber. Part way through our transit, just as we are leaving Montenegro and entering Croatia, Angus gets an email from the Montenegrin Health Advisory letting him know his PCR test is definitely positive and could he please let the know what his symptoms are. I'm not paying much attention to this (and I'm not sure he responded?), but the boys message us on WhatsApp and tell us they got the same email. Oh well, onwards to Croatia we go.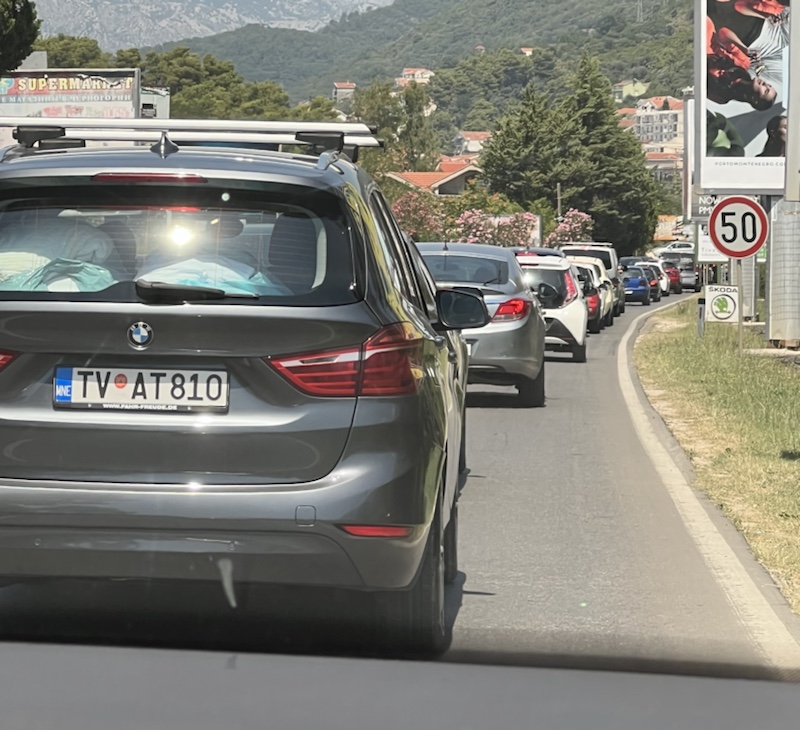 We get to the apartment that we booked near the Dubrovnik Airport around 2pm and Angus immediately crashes in the lounge – He's happy because the internet is about 20Mb and I'm happy, because I finally get a room to myself with an independent air con system, so we are finally able to take our masks off for a few hours.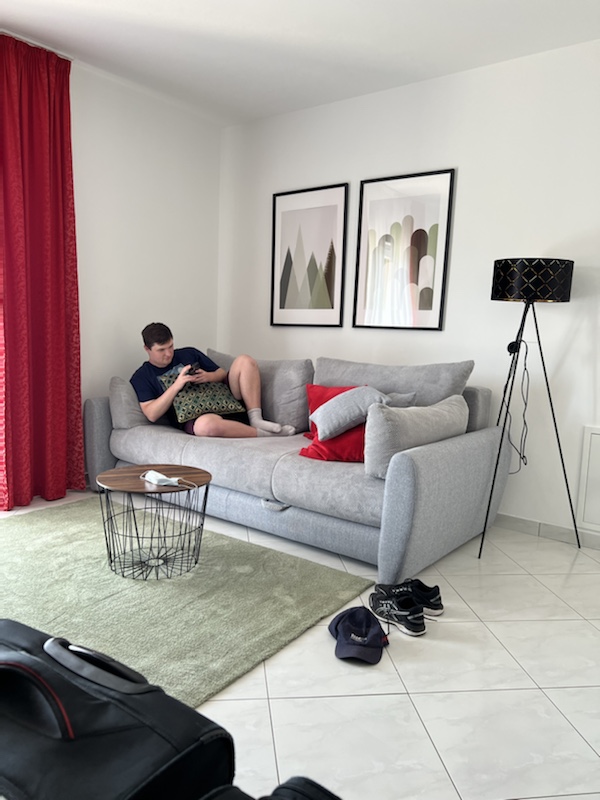 The view from the balcony was particularly lovely, and while it might be a nice spot to spend a weekend if you were totally self contained, there are zero restaurants or groceries anywhere nearby and once more we are on the second floor so I'm being maddened by flights of steps yet again. Angus finally gets hungry enough to go off in search of someone to order a pizza for him… and our B&B host happily assists him. The pizza was pretty good actually – though I am sick of eating bread (I rarely eat bread or bread products at home and it's making me feel just ick). At some point in the evening we realise the A/C is pretty shit and it's actually now cooler outside (wasn't when we arrived, it was 39C), so we throw open all the windows and try to get a cross breeze going.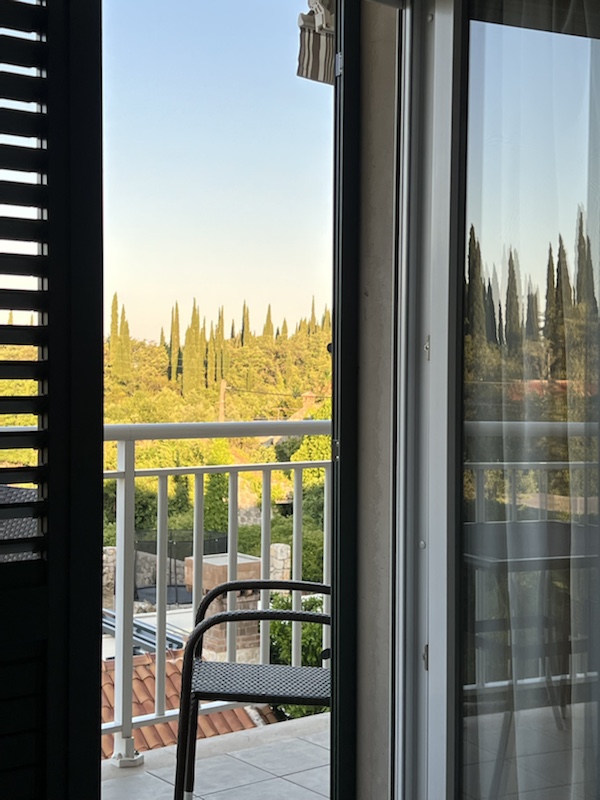 Next morning, being Sunday, now that Montenegro is in the past and we are in the far more civilised country of Croatia, we call an Uber and make our way to the airport. Out AirBnB host assured us it was a tiny airport and there was no reason why we needed to be there two hours early as the lines are always short. She was wrong and we are glad we ignored her. Angus stood in line with all the mouth breathers in his mask and I waited on the sidelines for us to get to the top of the queue to get some boarding passes for our extremely expensive flights. There was barely a mask to be seen in here which is kinda infuriating… but we kept ours on.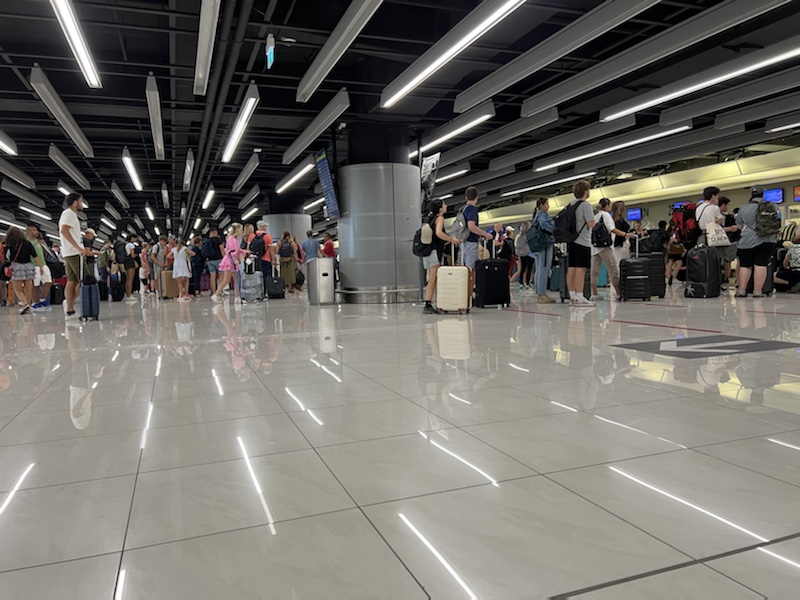 Waiting at the gate was an experience I really hope never to replicate. I had the misfortune to sit myself down beside a young Australian guy – roughly about Angus' age, and I couldn't help but hear his conversations – firstly on the phone with his girlfriend, and then with his mate. I was disgusted to hear how they were talking. The guy was on his phone speaking with a woman who was obviously his girlfriend, and he was all, "I miss you and I love you so much, I'm being so good while I'm away babe… Brendon, though, Brendon is being a total man-whore, but not me!" He was cloyingly saccharine and sounded completely insincere from where I was sitting, (though that may have been coloured by my inherent dislike of people who speak at annoying loud volume in public spaces). Anyway, he gets off the phone with the GF and starts talking to his mate, who I am going to presume is Brendon. Brendon proceeds to show him a picture on his phone of a table full of good hearty Mediterranean food and was saying, "Man that was an awesome meal, so fucking tasty even though I threw it all up later. Haha!" Urgh… I'm surprised they couldn't feel the disdain oozing from my pores, but I guess that would mean they'd have to pull their own heads out of their arses long enough to notice there are 'other people' nearby. Next thing Brendon is pointing across the gate and saying, "Oh fuck, don't look, don't wave, it's Emily and them, I don't want them coming over here. Look at them – fucking nerds in masks and shit." … breathe Robyn, breathe… they're not my responsibility. Then Brendon with the Food Photo says to BoFriend of the Year, "I can't believe she's wearing a mask when she was happy rawdogging you all last week! Hahahaha!" BFotY then jabs Brendon in the guts and says, "Don't you ever tell anyone about that, ya cunt." And they carry on a bit more like that as we are boarding the aircraft and they decide not to get up and wait in line like 'fuckwits', but to cut in when the girls they are trying to avoid make it towards them. Ugh. Two more gross young humans I could never imagine… I bet their parents are so proud. 😐
Anyway, I digress, we wait at the airport and eventually get onto our Aegean flights and thankfully it looks like our luggage is coming with us.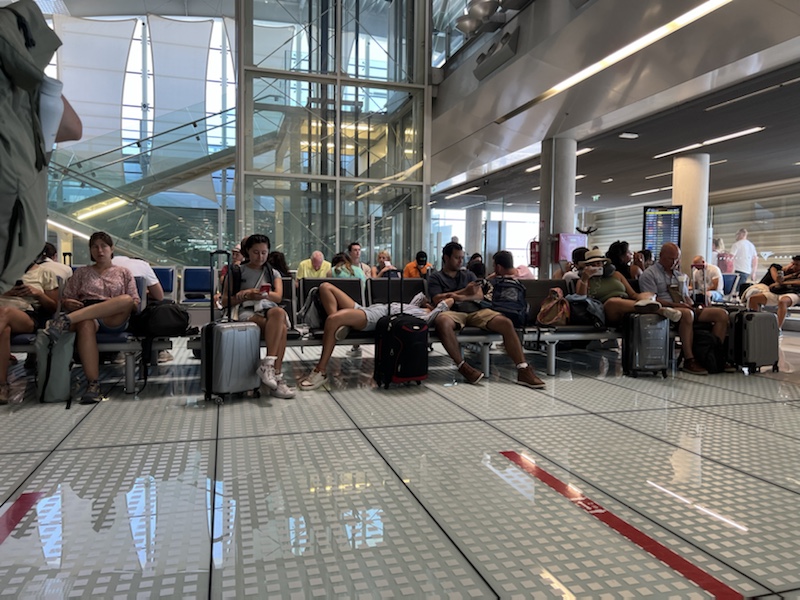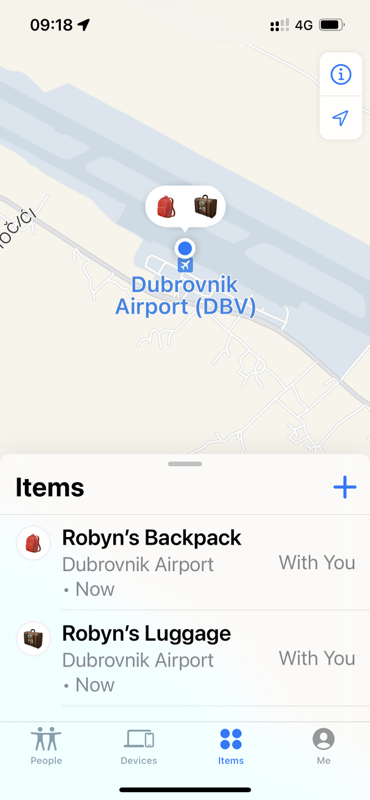 It's probably quite a nice view if the windows were cleaned, like ever. Aegean isn't the worst airline I've flown, but it's definitely not my first choice – our other option though was to fly Turkish Airlines and go Dubrovnik > Istanbul > Istanbul > Athens, so here we are.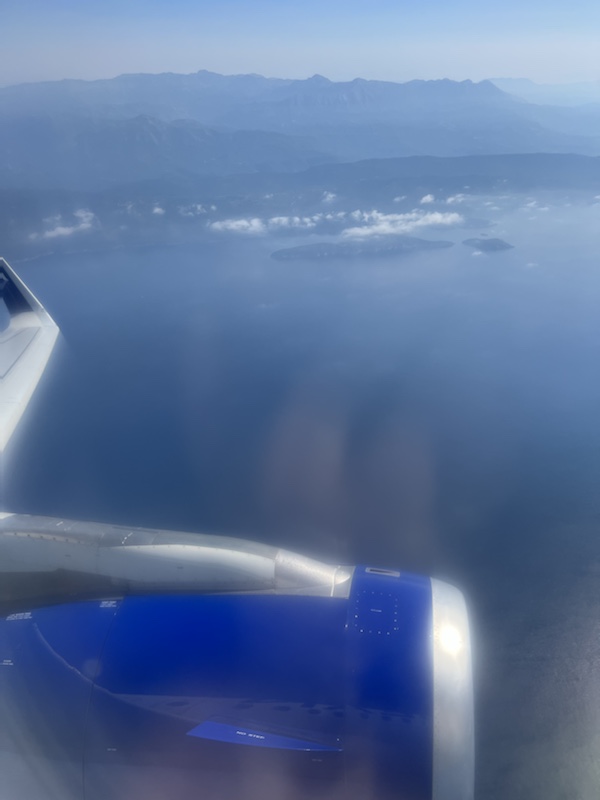 Athens Airport – greeting us with a n information point that was a decidedly unhelpful Google search page. We didn't have too much trouble getting through customs though we were vaguely wondering whether Angus' Covid positive status was attached to his passport at all given he'd had to provide it as ID when he went for the PRC test. At some point while we were in the air, the Boys back in Budva and Angus all receive an email telling them they need to isolate for seven days?! WTF Montenegro??? You can't PCR test someone on a Friday and then tell them on a Sunday they can't go anywhere… that advice probably should have been given at the time the test was administered! Now the Boys in Budva were starting to make noises of serious buyer's remorse – they were possibly going to be stuck there for an entire week, and were wishing they'd bailed with us!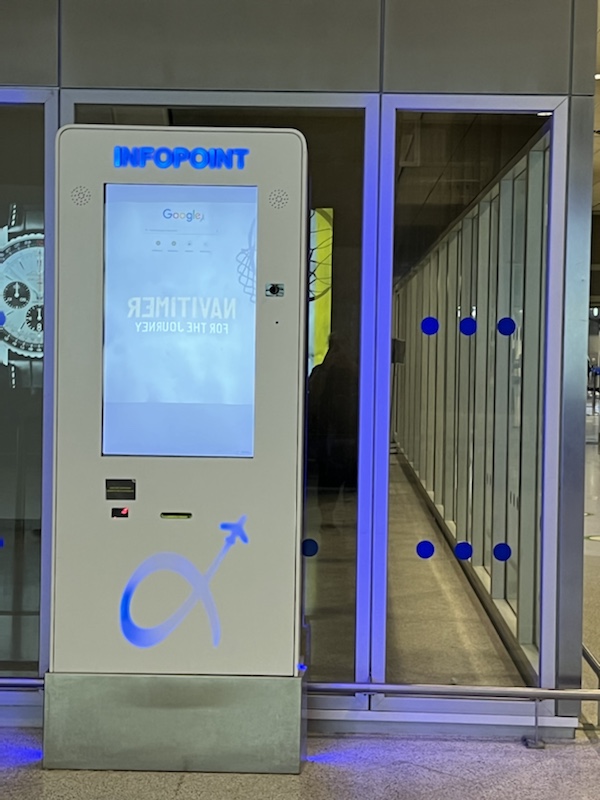 Customs was okay, I managed to limp through to baggage claim and thankfully our bags had made it with us (yeah, the faith is really gone on that one, thanks Lufthansa!). We then find ourselves ordering an Uber – I still feel dirty every time I do it, but here it turns out most of the Uber drivers here are in branded taxis anyway – so I guess it's at least one way of knowing exactly how much your trip is going to cost you before you get in the car. We give him the name of the hotel in Athens, it's about a 35-40 min trip and I sit back thinking I can relax for a bit… we're nearly there… we're nearly there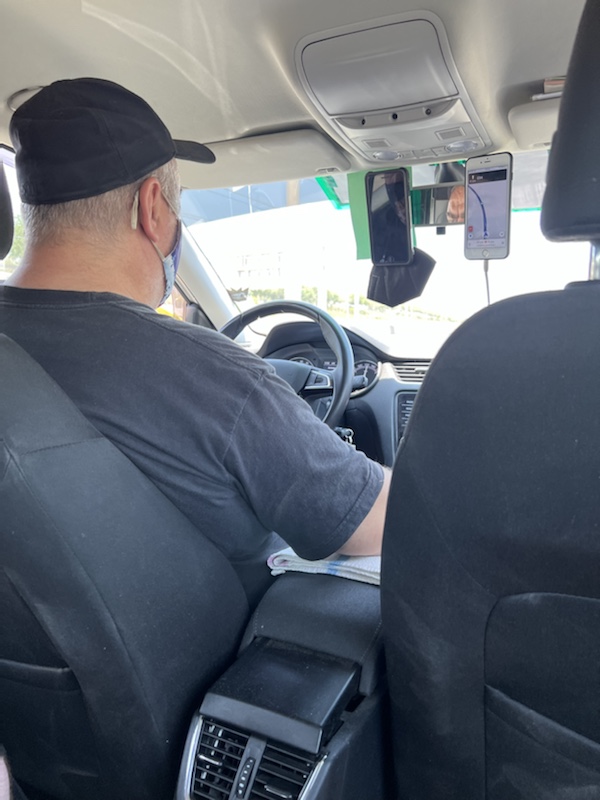 Until we hit the highway and I think, shit 'we're going pretty fast' and look over and see the driver is doing well over 140kmph in a 100 zone! I double check my seatbelt and make sure Angus has his on before grabbing my camera to take a snap. I manage to just grab a pic just as HE'S SLOWING DOWN TO 130KMPH TAKE AN OFF RAMP. Fark.. no wonder you only had a 4.87 rating, Besian!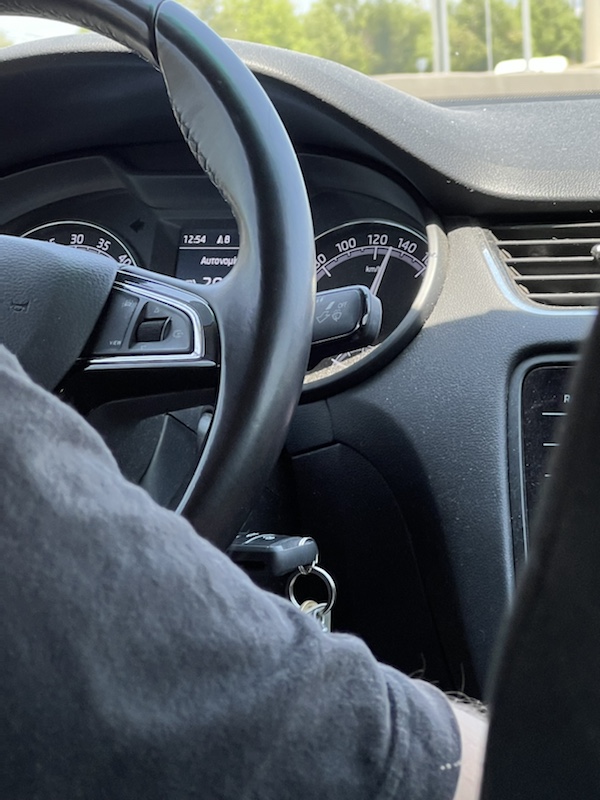 Somehow, perhaps by magic or the gods finally taking pity on us, we make it to our hotel without incident and check in. And immediately I feel half my stress melt away – this is immediately followed by a conviction that this is now when I'll get sick for sure. Running on cortisol and adrenalin for the last couple of days has not been fun; now I'm stopping, that's when it'll take me down.
We get into the room and immediately make ourselves at home by moving all the furniture around so that my bed is as far away from Angus' as possible and our heads about 4m apart when sleeping. We send Mr K a proof of life pic and then back on with the masks and a well deserved nap.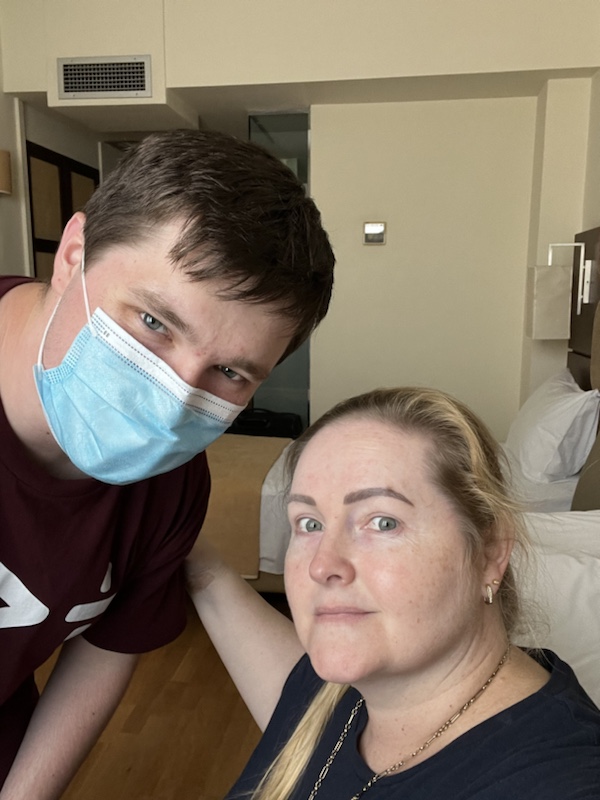 In the interim at some point, Mr K has googled up the hotel and found out it has views to the Acropolis, and sent me a message asking if we can see it: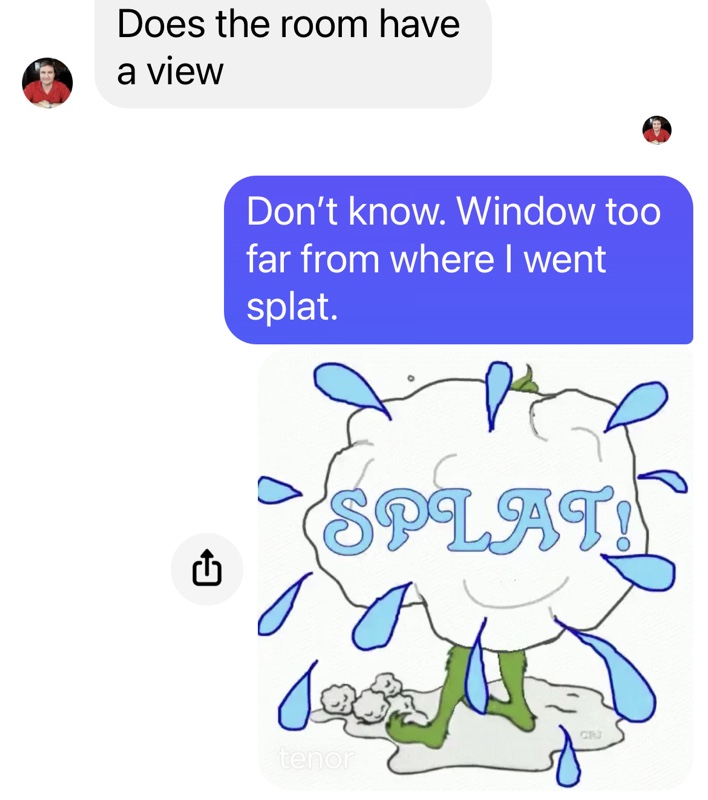 Like, literally my head is beneath the window in question, but I had zero energies to get up and check.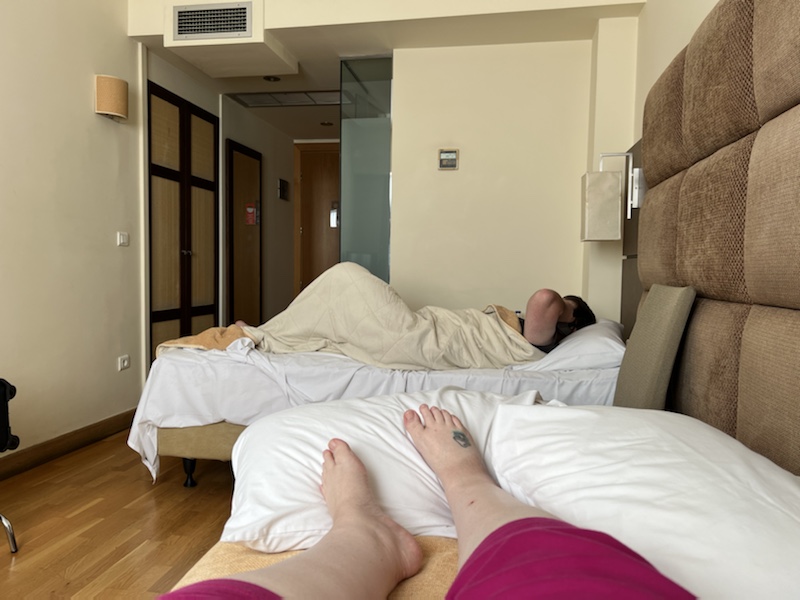 We spent Sunday, Monday and Tuesday nights in the Athens Hotel. Angus was feeling quite a bit better and hadn't had any fever since a slight temp Sunday morning… while I was going slowly mad wondering when I was going to come down with it.
The hotel was good, we had breakfast included in our rack rate but I'm not a big breakie eater so I had my cup of tea and some fruit for breakfast, and I pulled out the old backpacker habits and managed to squirrel away bread, butter, ham, cheese, boiled eggs and feta each morning so we didn't have to worry about lunch. Also got to know Wolk really well (Greek MenuLog) and had some nice souvlaki and grilled skewered things ordered in at dinner times.
So here we are staying until Wednesday when the transfer hell will start all over again.