So much happened today, I had to break all the photos into two posts!  After Pompeii, we took a drive down the Amalfi coast to Sorrento.  All I could really remember about Sorrento from my last trip is that there were lemons, (which means limoncello), lots of bright and gaudy ceramics (almost as bad as Port Merion), and there were these inlaid wood jewellery boxes that were well and truly beyond my means when I was travelling in my youth, a la Top Deck!   I also remember the drive in and out of the place, and an incident on the way home from a nightclub where one of our fellow travellers was yelling at a taxi driver to slow down on the crazy hairpin turns and then the drunken idiot decided it would be a good idea to pull on the steering wheel of the car!  Yeah Quentin, what a wanker – don't miss that particular waste of carbon.
Anyway, the drive down today was spectacular and happily devoid of anyone trying to kill us.  We did a bit of 'speed landscape photography' on the way given there were very few safe places to pull over for photos…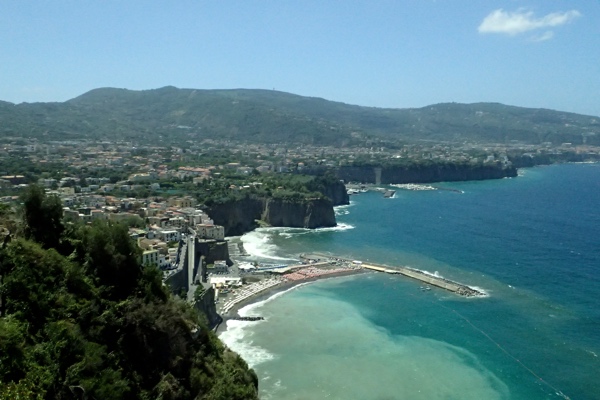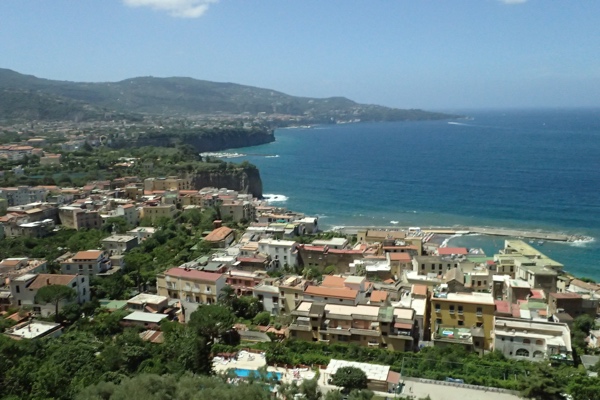 The town of Sorrento is pretty much as I remember… quaint winding streets, lots of cafes, lots of restaurants, lots of lemons, lots of ceramics, lots of scooters and lots of tourists.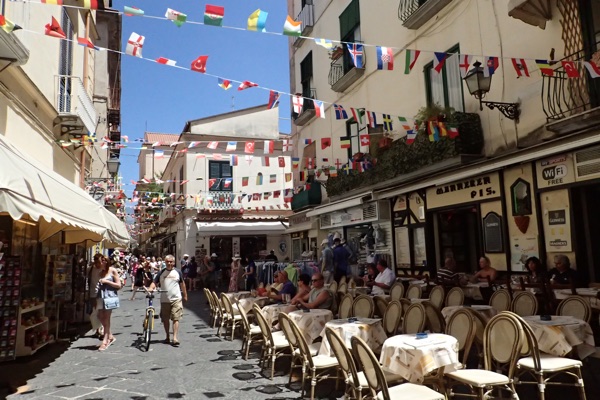 We stopped and had lunch at a fabulous rooftop garden restaurant before having a short wander around town.  AuntyMary ordered the ENTREE sized antipasto (it was enormous!), and we had a seafood risotto and some cannelloni all to share.  Absolutely delicious.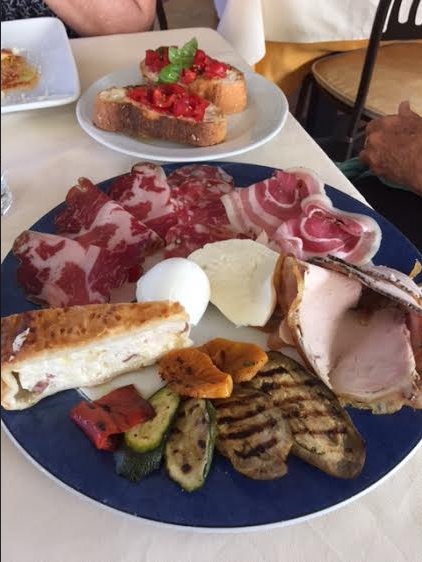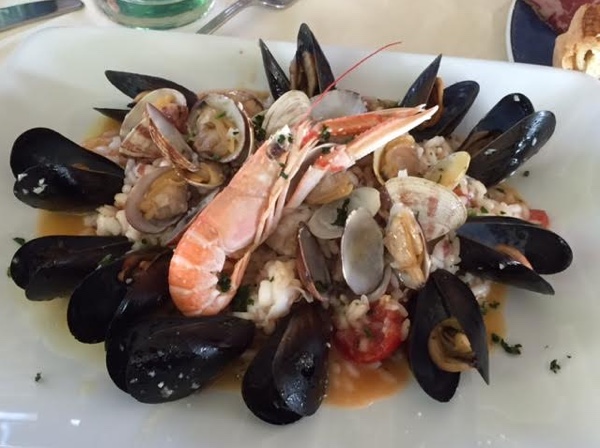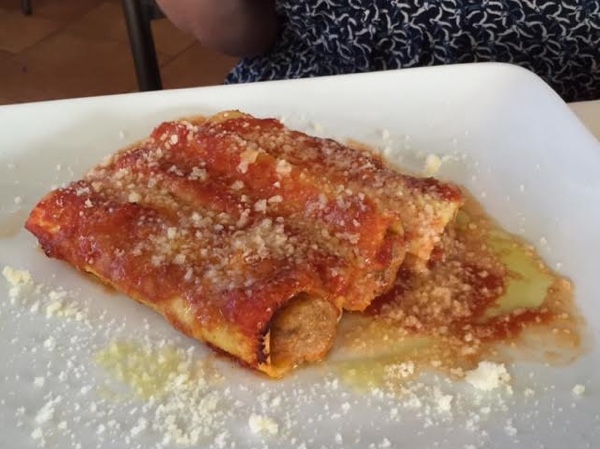 'Ciao bella!  Want to see my scoot?' *wink*  #WorstPickUpLineEver  #PreHashTag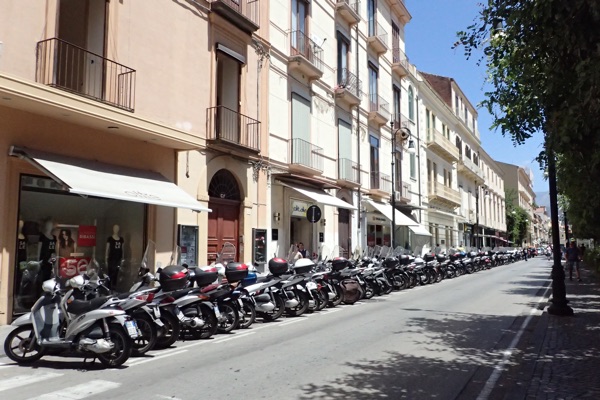 All the ceramics – and there were plenty of stores just like this one…!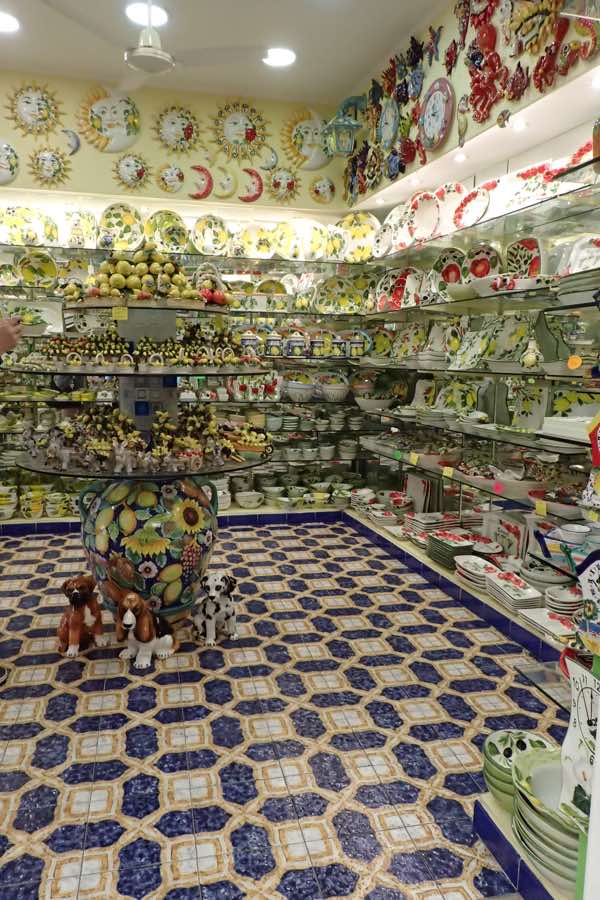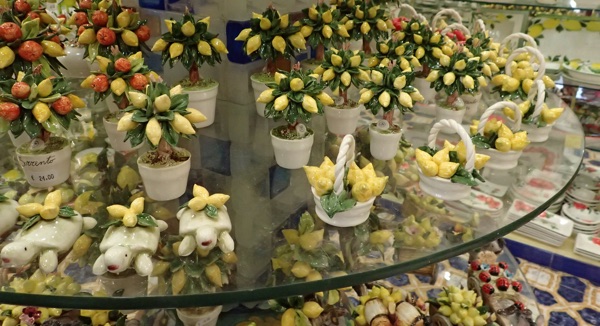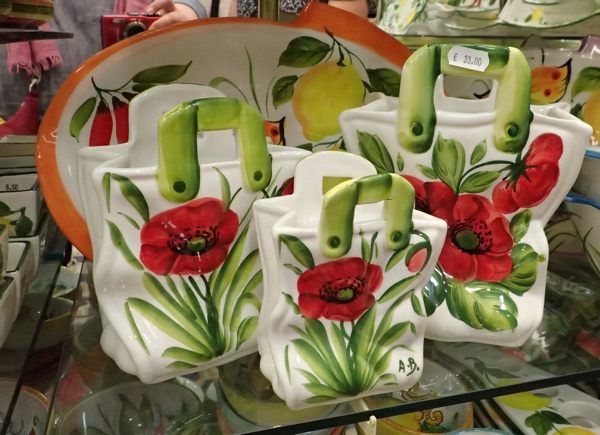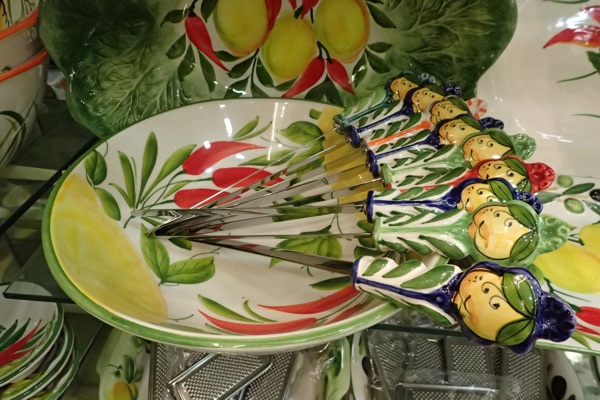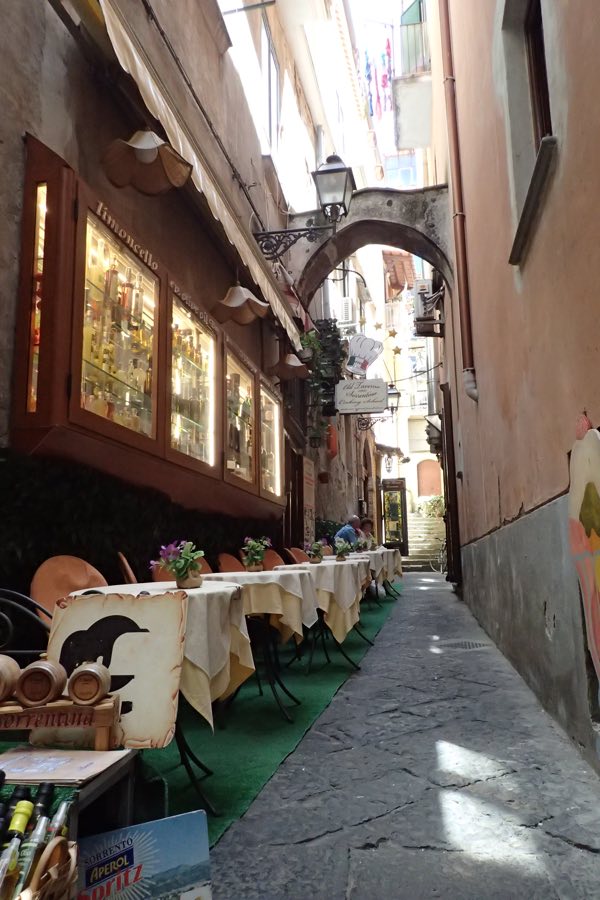 Oh and did we mention the lemons?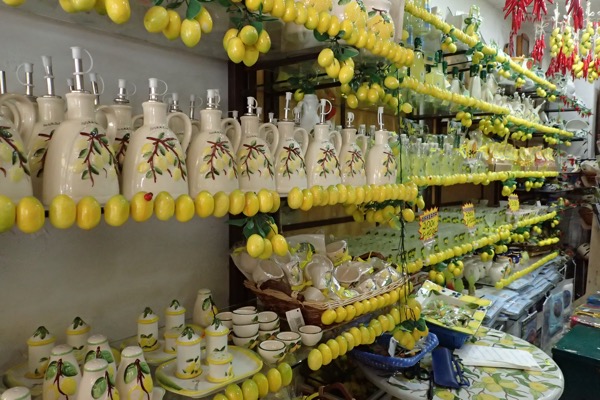 Sorrento; where even the graffiti is sweet…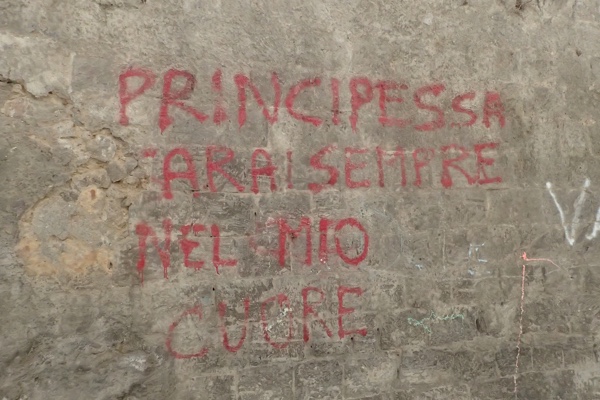 After leaving Sorrento, we followed along the Amalfi coastline to Positano, for more hair raising twisting and turning mountainous roads with stunning views of the sea.  The colour of the water in this part of the world is simply beautiful.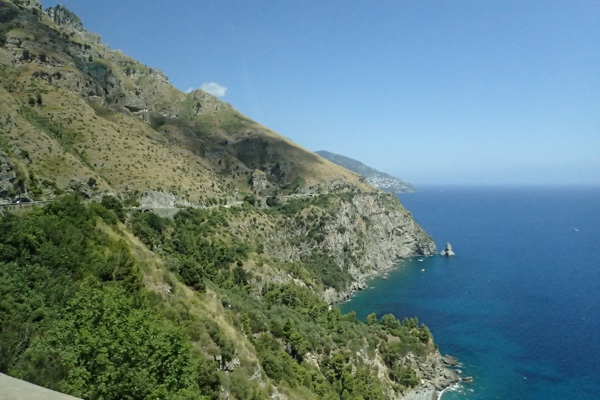 You can see the road winding along the edge of the cliff.  Our driver obviously knew the area very well, and was confidently cutting back and forth on the hairpins.  There was more than one passenger feeling a little nervy about the drive though!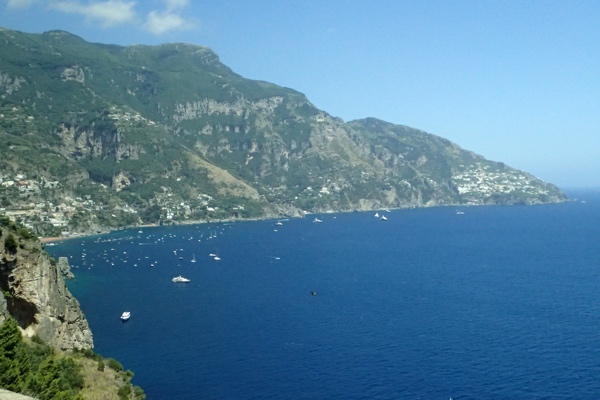 The bay at Positano.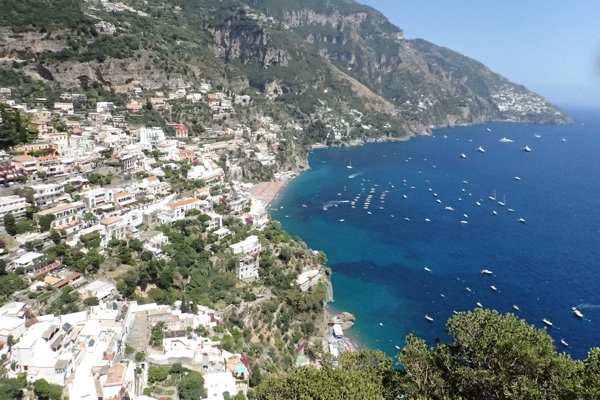 Positano is a bit of crazy town.  It's another 'playground for the rich and famous' type of place, and attracts many visitors every year – in fact, I feel many more than the little town can comfortably accommodate  It's perched on? hanging off? the cliffs with crazy meandering little streets all leading down towards the beach.  It's full of art galleries, jewellery stores, resort style clothing and of course – FOOD.  So many cafes and restaurants and all designed to best maximise the view.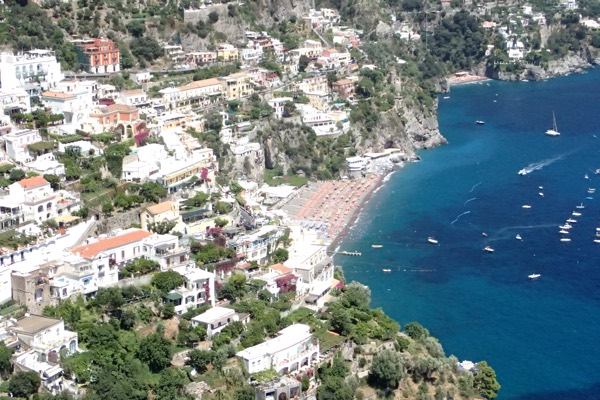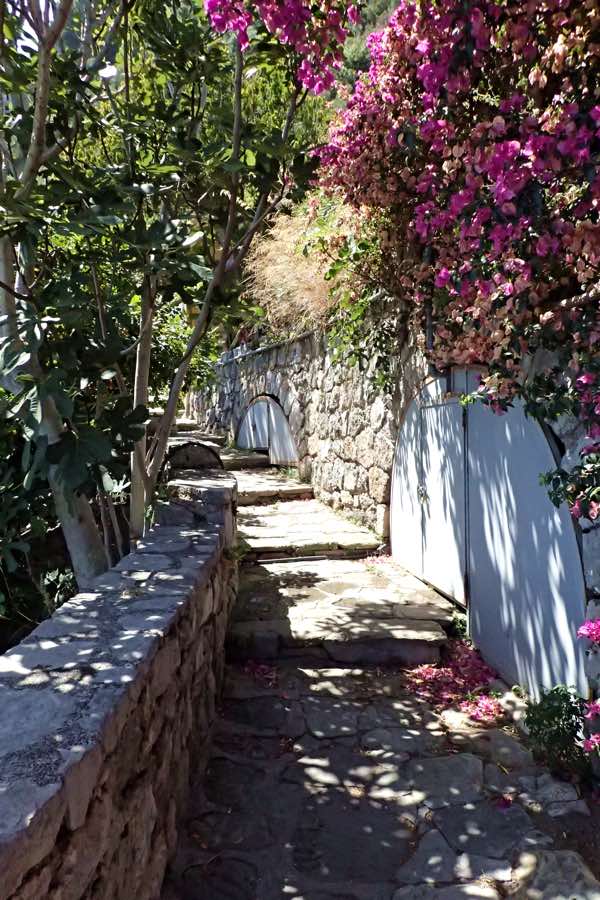 Wonder what real estate goes for in this area?  Mind you, not sure I'd ever want to live here, the beaches are all pebbles, there's no where to park and everywhere there are soooo many steps and steep roads to the water.
All the towns along the Amalfi cost have their own nativity to the Santa Maria to keep them safe…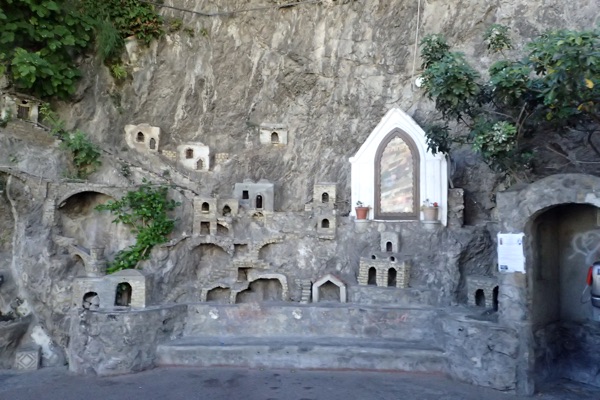 Such a cute town, and such a building challenge I should imagine!