Today we were on Sicily, in the port of Messina.  Messina is a city of some 250,000 people with a breathtaking natural scenery, an impressive architectural heritage an ancient history.  It also has a a series of recorded natural disasters which Messina has managed to weather – including a very serious earthquake that turned into a tidal wave in 1908.  Evidence of buildings affected by the earthquake (or not re-built since) dot the town of Messina. There is plenty to see and do here but we had put our day in the hands of Matteo and Antonio to guide us to a little town called Taormina, to find a very well reputed restaurant called Taverna dell' Etna, in search of some good, authentic Sicilian food, followed by a little shopping.
Our driver Giovanni drove (exactly as you would expect an Italian to do – at breakneck speed and with a supreme almost zen-like confidence) through the winding hills to the town of Taormina which is a world regknow resort situated approximately 700 feet above the sea level.  The gorgeous little town has been a famous resort since Roman times and has superb views over the Bay of Naxos in the east and the equally impressive Mt Etna volcano in the west.  
We found our restaurant, after a somewhat 'interesting' drive through the winding mountainous roads, and were led to a patio with magnificent views towards the Mt Etna.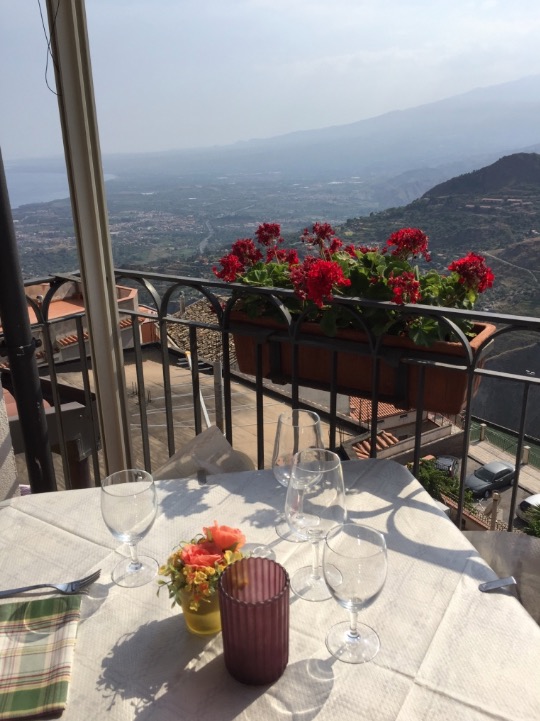 The view from Taverna dell'Etna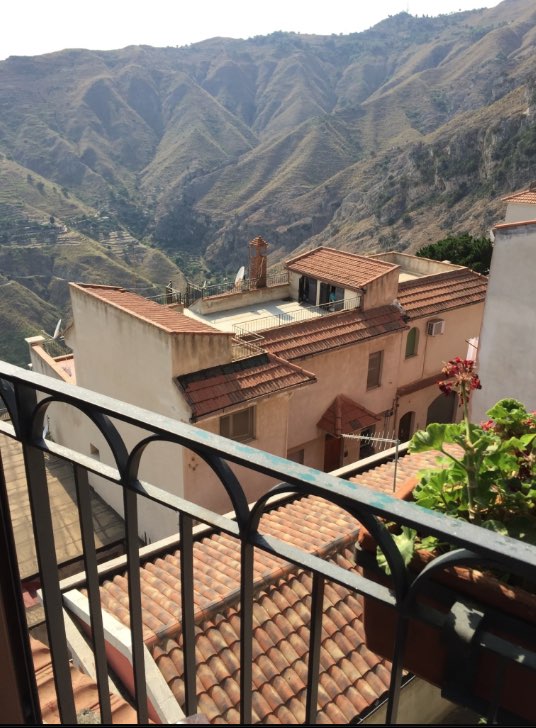 The restaurant itself didn't exactly have the most sophisticated decor, but then that is often the case with little hidden gem restaurants!  It was late afternoon by the time we got there for lunch, but they were kind enough to stay open.  We were so hungry, would you believe – I don't think anyone took even so much as a single photo of the food!  We tried local calamari, fresh anchovies, prawns, mussels, clams and octopus dishes.  Some lovely fresh salads, several absolutely delicious pasta dishes – one with pumpkin, buffalo cheese and who knows what other yumminess, as well as some mixed grill.  The food was fantastic and washed down with spritzes, some crisp dry local white wine and after dinner, some locally made limoncello, served chilled in frozen glasses.  The service was also excellent, they were very accommodating to stay open so late in the afternoon, when I'm sure they would all have preferred to be off on siesta by then.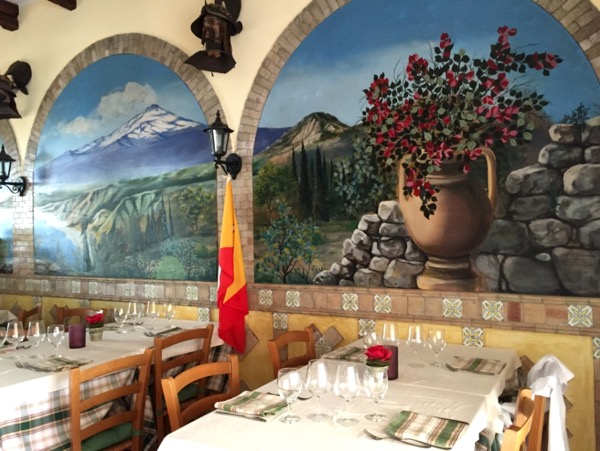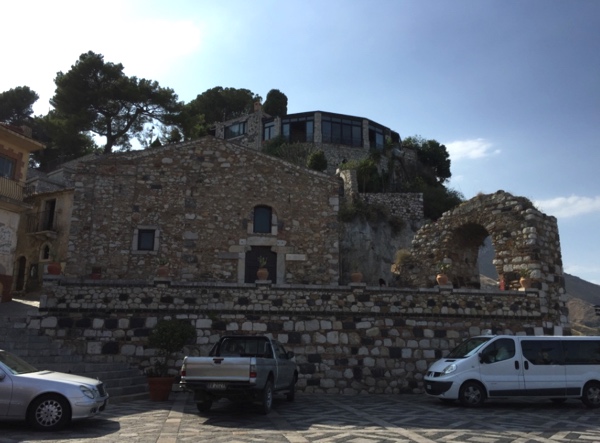 Views down to Naxos Bay.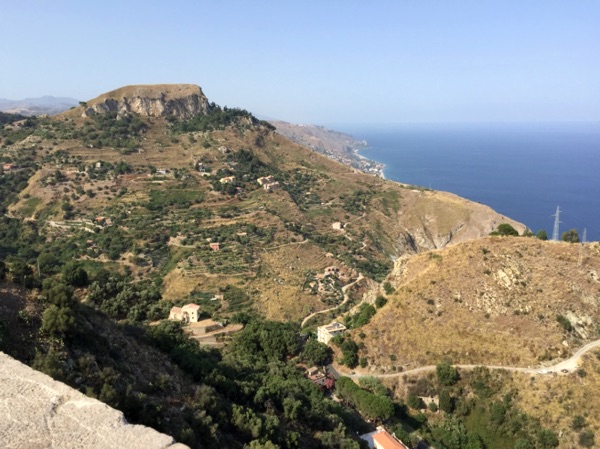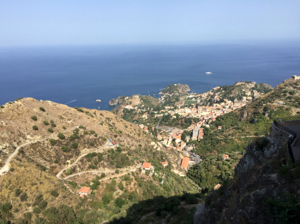 Taormina evidences both Greek and Roman history in its architectural style, as well as a significant medieval quarter with castle ruins intermingled with modern shops and restaurants, known as the Corso Umberto.  It's an adorable little village with loads of character.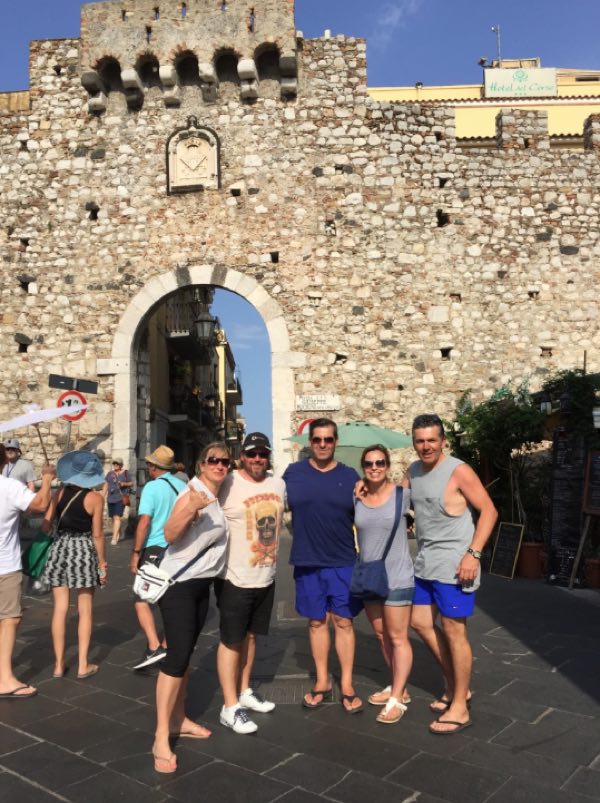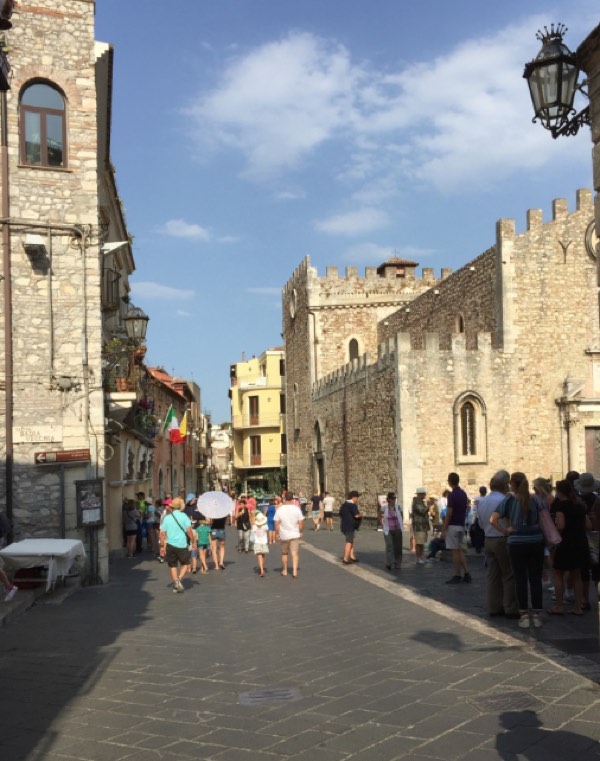 After lunch we had down the Corso Umberto for a bit of shopping, and a stop for a gelato (limone, of course), and a drink on the lovely terrace of a local hotel – the Hotel Metropole Taormina.  We popped into the cathedral in the town square and I was amazed to see several medieval paintings (13th – 15th century) just hanging on the walls – no glass, no humidifiers, no alarms, no nothing.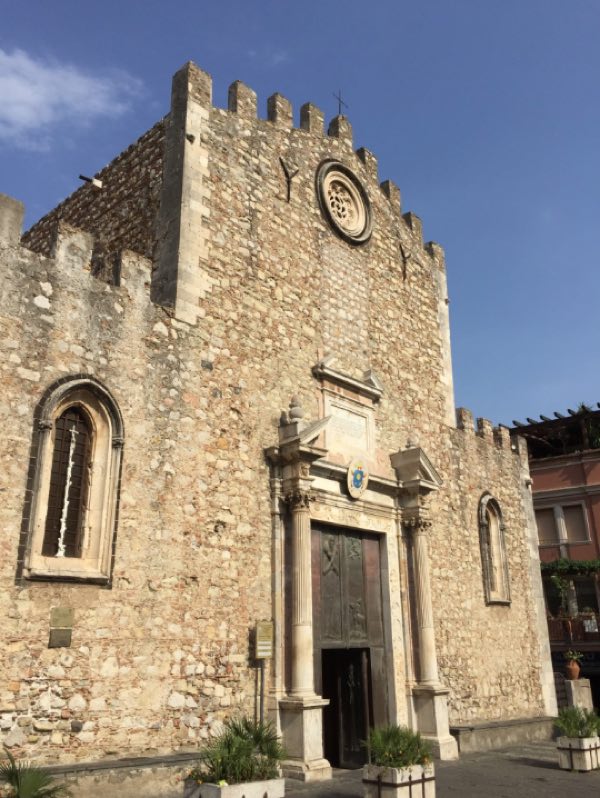 Lots of higher end shopping in this town, but the only thing any of us bought was gelato and later, more wine!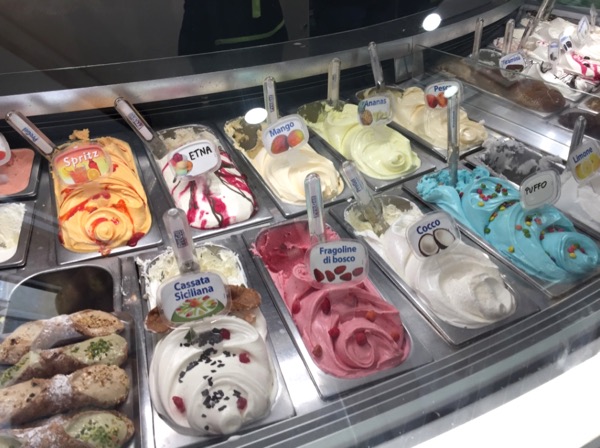 View from the Hotel Metropole…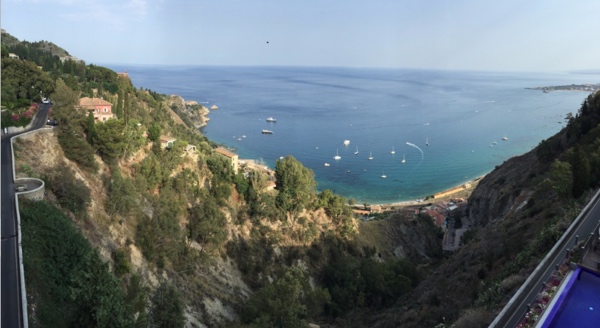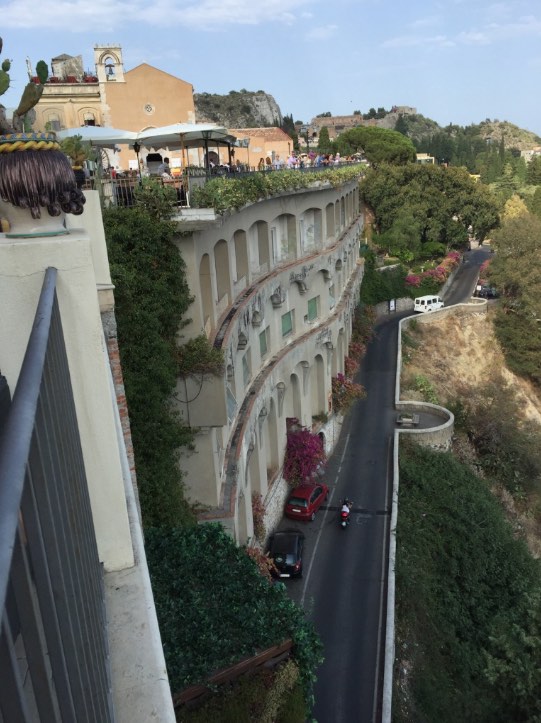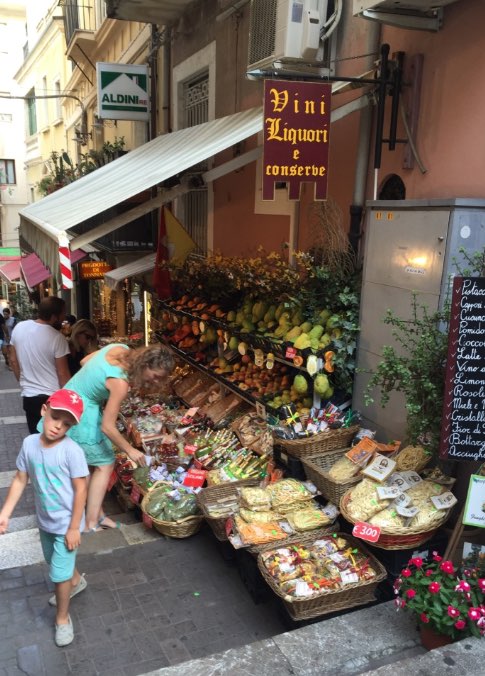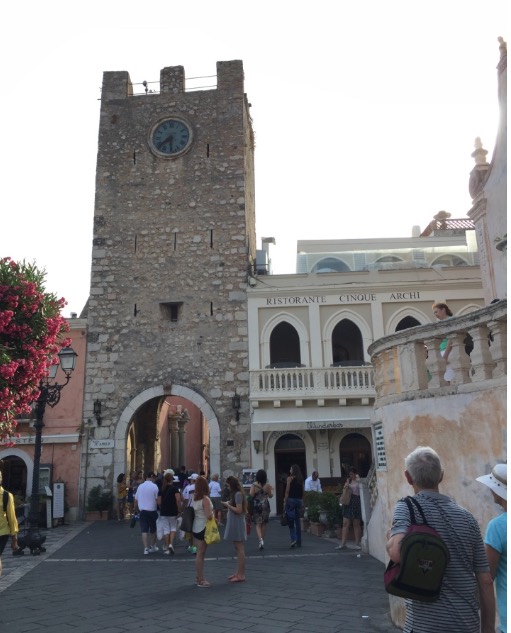 Further down the Corsa, and past all the popular shops, we were picked up to head down to Taormina Beach of a quick dip and/or a stop in the shade.  The beach is all tiny pebbles, no sand at all.  While all the local kids were busy playing with their blow up beach toys, our kids were busy ducking under water to try find and pick up the biggest rocks!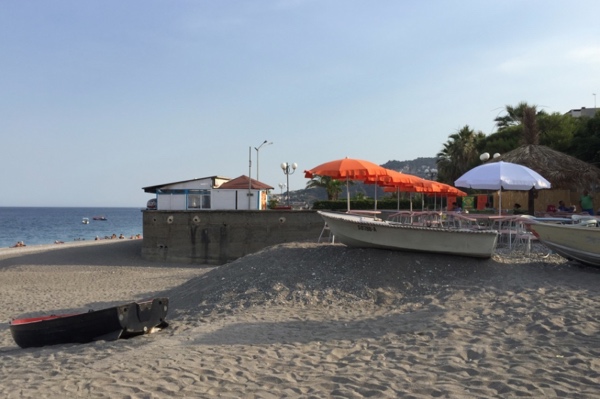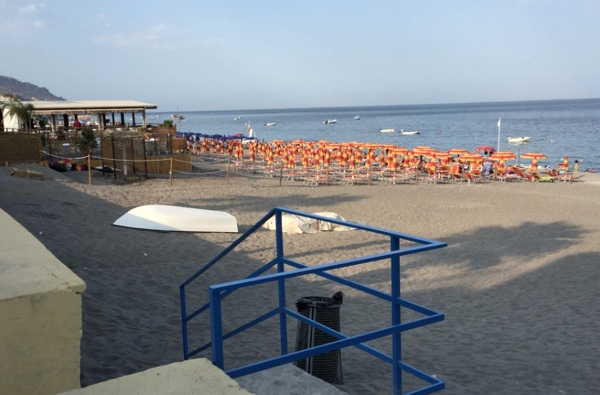 Then we were on a very important hunt for cannoli. Cannoli is a Sicilian dessert and according to our Italian friend, Antonio who was driving today's adventures, the stuff we call cannoli in Australia is nothing like it at all!  So he had Giovanni take us to 'the best pastry shop in Messina'.  And we ended up the Irrera Bakery, a famous pastry shop not far from the ship that has been making cannoli for the lucky residents of Messina since 1910.
Cannoli at home is usually a soft round pasty with a custard like filling that is sickly sweet – actual cannoli is a slightly crunchy pastry shell, that is left empty until right before you eat it, and then it is scooped full of a fluffy ricotta slightly lemon flavoured filling, and is not that sweet at all.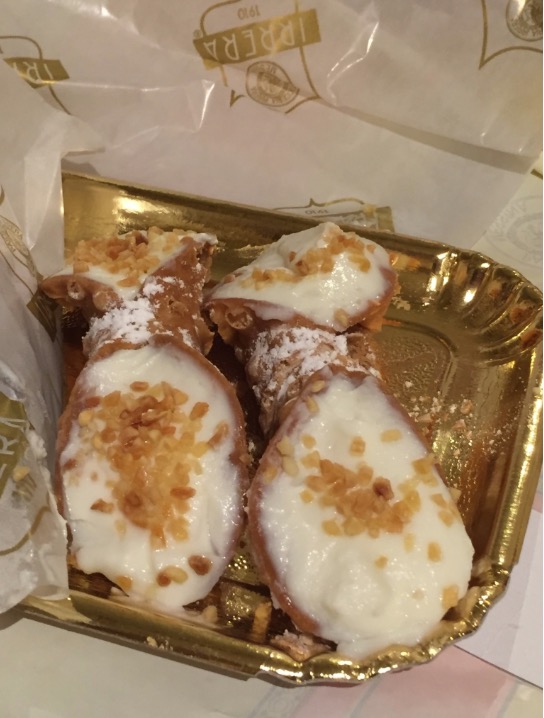 The staff at Irrera were somewhat alarmed that we wanted cannoli to take away and weren't having it on the spot.  They warned us several times that it had to be eaten as soon as possible and that we shouldn't leave it or the shells would go soft.  Didn't think it was a big deal, but they seemed seriously concerned about their reputation and the warning was repeated by the staff member who was taking payment as well.  And then we get back in our van and Giovanni our driver, was also warning us that they had to be eaten straight away or they'd go soft!  So, apparently that's a thing.
Then it was back to the ship (after a small hiccough over a mobile phone left behind at the pastry shop which was, thankfully, recovered without too much ado).  None of us felt like dinner, but I went to the dining room to find out how everyone else's day had been and to watch them have dinner.  😀
After dinner, we went up to the rooms with a drink, and tried out cannoli, and the staff at Irrera would be pleased to know that even two/three hours later, the cannoli was still crunchy and absolutely delicious!