Whoa, what a long day in transit! Portsmouth to Boston, to Chicago, to Vegas… took about 13 hours, door to door. But we arrived safely and Mr K sweet talked the check in clerk at the Bellagio and got us a room upgrade to a high floor with a view of the strip and the famous Bellagio fountains, which is really quite spectacular. So after a few hours settling in and enjoying the enormous shower, we dressed up and decided to head over to the Rio to see Penn & Teller – because Vegas is all about the tickets, and we have tickets! 😀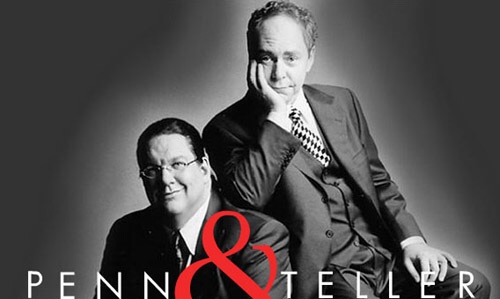 On heading out the Bellagio north entrance you can see the Rio on the other side of Frank Sinatra drive, and after being cooped up in planes all day we thought we'd walk there – it looked predominantly flat, it was cool without being cold and we really needed to stretch a bit. OMG. Big mistake. You can see it, and it LOOKS like there are sufficient pedestrian access areas around the freeway, but not so much. We walked for a couple of kilometres and seemed to be getting further away from our destination, not closer, and then there turned out to be a couple of non-traversable escarpments and culverts in the way too. So, we eventually had to give up and flag a cab to get us to the show. Lesson learned, if it's not on the strip, don't even bother trying to walk!
But we got to the show in plenty of time, and had great seats, Row D front and centre. I'm not a huge Penn & Teller fan, I haven't seen them before and I haven't watched a lot of their TV shows. You can probably sum up what I know about Penn & Teller from a recent pro-vaccination campaign that's been going around, and from an old episode of the West Wing where they do a trick burning an American Flag wrapped up in the Bill of Rights in the White House for Zoe's birthday…
So I had no idea exactly what to expect of the show, except that it is likely to be part politics, part atheism, and a little illusion and misdirection throw in on the side – and that is largely right. What I wasn't expecting was for them to start pulling apart and explaining how other illusionists are doing their tricks, debunking how mentalists and mind readers do their thing – they're calling Bullshit on nearly all of their colleagues, which I thought was quite funny considering they are doing the exact same sorts of things, but with a political and religious conscience.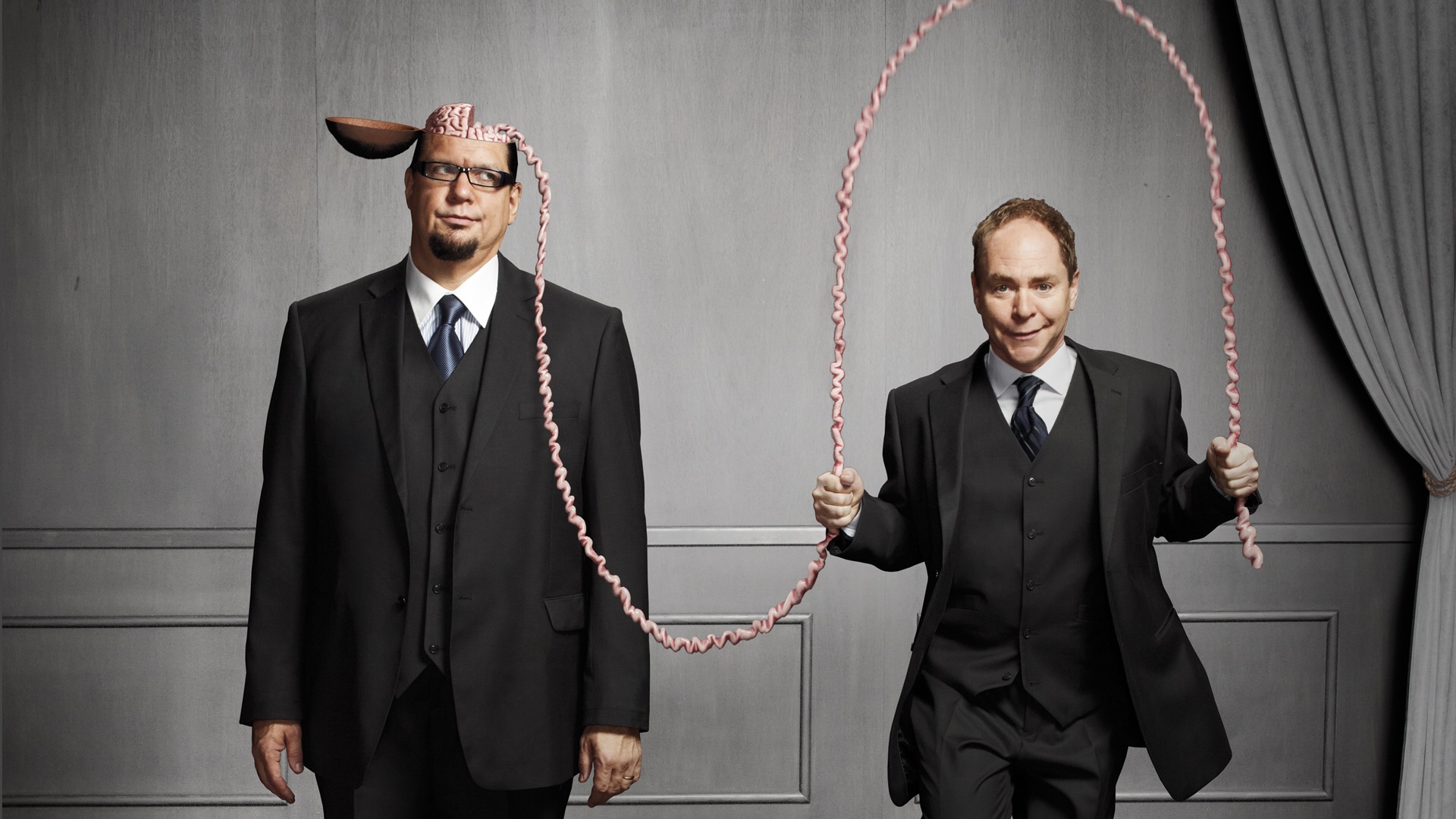 Anyway, they did do the American flag burning trick, which was very cool, but they did it twice and second time around showed you how it was done… all the while poking fun at China and their lack of rights. They did the old sawing the girl in half trick, showing you how all the other magicians pull that trick off, but then they pushed it a bit further leading you to speculate, 'well, if that is how the others do it, how did you just do that?' Teller did some very accomplished sleight of hand tricks where he appeared to be turning droplets of water into coins, and then coins into goldfish which was very cleverly done, and the big finale at the end was a 'magic bullet' trick.
They got two firearms savvy guys up on stage (a Texas Deputy Sheriff and a US Marine) on either side of a wide yellow ribbon, and gave them each a .357 revolver to check over and determine if it was a real gun – apparently yes, no tricky guns. Had them confirm that two panels of suspended glass were in fact real glass. They gave them each a bullet to write on – their names on the projectile and a picture or something else on the bullet casing, and then they loaded these two revolvers and set them into a stand while P&T got dressed in protective eyewear, a kevlar vest and helmets. Then they stood at opposite ends of a bare stage and with laser sights on the revolvers, and telling they audience to plug their ears, they appeared to shoot directly at one another. The panels had bullet holes in them and Penn & Teller were each standing there with bullets between their teeth. They called their experts back onto the stage and had them confirm that the bullets and casings both looked and smelled like they had just been fired, and that Penn had indeed caught Teller's bullet between his teeth and vice versa. At no time did either Penn or Teller appear to cross or interact at all over the divide of the big yellow ribbon, making it appear that there is no way they could have swapped the bullets. It was quite impressive.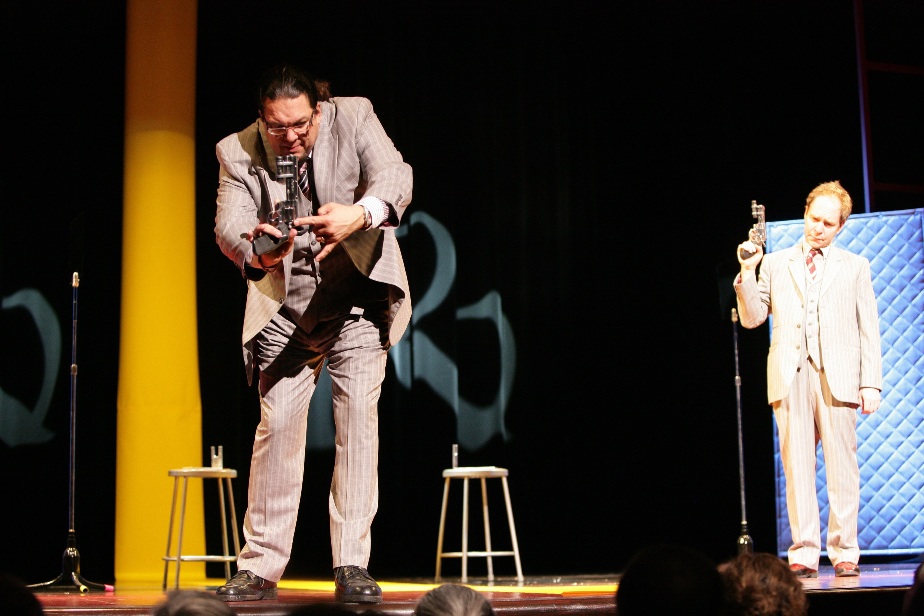 We've been wondering how it was done… it's going to need some more thought, this one. 🙂