We have two days to explore Marrakech at the moment, and then will be back here at the end of the trip for another two days, so having just got off the rather uncomfortable sleeper train and having dumped our luggage at the hotel (but our rooms wouldn't be ready until after midday) we decided we'd be taking it a bit easy this morning.  We also needed to do some chores (like finding a laundry service etc) and as such we ended up pottering around for most of the day. Some of our group, who are only here for the day or a day and a bit, hit the ground running and were trying to see as much as they could – quite understandably!  But thankfully we had the luxury of a bit of time.
Laundry safely squared away with a cheerful little man at a shop around the corner, we gathered with a few others from our group who were also up for a laid back morning and went to find a coffee shop.  It was already well gone 11am by this point so we knew we weren't going to get much done today.  After a sufficient amount of nous nouse (milky white coffee) and Moroccan mint tea was consumed, we decided to wander over to the Yves St Laurent gardens, also known as the Jardin Majorelle.  Unfortunately, once we arrived we discovered that half of Morocco had the same idea this Saturday morning and there was a queue of some 200 people in one direction and another queue of 200 odd people in the other direction (one queue for families, one for adults without children – I have no idea why) all lined up in the sun waiting to go into the gardens!  Some quick googling told us the gardens were pretty, but they weren't 'line up for an hour to get in and try and take some photos with five hundred other people crammed in there', pretty!
So we did an about-face and did a little shopping in the nearby avenue instead with Zita, planning to head back to the hotel, find some lunch and hit the medina not long after.  We shopped for quite a bit through some nice little shops with polite and standoffish staff – how refreshing!  I saw an amazing mirror made with a mosaic style frame, which I would have loved to take home… it was the most amazing object.  It also had an enormous matching trunk beside it – of course, the only things in the whole shop I like are huge and would need to be shipped, and of course, that mirror is 25,000 DH (approximately AUD$3,800 before shipping!) because somewhere in my life I have acquired ridiculously expensive tastes!
Apparently it is made of camel bone and coloured stone. So I imagine the shipping is probably nearly much as the item.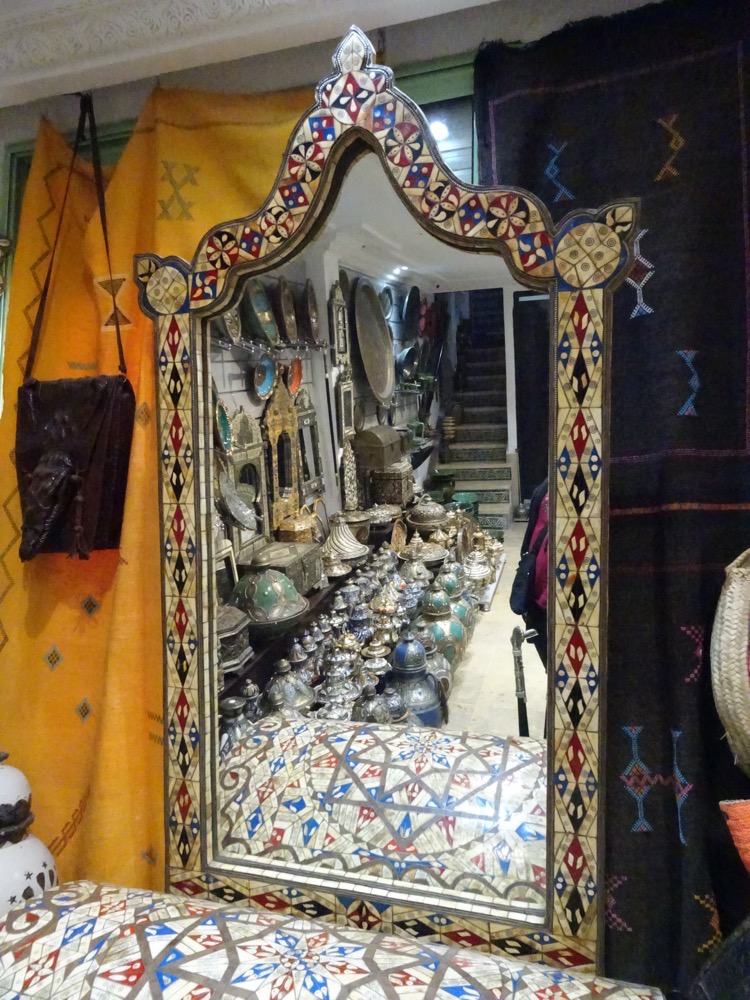 After that, we stumbled fortuitously onto a bottle shop (as you might expect they are few and far between in Morocco), and then back to the hotel for a cheap and cheerful lunch and a shower and a nap.  Cold shower, unfortunately – the hotel seems to turn the hot water off during the middle of the day very likely to save money as no one is really in their rooms, but there's me washing my hair in a cold shower and it's barely 18C out.  *rolls eyes*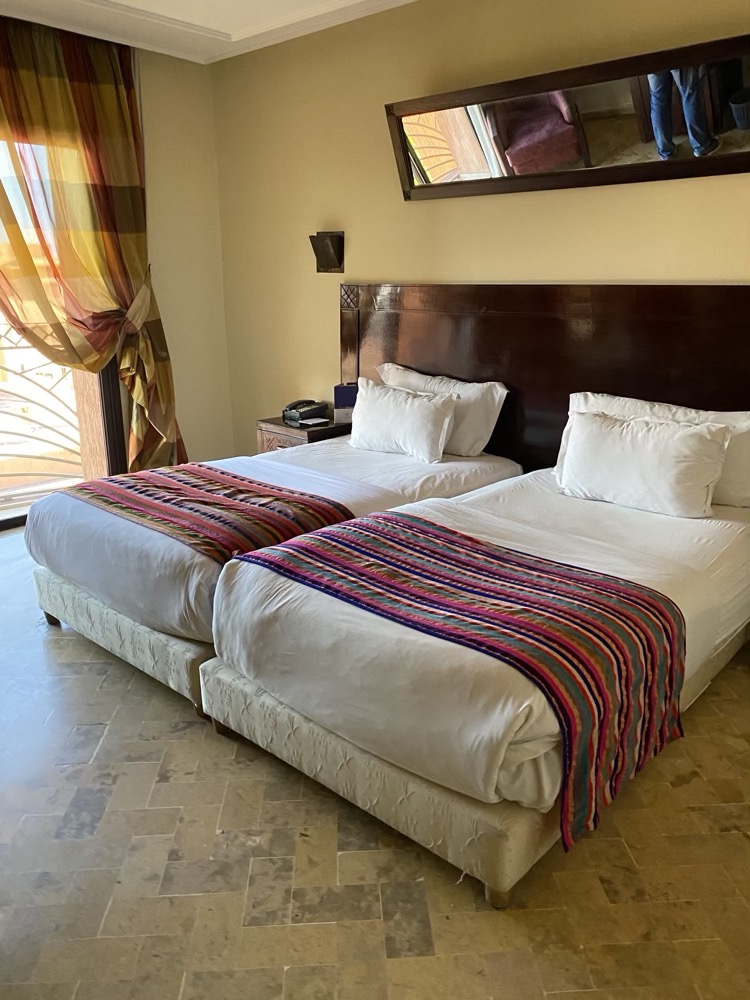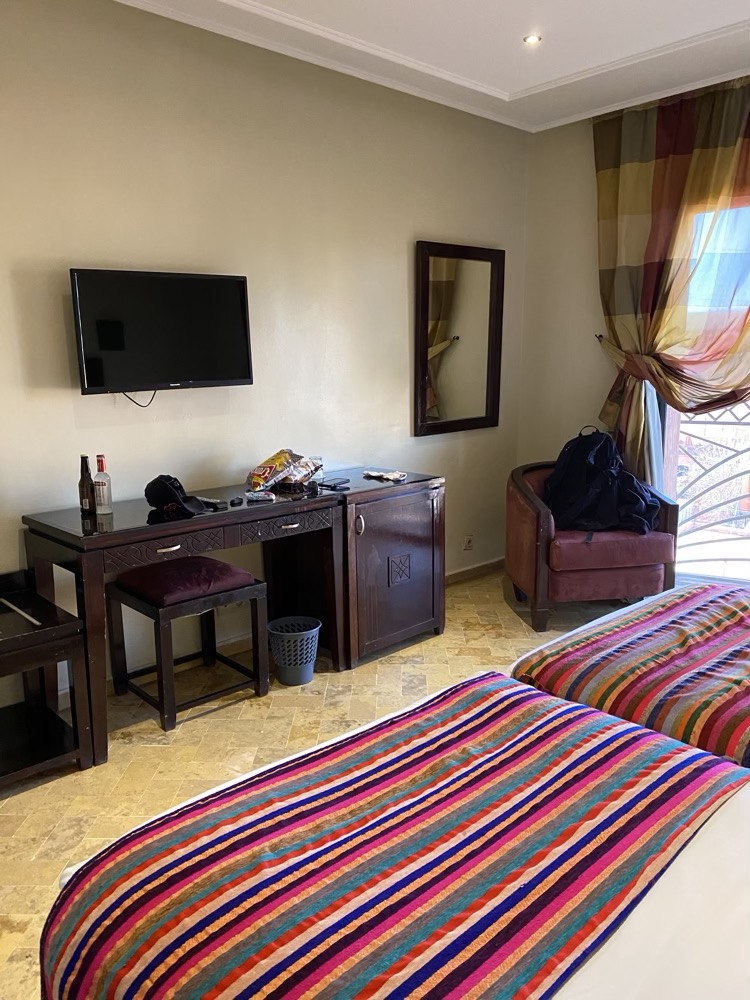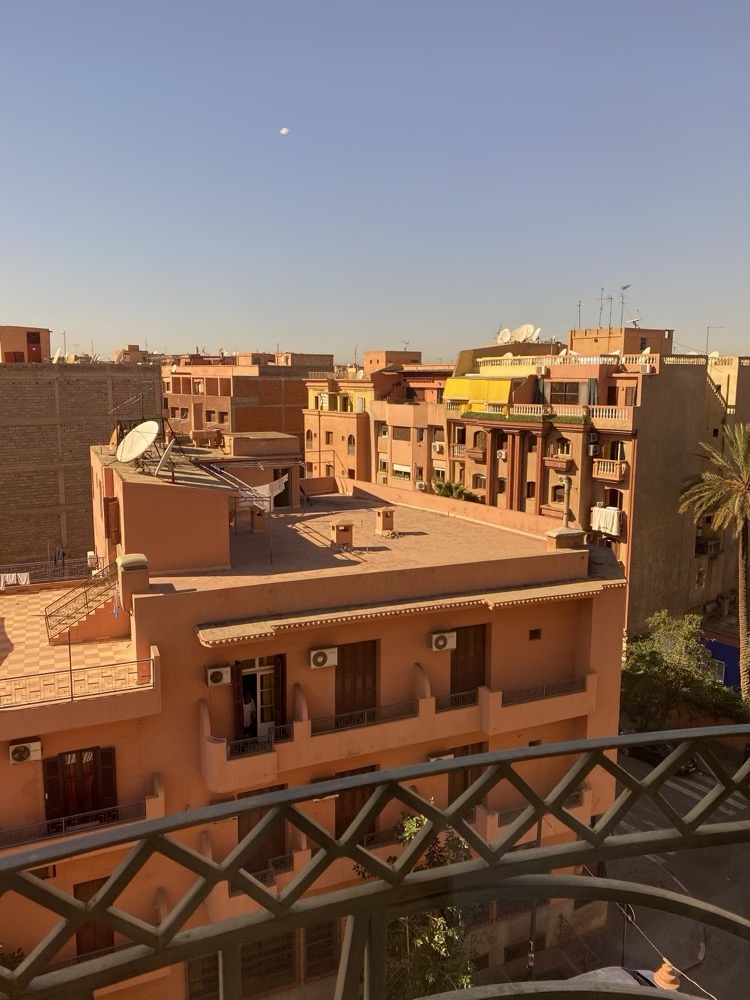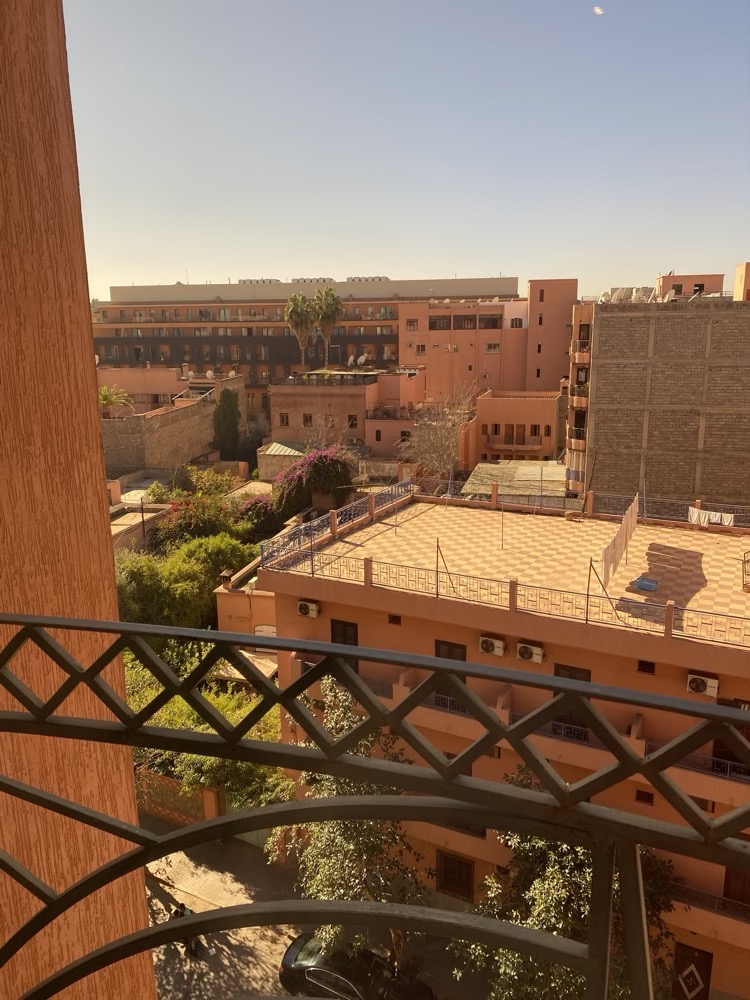 We eventually decided to go down the medina late afternoon, and it was a complete zoo… I mean that quite literally – cats and dogs wandering, horses and carts for riding around town, monkeys to sucker in unsuspecting tourists for photos, snakes and snake charmers – the place was hectic, noisy, smelly and just like being at the Ekka but with the smell of spices, and grilled meats cooking in the air.  Oh, and unlike the Ekka, men with snakes kept walking towards us with snakes wanting to hang them on us!  Hells no!
And loud?  OMG, so loud.  There was a huge stage set up, pumping out rock music with kids dancing on the stage, and probably 10,000 people squished into the square at this point.  This is Marrakech on a Saturday evening just before New Years.  A complete madhouse!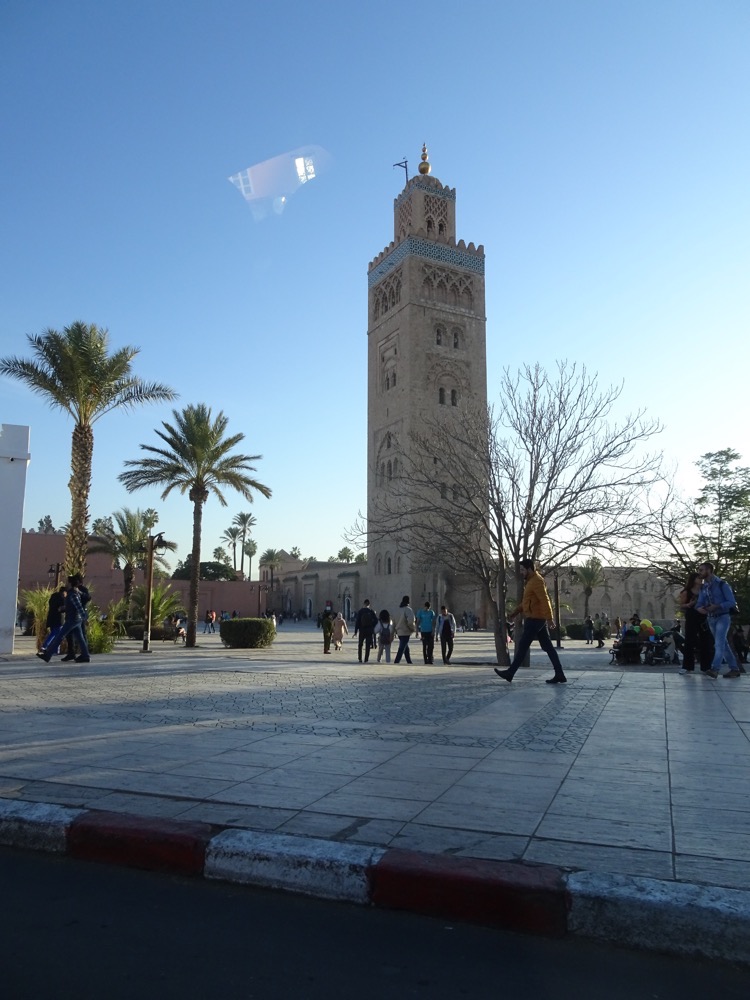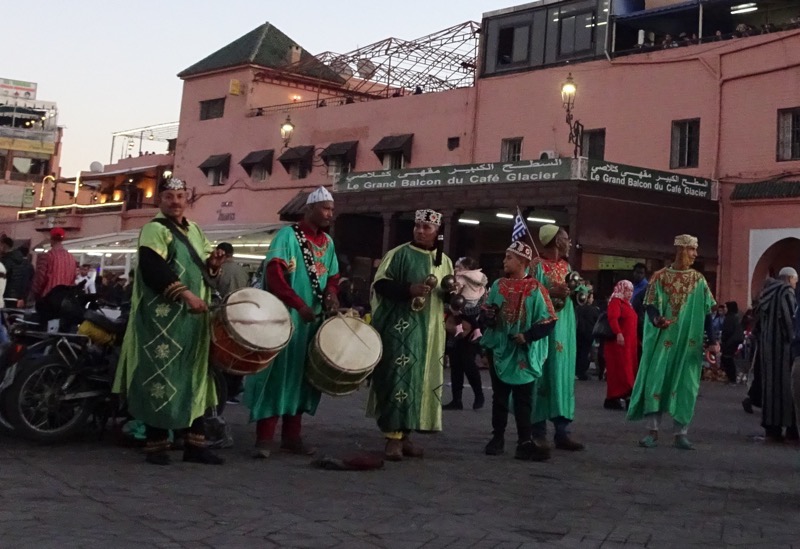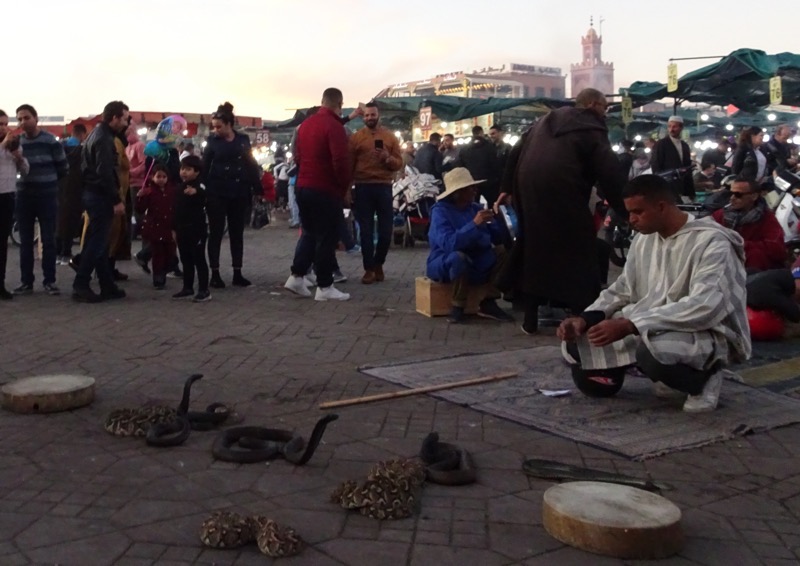 We wandered around the medina for a while, having a look at the shops, ceramics, brass, rugs, pashmina, lanterns, leather, produce, spices, and all the good things.  Fell in love with a gorgeous silk-on-cotton rug – which of course was not at all Moroccan! No matter how hard the shop seller tried to tell me it was made in Casablanca, you could easily tell by the design and the knotwork that it was far more likely to have been made in Turkey or Iran (which Samirr confirmed later at dinner – Morocco only makes Berber style rugs, not the typical Eurasian / Persian rugs at all.   Seems to be my MO though – go to Turkey, buy a rug from Balochistan, go to Balochistan, buy a rug from Esfahan, so maybe going to Morocco and buying a rug from Turkey makes sense somehow?!
Walking around the medina while it is so busy is not overly fun – especially not when, 'travelling while blonde' in a Muslim country.  I don't normally wear my hair out when I'm in places like this as I already gain a lot of unwanted attention by virtue of being very fair in complexion, but when I left the hotel, my hair wasn't quite dry so I didn't put it up. Stupid move.  This afternoon/evening, I had SO many people staring at me everywhere we went.  Mr K thinks it's funny.  Me?  Not so much. Depending on where and how many people we are talking about, it makes me feel quite unsafe.  This afternoon I  noticed multiple men trying to surreptitiously take my photo. Women look at me and then look me up and down like I'm some sort of whore.  I had one guy Facetime chatting with a friend, putting the camera up over his shoulder to show him the blonde woman behind him… and so on and so on.  It's not a lot of fun.  At least here, the people just stare at the pale blonde woman, and keep a respectful non-contact distance – no one has touched me inappropriately or assaulted me here, unlike China where I had men pulling on my hair, women throwing babies into my arms and taking my photo, men touching me all the time, and a couple of really skeezy older men pretending to sneeze and then fling themselves face-first into my chest.  😐
Eventually, we met up with the gang for a nice rooftop dinner.  Dinner was another lovely tagine affair, which we shared with roughly five kittens.  Two of whom were so friendly we had trouble keeping them off the dinner table!  Needless to say, much hilarious ensued and much Purell was consumed.
We have finished the first part of our tour in northern Morocco and five members of our group were leaving us today.  The second half of our trip into the mountains and the Sahara starts tomorrow and we gain four new travellers… poor buggers, I feel a bit sorry for them.  We've become quite an established group now with our own in-jokes and stuff.  We will have to try hard to make sure the newcomers don't feel excluded.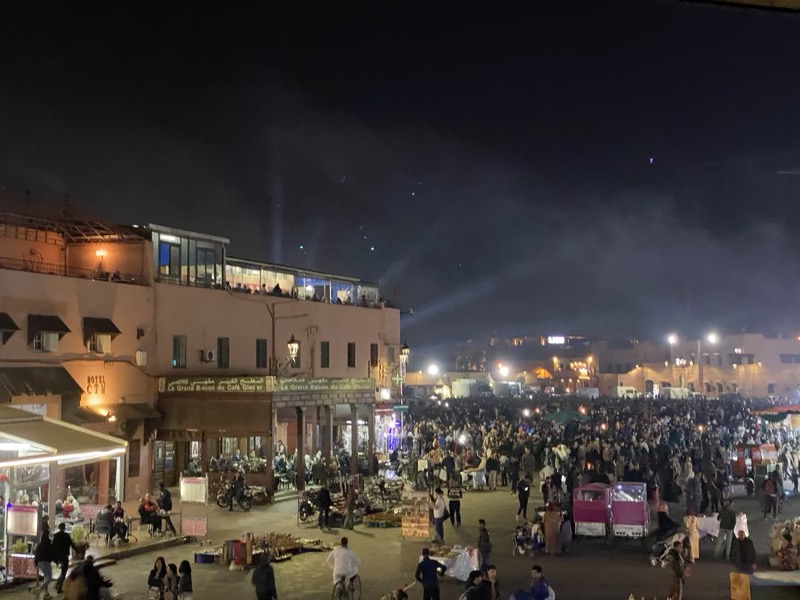 The square only got busier as the evening wore on… probably twice as many people as there was earlier in the afternoon.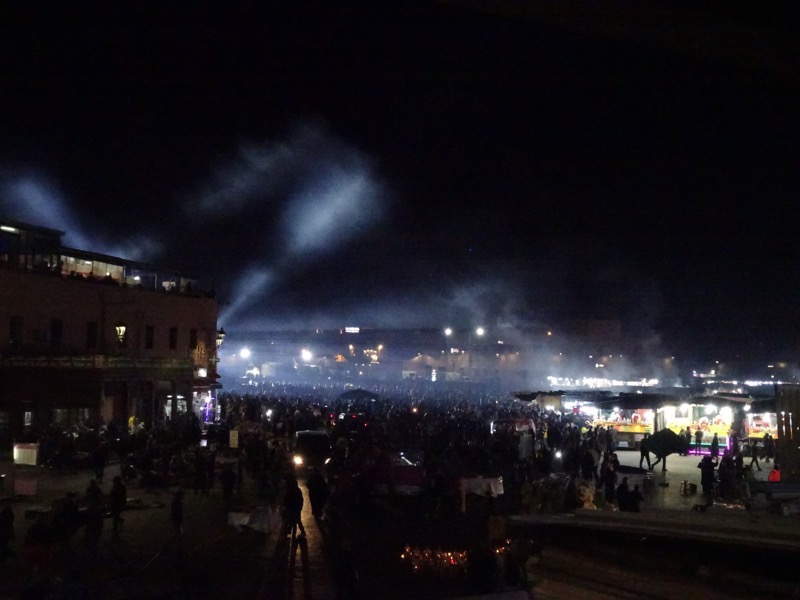 … and then the shit fight for a taxi back to the hotel ensued.  The first cabbie wanted to charge us 100DH for what should be a 20-30DH trip.  We tried a couple more and ended up caving at a 50DH ride because 'is very busy tonight, very busy', and also because it was getting a bit late and one of our small group needed to hurry back before the laundry closed to get their things.
All up a long day, walked about 8kms with no major sightseeing of shopping accomplished, on very little sleep.  Oh well, there's always tomorrow – they can't all be Chefchaouen.  😉