Okay, so after I failed so spectacularly as a foster carer last time (yep, couldn't hand her back and had to keep my little foster charge), I kinda told myself that I wouldn't foster another puppy in a hurry as you kinda get really attached to them and then you want to keep them and before you know it – I'll be the crazy dog lady squished into the corner of the couch buried under a pile of small furry animals.
And so I steeled my resolve against the 'save us! save us!' emails and entreaties on Facebook, until I came home from my recent trip to Canada, Alaska and the US to discover that the puppy farm where little Dixie (aka D50) came from had surrendered another FORTY-SEVEN puppies!  So that was sixty animals in April when we took in little D50 and now another large group of poor neglected pups.  🙁   I hope the persons responsible for this are finally being prosecuted but that's another story.
One of these poor forty-seven little lost souls just happened to be named Alaska… so, naturally I thought I had better take her in.   I went through the channels and agreed to foster Alaska thinking she might make a long term companion for Aunty Mary, only I didn't know just how anti-social a puppy I was getting into bed with here.  I've been updating the animal rescue organisation with updates on how she has been settling in and so far, it's not going so well..
Thursday, Aug 8, 2013 at 9:28 PM
Alaska had to be semi-swaddled firmly in a towel and clipped onto a leash that I had taken in with me to collect her from the temporary carer's house.  I had been warned, after I agreed to foster her, that Alaska had bitten several of her carers to the point of drawing blood.  :S   Had Alaska attempted to bite, jump or otherwise escape I had a firm grasp of the lead but nonetheless, she was transferred to a crate the moment we got into the car.  Trust me, there was no way I was taking any chances with this very frightened little one being given opportunity to escape.
Since bringing her home, and settling Alaska in – the first few hours were pretty much as expected.  She cloistered herself in a crate which I have currently placed in the living room so she can be near the people but feel still feel secure.  Alaska and Dixie/D50 have been interacting okay together in open space – Dixie is very curious about Alaska but Alaska seems totally despondent.  She is ambivalent about her surroundings, about the new dog in front of her, and about new people, which is so very sad to see.  We have observed some territorial growling behaviour from Alaska when Dixie approached her newly formed 'safe crate space', but other than that, there we had no major problems.  We have all managed to pet the new puppy very gently and slowly, and while she is wary, and has a tendency to flinch, she showed no signs of aggression towards any of us at this stage.  I will write another update on Alaska's progress tomorrow afternoon, but she seems exhausted and I anticipate she will likely sleep most of tomorrow.  We will see how she goes, but she is so scared… of everything.  🙁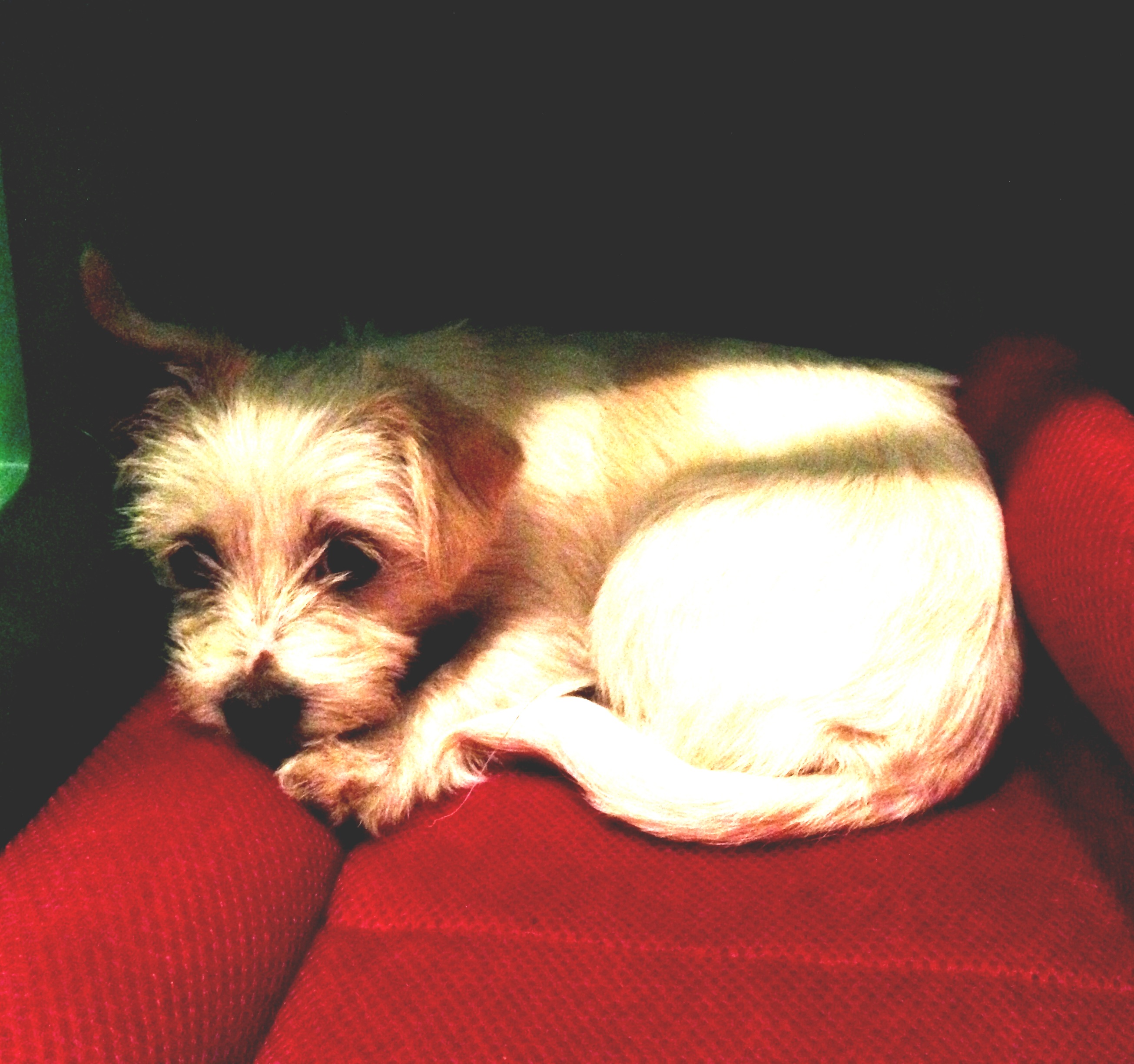 Friday, 9 August 2013 at 9:36 PM
Update as promised on how Alaska is settling in.  As I predicted in my email yesterday afternoon, Alaska seemed exhausted and has been extremely quiet today (with a few notable exceptions below).  She has spent most of the day sleeping in her crate in the bathroom and remains disinterested in people, and is becoming more aggressive towards our dog Dixie, who we have largely kept separated from her, unless supervised.  She is still interested in her food though so that is positive, I guess.
We were aware that she had shown signs of aggression towards previous carers and today we saw signs of this when I attempted to put her on a lead to take her outside to toilet.  On both occasions we took her out, she bit my hands and resisted the lead most aggressively.  The collar that she was provided was completely inappropriate – it was old and worn and, I discovered moments too late, elasticised – so it stretched and came off easily over her head.  I tried a check chain collar on her which she resisted even more, biting at it until she knocked out a baby tooth.  I then tried another nylon collar I had about which also proved problematic.  I am wondering if she has perhaps been traumatised on a lead/collar around the neck at some point, as she has only shown signs of aggression towards people when she is on a collar and lead?!
I did have her sitting quietly in my lap for about two hours this evening for some gentle, quiet petting time (she appears to enjoy having her ears scratched and stroked) which indicates that she is not so alarmed around people, as to be showing aggression constantly.  We intend to continue socialising her like this as frequently as we can, so she gets used to calm, quiet and happy interactions with people.  My son (Angus, who is 12) is not allowed to interact with her without supervision at this stage.  Not being able to put her on a lead could prove really problematic if we are unable to find an alternative restraint system (like a body harness), to enable trips out into the yard without anyone getting bitten.
A family member is coming over tomorrow to meet with her – he is a Qld Police Canine Officer – and I am hoping he can give us some more strategies for helping her overcome her extreme fear of people and the aggression she is demonstrating towards Dixie.   Overall, Alaska is scared, despondent, depressed and occasionally aggressive… if she was a person you'd put her on a suicide watch so bad is her overall disposition.   It is so sad to see such a young little girl so lacking in joy and avoiding companionship.  I think we have our work cut out for us with her, but I am hopeful that she will come around.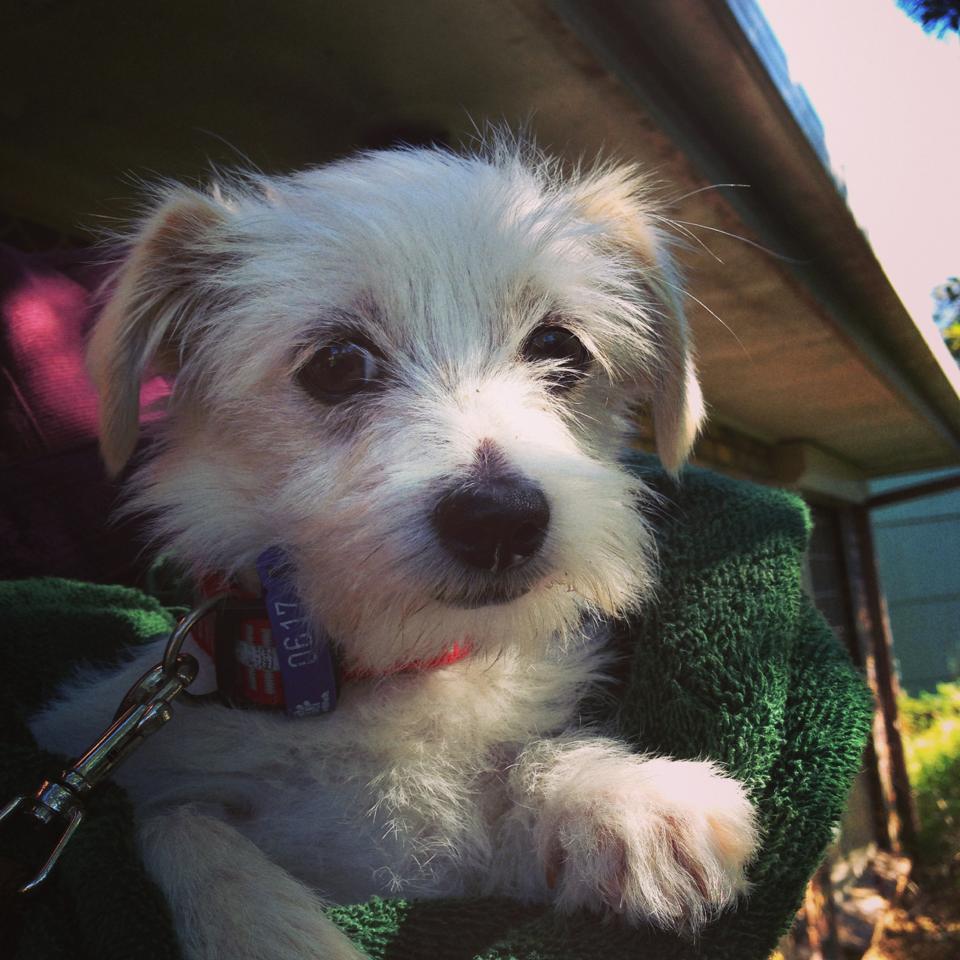 Saturday, 10 August 2013 at 9:42PM
Alaska has spent most of the day hiding in her crate as we had a houseful of guests (my grandfather's 95th birthday party).  We checked in on her regularly and made sure to gave handle her a bit even though she really wants to be left alone.  My hands are bruised and sore from being bitten yesterday, so I'm feeling a bit wary around her.  My Qld Police dog training relative, who has been training dogs for over two decades, was a bit blunt and brutal in his assessment of her situation but also gave me some ideas on trying to socialize her.  Firstly he told me to stop feeding her in a bowl, and instead to be feeding her from a pouch throughout the day, just small pieces at a time directly from my hand.  And to always give physical affection when feeding  her.  He said this would make her come to think of hands as instruments that bring food and good things, not things to be scared of and flinch away from.  He also said we were doing the right thing by keeping her physically in close contact with us as frequently as we could during the day and not letting her just keep hiding away to herself.
The depressing bit of my chat with him, was the information he imparted on dogs that are traumatised young, and display fear aggression traits (as compared to dominance aggression traits which is apparently a different kettle of fish.)  Apparently their prognosis tends to run one of two ways – they will either 'come good' fairly quickly and recover from their experiences because they are so young and resilient…  or they go completely the other way and remain traumatised because the trauma was suffered so young and it remains a permanent scar on them somehow.  If it turns out to be the latter, he advises in that situation, they euthanise dogs that don't show fairly rapid signs of overcoming their troubled start because that aggression will remain with them forever… and this in spite of a certain amount of aggression being desirable traits in police dogs.  🙁
Anyway, will try the hand feeding and frequently physical contact and see if we can break down some of this fear and unwanted aggression and hostility.
Monday, 12 August 2013 at 10:36PM
Right, we have been feeding Alaska by hand while she is sitting on my lap for the last few days.  She has stopped flinching when we go to touch her so much so that is positive and the strategy of desensitising her from being fearful of hands is proving a good influence.  She is still extremely fearful and will spend most of her time exactly where you left her, whether that is in her crate in the bathroom, or on a mat on the carpet or on a towel sitting beside me on the couch, all curled up protectively in a foetal position most of the time.  Now she has stopped flinching away so bad every time we go to touch her, I have been putting her up on the couch beside more often to keep her close and give her lots of random pats and touches.
She completely ignores us, and Dixie, and anything else going on around here (people coming to the door, a tom cat mewling outside, anything), unless you are moving right towards her to interact with her directly… and then her reaction is to get immediately wary.   She still trembles really badly when picked up and it takes her ages to calm down again.  So most of the time she seems very quiet and still, she will tolerate being petted but flinches and gets extremely skittish if she is being handled at all.  She will eat okay, but seems disinterested in anything else.  She is proving unpredictable in that way… this morning she was sitting with me for about an hour and being fed by hand, and petted and even careful tummy rubbing, but when I went to pick her up to move her into the bathroom while I drove to school… she growled at me and tried to bite me again.  🙁   Feels a bit one step forward two steps back.
Tuesday, 13 August 2013 at 9:07pm
Have spent most of the day at home just hanging out with the puppies and working hard to keep trying to get Alaska comfortable being petted and around people.  The only difference I have noticed in her demeanour is a decreased growling and snapping at Dixie, they have even got an uneasy truce, where they will actually lay together for a while without Alaska growling.  She has shown a preparedness to lay down beside me and actually sleep, and has adopted a less defensive curled up sleeping position so she is stretching out more and seems less huddled and protective of her body… or maybe I am reading too much into puppy body language.  Mostly we have had a good day, when I go to pat at the moment, she is first checking out my hands for food and showing interest in hands, rather than immediately flinching or looking like she is going to get aggressive and bite.   So I am definitely going to have the other members of the household start feeding her by hand in the same way, so she stops flinching at them so much too.  On the downside, the two times I needed to shift her to other areas of the house today, I placed a towel around her first and then picked her up rather than using my hands directly to hold her… she seems to feel safer that way somehow and while I'd rather be able to pick her up and cuddle her and take her to other rooms, this seems less threatening for her and safer for me for now.
It is also kinda horrible (in my opinion) that if when I put her on the living room floor or in her crate in the bathroom or on a towel on the couch, she will be in the exact same spot that I left her in, when I come back an hour or more later… she is still showing absolutely no interest in her surroundings or coming out of her space to see what the people in the house are doing.