I inadvertently (and very oddly for me) used the word 'mate' in an email to a friend yesterday. As in, 'Why don't you ask your mate Charlie to do blah for you?'
'So what?', you might be thinking.
Well, this is really out of character for me and I have no earthly idea why I wrote it.  'Mate' doesn't figure largely in my vocabulary, in fact I rarely say it at all.  Correction… I NEVER say 'mate'!  I don't call people 'mate' and even find it somewhat grating when other people call me 'mate' (depending on who it is).  And this in spite of my being Australian, and the inherent cultural expectation that tends to infer – ie:  Aussies are presumed to call everyone 'mate' after five minutes acquaintance or even less if engaged in a customer service encounters involving cars, carpentry, bricklaying, plumbing, electrical work, hardware and/or yard or home maintenance.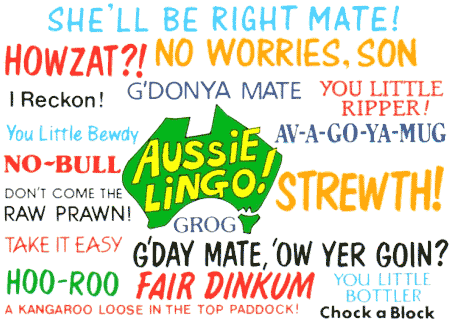 If I do inadvertently call someone 'mate', it's usually in response to someone who has called me 'mate', and even then it come off the tongue in an uneasy and unfamiliar manner so as to feel forced and false.  I'm also not one to say 'fair dinkum' or 'strewth' or 'you bewdy' or 'goodonya' with any regularity.  It alarms me somewhat that the stereotypical Aussie is anticipated and expected to speak thus.
For the record, I don't care if all this makes me sound like a the most dreadful snob.  I have a decent vocabulary and I regularly put it to gainful employment.  It's probably why, when I travel overseas, no one ever takes me for Australian … except on one rare occasion in Tijuana, Mexico, when the roadside spruikers kept calling me 'Hey Aussie, hey Aussie! Mate, come over here!'  Took me a little while to figure out that my Billabong backpack and my Mr Zogs Sex Wax t-shirt were probably giving me away… they were so annoying even for just that one day, that I ended up responding with, 'Pardon monsieur, je ne vous comprends pas!' and they eventually left me alone with rather confused looks on their faces.
But most of the time when I travel I get taken for English… I've sat in a Kensington High Street coffee shop and been asked if I lived locally…  I've been in Italy and asked where in the UK I am from… I have been in Turkey and been asked if I'm German – okay that one was more based on the blonde hair blue eyed appearance and my inability to speak Turkish, rather than my speech patterns and accent, but the point stands.  No one ever takes me for an Aussie.  And I'm not sure if that's good or bad.
Because while I am proud to be Australian and feel eternally grateful for having been born in such a wonderful country… I just don't identify with the cultural stereotypes that we've been lumped with.  You know the ones… they're the stereotypes that Paul Hogan, Pauline Hanson Steve Irwin and Kath & Kim et al., have been solidifying for decades. God, even our current Prime Minister the Honourable Ms Gillard has a terrible speaking voice!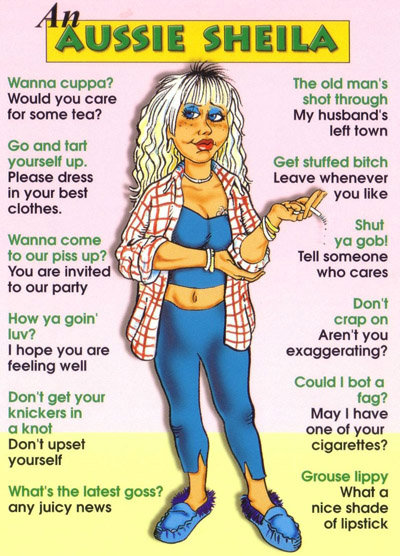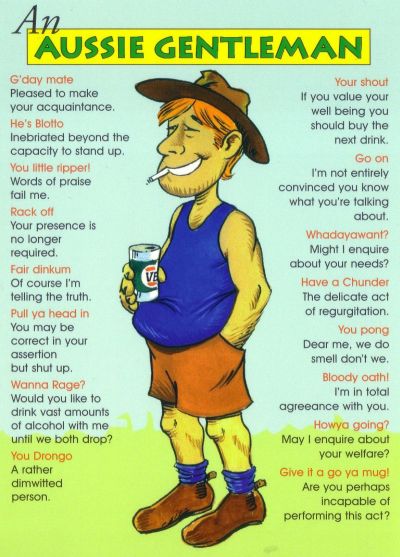 I can't tell you how much this shit irks me and how I find it really embarrassing even.
It doesn't help that many Aussies play it up when they're overseas thinking it's cute or amusing and enjoy the attention they get from bunging on the slang when they choose to further cement the idea that all 'Stralyans (Note: 'Stralyans not Australians) speak like this!
To my mind the only genuine and valid reason for hamming up how Australian you are while overseas, is in to ensure you're not mistaken for an American!  Because as we all know… they're not as globally popular as they'd like to think they are.  Even travelling Americans have been known to attempt to deploy this technique by claiming to be Canadian!
No. I make no apologies for my vocabulary and it's decided lack of Aussie flavour.  It was many years ago that I decided I could live with being called a 'walking dictionary' (a frequent taunt since primary school for crying out loud) which I endured simply because I was a strong reader and therefore capable of stringing together coherent and cogent sentences from an unusually young age.  I am so unapologetic for my propensity towards using the most appropriate language I am capable of employing in any given situation, that I've been working hard to instill the same in my son since he too, was quite young.
So yes.  I'm a language snob. Sue me.  On this count, I'm totally prepared to own it and totally proud to wear it and don't give a fats rats that people don't immediate pick me for an Australian when I travel!