The circus is coming to town again and I'm so excited!   I've become enamoured with the Cirque du Soleil for many years and I can't wait to go again.
I first went to the Cirque du Soleil in 1997 in London with my friend BluddyMary.  She had bought us tickets as a Christmas gift and being the uncultured swine that I was I had no idea what I was in store for because I had never heard of the Cirque du Soleil before.  It was amazing – Alegria at the Royal Albert Hall.  A once in a lifetime experience and I loved every minute of it.  The building was amazing… I mean it's the Royal Albert Hall!!!  The show was amazing, there were some incredible little contortionists who twisted and turned themselves inside out until you couldn't figure out which bit belonged to which artist!
But other than buying my Mum and Dad some tickets to a Cirque du Soleil production that was in town, I didn't get to go again for many years.  It was January 2008 when I got to see Dralion for my birthday with the full Tapas Rouge experience.  Fancy nibblies, champagne, red carpet treatment and the most amazing seats right up the front.  The show was fabulous – there was one particular act with two 'lovers' dancing together suspended way above the stage, using long strips of billowing blue fabric almost like they were extensions to the dancers bodies.  They were so beautiful and sensual the way they moved together, it was absolutely mesmerising!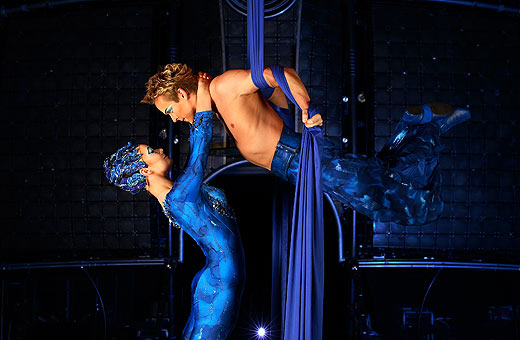 Then the next show I was fortunate enough to see was Saltimbanco last year in mid 2011.   One of the most striking things about Saltimbanco was the skill, wit and vivacity of the 'clowns'.  I'm reluctant to call them clowns, they're so much more than that.  They're fantastic mimes and have a great sense of comic timing and audience involvement.  Saltimbanco was a show full of 'wow'… 'wow' at the amazing things that the human body is capable of.  The act that left the most indelible mark from that show was the trampolinists who were doing incredible acrobatics and running up walls that appeared to be several stories high!  They were jumping back and forth with such speed and such agility and such amazingly tight choreography that I thought they would smash into one another!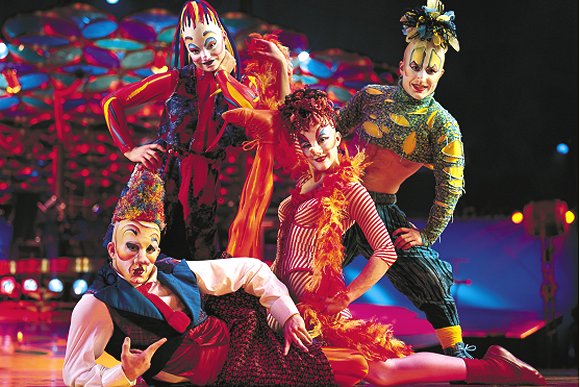 And now Ovo is coming to town!  Tickets were purchased just after Christmas and I've been looking forward to for months.  I know nothing about it at all and have deliberately avoided watching any videos or listening to the soundtrack so it will be all new and interesting.  And now the tents are going up over at Hamilton and so it's only a matter of time!  🙂