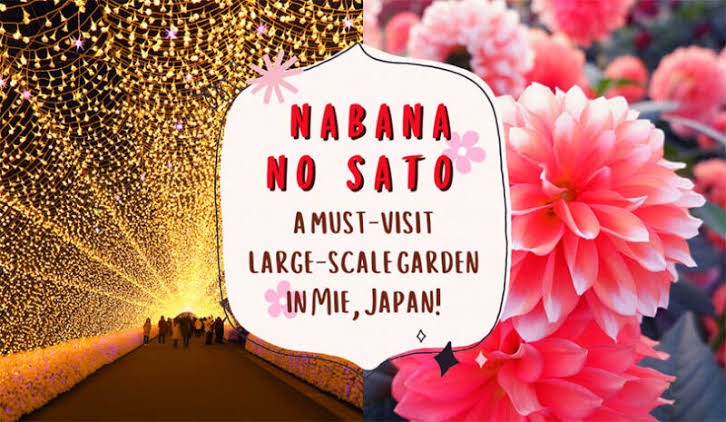 The Nabano no Sato illuminated gardens are a 'must visit' when in Nagano so I figured we needed to go visit. Given it was all happening after hours, it wasn't too hard to set aside the evening to go out and see them. The gardens are actually attached to an enormous plant nursery and they have been lighting up paths and expanding on the attraction for years. At 2500JPY per person for the entrance fee, it's not so cheap to just wander around and look at the lights, but it weirdly includes 1000JPY per person in vouchers that you can spend inside the park…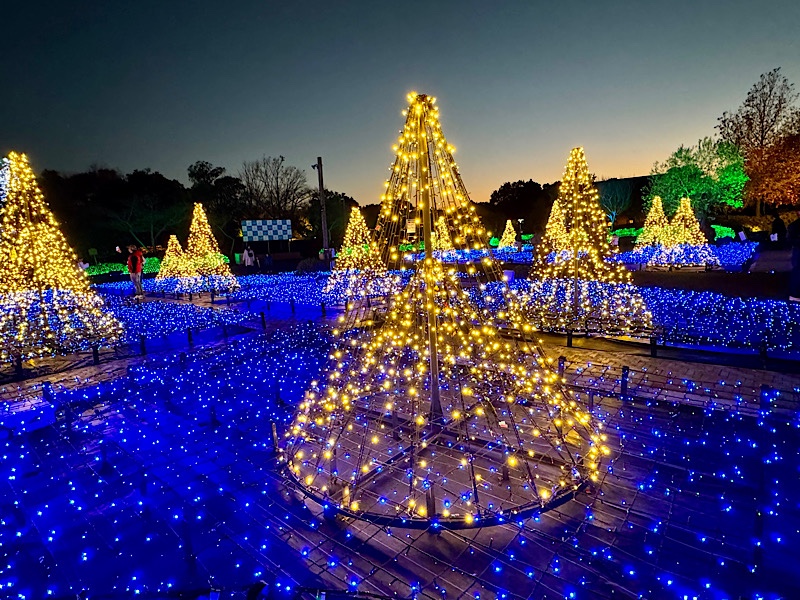 … and there are multiple restaurants (and even a loosely German style beer hall) and gift shops contained in the park where you can spend your vouchers. It's almost like 'here, buy a ticket and we will give you a modest free meal with it). The park consists of acres of displays, comprised of millions of twinkly lights… or fairy lights as we tend to call them in Australia.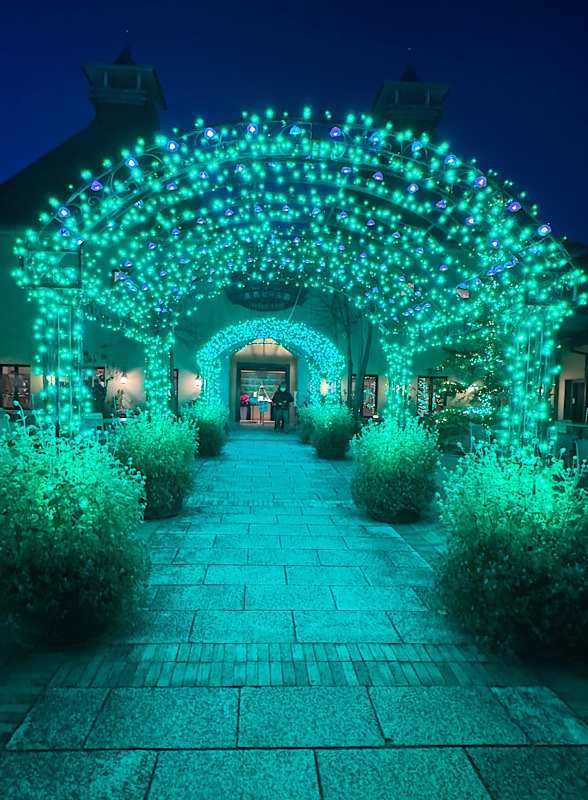 Having read up on the place before coming out here, we arrived just before sunset and had a bite to eat- from what I've read and now from what I've seen, if you go wander through the park first if you want something to eat a bit later, you'll be lining up for ages to get seated in any of the park's restaurants. The place was BUSY – and the 5400 space car park was no where near full.
I had a seafood dorai dish that was like a mornay, but at the same time tasted nothing like a mornay. 🙂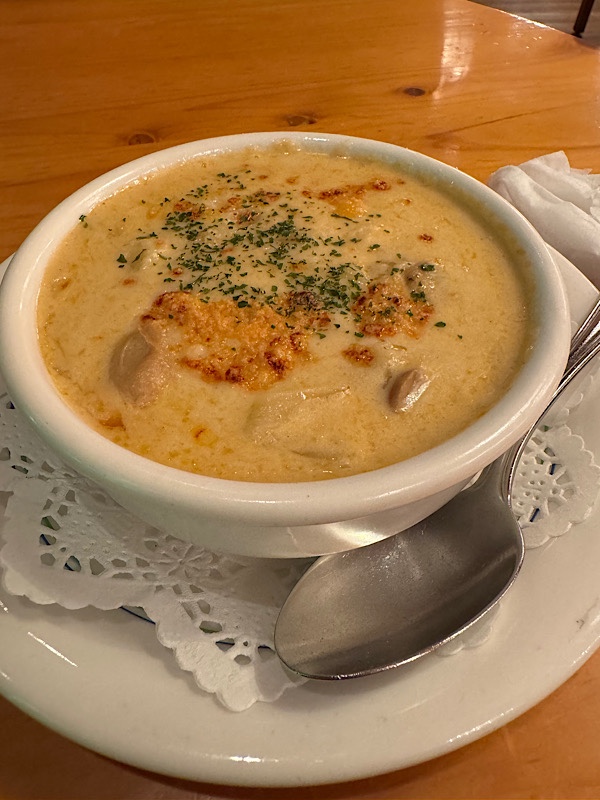 Mr K ordered a park katsu curry that was served in a huge cube of bread with a miso curry and egg. The curry was really tasty… miso curry is a popular thing in the Nagano region.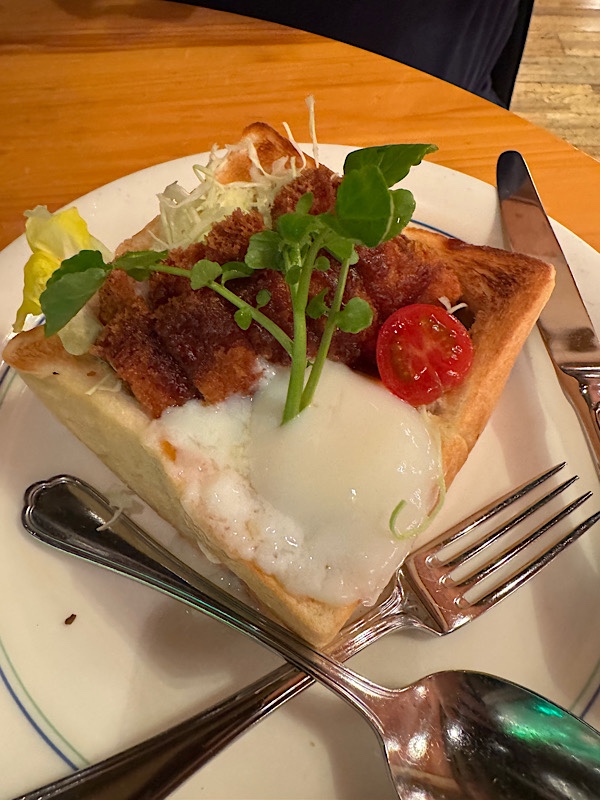 I also ordered some saké – because well, every time I look at a menu and there are no diet soft drink options, I think 'I've gonna have the sugar, I may as well have the alcohol!'. This is the FIRST time ever that I have been served hot saké in Japan. Honestly, all the brewery and saké shops, and restaurants we have been to – the saké is, by default, chilled. With this one exception.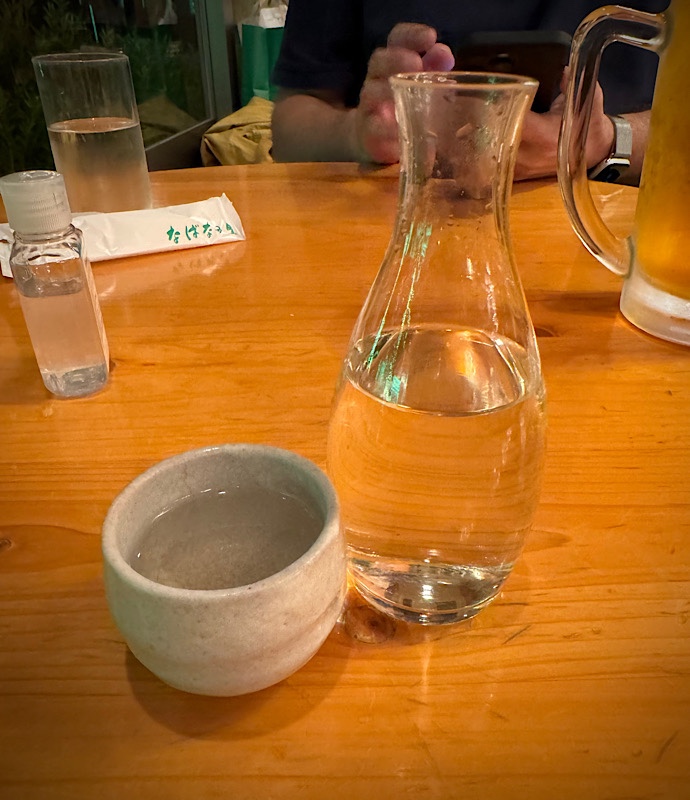 Which got me wondering why…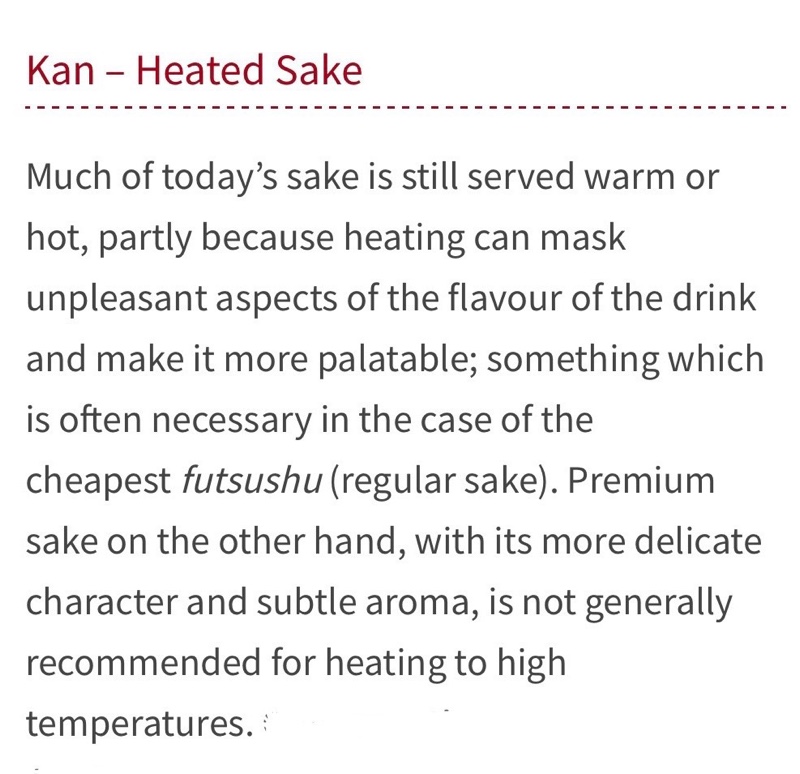 I actually asked for some ice to cool it down and see what it tasted like, as while it was hot all I could pick out was the heavy tone of 'this is alcohol'… and yeah, it was not sweet, not dry, not citrusy, not floral, it was just kinda bland. So I can see why they heated it up.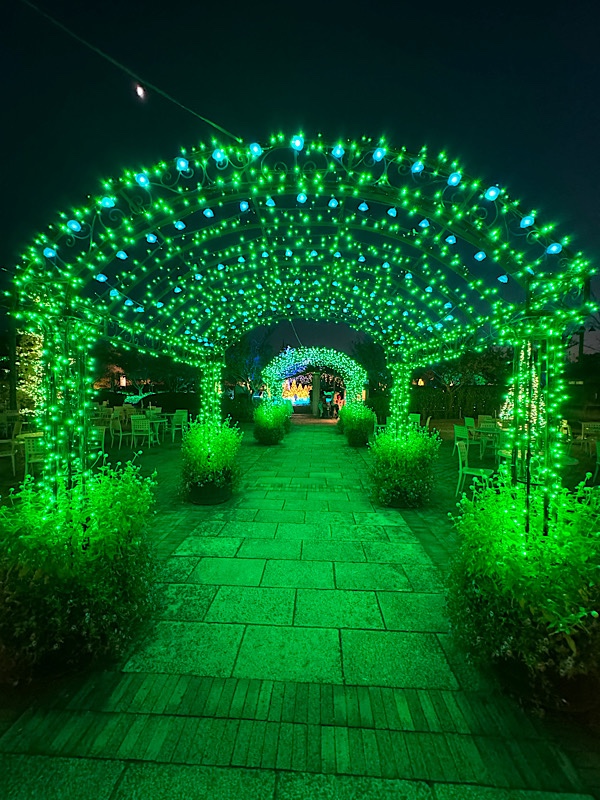 Through the large park is an enormous stream of hot onsen water lined with beautiful Japanese maple trees. There was a public onsen for bathing if that took your fancy, as well as further in a very popular onsen foot bath which had crowds of people using it. The stream made for some glorious opportunities for reflection photographs. But it was very hard to capture the beauty of the scene…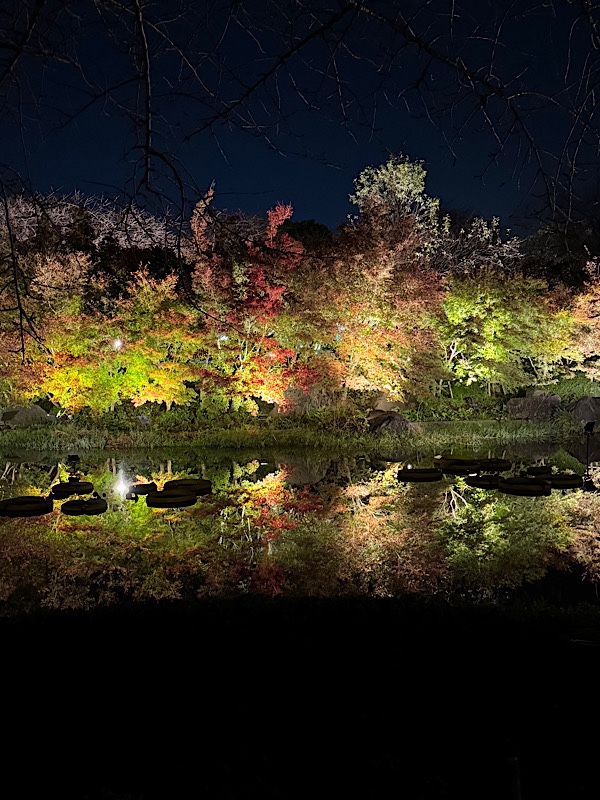 Though I repeatedly tried to! So many photos of the same subject. 🙂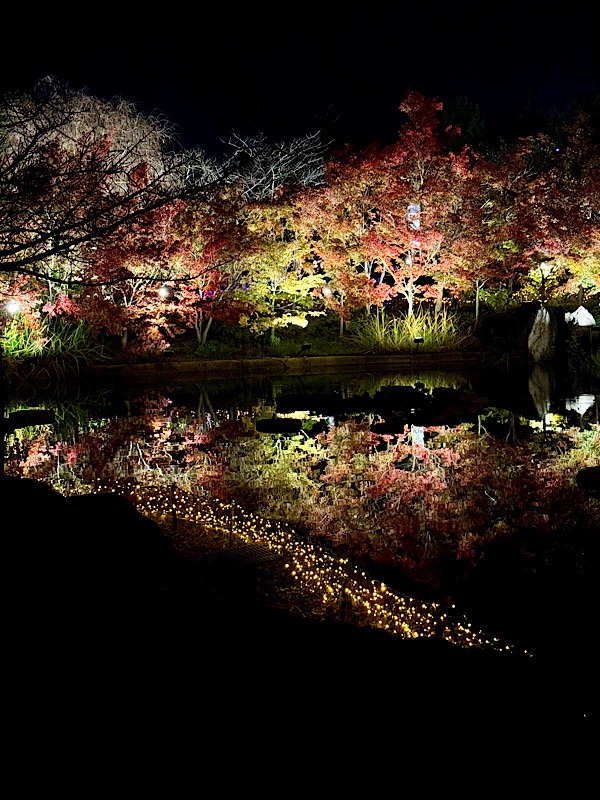 There was also an enormous lake which led up to what looked like a Christian church – an yes, you can have weddings out here, or just come out and having wedding photos taken in the park. It's popular all year round for the autumn leaves and also for the cherry blossoms and massive begonia fields.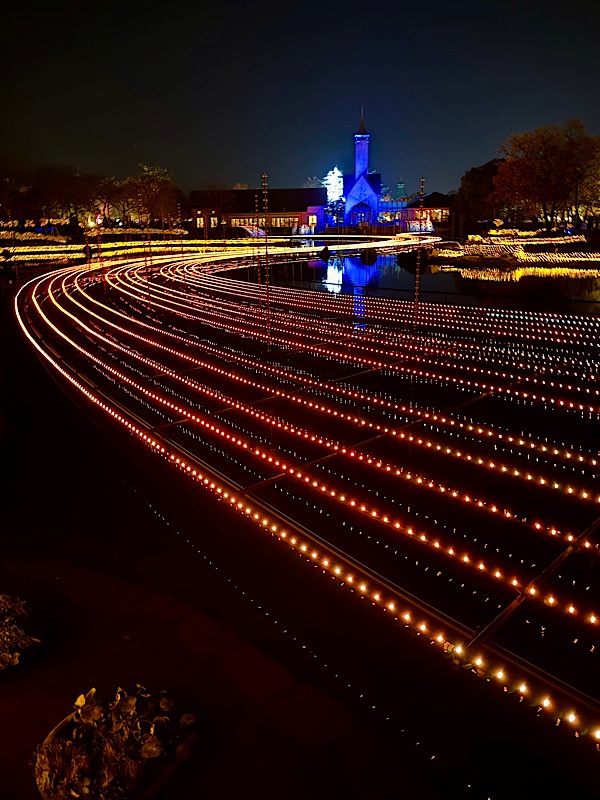 Attempt 53 at trying to captures the reflections of the autumn leaves in the lake…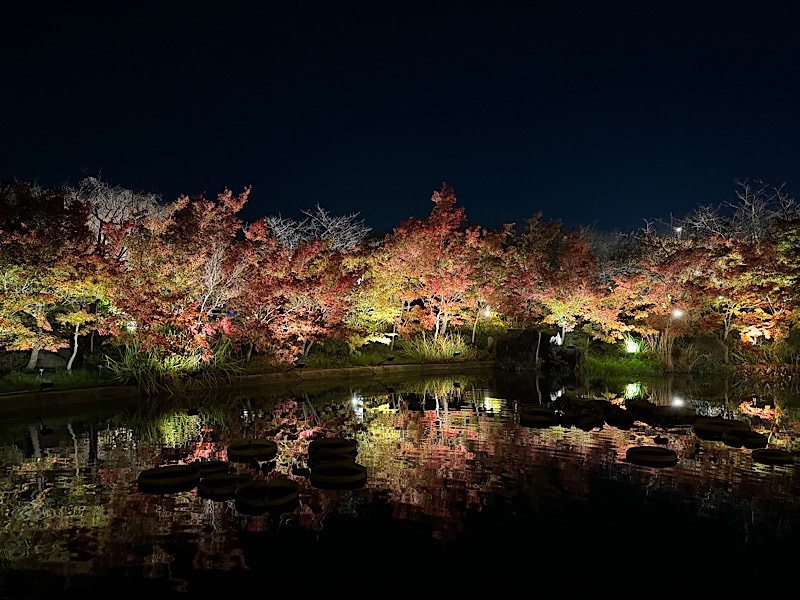 A little better…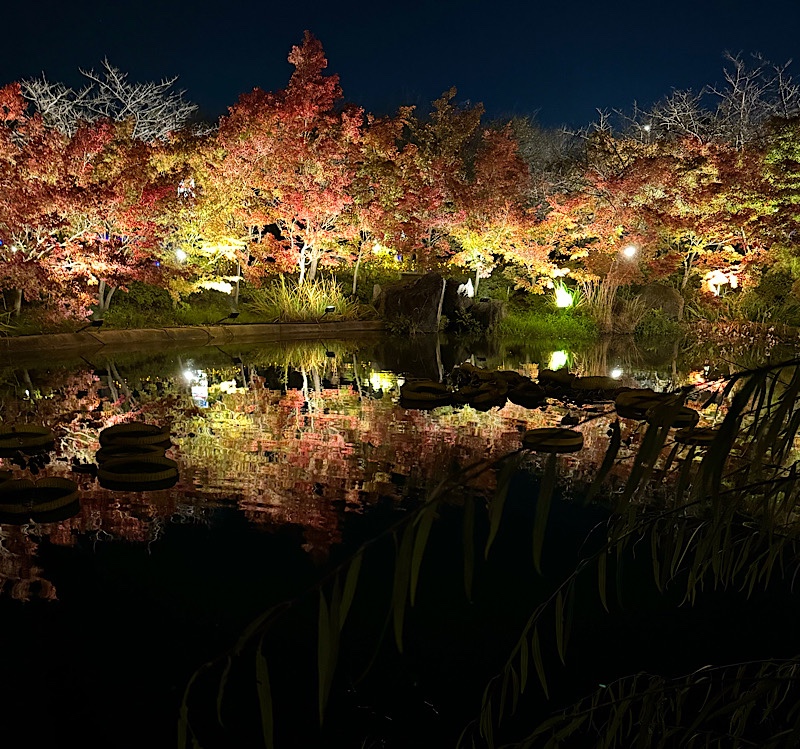 Then there was the huge 300m long tunnel of twinkle lights which seemed to be selfie haven for visitors…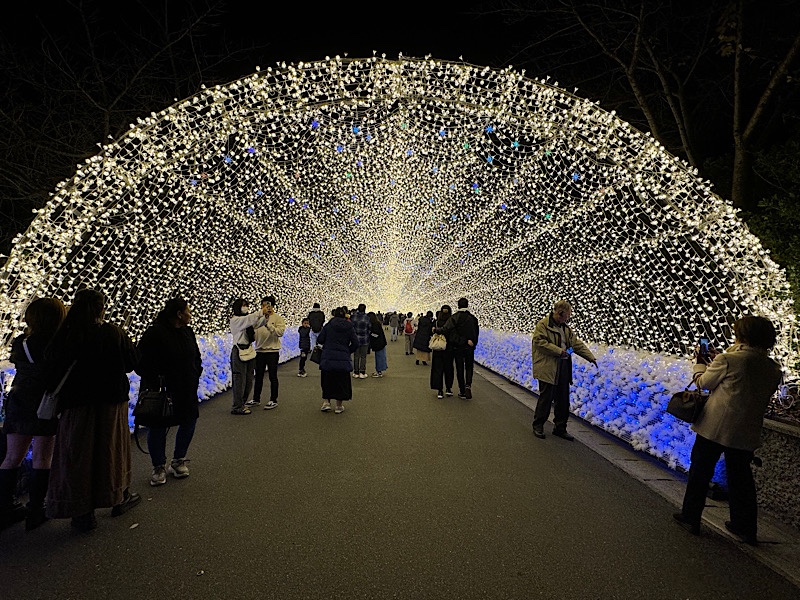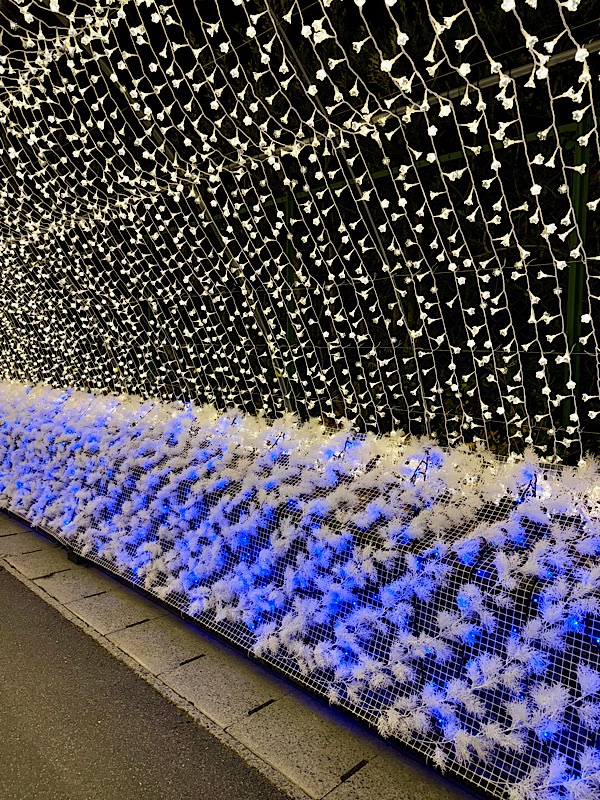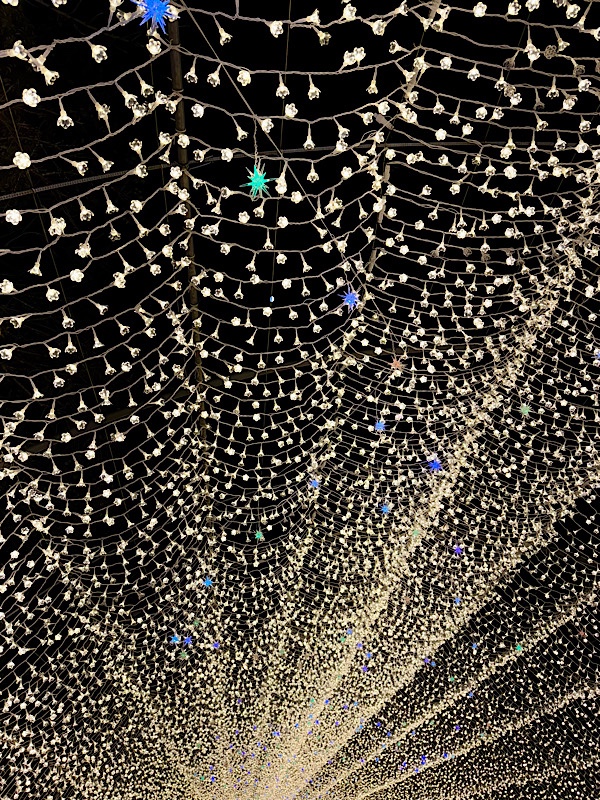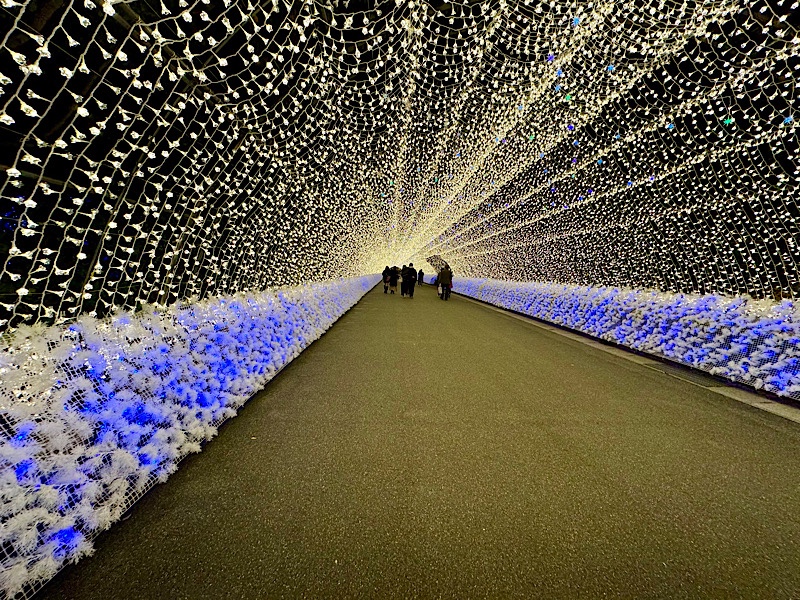 It was actually really pretty which got me wondering why the hell do people like twinkle/fairy lights so much? What bower-bird like instinct is driving this?
According to WebMD – the ultimate source of reliable medical and psychological information on the entire internet (lol) – string lights or twinkle lights can make us feel more connected to one another, boosting one's mood and make us feel more hopeful.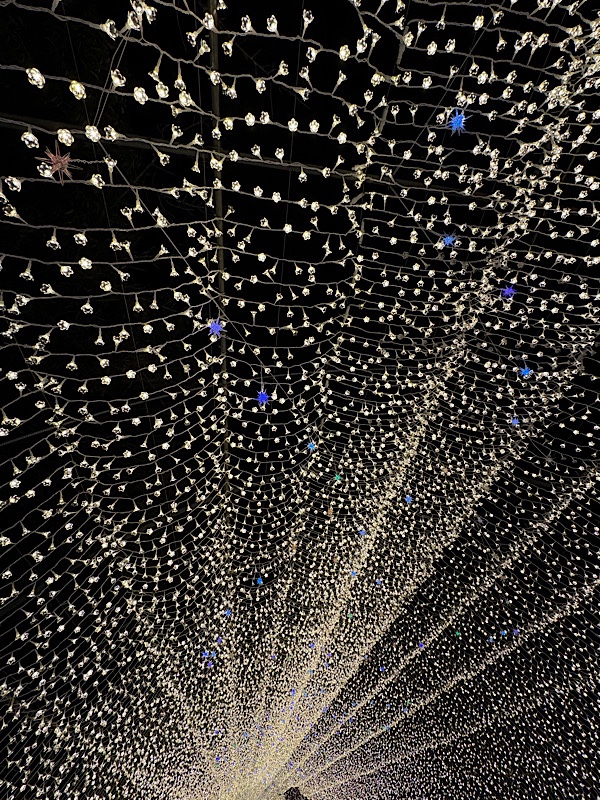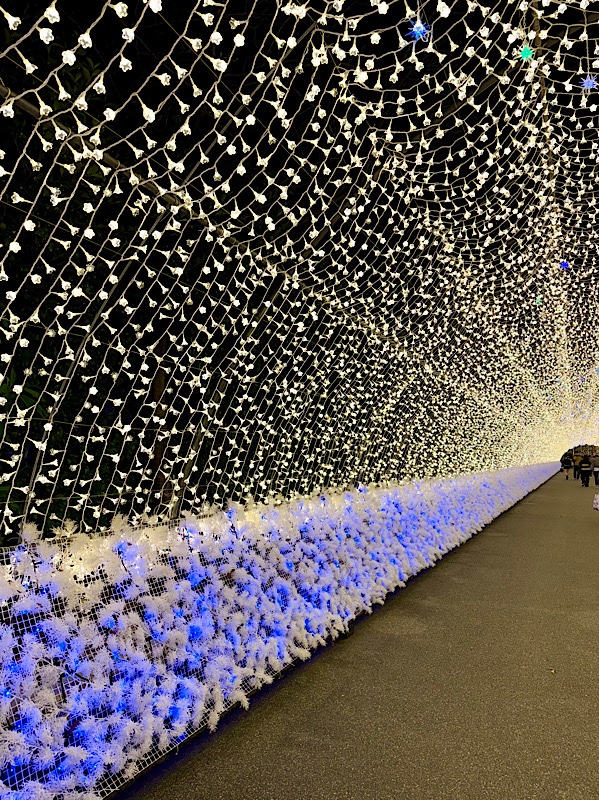 The reason they seem to make people feel happier has to do with the release of dopamine apparently – and is fairly heavily connected to memories of colourful holiday lights making us feel good as children. There's actually a type of colour therapy called chromotherapy where people with anxiety and depression are encouraged to spend time in spaces with coloured or decorative lights to pump up the dopamine.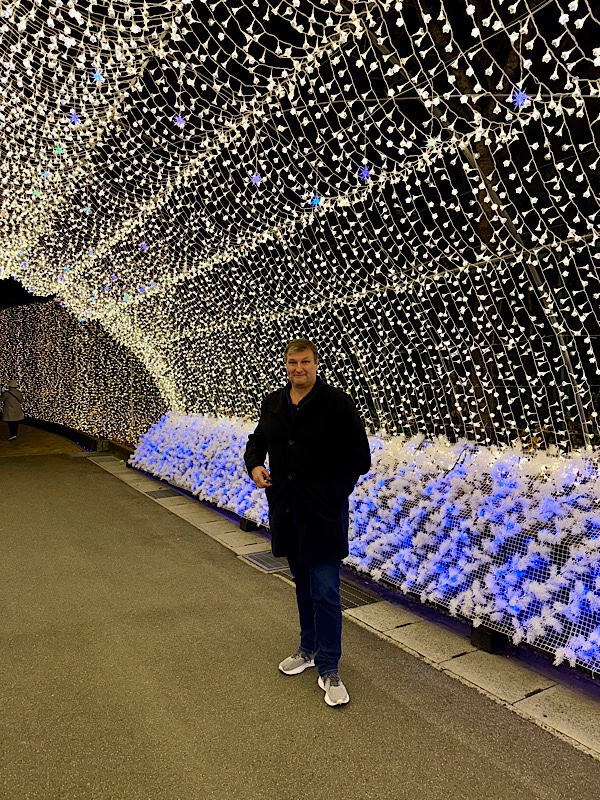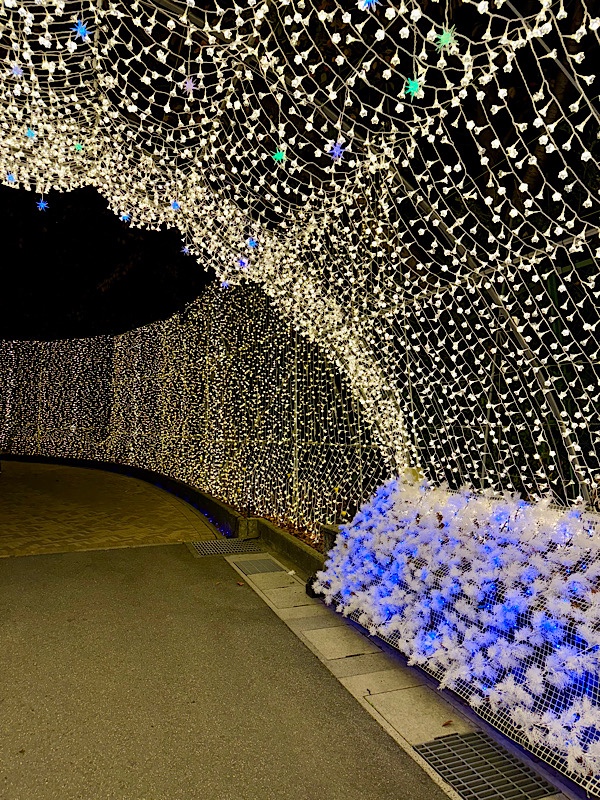 So we're not all just a bunch of nutters flocking to a Nagoya plant nursery for no reason – we're psychologically drawn to them. 😉 #sciencebitches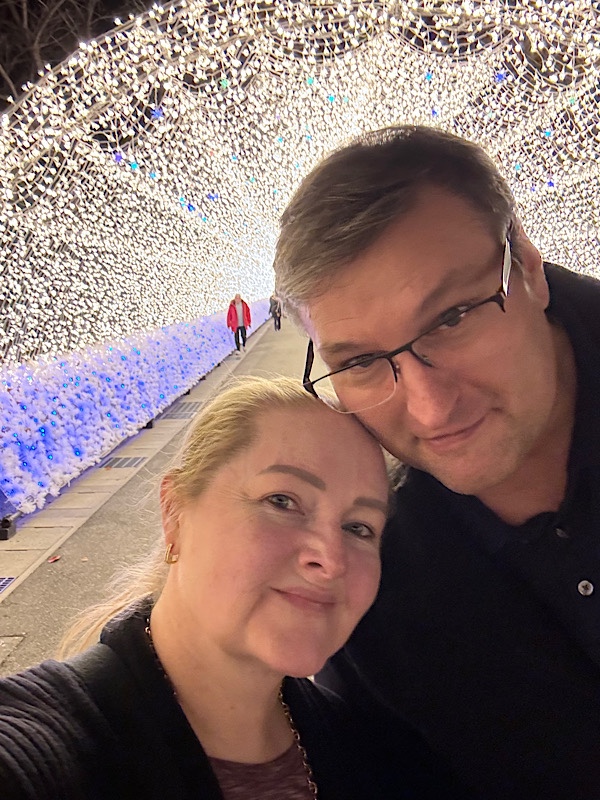 At the end of the big long selfie tunnel was an enormous field with pathways meandering towards three huge pyramids. Why pyramids you might ask? Well, I know I was wondering and nothing I saw gave an answer.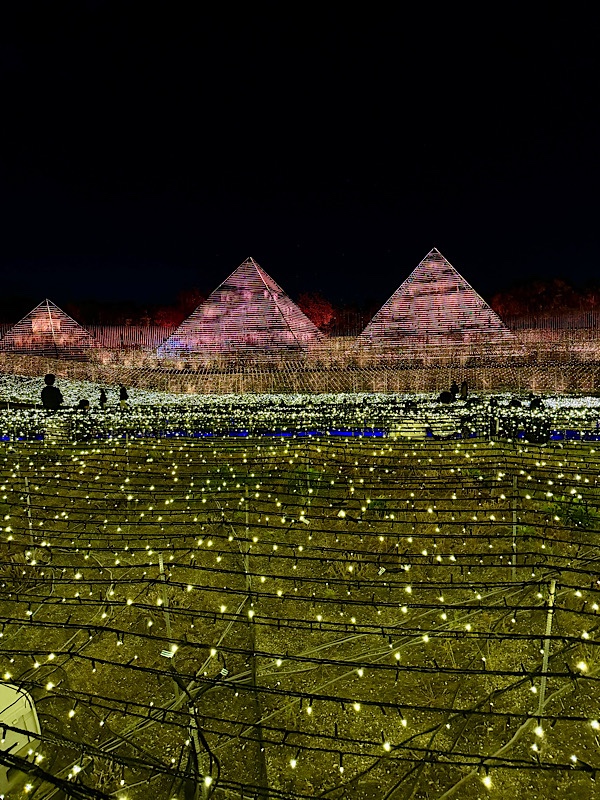 Probably something mundane, like large temporary structures are more stable when they are triangular or something. 😉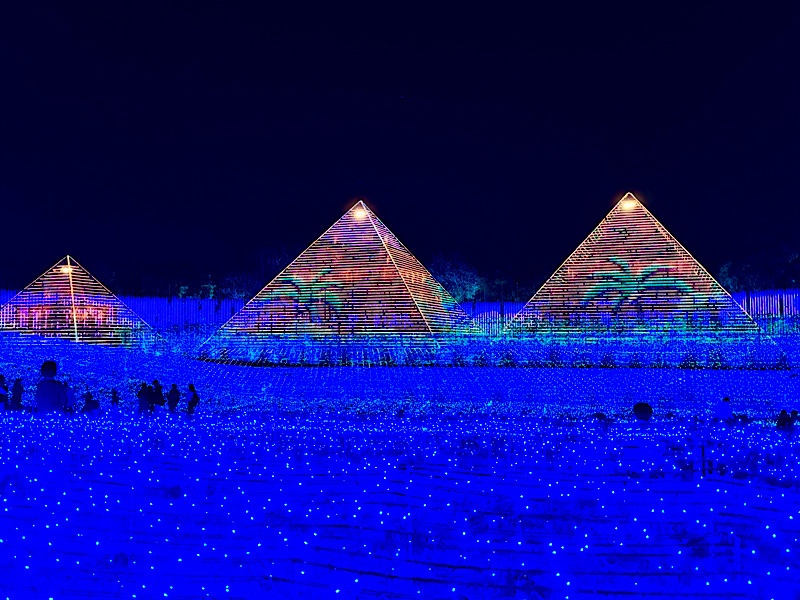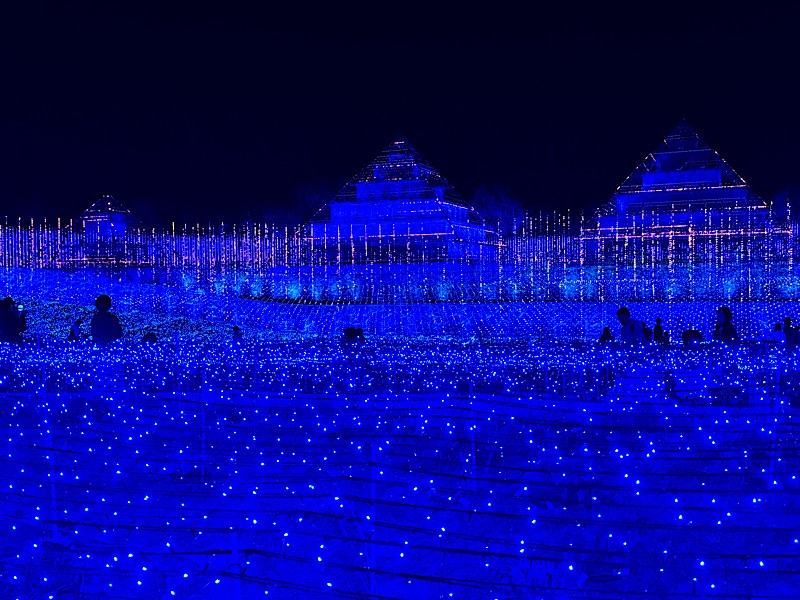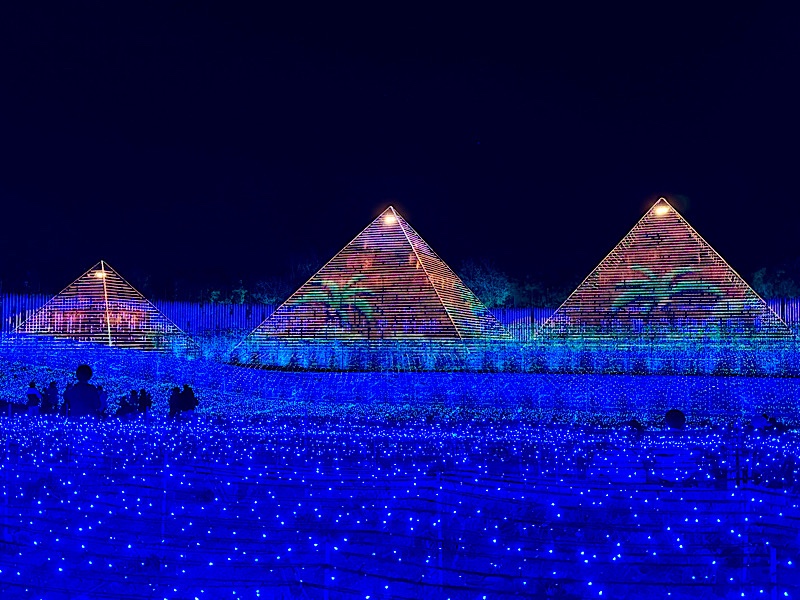 I kept wondering though (because I'm ever the pragmatist and quite the glass half empty kinda gal) how crap this must look in the daylight if my neighbour's yards are anything to go by when they have their Christmas lights up!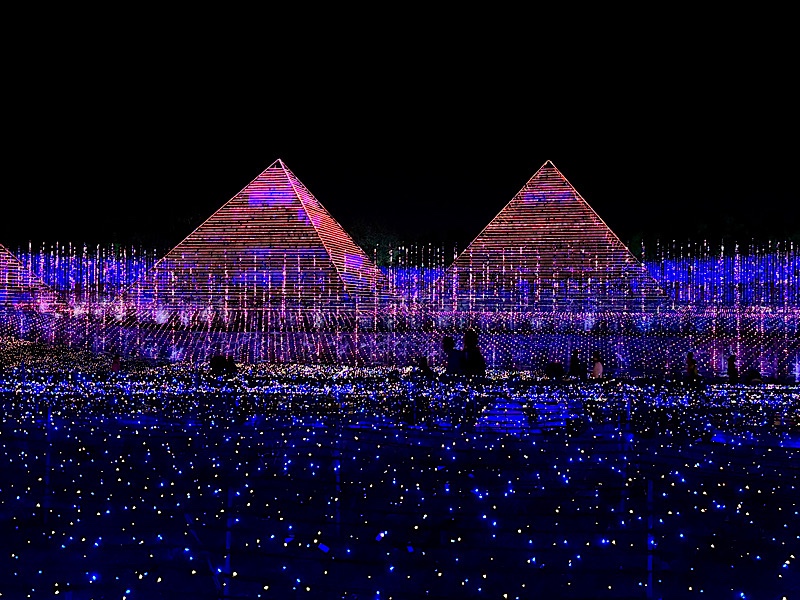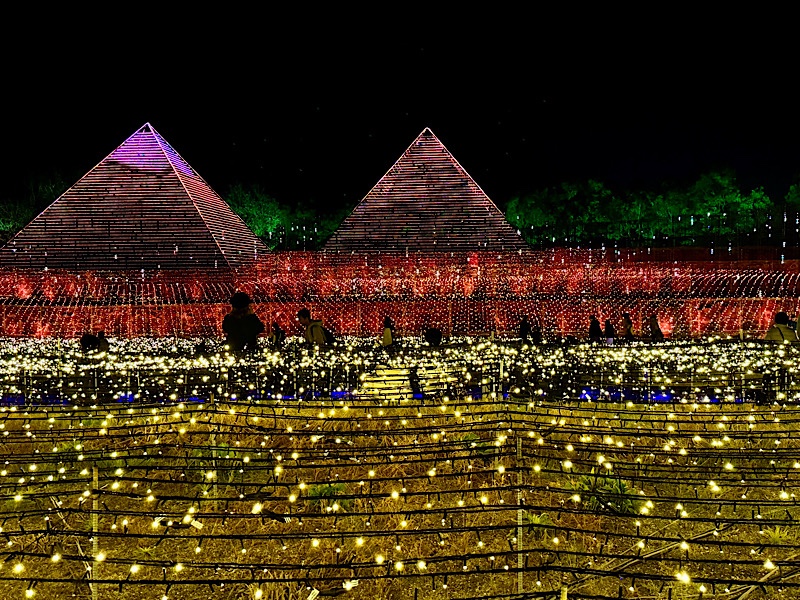 Ahhhh… a tunnel of love hearts.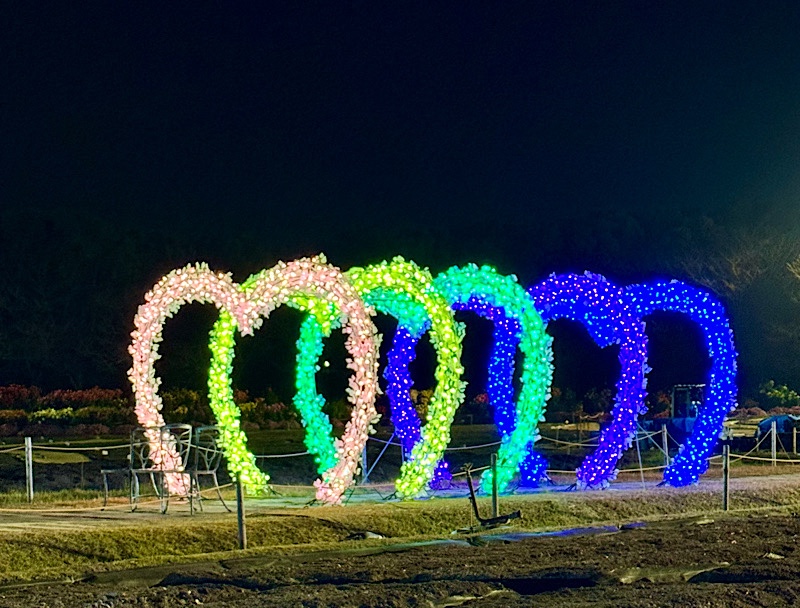 In front of which you can get a professional photograph with your sweetie.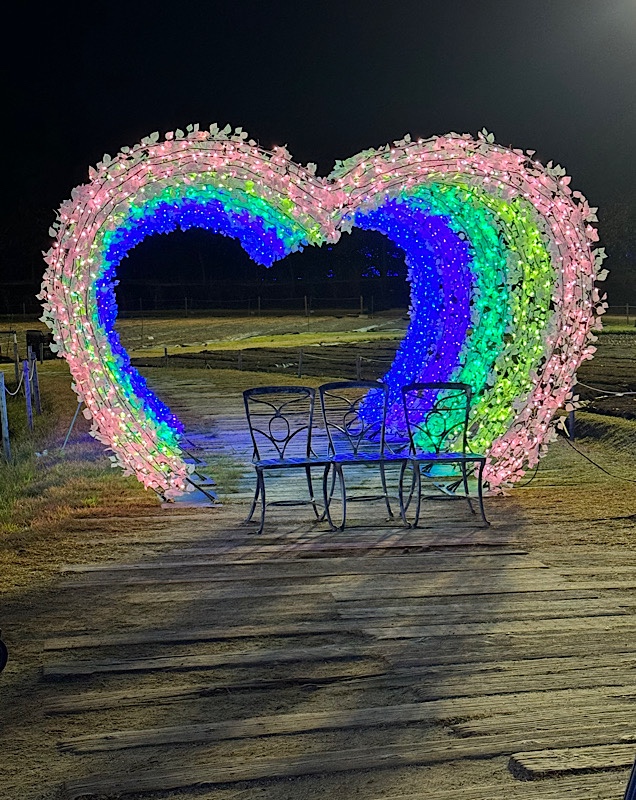 Another tunnel – this time made to look like draping wisteria.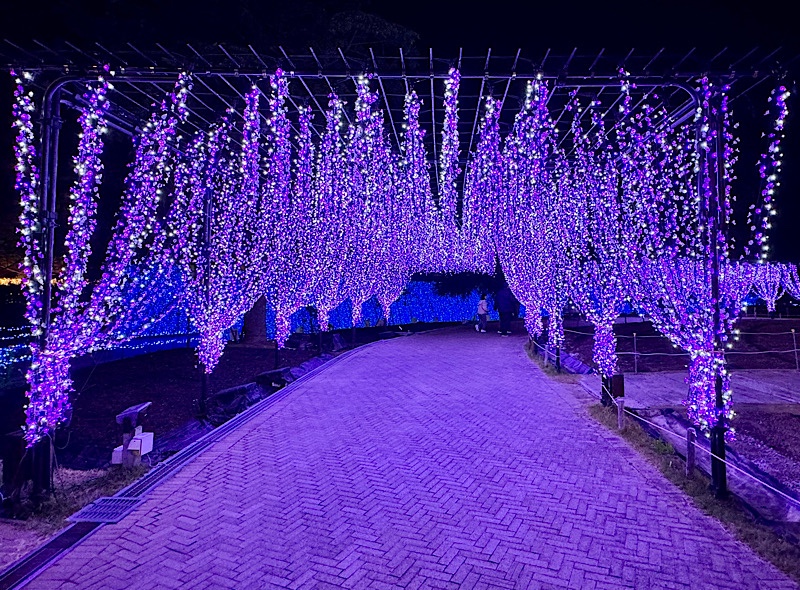 But the most adorable was for last – the long flower tunnel leading back around to the lake… there were two little boys running around with us in tiny little Santa suits. Their Mum chasing them with a large camera trying to get a Christmas photo of her little darlings. They were so excited and happy and much to excited to sit together for more than a fraction of a second for poor Mum to take their photo. They were so cute!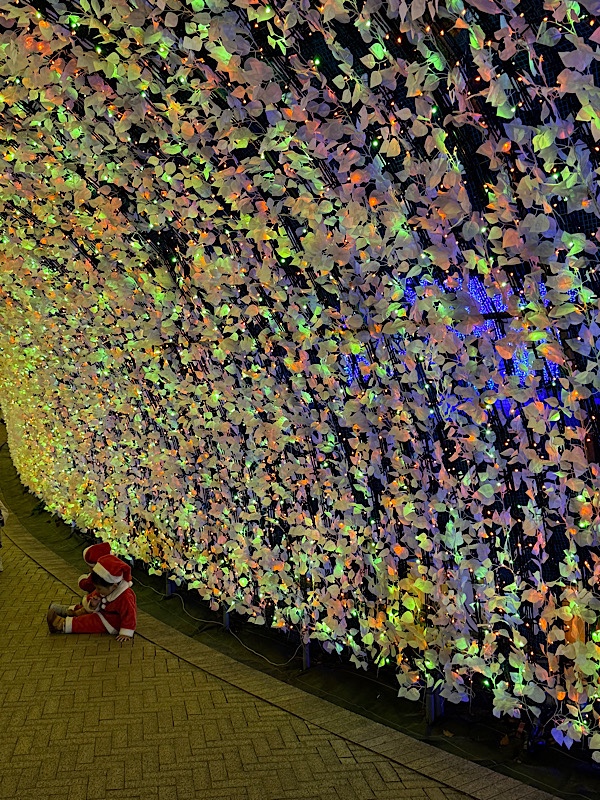 Waiting for the lights to change making the tunnel look like it was made up of different flowers! Magical. 😛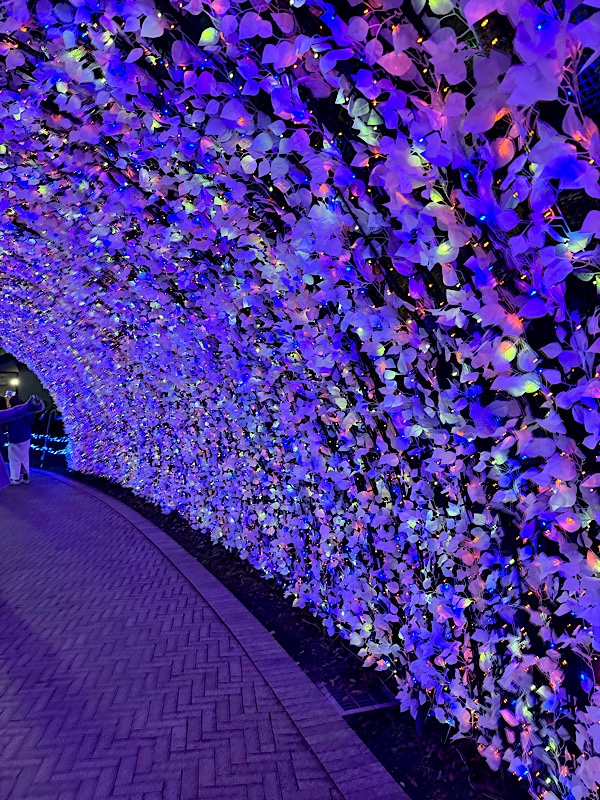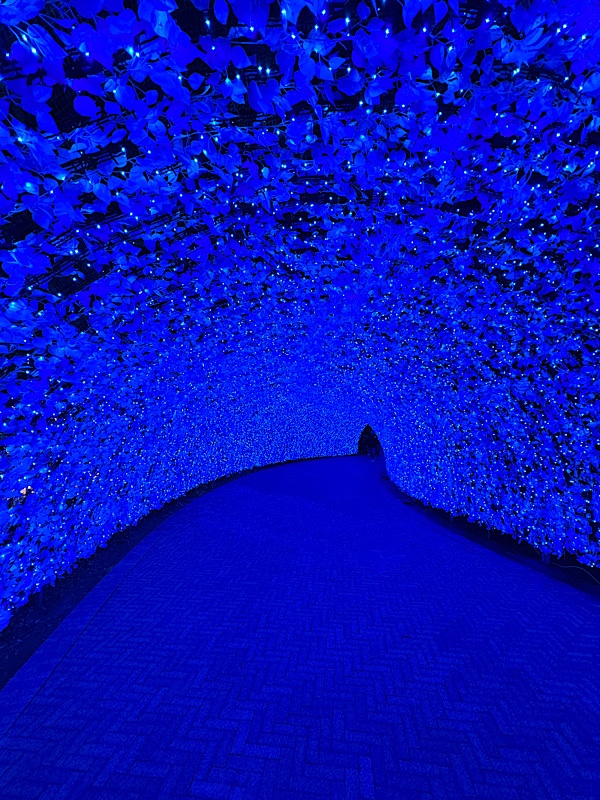 Obligatory selfie…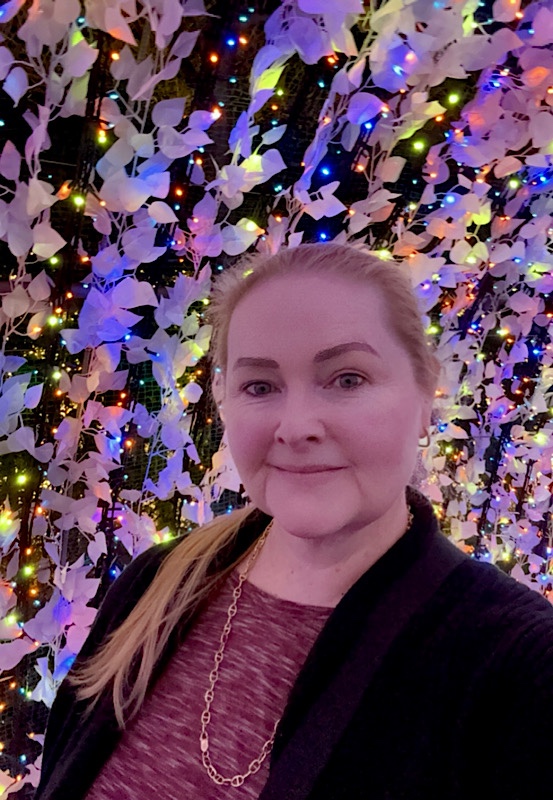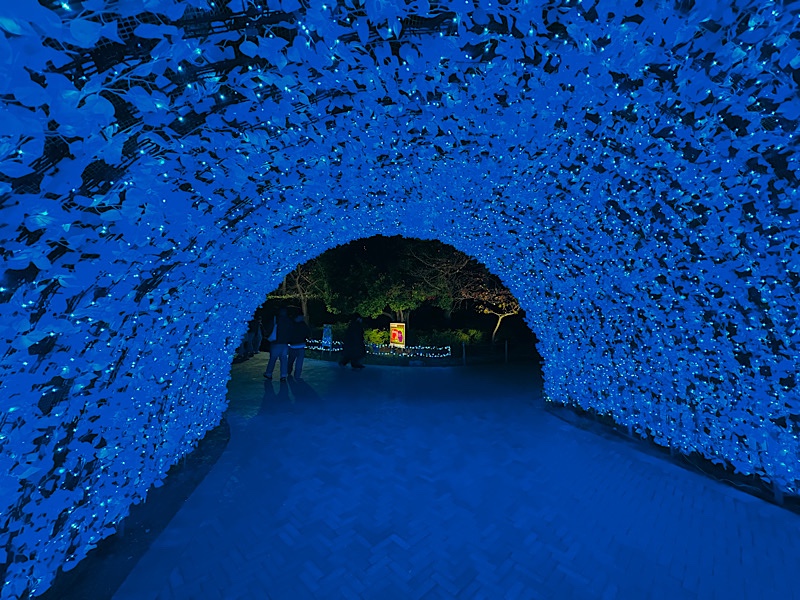 And then it was time to make our way out of the park. It was well worth a visit, even if it is quite the most Japanese-twee touristy thing we have done this entire trip… much better than a Robot Restaurant imo. 😉