Iceland! I'm in Iceland! And we are sure not in Kansas anymore, Toto. Hell, we came through the Arctic Circle last night! In fact, I'm pretty sure you can't get further from Kansas if you tried. We are in Akureyri today which is considered the capital of northern Iceland – which, btw is only about 103,000 sqkm, or as our guide has said, roughly the size of Kentucky… Being Australian, that means SFA to me, but the Americans all smiled and nodded knowingly, so yeah, all good. 😀 There is also only about 325,000 people in Iceland which equates to 3 bods per sqkm, compared to 10 bodies per sqkm in US and about 250 people per sqkm in UK. Can't remember what Australia comes in at… WHO knows? 
Iceland's incredible tundra-like landscape is shaped by fire and ice, primarily through the last Ice Age and more recently, through extensive volcanic action. Earthquakes can occur quite frequently and are usually about 6.5-7.0 on the Richter Scale, as the constant venting of geothermal energy means it never builds up enough for anything stronger… Which the Icelanders are quite happy about. They also have a very active volcanic geography, as you would expect, and volcanoes erupt about every four years or so, as the magma under the island is really quite close to the surface here. The landscape is simply 'incomparable' as our shore destination expert, Ken, would say.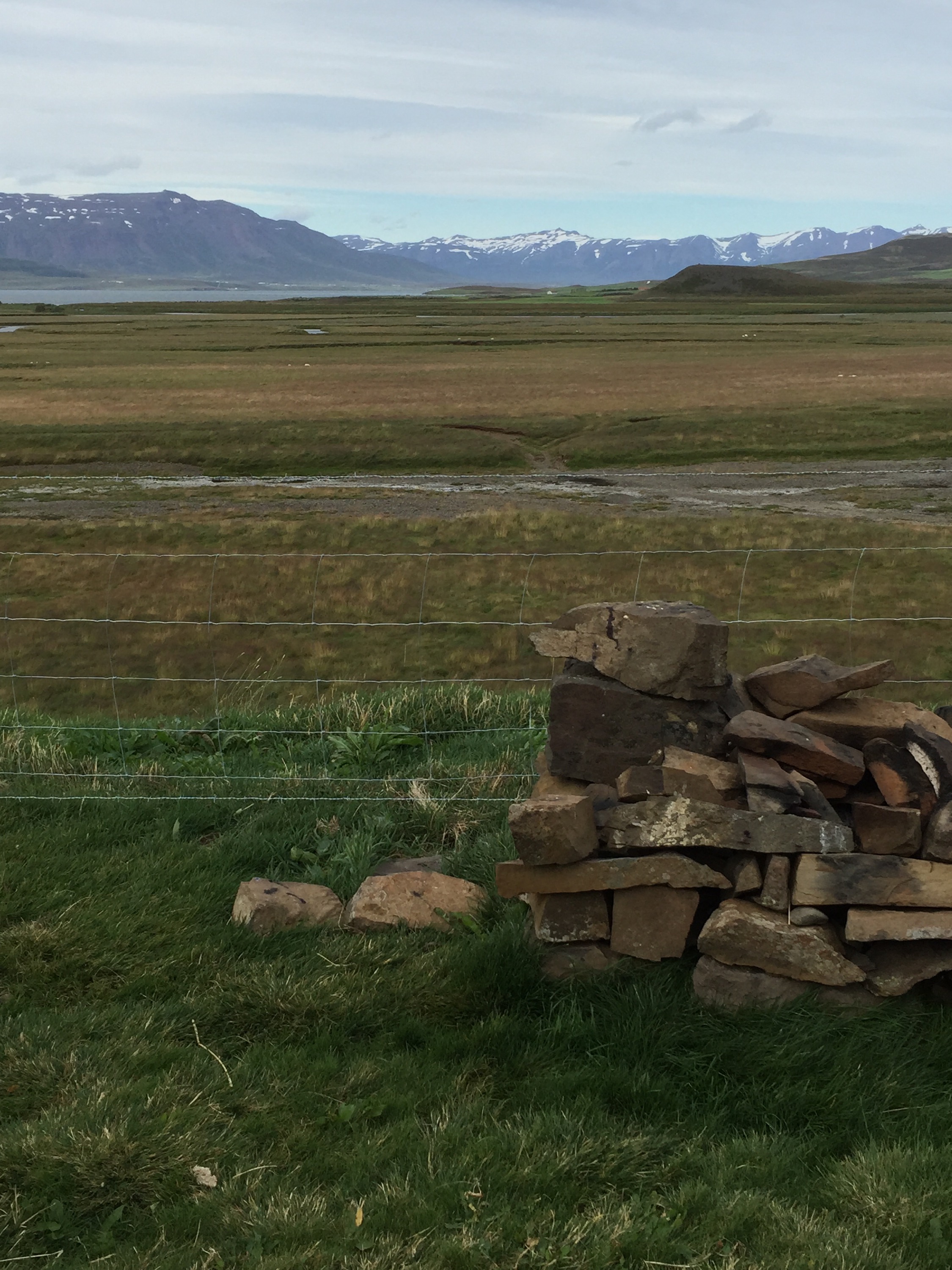 There are no mineable minerals or oil in Iceland, but they do drill for hot water to power large geothermal power stations. Icelanders pay about 1/3 of the cost of what people pay for electricity and heating in the UK or other Scandinavian countries which probably makes up for the earthquake thing a bit.
The official language is Icelandic – when the first settlers came to Iceland nearly all Scandinavians spoke approximately the same language. However, due to its isolation, Icelandic has remained closest to the older traditional Scandinavian language. The closest language to Icelandic is Faroese which shares about 50% common words – a bit like Italian and Spanish. Children used to learn Danish in schools as a second language, but now everyone learns English in primary school, adds Danish in high school and if they go to college (and apparently most do?) they end up learning at least one more language usually German, French, Italian or Spanish.
Ingólfur Arnarson was chieftain of first Norse settlers who arrived in 874AD in Reyjavik. Yay!!! Vikings!!! Woo!!! Sorry, bit excited to be here. Anyway, they built a farm to see if they could make a life here and, importantly, to decide if they could make it through the winter! After a couple of years, things must have been going ok because in 930AD, the first Icelandic Parliament was settled in Þingvellir (going there, day after tomorrow) and the Parliament stood until 1798… Though it is not exactly a Parliament as we know it, they met for only two weeks every summer and would set law and carry out arbitrations and judgements etc. but no politicians.
Things must have gone swimmingly for quite a while until a period of unrest started when all the power and influence had gathered into just a few families. In 1264, the Icelanders signed a treaty with the Norwegian and then became subjects of Norway, and subsequently became part of Denmark when Norway did.
In 1602, Akureyri was still primarily a merchant port and it wasn't until 1862 that they formed a town charter for their enormous population of some 150 people. A century and a half later and there is now 18,000 people living here.
Iceland didn't become independent until 1944 but it was Jóhann UnpronounceableSurname who was almost solely responsible for Icelandic independence. He studied politics in Denmark and felt Iceland would never truly progress without independence.
In 1864 King Christian IX came to Iceland to celebrate the 1000 year jubilee of continuous Icelandic settlement and he gave Iceland a copy of their Constitution, which was meant to be symbolic gesture, but was taken by the people as encouragement to make moves towards an independent Iceland.
In 1918, Iceland became independent but was still sort of under Denmark, much like the Faroe Islands still are now, and it was not until 1944 that Iceland became completely independent from Denmark. Iceland was occupied by Germany at the time so poor old Denmark didn't really get to have much to say about the matter. Relations remain really good though, and many Icelanders go to Denmark to study and live – about 5000 of them live there now.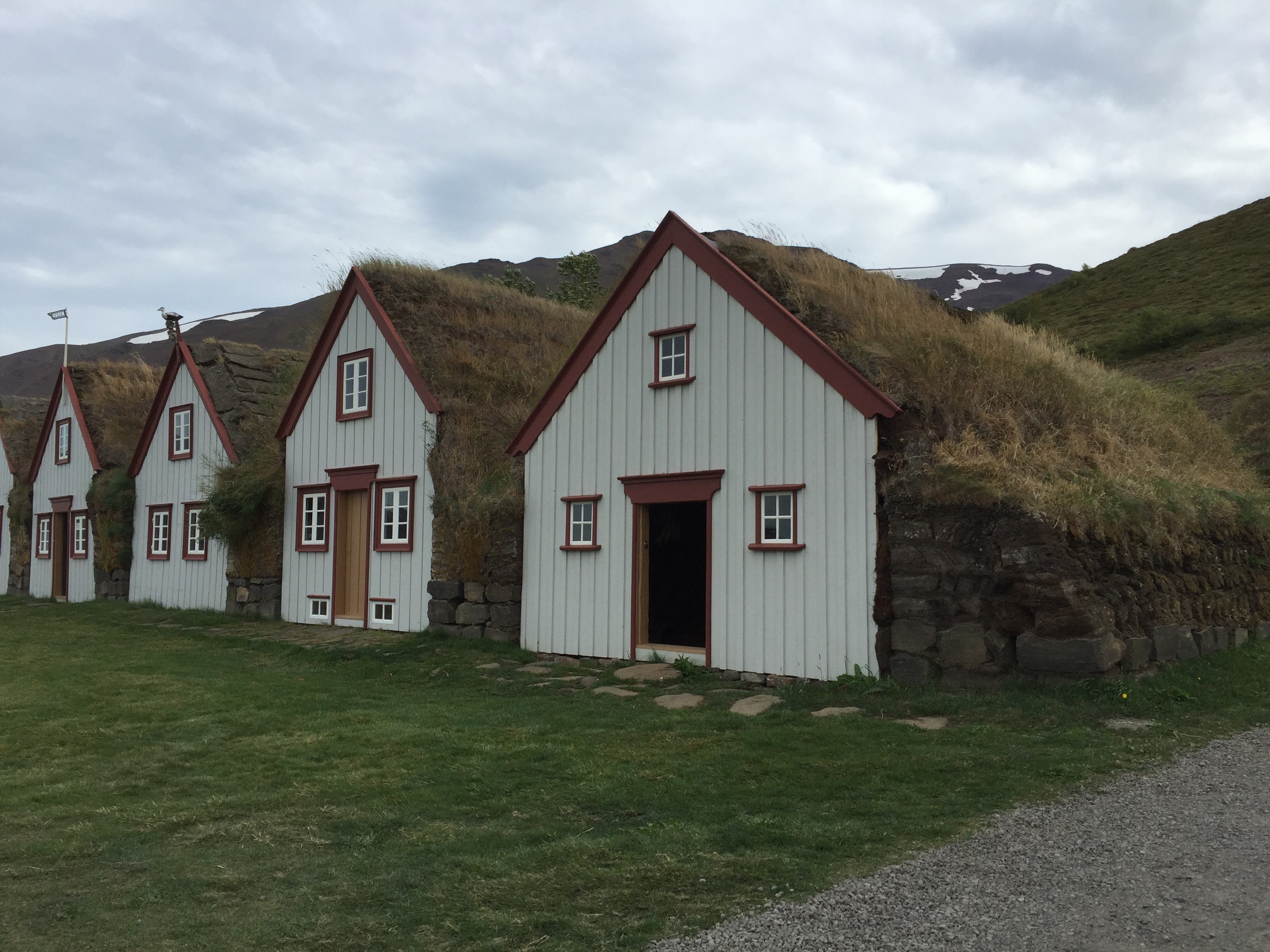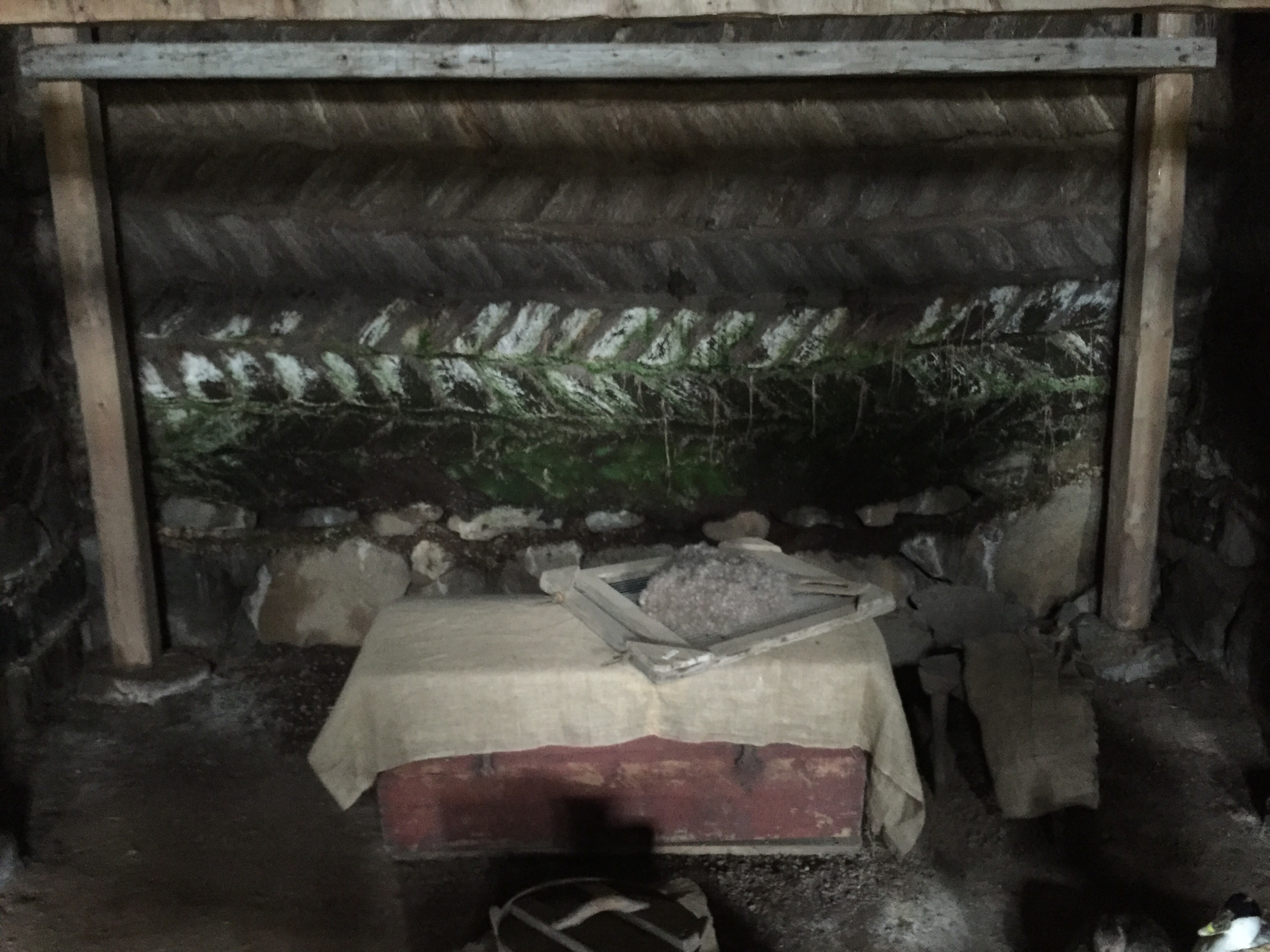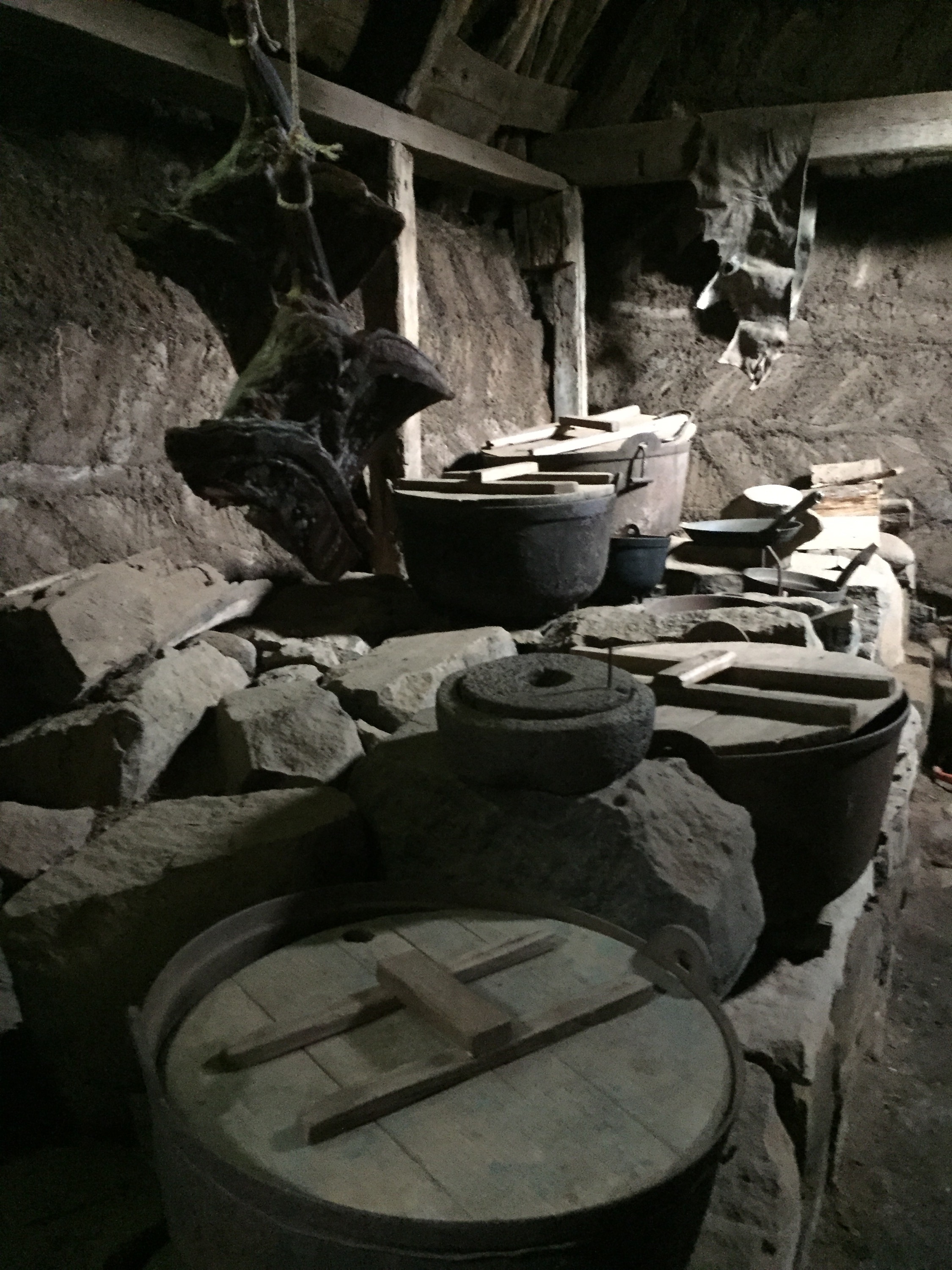 Our first stop today was the Laufas Folk museum which sounded kinda twee (as anything 'folk' tends to!) but was really kinda cool. The museum consists of a series of connected traditional Icelandic farmhouses. The farmhouses are dug into a hillside with minimal wood in the construction, instead using turf and stone. Mostly built in 19thC, some sections of the farmhouses date back to the 16thC. Most of the first settlers made their homes out of wood, as they were traditionally used to doing, but they used up all the timber in Iceland in just a couple of decades so they needed to find other ways to build… hence the stone and turf. It is estimated that 25% of Iceland was covered in timber originally, but now it's only about 2% and even some of that planted. The newer building technique of digging their homes into the ground used minimal timber, only for the gables and roofs.
The farmhouses are all connected inside so the inhabitants did not have to go outside during the depths of winter to visit their neighbours – so many families would have lived in the interconnecting houses. The occupants of the farmhouses raised sheep, spun and wove wool, and bred and raised eider ducks. Eider is very, very soft but very expensive as it takes a lot of ducks to make eider items. The ducks were quite prized and very well cared for and protected, so the farmers can keep collecting the eider. Eider ducks are still raised in Iceland as eider is still so much In demand, that the locals call it, 'soft gold'.
Our next stop was to Goðafoss, the Waterfall of the Gods. As local history tells it, the Parliament, in 1000AD, gave the (not inconsiderable) responsibility to Lawspeaker and Chieftain Þorgeir Þorkelsson to decide if Iceland should become Christian or stick to their older Viking/pagan ways. He apparently laid down under a rug and contemplated for 24 hours, and eventually decided that Iceland should be Christian. People were still allowed to worship their Norse gods privately in their homes and it was a very peaceful transition with no persecution – which hardly sounds very religious! Anyway, to set a good example for the people Þorgeir threw his idol statues of the Norse gods Odin and Thor into the waterfalls and they say the waterfalls have been called the Waterfalls of the Gods ever since. Nowadays, most Icelanders belong to the Lutheran Evangelical church.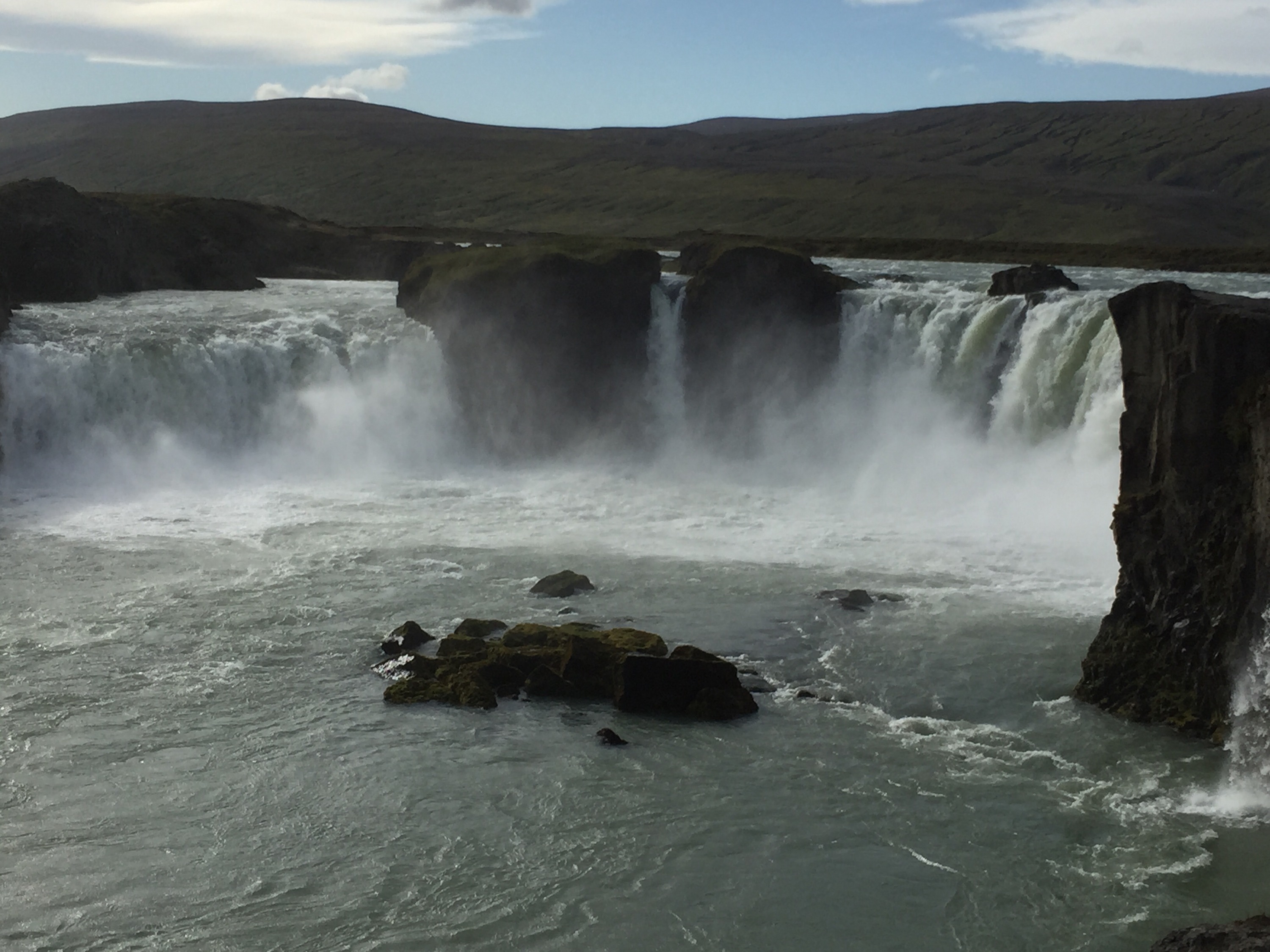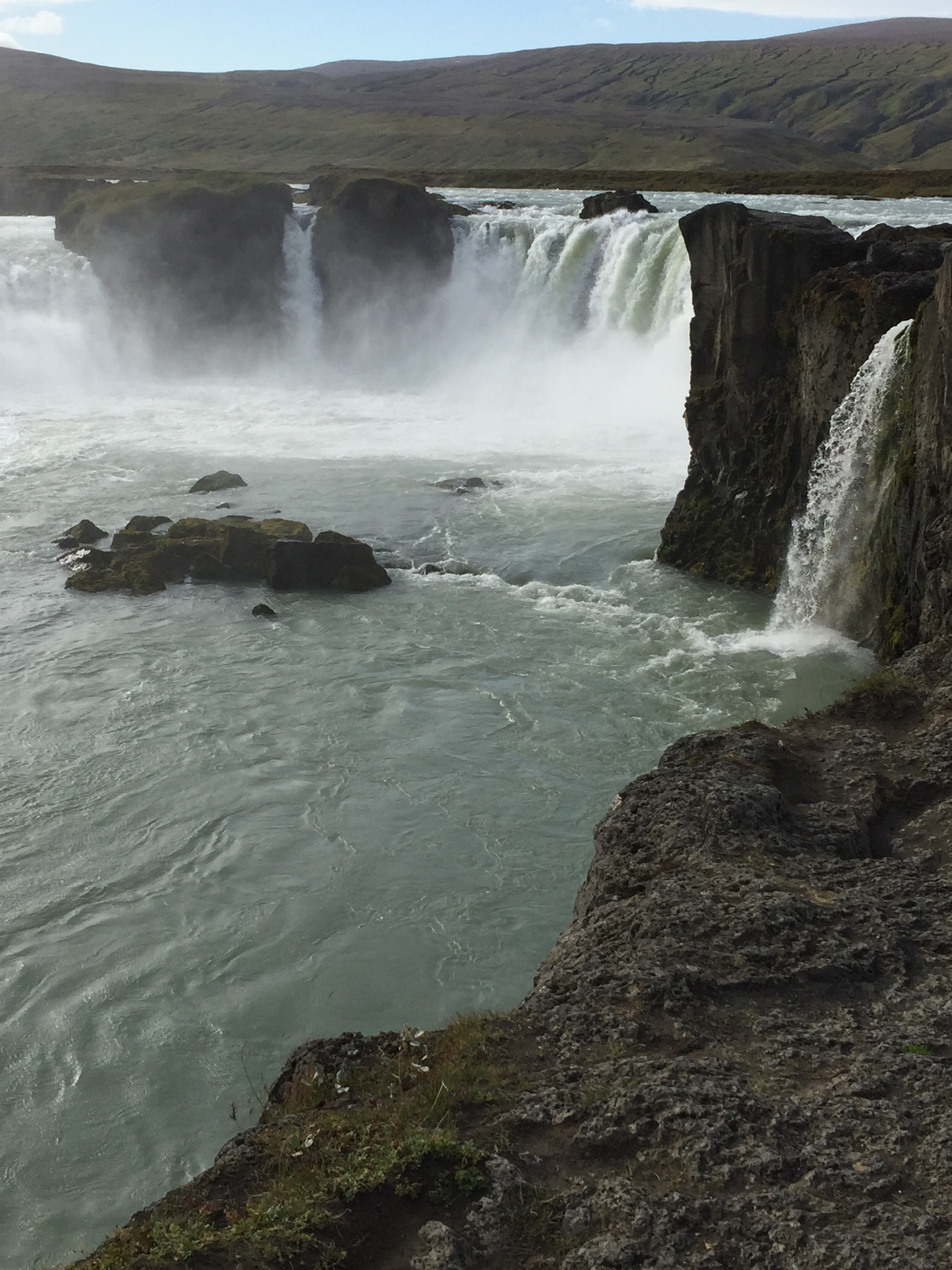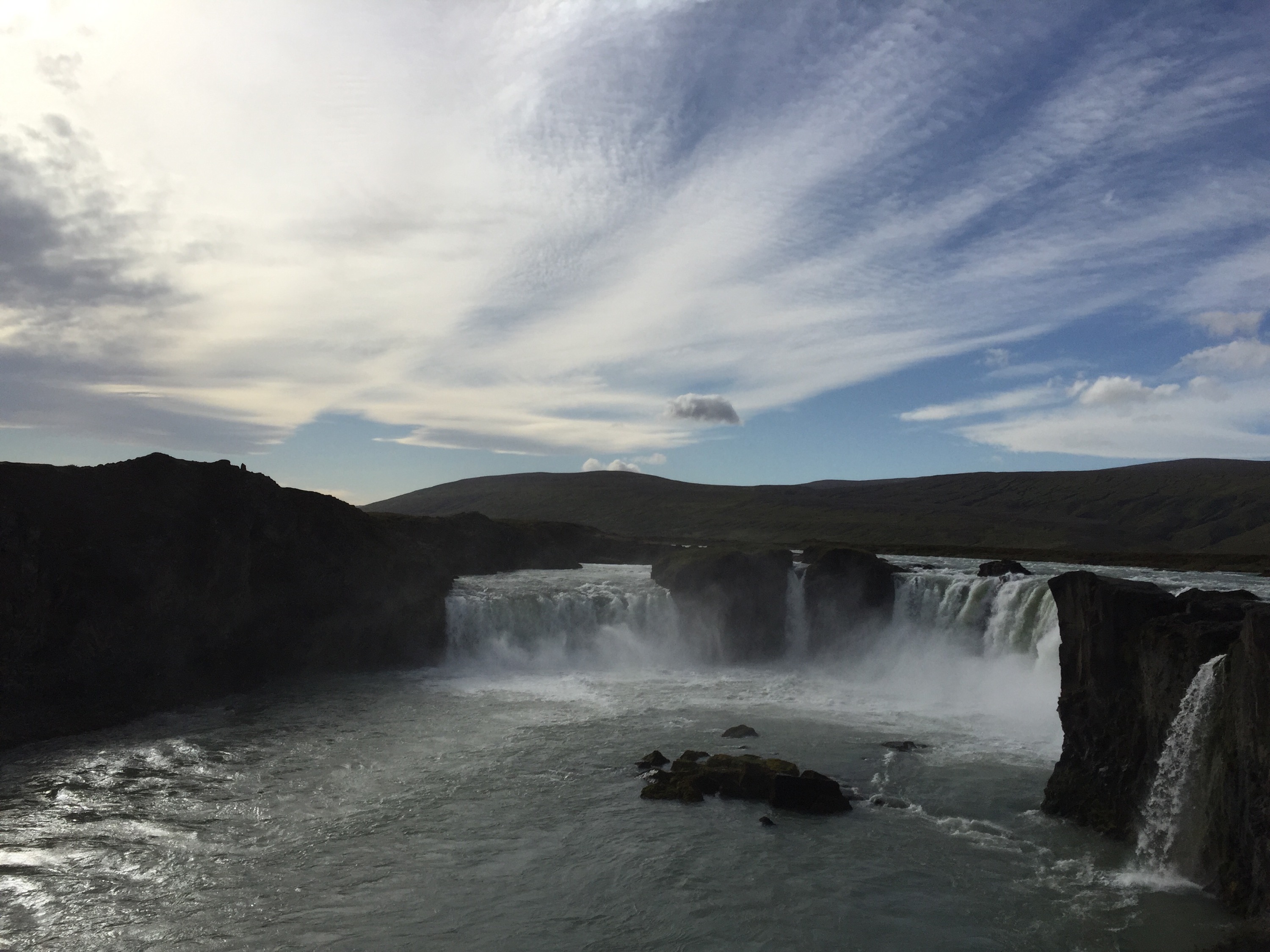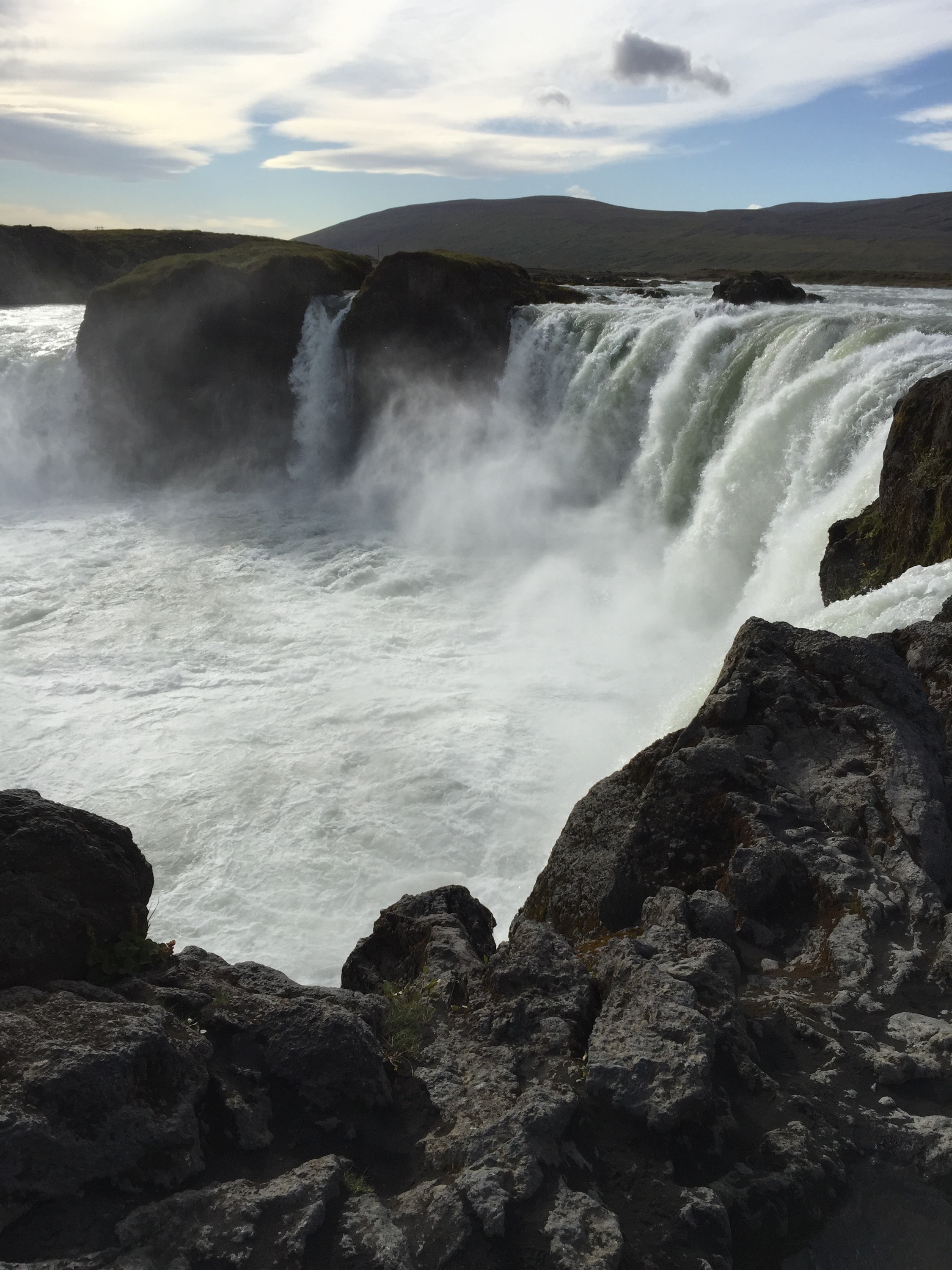 People travel to Iceland specifically for the fishing – Icelandic salmon and trout in the fresh water rivers. Sheep farming – sheep released into the wild slopes at the beginning of summer in June. And rounded up September in a community effort and all the sheep are divided back up and given back to the right farms. It might take a whole day to round the sheep up. A whole day!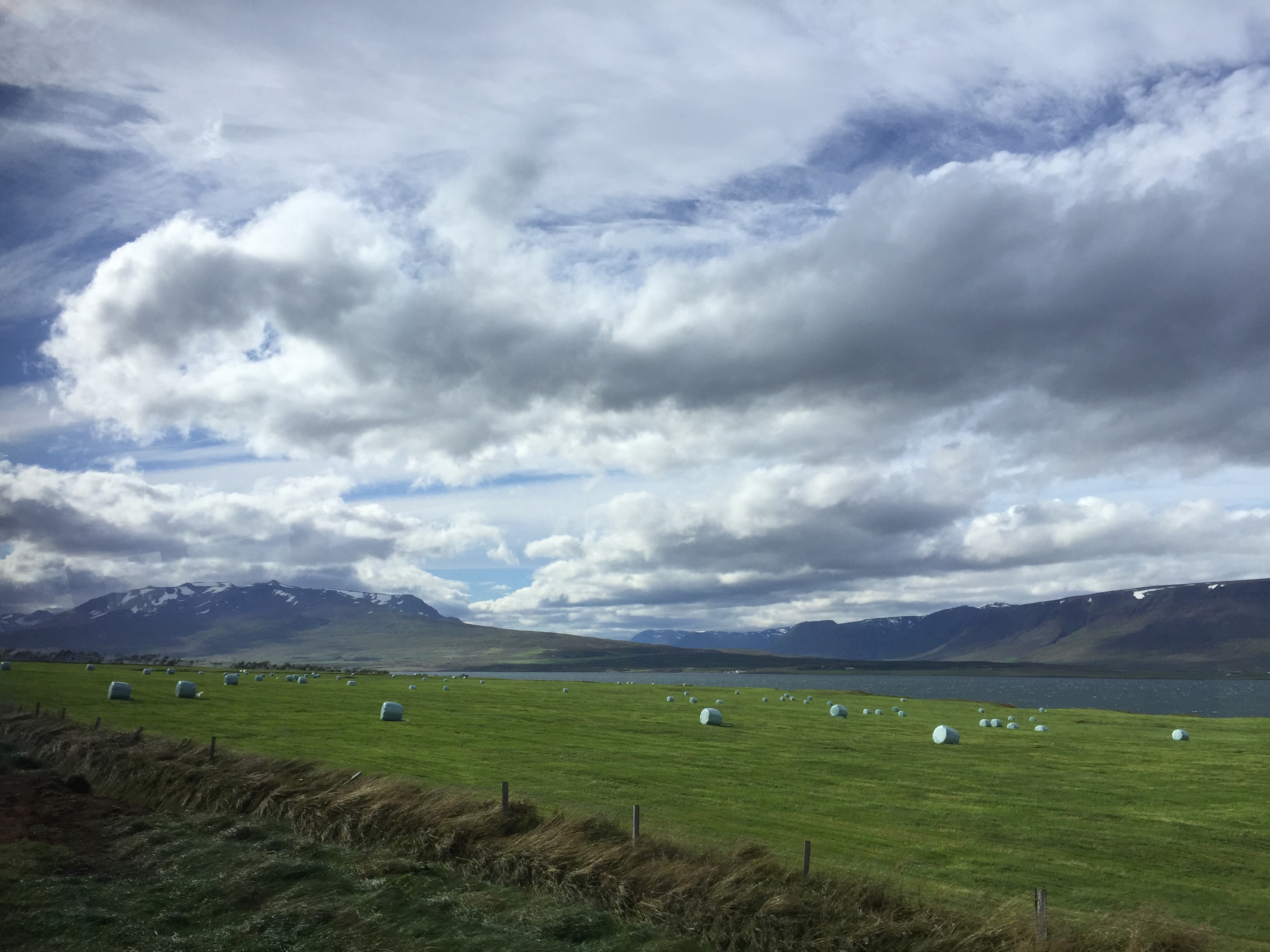 The main trees here are birch 'what do you do if you get lost in an Icelandic forest? stand up ' trees font grow very high in these conditions.
We also stopped in at the Botanical gardens, which are one of the northernmost botanical gardens in the world. Started by two very determined amateur gardeners, (I didn't catch their names, but I imagine they were probably Ester and Betty, or some thing similar) who planted over 2000 exotic trees and flowers… many of which shouldn't really grow in these conditions but have somehow survived.
Currently, Akureyri is having their coldest summer in 30 to 40 years – seems climate change is messing up shit everywhere. Generally the snow starts in end of September and will go away by May and Akureyri's climate is heavily affected by ocean temperstures which have been really cold this summer: 0° to -1°/-2°. The hottest recorded temperature was about 31° and coldest recorded about -30°, and apparently the weather is very unpredictable which makes agricultural pursuits diffucult. The only vegetable grown outdoors here are potatoes and turnips, and all other vegetables are grown in greenhouses – tomatoes, cucumbers, zucchini, bell peppers etc. Iceland grows about half their vegetables can't grow any fruit at all. So all fruit needs to be imported along with the other half of their veggies.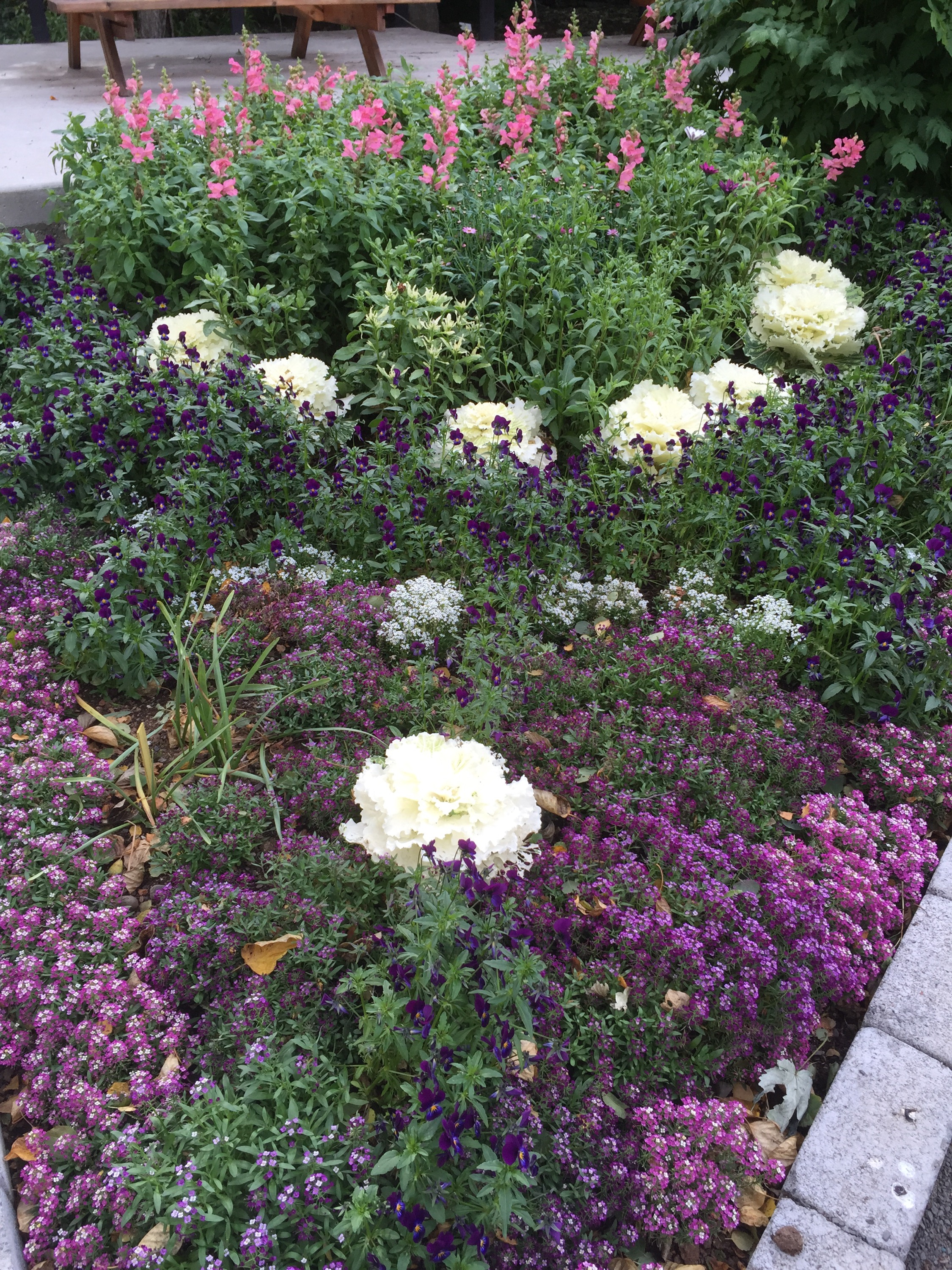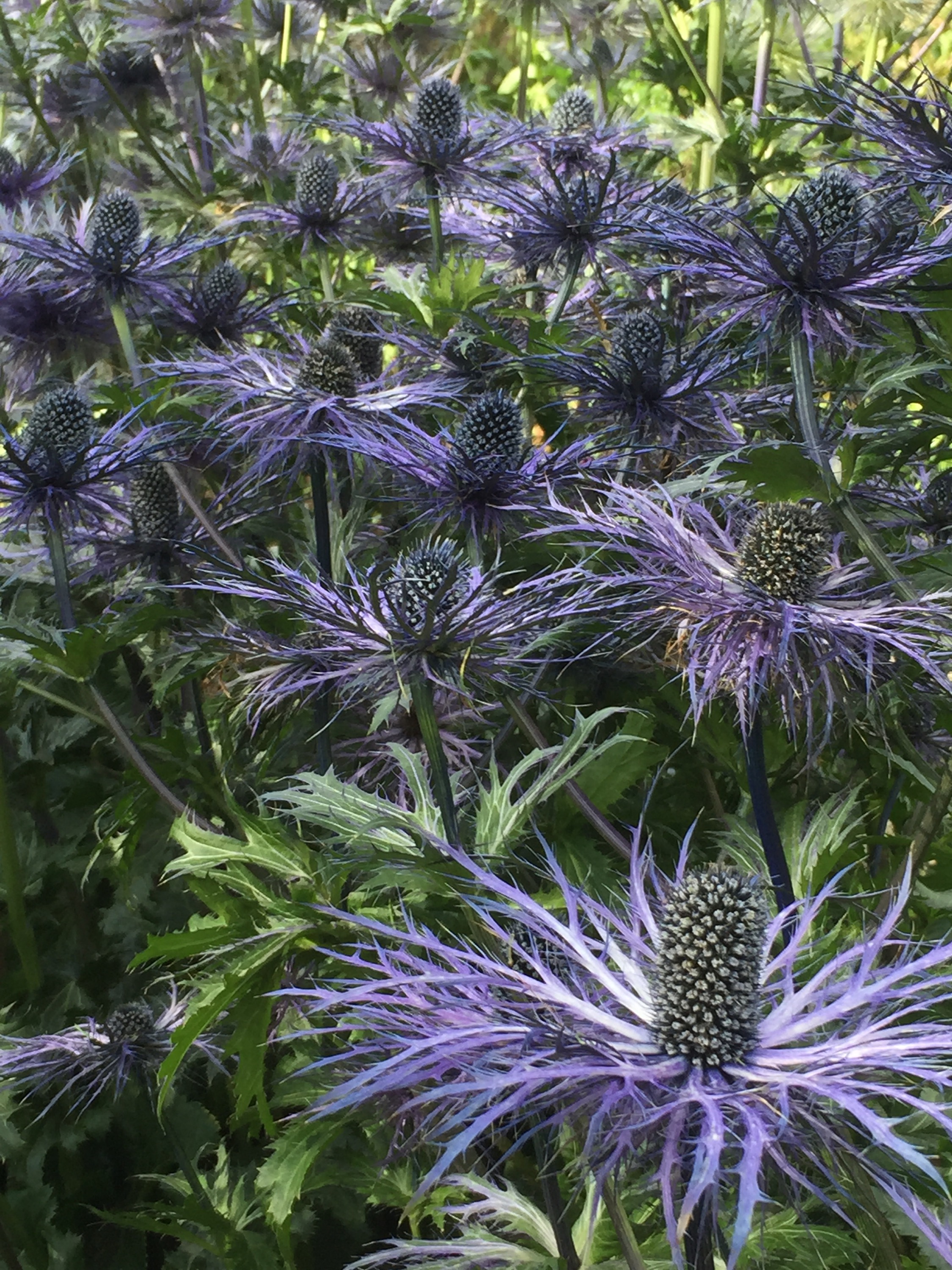 After wandering the Botanical Gardens for a while and admiring the late summer blooms, and gorgeous enormous bumblebees, we went for a walk down town to hunt for some Brennavin for my extra special, second very best friend, JarlNiall, who asked me to keep an eye out for it. As luck would have it, alcohol is only sold in state controlled stores run by disapproving grannies, and this afternoon was likely to be my only chance to look for it. Walking about 'down town' was rather strange – things felt shut and it was difficult to tell 1) if a building was a store, 2) if it was a store, what the hell are they selling and, 3) are they even bloody open?! I ended up asking a little lady from the Red Cross stall in the centre of town for help : "Excuse me. I'm obviously an annoying tourist and have no idea… but can you point me to the hard liquor please?"
The poor lovey was very helpful, but I couldn't understand her directions and she ended up abandoning her stall and walking me down the street to point out an ugly distant grey building called the Vin Buildun (*facepalm* … the Wine Building). Anyway, managed to acquire the required Brennavin though I have no idea how much I paid as both the ISK and the AUD are fluctuating like mad! And now all I have to do is nurse it through 20 more days of travel and get it home in one piece! Wish me luck. 😀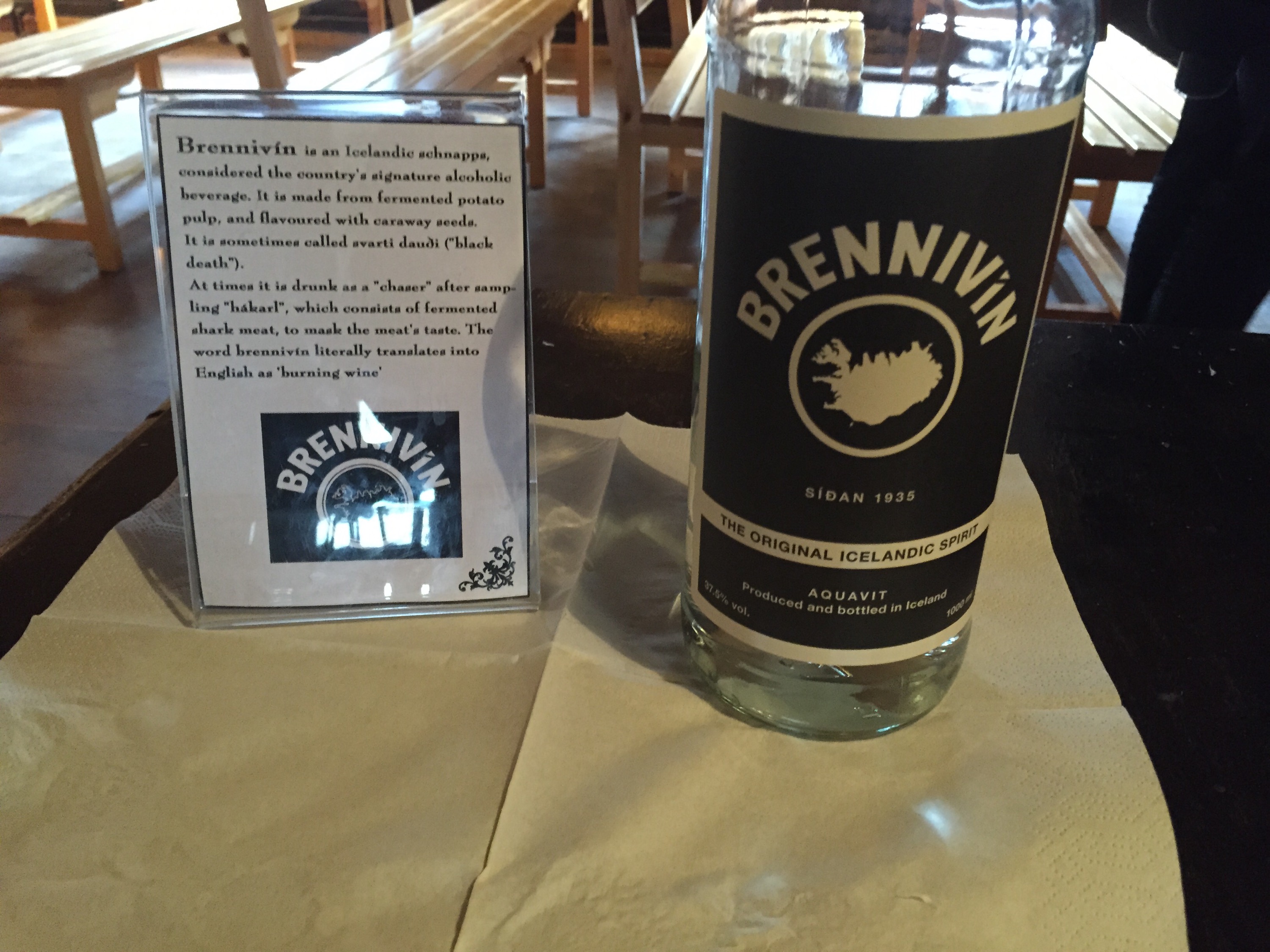 PS – tastes fucking foul!