Years ago when I was but a year or so out of my Catholic school girl's uniform and had been working full time for the Qld Govt  for a while… I decided to go get myself a tattoo.  As you do… mostly to piss off the uber-conservative parental units yes?  🙂   Anyway I'd always wanted one and had a custom design I'd chosen and everything.  Now as anyone who knew anything about BrisVegas back in the late 80s/early 90s knows – this meant I had to make my way down 'Expert Tattooing' in Stones Corner which was the bright red building right on the roundabout.
That little red tattoo parlour was a BrisVegas landmark and it had been there as long as I could remember (but it's gone now of course).  As was typical for these places back then it had the appearance of being a place for the city's hairy and unwashed… you know the chain smoking, drug dealing, gang member, Harley riding miscreants.  Because back then EVERYONE who had tattoos was a criminal of some sort and ended up in jail or they were going to eventually.  Or if they were female well… then they were tramps.  These were the rules – no exceptions.
Anyway I remember rocking up down there (which took some pluck at 17 to walk in dressed straight from work in heels and a skirt) and going in to find out about getting my design done.  It was here I met Gary, Andre and Mo.  And yes… they were all covered from head to toe in tats, smoked like chimneys, swore like troopers and made fun of poor niaive little Borys like you wouldn't believe. – because you see I couldn't convincce any of them to do my tattoo for me regarless of how much I pleaded.  Beacuse at the time the law behind the old Qld Banana Curtain stated that you had to be 17 to get a tattoo… unless you were female in which case the law stated you had to be 18.  I shit you not.
So I kept going back and trying to con them into it… and they never gave in.  After a while, Gary and I became the most unlikely of friends – we'd go to lunch, I'd ask him to do my tattoo, he'd say no and repeatedly said that I was too pretty to get tattoos and would flatly refuse to do it.  Even once I did turn 18 it still took me about another three months to talk him into doing it for me… but by that time we had become good friends and I had learned that he was one of the best so I waited him out (and threatened to get Andre to do it instead :P).  He eventually did my pixie for me on my shoulder and about a year or so later he did a little mushroom on my foot for me that he doodled on a serviette over lunch one day.
But as time passed, we eventually lost touch.  I tried to track him down a couple of times but all I could ever find was listings for places to buy his flash (Gary had given up tattooing but was still designing flash and he was mostly working doing gorgeous oil painted murals for some of the fancier resorts up and down the Whitsunday Coast)… but now he's back!  We found him!  He's opened a new shop called Carina Tattoo on Old Cleveland Road in Carina.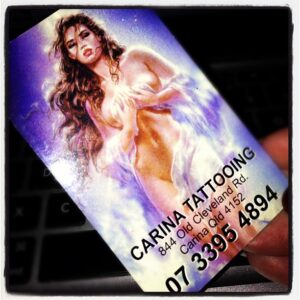 So if anyone is thinking of getting a new tat and wants a world reknown actual 'artist' to do a custom piece… then it'd definitely be worth your while to hightail it to Carina in Brisbane.  🙂
Gary Davis
Internationally known Australian artist and tattooist, Gary Davis, brings over 40 years of artistic experience and excellence to his remarkable flash art. Highly prized all around the world, Gary's intense colors, flowing style and variety of designs have earned him a respected and permanent place as one of the true legends in the tattoo industry.
Hailing from Carindale Brisbane, Australia, Gary's considerable artistic talents go well beyond tattooing and tattoo design — he is an accomplished painter, illustrator, sculptor, cartoonist, and graphic designer.