Our fearless leader of the Sea Princess, Captain Gennaro Arma, gives us a noon day announcement with the ship's position, a bit of weather, and usually a bit of nautical trivia or sometimes a joke.  He's probably the most informative and interesting captain I have ever sailed with.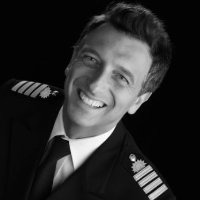 Unfortunately, we all knew we were losing him in Rio… however, a couple of days before Rio, he came over the public address system and told us that his replacement, Captain Paolo Ravera, was detained and we were going to have to put up with him a bit longer.  You should have heard the cheers in the dining room!  I've never seen anything like it – everyone was pleased to be keeping him, even for just a little while longer.
We have all come to love his noon announcements, and his easy and open style of telling us about any issues that are coming up that may affect our itinerary… he talks more than any Captain, ever.  Click 'play' to hear one of his noon announcements, no trivia this time, but a run down of the ships stores usage.

We have since learned we will get to keep him until Barbados, and while I am sure he is keen to get home to see his family, we'd love to keep him until we get back to Sydney!  He's absolutely the best… and it doesn't hurt that he's a very handsome man with a fabulous accent.  😉