We are in Tallinn today, where all of the bollards look like fat lazy pigeons.  The weather is pretty dismal, but the rain kept at bay long enough for us to have a really good poke around the Old Town.  I visited here last year when doing the Baltic with Mr K, so plenty of the spots we stopped today where places I have seen before.  Though not with so few people around!  Tallinn in August is very different to Tallinn in October… the narrow medieval cobblestoned Old Town feels deserted and if the cost of that is a few shops are shut for the winter, then that is fine by me!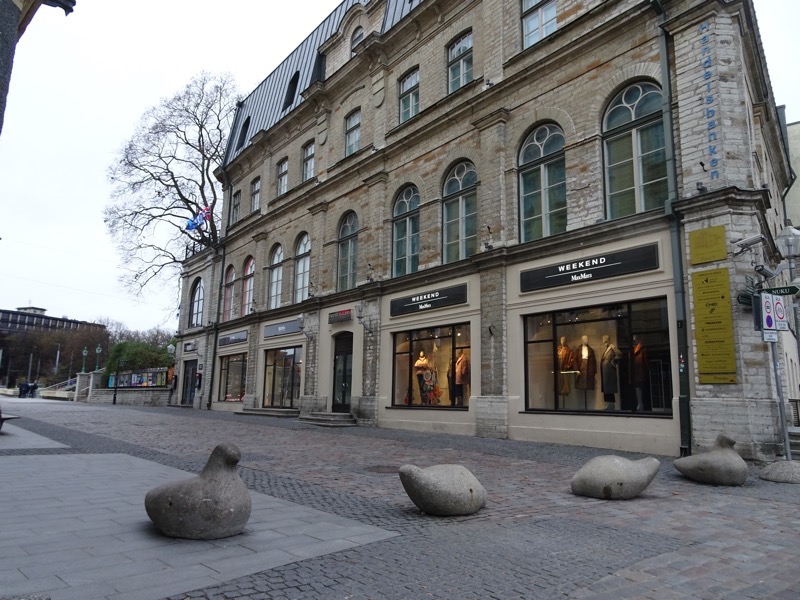 We found a great little cafe for breakfast which wasn't so easy given that many places were just not open this early – you know, about 0930.  It was called Revel and was warm and cosy and served up the best €4.95 brekkie ever – a potato, bacon, onion and mushroom bubble and squeak type deal with an egg on top. I didn't finish it, but it was a delicious start to the day.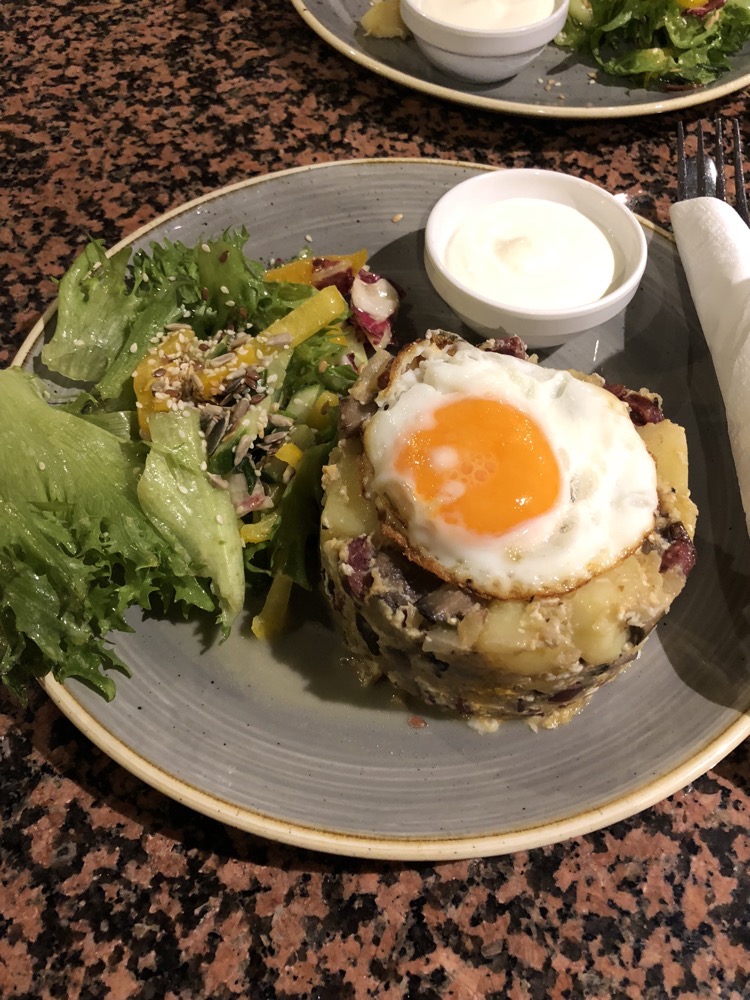 We started off near St John's church, (Jaani Kirik) which is near Independence Square.  Dedicated to Saint John the Evangelist, it was built in the late 1860s. In very typical old meets new Tallinn style of blended city scaping, the church has these large light poles out front that have colour changing strips running up and down them in blue and white (colours of the Estonian flag).  It's a bit jarring to the eye, but thankfully most of the Old Town is UNESCO World Heritage listed, so you don't see much of this sort of thing.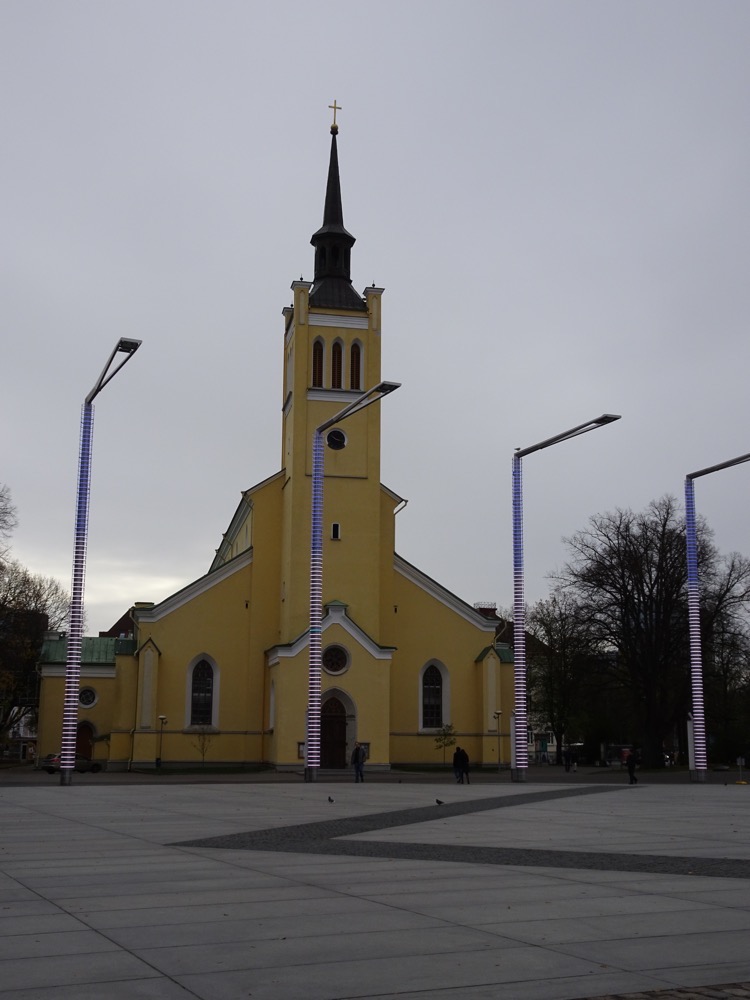 Across the Square, the imposing War of Independence Victory Column is currently under wraps.  It is a tall, usually well-lit plinth with an enormous cross on it.  Usually, I try to crop the scaffolded buildings and monuments out of my photos, but this one struck me as a bit of a monument in its own right. It was only unveiled about a decade ago and already under scaffold… I think this piece is currently a monument to the: 'They Don't Make 'Em Like They Used To' field of civic building.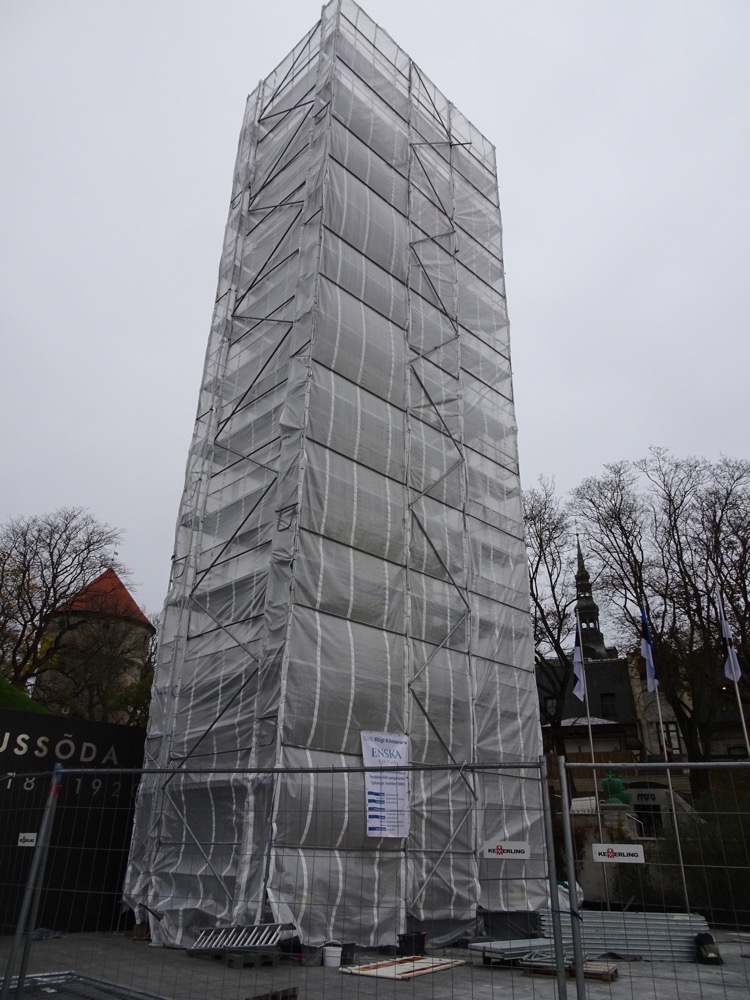 On the hill above the Independence Square was the marker for the Baltic Way – commemorating the 2,000,000 people that formed a human chain across the 675kms from Tallinn to Riga to Vilnius on 23rd of August 1989. The plaques were bestowed by the city of Vilnius, we will have to find the Riga one when we get there too, I think. The Baltic Way event occurred to commemorate the stunning peaceable act that was to protest against the Molotov-Ribbentrop protocols.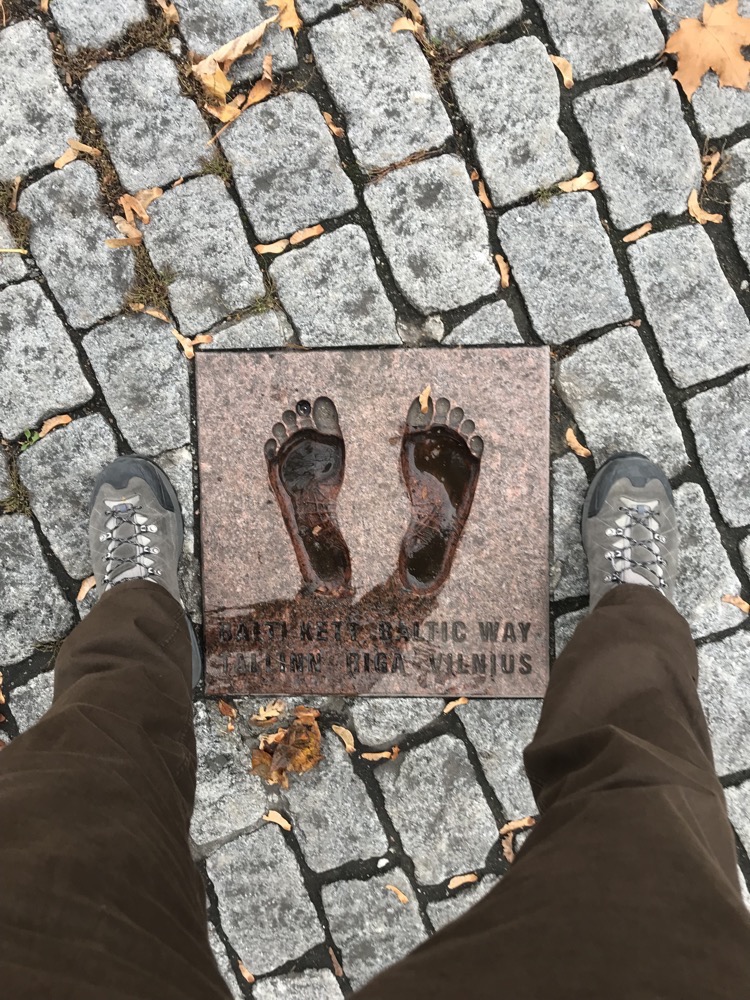 I am so totally in love with the autumn colours – we experience nothing like this in subtropical Brisbane.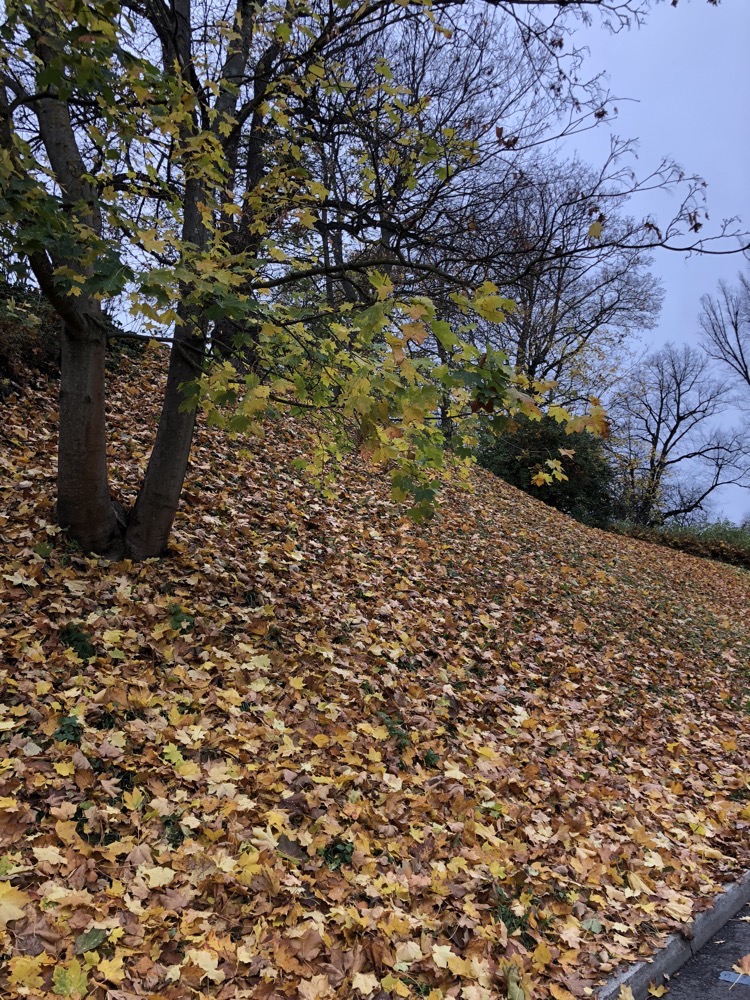 Not far from Independence Square is the Kiek in de Kök – a restored cannon tower from the 15th century that is now a museum. The name, Kiek in de Kök, literally means 'peek in the kitchen' in German; the tower got its name from stories about how soldiers in the fortification could peek from the top of the tower into the kitchens of the town below.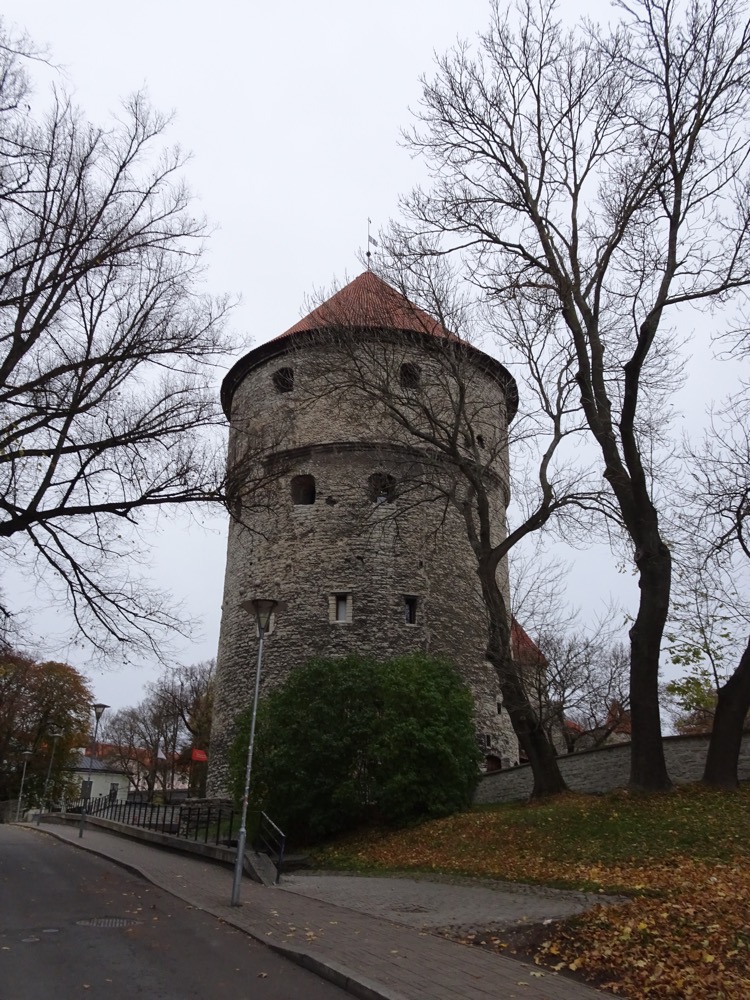 Nearby is the sturdy 14th century, Maiden's Tower which is currently a cafe and small museum which oddly focuses on the culinary arts and the art of war – interesting combo. We thought we may double back around on these museums later if it started raining and we needed to take refuge indoors (it didn't and we didn't).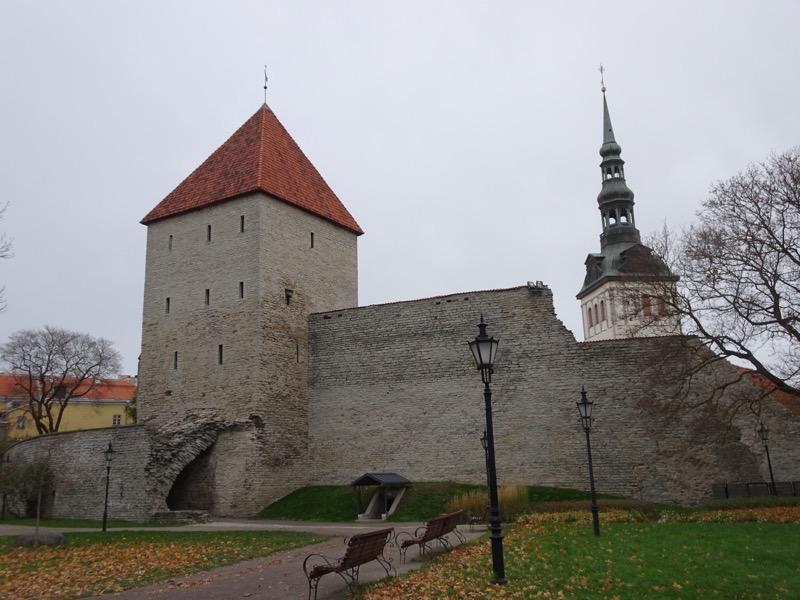 Up a small hill from the Maiden's Tower is the decidedly pink Toompea Palace. The Palace/Castle was erected on the foundations of the crumbling eastern wing of the 13th – 14th century fortress that was on this site.  The Baroque castle was built in the late 18th century, and is now the Estonia parliament, complete with carpark and (out of frame to the left) be-logo'd scaffolding, which I am now convinced is permanent, as it was here last year and isn't covering or protecting anything, just being used as a visual divider between the road and the palace.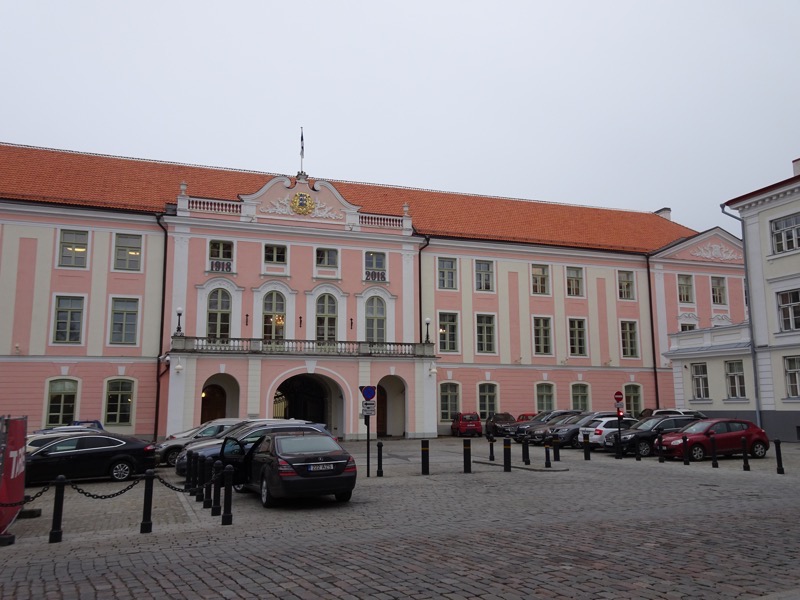 Across the street is the Alexander Nevsky Cathedral which is Tallinn's largest and grandest orthodox cupola cathedral and is dedicated to Saint Alexander Nevsky, and the locals hate it.   Apparently, the cathedral was built during the late 19th century as part of the efforts to  Russify Estonia.  It is so heartily disliked by many Estonians as a symbol of abject oppression, such that Estonia officials had scheduled the cathedral for demolition in 1924,. The only reason the cathedral is still standing is due to lack of money – it was going to be an expensive effort to destroy and remove the massive construction.  After Estonia gained their independence, the Estonian parliament again started to discuss plans to demolish Cathedral in the 1990s!  Seriously as recently as 30 years ago they wanted to demolish this beautiful building to extend the parking lot for the members of Parliament!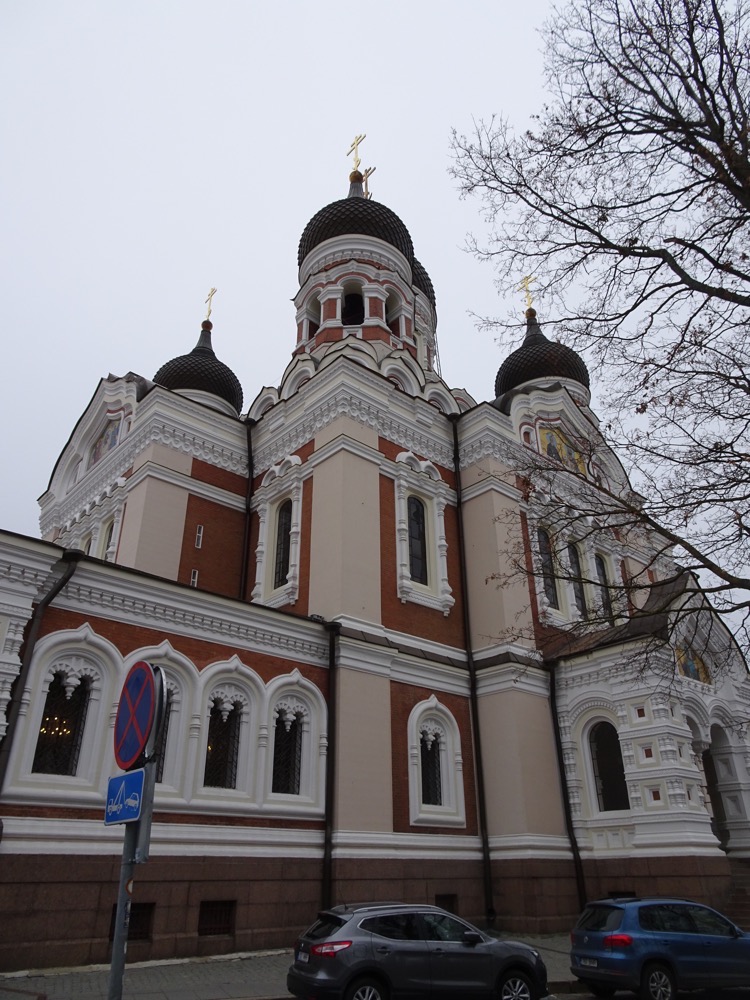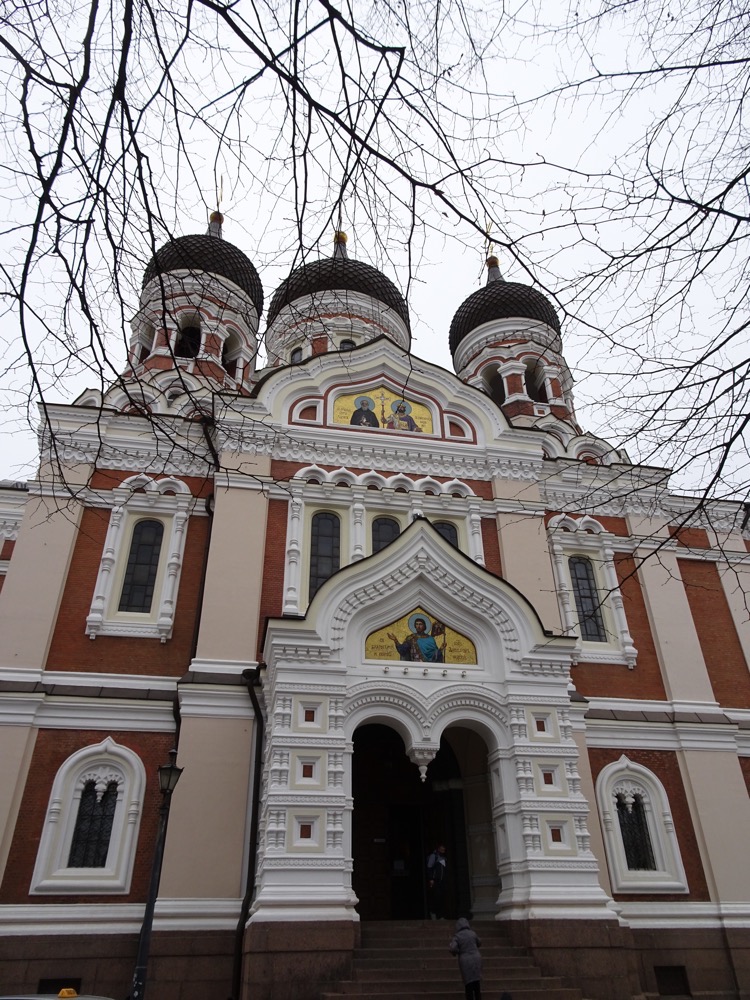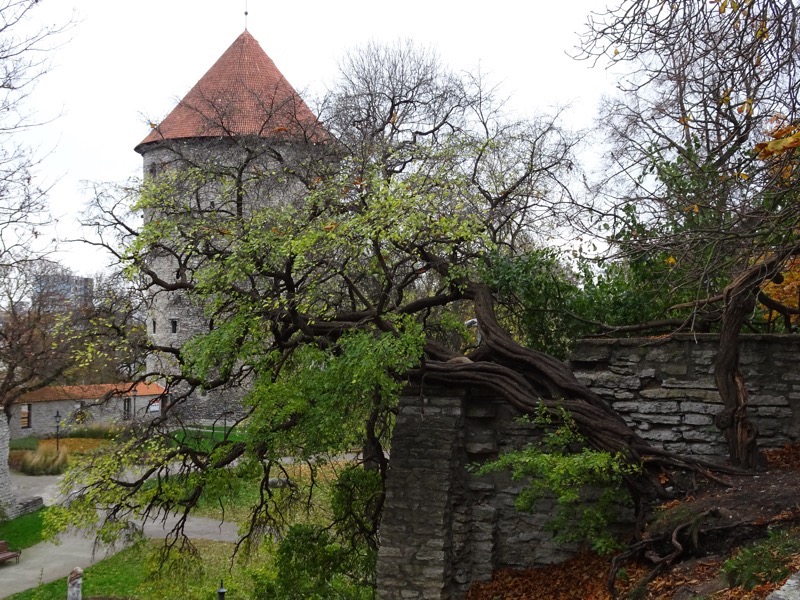 I love these street lamps – I wish I could take one home for the front garden… it would only look a little out of place.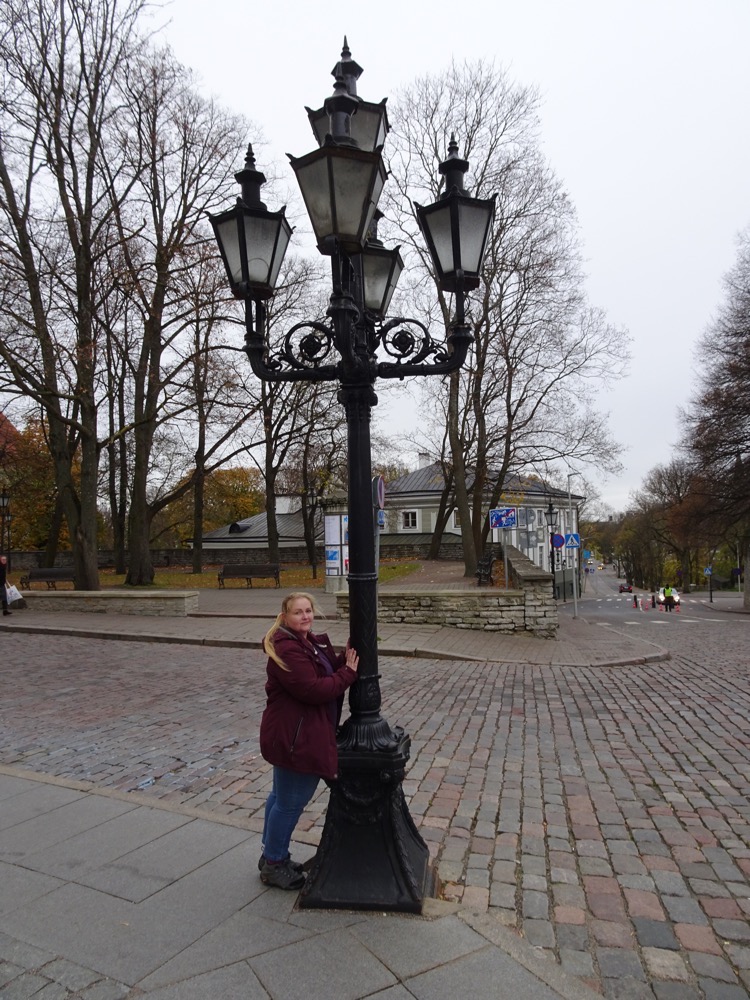 It was supposed to only get to 7°C today, but with the wind chill, feel more like 2-3°C and a high possibility of rain, so I wore my Fantastic Purple Jacket Of Warmth that I bought last year in Oslo on the end of season bargain shelves for €50 – only problem is as soon as you are indoors, you're overheating like mad, so it's on and off, on and off, with the jacket all day.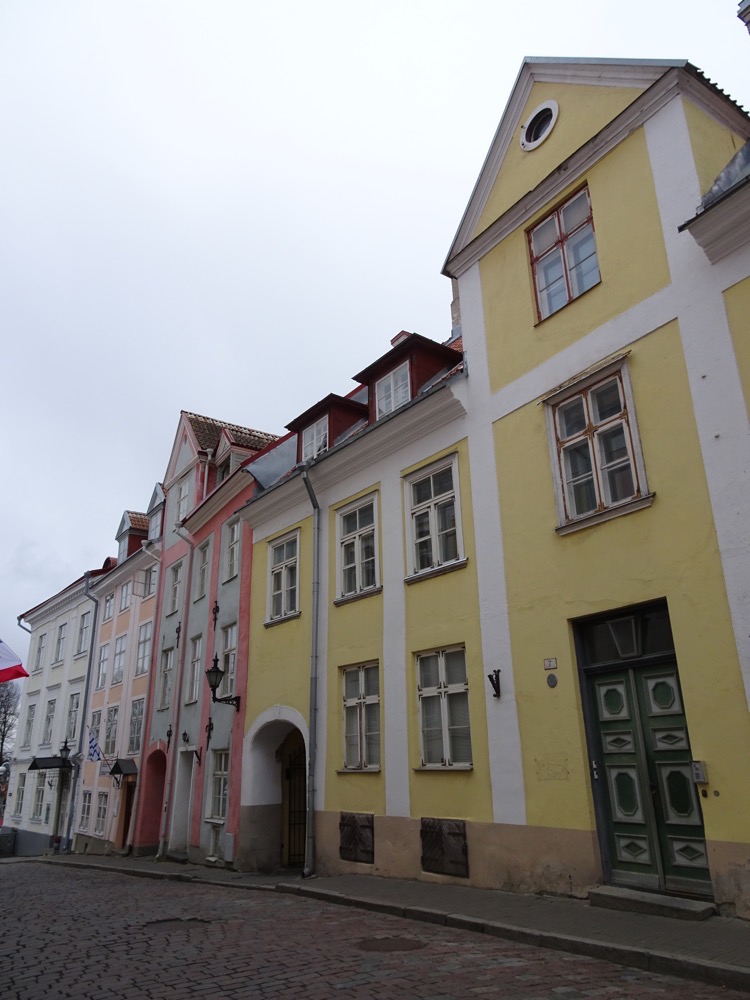 Souvenirs – the more I travel, the more I realise that I like to look at souvenirs and see what sort of things people make/sell to represent their towns and special places, but I don't actually like to buy souvenirs.  🙂  They just clutter up the house and you do nothing with them. So far this trip, I have bought sweet stuff all other than my lapel pins.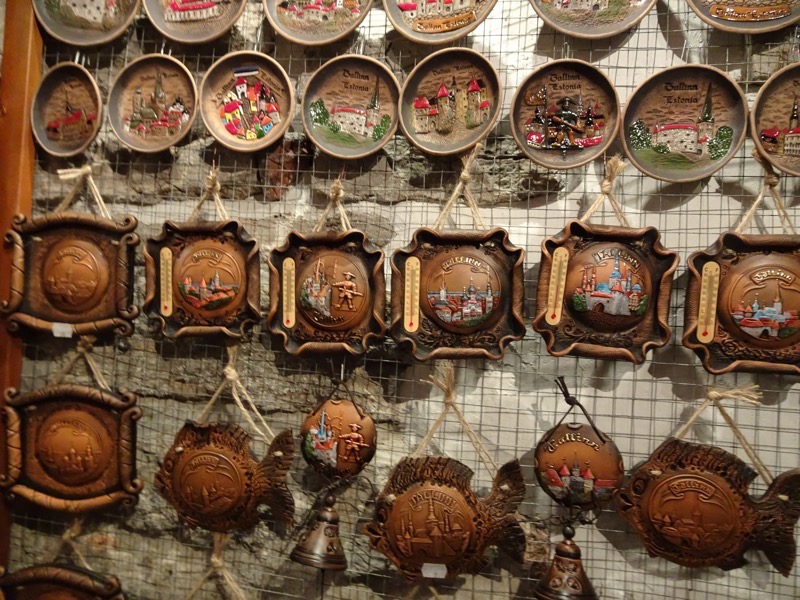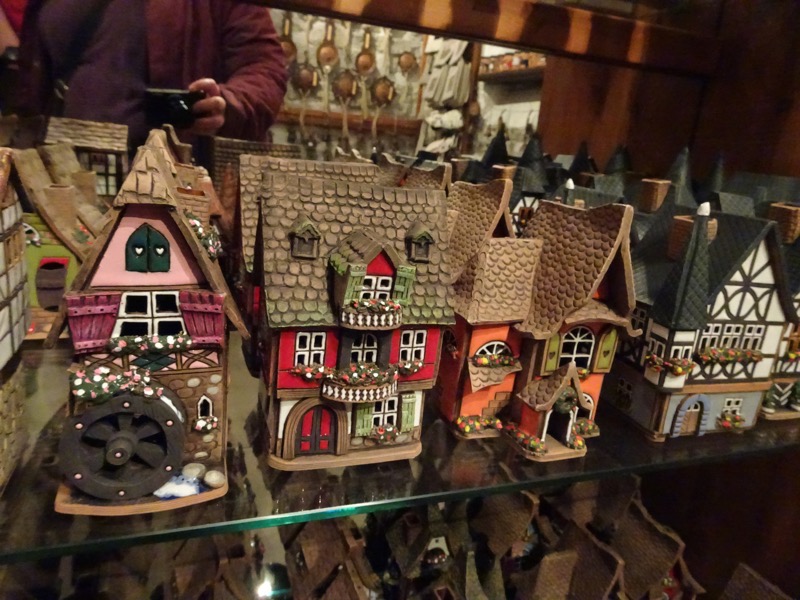 Vikings – with horns or course.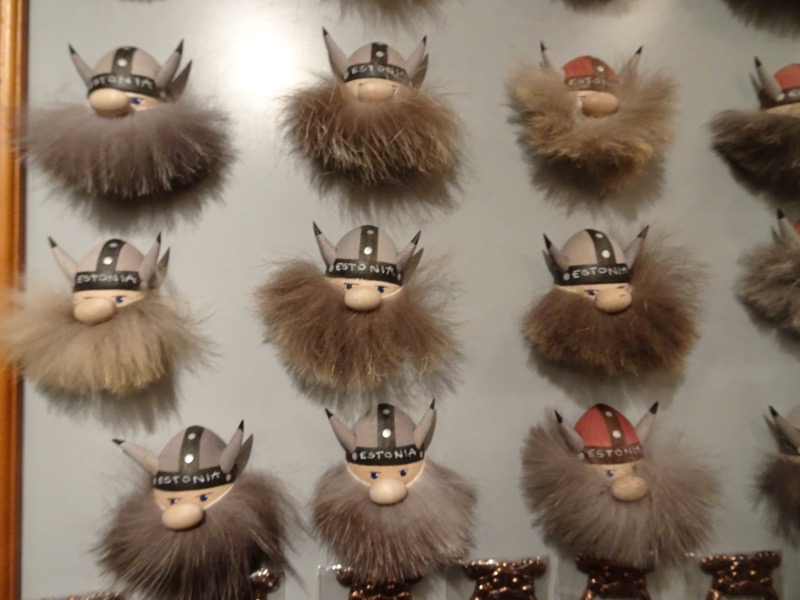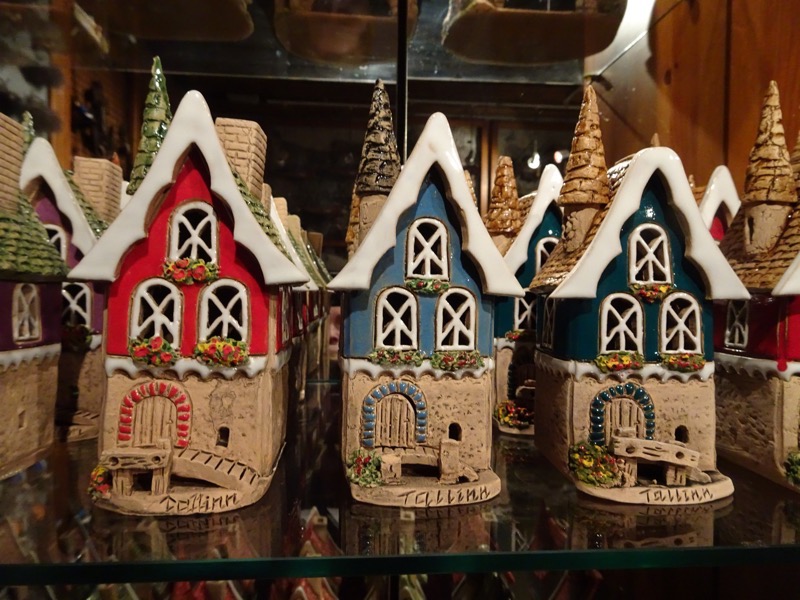 I love these heavy felted fun wool hats – I'd love to be able to take half a dozen of them home for friends, but at €45-55 and knowing how little wear they would get in Queensland, it just doesn't seem a sensible proposition.  🙂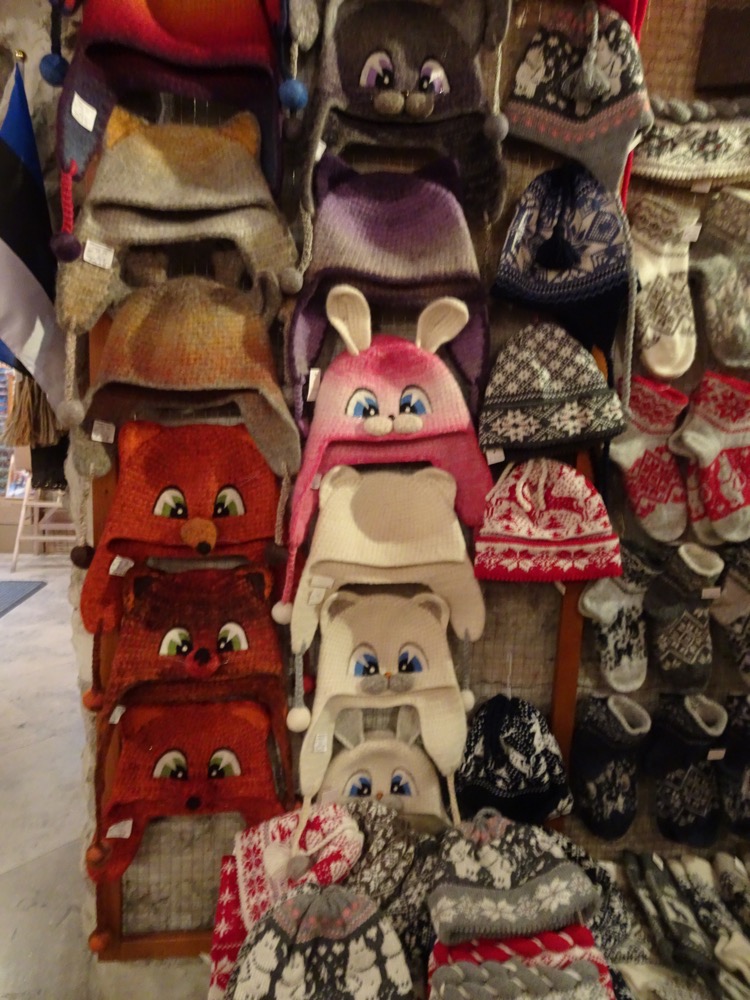 Around the corner is the Toomkirik or St Mary's Cathedral. Originally dating from the 13th century, the medieval church has a Baroque bell tower and an amazing organ inside that someone was playing this morning.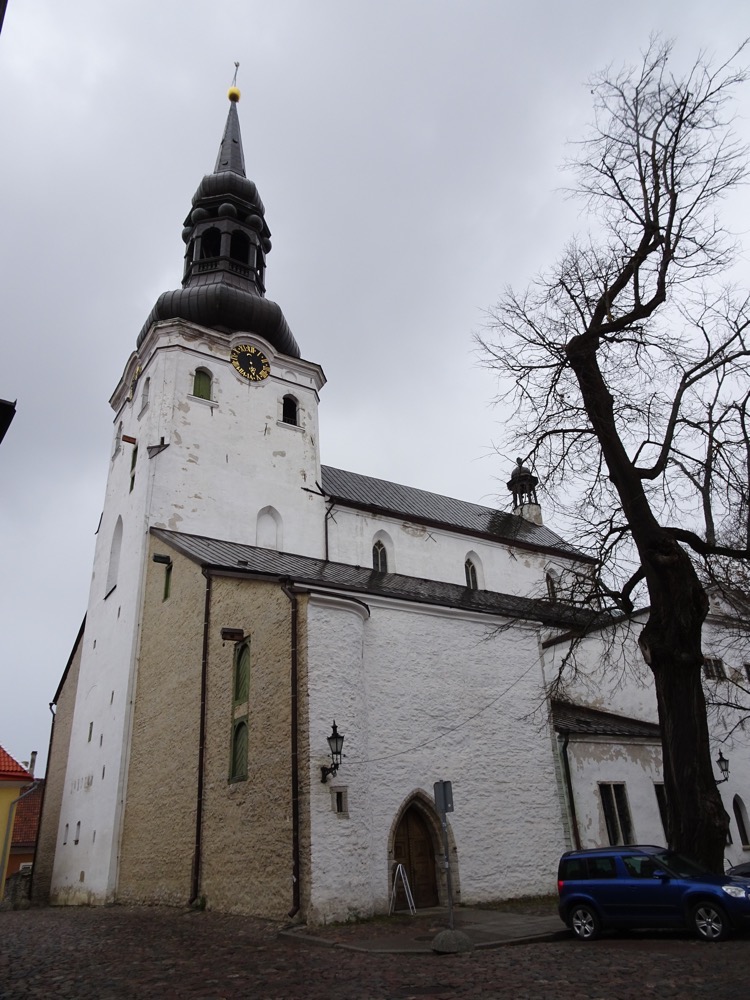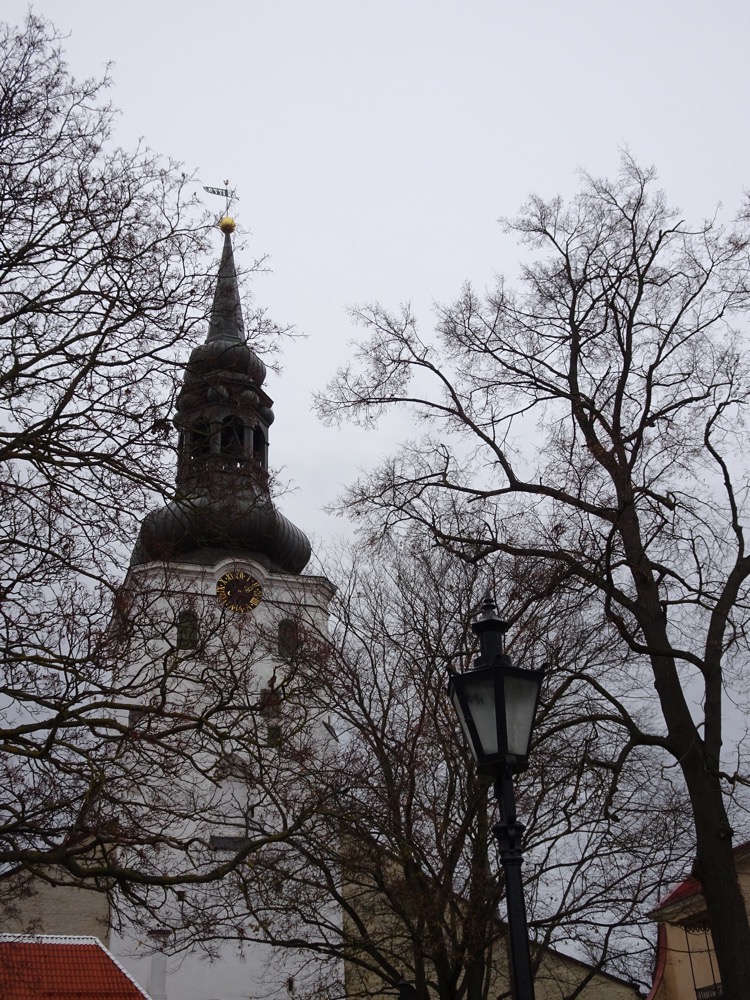 The Toomkirik is the oldest church in Tallinn and mainland Estonia. It is also the only building in the Toompea area that survived a severe fire in the 17th century fire.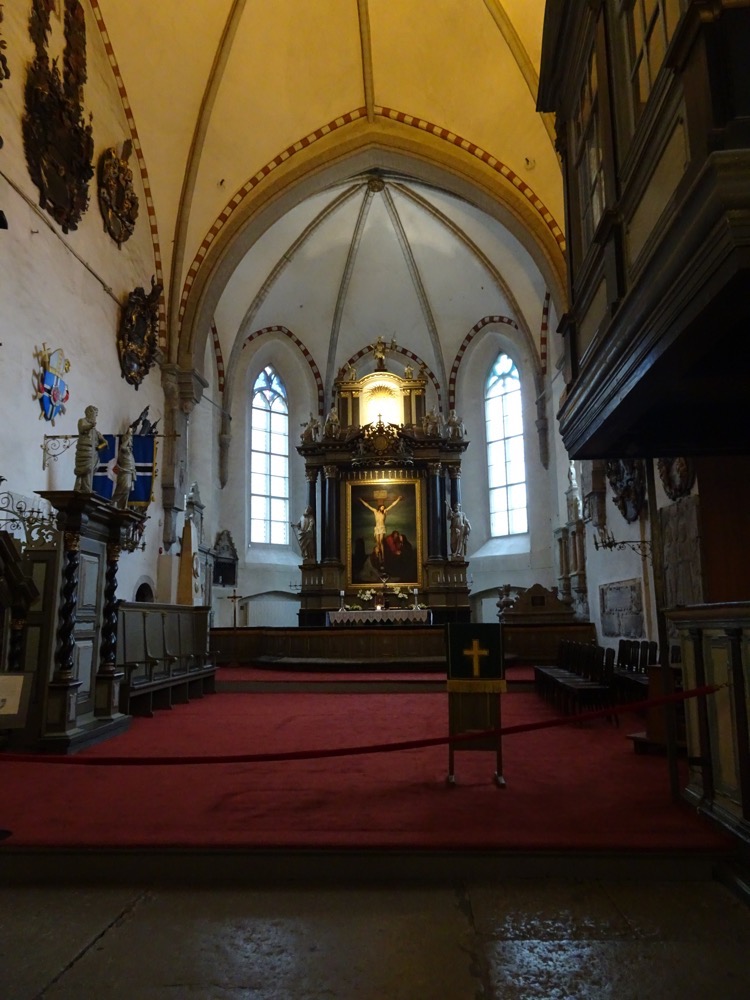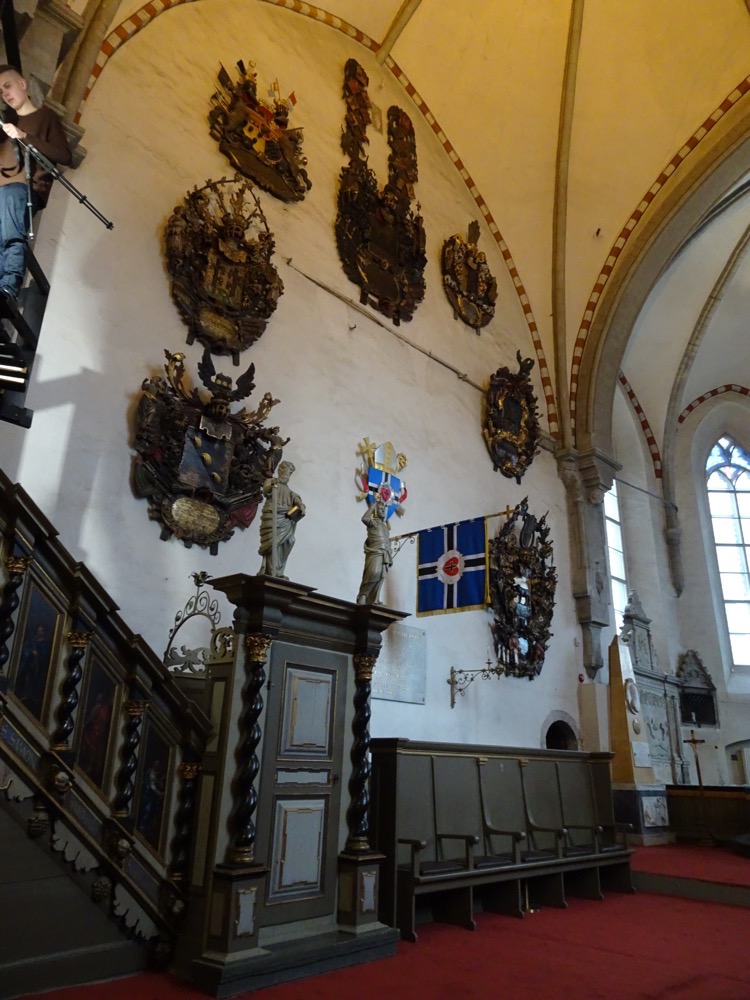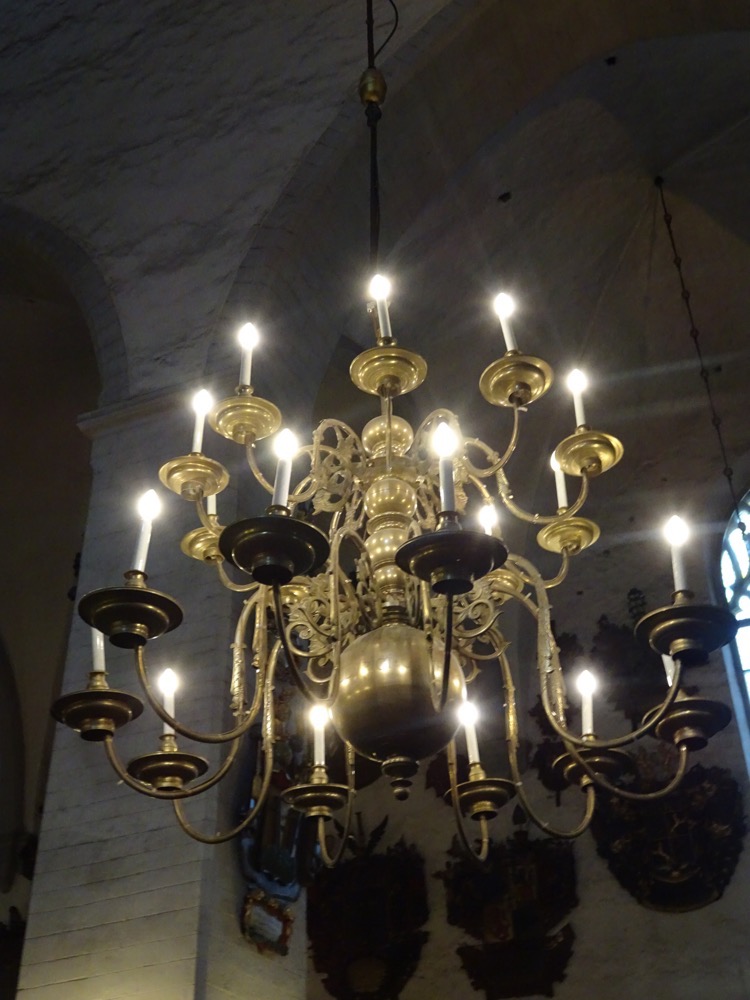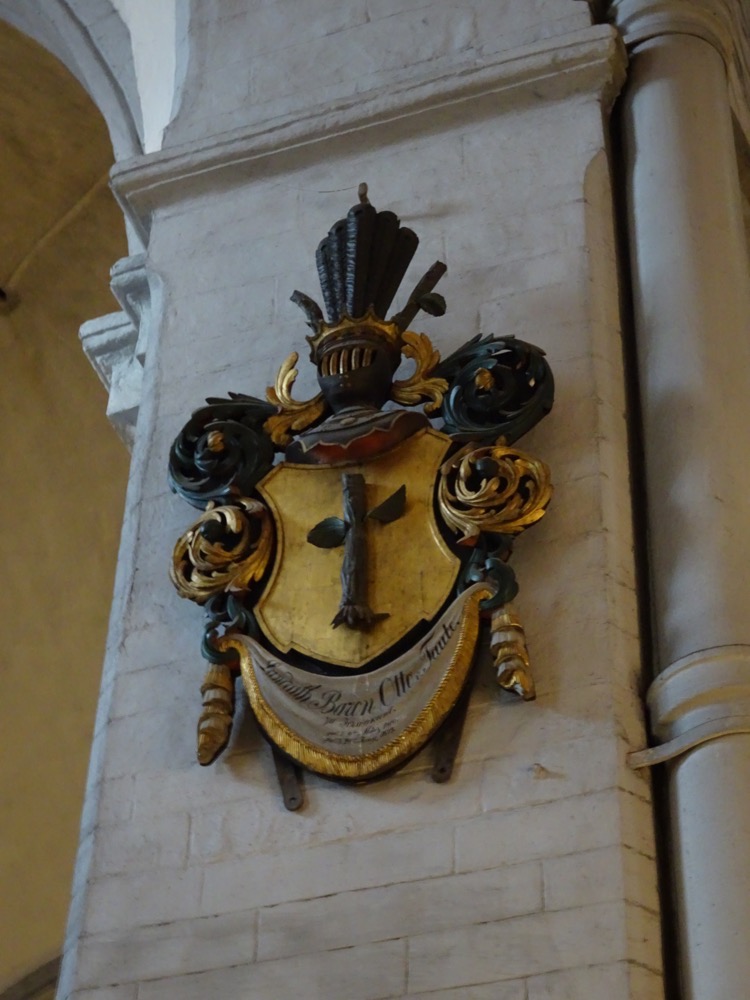 The interior is rather austere with these enormous high pews that congregants would sit in, probably as a family, quite pointedly separated from the people in front and behind them.  yale for scale: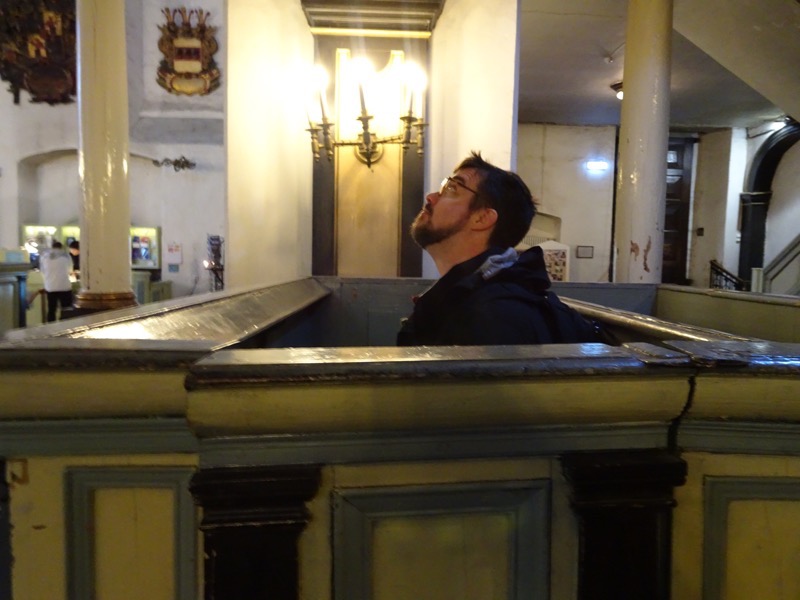 I can't hardly see the altar over the pew… borys for scale: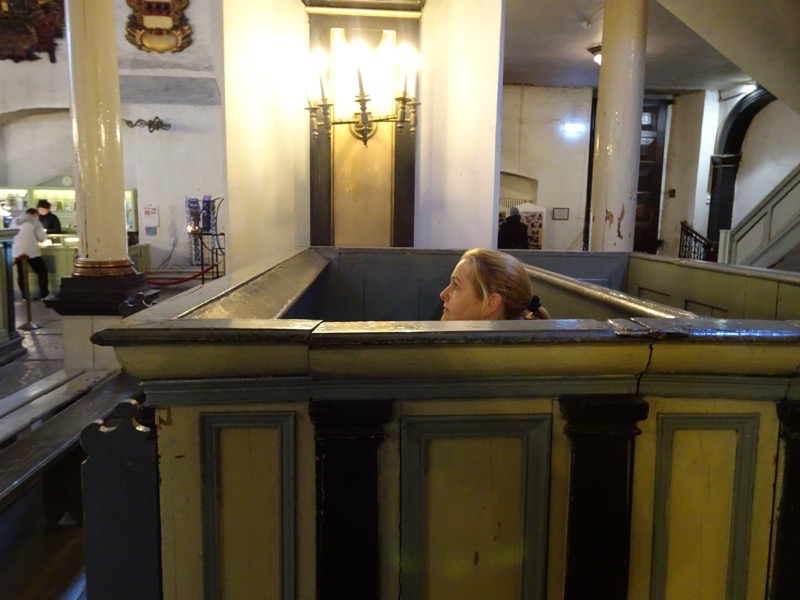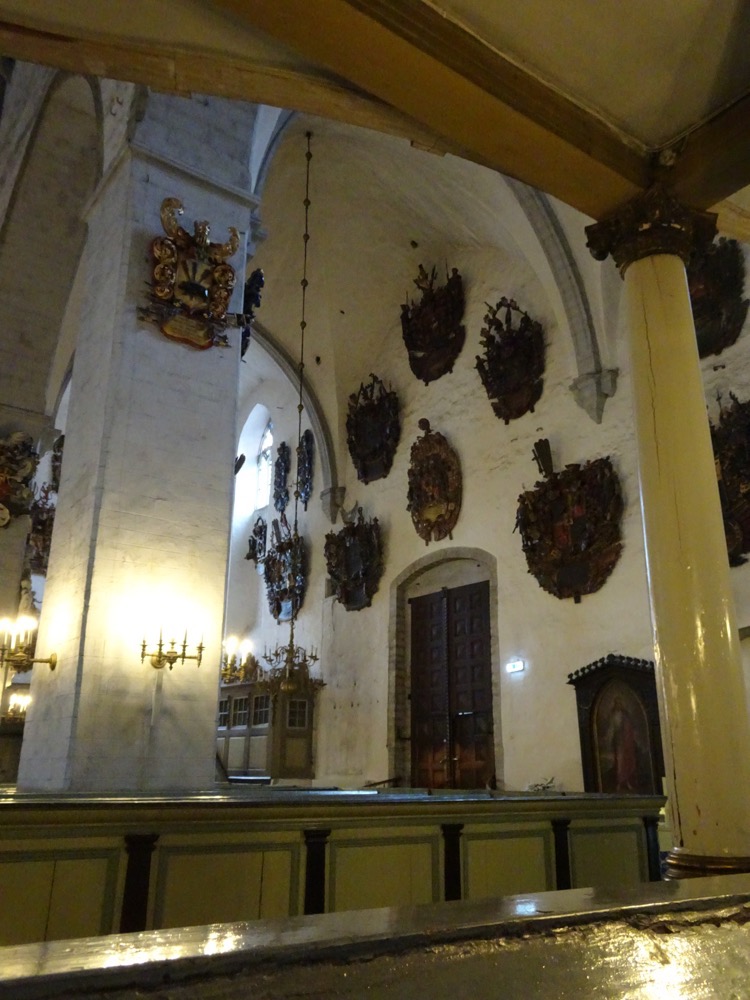 After leaving St Mary's we walked around to the first of several viewing platforms to see over the city – the Piiskopi viewing platform faces over more modern areas of Tallinn.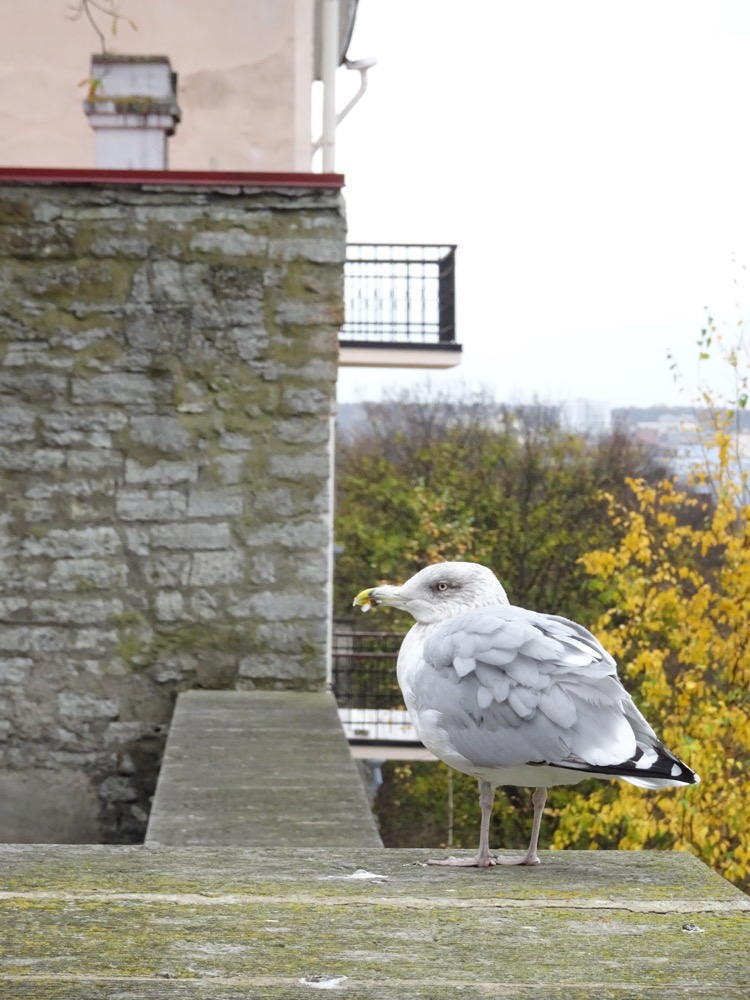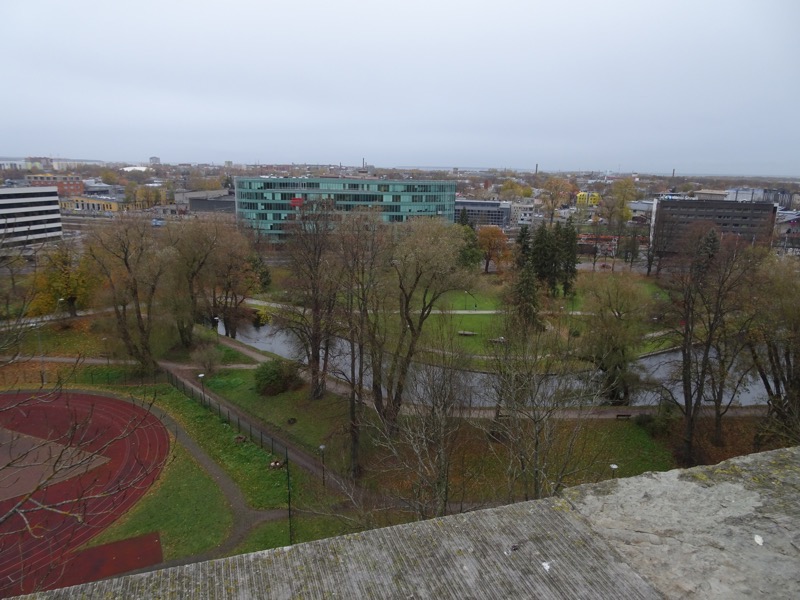 And there was no one here!  Amazing… especially after still feeling swamped by tourists in Prague and Kiev.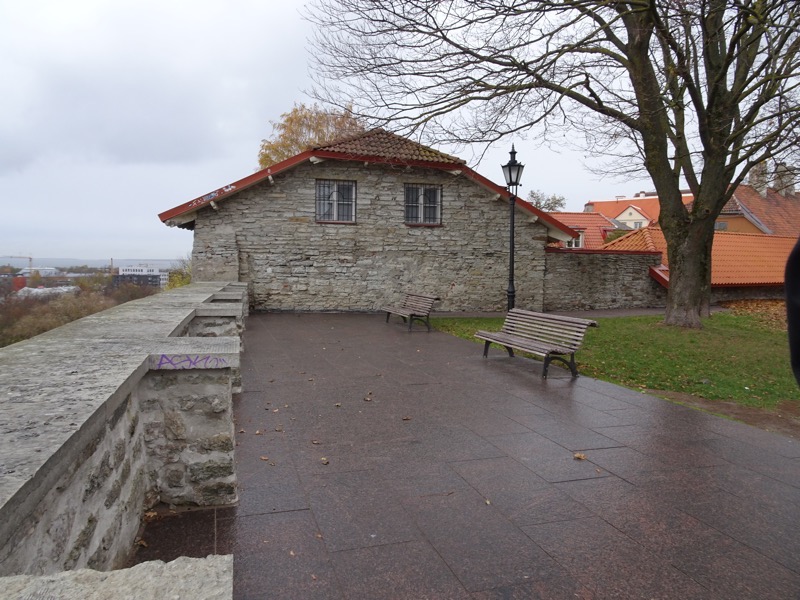 As you move around the Toompea area, views of the Alexander Nevsky's onion domes can be seen peeking through the buildings in the narrow streets – I can't believe they would still want to knock it down!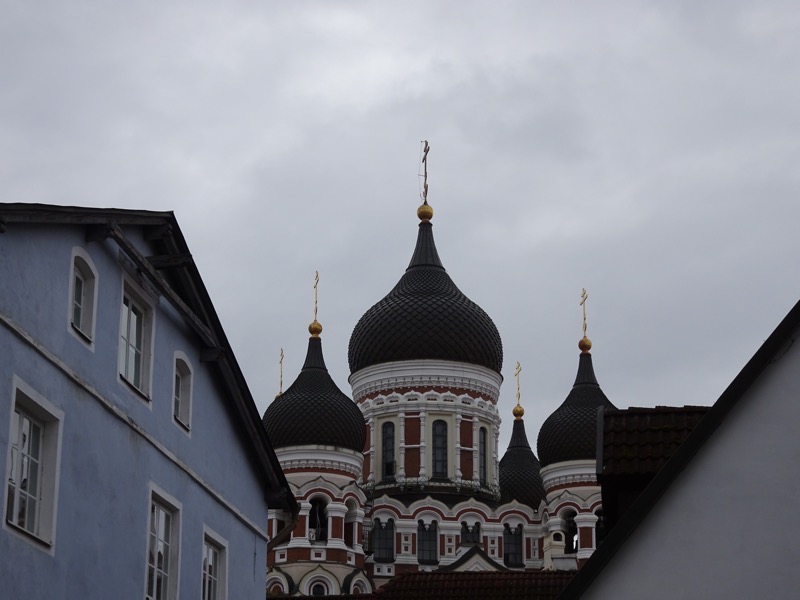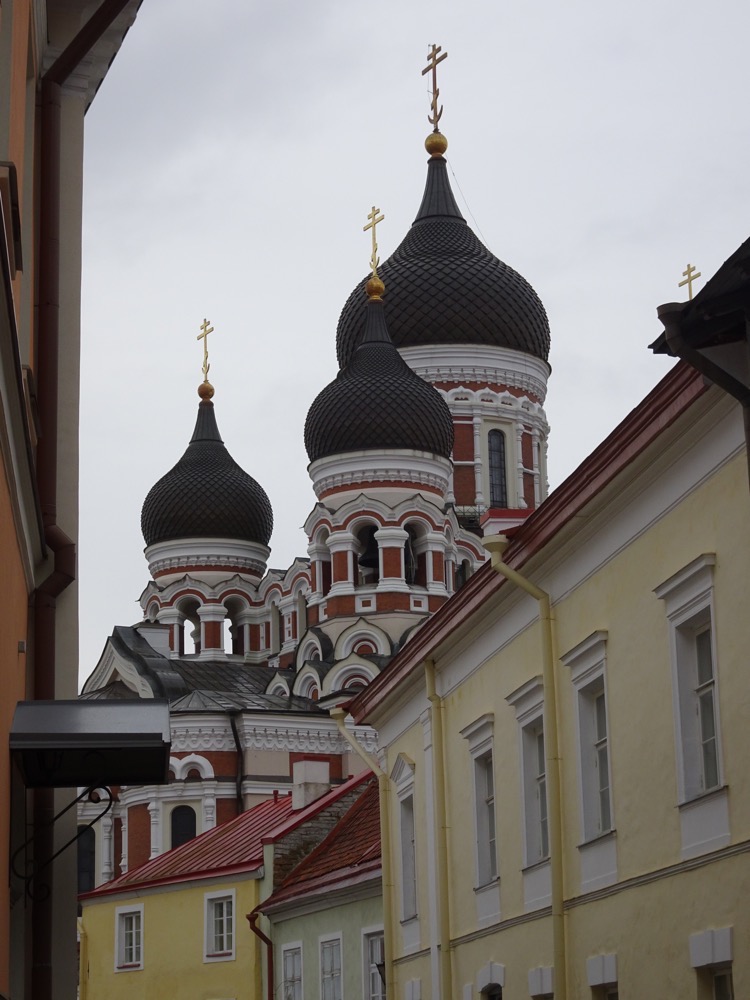 The only evidence that Tallinn was once a major port for the Hanseatic Guilds are these signs outside of the souvenir shops – the Hanseatic Guild of Souvenir Shop Owners perhaps? They certainly seem organised or even unionised to keep their pricing on par.  🙂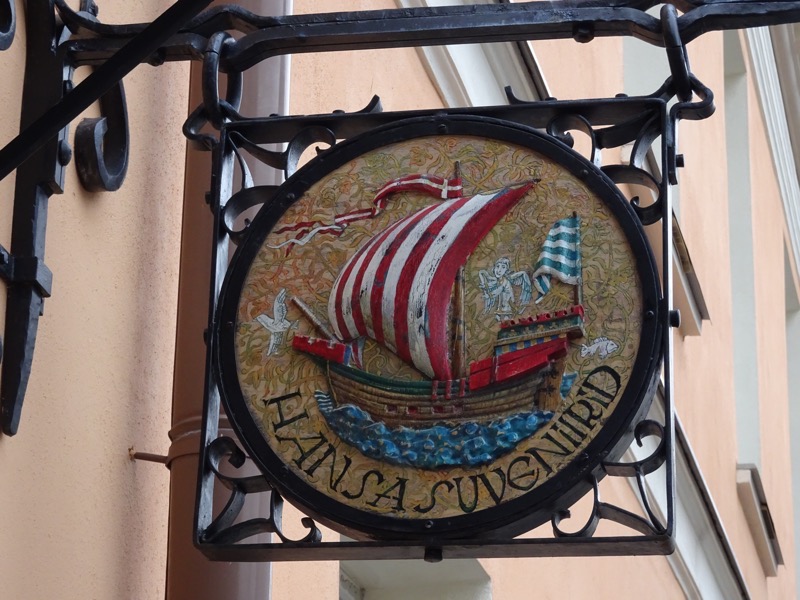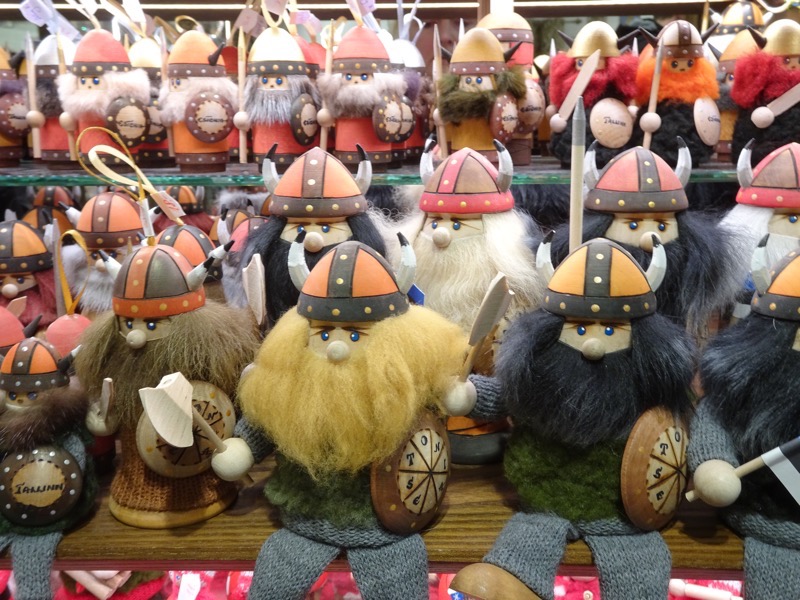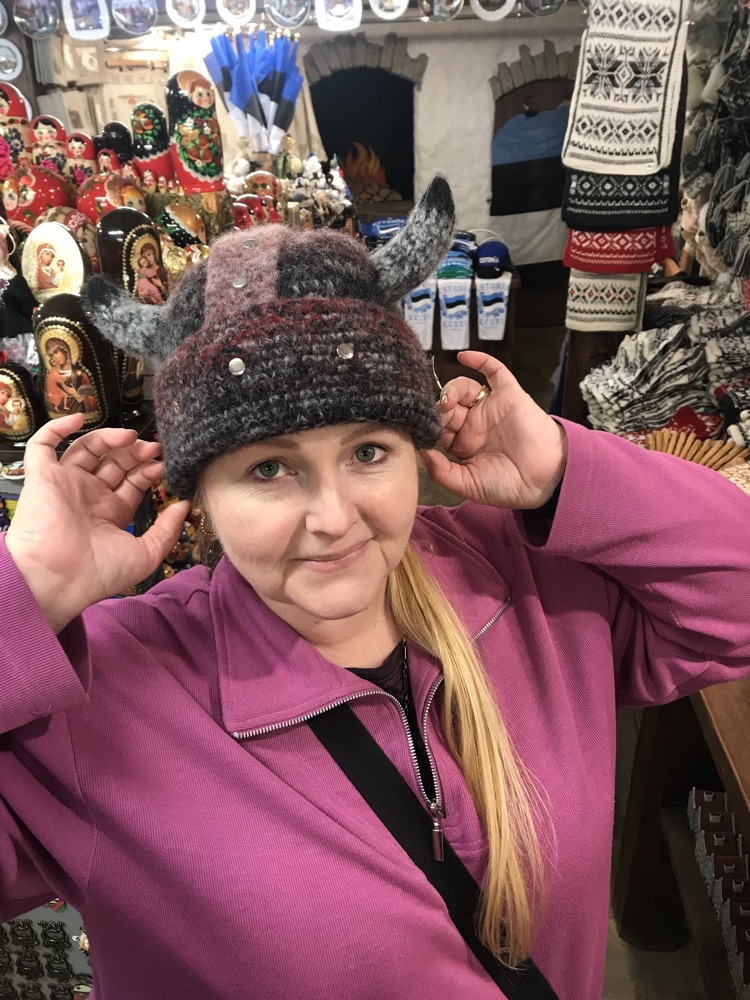 A little further around the town winding through the international embassies that are placed around Toompea near the Parliament buildings is another viewing platform, the Patkuli Viewing Platform.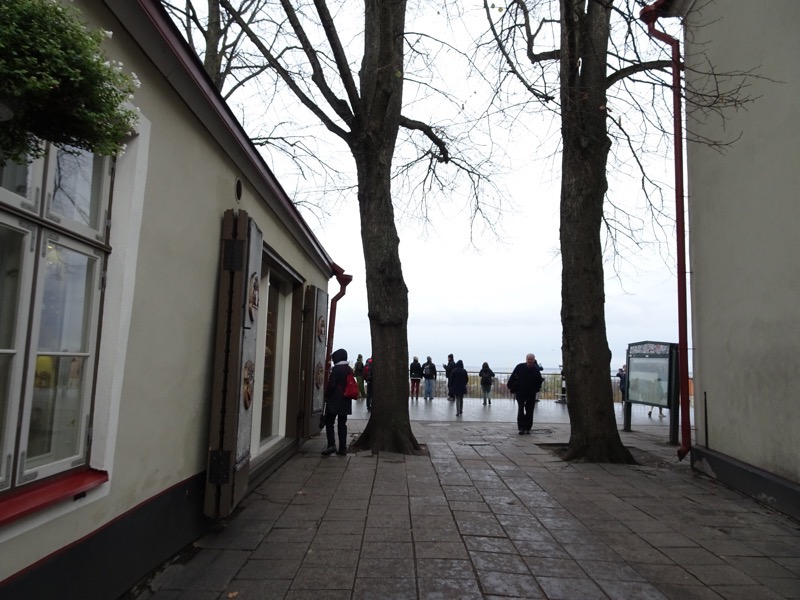 This time facing out over an older section of the city and with a few visitors.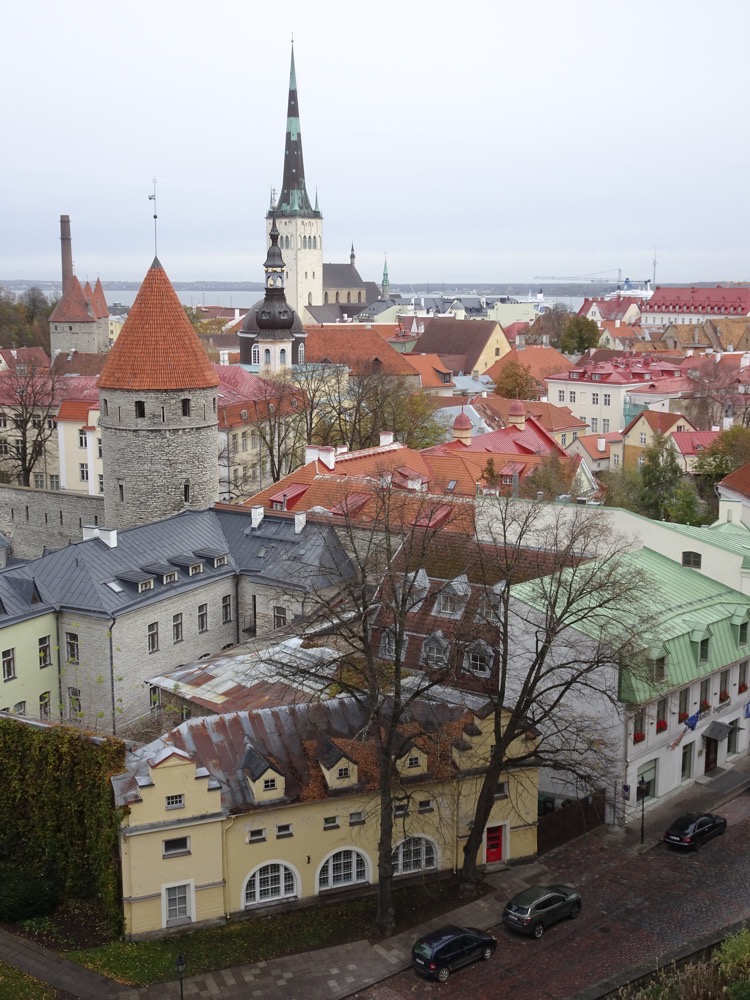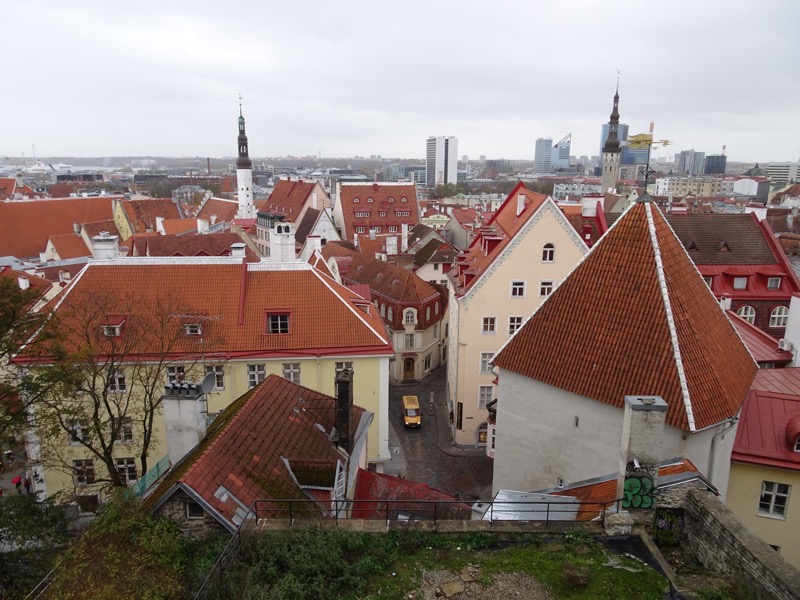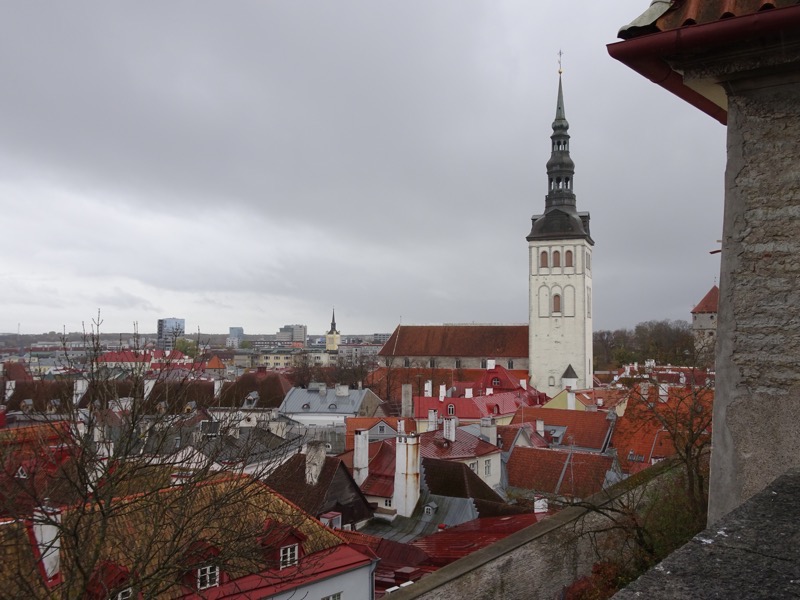 I took some panorama photos here so will have to share those on FB using the 3D thing. Amber, amber everywhere – some of it lovely, some of it hideous.  It's hard to find just nice chunks of amber that you could do your own thing with them, and when you do, they are enormous with price tags to match.  I bought some rough amber beads (strings of large chips?) when I was here last year and have done absolutely nothing wtih them, so was determined not to buy more!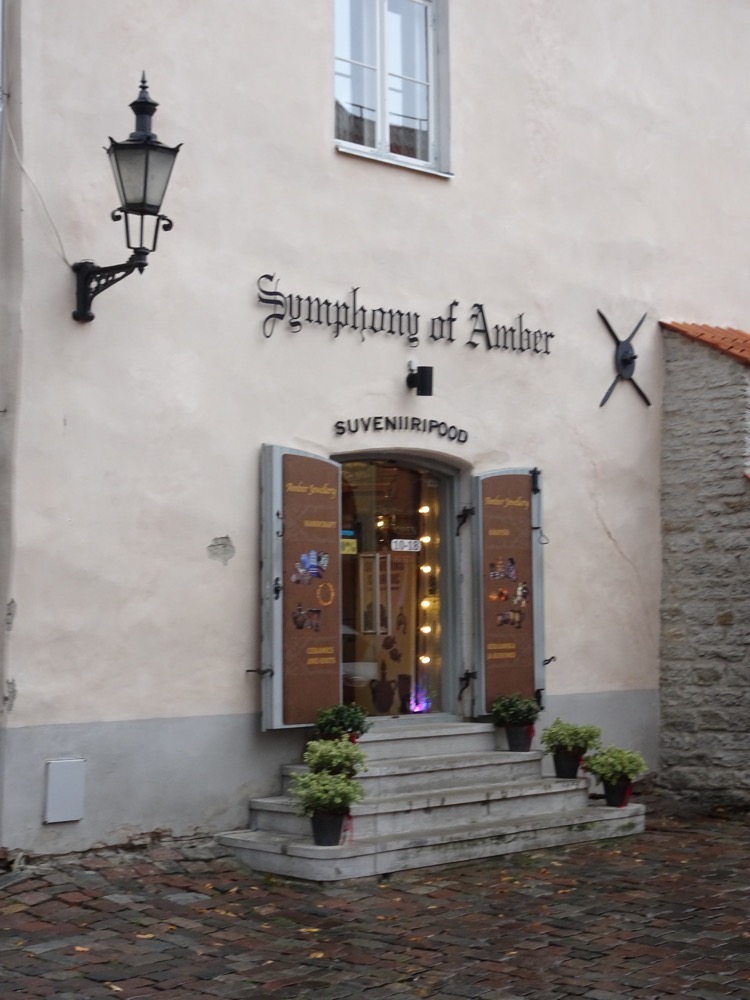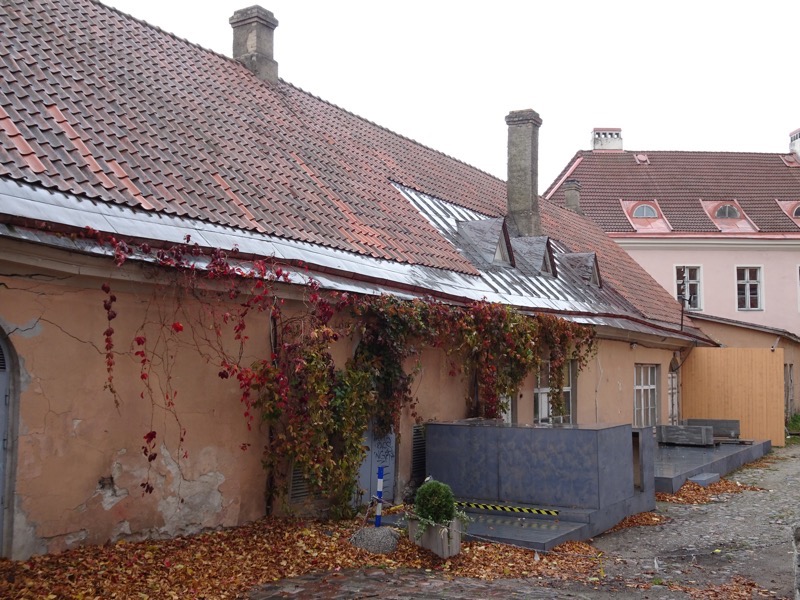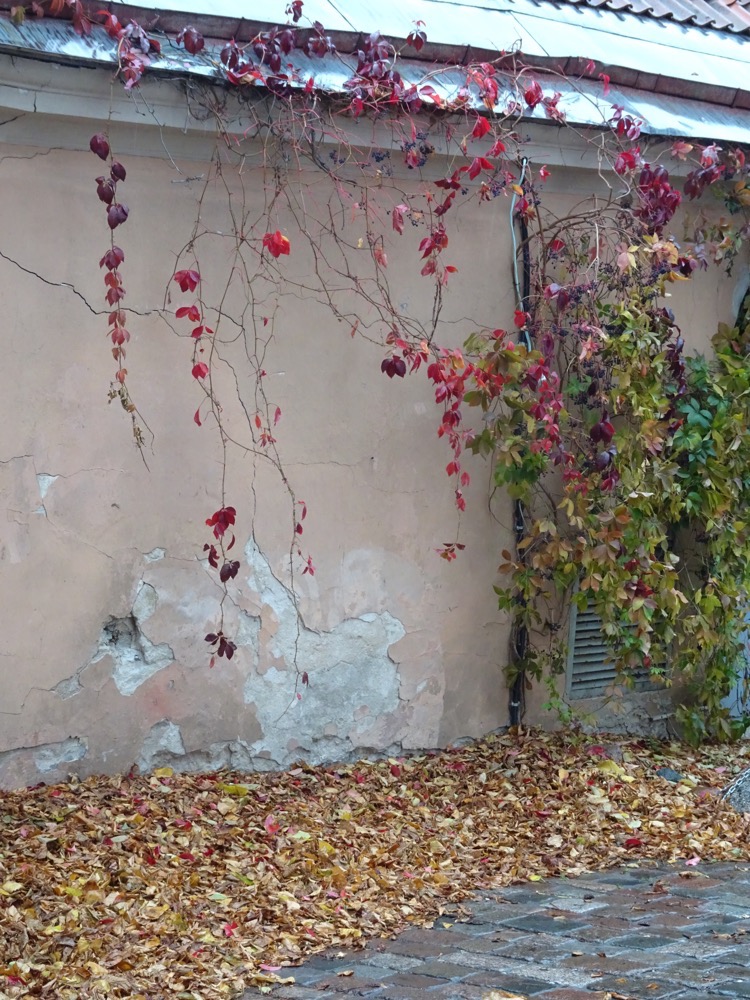 We then left the Toompea area and head down hill towards the Old Town Square.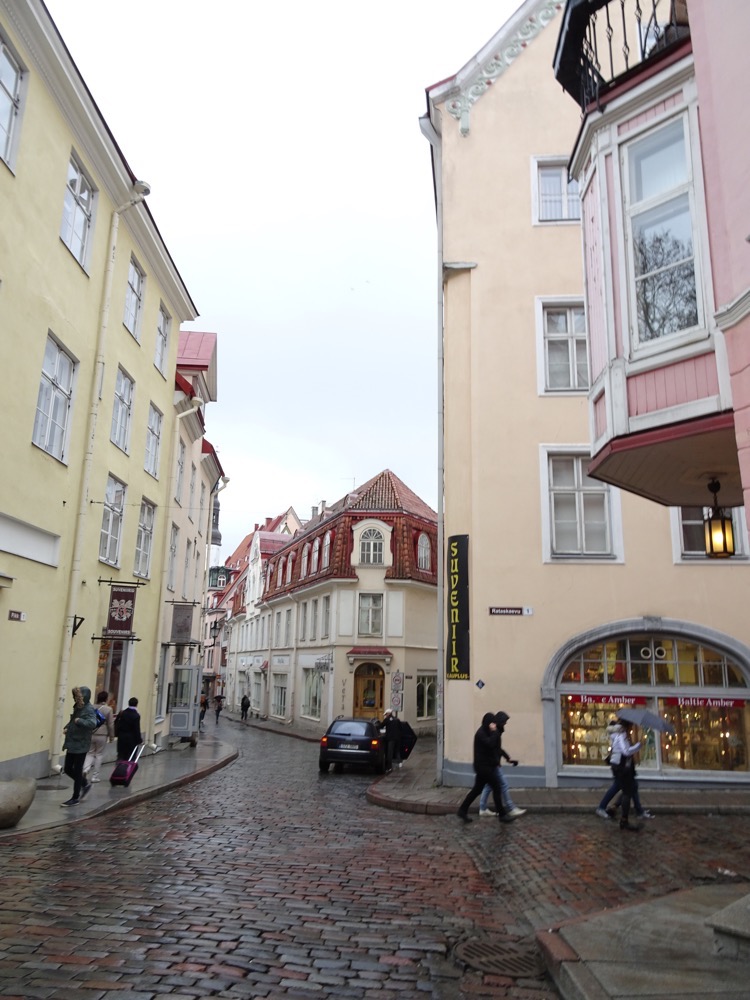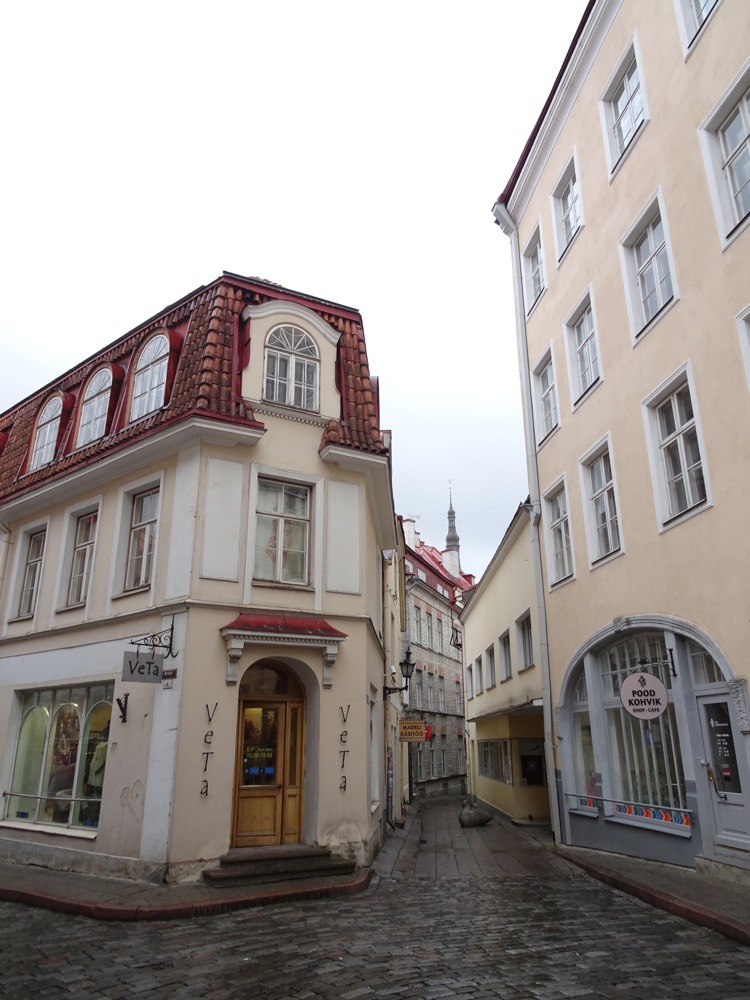 Which amazingly had nearly zero visitors.  The Raekoja plats or Town Hall has been here since 1322 and the town square next to it has been here ever since then as well. The hall was rebuilt from 1402 to 1404 into its current form.  Every year since 1441, the town puts up a large Christmas tree display in the square beside the Town Hall in a tradition that is now over 570 years old. You can visit inside the Town Hall – between the months of June and August.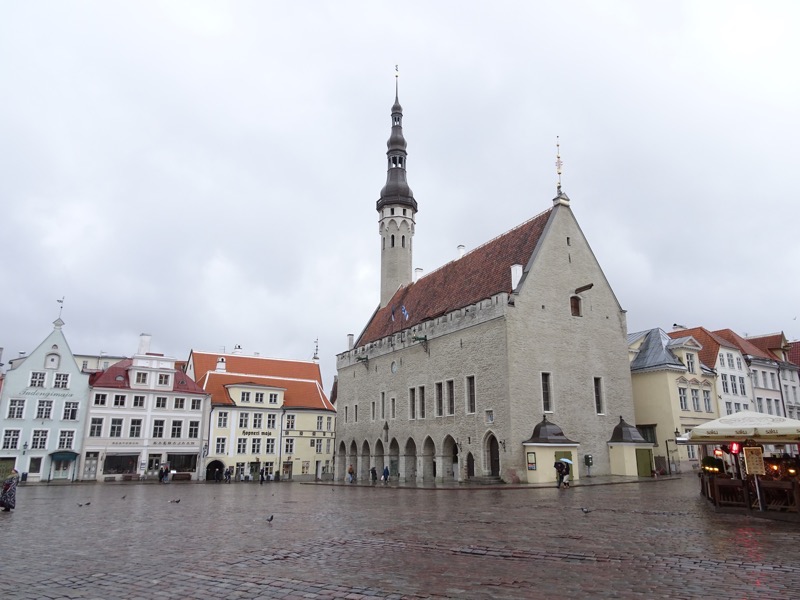 The Square is lined with restaurants, cafes and shops – most of which are fairly empty today.  Some of which have signs out saying 'Thanks for a great summer – see you next year!'.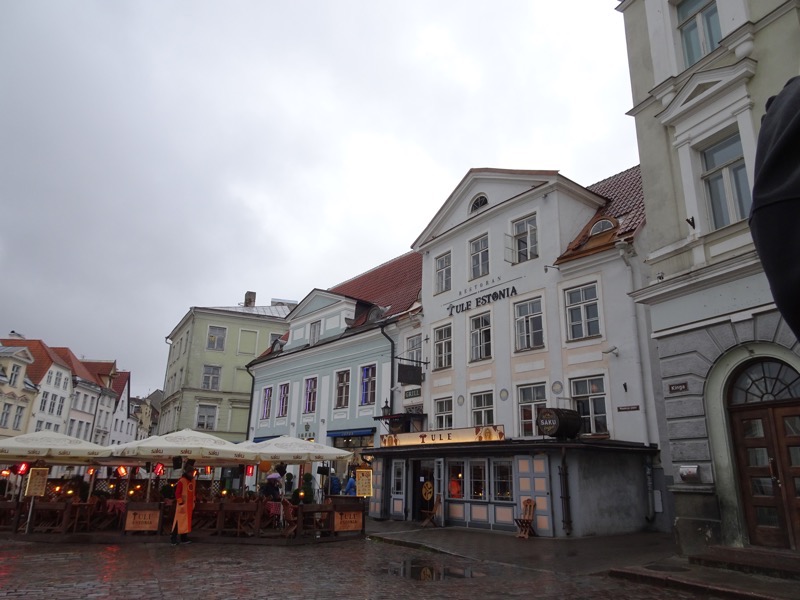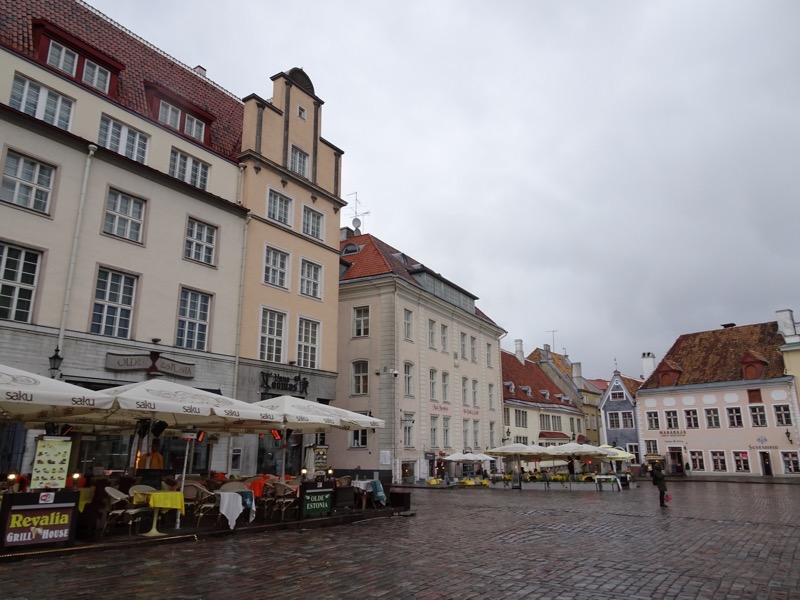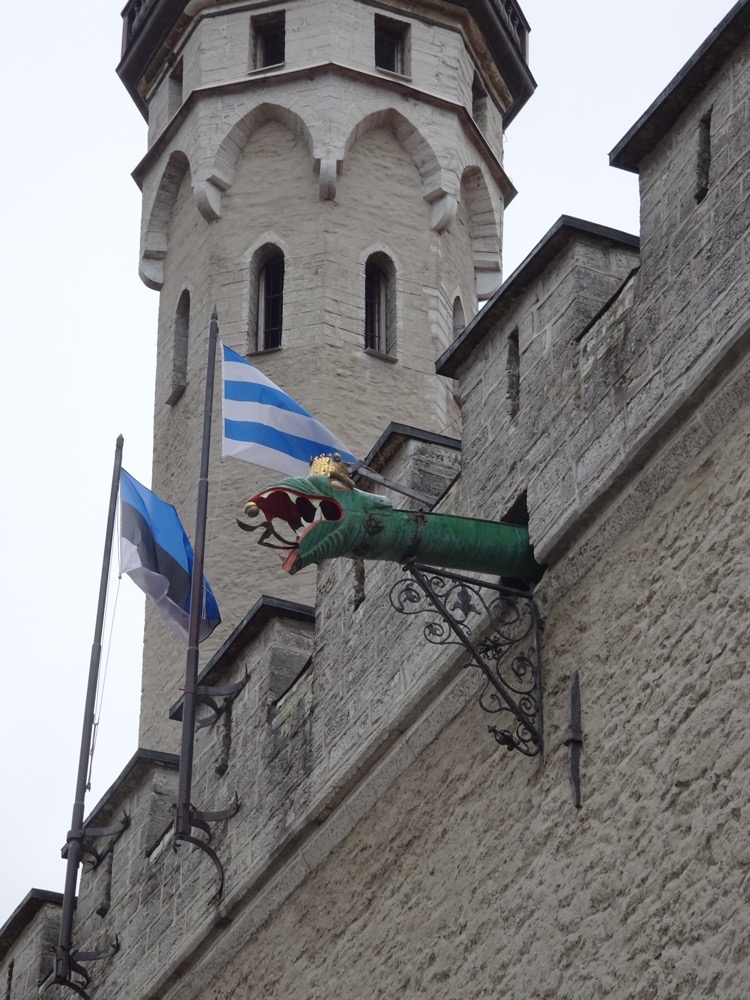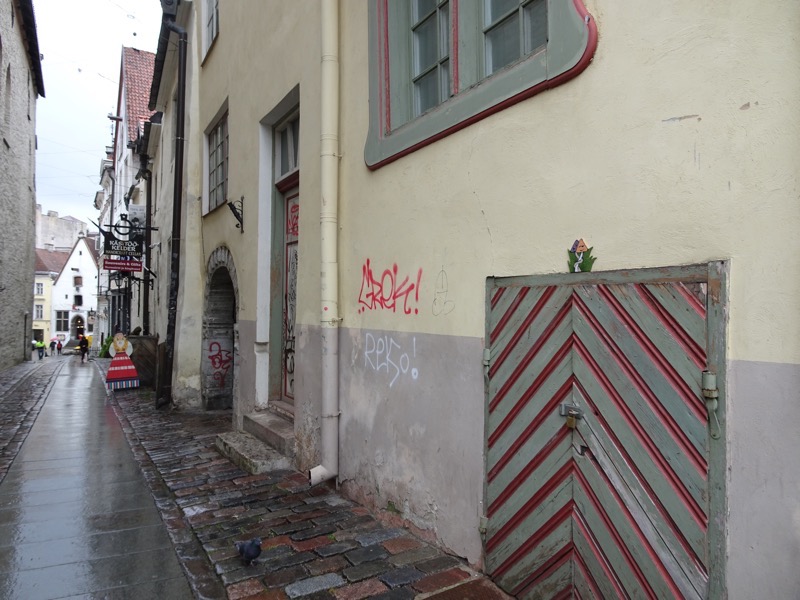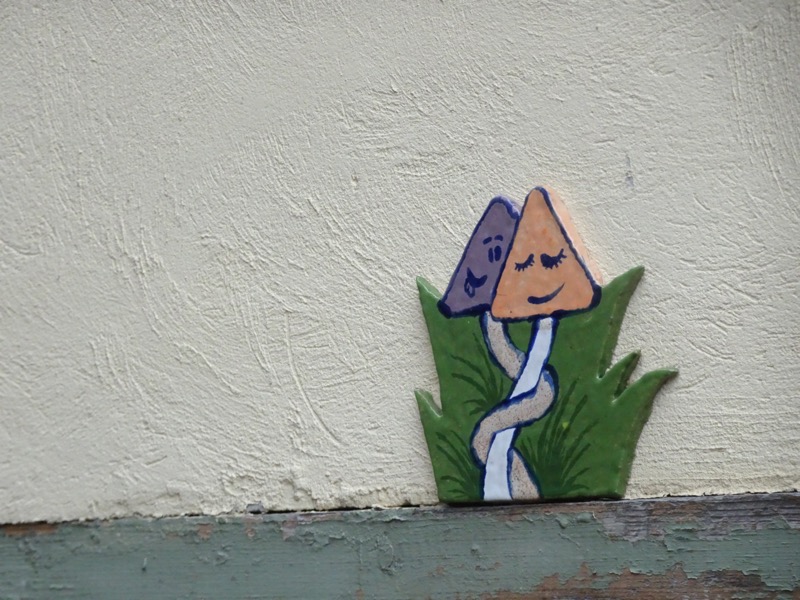 The old jail which is right beside the Town Hall and is now a photography exhibit.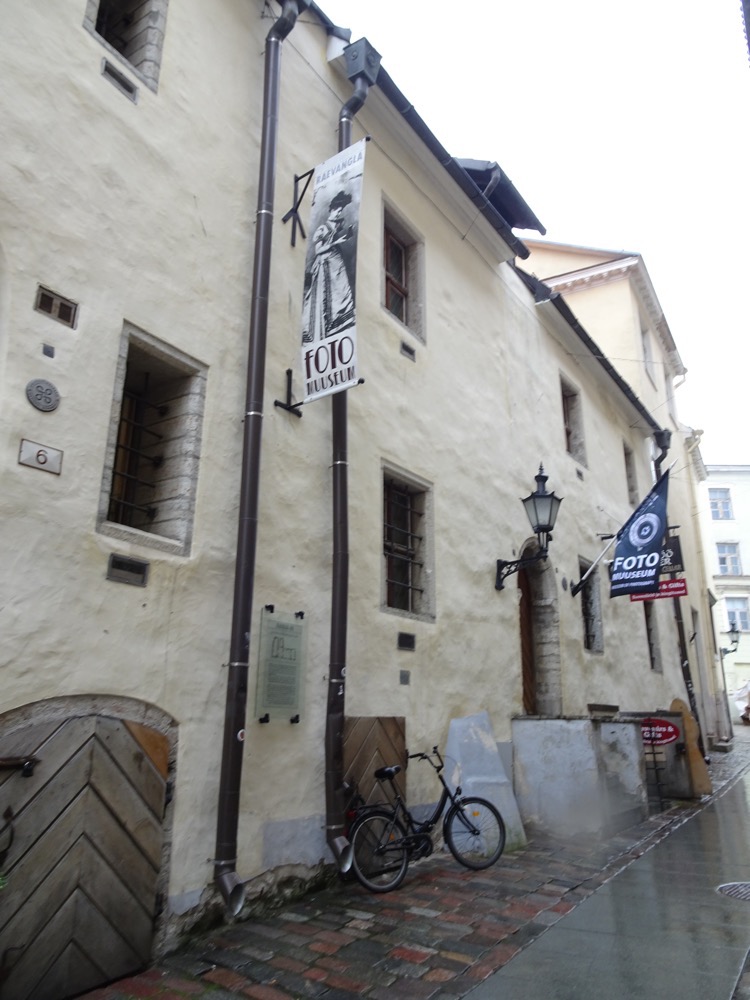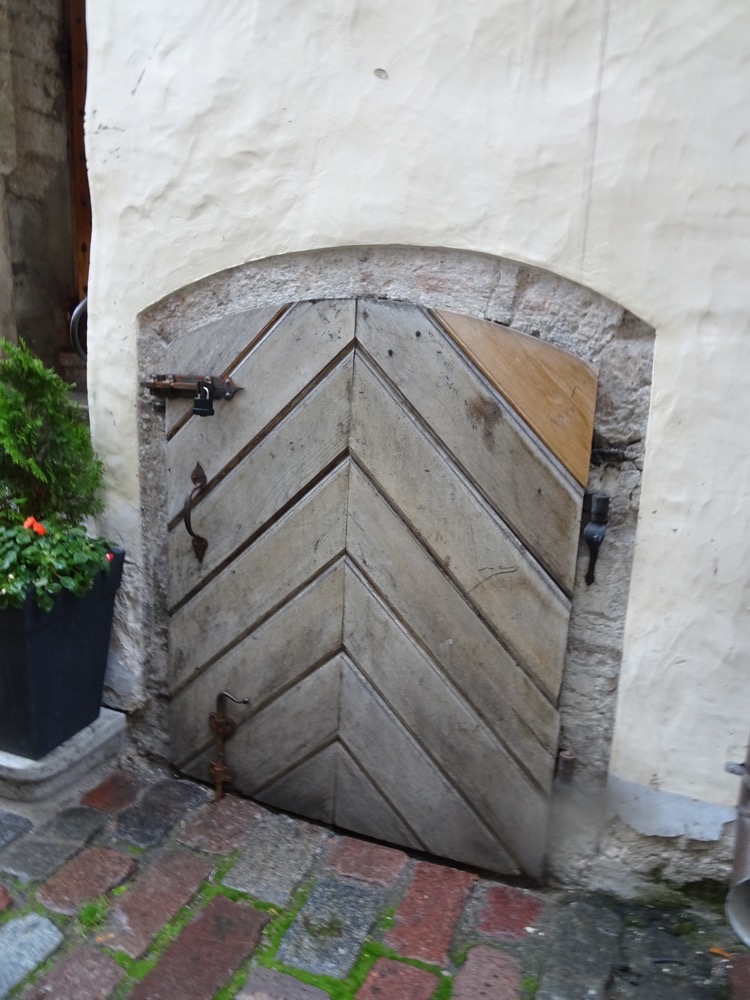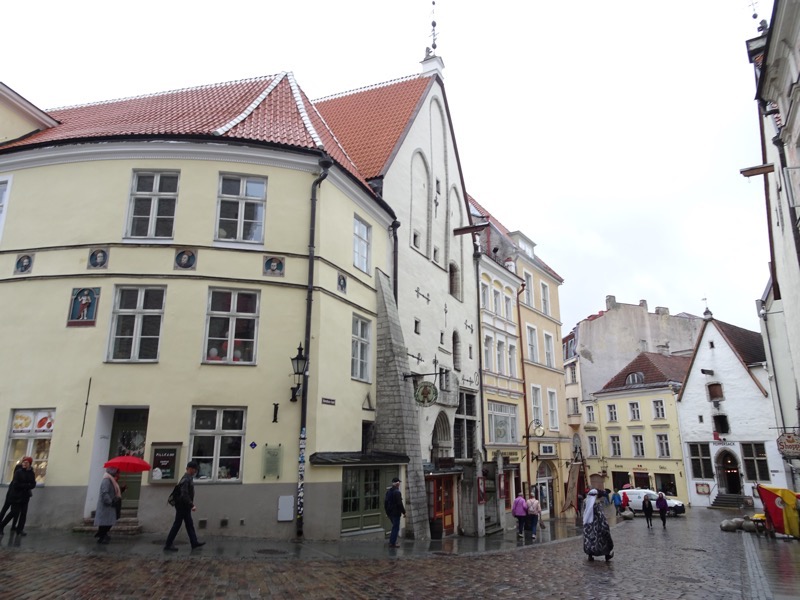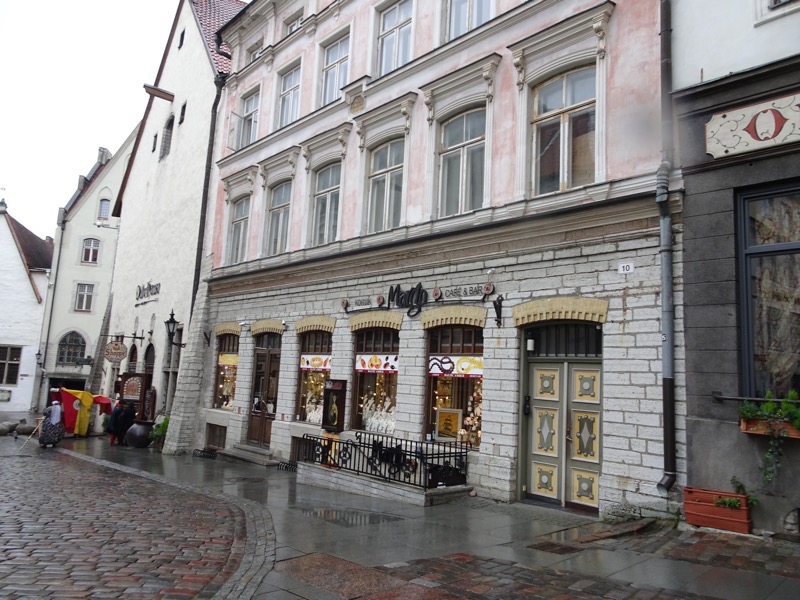 By this point we were looking for somewhere to warm up a bit – maybe some mulled wine and a light lunch.  We saw this restaurant with the promise of mushroom soup on their chalkboard and were enticed inside.  We had no idea what we were walking into – but rolled with it nonetheless.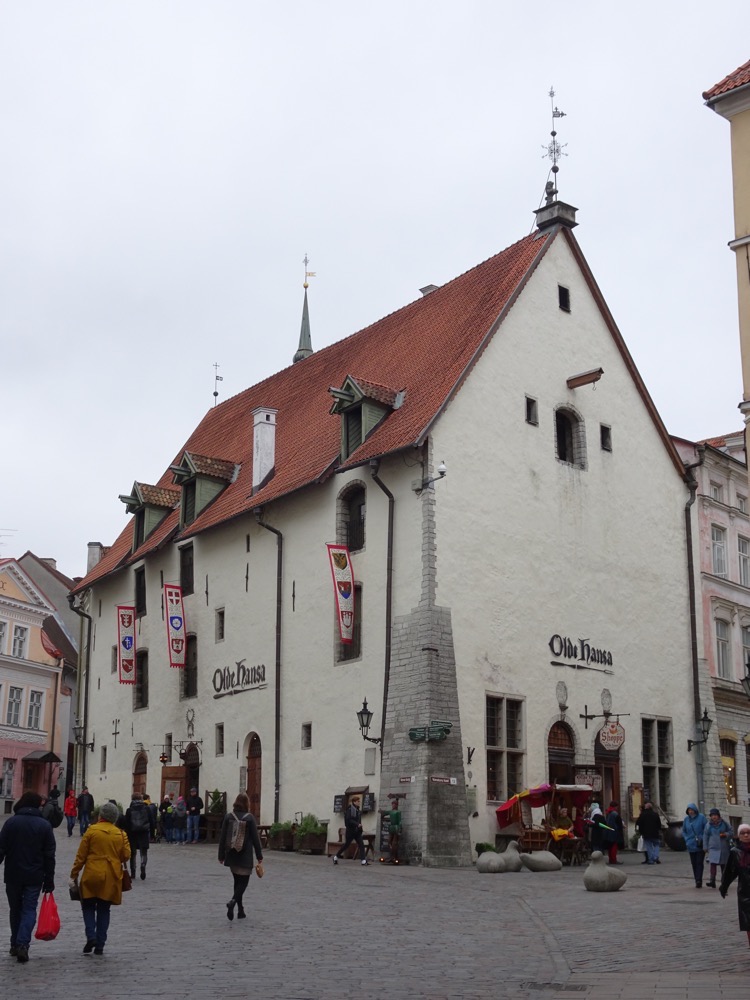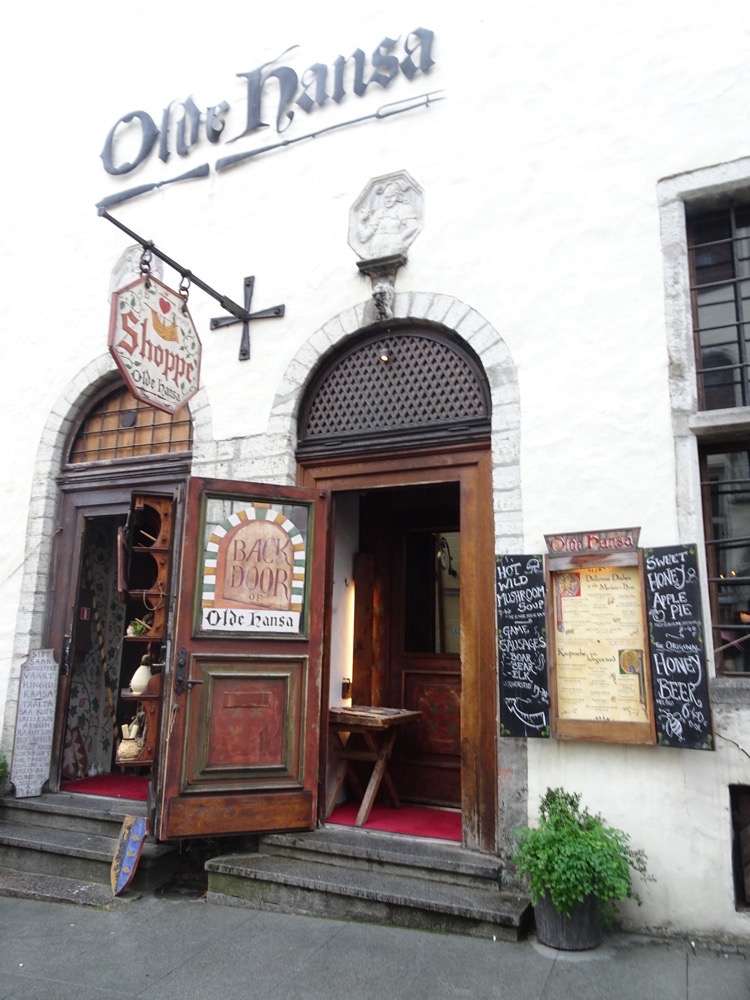 Turns out it is the most touristy of touristy medieval tavern/cafe/restaurants in town!  Complete with garbed waitstaff and a hearty, "Greetings traveller, can we offer you some fare to warm your gullet" type welcome.  Oh dear.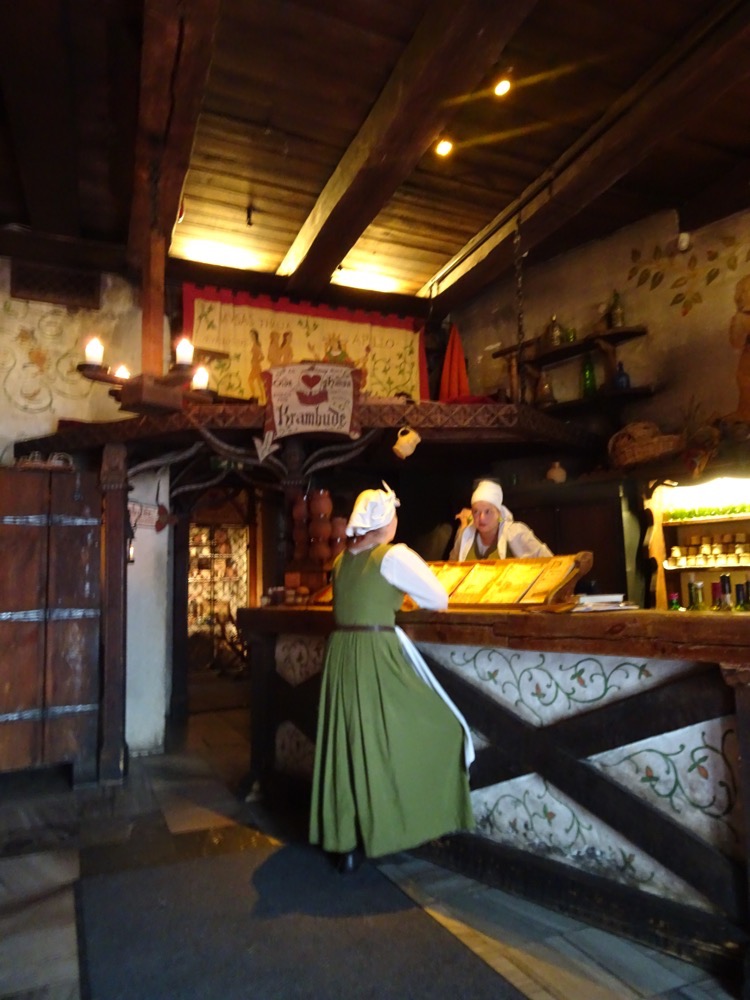 The entire hall is lit only by candlelight and the menu was really quite interesting.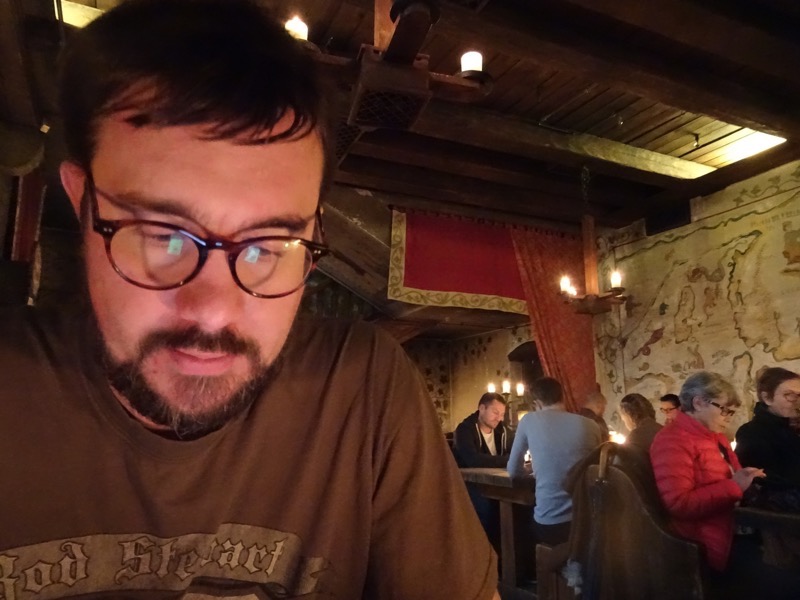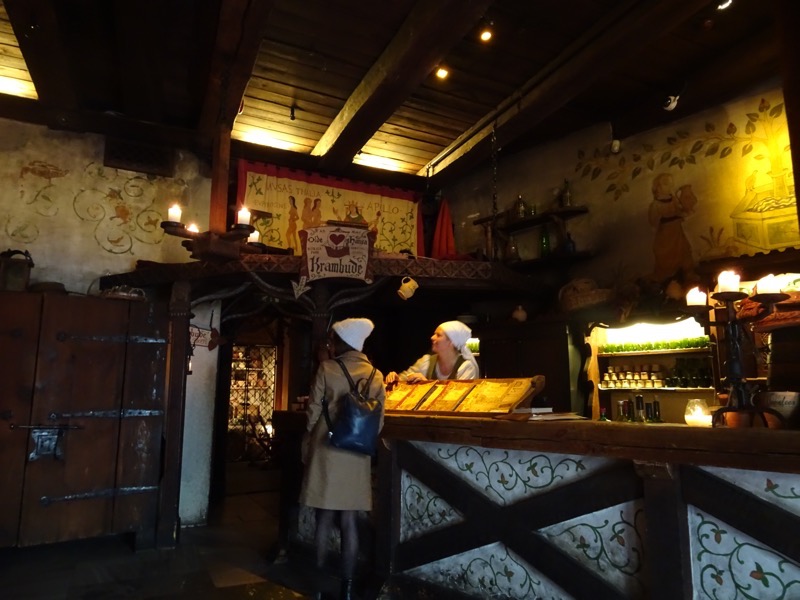 We were unaware, but visitors were even able to dress in medieval clothing to enjoy their medieval lunch.  Apparently, this place is a major draw for many visitors to Tallinn. and rates very highly on Trip Advisor –
"In one word- perfect. It's the only place I know that promises you authentic medieval experience and actually gives it to you. The menu includes some of the most popular and finest medieval foods and beverages and even though some may taste unusual most is still excellent once you get used to it…. The service is also on top. The lady who waited our table stayed in a character… and the decor is also worth a mention. It's maybe a bit too dark for some but we loved it. The candle-light gives it a cosy feel and lets you relax in a medieval nobility style."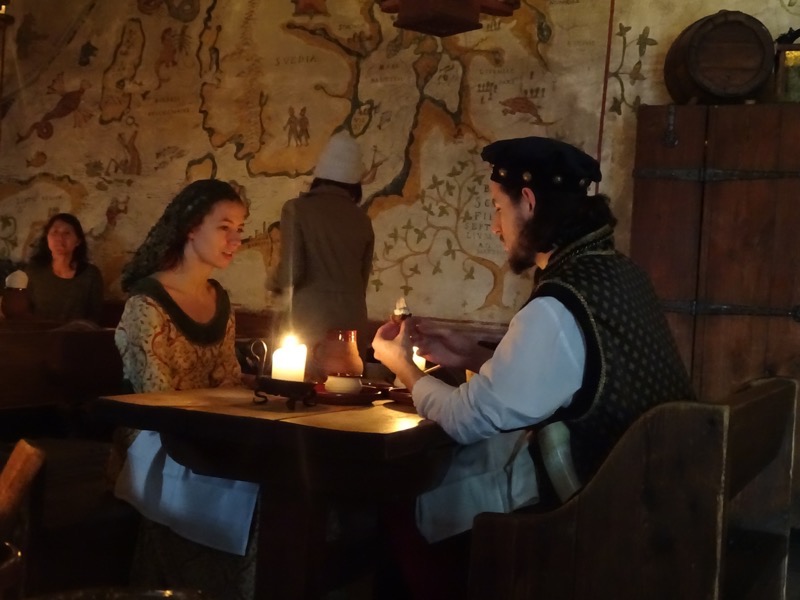 Having only come in for a cider/mulled wine and some soup – we ended up trying lots of interesting food.  Designed as an entree for one, we shared this 'Neptune's Platter' which contained – Salmon eggs, Andalusian fish, smoke-grilled salmon, herring, anchovies, quail eggs, Castle's fresh cheese, herb-bread with nuts, rye bread with smoked ham.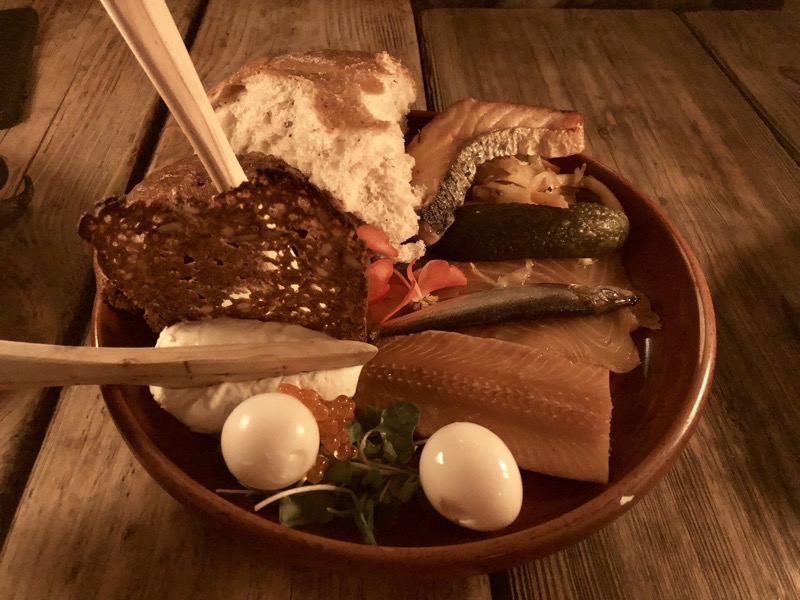 yale ordered the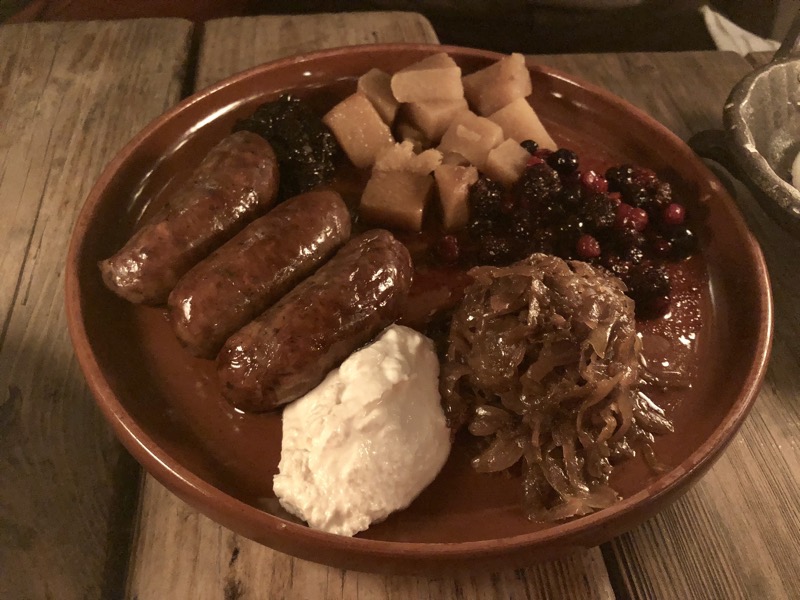 I ordered the Earl's Forest Mushroom soup – it was delicious, I love good mushroom soup.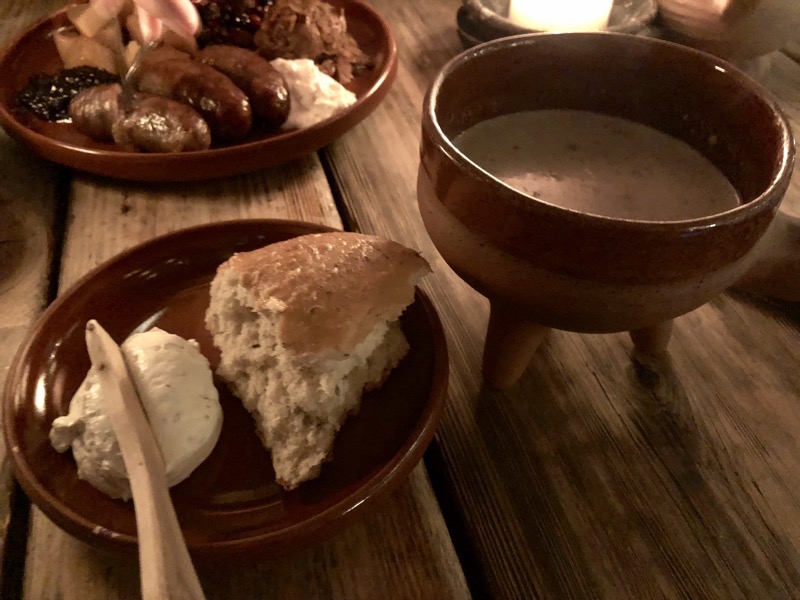 Afterwards we had enjoyed the Neptune Platter so well, that we decided to not have a dessert but instead flip back to try the non-seafood version taster plate called the Reval's Beef and Liver Pate Tasting Plate, which contained: Juniper-flavoured beef, orange tongue jelly, French royal poultry liver paté, olives, breads and caramelized onion jam.  Also all very tasty.  One thing about eating out with yale – I get to try all the things knowing he will finish them. 🙂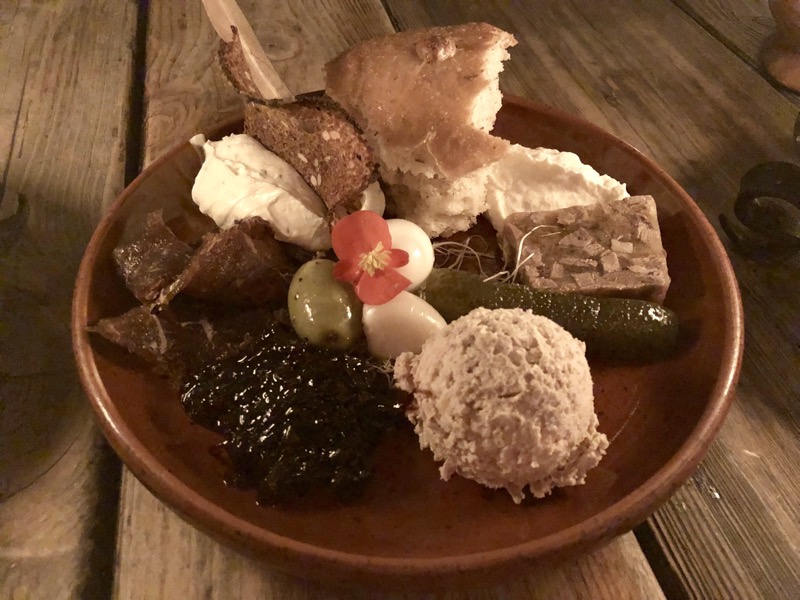 The place was kinda funky – I don't think I have seen a better medieval recreation tavern, I definitely know I have seen much much worse. I would definitely recommend it to my medieval friends and would love to come here in garb with a handful of friends to try their banquet meals.  Lovely space, lovely atmosphere, great staff and a good attempt at medieval style food that suits a modern palate.  Good fun all round.  They also have a shop attached where they are selling various period style wares.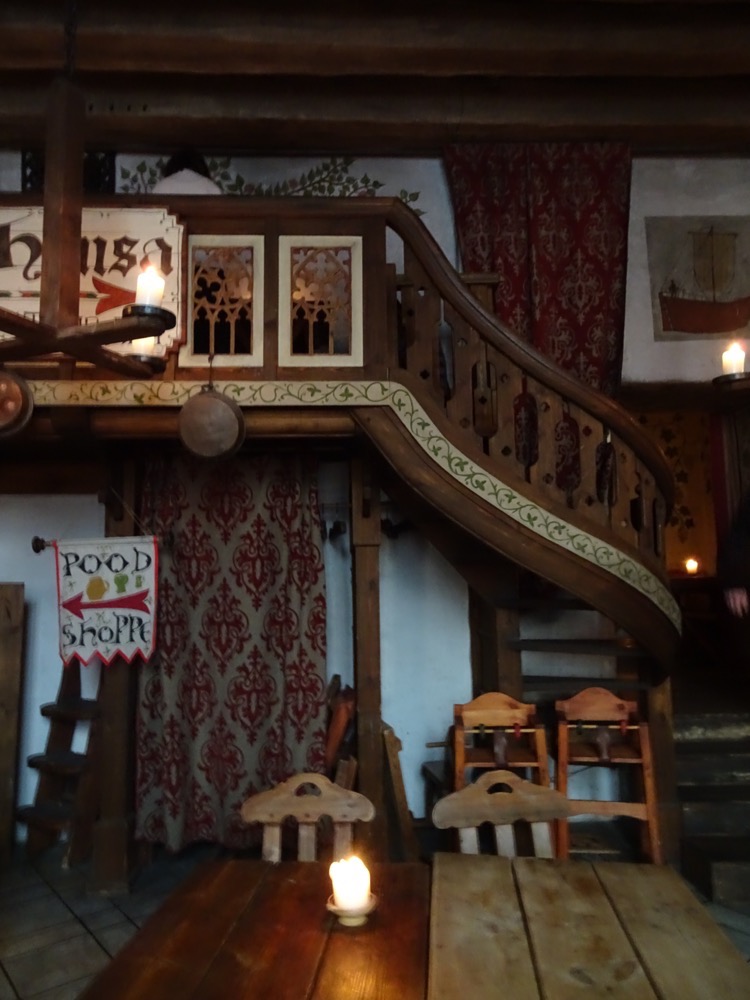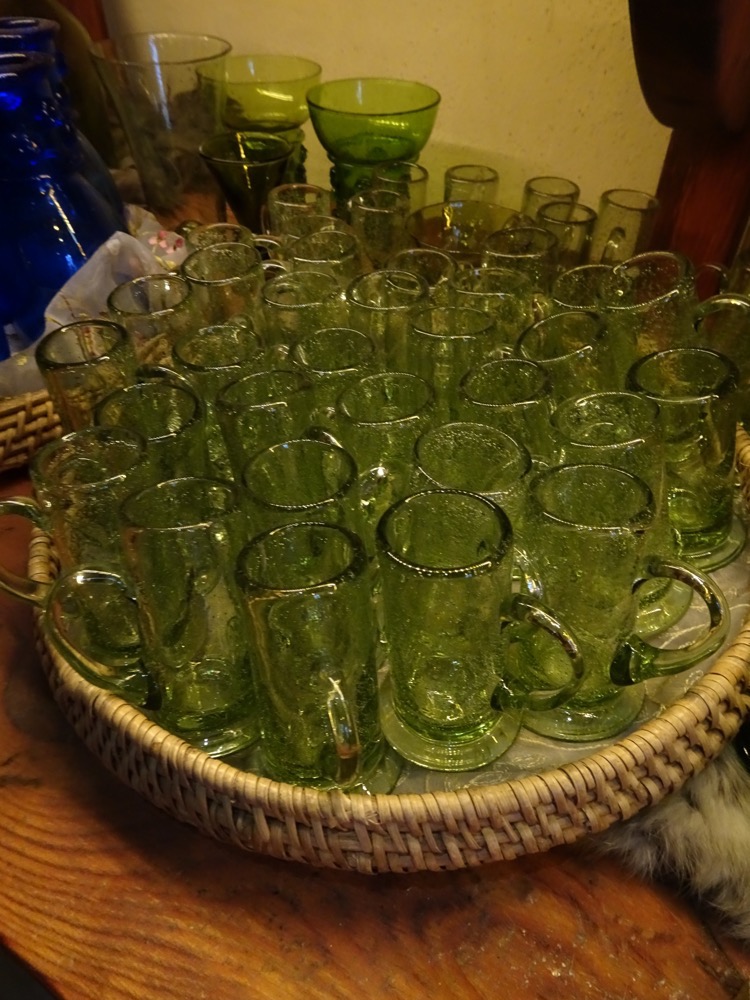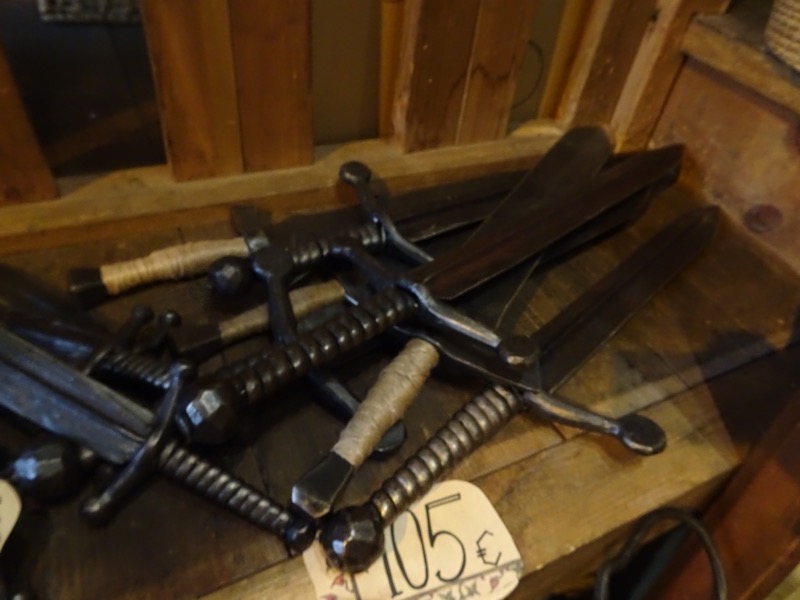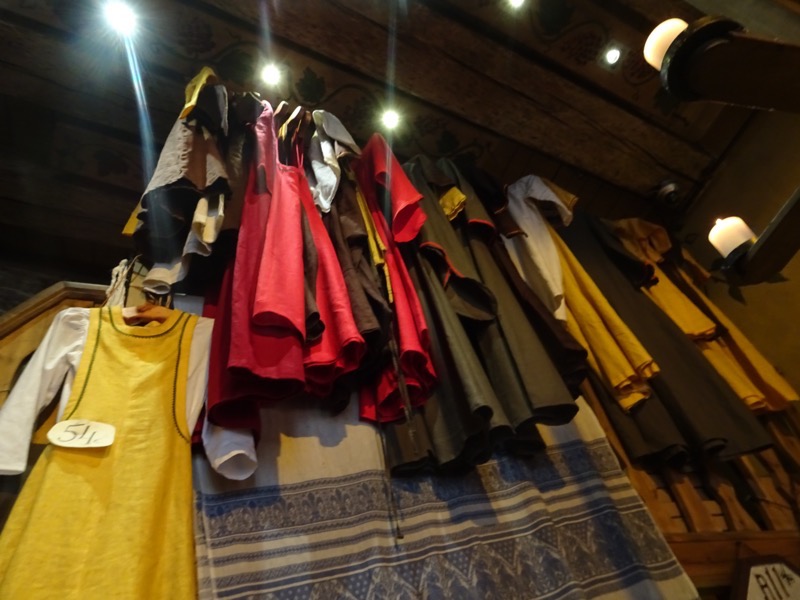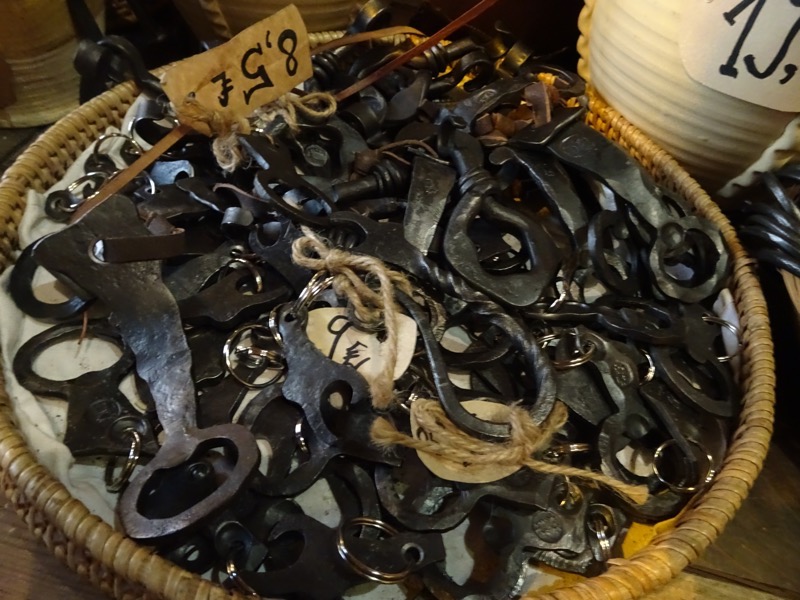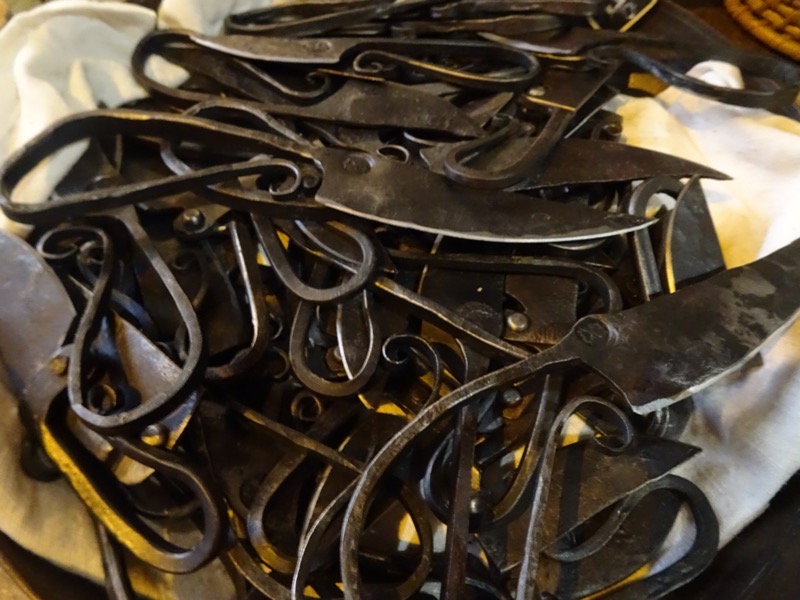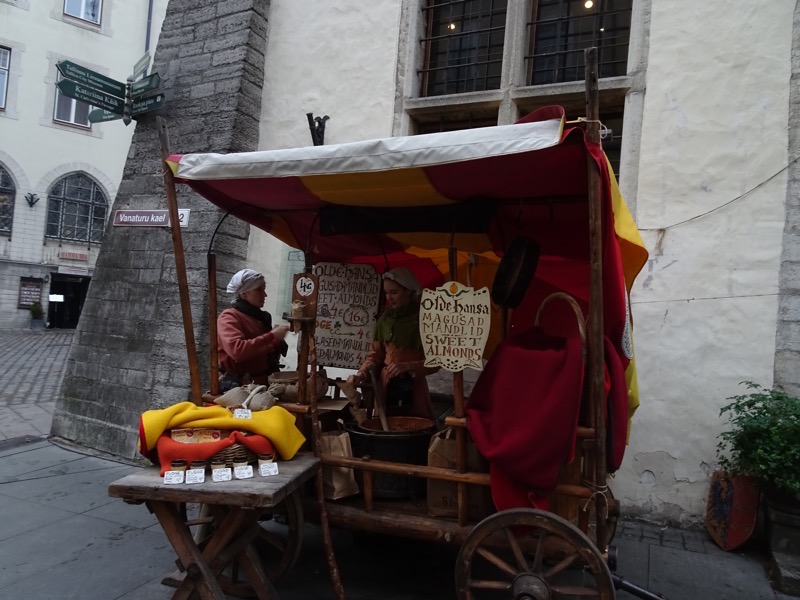 I am not sure what this was about on the website of a different nearby 'medieval' tavern… is it lodgings for if you're drunk and can't drive home?  Or are they offering 'special services' upstairs?  😮 
Back out on the street we went looking for the Town Hall Pharmacy also known as the Raeapteek which is the oldest pharmacy in Europe that has been in continuous operation in the same premises. … since 1422!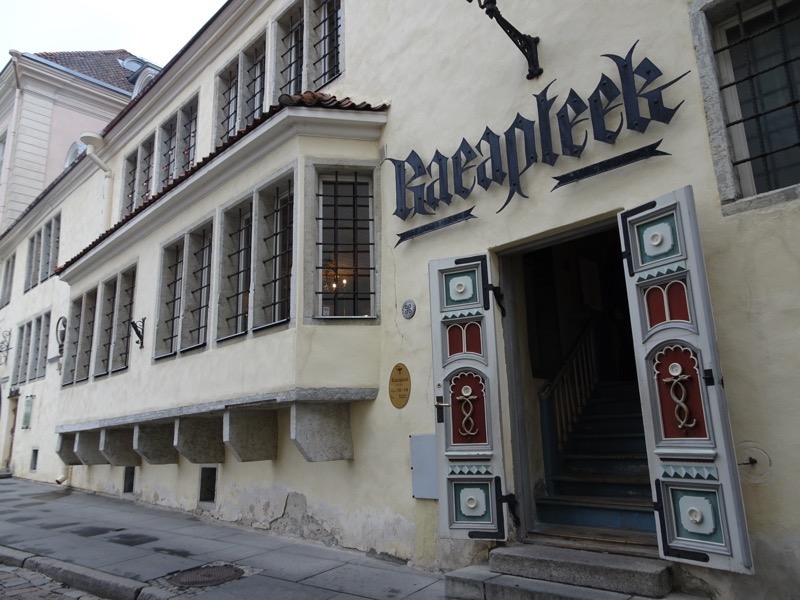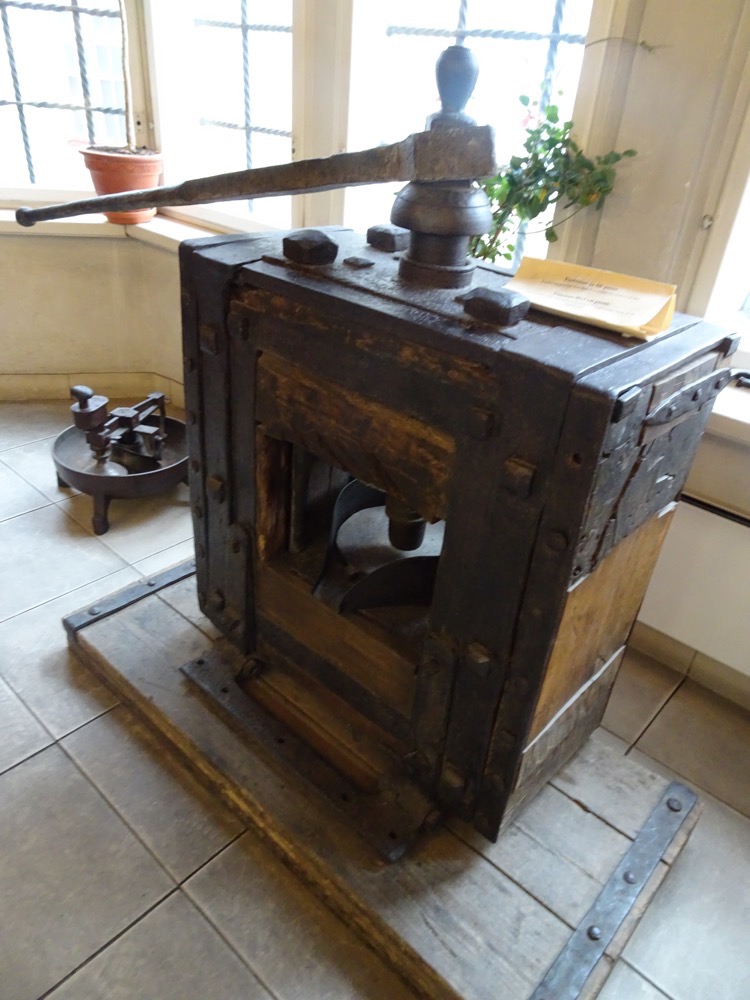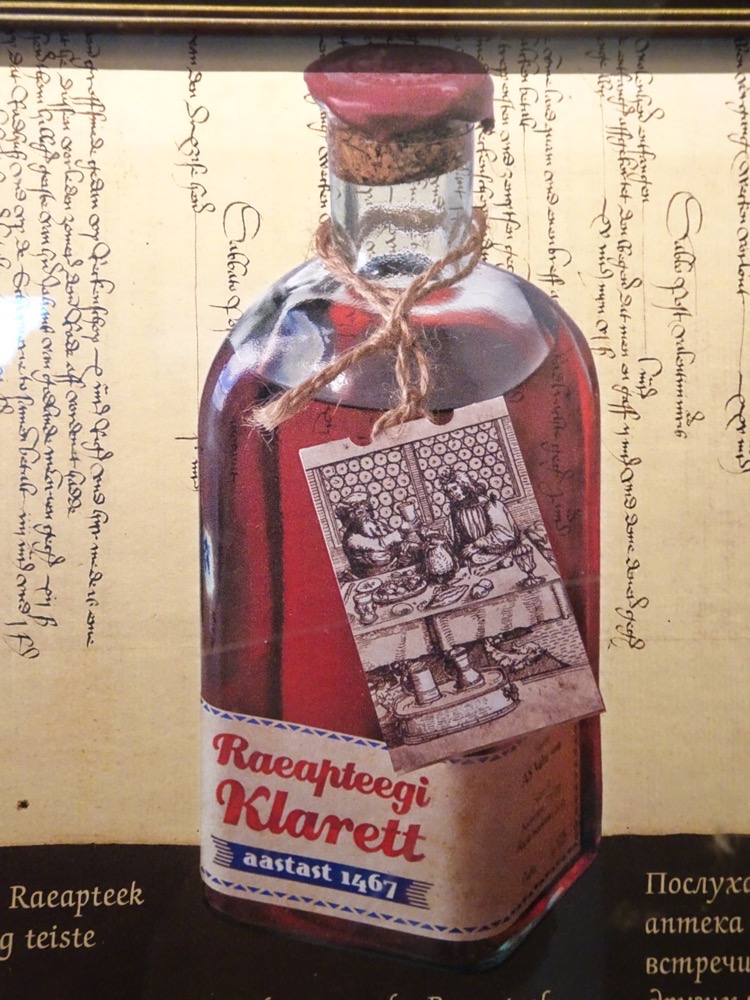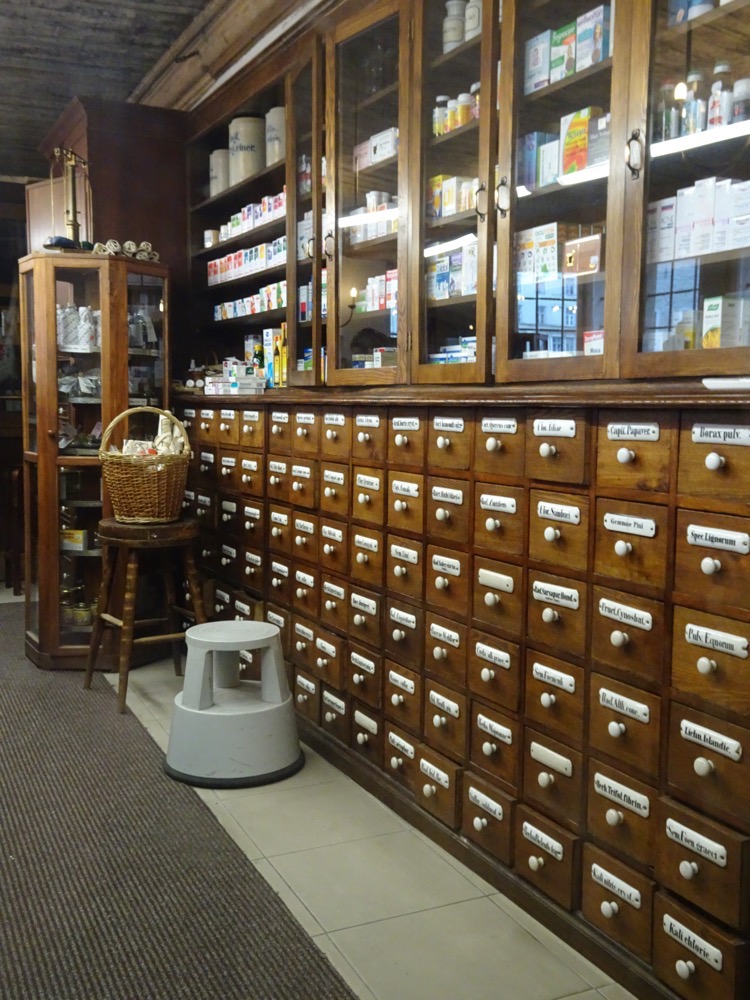 It looked a bit weird to see all the modern medicines in the old cabinets – but it is still a working pharmacy so you can go buy your panadol here.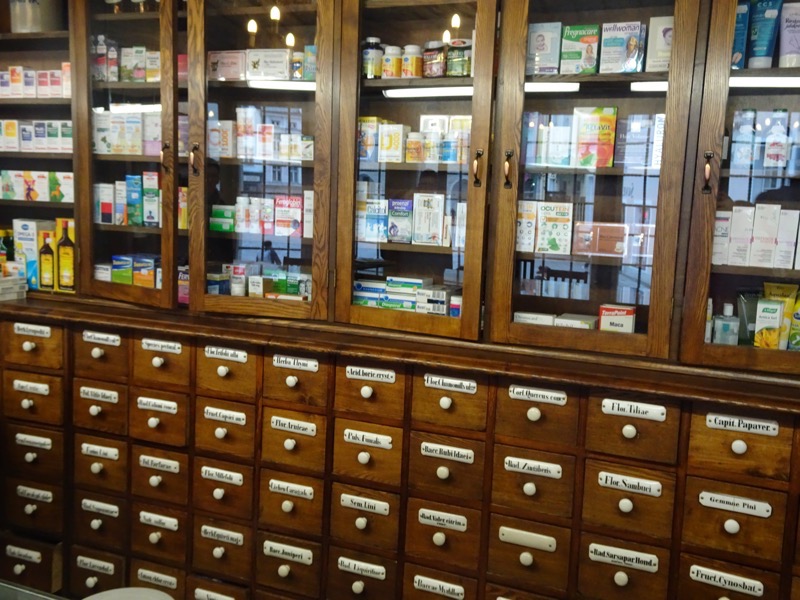 There is a small museum of old 'treatments'…  dried toads, bats, hedgehogs?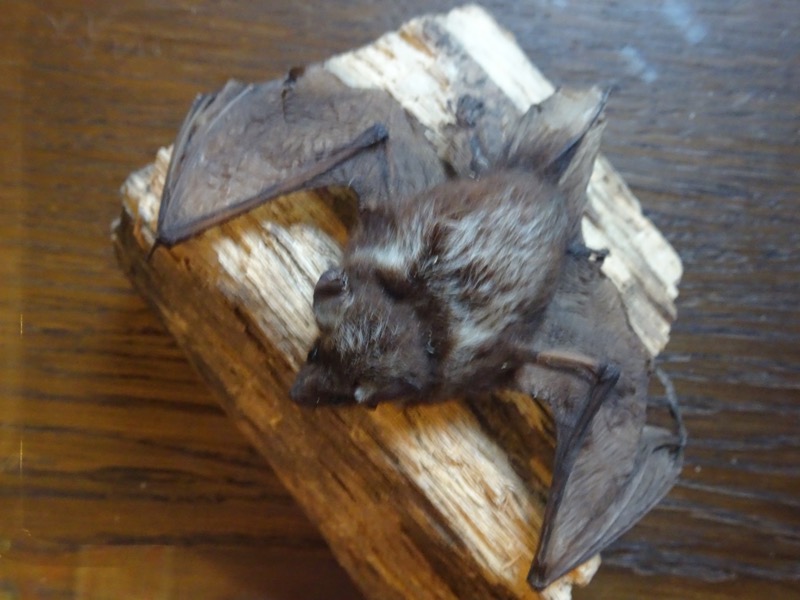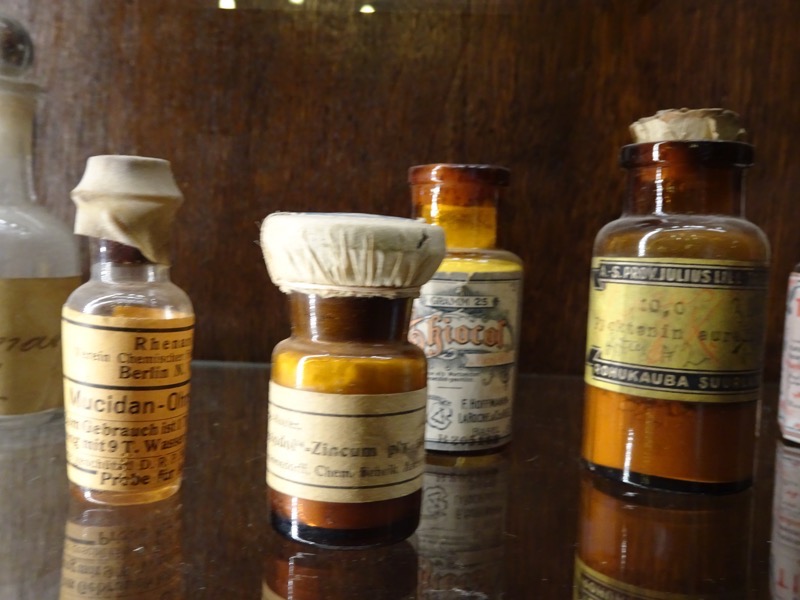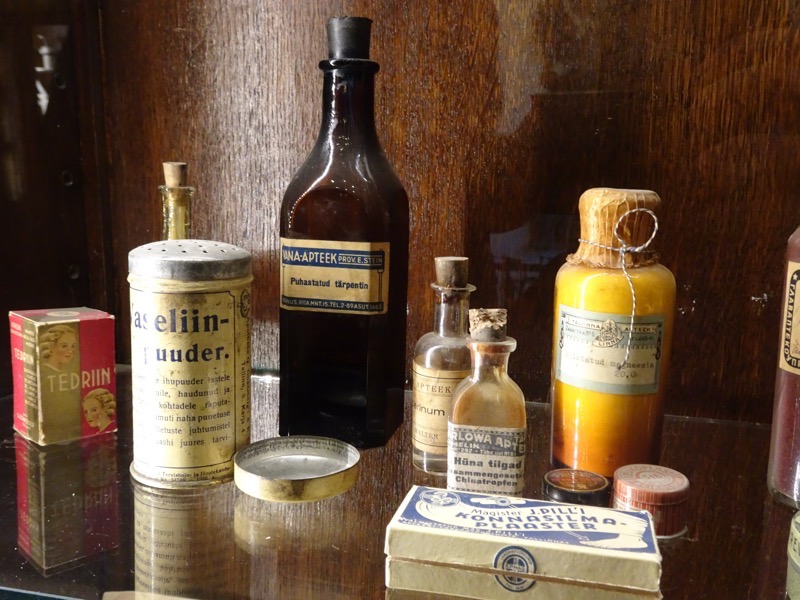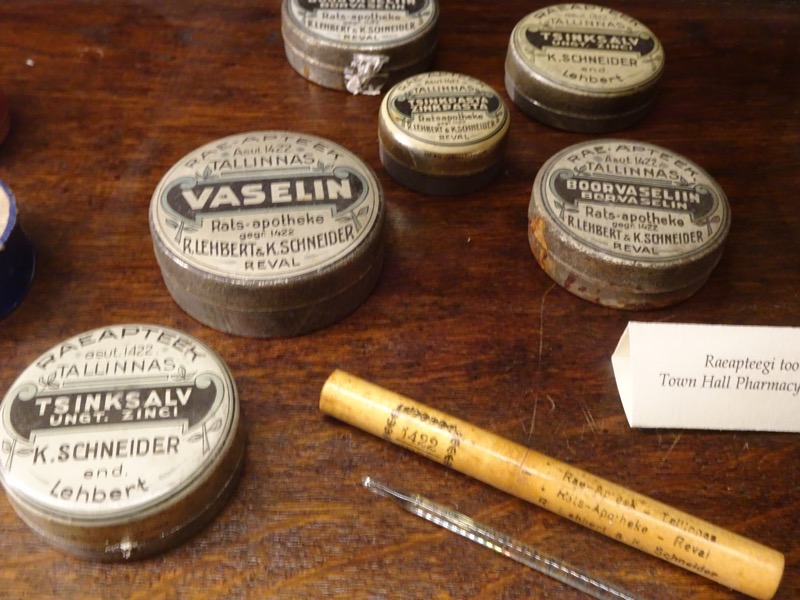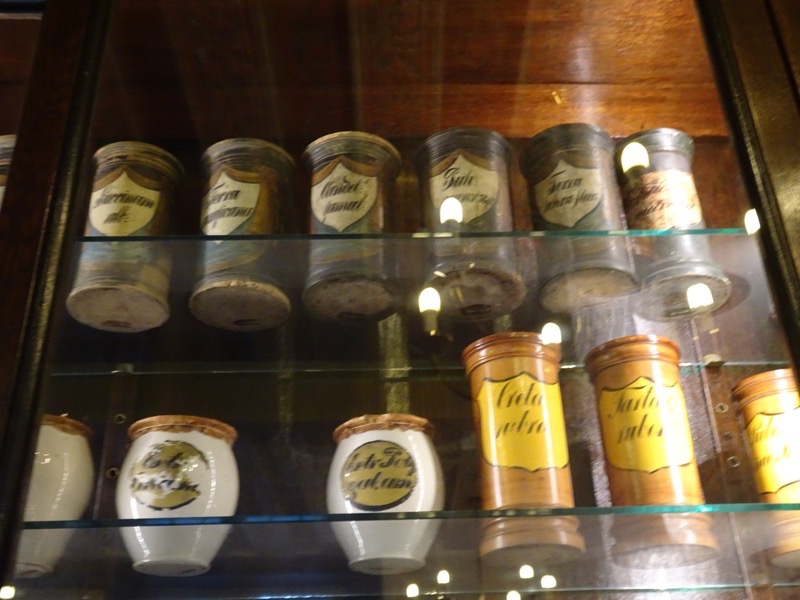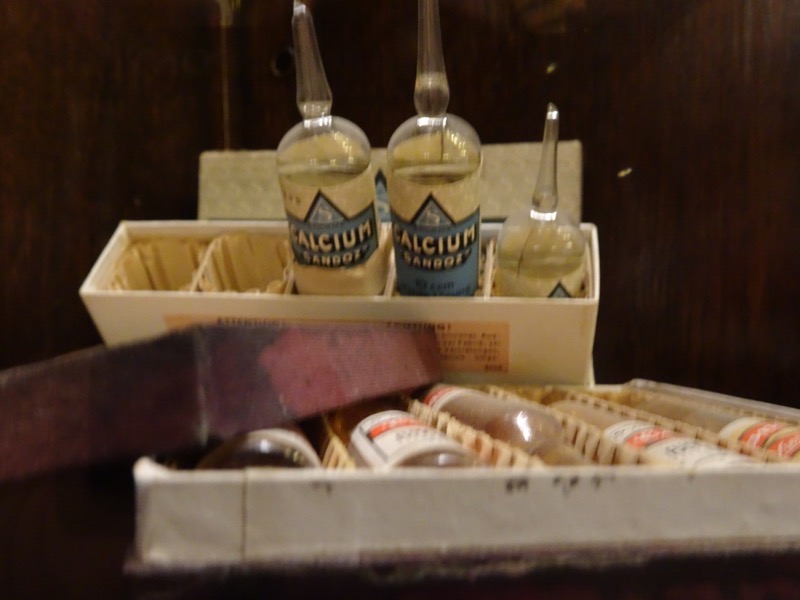 After this, we went to St Katherine's Passage to make our way to the old city walls.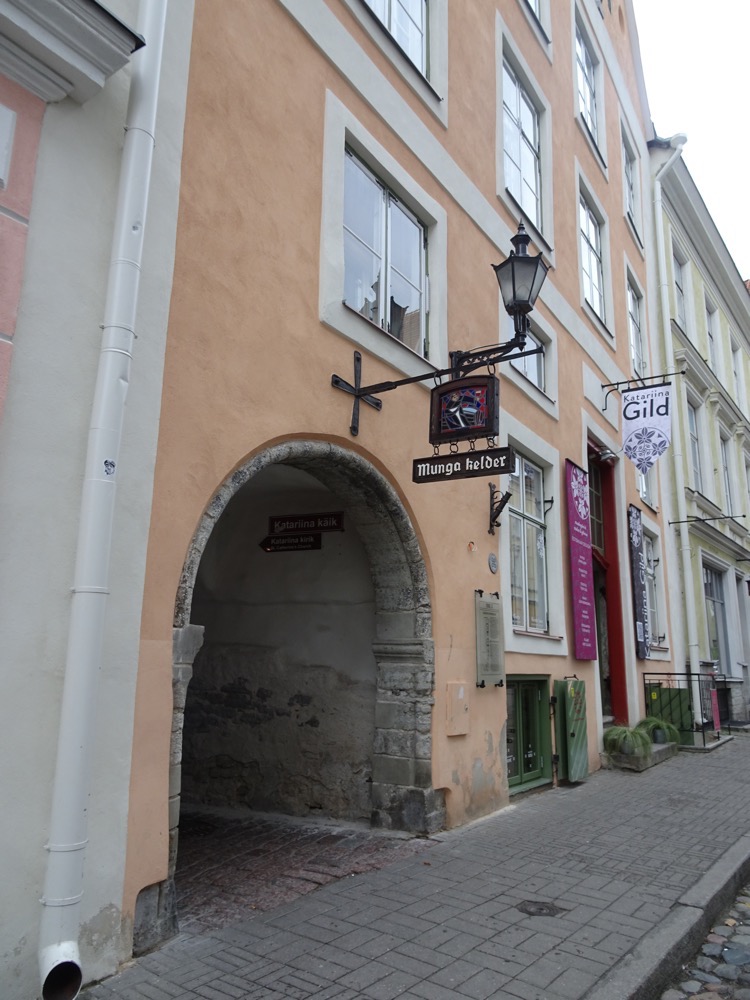 Easily one of the most picturesque of Old Town's lanes, the walkway runs behind St. Catherine's Church.
The walkway is particularly known for being home to the St. Catherine's Guild, which is a collection of craft workshops where artists use traditional methods to create glassware, hats, quilts, ceramics, jewellery etc. The workshops are housed in the small, 15th- to 17th-century workrooms in open type studios so you can see artists working and buy their wares.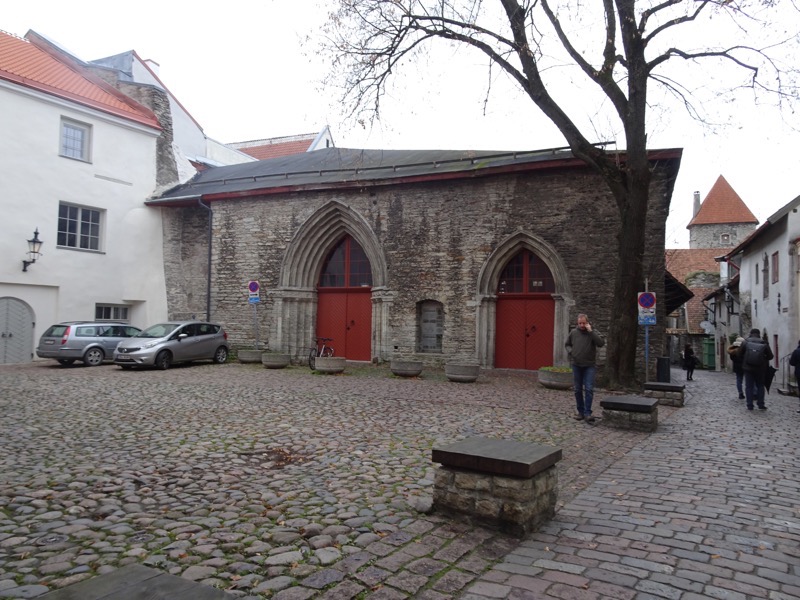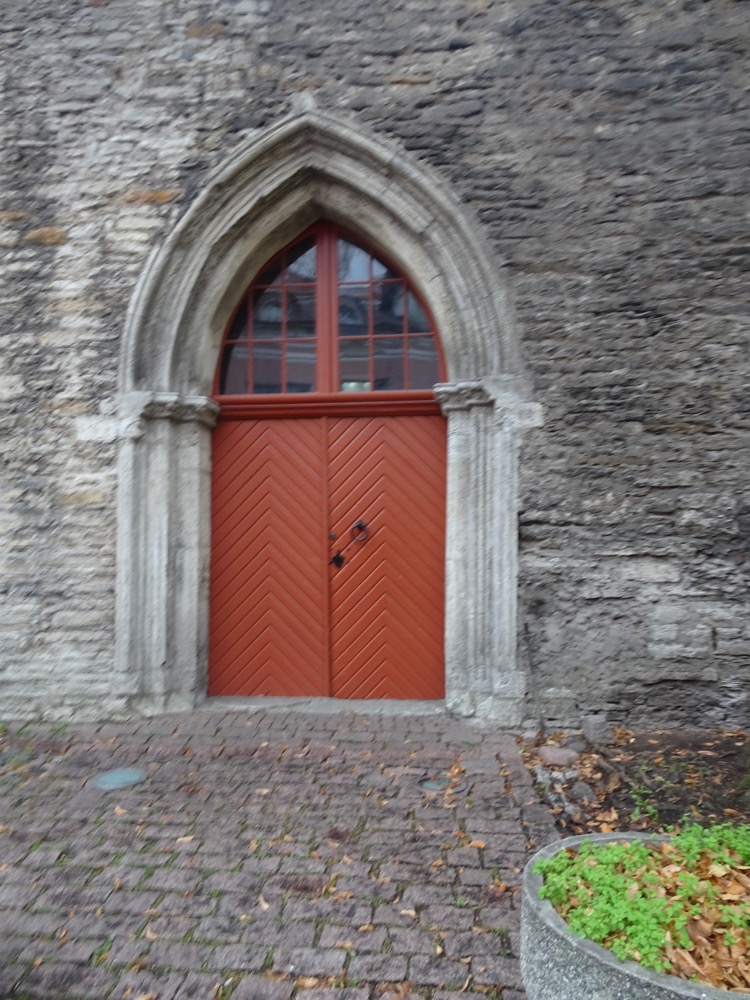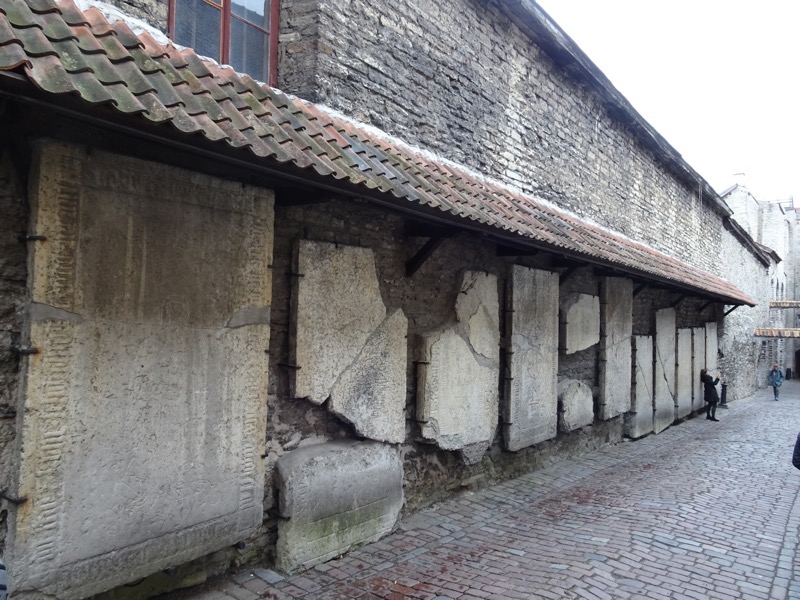 No summer crowds!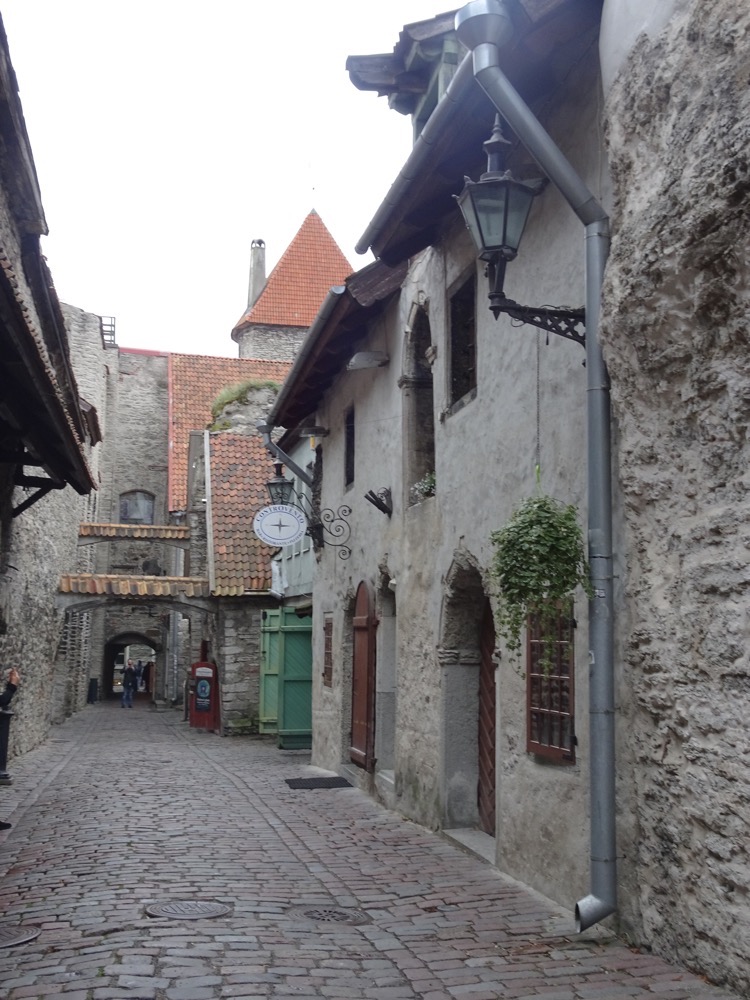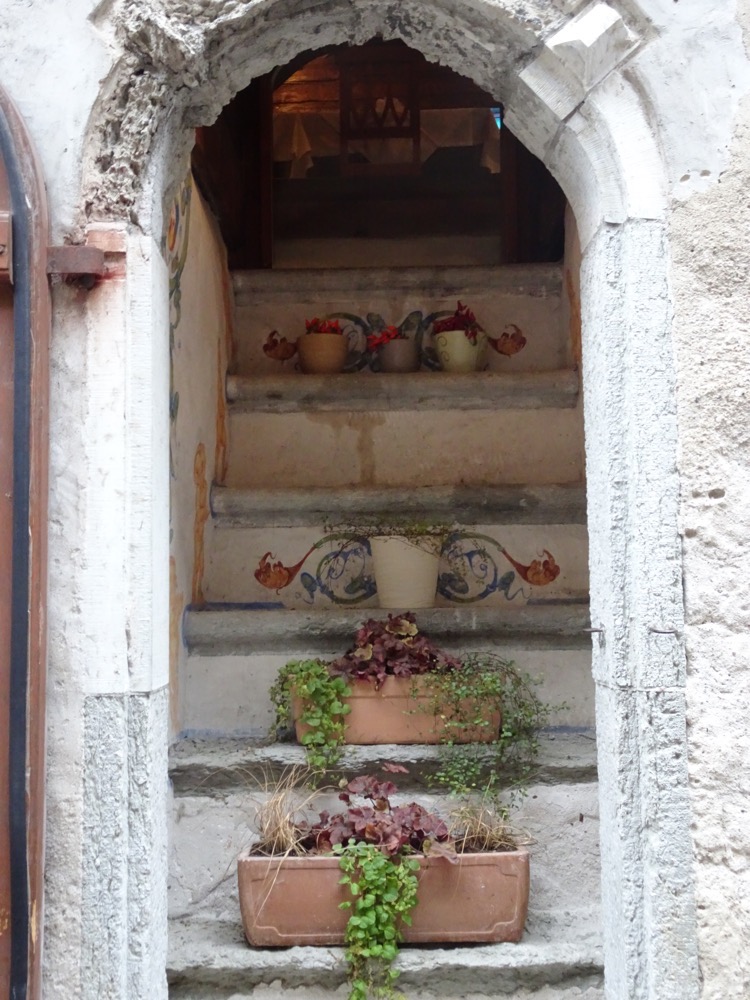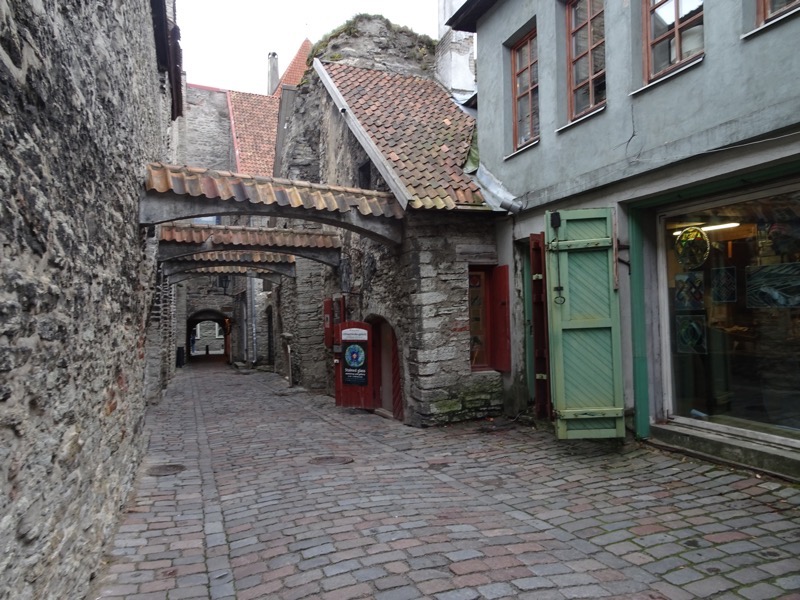 It was lovely to walk through this space and have it all to ourselves, also to have time to check out some of the art studios that are here – though the woodworker seems to have packed up for the winter.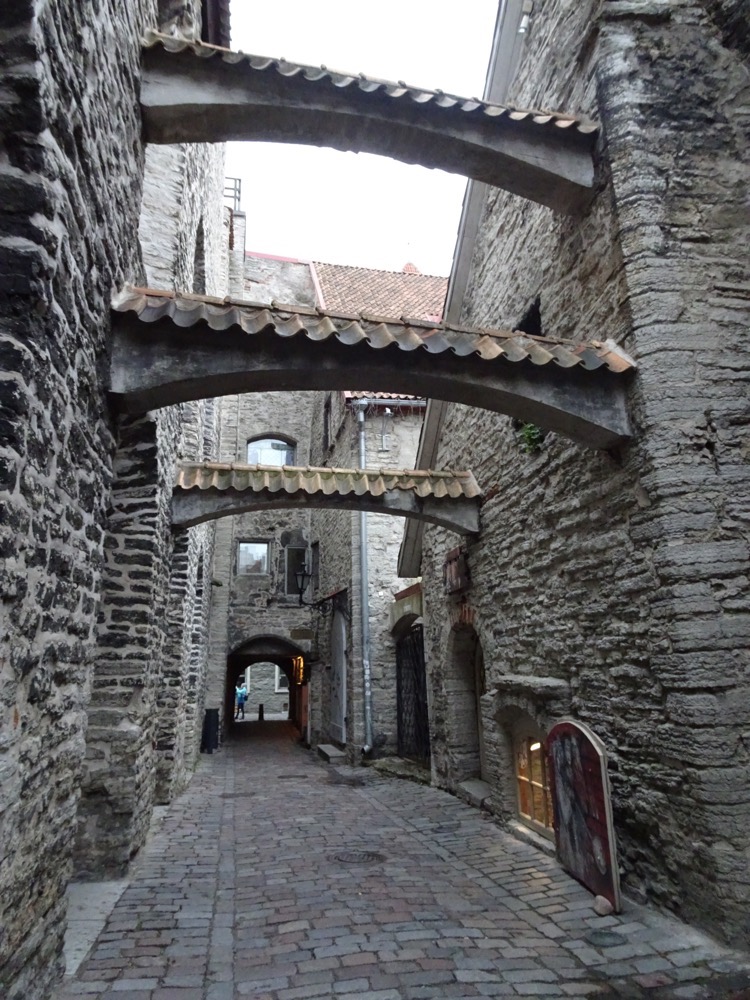 At the end of the passage, you can climb to the top of the Hellemann Tower to walk along the old castle walls.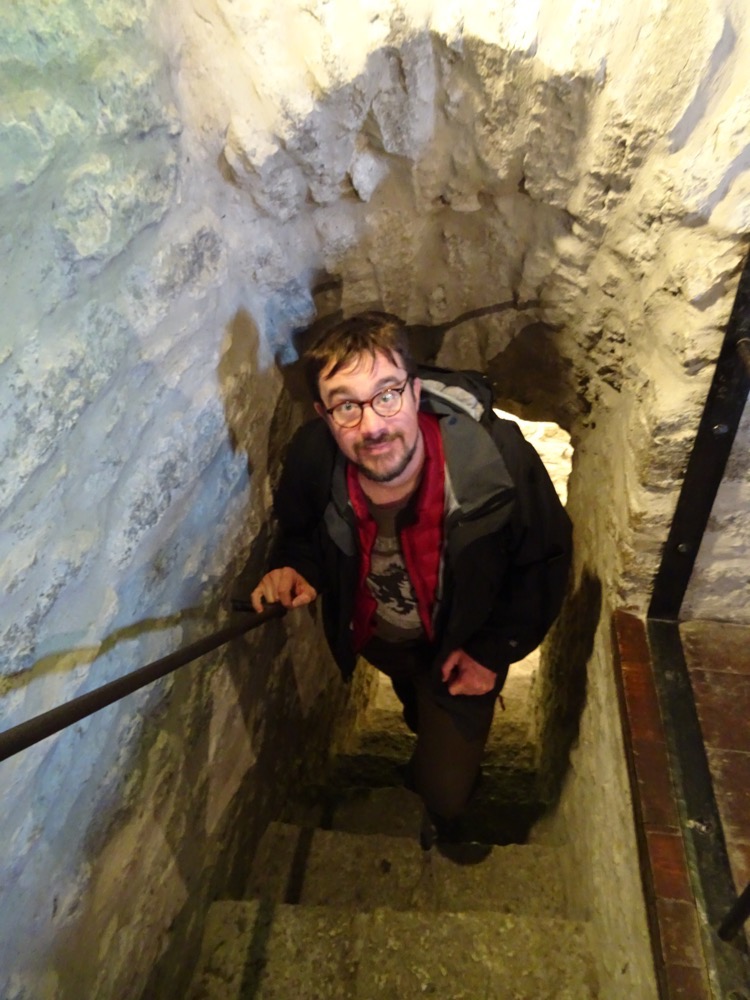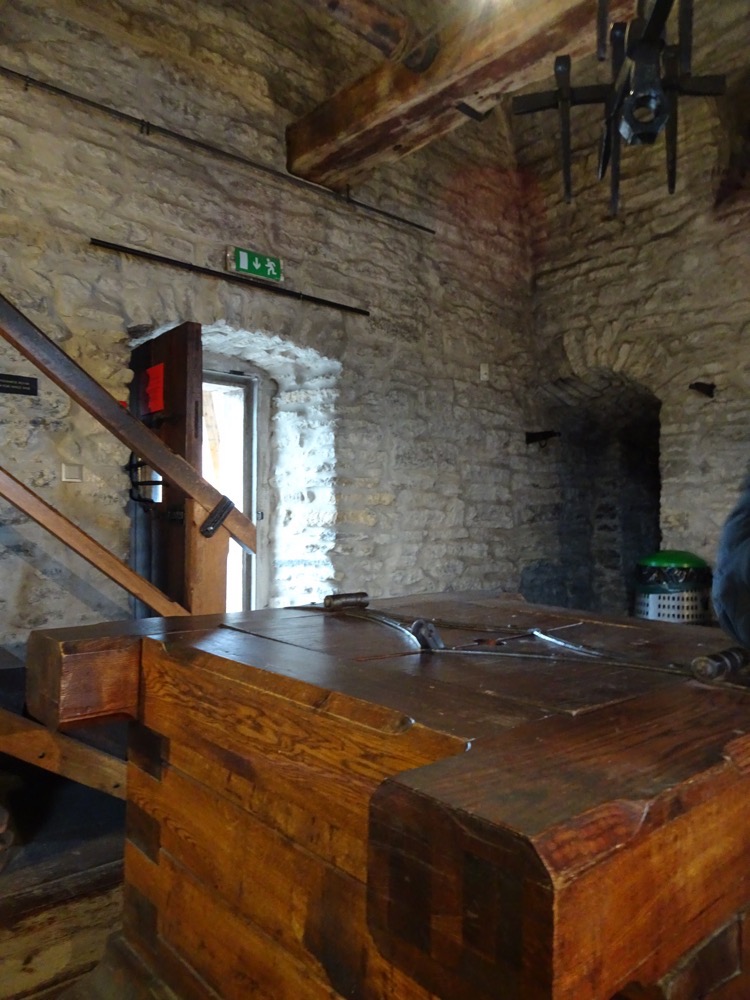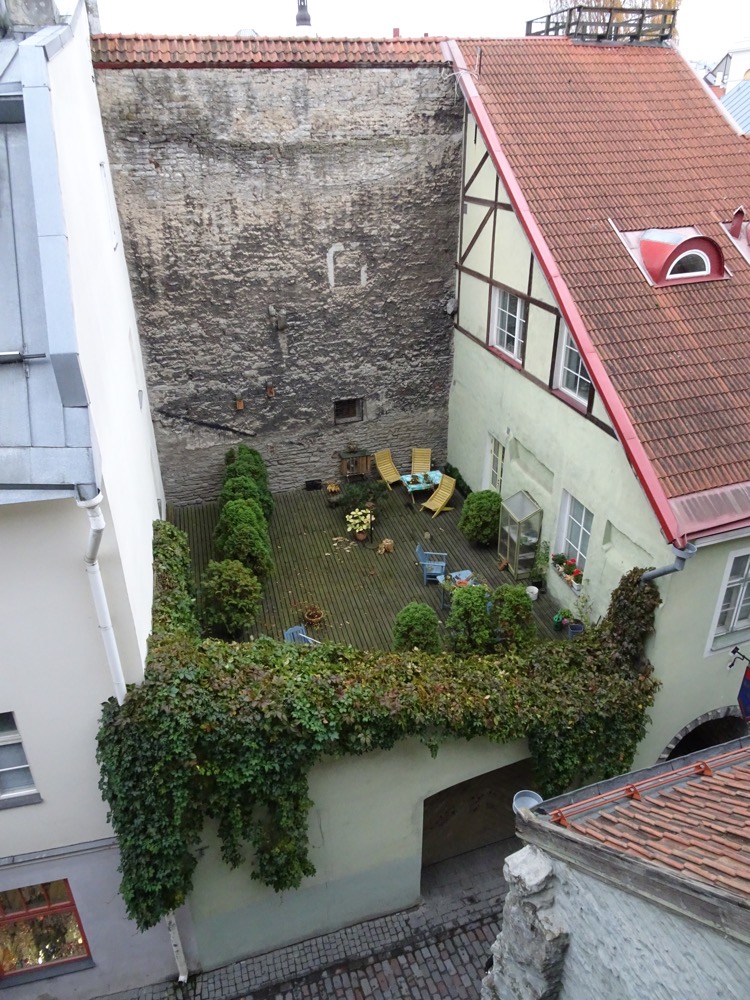 The street views are spectacular from up here – and you can see how few people are visiting the town today.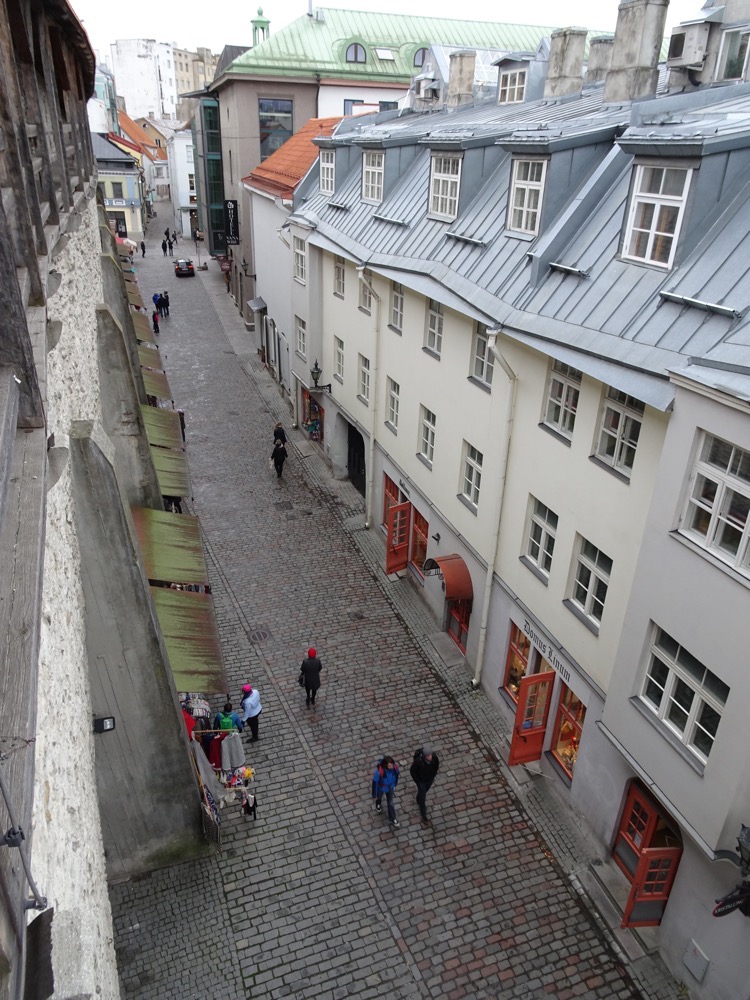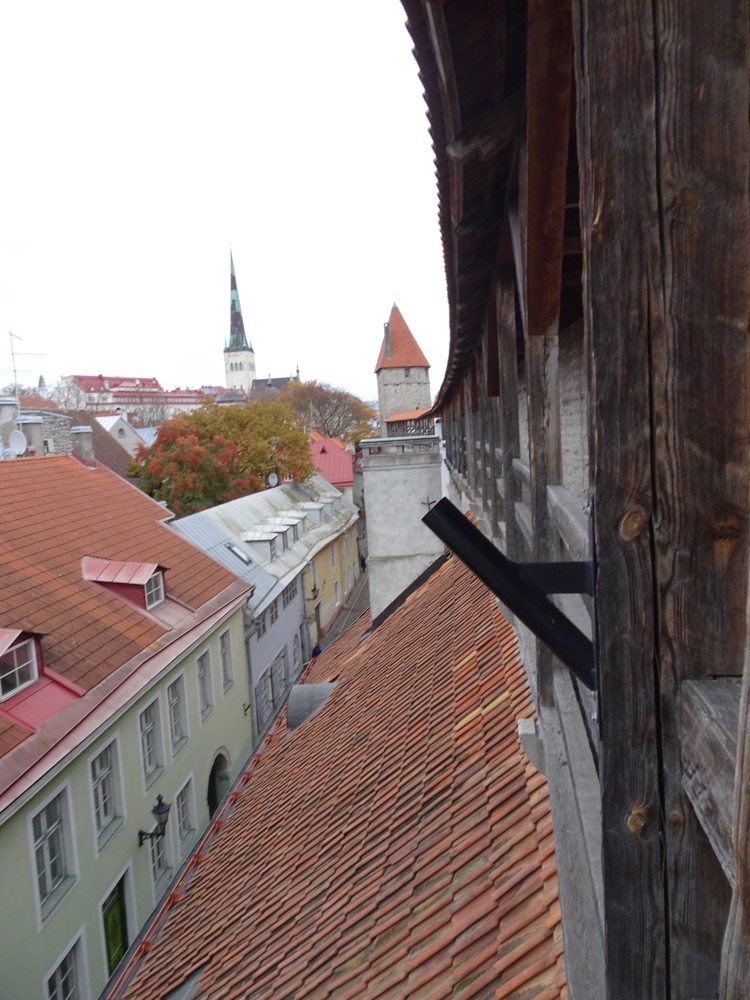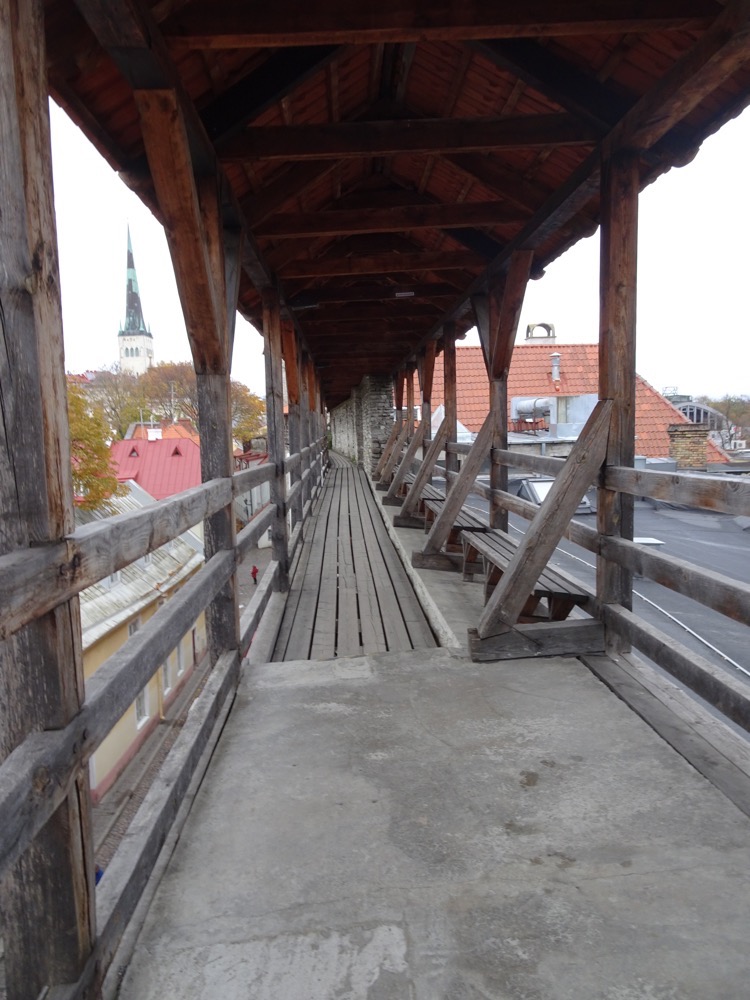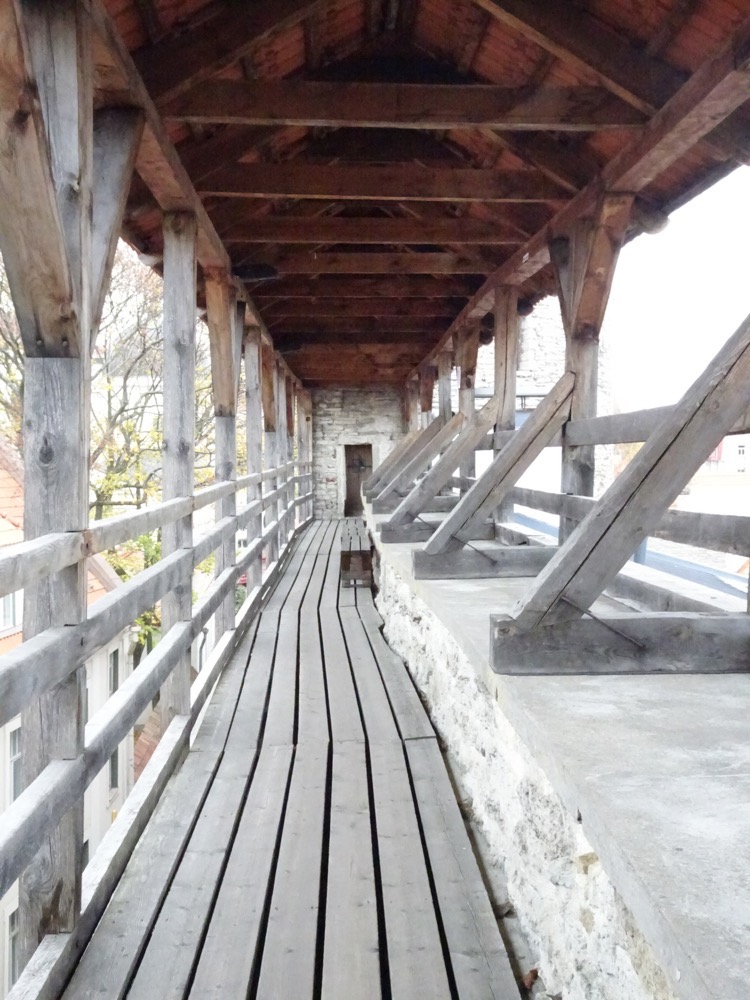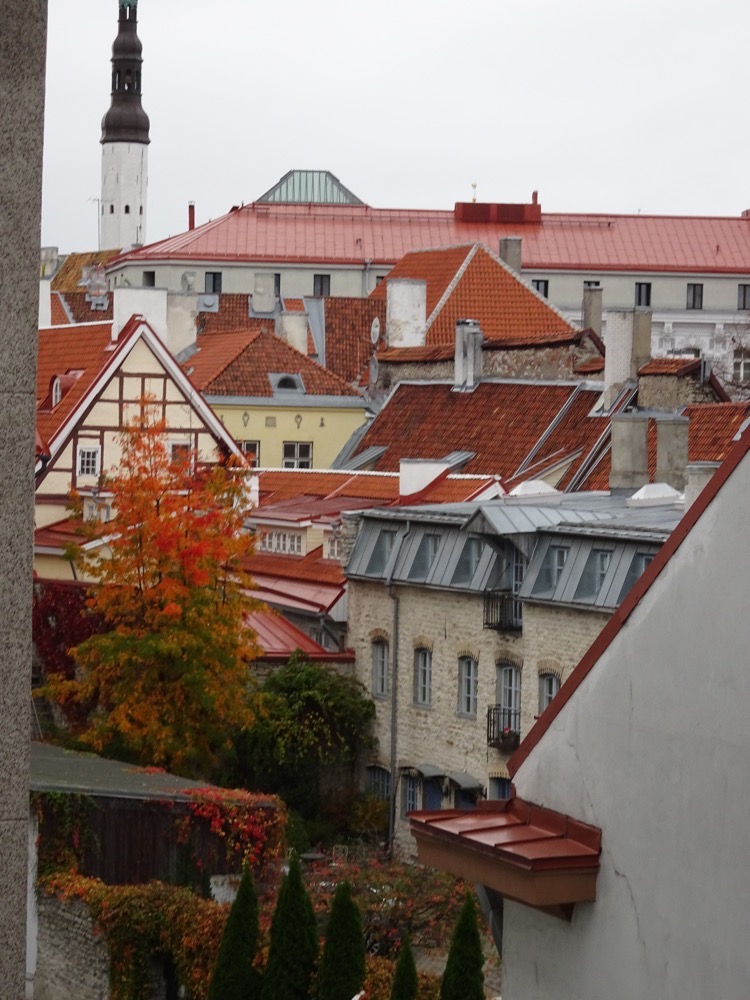 The rickety staircase we claimed to come up with the bored octagenarian ticket seller who we just about had to wake up to take our €2.00 for tickets.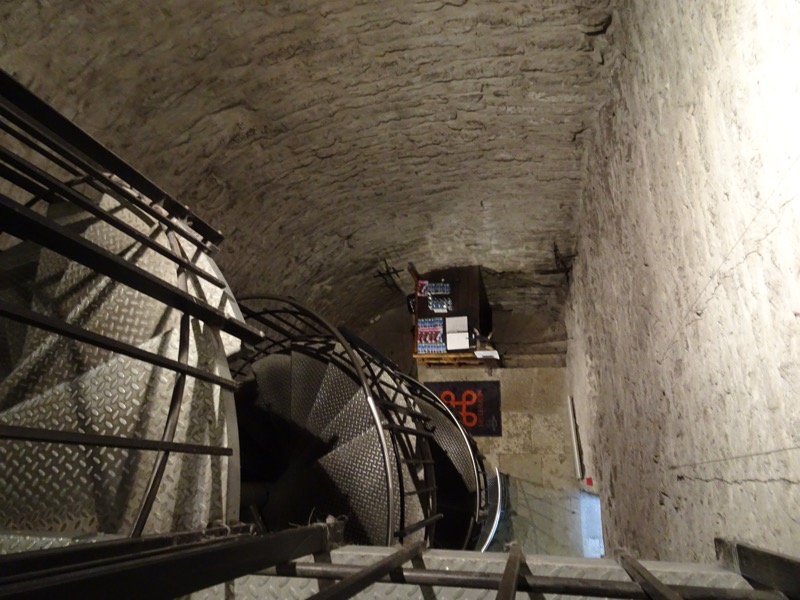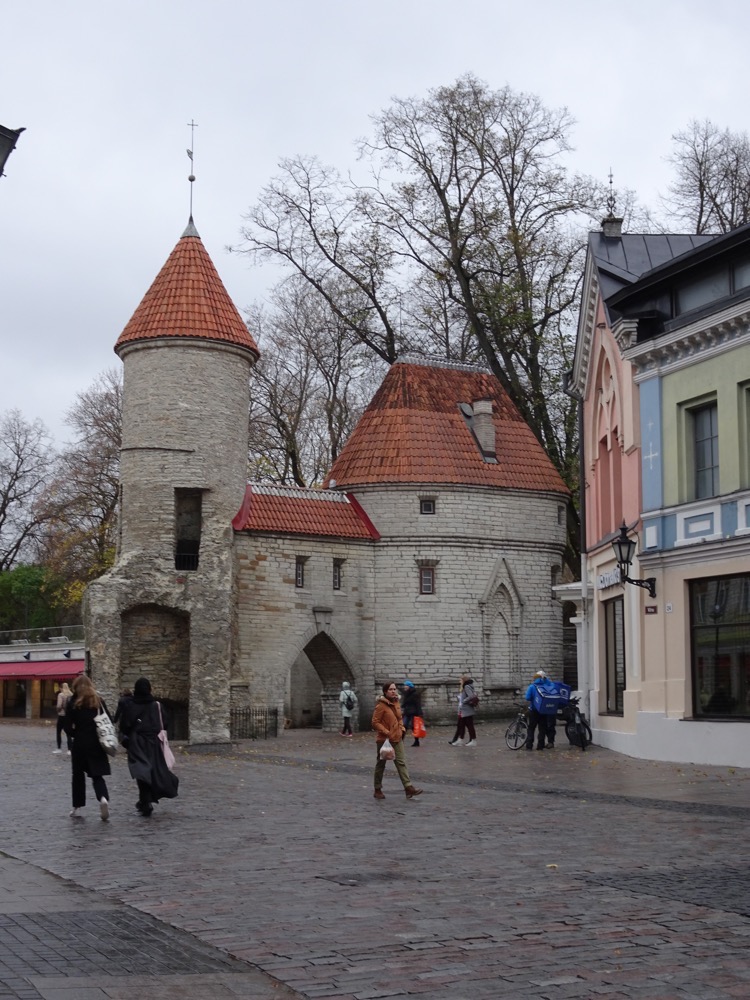 Finally, it was starting to rain on our parade – we did pretty well considering it was supposed to be raining all day.  So we retreated back to the hotel with some caviar and some vodka for a bit of down time and a quiet evening in the warm.