If you're over the crazy blue walls and doors of Chefchaouen, then I suggest you close this now and come back tomorrow… this place has me entranced and this post is all:  blue, blue, and bluer!  🙂
We had a free day today to potter around this gorgeous little town and decided we would have a lazy start to the day today.  Attempted to sleep in – unsuccessfully which is no real surprise (my back is just not happy, especially seeing I've had to leave some medications at home) and we eventually went out to the terrace restaurant for breakfast around 9ish.
This is the view that greeted us from the terrace restaurant at the hotel over breakfast.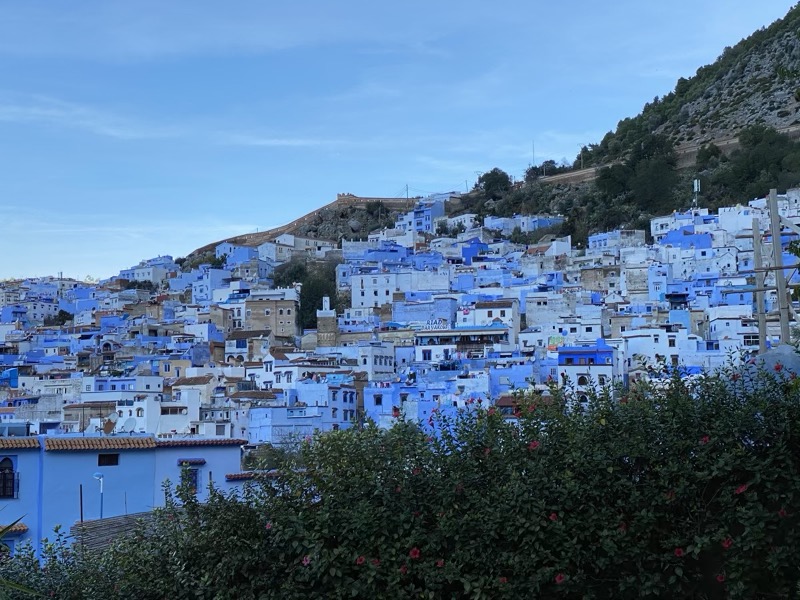 Our room is the bottom one here – we were given the top floor, but gave it to Tess and Karl when I decided I didn't really feel like walking up six flights of stairs every time we came and went from our room.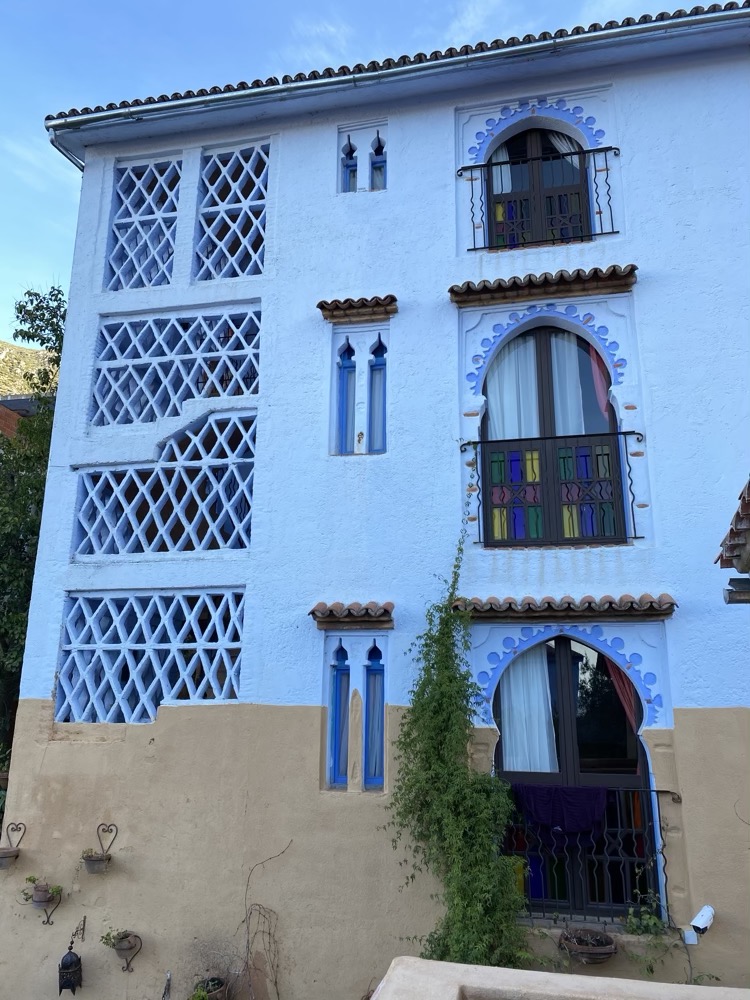 After breakfast, we ran into Jake and Tyson, who were chilling out using the wifi in a little fabric lined antechamber off the hotel lobby.  They're from California, both in college and travelling with their lovely grandparents, Chris and Allan.  They're really nice guys, though sometimes listening to how they talk to each other makes me laugh.  They're sure making themselves comfortable…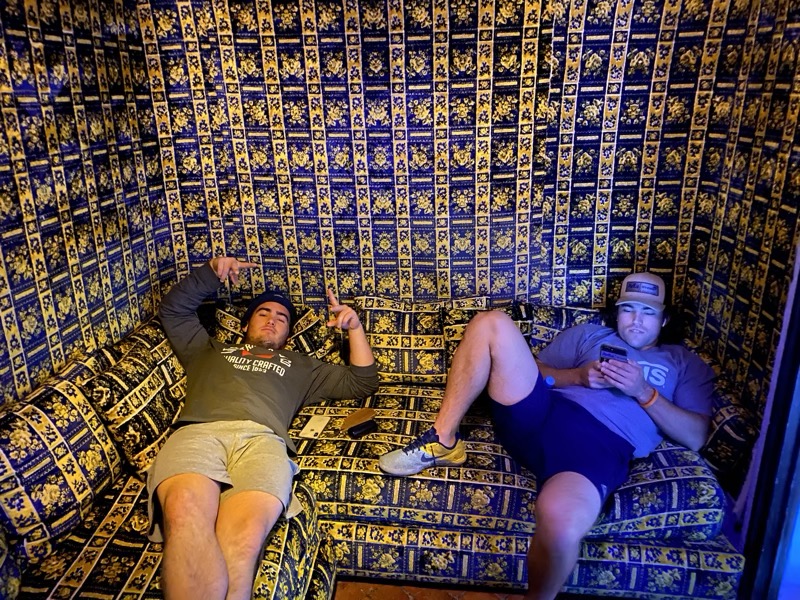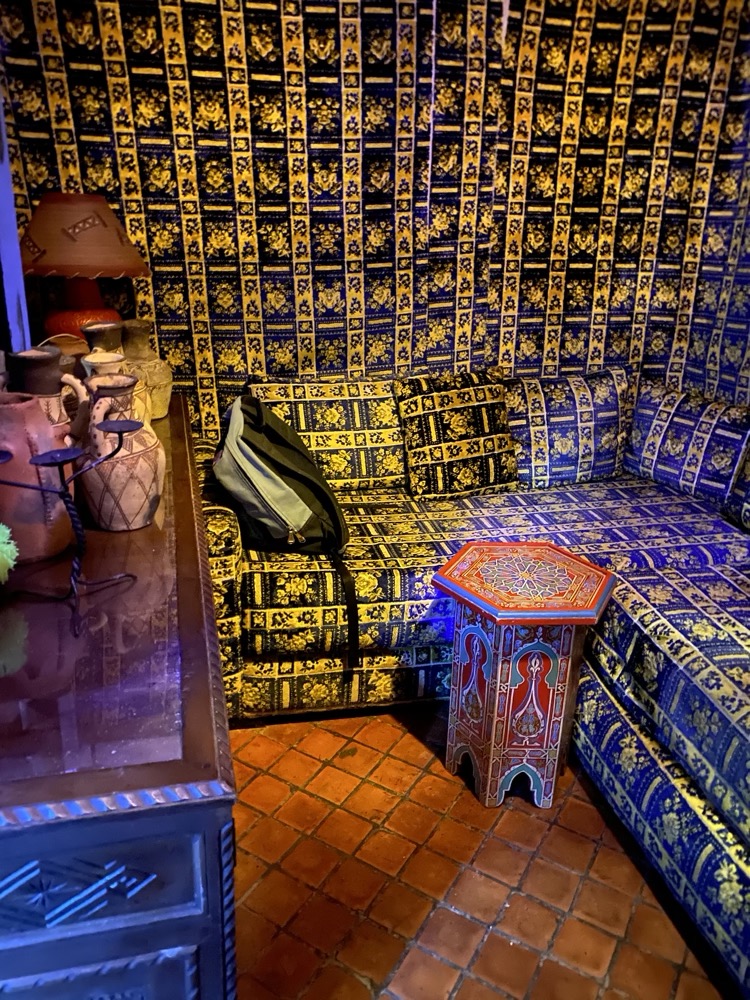 Christian may be the only person we beat to breakfast, he's from Quebec, and here he is looking out over the view from the terrace restaurant.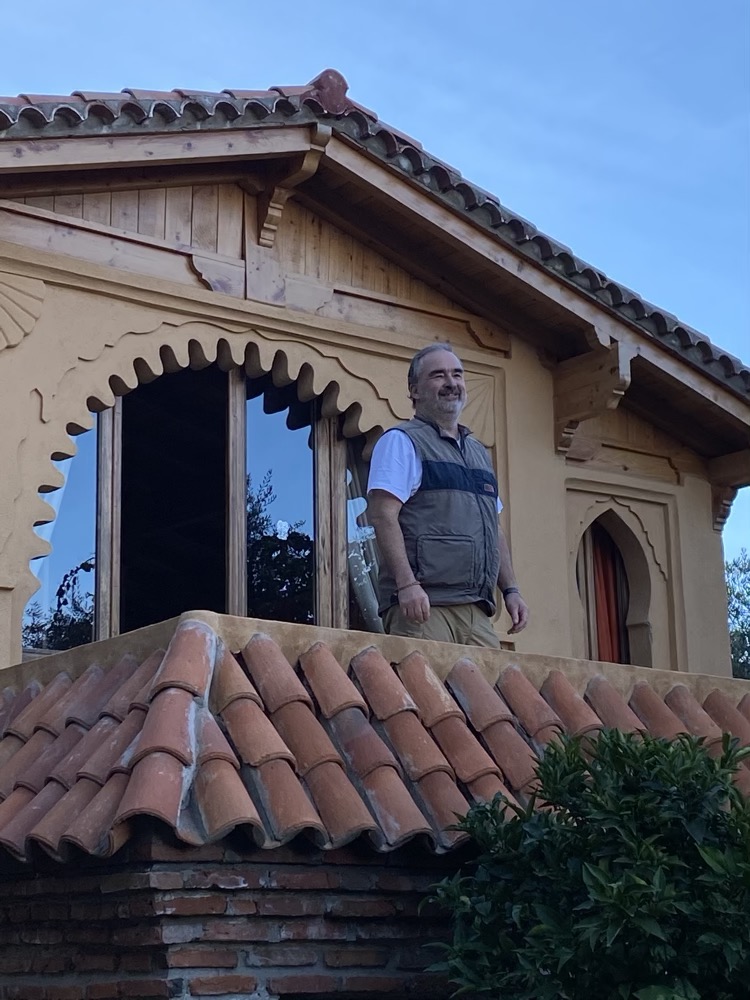 Anyway, there were only a few things on the very loose agenda today:  1) Get my phone to a Maroc Telecom and figure out why my SIM card is only ever getting 3G reception, 2) potter around the medina and have a good poke around the handicraft shops, 3) check out the Kasbah this afternoon and 4) buy a djouba (or two)
So we set off trying a different way to get around town through some less touristy worn streets to find the Maroc Telecom.  It was a 15 min walk or so and mostly downhill.  I have to say, Morocco needs to smarten its act up a bit on their stairs – we haven't really seen a flight of stairs that are 'regular height' so it's quite hard on the knees and ankles when going downhill, especially if you miscalculate the height of the step.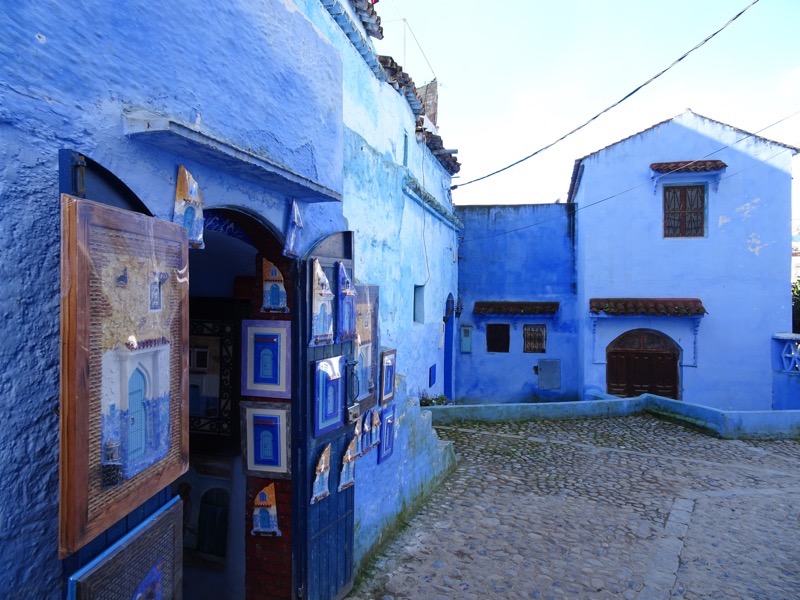 On our way to the telco, we wandered through some more residential type areas, which were just as blue as the main touristy streets.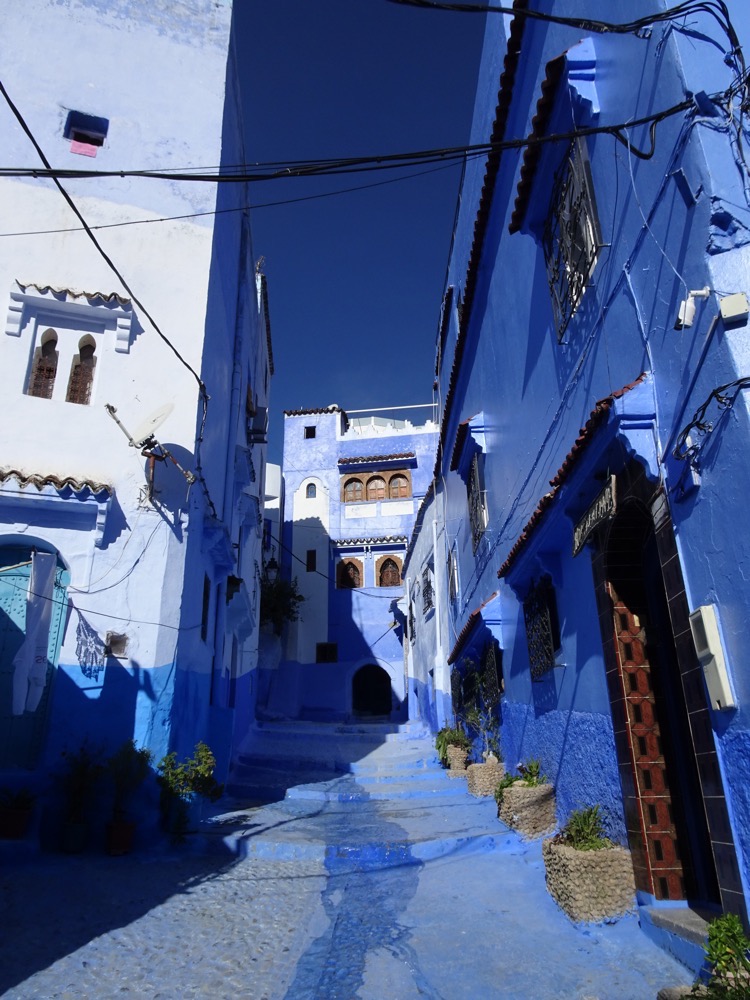 We met a lovely lady at the Maroc Telecom who was able to assist me with my 4G problem, in spite of my halting French.  She told me that my SIM wasn't properly activated and promptly fixed it.  Service with a smile from a telco – who knew such things even existed?  After we left there, we decided to take a taxi around to the top of the springs where we pretty much started yesterday's walk – it wasn't much farther than we had just come, but it was all uphill through the very winding streets, and today was supposed to be a chill day – so we shelled out the exorbitant AUD$3 for a Petit Taxi.  Got to the top and there were men selling photos with their birds… I managed to sneak a picture of the guy's peacock – but the guy standing beside an ostrich taller than he was, eluded me.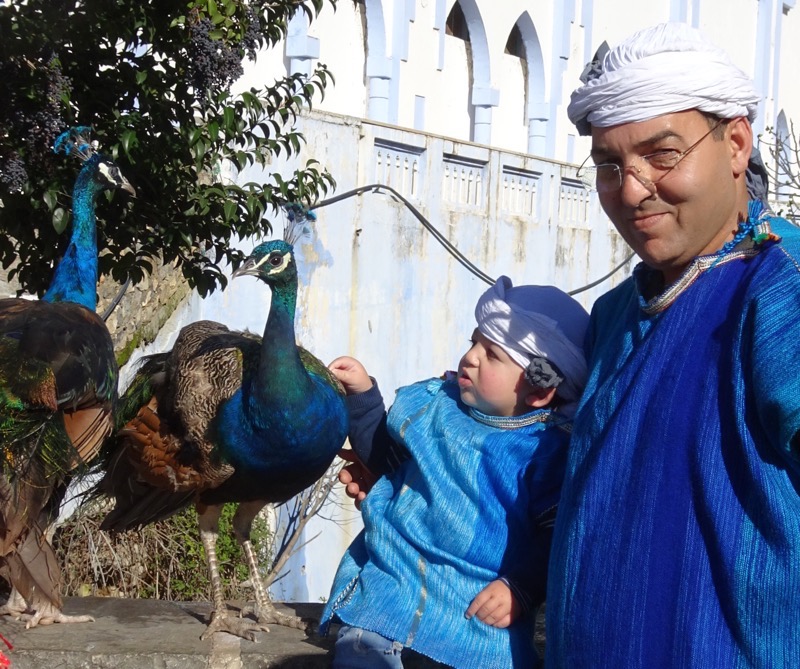 And so we wandered through the narrow pedestrian walkways of the medina checking out the wares lining the streets… so many beautiful handmade things, so many beautiful blue alleys and so many very fancy doorways.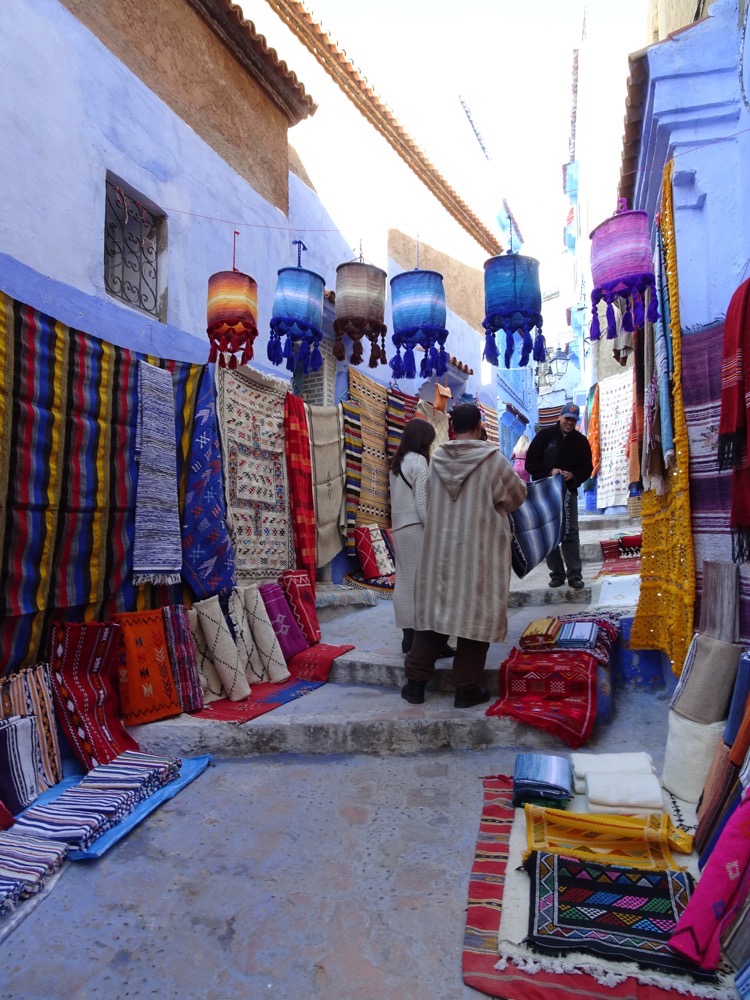 If felt like there were fewer people around this morning than yesterday evening – not sure if that was the case or if it was because we were trying to wander through the backstreets a bit more, but every time we stumbled back onto the main thoroughfares, it was not particularly crowded.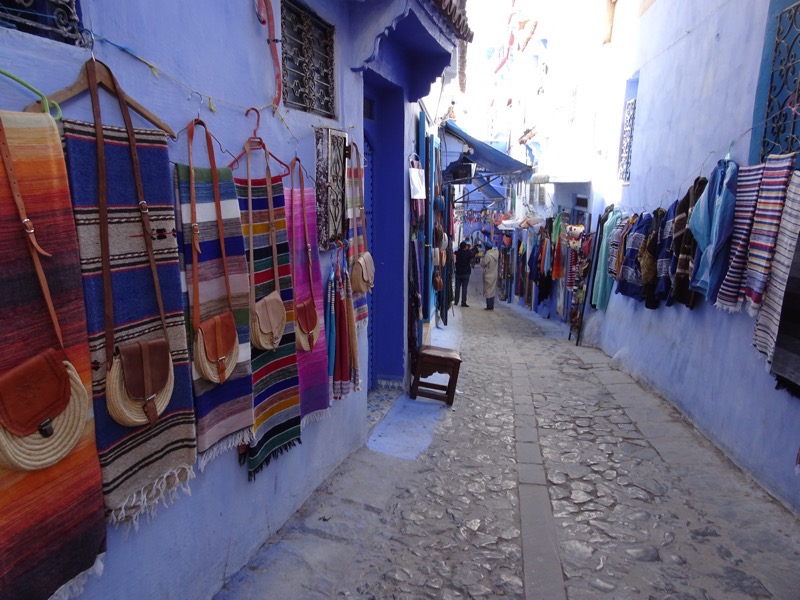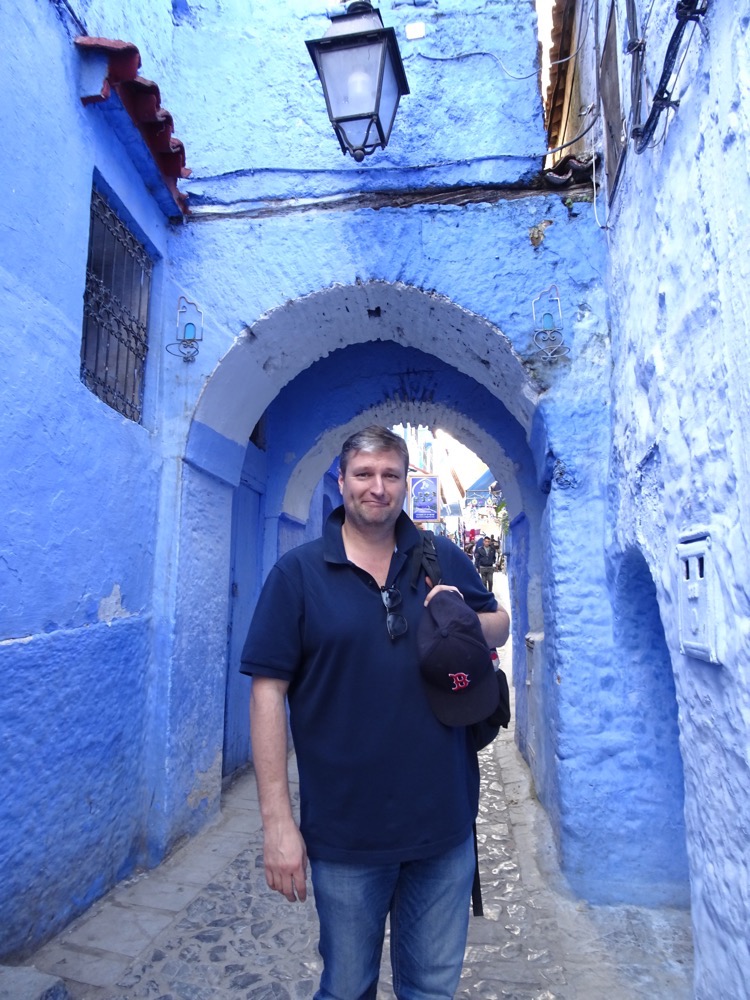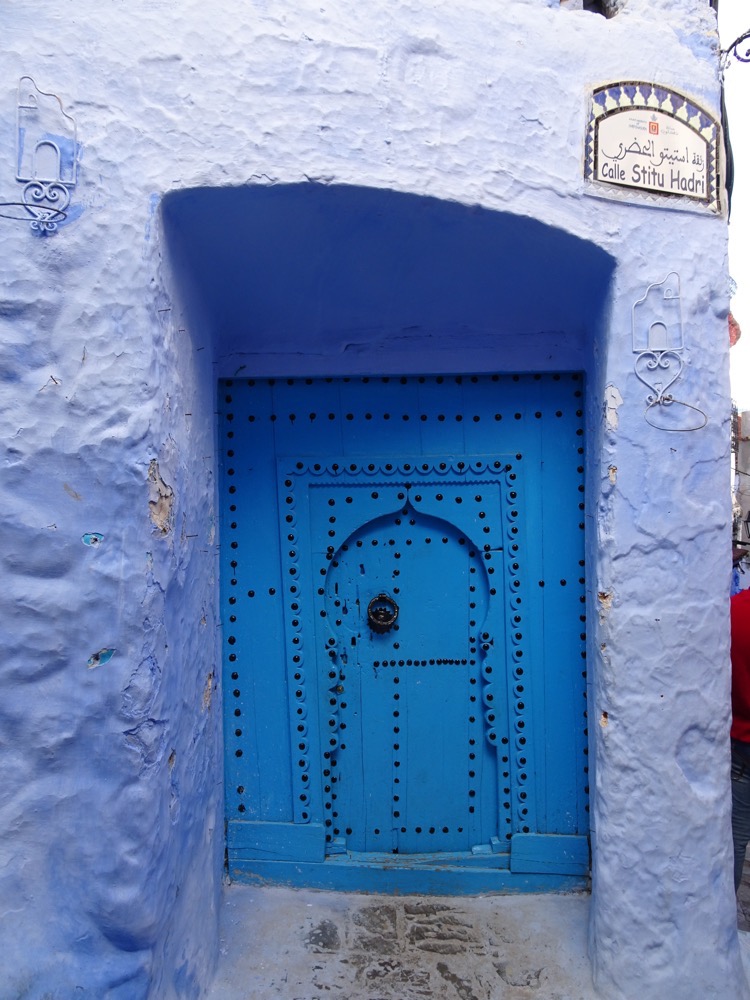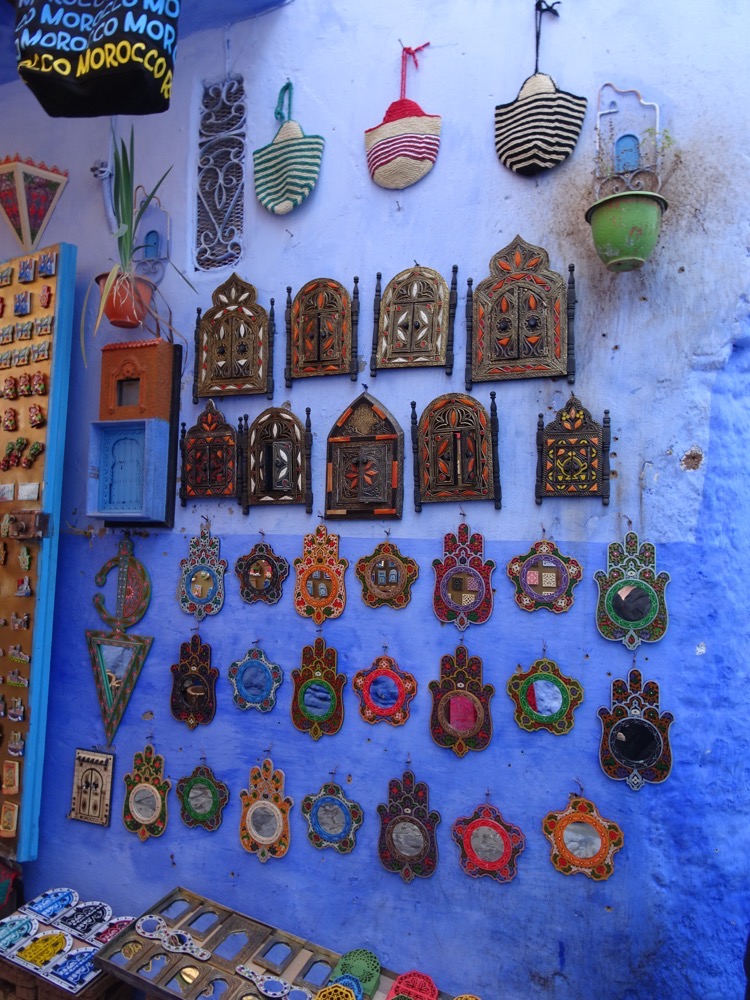 Very fancy and intricate painting on these doors… my image shrinker has lost a lot of the detail, unfortunately.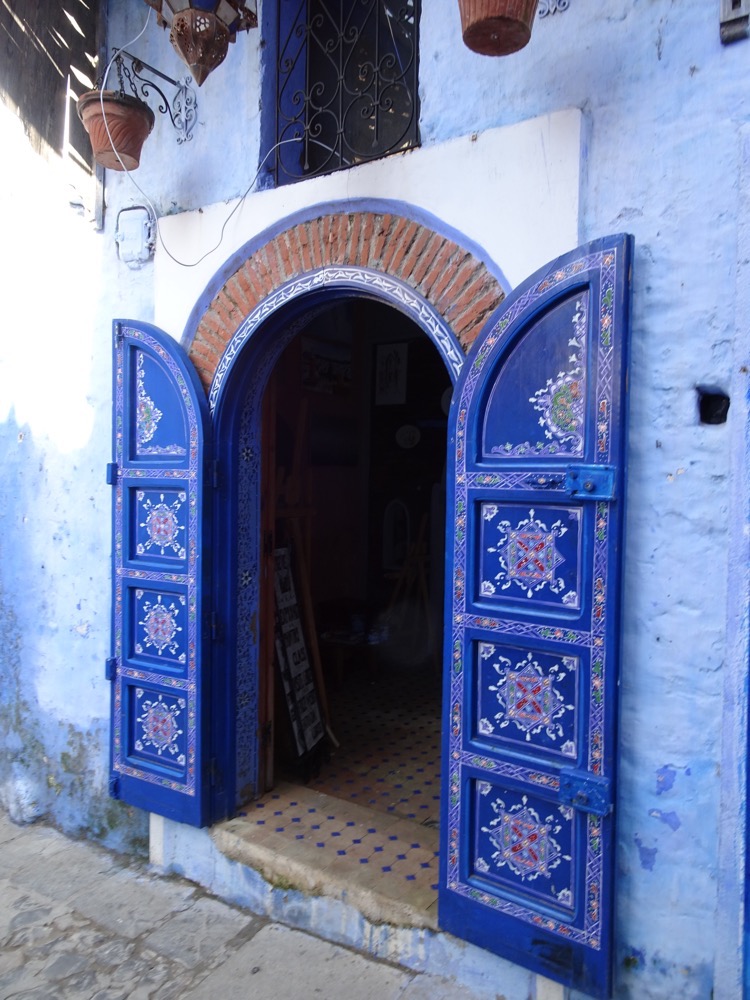 Souvenir hand-embroidered cloths.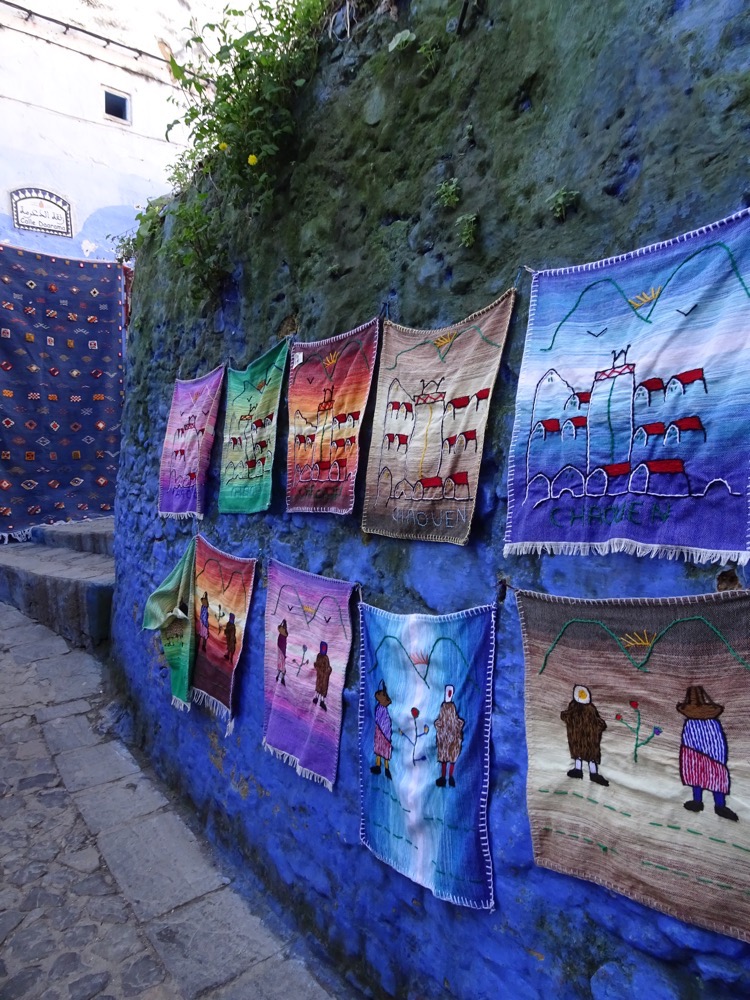 Me – standing in a very short, very blue, doorway.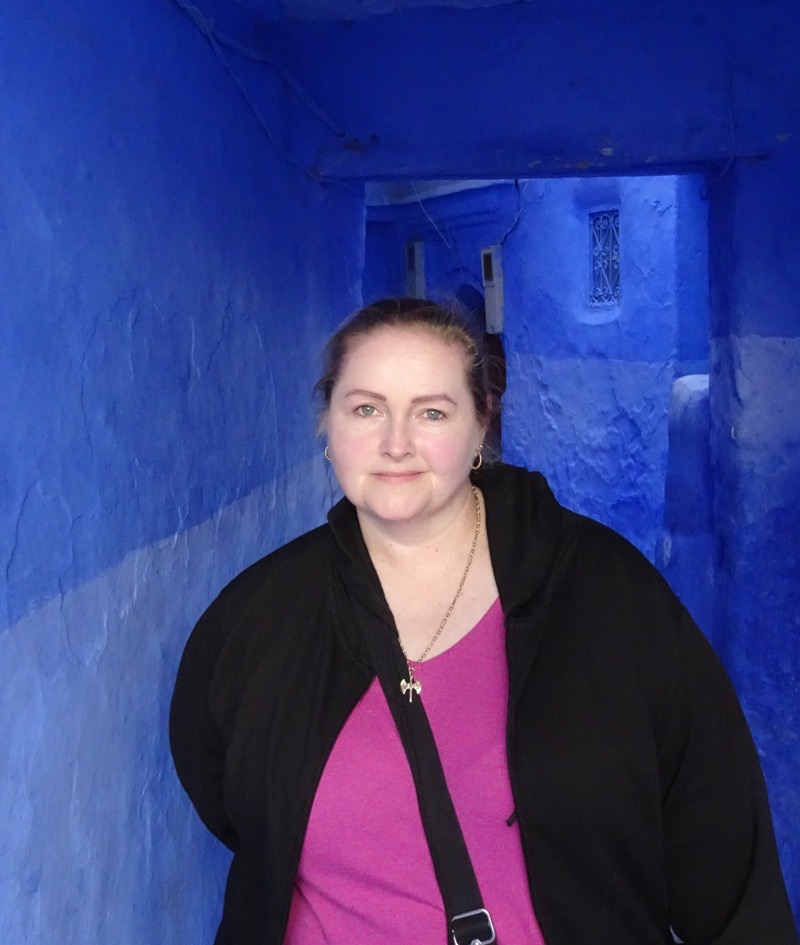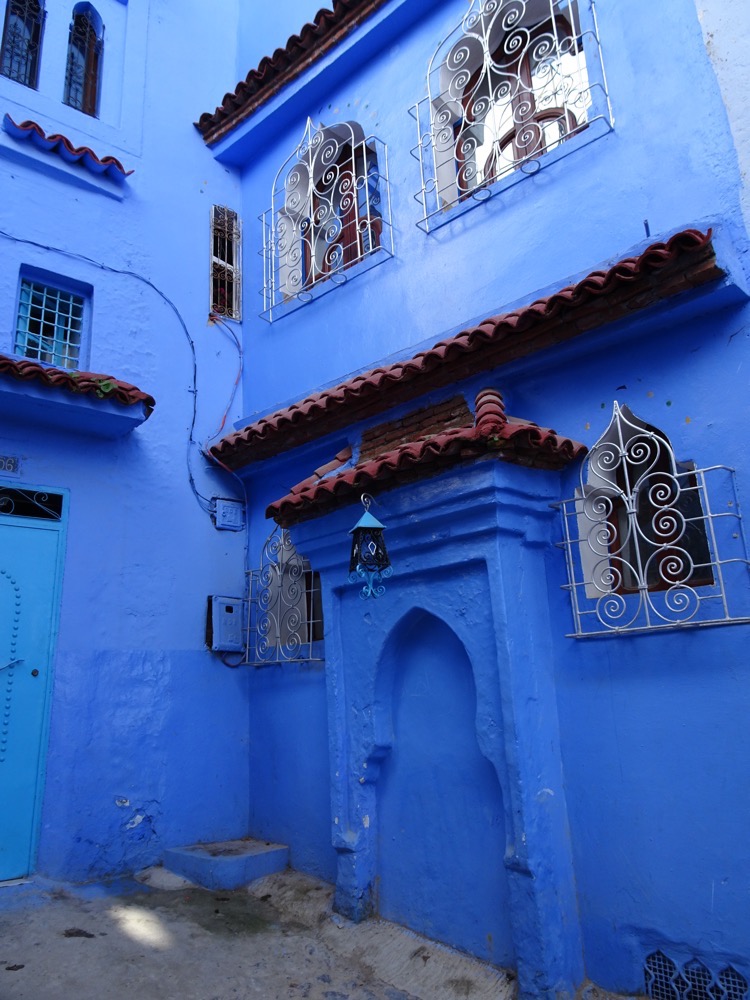 There were so many very funky hand-knitted beanies everywhere, and I had to stop myself from buying some – but, I think I've finally learned my lesson.  That lesson being – *You live in Brisbane and it's rarely cold, you do not need twenty bloody woollen beanies collected from every weird place you go to!*. Well, at least the lesson seems to have held up for today, we will see if it makes it intact through the entire trip.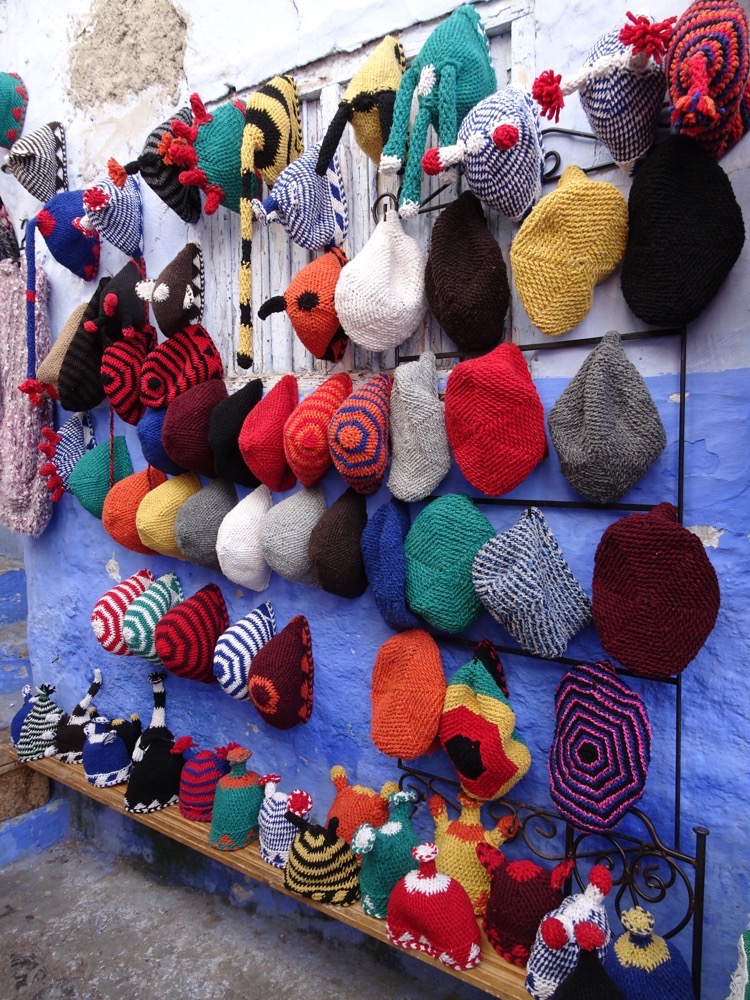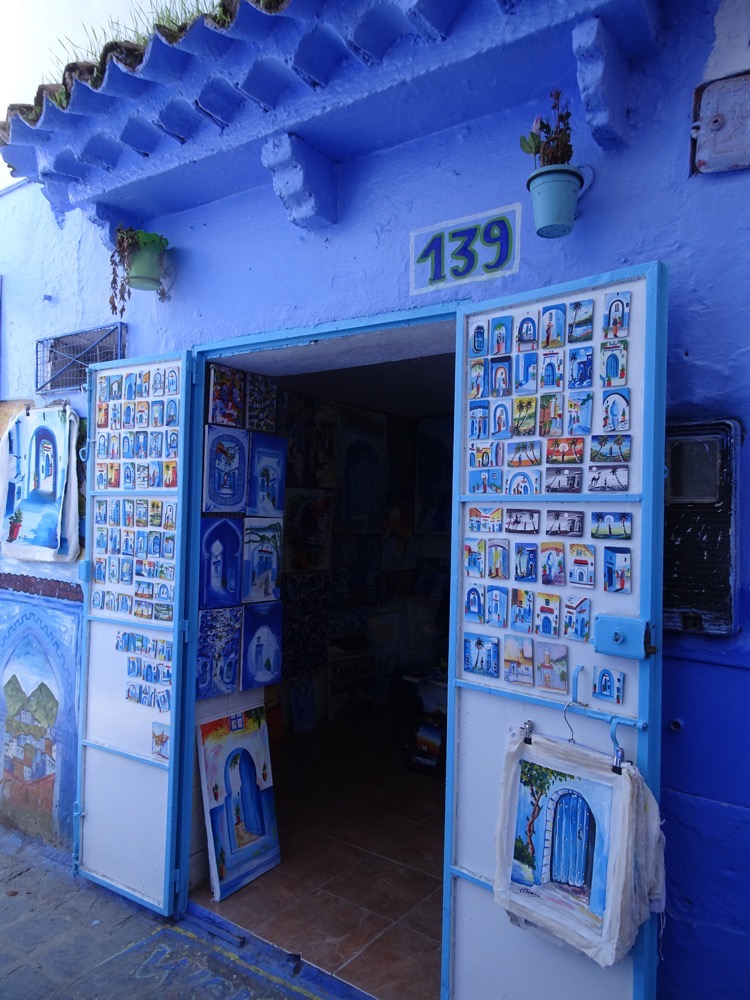 This fountain is fed from the beautiful fresh and clean spring that we went to yesterday, though I have no idea what they have been washing here to make it look so unappealing.  Don't care how clean the water is supposed to be, there's no way I would fill my bottle from this fountain!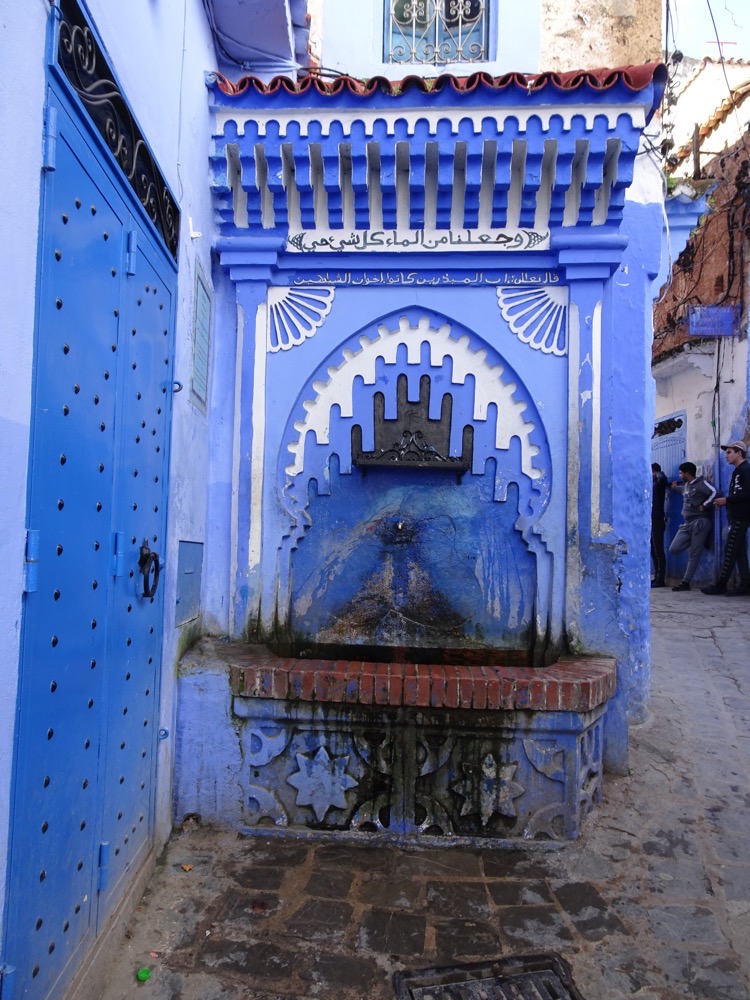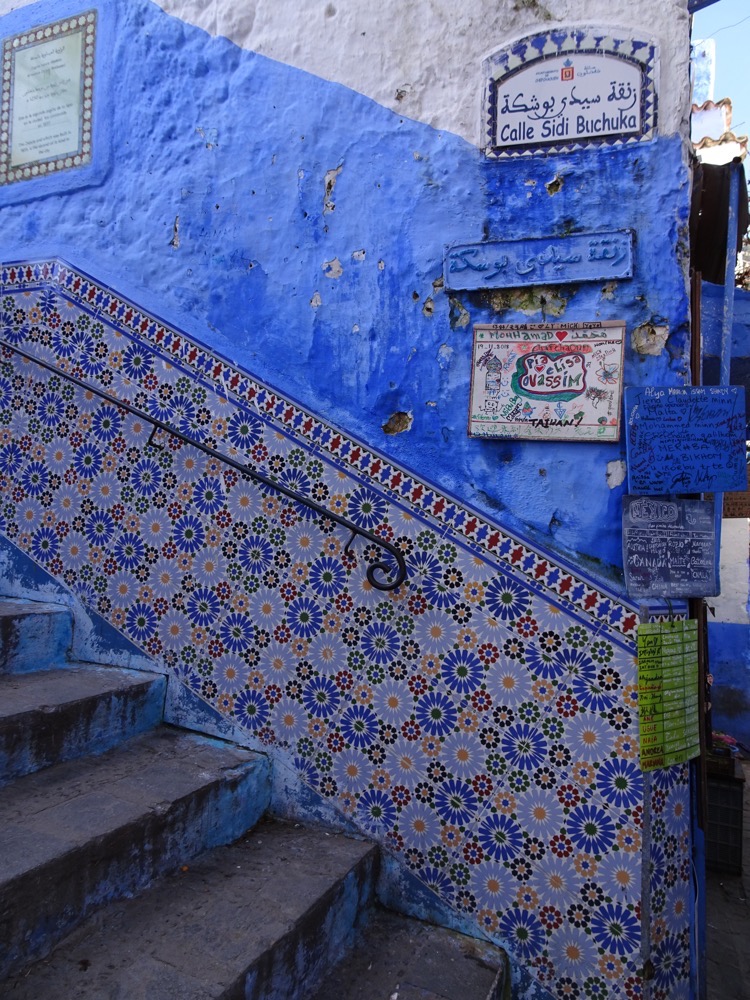 Gorgeous altogether!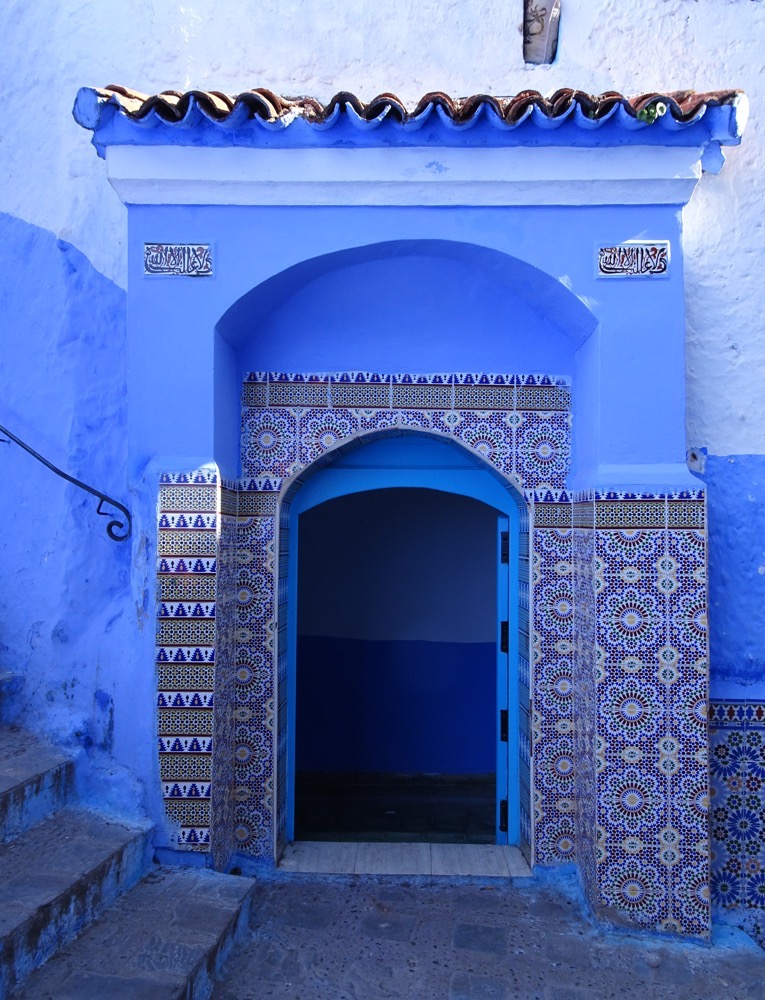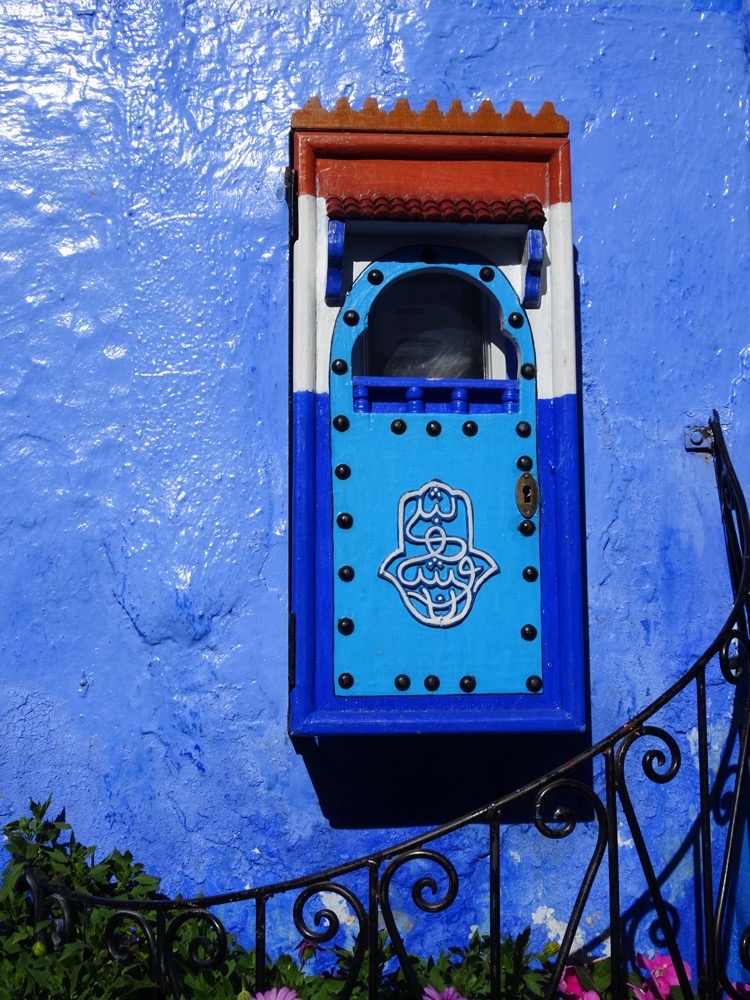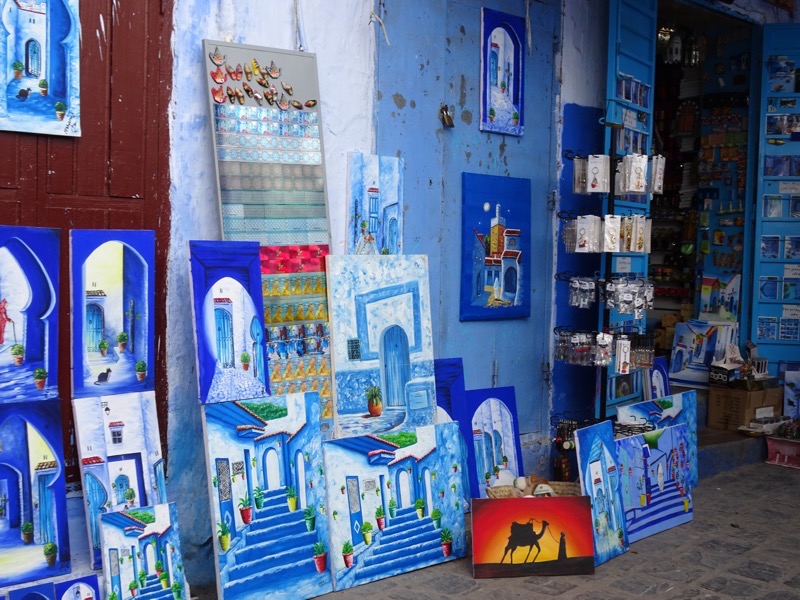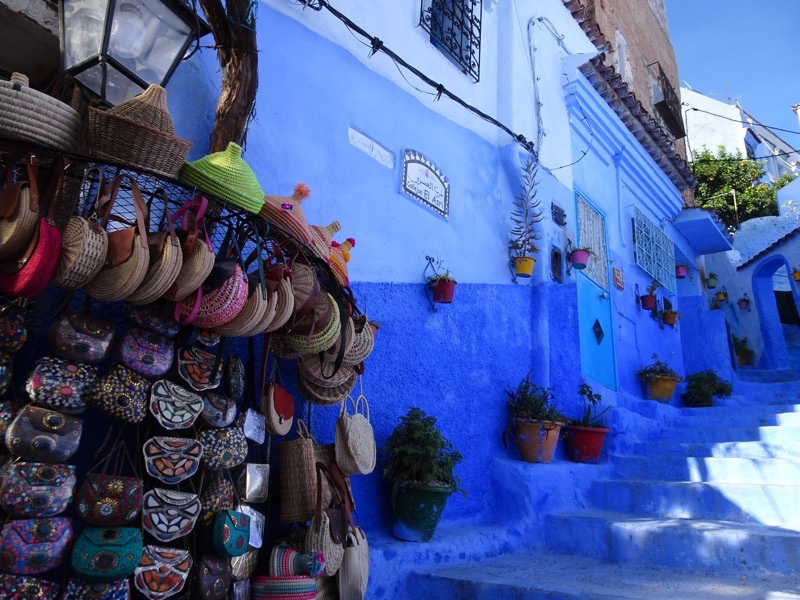 In the back streets looking for interesting alleys and vistas and spied this very steep set of stairs… did a double-take and noticed this little guy: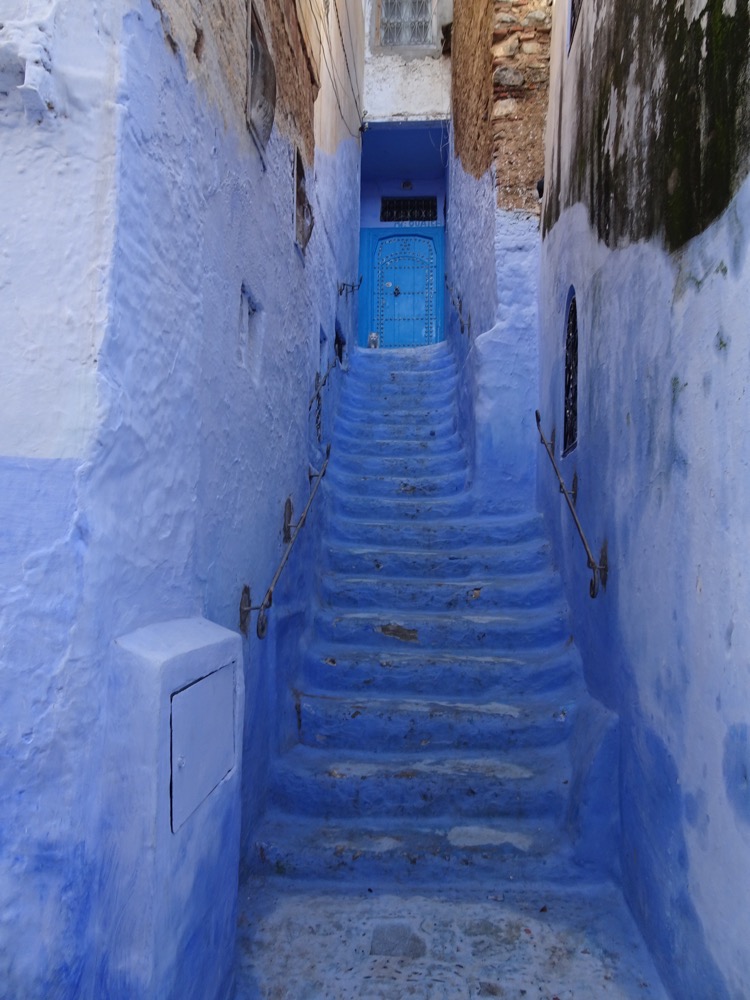 Sitting around like he owned the place.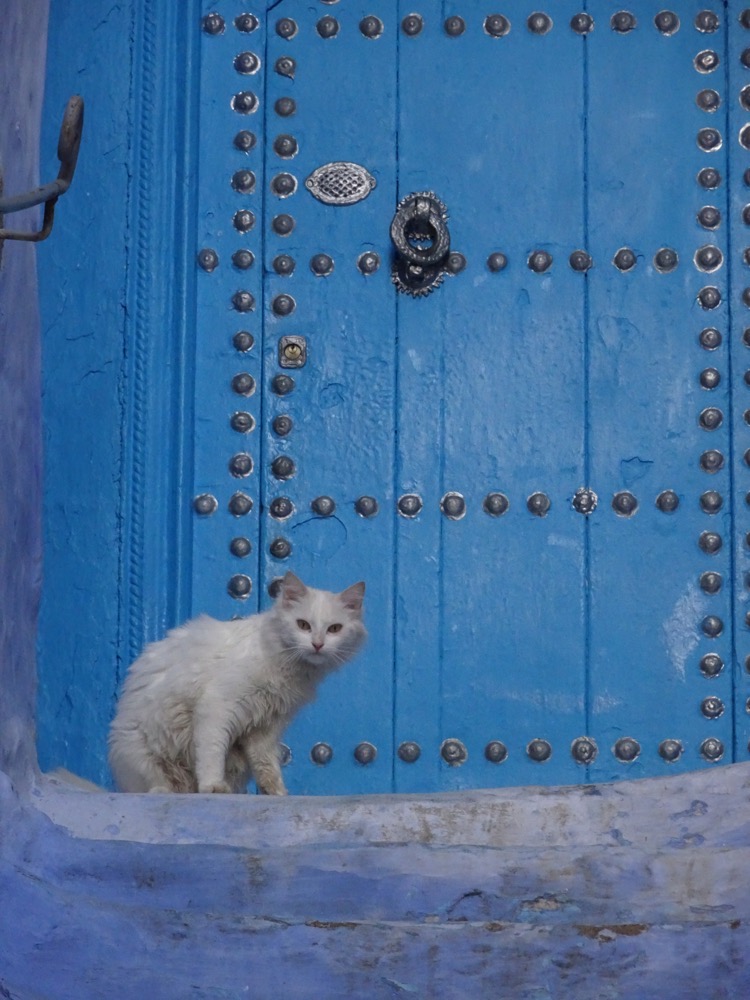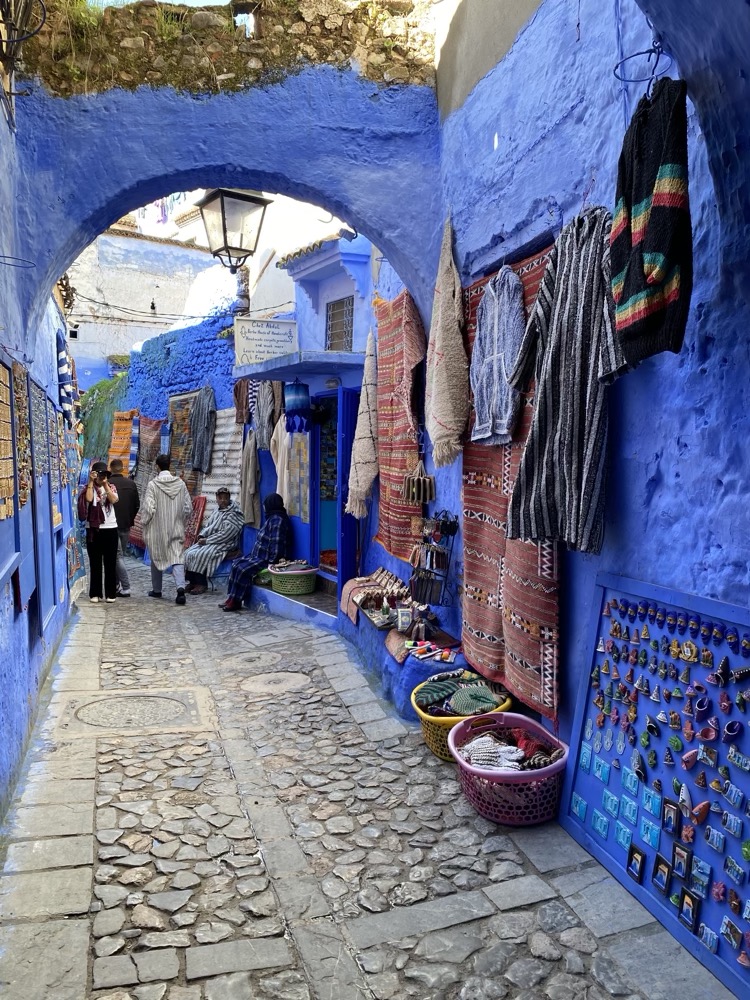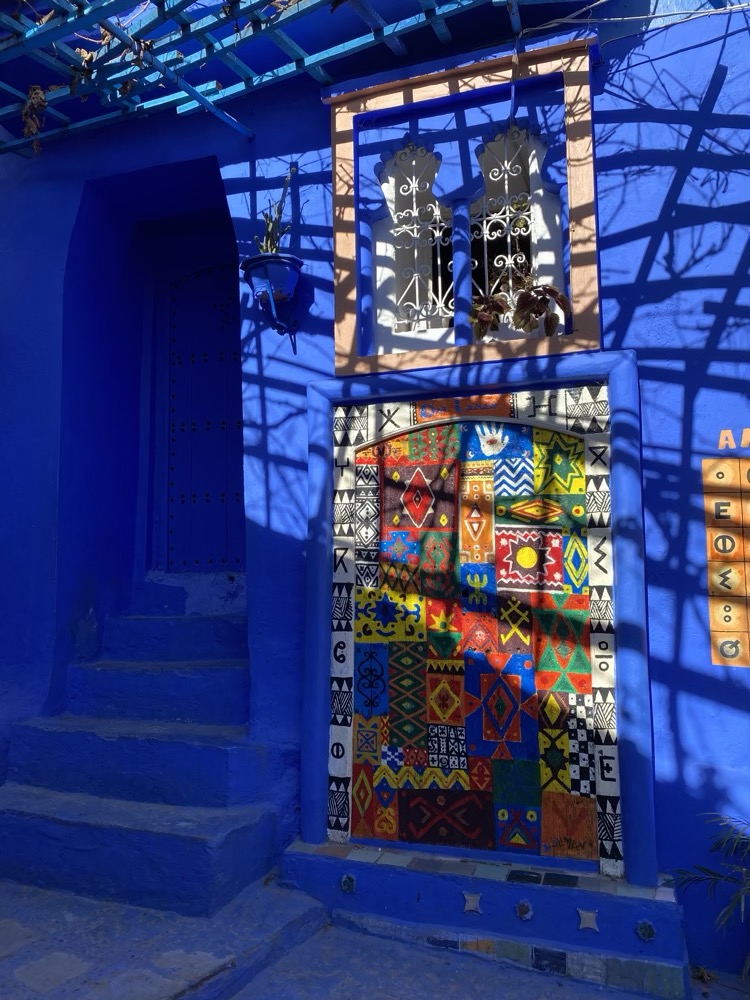 We stopped for lunch down in the main square.  Coffee thick as mud, chicken shish, and kofka tagine.  Doesn't take long to decide you could sure get used to this – a long black, a lemon soft drink, two lovingly cooked and very tasty main meals served with free bread, and we were up for a hefty AUD$15.00.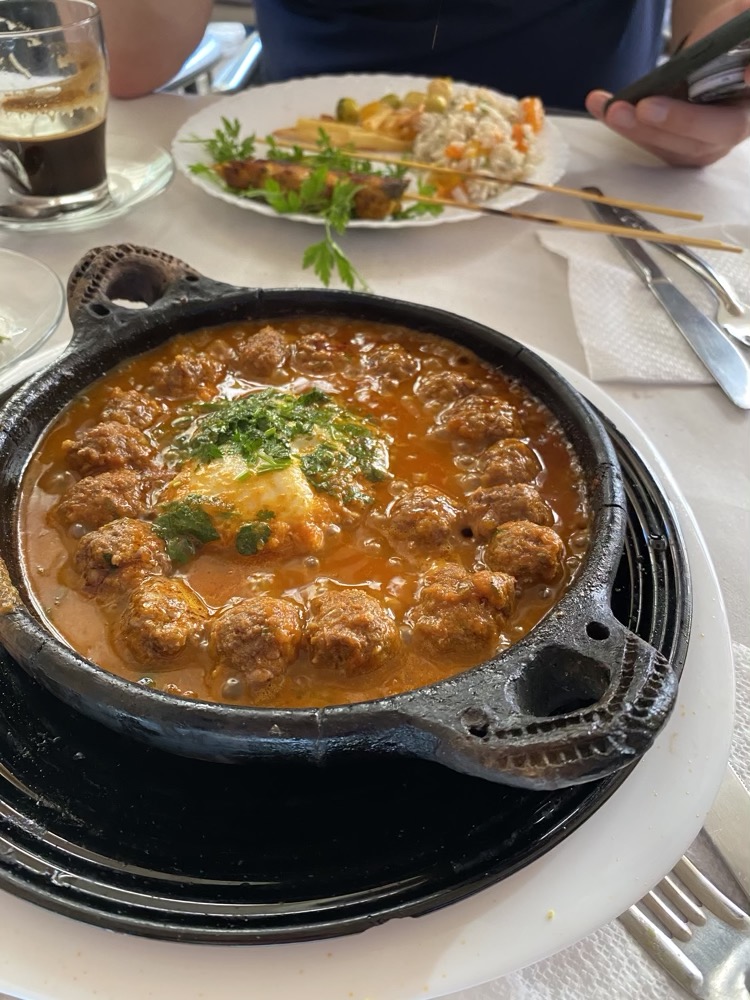 After lunch we went for a walk around the Kasbah and heard some the call to prayer happeining, as it does at regulour intervals during the day.  In this town, it seems to set the local dogs off.  And we heard these two, barking along – from above!  Took a momen to spot them and I have no idea how they got up there!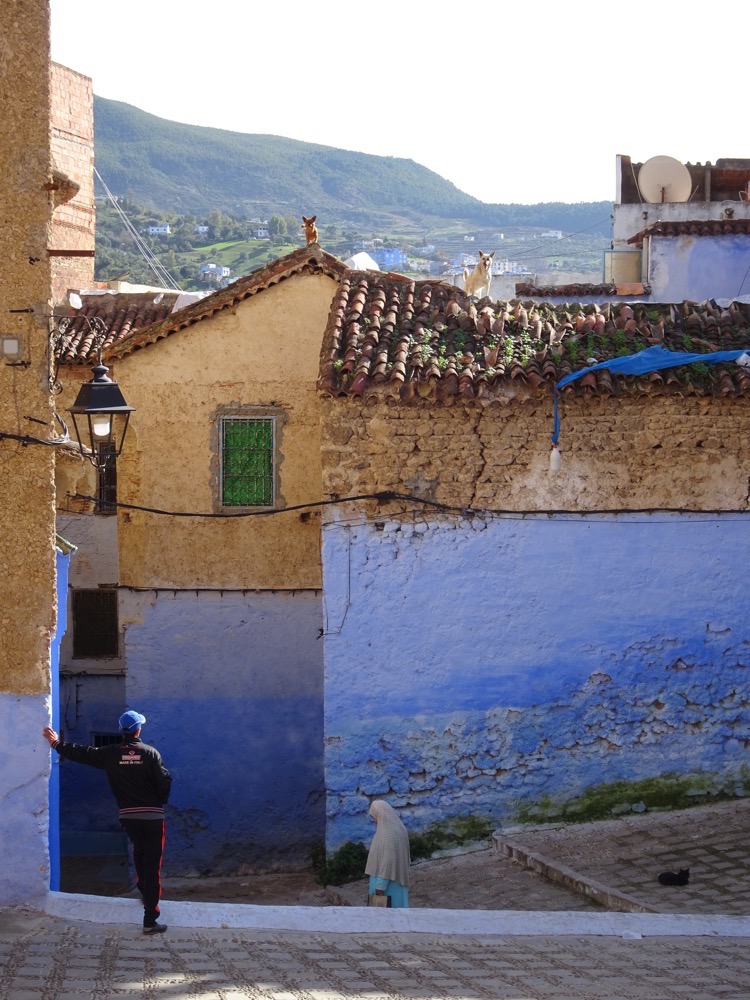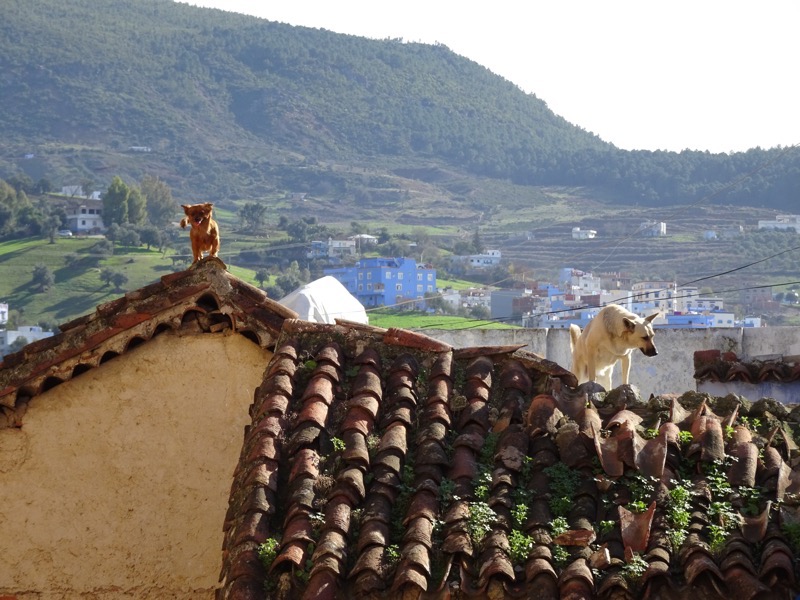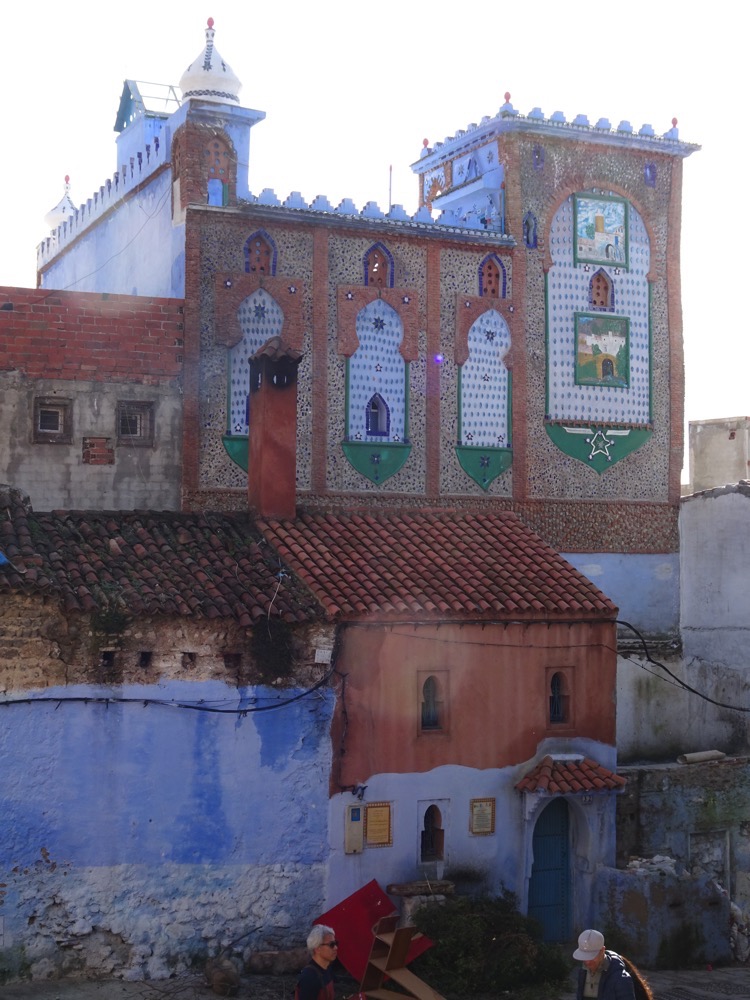 Gorgeous facade on a local school: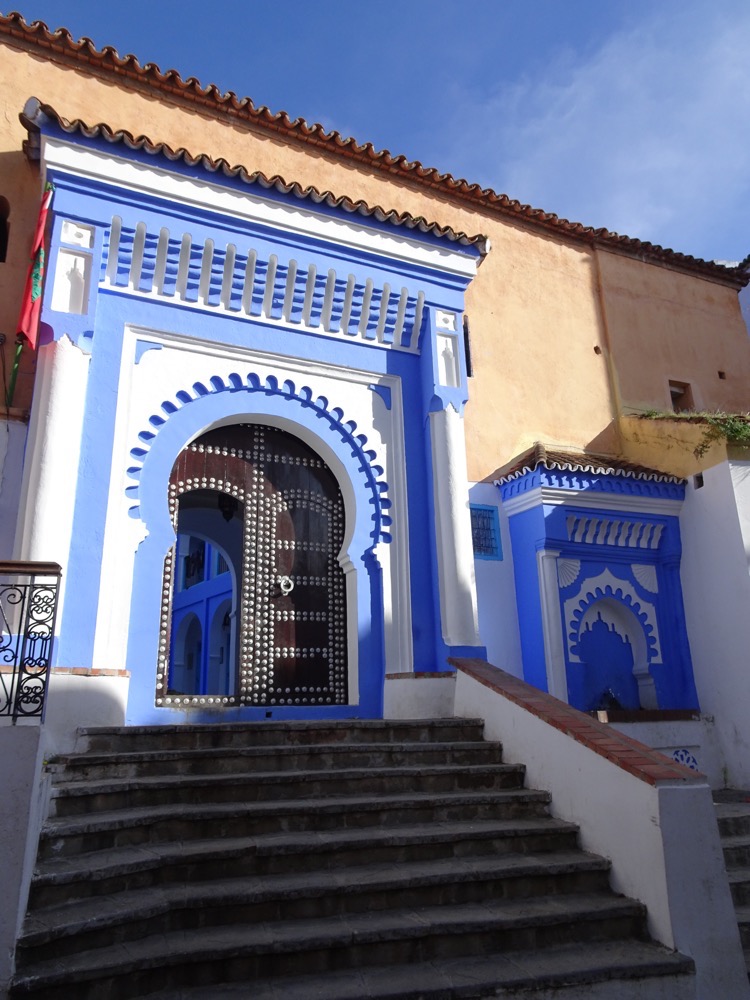 We then made our way into the Kasbah to have a look around.  The Kasbah in Chefchaouen was built in the 15thC and in contast to the blue city, it is terracotta-brown in appearance.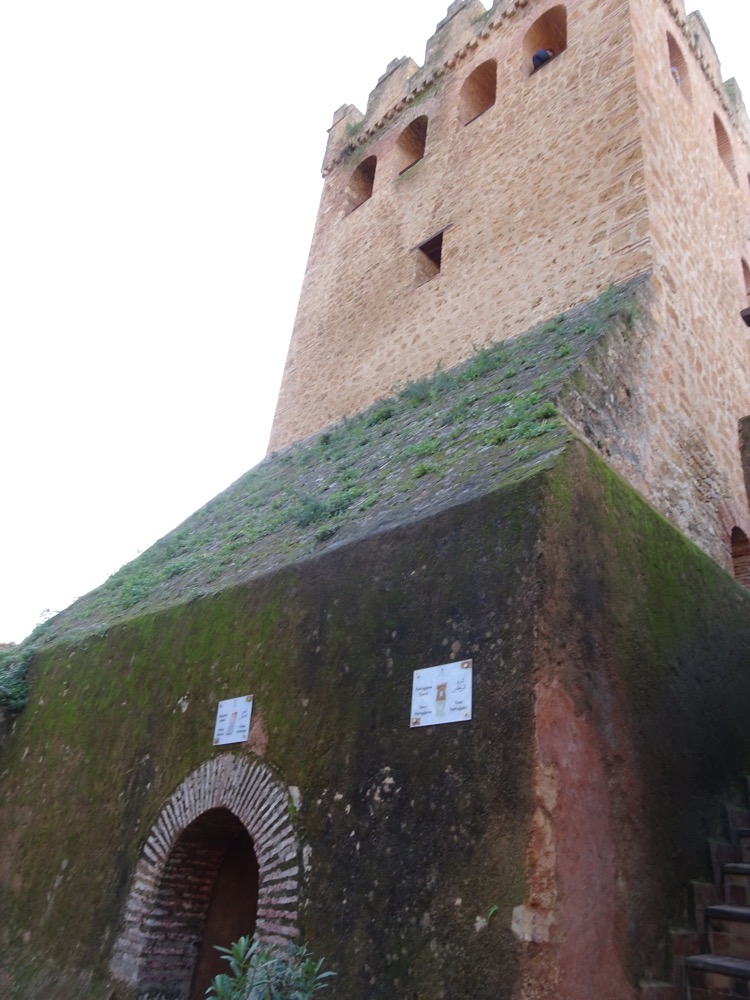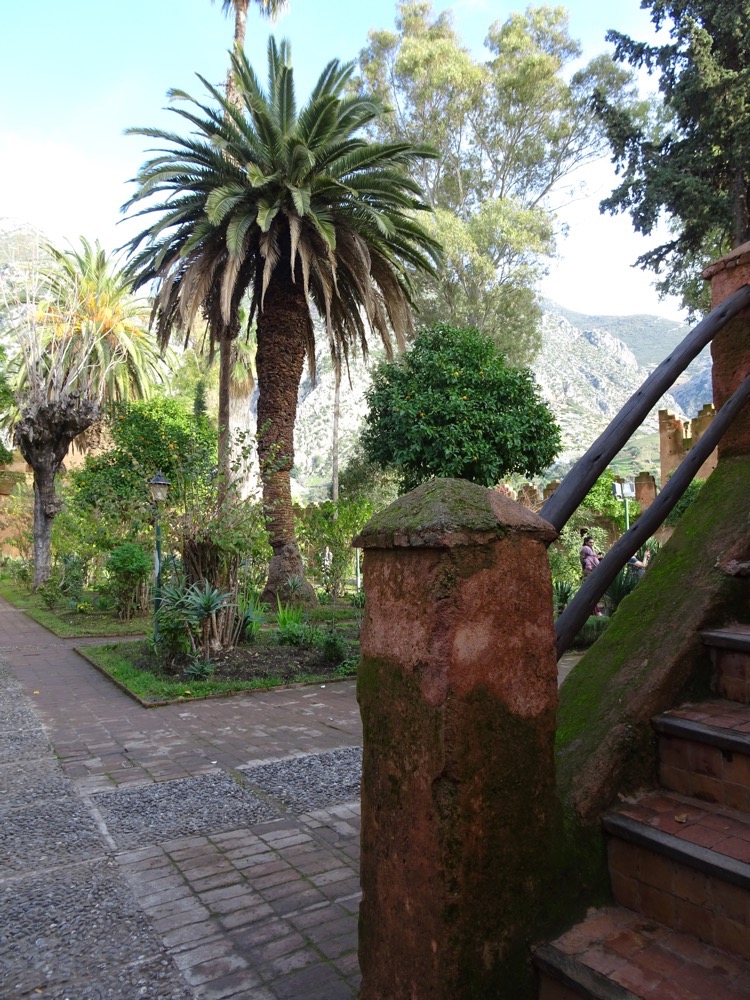 The Chefchaouen Kasbah contains a lovely Andalusian-style garden and a former prison.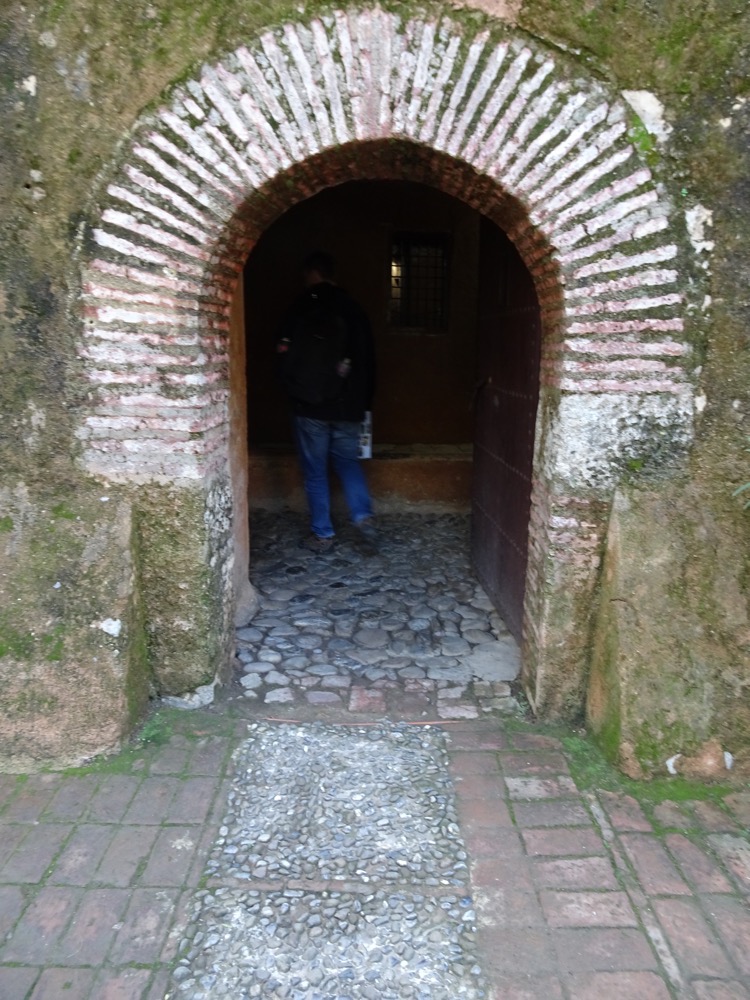 This prision reminds me of the one Kevin Costner finds himself detained in when captured by the Moors while on Crusade in the terribly historically inaccurate, but somewhat lovealbe film, (thanks Alan Rickman) Robin Hood Prince of Thieves (c.1990 something).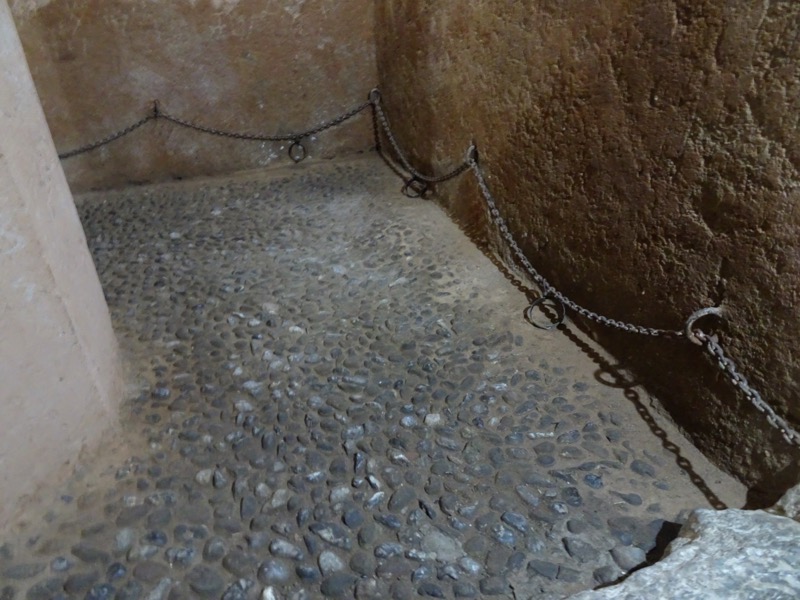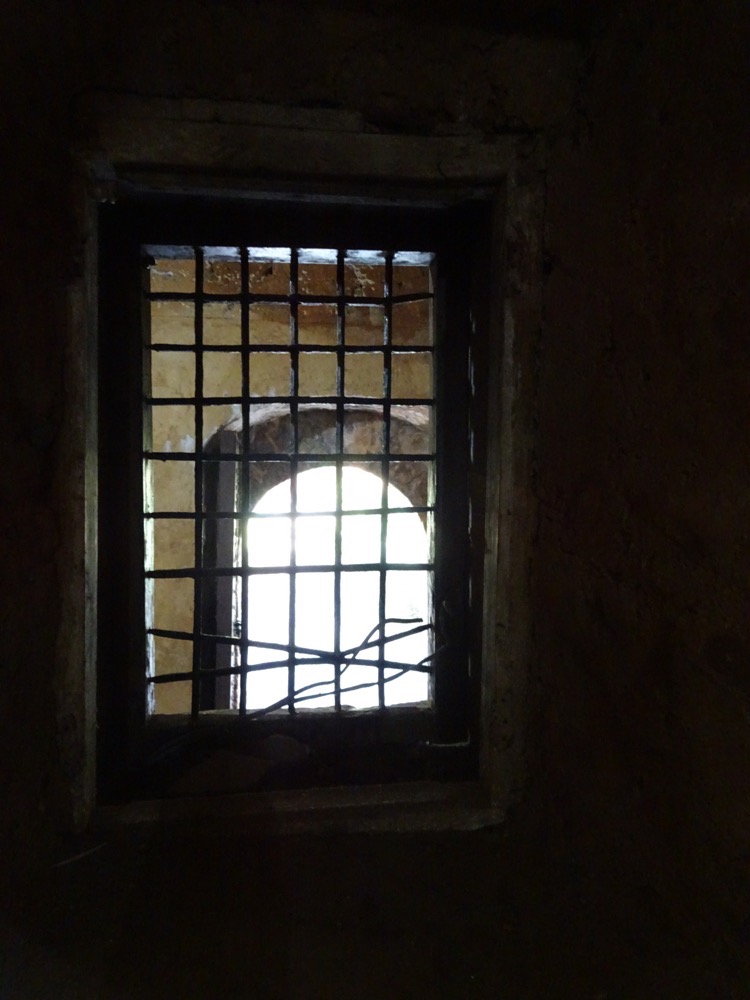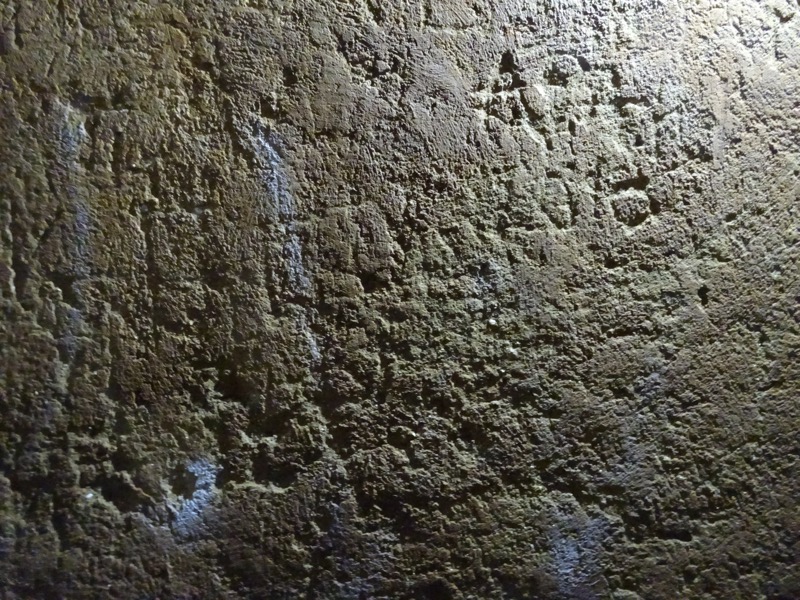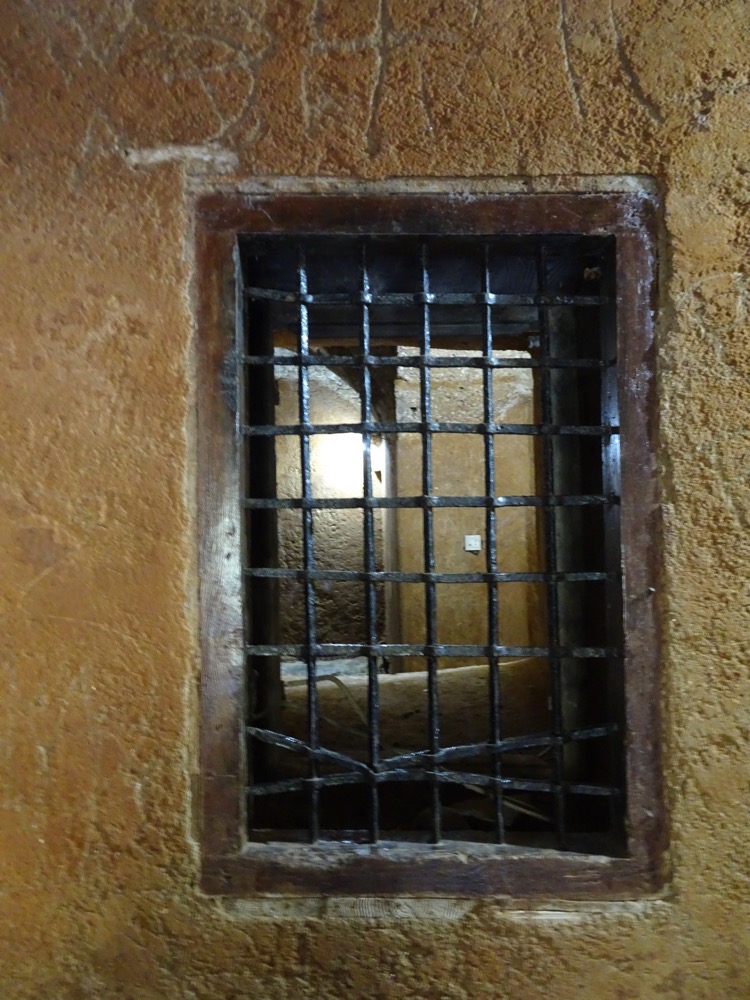 Looking out from the prison to the Andaluscian gardens.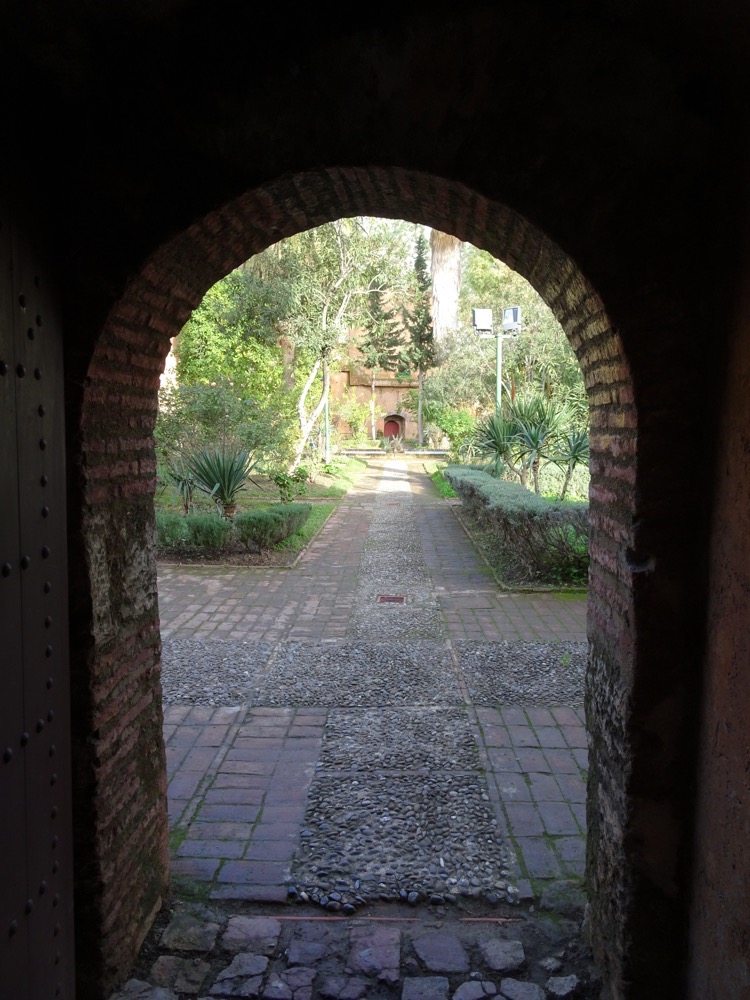 Amazingly there are at least half a dozen huge and very established gum trees in the garden.  They might seem like a good idea, but I have a feeling if one of them comes down, they are giong to create one helluva mess of the ancient walls.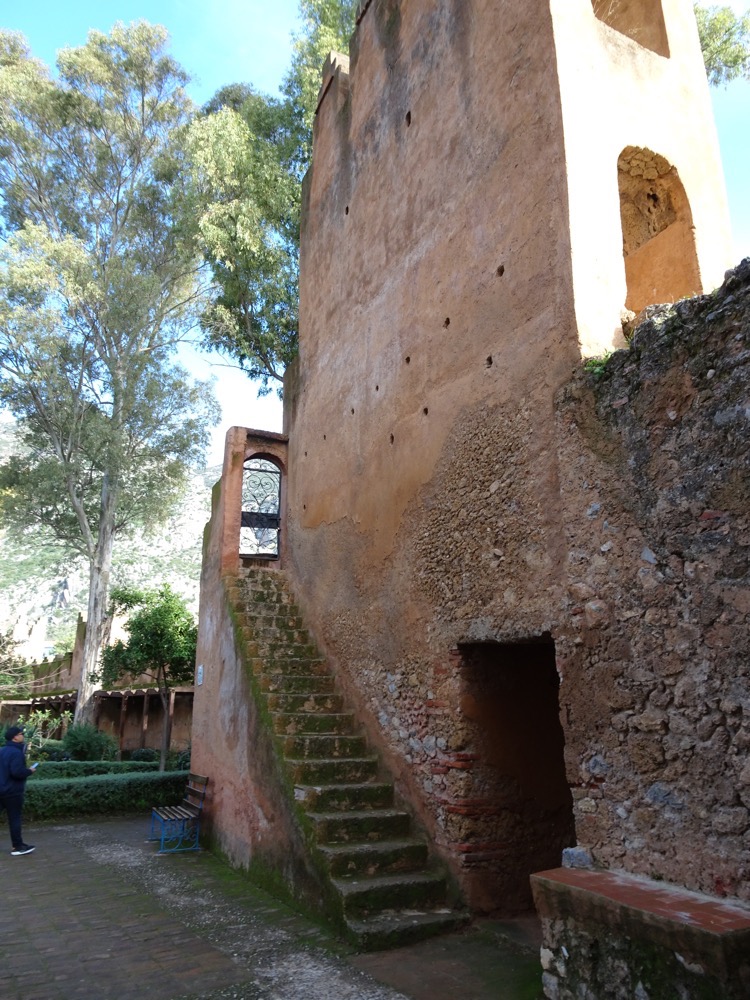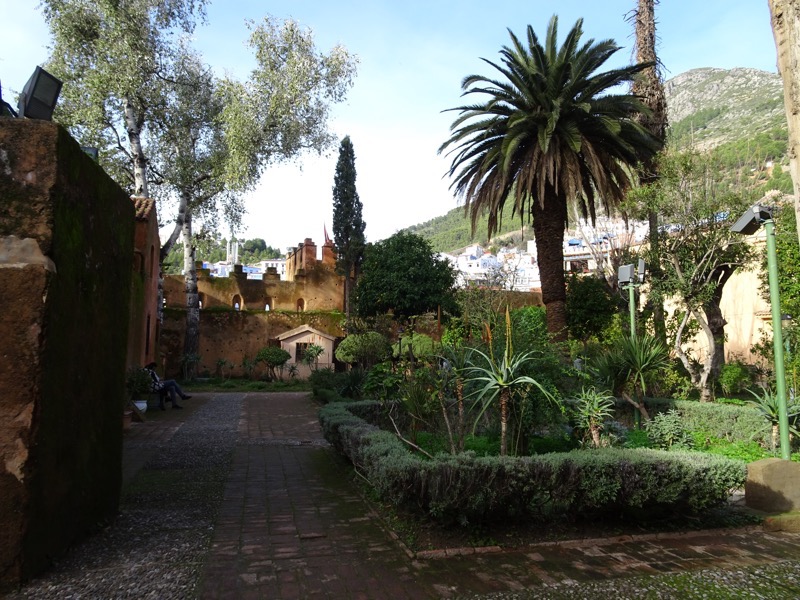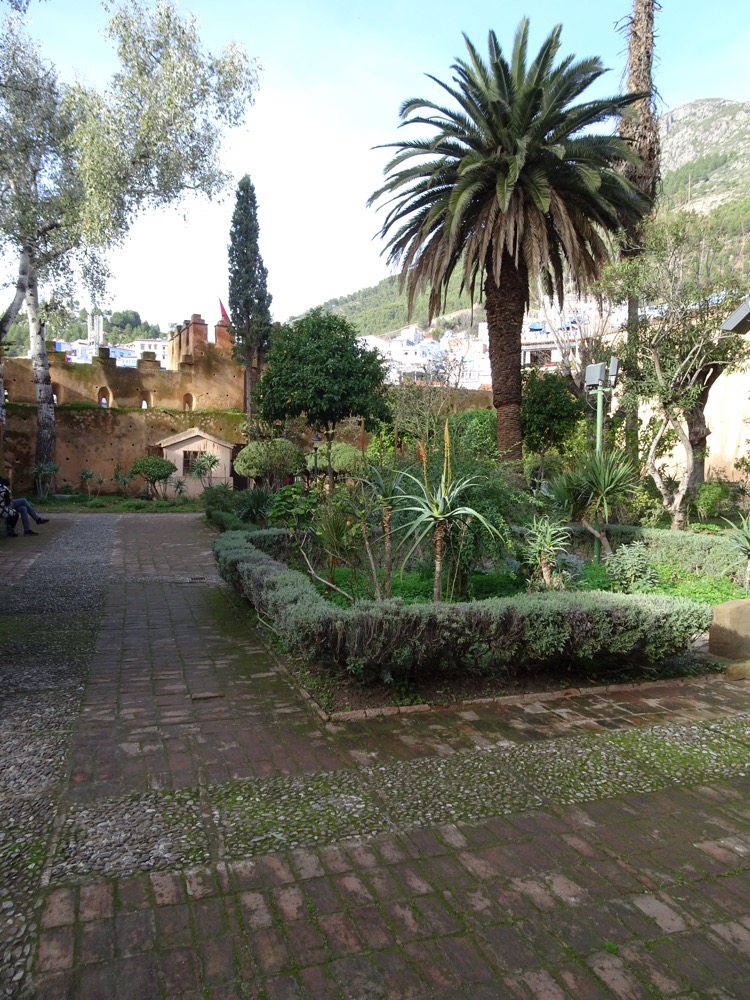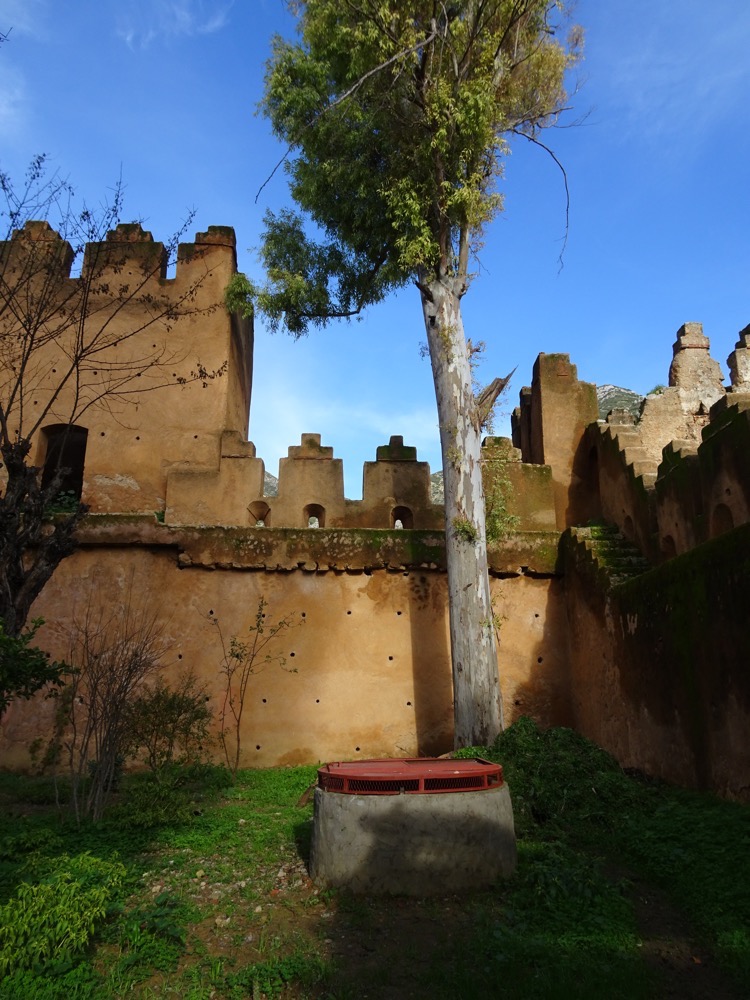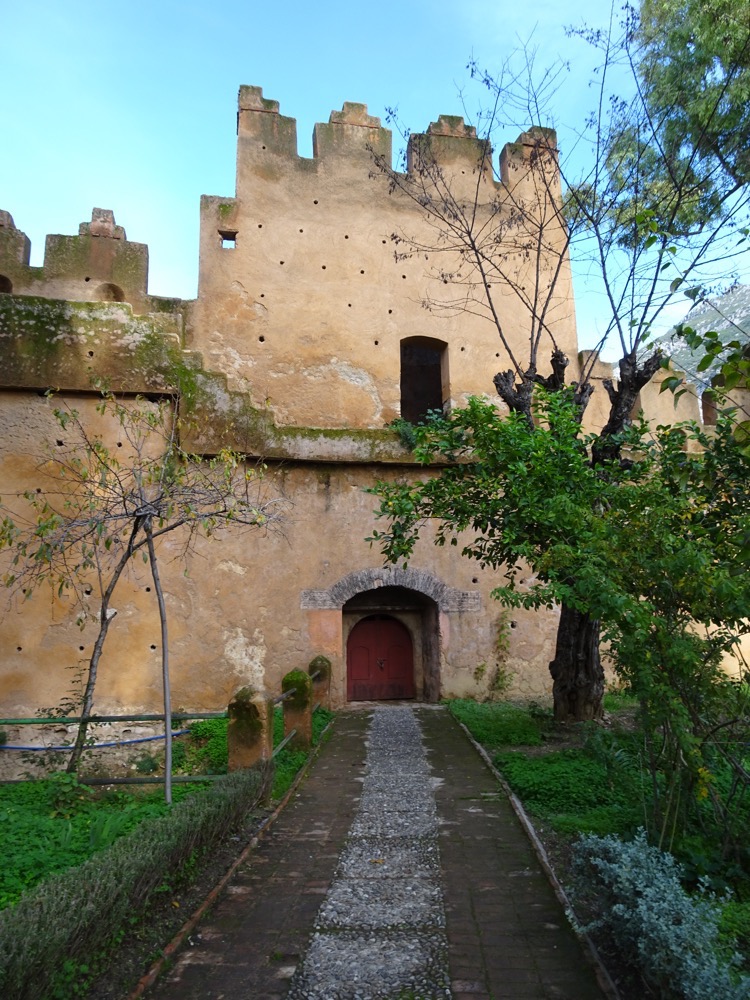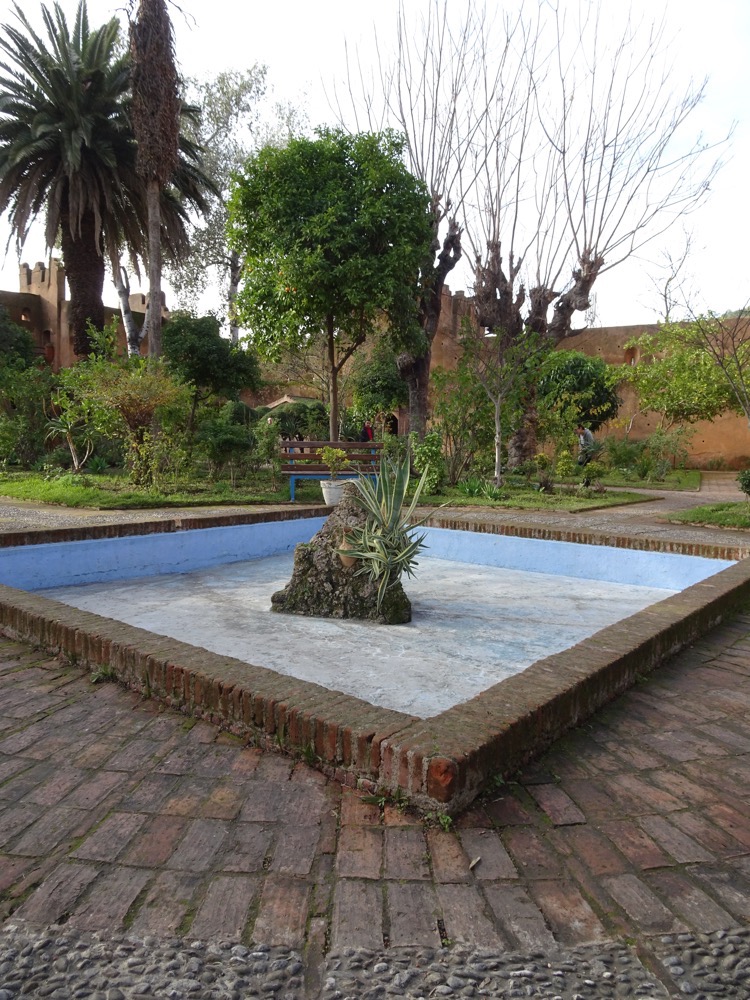 The Center for Research and Andalusian Studies is also here and currently undergoing renovations, so we could only see the lower levels at the moment.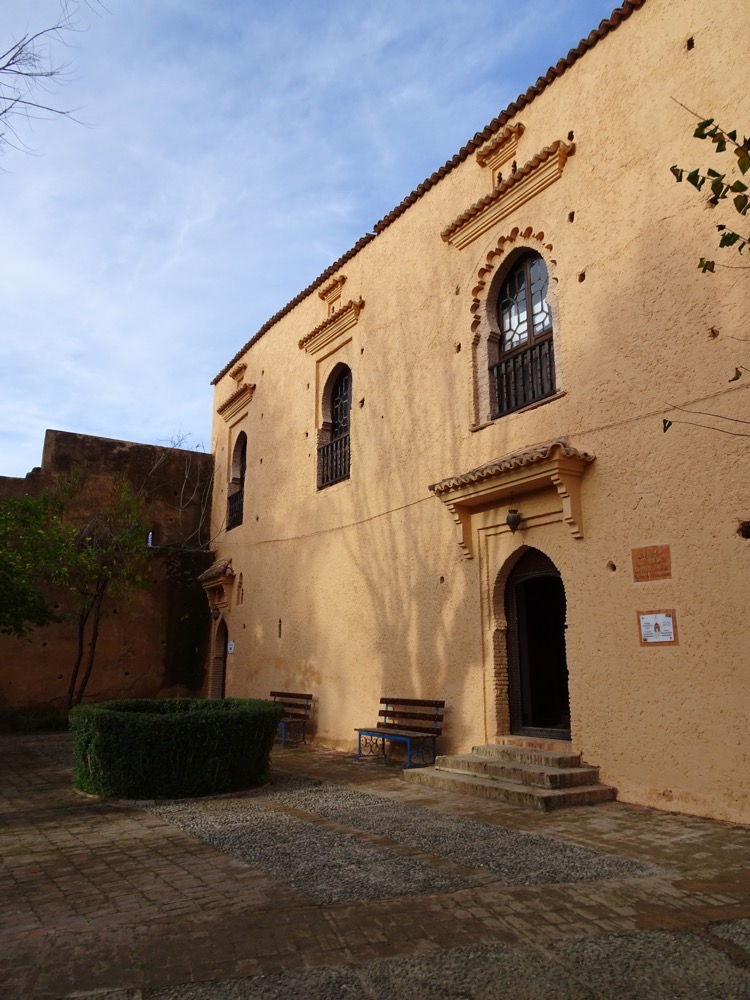 After leaving the Kasbah, we went hunting for djubbas.  We saw some lovely wool ones, and for some reason the Sales Dude brought out this short pom pom'd thing for Mr K to try.  Swing and a miss, Mr Sales Dude.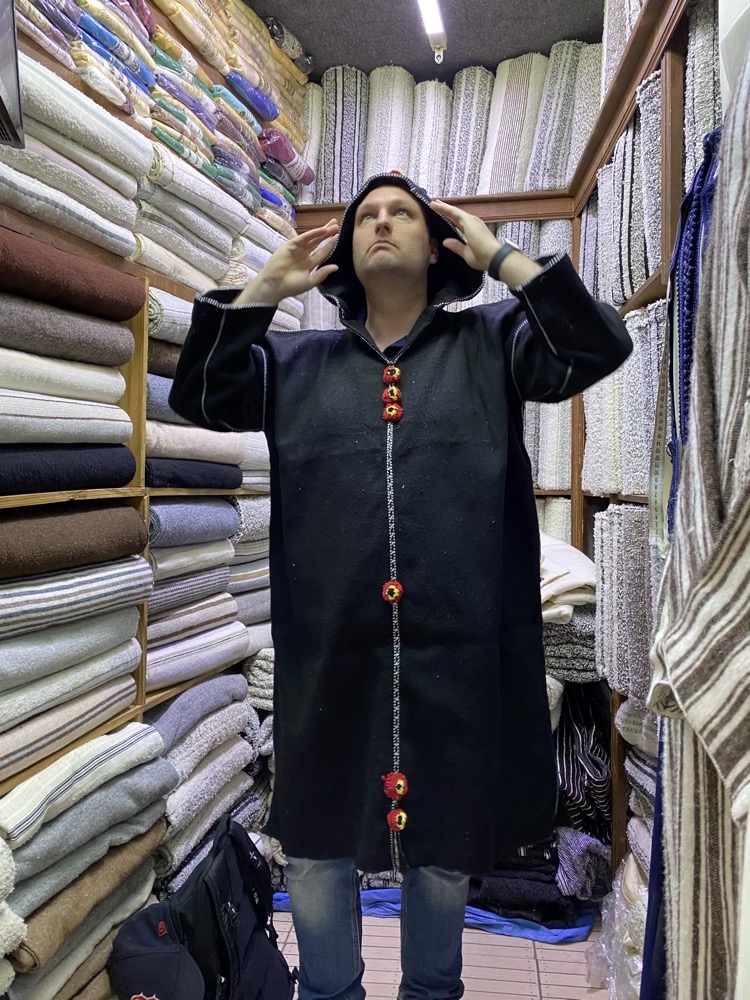 After that it was back through the mall by which time the buskers, touts, and generally annoying people trying to get your money had all started to turn out, and we decided it was time to head back to the hotel for a bit of rest before dinner with whoever turned out to be around at the time.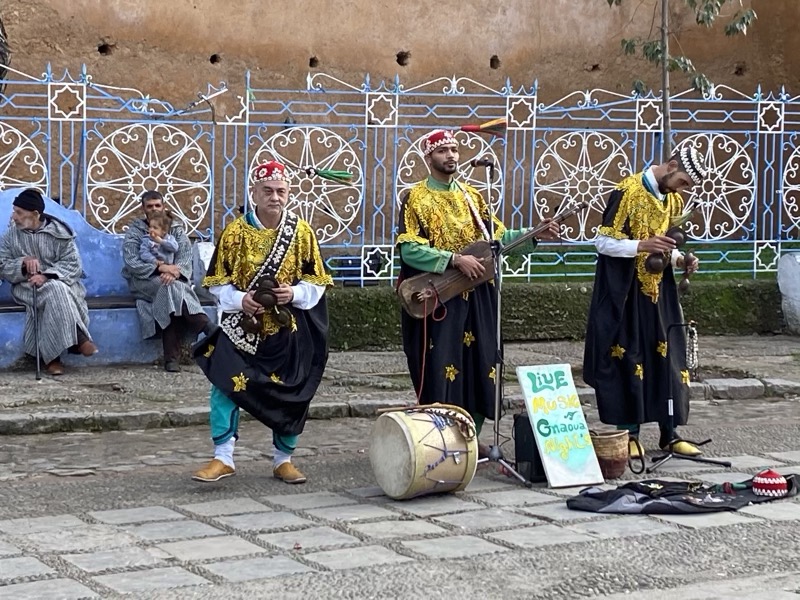 We had a lovely, fairly chill day.  I love this town, it is visually stunning and there is lots of fun little alleys and back streets to explore.  I would definitely come back here and would happily stay at the Dar Echaouen again.  All round a wonderful place.
Tomorrow, however, is going to be somewhat hectic.  We have a bus ride to Tangier, followed by a city tour, a meal with a local family and then an overnight train to Marrakech… am doubting the sanity of this – but hoping it won't be too bad.