Left Tallinn in the pouring rain this morning.  Not so much pouring rain as frozen rain.  It was a bit on the miserable and bloody cold side, and we are driving to Riga today, so I was really hoping it didn't keep up. We had decided to stop by a place called, Viikingite Küla – or Viking Village – on our way out of Tallinn, more out of curiosity than anything else.  It is a large area of land that sounds like it started off as a restaurant and reenactment tournament area that has grown into a bit of a local 'theme' park (though I am reluctant to use the word, as images of Medieval Times pop into mind immediately).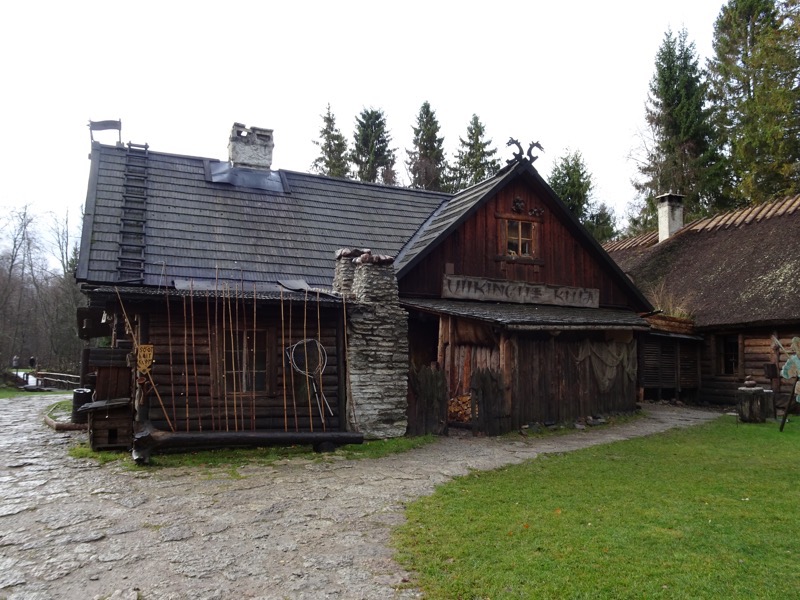 It was interesting to see what some really motivated and moderately well-monied Viking era enthusiasts could come up with up.  I knew it was going to potentially be a bit 'medJevial' with a capital J, but had made my mind up to view it through a, 'Would my friends and I have a good time doing medieval stuff in this space?' lens.  The answer is a resounding 'HELLS YES!'  It is not the most authentically researched Viking village someone could have come up with, and it is not as meticulous on the details as your average Lochac Laurel would applaud – but it looked like a great place to be able to hold a camping event with a couple of hundred people.
There was a trout stream for fishing, though I imagine if it weren't being used to supply the restaurant, and the weather was warmer than the current 7C feels like 3C, it would be great for swimming.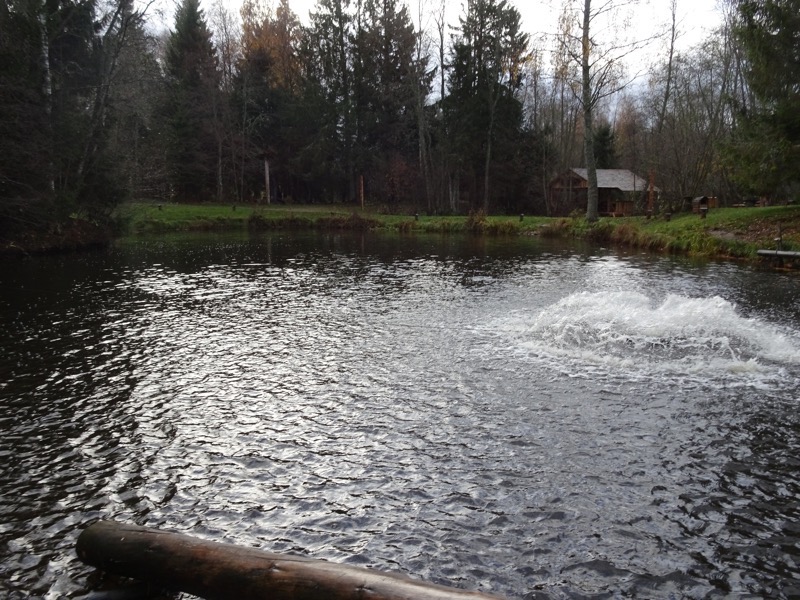 There is a large children's play fort: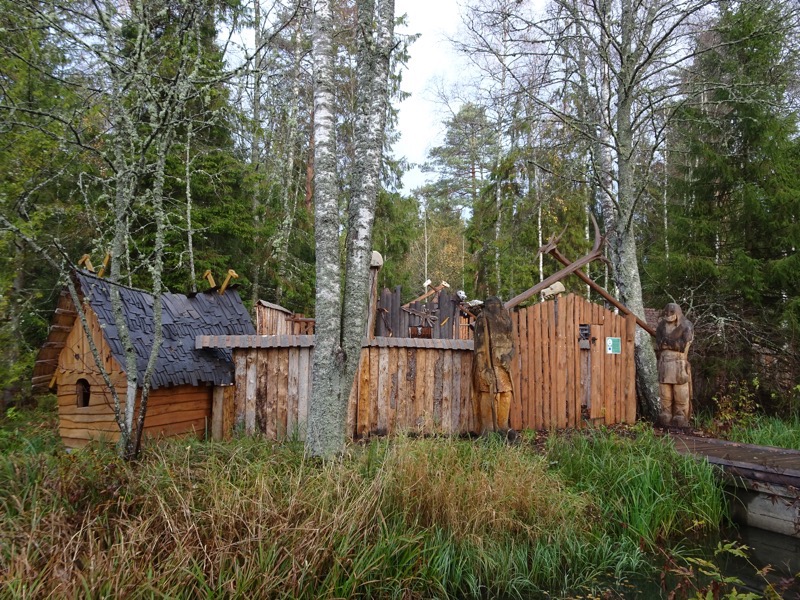 With cubby houses in various sizes for kids of varying ages.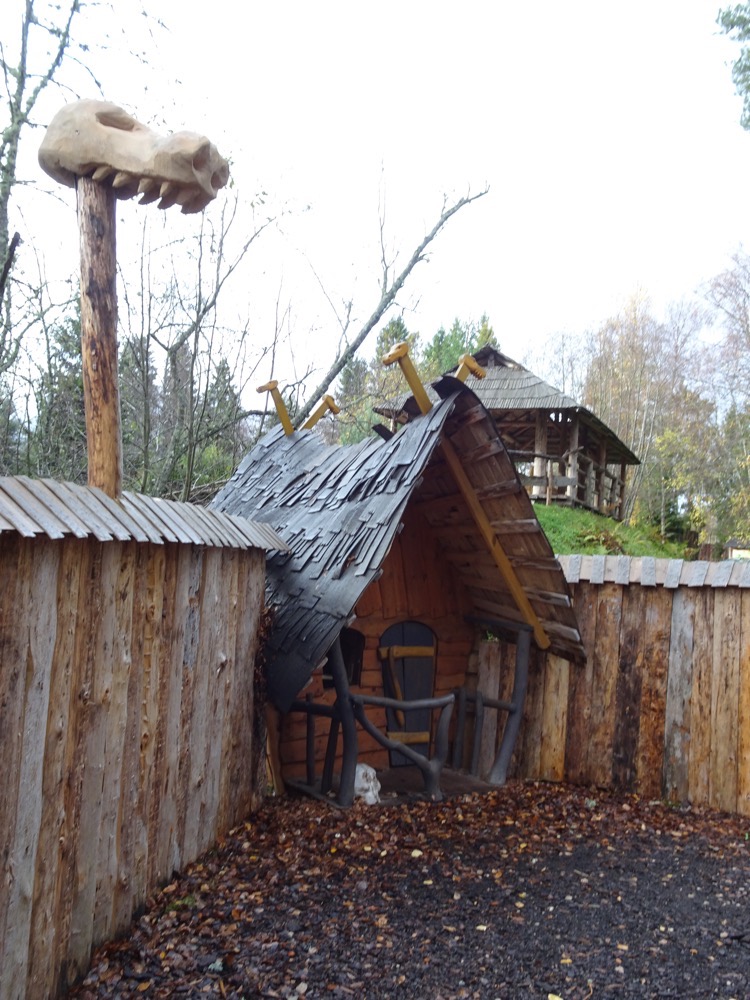 Poles for climbing and sliding about on.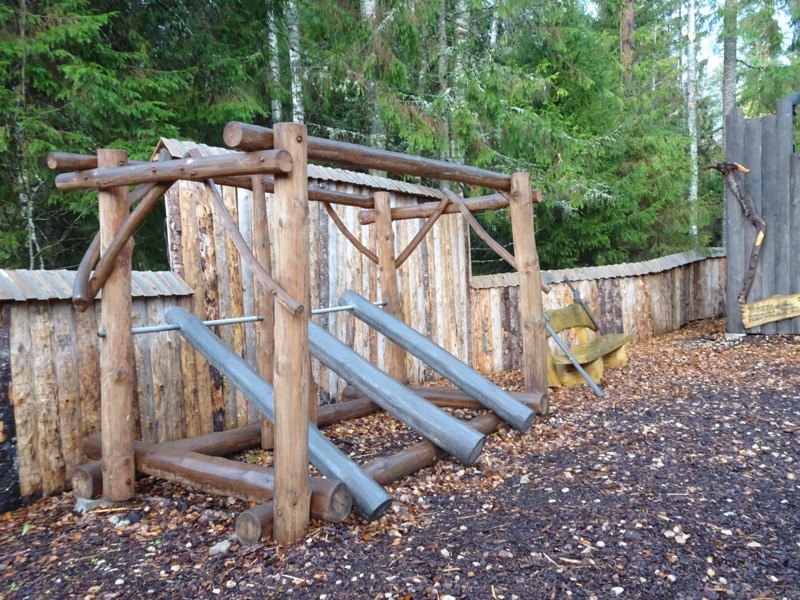 A couple of different forts connected by a rope bridge, a bucking boar underneath over a sandpit.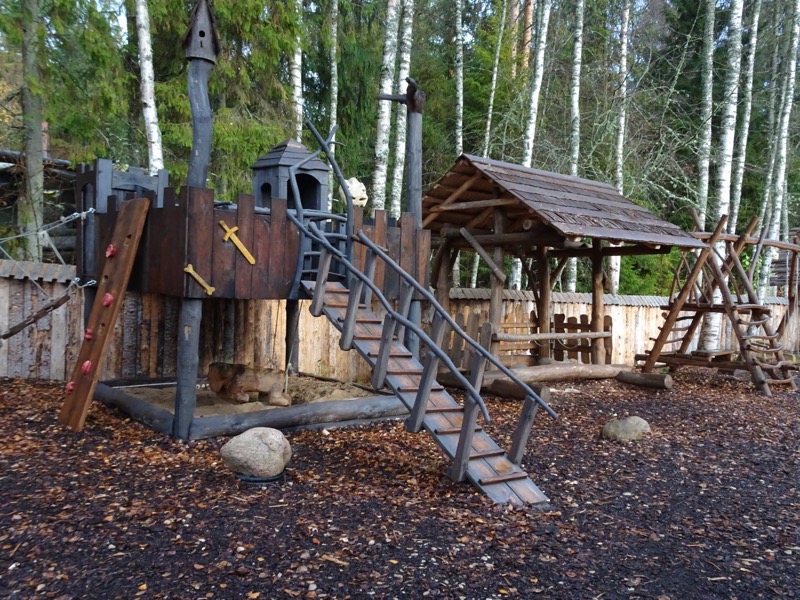 Some more climbing equipment.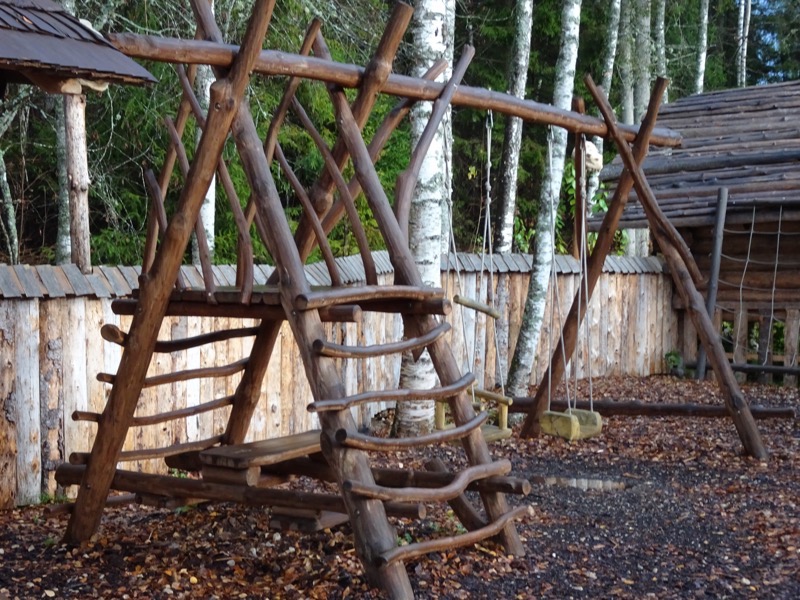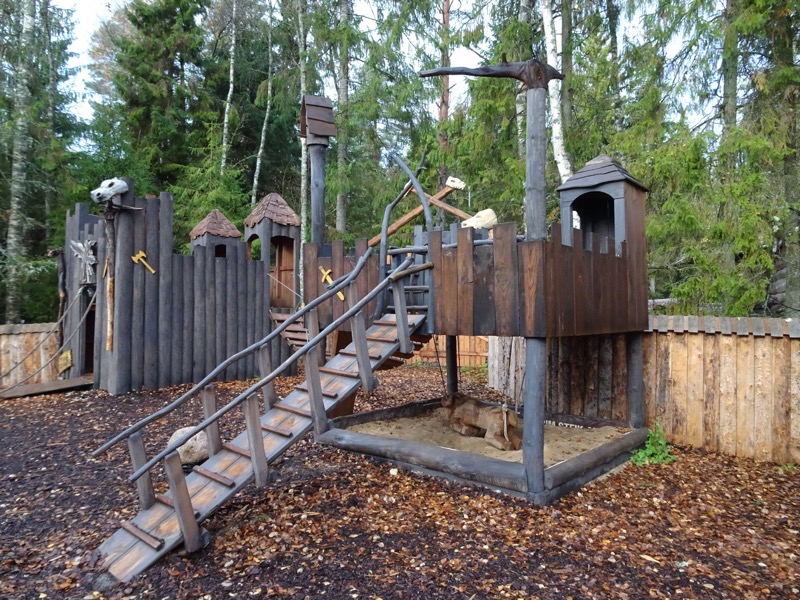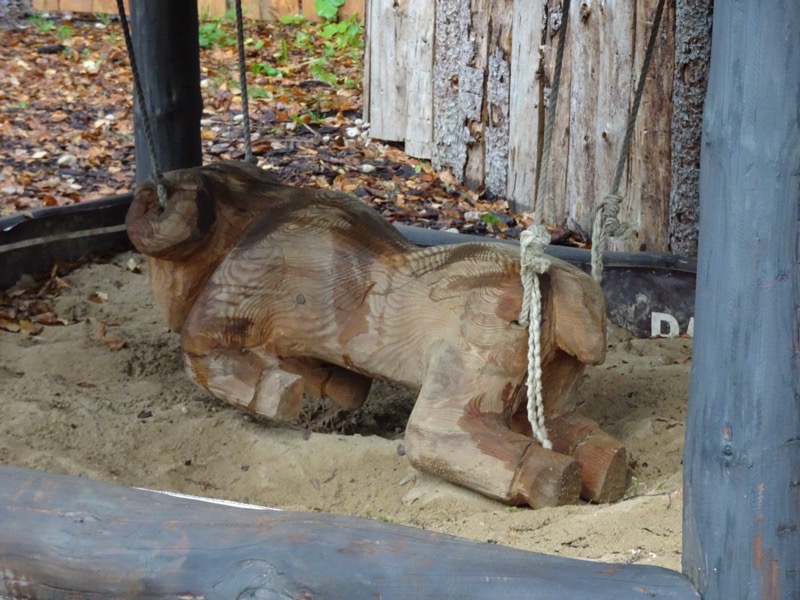 A longship for children to go conquer the seven seas.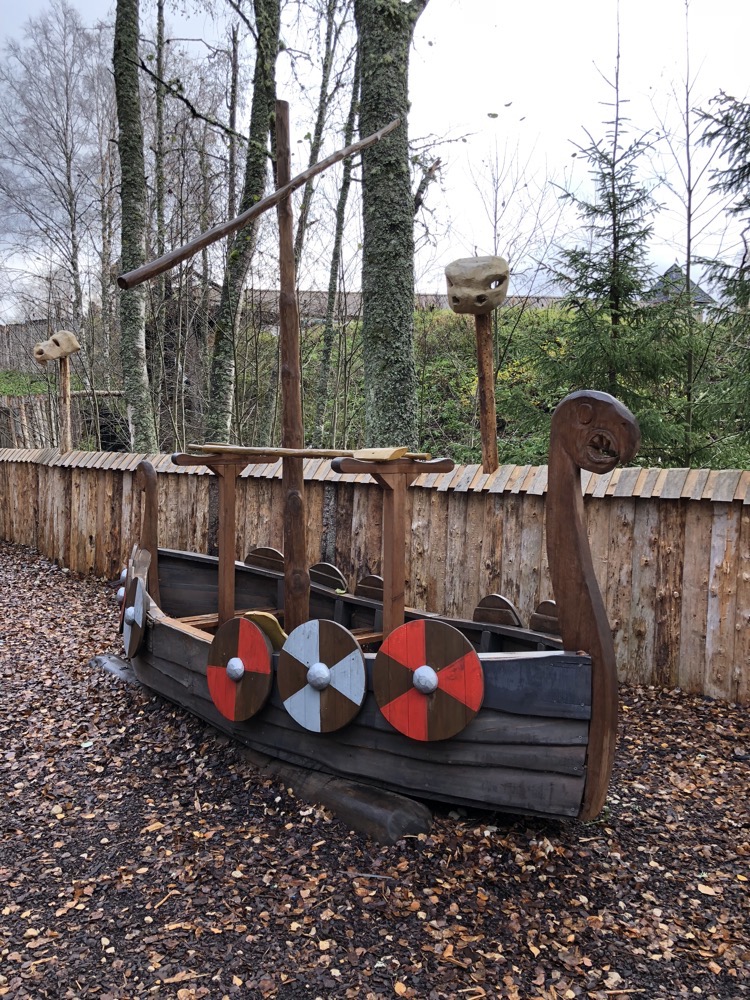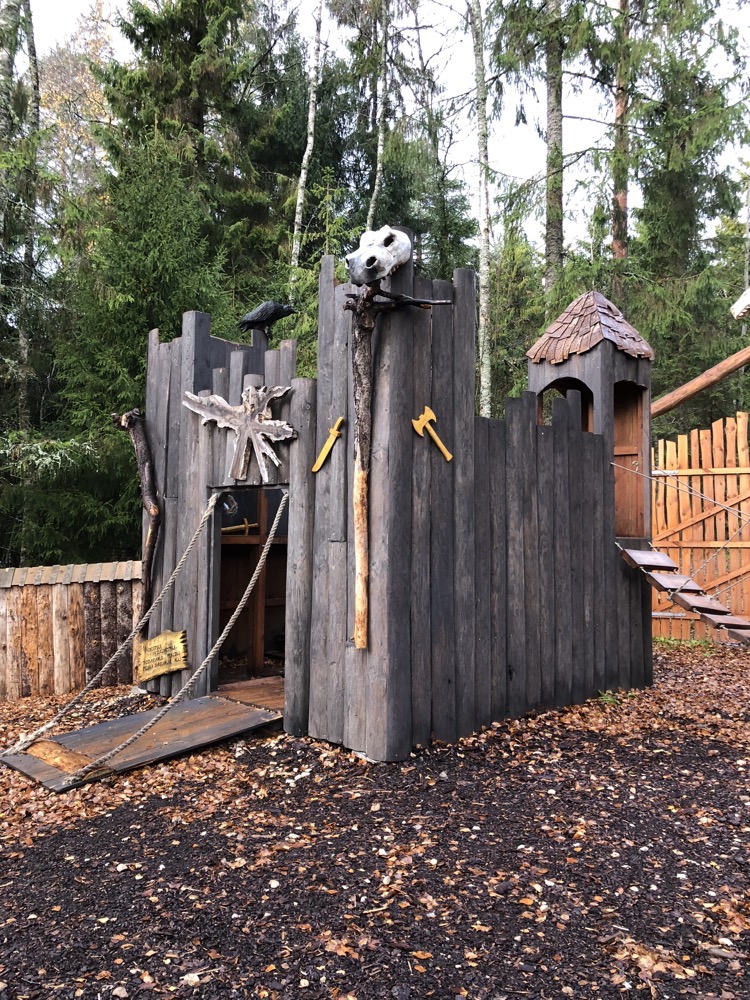 A larger fort for older children equipped with shields and swords.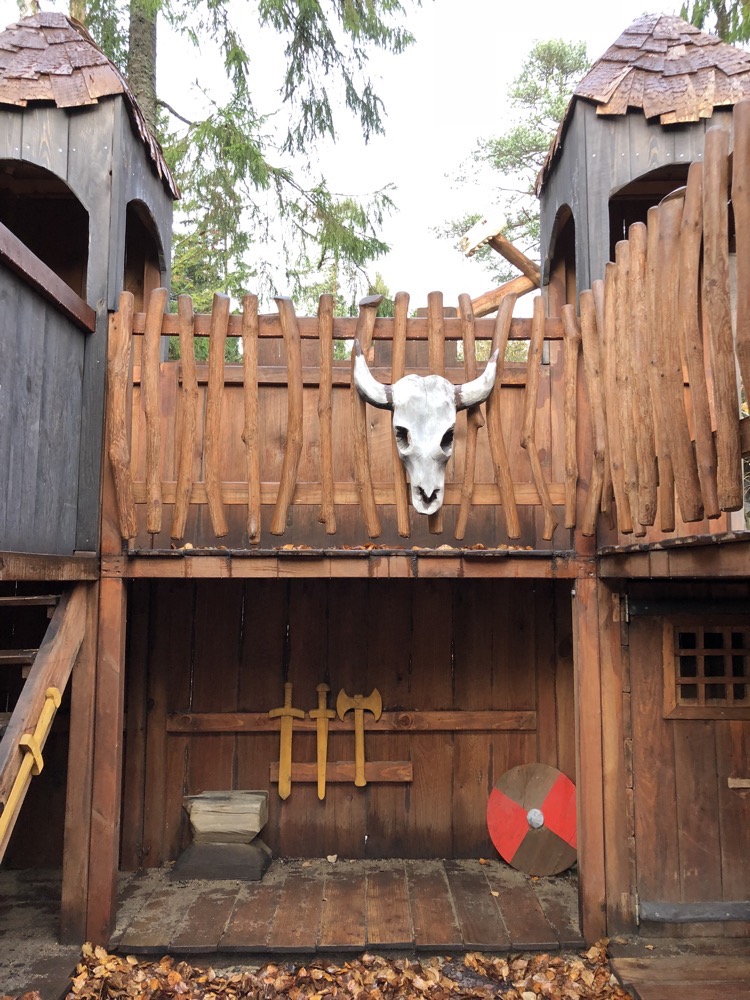 All up – I think our kids would have had a rollicking good time here.  There was a sign out front of the playground saying that it had won some national awards for playground structures (couldn't quite make out the details – but it was obviously a winner).
Not far around the complex from there was a large open area with viewing pavilion/bleacher type seating that would obviously make a great tournament field.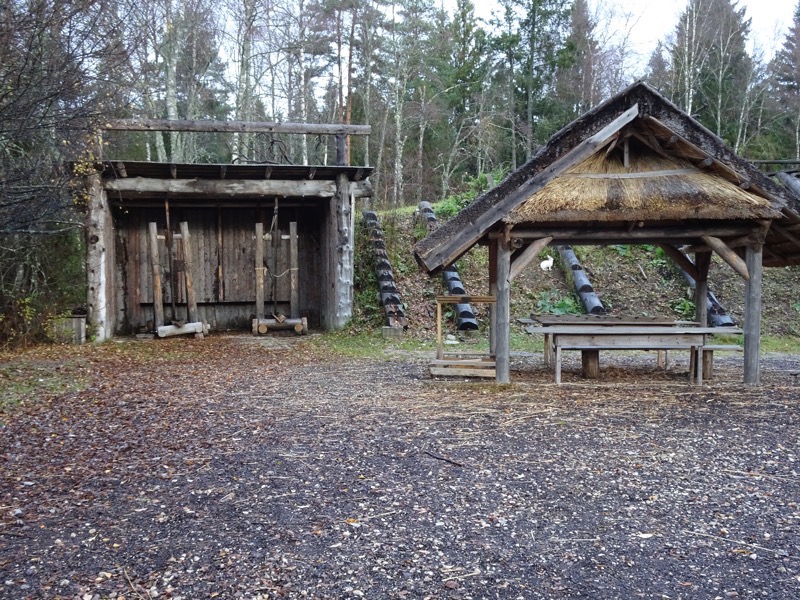 It also gets used for archery and for axe throwing (don't worry about signing an indemnity at the gate – they have a blanket, 'anything that happens to you here is your problem' policy, up to and including drowing!).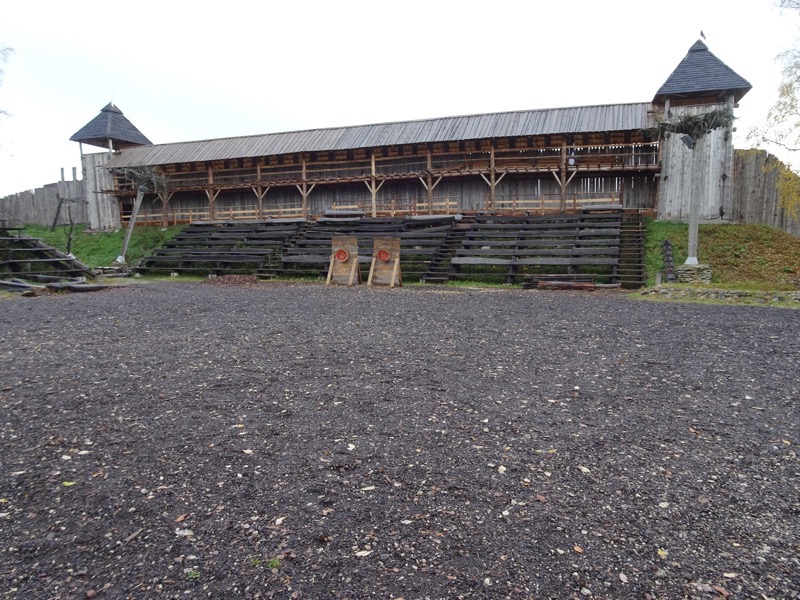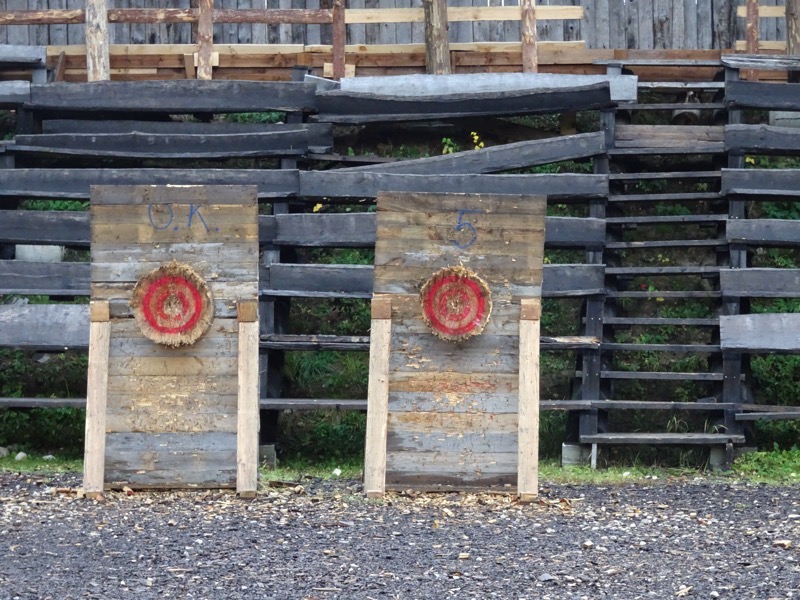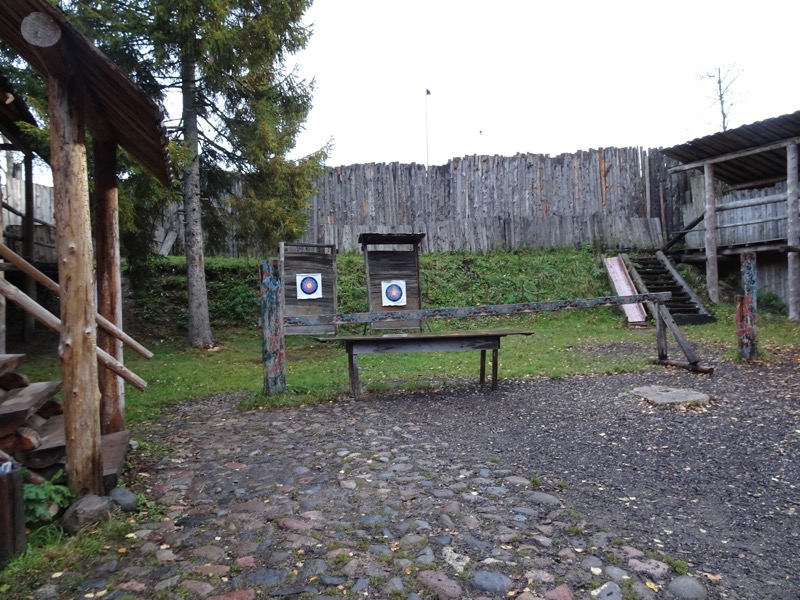 The tournament field was about 30 x 10 and would be great for SCA style tourneys.  Even large ones like FAT at Festival.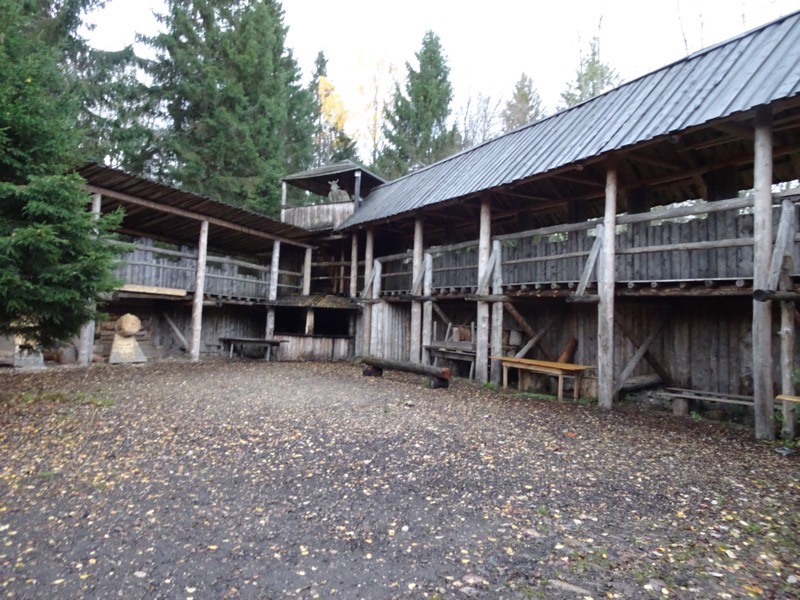 I'm not sure how long this village has been here – but it has lived through a few harsh winters and was in need of some love and attention and repairs here and there.  A few rotted timbers were apparent in the roof structures and it could use a good oil, but the overall effect of the spaces were pretty good in my opinion.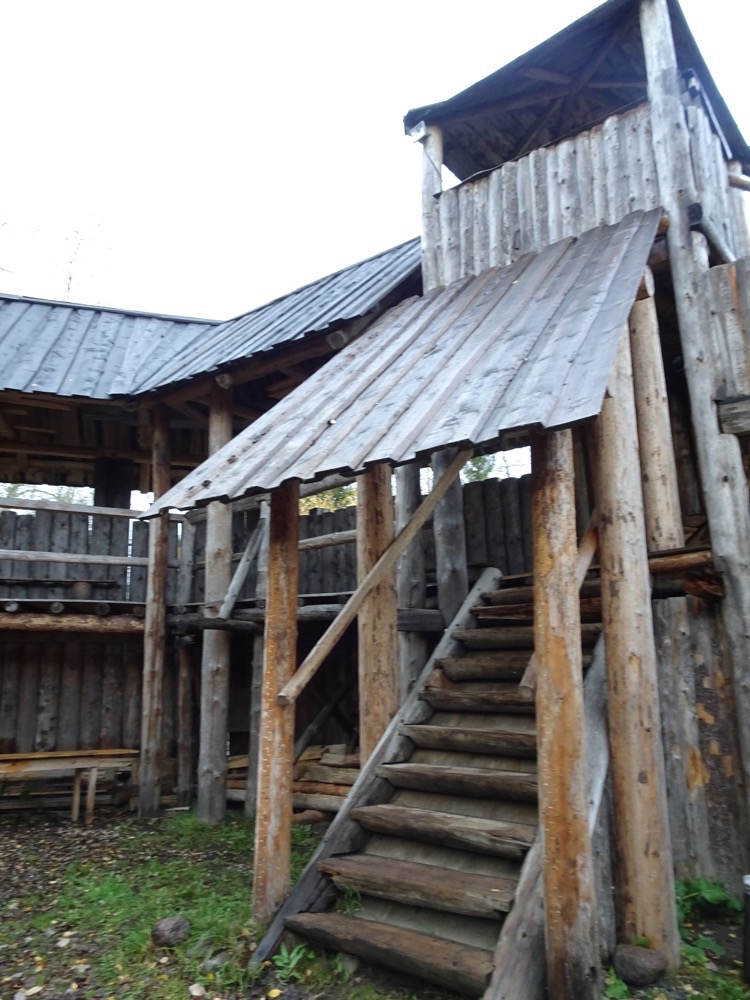 Oh and they have totally tame fluffy bunnies everywhere that are not at all bothered by the people.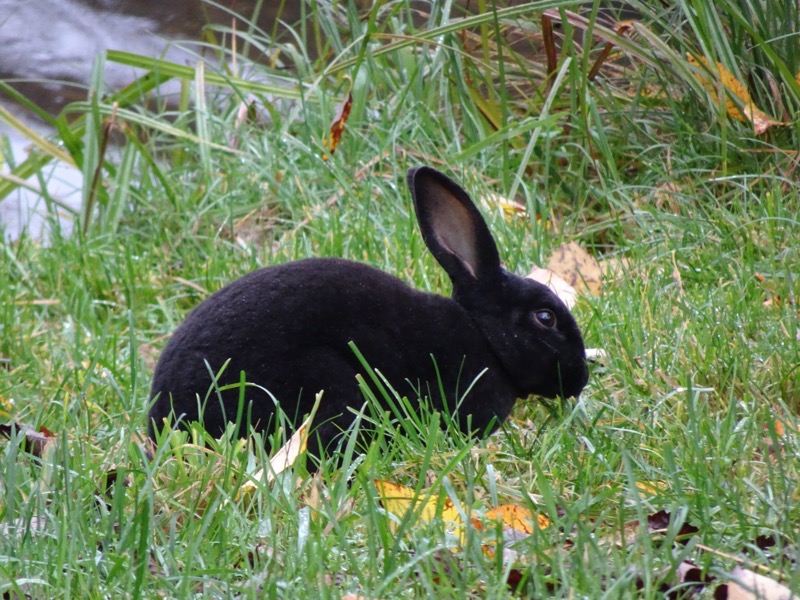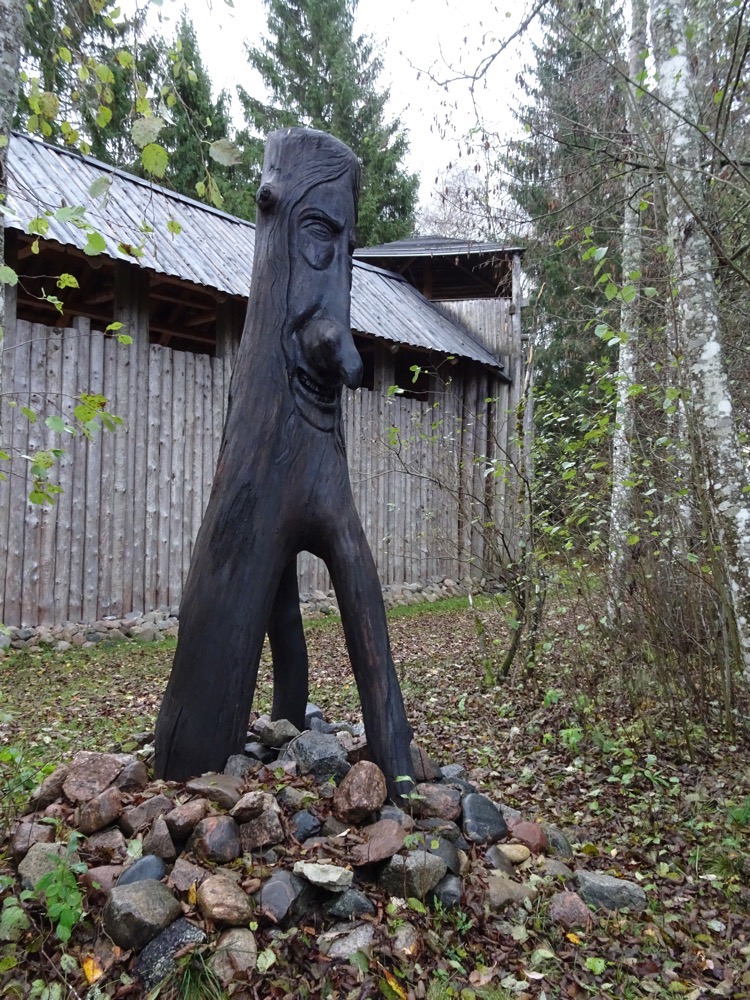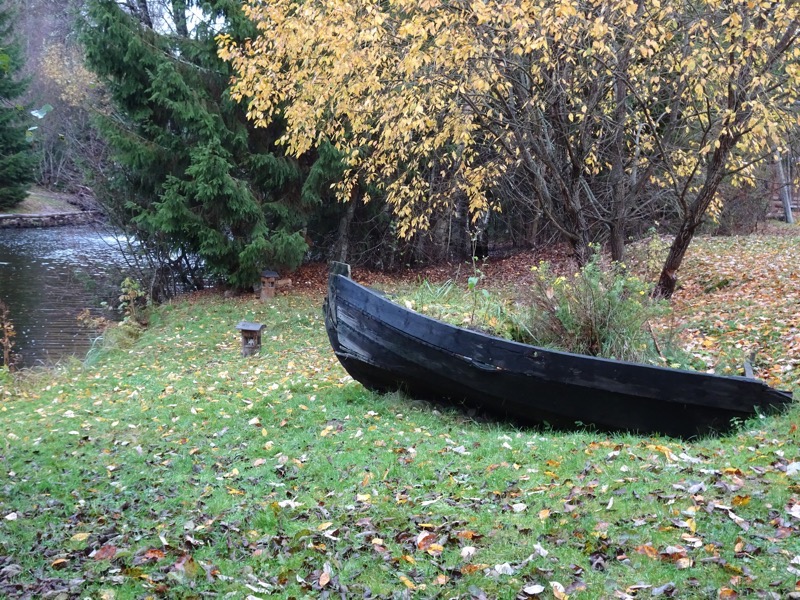 The other end of the trout stream.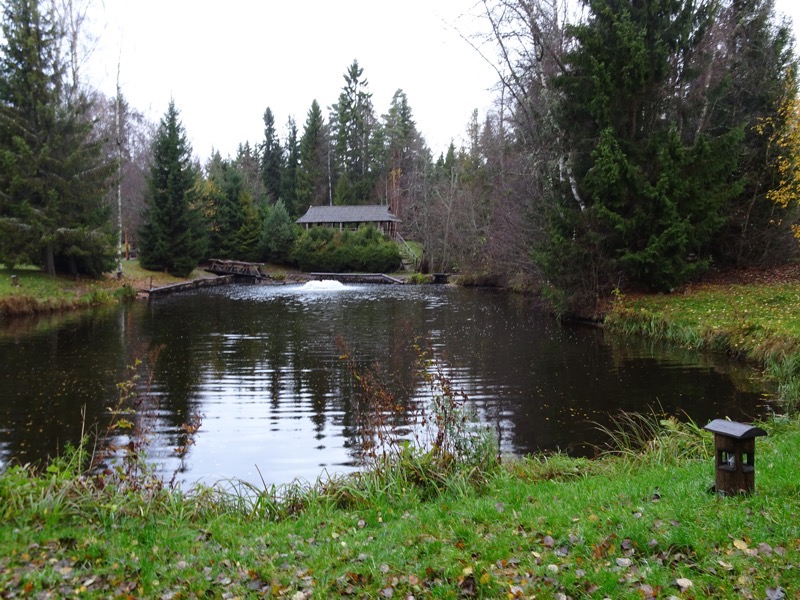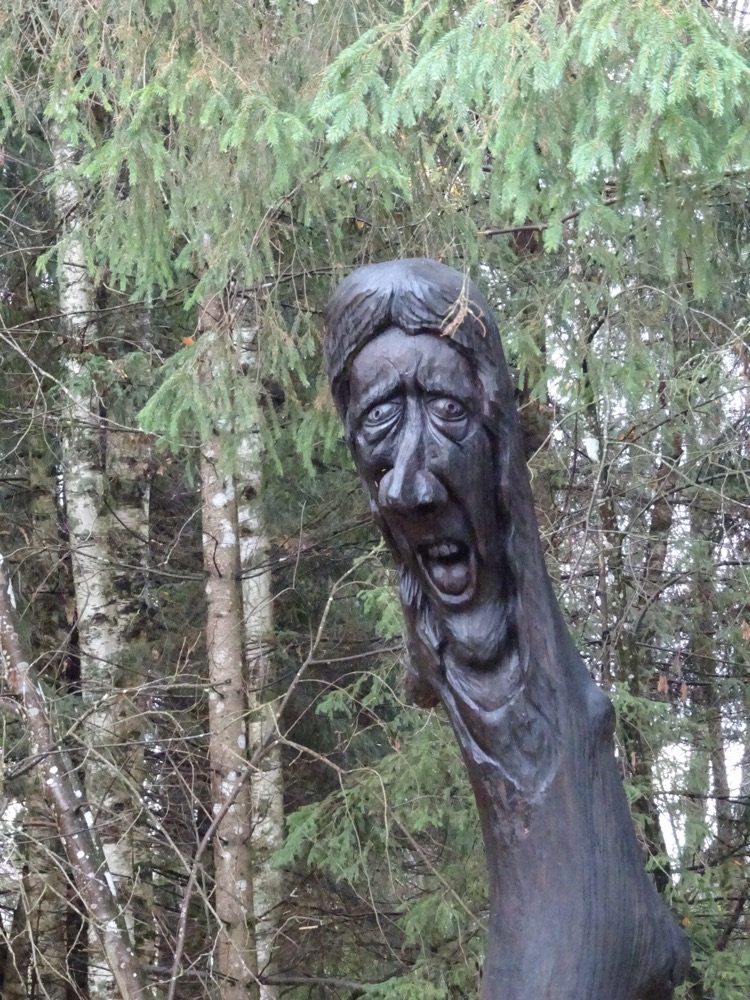 Shaman style teepee for a see-er or something?  I don't know. Not a lot of the information we could put our hands on was in English.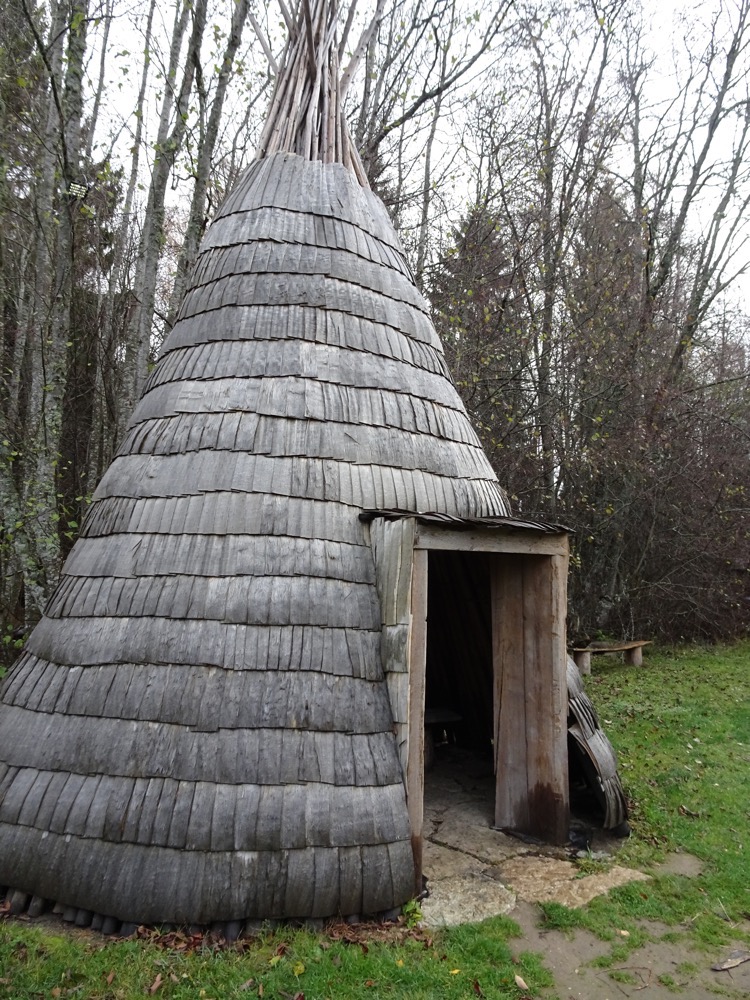 A 'period' game where men throw a stick through the female figure's 'slot', and women throw a hoop onto the male figure's 'rod'.  Would never fly in the SCA – people would get too uptight about the gender representations or something!  😛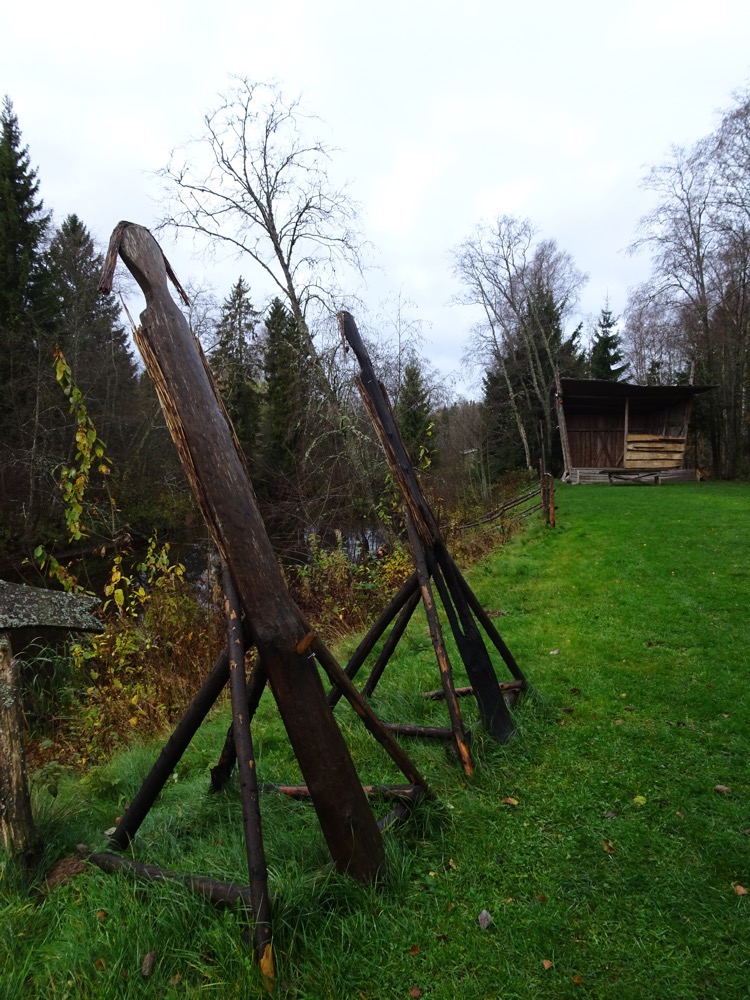 More fuzzy bunnies.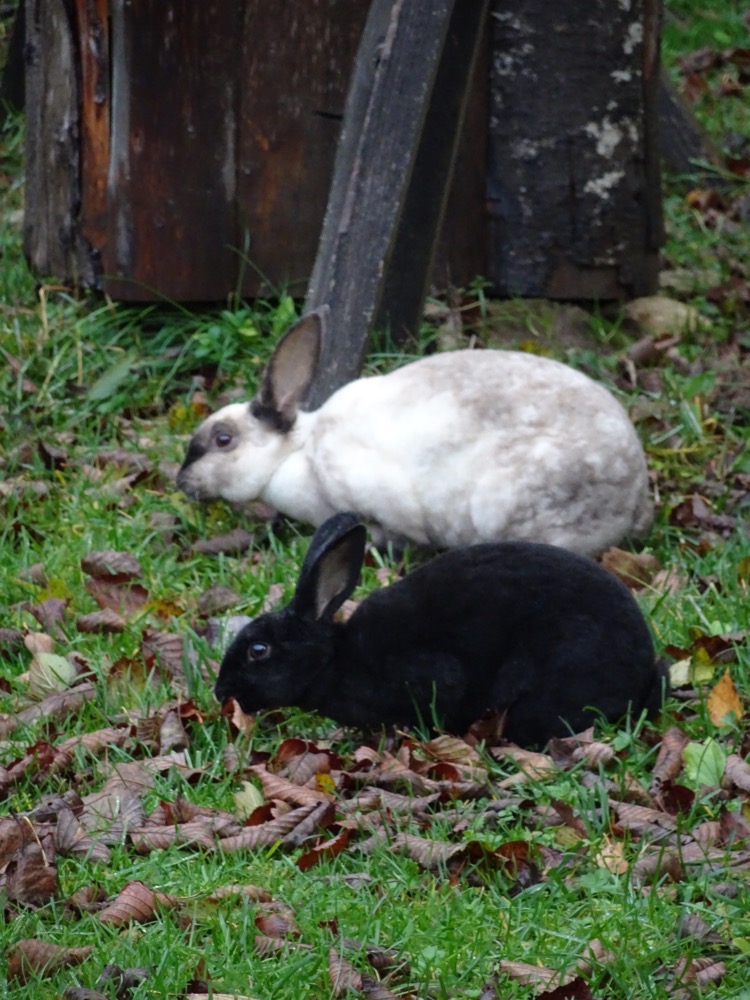 They have a longboat that people can hire and take canoeing around a creeky system.  It holds up to 13 people and you need at least four to row it.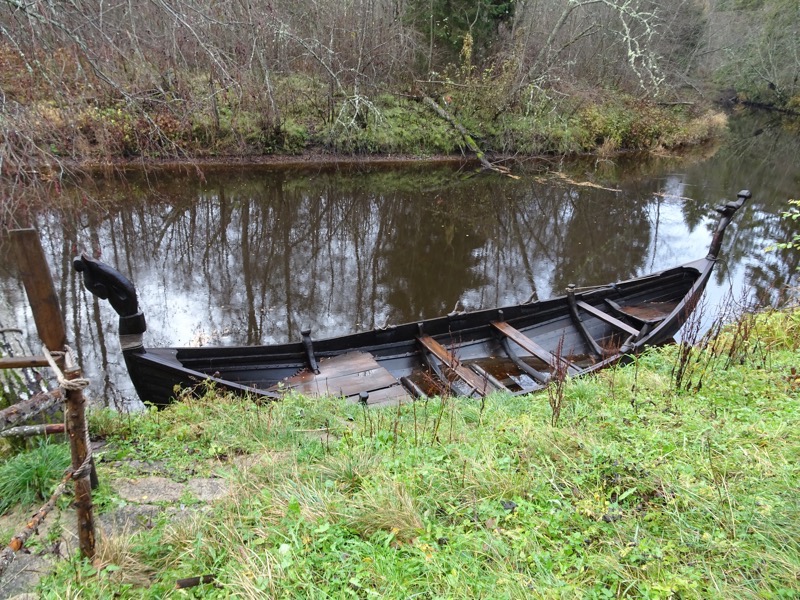 Private picnic pavilion spaces that can be hired and you can do your own BBQ or self catering.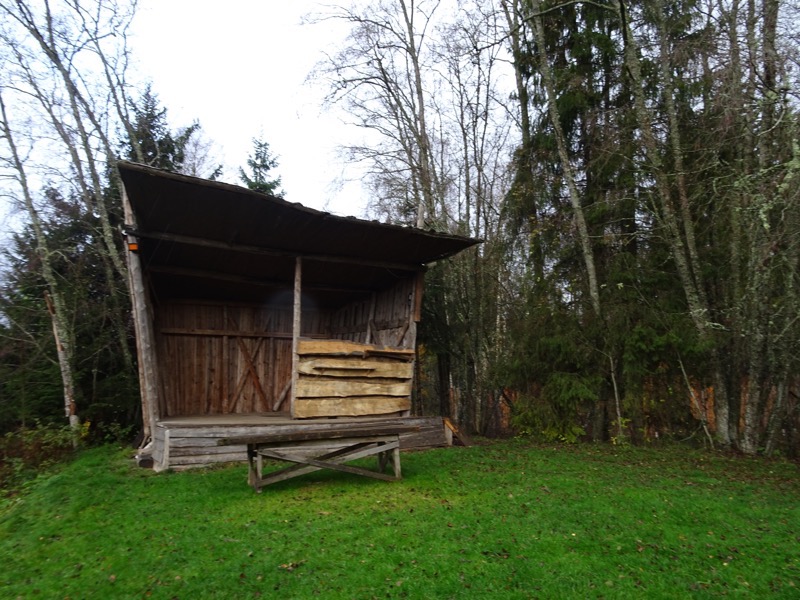 The walk back across the creek to the tavern/restaurant area.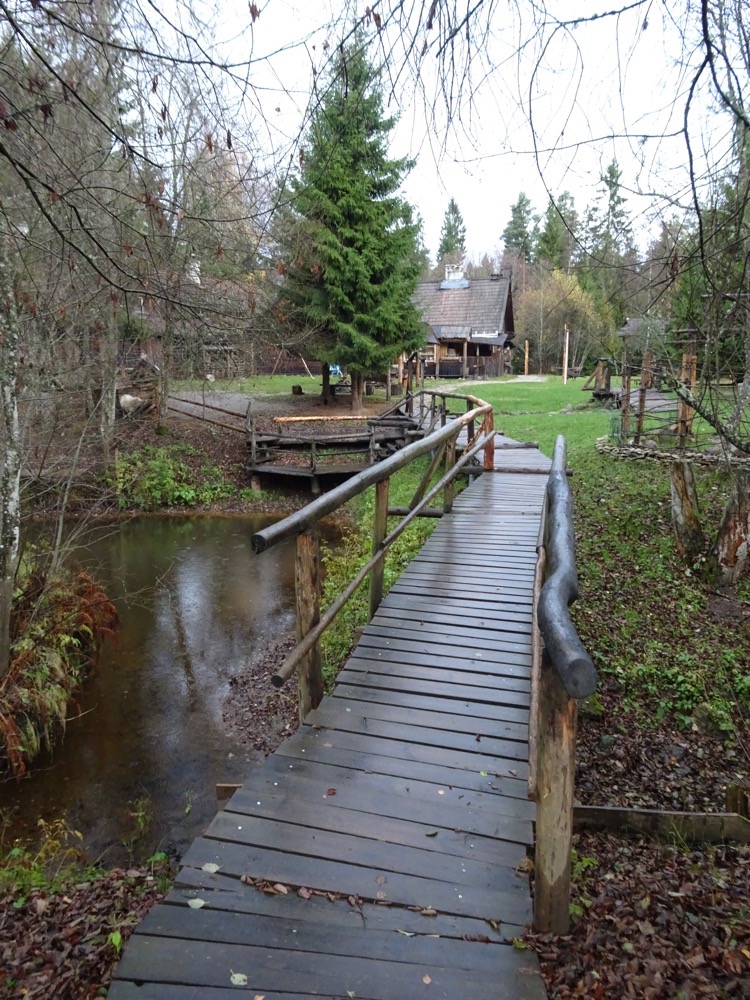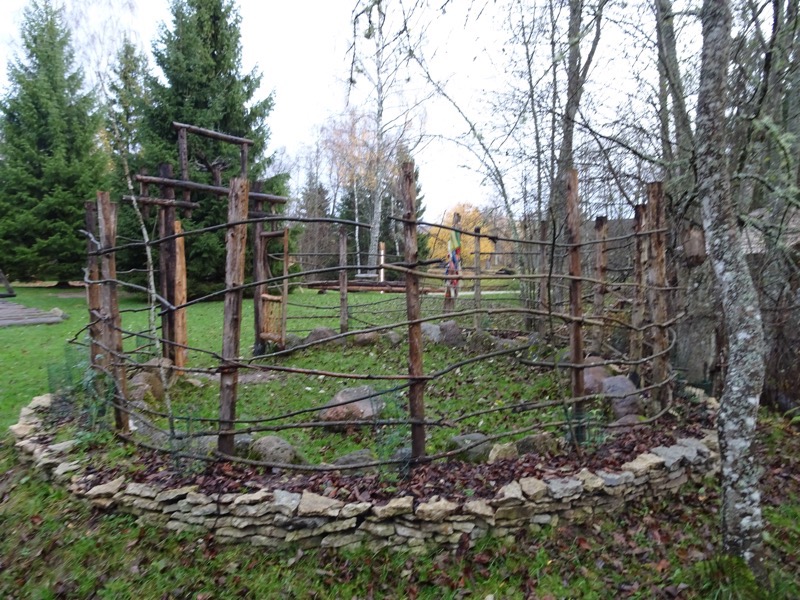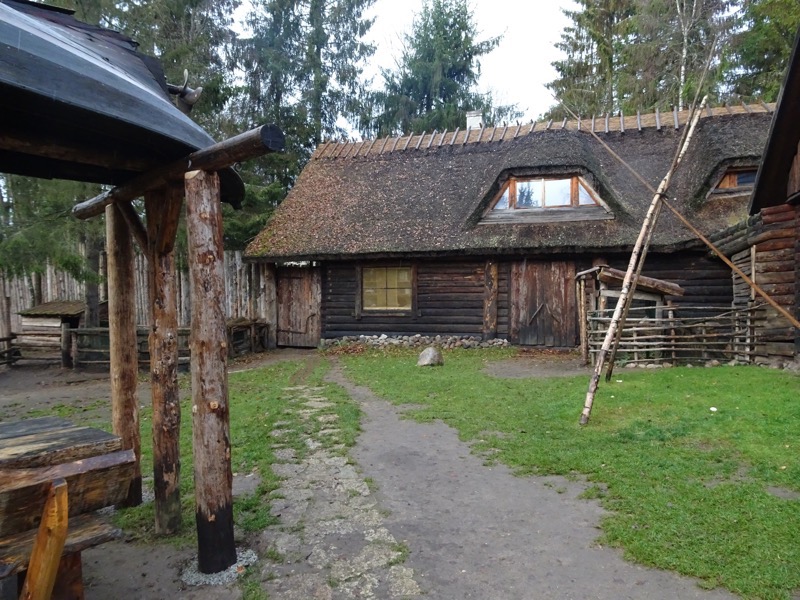 A small outdoor beer garden space which is currently unoccupied, due to 1) it being early morning, and 2) it being bloody cold!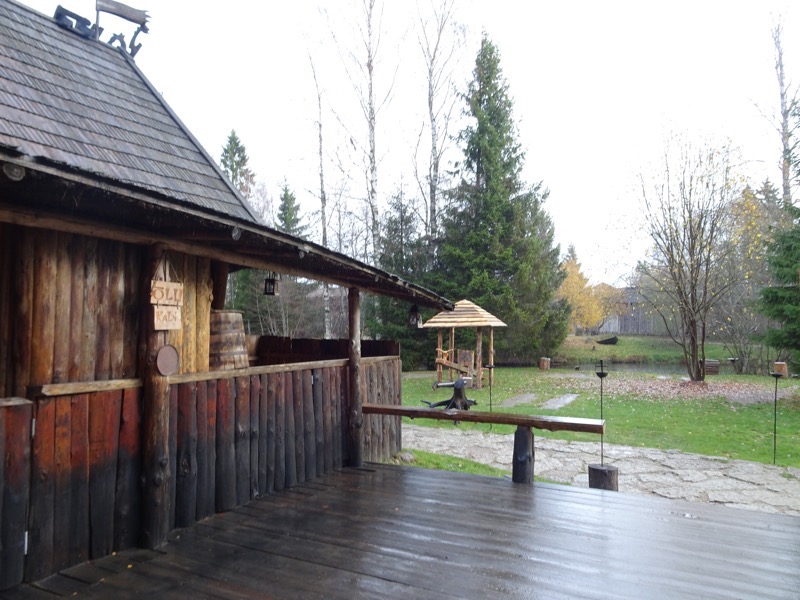 We thought we would pop in the tavern and have a warming hot drink before we had to hit the road.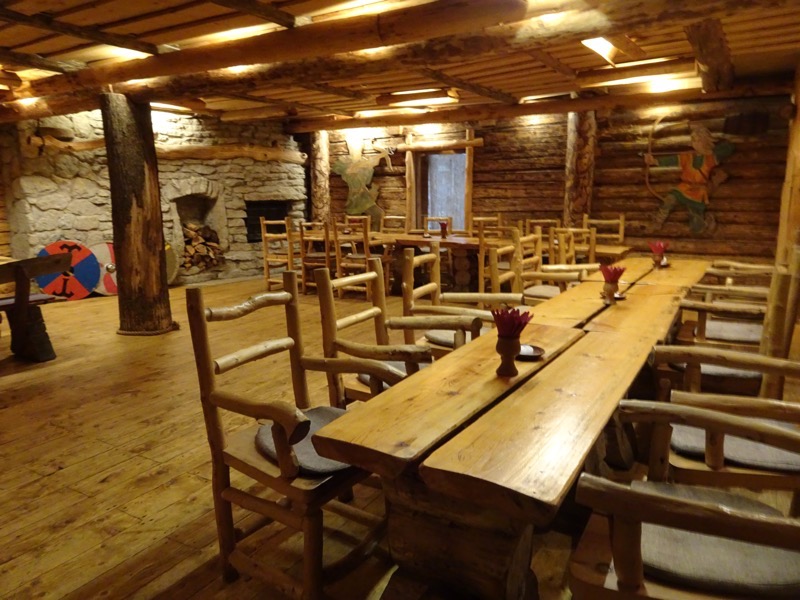 There were lots of small spaces and large spaces to suit different groups – this one had a roof height of barely 5 feet, and was either designed for kids or for very intimate dining groups!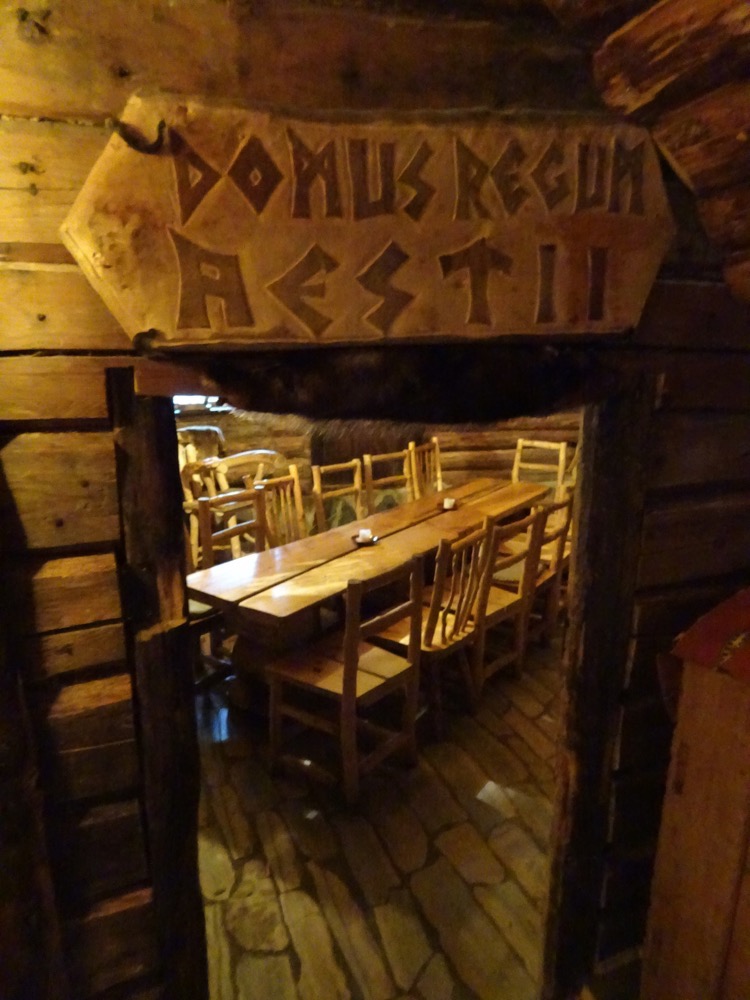 We had a look at the menu and were tempted to have an early lunch snack.  I ordered the field mushrooms on rye bread…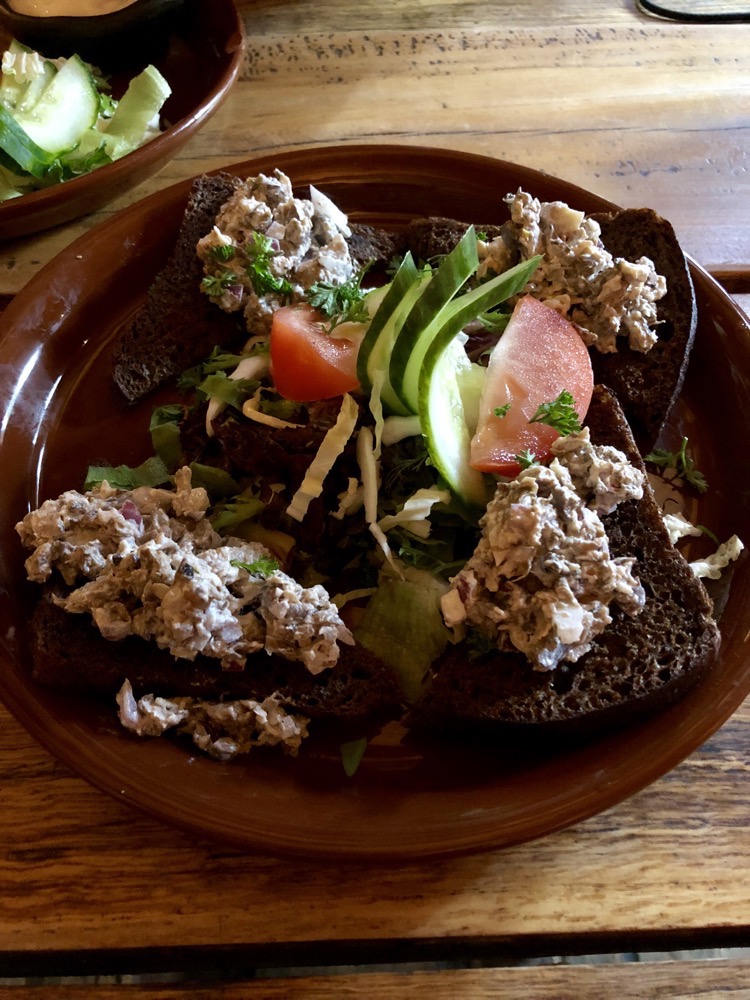 and yale ordered some sort of beef dumplings.  It was very tasty and well presented. I know yale would disagree with me when I say I thought the Viking Village was awesome.  He felt it was a bit too twee (and it is), but I have had medieval fun in places that looked a whole lot less likely than this place – you know like an old shearing shed, or a basketball court hidden by a gazillion banners.  So, if you take it for what it is, a medieval styled space that hasn't been documented to within an inch of its life designed for good times – then yes, I think you'd have a grand old time here.  It would be great fun to come with a large group of friends all dressed up and have big feast/banquet… which is exactly what the place caters for.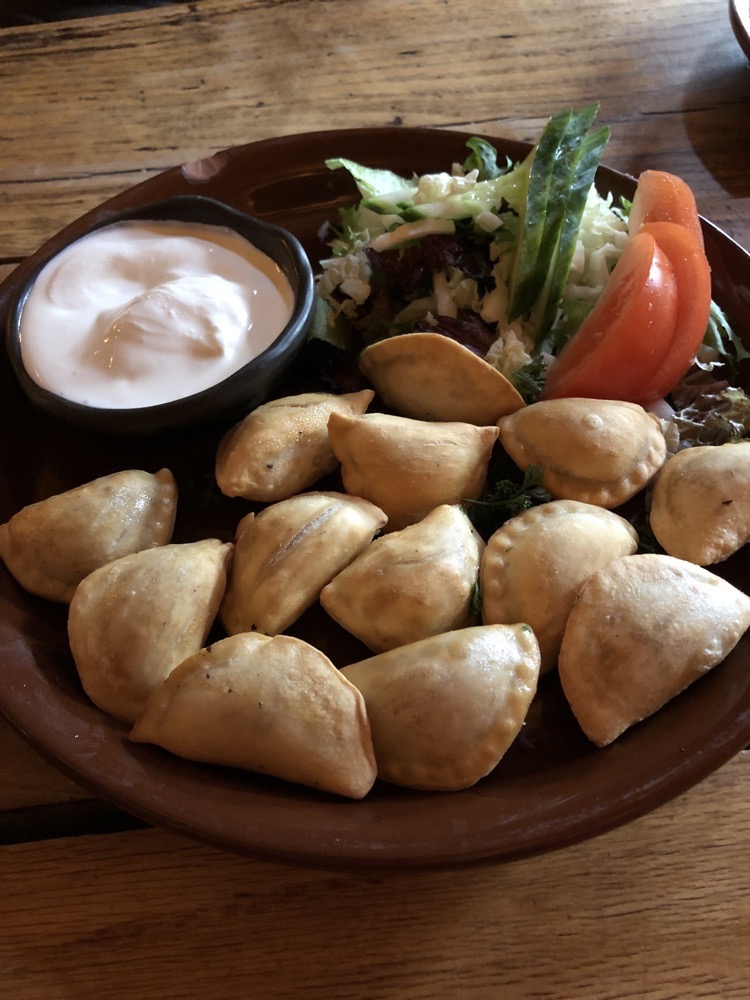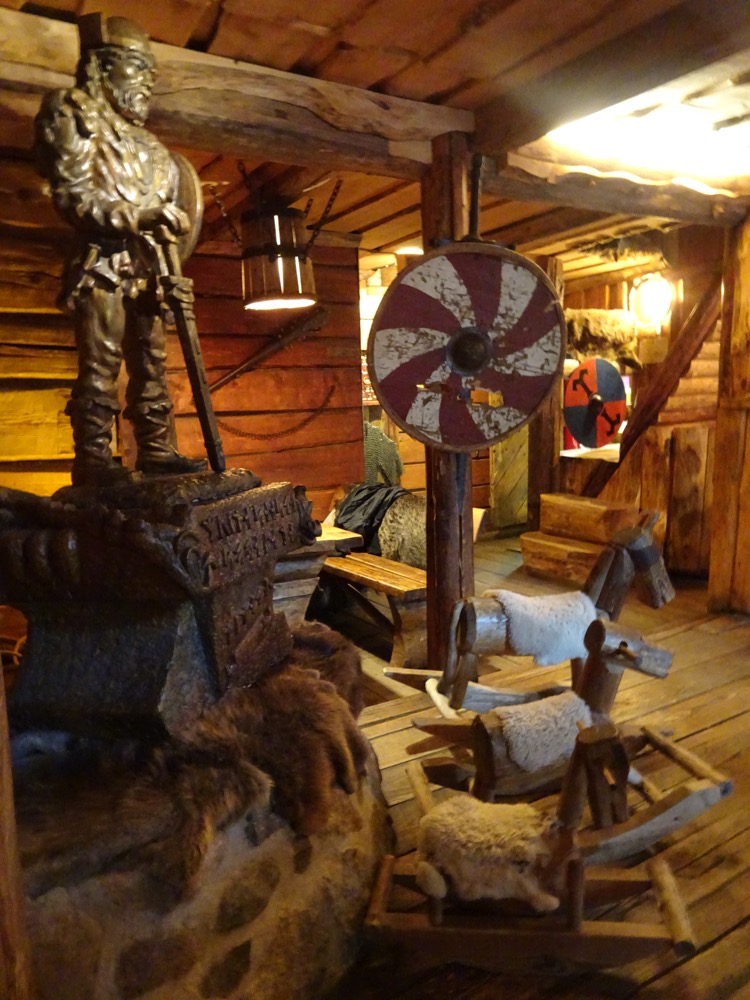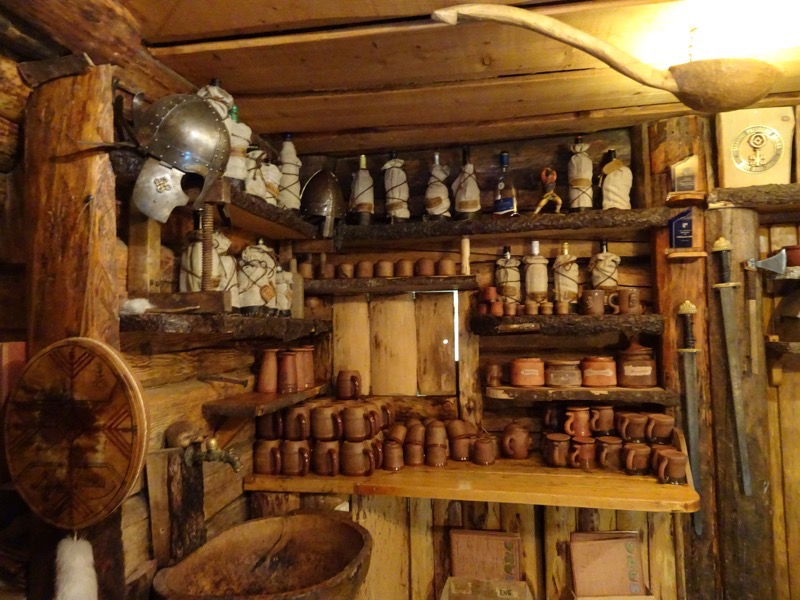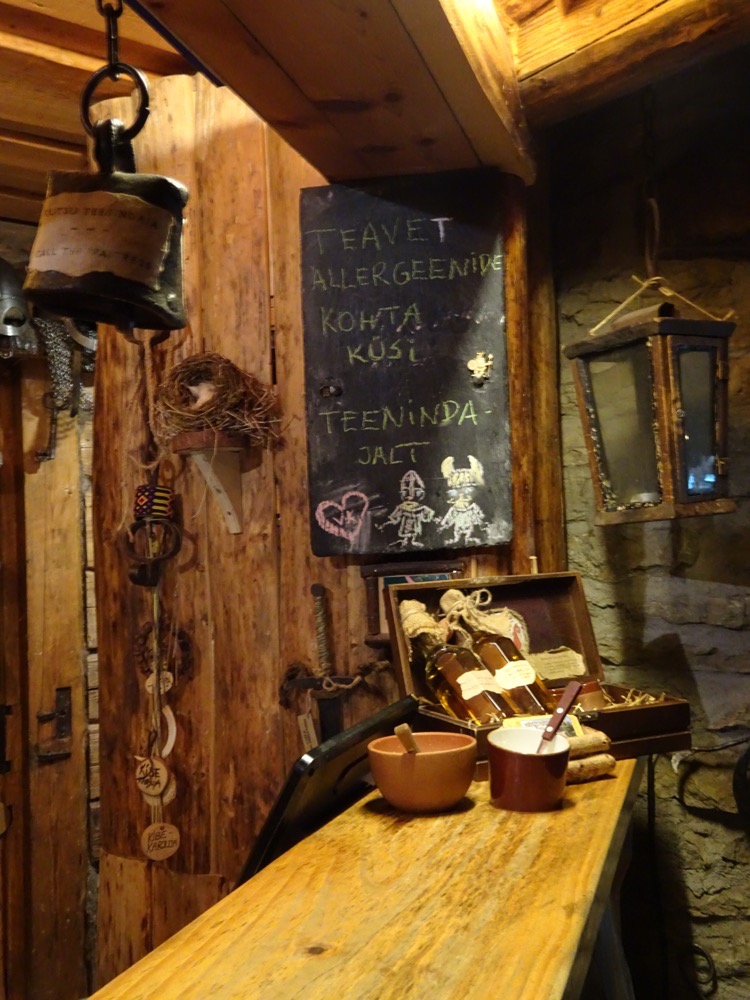 After our warming drinks and a sit by the fire for half an hour to warm up – we hit the road and were heading through the Lithuanian countryside, pottering around some back roads before we would end up on the highways again.
We saw this gorgeous little country farmhouse, complete, with sheep, horse, chickens and lord knows what else.  For a fleeting moment, I thought, "I could live there," and then I remembered myself, and how much I love things like late night visitors, fresh sushi and V-Max cinema seating… and decided instead, "I could spend a few months there."  Mind you, they are in the middle of nowhere but probably have better Internet than I do at home.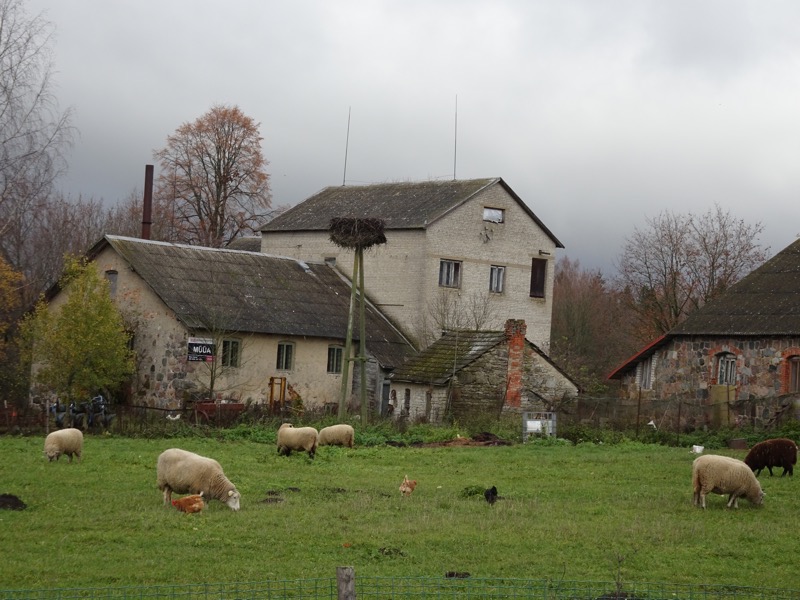 The drive had a few err, interesting moments.  Many of which were caused by the road rules here which allow overtaking on certain roads even if someone is coming towards you.  That is, when the line of the road on the should is broken – drivers are supposed to drive right up the dotted line and allow other drivers to go around them, even if there is oncoming traffic.  Great in theory, but in practice, there were way too many drivers who were way too cocky at this being able to overtake whenever you wanted to, leaving us driving three abreast a two-lane road A LOT.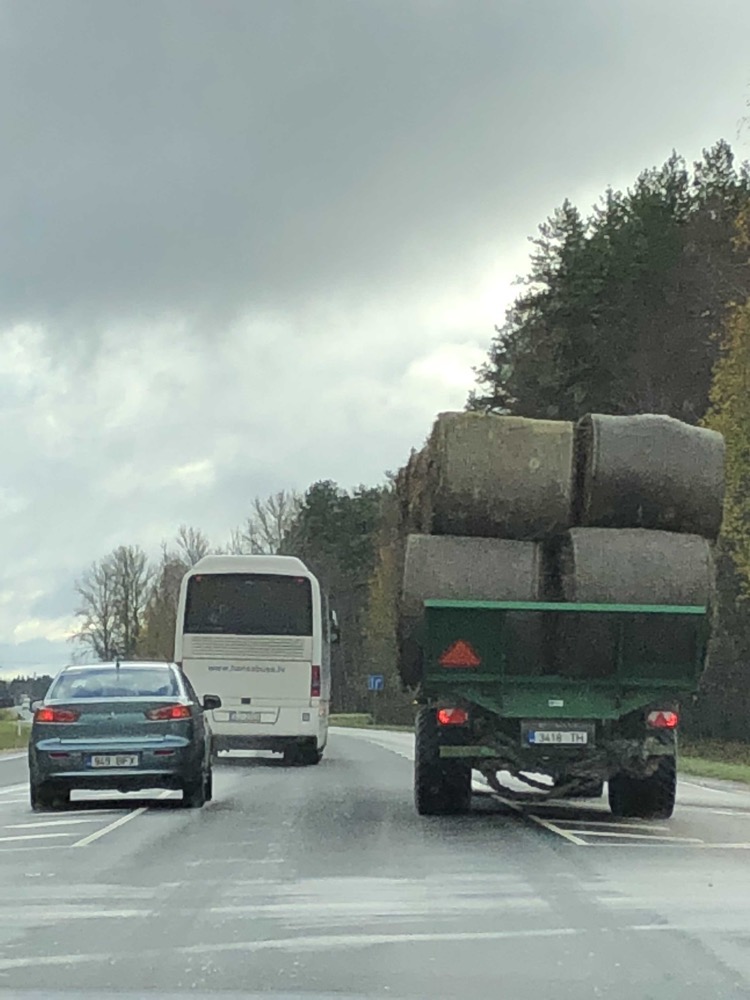 We stopped briefly at the cheap discount liquor store at what was once the Estonian/Latvian border.  Found some souvenir shopping, some not so discounted grog and some rather questionable food offerings in the loosely labelled 'bistro' before heading to Riga.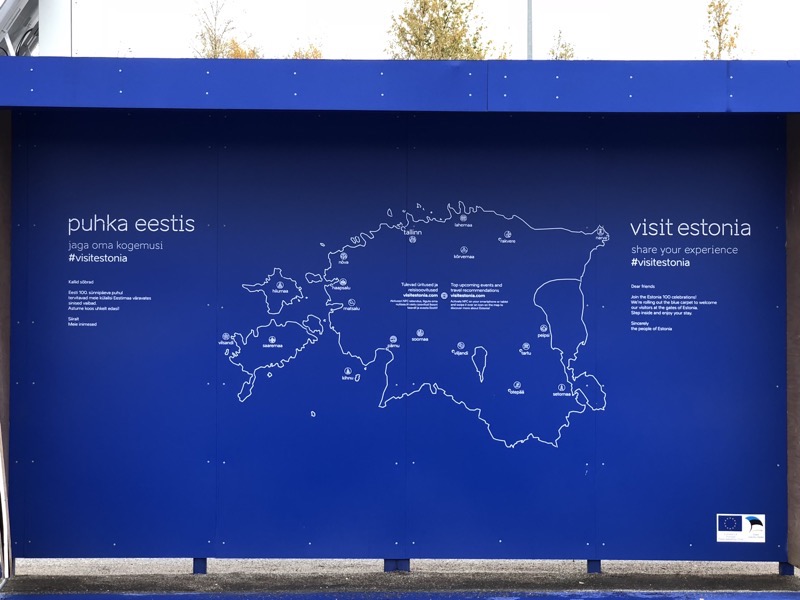 On the way into Riga we saw the first sign of a major metropolis on our left – and were reminded that we were not really in Eastern Europe anymore but in the Baltic/Northern Europe area… so like we saw in Iceland, we expect all our hotels to be decorated in nothing but Ikea from now on.  😉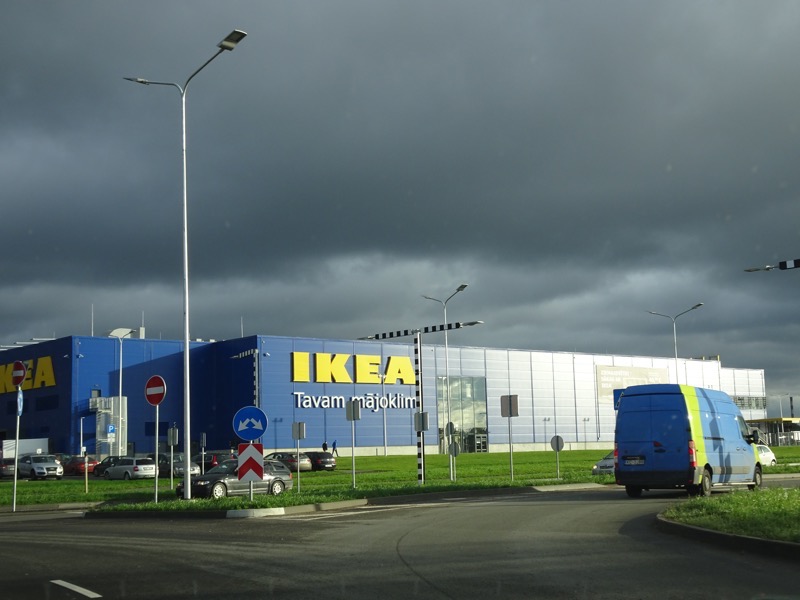 We checked into the Rixwell Riga Old Palace Hotel where we had booked a 'designer studio room' only to be given a key to what would make a good playroom for some midgets – about 14sqm and barely a 7′ ceiling.  It looked nice enough but was totally impractical*.

*not the actual room we were given – this one you could walk all the way around the bed, whereas the room we were allocated had a bed up against the wall on the right-hand side.
So naturally I didn't mind the room that much at all, other than the fact there was no where to lay out suitcases or walk around the furniture – but yale was going to hit his head on everything and the room was son tiny that you seriously couldn't swing a cat in here.  So I went down to the reception and had a word with the customer service staff.  I did my best 'sorry to bother you' and had already looked online – it's October, and plenty of rooms were showing up as available in the online booking websites, so I knew they had vacancies… the following conversation then ensued:
Me:  'Hi, our room is not suitable… what else have you got?'
Customer Service Chickie: *dithered with the computer*, 'Yes, I can find you larger room but you will have to pay more.'
Me: 'Great, I said, let's do it, how much?'
CSC:  '€5.00 a night.'
Me: *deadpan* 'Would you like that now in cash?'
Seriously for an extra€5.00 a night a night, we were given a to a traditionally decorated superior balcony room that was about three times the size of the hipster 'designer studio' and it has 12′ ceilings…
*insert me rolling my eyes here*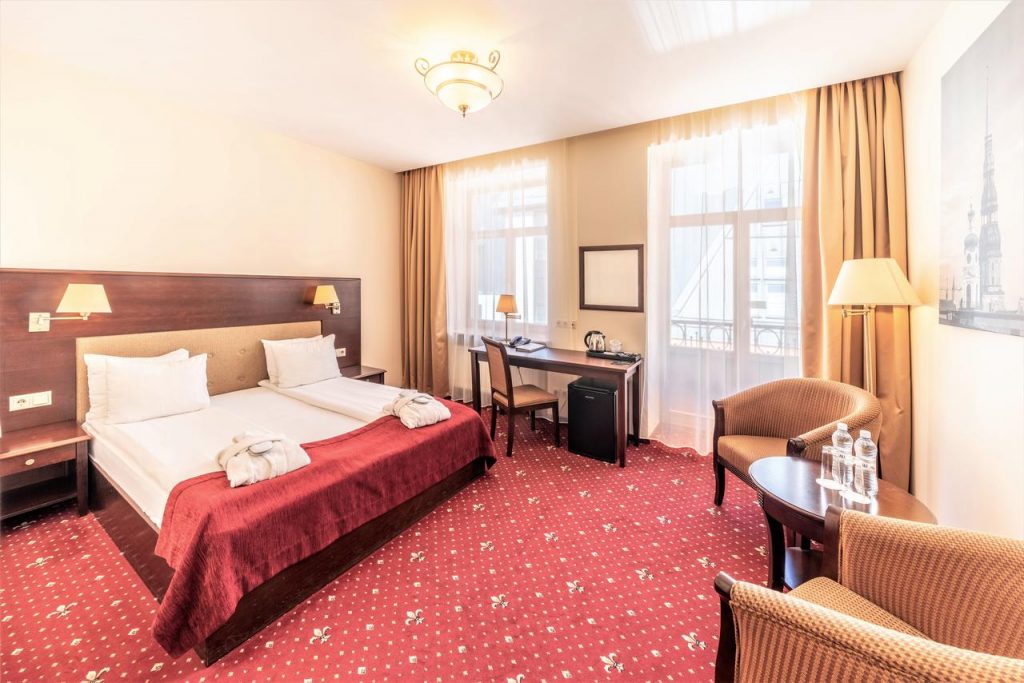 Once happily situated, and yale had ascertained that the wifi was up to his exacting standards, we decided to find a nice restaurant with local food and head out.  It turned out that not 150m from our hotel was a restaurant called, 'Milda' which is rated about 8th out of over 800 restaurants in Riga and we thought that sounded like a bit of us.  Was a bit fancier than anticipated, so I am glad I made yale change out of his blue otter t-shirt.  😛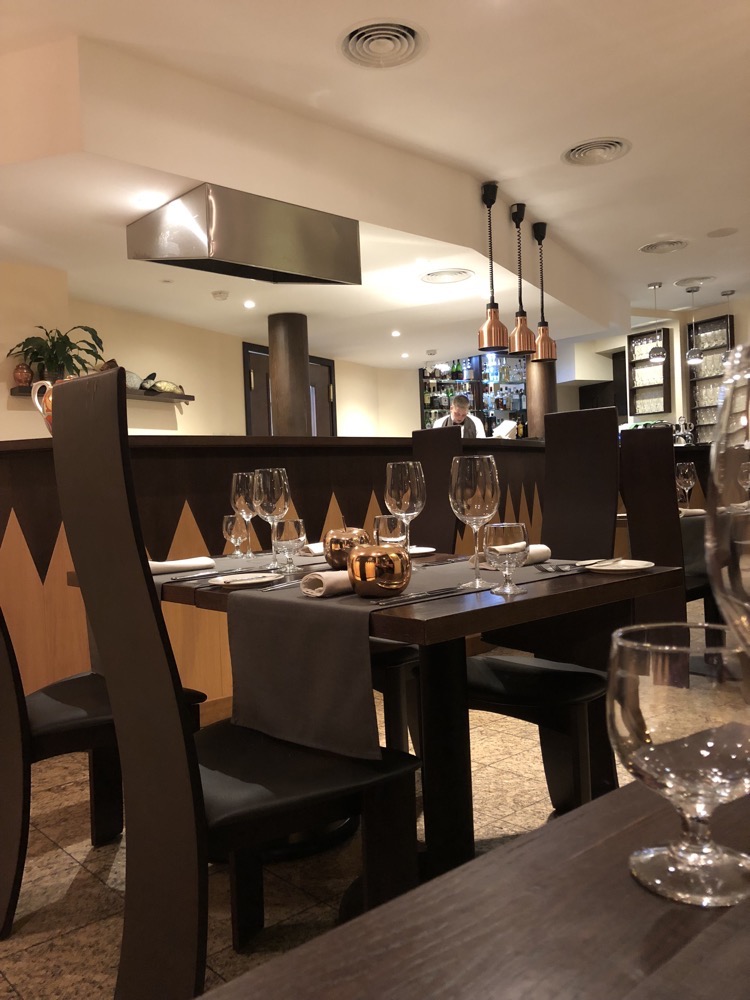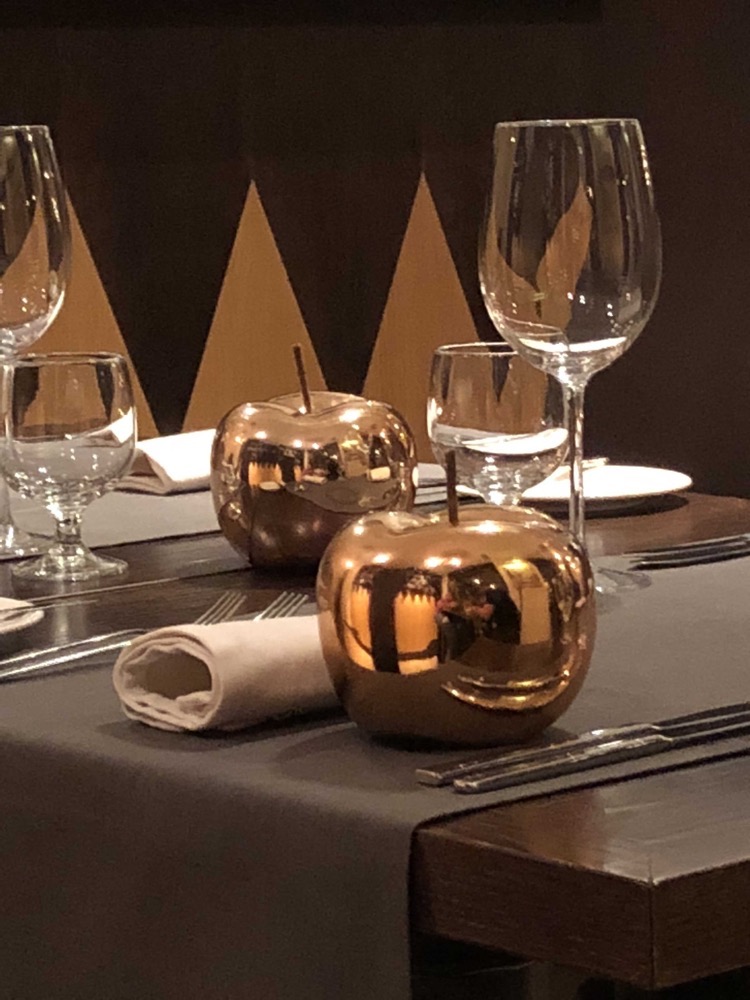 The menu was superb – yale ordered the beef heart tartar.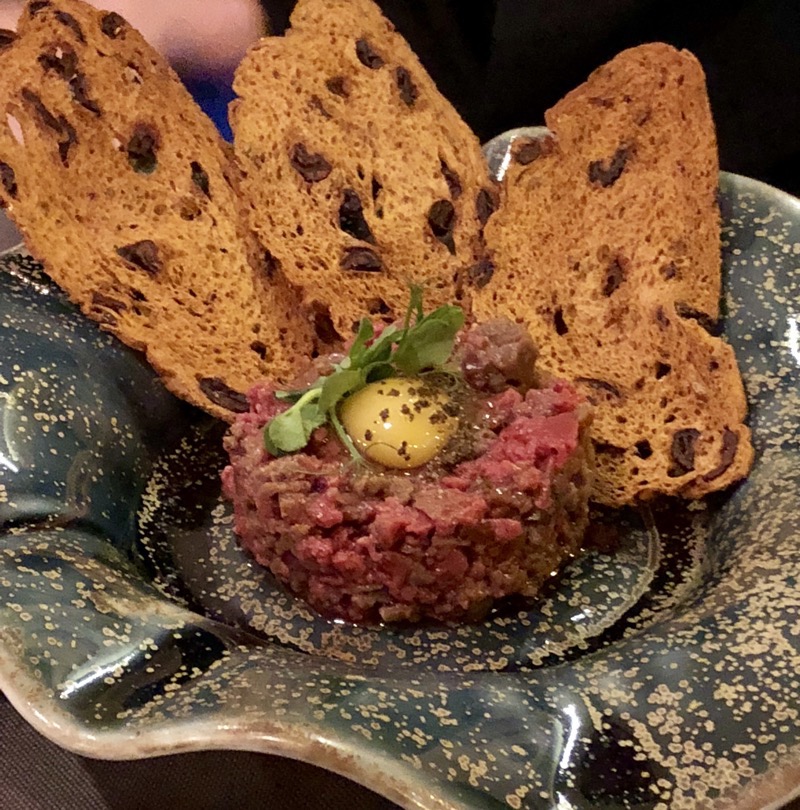 I ordered the potato dumplings – which were much more asian style dumplings than stodgy eastern European ones.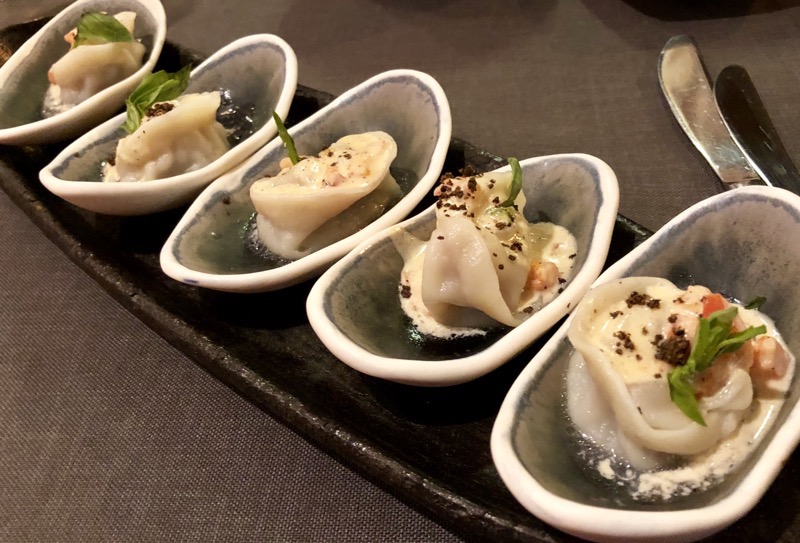 yale had a soup course of porcini mushroom soup served in a fruit cob loaf.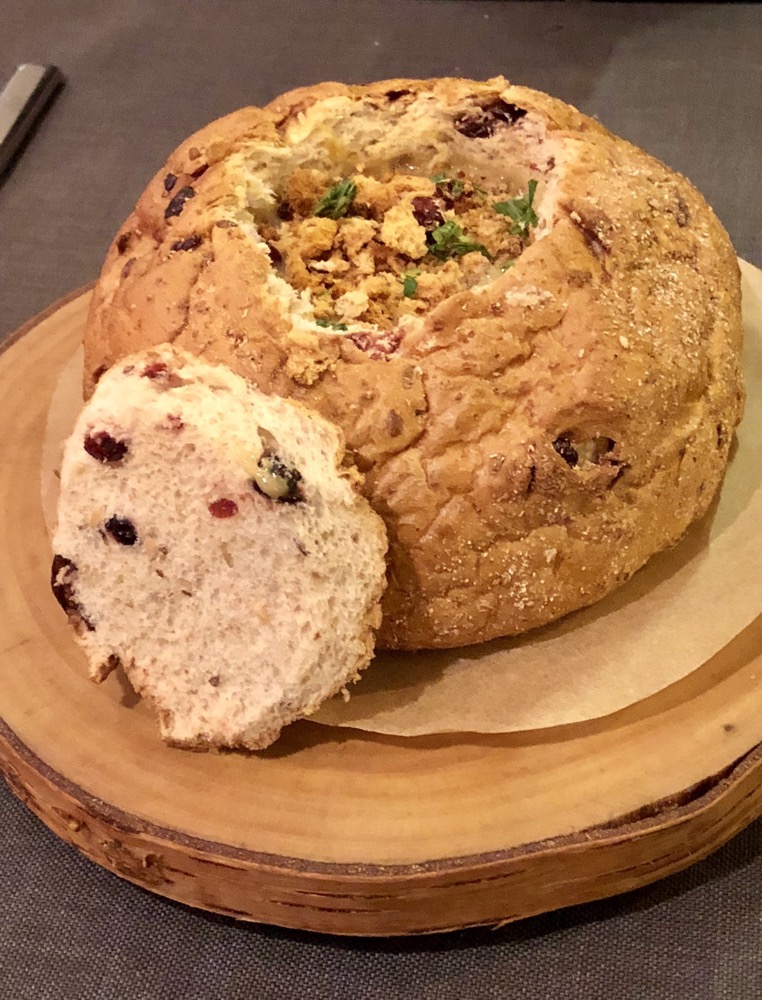 And for mains I had the fillet mignon with sweet potato puree…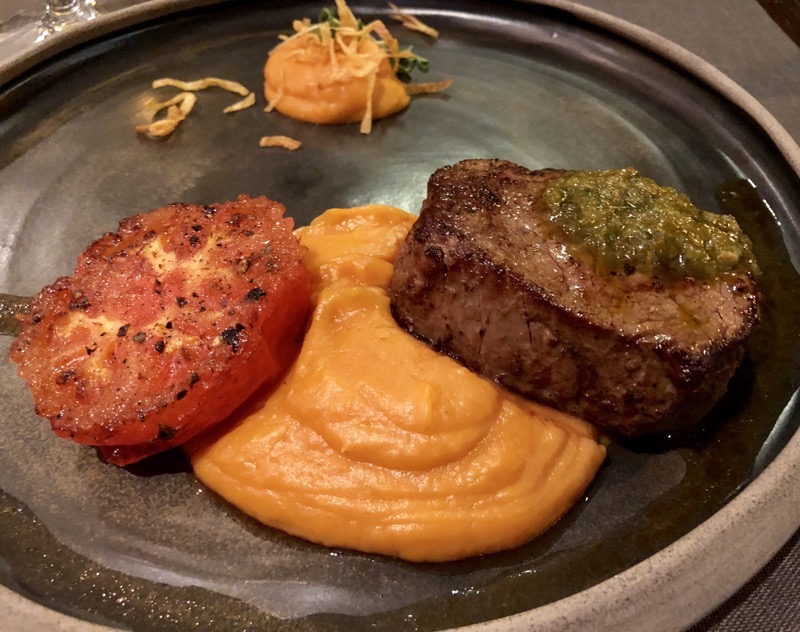 And yale ordered the boiled beef potato dumplings with bacon and onions and all good things.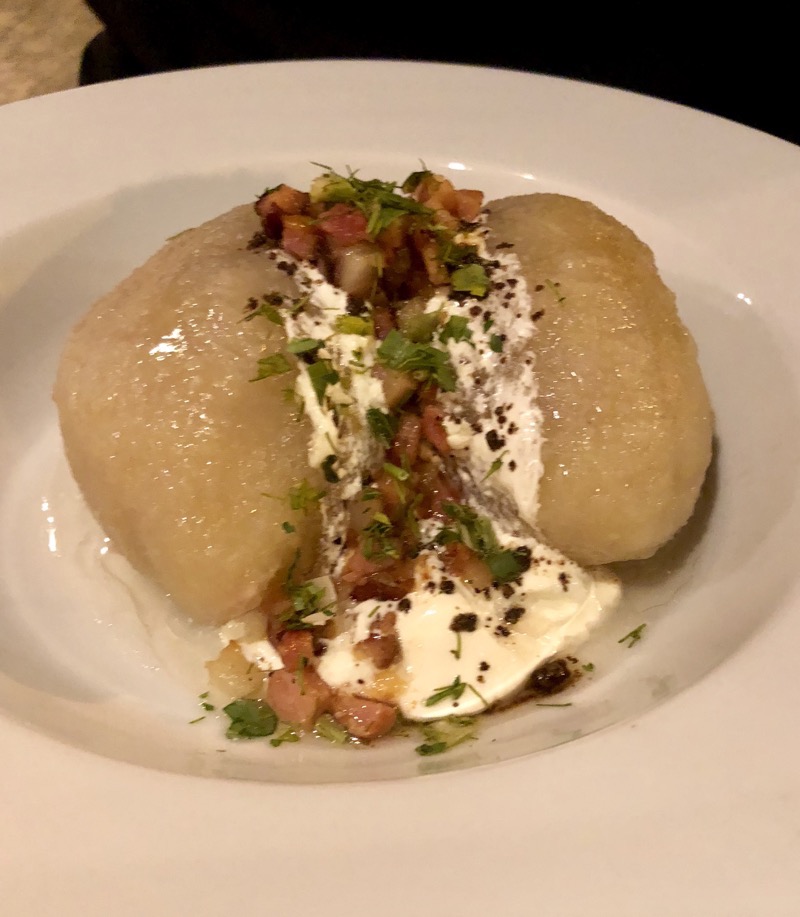 We shared a small honey cake for dessert. The entire meal was superb – they also served us some bread with some of the best pate I have ever tried, and that was easily the best steak I have had in months.  The staff were excellent and I would highly recommend this place if you are ever in town.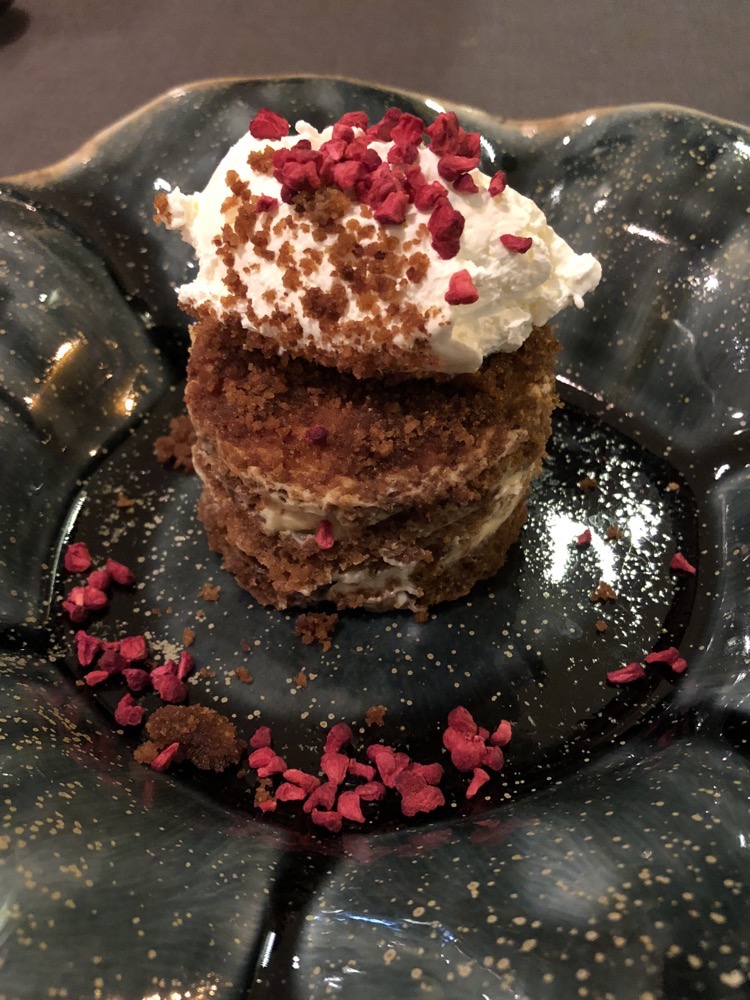 After that, it was back to the hotel and hopefully an early night, because I am stuffed.  Been waking up way too early – my back has still not settled back down to its usual dull roar from having ramped up the day we went to Chernobyl, and it's not like I've been resting since then.  There is just too much to do, so I have probably extended this out way longer than necessarily by my continuing to do my damnedest to ignore it.  :/