Unfortunately, I woke up in our little Berber guesthouse way too early for my liking, and I went into the common room so as not to disturb anyone.  It was barely 0600 and the sun doesn't rise until 0830, so I was huddled under a blanket waiting for everyone to wake up.  It was nearly an hour until the hosts came to make breakfast for everyone… yay for being a bad sleeper.  :/
After breakfast, we collected up our day packs and put them on a mule for the walk back down to Imlil – by the road!  It was a 5.5km walk down but I needn't have taken a mule up yesterday, I could have walked up the road instead of scrambling over the rocky path with the hiking folk.
As we were leaving Aroumd, we encountered a long line of concerned villagers, some in tears, heading towards us.  We respectfully waited until they had all passed us.  Samirr told us after they left that a young 28-year-old woman, who had epilepsy and was not responding to the cure of the shrine and prayer, had thrown herself off a building onto the steep rocks below.  Of course, there may have been plenty of other factors leading to her suicide attempt, but epileptics are shunned by society and treated like they are possed by the 'jinn' – evil spirits. The news of this woman's plight was deeply saddening and disturbing – this is the result of a lack of healthcare and education.  We don't know if she survived, but if she did not, this death may be attributed to religion and superstition.
The village of Imlil.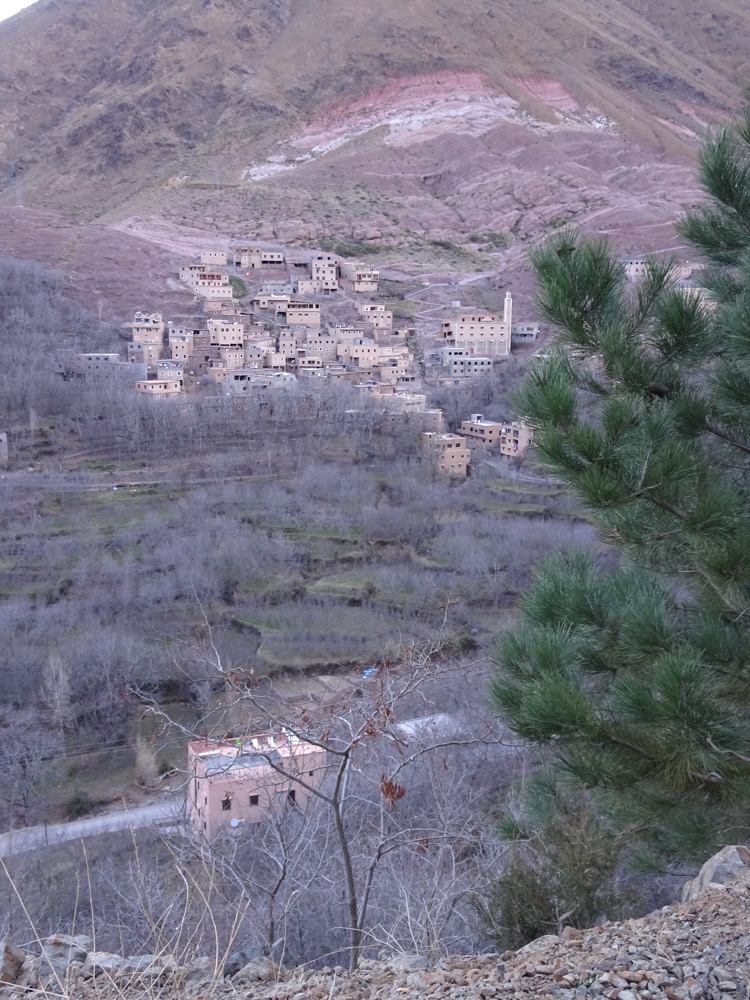 We passed quite a few mules on our way down the road – none of them was Frank.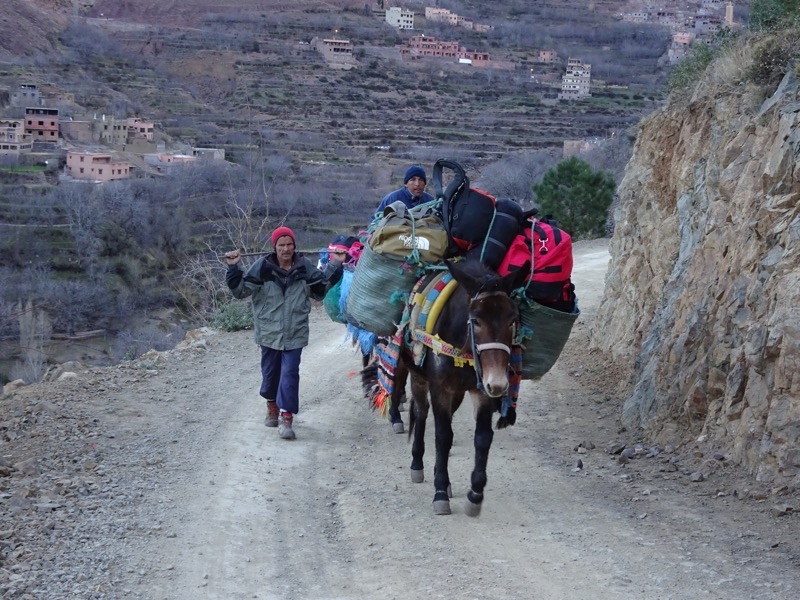 A six hundred-year-old juniper tree, with its gnarly trunk – juniper is one of the preferred building materials here for roofing… it smells nice inside the home and is immune to termites.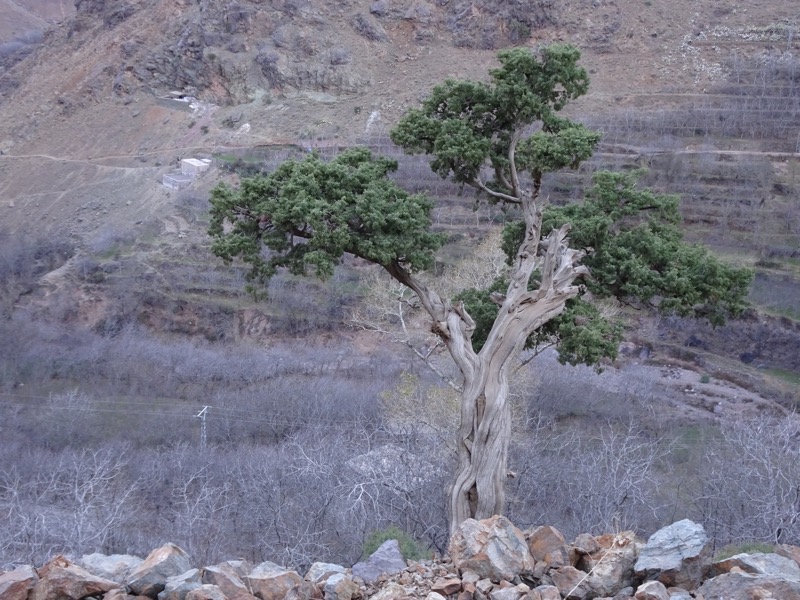 After we returned to Imlil, we collected our larger items of luggage and jumped into the minibus.  We had a six hour drive ahead of us and I was not looking forward to it.  The landscape was very changeable as we wound along the roads through the High Atlas Mountains.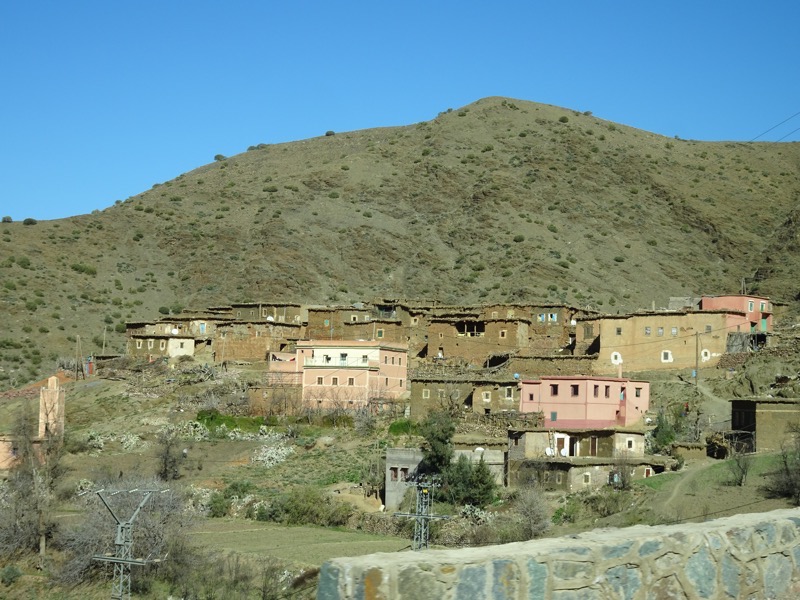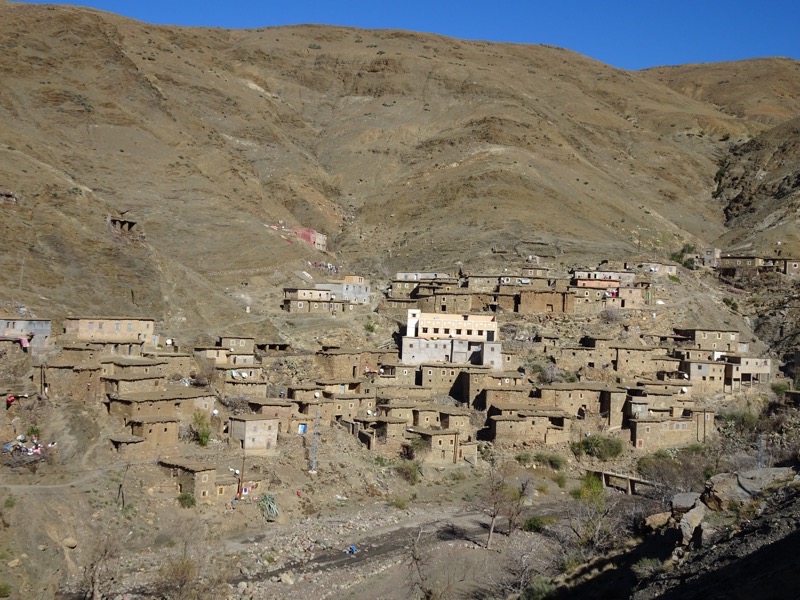 Around 1300, we stopped for a barbeque lunch… there was meat hanging on the street and smoke everywhere with about half a dozen BBQ restaurants all in a row largely catering to truck drivers and tourists.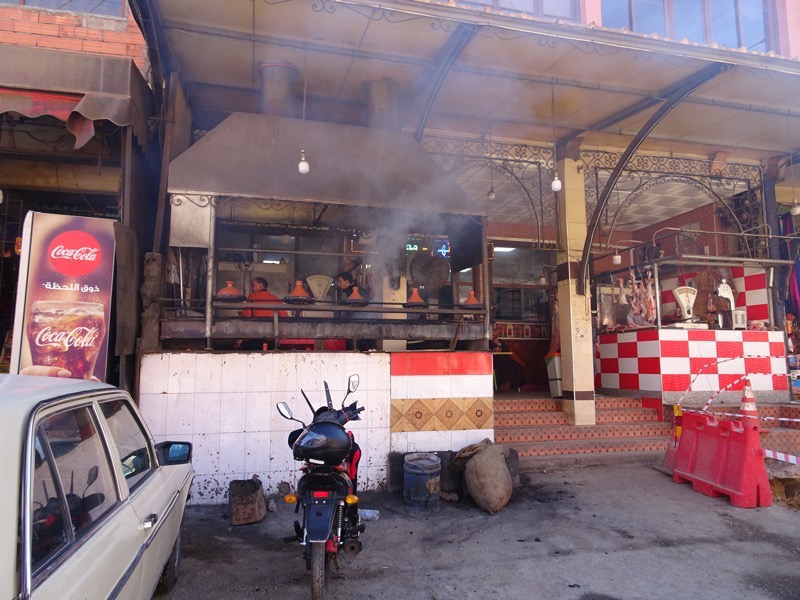 Out the back of the row of restaurants was a small bridge leading to a patio dining area.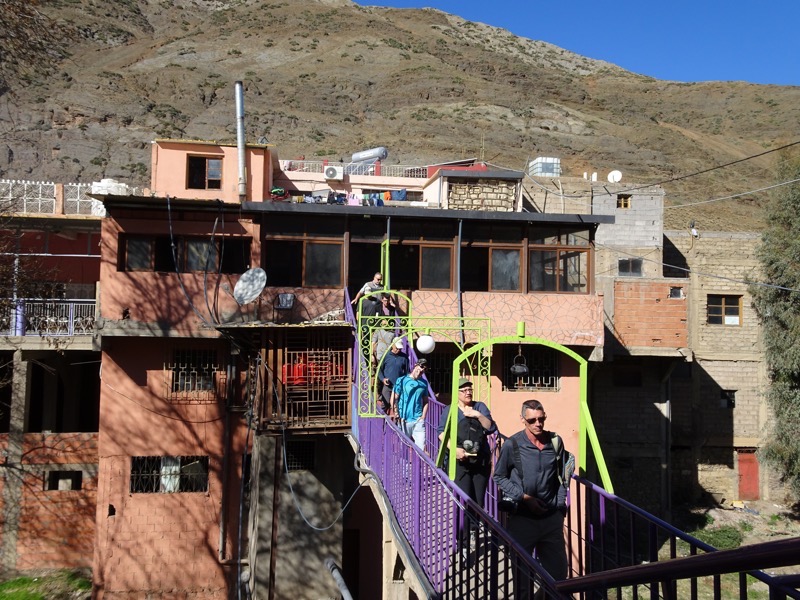 After a meat-heavy meal we hit the road again – the landscape was much more like I expected from Morocco, unlike the north of the country that was so green and lush.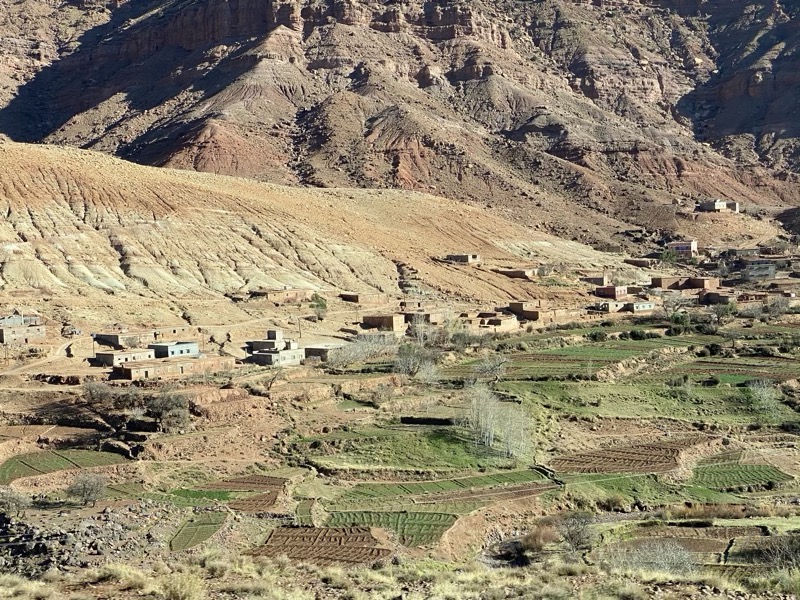 Another stop to have a look at a fossil and gemstone store.  With no fancy cut stones, or any jewellery to hunt through, the women were largely back on the bus in no time – the men, however, fossicked through the fossils and geodes for quite a while.  Several of our party bought a few pieces to take back home.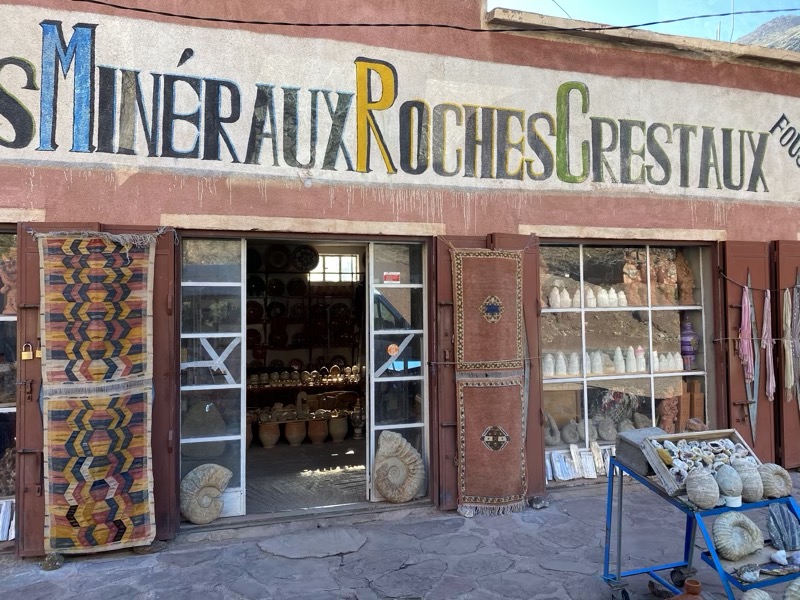 A roadside puppy was perched high on a rock overlooking the construction site – a large part of this road was being rebuilt into a proper dual carriageway.  Samirr said the contractors in the north were doing a great job, but the contractors in the south were lazy and working with old equipment – we can vouch for that! The ones that were working south of the pass were on machines belching out massive clouds of black smoke.  Gross!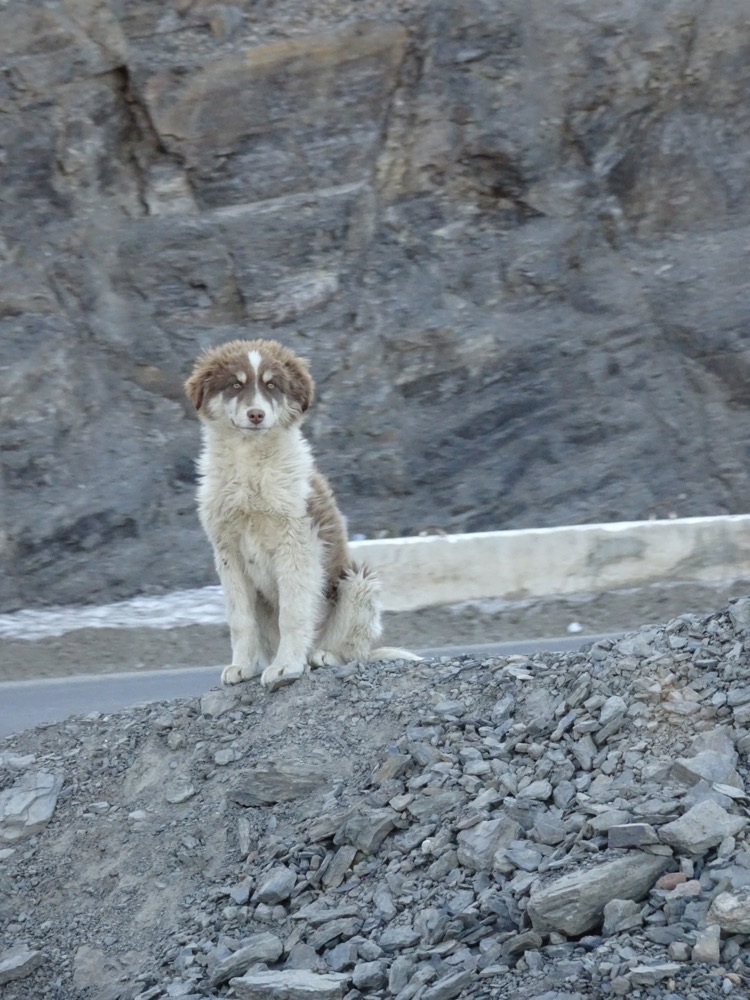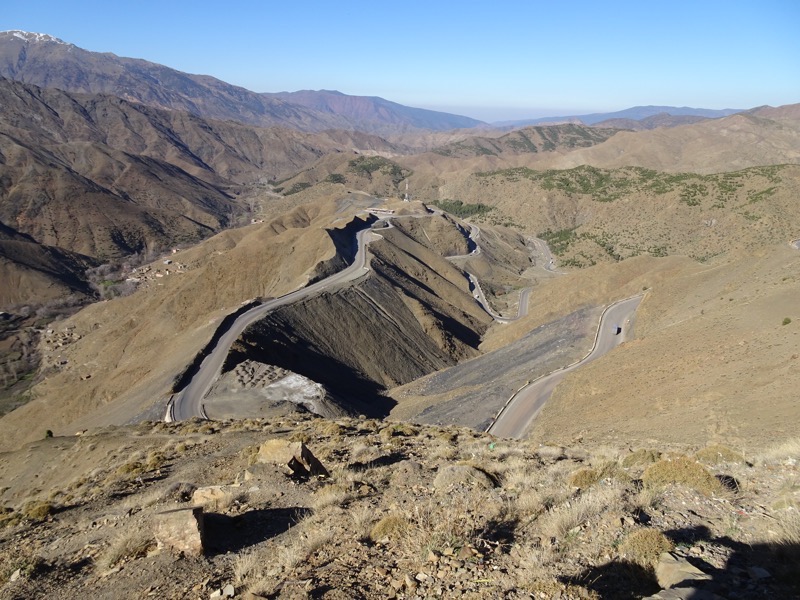 The landscapes were really quite pretty and we had several opportunities for photo stops, and to stretch the legs a bit.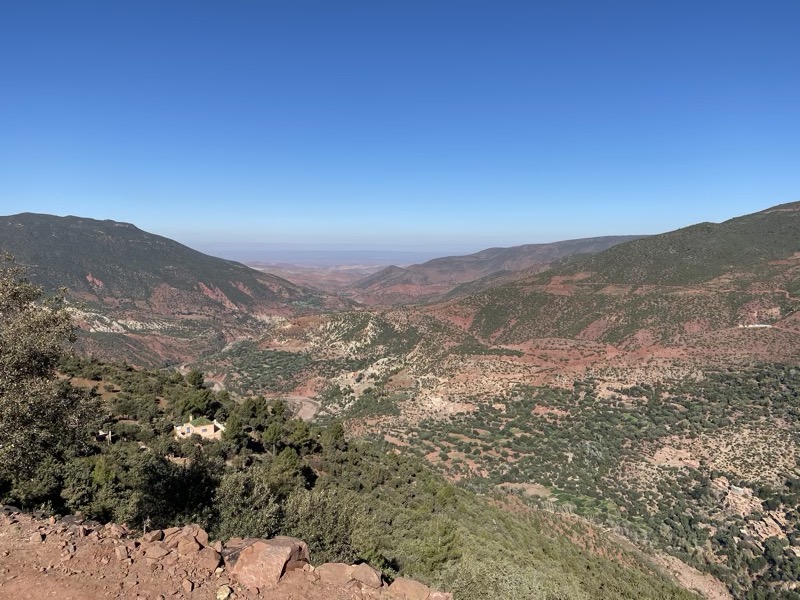 These guys had their trinkets set up beside the snow markets… the yellow and red poles are to tell drivers how deep the snow is and to show the edge of the road.  By mid-January, these guys won't be able to hang out here.e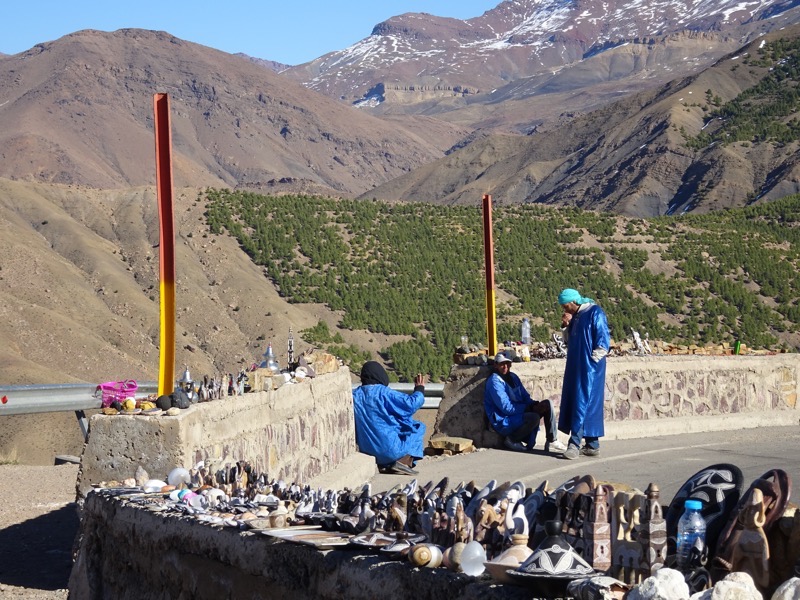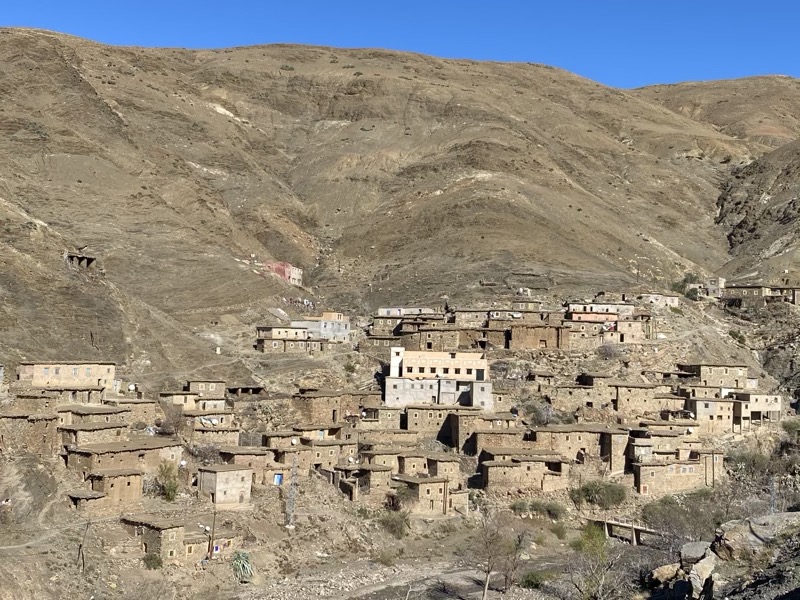 After what seemed an interminably long time to be stuck in the bus, we made it to Ait Benhaddou.  We walked through the modern side of the town to get to the picturesque 'movie set' side of the town.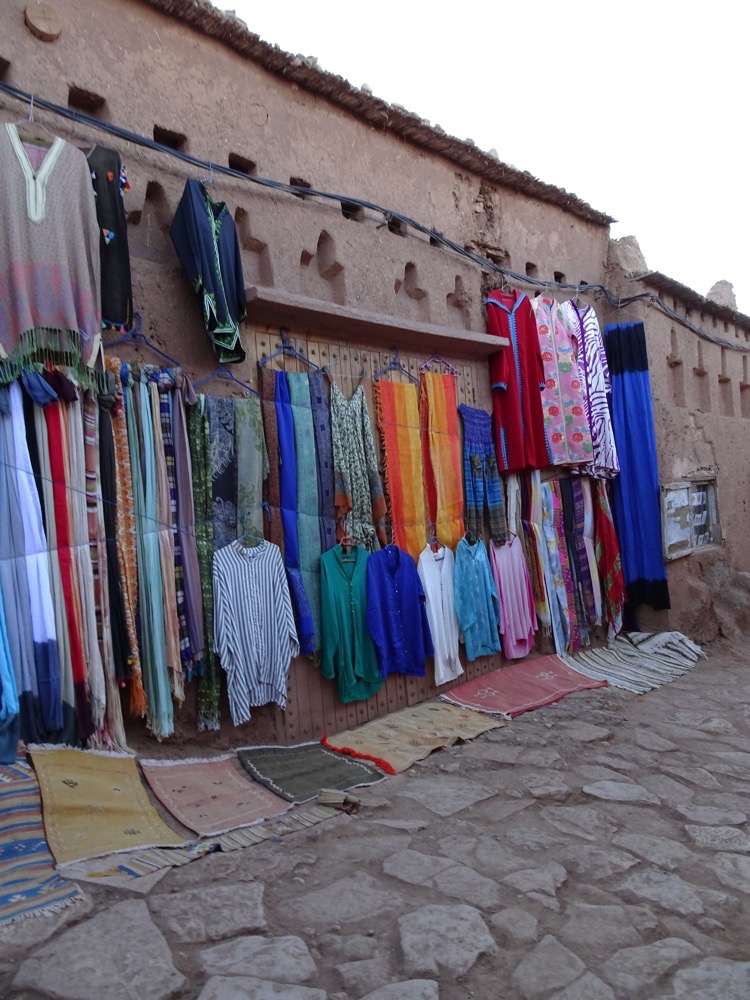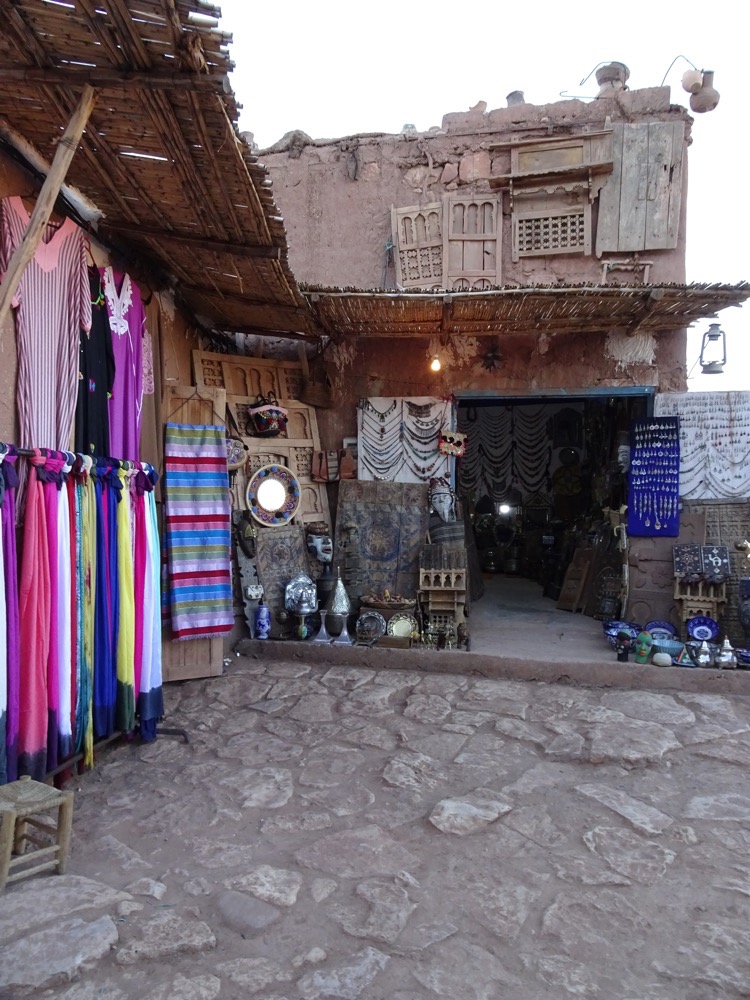 Aït Benhaddou is a great example of Moroccan earthen clay architecture, it was built in the 17thC and sufferred only a little under French occupation in the early 20thC, so it is incredibly well preserved  It was declared a UNESCO World Heritage Site in 1987 and has been a popular place for tourist to visit due to its unique beauty and connection to Hollywood films.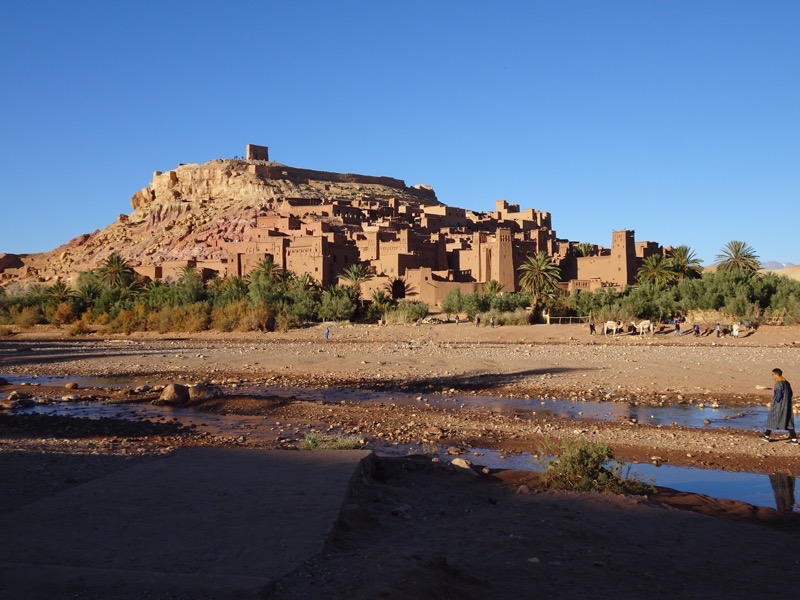 Straight off Wikipedia – here is a list of films that have been shot on location in this town:
Sodom And Gomorrah (1963)
Oedipus Rex (1967)
The Man Who Would Be King (film) (1975)
The Message (1976)
Jesus of Nazareth (1977)
Time Bandits (1981)
Marco Polo (1982)
The Jewel of the Nile (1985)
The Living Daylights (1987)
The Last Temptation of Christ (1988)
The Sheltering Sky (1990)
Kundun (1997)
The Mummy (1999)
Gladiator (2000)
Alexander (2004)
Kingdom of Heaven (2005)
Babel (2006)
One Night with the King (2006)
Prince of Persia (2010)
Hanna (2011)
Son of God (film) (2014)
These gates were also used in season four of Game of Thrones where Danerys is roaming the deserts releasing slaves – this was the city of Yunki.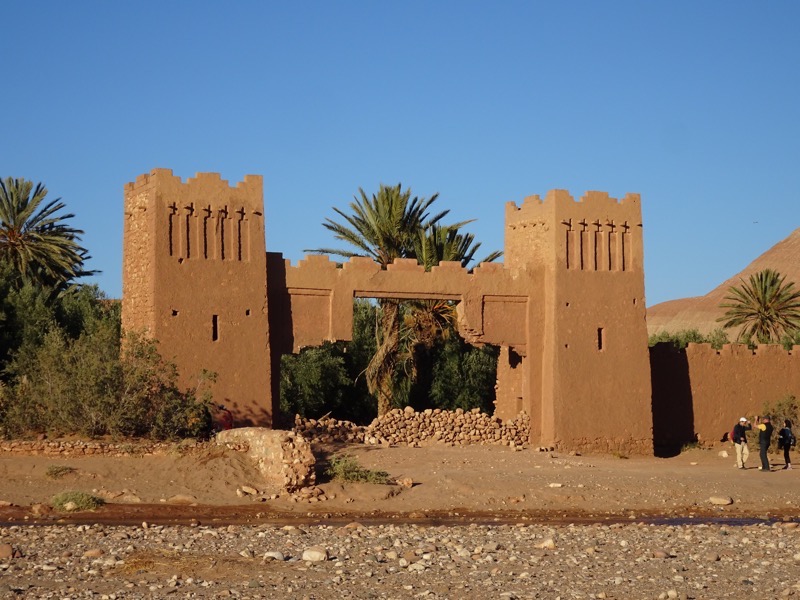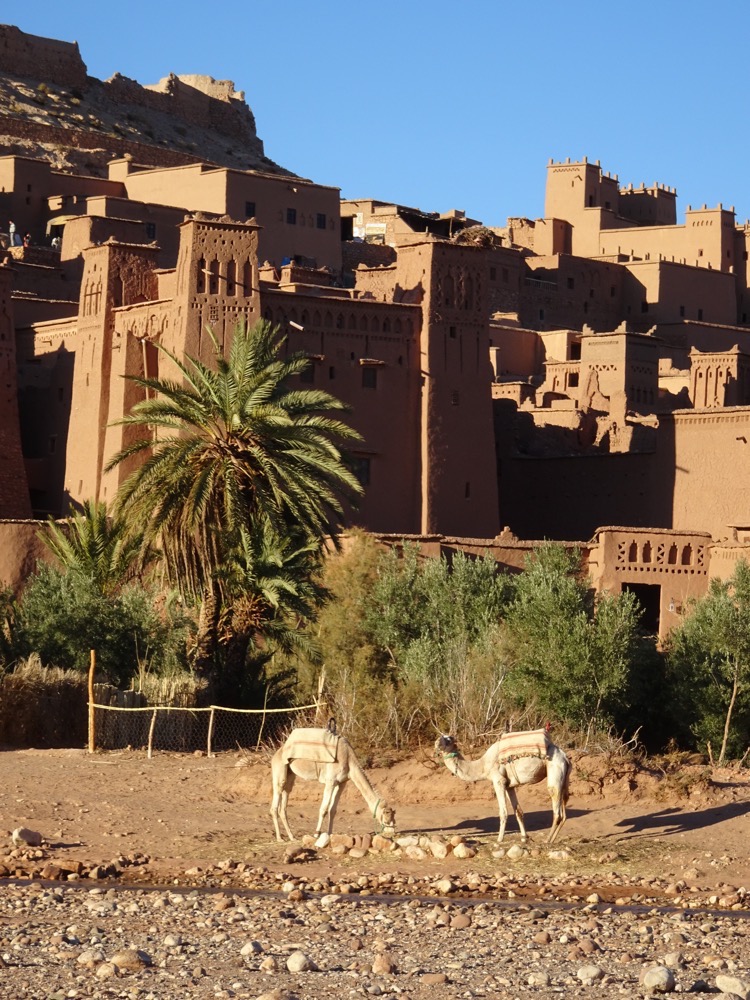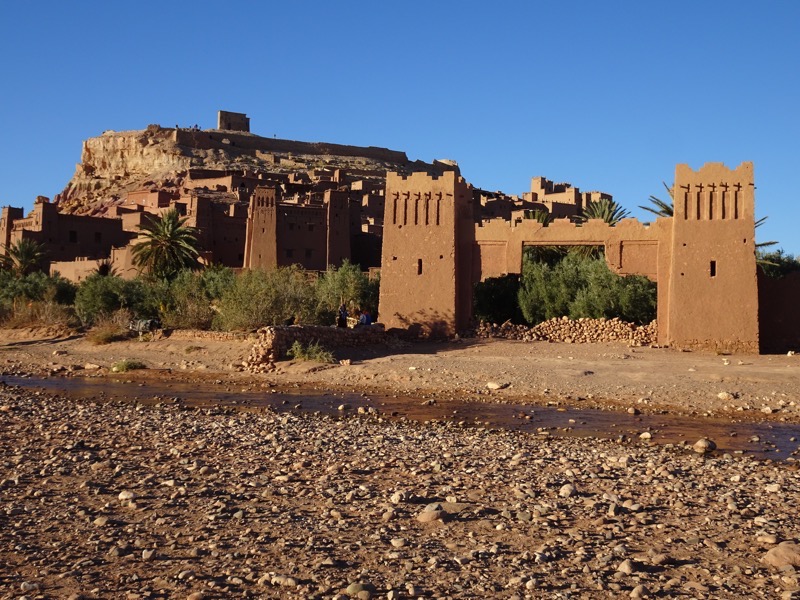 Below is the space used as a slave market and later a fighting arena for the movie, Gladiator.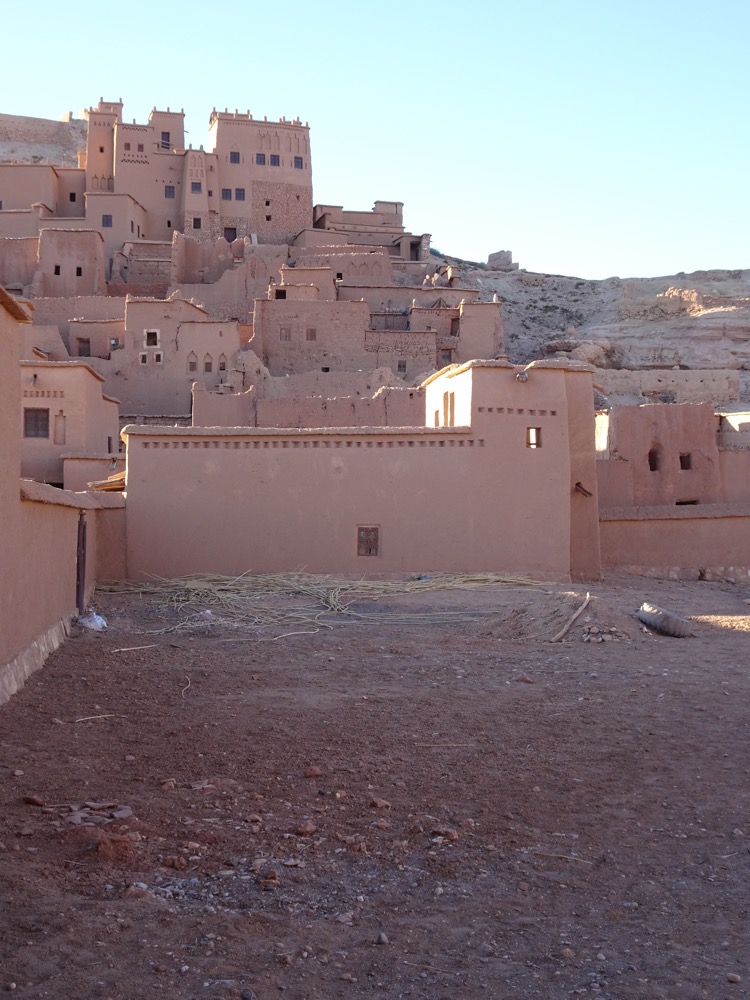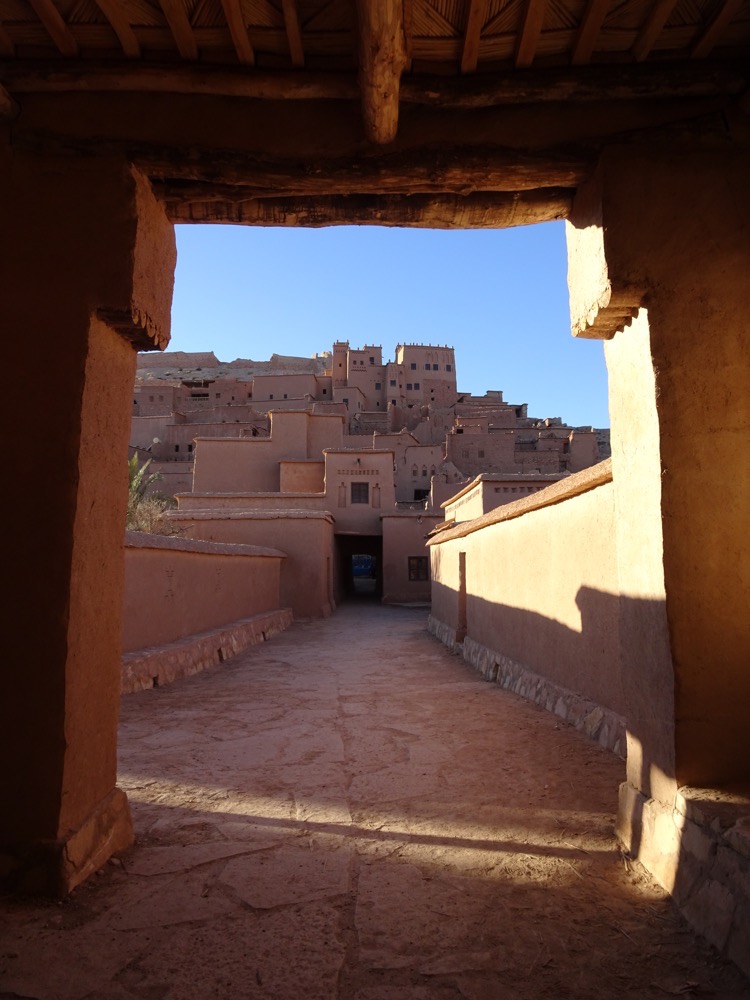 It's a particularly pretty and very well kept city.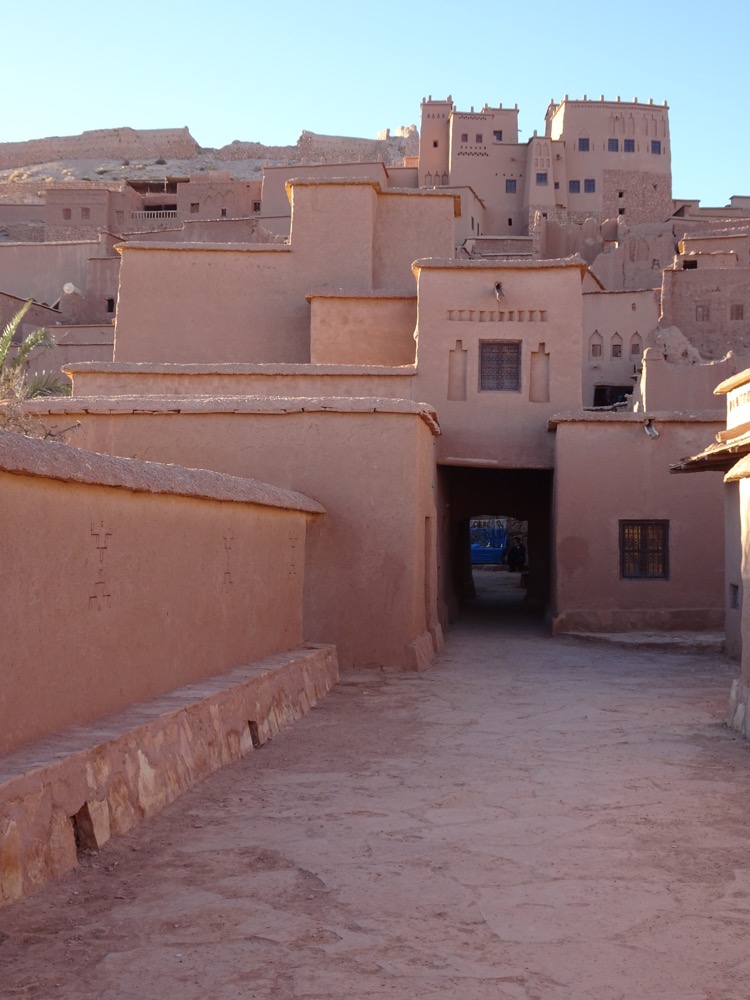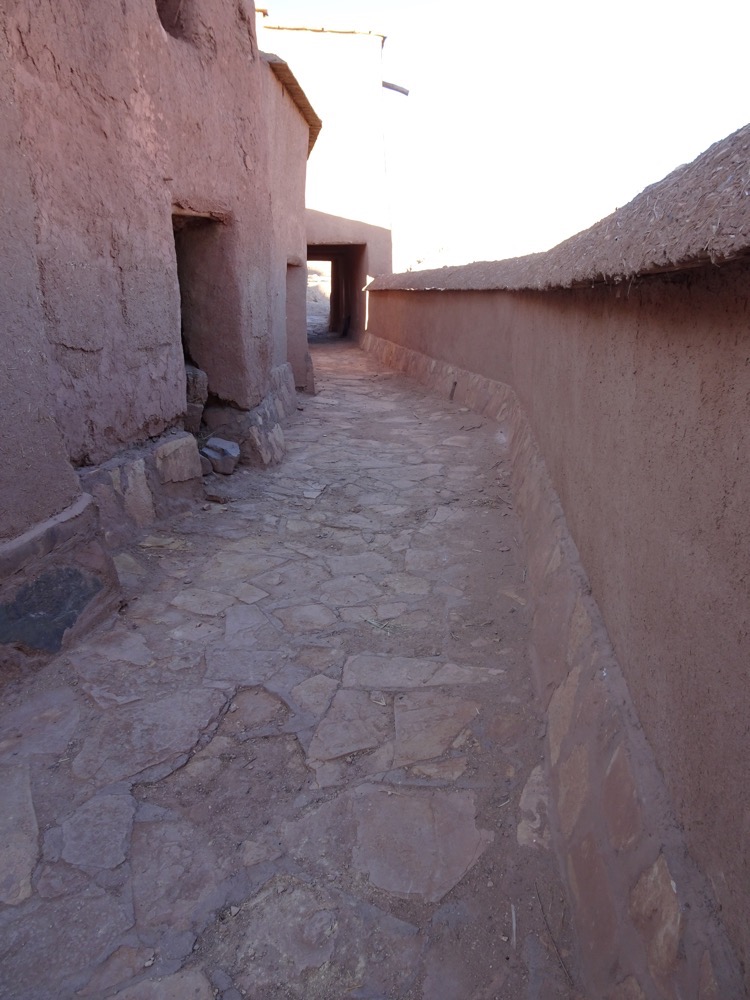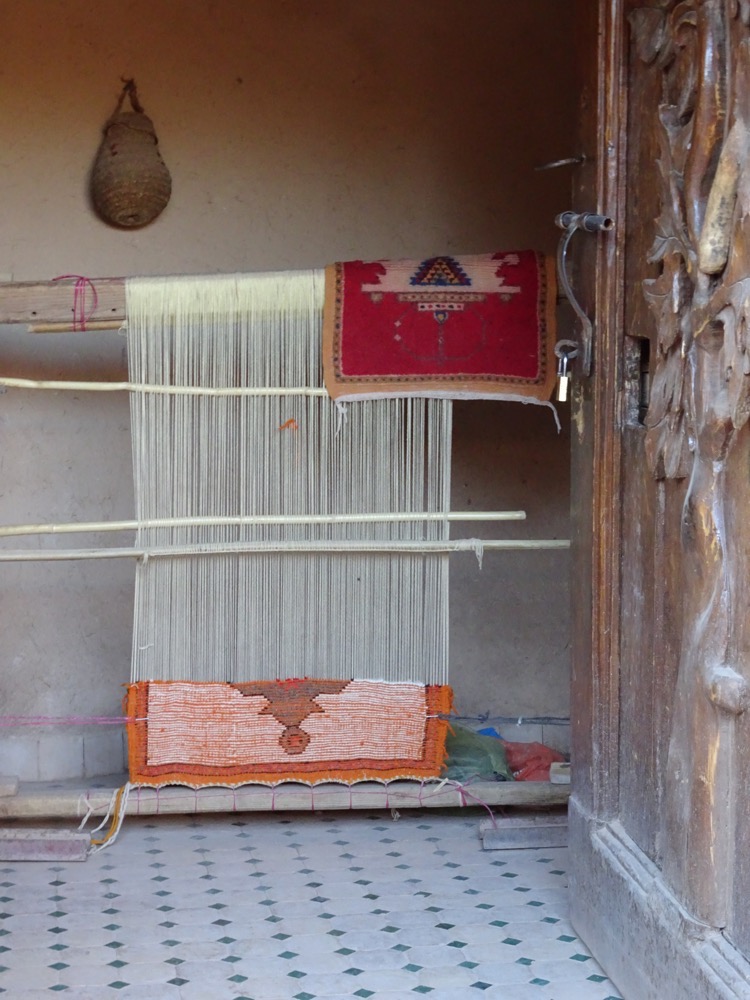 Wandering the streets was interesting – cute little alleyways, and fun little shops. I stupidly made the mistake of pottering around by myself, and had several men trying to lead me into their dark little shops!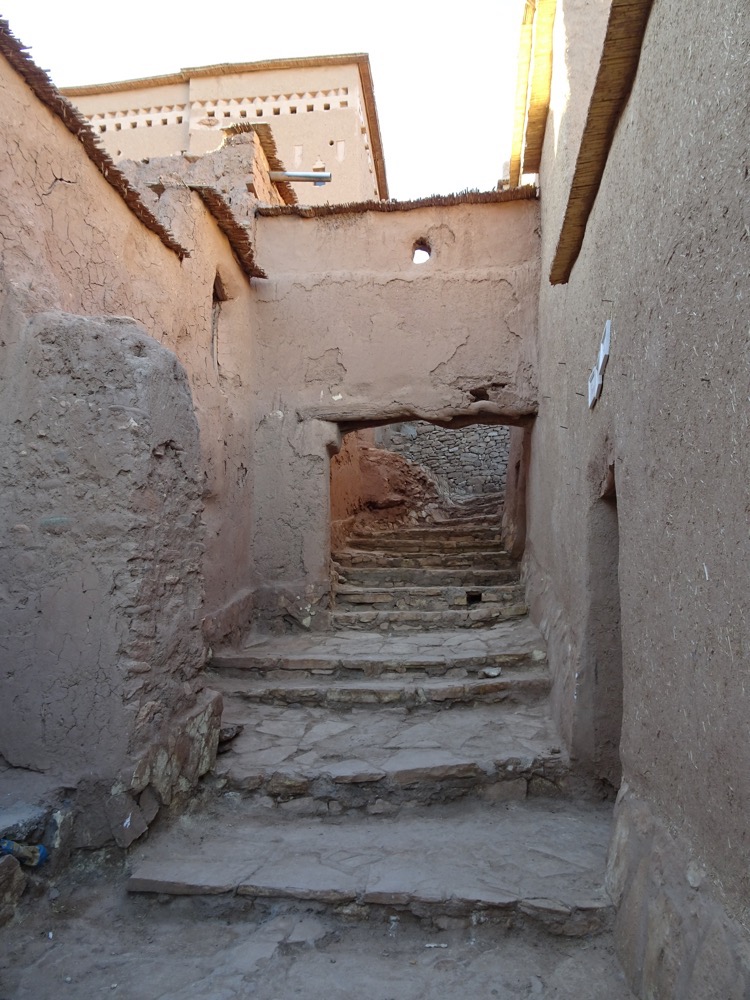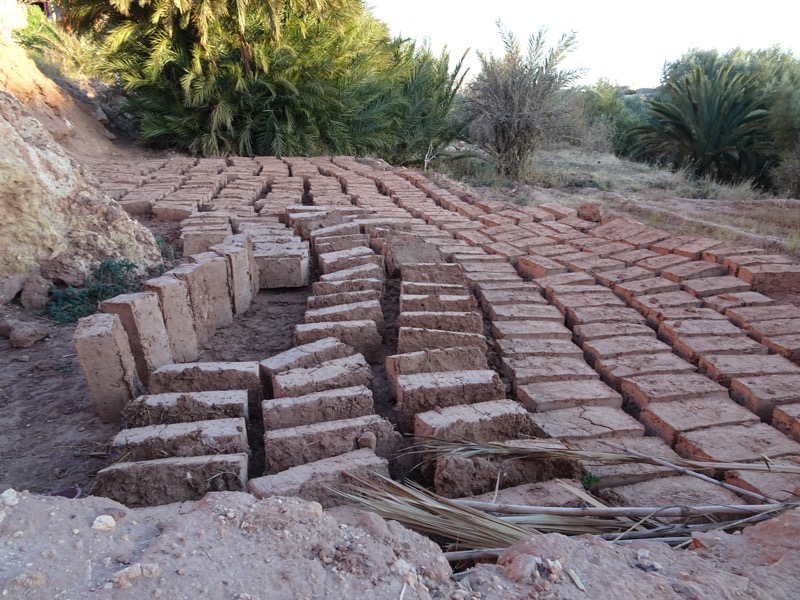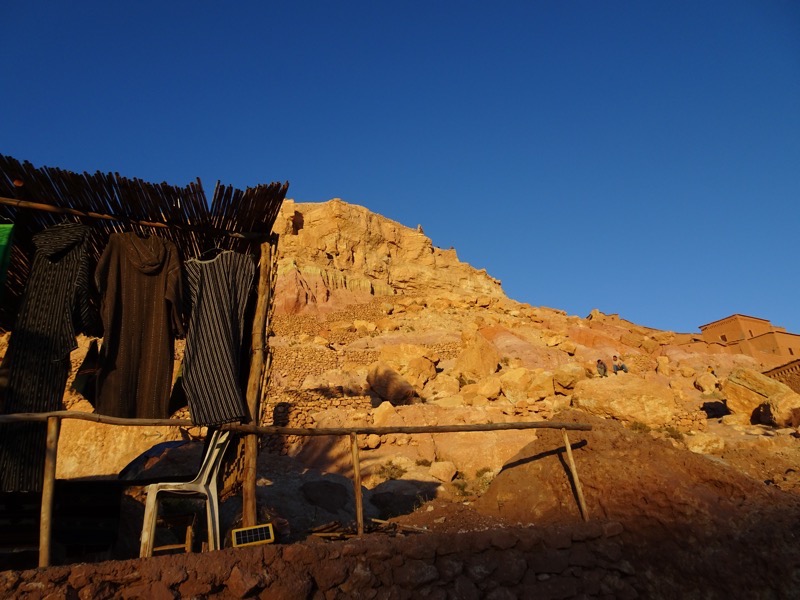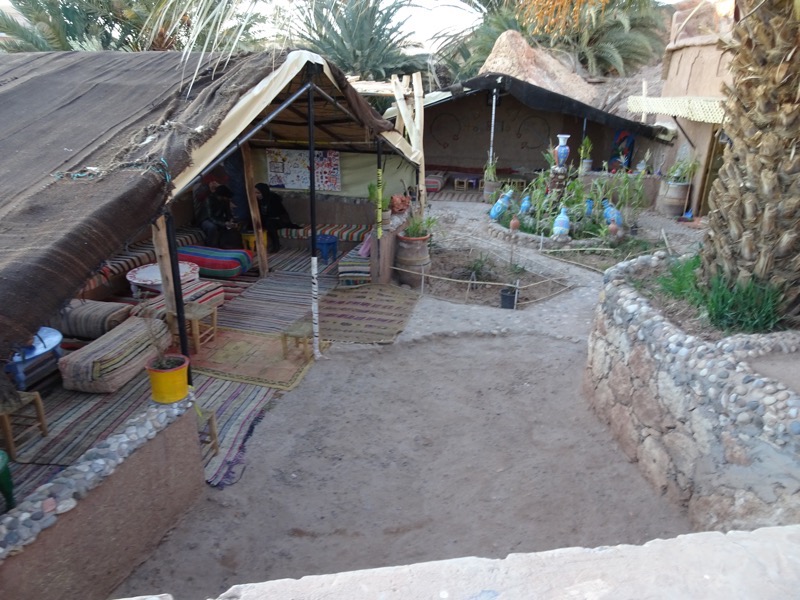 The views from the top of the kasbah: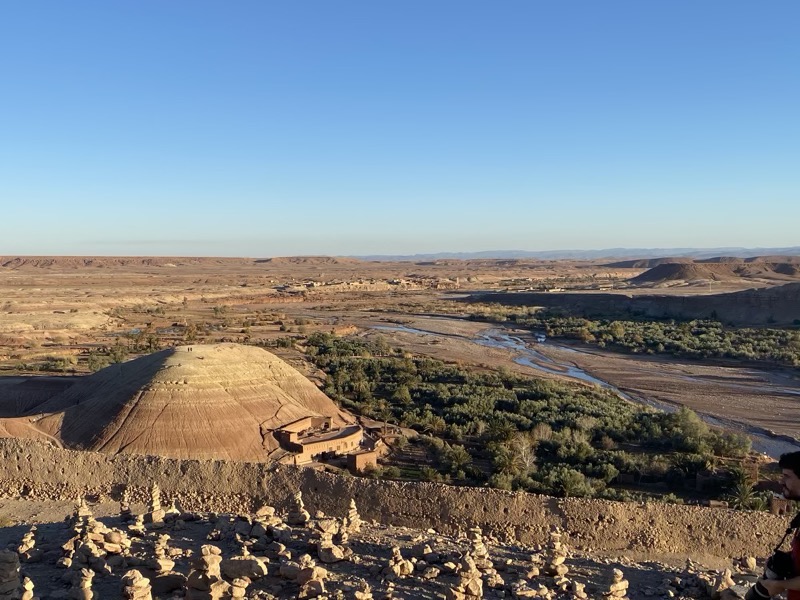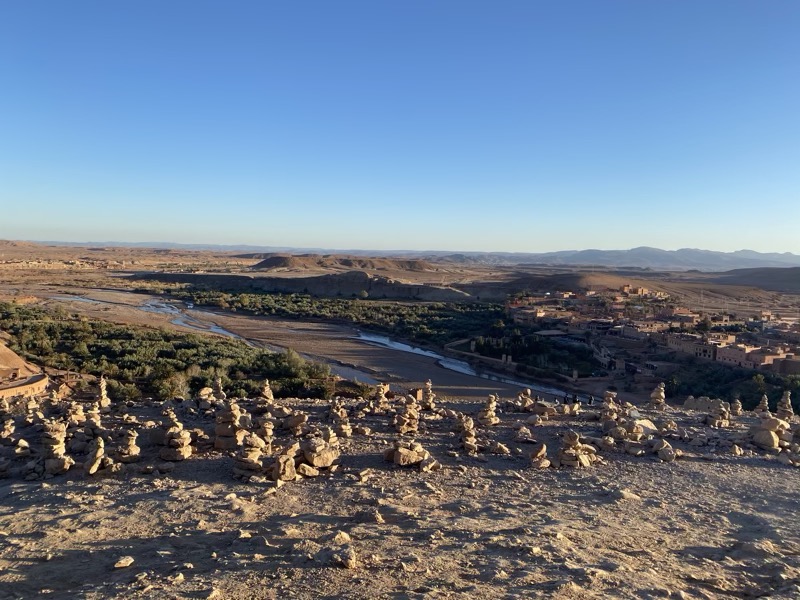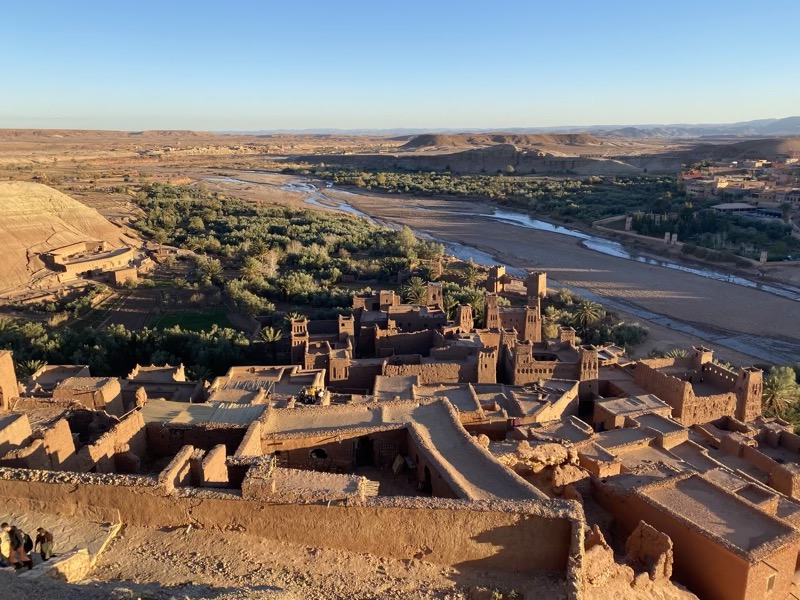 After this, we made our way down to our hotel, where we managed to get ourselves half sorted.  We also got to enjoy a cous cous cooking demonstration.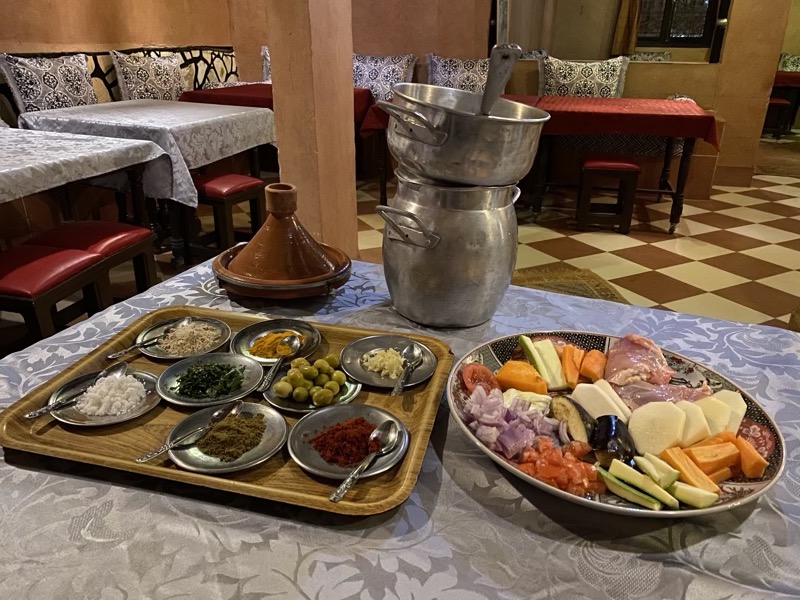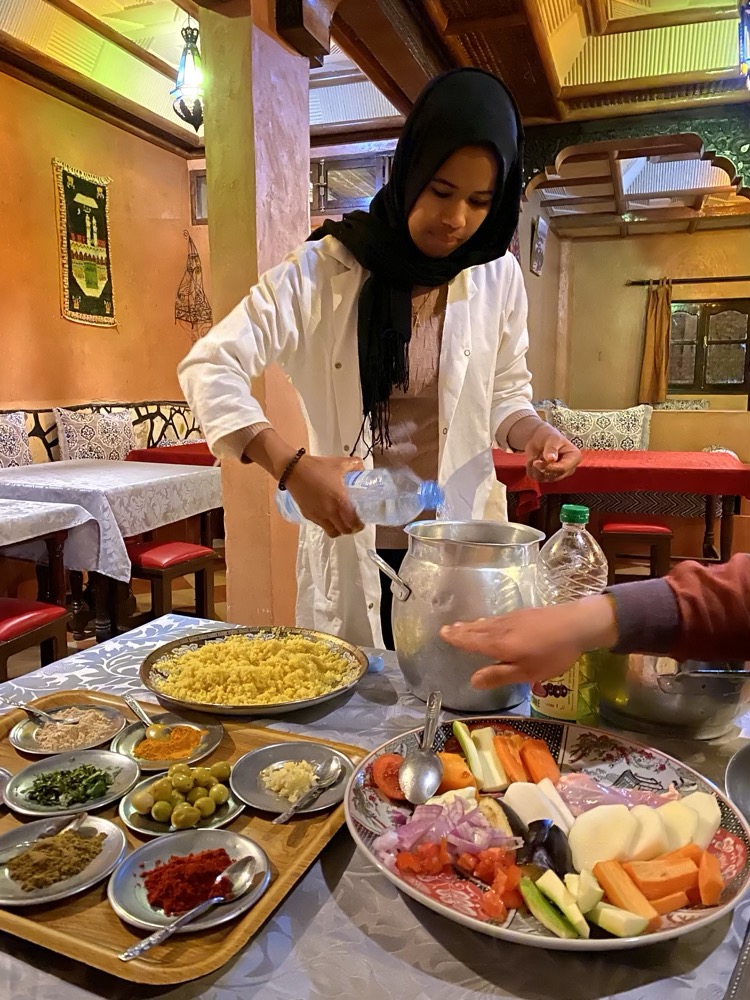 After this we found ourselves settled into the upstairs terrace to see in the New Year, ther was beer (oh so much beer – thanks to a language communication error with the driver Mohammed who collected supplies for us while we were up at the Berber guest house!) and wine and late night pizza snacks.  Everyone had a wonderful night and I slept like a baby for the first night since we arrived in Morocco.  Yay for the muscle relaxant effects of alcohol!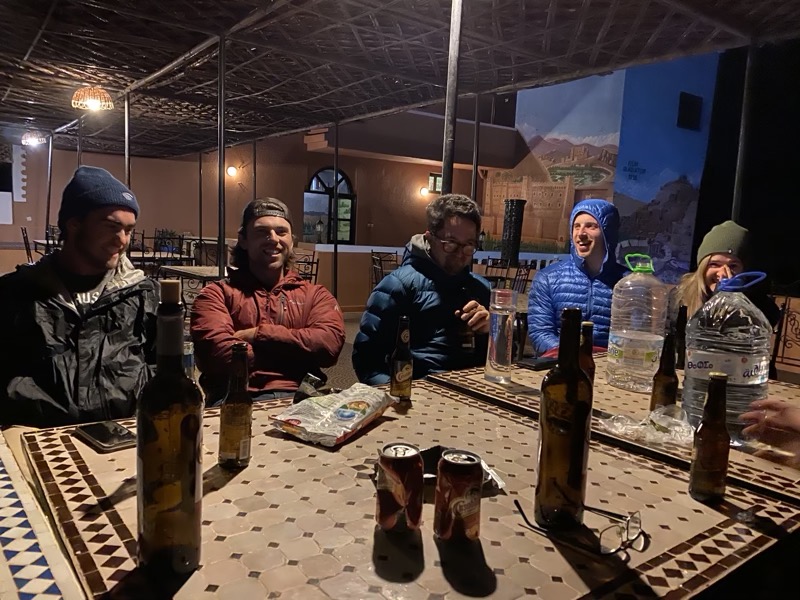 Happy New Year from Morocco!