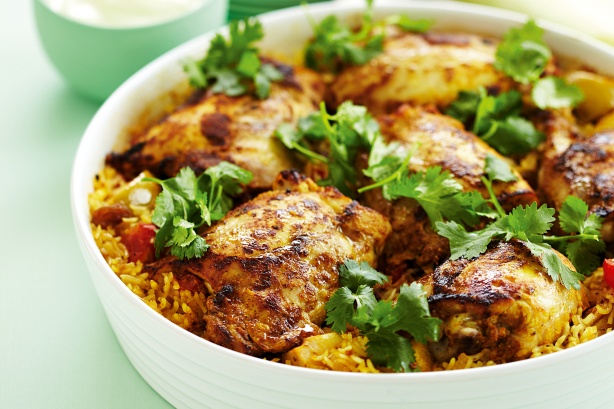 1kg chicken thigh cutlets, skin removed
2 tablespoons mild Indian curry paste (see note)
1 tablespoon vegetable oil
1 brown onion, chopped
1 1/4 cups SunRice White Long Grain Rice
1/3 cup sultanas
1 granny smith apple, cut into 2cm pieces
1 medium tomato, cut into 1cm pieces
2 1/2 cups chicken stock
Fresh coriander leaves and plain
Natural yoghurt, to serve
Step 1
Preheat oven to 220°C/200°C fan-forced. Place chicken and curry paste in a large glass or ceramic bowl. Stir to coat chicken.
Step 2
Heat oil in a large frying pan over medium-high heat. Cook chicken, in batches, turning, for 4 minutes or until golden. Transfer to a plate.
Step 3
Add onion to pan. Cook, stirring, for 2 to 3 minutes or until softened. Add rice. Stir for 1 to 2 minutes or until rice is coated. Stir in sultanas, apple and tomato. Transfer mixture to a 10 cupcapacity, 25cm (base) round ovenproof dish. Arrange chicken over rice, pressing down gently. Pour over stock. Cover tightly with foil. Bake for 45 to 50 minutes or until rice is tender and chicken cooked through.
Step 4
Top with coriander. Serve with yoghurt.
On second thoughts, fuck off with that coriander shit – no one likes it.