We opted to avoid the tourist breakfast at the hotel this morning in favour of hunting down a local bakery or cafe – I was hoping for some typical local fare, but yale found well, I think it was a curry sausage house that happened to be open for breakfast? So breakfast 'Stage One', ended up being currywurst and fries for yale.  Yeurck!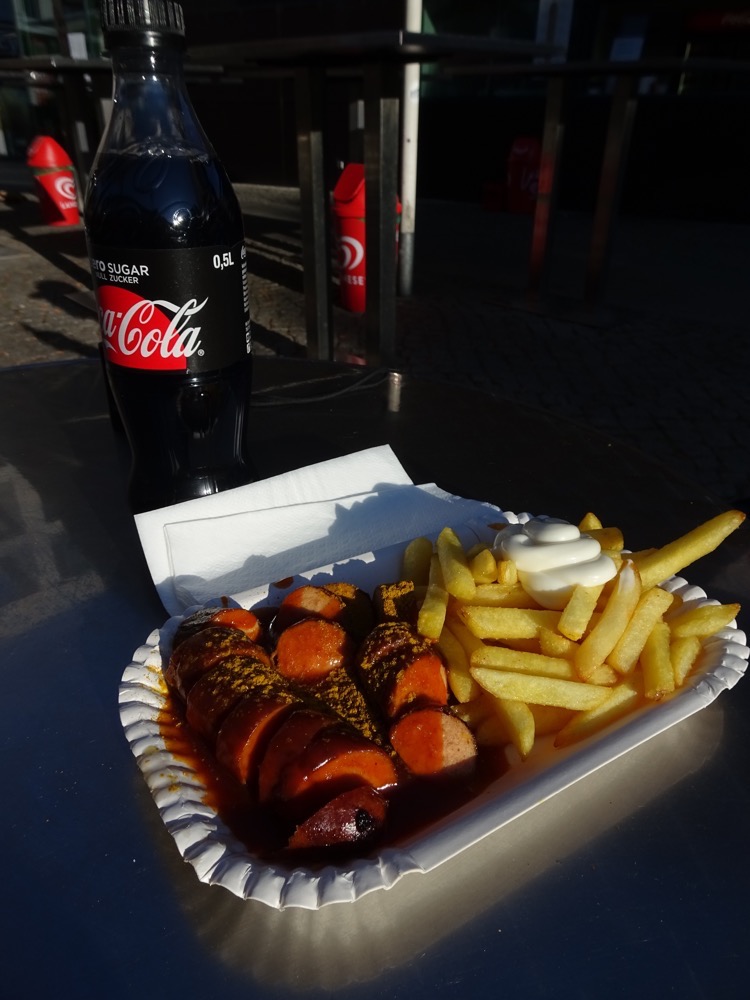 A little further down the street, I found a famous bakery called Bäckerei Möbius that has been here since 1908, so we stopped for aSchwarzer Tee and some schnecken before doing another quick turn around the city.
The blue pipes that are used to move groundwater all over the city… not very attractive, but I imagine it would cost absolutete fortune to bury them all at this point.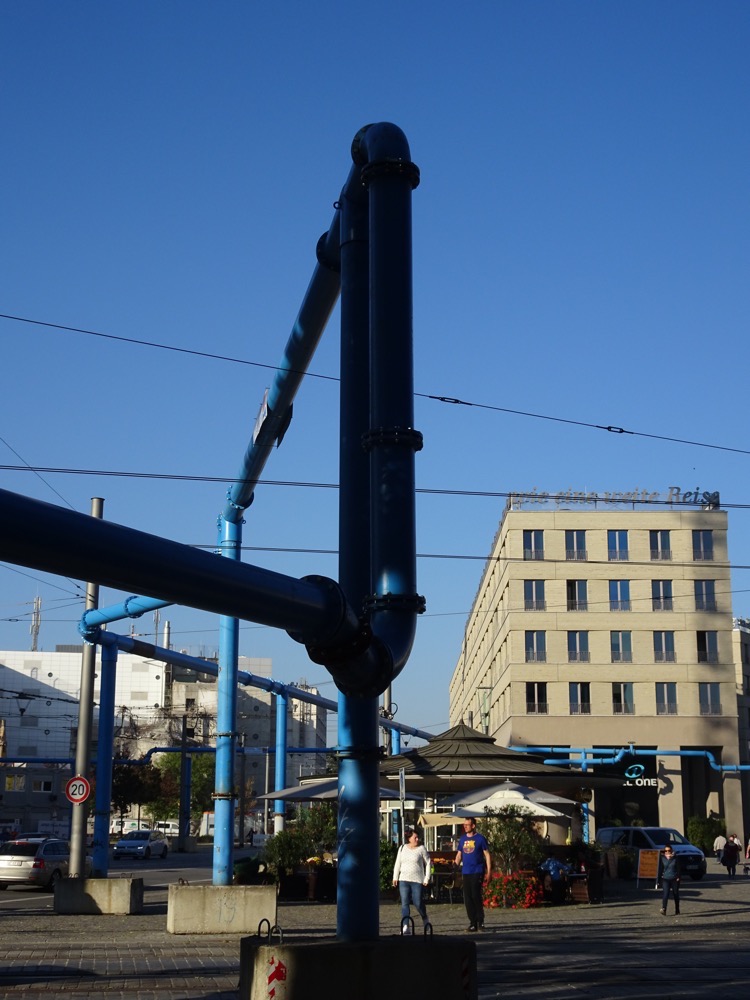 Memorial marker for a place where a medieval church had been but had been destroyed by bombing in WWII.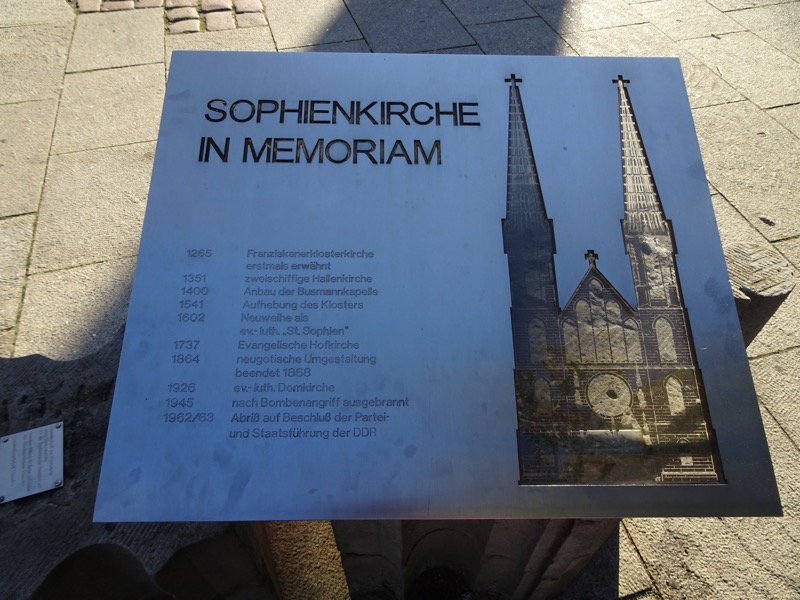 Der Cholerabrunnen – the Dresden Cholera Fountain – was constructed in the mid-1840s for Baron Eugen von Gutschmid as a celebration of the sparing of the city from a Cholera epidemic that ravaged the region in 1841/2.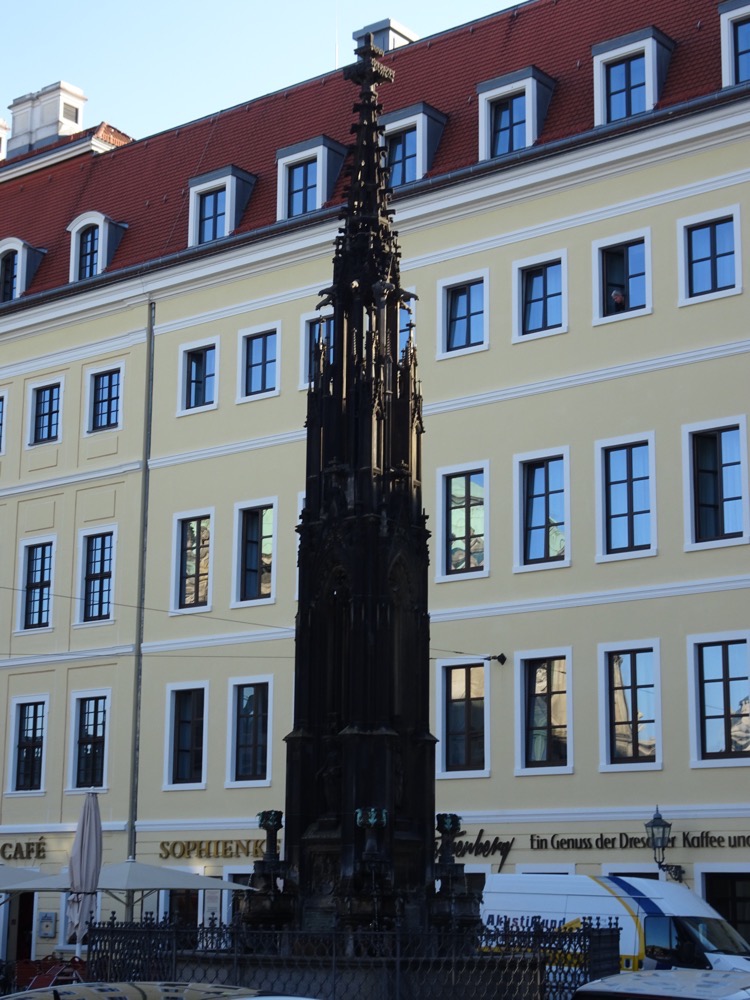 No idea why, but it is covered in lizards…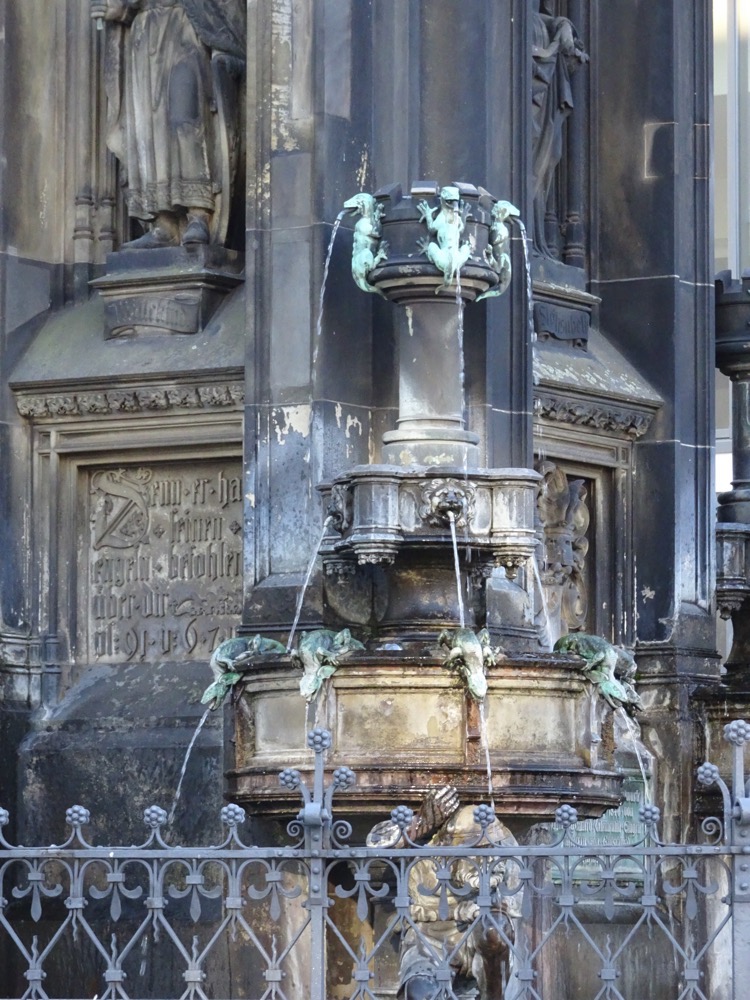 A nearby restaurant shows its ingenuity in getting around language barriers on menus.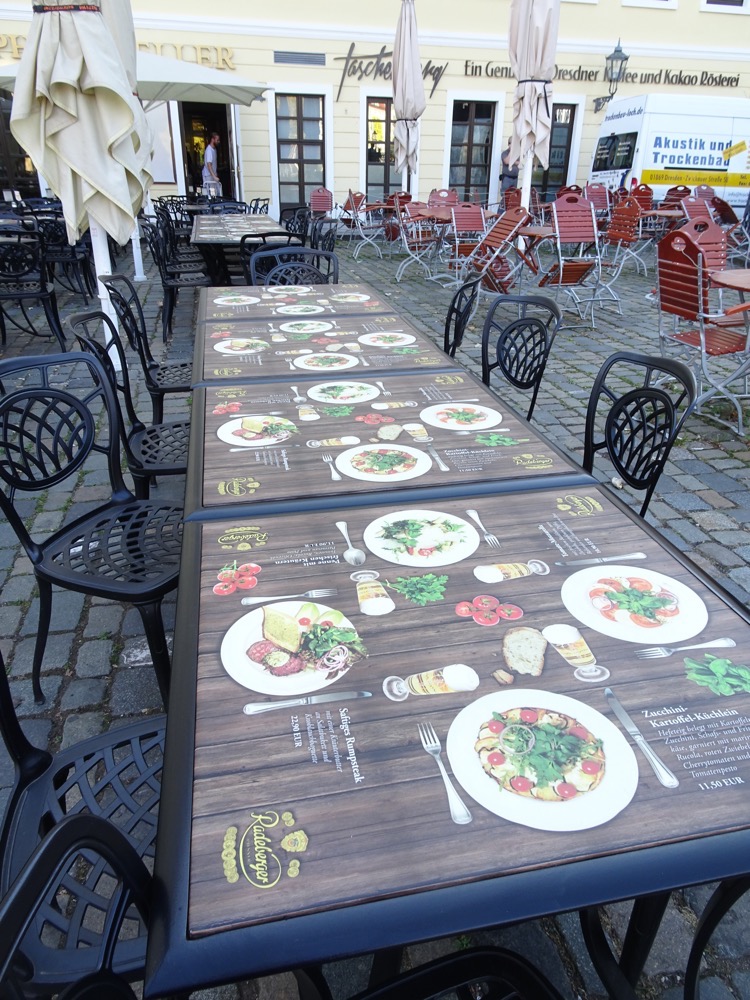 Advertising for a high-end jeweller – let's not muck around, let's show them we can make elaborate Rennaisance/Baroque masterpieces! Bit much for everyday wear, I think.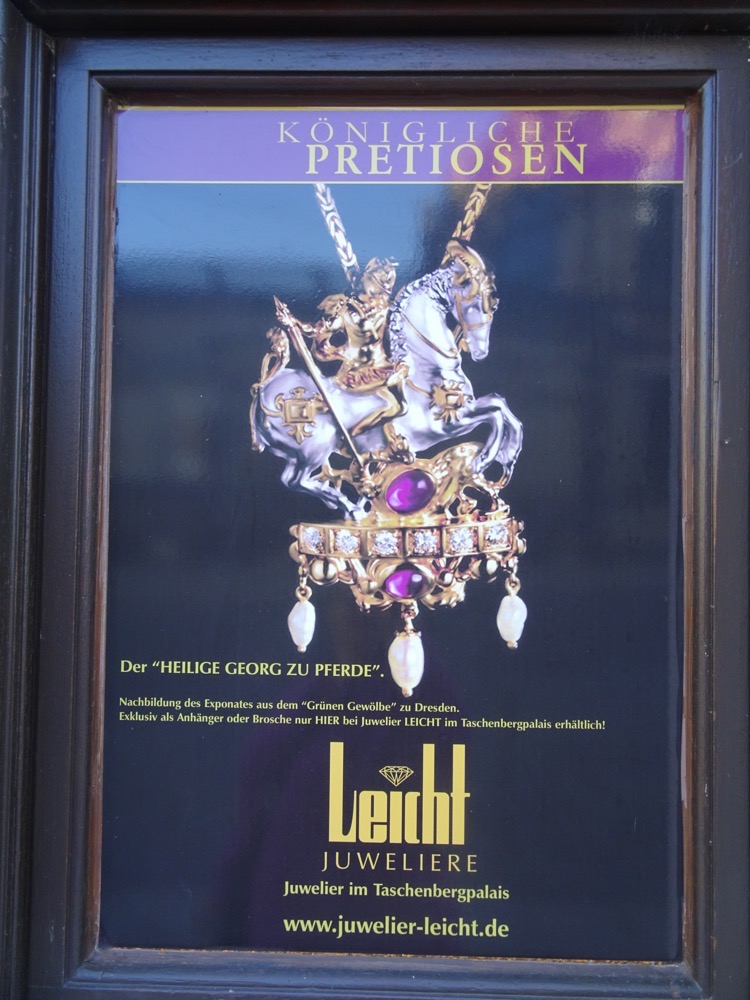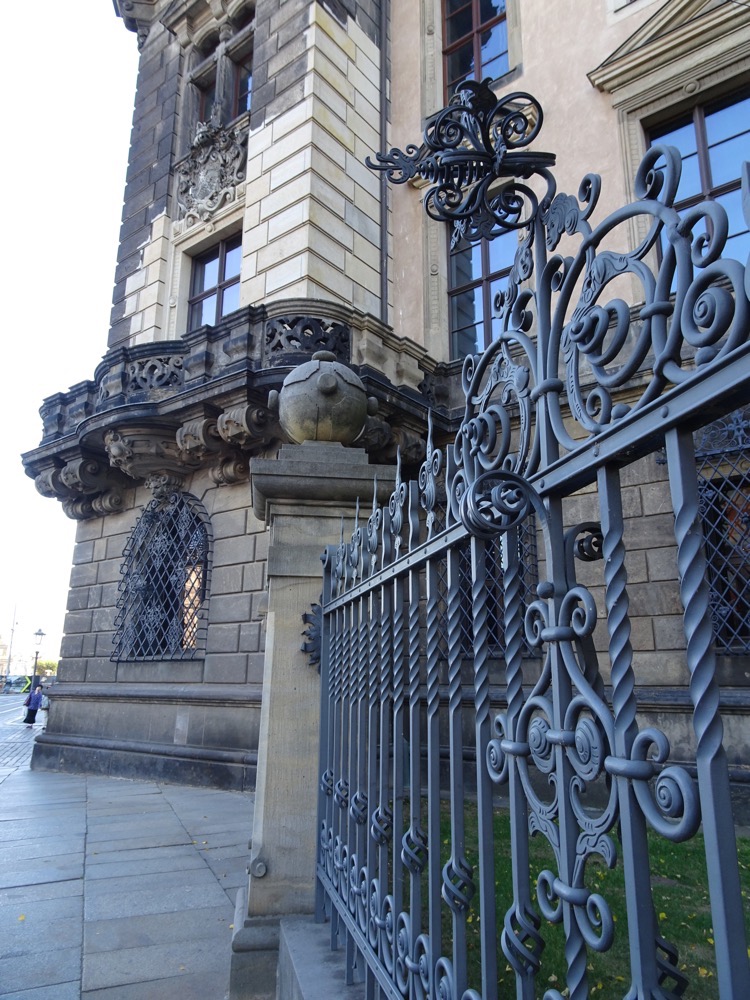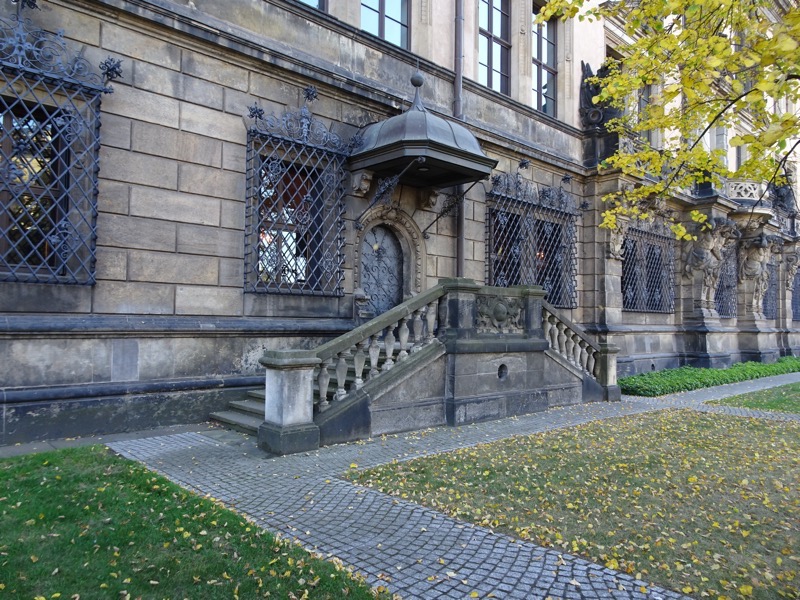 The Semperoper Dresden looking much more impressive in the morning light.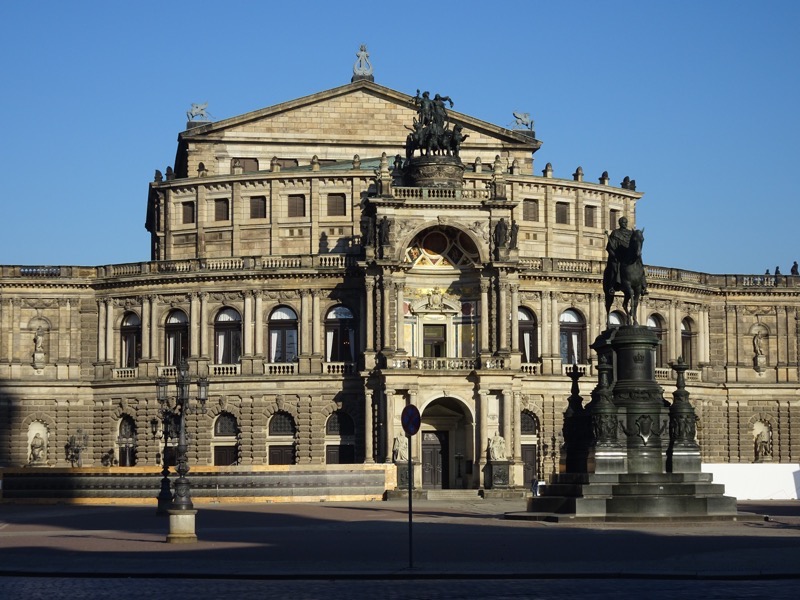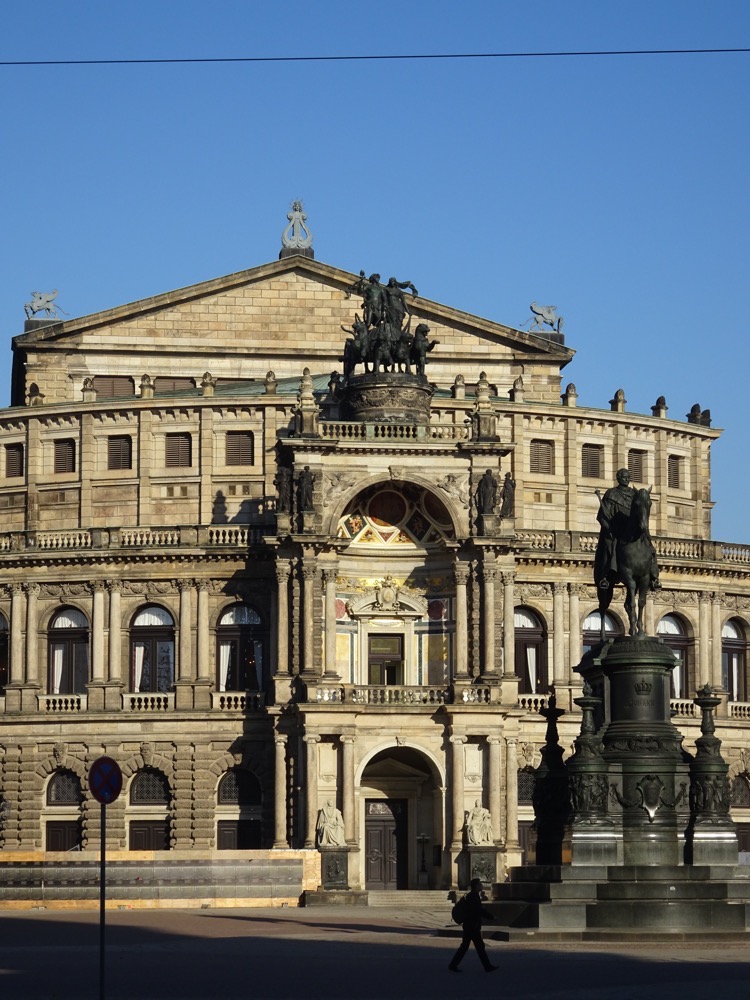 The back of the Katholische Hofkirche… needs some serious restoration work done. I think many of Dresden's buildings could do with a bit of time under scaffold being cleaned – they appear to be wearing most of the 19th/20thC grime that most other European countries have long since cleaned up.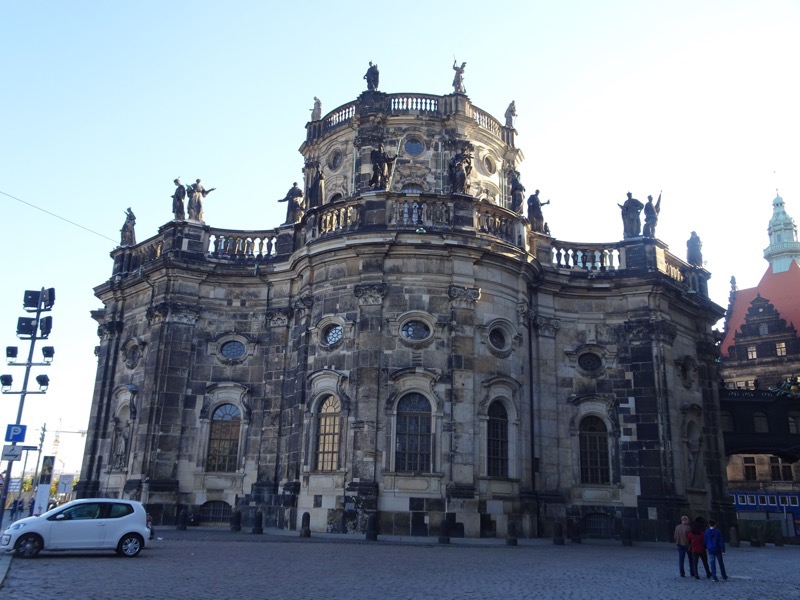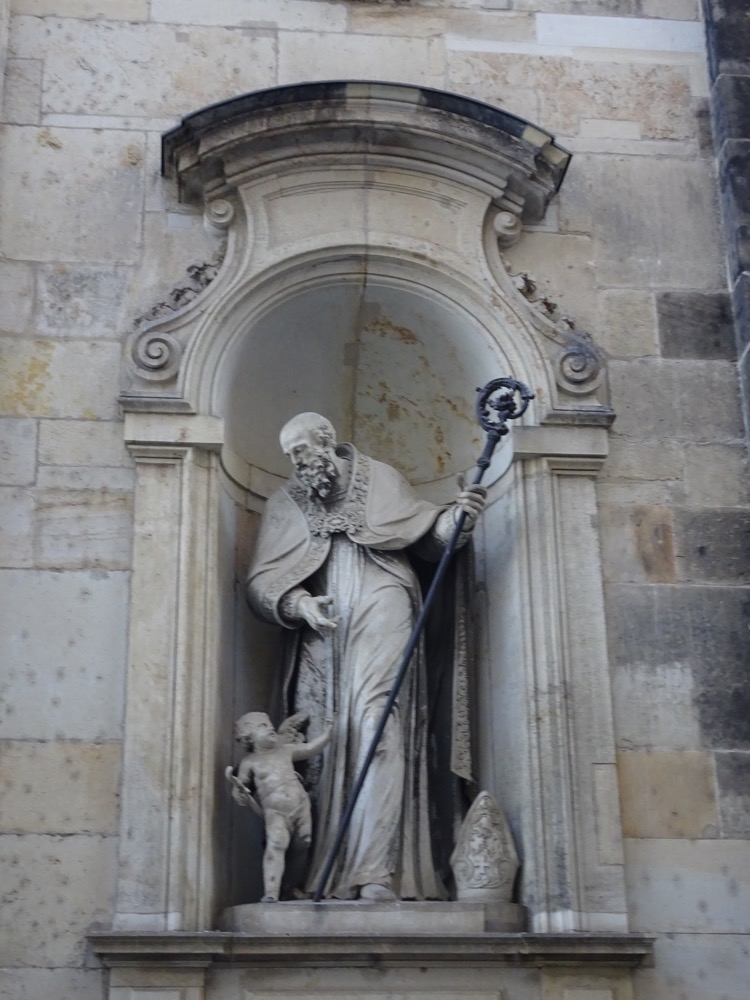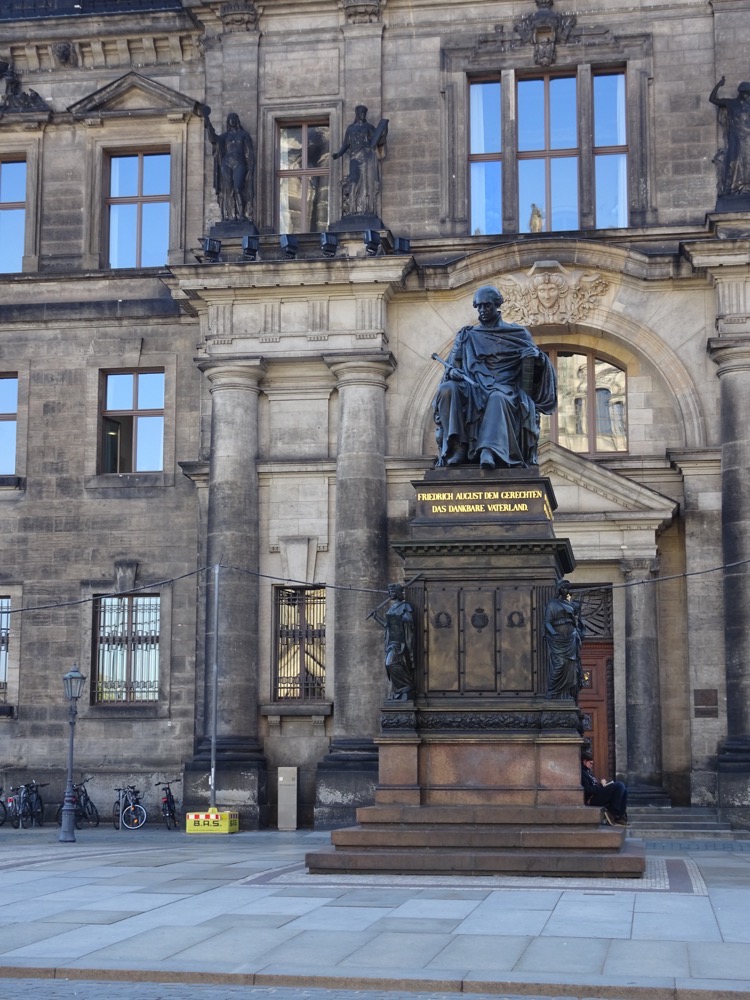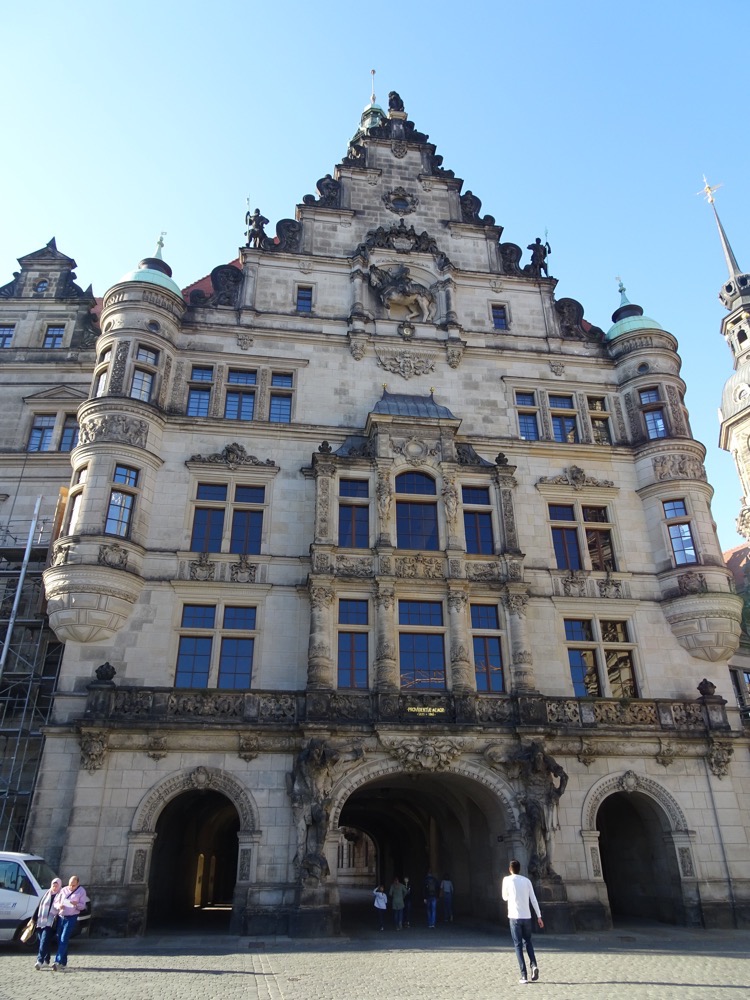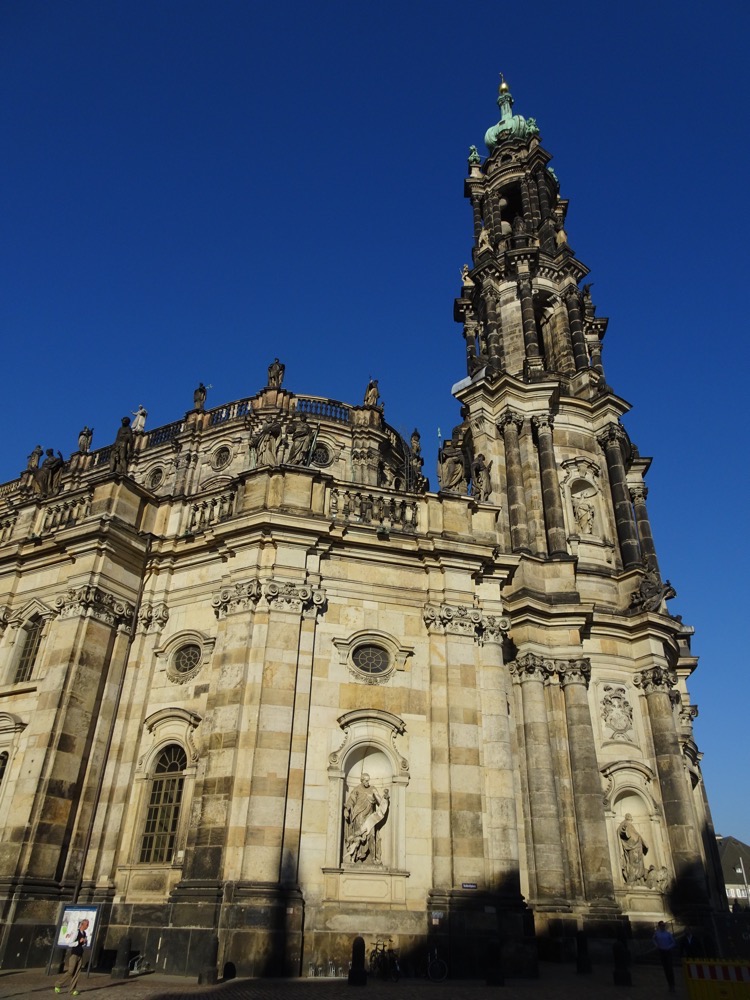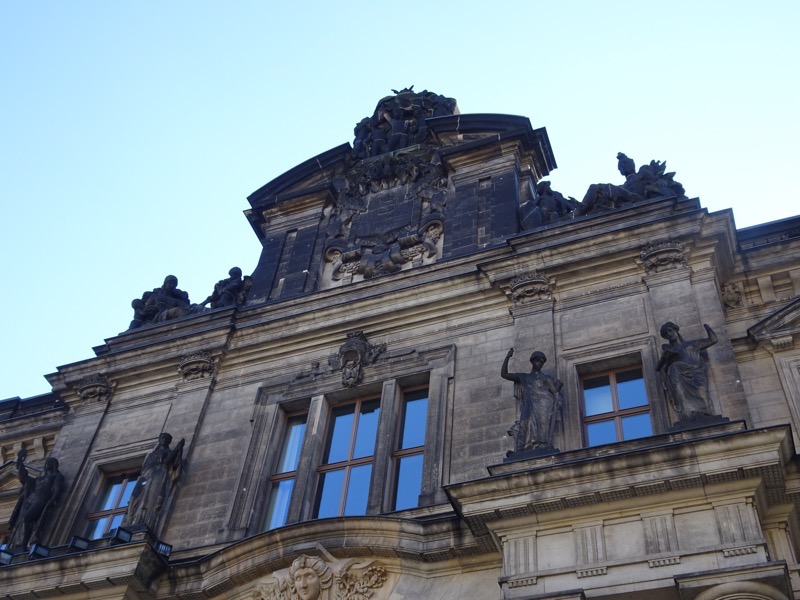 Fürstenzug in the day light: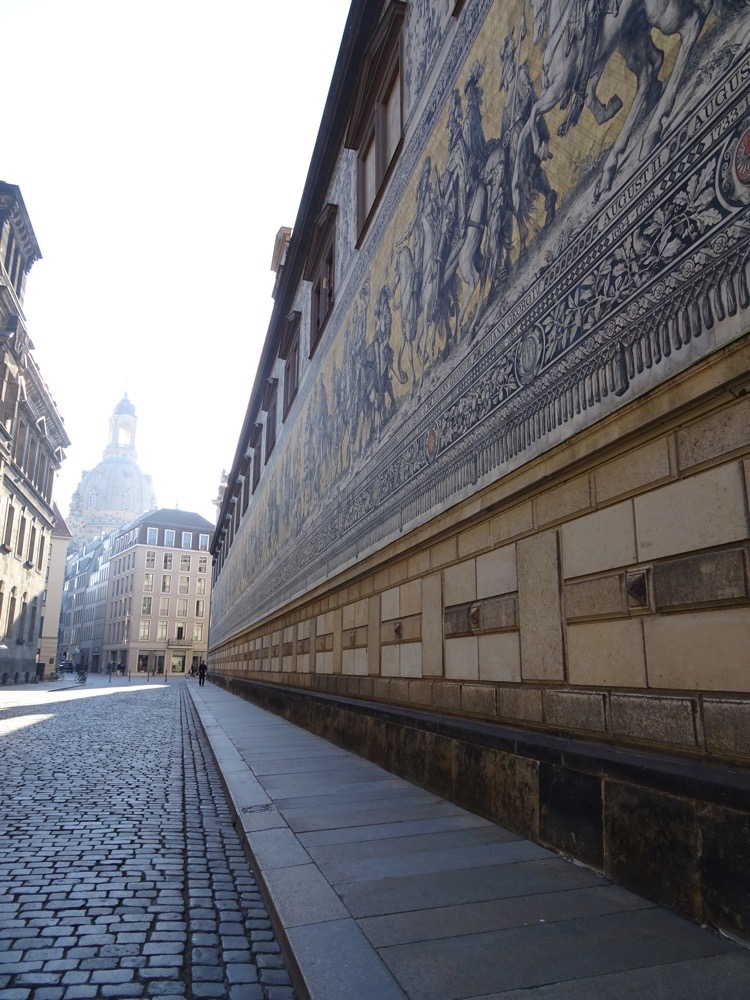 We also stumbled into some open stores – at least two of which were perennial Christmas stores!  Exactly like the one we saw in Quebec in July – only with a clean, crisp, minimalist Nordic / Ikea feel to it.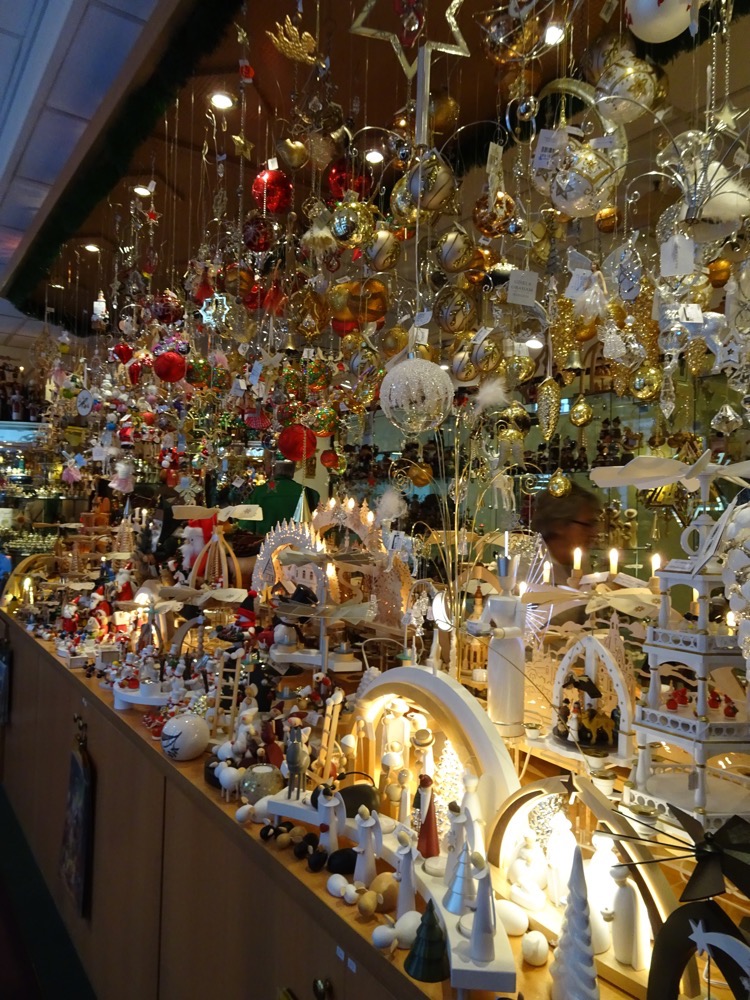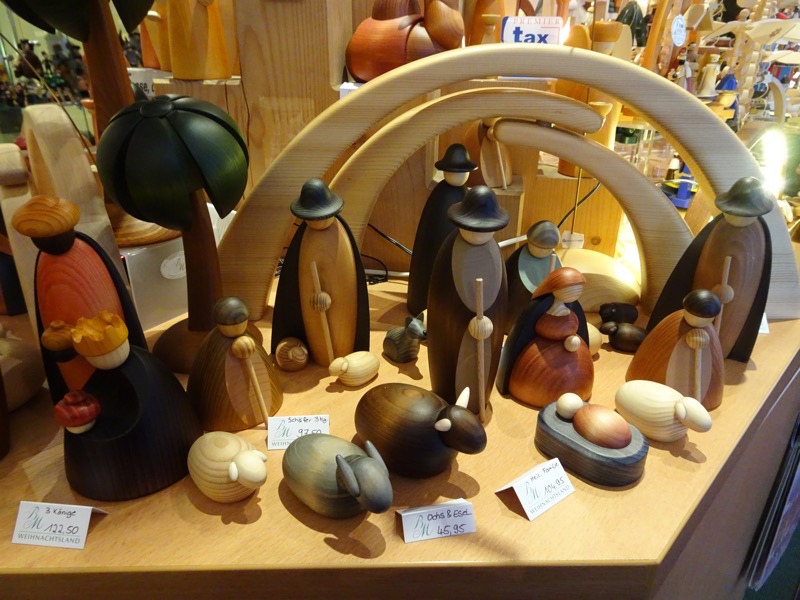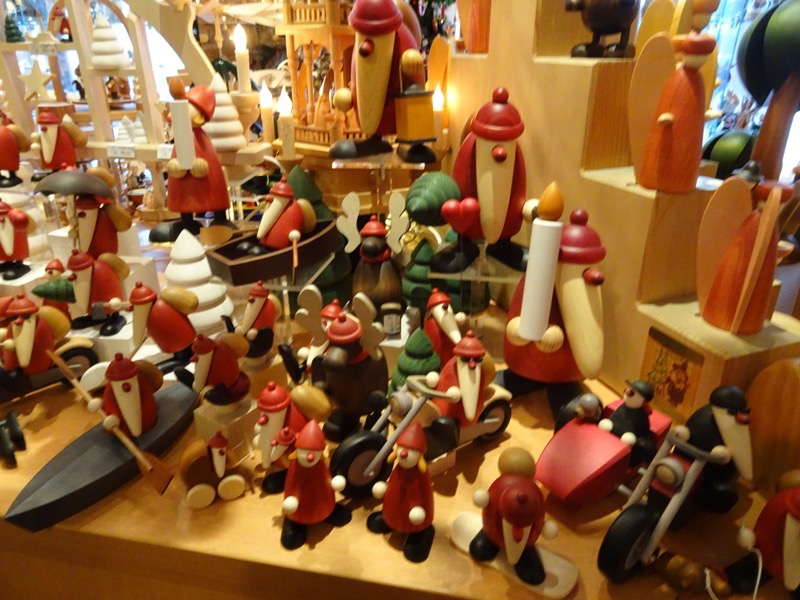 Also doubled back around on the Frauenkirche, and it was open this morning so we were able to go in and enjoy the interiors.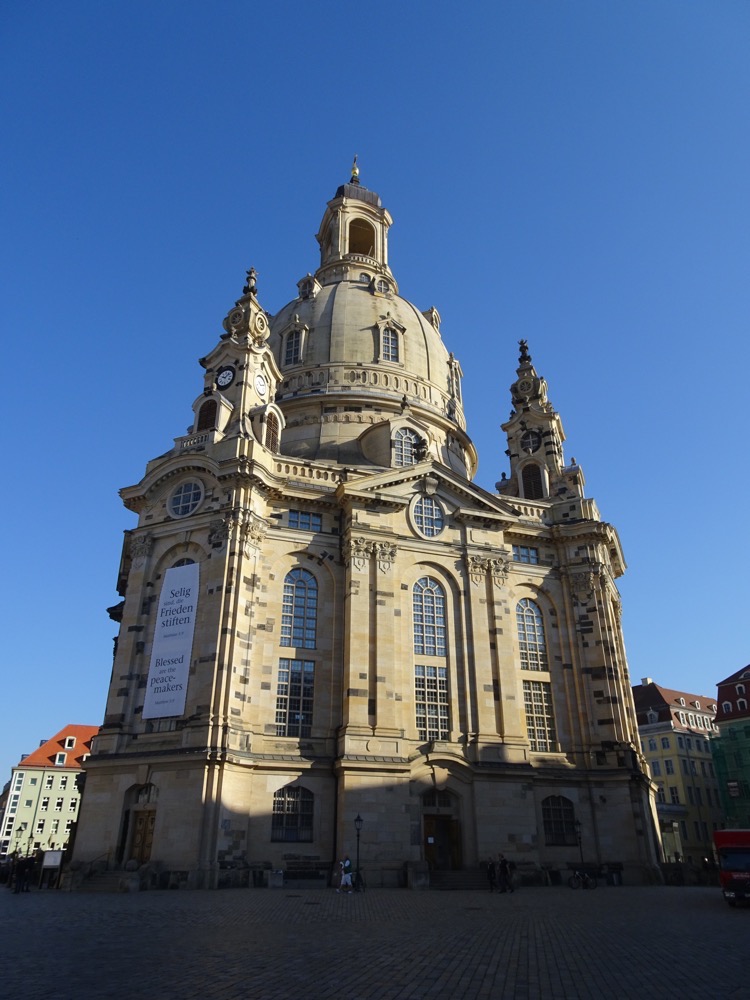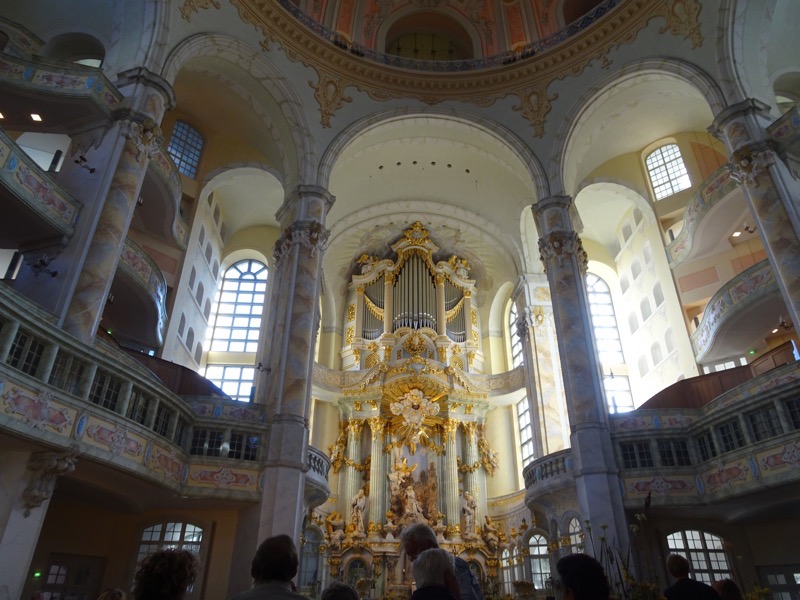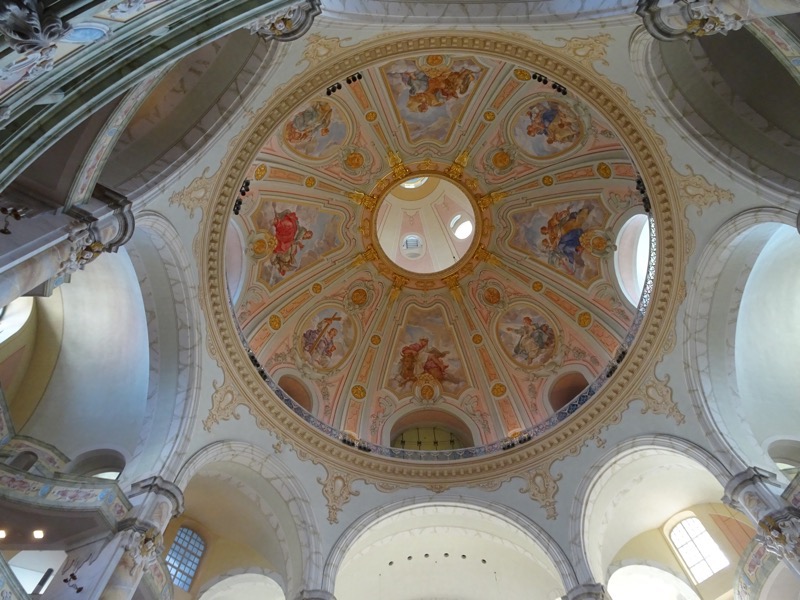 Saw the strangest 'weird tourist' moment in the church this morning when a woman put her €1 in the collection box to pay for a votive candle, and instead of lighting it and saying a prayer – she gave it to her kid who pocketed it.  No idea where they were from, but I'm never seen someone 'buy' a votive candle to take home before.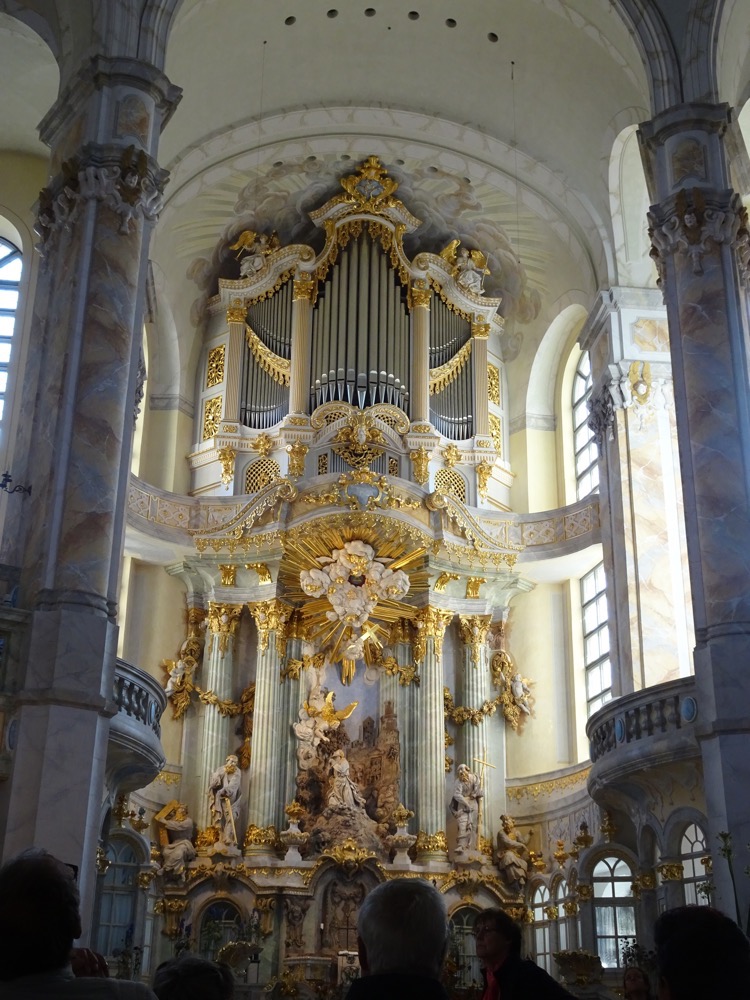 Neumarkt: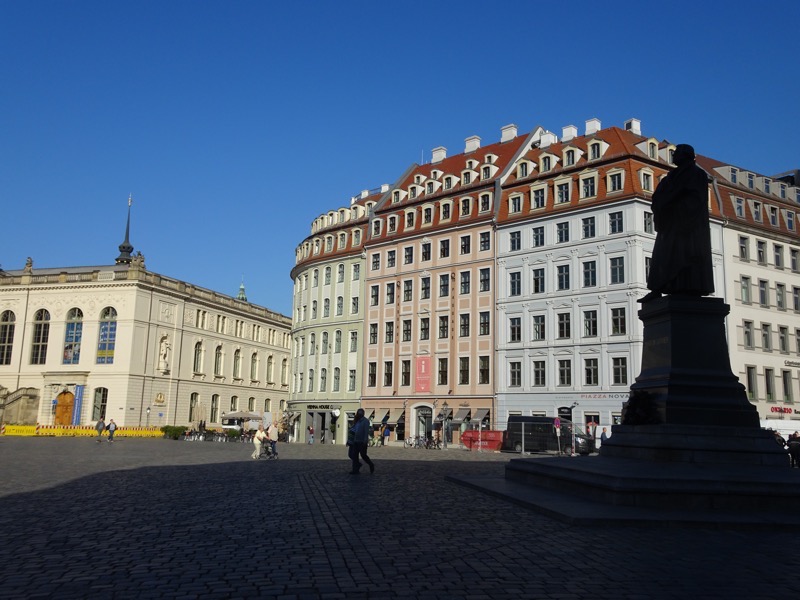 Our hotel. Lovely place, highly recommend it… and so cheap compared to Iceland!  😛  I have a feeling that is going to be a running theme for the rest of our stay in Eastern Europe.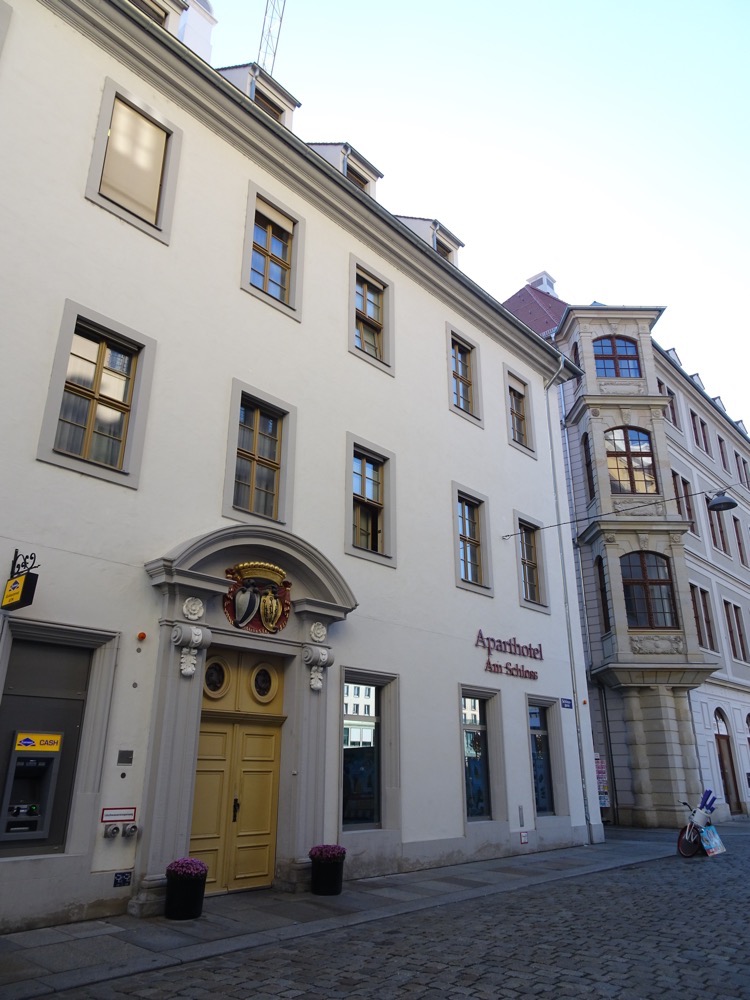 For our next trick – we will be taking a train from Dresden to Praha… and the only thing I can think about is this guy in Eurotrip! Let's hope he's not on our train!
Now the next bit should have been easy – drop back the hire car at the Hertz place at the Dresden Hauptbanhof, which was barely 5 minutes drive from our hotel, and make our way to the correct train platform.  Only, we get to the train station and there are no signs directing customers to the Hertz rental returns and we drive around in circles for ten mintues looking for entrances on all the one way streets around the station. Eventually, I give up and phone them asking if someone at the end of the phone speaks English and asking for directions to return the vehicle.  Thankfully, the fellow on the phone kindly directs us to an underground carpark where we finally see a 1′ x 2′ sign saying 'Hertz' so we at least knew we had the right carpark.  We go in, and no more signs saying where to drop the vehicle so we take a ticket and go underground looking for the Hertz drop off!  Second floor down, we find half a dozen spaces marked, 'Hertz'… but no staff and no office. We go up into the train station and yale leaves me with the luggage in search of an office -finding only a random desk with a 6″ x 9″ sign in among all the train ticketing offices and food stalls, where he then lines up for FORTY-FIVE minutes to hand back the keys.  No shit.
Stopped to fill up the petrol before taking the car back… was gobsmacked to find so much alcohol at places where you are about to get in your car and drive?!
We went from thinking we would have an hour and a half to kill to now running around looking for our platform – which according to the boards was Platform 3.  We make our way to Platform 3, only to see it all closed off with Police tape and plenty of uniformed officers standing around.  We have 10 minutes to our train now and I'm starting to go, 'Oh fuck, fuck, fuck!', in my head.  We ran over to an information desk and were told there was an unattended parcel on the platform so our train had been moved and just wait for the update on the boards. Argh!  A moment or so later, we find we have been moved to Platform 17, which of course is at the other end of the rather largish station, so we hightail it down there.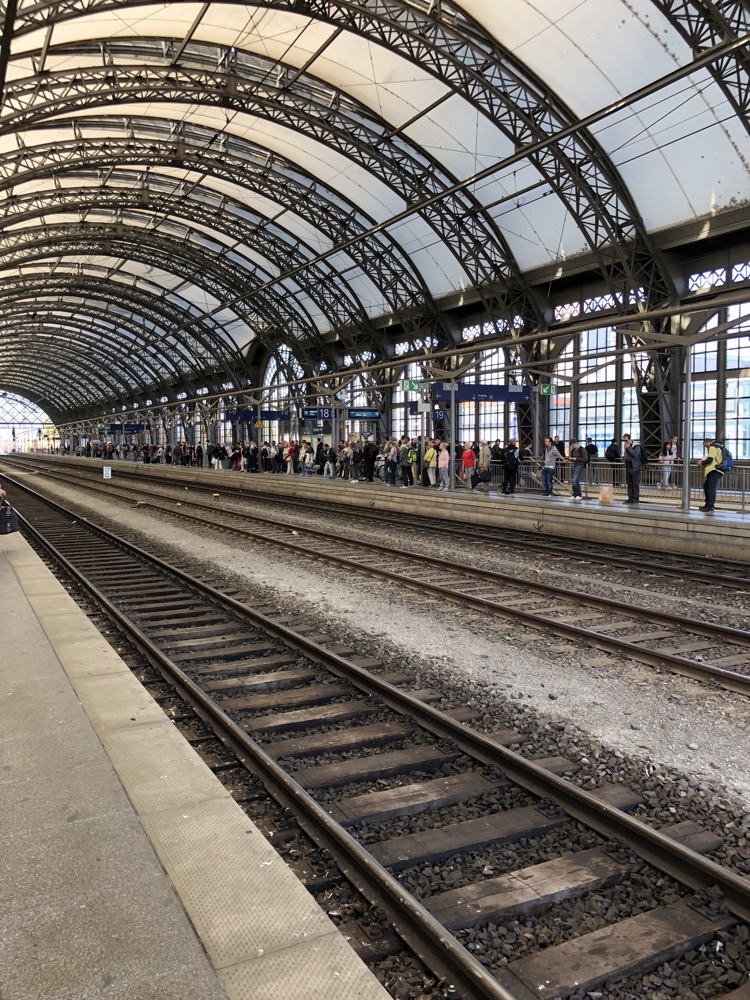 On the way through – I saw this awesome luggage conveyor belt to help you get your luggage up long flights of stairs when there are limited or no lift facilities. Never seen anything so brilliant before in my life – Japan, New York, take notes: You need these!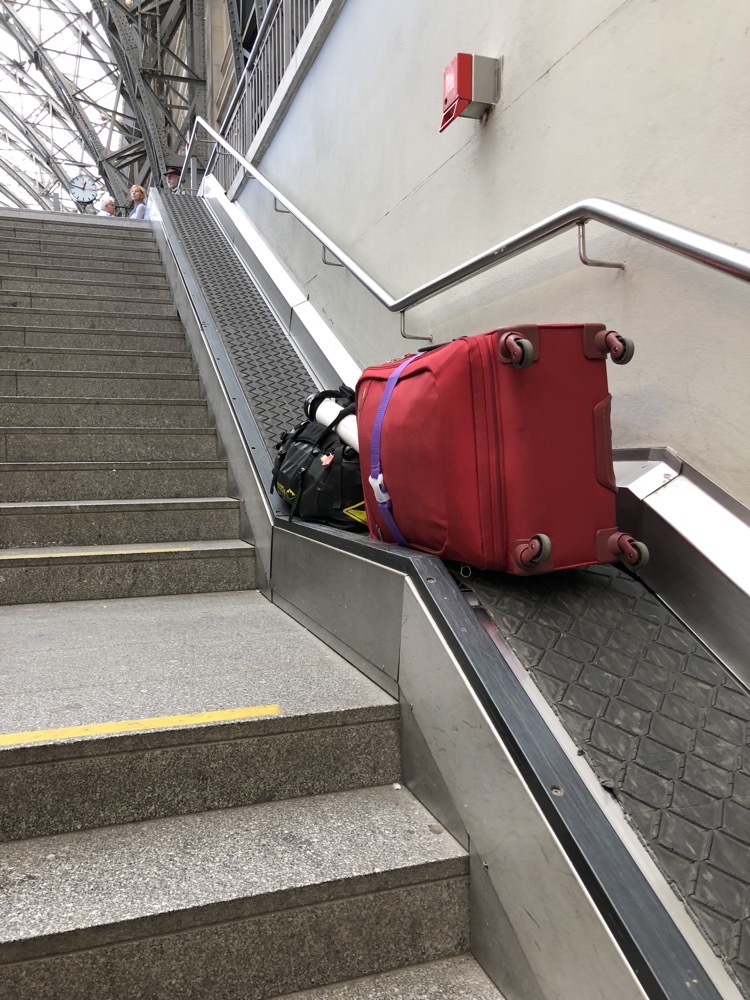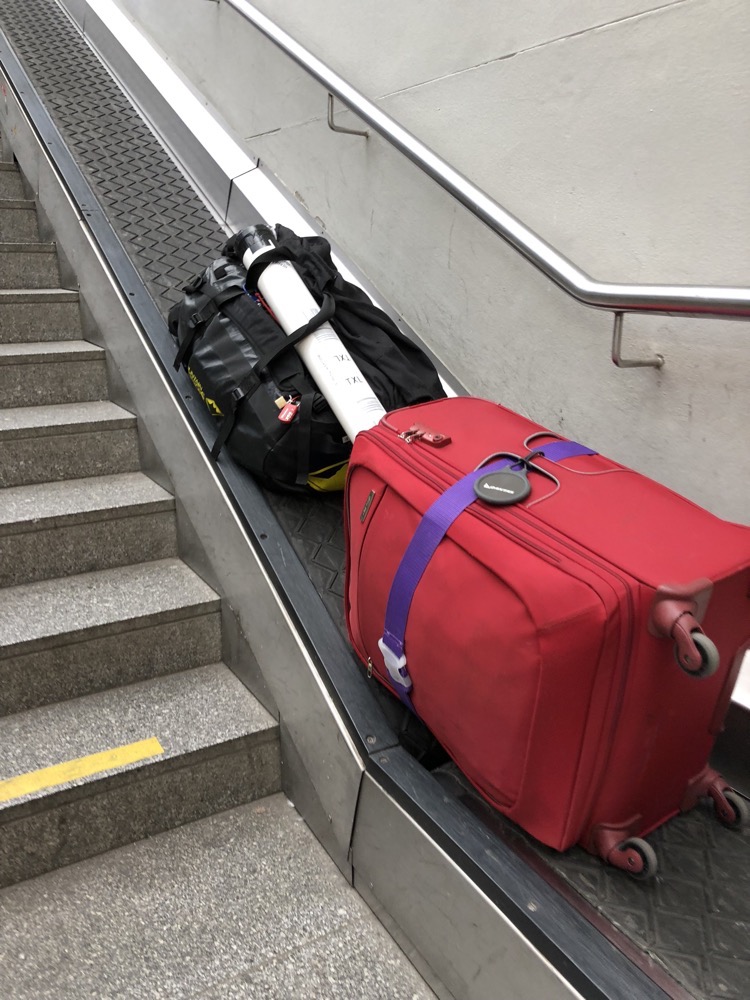 Made it to our new platform, confirmed with some rather confused rail employees that we were indeed in the right place, and then had only a few minutes wait until our train arrived.  Phew.  I seriously hate the hurry up and wait of Transit Days!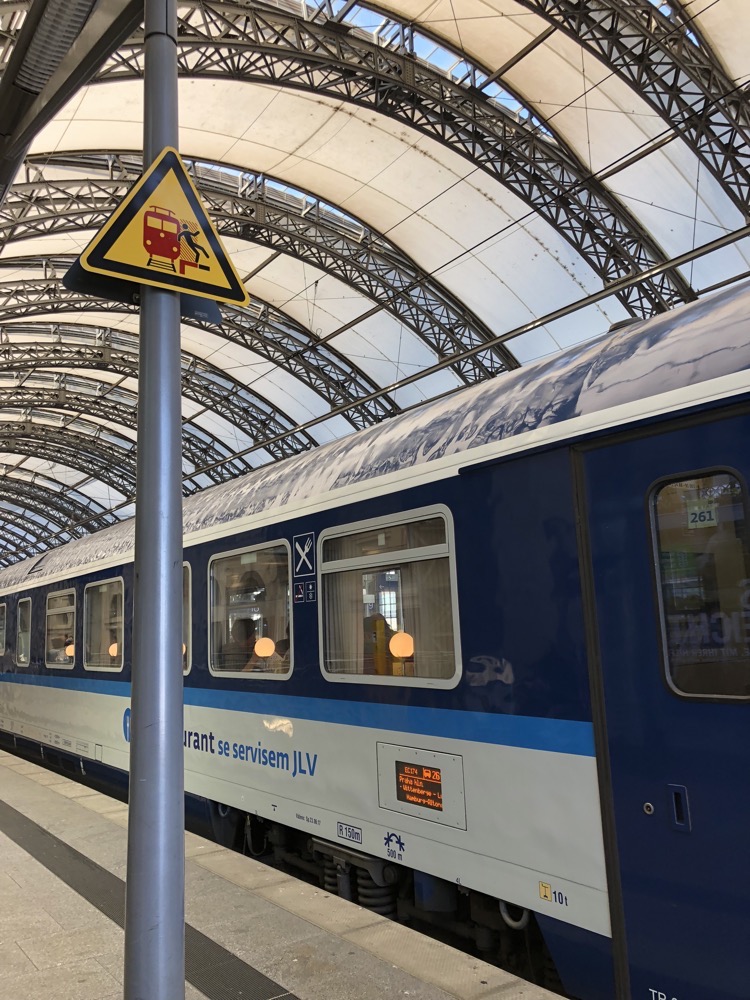 The train was clean and comfortable though, but unfortunately, the onboard wifi didn't appear to be working – that or my enquiring of the (possibily Czech) train conduction 'Sprechen zie English?' was off-putting and she decided not to tell us how to hook onto it.  😛
The countryside we were travelling was really pretty – for much of the journey, we were following the Elbe River.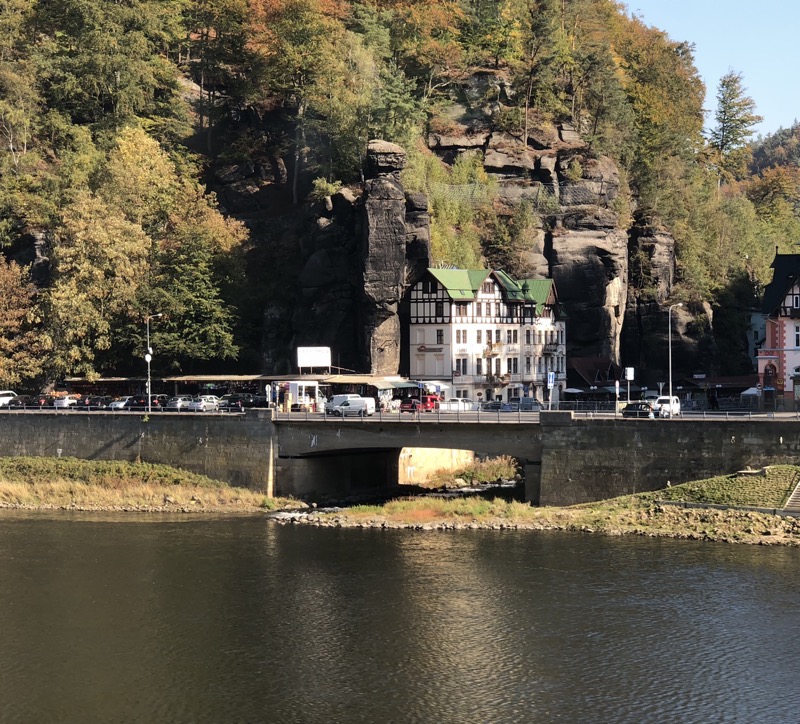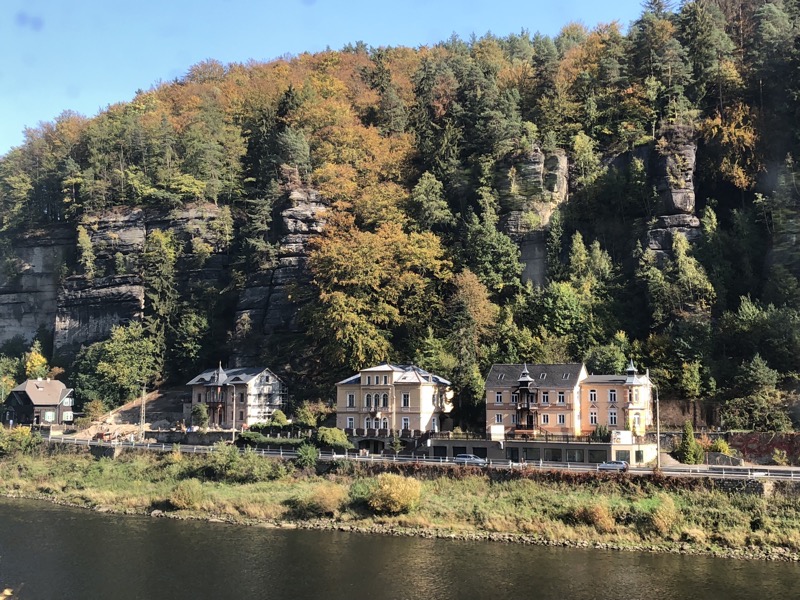 We arrived in Prague around 3:30pm, and then went searching for taxis. On our way, we ran into another Aussie couple (the Crumpler bags and the 4163 postcode on their luggage tag told us they were from Victoria Point – about 20 mins from where I live!), they too were looking for cabs.  Directly exiting the station we found the cab rank – we needed to go all of 1.5km and they were going approximately 1.6km.  Walkable – but not really when you are dragging suitcases over cobblestones.  The cabbies were all charging flat rate of €15.00 or Kč500.00 to take you the 1.5kms to the city centre… which according to the online fare calculators, it should be somewhere around the Kč215.00 mark to do the trip.  Fuck the taxi industry – no wonder they have such shit reputations.  When I started working down the line looking for a cabbie who would agree to take us on the meter, they all refused and told me that there were taxis upstairs outside the bus station that do metered trips.  Get up to that rank and find the same bullshit 'private car/flat rate', Kč400.00 to get to the city.  Urgh.  It's been a long day so once I managed two vehicles for our newly met neighbours from home, we capitulated and overpaid to get to our hotel.
We arrived at the Grand Hotel Praha and was chosen for its location and did not disappoint.  Like my trip a couple of years ago where the Trevi Fountain became almost like a personality in my stay, we had decided to stay right in Prague's Old Town in a room with a view of the famous Prague Astronomical Clock. The view from our hotel window: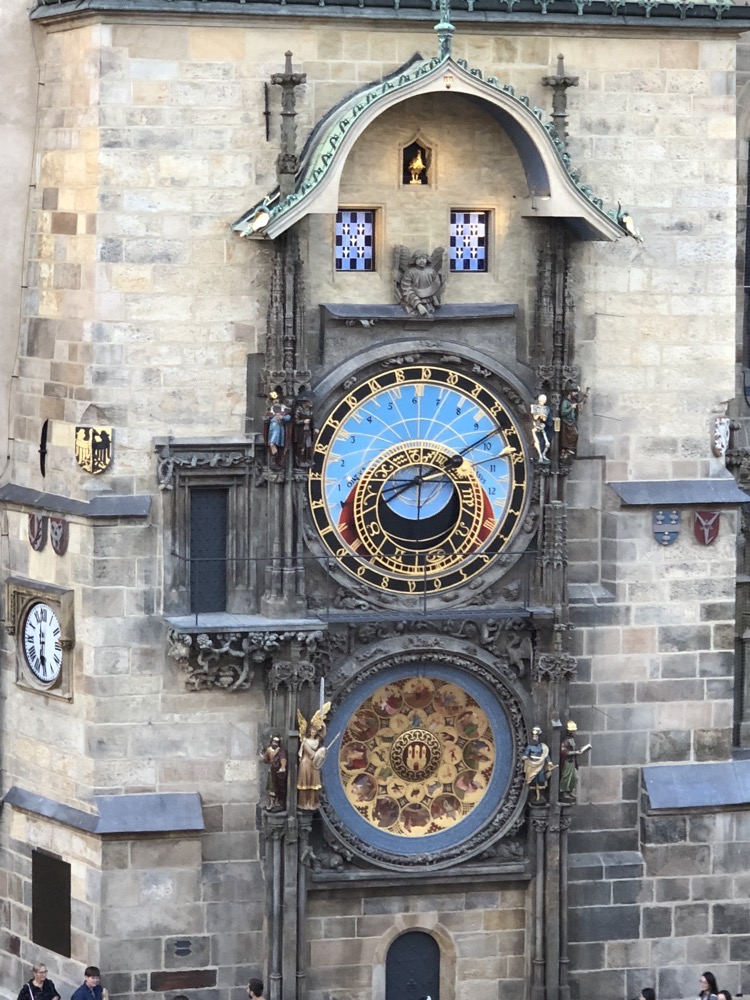 And just like Fontana Trevi – the place was overrun with people waiting for the clock to chime the hour.  The town square is packed, but I know it will be empty tomorrow morning and I will be able to get some quiet photos of the clock like it may have been hundreds of years ago.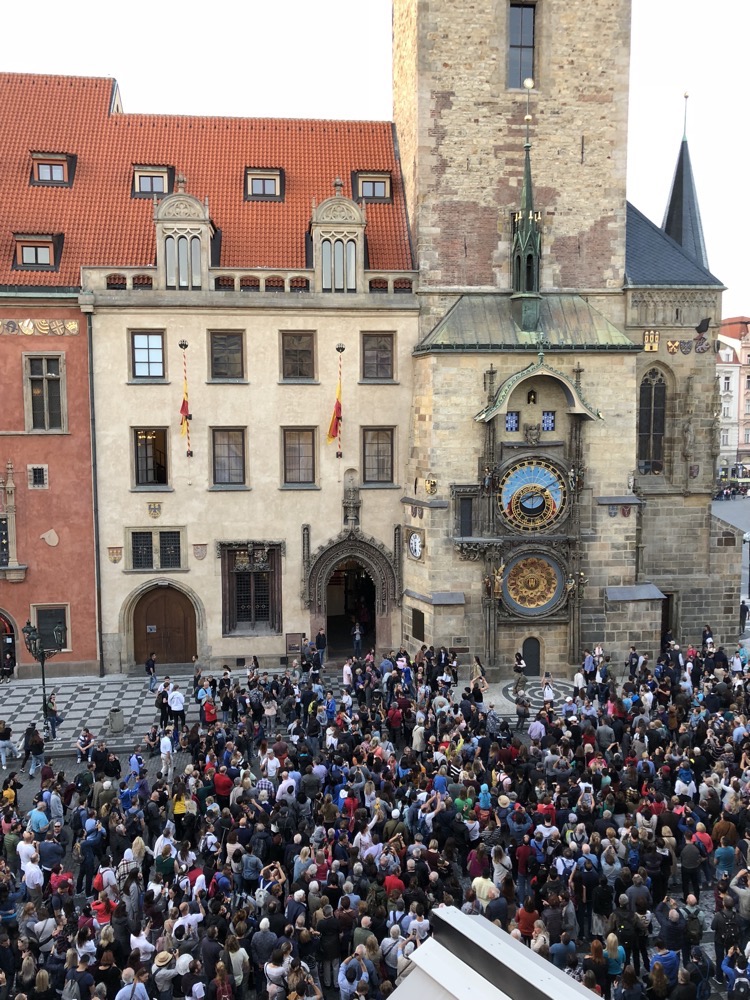 After we got settled and showered and cleaned up a bit, we decided to go out for dinner to a restaurant that yale had found on Trip Advisor as having good local food at non-tourist prices, with decent service.  Sounds perfect.  Until we start walking there down some weird and winding little medieval backstreets covered in modern grafiti.  This was feeling less like the story of how we had a great meal, and rather more like the story of how we woke up missing a kidney in some obscure basement in Prague!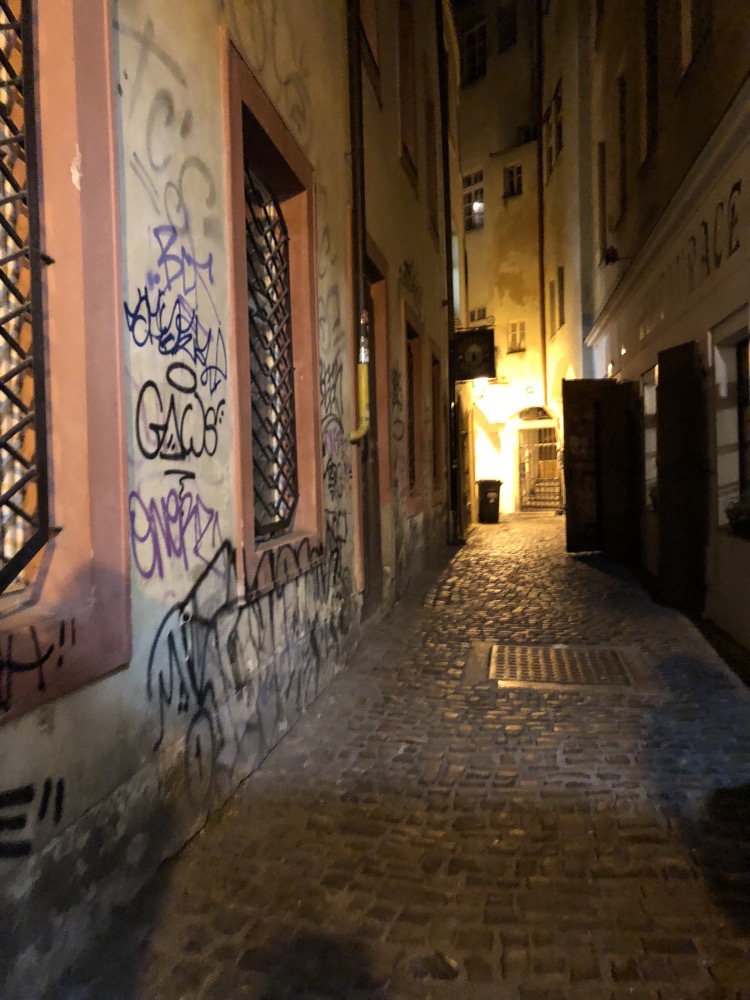 As it turns out the Mlejnice Restaurant in Kozna Street is right where those barn doors are, and once we looked in, it was plenty cosy with loads of patrons.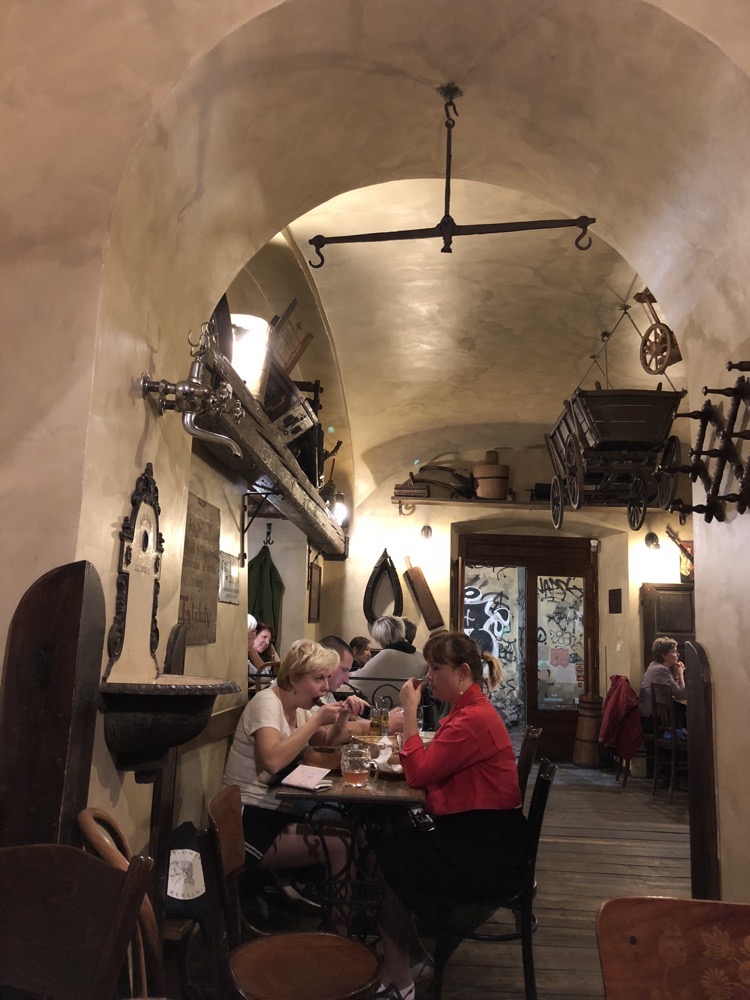 The menu was quite extensive, it was hard to choose what to have – it's so nice to be back in the world of affordable food again!
Home made spicy pickled sausage: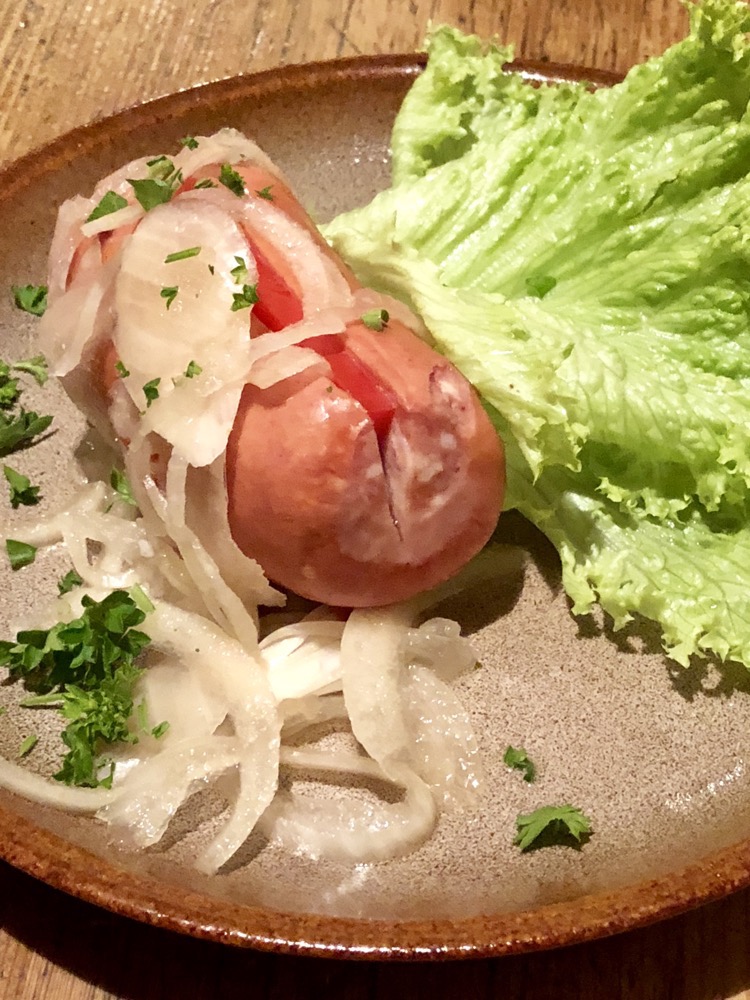 Baked brie with cranberry sauce served with toast: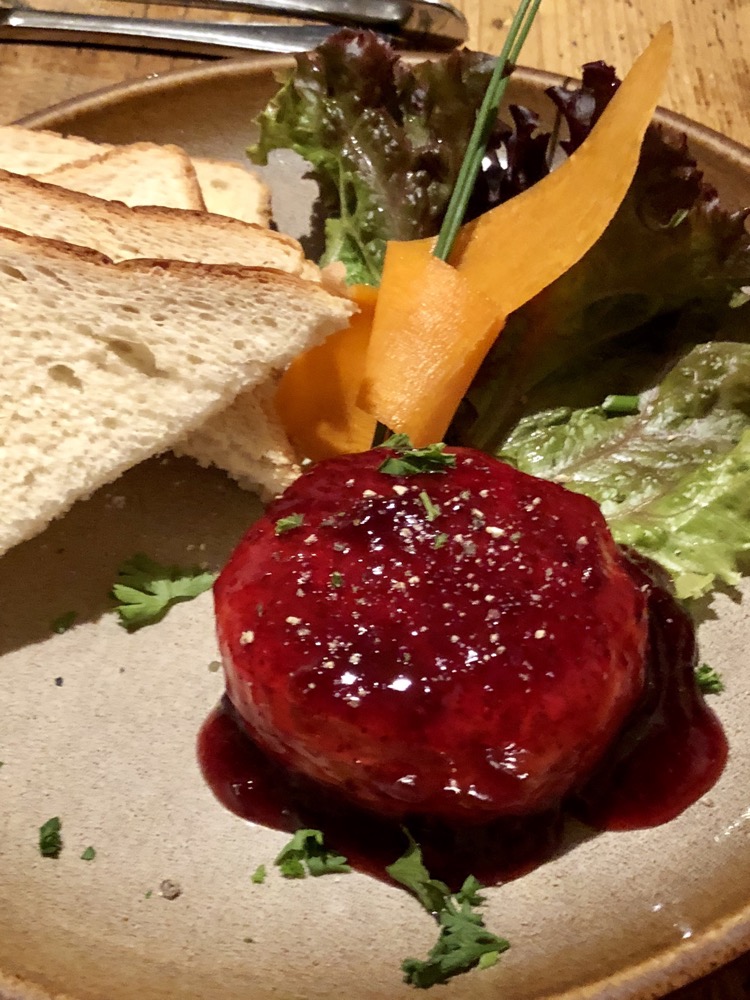 And we totally over orded for our mains (after Icelandic food being rather fancy and small plated):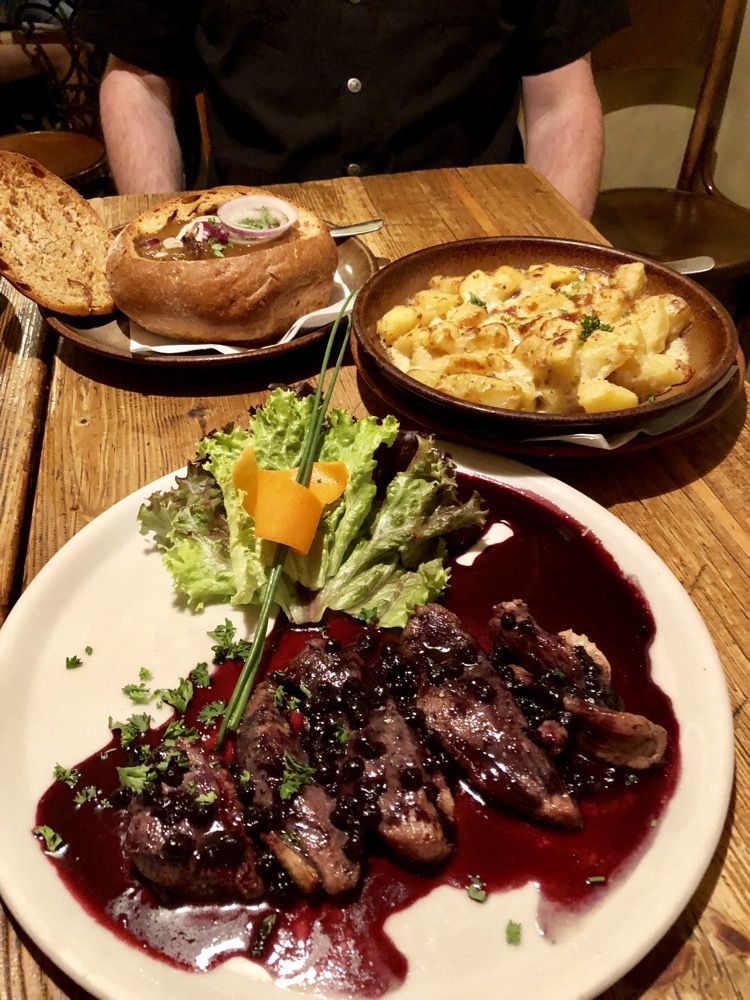 Roast duck in Blueberry Sauce: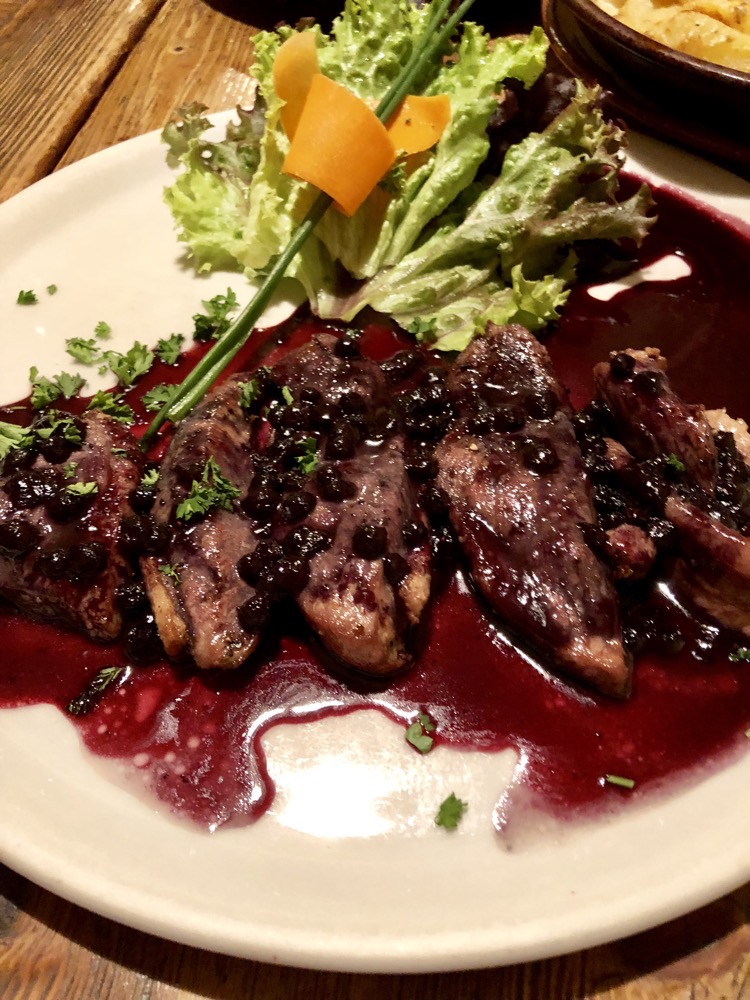 Potatoes with cream, Niva blue cheese and a bit of garlic: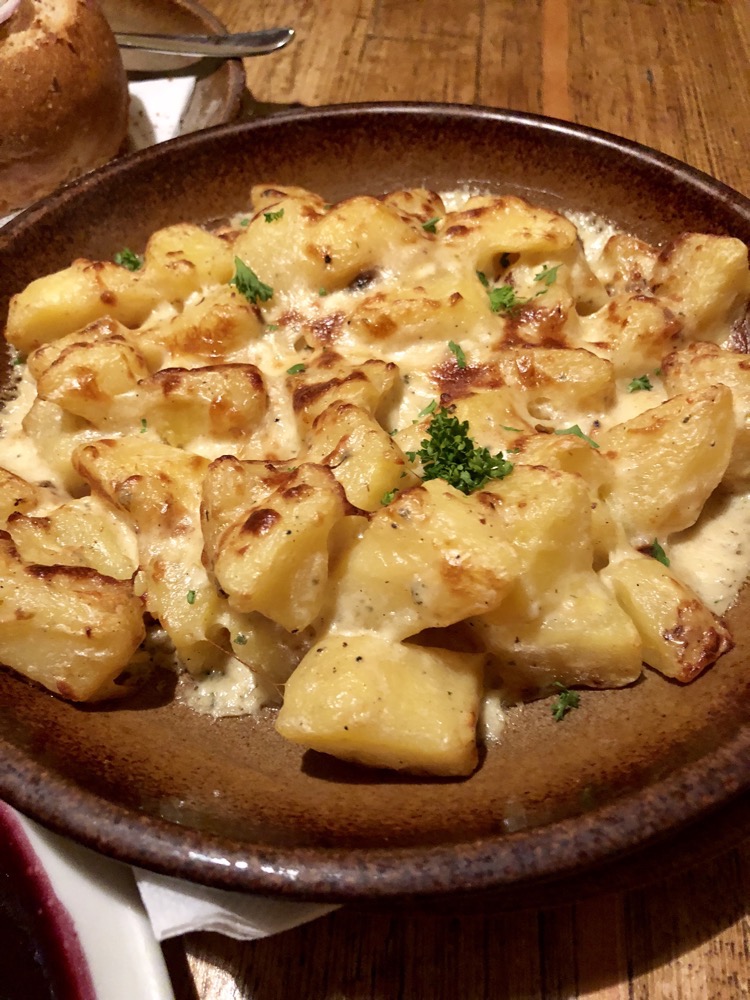 Beef goulash in a loaf of bread: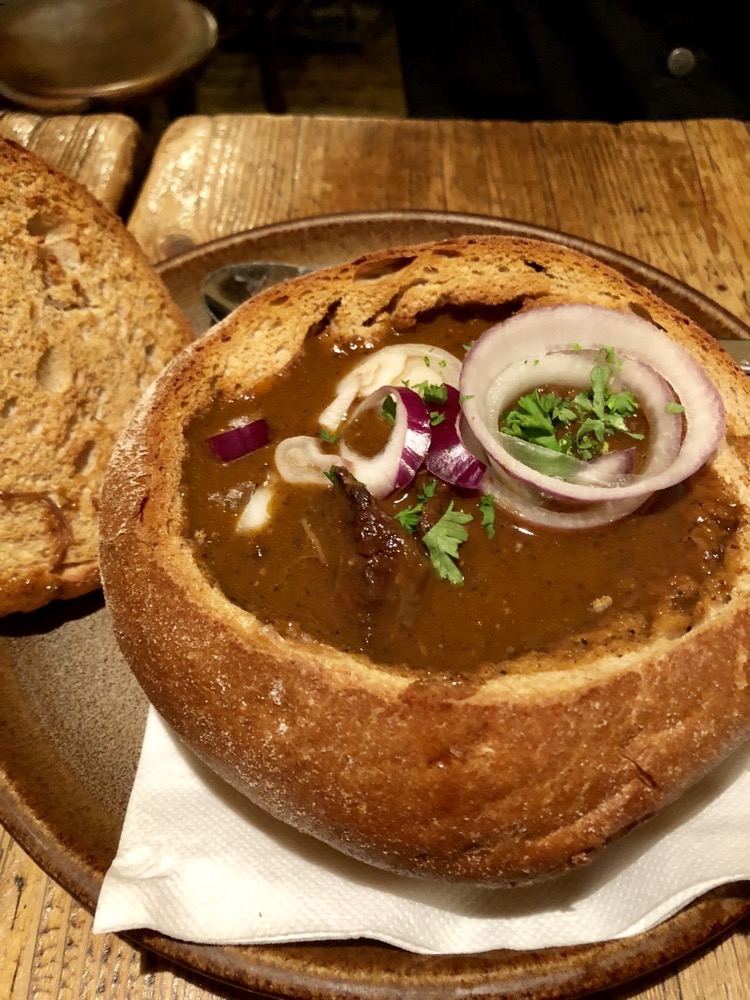 Apple Strudel with whipped cream and Vanilla ice cream: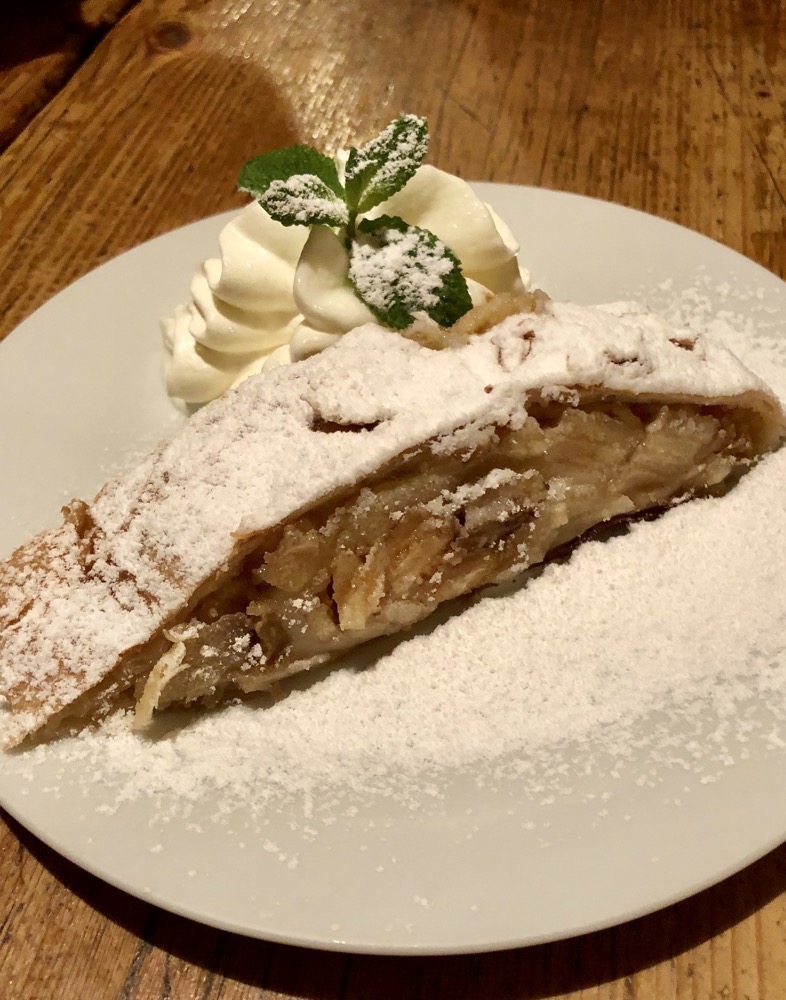 This is happy full yale – who ordered everything he wanted and yet the bill came in just under AUD$70 including 3 pints of cider and 15% included tip!  Madness. If everything feels relative to Iceland, I think yale can afford to eat again after his two-week crash diet of cuppa noodles and wraps made in the back of the car for lunch!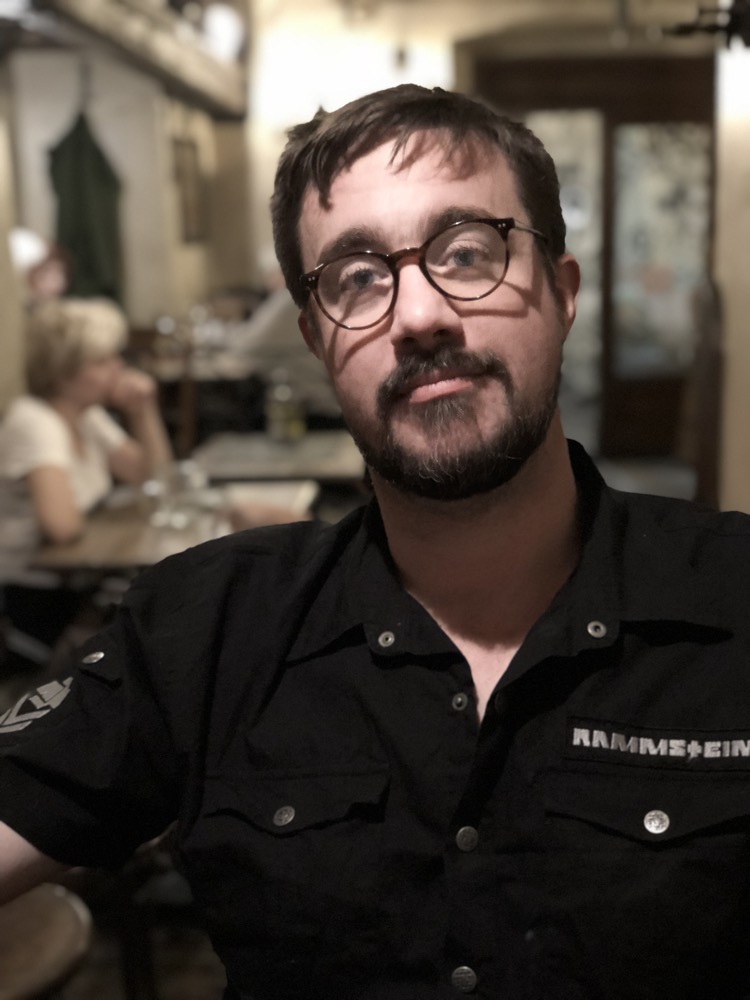 With full tummies and a cider buzz, we talk a short turn around the Prague Old Town looking at all the touristy shit.  The place sure has changed since I was here back in 1995… so many visitors, and flashing lights and massage parlours ( 😮 ), and souvenir stores.  And in a direct radius out from them – ALL the hugely expensive designer shopping brands, and I mean ALL of them.  It's weird, right?  Tacky tacky souvenirs, and then across the street and fanning out – Tiffany, Boucheron, Cartier, Philippe Patek, Burberry, Louis Vuitton, and on and on and on. They're all here.
Hoping for an early night tonight – tomorrow we are cramming in a big day of sightseeing, so it was back to the hotel.  On the way I stopped to check the time… can you believe people are cheering every time the chimes go off on the hour?  Thank goodness we have double glazing  😉