Today was designated Cousins Day – which meant we were off over the Malahat to Victoria to meet up with all Mr K's cousins.  We arrived around midday and decided to got to a nice seafood restaurant for a bite of lunch before Mr K and his sister had to take care of some business in town.  We both hit and missed on the 'nice seafood restaurant' bit.  We went to a place called Nautical Nellies right on Wharf Street, with you guessed it, views over Victoria's waterfront and wharf areas, and were shown to a lovely table by the waterfront.  Nautical Nellies has an extensive menu with lots of appealing options, so we all decided to try some appetisers as well as main meals so we could taste a bit of everything – crab cakes, oysters, salt and pepper calamari, seafood pad thai, seared Atlantic salmon, and the 'most popular dish in the restaurant', the seafood stockpot pie.  Yup.  We had completely forgotten about North American portion sizes and had way too much food! Anyway, long story short – my lunch (salmon) was delightful, but I have it on good authority that the 'most popular dish in the restaurant' is foul and the contents of said stockpot pie tasted like they come out of a can!  :/  So yeah… if you are in the area, avoid the place, our waiter Cal gave us a bum-steer on that one.
After lunch we went for a wander around the waterfront to see what we could see.  Naturally, boats in the harbour, a couple of old buildings, like the Empress Hotel, and we made our way around to the Parliament Buildings.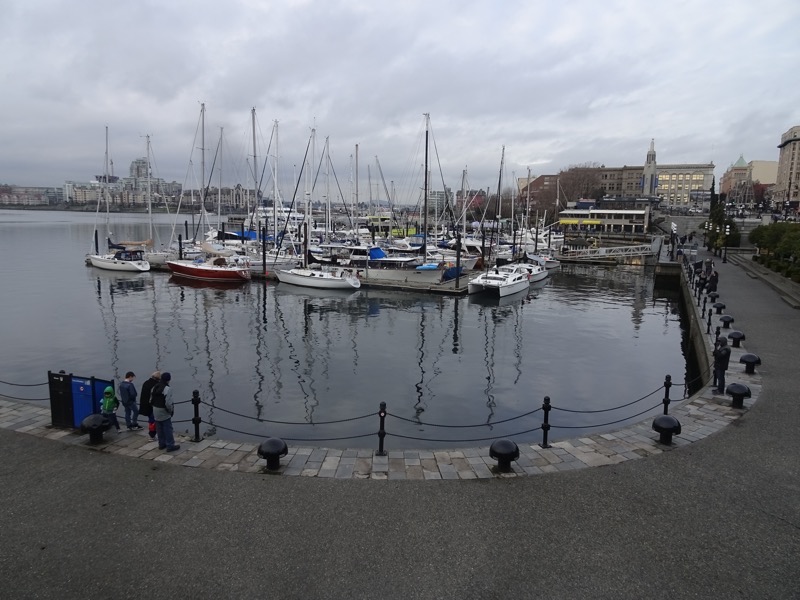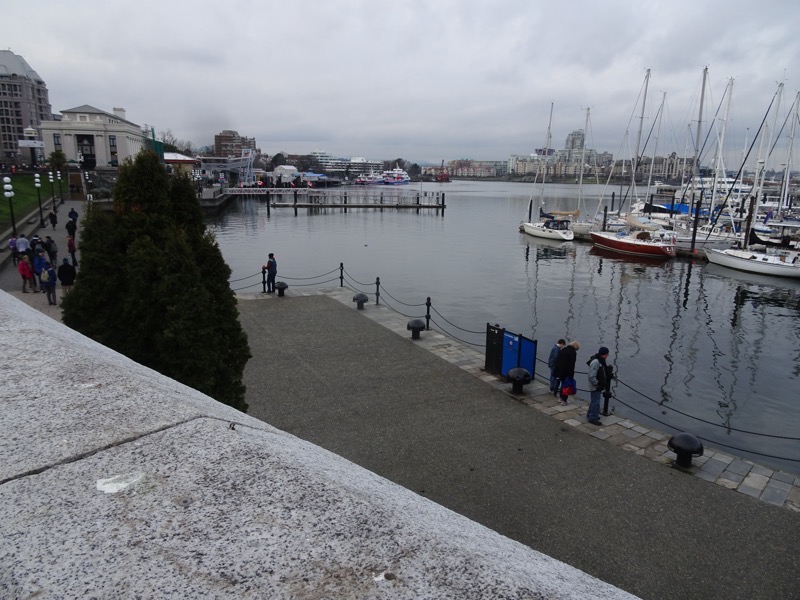 The Knowledge Totem at the Victoria Parliament buildings.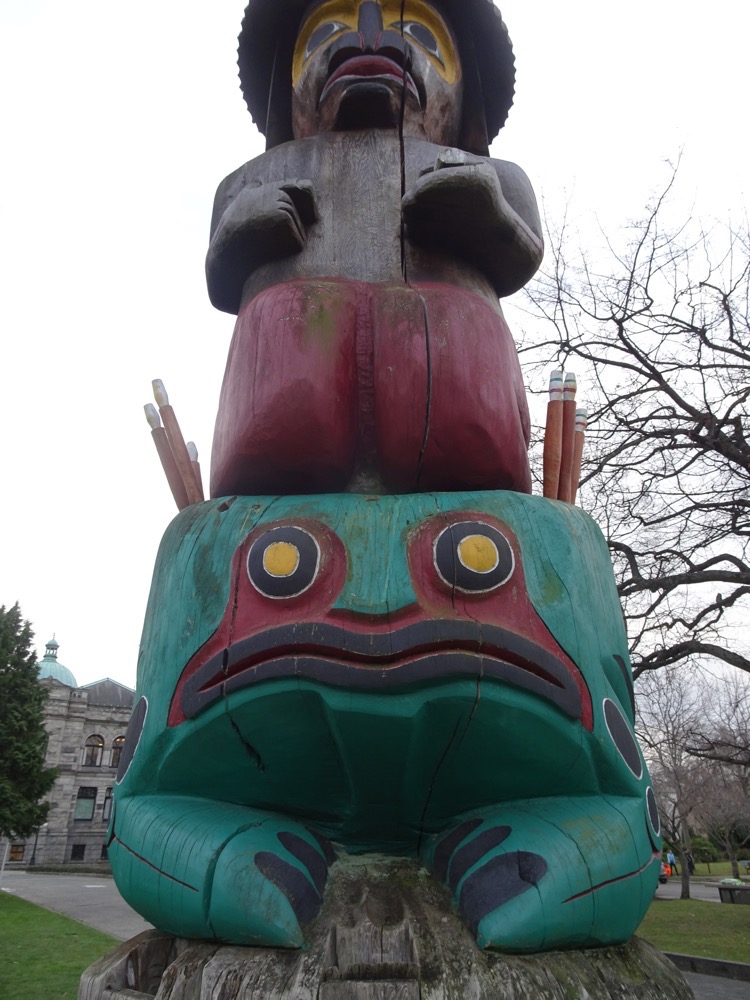 I like the frog.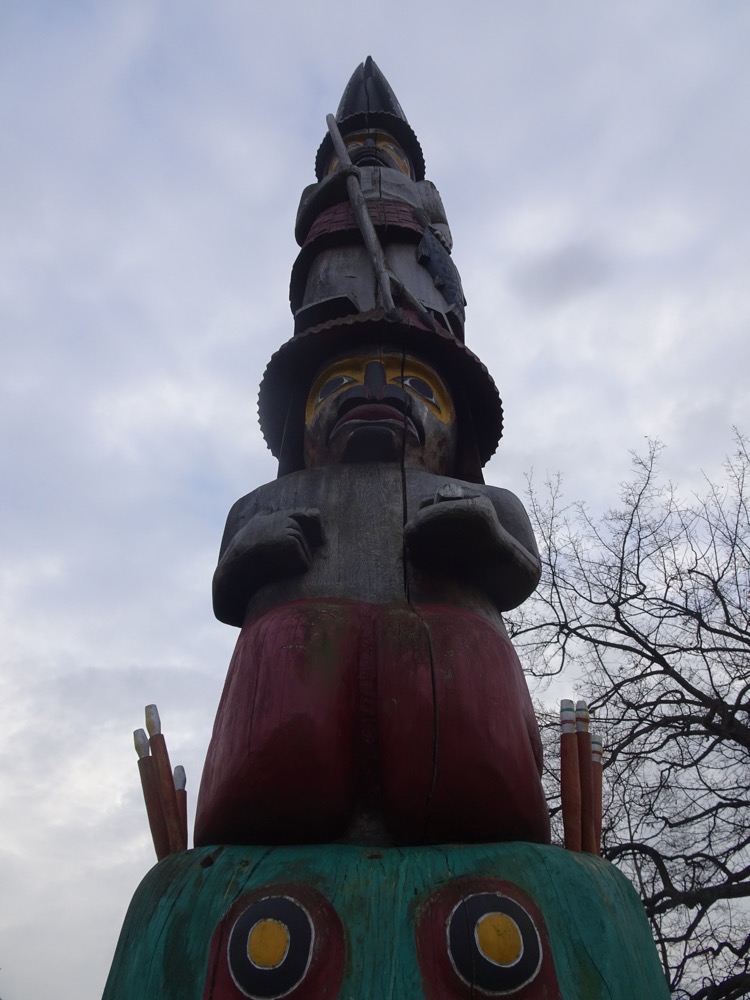 British Columbia Parliament Buildings – very traditional English style of architecture which is not surprising at all given the Neo-Baroque style of the late 1890s design and the statue of Queen Victoria out front.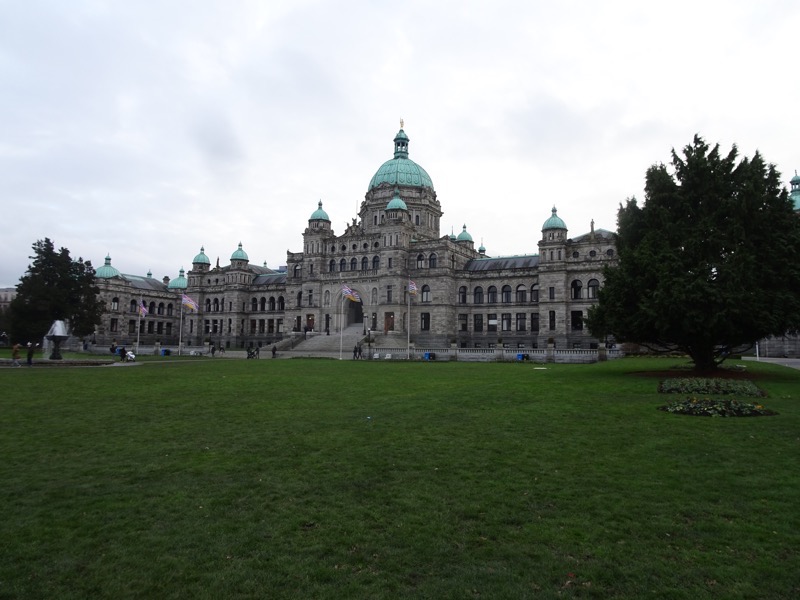 The Empress Hotel and a statue of a lady with a book that I couldn't find any information on… she has a monkey on her back too, weird.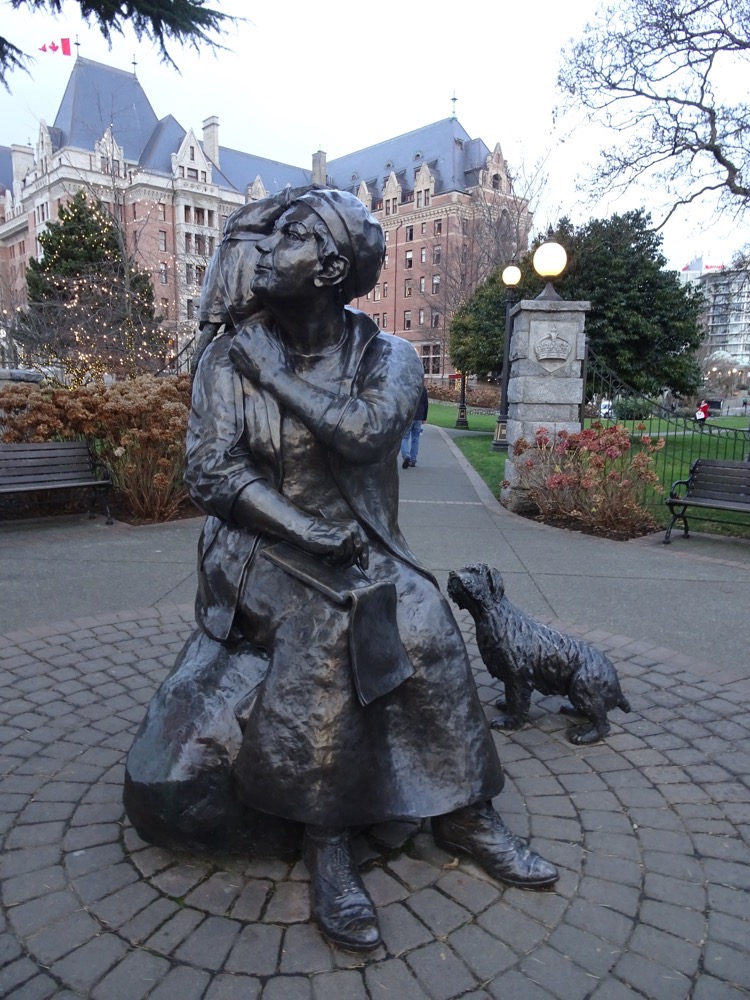 Scratch that – "The monument features a seated Emily Carr with her sketchpad. Emily's Javanese monkey 'Woo' perches on her shoulder and her dog 'Billie' stands nearby. The statue was erected along Victoria's Harbourfront on the grounds of the Fairmount Empress Hotel. It is fitting that the 'Our Emily' statue was unveiled during Women's History Month in Canada, on October 13th, 2010."  Yeah, read that whole 'monkey on her back' thing as a bit more meaningful.  😛
After wandering around the waterfront for a bit, we went off to meet the cousins for beer and pizza and … a hockey game!  Woo!   Victorian Royals vs the other team.  Dunno, think they were from Calgary.  The Royals are a junior league – which apparently means the players are all under 20 or so and are basically on watch for the NFL.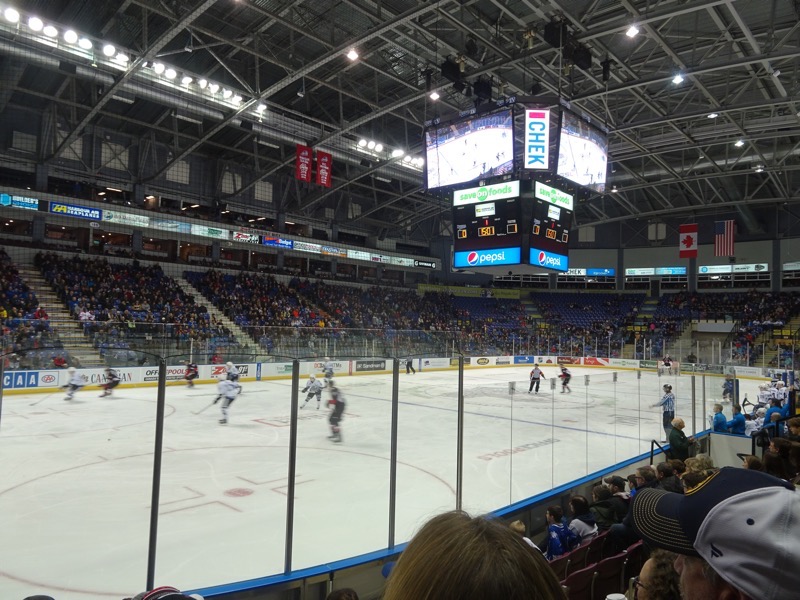 The team mascot is Marty the Marmot, which is a small fuzzy rodent loosely related to squirrels – though this guy looked more otter-like than squirrel-like.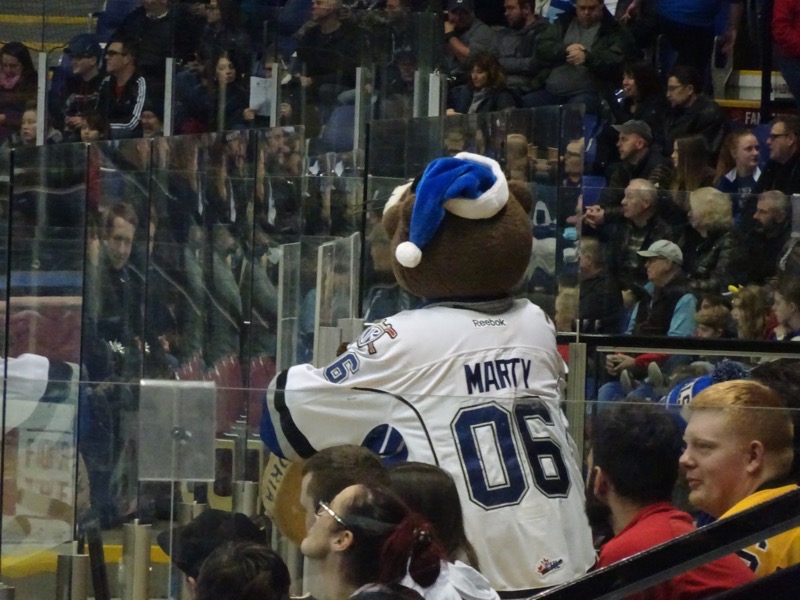 Beer in convenient sippy cups…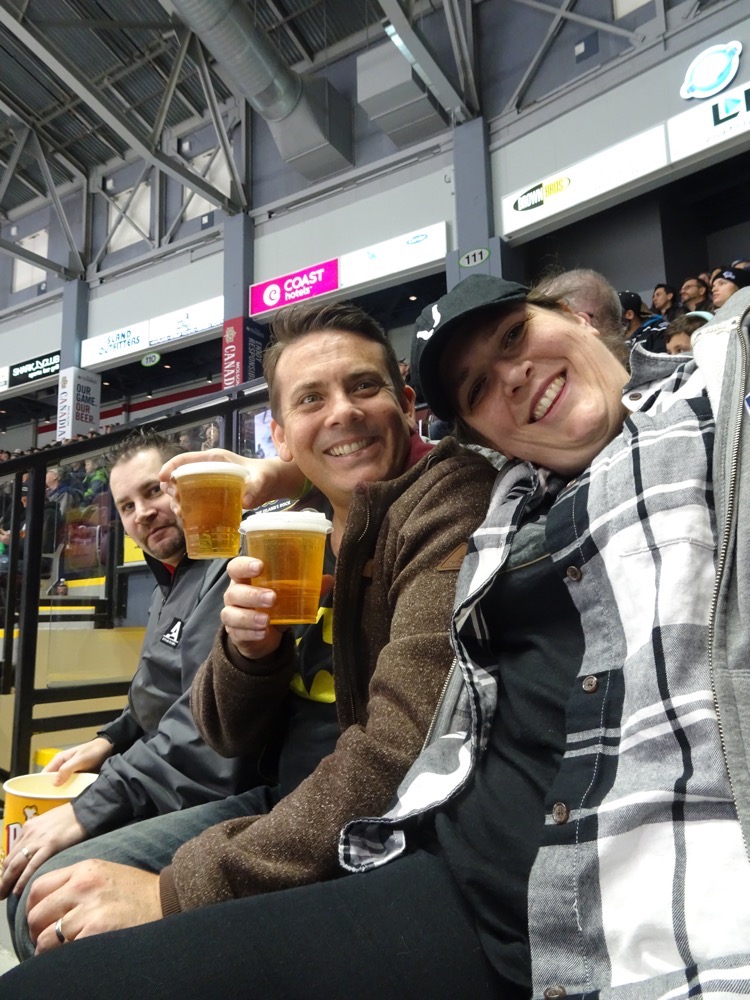 Ice-hockeying… I do like the Royal's goalkeeper.  His name is Outhouse.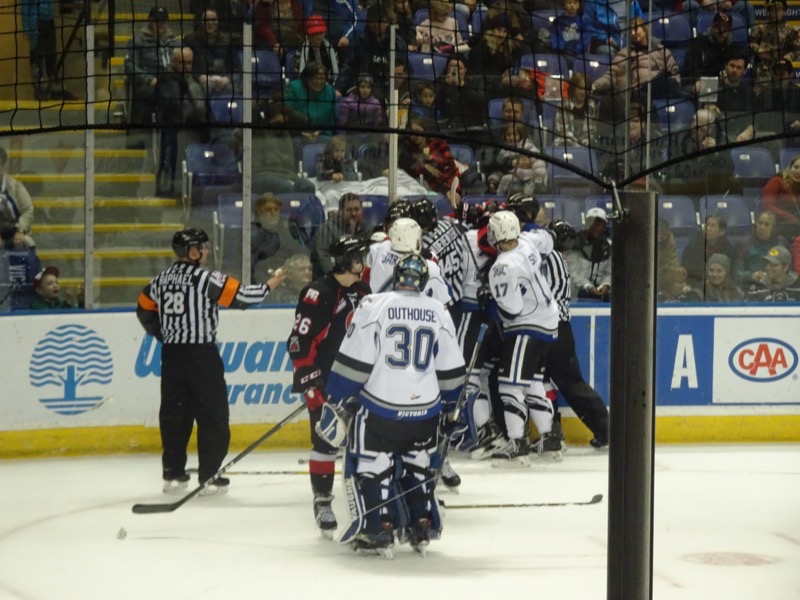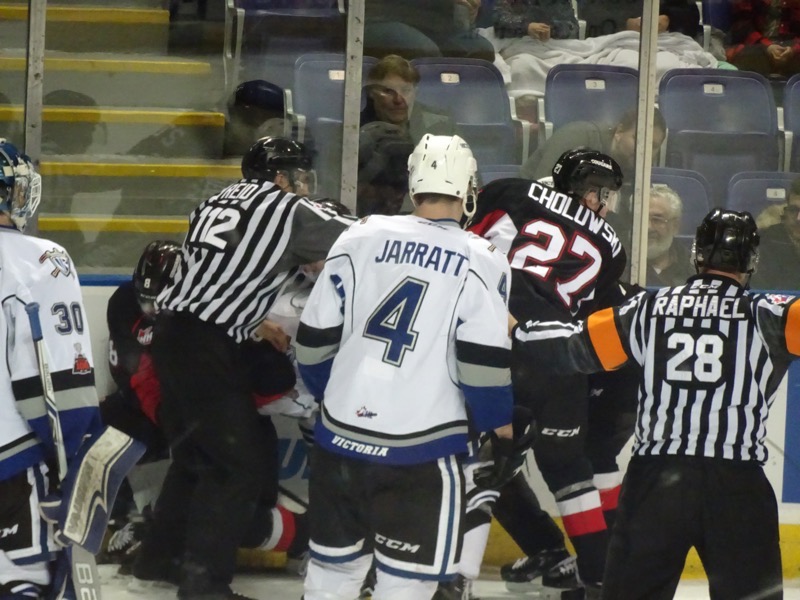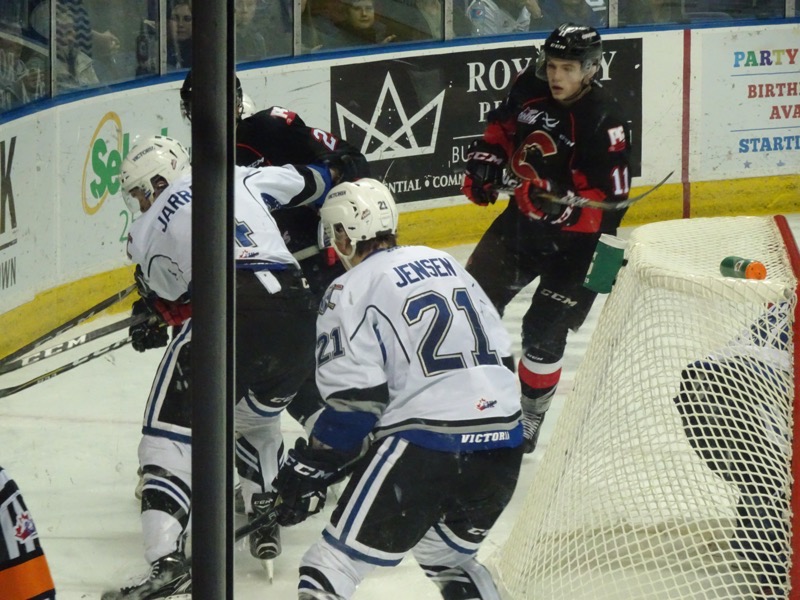 And at the end of the first period, out came the entertainment in the form of these little league guys taking the ice.  They were so cute!  And every single one of them at probably 5-6 years old, can skate way better than I can!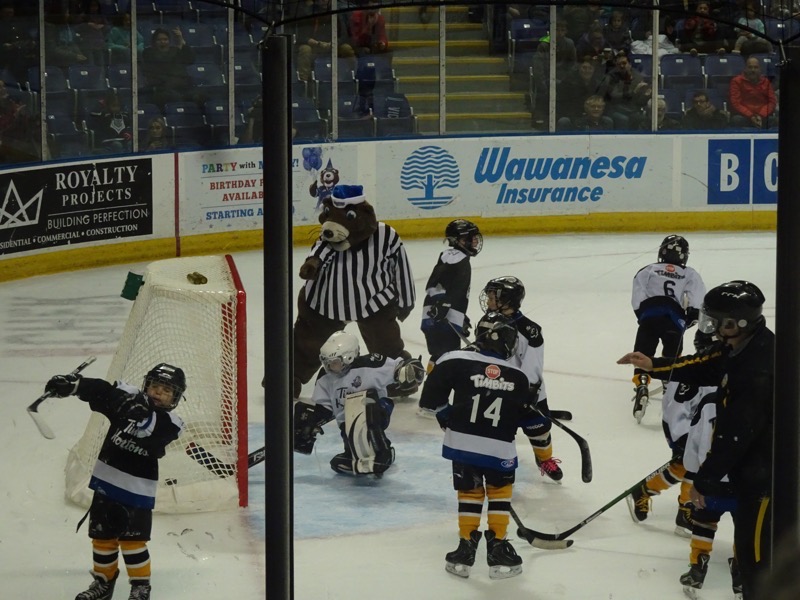 We ended cousin night with cocktails, buffalo wings and the biggest platter of nachos you've ever seen at a place called 1550 (because it was open!).  A great night was had by all.  Invitations have been extended for all the cousins to come visit us Down Under, and hopefully one day they will… Julie, I promise there are no spiders in Australia.  Also, we promise to force an Aussie Rules football game on you all – I'll even deign to go too.