After waving farewell to Vancouver Island we head off to Horseshoe Bay by car ferry and onto our New Years adventures up at Whistler.  The drive was abysmal… snowing approximately 1cm per hour and plenty of traffic.  Thankfully, Mr K learned to drive over here, many years ago, in these road conditions and was happy to get us safely where we were going.  The visibility was dreadful, but no worse than a thunderstorm back home, and the guys on the snow ploughs were obviously working overtime so all up it wasn't too bad.  Also thankfully, there was only a refreshingly small number of local yokels driving like the roads were 'normal' – nearly everyone seemed happy to potter along doing 20kmph under the speed limit and that suited us just fine!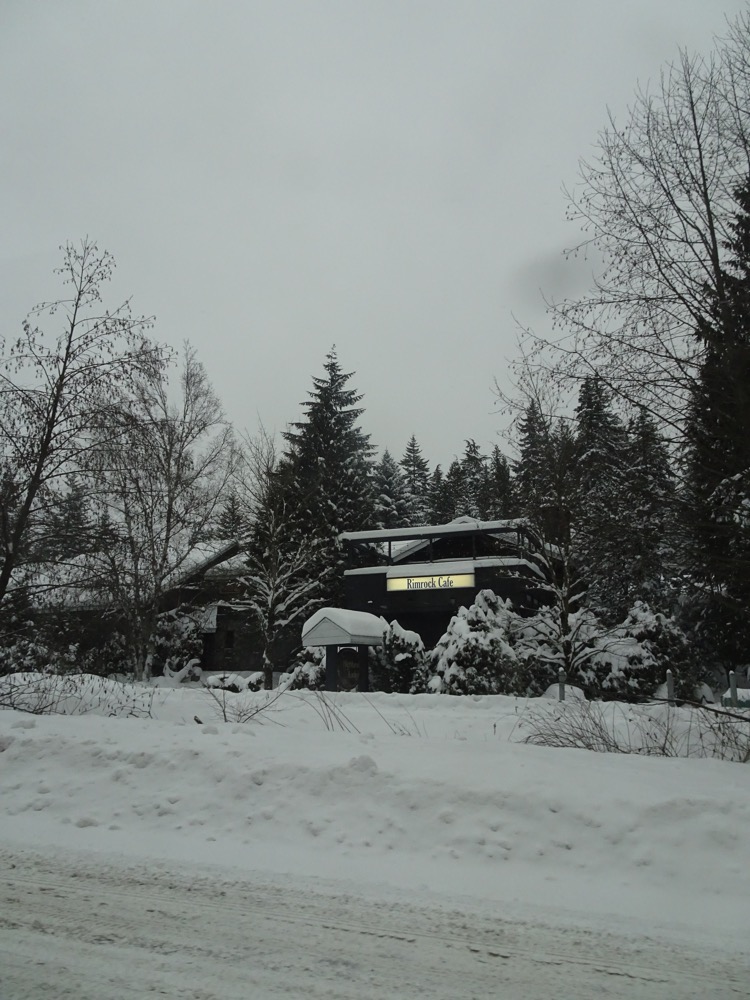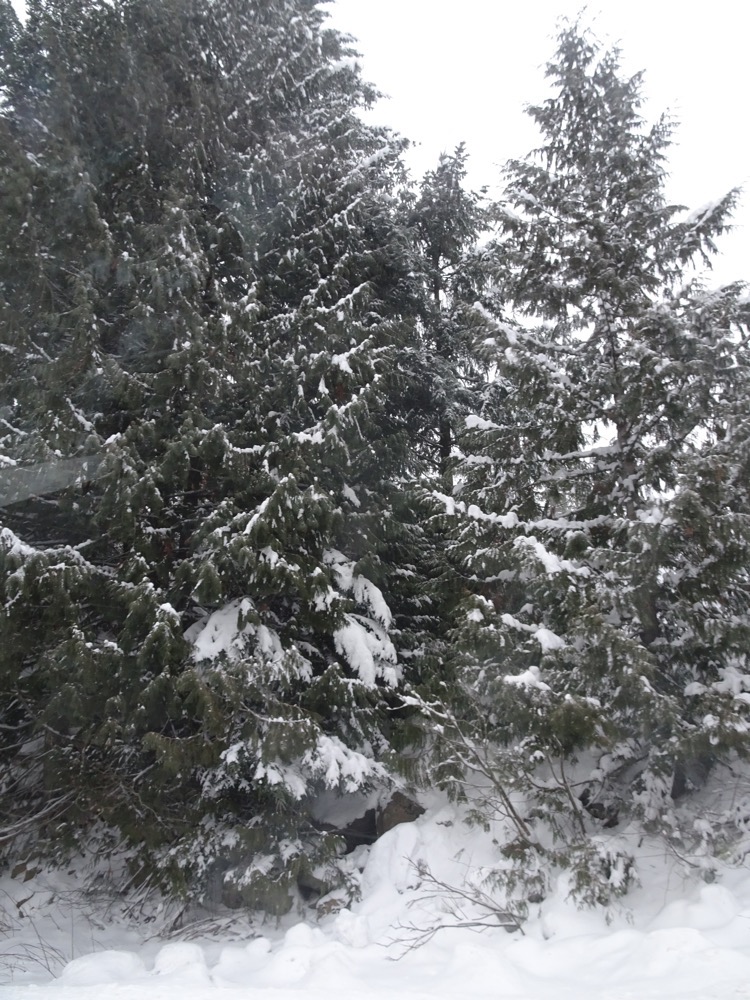 We arrived at Whistler around 4pm in the afternoon – which of course is when it starts to get dark here in the middle of winter, and quickly found our accommodation which was not as easy as it sounds when all the road signs, road markers and hotel signage is covered in snow!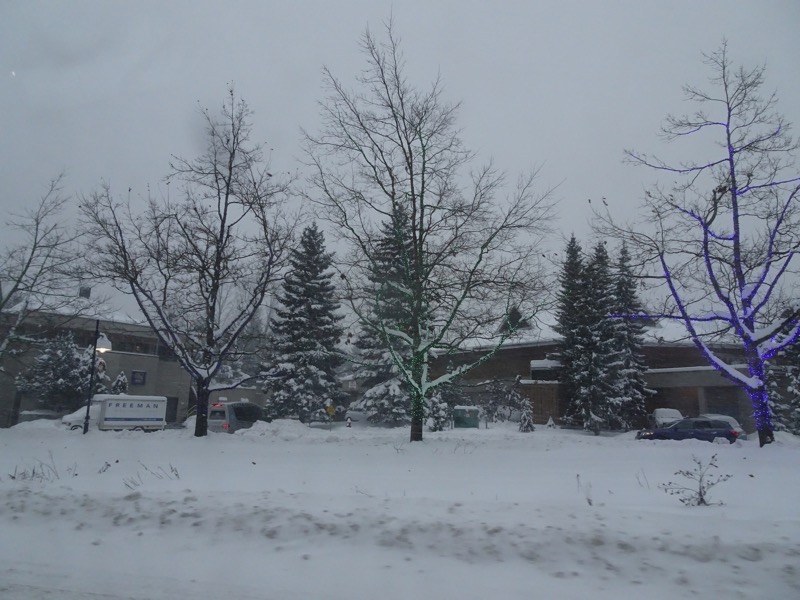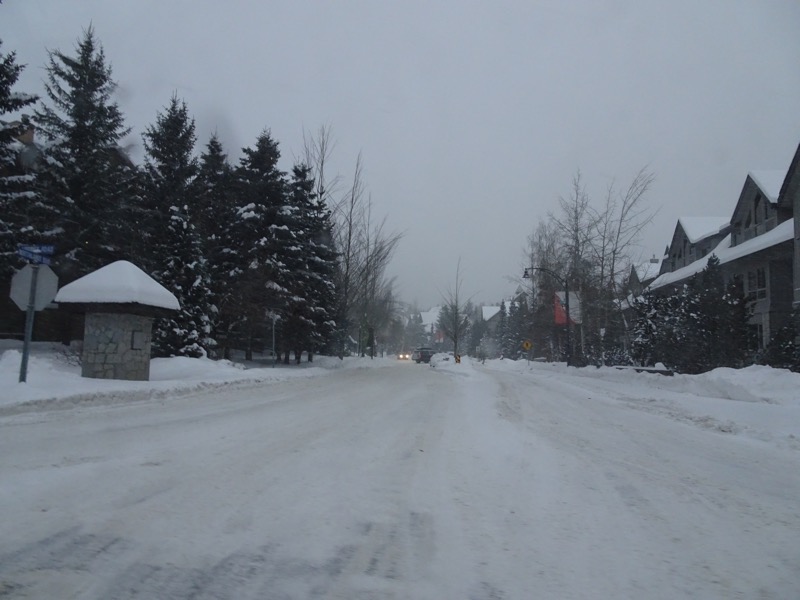 We found the Aspens on Blackcomb eventually and were pleasantly surprised to find our two bedroom suite which was to be our base for the week, was much larger than it appeared in the photographs online – I know, when does that ever happen?  We have a kitchen, two bathrooms and a decent sized living room.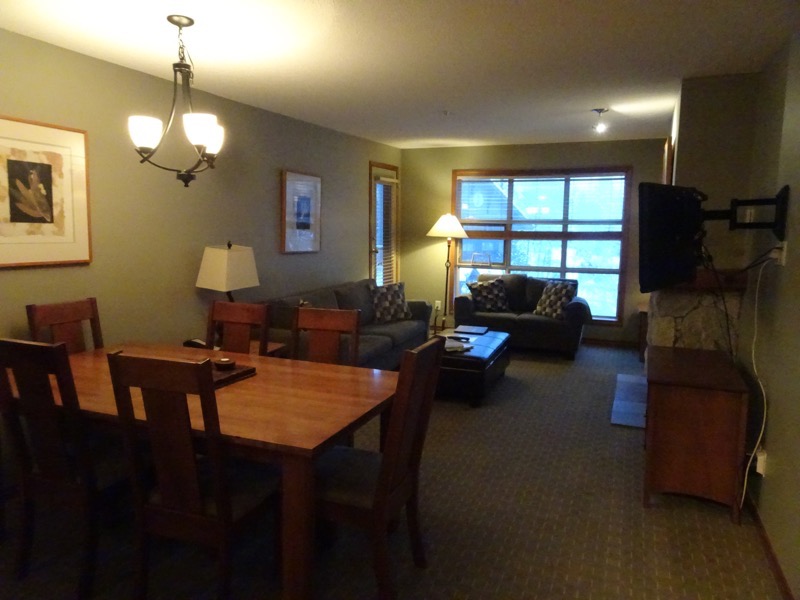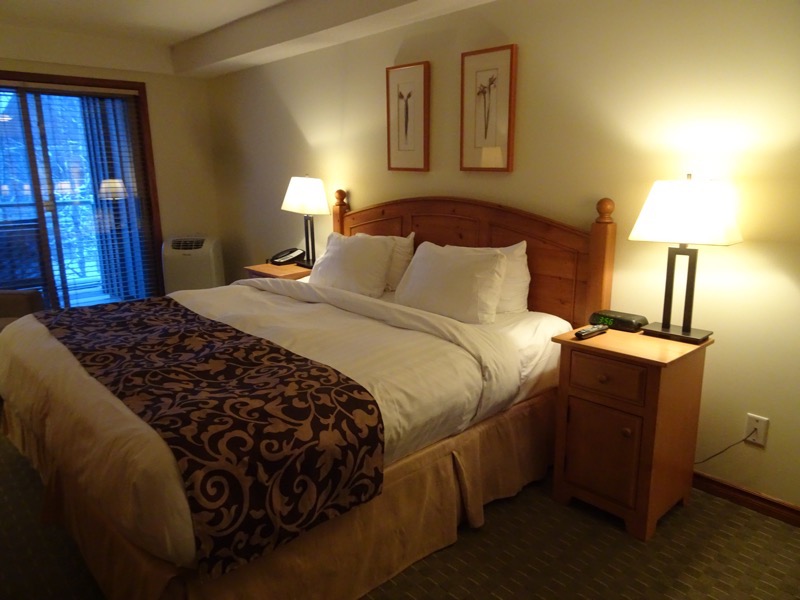 And the view out the windows was very exciting – around the pools and out the back gate is the Blackcomb piste!  Apparently, I chose well – the 'ski-in/ski-out' locations are considered very desirable.  Who knew?  Well, actual skiing type people probably knew.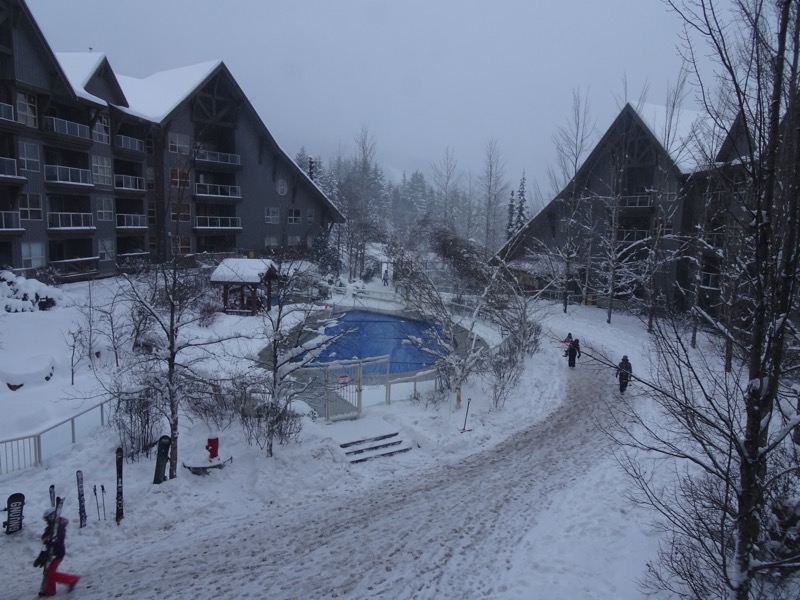 The following morning, alarms were set, and excitement was high as we were getting the kids off to skiing and snowboarding school.  We walked straight out down to Whistler Village to the Skier Plaza where the multitudes of people getting ready to hit the slopes when it was barely daylight, made my head spin!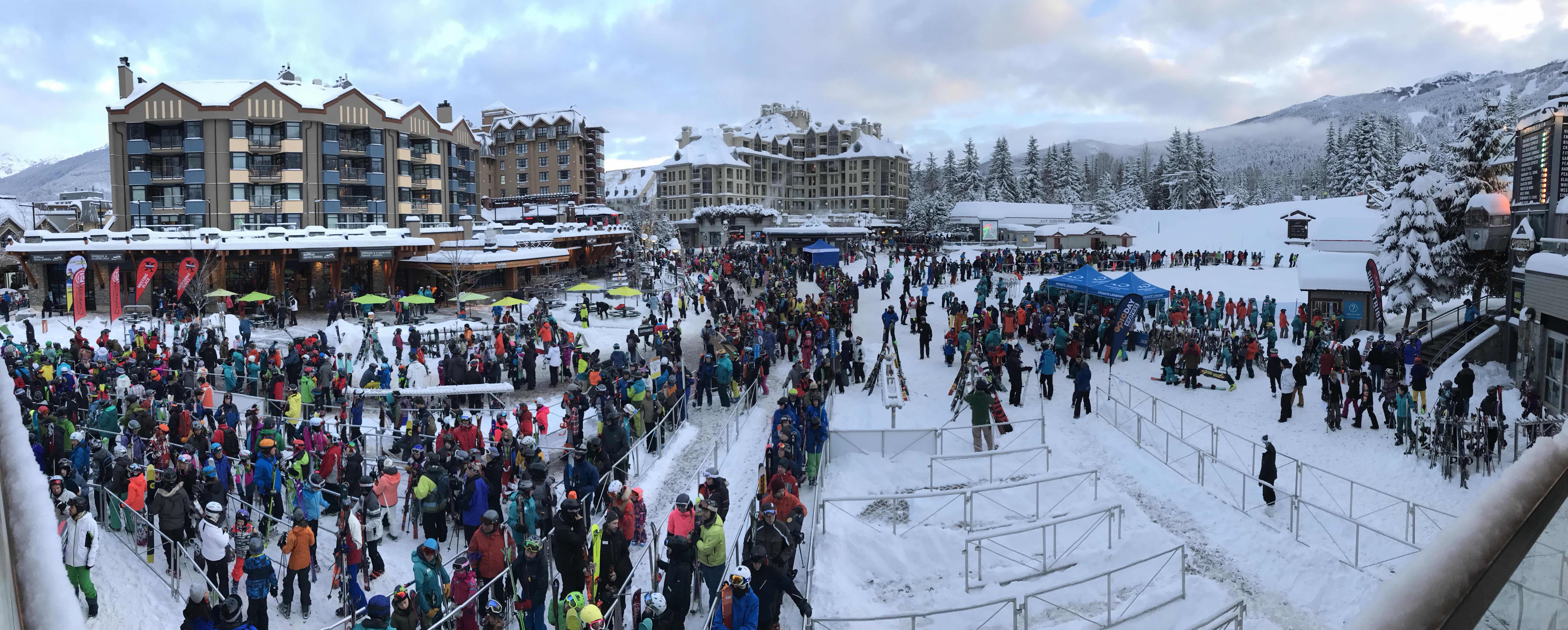 It was not yet 8am (sunrise wasn't officially until 8:19am) and the crowds were everywhere, people stalking/stomping around in ski boots with ski equipment casually slung over their shoulders, a DJ playing loud music from a balcony above the plaza, young people scoffing huge hamburgers for breakfast, and kids walking around looking like puffed up starfish in their huge insulated ski pants and anoraks. It was loud, energetic and chaotic.  🙂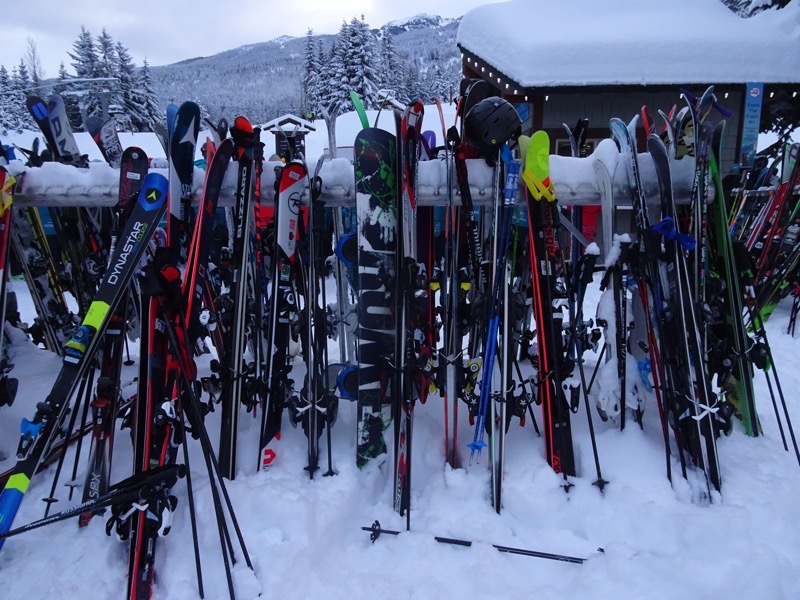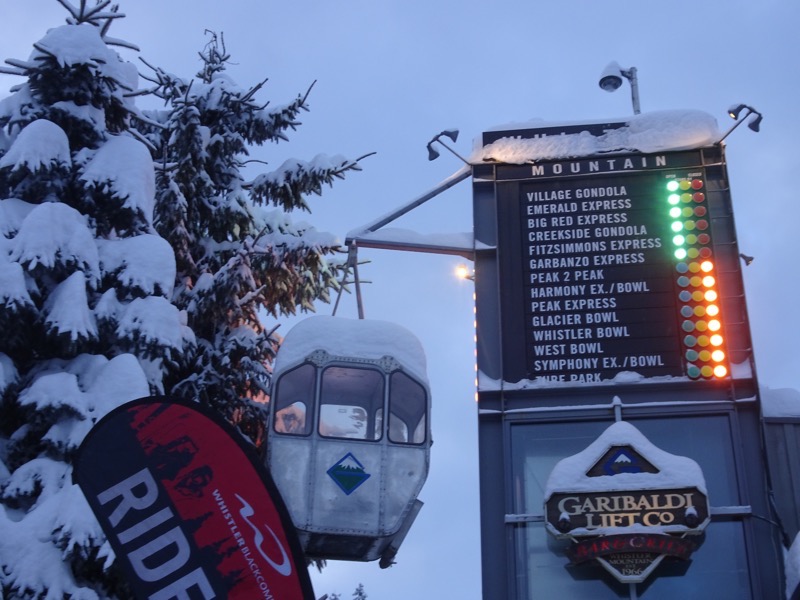 This little dude was the only chill guy in the place, and seemed in no hurry to get up the mountain.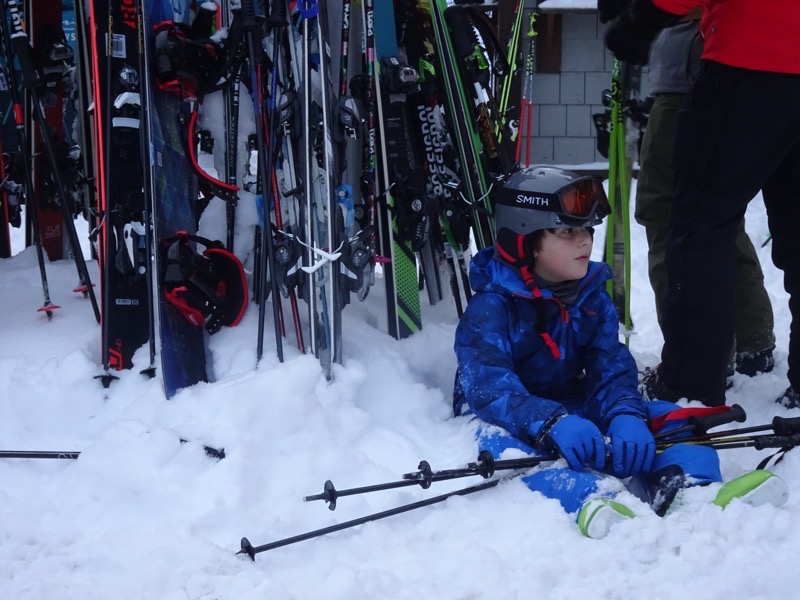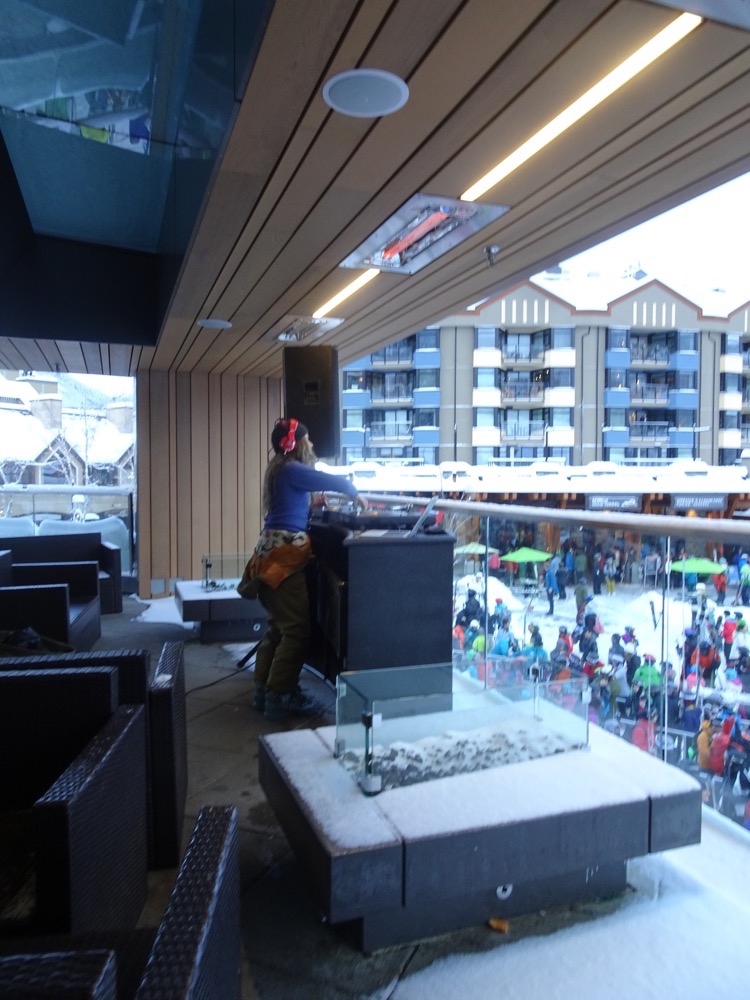 After we got the Teenager squared away in his first ever snowboarding lesson, we went for a walk down into the Village – everything was covered in snow, which again has the effect of making everything look the same.  We were hunting for the Starbucks to meet up with some friends.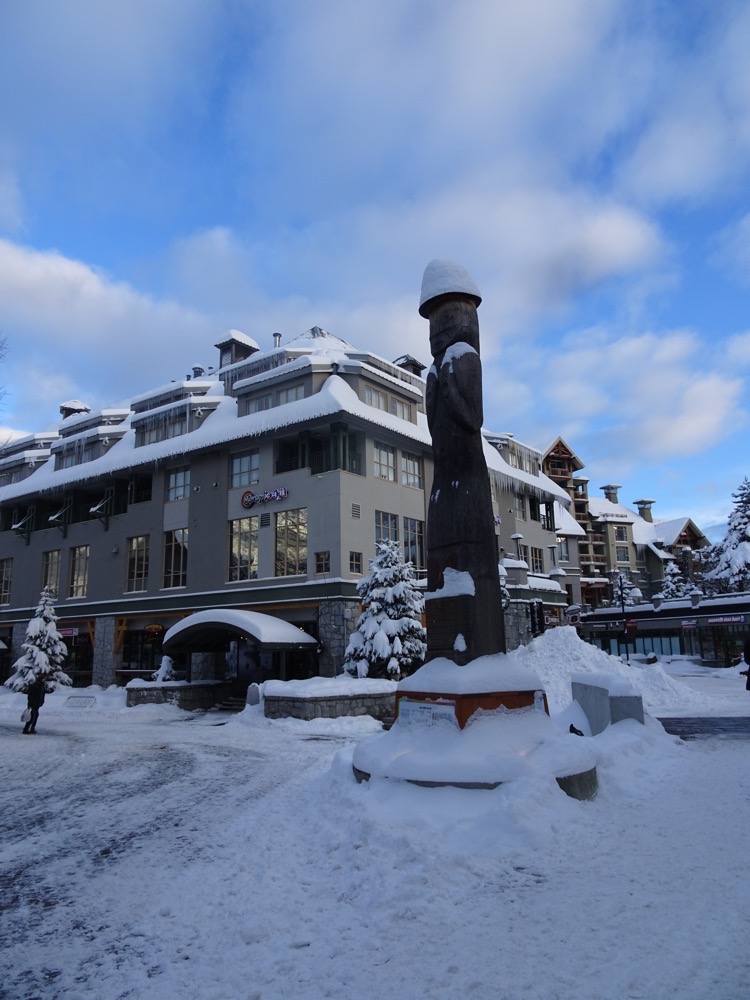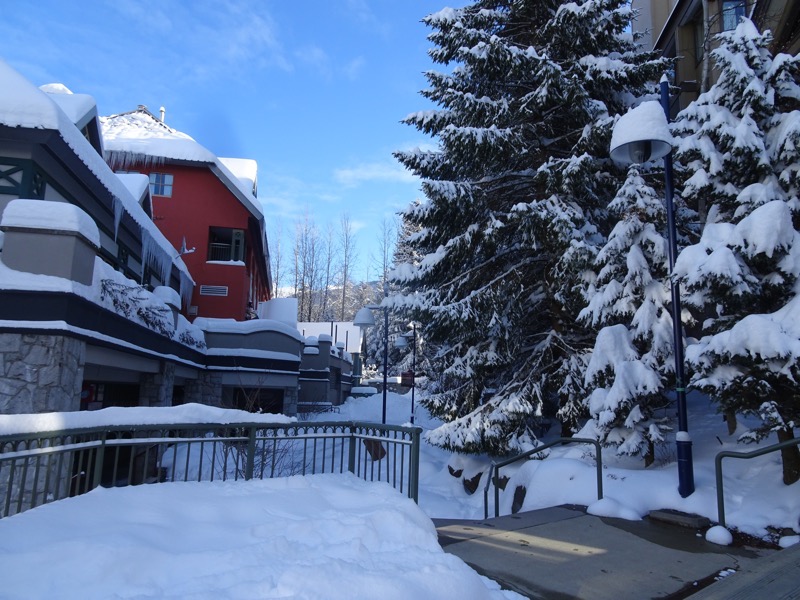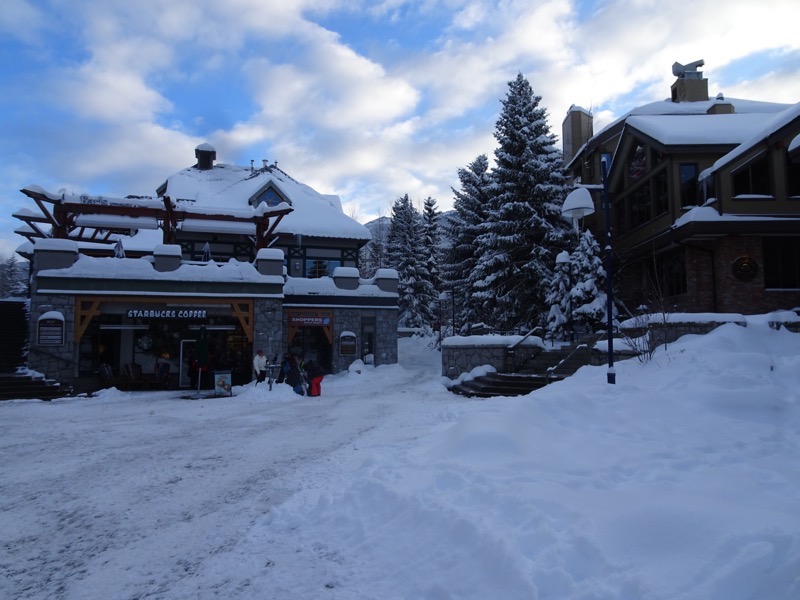 Cool chairs outside Starbucks – a little too 'cool' for me, I was glad we found some seating indoors.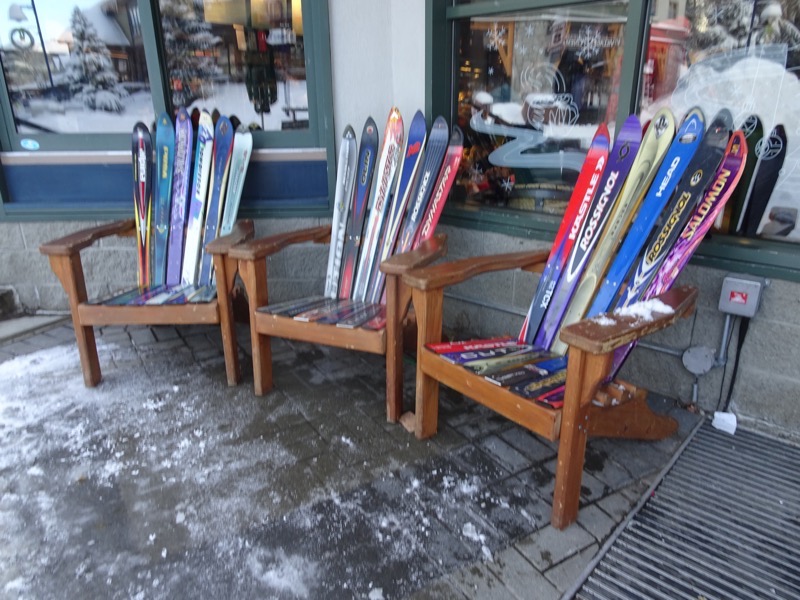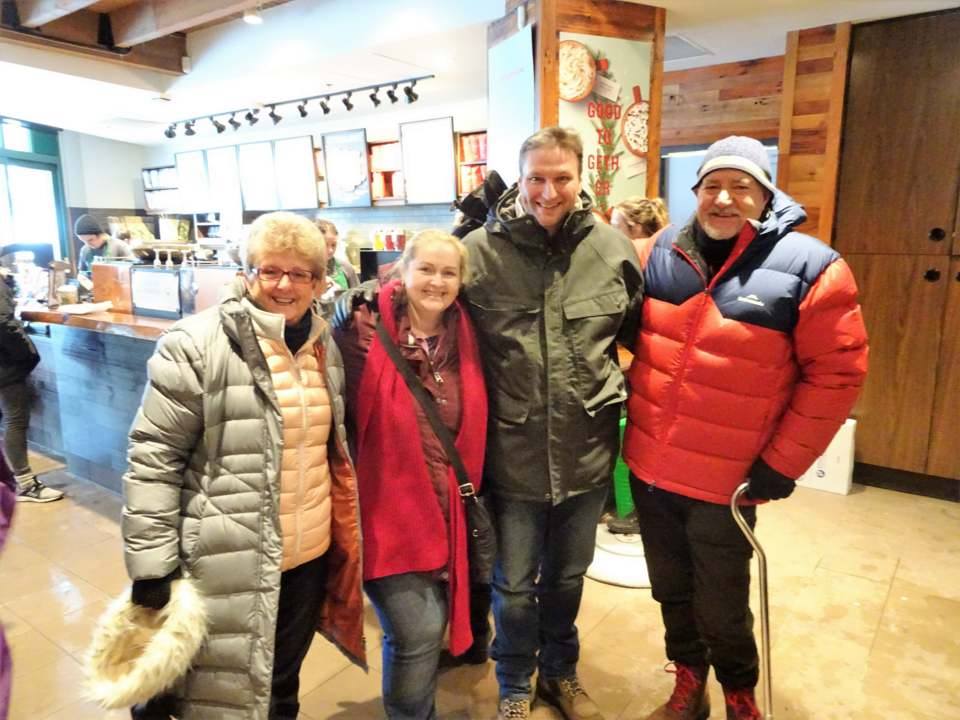 We spend a wonderful couple of hours catching up with Barry and Sandra, whom I had the pleasure of getting to know on my huge 84 night South American adventure earlier this year.  It's crazy to think that we met travelling around South America and visited heaps of beautiful places all over countries like Chile, Argentina, Brazil and Peru, together – I mean, we went paragliding off a cliff in Rio de Janeiro together, and hiked up Machu Picchu together! – and now here we are meeting up at New Years in Canada!  This is one of the best things about travelling, meeting wonderful new people whose company you enjoy so much, they turn into lifelong friends.  <3  Fingers crossed that our plans come together and we get to do the TransAtlantic with these guys and the other beautiful people I met cruising around South America, too. It's hard work trying to keep up with your friends who are already retired… But I can't wait!  🙂
After our coffee date, Mr K and I were heading into Vancouver for the afternoon to see Kurios and to go to a Canucks game.  The skies were much clearer than the drive up, though the roads… still, not so much.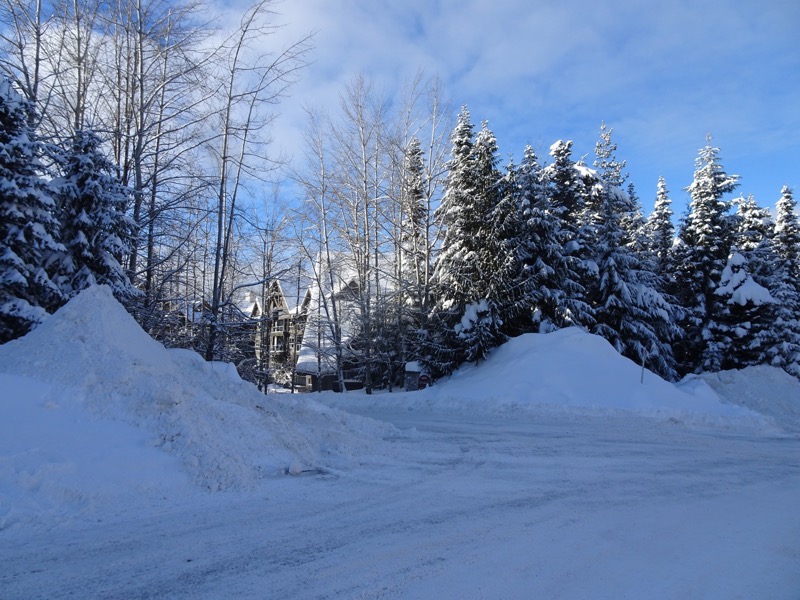 Being from Australia, everywhere we look is a stunning new vista – just looking down the street with the layer of snow covering the trees and the footpaths is beautiful.   I have taken hundreds of snow photographs.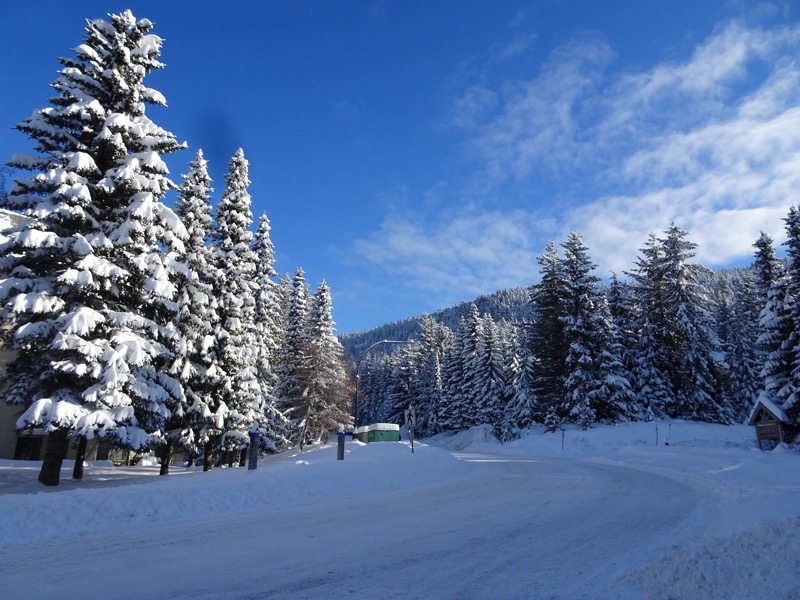 Now it had stopped snowing we could actually see the place we were looking for the night before!  🙂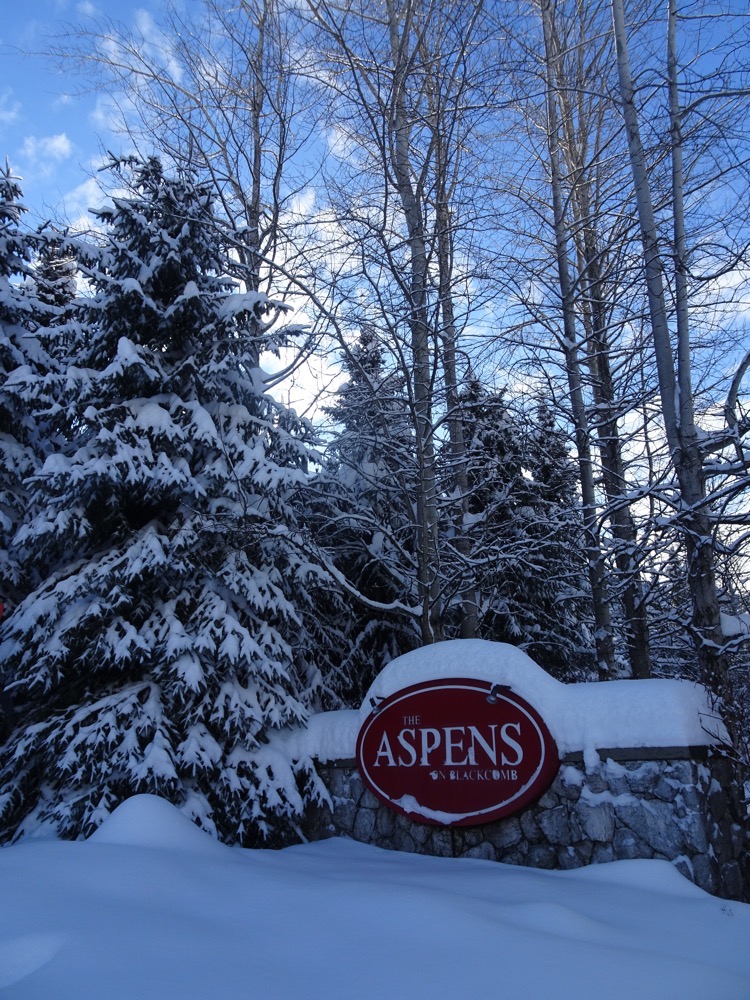 The drive to Vancouver was beautiful – blue skies, a layer of fresh snow everywhere as there had been about 15cm overnight.  The snow plough guys were out in force working on the roads and they were definitely improved over last night's conditions. More speed landscape photography – the 99 Sea to Sky Highway doesn't really have a great many lookout points where you can stop safely to take pictures, and those areas that are intended for lookouts are currently poorly signed due to signage being, well buried in snow!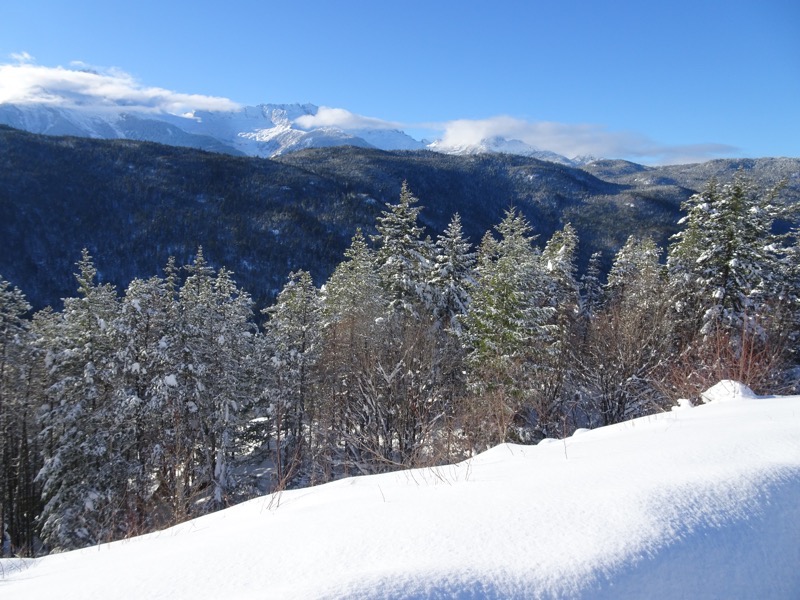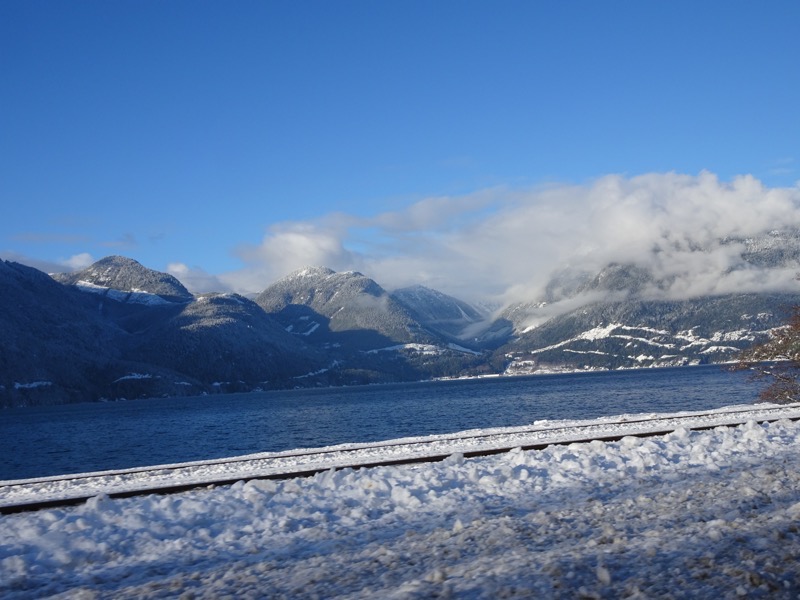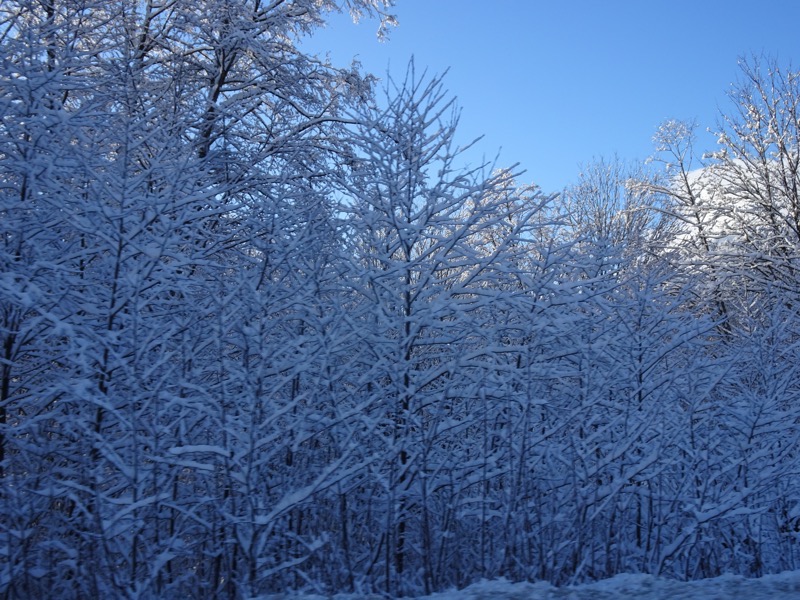 We made good time down to the city and went to see Kurios, easily one of the best Cirque du Soleil shows I have seen in years.  I am so glad we made the effort to get tickets and go see it.  The only downside is we had left the Teenager up on the mountain having a snowboard lesson and he didn't get to see the show. I'd take him to see it next week – but the run was wrapping up on the 31st.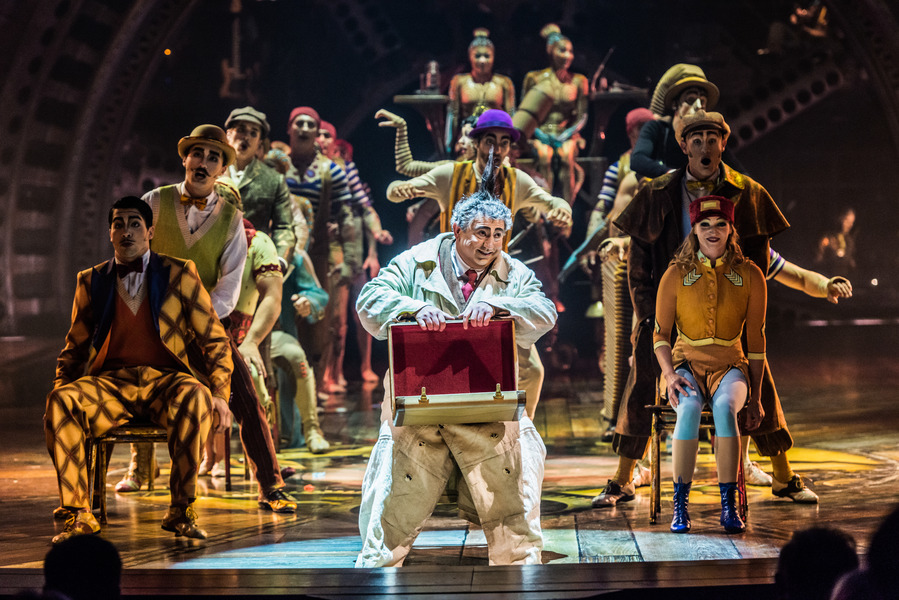 After the show we literally walked directly across the road from the 6:45 pm exit of the Big Top, to the 7:00 pm kick-off (I dunno… what does one call the start of a hockey game?!) at the Roger's Arena for the Vancouver Canucks vs LA Kings game. The Teenager and the rest of the relatives had come down after their Big Day O'Skiing and we met up with them there.  We arrived just in time for the national anthems, very fancy, and in spite of the Canucks not skating their way to victory – it was a great fun game to watch, and the food was as horrid as you expect and our expensive seats were right up in the bleachers where they should be.  All up, a very satisfactory first NHL hockey experience for the kids.  😛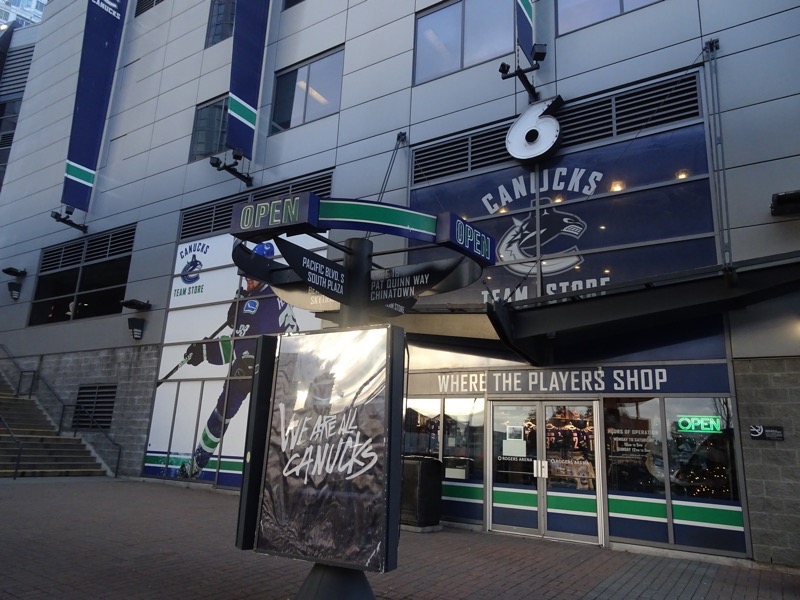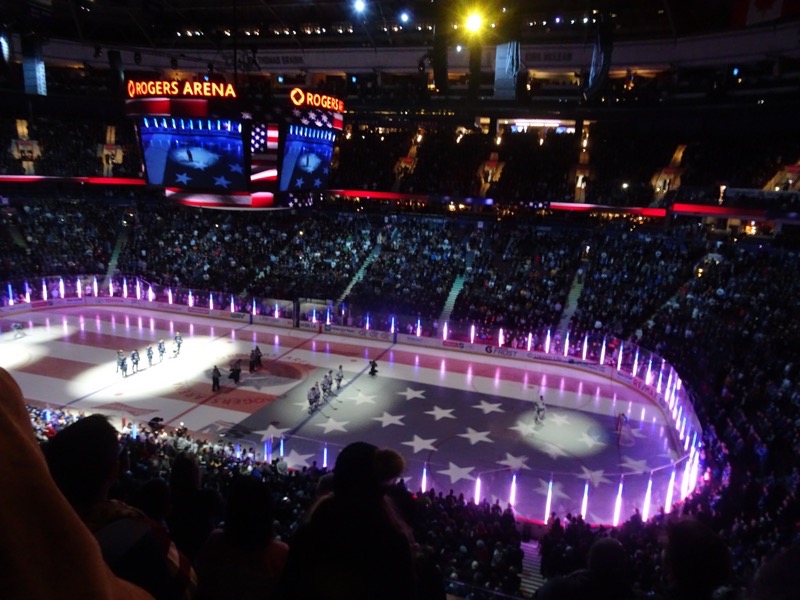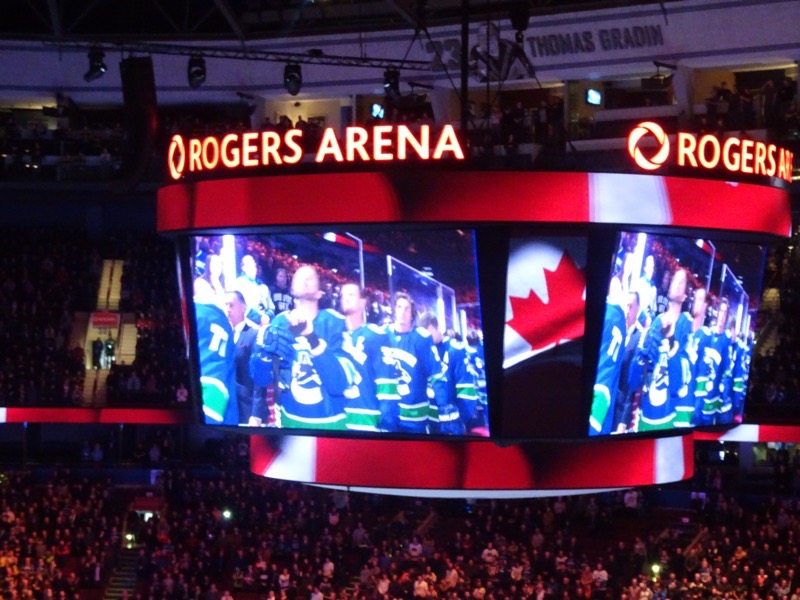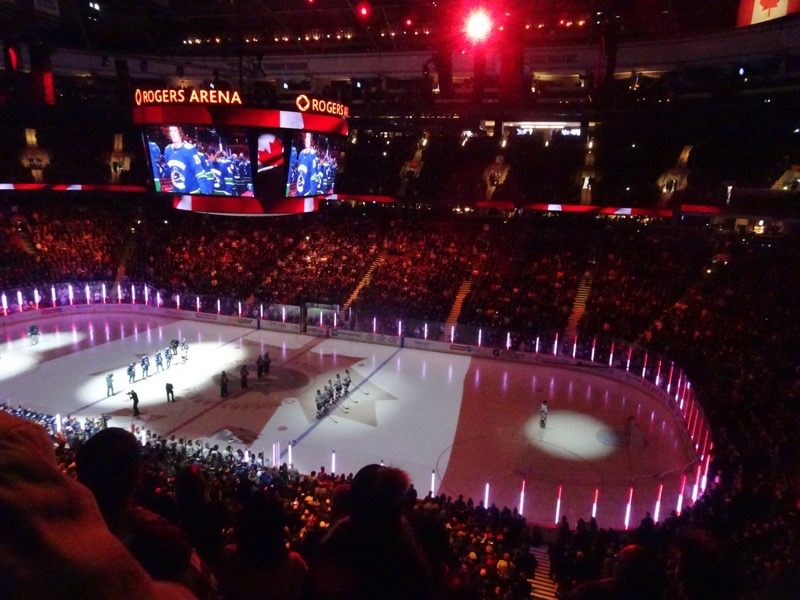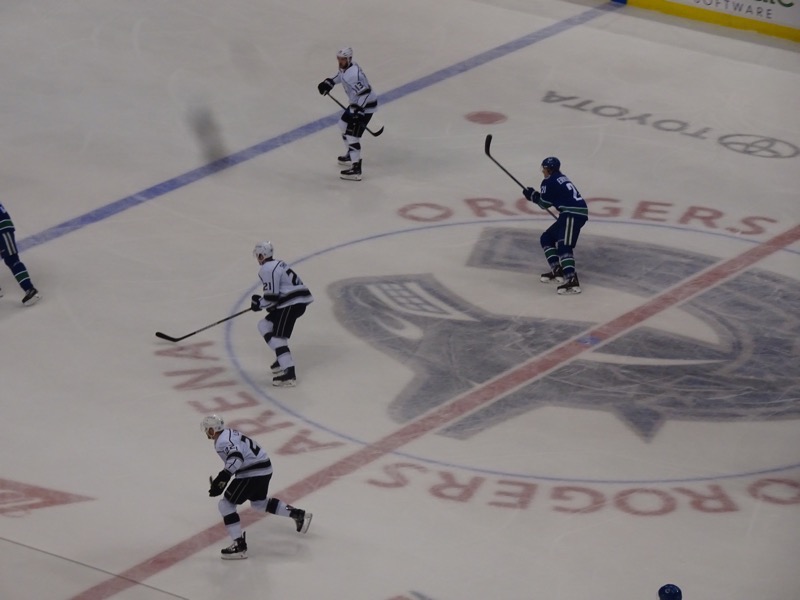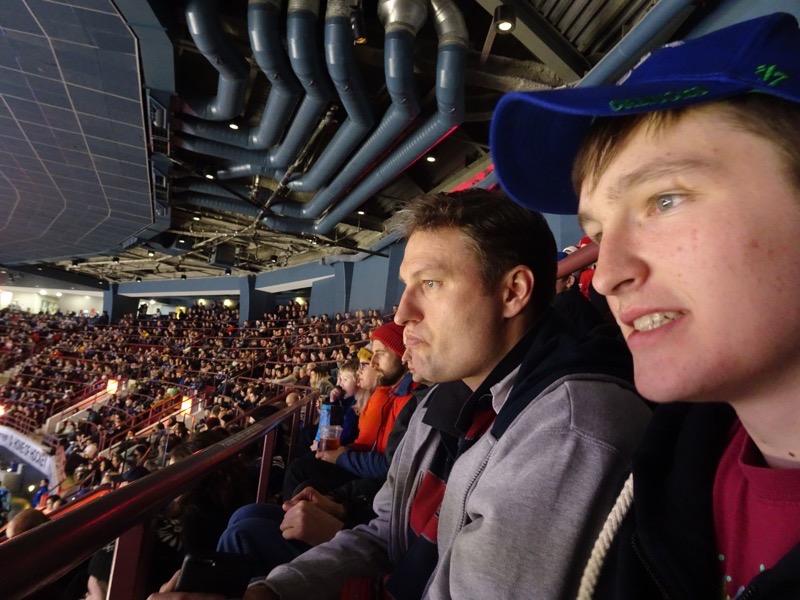 Then it was time to hit the 99, Sea to Sky highway back to Whistler. We were a little worried about what the road conditions would be like driving back in the middle of the night – mostly because the Canadians around us seemed worried about it – but the snow plough guys had been working their butts off and the roads were clear and predominantly dry on the drive back.  Much better than expected.  We were back in Whistler by about midnight and gave a grateful salute to the snow plough drivers as we passed them just outside of Squamish.  What a huge day… and tomorrow – more snow fun for the people!