What a glorious day!  Today everyone was on the slopes – except me… because bad back, chronic pain, must make sensible decisions *mutter mutter*.  So I decided to go for a walk into the Village and check out the Village Stroll, and I could not have picked a better day for it.  The sun was out, the skies are so blue, and the snow looks pristine and fresh.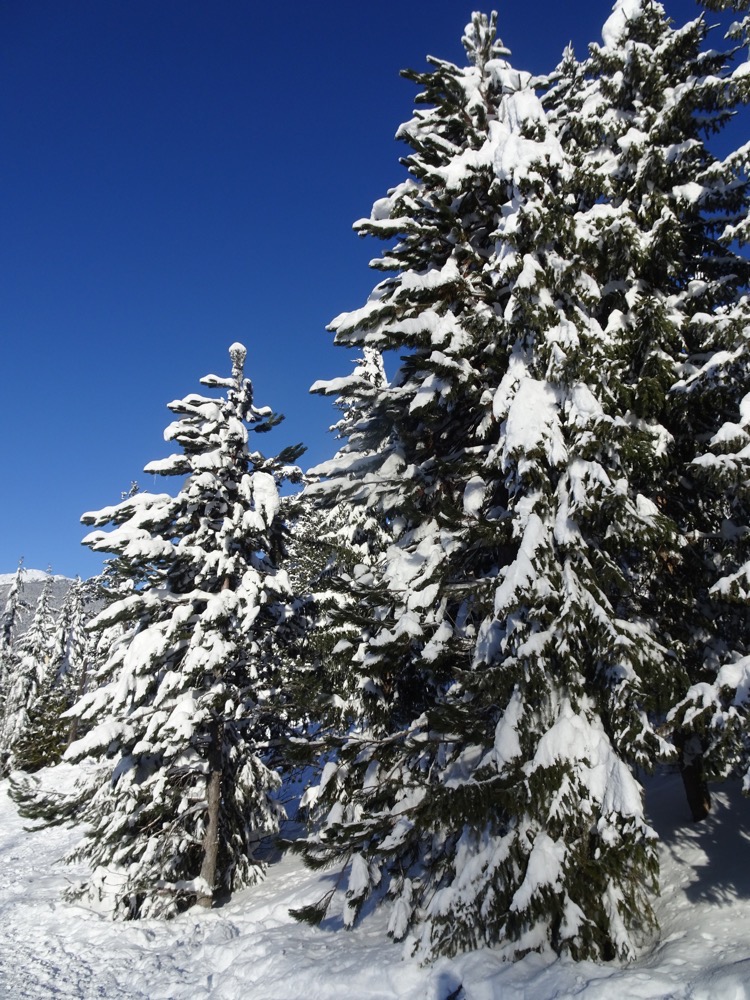 The covered bridge across the creek to the Lost Lake.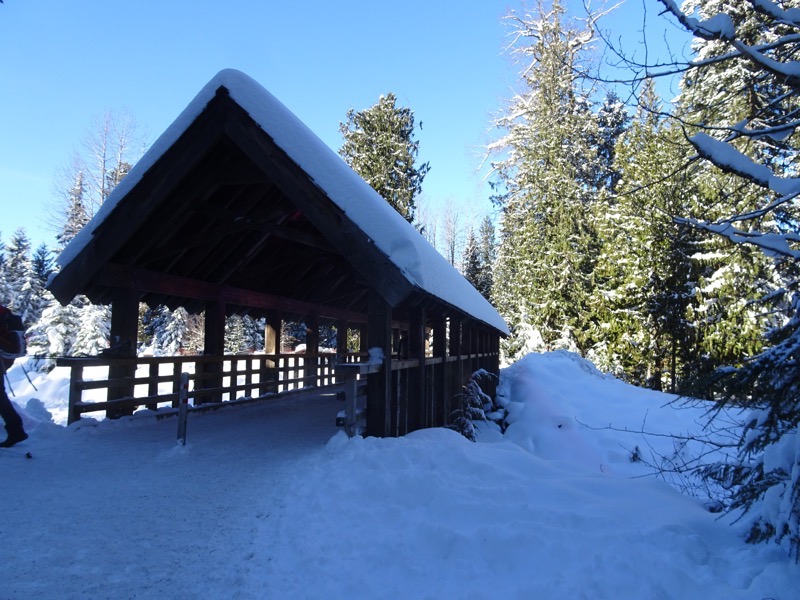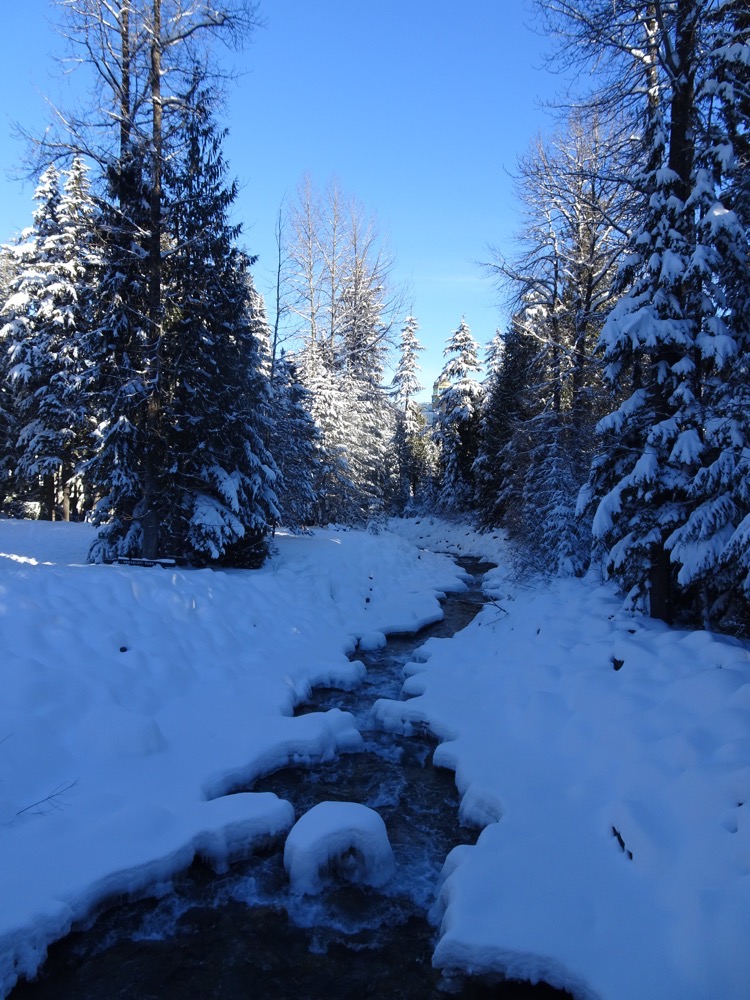 Everywhere you look is another beautiful vista.  I can understand why people flee the cold for the winter – I get it, there is probably only so many times you can look at these landscapes and feel a sense of wonder that overrides the fact that your toes feel like they are going to fall off!  But for us, being from Australia and having only been to the snow a few times in our lives, if at all – this place feels truly magical.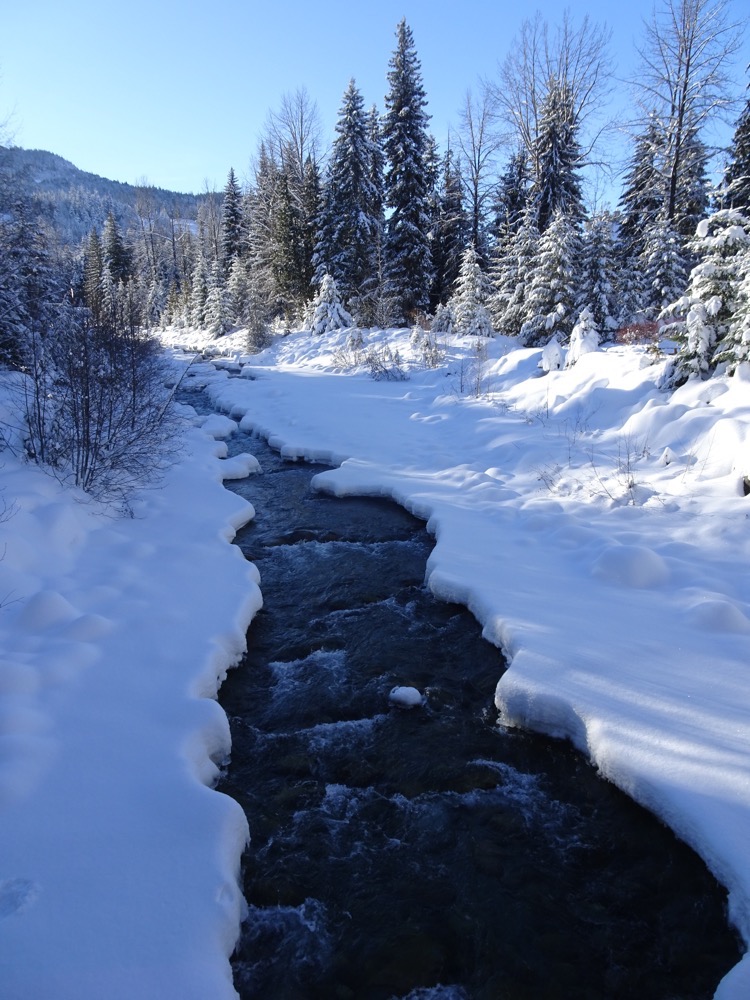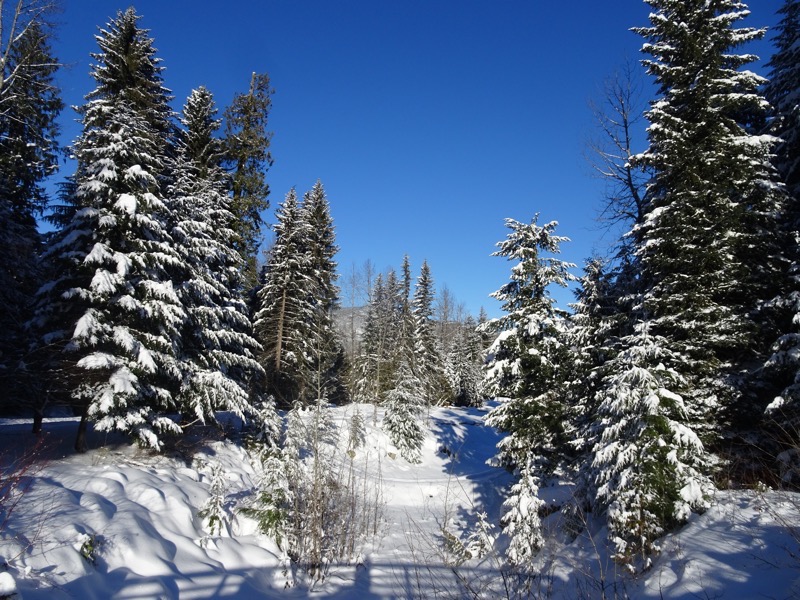 Down in the Village Stroll, at the Olympic Plaza, you can find a sculpture of the Olympic rings from the 2010 Winter Olympic games.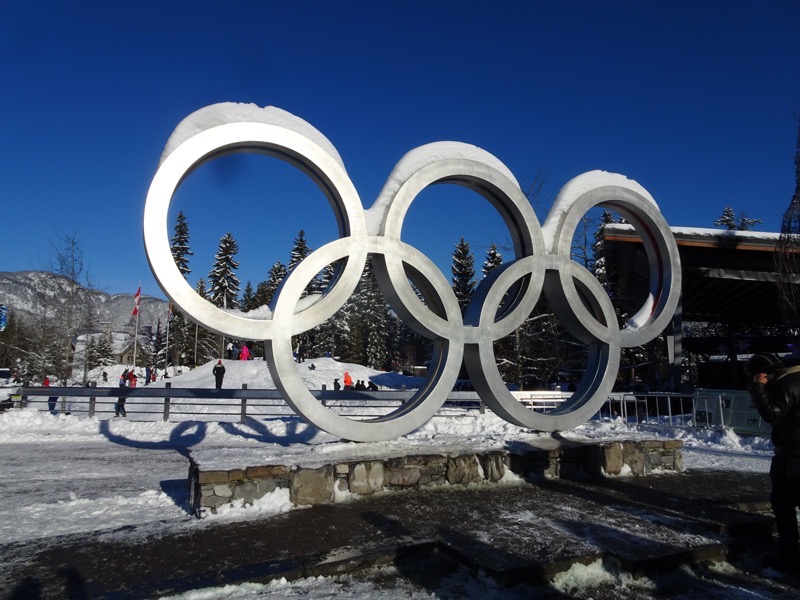 Icicles!  Actual Icicles.  Love them… though of course if they ever become a common occurrence where we are from, we will know that hell hath frozen over.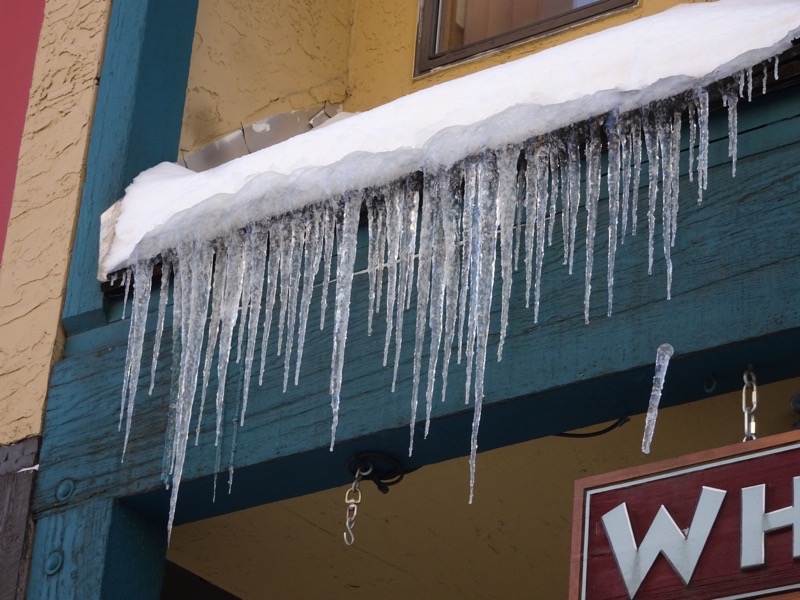 I walked around the village for a while, spoke to all the Aussies working in the stores – seriously, I'd have to say 80% of the people who are working here in a seasonal capacity, are from Australia.  There must be something about this place that attracts them, but I met only one Kiwi, and dozens of Australians everywhere!  And it was the same in the restaurants and retail facilities up the mountains, in the ski school, and everywhere else we have been to.  Shopping done, groceries for dinner squared away, I braved the free Number 5 bus and went back to the Aspens.  Didn't get lost – win!
Later in the afternoon when everyone had done with their skiing, we all went for another walk down into town to show the kids the Village all lit up with Christmas lights.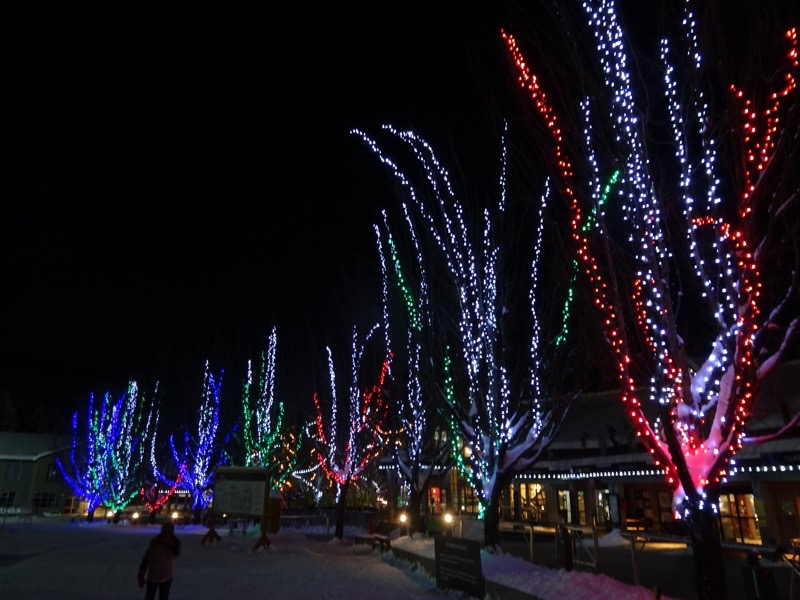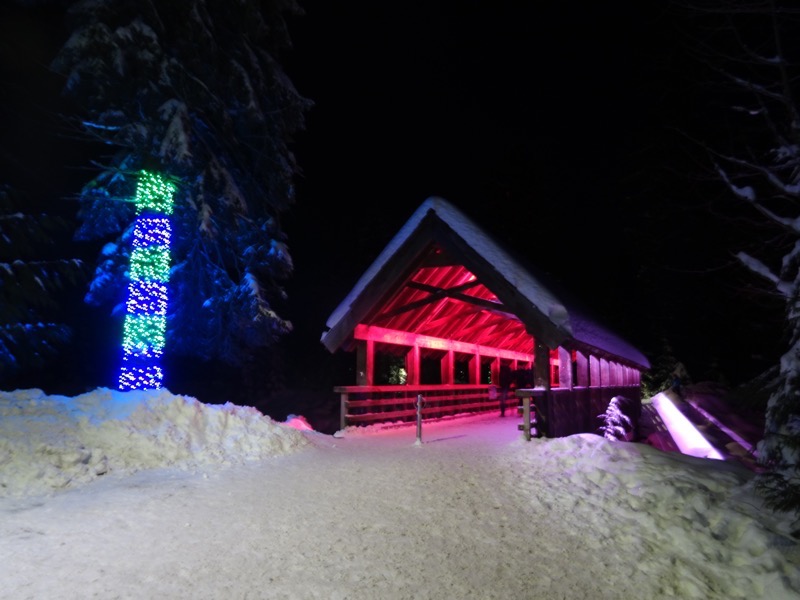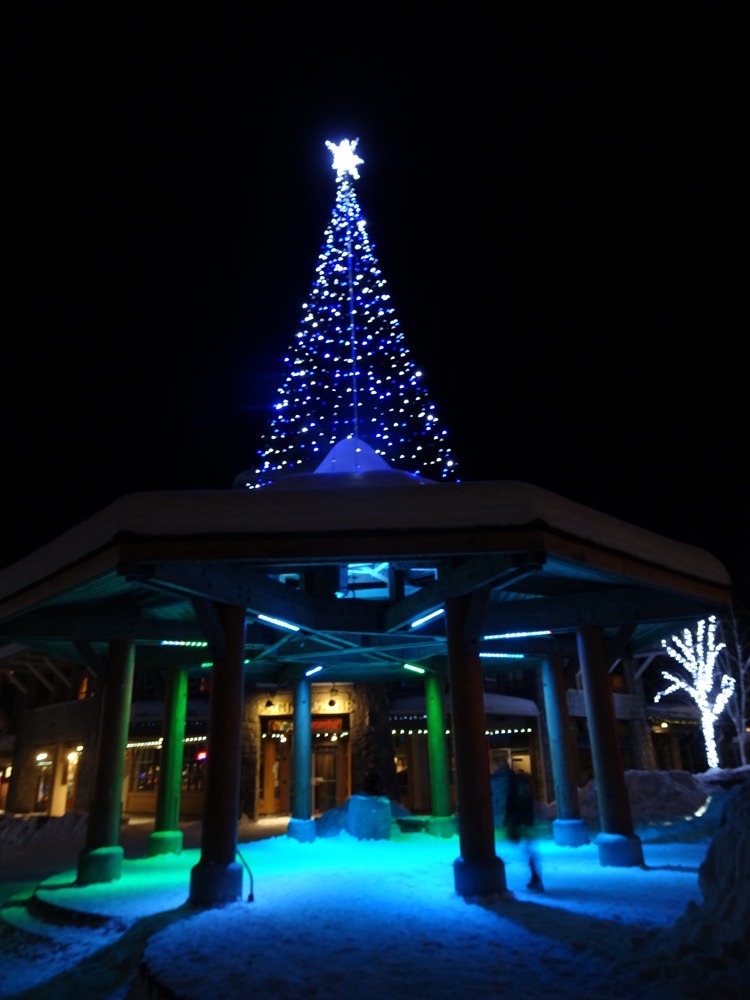 I don't know where the kids get their energy from, but they were running and jumping and climbing and playing on every little mound of snow they find!  They are absolutely enthralled with this wintery paradise.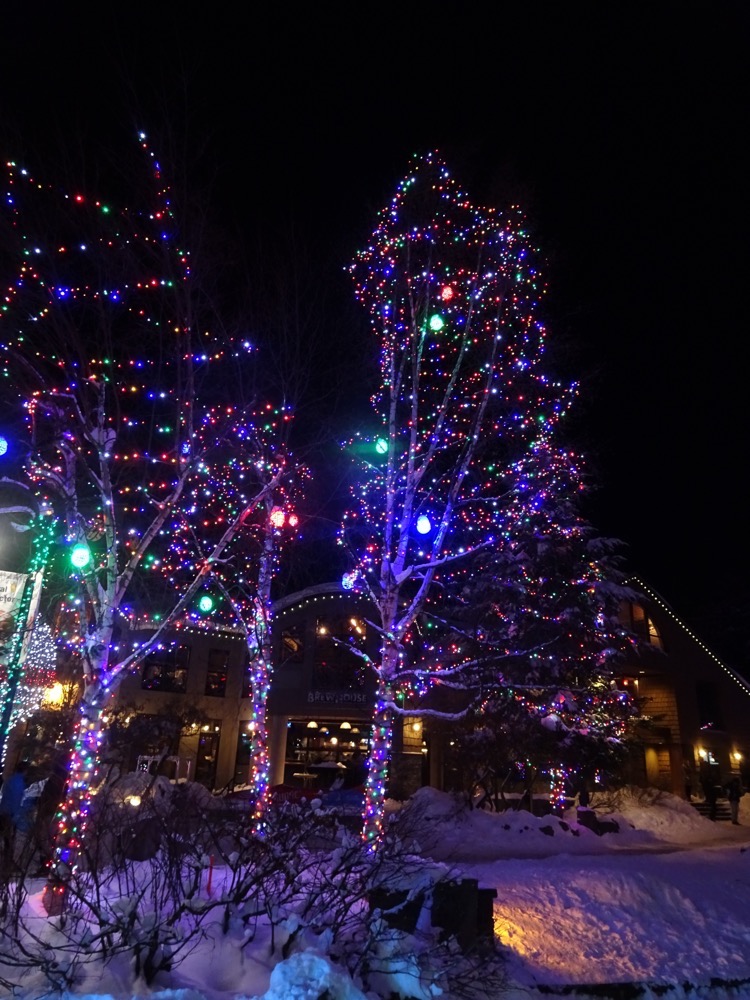 Eventually, with our toes freezing (it was -10C and feeling like -15C according to the weather app on my phone), and it still a LONG way from midnight, we decided to find somewhere to thaw out for a while and landed ourselves in the Gnarly Roots pizza cafe for some hot chocolates, hot ciders and a late night 'snack'.  Whereupon the energy I just mentioned deserted the kids and they damn near fell asleep at the table waiting for food.  That 'snack' by the way, turned out to be the biggest pizza I have ever seen!

We warmed up and enjoyed our second dinner *rolls eyes* and then went wandering through the rest of the Village Stroll, from there it was back to the bus to head back to the Aspens, where most of us were sensible and went to bed!  Those of us who were determined to see in midnight got rugged up and head out onto the Blackcomb piste at about 11:30pm to see if we could see the fireworks being set off in the village. The moon was nearly full and there were other small groups of revellers out on the piste as we all waited for midnight.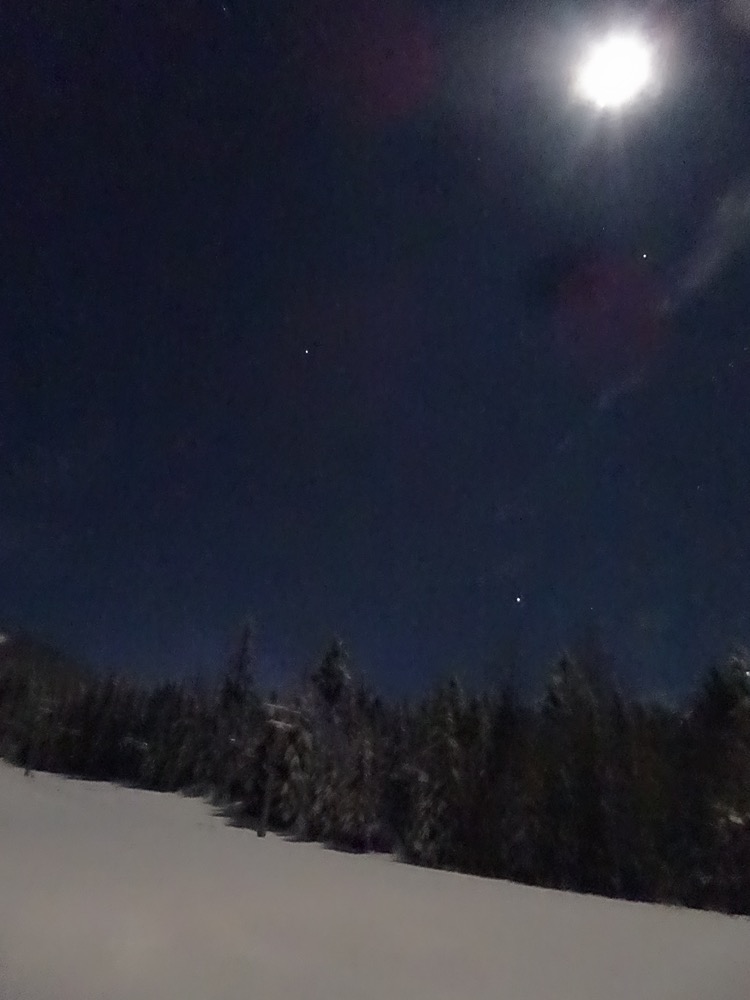 Seconds after this photo was taken, we were nearly run over by a man on a toboggan blowing a horn of some sort, yahoo-ing his way down the mountain and then stopping, very inelegantly in a snow bank!  😛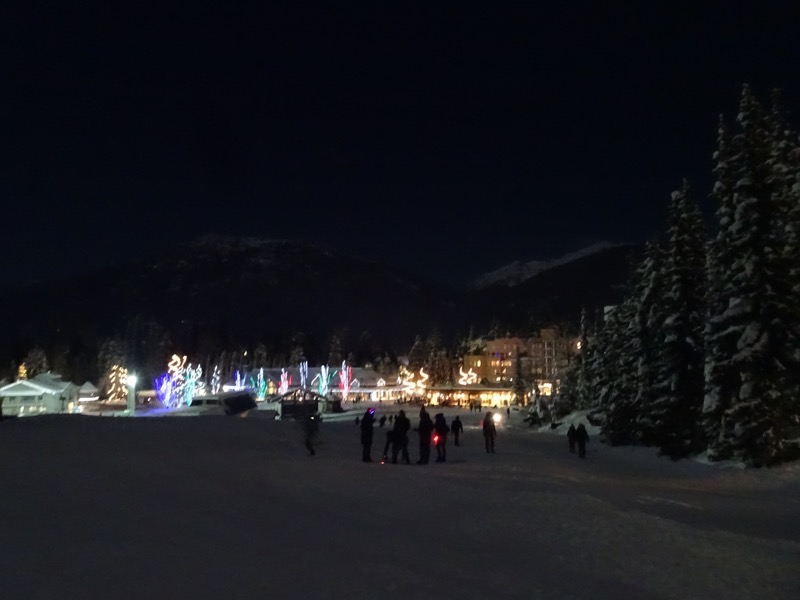 Drinking Mr K's novelty barrel sake that I had given him for Christmas as we waited for the fireworks…
It was bloody cold stand around like that and I was grateful for the sake.  
Eventually fireworks* and well wishes and cries of 'Happy New Year' rang out across the mountain – and shortly after we hightailed it back inside to warm up!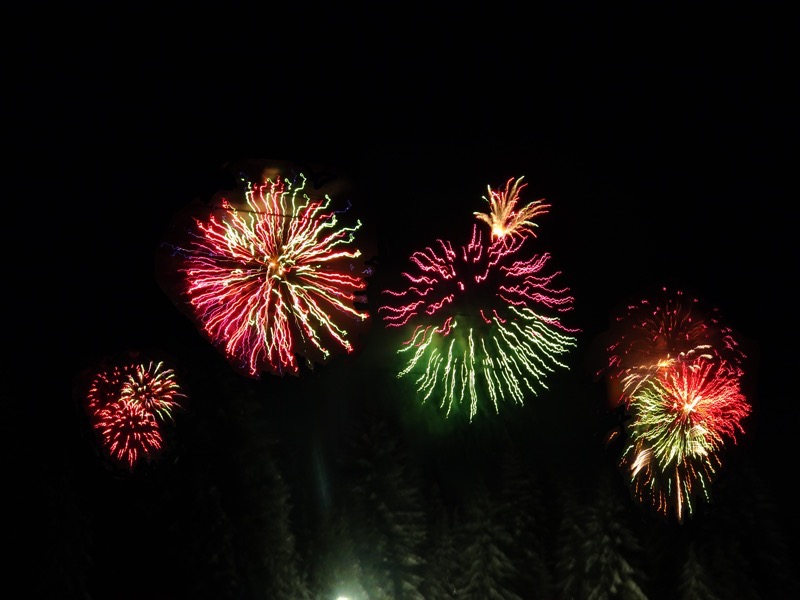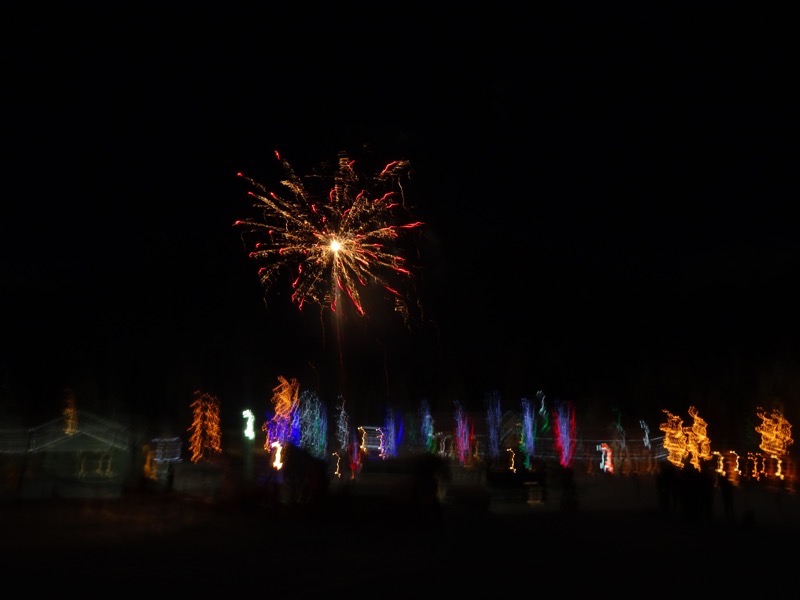 *Completely photoshopped – they put up only one firework at a time and spaced out rather weirdly so I smooshed together four dodgy handheld fireworks photos into one.
HAPPY NEW YEARS FROM WHISTLER!