Woke up stupidly early this morning and I meant annoyingly stupidly early – 4:30am – and couldn't get back to sleep. Which is a pain in the arse no matter where you are but when you are playing tourist in one of the largest cities in the world, it means you have about SIX HOURS to kill before anything is open. No shops, no museums, no nothing. Only thing I could have done was go find a Starbucks after about 7am or head to the park to go for a walk and watch all the crazy dog walkers and joggers go by. Nothing opens until 10am… Grrr! 🙁
Blargh. Anyway… eventually it gets to be past about 9am and I decide to go out for my first New York ritual and grab a bagel with 'just a little bit of cream cheese please' – yes, of course he still drowned it in cream cheese anyway, but you gotta ask, no? And then went wandering up Madison Avenue to find the New York Beretta Gallery. If anyone was watching, a few weeks ago, I was at the Beretta Gallery in London and after screws for my 87 and was duly told they have absolutely no handguns in England, but that I would have much better luck in New York seeing I was headed this way anyway. So I potter around, (read loiter until 10am when everything opens) and go check out the Beretta Gallery New York.
Very pretty place by the way, looks almost identical to the English one with slightly less plaid. 🙂 I get to chatting with one of the gunsmiths there in the Gun Room and am pretty much told the same thing 'nope, we don't have any handgun parts at all'. WTF? This is America (Fuck Yeah!) where all the guns are, surely they have a screw for me… but nope. No screws. I did have a great chat about concealed carry laws in New York and the US in general and it is nice to know that at least some people working in the industry think that the US has a problem with their attitudes to firearms.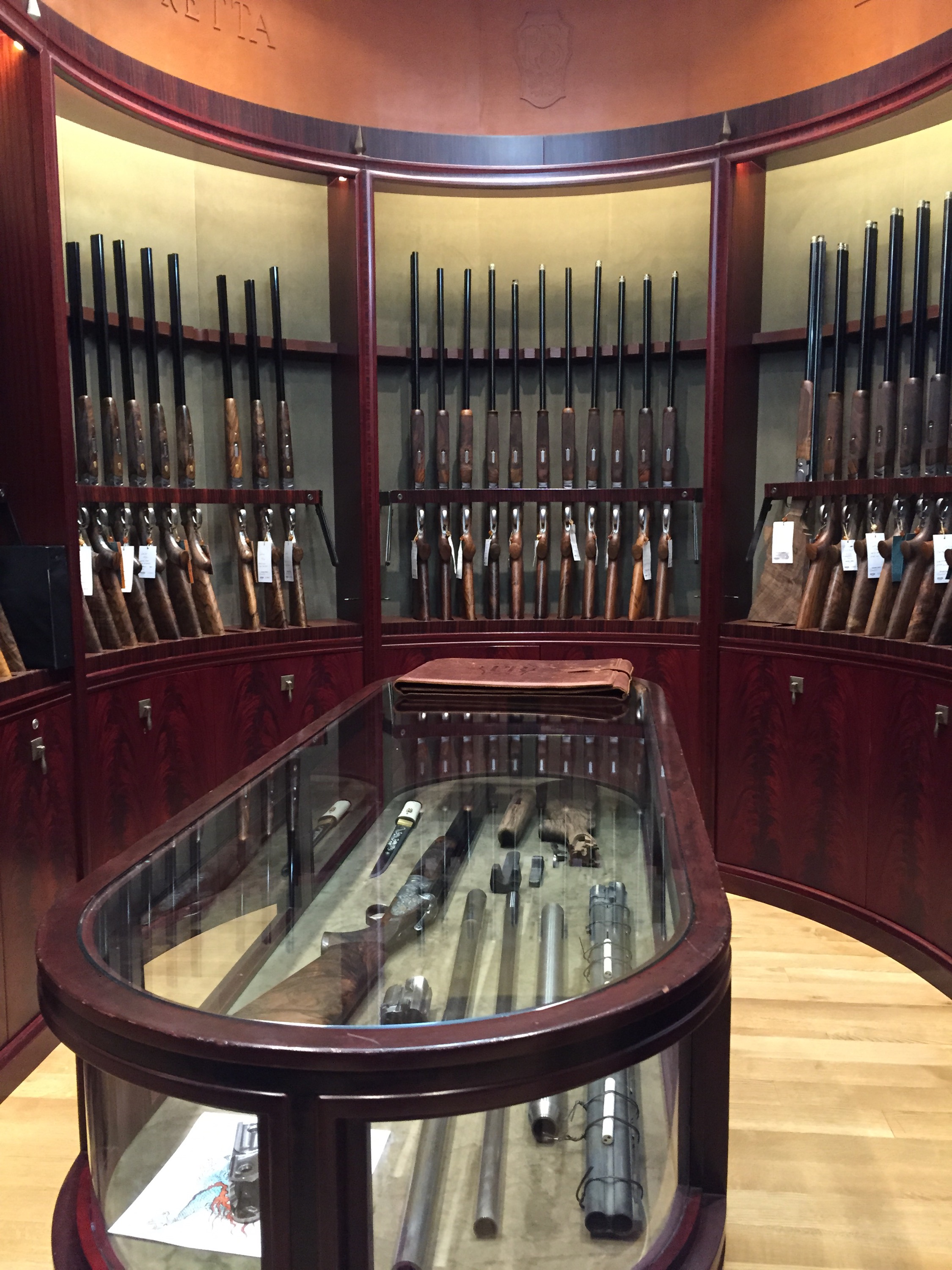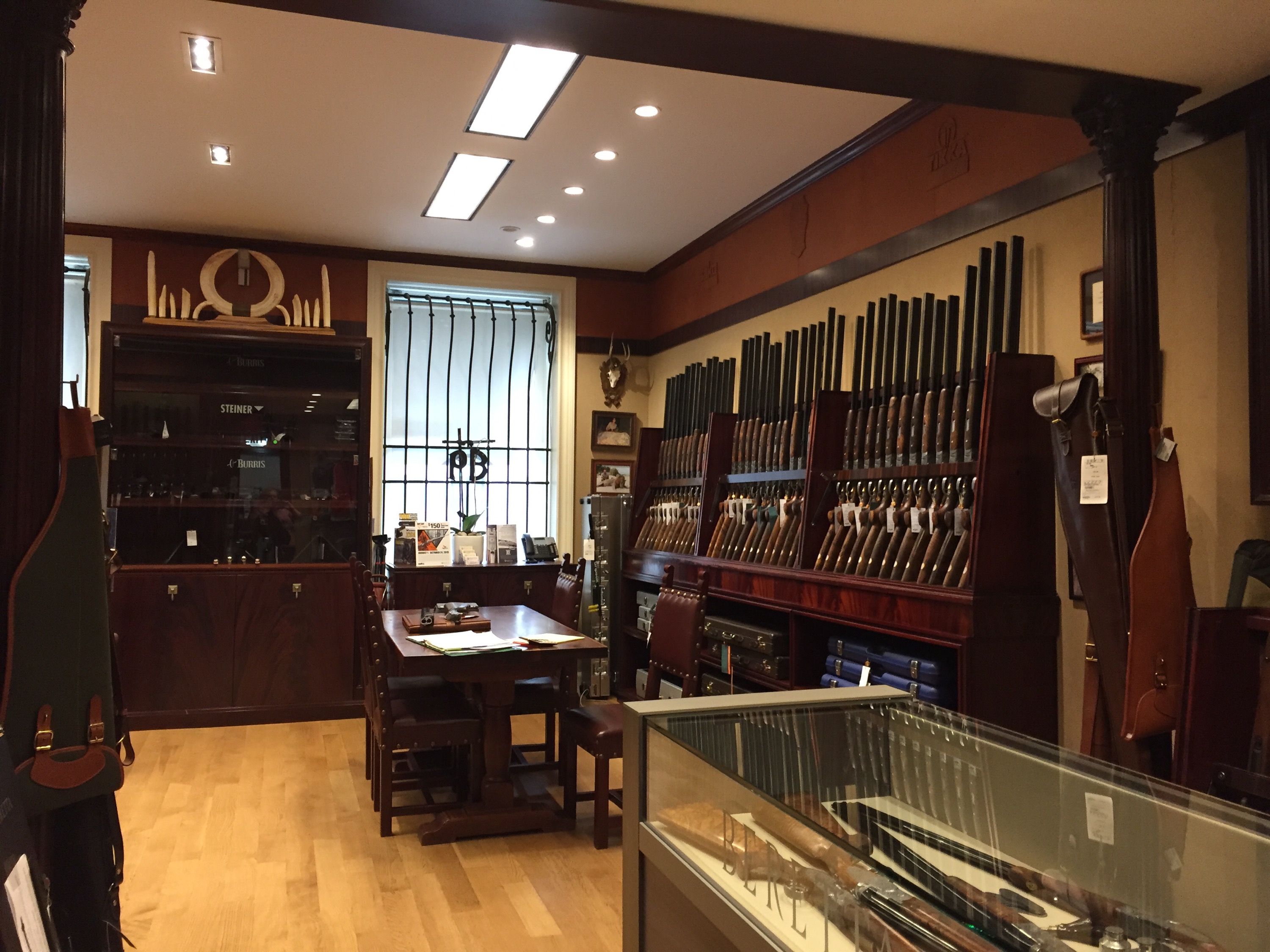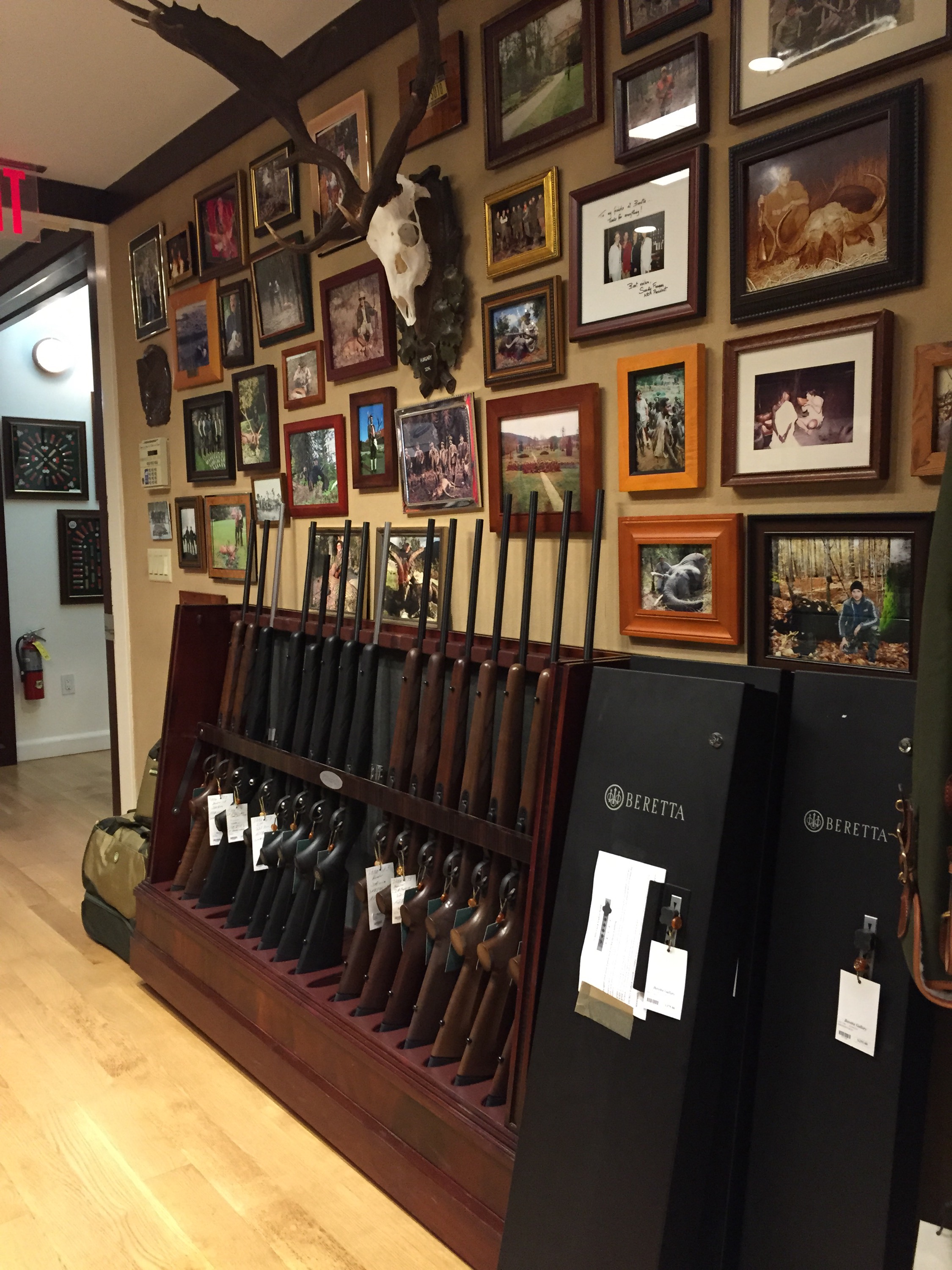 After being completely unable to get a screw in New York, I decided to walk up town along Central Park to go to the MET. As promised back when I was in Tokyo, I was again in search of the Great Wave of Kanagawa. It was a beautiful day for a walk and the park is looking all lush and green, not all frozen and uninviting like last time I was here.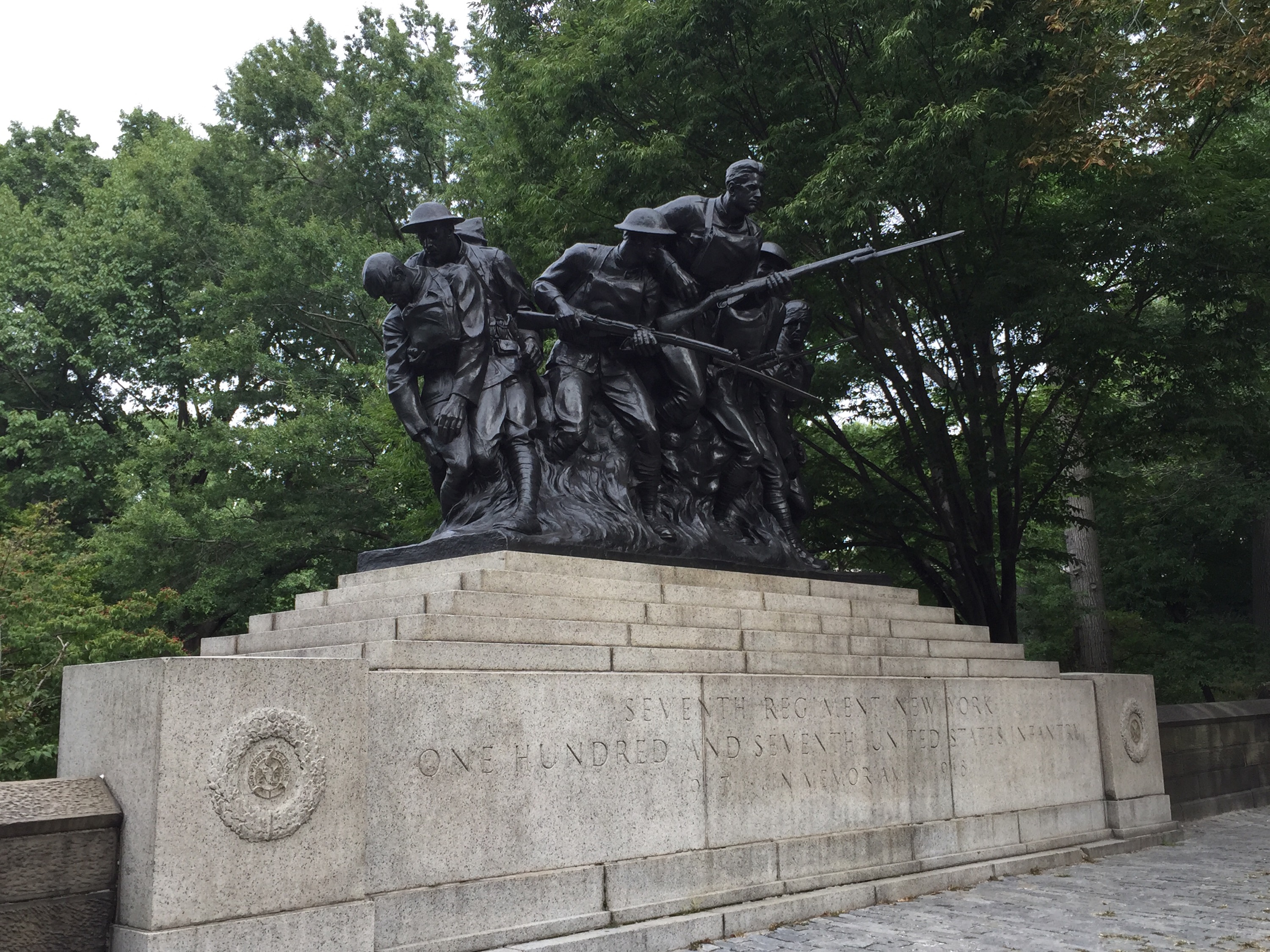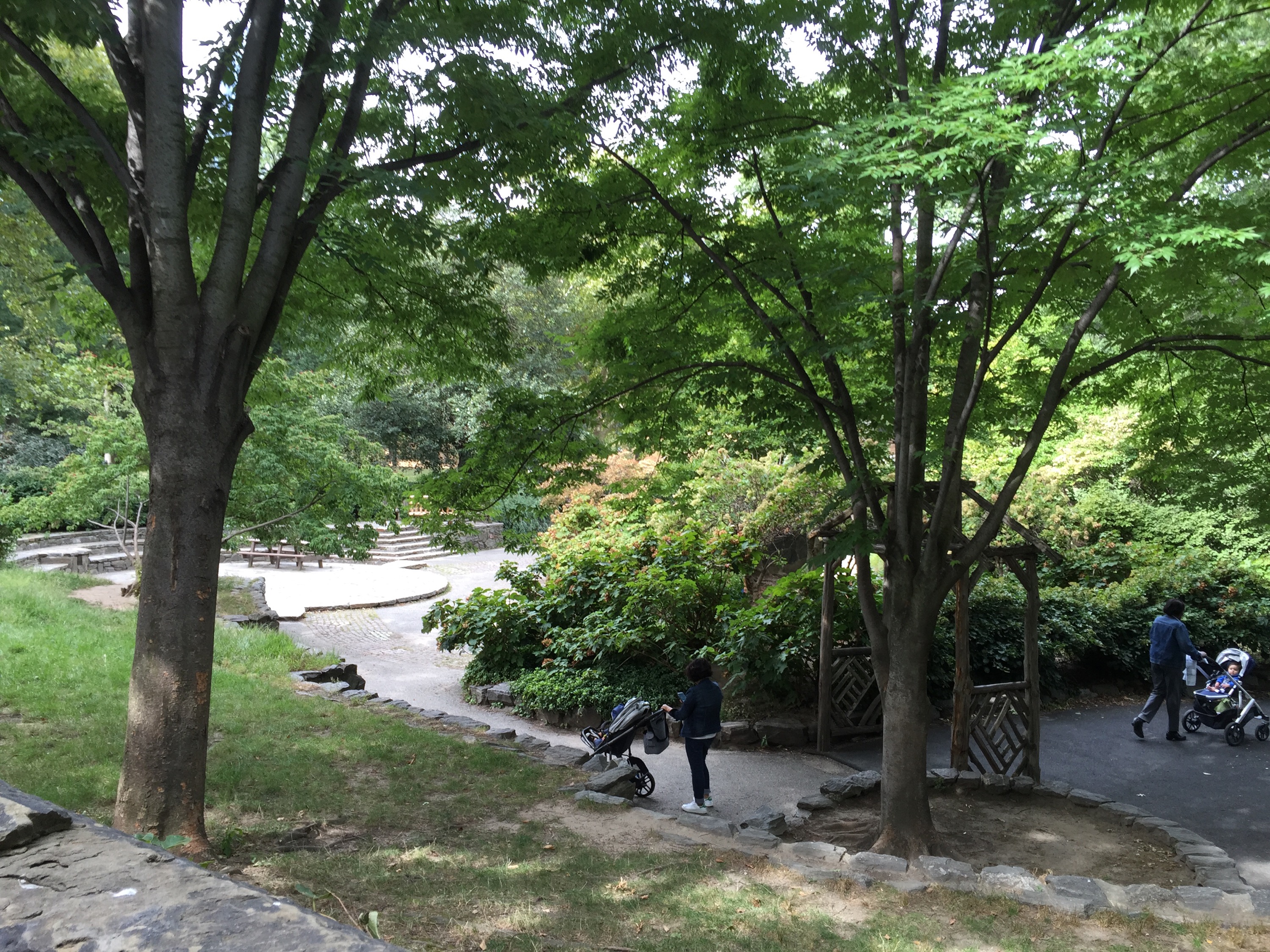 Got up to the MET and have to say I don't remember the fountain out the front, courtesy of one of the Koch Brothers… must be some sort of willful political blindness.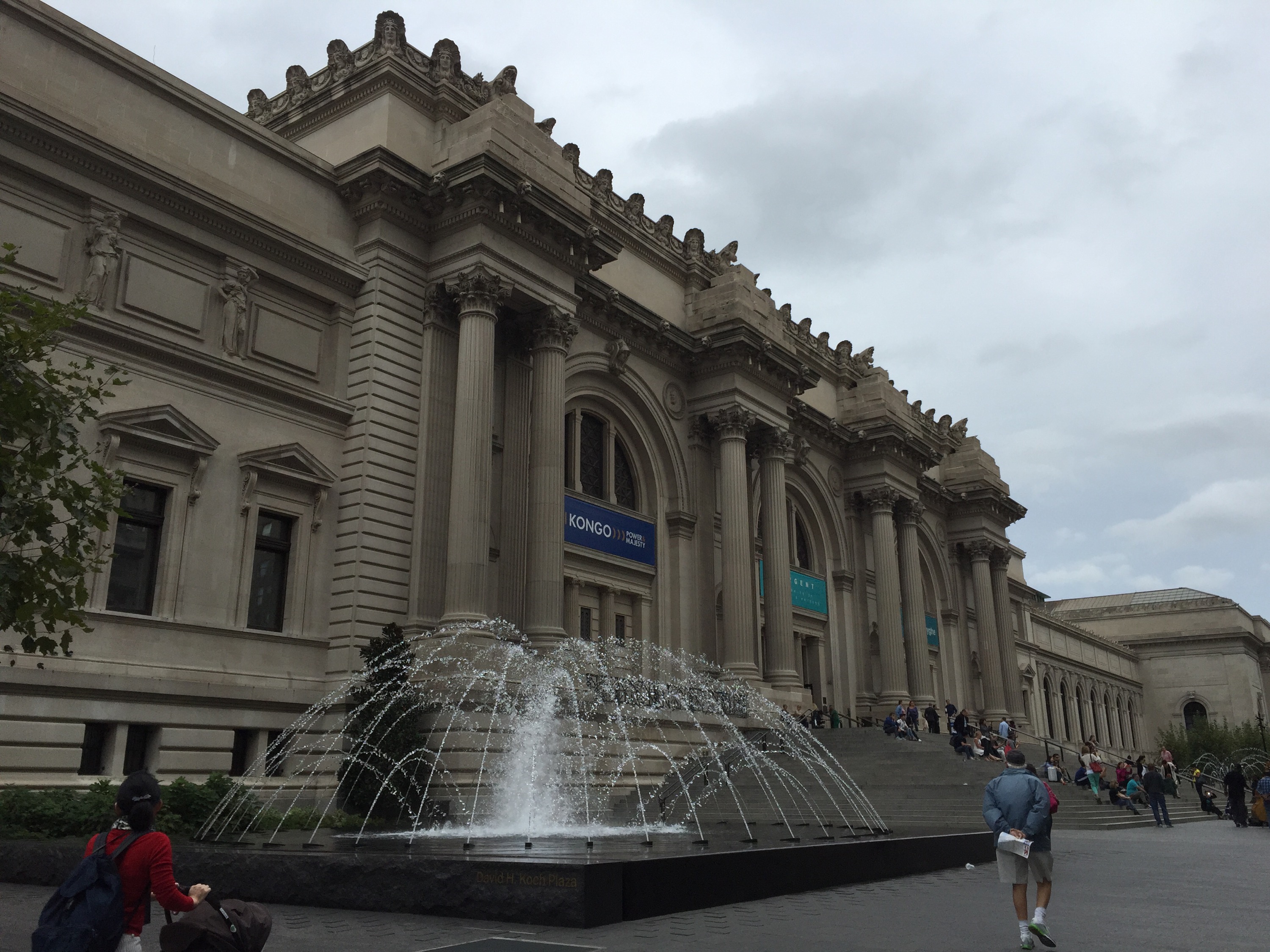 I pretty much made a bee-line for the Asian Centenial Exhibition to see this elusive print, and ta-da! There it was, in the flesh, err paper so to speak.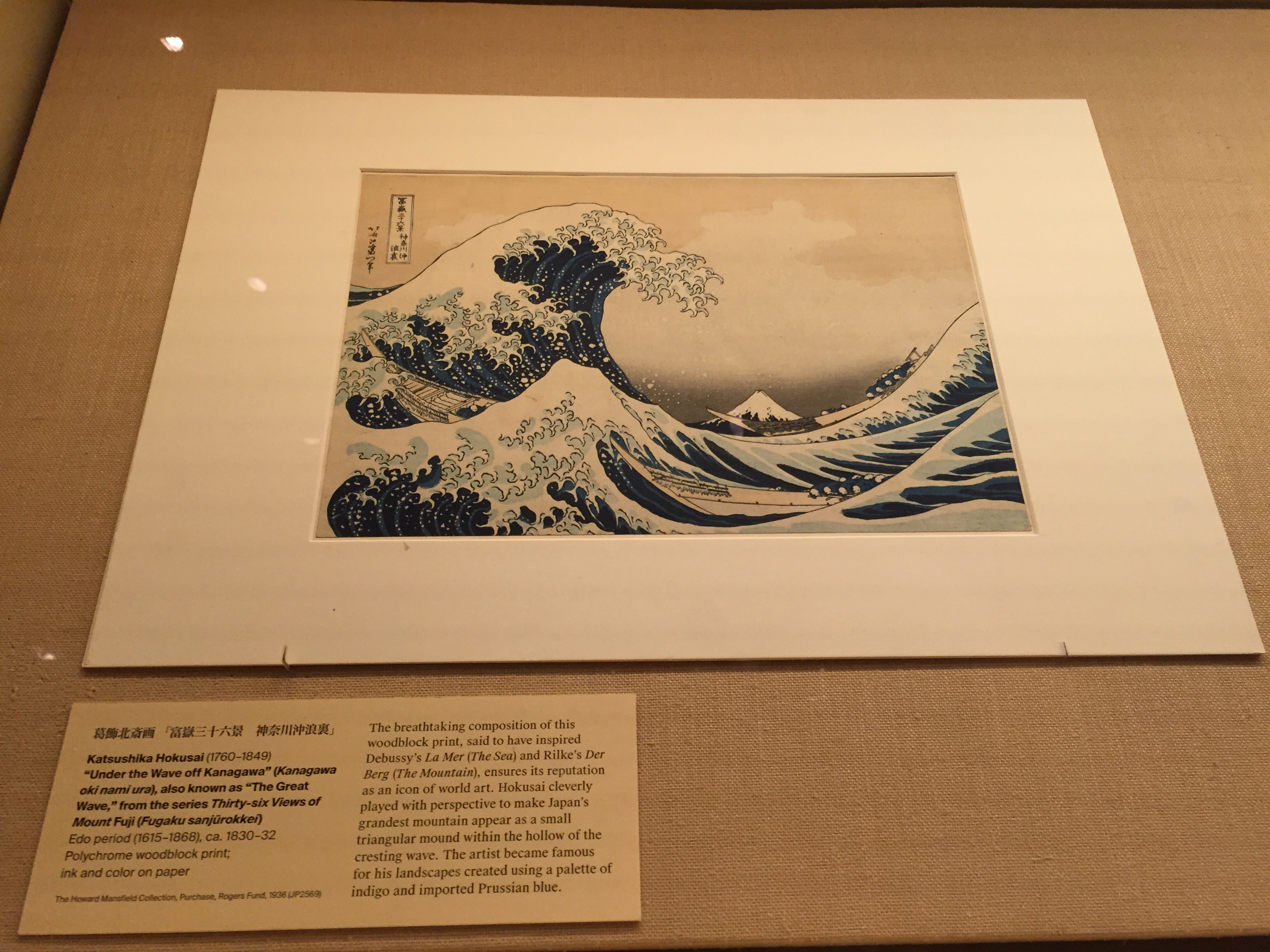 I know quite a lot of famous works of art that seem to suffer dreadfully from over-reproduction; the Mona Lisa comes to mind… just about everyeon you ever meet who has been to see it in the Louvre will tell you how underwhelming it is considering it is such a familiar and famous work of art. And it precisely because we see it everywhere that finally seeing it in its original form fails to move us. This can happen with lots of art works, though there are many really famous pieces that I have seen that do not disappoint – Van Gogh's 'Starry Starry Night' or the 'Bedroom at Arles'; the Cluny Tapestries; Kandinsky (pick an number, any number); Botticelli's 'Birth of Venus'; Monet's various waterlillies… you get the idea. When seen in original form, these artworks still have the ability to impress and astound.
I am happy to say the Great Wave of Kanagawa has not suffered from the constant reproductions that I saw of it all over New York, Boston, Japan, China, and even London. The print is smaller than you might expect, but it has an amazingly subtle texture that is just not evident in photographic or printed representations. So Mr K, it is still well worth hunting. 🙂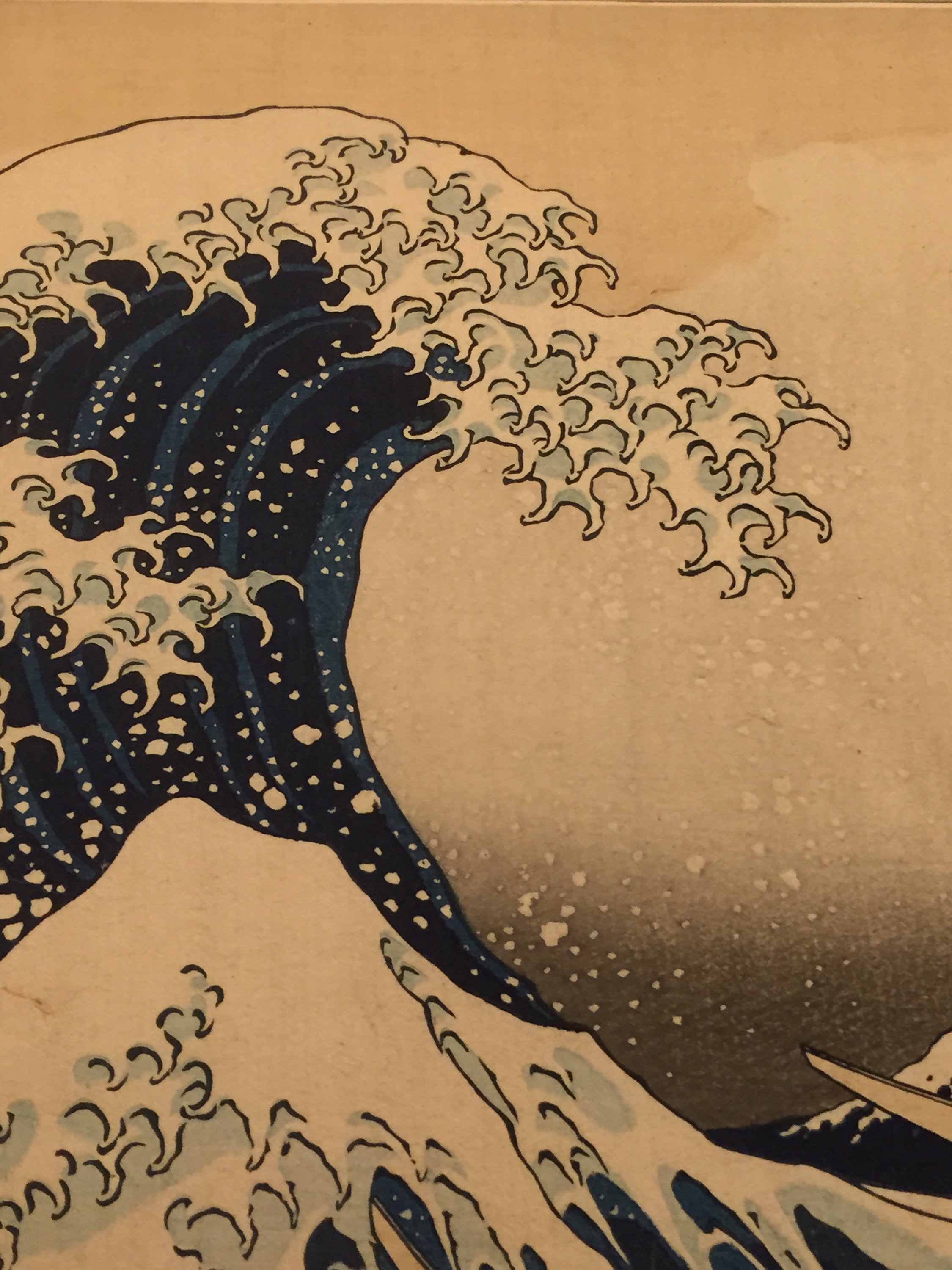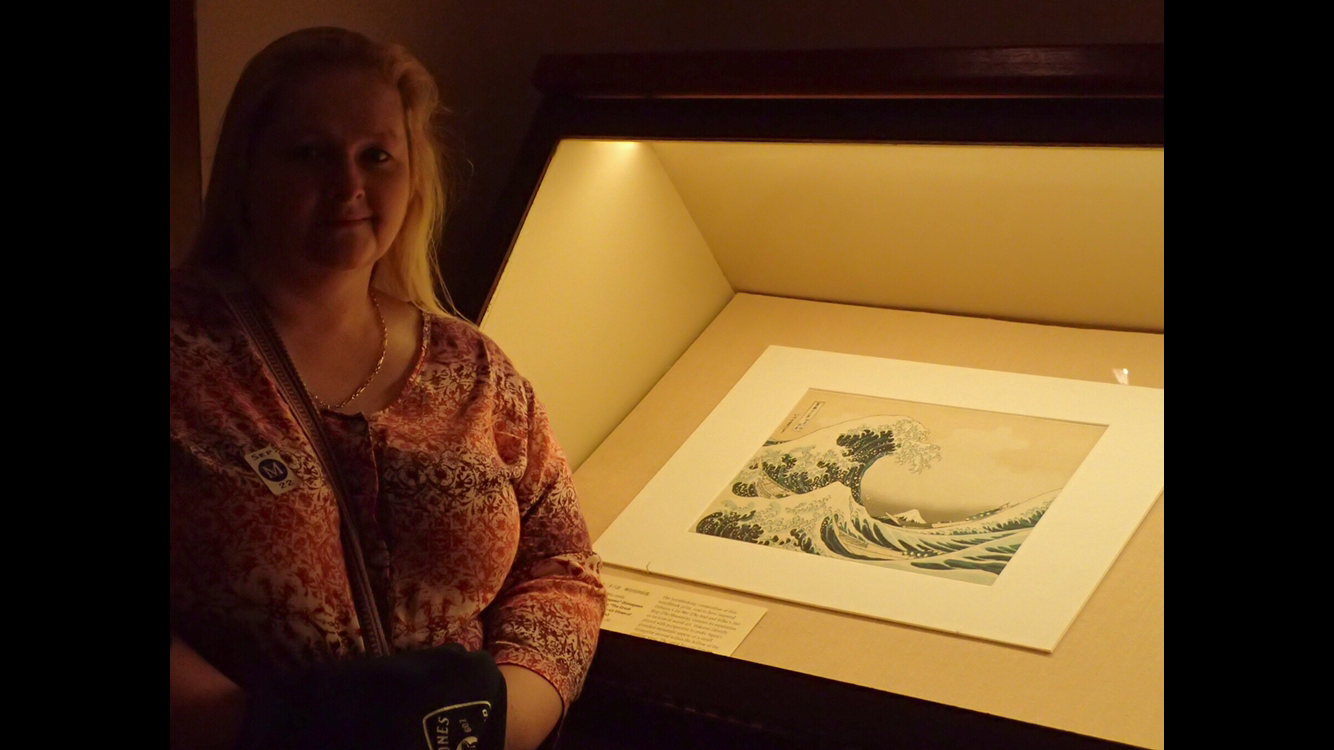 After conning a Japanese tourist into taking my photo with the art work to prove I actually saw it! I had a good look through the rest of the Asian Centennial Exhibit. There were ceramic and pottery items, netsuke pieces, lacquerware, gorgeous kimono and the most stunning collection of painted Japanese screens from the Edo period – more even than I saw in any of the museums and palaces we went to in Japan. The exhibtion closes in just a few days, so I was really quite lucky to be able to go and see it.
After a quick turn around the MET to make sure no one had moved anything or added anything amazing to the Medieval galleries, I decided I would head back down town via the Central Park Zoo… which I hadn't been to before, but I was led to believe they have puffins, and well, you know – any port in a storm I guess. Turned out to be not my best laid plan.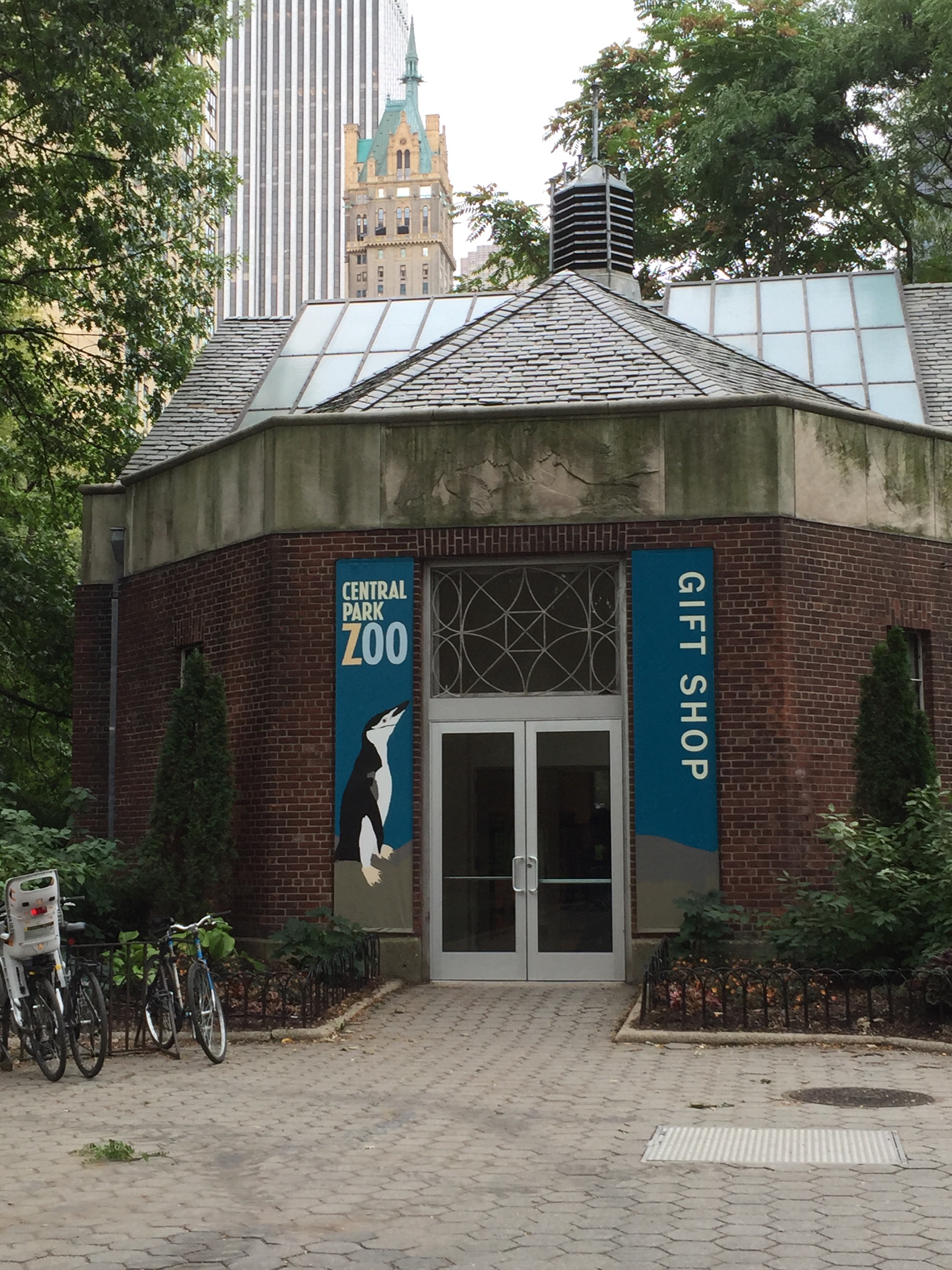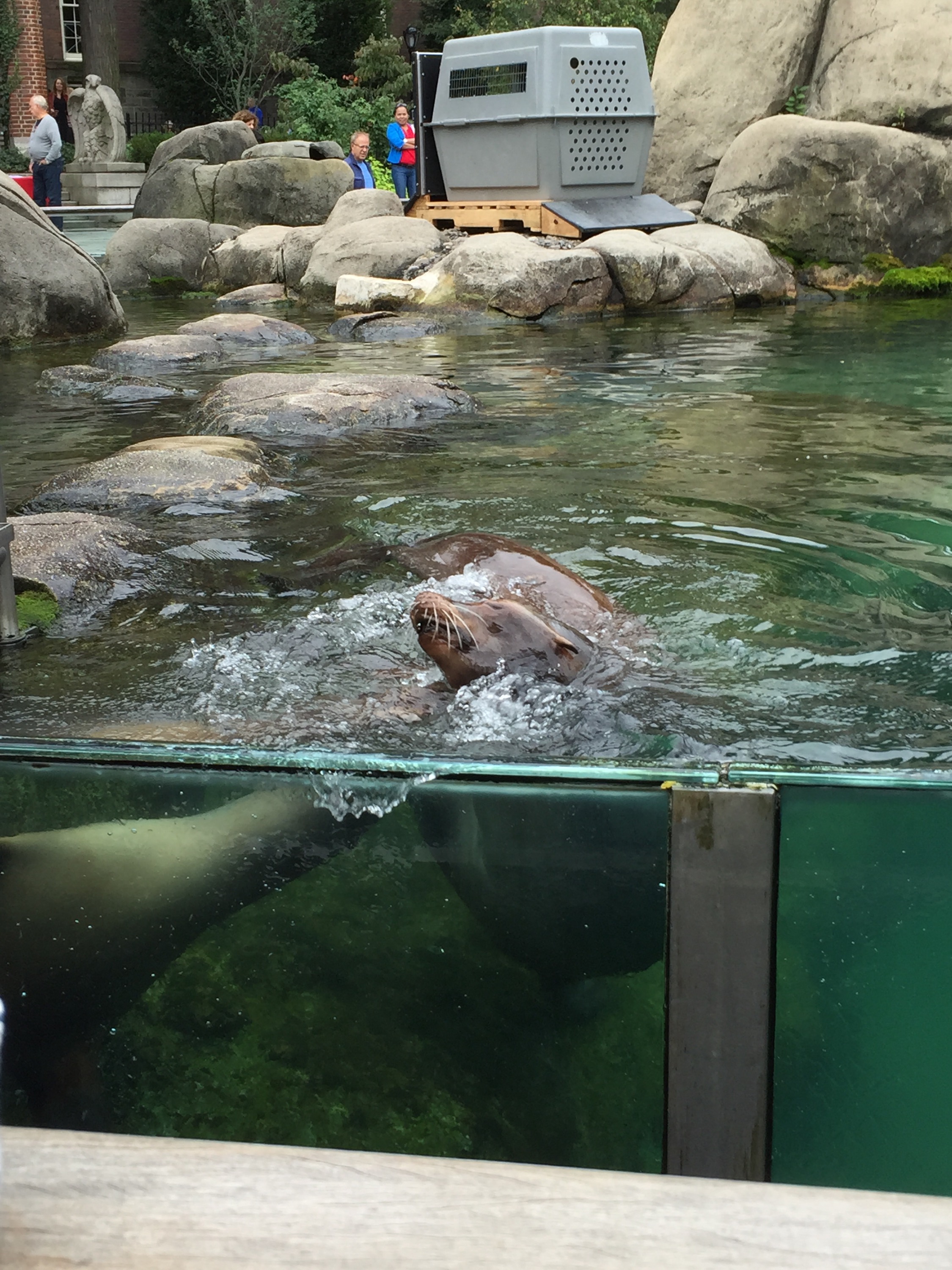 The Central Park Zoo has obviously been there for quite a long time, I didn't see a plaque saying when it was established, but I imagine it has been around for ages. Unfortuantely, many of the animal enclosures evidence old zoo practices where animals are overcrowded or have enclosures too small for their natural habits to emerge. It was not the saddest zoo I have ever visited – that distinction still rests with the Barcelona Zoo – but it definitely wasn't a highlight either. You can tell that there has been a lot of work put into trying to make the facilities as good as possible for the animals, but two grizzy bears stuck in a paddock barely big enough for a pair of Border Collies? I' not so sure those poor bears have a great life.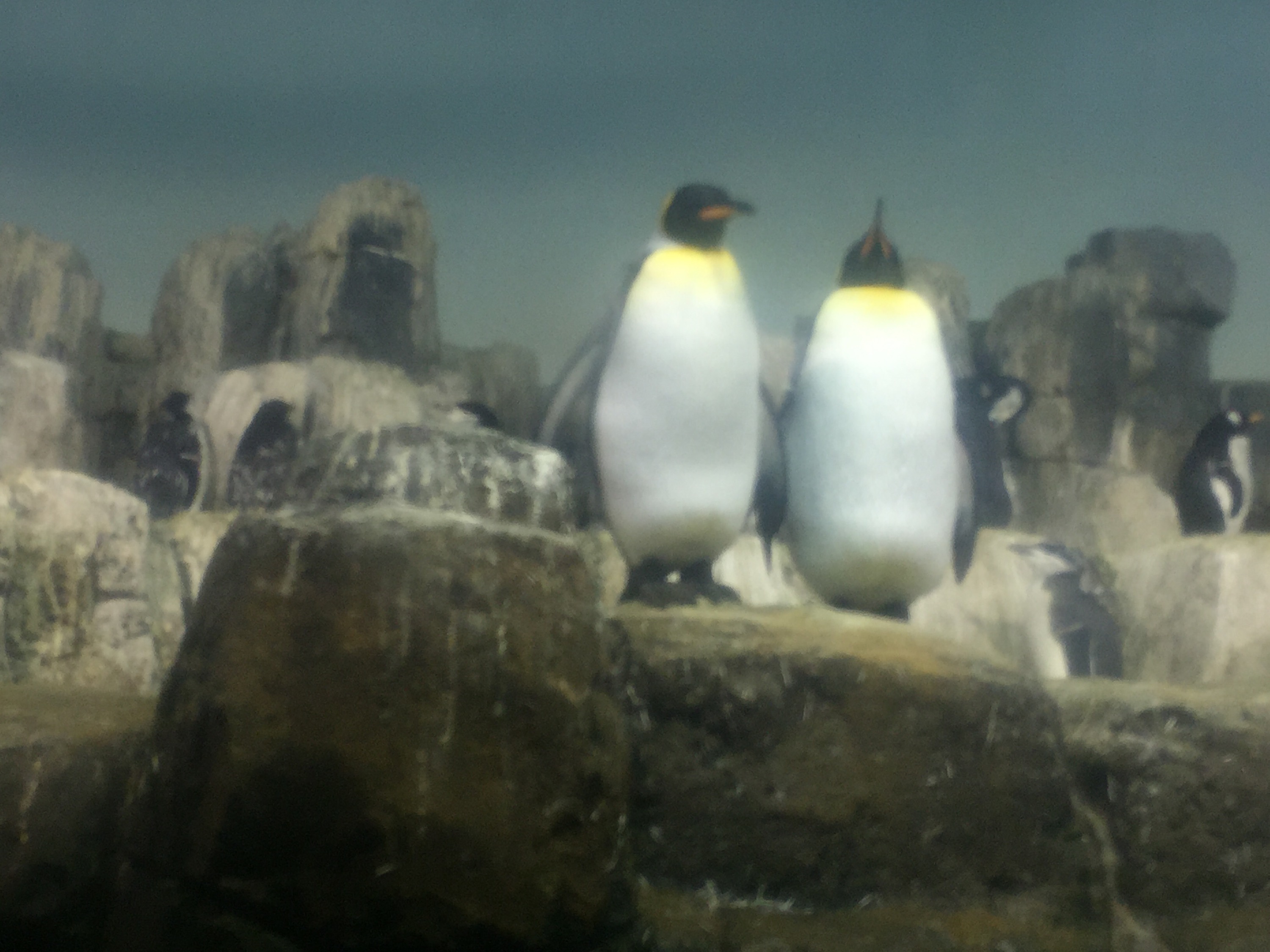 Anyway, there were penguins, and snow monkeys, a snow leopard, sea lions, red pandas and eventually puffins – but weird looking tufted puffins, not the Atlantic puffins that they have on all the banner pictures around the zoo. False advertising! I am just going to have to go back to Scotland one day in the right season and do it right.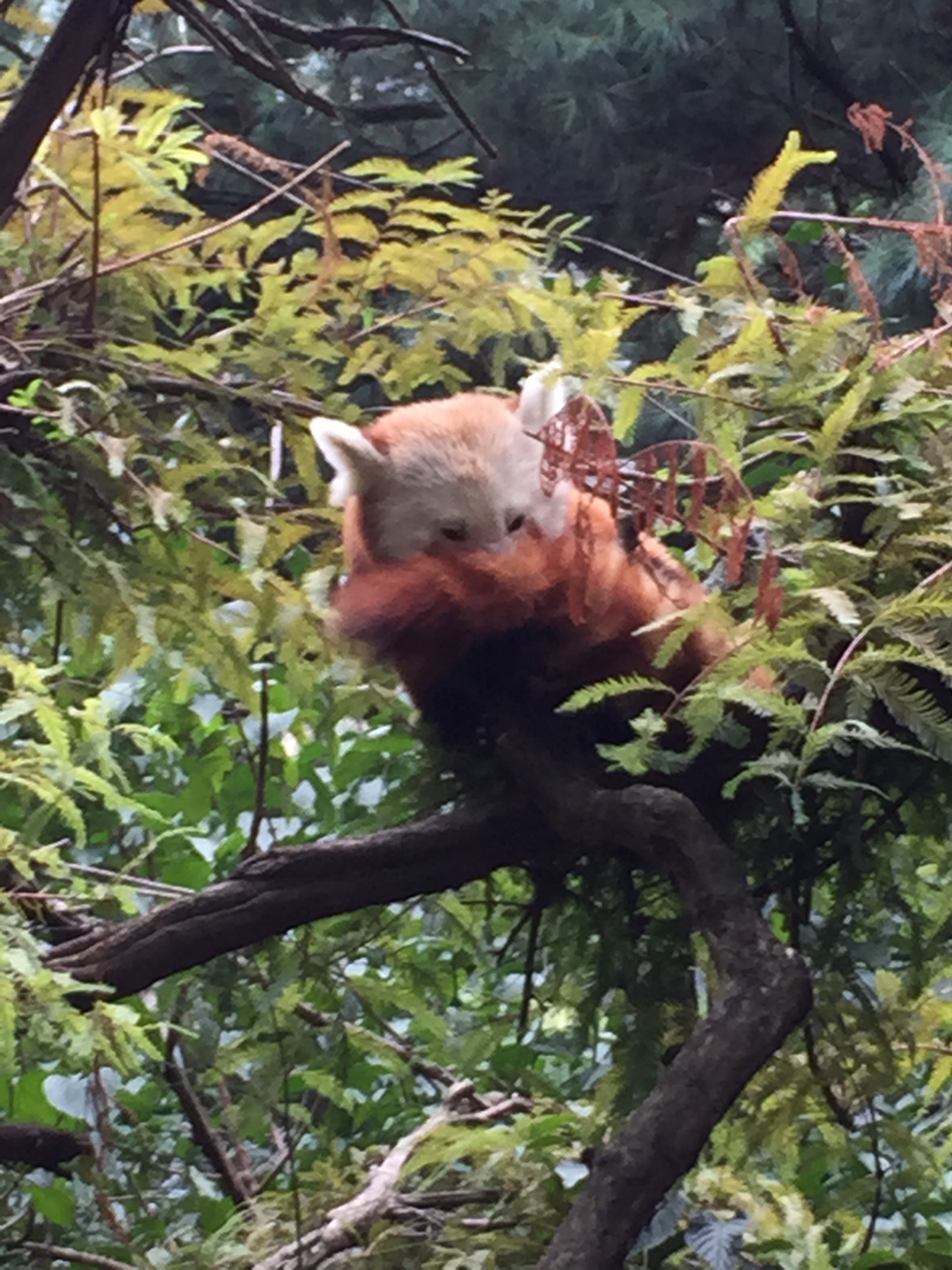 After the zoo, I head back to my B&B and managed to relax a bit with my feet up and a Barq's Root Beer, which I felt was heartily deserved after all that walking this morning. At around 4:30pm it was time to head back out and meet KPeth for our first foray down to Times Square to have a poke about, find some dinner and go to a show.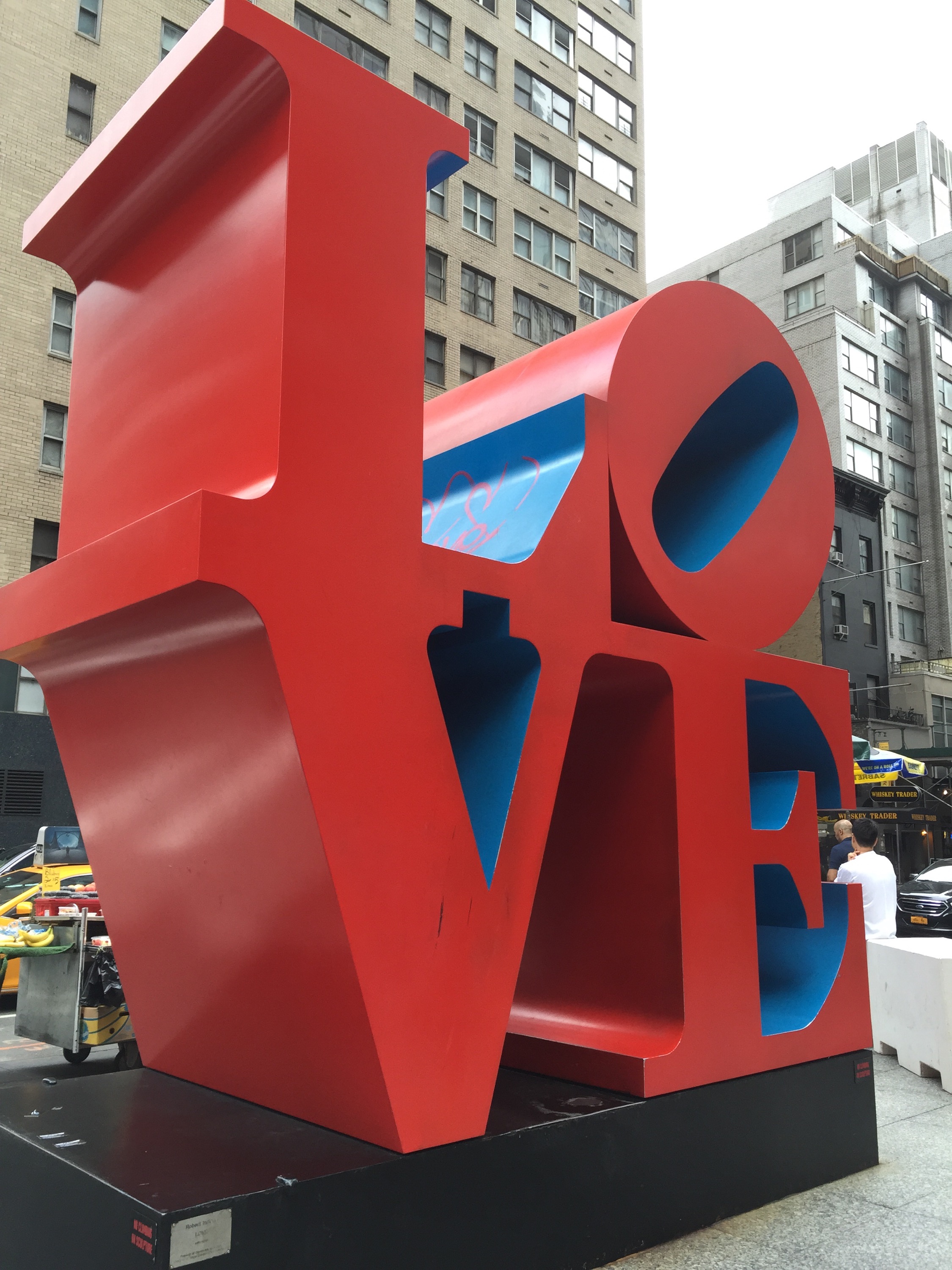 The Pope is going to be here on Friday, which is awesome and people seem excited that he is coming – here he is in his official bobble headed goodness with his best buddies – Batman, Iron Man and Superman. Go Francis, you're the Man! I do wonder though… how does the Pope feel about being turned into a bobble head???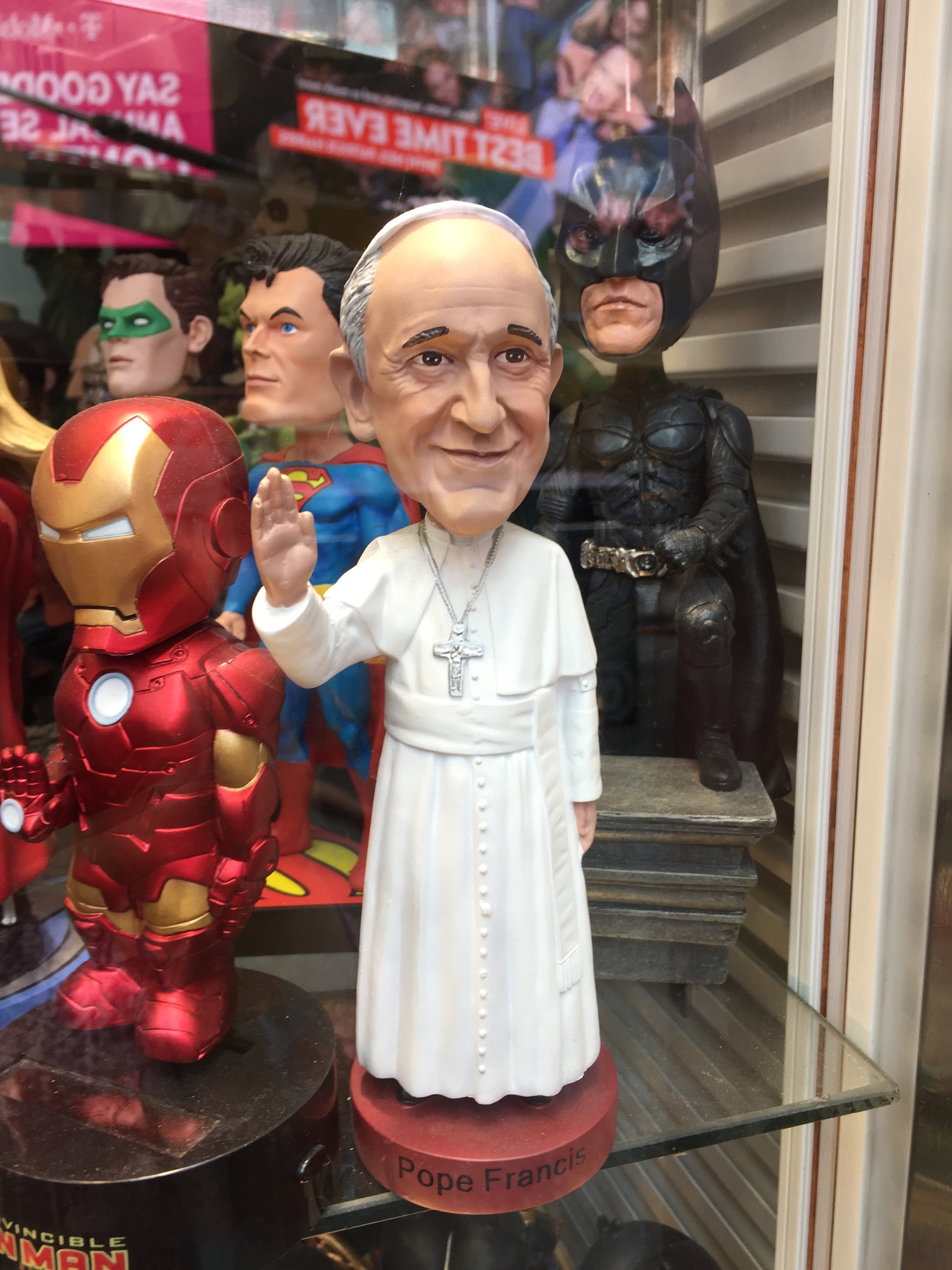 In keeping with my Asian Centennial theme from earlier today, we ended up at a sushi restaurant for dinner called 'Black Rice Sushi' over near 45th and 9th. I had the terriyaki salmon and tempura vegetables to celebrate finally seeing the Great Wave and the food there was really lovely – shame about the hipster mason jug drink glasses though… you're a Japanese restaurant, don't do that.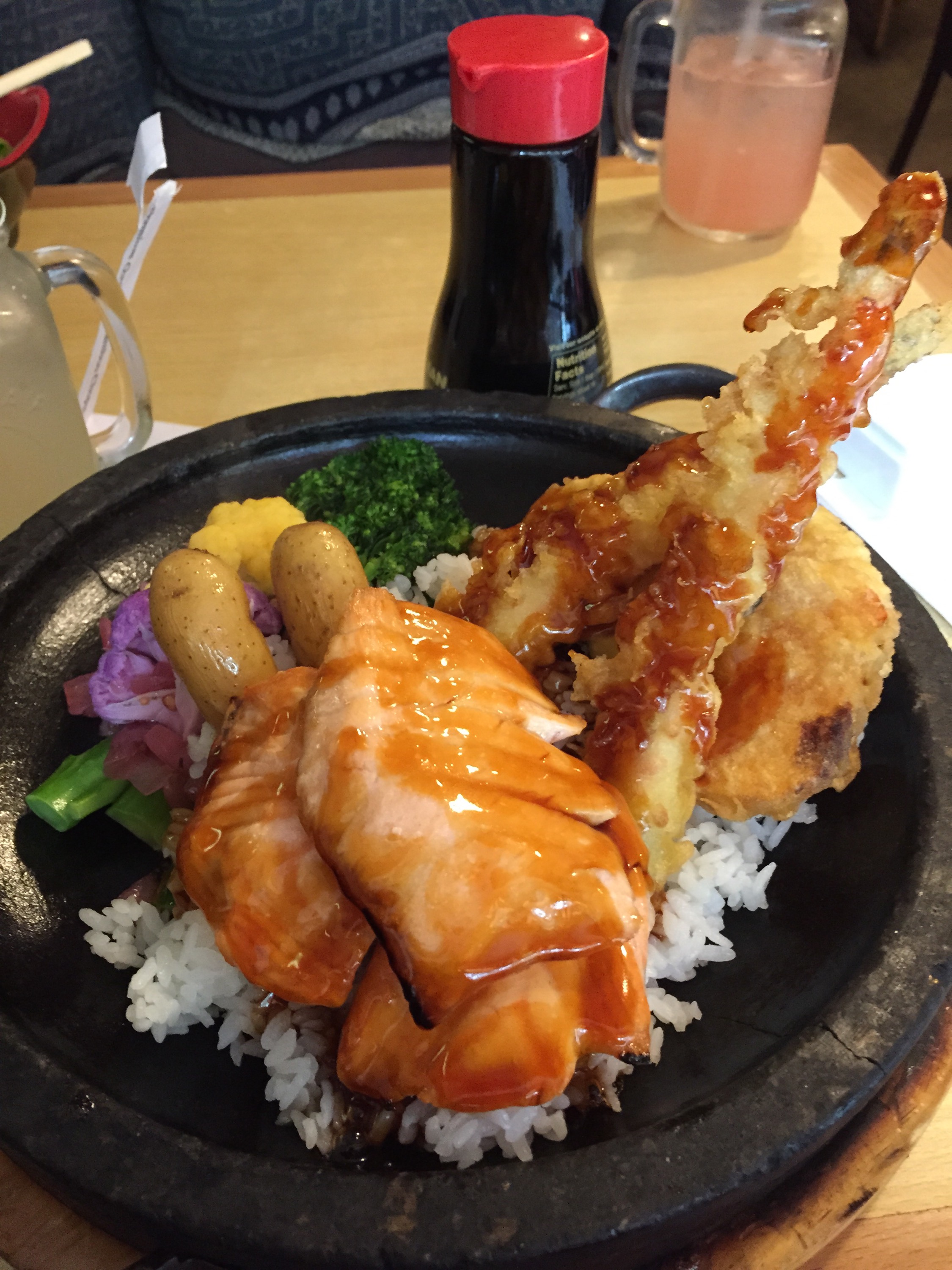 Then after dinner onto the show! Originally we had tickets to see Gigi, but they closed their run down early and we had to choose something else. Being a bit of a fan of the medieval period, Shakespeare and high brow wit, I suggested we go check out 'Something Rotten', which turned out to be a fabulous move.
The performance was awesome fun. From the moment the cutrains went up to the standing ovation at the end of the show, it was a riotous gallop through all things Renaissance, Shakespeare and musical theatre. There were just as many outlandish codpieces as I had expected, just as many double entendre jokes and some very impressive costuming goign on – those chorus women were wearing their corsets and stomachers, yet still had an impressive range of movement going on. The characters were well written and the threatre in-jokes were hilarious, though I am certain I must have missed some of them. It was a lot of fun, and seeing it on Broadway with such a quality cast was a real treat. My favourite charcters were Thomas Nostradamus, who was highly entertaining, and the rock star style Will 'Power' Shakespeare, who seemed to be channeling Tim Curry. Just fabulous. I would highly recommend going to see this show and shelling out for some good seats, it was totally worth it.
And after all that… I'm really quite exhausted (not to mention my pain levels are through the roof). Good thing nothing opens in this town until 10am tomorrow, hey? 😉