Another gorgeous day in NYC. It's barely 27C withe clear skies and a light breeze and I thought I'd go check out the High Line this morning, seeing that it is one of the few things that appear to be open before 10am. Yeah, for all they call it 'the city that never sleeps', this place feels like nothing is open until the day is half gone.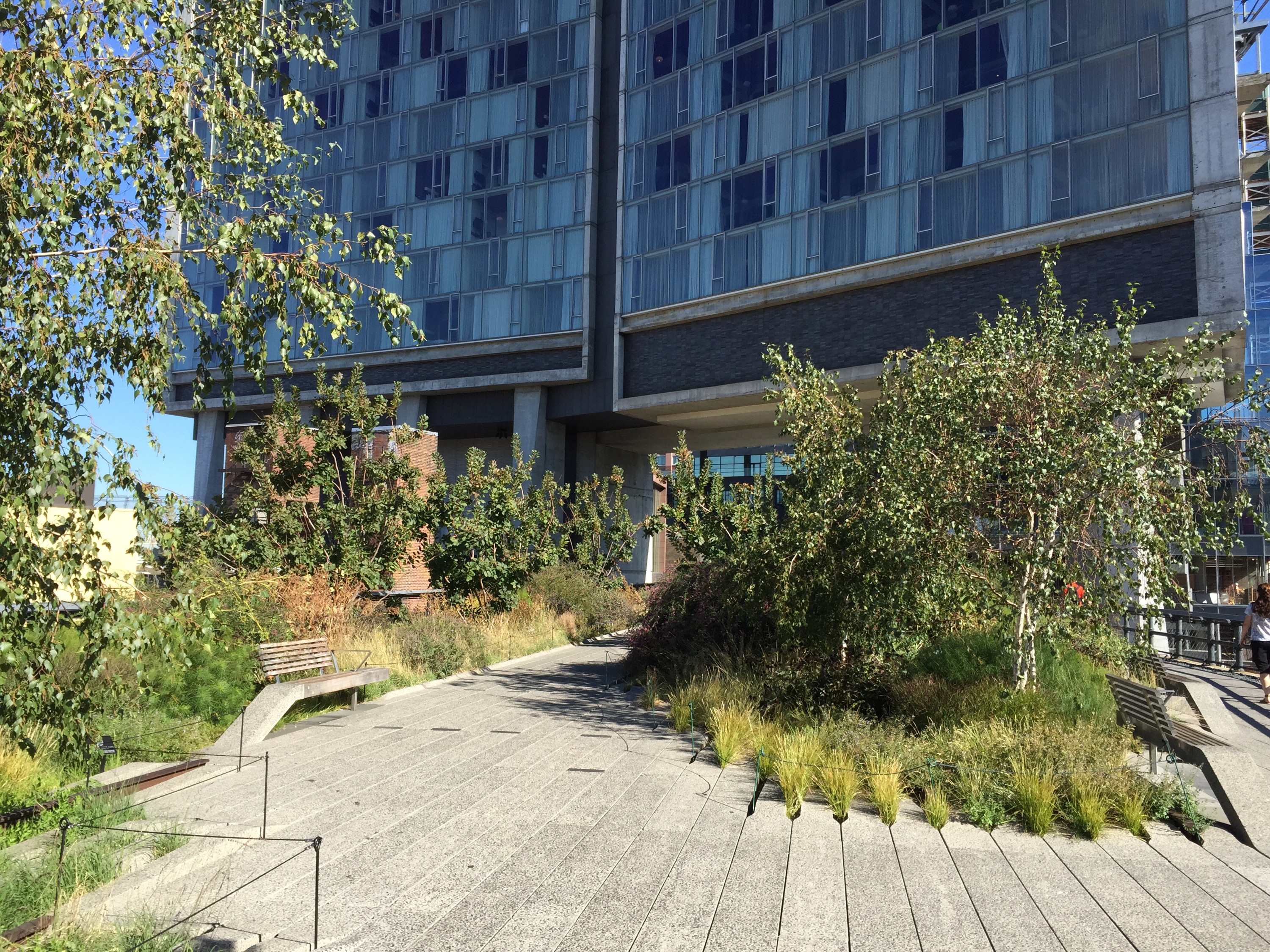 Anyway, took a bus down town and went to check out the High Line Park. Even though most of the flowers are no longer in bloom as autumn approaches here, I have to say the whole thing is very impressive. A lovely green haven above the meat packing district full of trees and shrugs, grasses and flowers; benches to rest on and even places to grab a coffee or a bite to eat – all elevated over the busy city streets below. Such a wonderful concept – a 2.5 km long park that has been built on an elevated section of a disused Central Railway spur of the West Side Line. Apparently inspired by a similar garden project in Paris somewhere, it is obvious that a lot of people have put a lot of work into making it such a fabulously useful community space.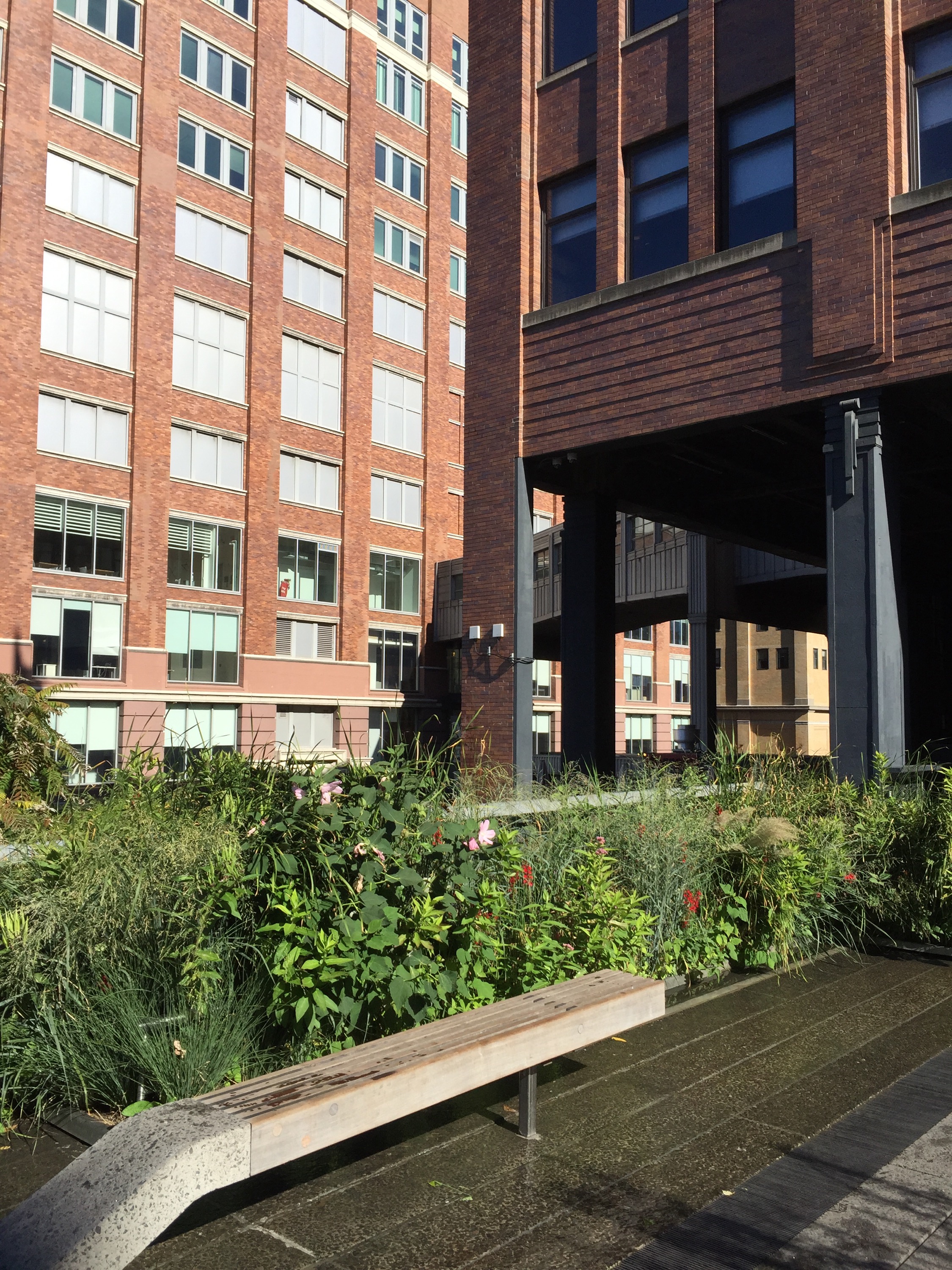 You can get up to the High Line in about ten different places between and many of the access points even have elevators so it is completely accessible. I had a lovely walk through the greenery of the park this morning – it has pretty water features, spaces for laying on timber decks and reading or having your morning coffee and browsing the internet… I can imagine that in a place where no one has a back yard, it would be a very inviting place to come read a book or meet up with friends and hang out. Fantastic.
On my way back, I was looking for a Post Office, and ostensibly heading towards the Rockefeller Centre PO when I accidentally stumbled onto a tour of Radio City. I say 'accidentally', because I wasn't planning on doing this today – actually, I wasn't planning on doing it at all, but I was back from the High Line walk much sooner than expected, and when I saw the 11am tour lined up to go in, I thought, 'what the hell'.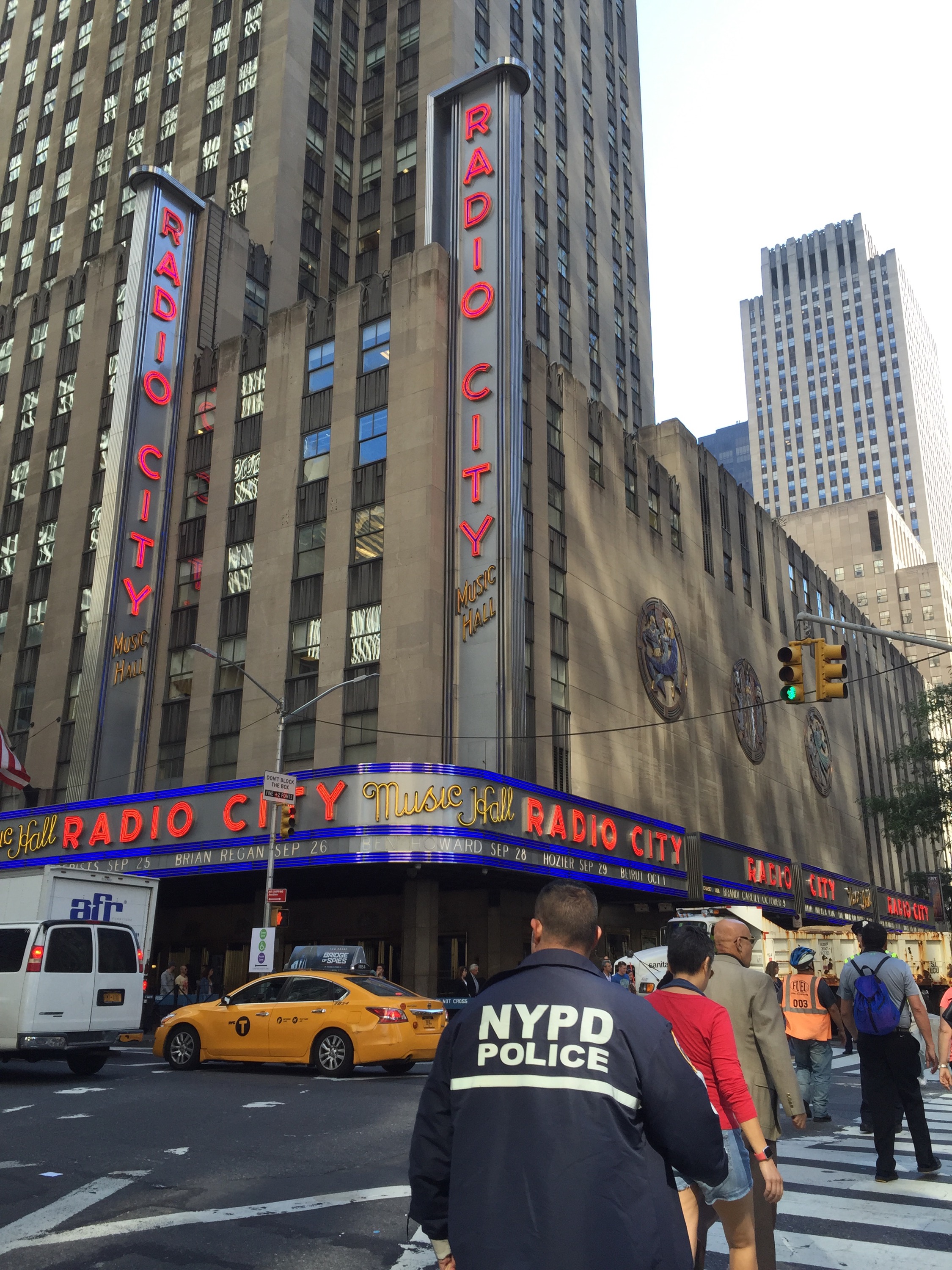 Now the only thing I knew about Radio City is that it is the largest theatre in the world – that's it. And the only reason I knew that much even? It was a trivia question while we were on the cruise ship. The place just wasn't on my radar for some reason. I acknowledge that I had heard of it before, but unlike many of the American's on the tour who grew up watching Radio City TV shows and attending concerts, I knew absolutely nothing about the place.
So, Michael the Tour Guide, what did I actually learn?
Originally J.D Rockefeller, who owned the land known in 1929 as the less than savoury, 'Speak Easy Belt' was planning on building a grand opera house in an attempt to gentrify the area, however the stock market crash and ensuing Great Depression put the kybosh on that plan. Nevertheless, Rockefeller decided to build a large complex of buildings on the property that would leave a lasting impact on the city's architectural and cultural landscape. His plan was to create enormous and superior buildings that would attract commercial tenants even though the city was full of vacant rental spaces due to the Depression. It was ambitious and quite the gamble, and it came to stand as a reprieve from the financial woes of man and became an edifice of future optimism. He hired 75,000 men to build the Rockefeller Centre and the Radio City Music Hall.
The Radio City Music Hall was to be one of the piece de resistance building in the complex and invitations to tender were sent far and wide for applicants to tender for the project. One relatively unknown designer, a Mr Donald Deskey sent in his tender, that he had apparently spent his last $5,000 on for the work and models to be able to adequately communicate his vision for the building. Fortunately for him, his gamble paid off and he won the job. Deskey chose an understate elegance and grandeur over glitzy excess (I'd love to know what some of the other ideas looked like) and his design included more than 30 separate spaces – the theatre itself, eight lounges, smoking rooms with individual themes and motifs. And he gave the building an over all theme meant as a tribute to "human achievement in art, science and industry". Art was intrinsic to the actual design of the building, and he hired fine artists to create murals, design wall coverings and sculpture; engaged textile designers to custom design draperies and carpets, and many other craftsmen to complete wood panelling, ceramics, and lighting and chandeliers. The entire building is done in a fabulous Art Deco style that is just as stylish today as it was then.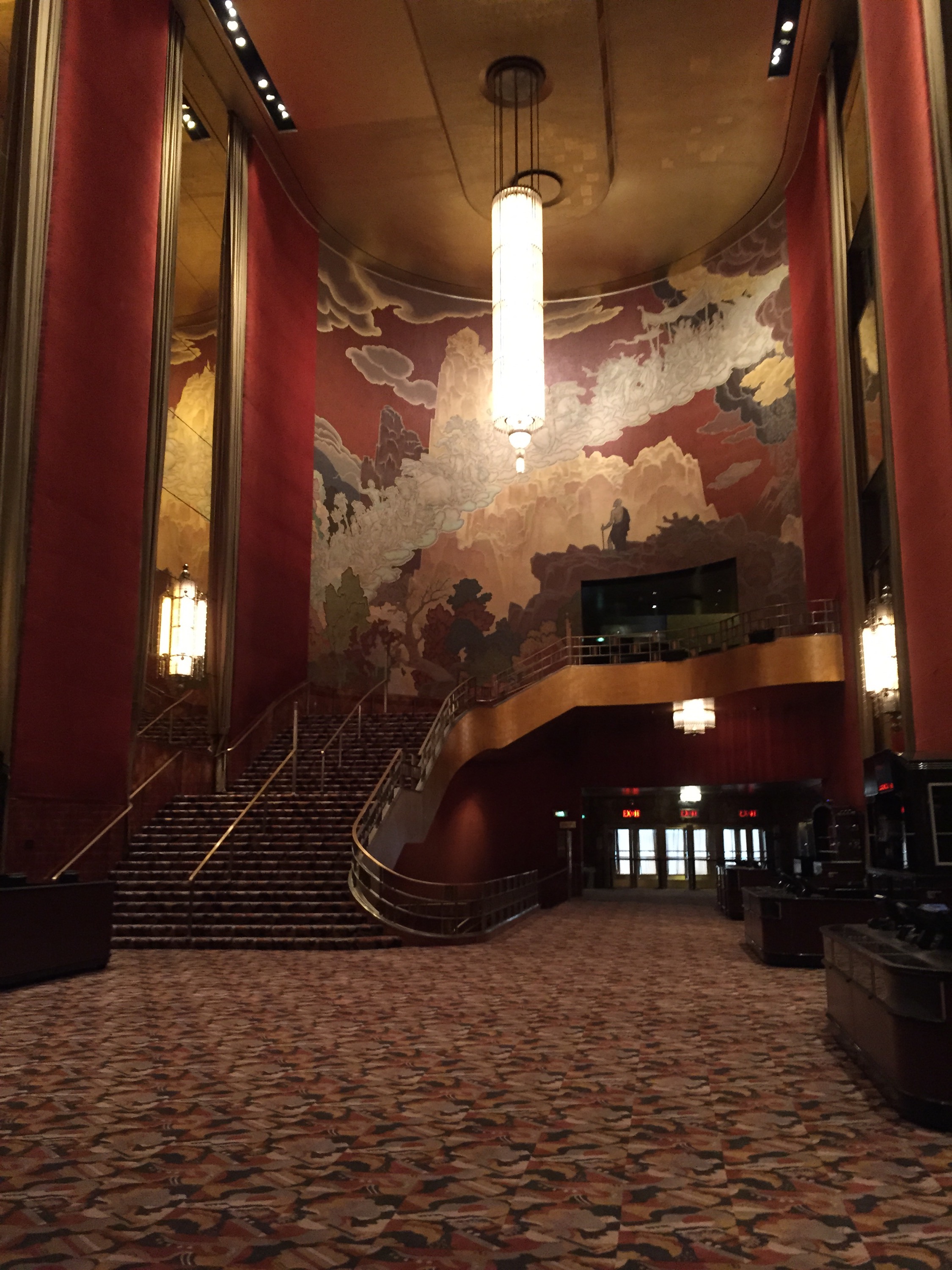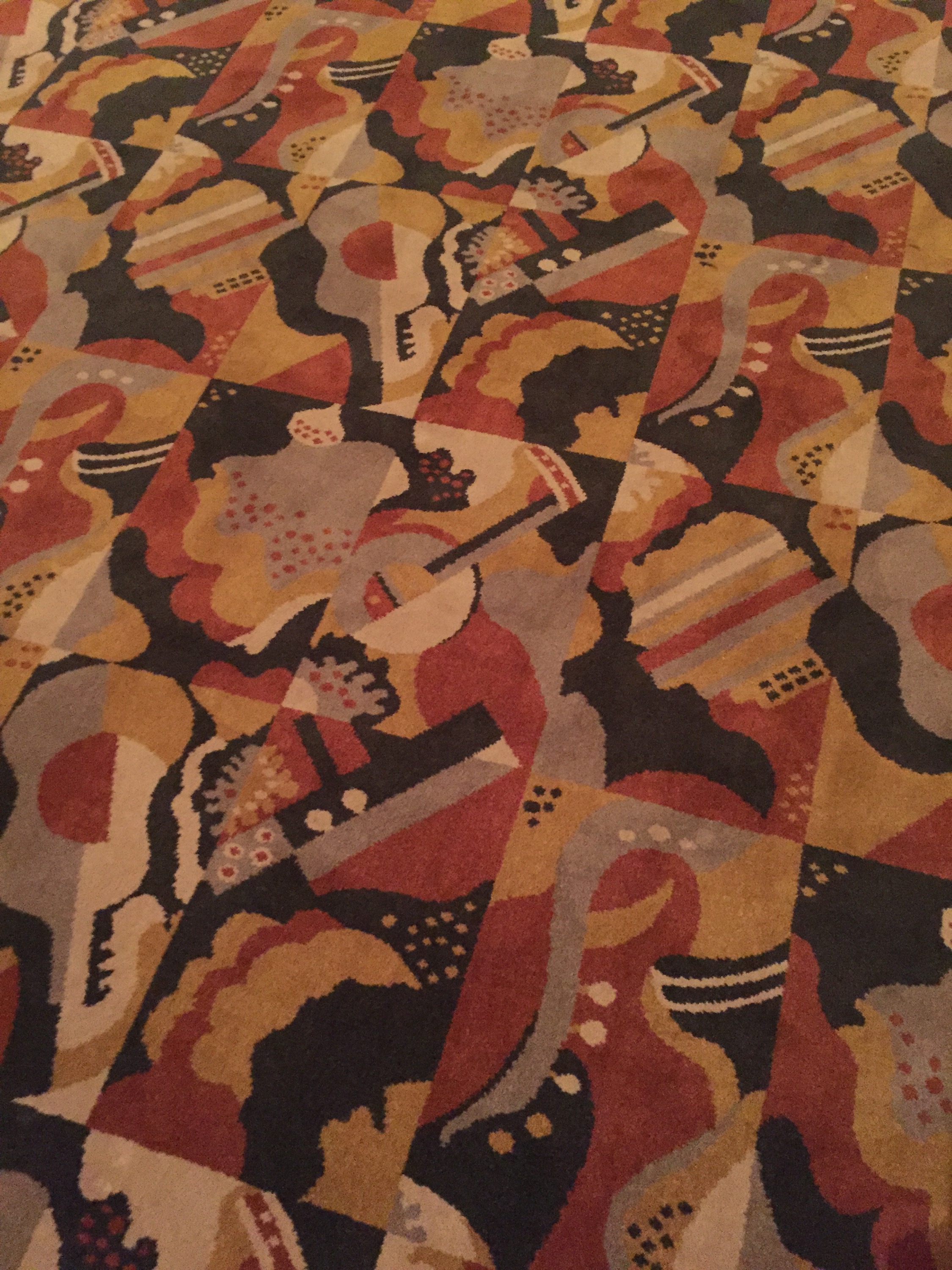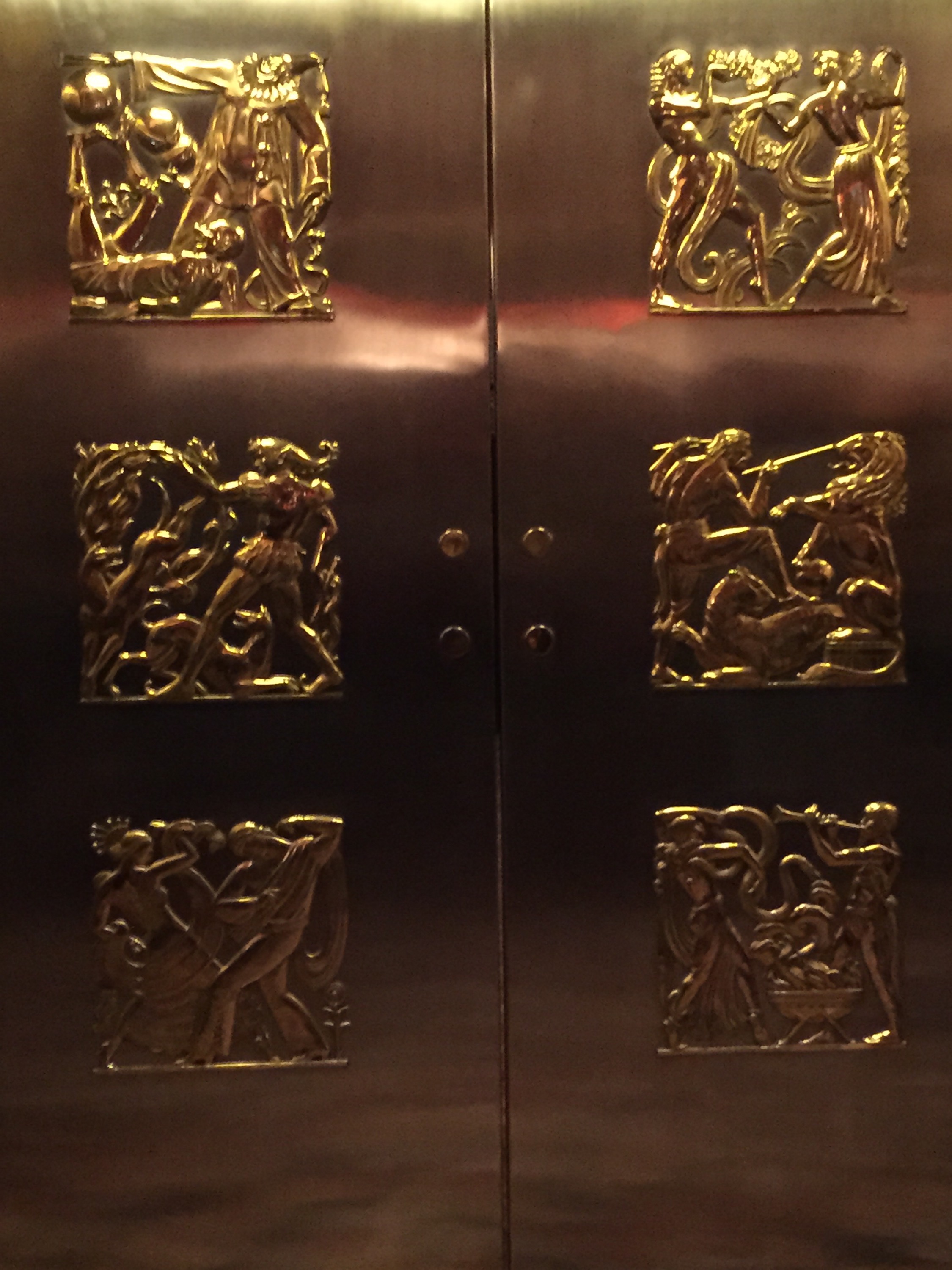 The Grand Foyer is 60′ high and truly awe inspiring…. and I absolutely loved the Ezra Winter mural in the foyer (I was unaware of it but apparently I have also seen works by Ezra Winter at the Library of Congress in Washington and possibly several other Washington civic buildings as well). Ruth Reeves designed the uunique carpet which depicts a multitude of musical instruments. Oh and apparently 'America's Got Talent' is filmed here – though why we needed to be reminded of that so much I do not know (thank you little girl in the tour group).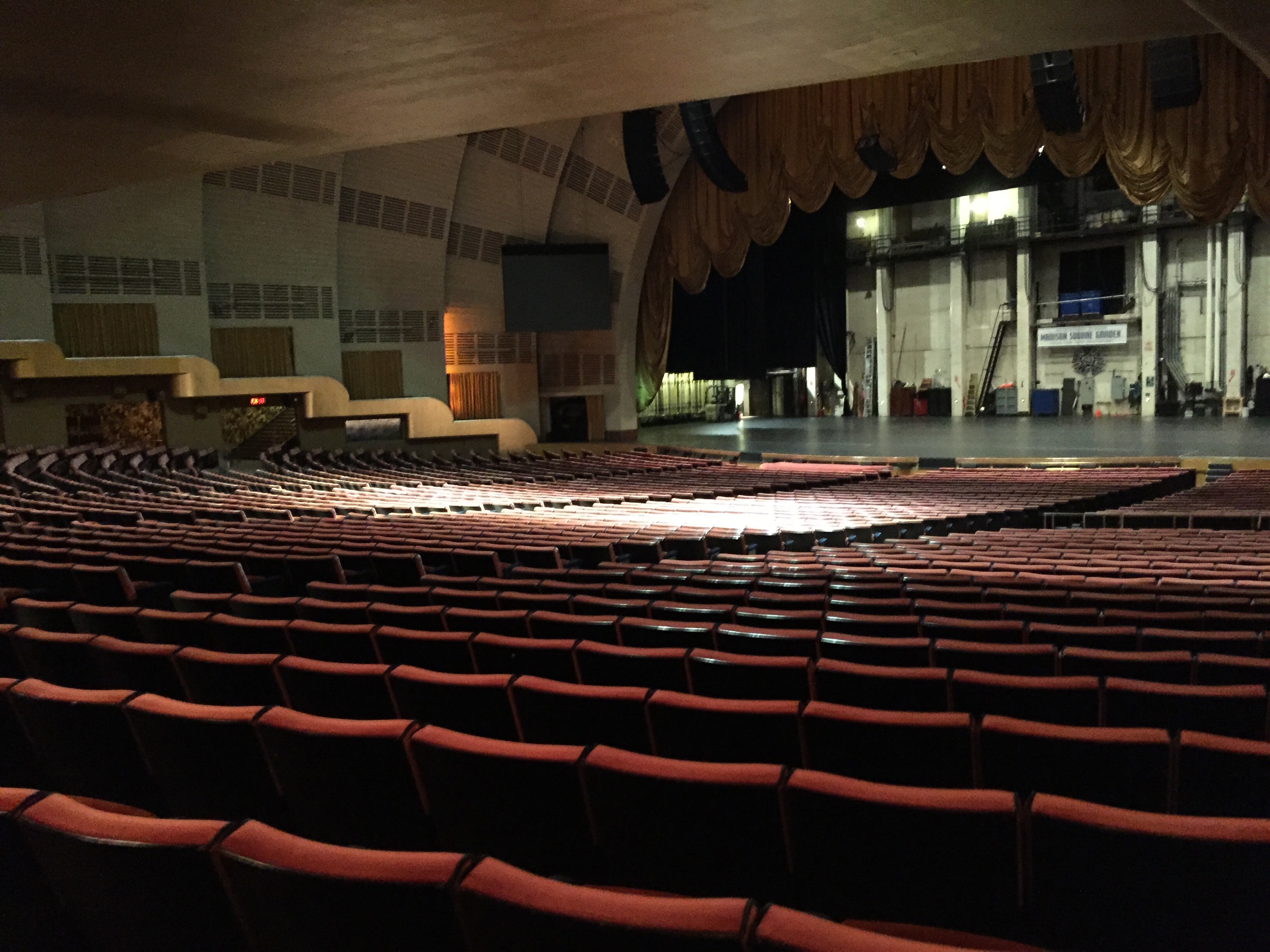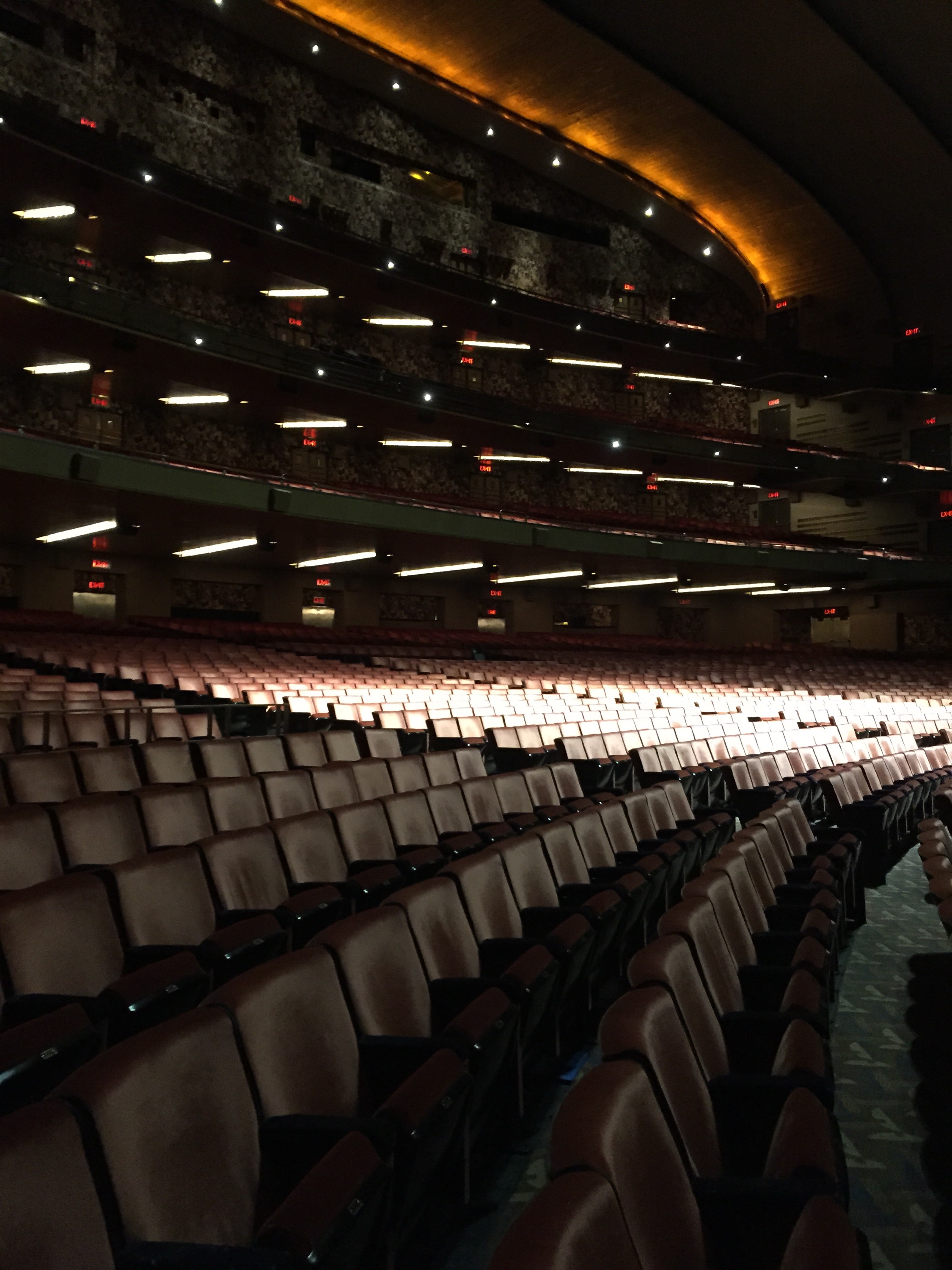 This is what it looks like from Centre stage looking out over the audience…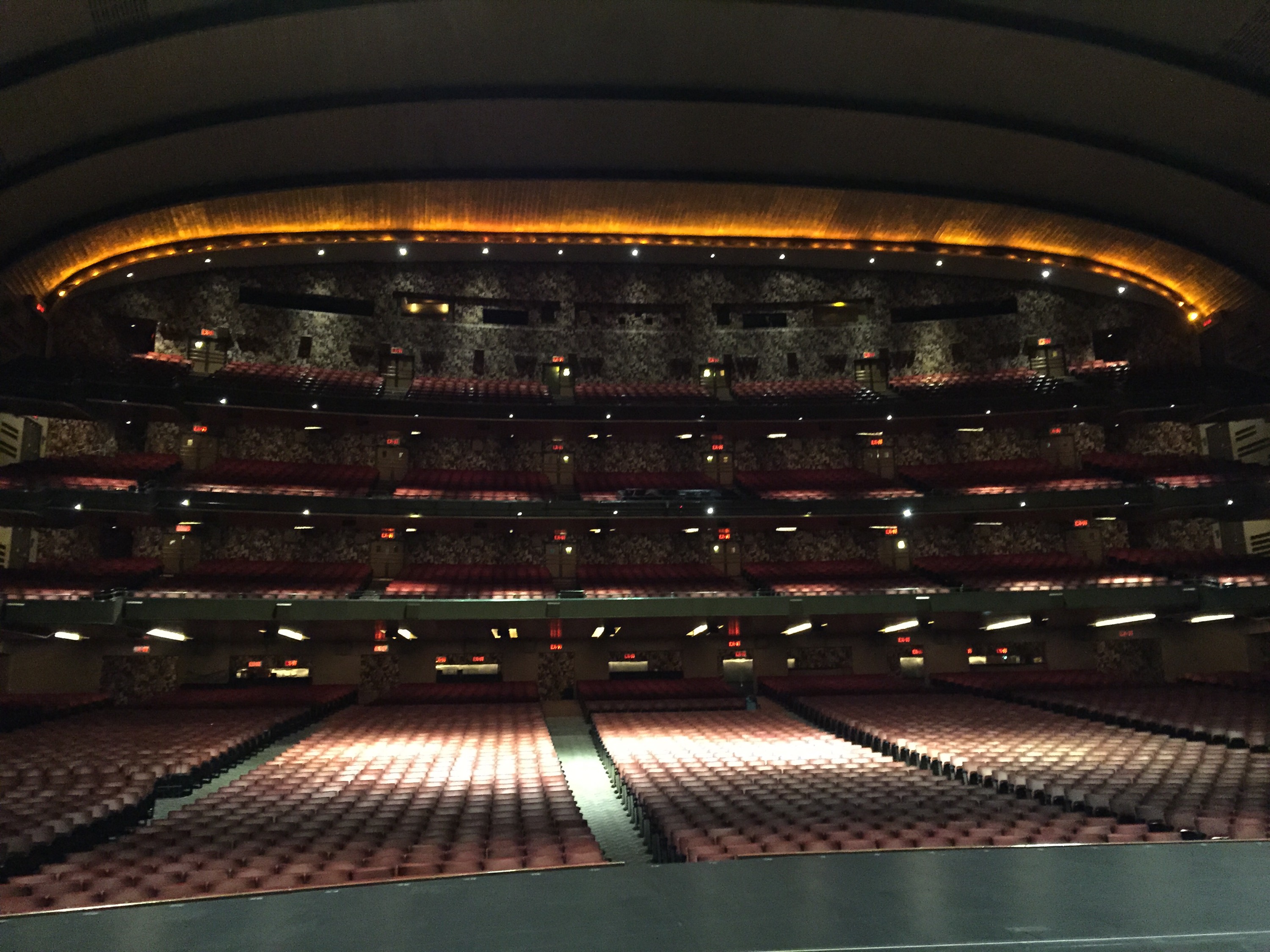 The theatre itself seats 5,905 people. And they can add in an extra few hundred if they build out more seating over the orchestra pit. The curtains weigh a whopping 4000lbs (nearly two metric tonnes) and have their own huge counterweighted system to draw them. The stage itself is 144 ft across – apparently that is half the size of a football field (American football I am assuming), and it can fit 38 Rockettes dancing shoulder to shoulder… it was about this point that I kinda thought, 'Oh yeah, I've heard of Rockettes before, wasn't that dancer character in Dirty Dancing who danced the merengue with Patrick Swayze supposed to have been a Rockette?' Yep. Such is the extent of my knowledge of this enormously well known American institution. Anyway, Rockettes. There's dancing. And there is lots of them.
The stage is known as the 'stage of 1000 illusions', it has multiple moving parts that are all operated on elevators to raise and lower the stage to go between 26′ below and 13′ above the stage. The whole thing is operated on hydraulic elevators that use 20,000lbs of fluid to lift stages with 250psi pressure. Some guy named Peter Clarke designed the stage in the '30s and it was apparently so well done, that thee US Military got in on using his technology during WWII, and the stage hydraulic system was kept under guard throughout the entire war to stop other countries from stealing the technology. In 1999 extensive renovations to the entire building were conducted at a cost of some $70 million, and the when they sent in a team of engineers to assess the state of the stage and it's unique hydraulic systems, the engineers recommend that absolutely nothing be changed to the original 1930s system, as it was functioning beautifully and would continue to do so if maintained the same way it always had been.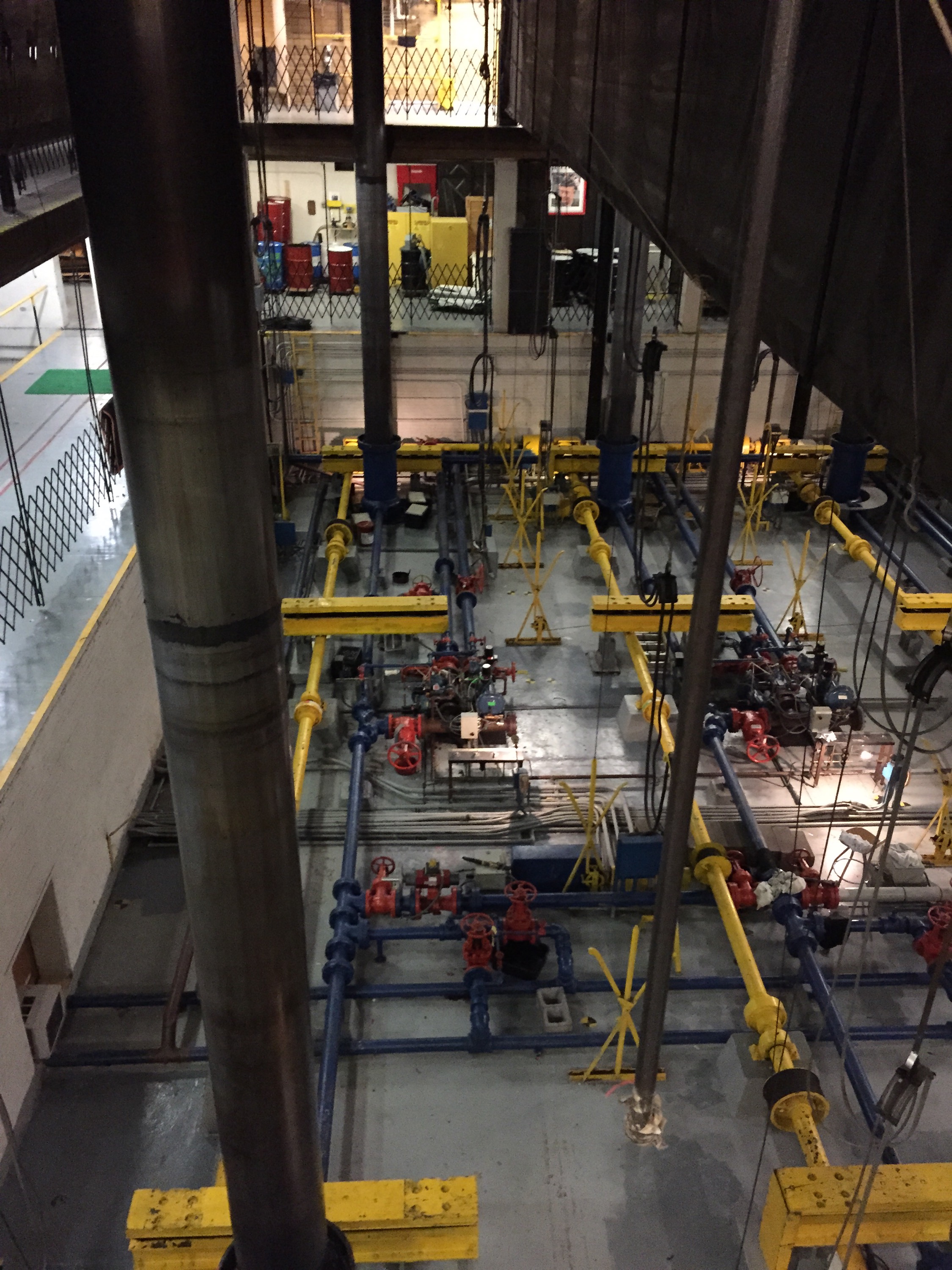 This stage has misty steam vents for genuine fog, the orchestra can be moved about on four different elevators, it has housed a 30,000 gallon swimming tank, held 16 elephants, been transformed into an ice skating rink, a basketball court, a stage for an awards ceremony. You name it – the stage managers and stage hands can recreate any new set required within a couple of hours.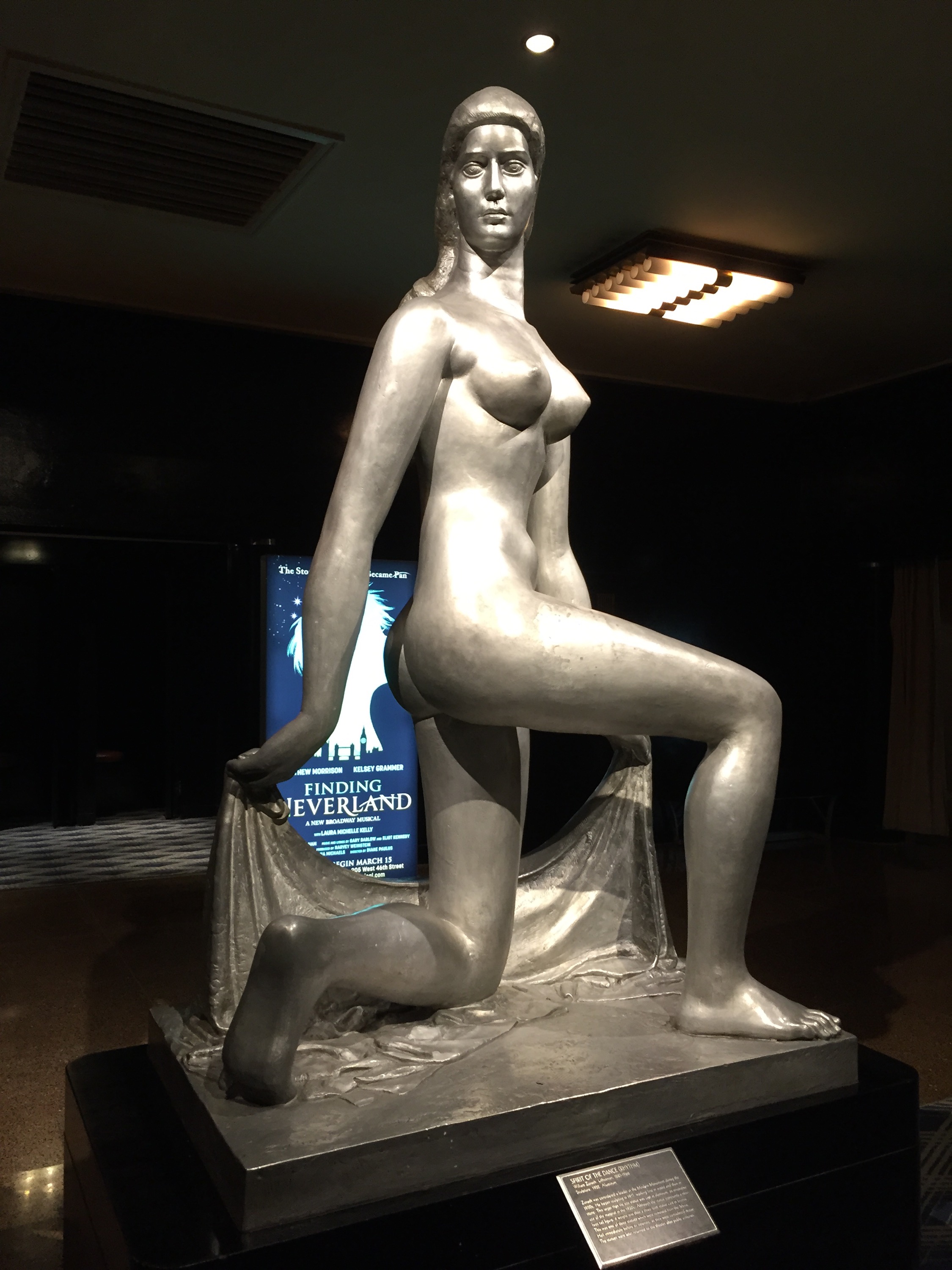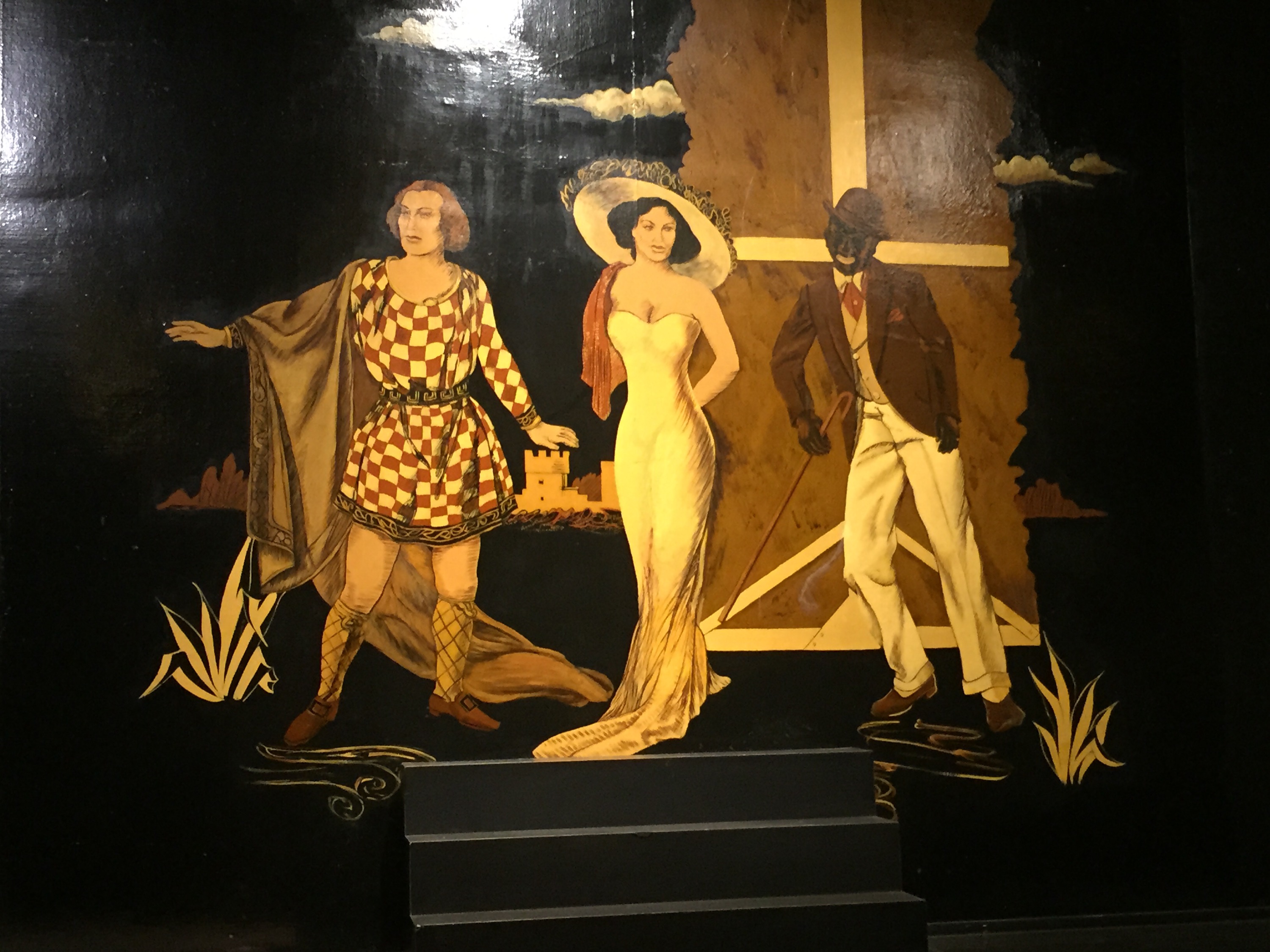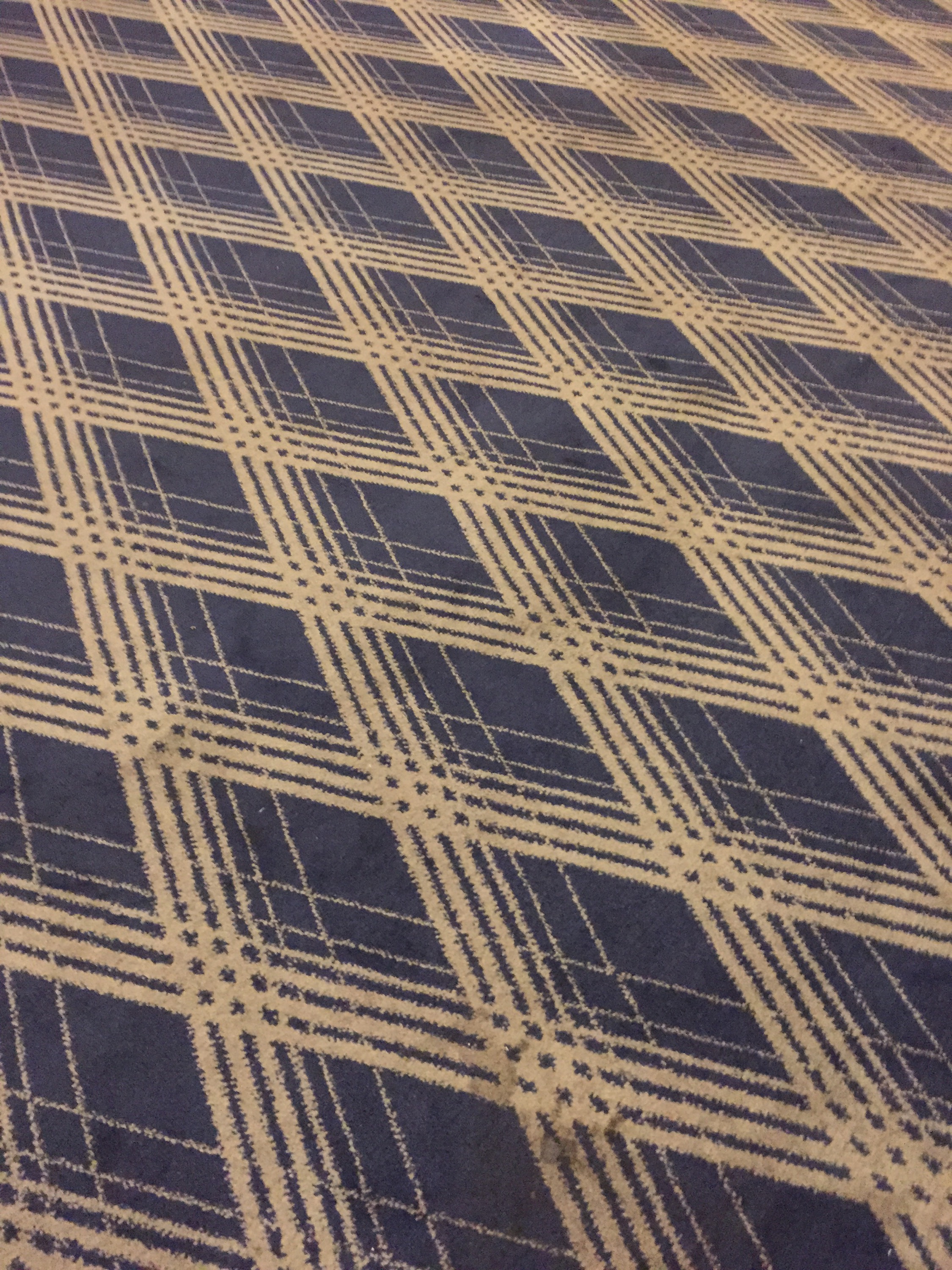 Outside the threatre are is a space called the Grand Lounge where patrons enter and exit their seats and can also find the rest rooms. It has been designed to be 'soothing and calm and quiet', which is quite the ask with potentially 6,000 people milling about. Apparently the dark colours, soft lighting and diamond shapes that proliferate this area were believed to promote the use of quiet voices much like a library. It also has several 'silent ushers' in the form of large pillars that patrons need to navigate which breaks up the flow of people and allows the actual ushers to manage the crowd better – very clever, I thought.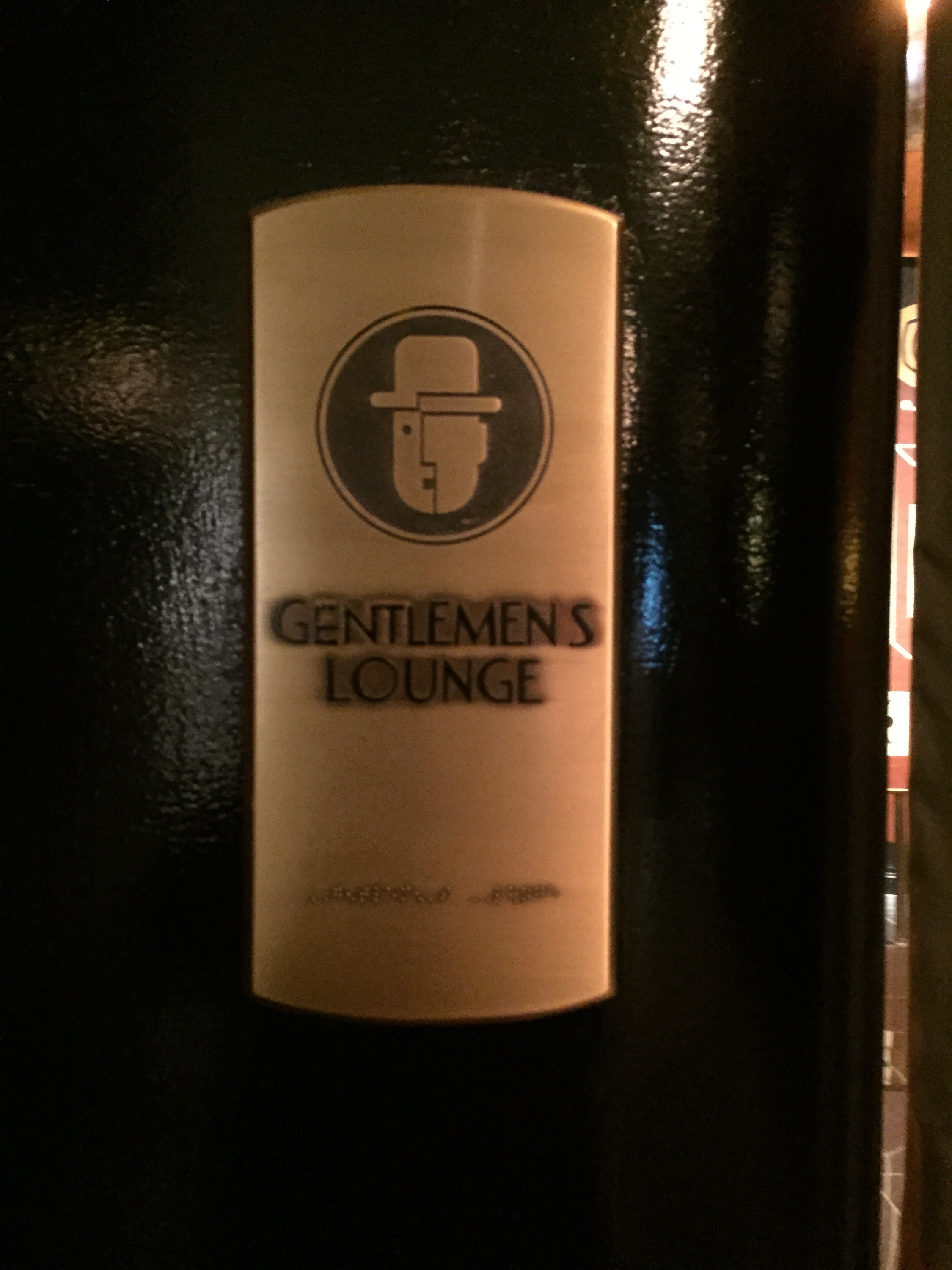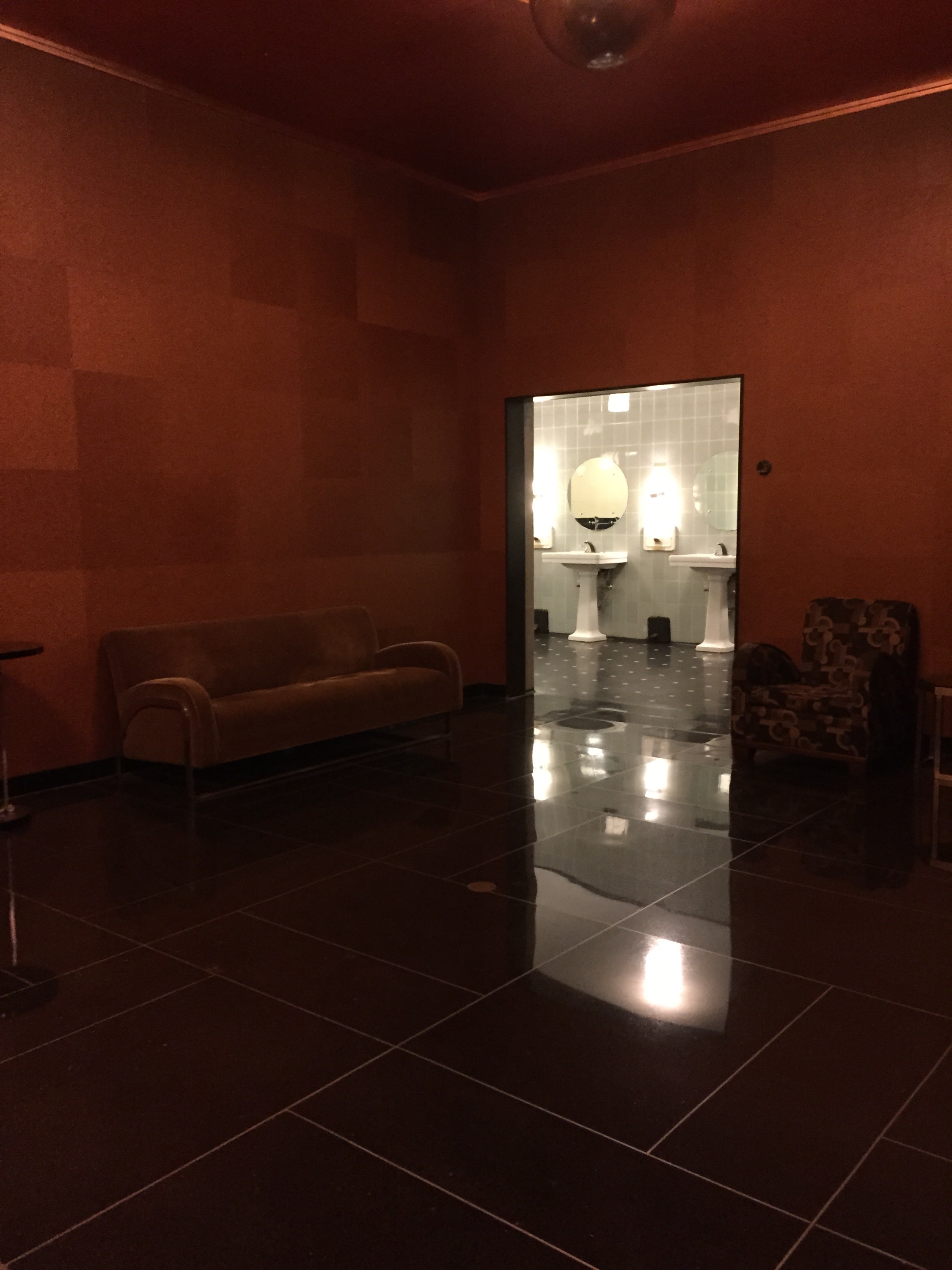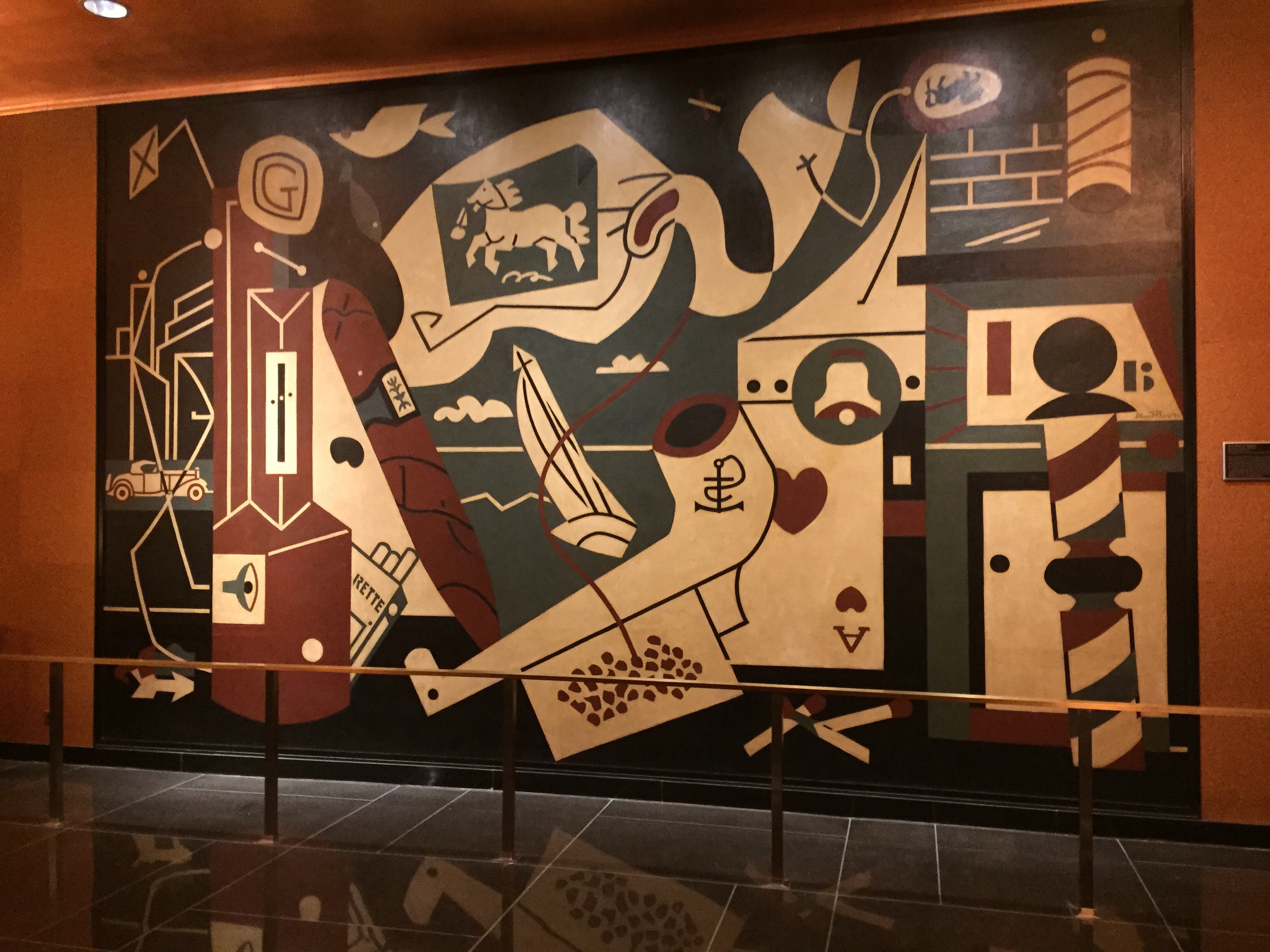 Attached to the Grand Lounge is the Gentleman's lounge – read: smoking lounge and bathroom. In the Gentleman's Lounge is a large wall mural painted by Stuart Davis which was removed in the 60s due to the damage being done to it by the smoking. The smoking was banned and the painting was given to MoMA to attempt to restore it. It hung in MoMA until the restoration in 1999, at which point it was given back to its original position in the mens bathroom.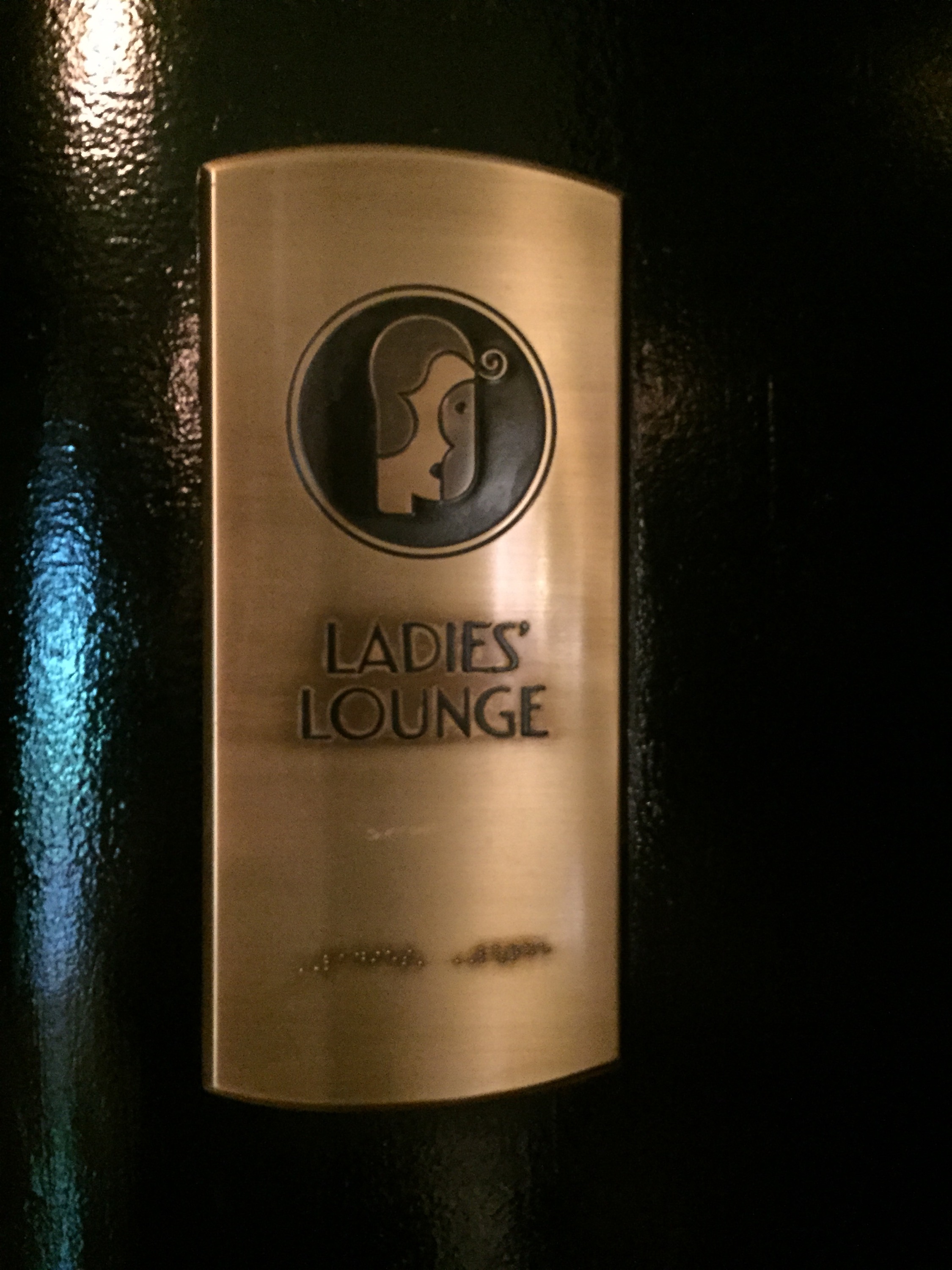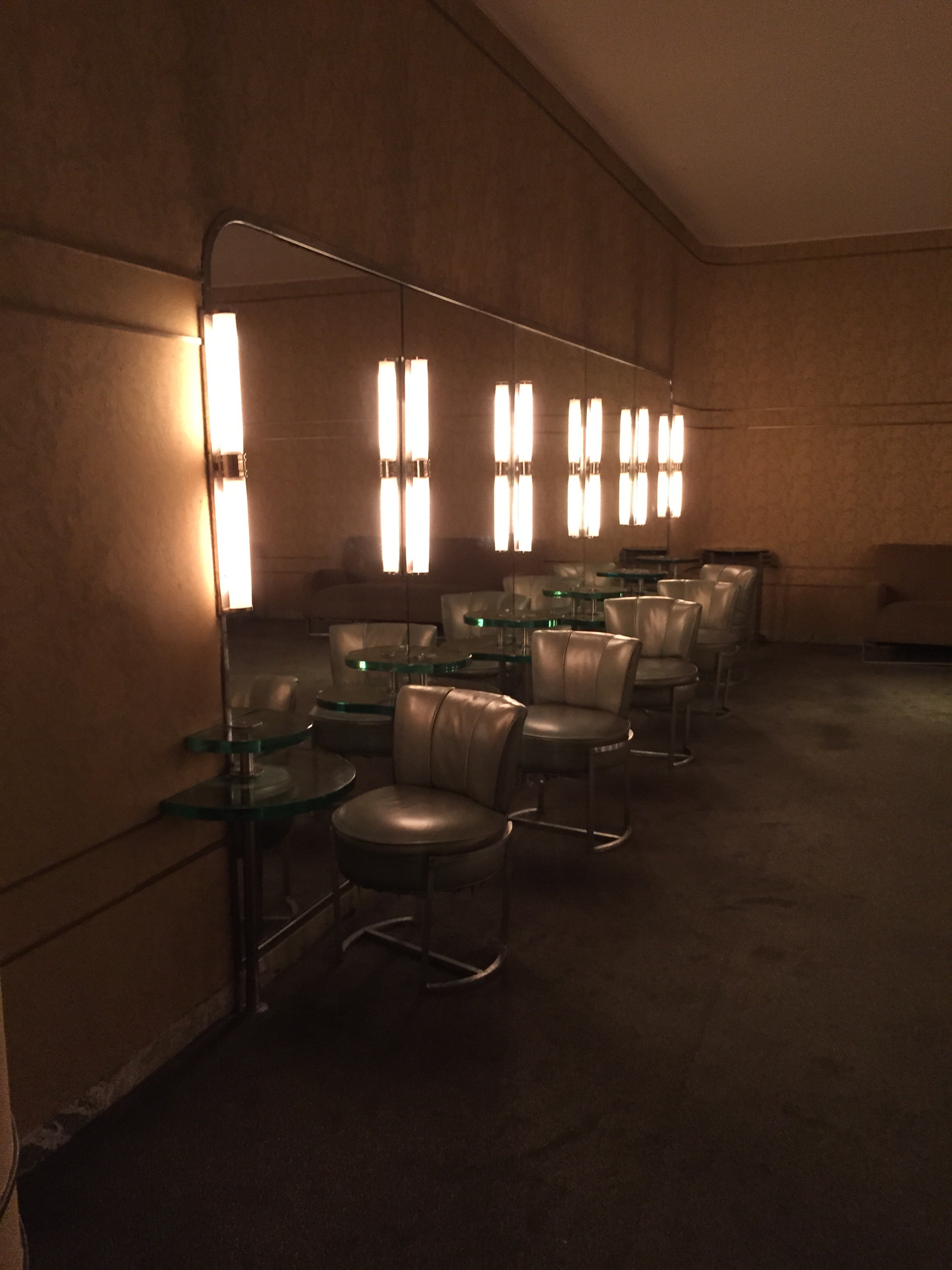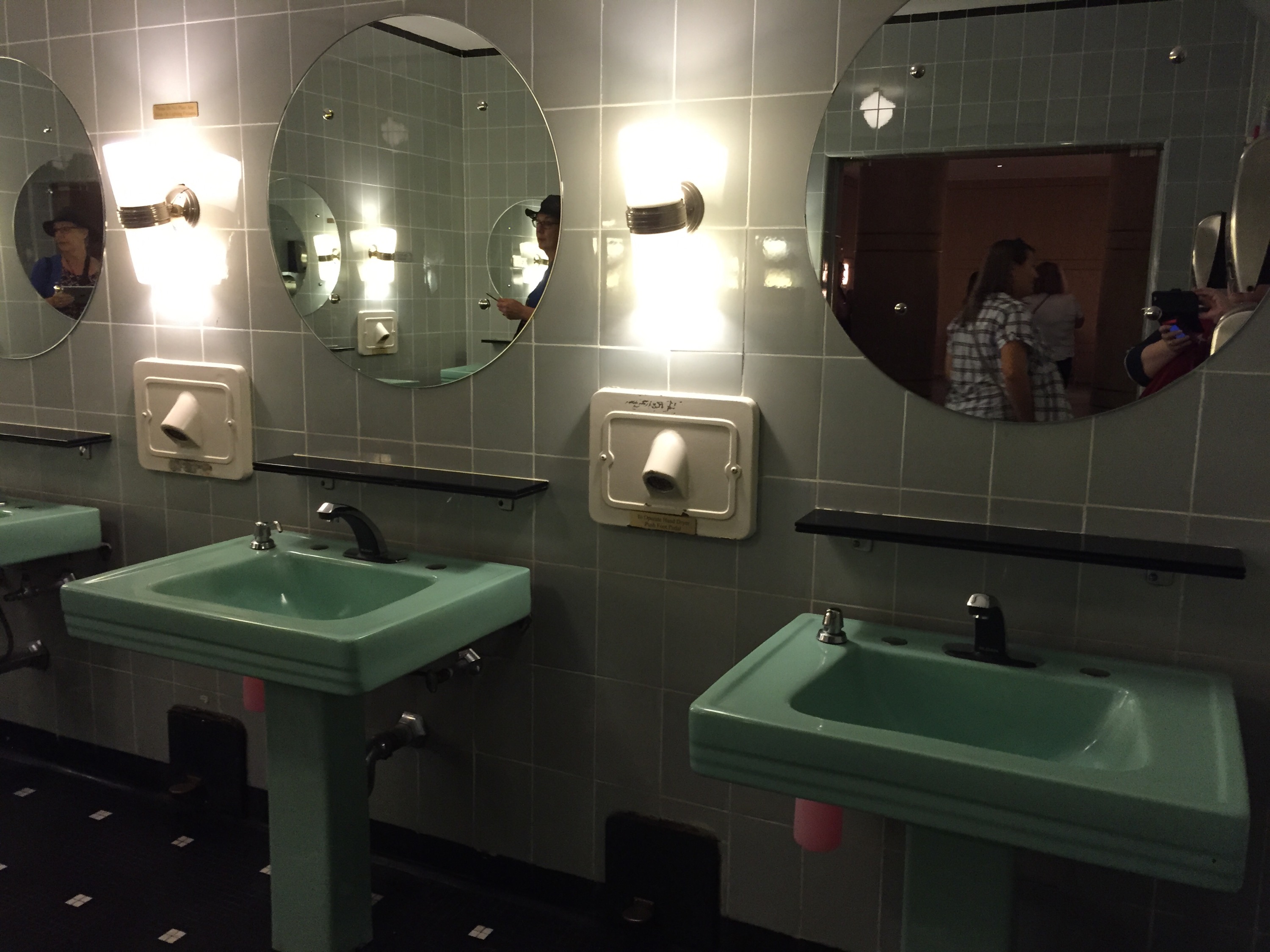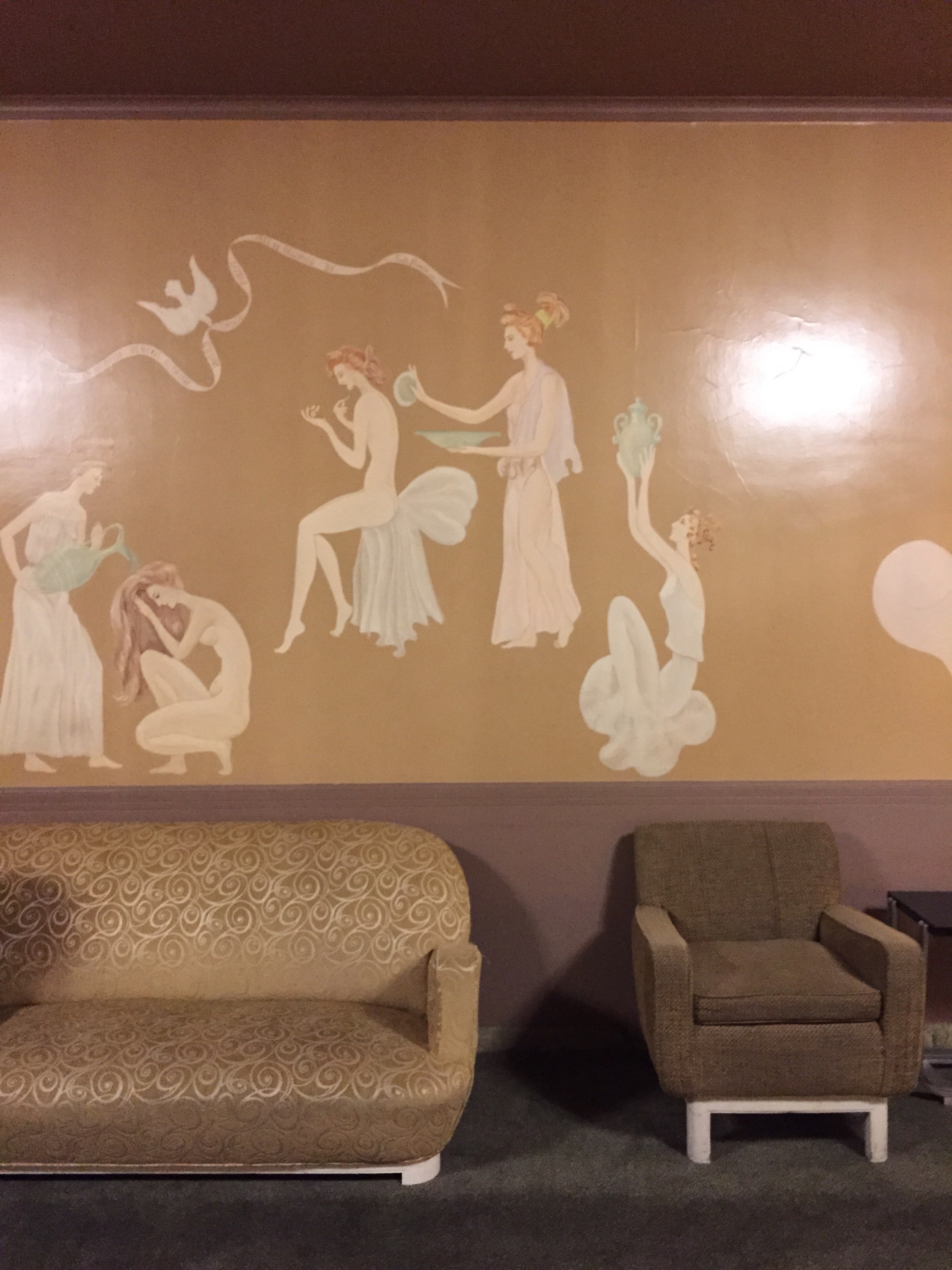 On the other side of the Grand Lounge is the Ladies Lounge, which is brighter, softer and has 14 paintings by a leading illustrator from the New Yorker whose name I didn't catch. There are also two rows of 'powder tables' complete with dresser chairs and mirrors where ladies could powder their noses. Also, very quaint, the original 1930 pedal operated hand dryers still work which was very cool.
In it's heyday, Radio City Music Hall was a venue for film and stage shows and would host both every single day. But in the 60s, patronage dropped considerably with the advent of television and they found themselves $1 million dollars in debt and forced to close down. By 1978, the building was condemned and was scheduled for destruction… but thankfully saved due to public protests. Radio City was rescued and given a heritage listing, but changed it's format from being film and stage shows to being primarily a concert hall which occasionally shows films. Everyone has performed here – Meatloaf, Lady Gaga, Elton John, Whitney Houston, Tony Bennet… you name them they've probably had a run here.
They occasionally still do have film showings on – the first Harry Potter film and the Lord of the Rings trilogy were played, but (and this is kinda cool) they remove the soundtrack and have a full orchestra play the film's score. Radio City has over 2 million visitors s year now and is considered the "show place of the nation" or something like that. It's obviously one of those things that the locals are extremely proud of but I had never really heard much about it until today (probably because it is far to modern to be of general interest to a history nerd like me).
Anyway, after checking out all these amazing things about the theatre itself, it was off to meet a genuine Rockette – the perky Becky. We all had our photo taken with Becky (and no, I didn't buy my souvenir photo with the tall leggy Rockette chick for $21.75 + taxes), but she told us plenty of info about how the Rockette's were formed, and how they were chosen. The girls have to be 18 years or older, be 5'6″ to 5'10", be proficient in tap, jazz and ballet dance forms and have an ability to work well in a precision line… they match every little detail for uniformity – hand and foot movements, head and eye direction the whole lot.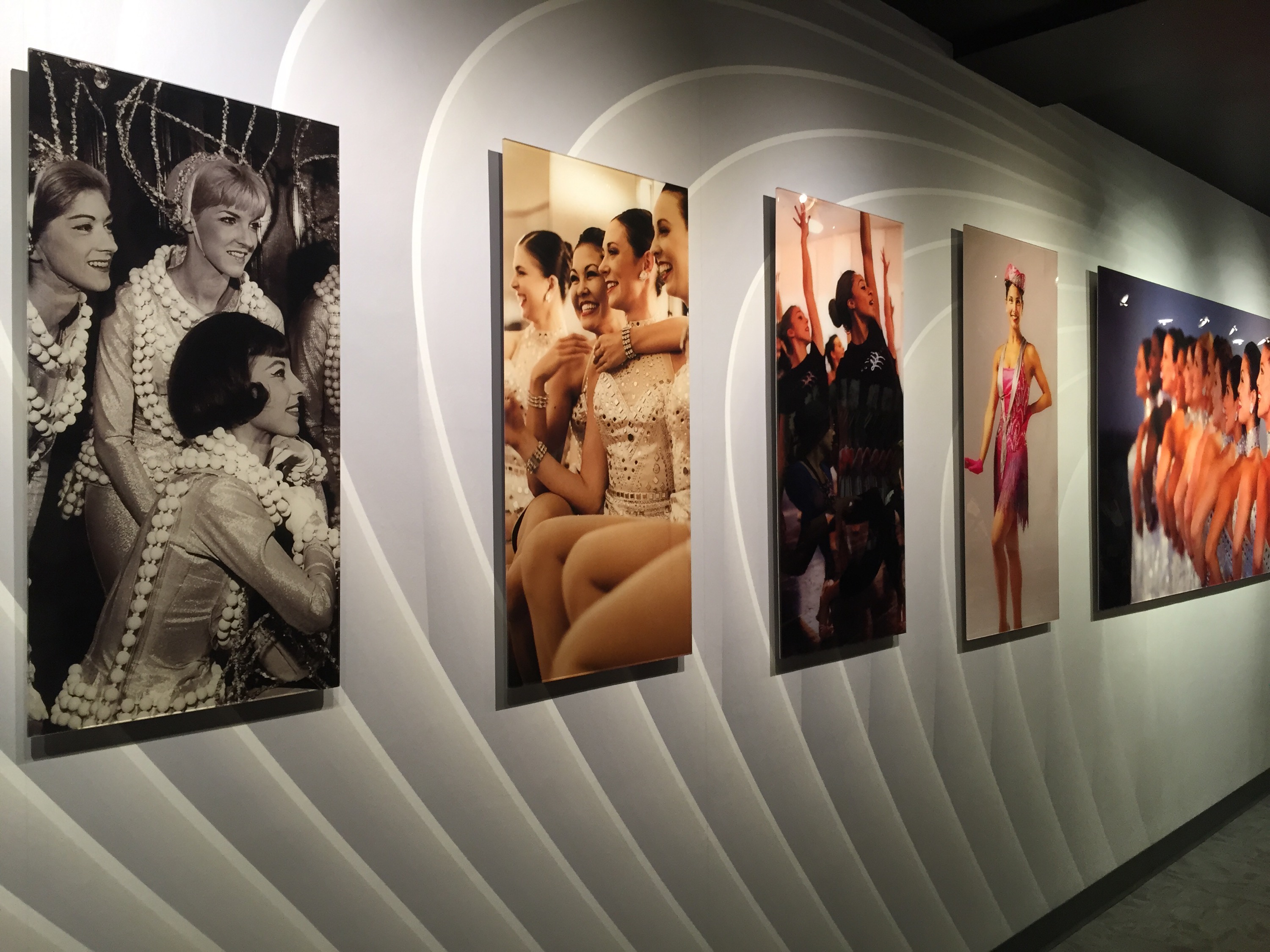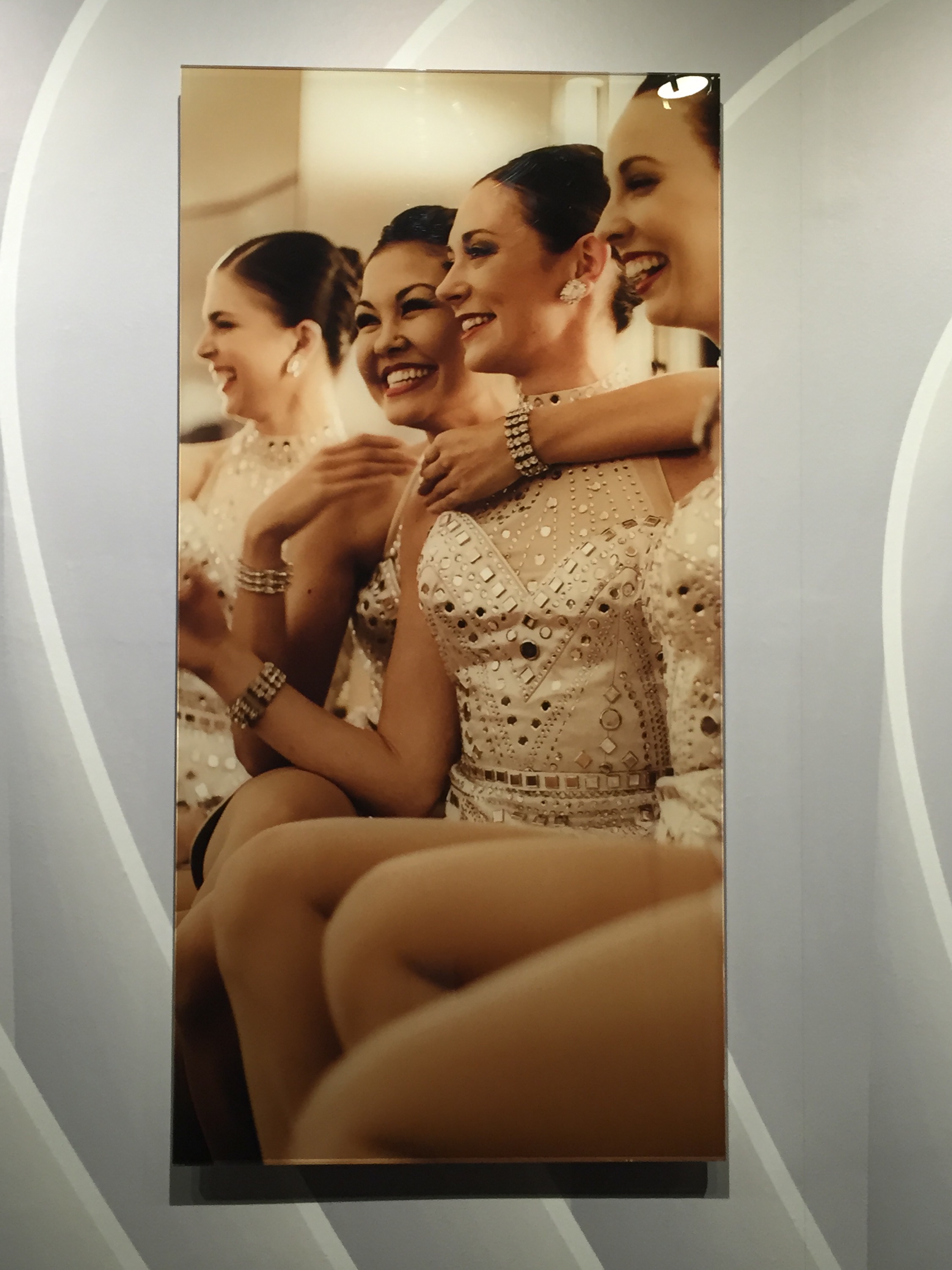 The biggest gig of the year for the Rockettes is the annual Christmas Spectacular which has been running since the '30s. The show will be preformed this year 200 times, over 8 weeks, with up to six shows a day. The girls will put in 1600 hours of rehearsal time before they even get to opening night. This year there is two casts of Rockettes of 40 girls each… most of the Rockettes come from the US, but they also have 3 Canadians at the moment, 1 Australian and a couple of Brits.
For each show there are 25 dressers and wardrobe staff keeping their elaborate costumes sorted as they have numerous costume changes for each show. All the costumes are designed for quick change turnarounds, and the fastest costume change required for this years show is 80 secs and involves switching 23 pieces of costume in that time frame.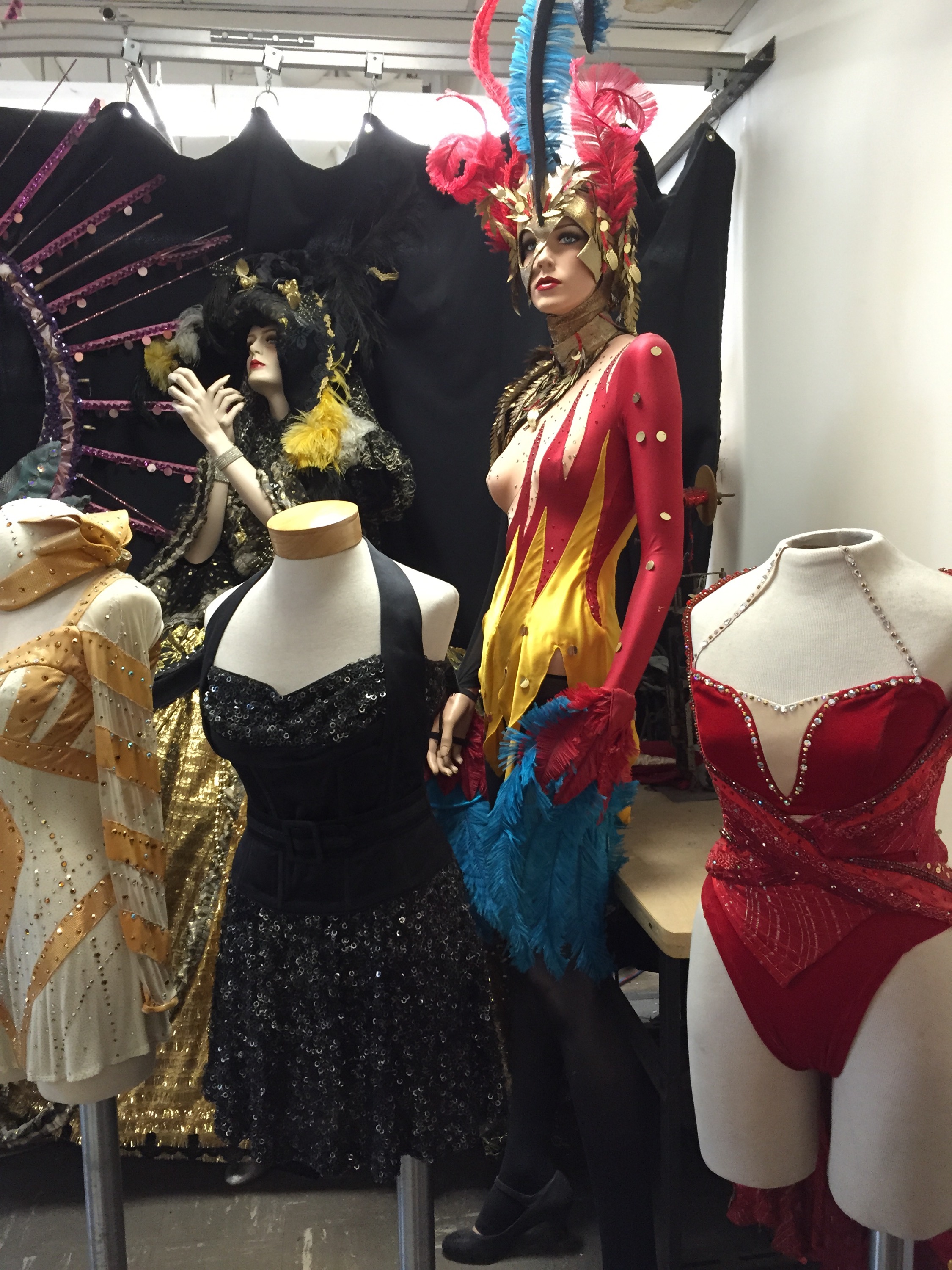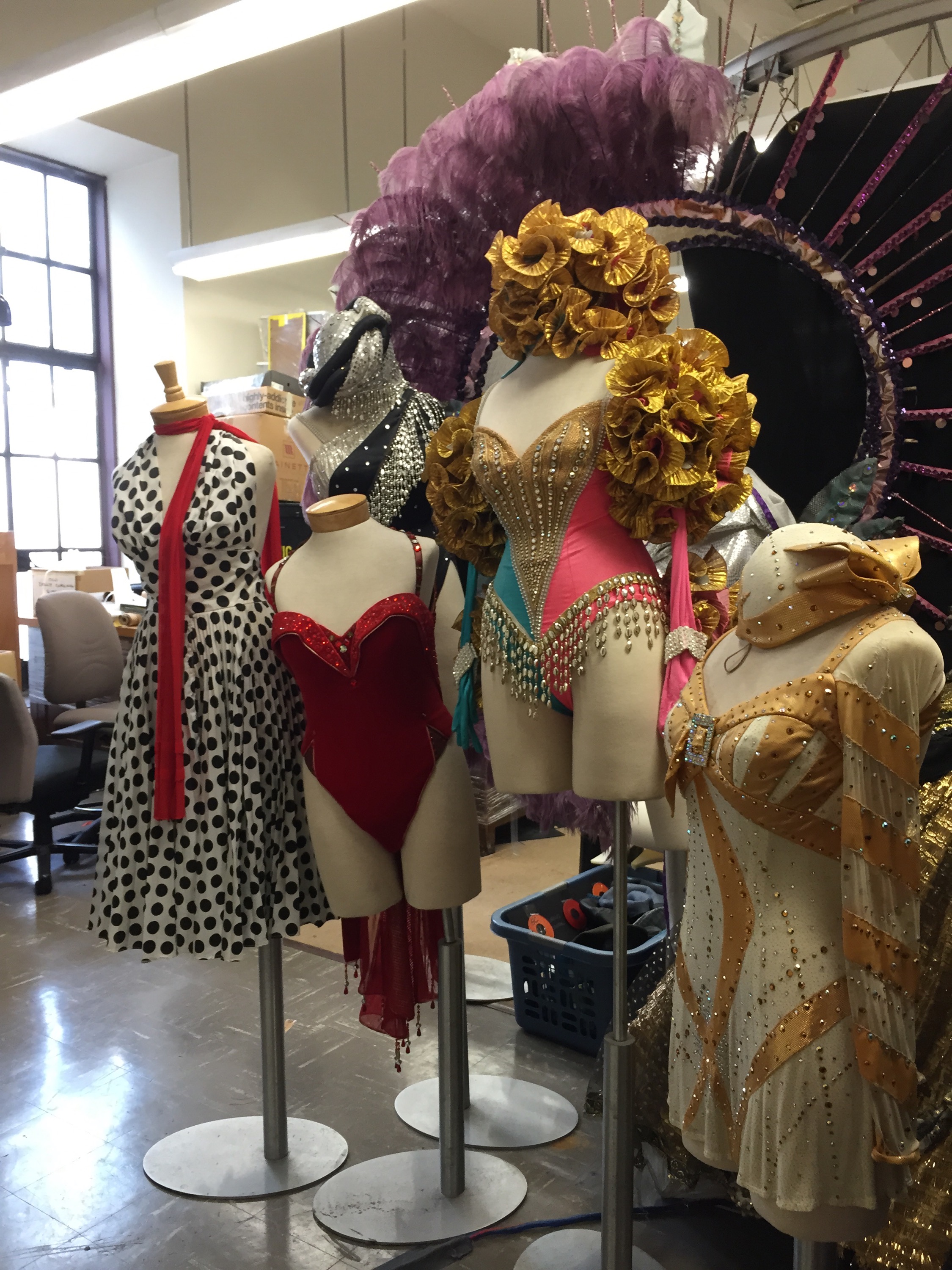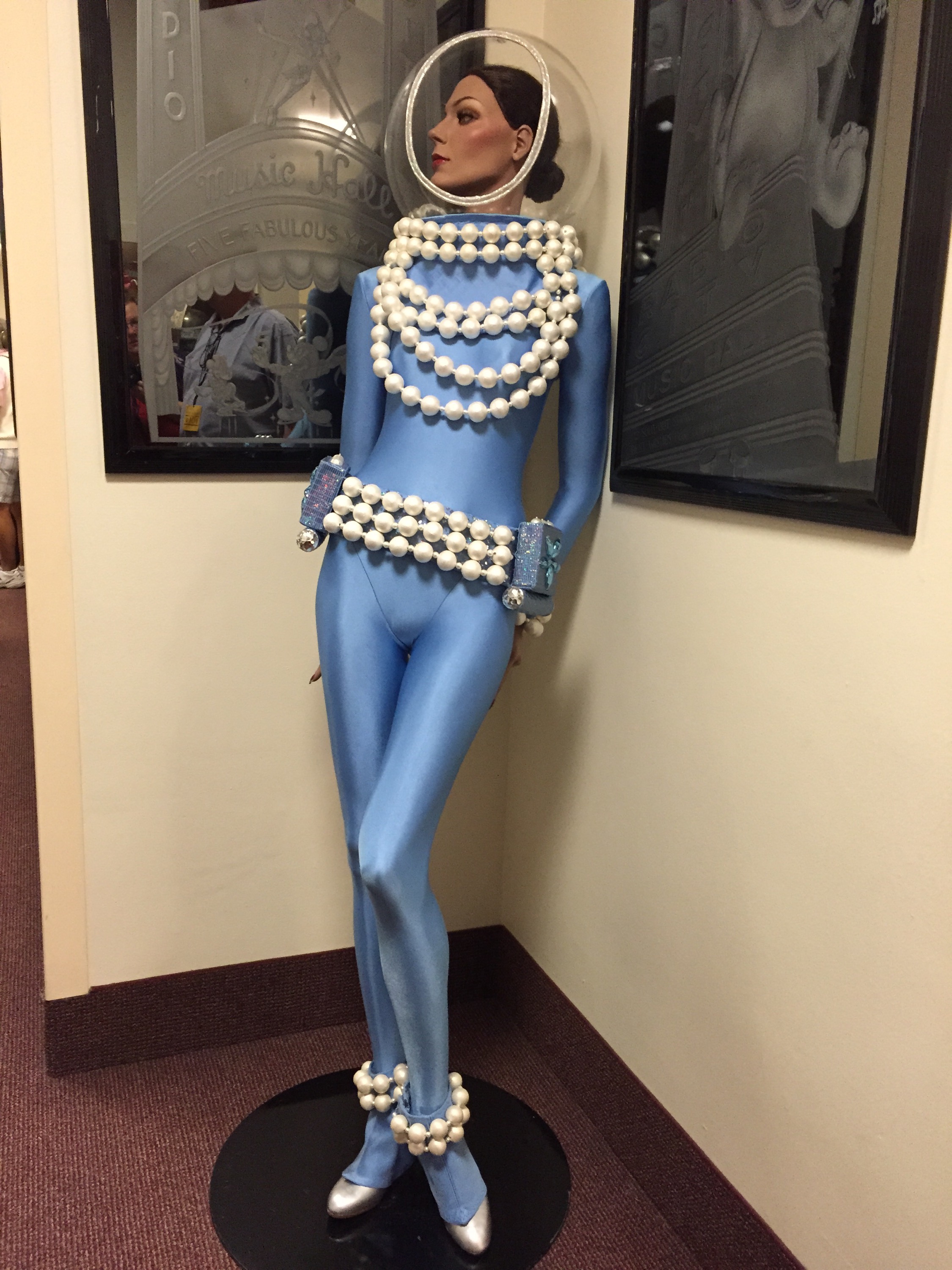 Becky tells us that one of the hardest jobs is being a replacement dancer in case something happens to once of the main girls. With 36 girls on the line, there is always 4-5 replacements on standby called 'swings' who will rehearse behind everyone in the line and memorising the dance moves of nine different peoples roles in case someone drops out and they have to be thrown in at the last minute. These girls could spend years rehearsing and never actually make it onto the stage. Fascinating, aaand, not a little bit crazy.
After the accidental tour I went for a wander down towards Rockefeller Centre – big mistake! Huge! El Papa is in town and in readiness for his Holiness' arrival, they have put up barricades on every side street off 5th Avenue to stop vehicular traffic on either side from Lexington to 6th. It's a freaking mess out there. And to make matters worse as you get close to 5th, pedestrian access has been restricted too by the addition of 8′ tall wire mesh fences! I had to walk one block over and three up before I could get into 55th from 6th, and even then had to convince a cop that I was just wanting to get back into my apartment. The city has obviously learned a trick or two over the years – they are using large sanitation trucks filled with sand parked across each E-W street to block the end of all the barricaded streets (wonder where they learned that trick). People are accumulating everywhere hoping to catch a glimpse of the Pope — bearing in mind that this was roughly 2:30pm and his flight was due to arrive at JFK at 5:30pm, which means by the time the singing and dancing and helicopters and motorcades are all done, it was going to be well and truly 6:30pm – 7pm before he came down 5th to St Patricks. I can see why the residents and locals have got the shits with this. I only hope most of it is gone so I can get a cab out of town in the morning without too much fuss.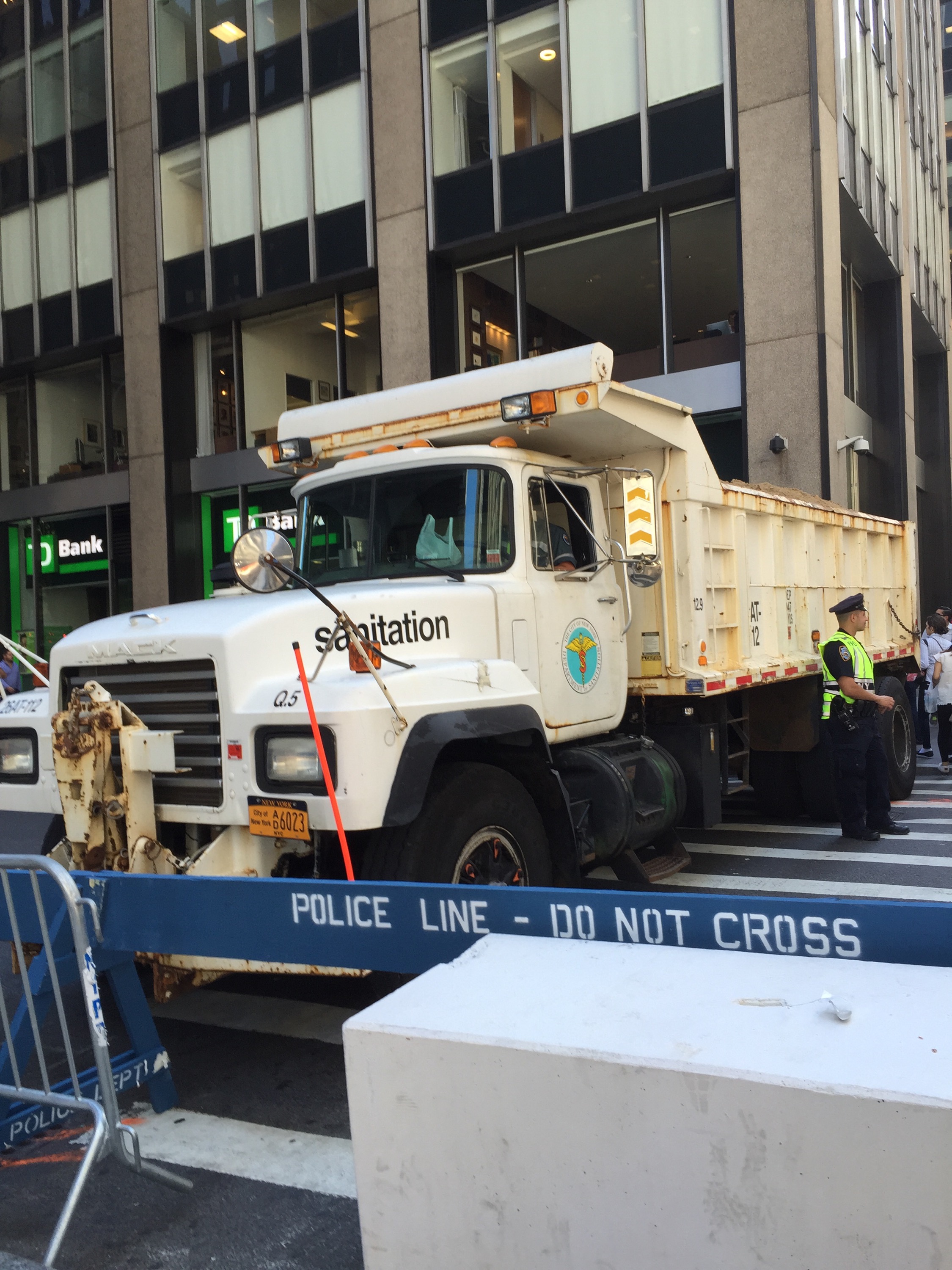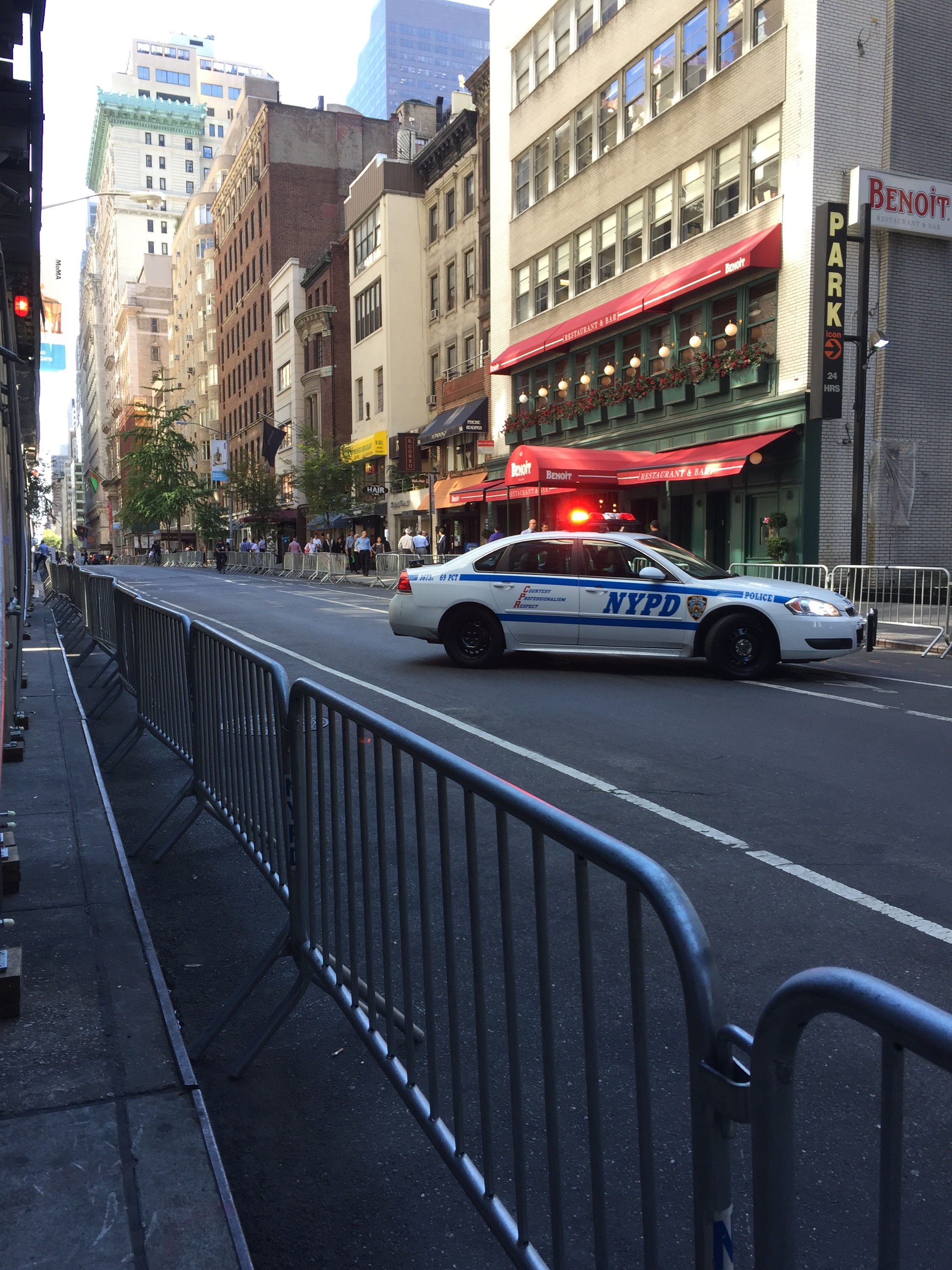 Empty barricaded streets…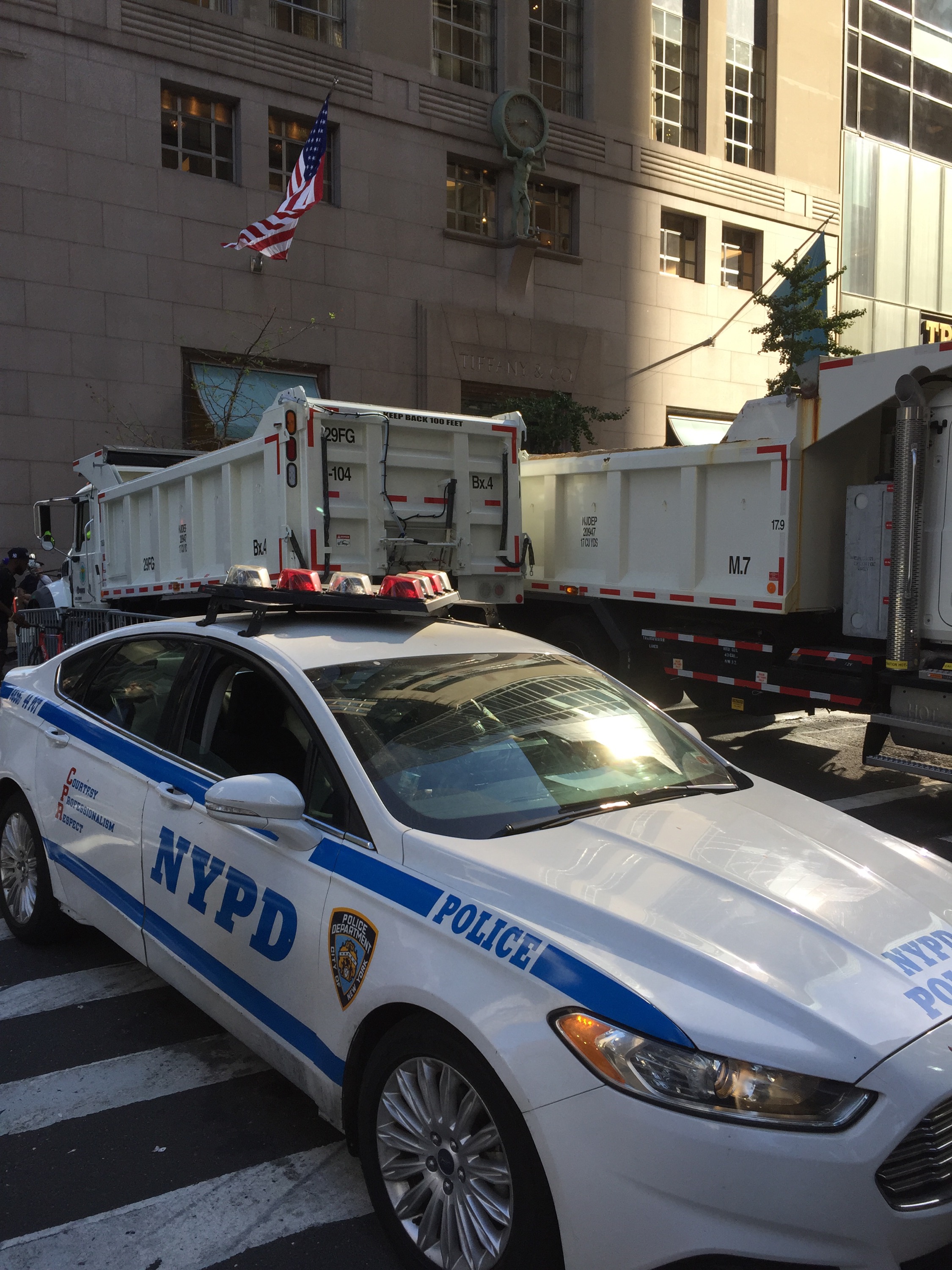 Anyway, the afternoon's plan was to meet the lovely Ms KPeth over at Tiffany's on 5th (yeah, this was before we saw the over the top security measures put in place), and then off to Times Square in search of cheap theatre tickets. We did manage to meet at the allotted time… I was a little early so got in a pick up meeting with a NYPD officer about what the expectations re: road closures, barricade removal and Pope arrival currently were – was a little surprised to hear him confess that he really had absolutely no idea and that they were 'providing a presence' until told to move elsewhere. Good times. Yes, so back to Tiffany & Co. There may have been a very planned purchase from one of us and a complete impulse purchase from the other, but who can resist the shinies.
After this we made our way down to Times Square again to see if we could find some reasonably priced tickets for a show tonight. You know, last time I was in New York, I remember hating Times Square because 1) it was fucking freezing and I could not get used to the way the wind just cut through your clothes, and 2) it was so crowded with people who were pushing and shoving and jay walking and yelling and touting at you and it all seemed so very chaotic. But now I find, that it's not so bad. The crowd can get pretty full on, but it is mostly well behaved and relatively polite. I think I can thank my two weeks in China for giving me a new perspective on just how cheek to jowl and rude a crowd can get… Xi'an and Beijing make traversing Times Square, feel like a stroll in the English countryside.
Anyway, we managed to find some great half price tickets to go see the Jersey Boys – had to be done, we are in New York after all. The show was excellent, fantastic music, all those great familiar songs, and the cast of performers were awesome. Very different from my other recent theatre experiences, but loads of fun. Makes me wish I could take in a few more shows, but alas… tomorrow I'm moving on.
On the way back from the theatre I was pleased to see the removal of the barricades process has already started and with a bit of luck I won't have too much trouble getting out to the airport in the morning.