I slept in! While normally quite amazing and unusual feat in itself, with all the street noise here, (I'm staying not far from the corner of W55th and Fifth Ave, and from the 4th floor seem to be able to hear EVERYTHING), and the curtains not being as blacked out as an interior cabin on a cruise ship, this seems in itself, a minor miracle.  Let alone waking up in New York with nothing I *have* to do and the entire city stretched before me full of options!  🙂  Squishy mollusc time!  Hurrah!
I decided, (eventually), after a nice cup of tea, to head to the Cloisters for a few hours.  My visit was dual purpose – firstly, I really wanted to see the gardens with something in them other than dirt and sticks devoid of any greenery… When we were here in March last year (I'd link to my post on it, but that reeks of effort), it was unseasonably cold still, and the entire gardens had yet to turn on any bit of green or flower.  The second reason was to check out the current exhibition – 'Treasures and Talismans : Rings from the Griffin Collection', because as anyone who has ever seen my Pinterest account would know… I really enjoy period jewellery.  The craftsmanship is often far and away above what you would expect from Ancient through to Medieval and Renaissance jewellers – some of it is absolutely spectacular.  Oh and there are unicorn tapestries here too… can't overlook those.  🙂
The weather was gorgeous, and my having slept so well, I decided to brave the bus to get up town; mostly becuase I detest the New York Subway… I love the London Tube, but seriously loathe the New York Subway.  In fact, just going down into the Subway on the corner of 60th and Fifth Ave to use the machine to buy a Metrocard to get on the bus, is enough NYC Subway experience for me.  It's immediately hot, noisy and smells like urine and something rotten.  It's just disgustingly dirty, full of homeless beggars and people with no inside voices, so I avoid it at all costs.  I have no idea why it's so crap, when London, Paris, Tokyo, Hong Kong… all these other big cities have their underground rail shit, well and truly sorted.  But enough of that tangential nonsense.  It was a gorgeous day and the long bus ride uptown gave plenty of opportunity to soak up the city.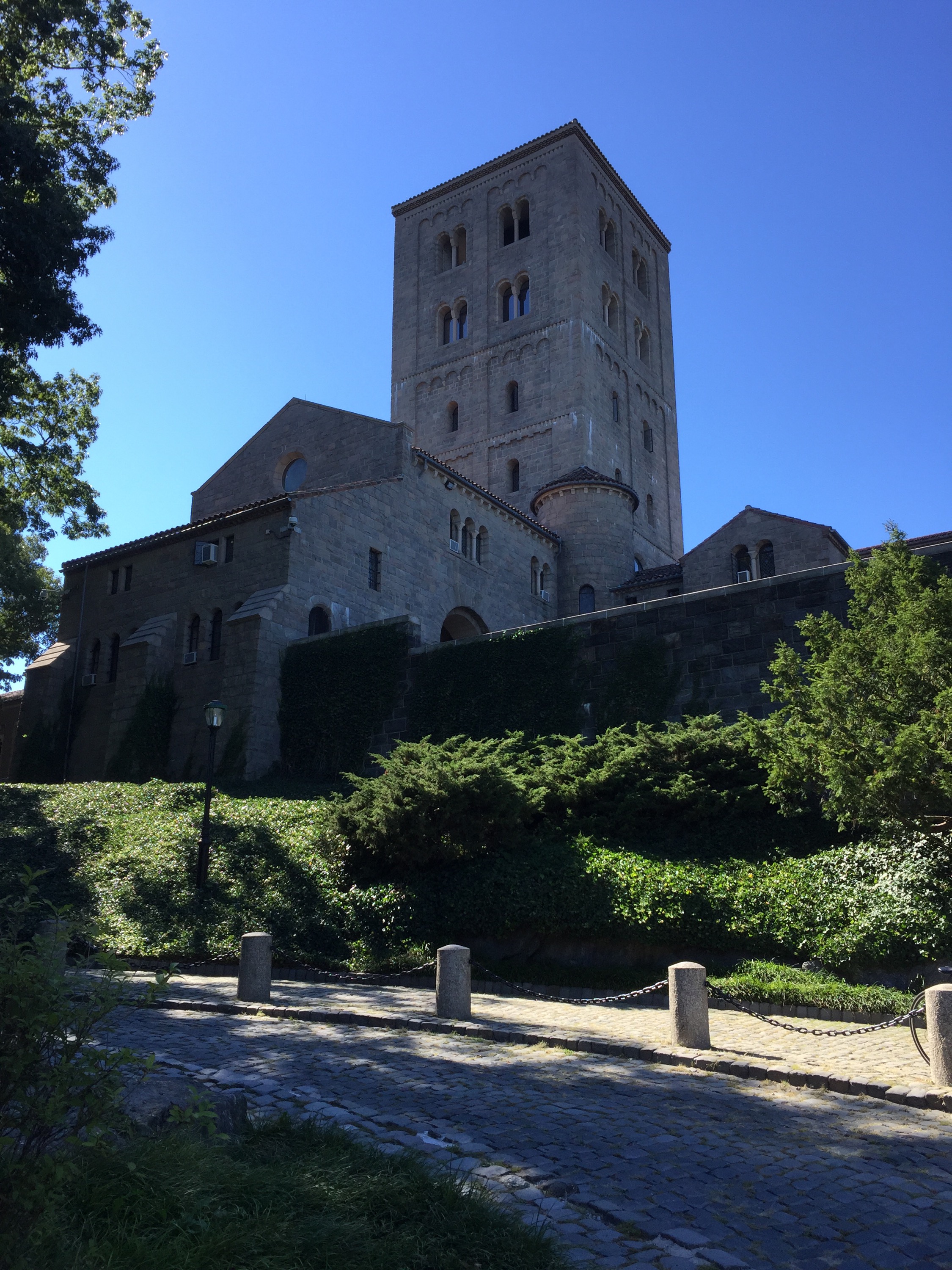 Ooh look, it's a castle 😉 and it's so green and pretty!  The flowers are all mostly past blooming, but the gardens still look lovely.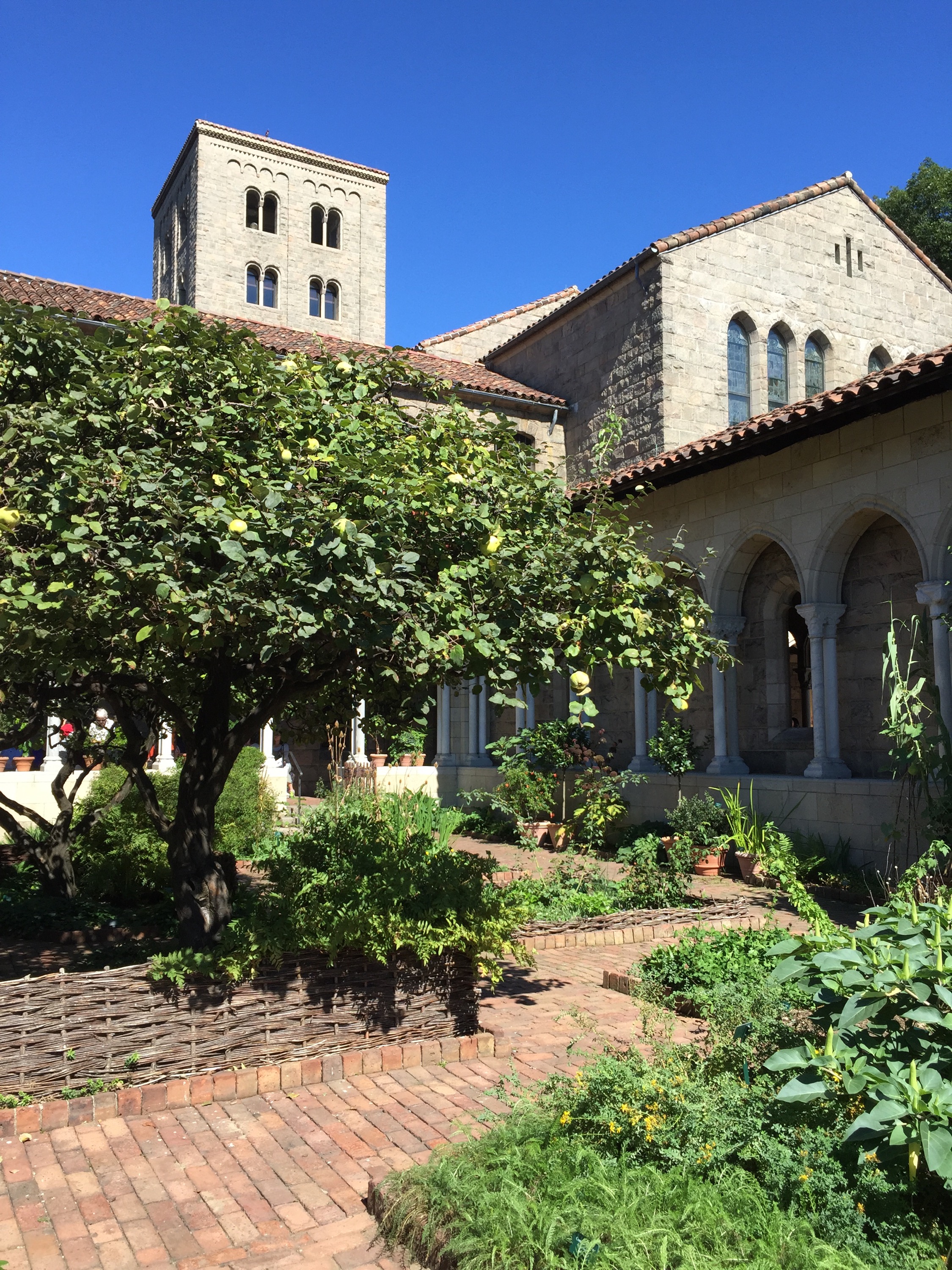 I have a photo somewhere of this espalier from last year where it looked like a spindly lonely arrangement of twigs stuck on some wires on a wall… now it looks more like I imagine it is supposed to.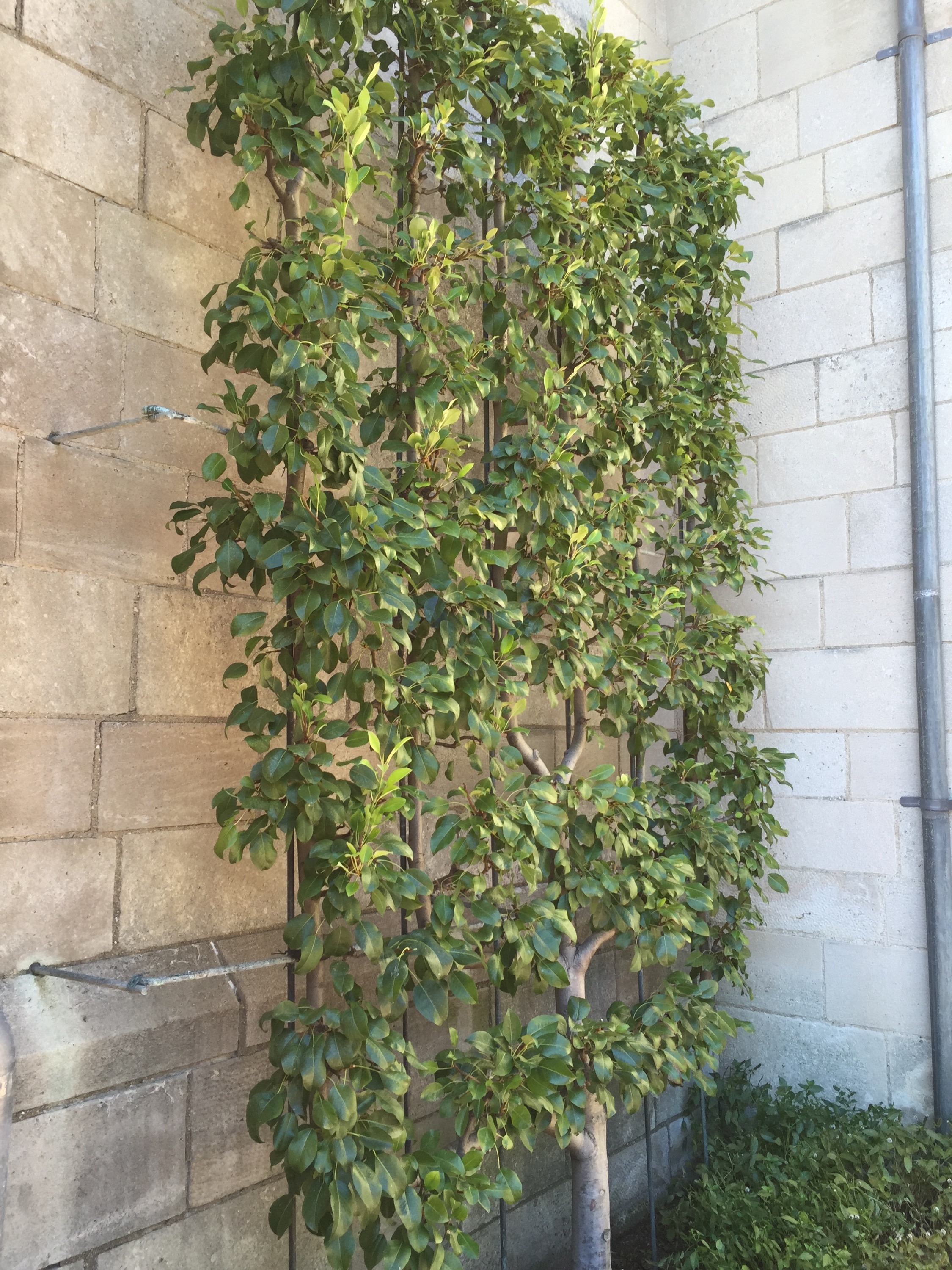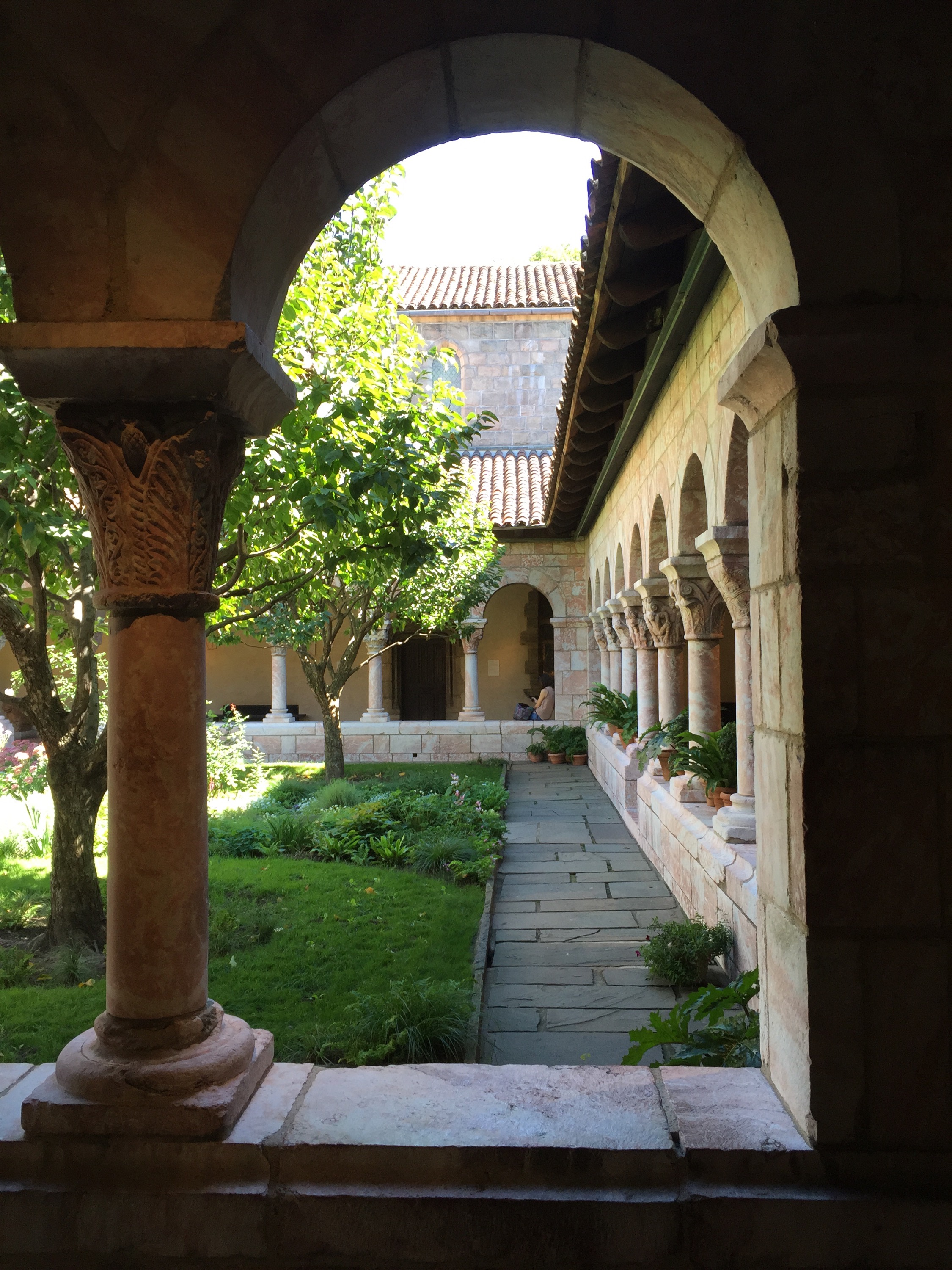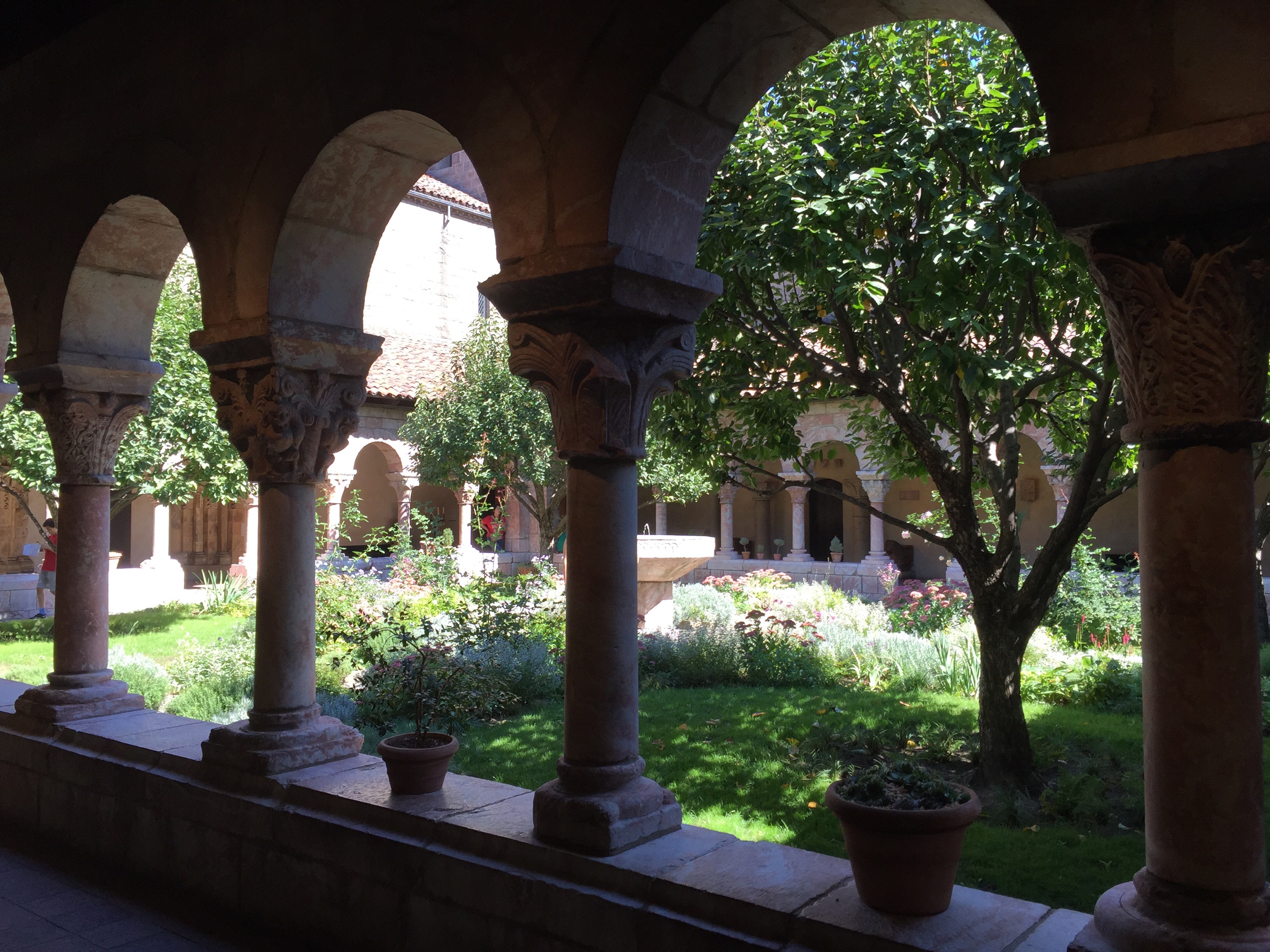 I saw this painting of St George slaying a demon, and don't remember it from my last visit (could have been right here, but you know… memory of a  goldfish sometimes).  The detail in the demon was incredible, as was the gold work on St George's accoutrements.  Just gorgeous. I have the artist info somewhere, but will have to come back and add it later – or I'm going to fall asleep before finishing this post!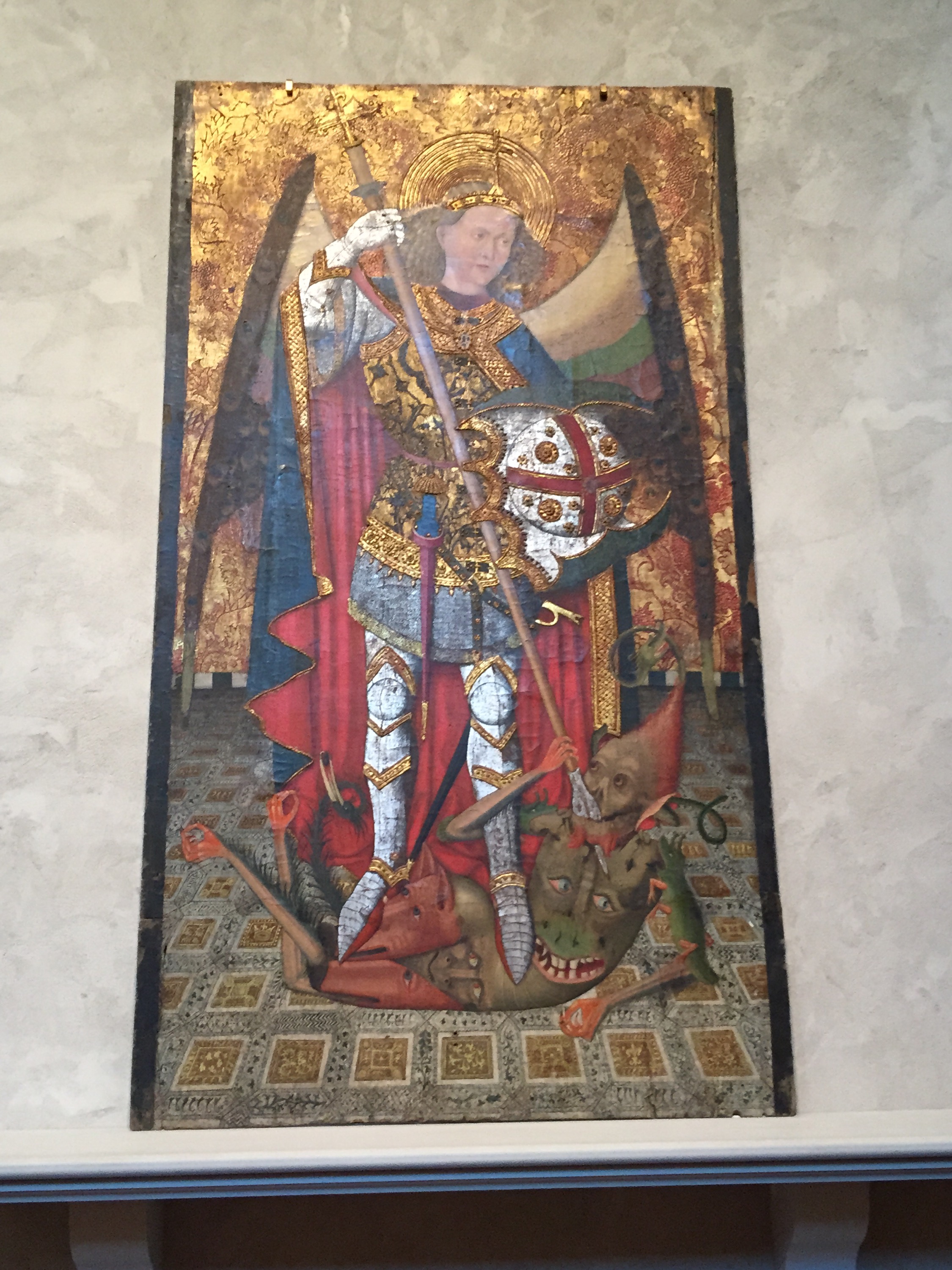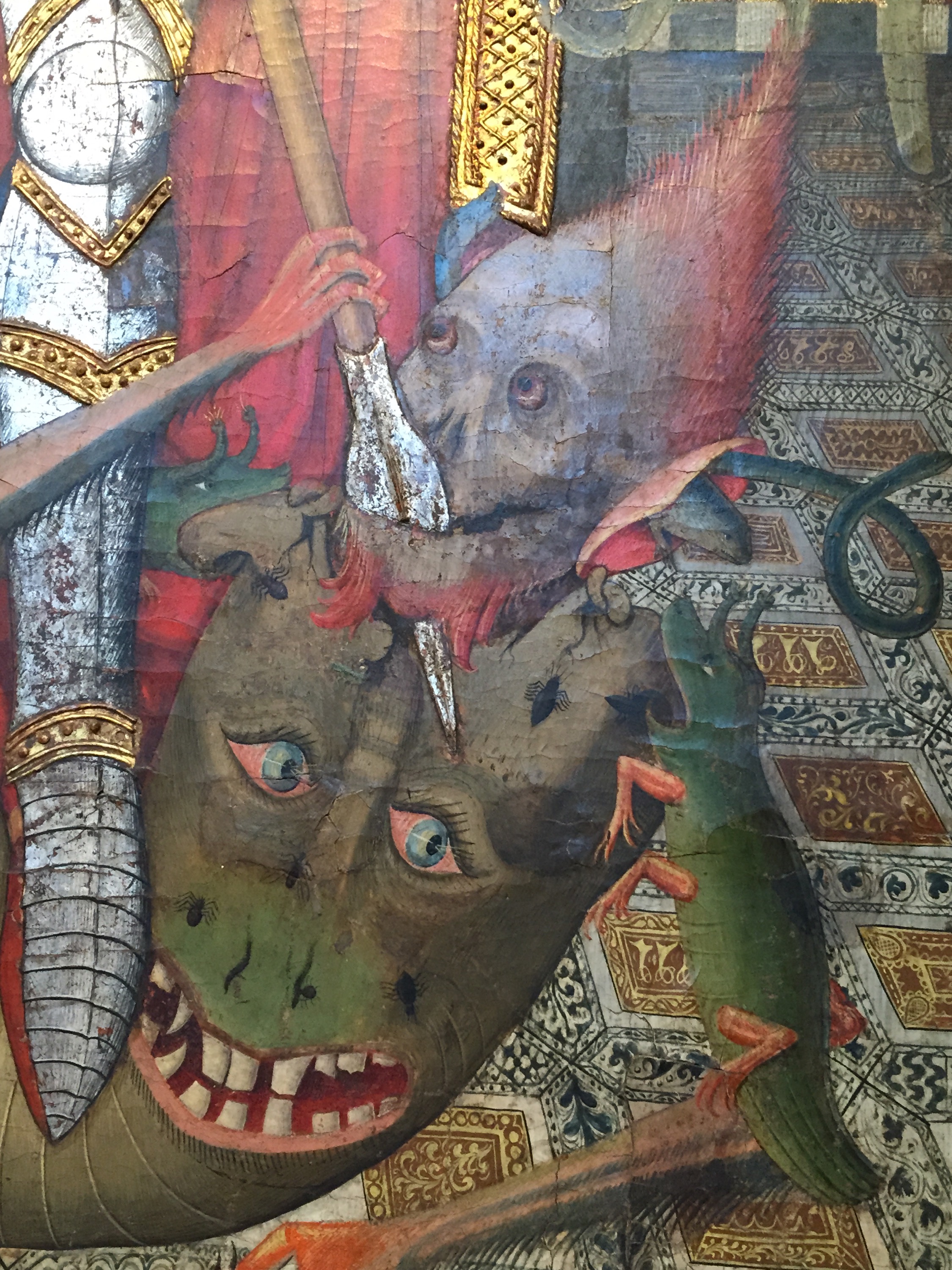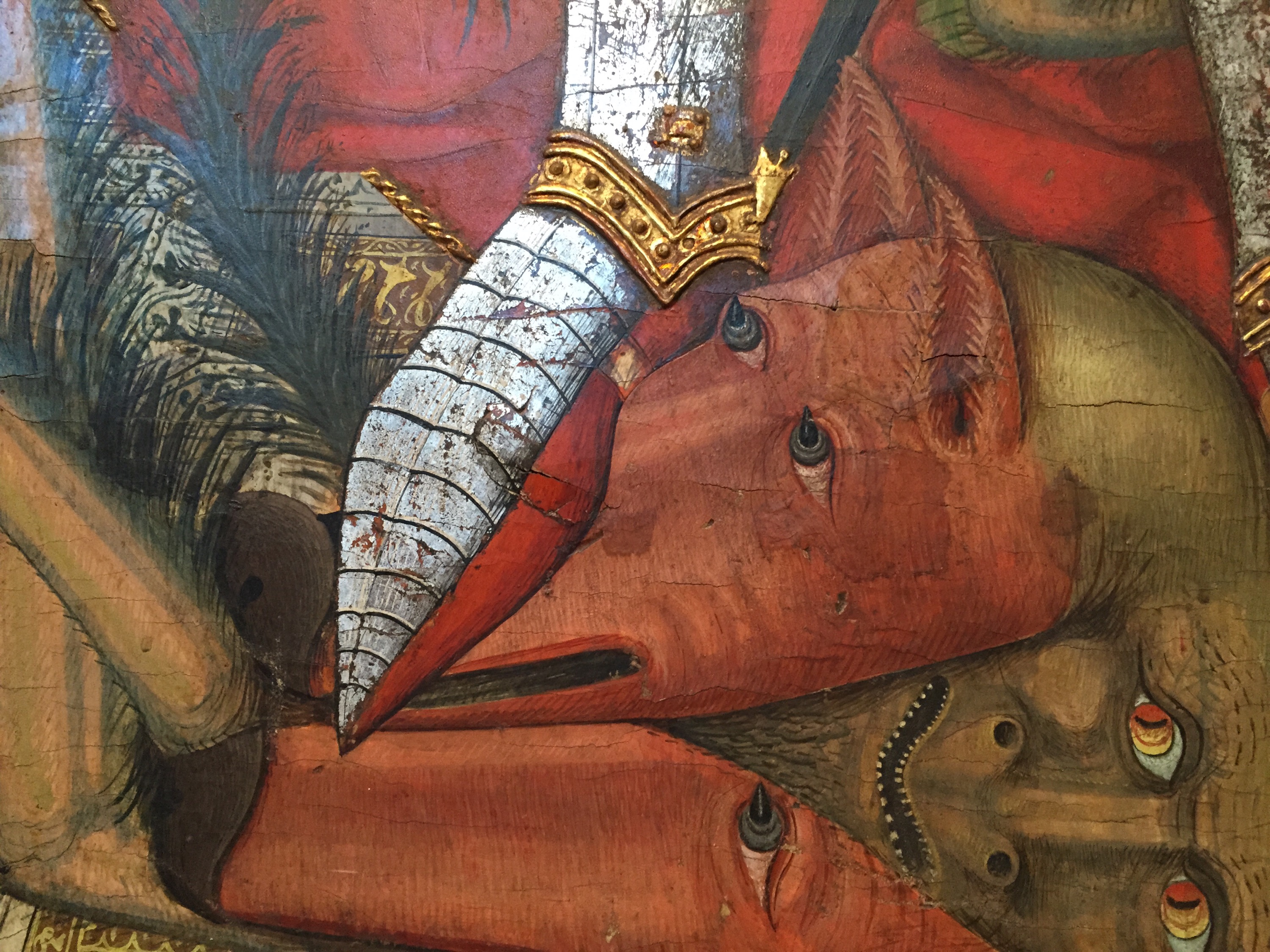 The Annunciation Triptych – Merode Altarpiece, Robert Campin (ca 1375-1444)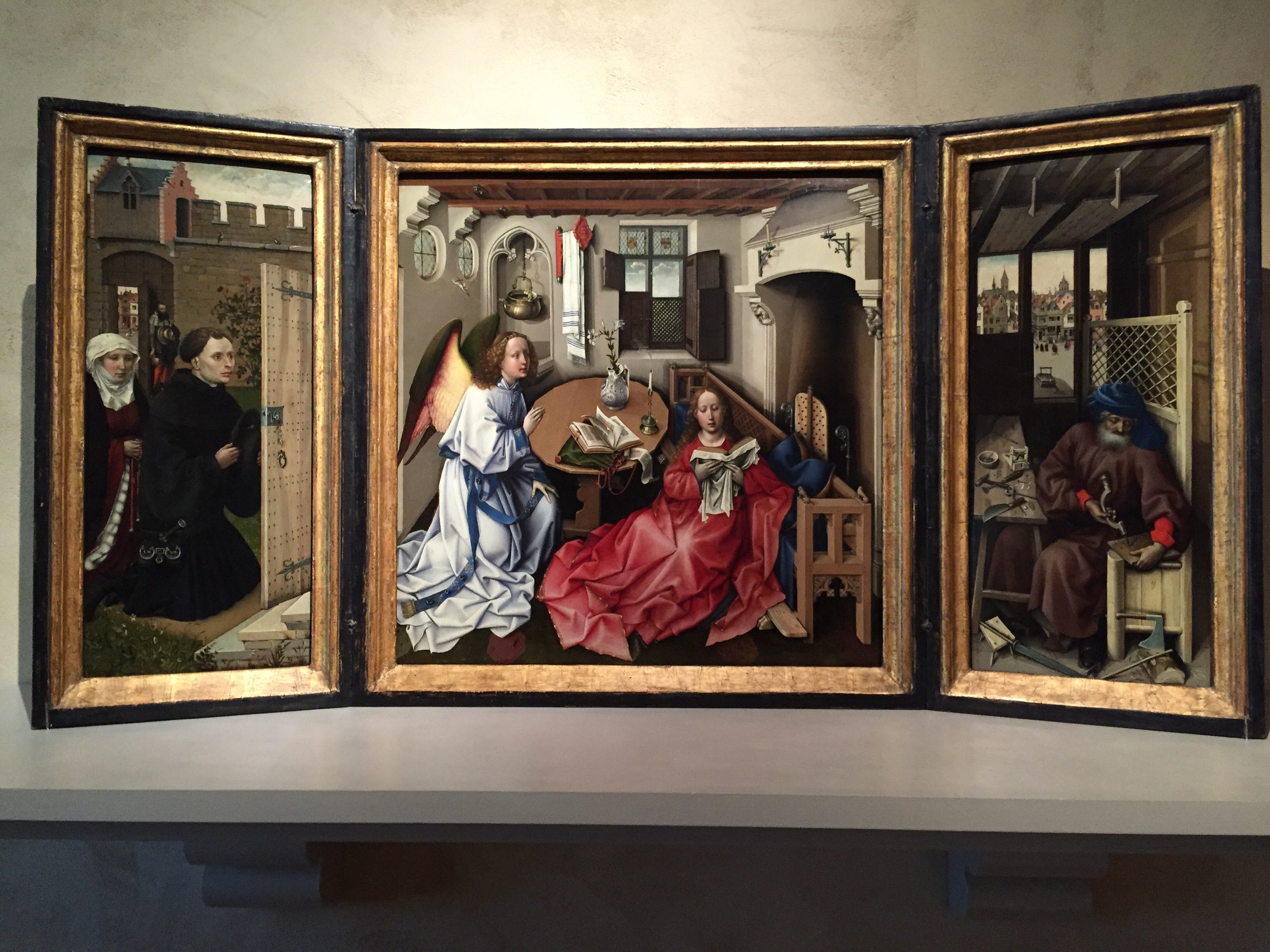 I took some better photos with my actual camera, (these are all from my phone) but I was fascinated by the tools in the workshop.  Very timely considering I was heading down to see all the jewellery and metalwork that was on display.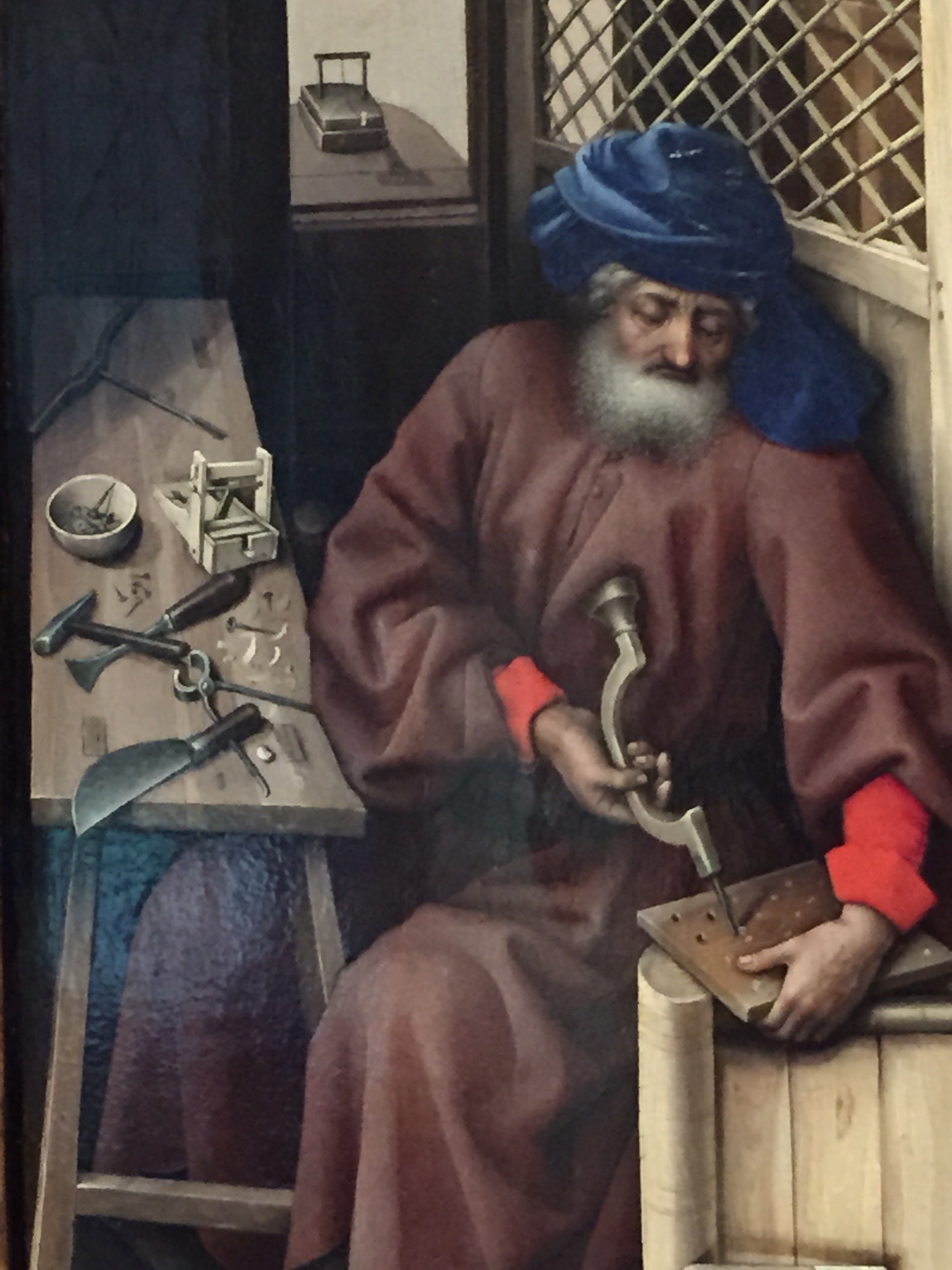 When I was here last, the 'Unicorn in Captivity' piece was actually off the wall, and flat on a huge table for maintenance, I think, rather than restoration, so it was hard to see it in all it's gorgeous unicorny goodness last time (thanks KPeth, I think you have rubbed off on me!).  Now up on the wall, it's truly magnificent.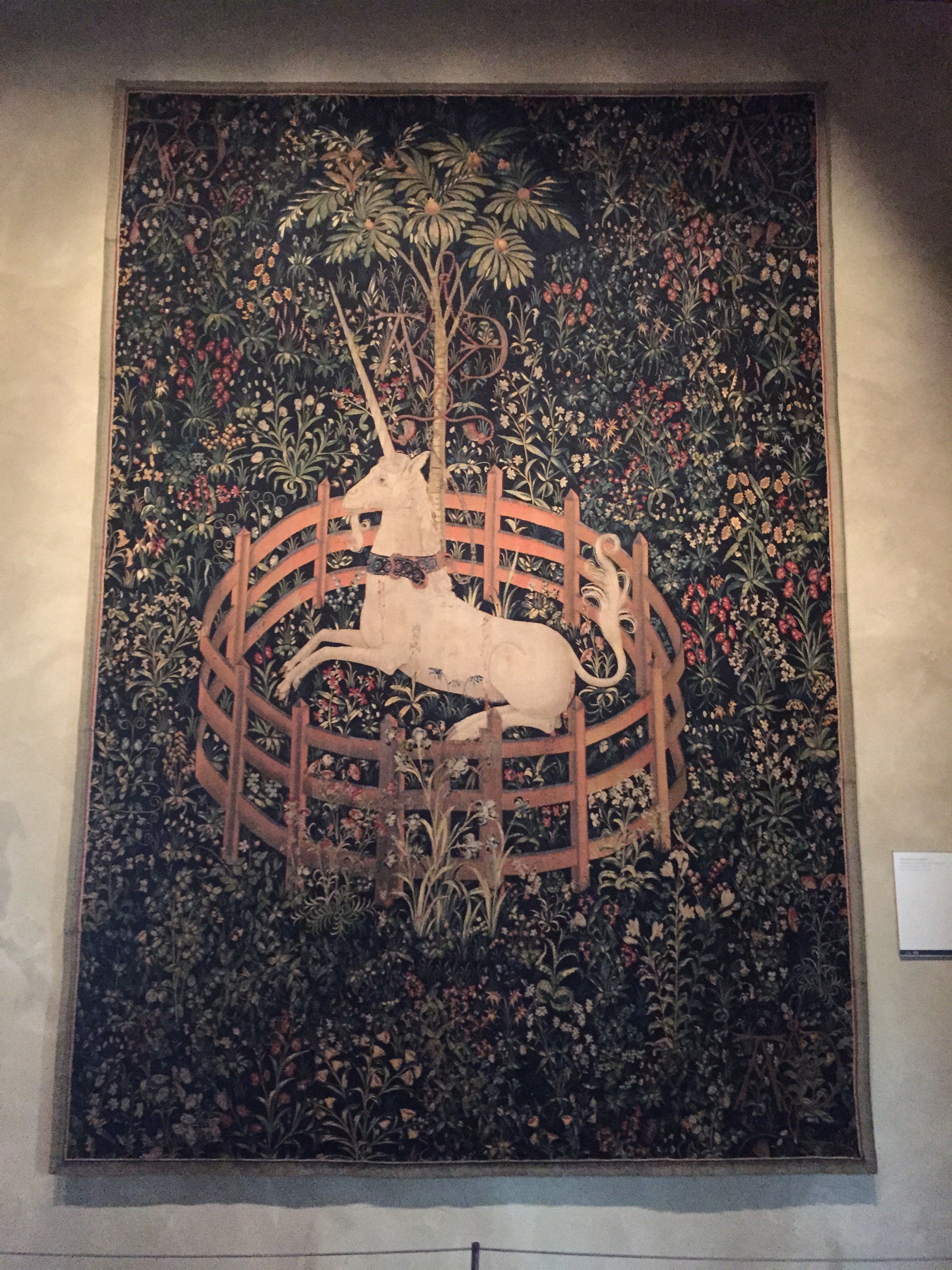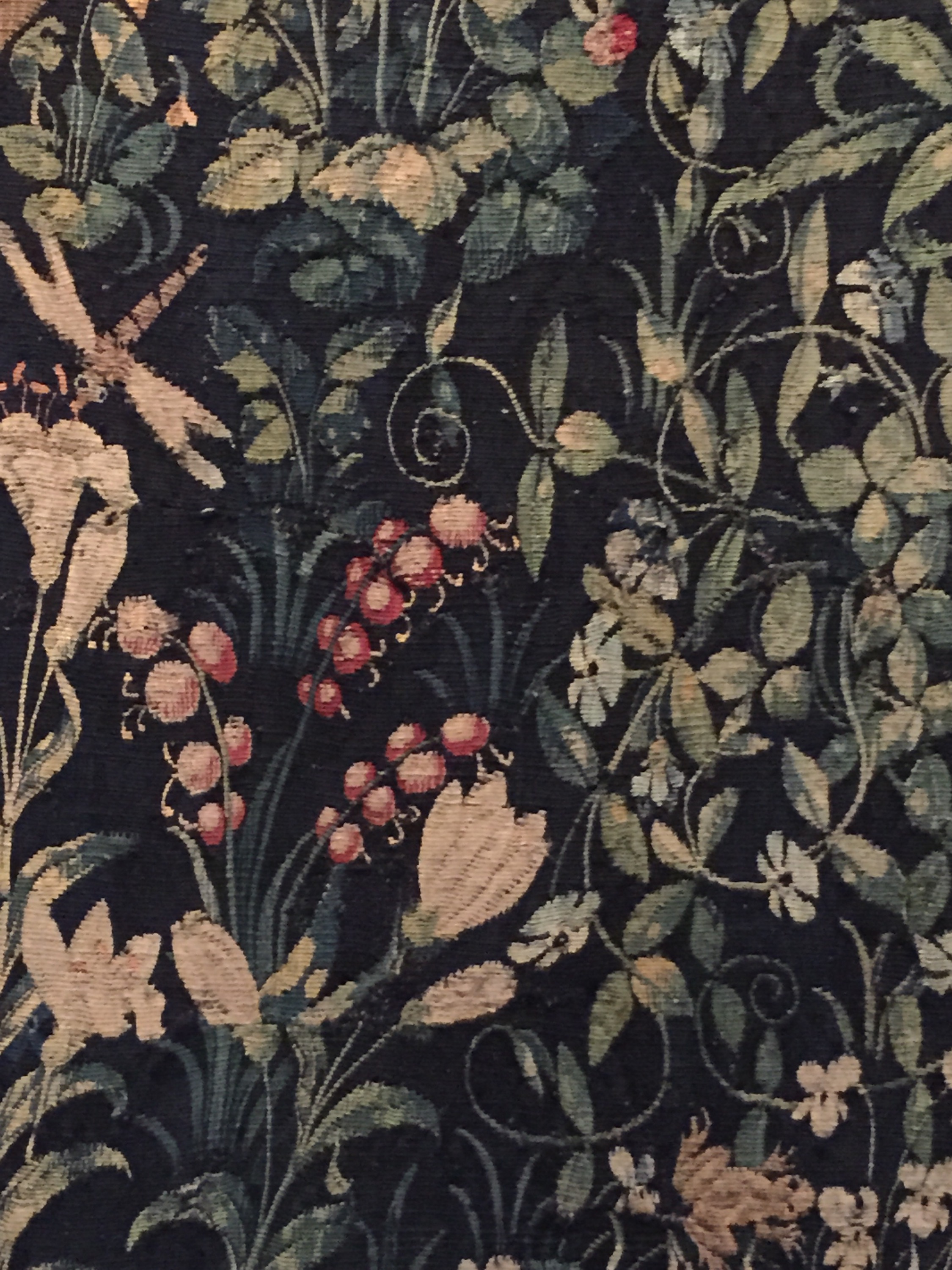 More unicorny goodness, this complete with puppies… I mean, medieval hounds for fun and profit.  I actually photographed all the tapestries in the unicorn room, and took detailed shots of the dogs, and various other parts of the tapestries.  All those dogs made me think of Stanzi… time to make a huge medieval dog collar for Fudge et al, perhaps?  I think Dixie and Alaska are a bit tiny for that sort of thing.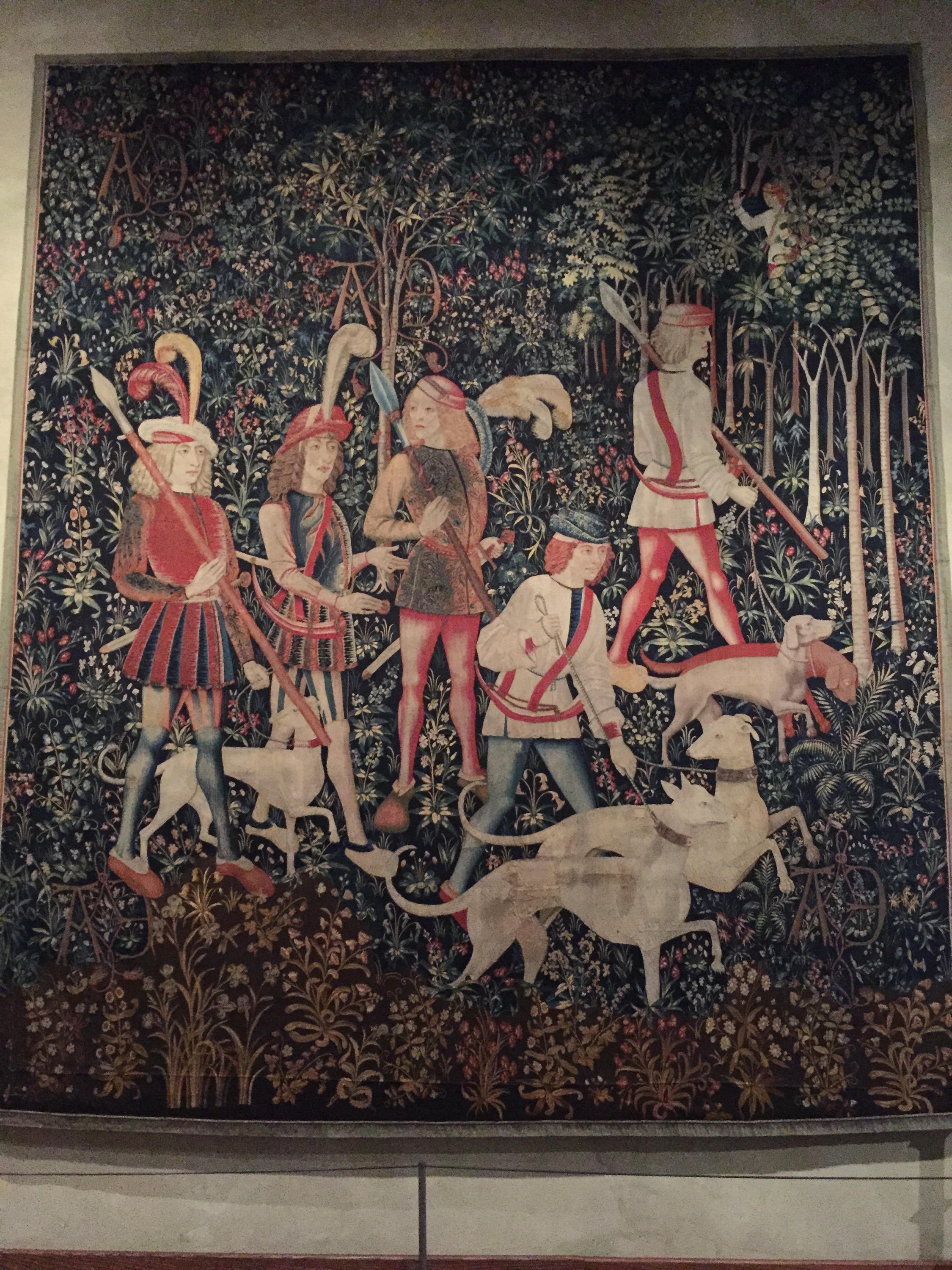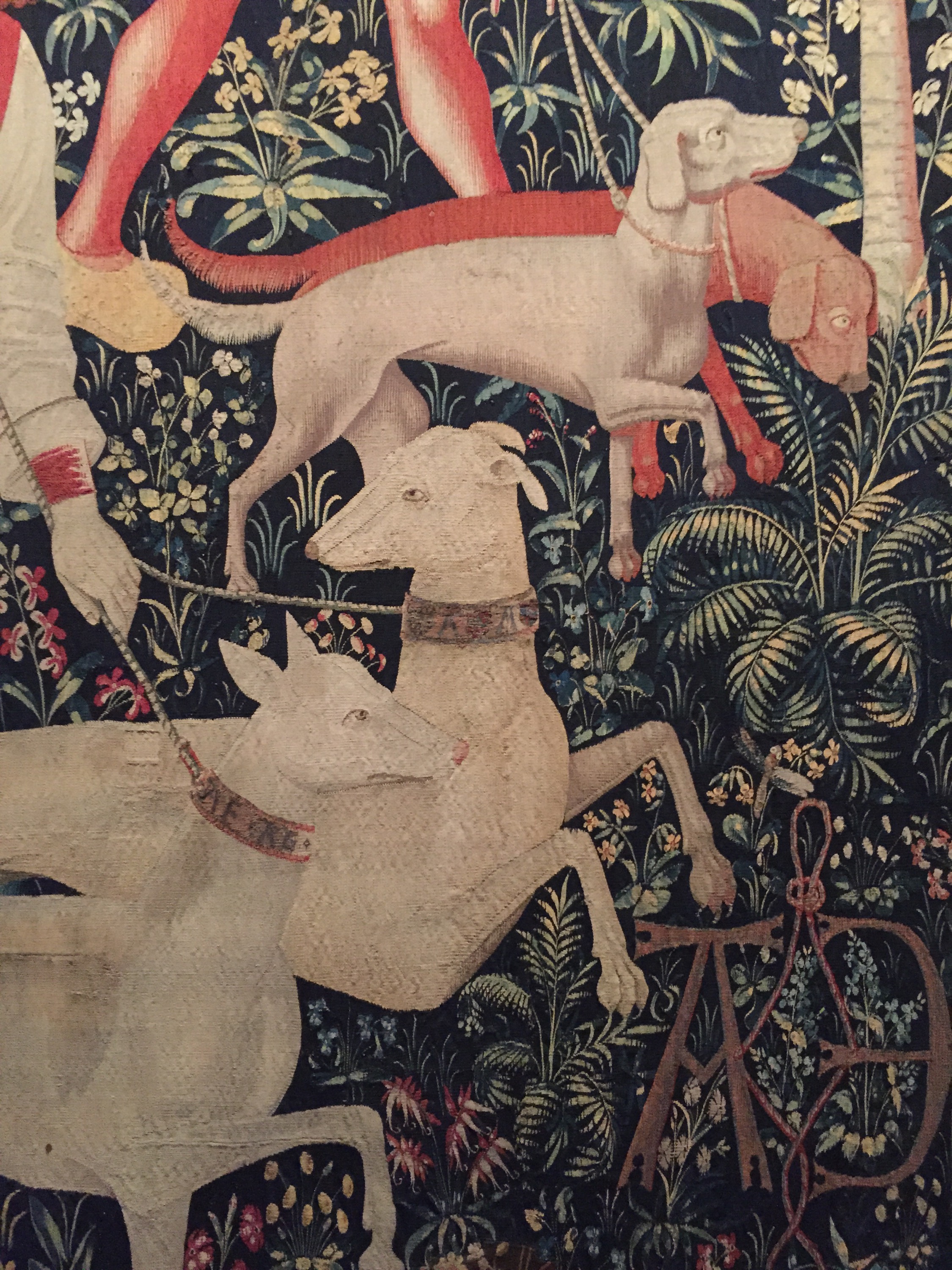 I was delighted to find that one of my favourite decorative arts pieces was out of the downstairs treasury and up in the main gallery where there is actually some decent light.  I must have taken a dozen photos… any of you who have seen my embroidered pouch would recognise that this is where the inspiration for the cartoon came from, and I just love this little 14thC Minnastraken casket, and so cool to see it in the daylight.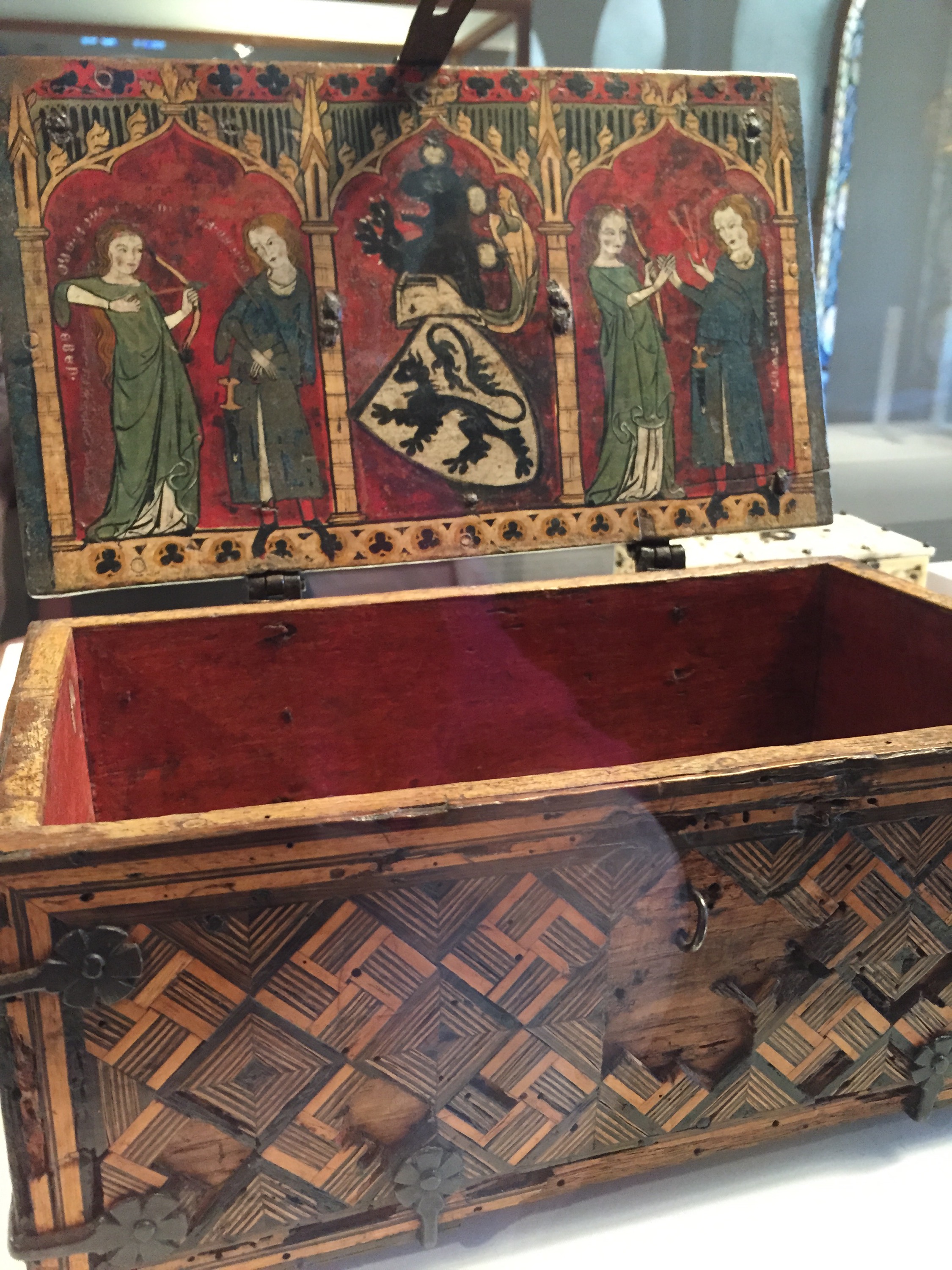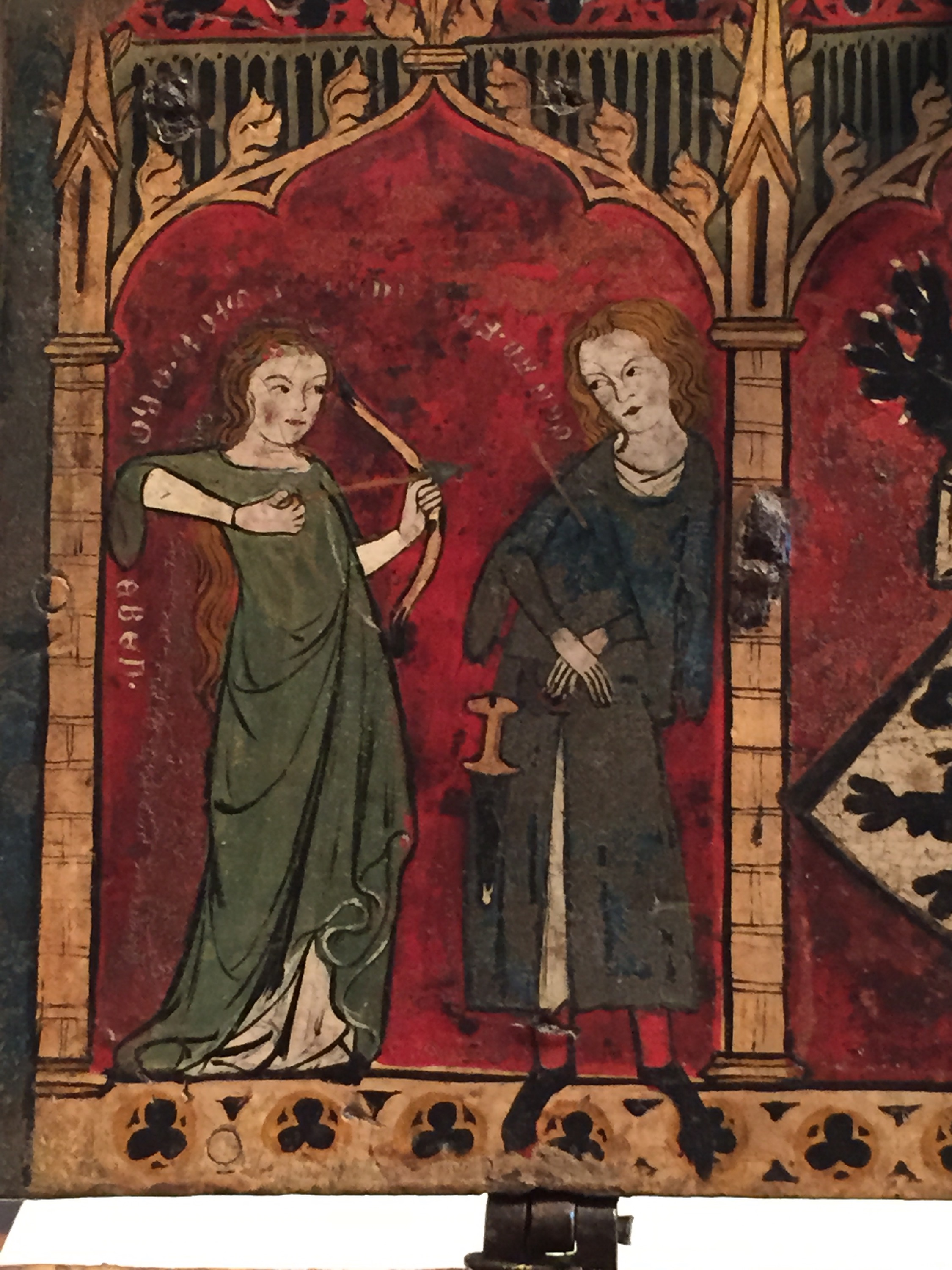 As a preface to the exhibition, they had included some paintings within period depicting various jewellers/jewellery items.  It started with Petrus Christus, A Goldsmith in His Workshop (Brugges, 1449) which I didn't photograph, because I figured everyone knows that one anyway… youknow, this one: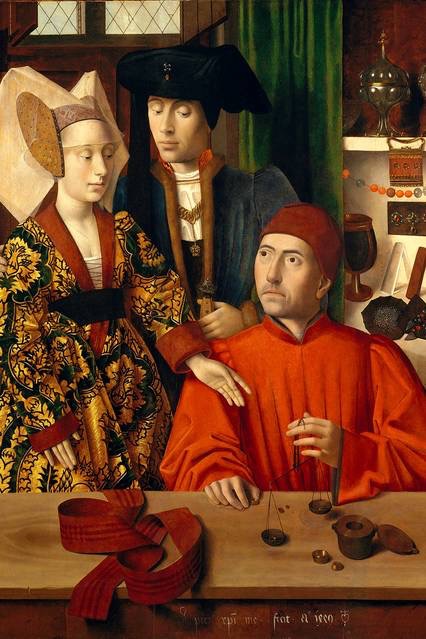 and this lesser known painting  by Barthel Bruyn the Younger, Portrait of a Woman of the Slosgin Family of Cologne (1557) which I thought was really interesting. There were some women standing around me commenting on the sheer size of some of the rings, and speclating on how they could do anything wearing those huge things – I guess that's the point.  Much like their clothing, it's not designed to be anything other than decorative.  If you could afford items like these at the time, you were unlikely to bothered by the fact that they got in the way when you were doing the gardening or attempting household chores.  :S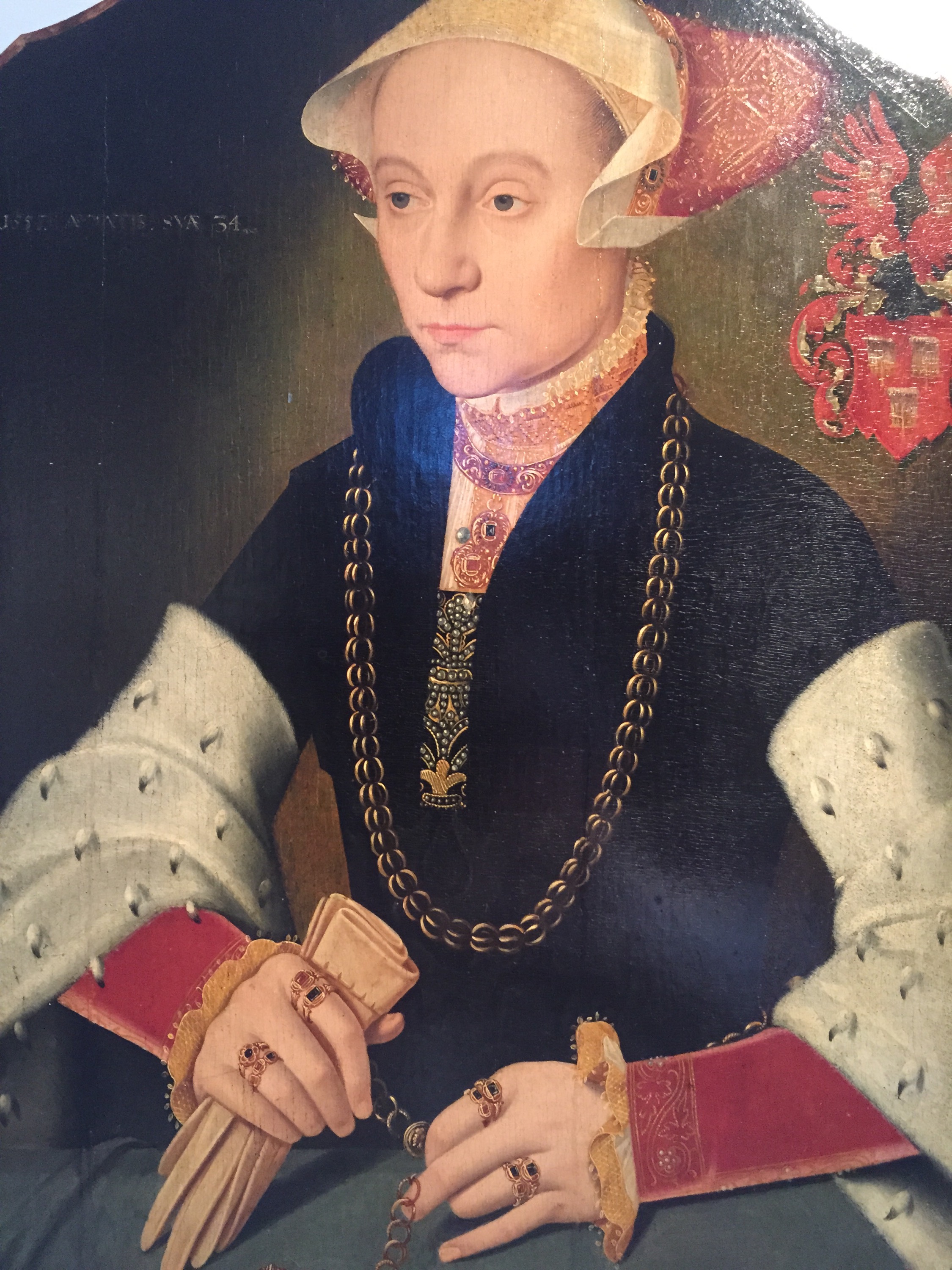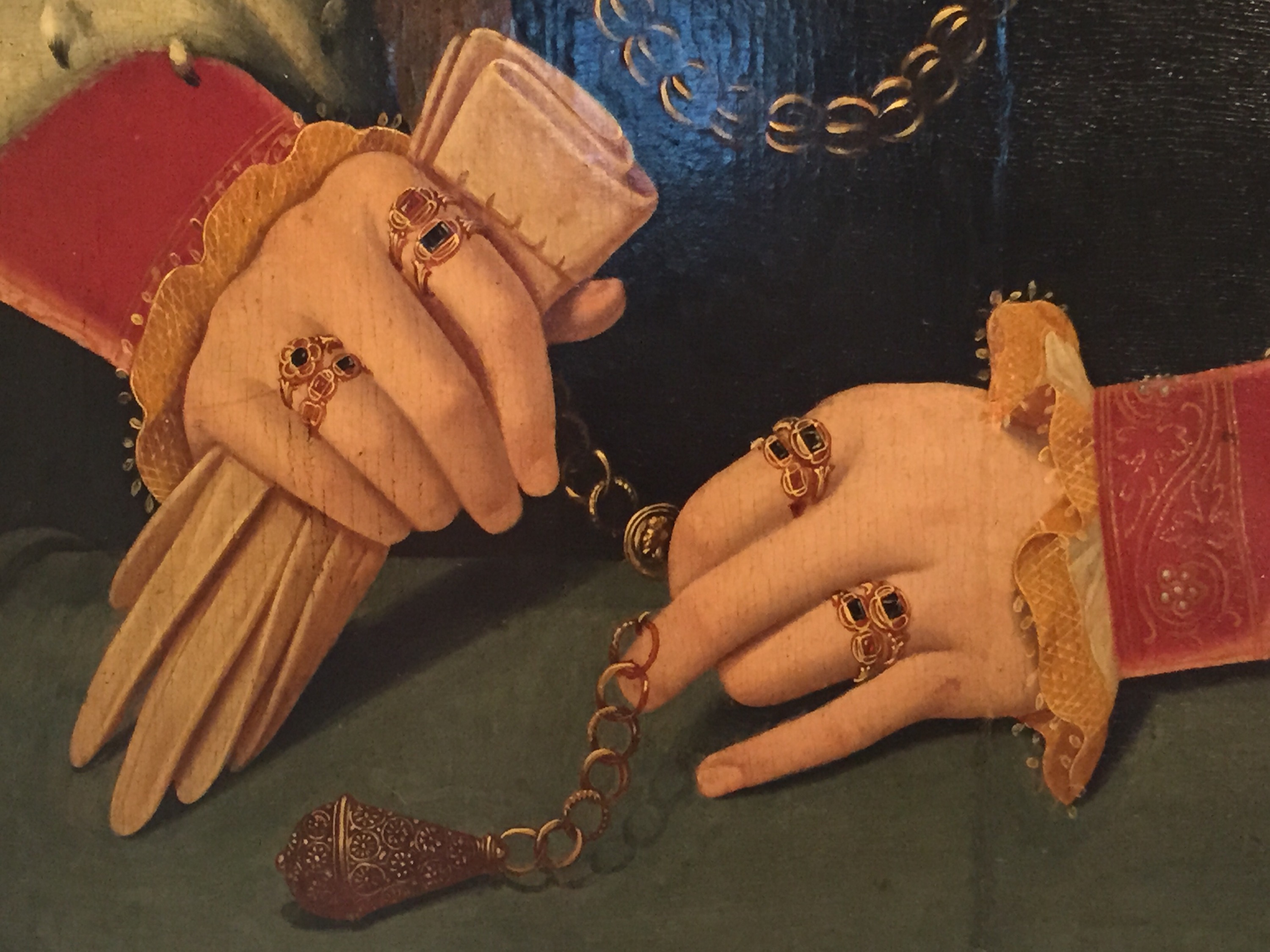 Anyway, there was a wide range of rings from a huge period of history, so I took heaps of photos of the rings on display, but only have added a few here, or I would probably bore everyone to tears.  I will end up adding them all to my Pinterest, or if I find the time, I'll pull them off the camera before I get home and put them directly to the Bejewelled History FB Group that many of my friends belong to.
Black Letter Posy Ring.  England 15thC. Gold.  8.3gms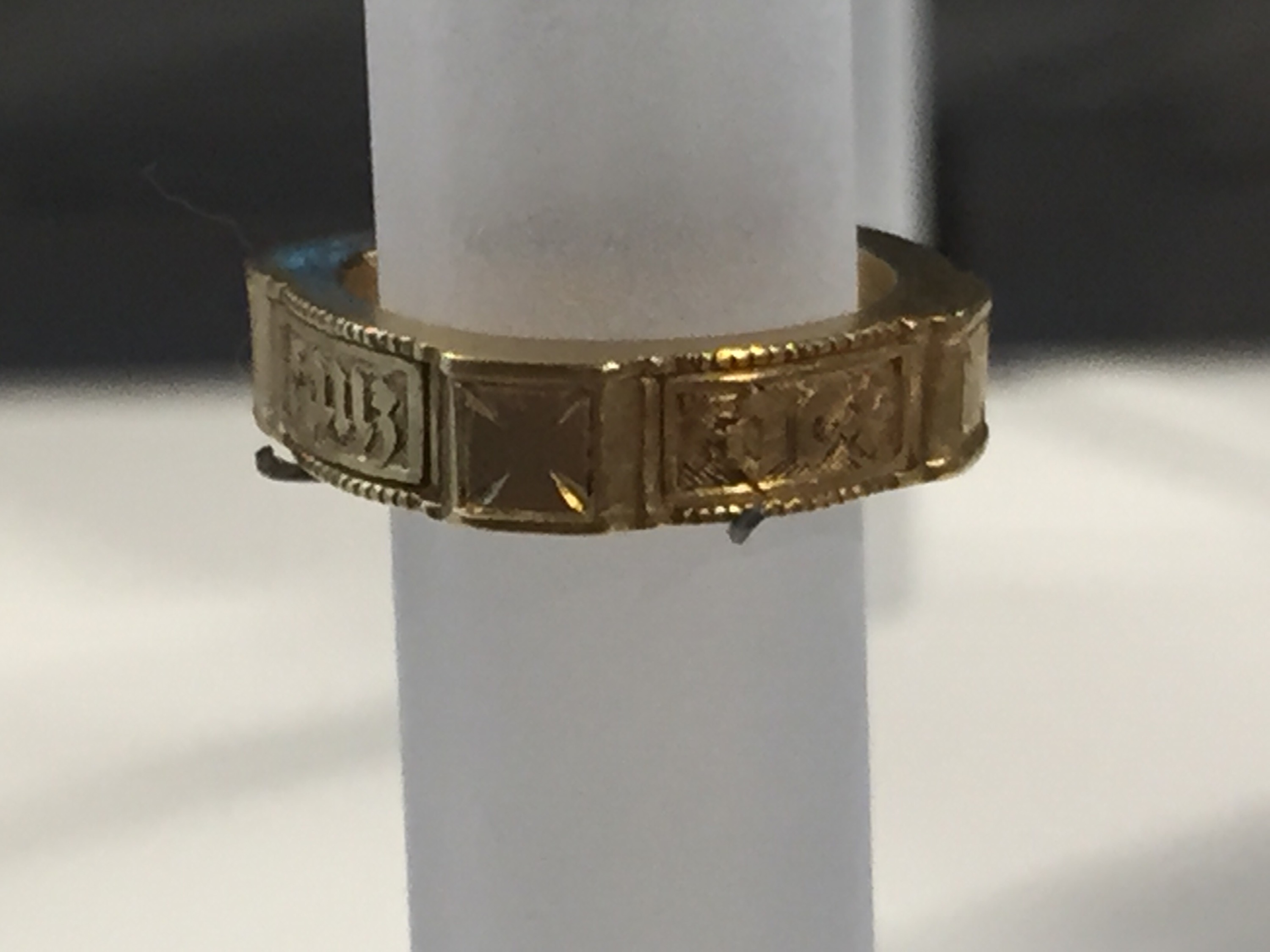 Early Christian Cruiciform Gemstone Ring, Roman Empire 4th-5thC.  Gold, garnets, and emerald.  4.2gms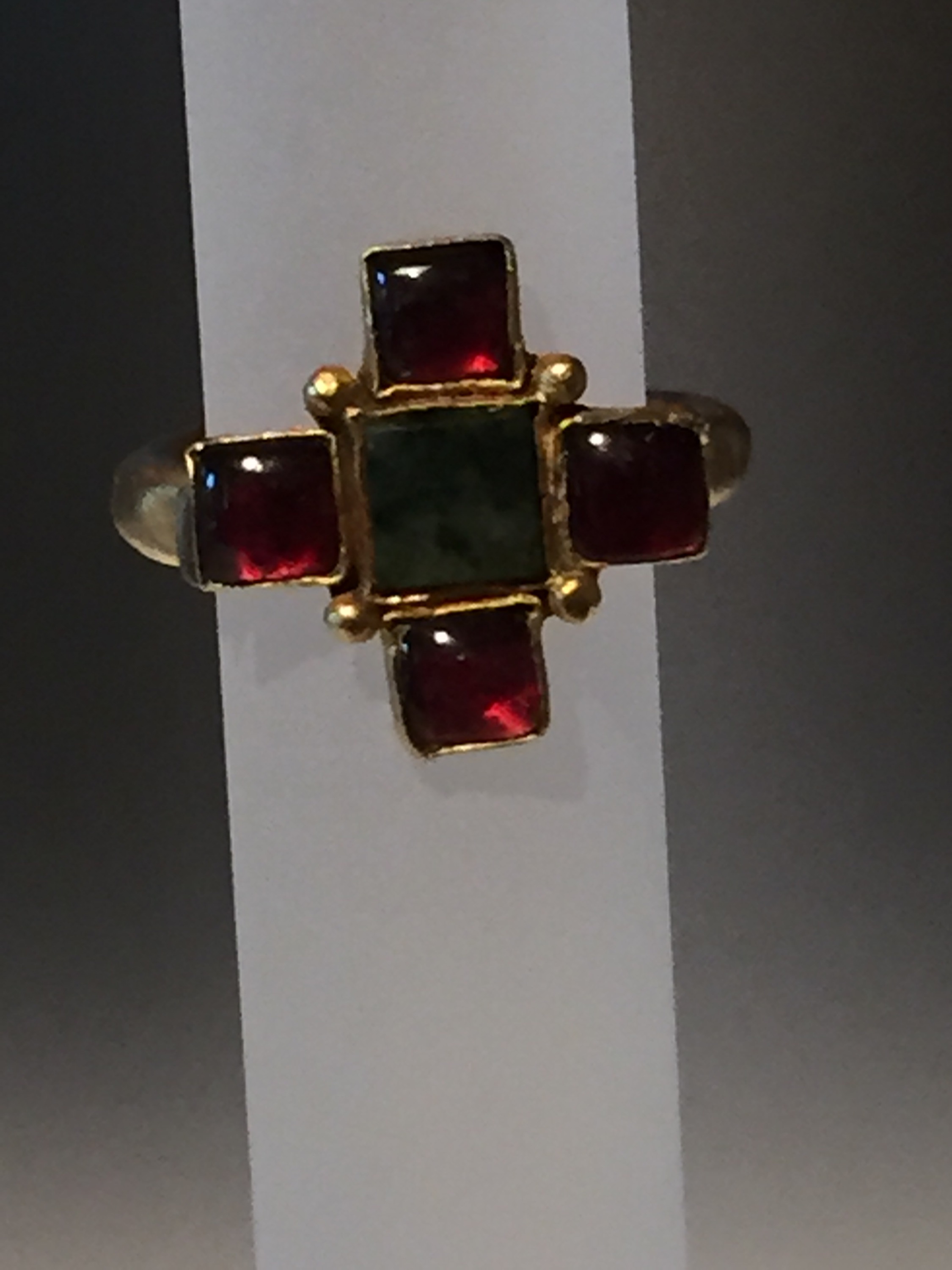 Renaissance Enamel Ring – France/Flanders. Burgundy.  Mid 15thC.  Gold, pearls, ronde-bosse and red enamel.  11.29gms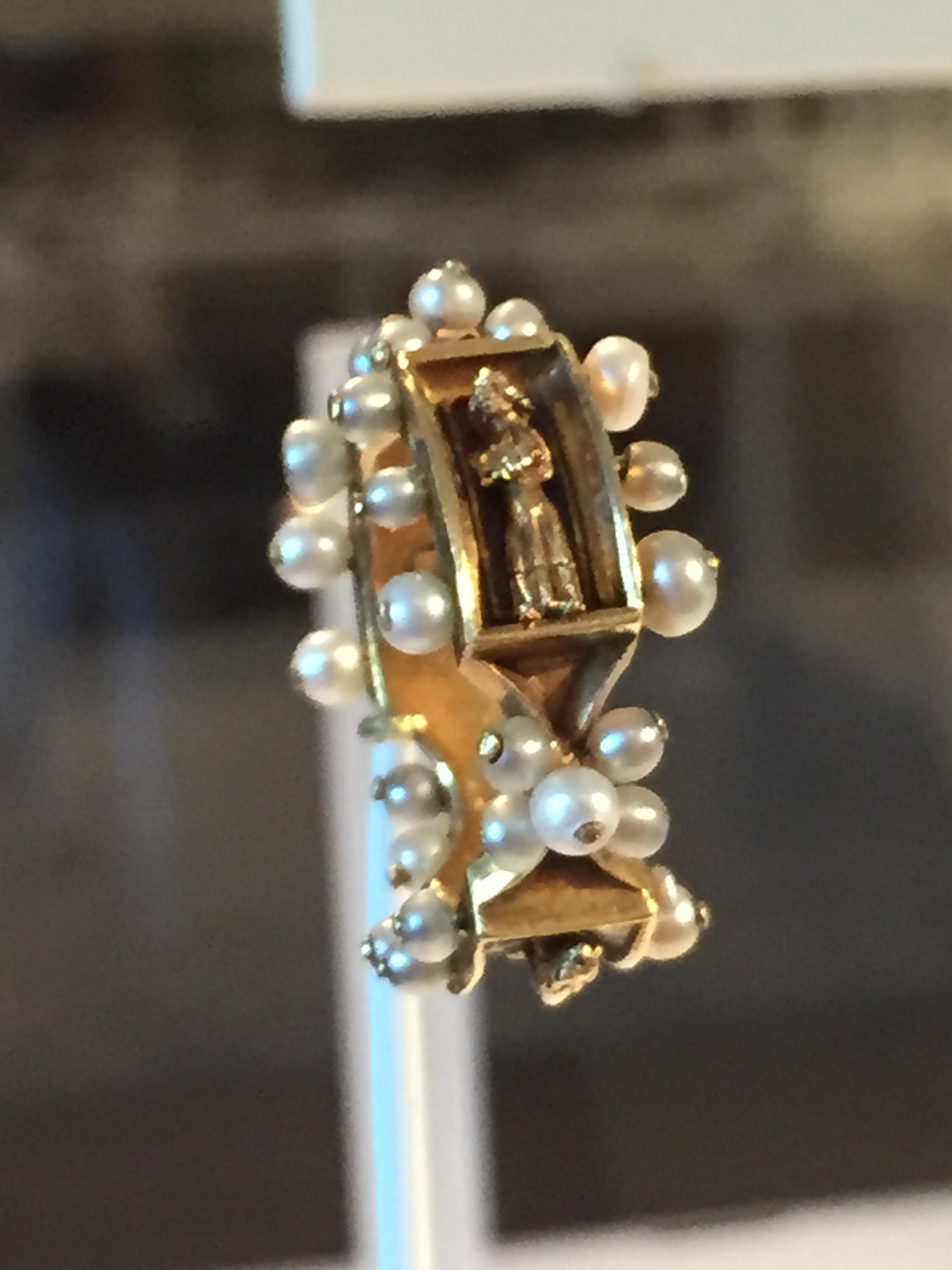 So, on my way out, I think I'll go find a copy of the catalogue called 'Take This Ring: Medieval and Renaissance Rings from the Griffin Collection', Sandra Hindman and Scott Miller,  only to find that the Cloisters giftshop had 'run out over the weekend and we don't know when we are getting more'… Huh?  I saw heaps of them yesterday at the MET giftstore on Fifth Ave, and the exhibition is actually on here, and you've had three days to replentish stocks from across town and you don't have any?  Seriously.  I didn't buy it yesterday because I had a lot of walking to do and the stupid thing is kinda heavy, and here I am, seen the exhibition and can't buy it.
Damn and botheration.  The lady behind the counter helpfully told me that I could order it on Amazon (looked it up AU$98 not including delivery!), so thought I'd get back on my bus and get off at the MET and go back in and buy the catalogue, then get back out and find another bus to get back to Midtown.  Le sigh… why didn't I just buy it yesterday.  (Sorry Tig, I was debating whether to even buy myself a copy when I have two domestic flights to get through with very limited luggage allowance! So certinaly couldn't justify a second copy.  :/ )  So back to the MET proper to pop in and buy a book that I could have picked up yesterday.  *rolls eyes*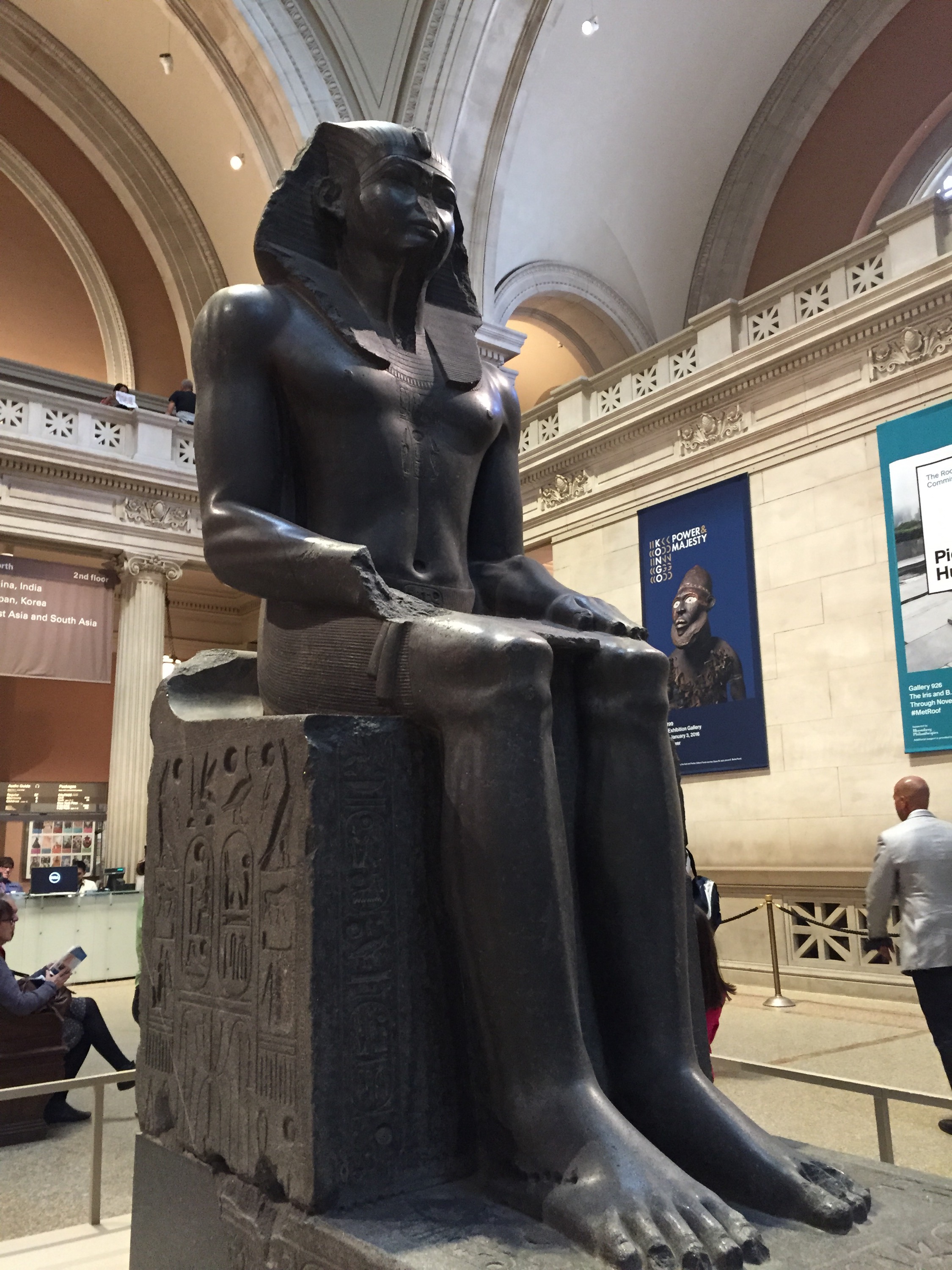 After what turned out to be a long day of buses and buses and more buses, I have spent a very quiet night in, drooling over the jewellery in the catalogue, chatting with people at home and wondering what on earth is going on with the Pope.
Apparently he is staying at the Penninsula on the corner of my block – so naturally days out, they are putting up barricades and security and shutting down the street.  Normally this wouldn't even give me pause, but given that I am going to need to get out of here on Friday morning – roughly when his Holiness arrives, I am kinda wondering how I am going to get an Uber or a taxi to get to the airport.  Looks like I am just going to have to drag me and my luggage a couple of blocks West (away from St Patricks) to find transport.  What a pain in the butt.  It seems the Pope's visit is causing considerable consternation in the City.  Central Park is closed from 5am to 7pm on Friday, there are street closures and security goign on everywhere, which I am hearing at food stands and cafes is pissing everyone right off… and then there are those on the other side of the equation with their I *sort of heart* Pope Francis t-shirts hoping to capitalise on the whole thing.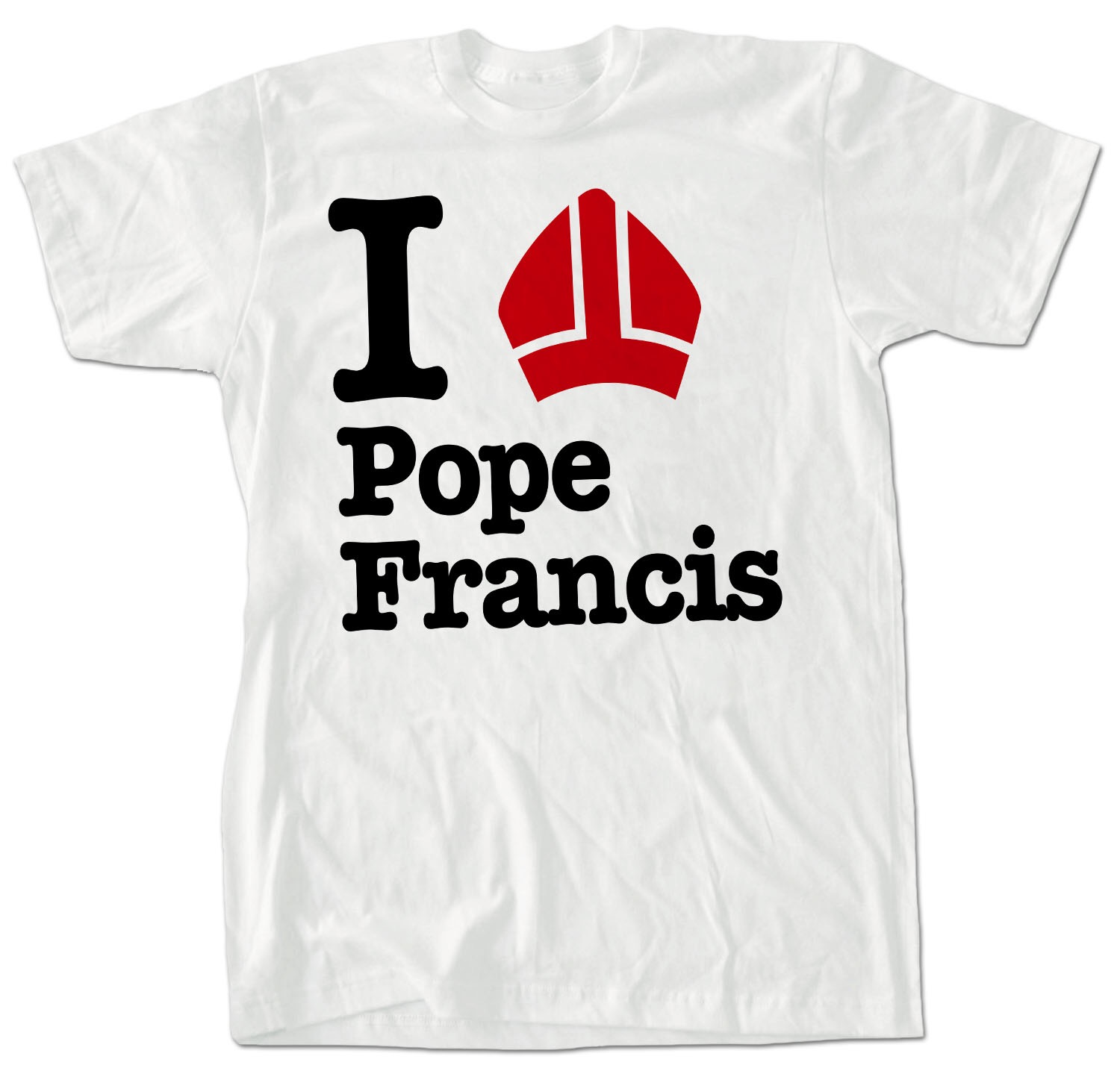 Oh well… I am afraid it is one of those, be as organised as you can be, and wait and see situations.  Time will tell.