I haven't written about our little rescued puppy mill pups in quite a while now, which is rather odd considering how much joy and how many smiles they bring into the house on a daily basis… I guess I've been distracted by the surprising realization that what people really want to read about is sex toys, but I digress.  🙂
Dixie is Mutley Number One… she's just passed her first birthday which we arbitrarily assigned to her as being 10/11/12, seeing that all we knew about her was she was approximately X months old when we got her!  Everyone needs a birthday, birthdays are important (feel free to read a little 'fuck Christmas' into that sentiment while you are at it!).  Every morning I get up and she comes to greet me by… laying flat on her back and waiting for a tummy rub.  Seriously.  She doesn't jump up on my legs or anything (though she does this to many other people), she just wags her tail and immediately flops herself over waiting for a tummy rub.  Spoiled little girl… but obviously knows how to get what she wants! Dixie is just awesome to have around, she mostly moseys around the house and loves being near the humans… she will happily spend most of her day curled up in a sleepy little ball of soft white fluff on the couch beside you, if you let her.  For months we thought she had a really wirey coat and then summer came along and we gave her a clip – well, not really a clip, actually.  I needed new blades for my clippers, so I just grabbed a pair of scissors and gave her a stunning Meg Ryan hair cut… the tousled, 'I just got out of bed' look is what all the fashionable puppies are wearing this season!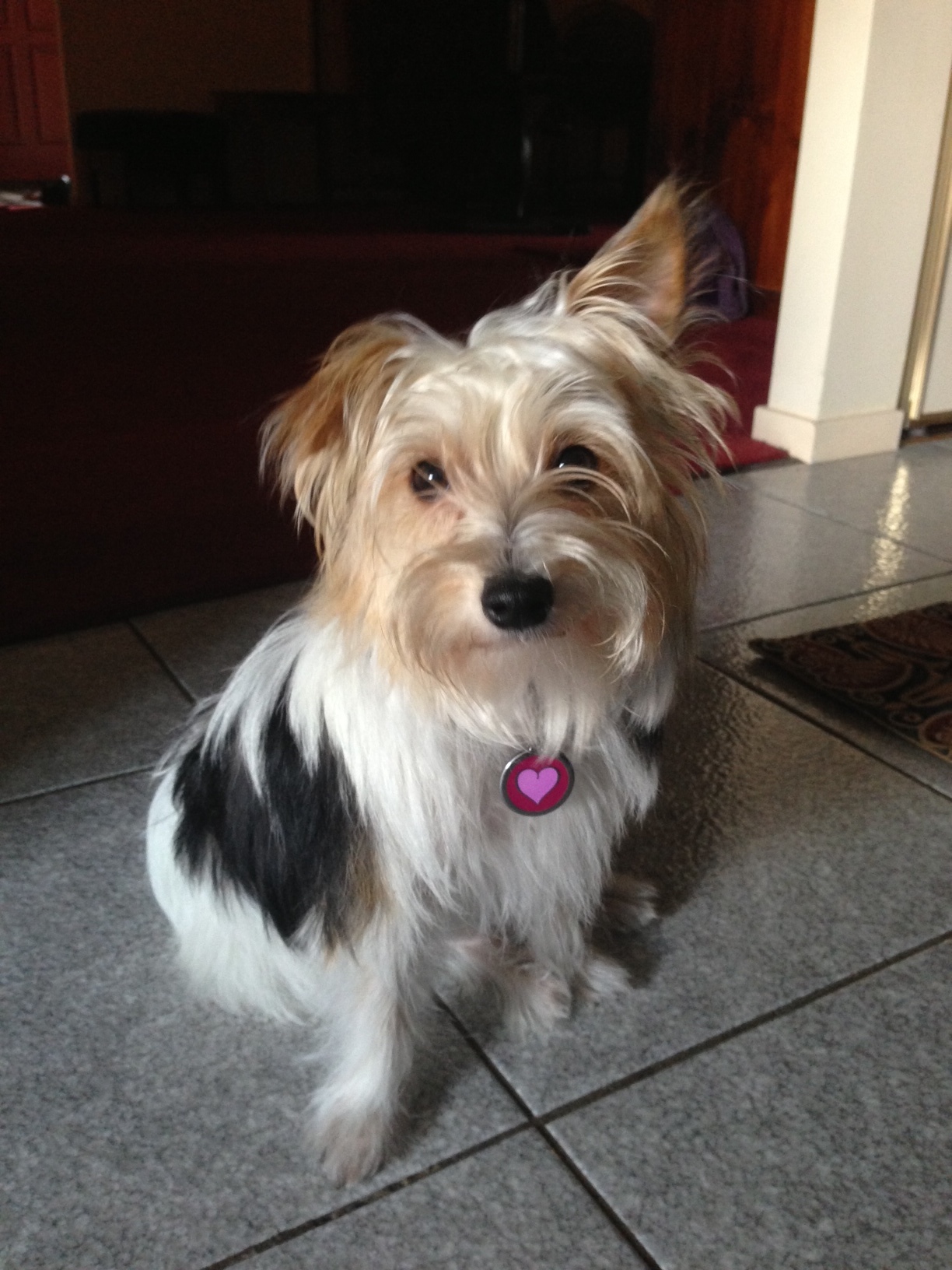 But I eventually bought some new clipper blades, and now she is looking all neat and tidy while still slightly scruffy (I don't like over grooming the hair around their faces, they start to stop looking like their naturally beautiful selves) and her coat is sooo soft.  Couple of little oddities in her behaviour lately – one in particular that has only just started.  She has been pacing along the wall in our media room looking at the ceiling… I think she has noticed the 16′ projector screen that hangs just below the ceiling, of course it's been there all the time, but she has decided it is of concern lately, so she's been pacing back and forth and occasionally growling at it, and then turns to me imploringly to 'do something about it Mom!'  It's so cute to watch her trying to figure it out.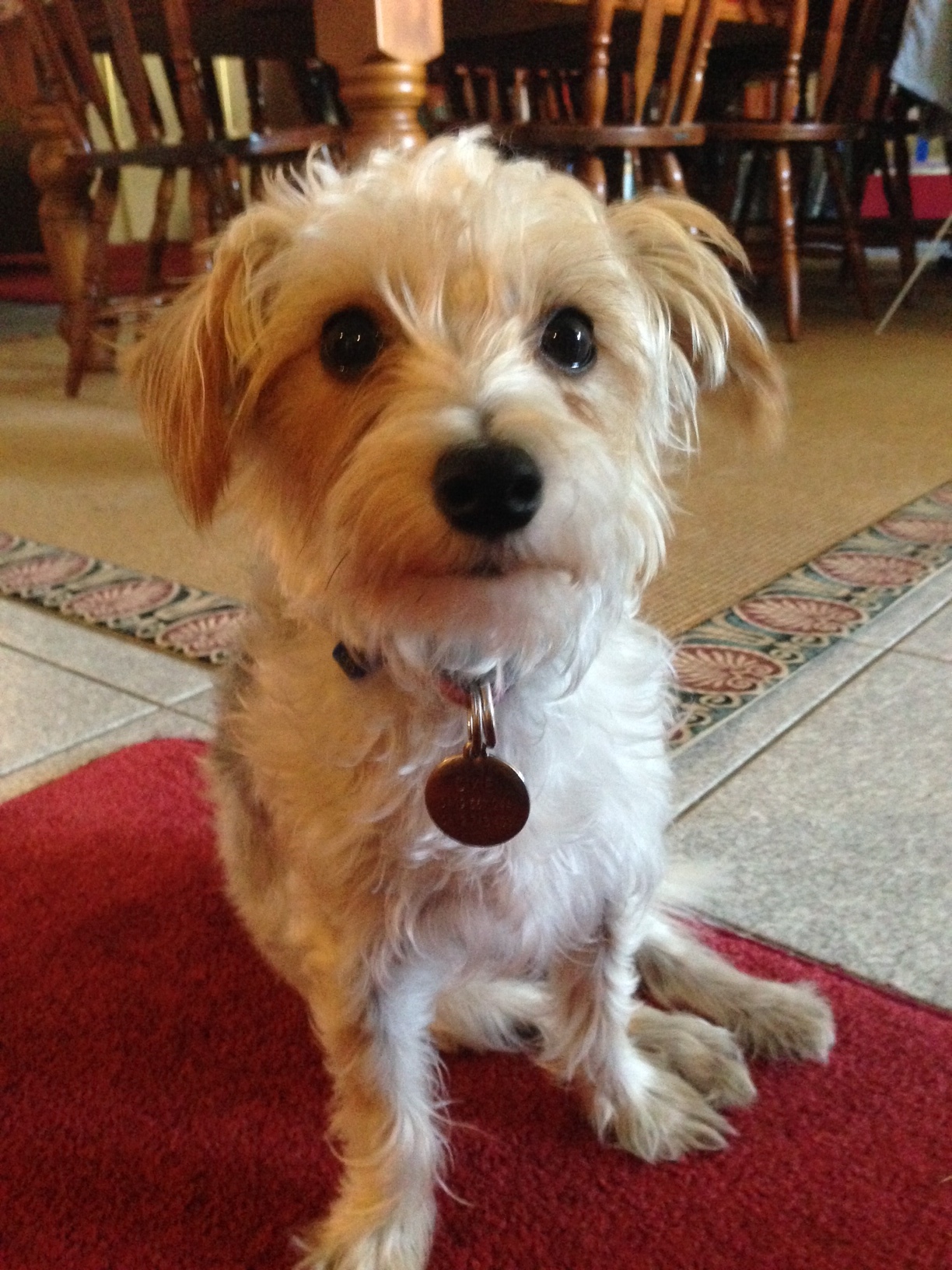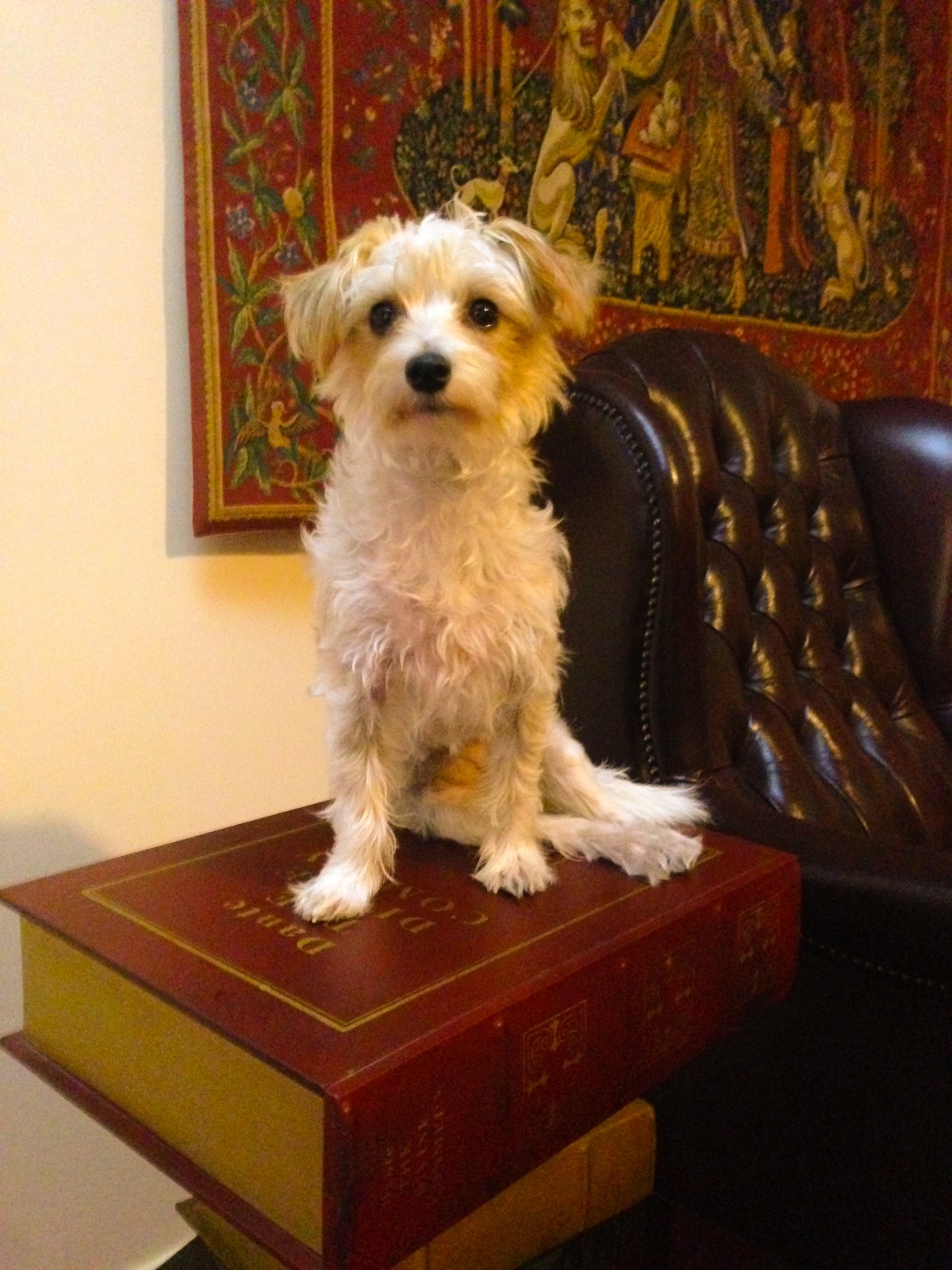 Alaska puppy, who is sometimes called 'Boof', because this is the odd low noise she occasionally makes which passes for barking, is simply unrecognizable compared to the poor scared weird little girl that we picked up back in August.  She is 100% full of joy and beans it would seem… so much energy!  She's quite the little mountain goat – I've never seen such an agile little dog.  She races around the house, giving Dixie her daily exercise, and jumps up on the furniture and gracefully leaps the great divide (for her, anyway!) between the couches to get to a new lap for cuddles.  She still prances annoying out of reach if you want to pick her up from a standing position, but as soon as you sit down, she comes rushing forward for affection and cuddles and well, tries to lick your nose off.  She actually got out of the house a couple of weeks ago and I immediately freaked out thinking, she will never come back if we call her – she won't come to us when we call her in the house.  Luckily quick thinking saved the day.  I walked out where she could see me and sat down in the middle of the road and just like aways she ran straight over to me and jumped in my lap.  🙂  Gotta love using their little quirks to your advantage!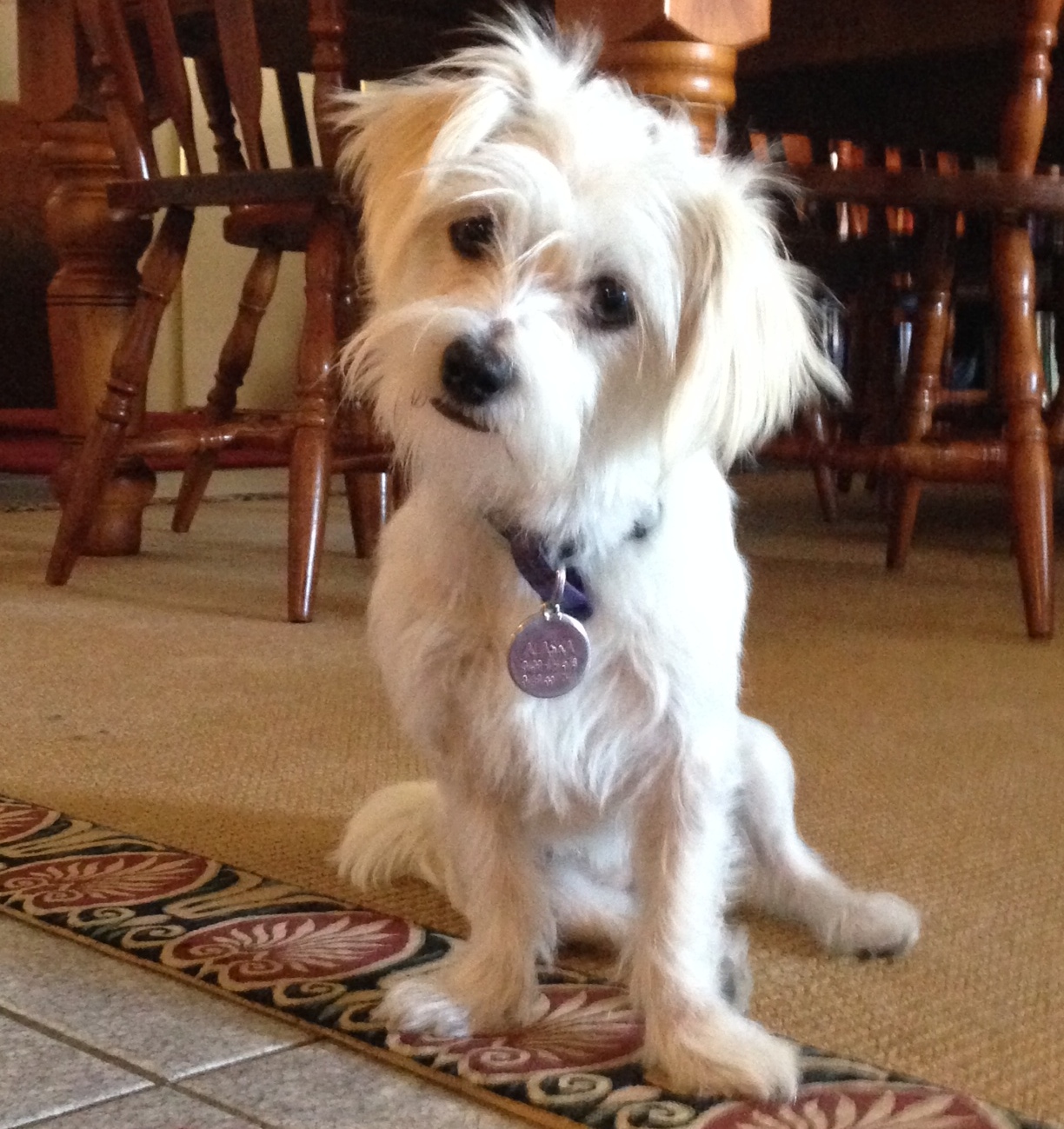 Recently however we have noticed that Alaska has been getting the shakes, and I don't mean the 'Oh I'm cold would you people PLEASE turn down the air con' shakes, and I don't mean the 'Oh shit we are going to see the nice lady who takes my temperature up my butt' shakes, or even the 'Holy dooley, that is one big dog, keep him away from me' shakes.  No, we noticed she had started shaking like a Parkinson's sufferer all the time even when we were all just chilling out around the house.  I couldn't tell if she was in any discomfort – she didn't appear to be, and it didn't appear to be situational or environmental.  She didn't have any other symptoms of ill health (eating normally, pooping normally – ie: everywhere! 😉 ) and was otherwise her playful usual self… just shaking all the time.
So, I did what every responsible puppy lover does and consulted the Oracle (totally Googled that shit!) and came up with what looked like something called Generalized Tremor Syndrome… it's a neurological condition.  Then I consulted all our good friends on the ARQ Angel Forum to see if any of the other puppy mill puppies – her cousins and siblings – had shown any signs of weird shaking.  Seems like there is plenty of fear trembling going on among this crew, but nothing like this.  And while I had the chance over the weekend in Canberra, I asked my friend Rob the Vet what he thought it might be (armed with handy video on my phone so I could show him her only symptom).  He says to me with a straight face – 'I think she has Shaky White Dog Syndrome'… I thought he was making that shit up, but apparently that is another name for Idiomatic Shaking Syndrome (all these things are the same condition, I am now learning) which is a neurological/auto-immune condition, prevalent in – you guessed it – small white dog breeds, like Maltese and West Highland White Terriers.
Now Alaska is supposed to be predominantly Fox Terrier, and given her diminuitive stature, I would have thought that is about right… now however we are thinking she may have a lot of Maltese in there, though she is never going to be as large as your average Maltese.  So off to the vet with Alaska for a full exam yesterday.  Sharon the Vet really put Alaska through her paces, and our timid little girl passed all her neurological tests with flying colours… except that one where she needed to stop shaking for 60 seconds together!  So yep, our shaky white puppy has Shaky White Puppy Syndrome and we are going to put her on a small course of steroids to see if it helps – it can't be fun spending every waking hour with the shakes, poor little thing.  At the moment she is happily curled up defending the tv remote controls…