Flight one: Tokyo to Beijing
Our first foray into the delightful land of Chinese air transport was our flight from Tokyo to Beijing. It was scheduled to leave at 10:50 and was changed to 10:00. That's okay – Tripit told us all about it and we were able to adjust our timetable accordingly. Had to get up before 5am, find a cab, get to the Shinkjuku JR line in time for out 05:55 shinkensne train to the airport. Hour later, arrived at the airport, check in wasn't even open so we were in a queue for empty service counters for a while. But they turned up around 07:30. It was relatively painless, but for the fact that our seating allocation was lost in the rescheduling and we ended up at the arse end of the plane – Row 63F. We were all loaded and squared away and ready to go and then our flight was then delayed due to 'air traffic control issues' in Shanghai (the flight went Tokyo -> Shanghai -> Beijing… no idea why, but potentially because they don't fly over North Korea) and they missed their window and we ended up leaving at 10:50 anyway. So being at the arse end of the plane was initially no big deal until they served up lunch, the people in front of us got the last beef/rice combo meals, and we were offered 'fishy noodles or fishy noodles'. Which turned out to be completely inedible, and if you're an allergy sufferer – suck it up.
So we land in Shanghai – late… and there is no gate for us. So we are stuck out at the optimisitically named, Gate 204, which is to say, just parked somewhere on the tarmac waiting for buses to take us to the terminal. Our layover having been swallowed up in 'unavoidable' delays, we now experienced the worst airport/customs clusterfuck I have ever seen in my life. They raced us off the plane, onto the buses, about a 10 min ride away to the terminal, where we were greeted by people plonking blue stickers on our person, and a woman with a high vis vest waving a folder in the air yelling at everyone to follow her (we think – Chinese isn't my thing), and then we marched through the entire airport. Up flights of stairs, down back corridors, through building construction areas, eventually through a security screening (the guy behind us picked out of the queue for having a high temperature, further through the back alleys, up two more flights of stairs, into a customs queue, back through a security check, down more corridors, and then down some escalators (wtf? escalators for the downstairs bit and just regular stair for the running upstairs bit?) and eventually corralled to a space that I will generously call a 'waiting lounge' to wait for… who fucking knows what? Eventually the buses came back, ferried us all back out to the tarmac and straight back onto the same plane and we were led back to the exact same seat. Whole thing took about 40 mins and according to my phone was about a 3km sprint with waiting in queues for security checks and immigration processing in between.
Well, we think, at least we won't have to go through Customs in Beijing when we arrive… feeling none too generous but looking for a bright side. Yeah right. We get off the plane in Beijing, someone with a sign for people from Tokyo directs us to a different baggage carousel where we collect our luggage and have to go through customs again anyway with our luggage. COMPLETE CLUSTER. None of the staff on the airline are apologetic about the delay, and none of the staff in the terminal apologised for the lack of organisation, allowed time to make sure the group was together or for even time to use the bathroom. Seriously – what a mess. I overheard a French couple near us complaning about completely 'merde' the entire thing was.

Flight two: Xian to Guilin
Arrive at airport at 15:20… our group was going in three different directions – to Shanghai, to Chengdou and to Giulin, so I guess we were bing droppped off early enough for the first lot to fly out. Our flight was scheduled for 17:10pm and we figured we would potter aroudn the airport a bit and find a coffee shop. Our guide, who bundled us all into the airport, failed to mention, when she did all the talking at our check-in, that our 17:10 flight was now changed to a boarding time of 18:00 and not sure what the departure time was at at that point. We couldn't easily read the monitors, but without any notice or reason, once we got through security, we noticed the monitors were now saying we were delayed until 19:40 with boarding to commence at commence at 19:05. Fuck off. It was now only about 16:30. Le sigh. Might as well just enjoy being stuck at the airport with people staring at me for a while. *insert much waiting music*
Around 19:20 close to our scheduled departure time – we notice that a gate change has been made from H13, where we had been waiting to H02… the first notification of this was someone writing it on a white board in front of the H13 gate entrance. About an hour later, the monitors catch up and show the H02 gate change. Everyone duly wanders around to find Gate H02.
So we get downstairs, it must be 19:45 by now, to gate H02 to discover a huge long line of people waiting to get on this flight. We have given up the will to live at this point and don't join the line and instead find a seat. Then outside the doors, a bus turns up – presumably to take us to the tarmac somewhere – but after looking at it for about 15-20mins, around 20:00 it drives off empty much to everyone's consternation. After everyone expresses a collective 'Oh shit or bloody hell or similar' in Chinese, they the scramble away from the queue to find a seat. No one knows what is going on, there is one tiny female hostie standing near the gate being yelled at quite a bit and security is eventually called as people seem to be getting rather cranky. We've now beeen at the airport for going on five hours, so are well and truly over it.
Eventually another bus turns up outside the doors, and the natives get restless again, barging themsleves into more of a mob than a queue. Boarding of the first bus began at 20:10… and they crammed themselves into that thing like sardines – we kinda thought there would have to be a second or even third bus and decided to wait for that to occur.

With just one hostie scanning boarding passes we could see that this was going to take a while. We boarded our buses, got ferried to who knows where, then dumped off the buses and directed to a very steep stairwell that took us up two high flights of stairs so we could walk back down an air bridge past a single flight of stairs that led directly up to plane. I saw one woman trying to ask if her mother on crutches could use the single flight of stairs up to the plane and permission was refused… though God knows why?! We weren't being shuffled through security or anything, just past another person ripping another section off the boarding pass. All the boarding passes have two perforated sections on them. ONe will be ripped off at the gate entrance, and another just before getting on the plane – so usually within about 50m of each other… where are you going to go for fucks sake? Between boarding gate and air bridge. So stupid.
People are well and truly annoyed at the delay… we were mostly just resigned to the inevitable. As we were boarding the plane, we saw a woman smash her rolling cabin bag into some mans leg and look down, see there was a leg in the way and actually pull at the suitcase harder to try and make the leg yield to her desire to pass. The poor guy couldn't move, but she was just rude as all shit.
Then when we found our seats, there was a woman in the aisle alreaddy who didn't want to stand up to let us take our seats. I stood there, and shook my head and motioned for her to get the hell out of the way. She seriously expected us to clamber OVER her to get to the window and middle seat. Then we watched as she couldn't figure out how to put her seat belt on and she fastidiously watched the air safety video… First time flying, I guess. I wanted to whisper to her, 'Oh god! Oh god! We are all going to die!' but Mr K wouldn't let me. A few minutes after we were all settled and waiting to go… she then takes off her belt, stands up to turn on her reading light and forgot to put her belt back on (She didn't notice until landing when she removed her blankie, that she'd no seat belt on for the whole flight and she looked enitrely freaked out).
Anyway, we are finally seated and ready to go when we get another announcement: "Ladies and gentlemen our flight has been delayed due to air traffic control issues. Thank you for your patience " Firstly – What fucking patience? We are now pushing four hours later and have been at the airport for nigh on six hours, the last thing any of us are feeling is patient! And secondly, I call bullshit on your air traffic control issues. BULLSHIT, I say. The plane arrived late, they missed the scheduled departure time hours ago, and now had to just wait for another slot… probably made vacant by another late fucking plane. Also, where's my free alcohol to apologize for the inconvenience? Nope. This is obvious just BAU.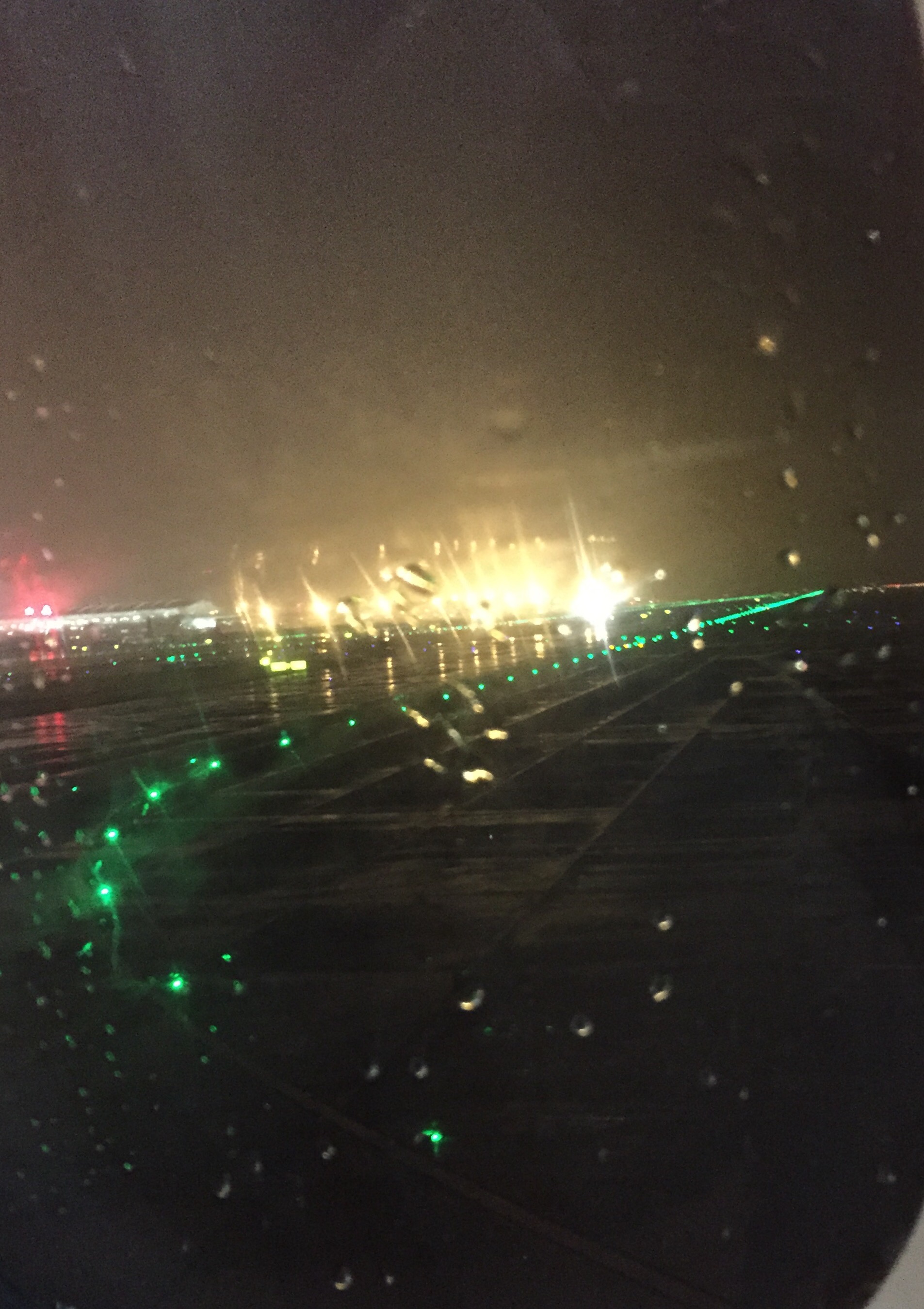 After staring at green run way lights out the window for a full 25 mins, we finally take off at 21:15, a full four hours and five minutes later. Right we are up, we are off, we are all good. Until a cabin announcement at 21:40pm that I thought wasa going to cause a riot:
"Ladies and gentlemen there is some turbulence (seriously? you call that tubulence?), please keep your seat belts on and the food service will be suspended until further notice…" At this point I'm wondering if the pilot is trying to cause a fracas, no food after a four hour delay? Eventually there was more inedible slop thrown in our direction and we tried to get a bit of rest.
As we were landing in Guilin, we noticed that the staff on China Eastern Airlines are not smiling and not at all welcoming… I realised that as shit as our day had been, they too were having a pretty bad day AND being yelled at by cranky Chinese people. As we were leaving I endeavoured to say, 'Thank you', or 'Have a nice evening' to every staff member I passed (mind you I felt like yelling at them too), and they looked variously shocked and suprised. Poor bastards – their primary function does not seem to be to make your flight more pleasant. They're totally there to control the passengers.

Flight three: Guilin to Chongqing – China Southern Airlines
At the airport early again. Our guides insists on dropping us off at least three hours before a domestic flight, and this time, our guide Sue watched to make sure we went through the security and didn't skive off or go off missing on her watch. Guilin airport must be the loudest most noisy airport in the world. Not because it is so busy with passengers, but because of the constant announcements. It was so bad, I took a recording on my iPhone and when I figure out how to do it, I am going to upload it here for your err.. entertainment.
Thankfully our flight was on time – had to be at least one right? But if I thought the noise in the waiting lounge was bad, you should have heard the people on the plane! Some were watching movies on iPads, playing games on devices or listening to music… and hardly anyone seemed to think it was necessary to use headphones! Seriously the whole flight was pewpewpew from the row behind, screeching that passes for music from the row in front and some angry sounding dialogue from across the aisle. People in this region must just be loud for some reason (As a side note, they also queue weird in these parts. When I went to the ladies at the airport, they didn't line up in one line and wait to see which stall would be available first, they went and stood in front of the loo they wanted to use and waited for the occupant to come out. So often people who came in after went in first… fucking weird. Additionally, I saw three young women cram into one squat toilet and I don't even want to know why).
Once on our flight Mr K got in trouble by the air hosties for using his phone to play a little game, called Jet Pack Joyride. It doens't require the internet and the device was in flight mode, but no go. No mobile phones are allowed on while on the plane. My iPad on the other hand with it's 3G, wifi and bluetooth capability (all the same connectivity as the phone), was fine. Go figure. And no, we really don't expect logic here at this point.
Again the in flight service was suspended due to a few bumps being mistaken for actualy turbuence… but you can hardly call a small water bottle and a packet of peanuts an inflight service anyway.
On the positive side, at least the staff seemed less agitated and aggressive than Eastern China Airlines, and our flight was almost on schedule. Almost.

Flight Four: Yi Chang to Shanghai – Shanghai Airlines
Our guide, Ginger dropped us off in a timely fashion… not three hours in advance and not rushing around which was good. Our flight was actually boarded, loaded and took off two minutes ahead of schedule! Will wonders never cease!
Our seats were pooched again though but it's all out of our control as the head office is making the bookings. We asked for a window and a centre seat, and got given a centre and an aisle. I don't konw if that was Ginger not communicating what we wanted or just typical China inability to process simple requests. Seems to be a running theme. Thankfully the flight was not full, so we just moved a row back and I got my preferred window and Mr K took the aisle and some space for a change. Most of these flights were only about 2.5 to 3 hours, so it's not that big a deal, but when you're going every other day, it gets a bit… meh.
Yet again on Shanghai Airlines, it was still ok to use iPads for games and movies and what not, but no phones in flight mode for the same thing. China, this inconsistent shit makes you people look really bloody stupid. Also, why do I have to turn my iPad off 30 mins before we land? We haven't starte to descend, and you lot are preparing the cabin for landing way out then sitting there strapped in yourselves twiddling your thumbs and stopping people using the loos. Why?
We noticed that this flight was rather quiet – and then noticed that there was about 50 westerners from our Yangtze river cruise all sitting everwhere around us. Everyone's onward itinerary was taking them to Shanghai.
All up, not a bad flight. Out the window I noticed that China looks really pretty and clean from 33,000 feet…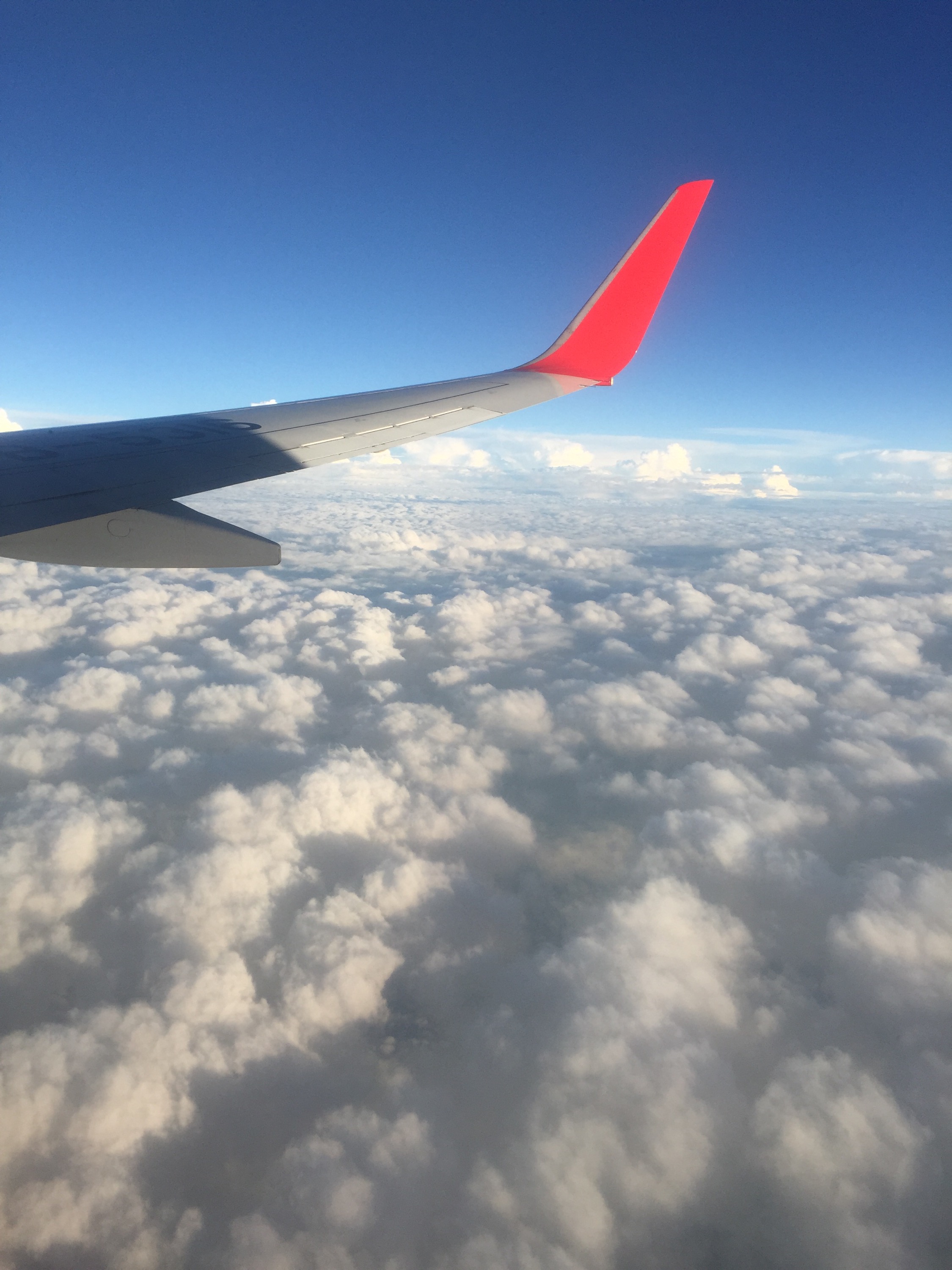 Last flight : Shanghai to Hong Kong
So here we go again. Leave the hotel at 06:00 for a 09:20 flight in order to all us to arrive at the airport 2 hours before flight, given it's a one hour cab ride and with some wiggle room. Checking out of the hotel was relatively paintless and the drive to the airport was uneventful. Yay… Good start.
Walk through the door into the airport and are reeted by a queue of about 600 people waiting to check-in … with only 8 staff working the counters! Holy fuck, it was like a goddamn queue at Disneyland snaking back and forth, back and forth, then across the concourse towards the door and along a wall obstructing the entire airports foot traffic – only instead of lining up for a thrilling ride, we were lining up to thow our luggage at a cranky airline employee. Fuck.
And of course, this is China. So people were attempting to queue jump all over the place and were bumping into each other constantly as if jostling for better position in the queue was going to help them get through it quicker. After about an hour Mr K had to ask for help – it was first thing in the morning and very little time on the heatpack, not enough sleep, standing still that long and my fucked up back just don't mix – I was gritting my teether, but there were tears (Nothing like being stared at by loads of Chinese people who aren't used to westerns, while I'm trying not to have a complete melt down and sort of, kinda, half failing). We got taken out of the queue and thrown through the special care line, only to be cut off without so much as an 'excuse us' or a 'thank you' by a pushy Chinese tour guide checking in an entire group.
We finally get to check-in, this time my bag is back up to 22kgs (depending on which airport we were at it's been 22kgs, 18.8kgs, 19kgs, and now 23kgs, even though the shopping has been at an absolute minimum because well, all this shit for sale is made in China. Anyway, they somehow screwed up our seats again – I think every time the flight schedule changes, our seat allocations go out the window, and we end up just getting dumped up the back of the plane again. Grrr. Finally checked in, which meant we were now at our leisure to find the queue for security. :/
We manage to get through security, which can I just say, has been stupidly painful at most of the airports here. You emplty your pockets, that is fine, put your carry on through the scanner that is fine, but the metal detector goes off for every single person going thorugh it and they stand you on a pedestal and wave the handscanner over you or do a rough pat down body search anyway. Every single person – I watched them frisk down a six year old girl. What's with that? I know for certain I have nothing on me that would set off the metal detector, I ensure this quite deliberately so I don't have to stop – but they just set them damn things to beep at everyone… and tehy don't fucking care if there is 200 people queuing to get through to their flights. By the time we go through the security check, and frisky fun bit, we had gone from being two hours before our flight to barely five minutes before we were scheduled to board. Scheduled to board… :/
We found our gate at 08:30 for the scheduled 08:35 boarding. And waited and waited.
At 09:05 approximtely 30 minutes after boarding should have commenced, an announcement came over that our flight was delayed due to "cabin cleaning". Bull-fucking-shit! That there plane has been sitting at the gate longer than I have! The fricken delay is due to the fact that about 100 of the people who are supposed to be on this flight are still in damn queues waiting to check in and/or get through security.
Eventually we get on the plane and find out that we are in Row 61 which are bulkhead seats – yay. Unfortunately, this is where they usually seat families with small babies so the whole area smells like piss because the Chinese from the souther regions don't use nappies on their babies, they have weird little crotchless jumpsuits in order to toilet train their babies as young as possible. Eww… I just tried not to think about it.
At 09:47, we get another announcement letting us know of "air traffic control delays". I can see by the hostie's face that this isn't even remotely uncommon even given this is the first flight of the morning. It's just going to be one of those days. We eventually take off about 10:15… just shy of an hour late. Late just seems to be how these companies operate, there is no other way. The rest of the flight was predictable, I tried to watch a movie, was interrupted by people walking past us to get from one aisle to the other – one kid must have walked in front of us about four times, he even stood on my food once, the ignorant little shit. So glad this is our last flight in China and we won't have to deal with them again.
So… to sum up our Chinese airlines experiences.
Shanghai Airlines 7/10 – if I absolutely had to somewhere within China, I'd use them.
China Southern Airlines 4/10 – nope, not happening. so disorganised, absolute chaos.
China Eastern Airlines 0/10 – they are so fucking bad, I would never ever agree to fly with them again. Ever.