During the late 1740s, after a series of failed harvest seasons, some wealthy plonker by the name of Sir Francis Dashwood (11th Baron le Despencer) commissioned an ambitious project to dig a series of caves into the mountain side to keep the local farm workers employed.  At one shilling a day (enough to support a family) these farm labourers were put to work digging deep into the chalk mountain to create what is effectively a secret playground for the rich and possibly sadistic.
The caves are near the village of West Wycombe and extend 260m underground to be directly beneath the St Lawrence's church and the Dashwood family mausoleum, which are located high on the hill above.  Said to have been constructed to represent, 'heaven' with the church above and 'hell' with the caves directly below; the caves came by their name, "Hellfire Caves" as this is where the original Hellfire Club is said to have met and carried out many pagan rituals, orgies, bacchanalian feasts and who knows what?  There is plenty of speculation of what went on in these caves, but not a lot of solid evidence seems to have survived.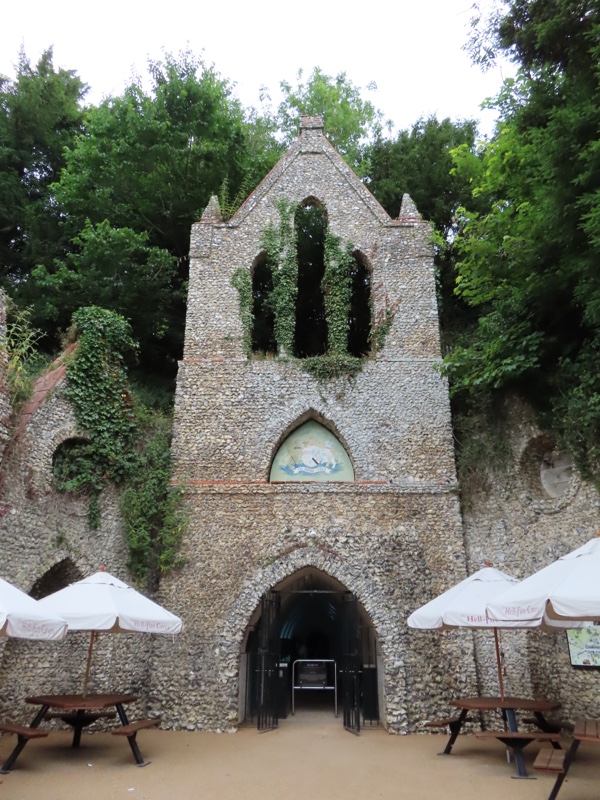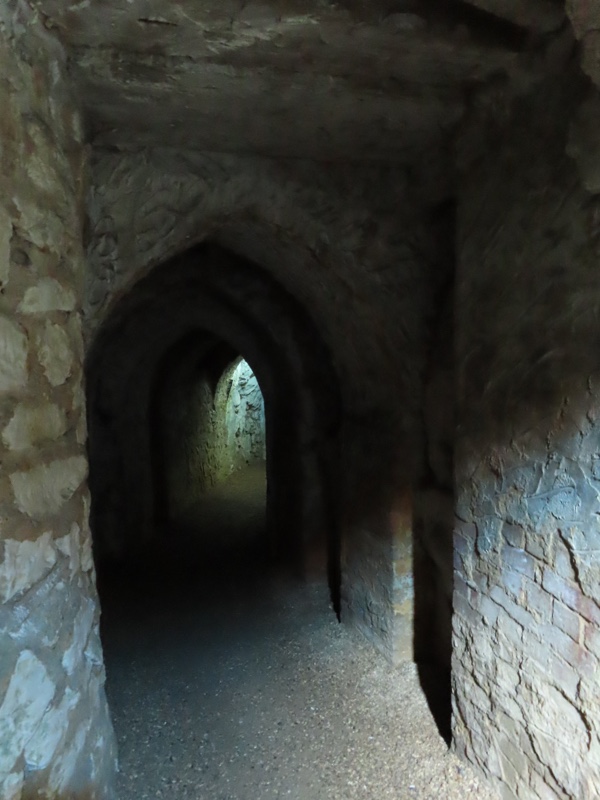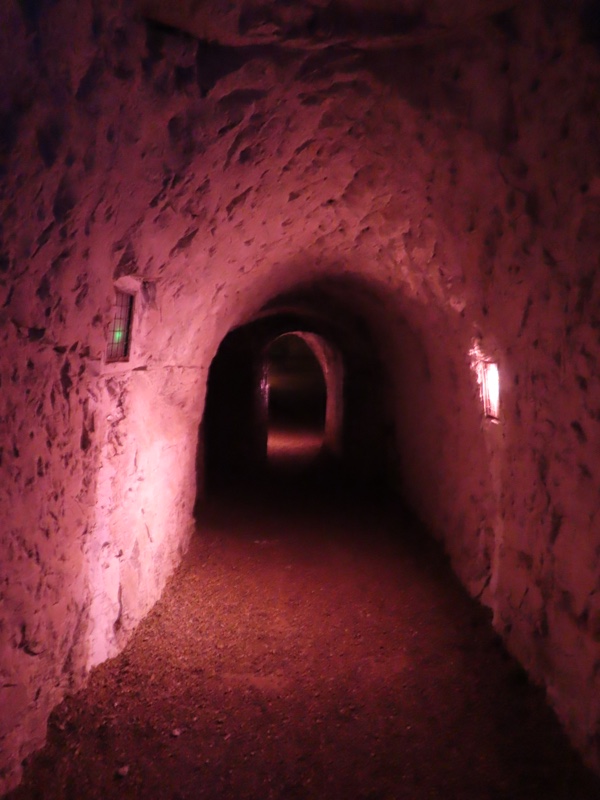 The caves are well made and easy to navigate, the tunnels veer off and return to each other in such a way that you can not get lost – if you want to go deeper into the caves, you just go down the sloping pathway, if you wish to return to the surface, make sure you're taking a path (any path) upwards.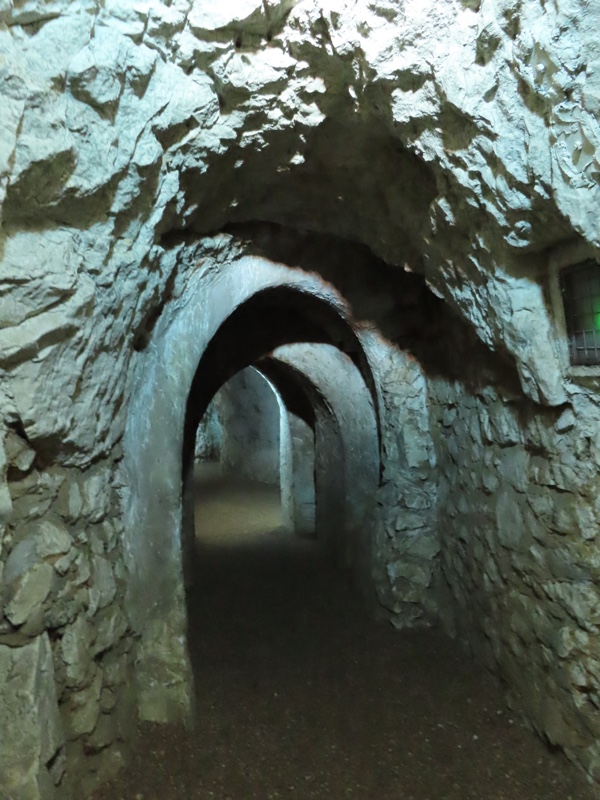 Towards the very deepest part of the cave is a man made underground river called the River Styx (of course it is), which is just outside the inner chamber where guests are said to have held their 'parties'. The meetings were said to be notorious, pagan, full of debauchery and occult rituals where copious amounts of alcohol were consumed.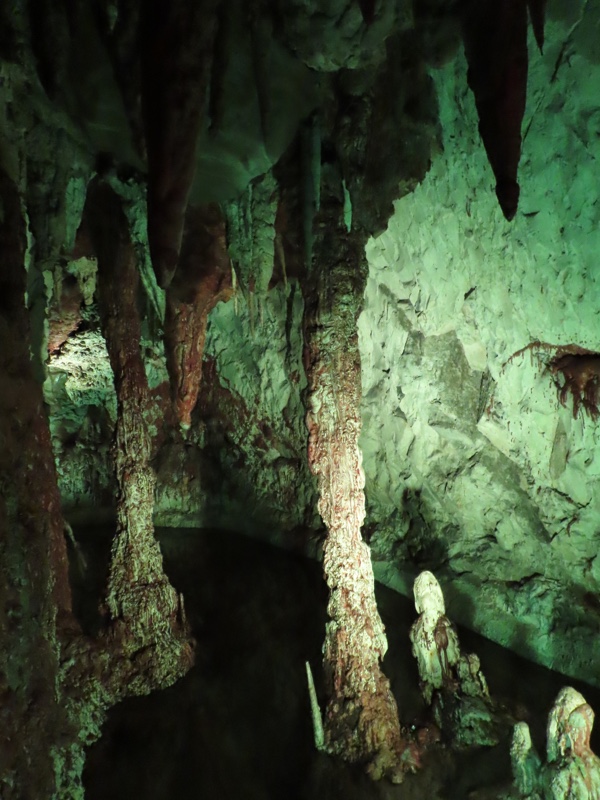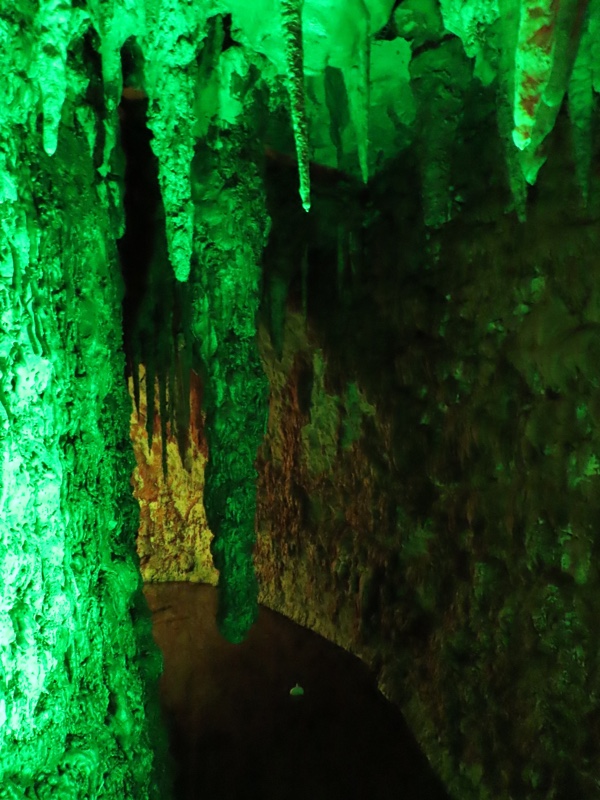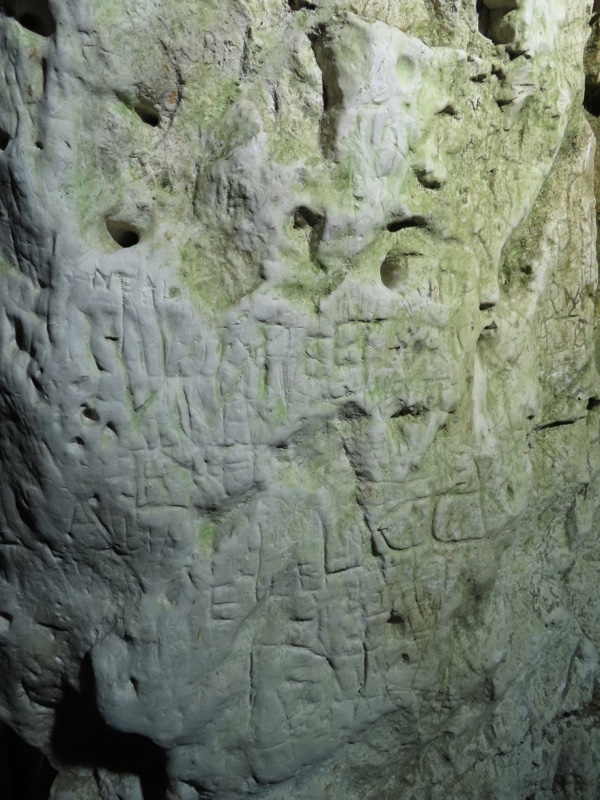 The Hellfire Club is known to have been founded by Sir Francis Dashwood and unsurprisingly, included many various politically and socially important 18th-century people.  Mostly men, such as William Hogarth, John Wilkes, Thomas Potter, John Montagu (Earl of Sandwich) and while there's nothing definitive around to say he was a member – Benjamin Franklin (yes, that one…) was a close friend of Sir Francis Dashwood and was known to have visited the caves several times. His letters and connection to the group and Lord Dashwood figure quite prominently on the information plaques throughout.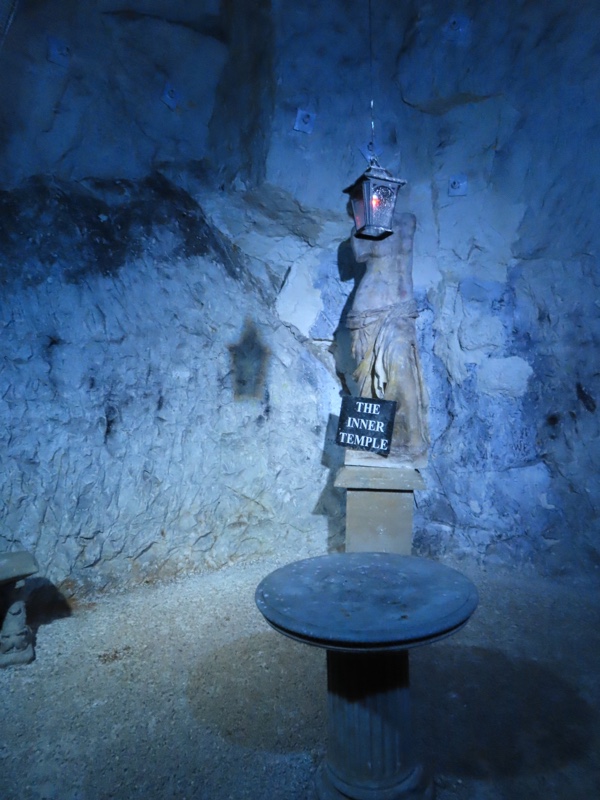 The men at these gatherings referred to themselves as 'monks' and they did have female guests who were said to have dressed up as 'nuns' – mostly prostitutes, local girls, wives, sisters, and even some ladies of society would join them. They were rumoured to have dabbled with the occult and performed black magic, but I dare say they largely just behaved very drunkenly and lewdly away from society's prying eyes.
The club motto was Fais ce que tu voudras ("Do what thou wilt")… which certainly does make you fearful for the young women and clueless maids that no doubt found themselves encouraged into these tunnels with rich and powerful men  :/  There is a couple of mentions of a young local barmaid named Sukie (for Susan) who was accidentally killed in the caves when some local lads sent her a letter pretending to be from an aristocratic beau, that told her to come to the caves dressed in white (so as to be like a wedding gown). When she arrived, the local lads teased her, and she threw rocks at them, one threw a rock back that struck her head and she died from this injury. She is now said to haunt the caves dressed in white – because of course she does.
The only thing that spoiled this slightly spooky visit into the Hellfire Caves was their propensity for lacklustre mannequins placed in variously carved out niches… made the experience somewhat Madame Tussaud's tacky rather than being eerily quiet and still and cold…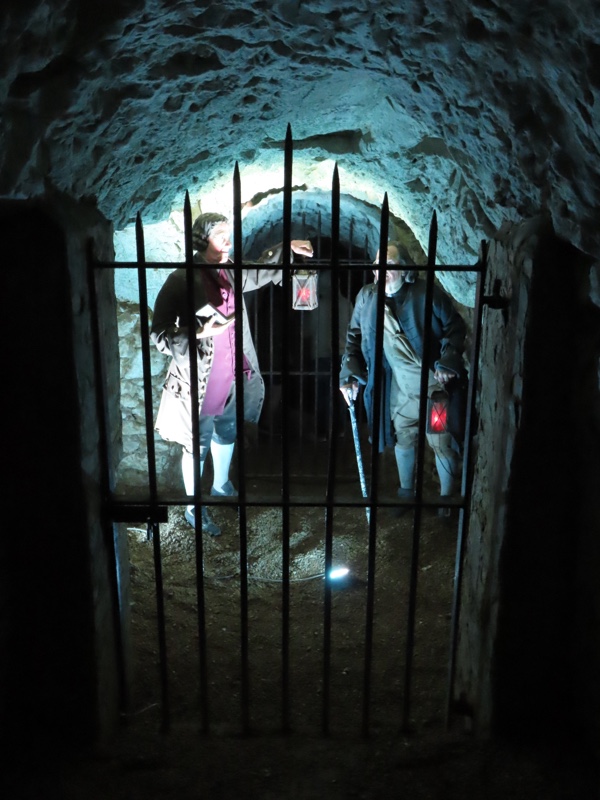 After wandering down through the caves, I headed up the top of the hill to 'heaven' to see St Lawrence's Church. Unfortunately the church was locked up and I was unable to visit inside, but the location of this church is stunning – the views across West Wycombe Village and the Park are gorgeous.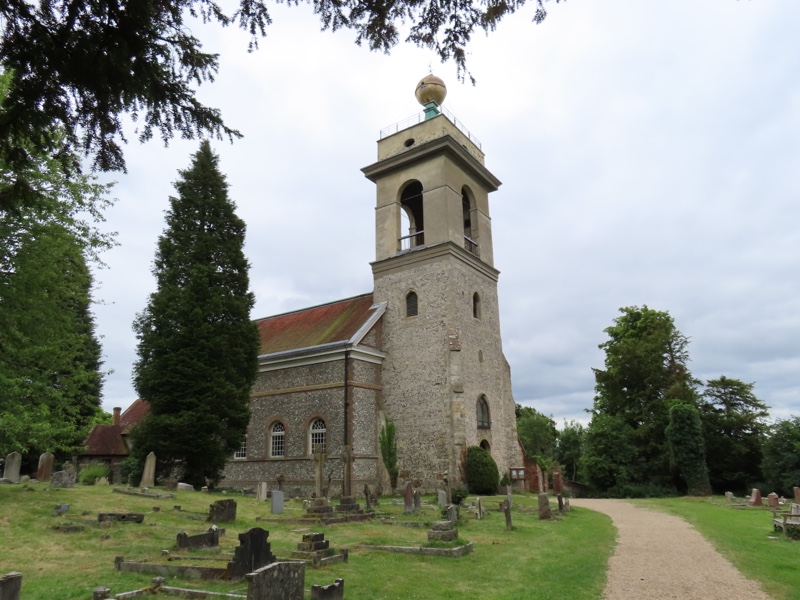 The golden ball atop the church's tower is a familiar symbol of West Wycombe village.  It is constructed from timber and was covered in gold leaf.  Apparently you used to be able to go into it (it's about 8 foot in diameter) and it has what must be super cosy seating for up to six people.  Sir Francis Dashwood and his friends were rumoured to have met there (probably to smoke opium and get high and close toheaven!) but the public is no longer allowed in because of vandalism.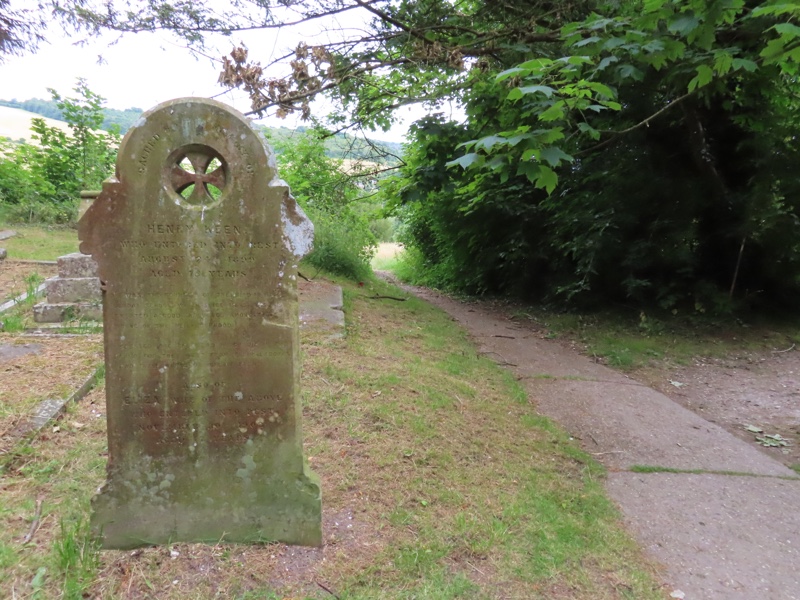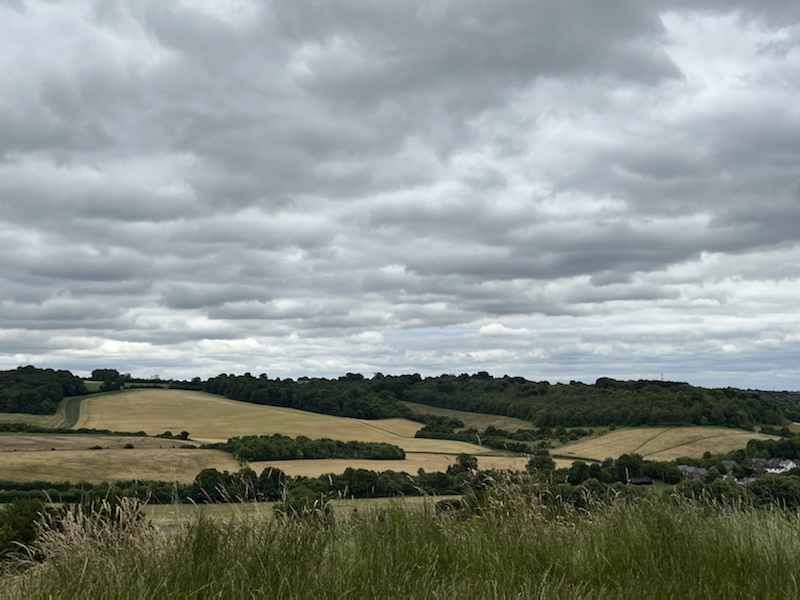 The nearby Dashwood Mausoleum is another notable West Wycombe fixture… it's a huge hexagonal building containing the remains of Dashwoods and people connected to them, going back for centuries.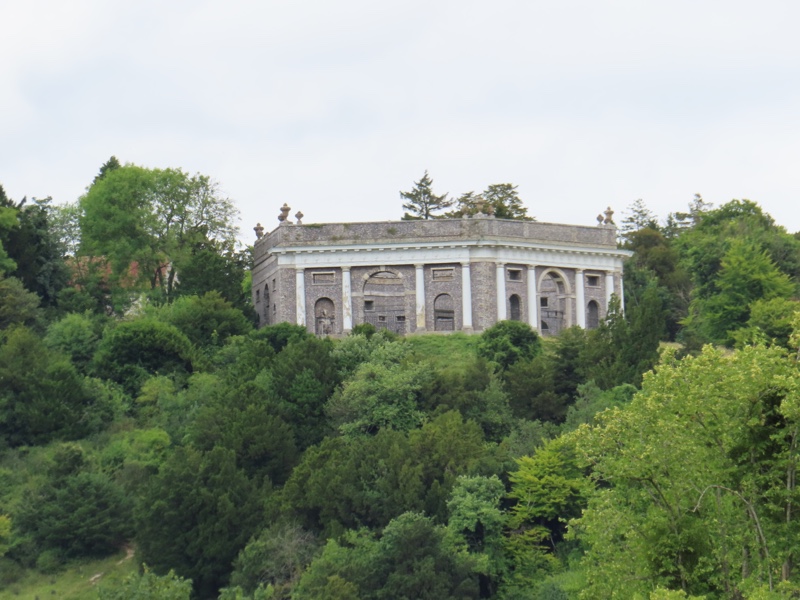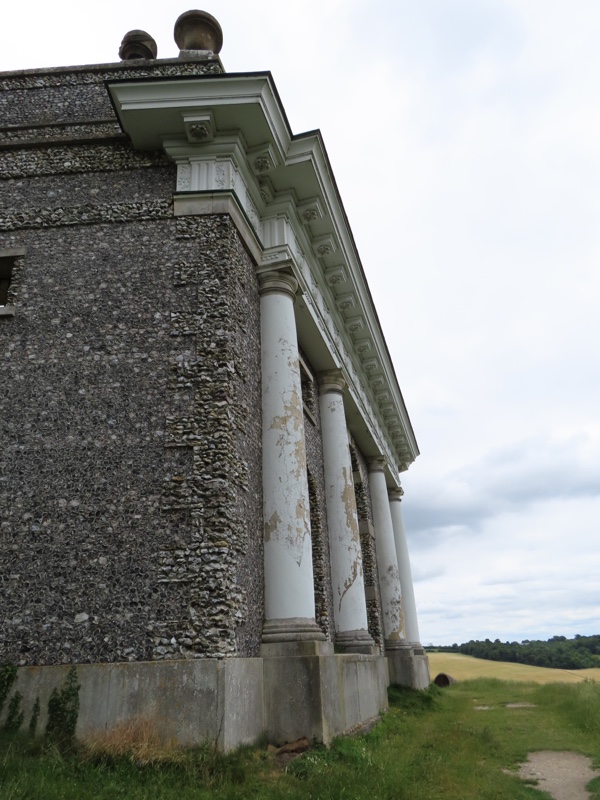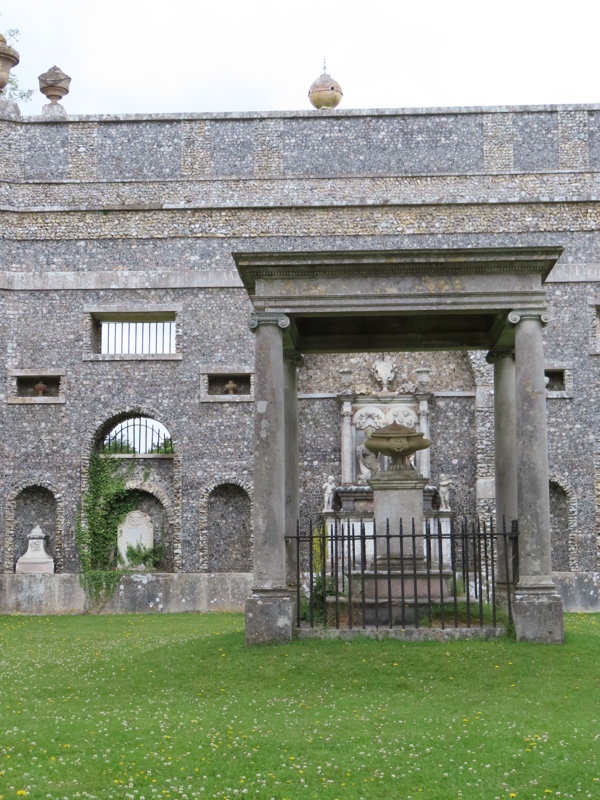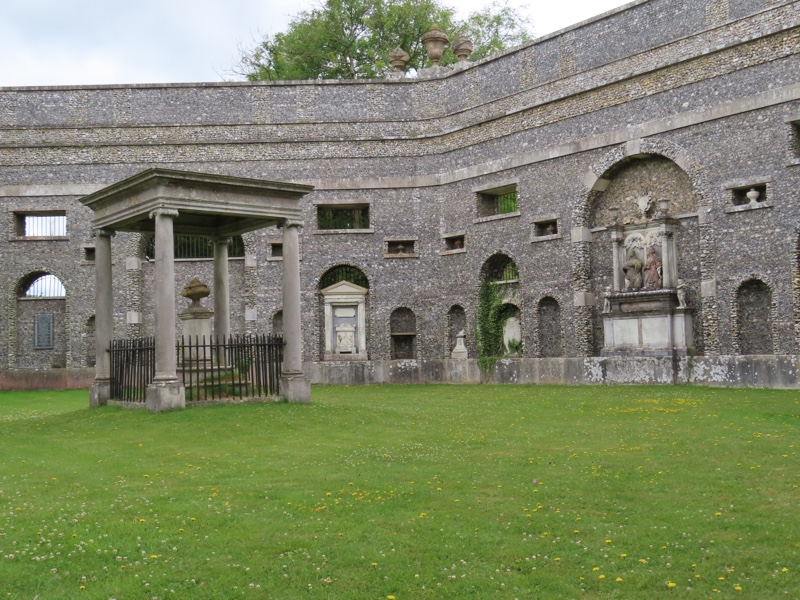 It's enormous and a very impressive monument that stands out quite strikingly atop the hill.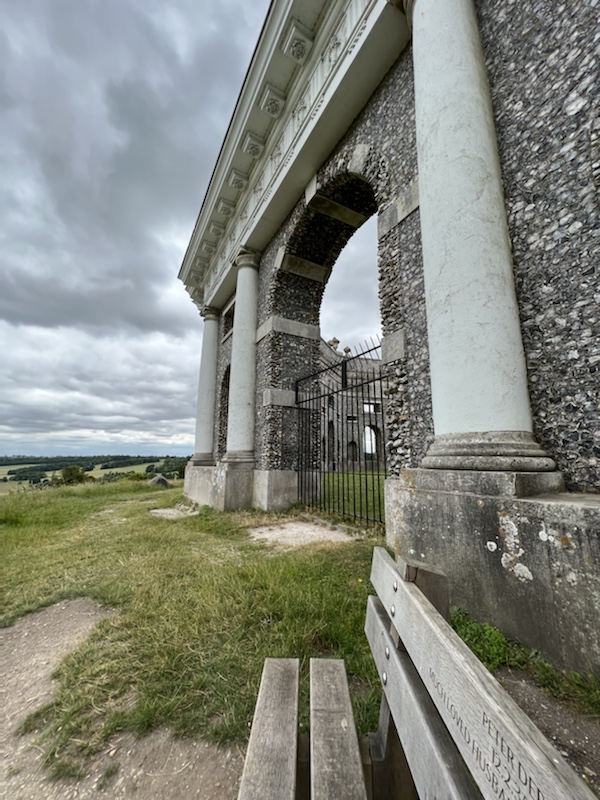 After a wander around the church, the old cemetery and the mausoleum I made my way over to West Wycombe Park to see the house and the estate.  The house is only open from 2-4pm in the summer, so I was in luck and took (what was supposed to be) a little 40minute tour through the house.  There is so much to be said about this place, that I'm not even going to try… click here for more info on West Wycombe Park If you want to know who built it and how.
The TL;DR is that a wealthy spoiled tradesman's son took the Grand Tour to polish of his education and came back enamoured with all things Italian, Roman, Ottoman and Byzantine.  He brought back some exceptional fresco artists in the form of Giuseppe Mattia Borgnis and his son who painted copies of many famous frescos from villas in Rome and Venice that the young Lord Dashwood so admired. Every ceiling and many walls in the staircases are covered in their works.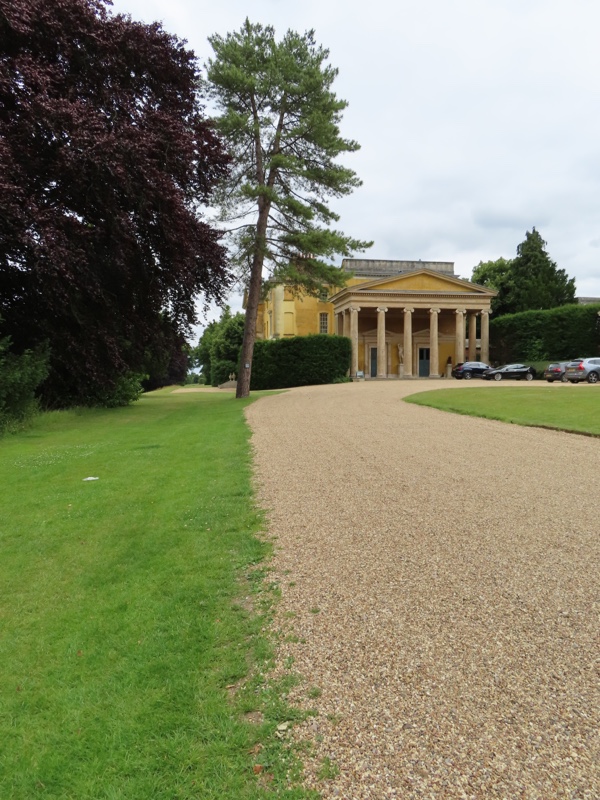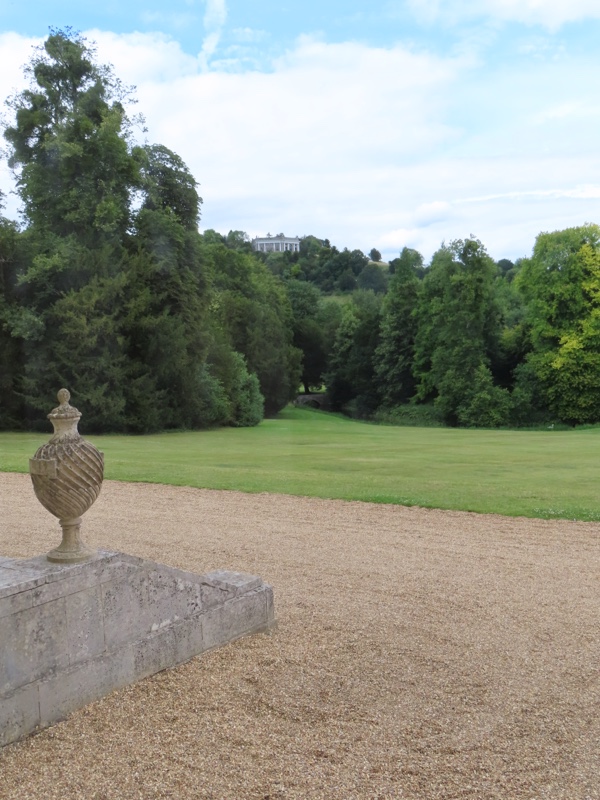 Northside of the building looks out over the grounds and the man made lake. Turns out this property has featured in Downton Abbey several times as Lady Rosamund's London home and several other outdoor scenes.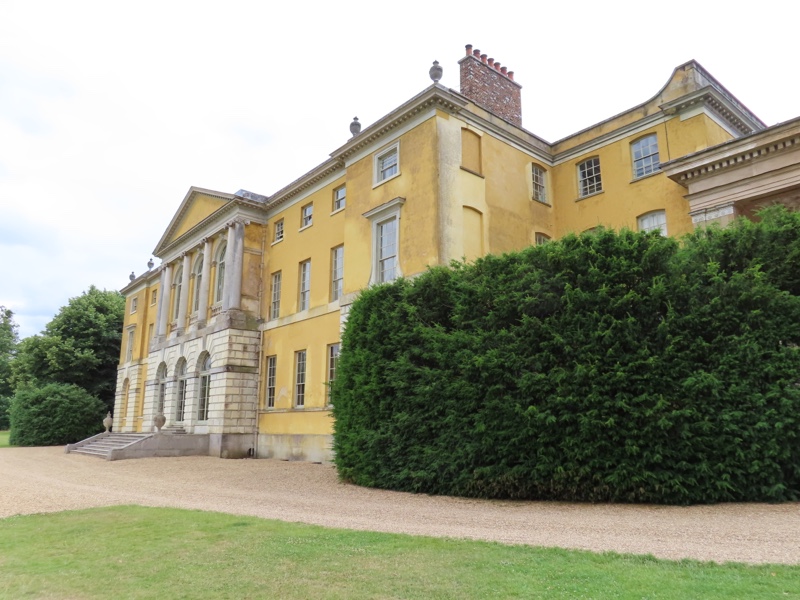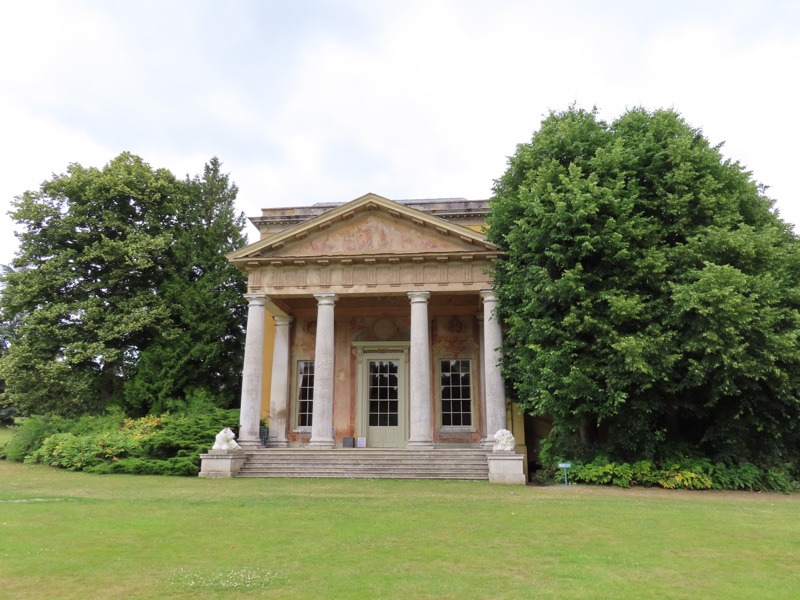 Most of the artworks were themed around Bacchus, Venus, Cupid, and other gods and myths, as was the fashion of the time.  Drunken Bacchus with his grapes and laurel coronet feature throughout the house along with the occasional bawdy or lascivious scene which is probably why several of the artworks were covered over (possibly by the straight laced Victorians who followed) and have since been restored. 
There was no photography allowed on my 40 minute tour (which turned into a 1hr 20 mins of standing way too long and being told the same thing over and over about whether the marble was genuine or a clever fabrication to look like marble – yes, we got it after the first two rooms, the fireplaces are real marble, most everything else that looks like marble, is not), and they did not have a book to purchase at the end.  So I have unapologetically borrowed some images from their website and tbh if you're not gonna flog the tourists a book, they're lucky these pics aren't hot-linked!
The entrance is an impressive hall which has frescoed ceilings copied from a Roman villa somewhere.  Many of the busts were brought back from Europe whilst the young Lord Dashwood was on Tour, and some are weird copies made of long dead family members.  The columned are not real marble, but rather a timber centre with a reconstituted highly polished crushed stone method of construction.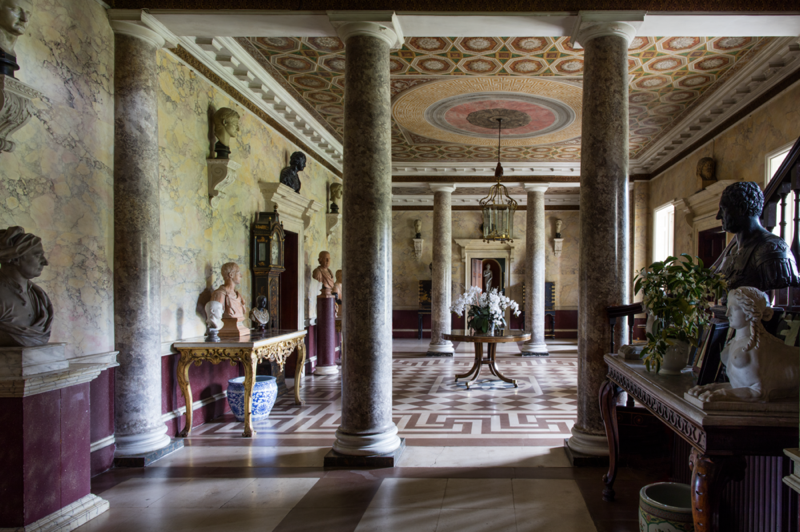 The Palmyra Dining Room, which if memory serves the guide, is based on a palace 'somewhere in modern Syria'. Again the columns are not real marble, but the fireplace to the right is genuine marble.  The Rococo mirrors are some of the finest to be found…  Apparently.  The dining suite however, not so authentic, Sir Francis Dashwood (the one who died in 2000 not the one who built the house) saw it in a movie set and picked it up when they were refurbishing.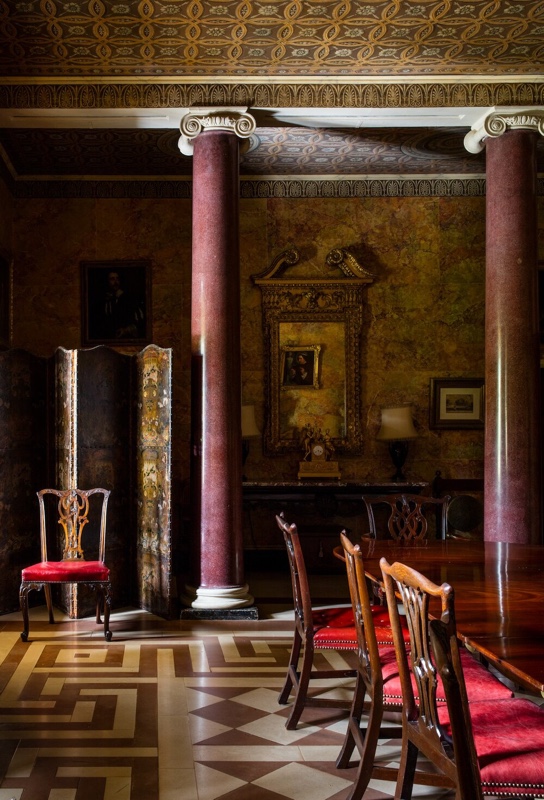 The aptly named 'Yellow Drawing Room'  Has one of the largest and oldest Axminster carpets still in use and has lovey views down over the lake.  More Rococo mirrors, and 'What else can I tell you about this room? Oh yes, the fireplace is genuine marble but the elaborate doorway and the plinths that hold up statues of the Four Seasons are made with the same faux techniques from the Entrance Hall.'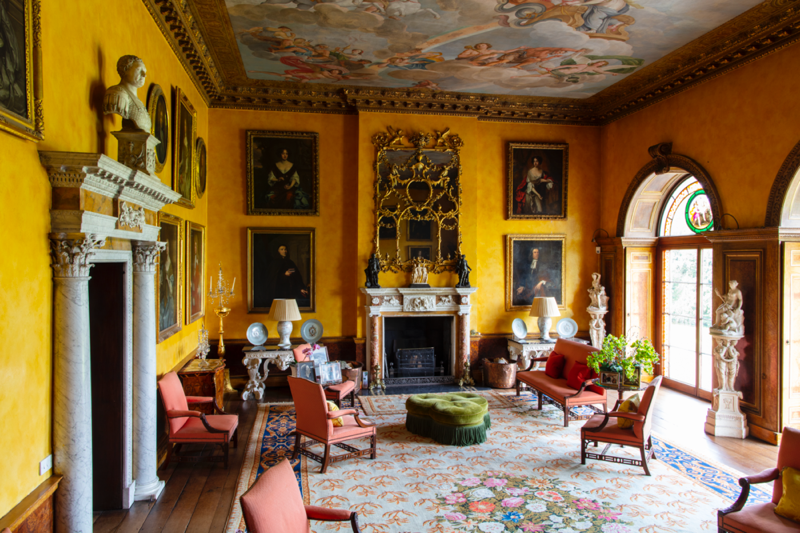 The Tapestry Room – where I nearly had a heart attack was lined with genuine 18thC Flemish tapestries that were a gift from the Earl of Westmorland.  These genuine Flemish tapestries covered in delightful pastoral scenes have been cut and hacked to fit around the doorways, windows and fireplace in a way that made my heart just sink.  With little or no regard for them, they were ruined to fit into a room that is way too tiny to hold them.  'Oh and what else can I tell you about this room?  The fireplace is genuine marble, but the decorative archway around the door is not.'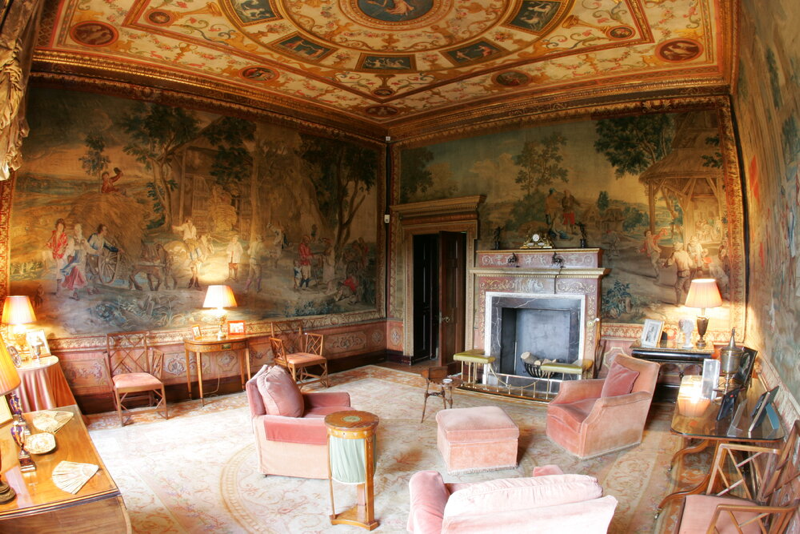 You guessed it:  The Red Drawing Room which is beautifully appointed and has a fabulous cabinet in the corner and an amazing 17thC travelling trunk which we weren't allowed to photograph. 'Oh and what else can I tell you about this room? The fireplaces are marble, but the doorway and….' Fuck it.  You get the idea.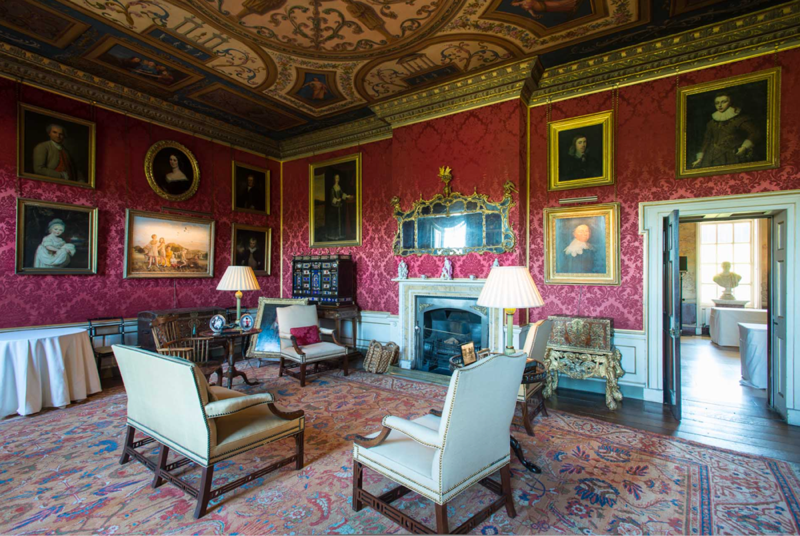 The Music Room which was used to host parties and balls.  The frescos are full of Bacchanalian iconography and symbolism.  Her Majesty, Queen Elizabeth II and her sister were entertained here with a small circus as children, complete with ponies in the house… and of course the fireplaces are genuine marble but the plinths and doorways are not.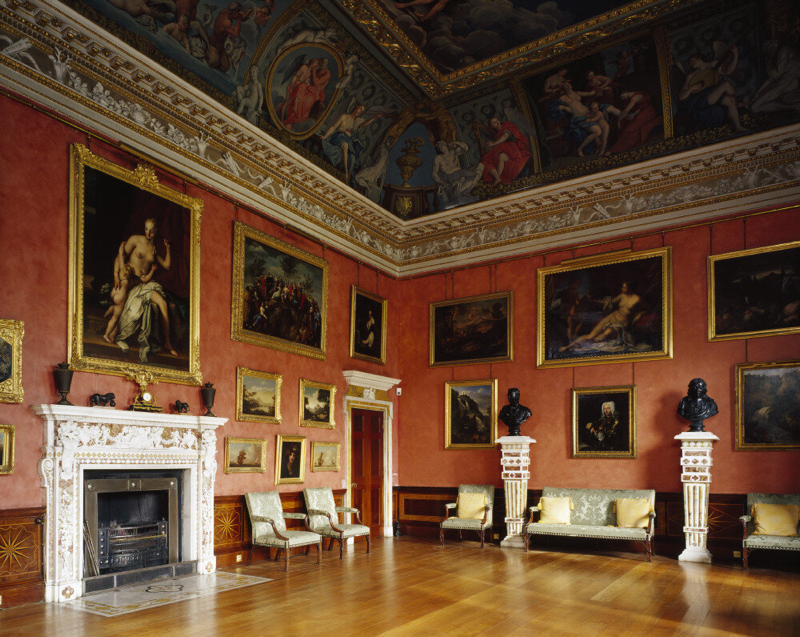 I know not everyone who comes through these sorts of places has a degree in Art History and/or Visual Arts, but I swear (minus the family history bits, with which I was not familiar) I could have given a better reading of the visual in that house completely cold and unprepared.  Never mind, I got to see some beautiful things – the guide was just too slow and repetitive for words. By the end of it, several of us were obviously over-done from being on our feet too long and unlike every other country house in the entire United Kingdom… this one does not have a tearoom or cafe. That being the case, I felt a short stroll through the gardens on the way back to the car park was in order.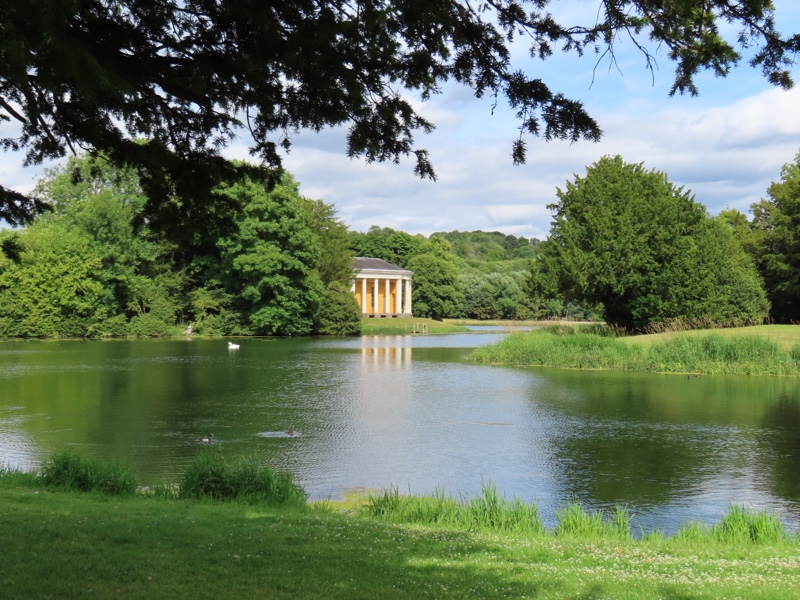 "Have you ever seen a place so happily situated, sister?"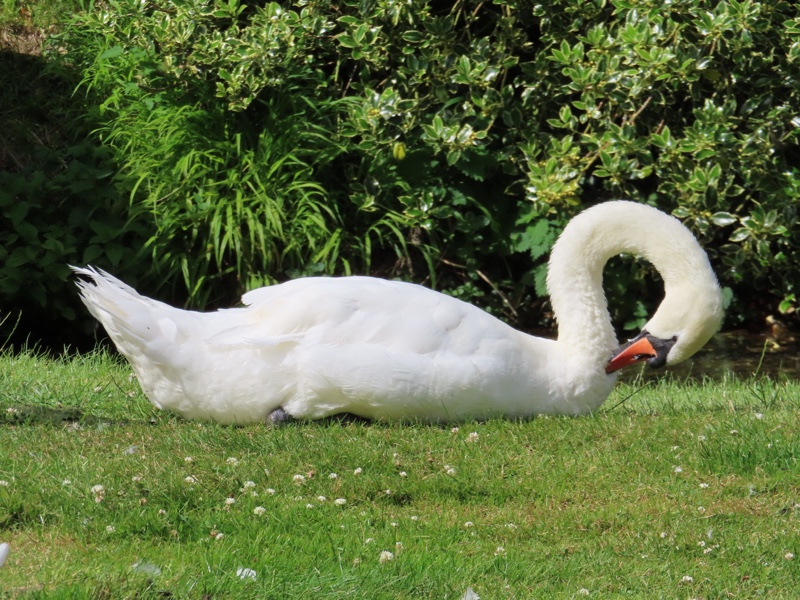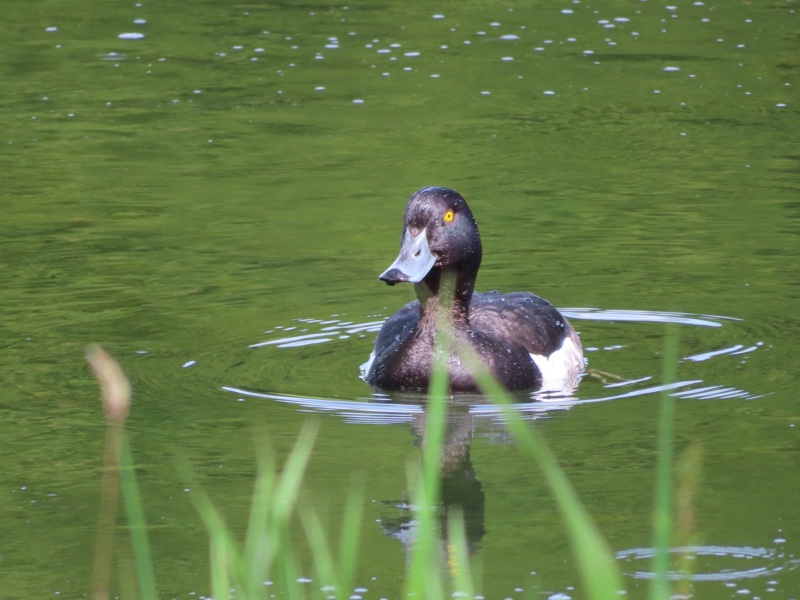 Drove back to Whitchurch – can I say how much I love the roundabouts that keep the traffic moving on the A roads?  I know lots of people driving in the UK hate them, but seeing as how I am driving on the proper (left) side of the road and we do use roundabouts in Australia, I find them easy to navigate and saves so much time on stopping constantly for lights.
Once back at Whitchurch, we spent the evening with a few quiet G&Ts, while Stephola's Beloved chased the 'chippie van' (yes, that is like an ice cream truck but it dispenses fish and chips on the side of the road when it rings a bell to draw in hungry people who don't feel like cooking)… and as entertainment for the night, we got to slowly watch as Boris Johnson tries to desperately hold onto government by a thread as 43 members of his parliament resigned citing no confidence in the wanker!
Fucking good wholesome fun all round. 🙂