Woke up early to have breakfast so we could relax and watch the sunrise over our desert camp in the Sahara.  Yesterday was completely cloudless, but this morning we were treated with a beautiful sky as the sun peeped over the dunes.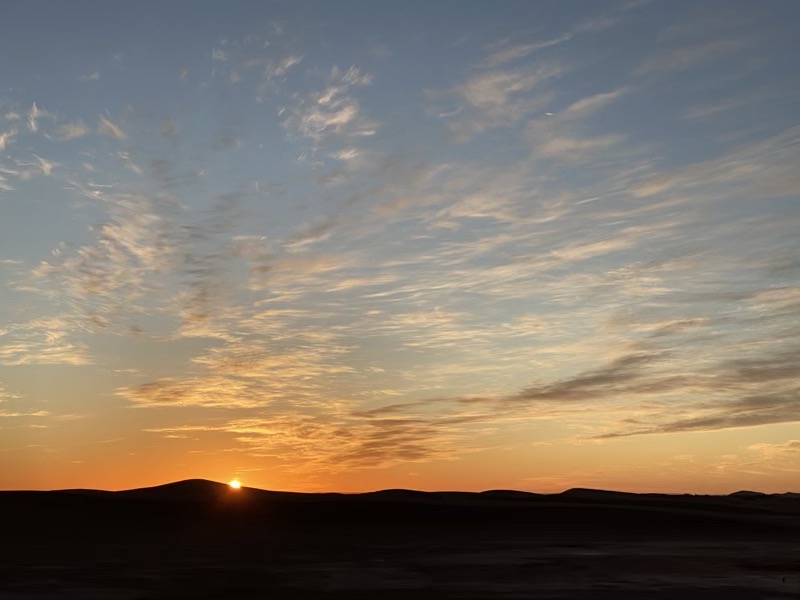 The early morning light was lovely in the camp, and I was honestly quite surprised that it was nowhere near as cold as I was anticipating.  It was about 2C o'night and very low humidity so it didn't seem that cold at all… or perhaps my barometer for 'cold' is off as I am still comparing most things favourably with last years 'OMFG my hands feel like they're burning from the car AC set to 16C in Iceland?!?', type cold?  Who knows?  Either way, I had a warm night's sleep in the desert camp and was not too bothered when we got up.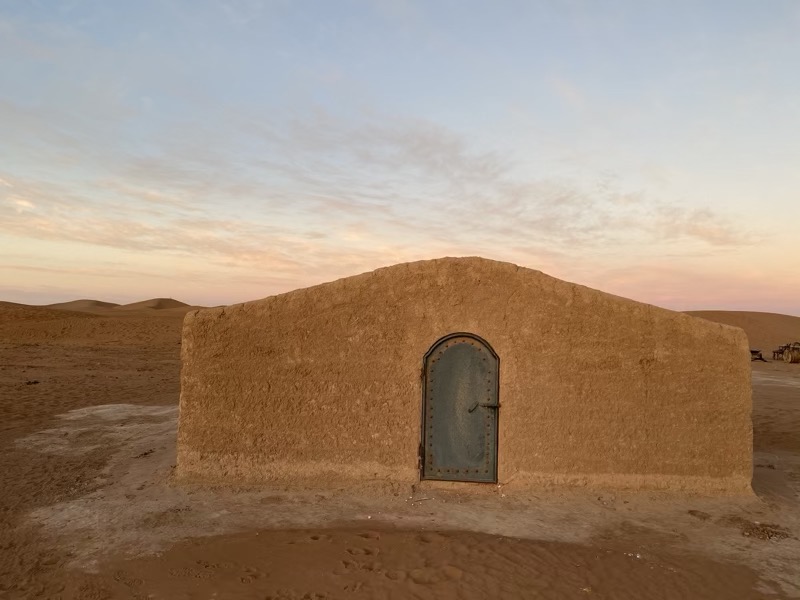 Mr K playing silly buggers while some of our group were watching the sunrise from a nearby hillock.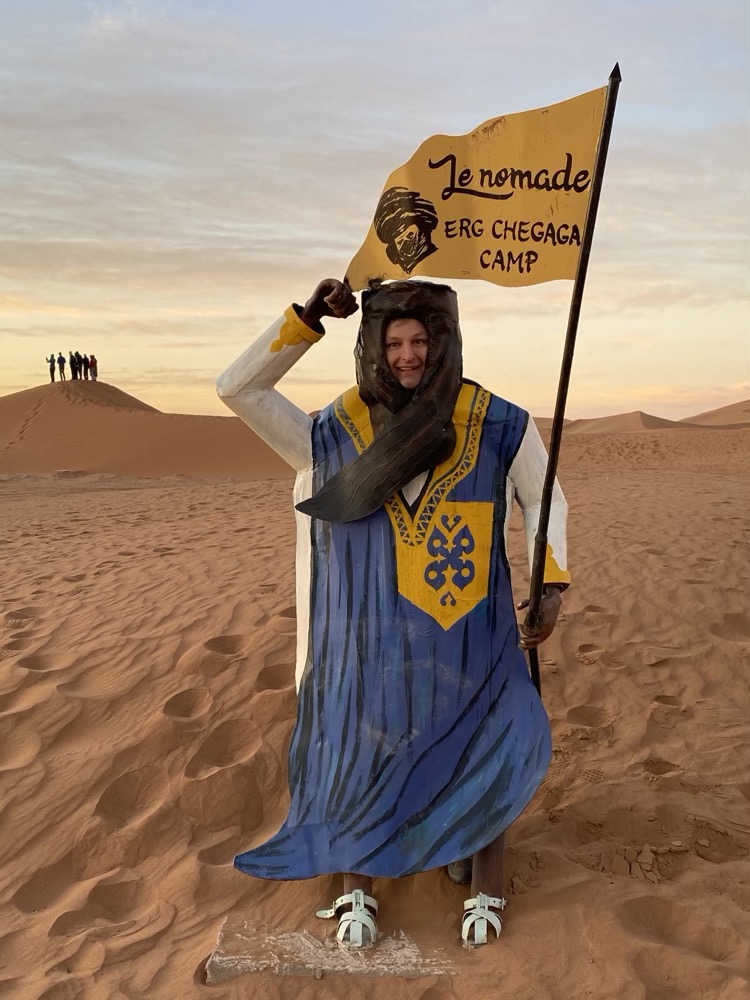 For any who are unfamiliar with the geography, this is where Google Maps placed us at the desert came – right close to the Algerian border… and those land mines.
Our drive out of the desert saw us contine south west for about 3 hours by 4WD.  The landscape was largely rocky, then sandy, then rocky again.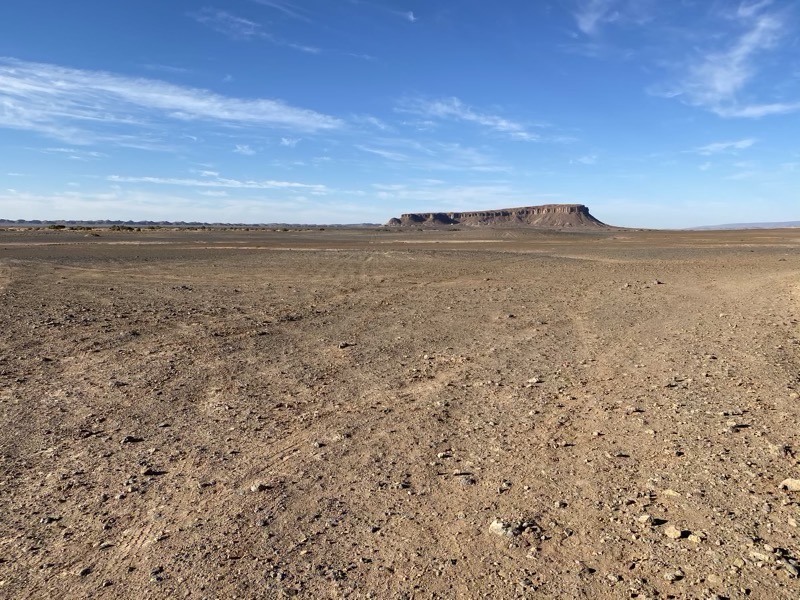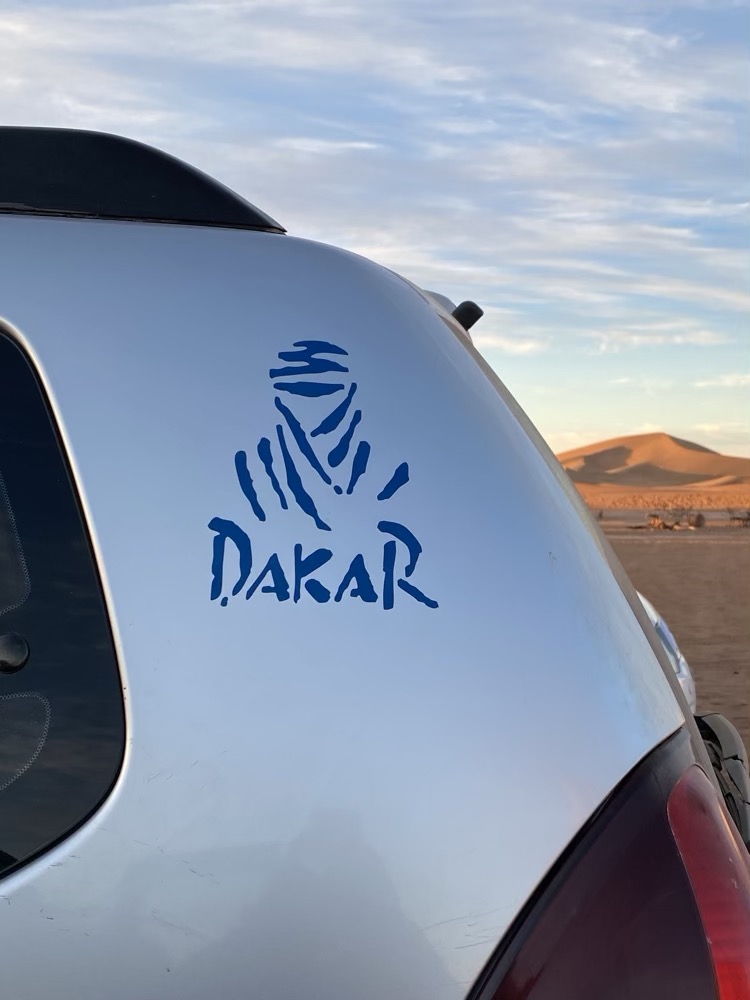 Cutting through the really fine sand was like driving through bulldust in central Australia, though not quite so red.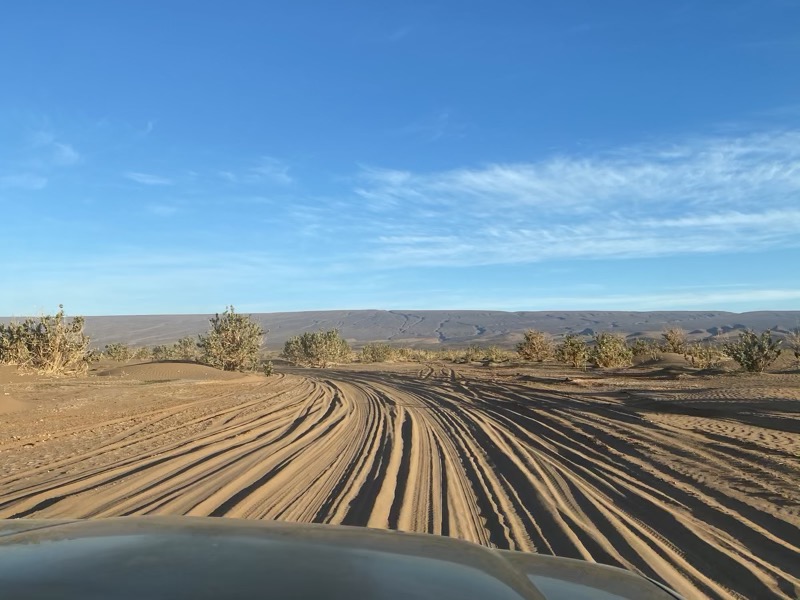 At one point we popped out on the dry, Lake Merzouga.  The drivers actually got over 50kmph once they hit the dry lake bed prior to this we were plodding along, still going quite fast for conditions but largely in low range and 2nd or 3rd gear tops.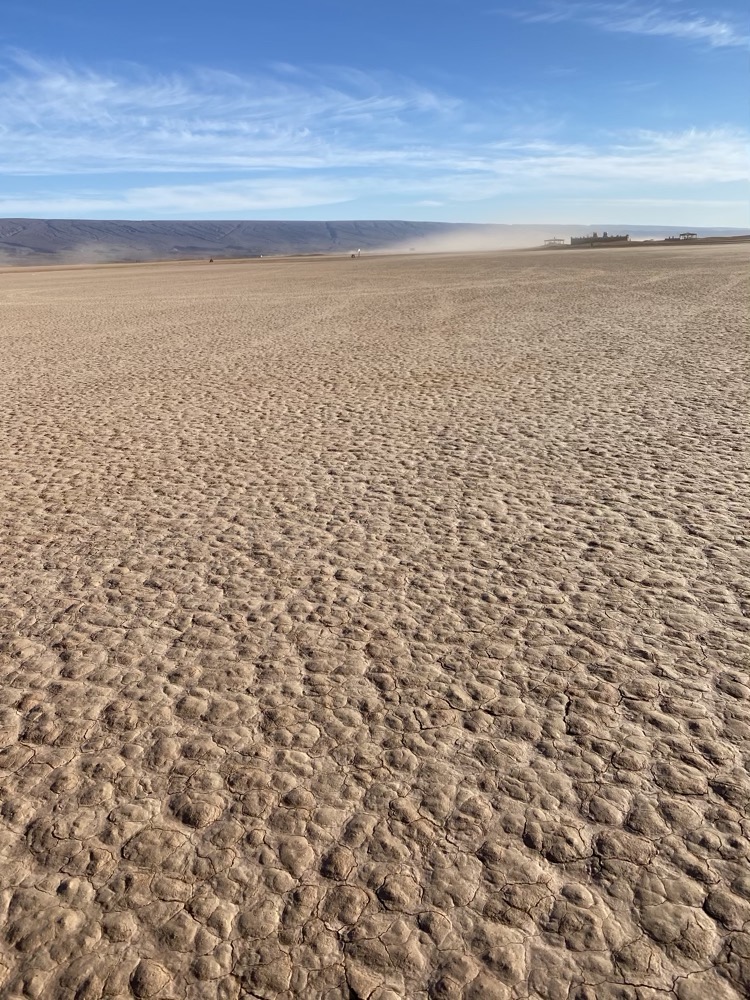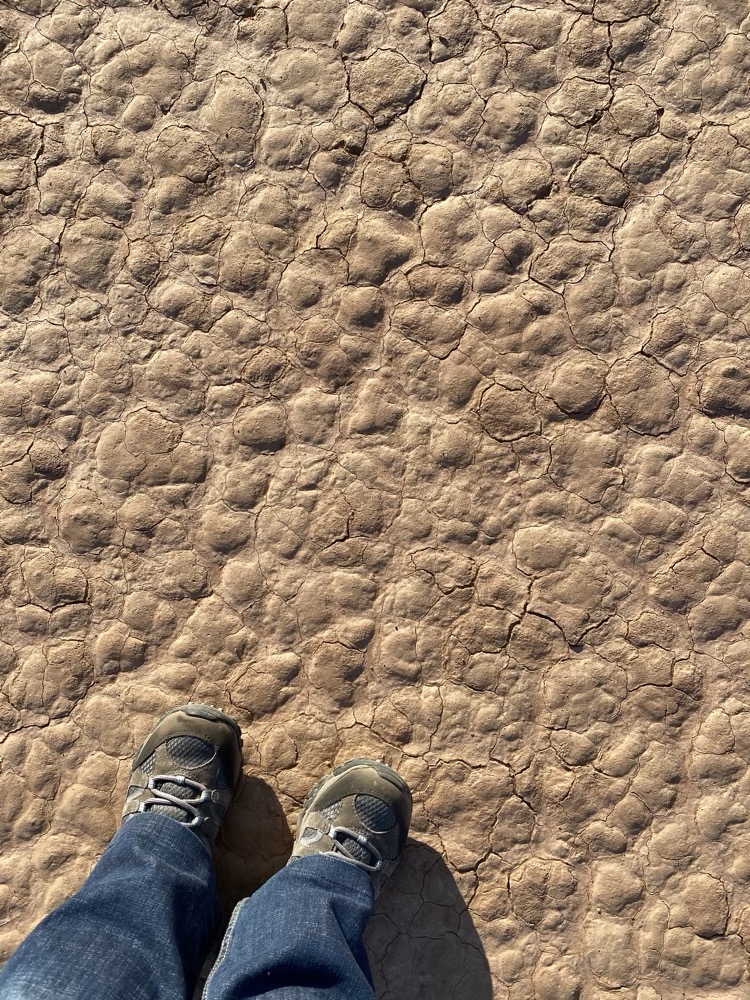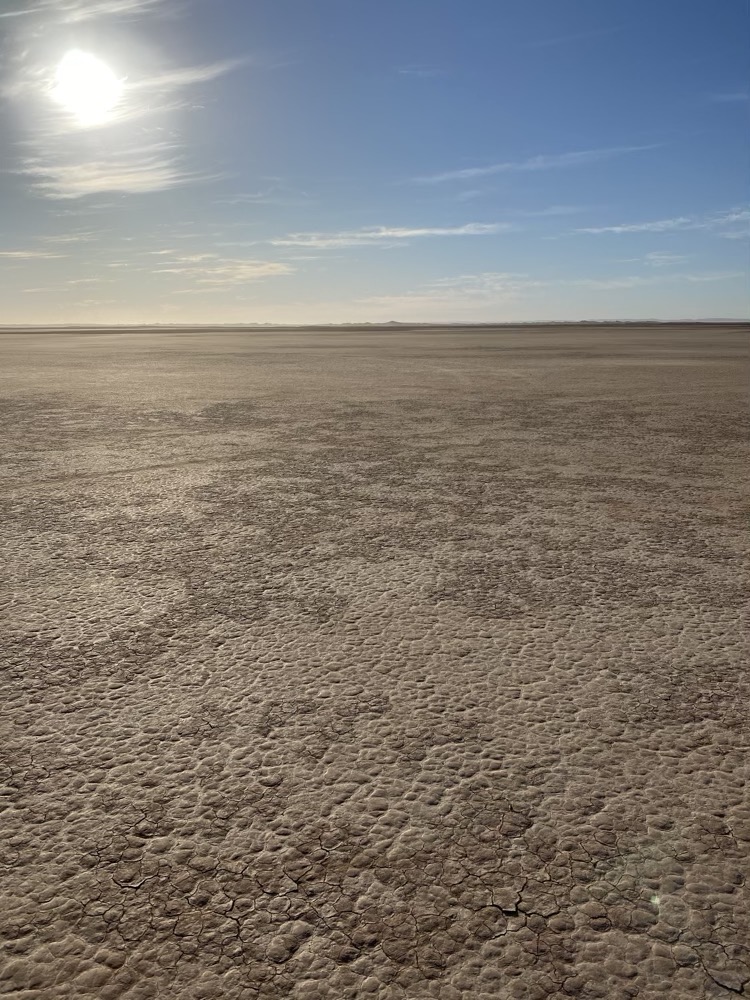 Another hour or so down the desert, we came to a place covered in rocks where the tourists had, naturally, been building cairns, but where Samirr had us pull up to look at the fossils in nearly every rock you flipped over.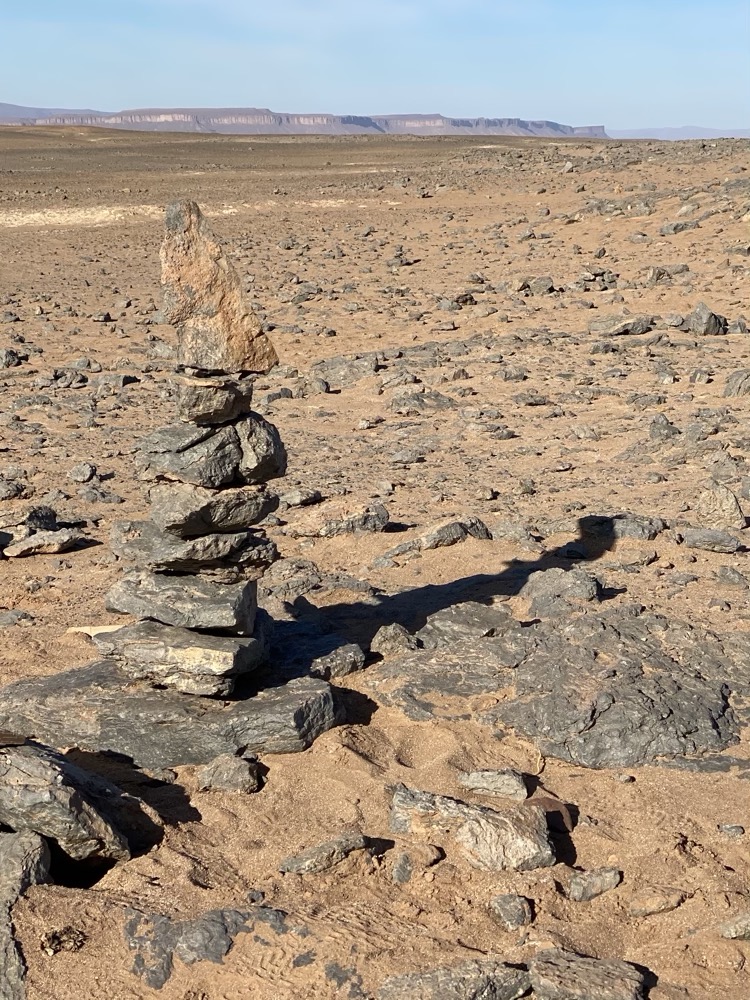 Tess and I kicked over this cairn only to discover the enormous flat rock at the base was covered in fossils.  Nearly every rock in this area, no matter how large or small had something fossilised into it.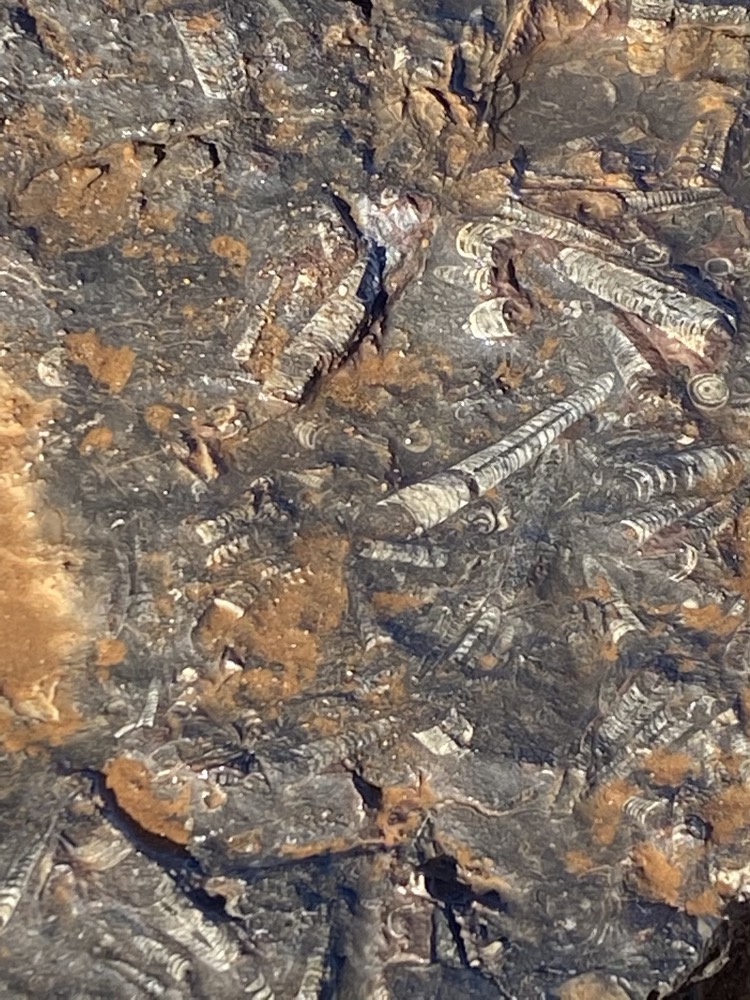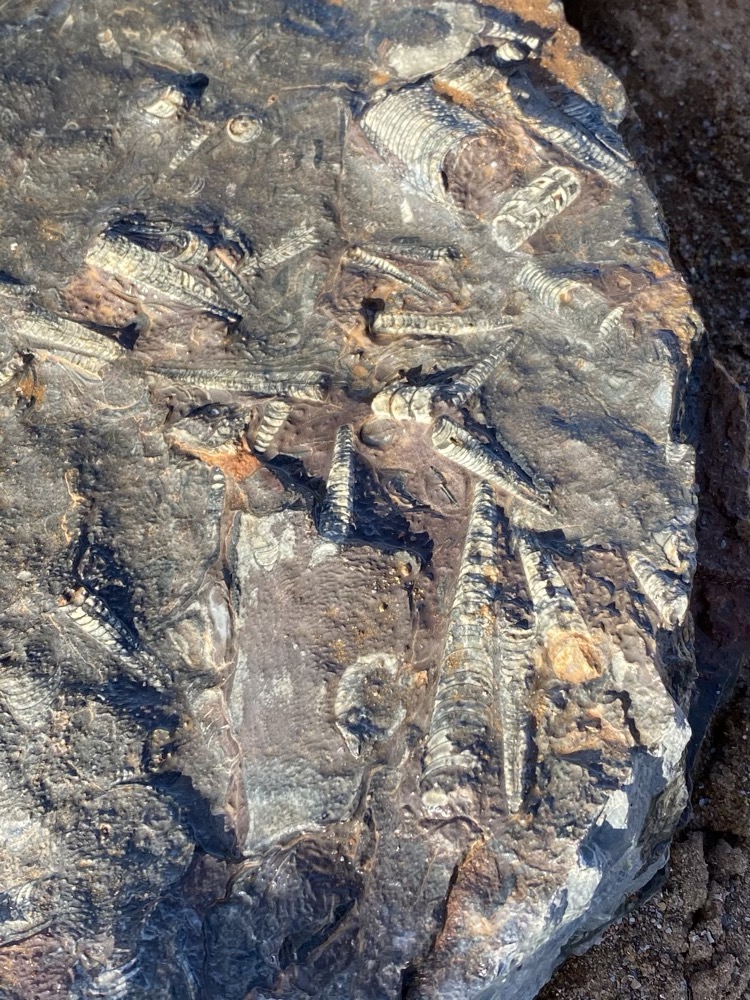 Quite literally, we are in the middle of nowhere and there was a woman herding her goats.  We stopped and gave her a jug of water and said a quick 'hello' before jumping back in the jeeps to carry on. Not 100m from where this patch of vegetation was, we were back to sand and nothing for her animals to eat.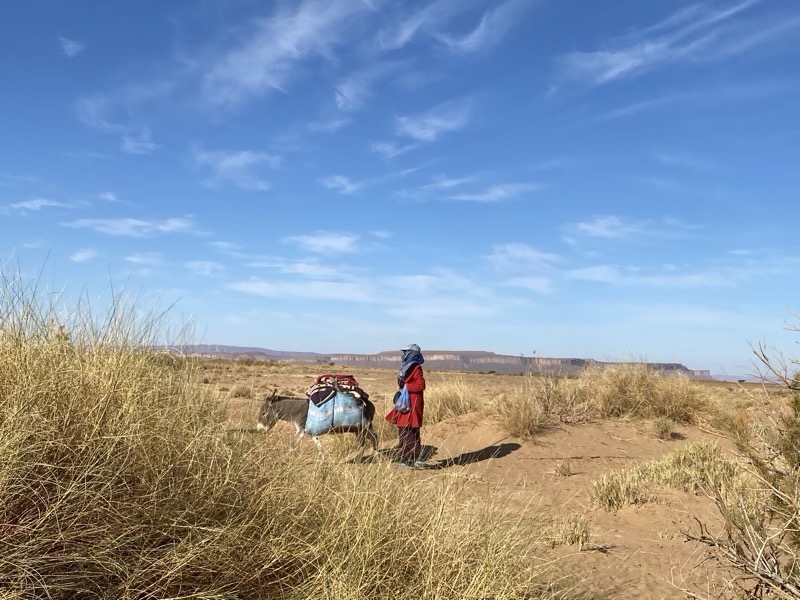 We followed this enormous rock ridge for what seemed like about two hours.  Every time we thought we were going to pass it, we just turned the corner to be greeted with another rocky face.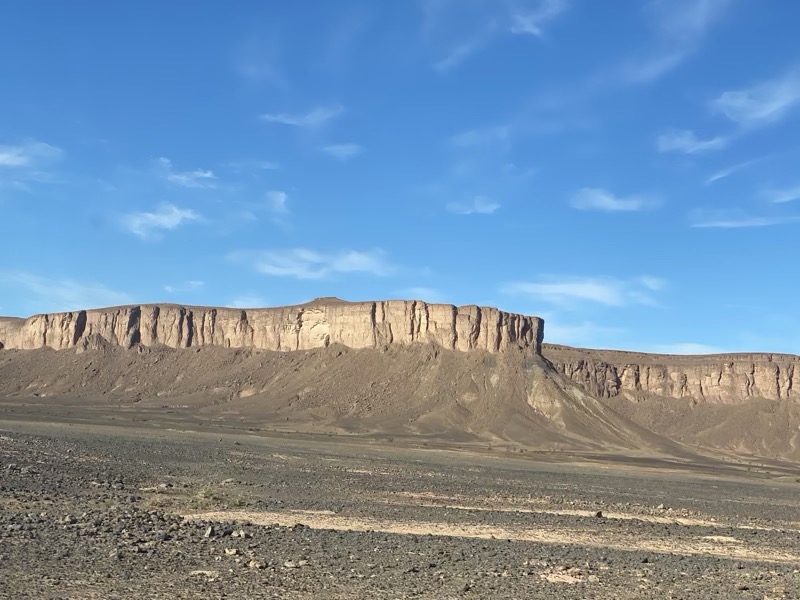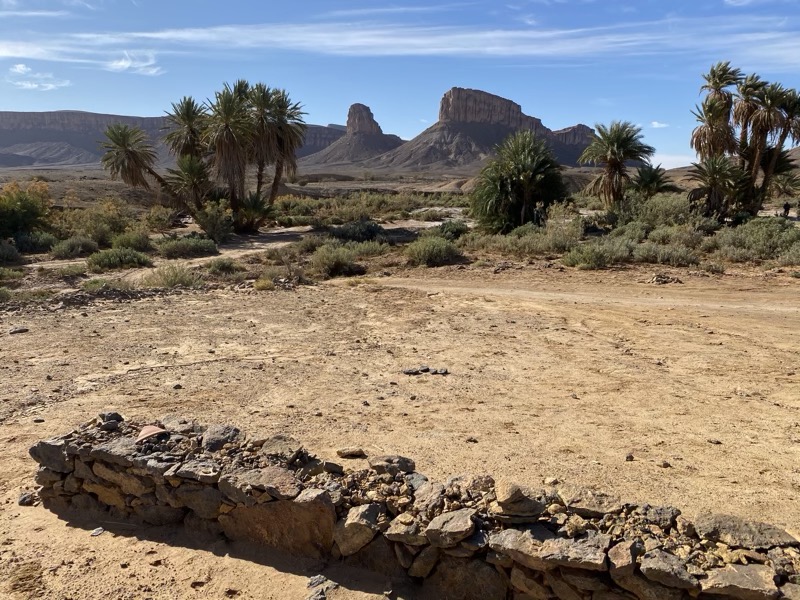 The last hour in the 4WDs was about as rocky and bumpy as I've ever encountered.  I spent many months camping and driving in the outback with Mum and Dad as a kid, but never were we thrown around like this – my Dad was usually driving and he was always super careful of the car, slowing down for bad conditions.  Our driver Mohammed was super proficient, but they definitely seemed in a hurry, so we were jostled around a LOT.  By the time we got off the 4WD, I felt like I'd spent the last hour in a washing machine.
We stopped and had a completely forgettable lunch at a cafe in the town of Iriki… meat skewers, kefta (some a bit sus on whether they were cooked properly) and salad and chips.  It seemed a whole pile of us popped out of the desert all at once and the restaurant was somewhat overwhelmed, so much so, Samirr was spotted on the grill more than once trying to hurry food up.
After lunch, we bundled back into our minibus and hit the road towards Taroudant.  We knew it was going to be a long transit day, but I failed to account for just how I would feel after three hours of being tossed around … I felt like a bobblehead on a dashboard!
About an hour down the road, Samirr made a stop for us to buy some saffron.  I had mentioned back in Marrakech that I wanted to take some home, but Samirr warned me against buying from the colour piles of 'spices' in the medina.  It seems quite often these spices are cut with dust.  No shit, some unscrupulous merchants will buy spice, and then find very fine dirt, grind it to dust and mix it with the spice to make a greater profit.  The lady at our cooking class also warned me against buying at the 'tourist spice' shops in the medina also.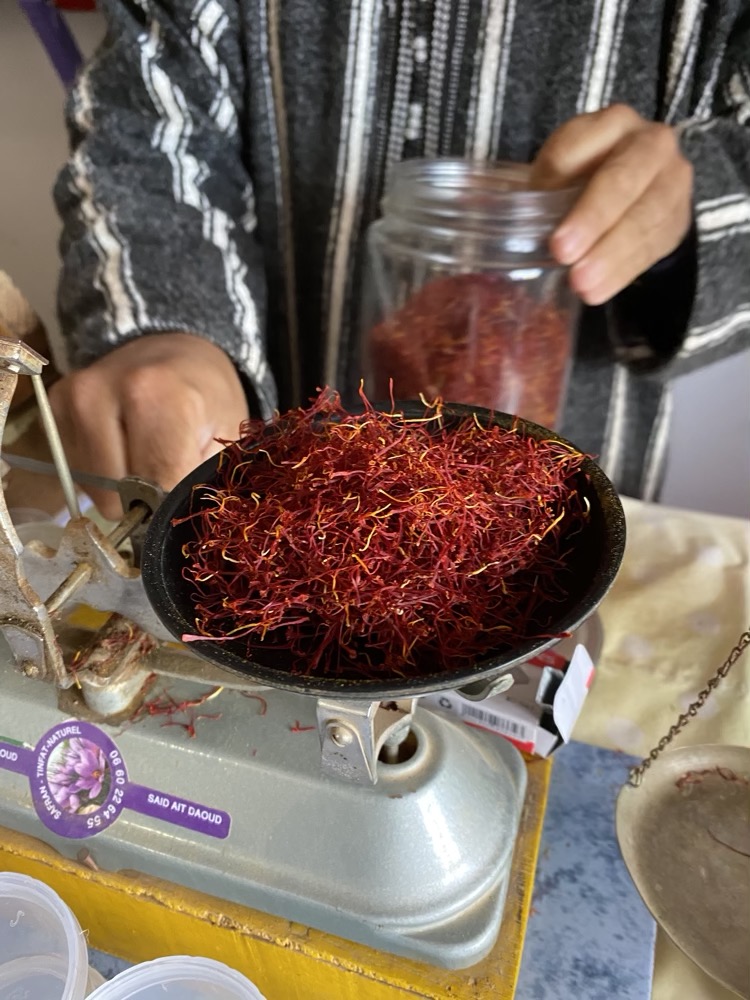 So we stopped at a little nothing store and marched up a flight of stairs to find a guy selling threads of saffron, rather than the ground stuff. Saffron comes from the flower of the saffron crocus (Crocus sativus).  It has bright red stigma and styles, which are called threads, that get collected and dried.  They are then used as a seasoning in a lot of cooking, and I'm hoping to get in amongst some Moroccan cooking when we get home.  Saffron has long been considered to be the world's most expensive spice (by weight) and Samirr picked up this enormous bundle, which was 5 gms in weight, and said it would last his family for up to a year. Needless to say, I didn't need anywhere near that much.
A bit further down the road and we entered an area famous for argan trees (argania spinosa).  The argan trees are famous for producing argan oil.  The tree is a flowering plant that grows in the semi-desert areas of the Sous valley of south-western Morocco.  They grow to be about 8-10m in height, they have thorns and gnarly looking trucks, and broad leafy branches. They also grow an inedible fruit, which is discarded, but which contains a stone that is pressed to gain argan oil.
However, all that being said, what they are most known for are the goats in the region that tend to live in the trees and eat the leaves!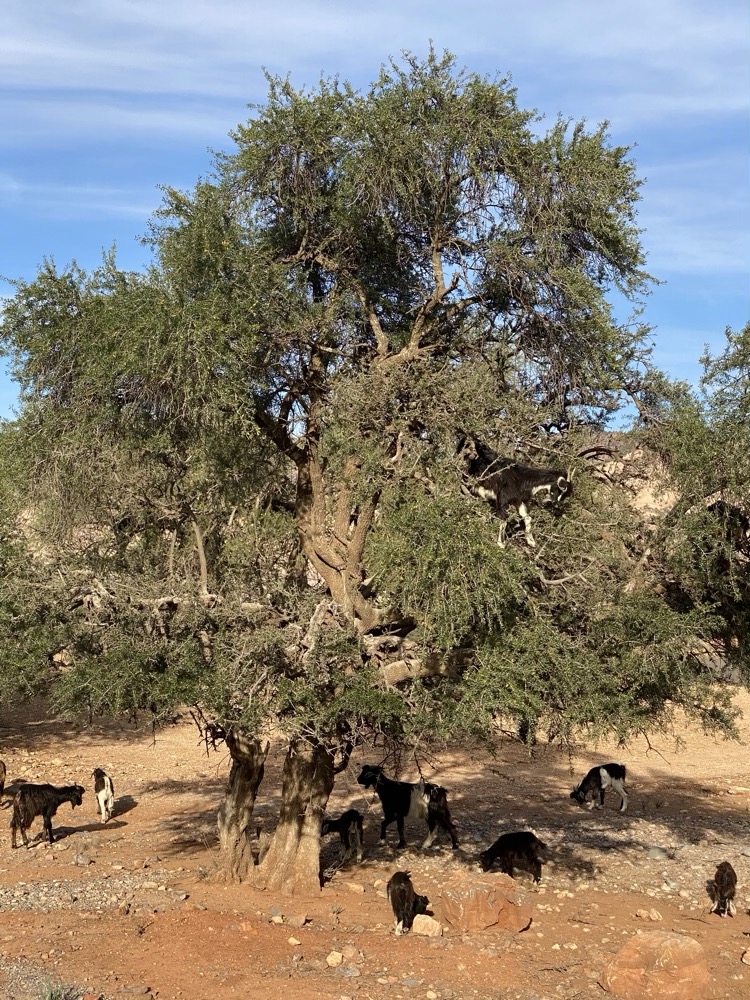 During periods of drought, the goats will abandon foraging on the ground and instead climb the trees to eat the leaves.  The goat herders don't have a problem with this, extra sustenance for their goats, and the farmers who own the trees also don't have a problem with this, as the goats don't eat the fruit. The tourists, well they just love the goats in the argan trees, as it is something so typically associated with Morocco.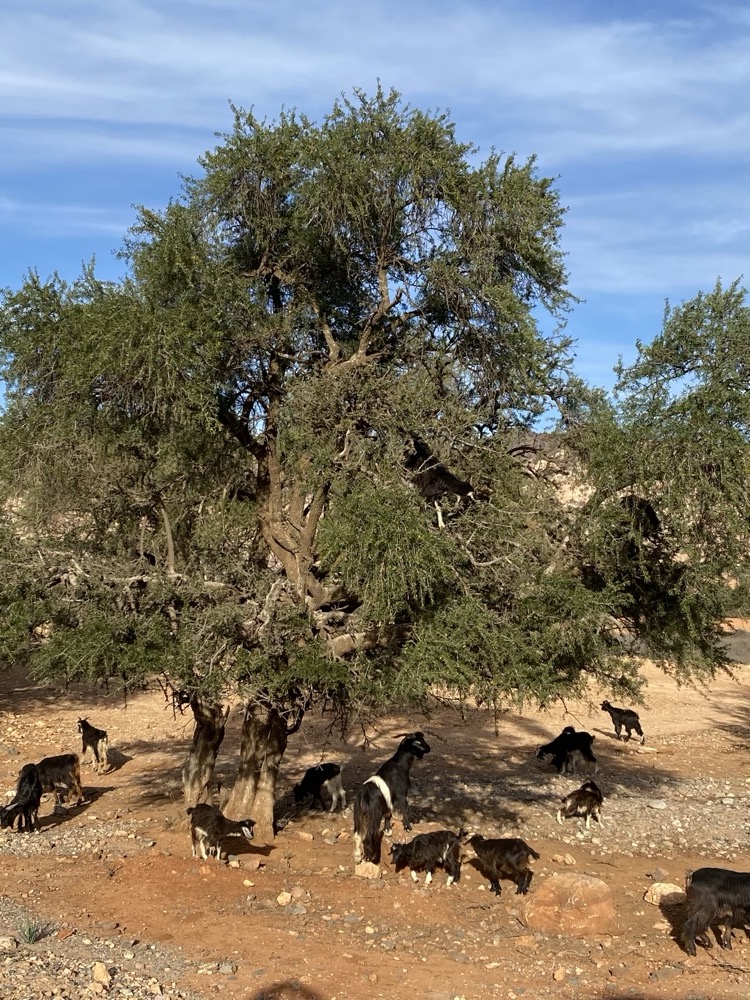 Samirr made a point of telling us that we were very lucky to see the goats in the trees, at this time of year, they've usually had more rain which would mean plenty of easy foraging for the goats and no need to climb trees. However, this summer was pretty dry, so – goats in trees. He claimed about 1 in 5 times he comes through here, they are actually in the trees.  Most of the time they are on the ground.  So we got lucky.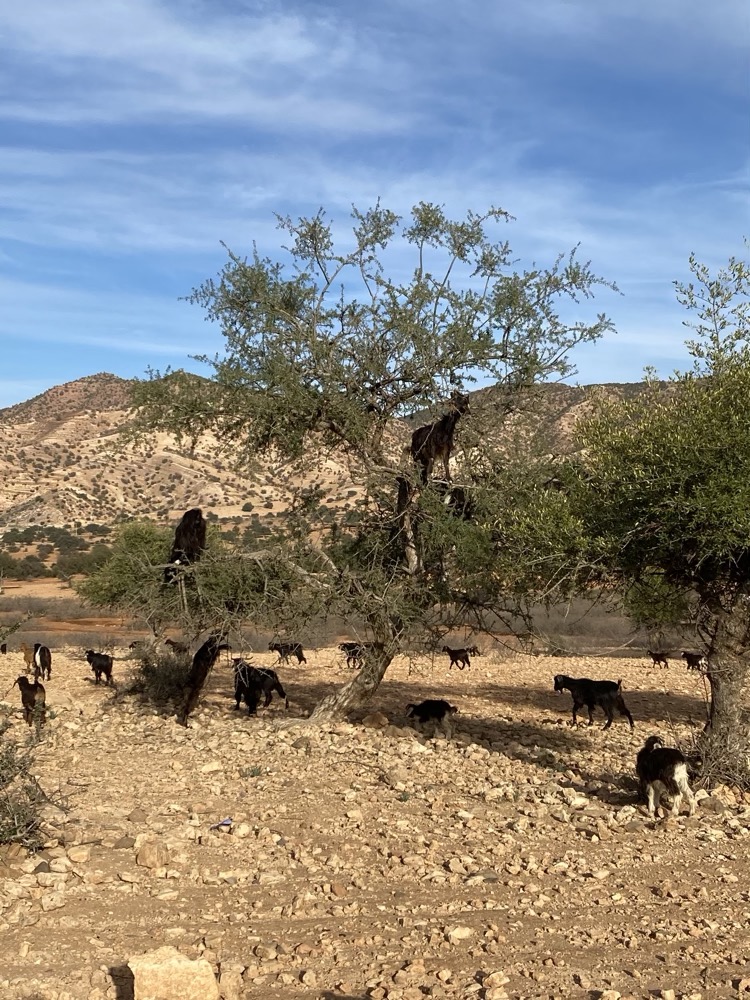 They're super cute but you have to keep your distance when they jump down, they damn near fly and seem to leap about 3-4m from the branch they're standing on.  Moroccan Drop Goats, we were calling them.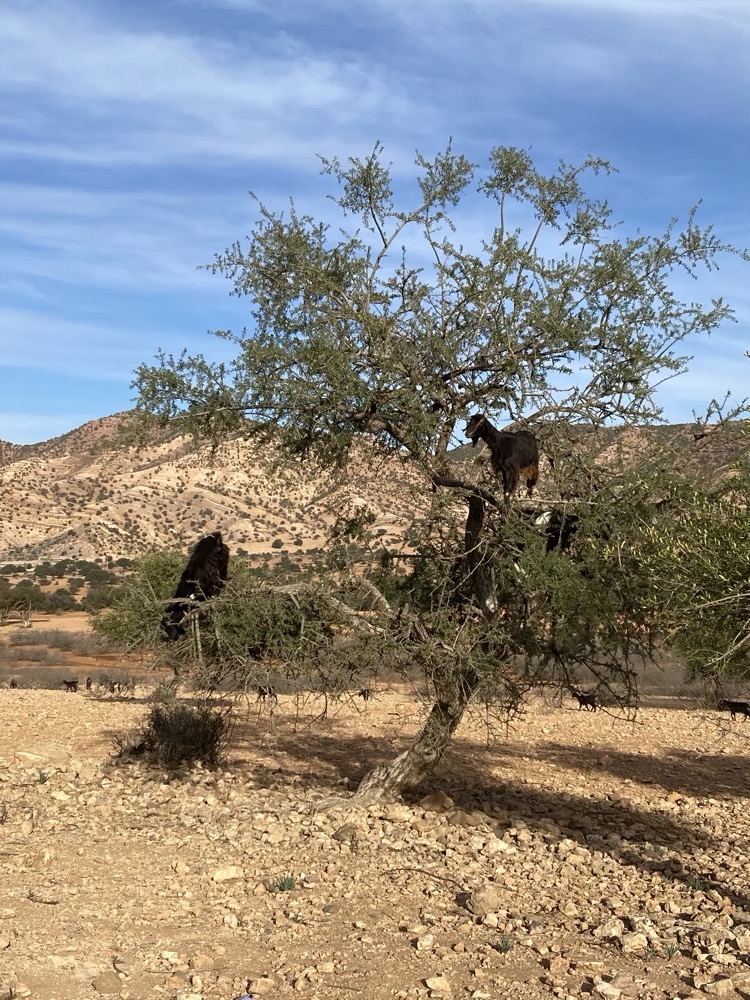 Eventually, we reached our destination of Oulad Berhil which is a tiny town that has barely one taco stand! Much to The Boys' dismay.  It is actually about 45kms from the town of Taroudant, which we will be having a look around tomorrow morning.  We were staying overnight in a restored palace which has now been converted to a classy Riad.  The palace has owned for the last thirty years by a Danish millionaire who allegedly was overwhelmed by the beauty of the palace and its magnificent gardens.  Coming to the Riad Hida is like stepping into another era and still bears the name of the Pasha who built it in the 19thC. The hotel is filled with lounges, furnishings and elegant rooms with gorgeous carved and painted ceilings and an immaculately maintained garden, full of orange trees, swimming pools and peacocks strutting about. The place is lovely and we had an enormous big suite with a huge bed. The door to our suite.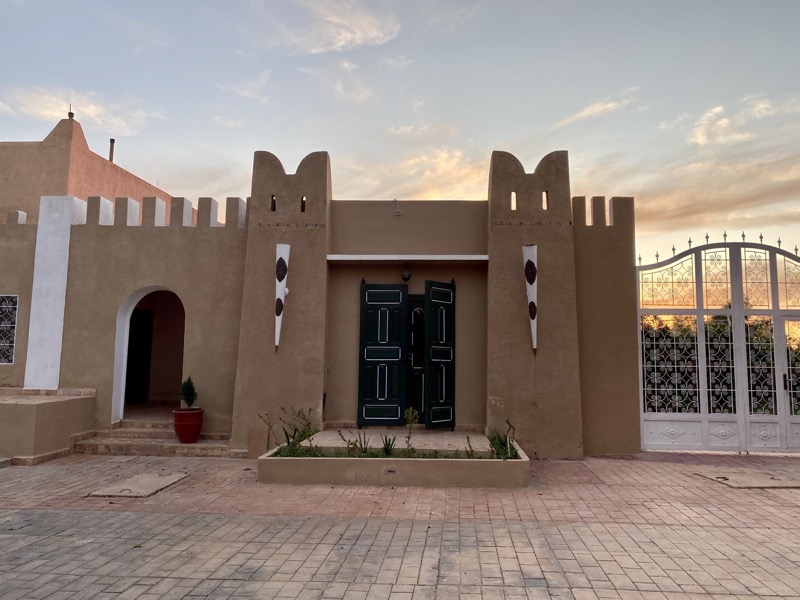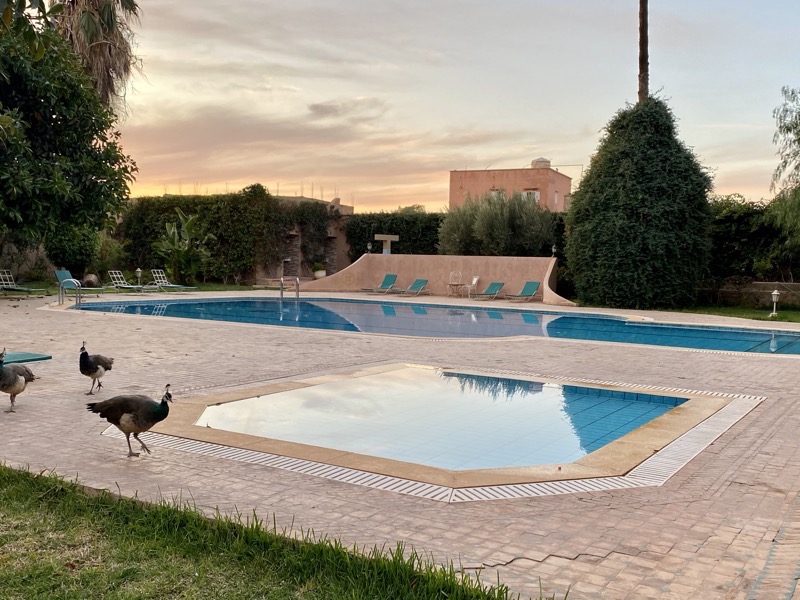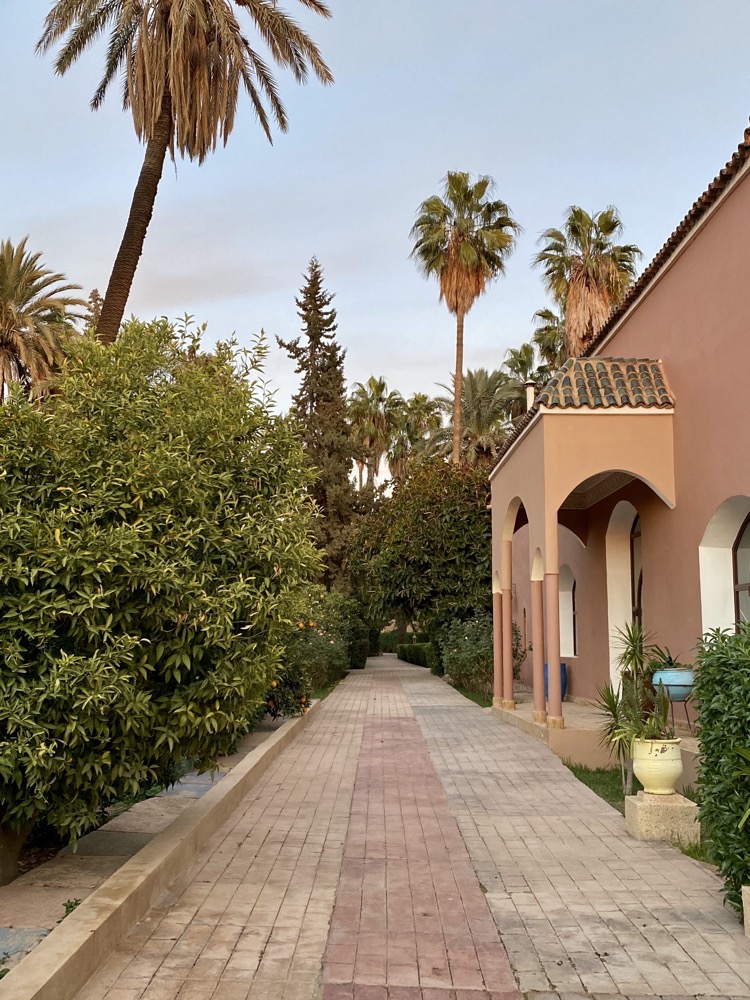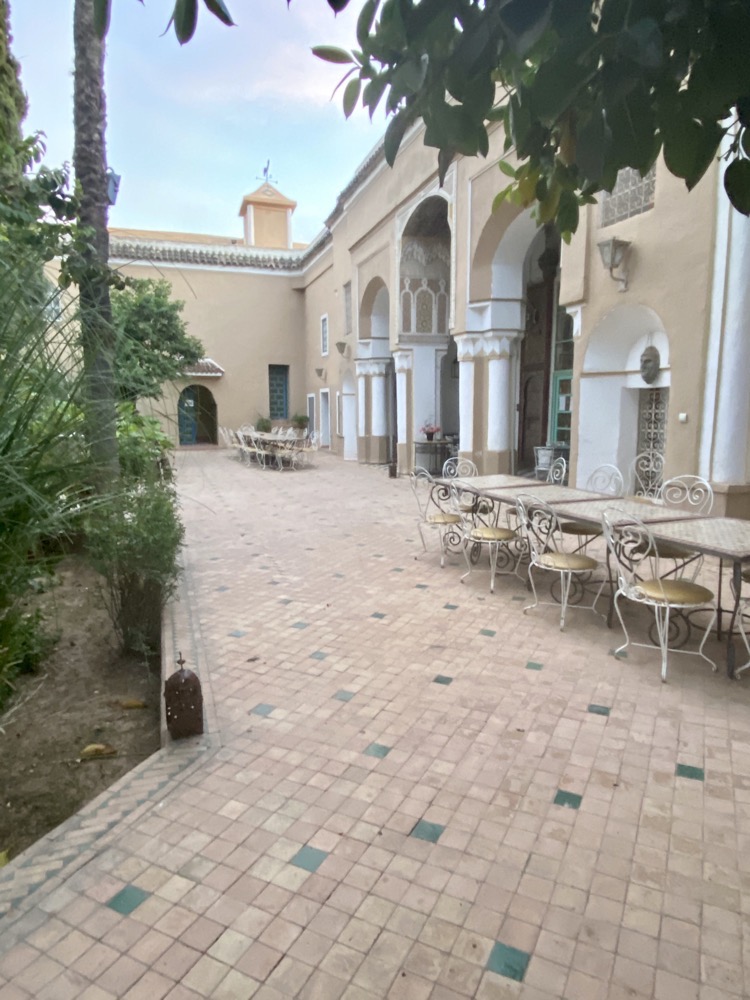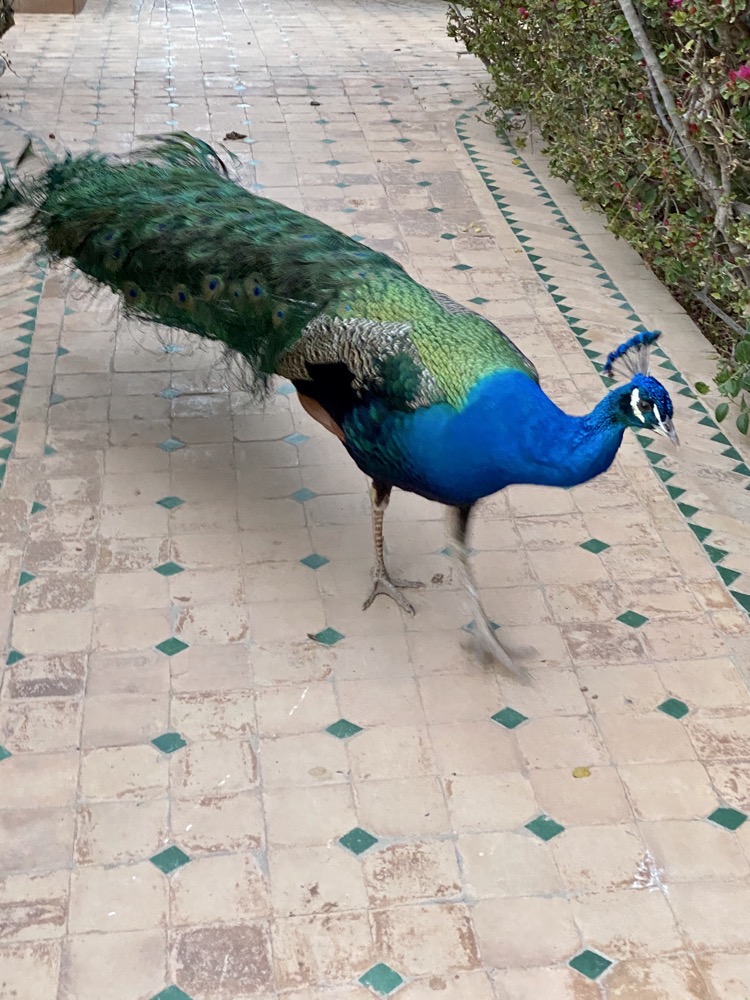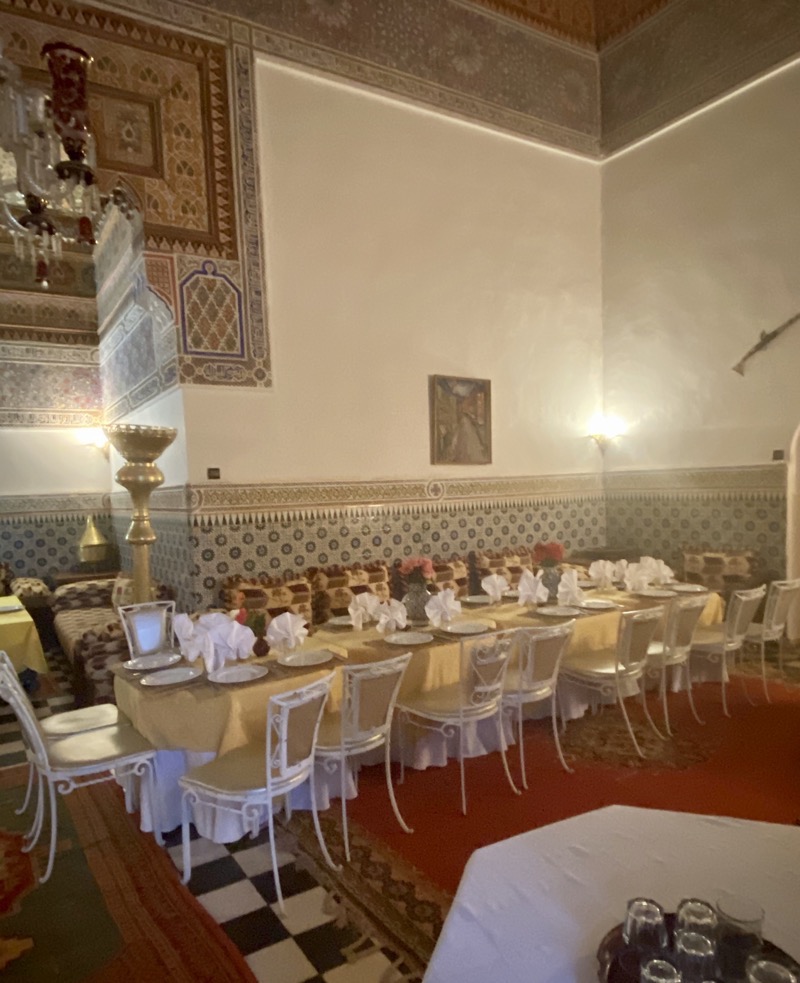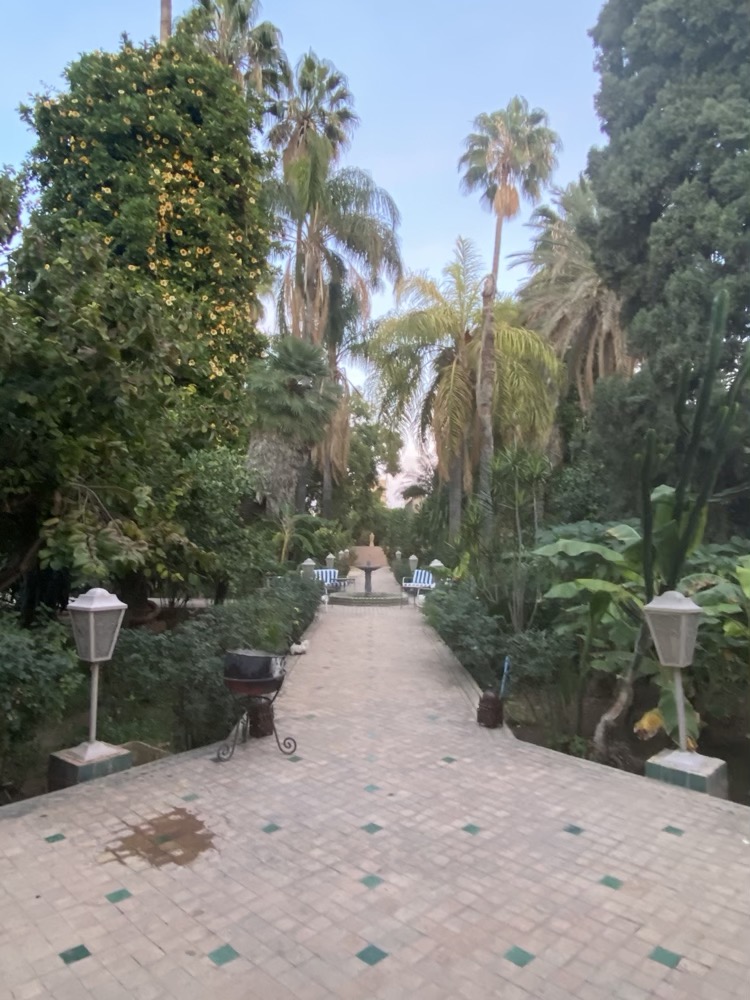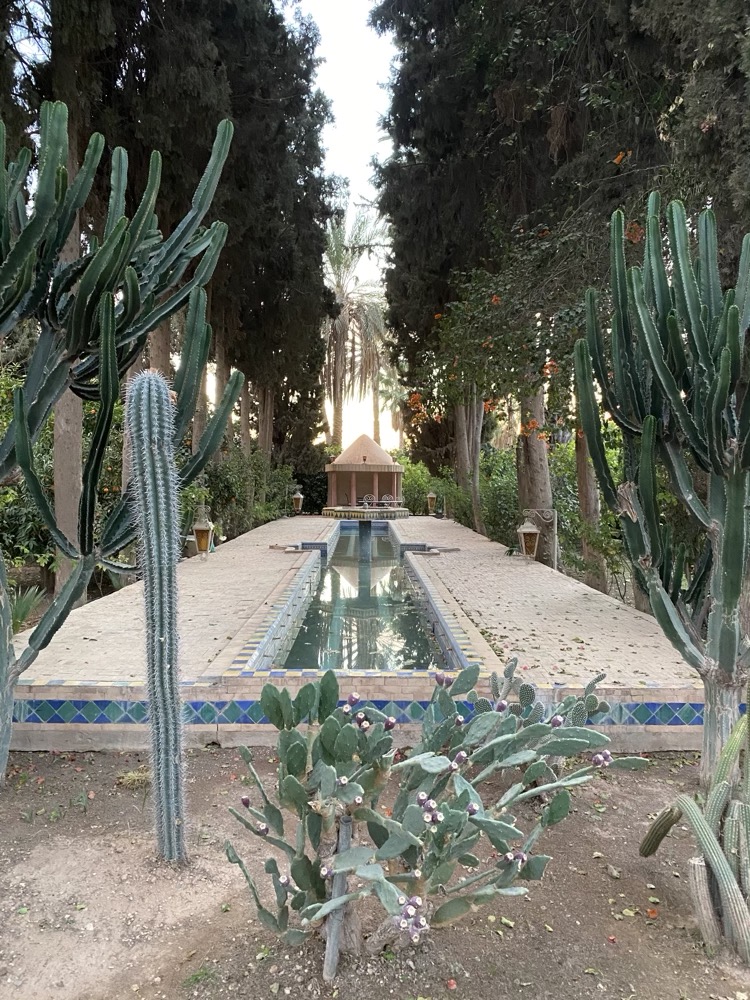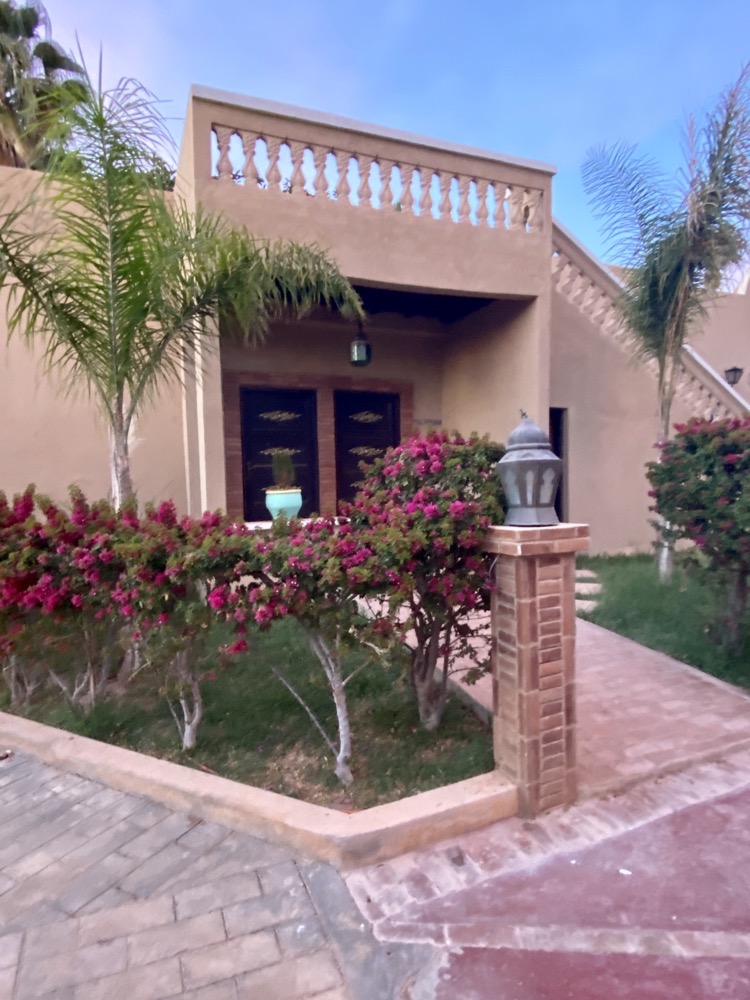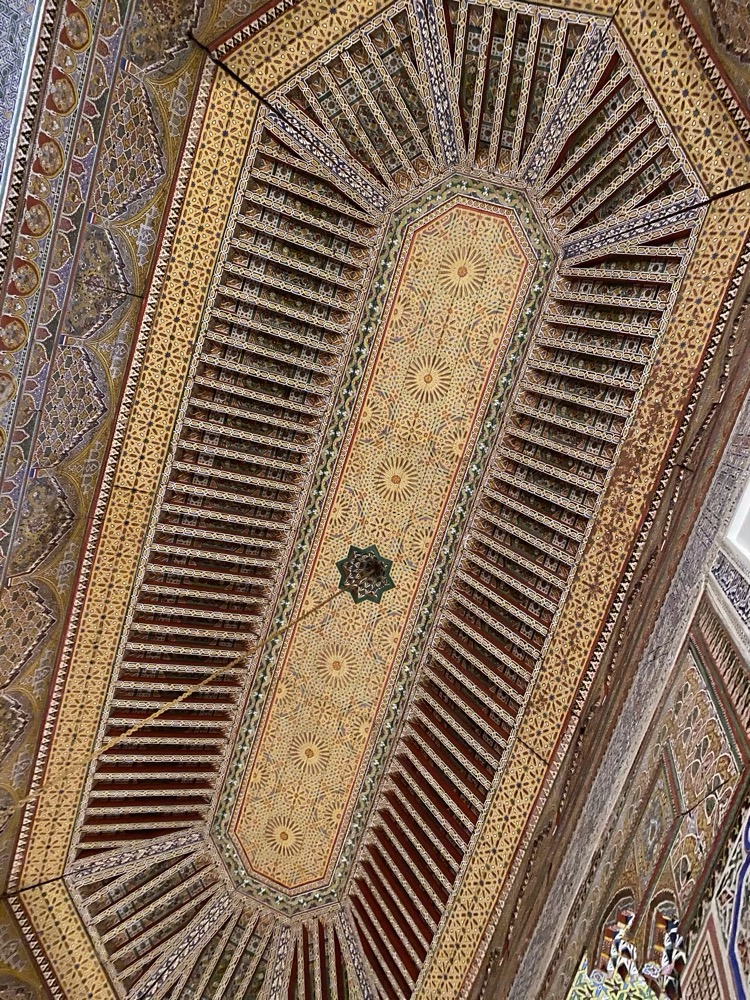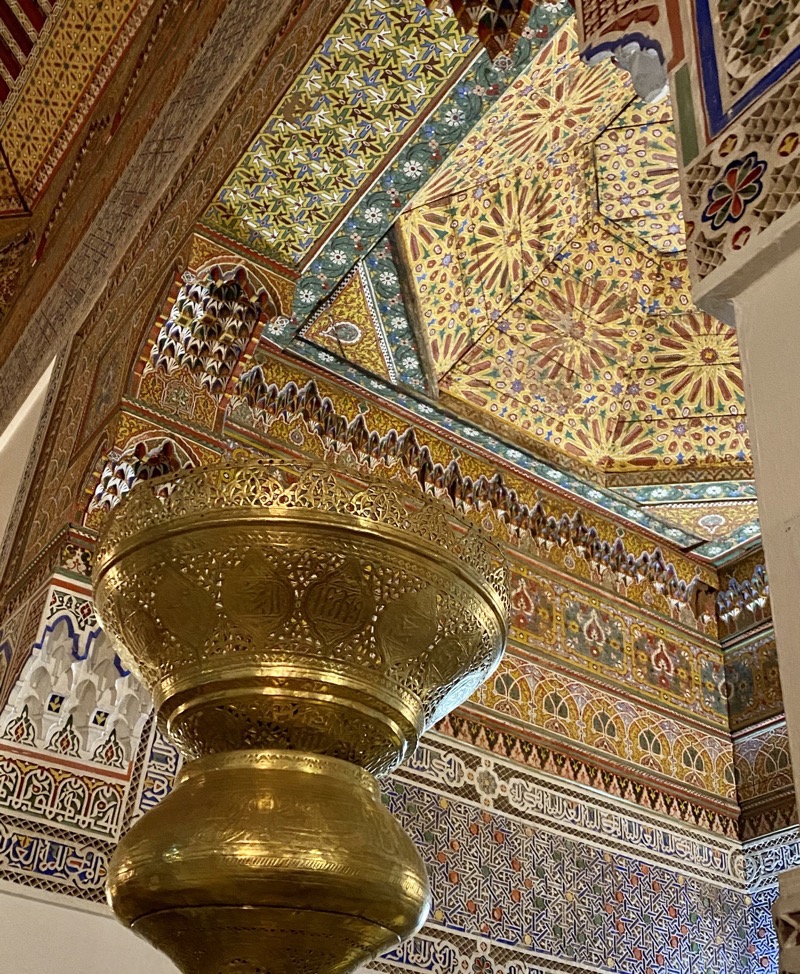 Dinner was in a lavish restaurant filled with antiques and elegantly decorated.  Tagines all round! Our favourite kefta tagine was on the menu, though sadly lacking in eggs.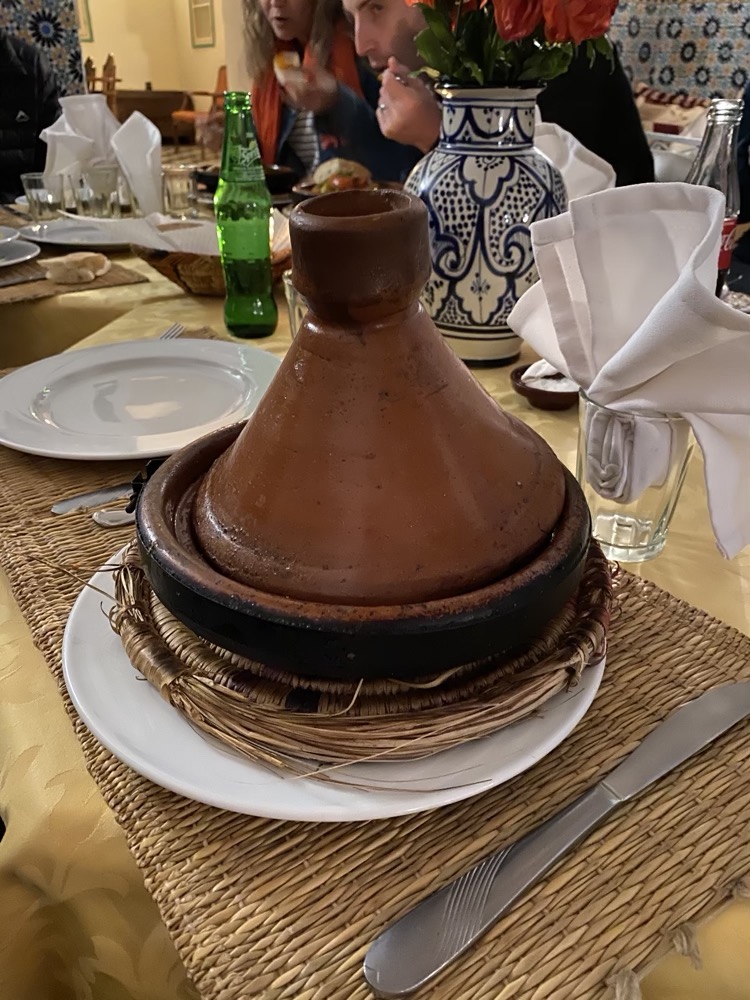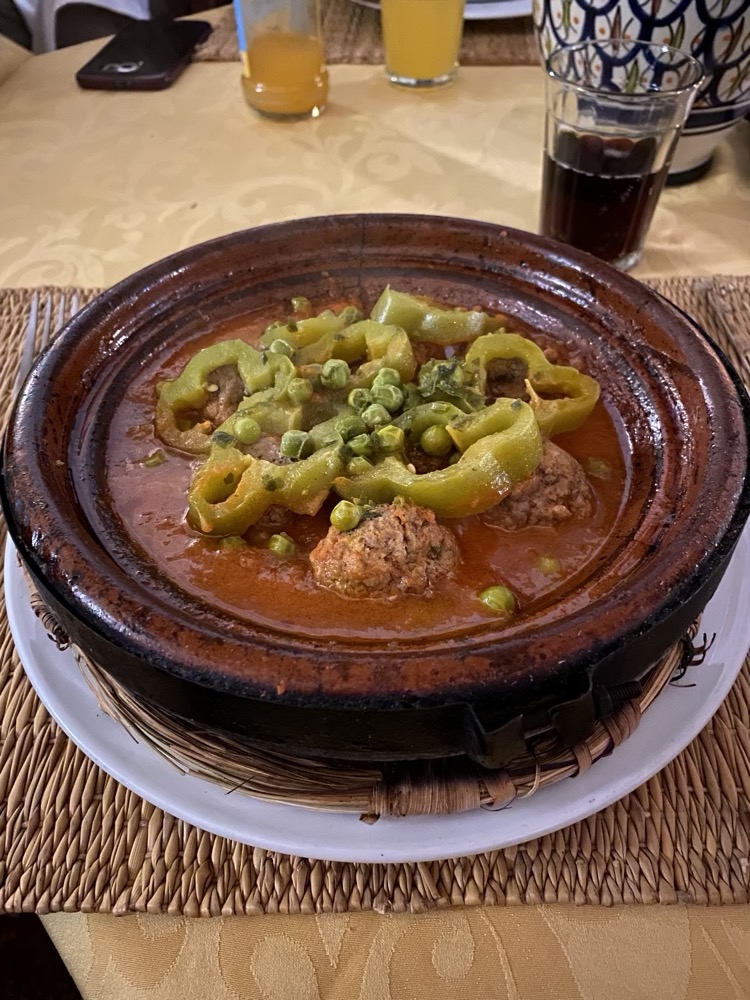 After such a long travel day, we decided to turn in early.  The riad is so quiet I am hopeful of a good night's sleep.  Fingers crossed!