We had a long transit day today from Taroudant to Essaouira.  So unfortunately that largely means being stuck in the bus.  We had a bit of a drive through Taroudant before we left, which was eye-opening – it's not a tourist town and looked very poor, and absolutely the most filthy place we have been to. It survives primarily on agriculture and the rural people here don't have the sort of facilities and amenities we have seen in other places.  There were far more beggars laying around in the streets, and lots of dirty faces and hands… I saw one person eating from a rubbish bin, which always makes you both sad and aware of your own incredible privilege.  I'm not at all into 'slum tourism' so I didn't take any photographs out of the bus.
We continued on, only stopping in Agadir to collect some grocery items to go have a picnic lunch at the beach.  Once at the beach, we found ourselves on a lovely strip of sand with camels, very friendly healthy-looking wandering dogs, and some scantily clad foreigners sunbathing… obviously not locals!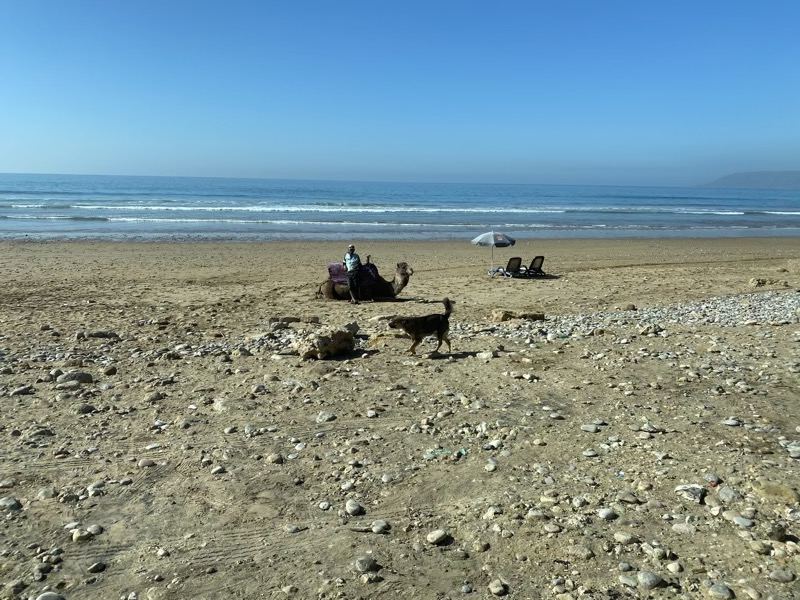 Maybe Australian needs more camels on their beaches…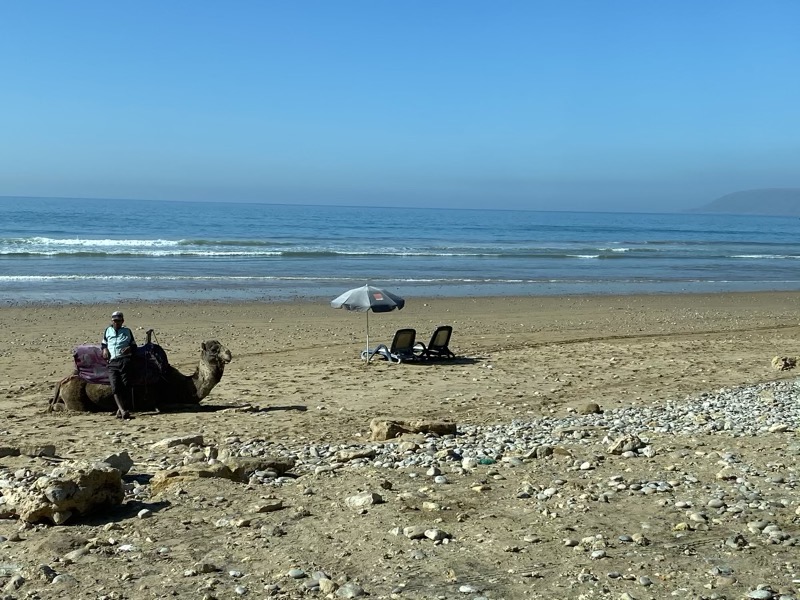 Our next stop to break up the drive north was at a women's co-operative that makes argan oil products from the nuts of the argan tree. This very professional and (deliberately) clinical looking lady showed us how the ladies broke apart the stones from the fruti of the argan trees to get the kernels out to grind into a thick brown paste.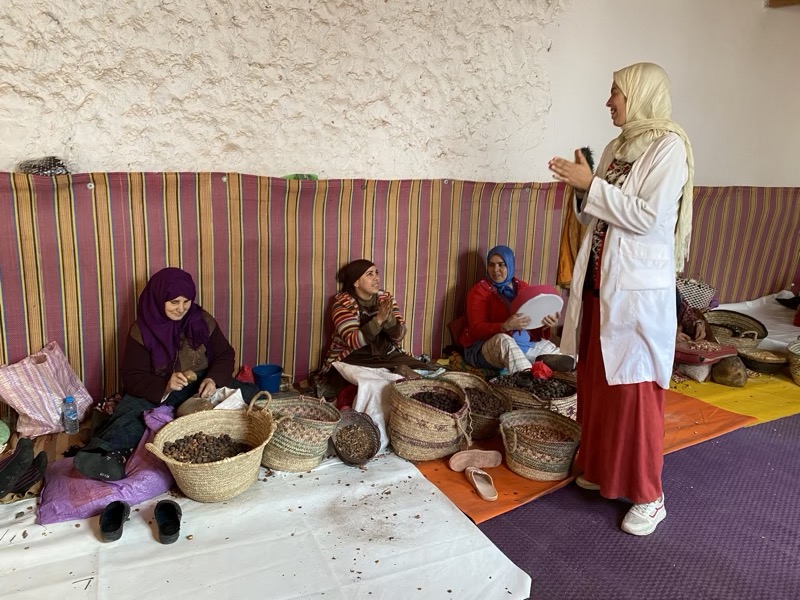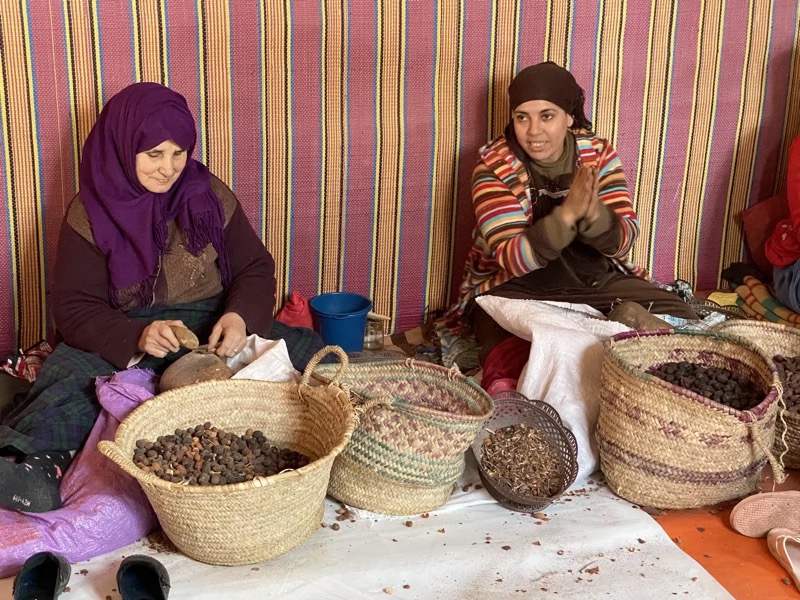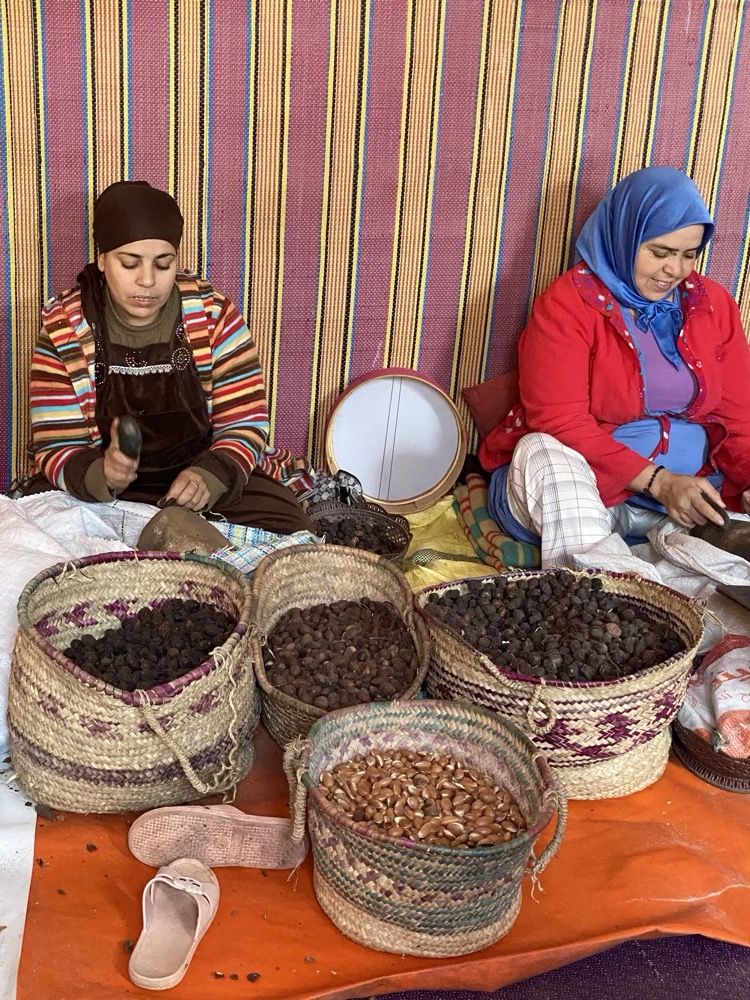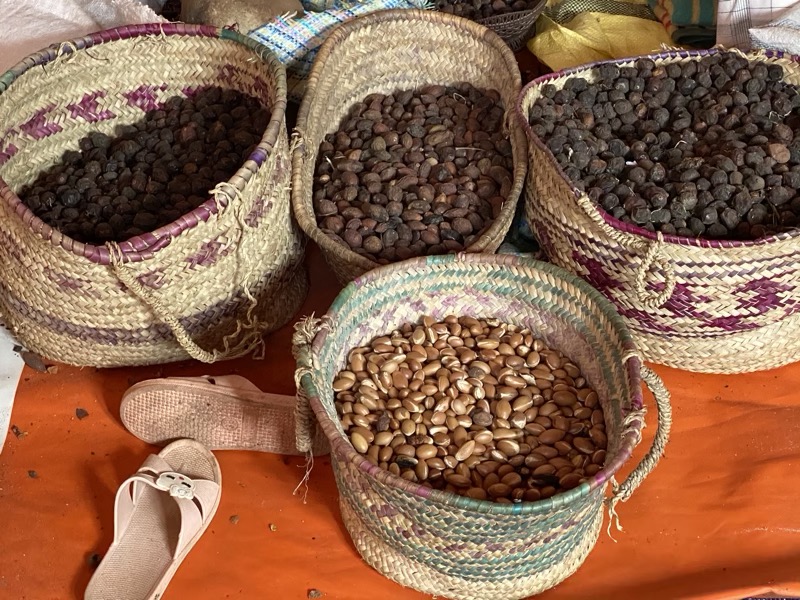 From these kernels, they make various edible products – a cooking/dipping oil, a argain oil paste (which tastes something liek a cross between peanut butter and nutella; as well as a large range of cosmetics.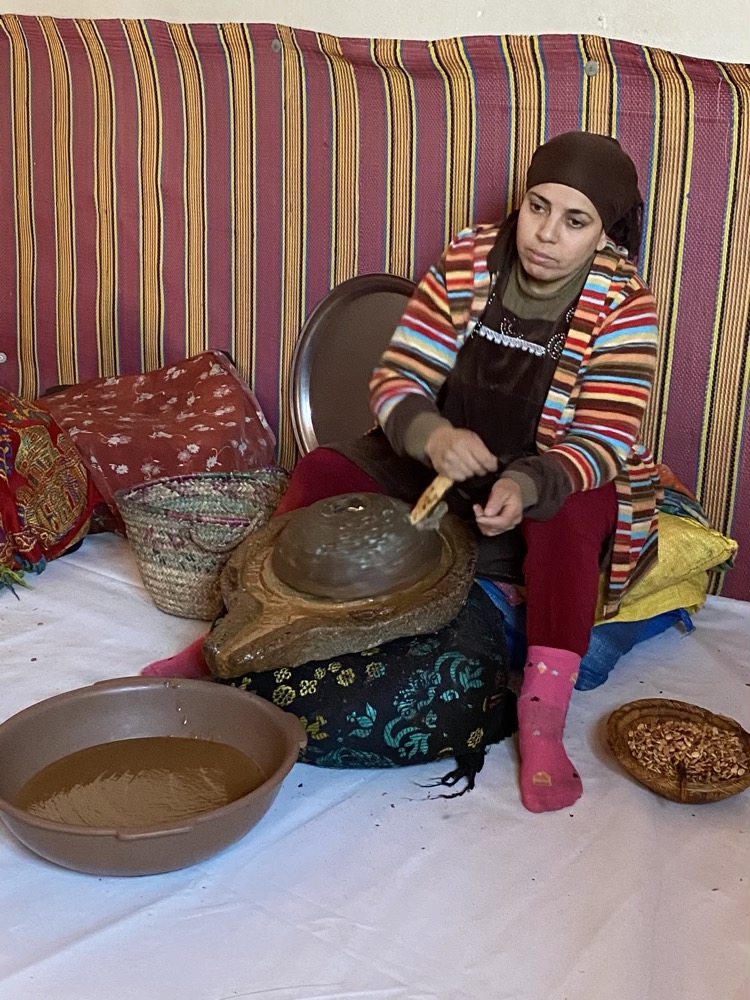 The argan oil comes only from Morocco and is said to have amazing anti-ageing properties, as well as being fantastic for your hair and nails and cracked heels and all of it.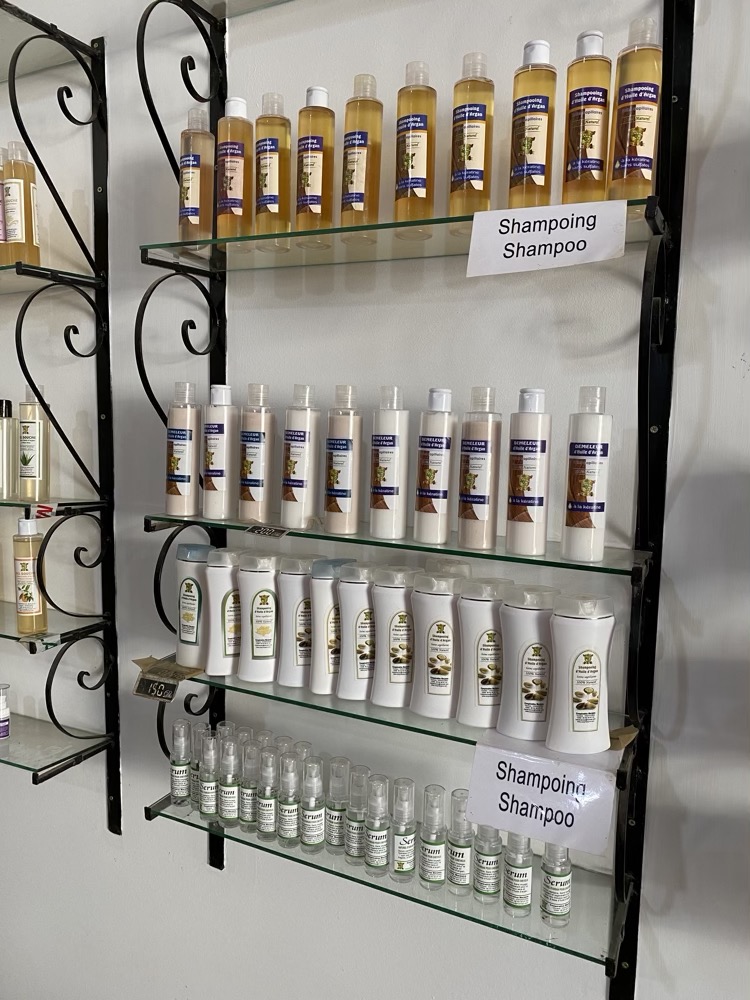 Weirdly, at home, you see lots of Moroccan coconut oil shampoos and conditions lining the shelves of supermarkets. This appears to be a totally fabricated thing.  Morocco is not known for its coconut industry – their palms are predominantly date palms and their primary cosmetic oil is argan – which tends towards being very expensive back home.  Oh well, consumers are always suckers for a good marketing campaign. I picked up a small bottle of leave in conditioning hair treatment, and I'm kinda hoping I don't love it, because buying more is going to be a real bitch!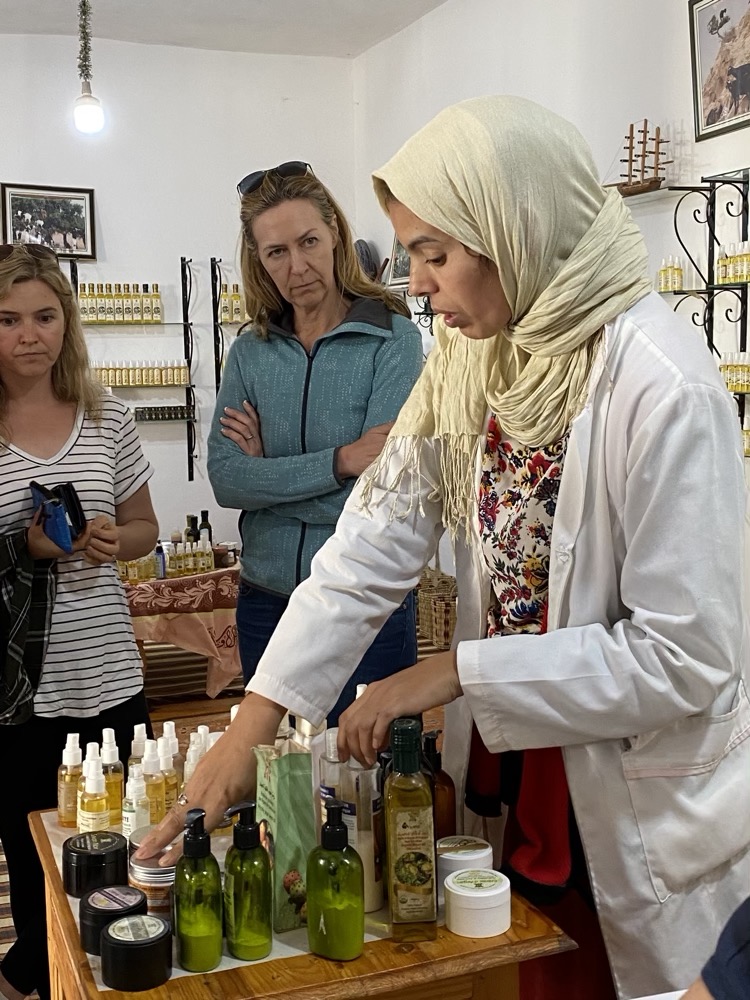 Eventually, we reached our destination for the next two nights- Essaouira, which on the Atlantic on Morocco's west coast.  It's a very popular tourist destination with Europeans, who largely come here for the beaches, fishing, kitesurfing, and other summer holiday stuff.  Until the 1960s, Essaouira was generally known by its Portuguese name, Mogador, which we have seen written all over the places still.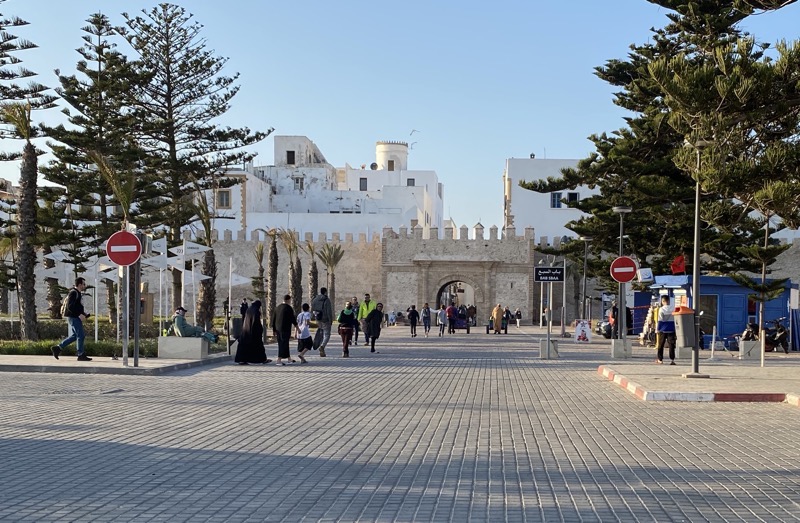 The ramparts of the medina were built in the 1700s. There was a Roman settlement here, this area is where the Tyrian purple dye used to come from that was used to dye the robes of Roman senators.  It has been inhabited ever since and was occupied by the Portuguese in the middle ages.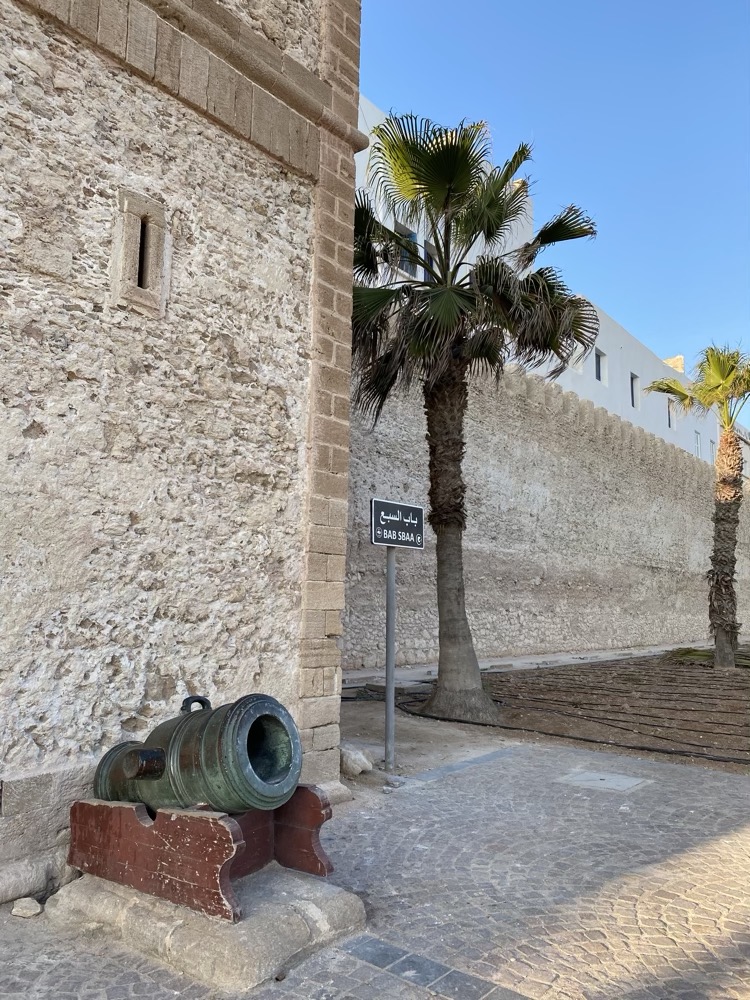 The medina is wide and airy compared to Fez or Marrakech – and is largely for pedestrian traffic only which is nice after the hectic and chaotic environments there.  Mostly, the medina is filled with Riads (we are staying right in the medina), restaurants, art galleries and handicraft shops… it feels like the Montville or Leura of Morocco!.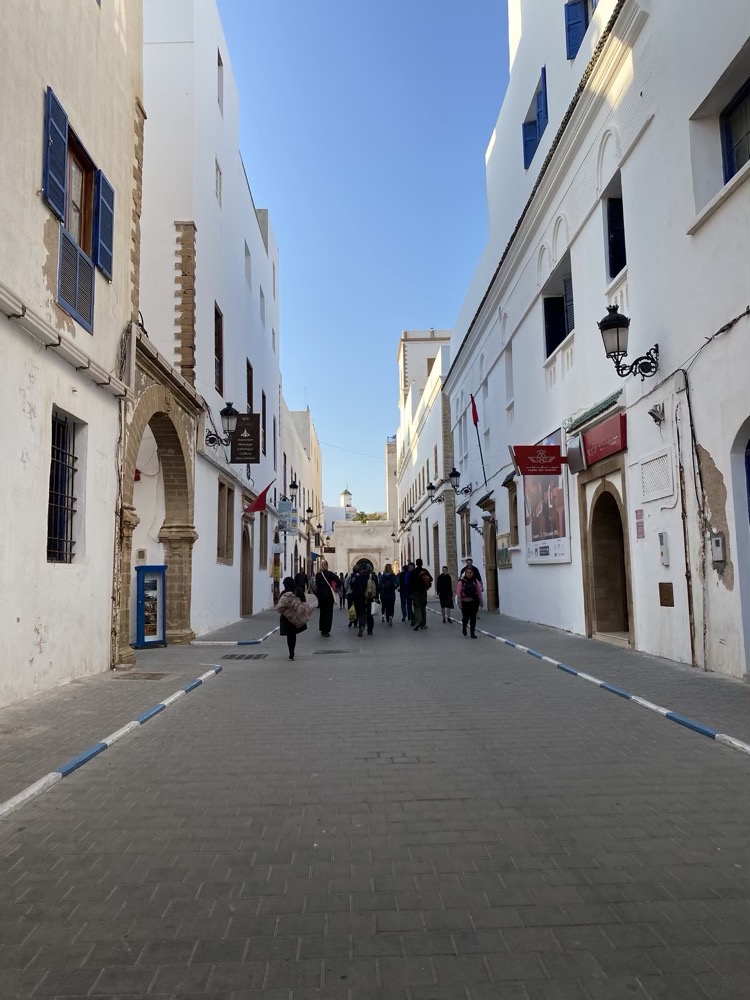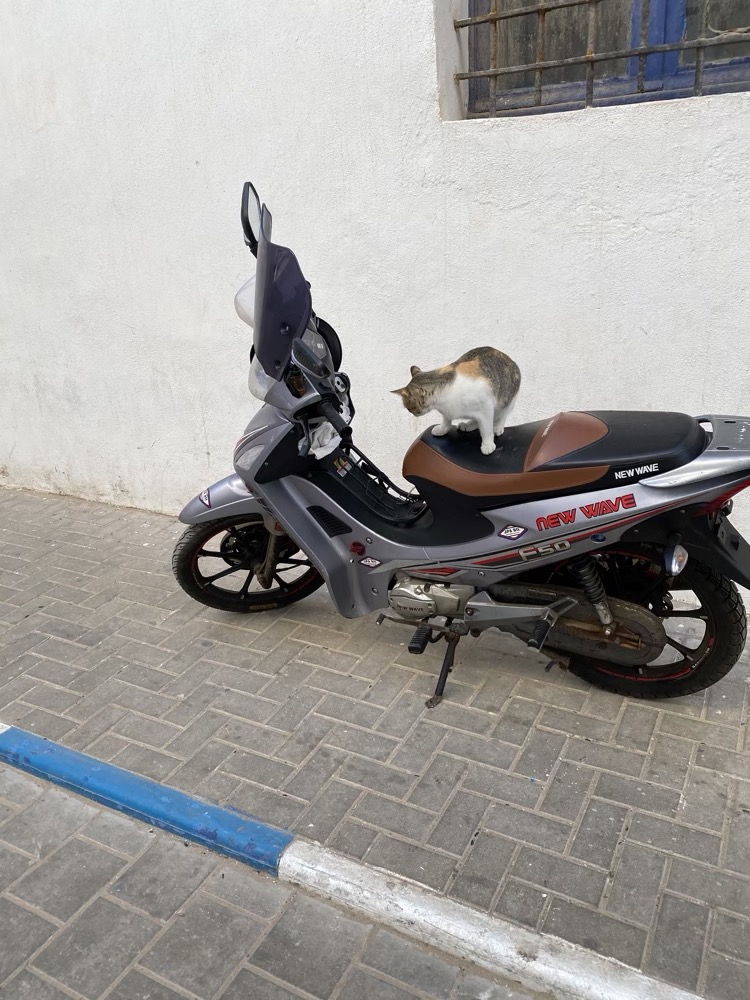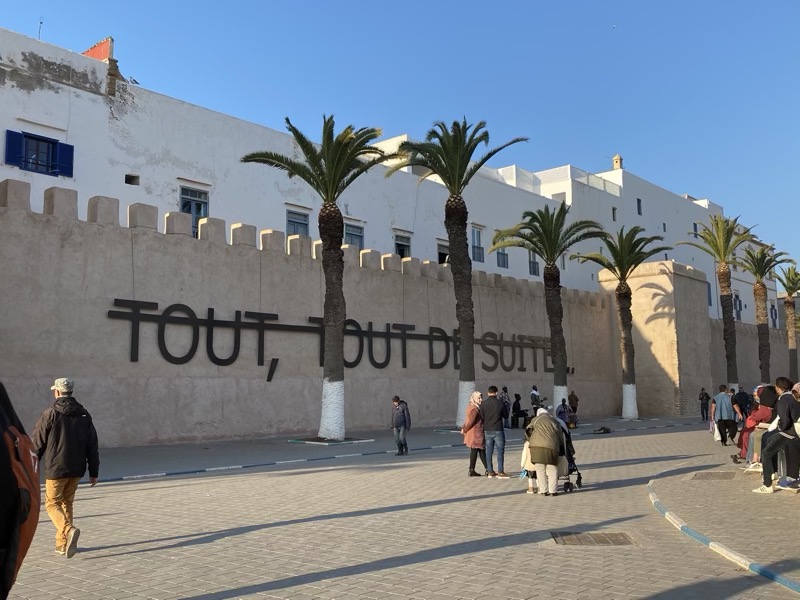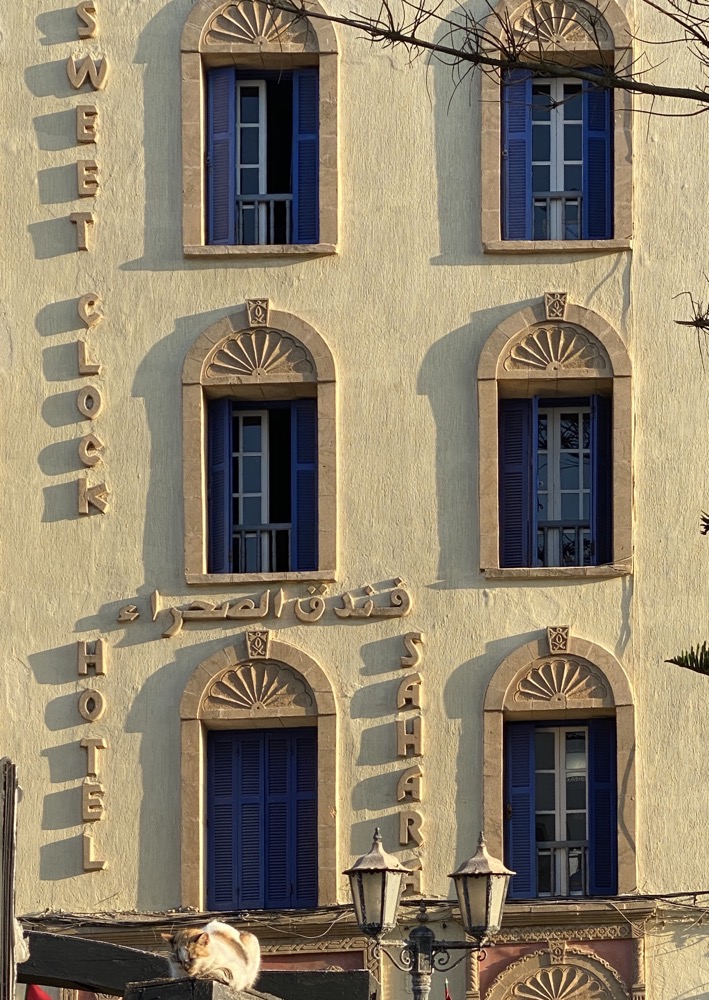 We checked into our lovely Riad with a gorgeous little courtyard in the centre and then headed straight to the rooftop terrace to have a few beers – this was a complete necessity at this point..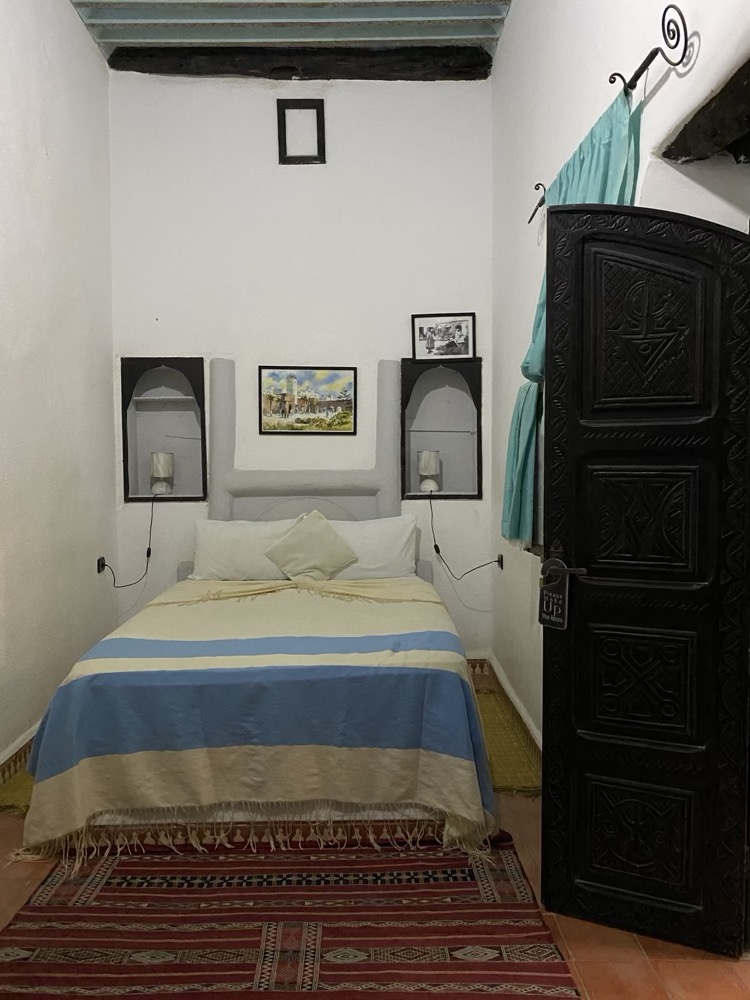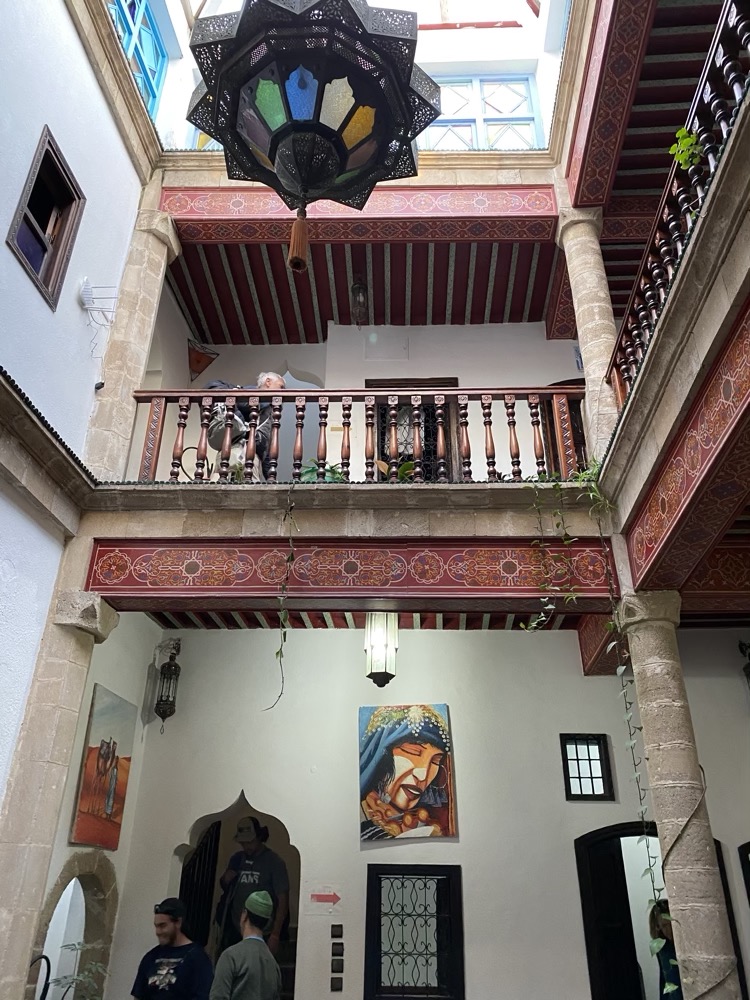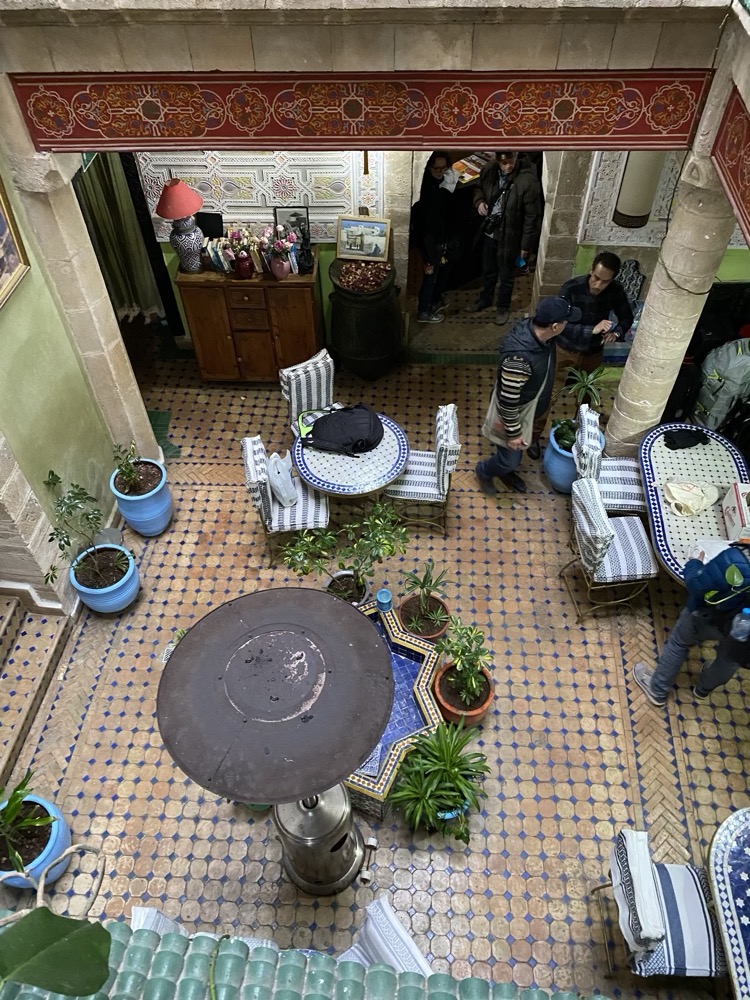 For you see, we had had the most fortuitous miscommunication with Mohammed, the driver of our minibus who has been with us since we left Marrakech.  Samirr had arranged for Mohammed to go buy us some alcohol to take to the desert camp, and each person wrote down what they wanted and we were to pay him when he came back.  And, being all Aussies, Kiwis, Canadians and Americans we wrote things down like 'one six-pack' and 'one bottle of red wine' (with a price range).  We didn't have high hopes on Mohammed's ability to choose a nice red – but we didn't expect him to some how mistake a 'six-pack' with a slab… so somehow instead of five six packs turning up to have a few quiet ones at the Sahara camp, we had five cartons turn up!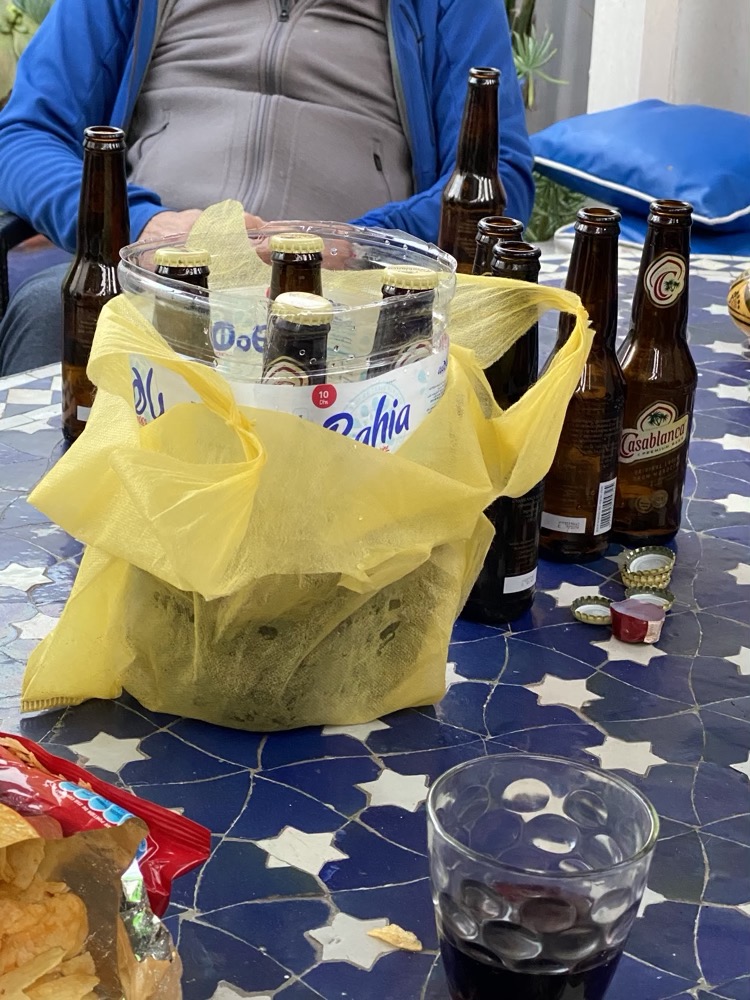 Which led to the dreadful situation of everyone having to try and consume 120 beers instead of the expected 30.  Turns out the only challenging bit of this was keeping the beer cold enough.  In typical Aussie fashion, Mr K and one of the other Aussie contingent hacked open a big water bottle and filled it with ice to make a makeshift esky, which worked a treat.  So there we were up on the rooftop terrace after a long drive enjoying our surplus of beer and having some very ordinary Moroccan red!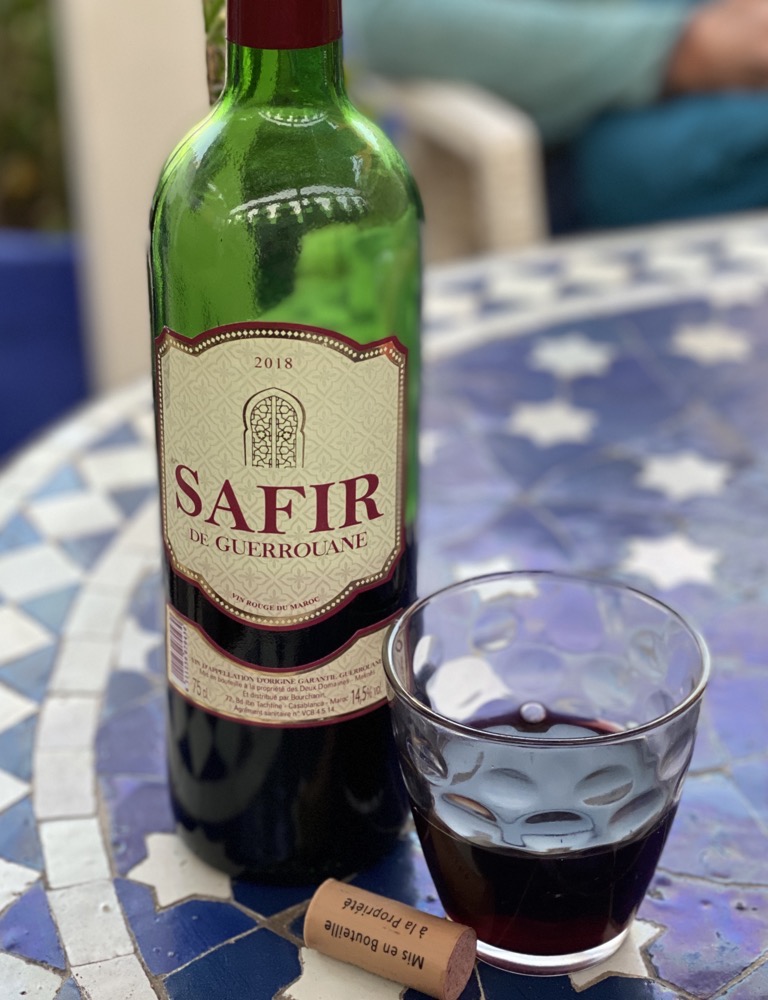 After a few drinks and a bit of a wind-down, we went for a short stroll into the medina to find some dinner.   We all tended towards different fare for the evening and Mr K and I ended up in a very quiet and secluded seafood restaurant enjoying a really nice predominantly European menu with local fresh fish – avocado, shrimp and crab entree, some weird goat cheese spring roll which was absolutely delicious, some grilled john dory fillets and an extremely rich lemon creme brulee (probably the richest thing I've eaten in three weeks… only managed about half).
Then back to the Riad, a hot shower and crashed.  So tired from a couple of long days on the bus!  We have all day in town tomorrow to have a really good look around, I'm currently trying to decide whether to go get a massage or find the local museum to see if they have any interesting Roman objects in their collection.