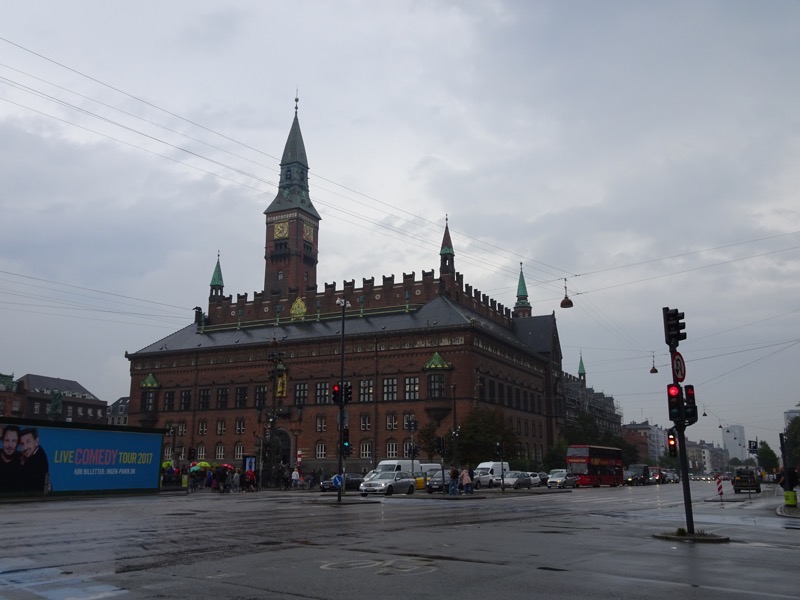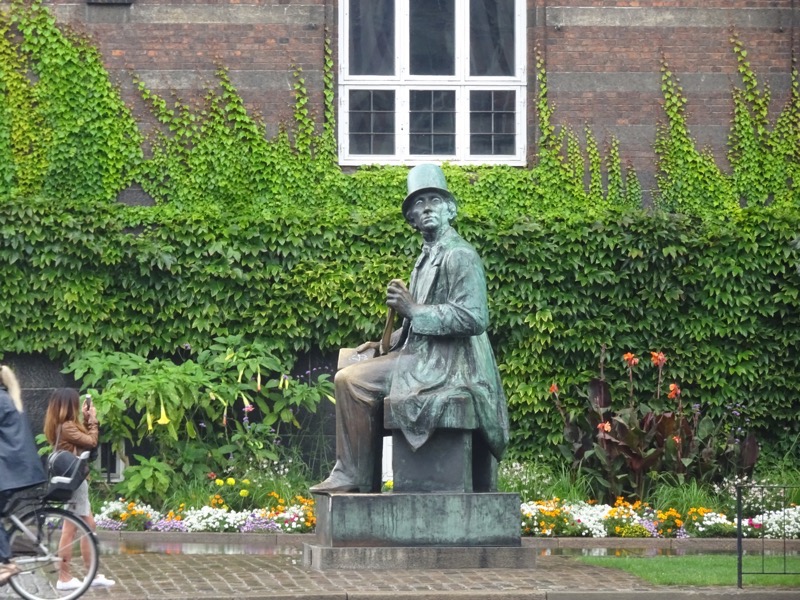 Something I learned today that really defines how early period finds are able to contain so much context is that at a certain point, a single grave culture emerged – whereby an individual was interred independent of their family or neighbours with their own possessions, rather than scattered on larger spaces.
From the Stone Age onwards, Amber was collected on the coasts of Jutland. Cut into beads for hanging or sewing onto clothing.  Amber was very valuable and trafficked not only from the south to the north but circulated among the peoples of Europe from the areas around the Baltic or from the North Sea coast of Jutland.  Below, part of a 3.5kg find of worked amber.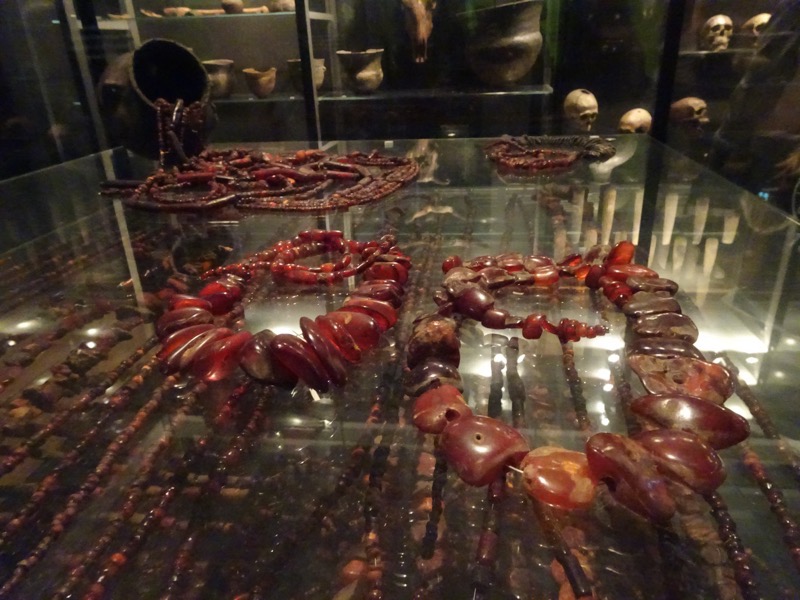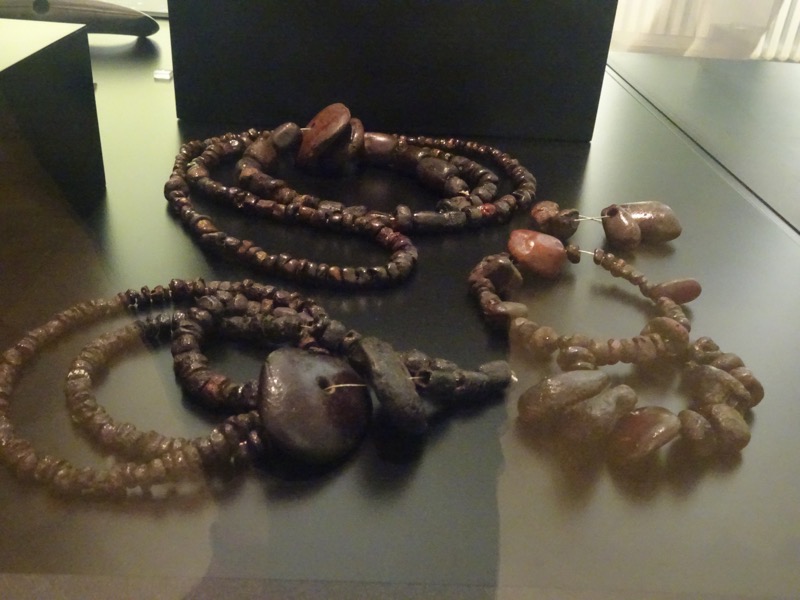 Curved swords sacrificed in a bog at Rorby, Western Zealand c.1550BC.  Made in Scandinavia, decorated with ship pictures.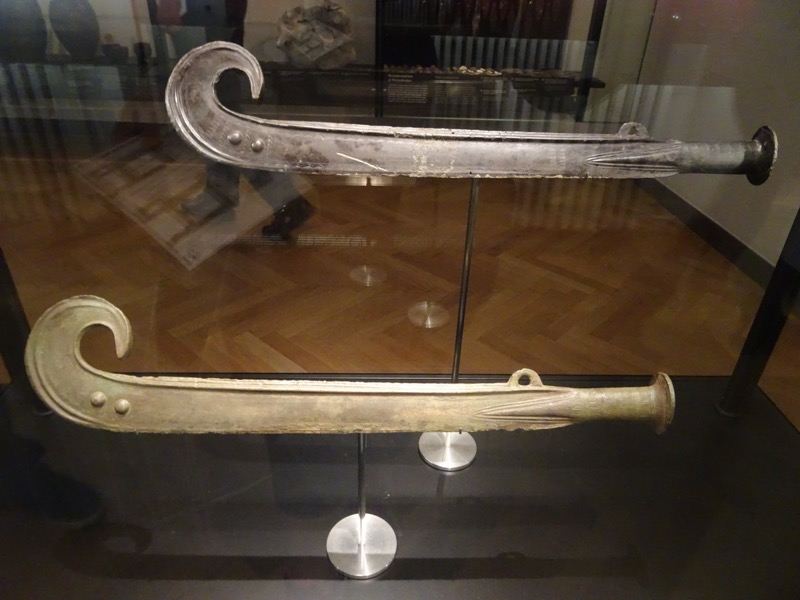 Gilt spectacle shaped fibula with designs fo the Sun and the Moon. Harridslev, Funen 900-700BC.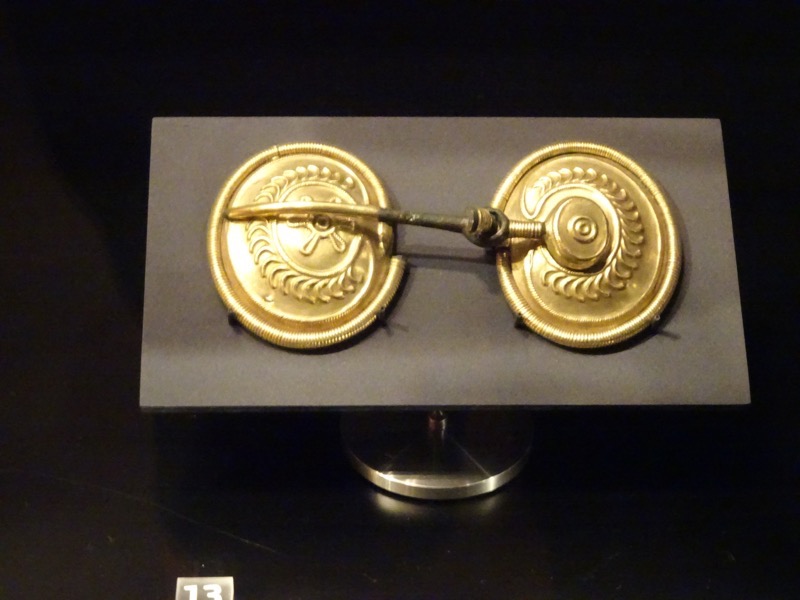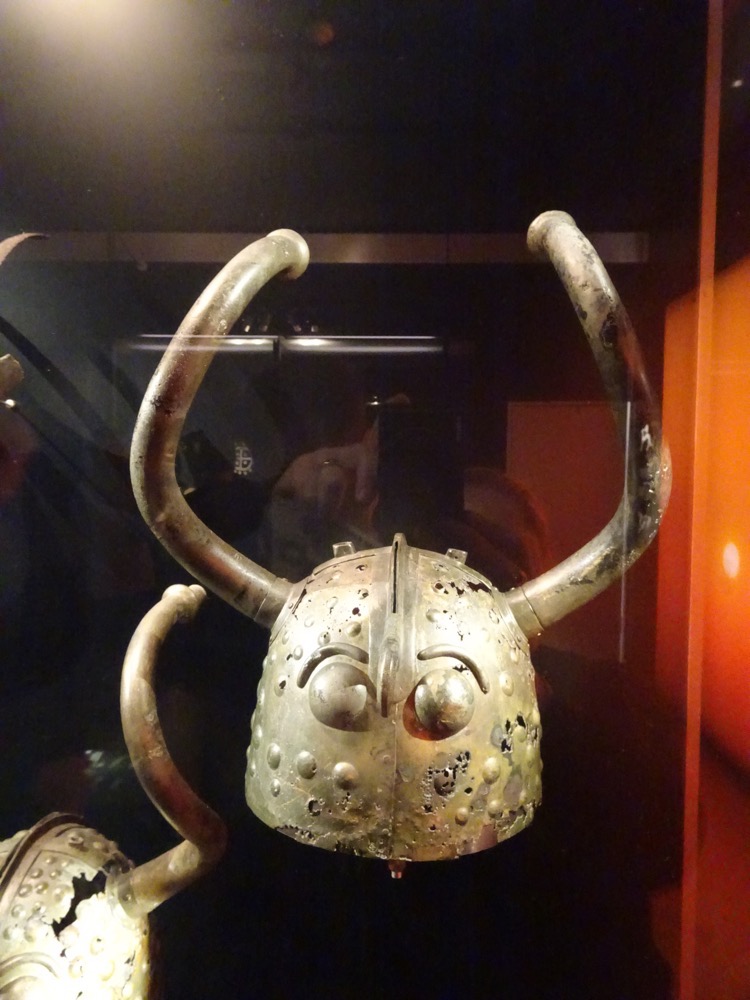 Horned helmets from the bog Vikso Mose at Ballerup, northern Zealand, c.900BC.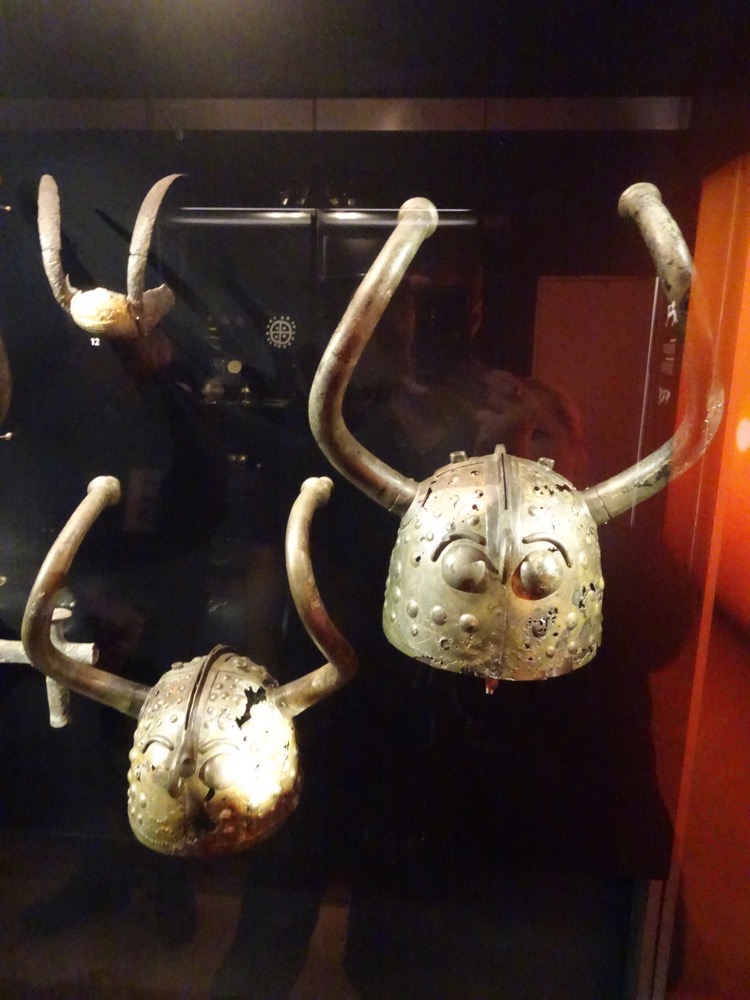 Zealand decorative motifs, c.900BC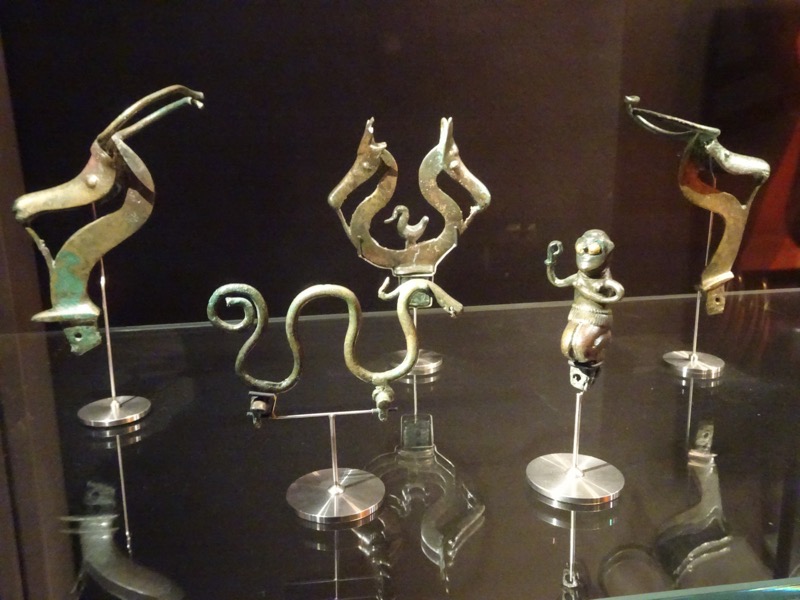 Early rock carving symbols depicting the journey of the sun and people dancing in the honour of the sun, Jaegersborg Dyrehave, 1100-700BC.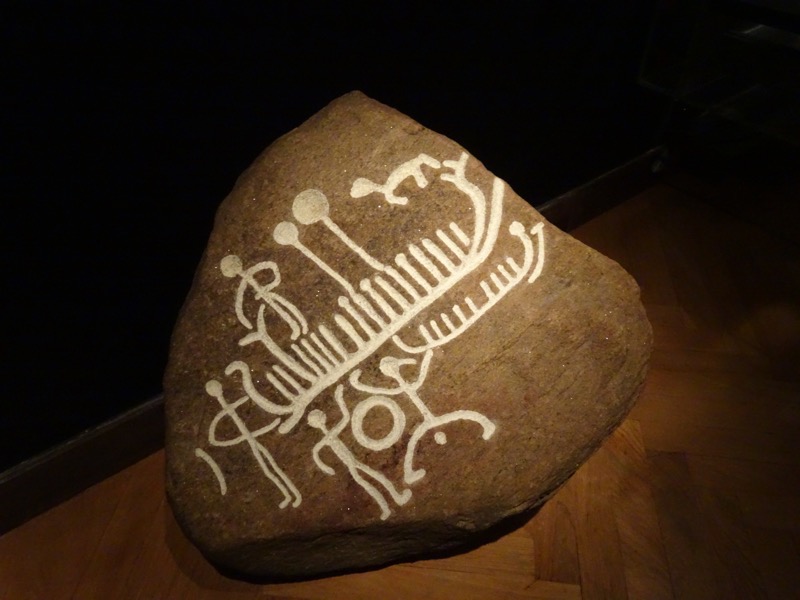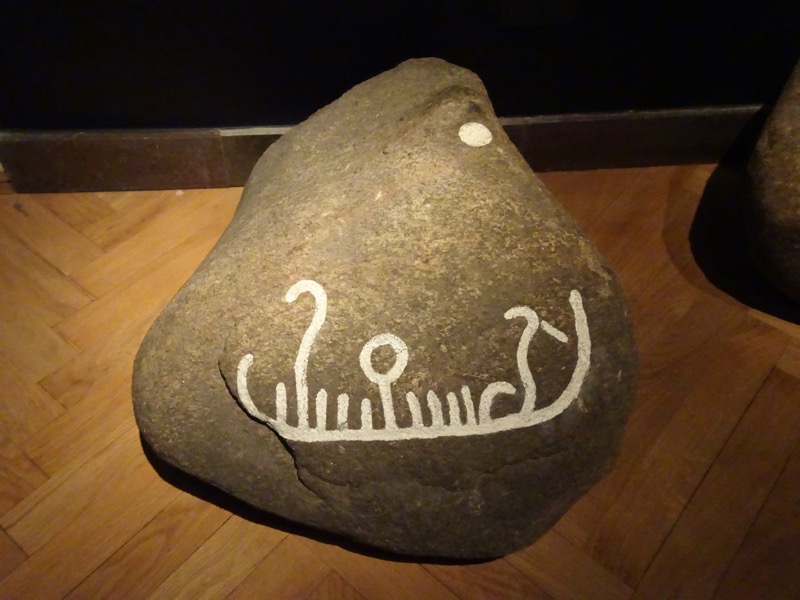 Distinctive Nordic wind instruments called 'lur horns'.  Used for Bronze Age rituals 1200-700BC.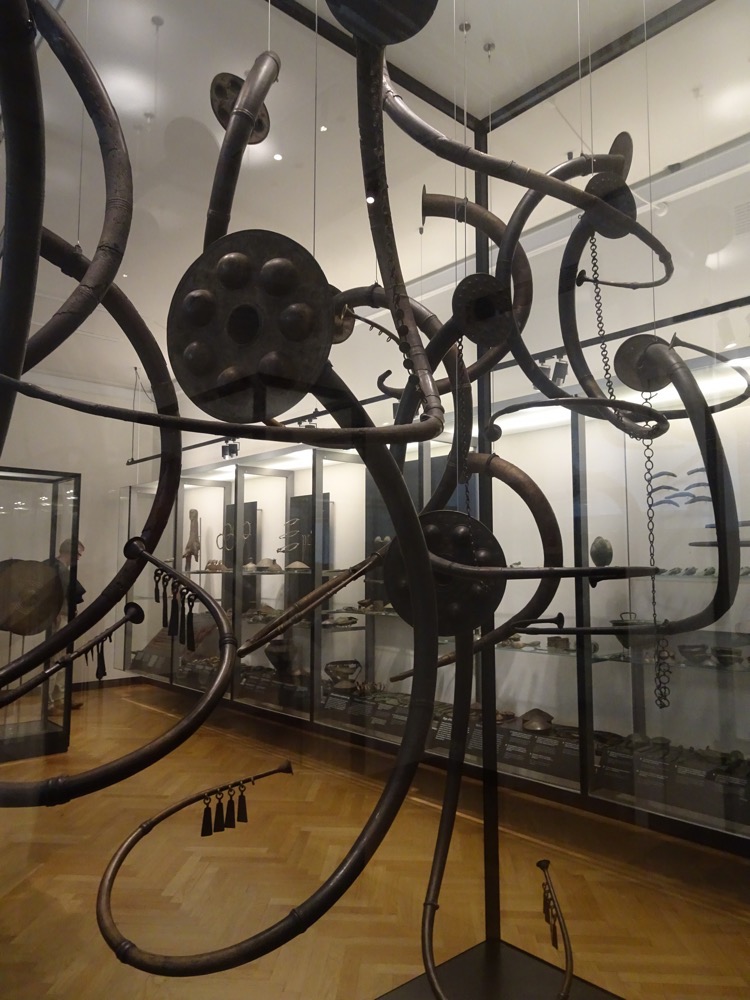 Six swords found close together in a small bog at Astofte, northwestern Zealand 1500-1300BC.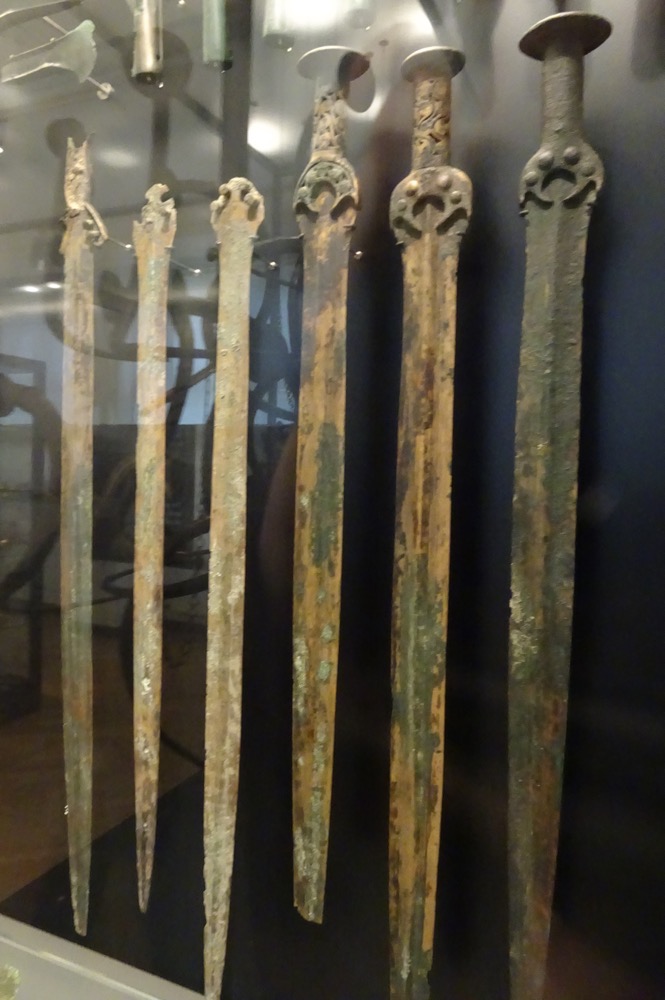 Large belt consisting of many small bronze rings and ornamental plates. Possible hornse harness.  From a bog find at Gerlev, northern Zealand 900-700BC.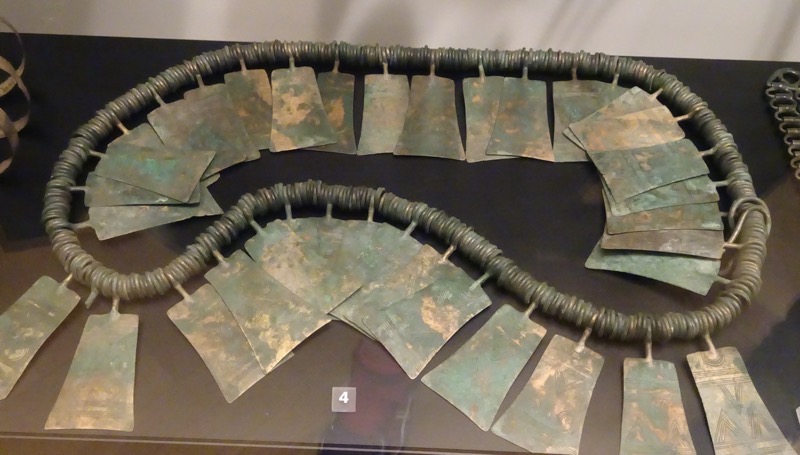 Four chains with ornamental plates, perhaps horse harness. From a passage grave in Frejlev Forest, Lolland.  900-700 BC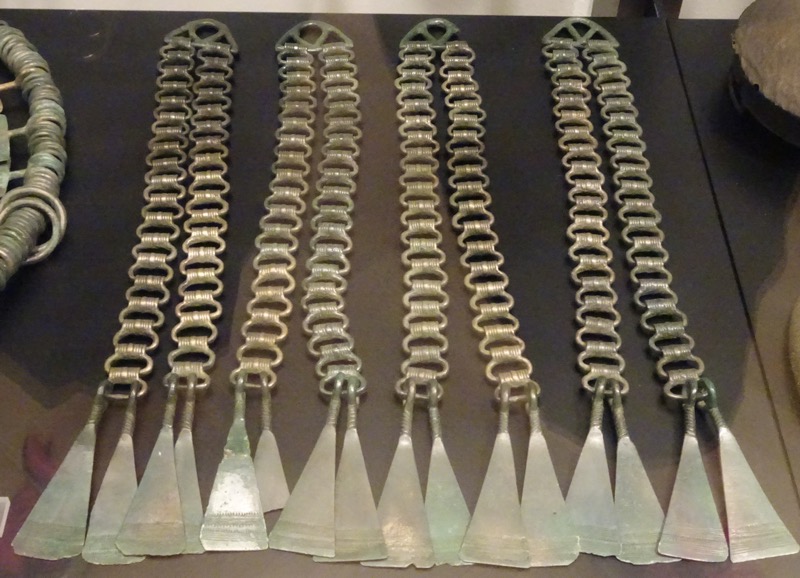 Cult axes found near Hillerod, northern Zealand, 900-600 BC.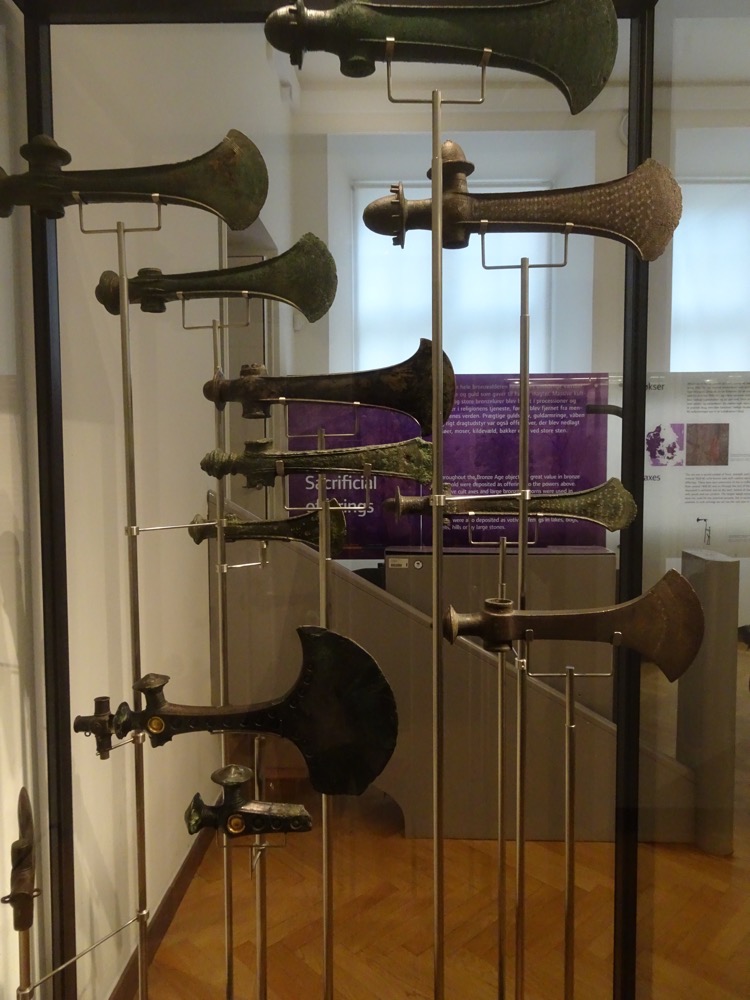 The runestones were erected by the magnates of the period – male and female – in memory of family members, comrades, chieftains, and retainers to show the continuity of the clan and to ensure the rights of heirs.  The stones were usually raised in places of high visibility: beside roads, fjords.  They were originally all painted bright colours.
Asferg c. 1000AD Thorger Toke's son raised this stone in memory of Mule his brother, a very good pegn.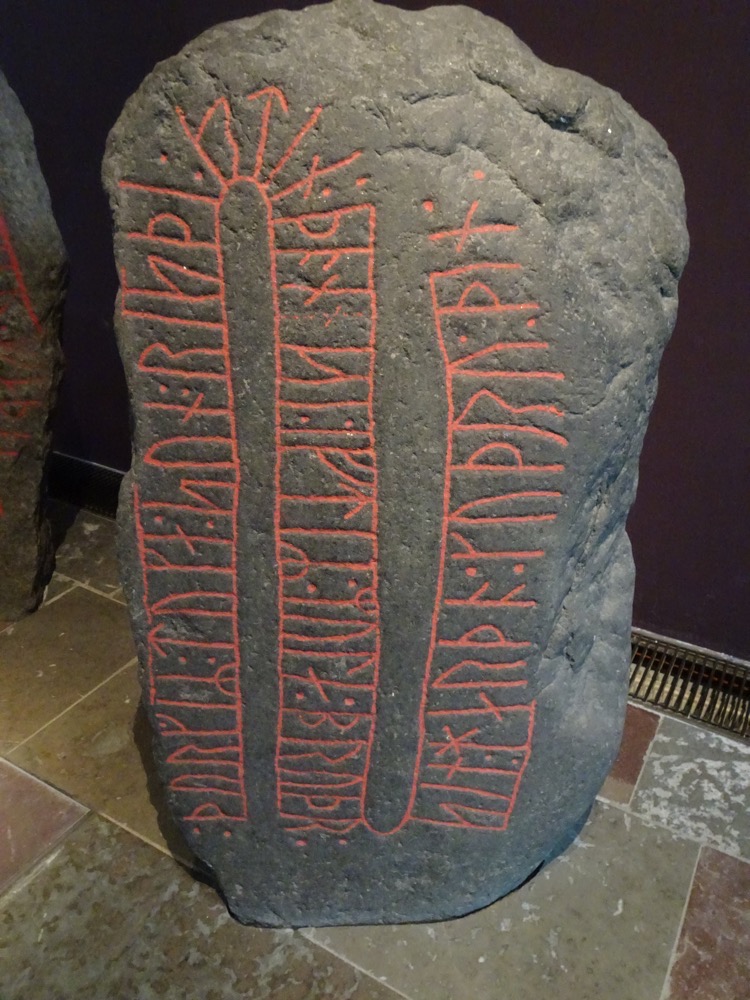 Glenstrup, c.1000AD
Thore raised this stone in memory of Gunnar, his father.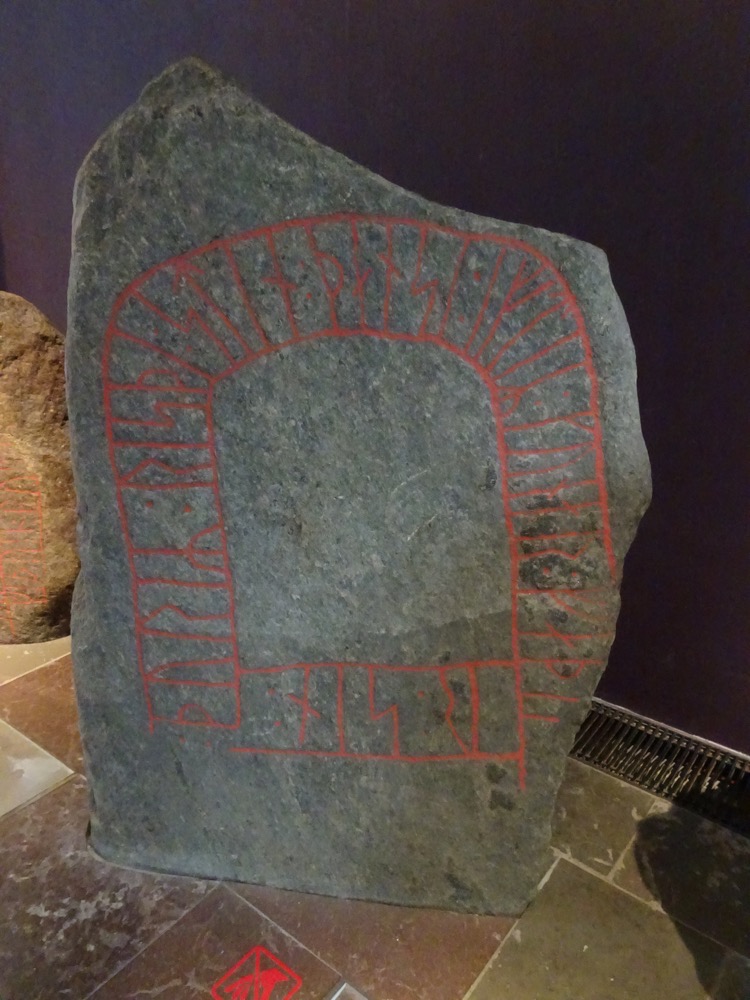 Tarnborg, 11th century AD
Gud … tage sig af… brets sjael; han gjorde st(ene) Edvin (eller Gedwin)
God… take care of the soul of …bret, he made the stone for Edwin (or Gedwin).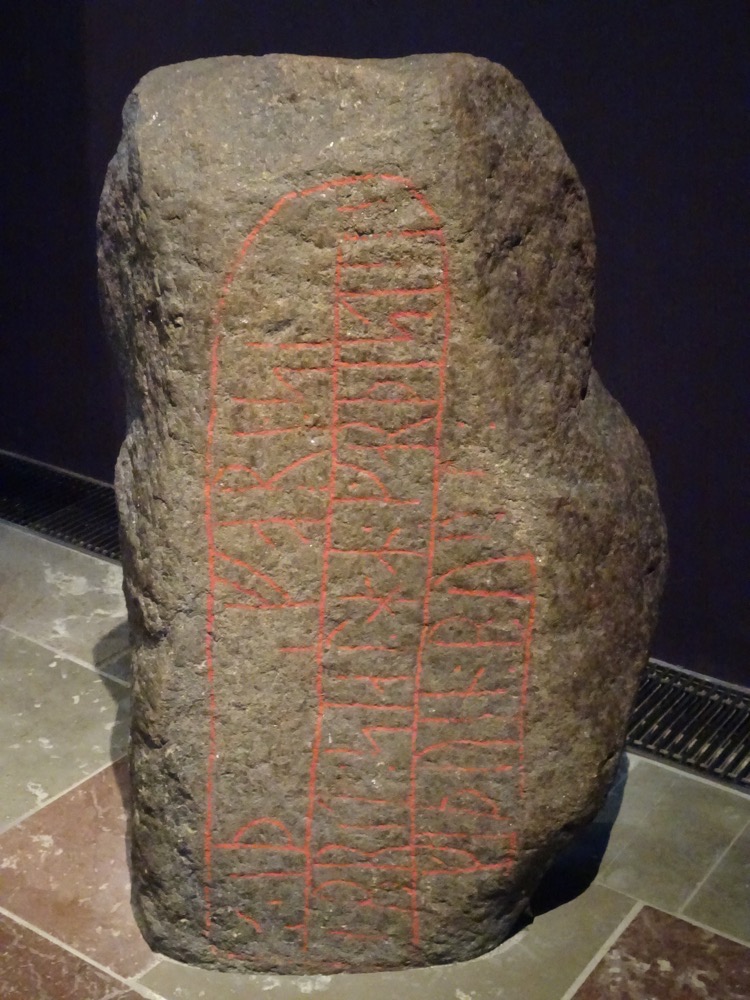 Tryggevaelde, c.10th century.
Ragnhild, Ulf's sister, placed this stone and made this mound, and this ship (setting) in memory of her husband, Gunulf, a clamorous man, Naerve's son.  Few will now be born better than him.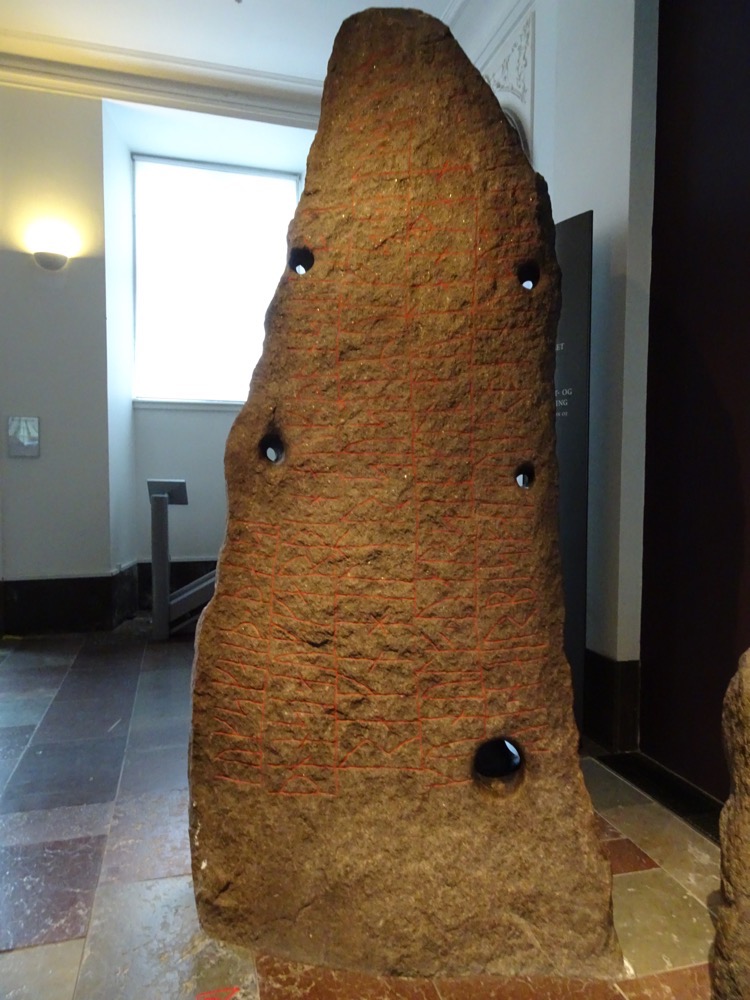 Sandby.  11th century AD.
Selve raised… in Spalklose in memeroy of Suser (his father and made this bridge in memroy of Thorgisl, his brother.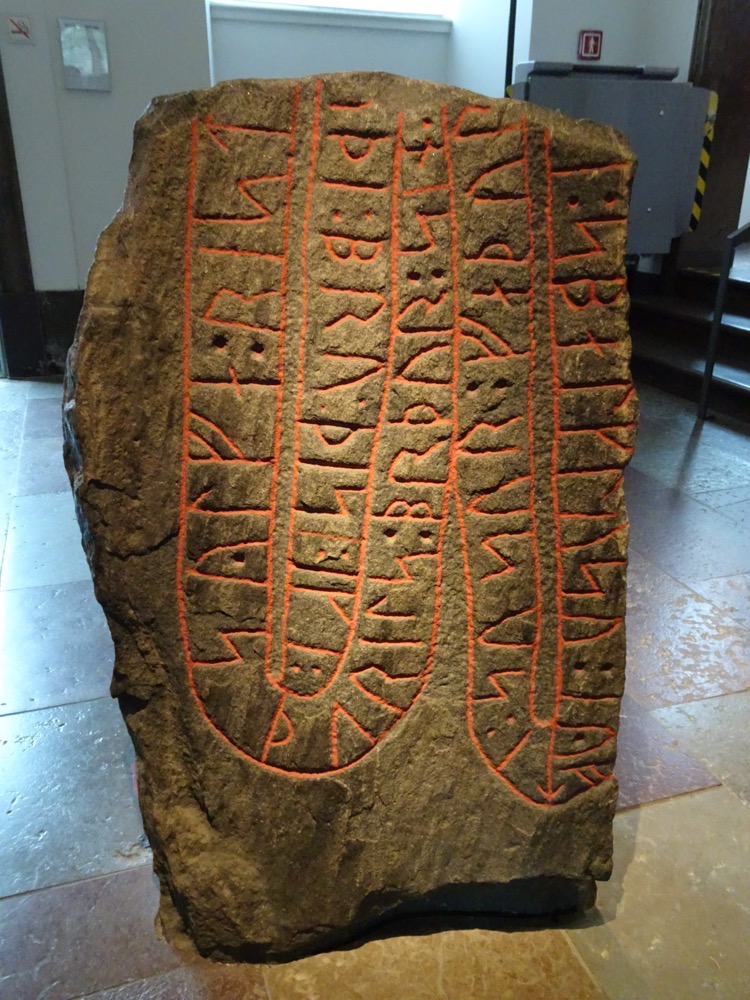 Vordingborg, 9th century AD.
Thjodver (or Thjodvi) made in memory of Adils.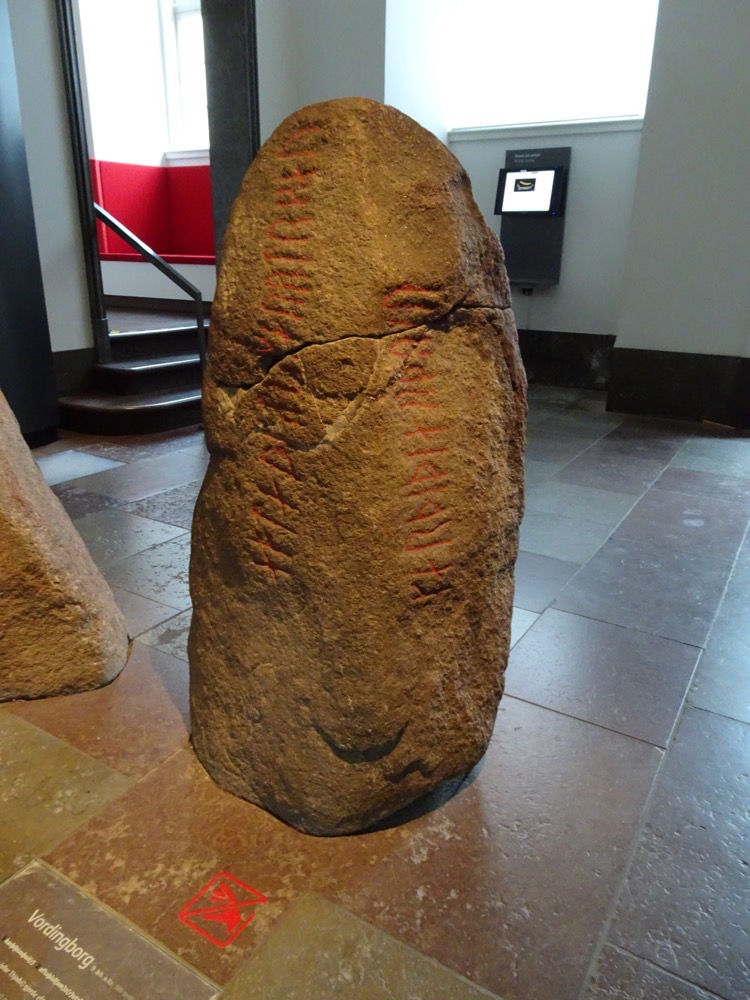 Bregninge, 10th century AD.
Ase made this monument in memory of Toke and Toke Haklangsson's son.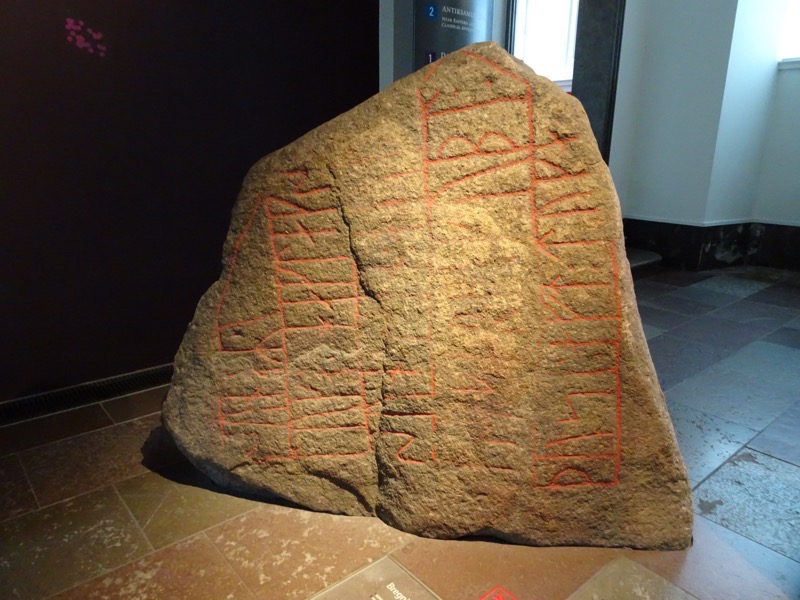 Snoldelev, 8-9th century AD.
Gunvald's stone, son of Roald, thuse (speaker? reciter?) in Sallov.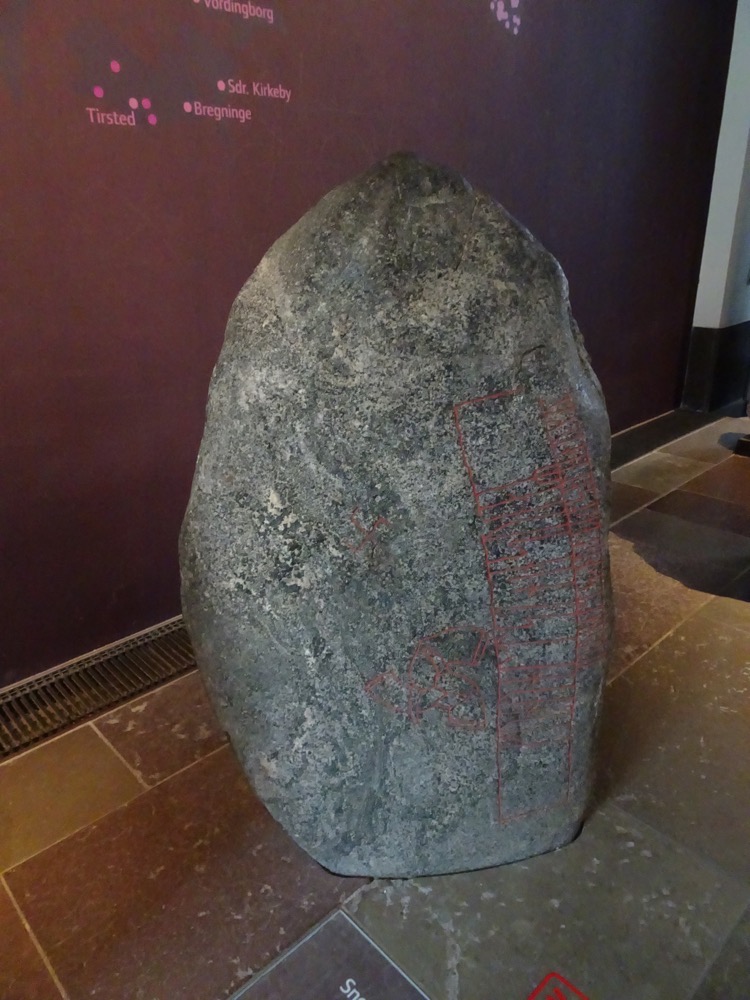 Ega, c.1000AD
Alvkil and his sons raised this stone in memory of their kinsmen.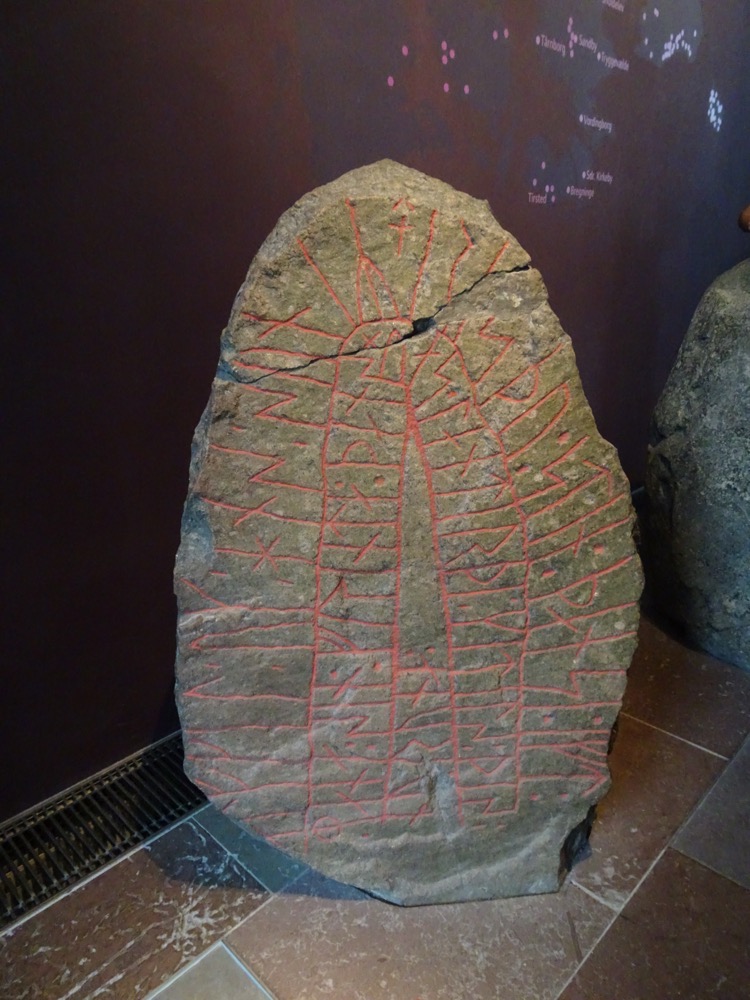 Tirsted, 10th century AD.
Asrad and Hildvig raised this stone in memory of Frede, their kinsman.  And he was then thafainkuaiRa (terror of men?) and died in Svitejod (Sweden) and was fursifrikisiapi (the foremost Frigge's host) and then all vikings…?  Not sure, runes are weird.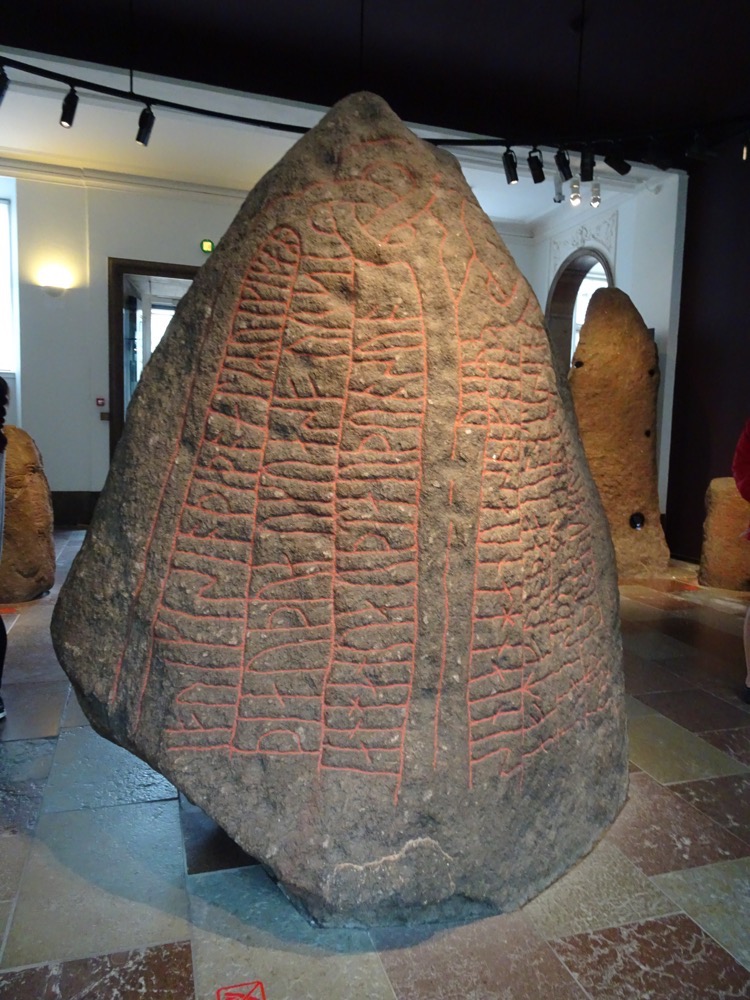 Mr K for scale on that last one.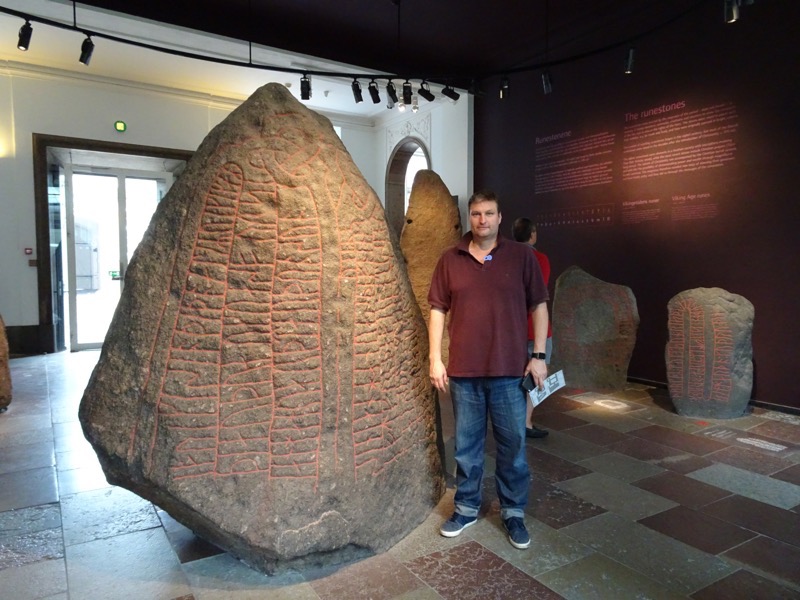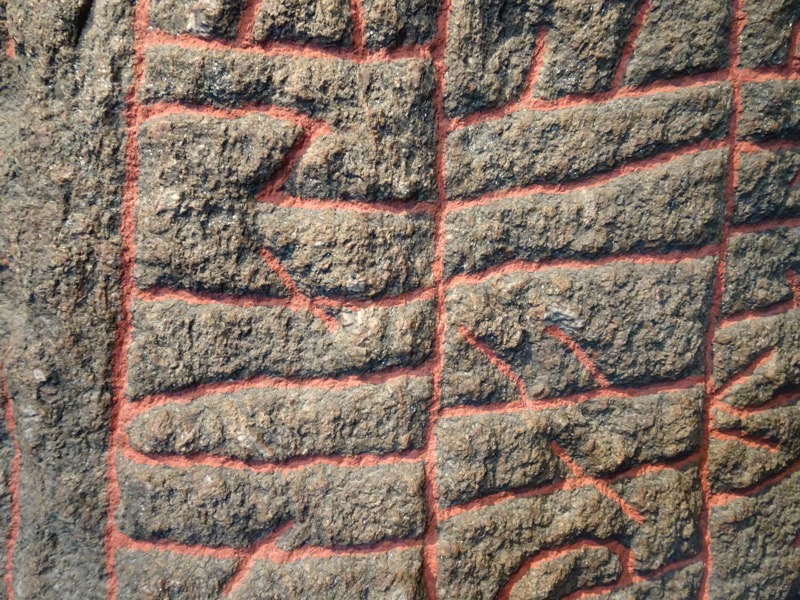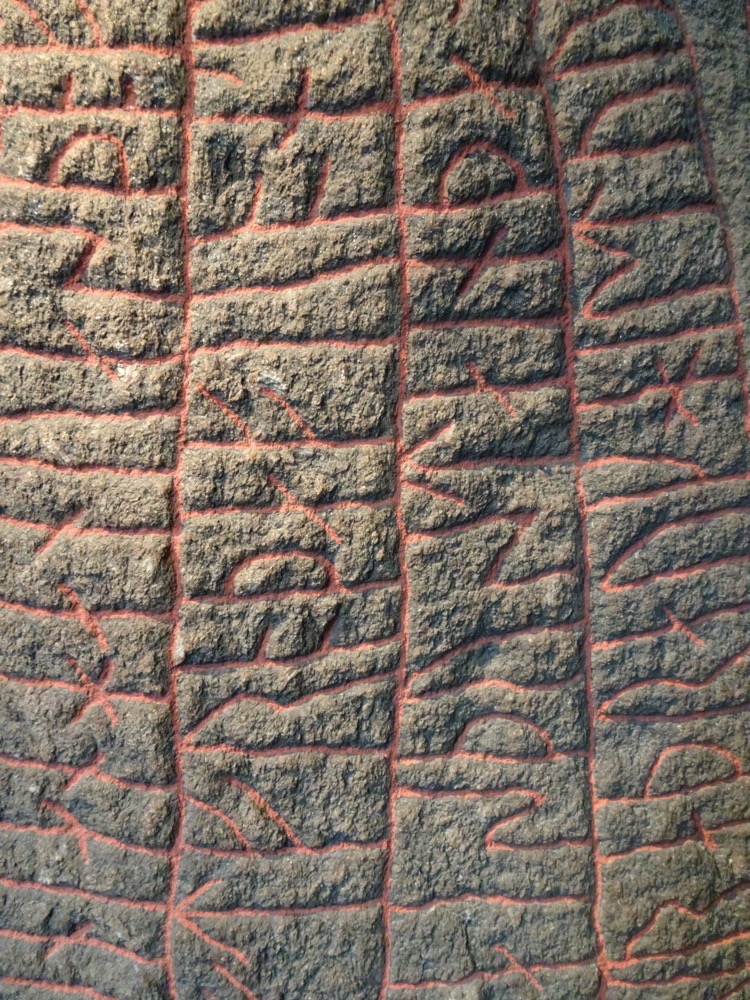 Large bronze neck rings, which are opened by turning a piece of the ring out with a hinge.  Many rings have traces of having been worn by people.  They were special ornaments belonging to prominent families as signs of rank.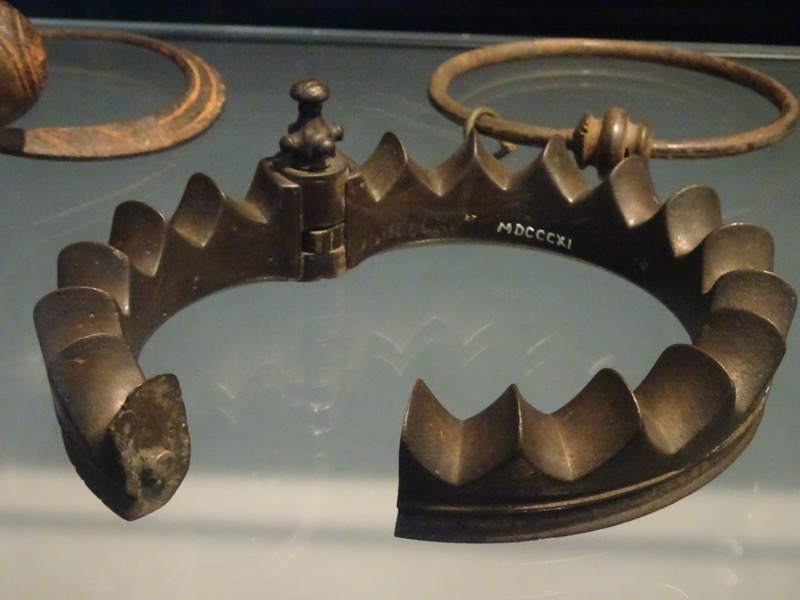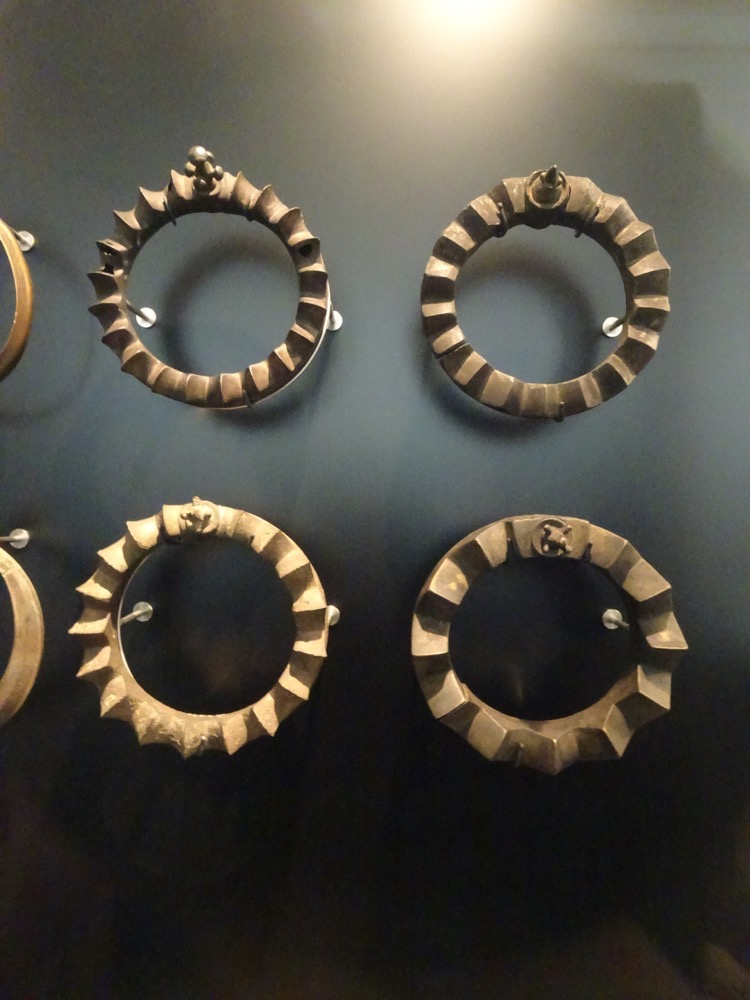 The Dejbjerg Wagon. Preserved from the Dejbjerg Bog, it is equipped with a carriage body that is richly decorated with metal mountings and a drawbar with sheet bronze in On the edge of the carriage body are four Celtic male masks with inlaid enamel for hair and eyes.  Many rivets also have enamel inlay.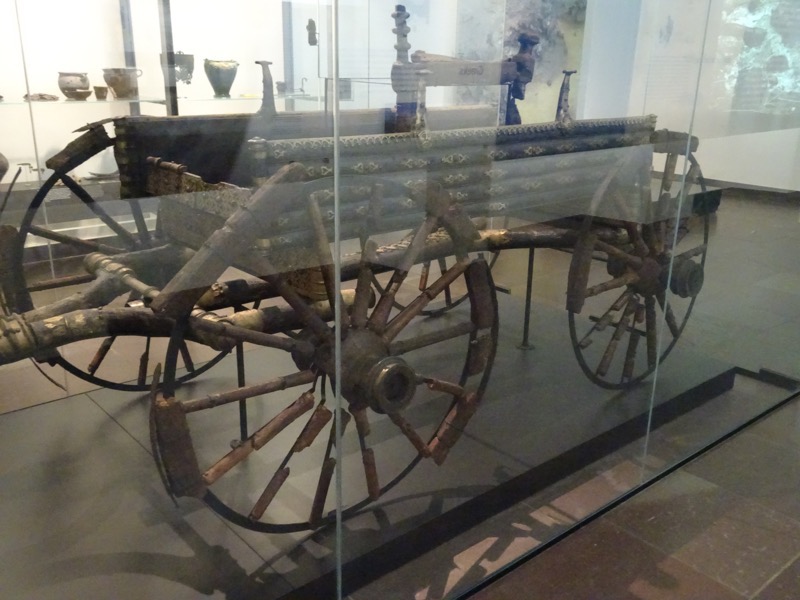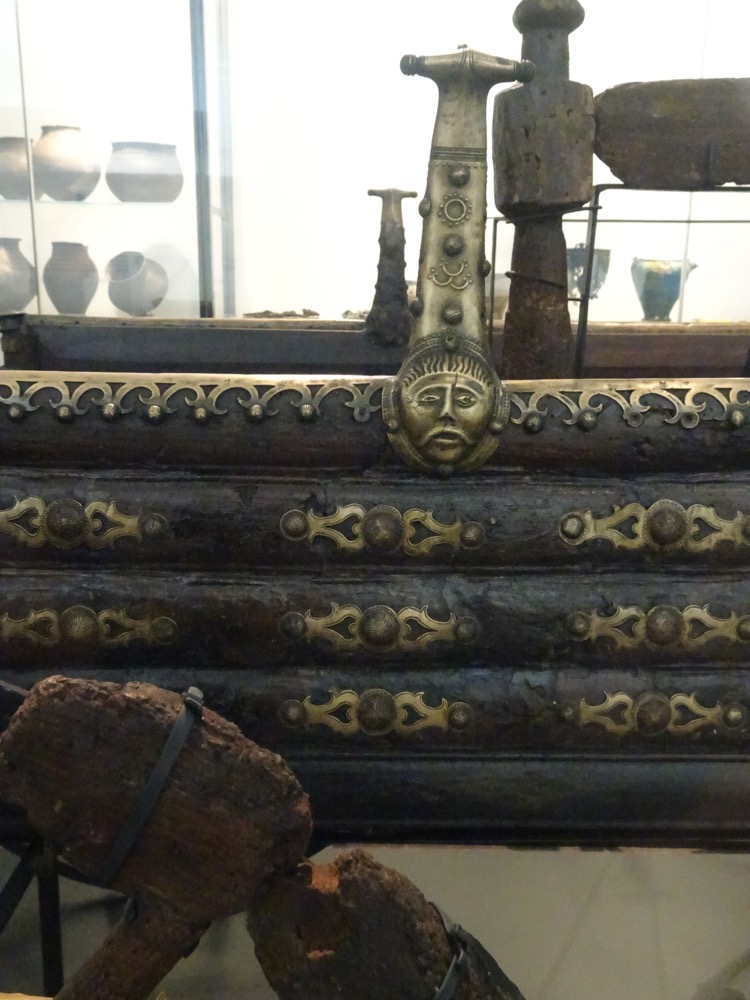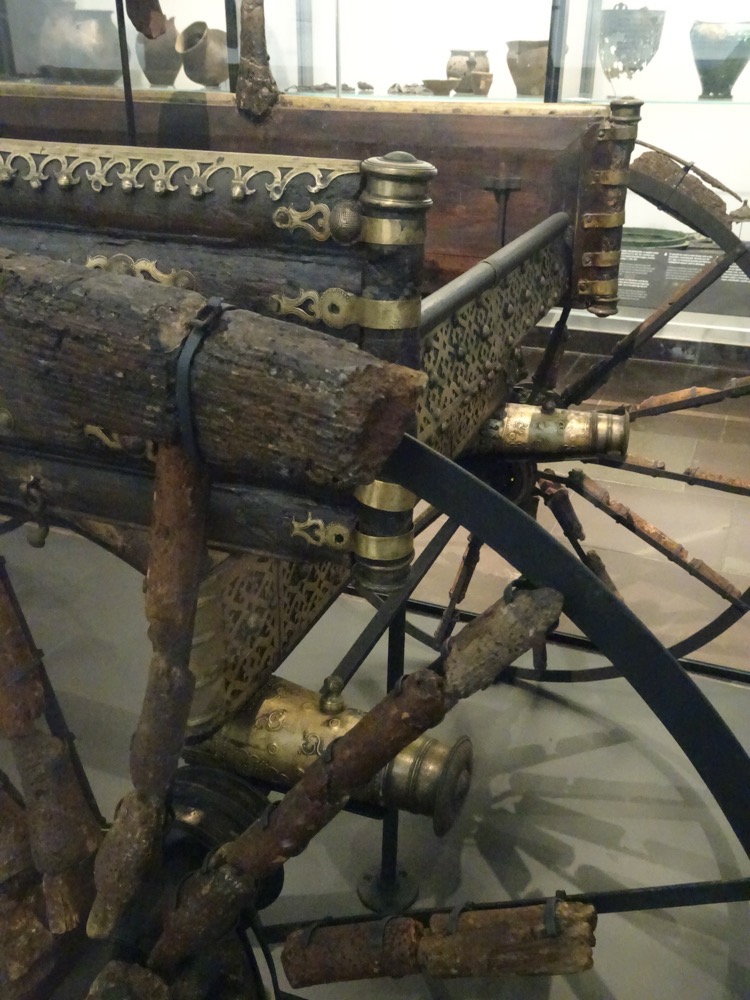 The Gundestrup Cauldron was found in 1891in a peat bog near Raevenmosen in Himmerland, Jutland.  The expensive cauldron appears to have been deliberately placed out in the bog as a valuable sacrifice to the powers above.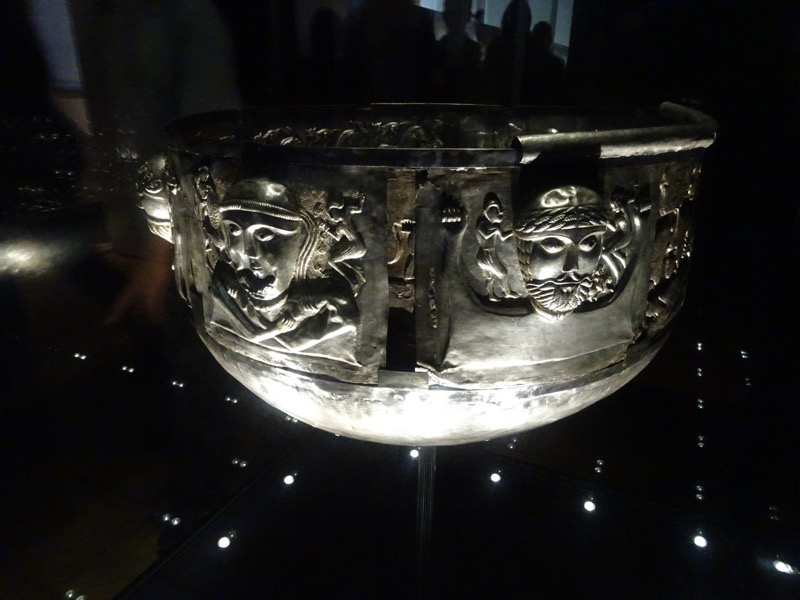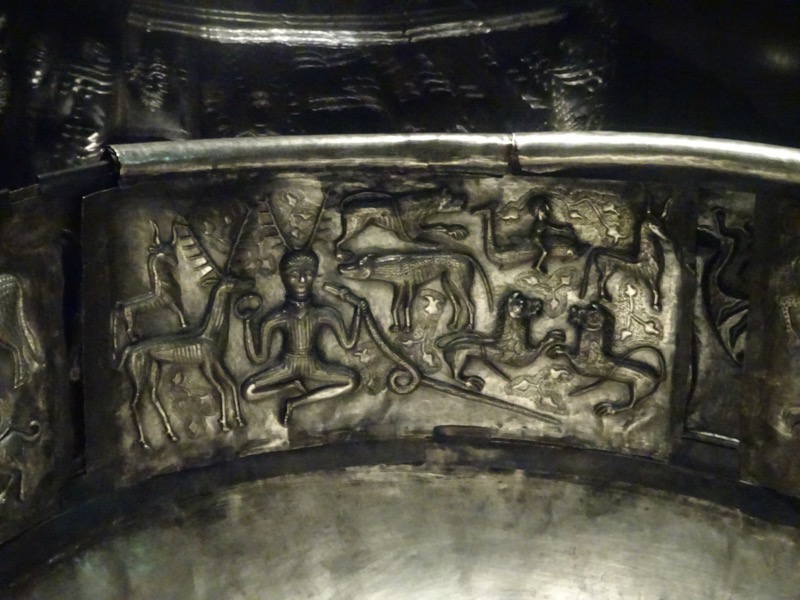 The cauldron is covered in bas relief and engraved elephants, lions, and several gods that are in a decidedly foreign style that show the cauldron originated in remote areas to the south or south east.  Exactly where the cauldron was created is still open to debate.  It may have been a gift to a great chieftain or taken as war booty.  The cauldron may also have been used as a ritual vessel during drinking feasts.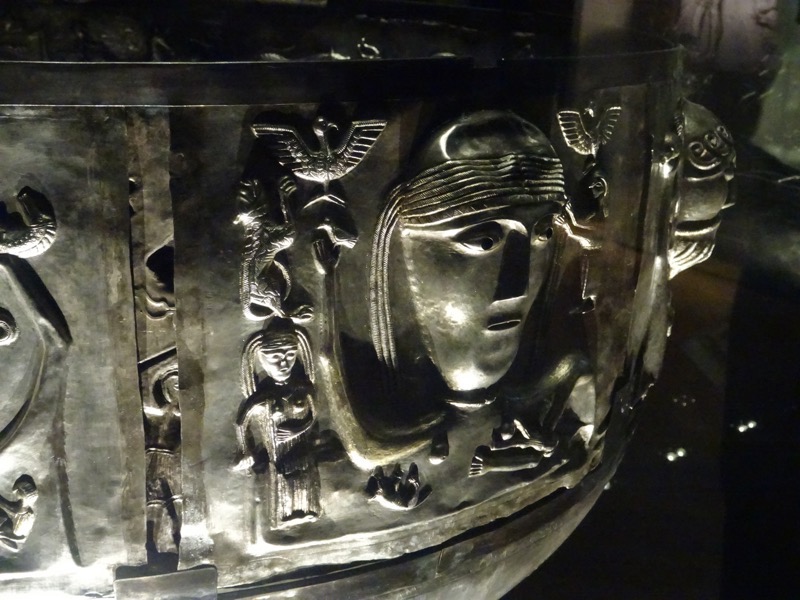 Reliquary.  Wooden casket clad with elk horn and gilt-bronze bands.  The design form imitates a Viking long house and was originally kept in the Cathedral in Cammin, Pomerania.Scandinavia, late 10th century.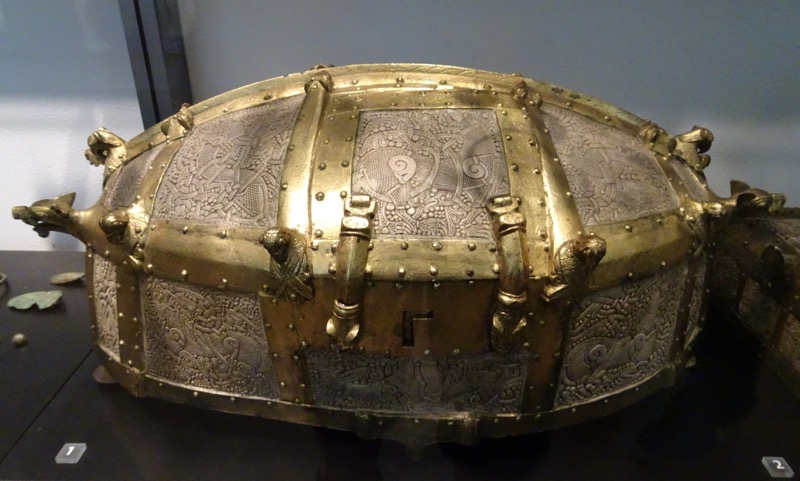 Grave finds from a women's grave from Holmskov on Als – two tortoise brooches and a trefoil brooch.  10th century AD.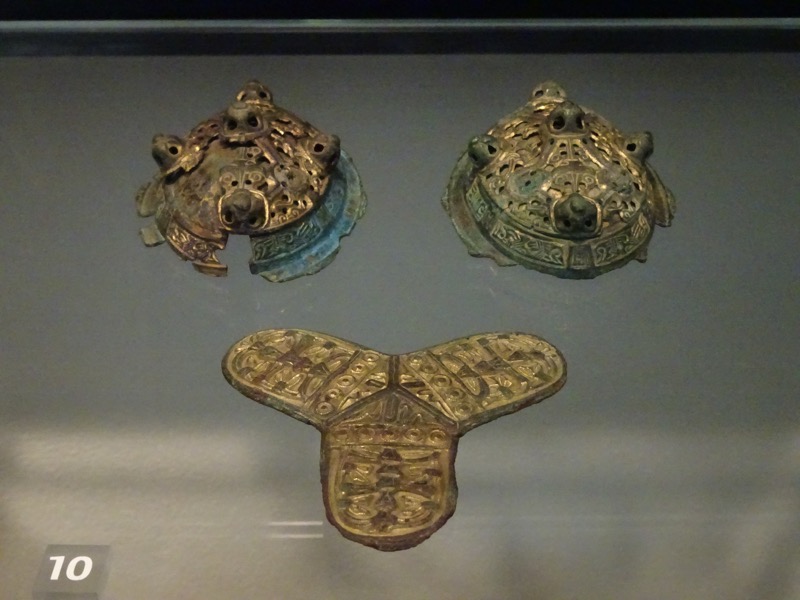 Grave finds from a man's grave.  Hoby, Lolland.  c.10th century AD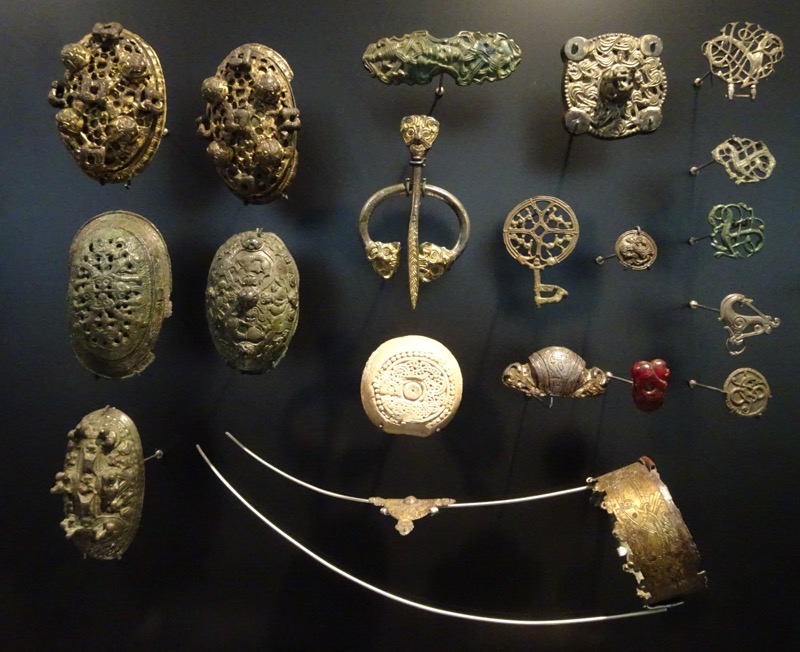 Grave finds from a woman's grave shortly after 700AD from Snekkebjerg on Bornholm.  The large gilt brooch with its string of glass mosaic and rock crystal beads was worn by the woman as a fastener at the neck of a shawl.  There were also two arm rings and a pair of knives.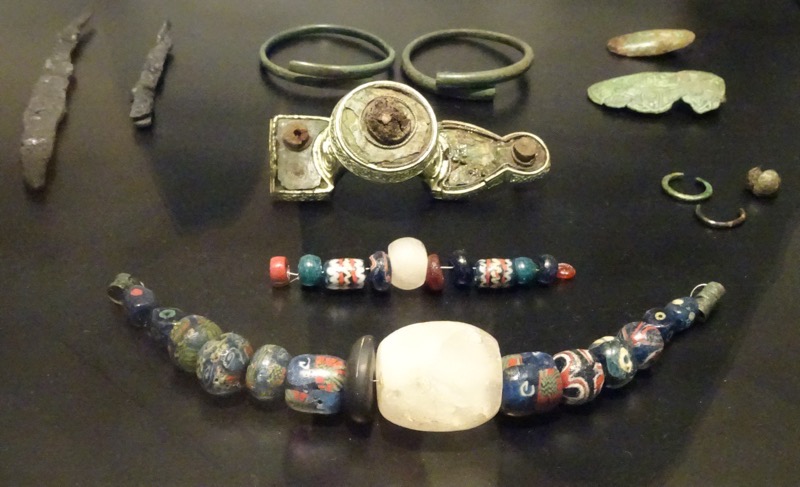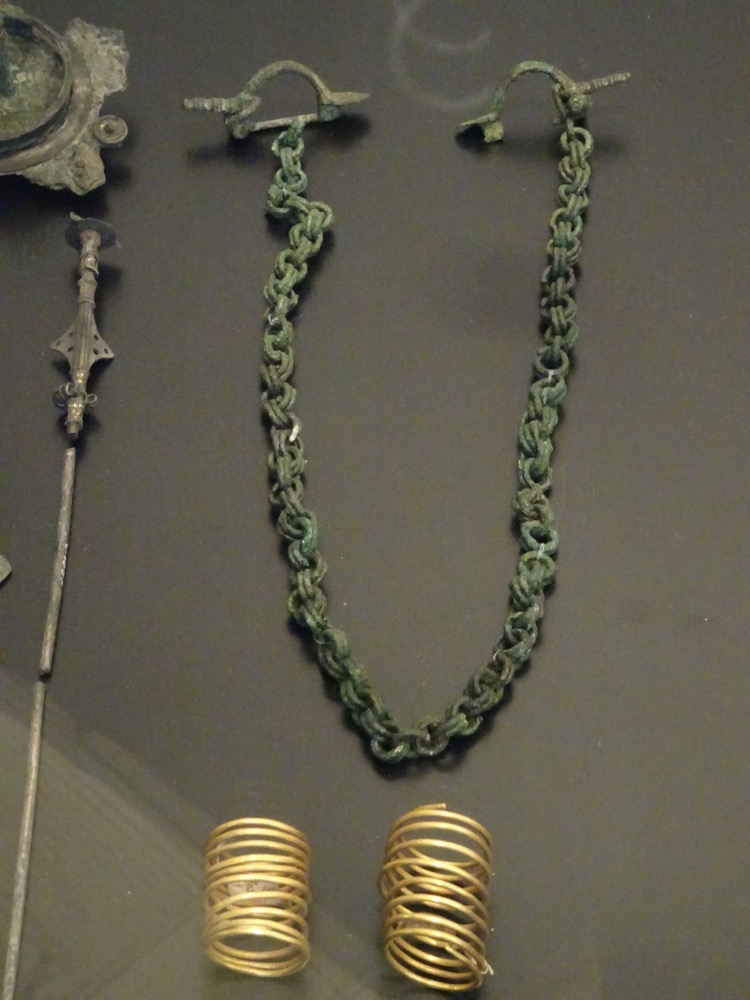 Woman's grave from c.400AD from Lihme in central Jutland.  Two fine silver gilt brooches held her costume together.  Also in the find was a string of glass and amber beads (in a semi-symmetrical arrangement).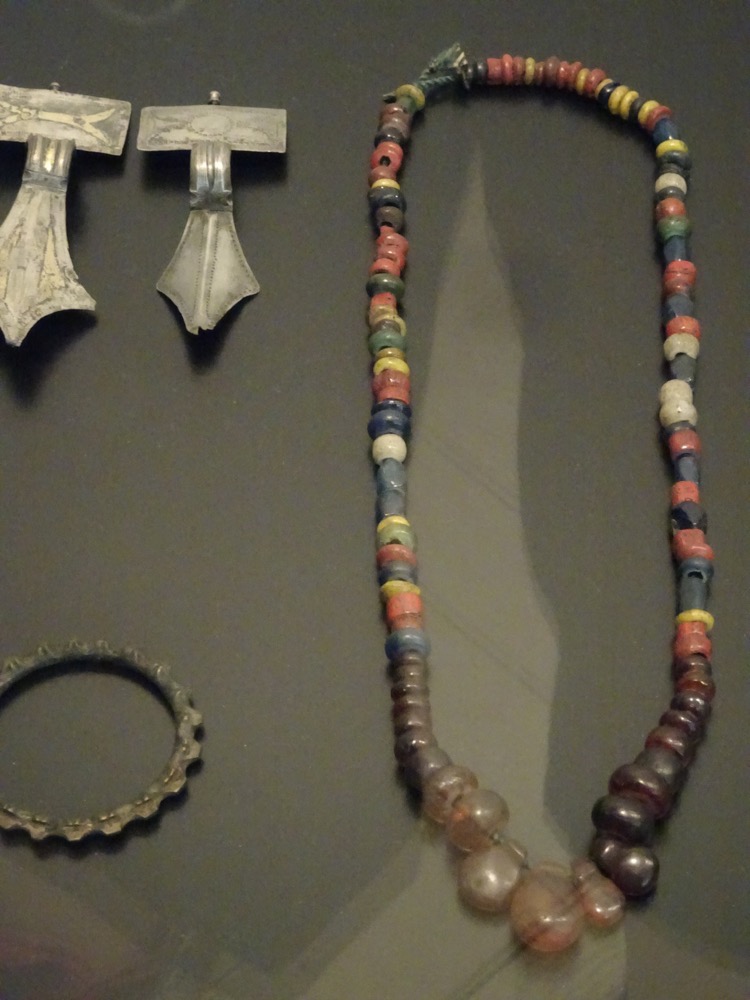 Neck ring.  Denmark's largest gold treasure from the Viking Age, it was found in an area near gold workshops and weighs a whopping 1.8kg… the cost of this of neck ring would have been the same as 500 head of cattle. c.10th century AD.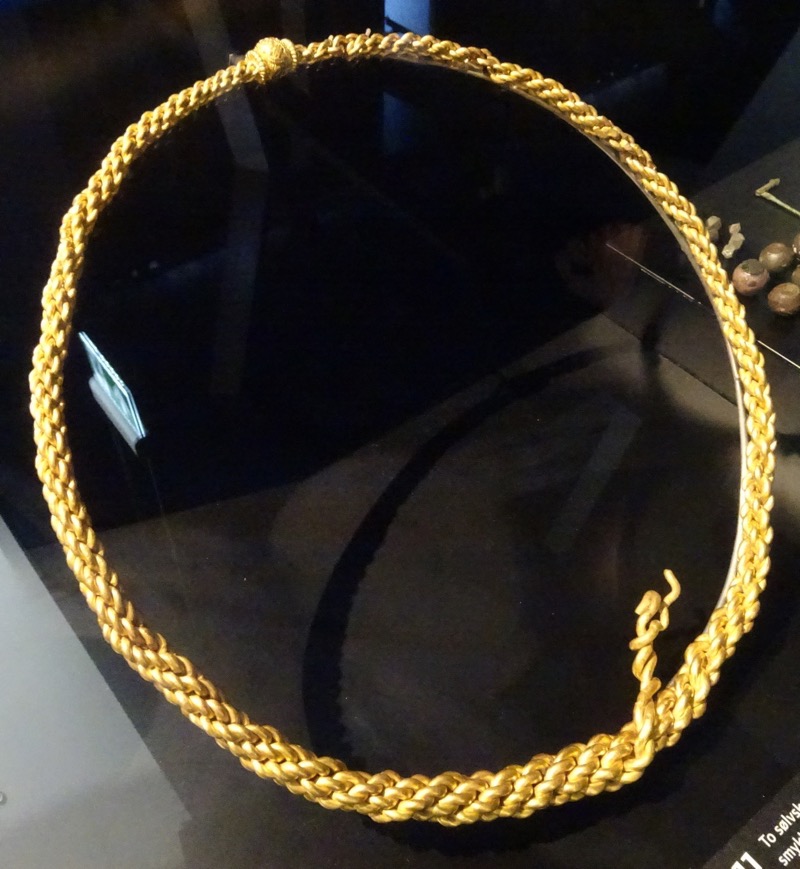 Ornaments from the 6th to 8th centuries AD.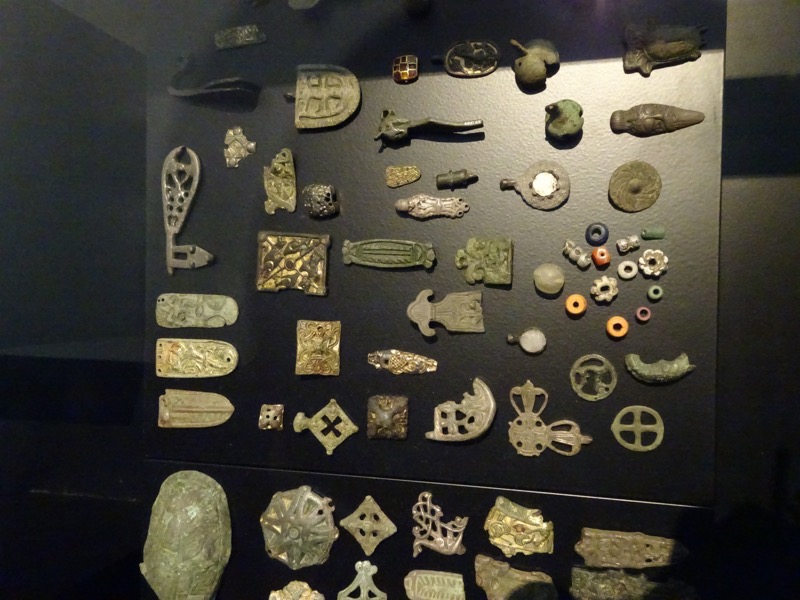 Ornaments and mountings from the 9th to 11th centuries AD.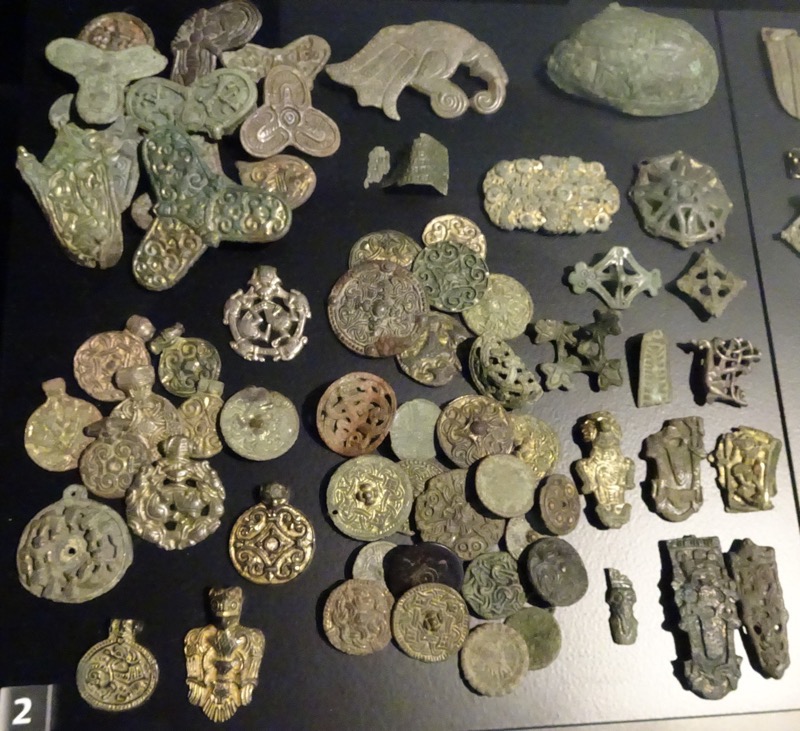 detail: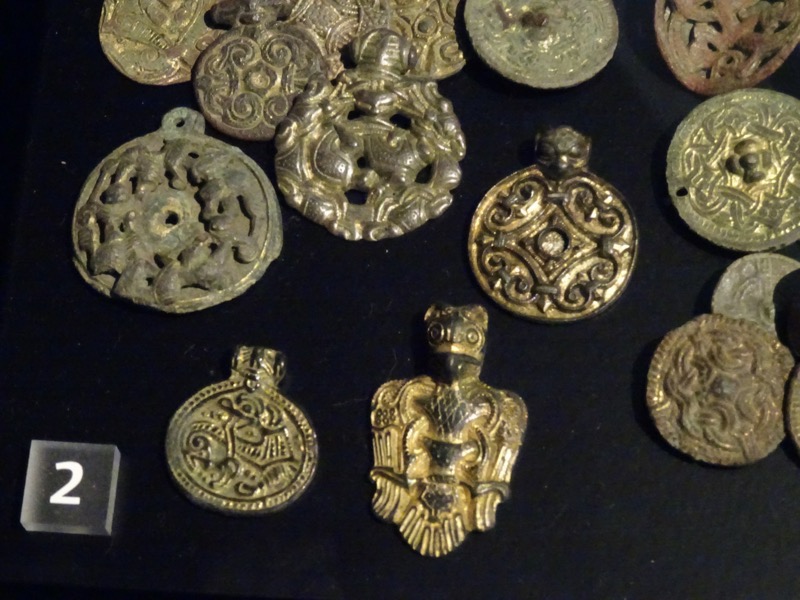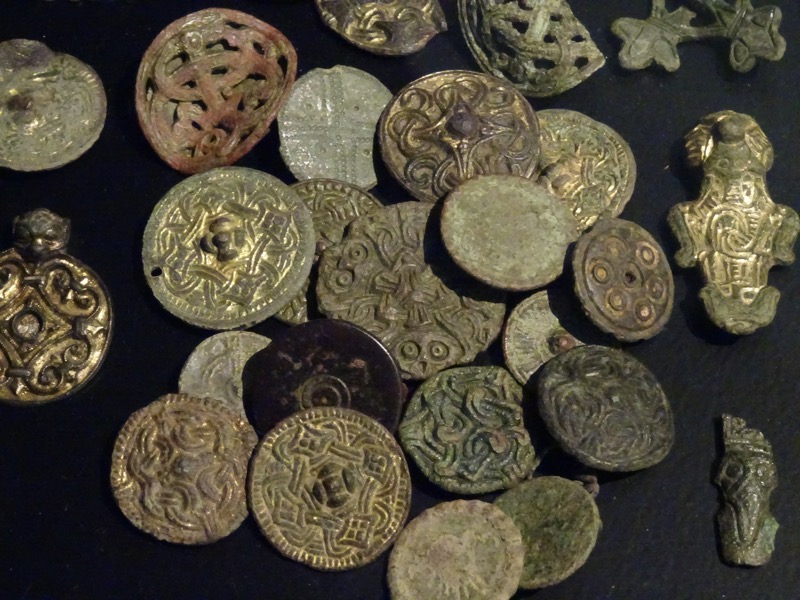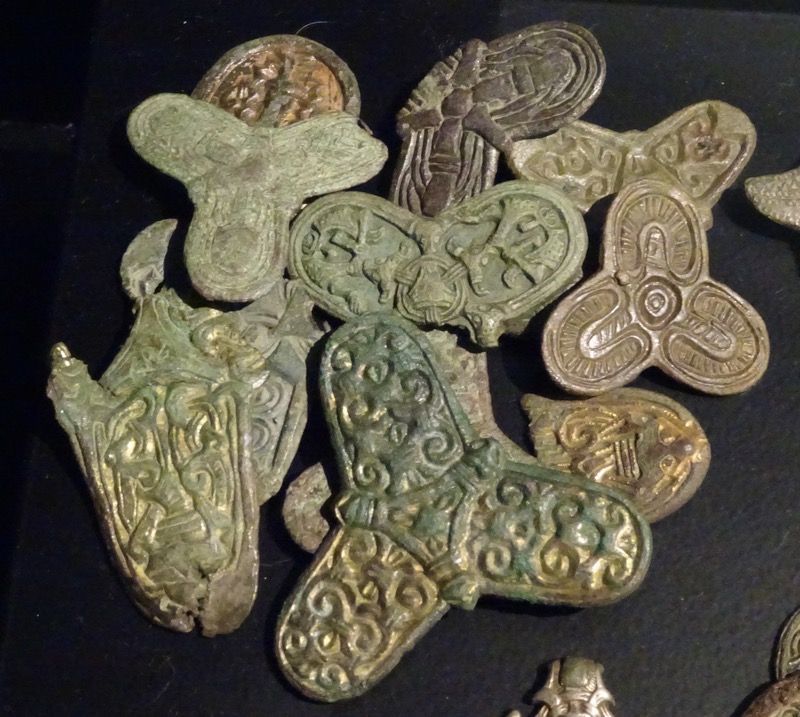 Hoard find from Duesminde on Lolland from around 900 AD.  The linked silver rings come from central Russia.  These are payment rings, measured out in accordance with the Persian pound weight system. The find testifies to trade relations along the Russian rivers.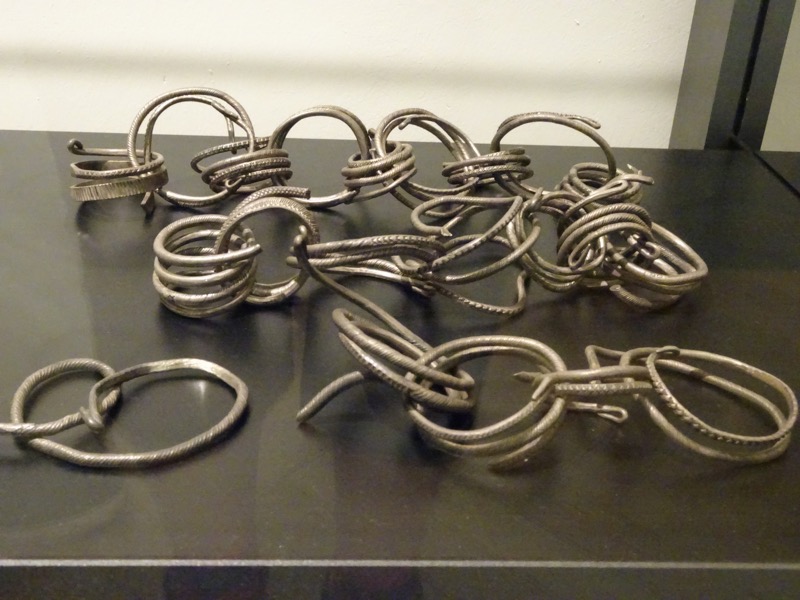 Items from one of the largest silver hoards ever found in Rebild, Himmerland.  The hoard was buried in a piece of animal skin and contains 146 pieces of broken ornaments and bars, as well as an Arab coin.  The total weight is 5kgs.  The hoard includes objects of Nordic, Russian and Arabic origin.  Buried in the 10th century AD.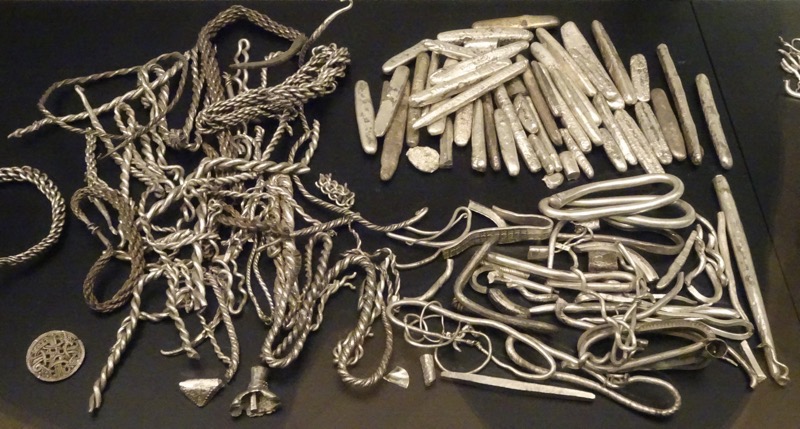 More pleasing symmetrical bead arrangements.  10th century AD.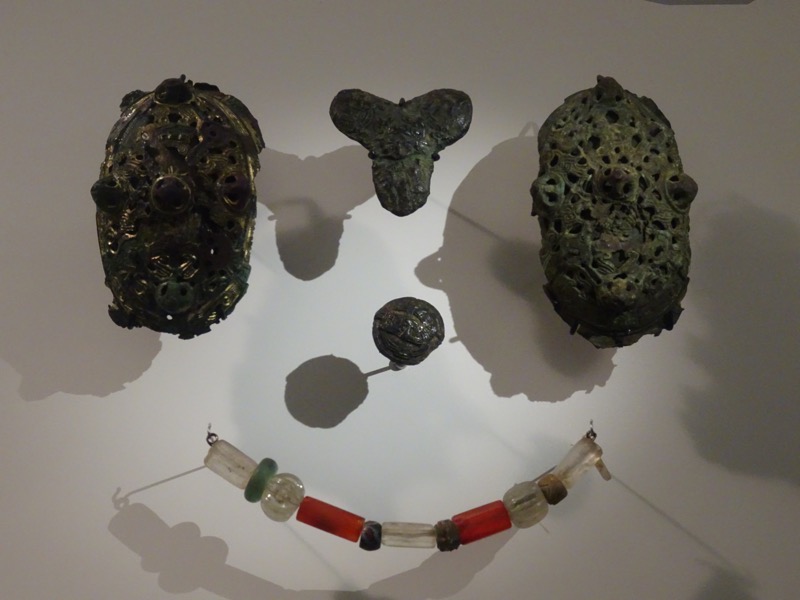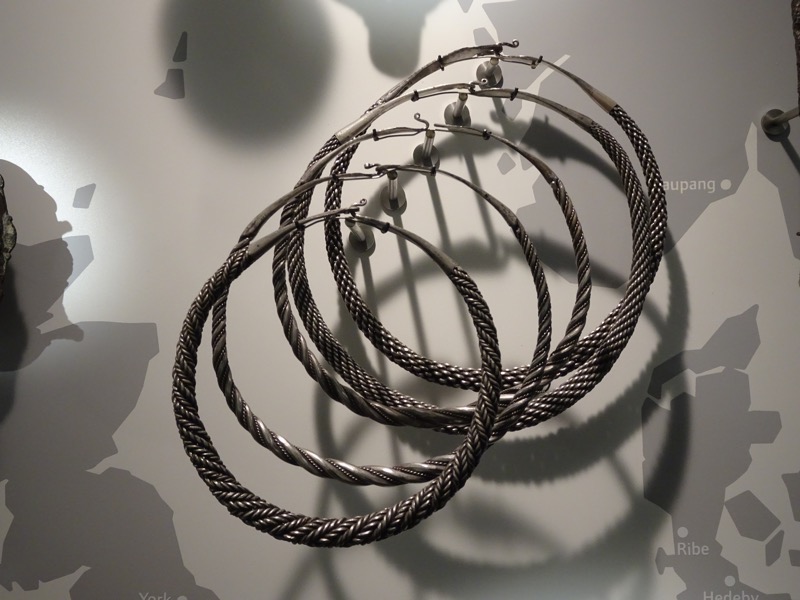 Hoard find with 1.3kg of silver from Duesminde on Lolland.  Strap buckles and mountings for sword belts and riding harness made in the Frankish Kingdom in 820-870 AD.  Five mountings belonging to one sword belt are assembled.  Belt equipmentof this quality belonged to the Frankish aristocracy.  The hoard was buried in the middle of the 10th century.  The silver had a contemporary value of ten swords or 55 cows.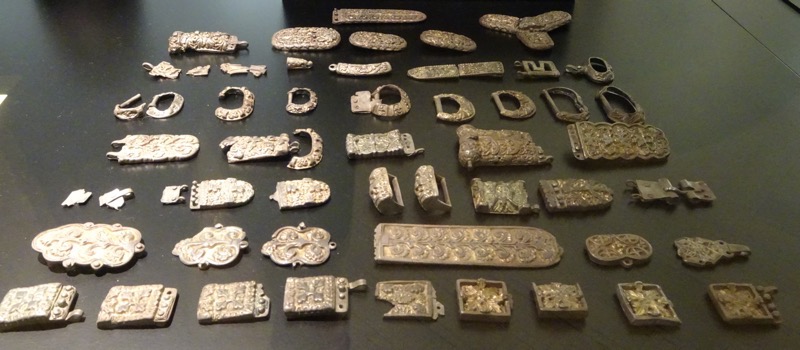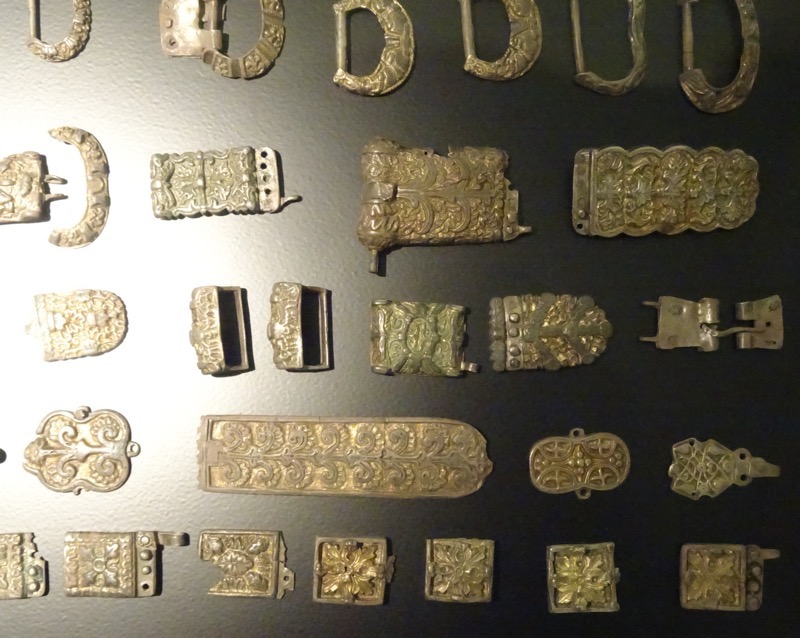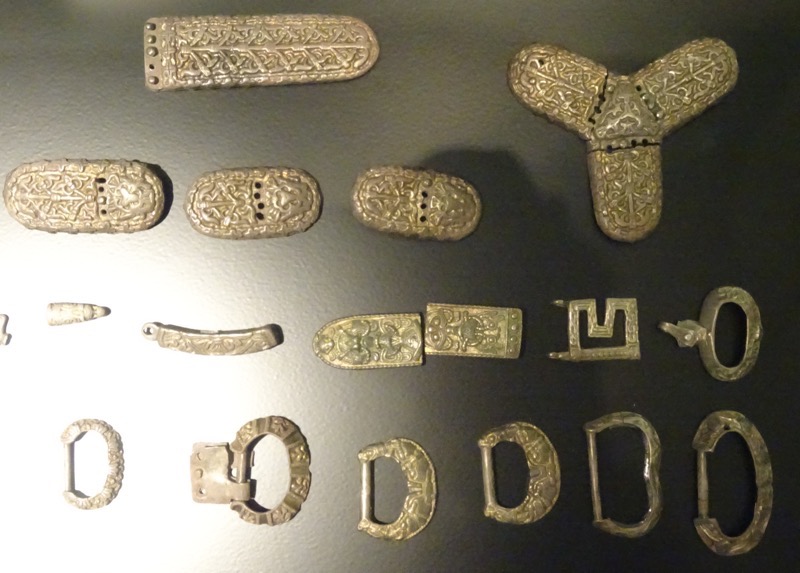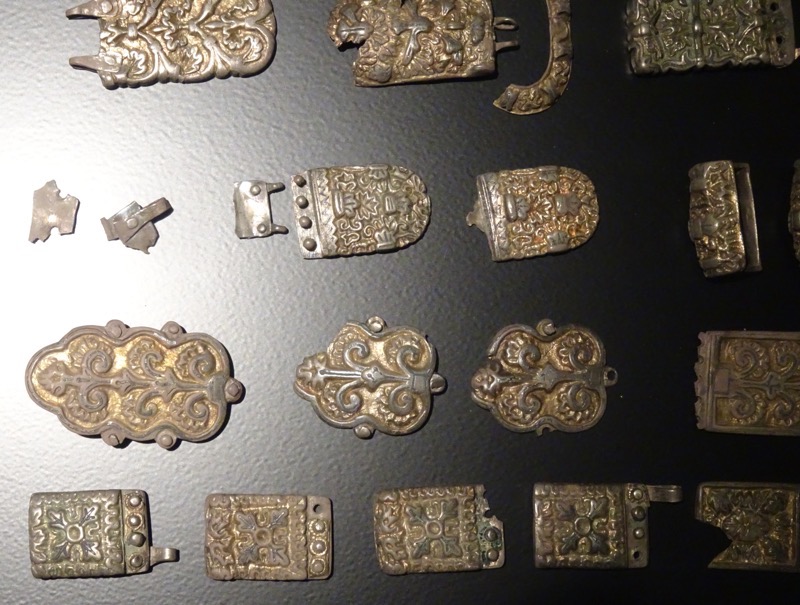 Hoard fine from Hornelund near Varde brooches and an arm ring.  The brooches are decorated with filigree and granulations.  Their decoration with foliage and vine scrolls have their origins in Christian art.  The Norse heads on one of the brooches show that they made by a Danish goldsmith in the second half of the 10th century AD.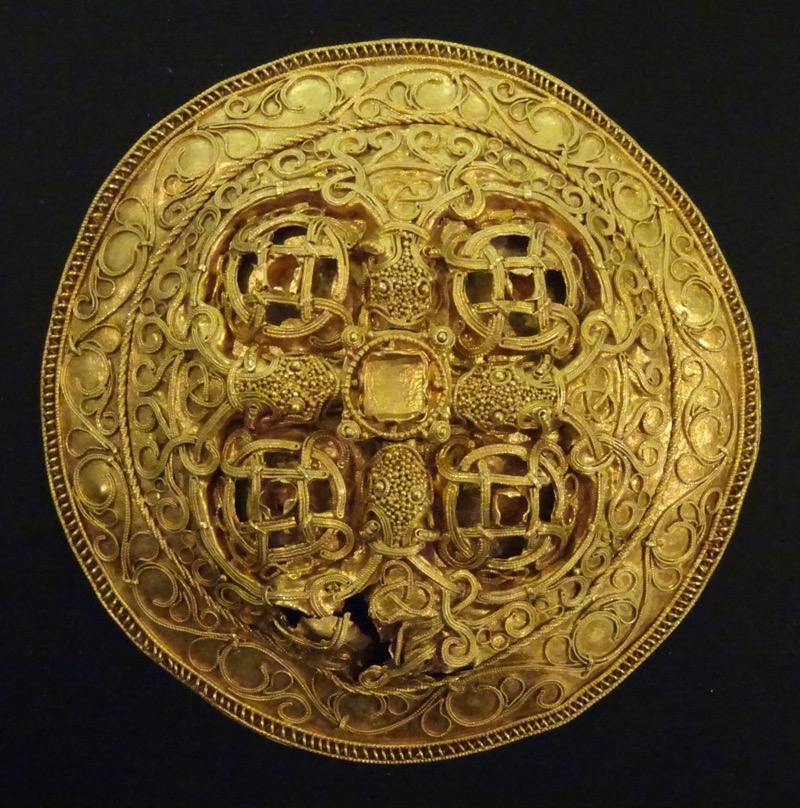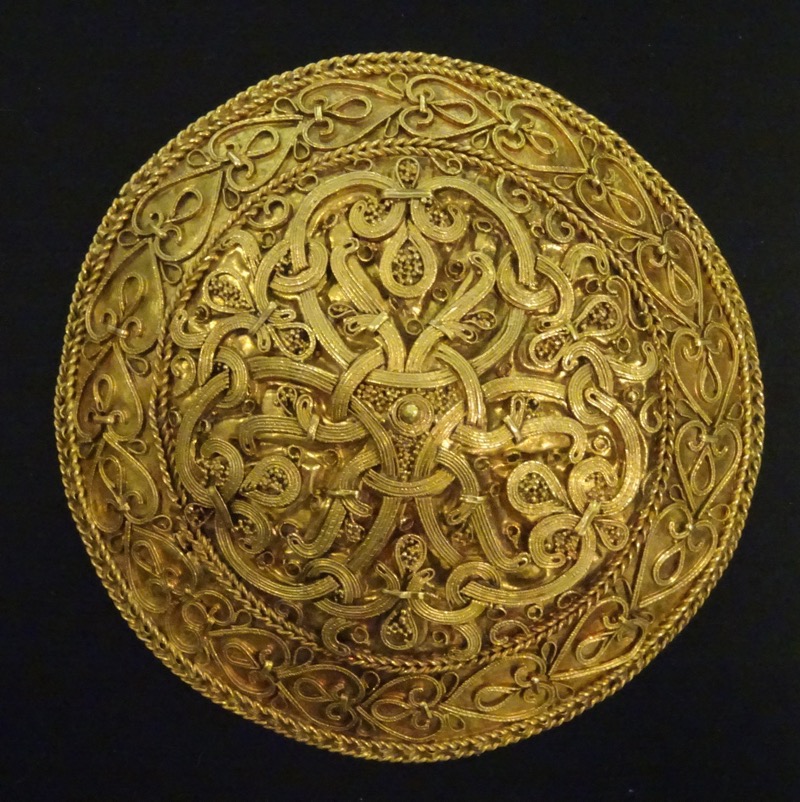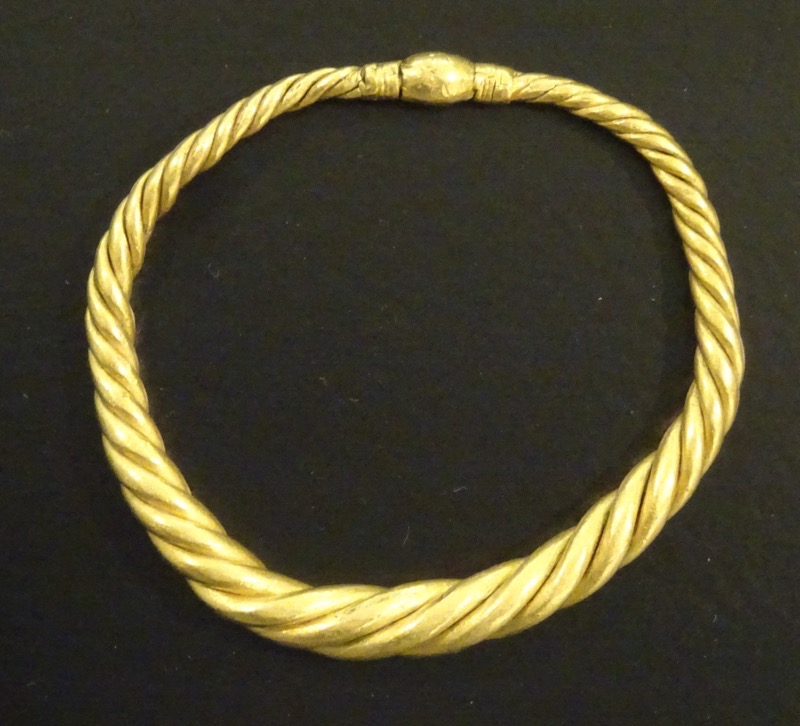 Part of a silver hoard of 51 bars, rings, hack silver, and coins from Norreballe in Zealand.  The total weight of this hoard is over 4kgs.  The hoard also included Arab coins and was buried in the second half of the 10th century AD.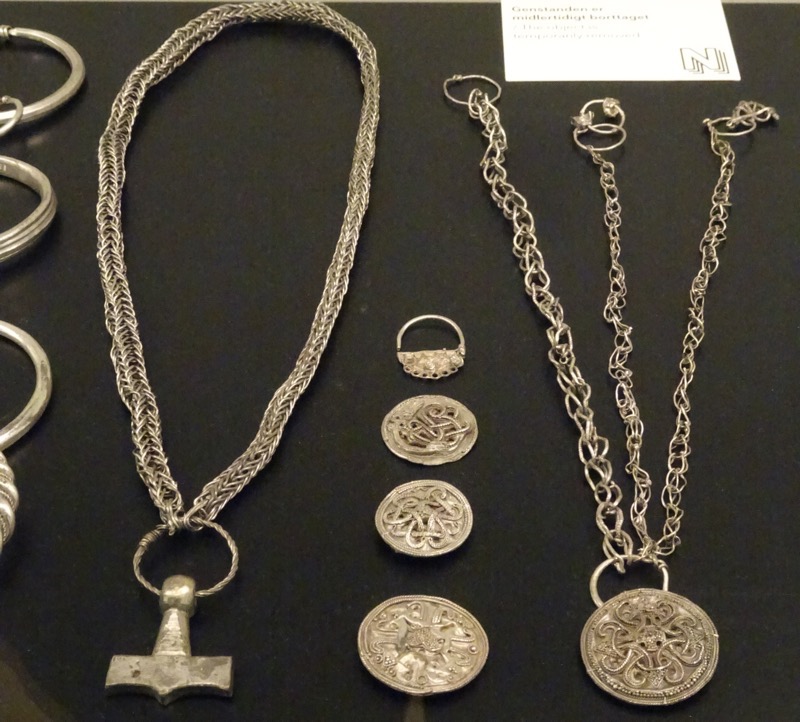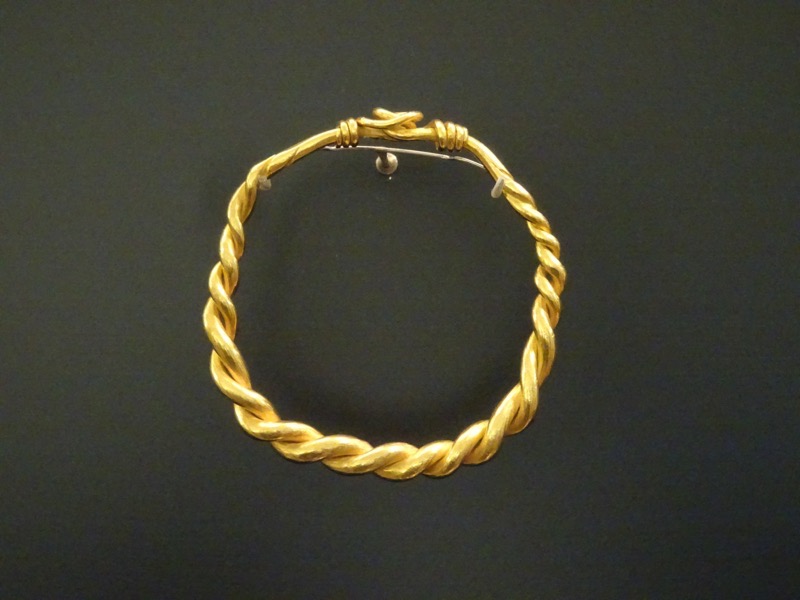 Above & Below:  Hoard finds from Mandemark on Mon with gold arm rings, seven silver arm rings, two chains and two Thor's Hammers.  The hoard was one of relatively few that contained both gold and silver.  Buried in the latter half of the 10th century.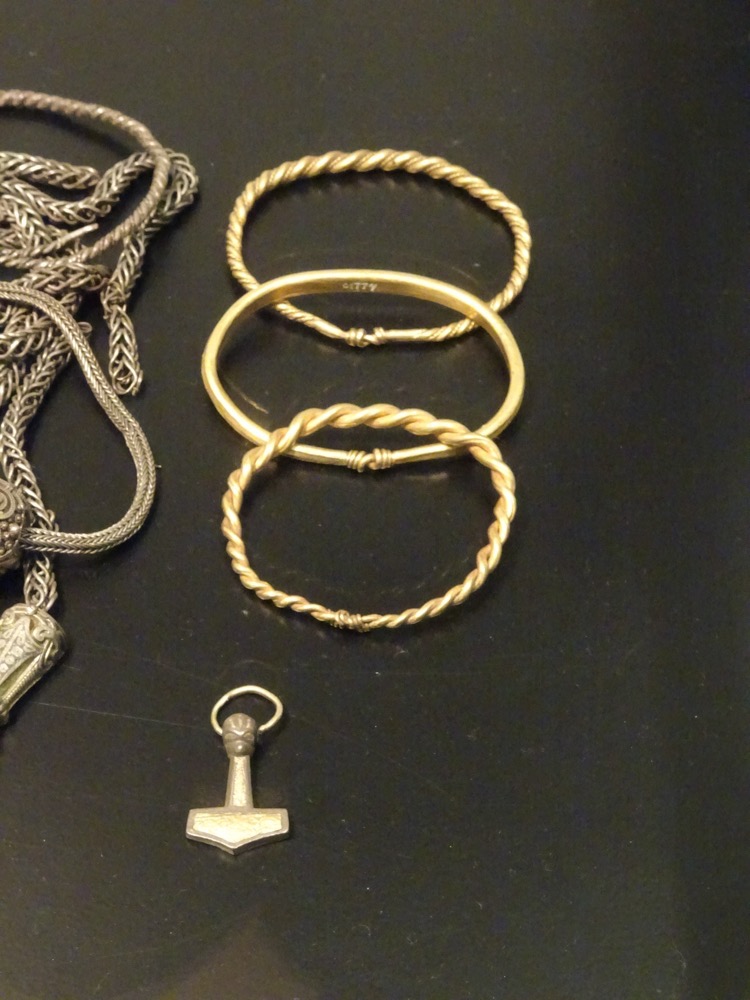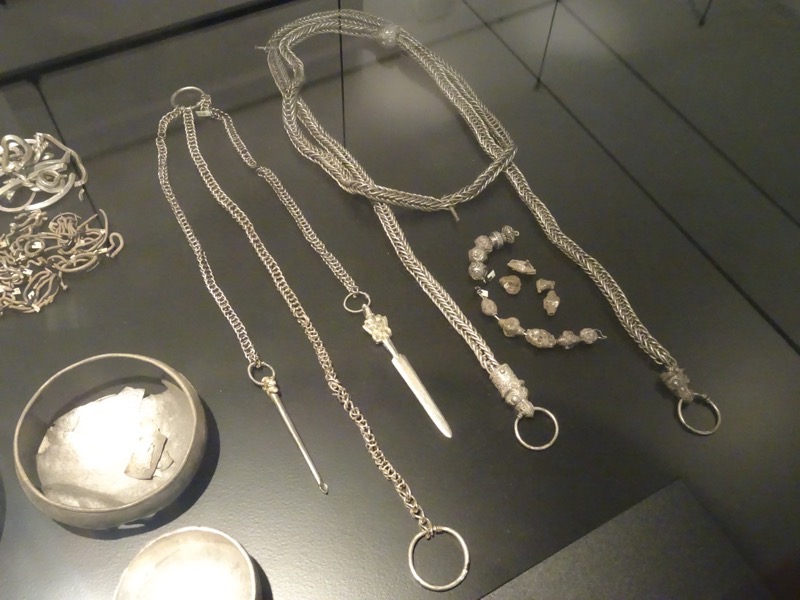 Silver hoard from Terslev in Zealand with 6.6kgs of silver including 1,751 coins.  The hoard was also buried in the second half of the 10th century (seemed to be a lot of that going on at the time!). Objects include: neck and arm rings, chains with toiletry articles and costume ornaments.  There is also a drinking service with cups and a large bowl which may have been of Persian origin.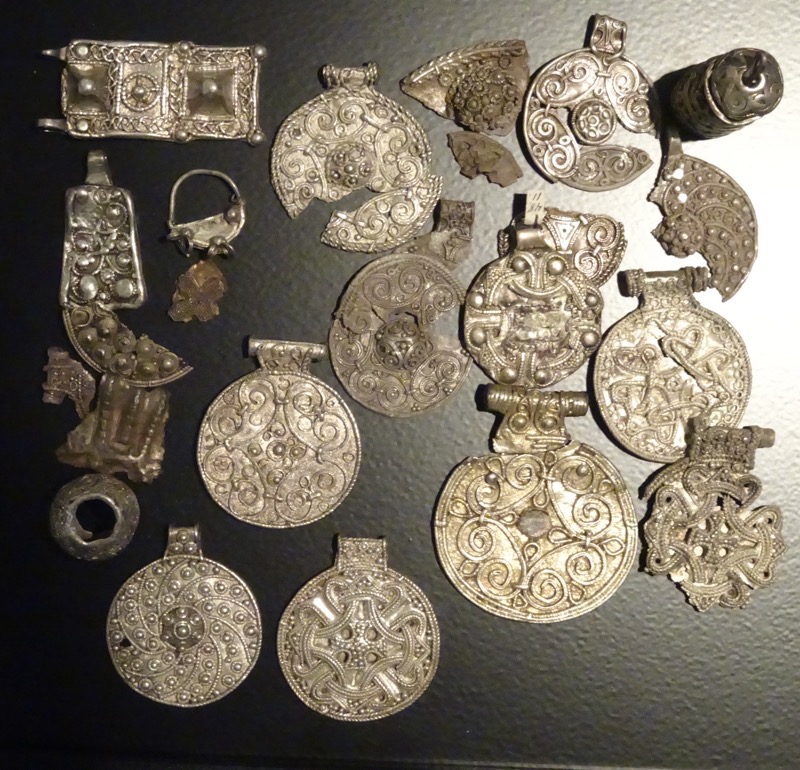 Beads. c.5th century AD.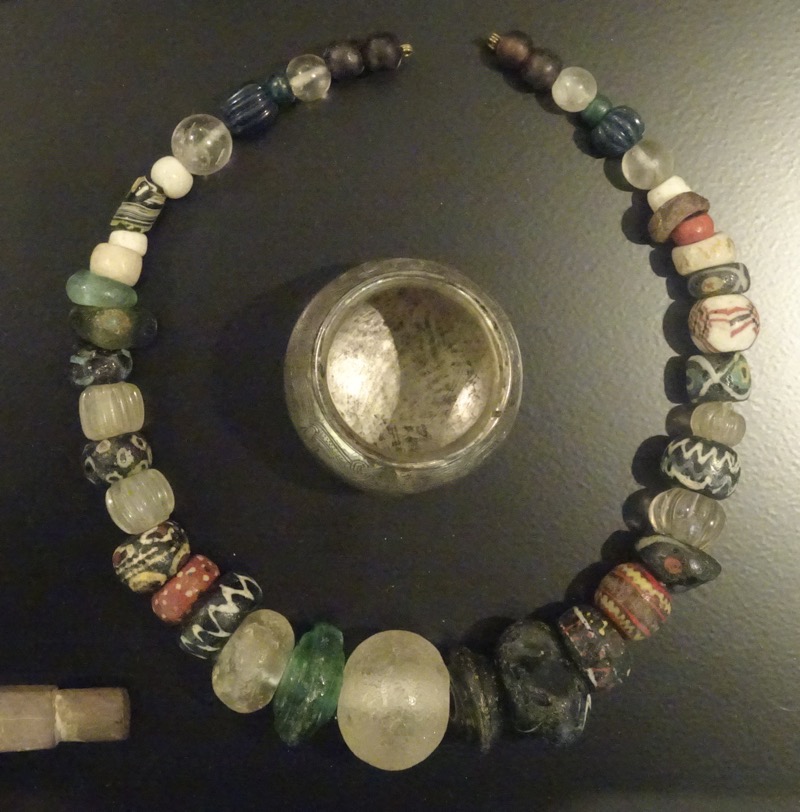 Neck ring form Hannenov on Falster with brazed on decoration with filigree and small animal figures 5th century.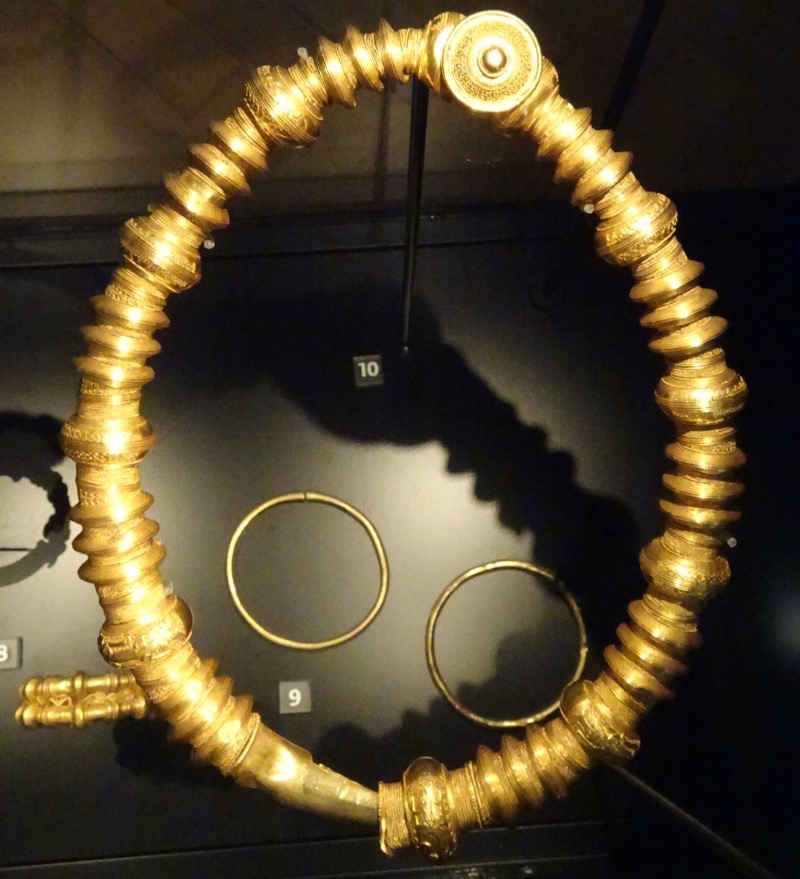 Finger rings from the 2nd – 4th century AD from various find spots.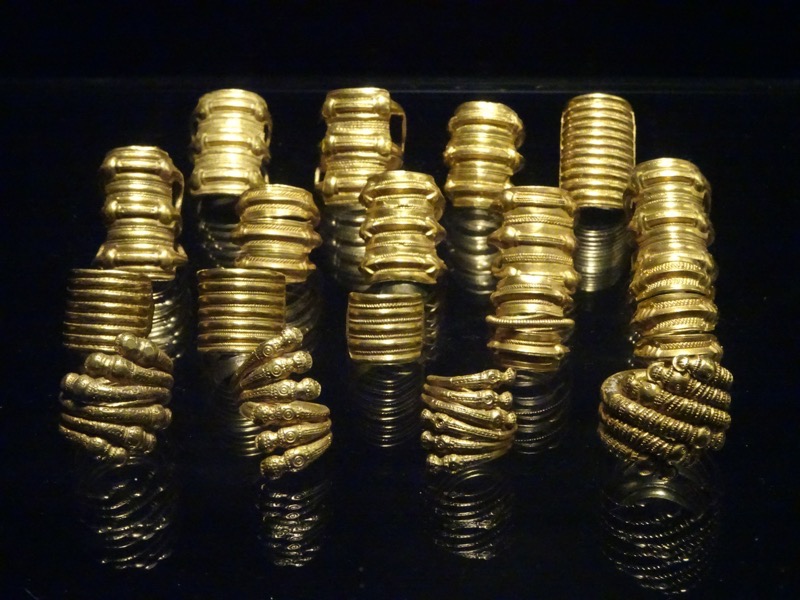 Hoard find from Brangstrup on Funen, from the latter half of the 4th century.  The pendants are of southeastern European origin.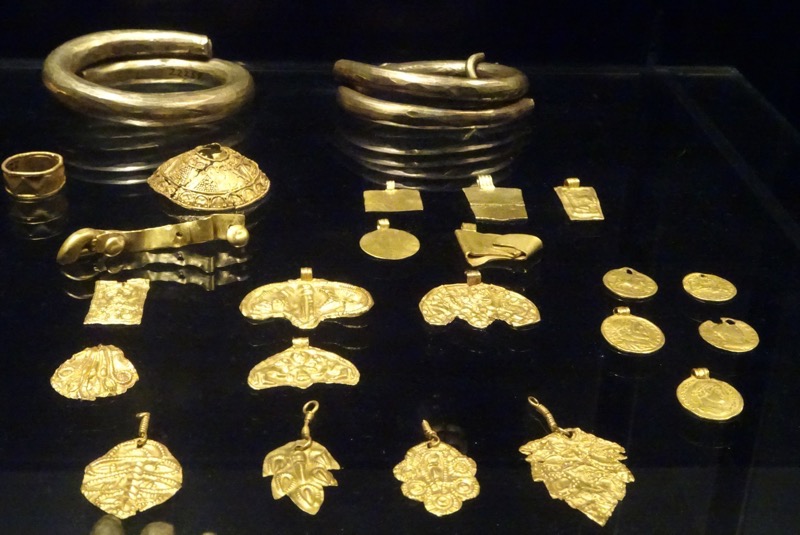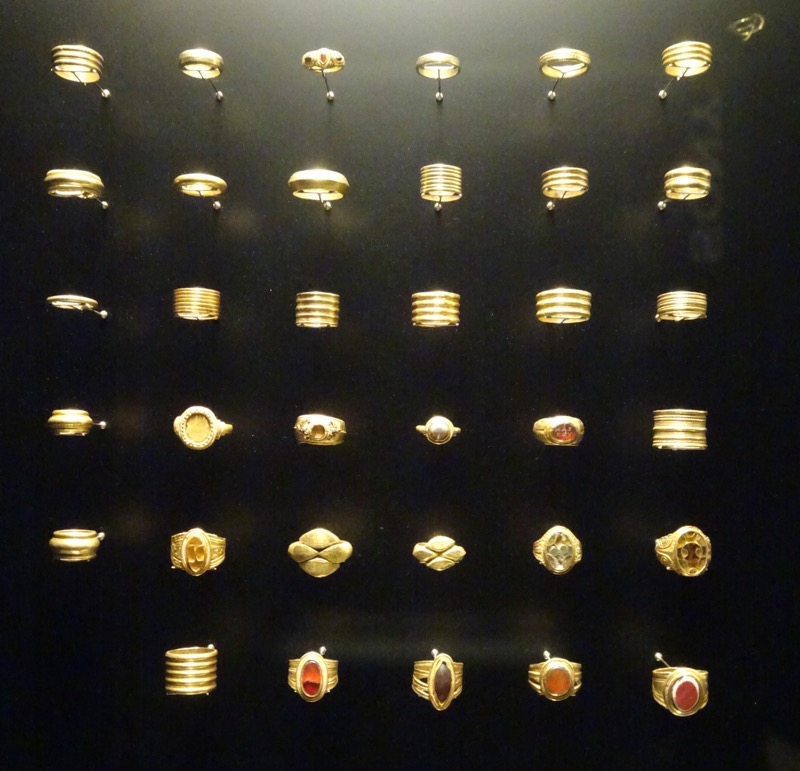 Above & detail Below:  Finger rings from the 1st to 6th centuries from various find spots.  The use of the finger ring was taken over from the Romans. A few of these rings were made in the Roman Empire.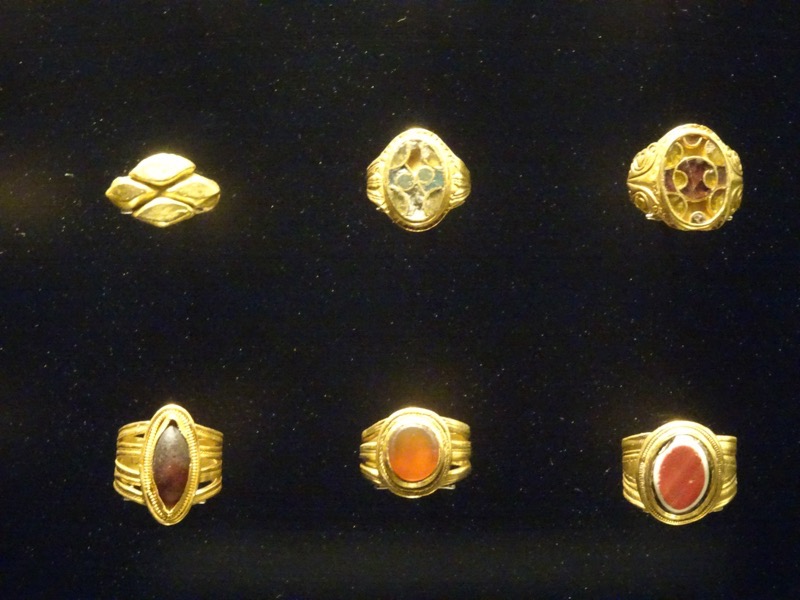 Hoard find with women's jewelry from Klithuse in north Jutland. c.500 AD.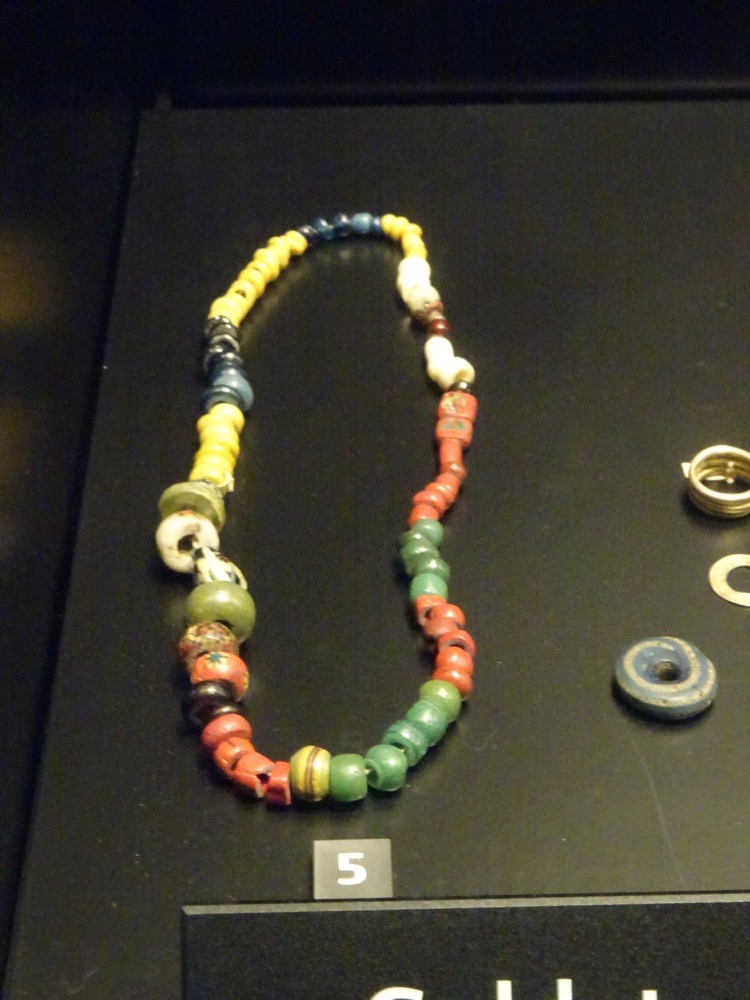 Scabbard mountings of gold from various find spots – c.5th-6th centuries AD.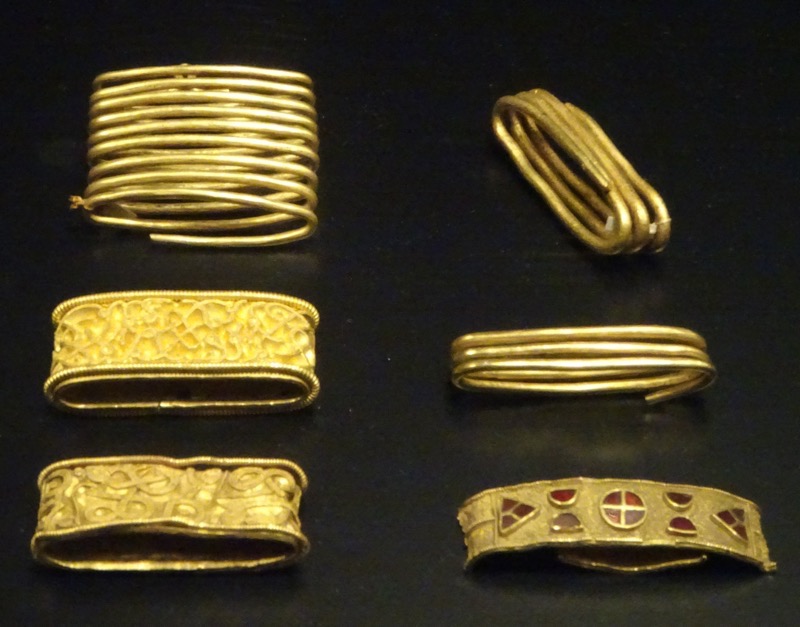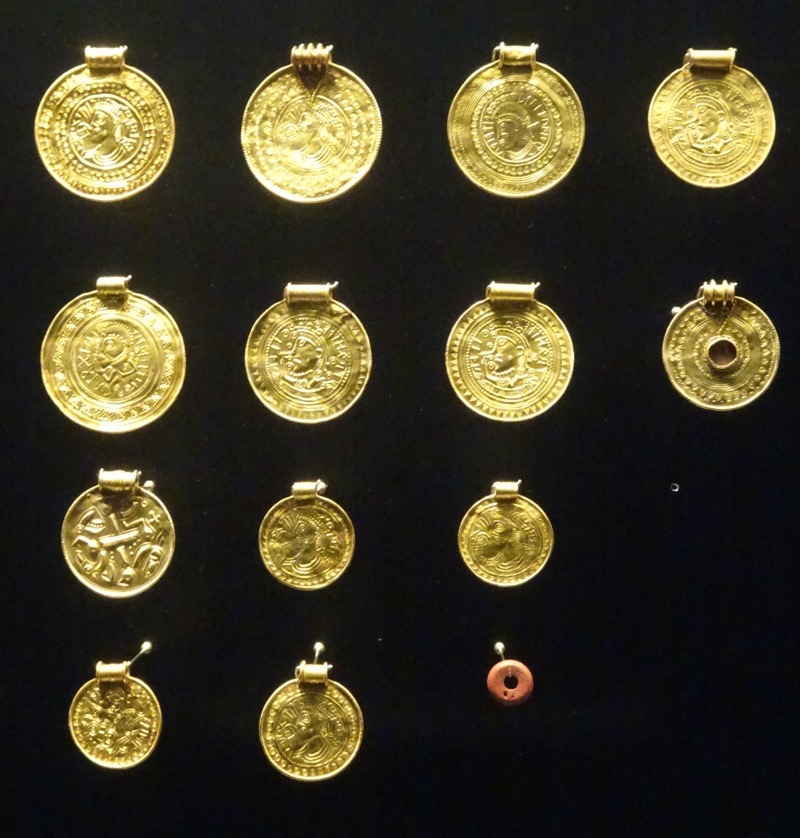 Above & detail Below:  Bracteates and pendants from a bog find at Darum in western Jutland, 6th century AD.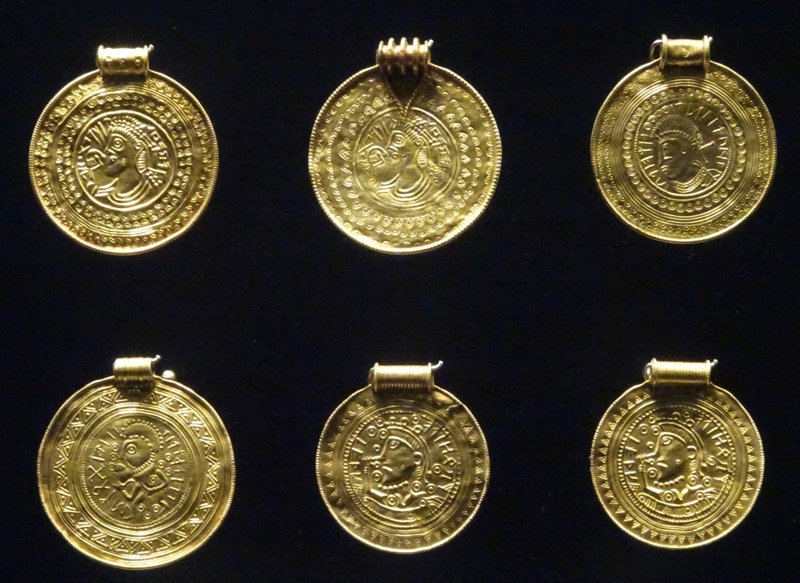 Broken brooch, bracteates, and beads, from a bog at Agerskov in western Jutland. 6th century AD.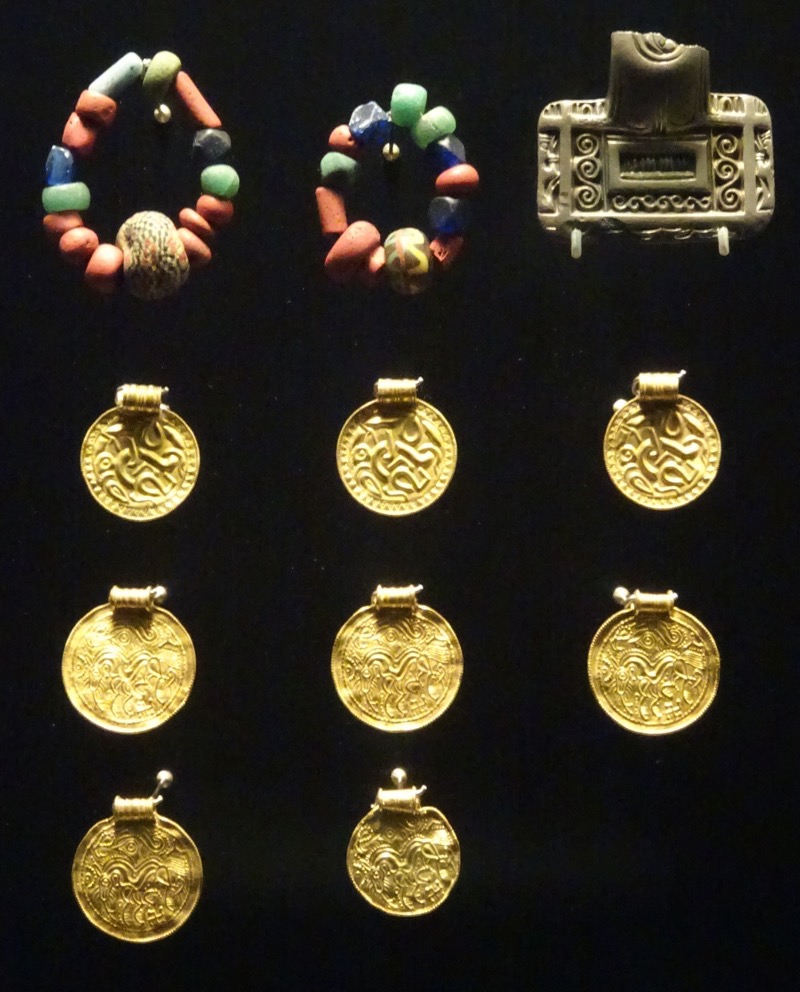 These two Golden Horns are from c.400 AD.  The decorations include both Nordic and Roman motifs.  The long horn was found in 1639 at Gallehus near Mogeltonder in southern Jutland.  A few meters away, in 1734, the shortest horn was found with the runic inscription, "I Laegaest, son of Holt, made the horn".  Tragically, both horns were stolen and melted down in 1902.  The curved copies here, are from 1861 and are possibly too large but they presumably do show the proper shape, while the twisted set from the 1970s has the right shape.  Top – 1970 reproductions; bottom – 1861 reproductions.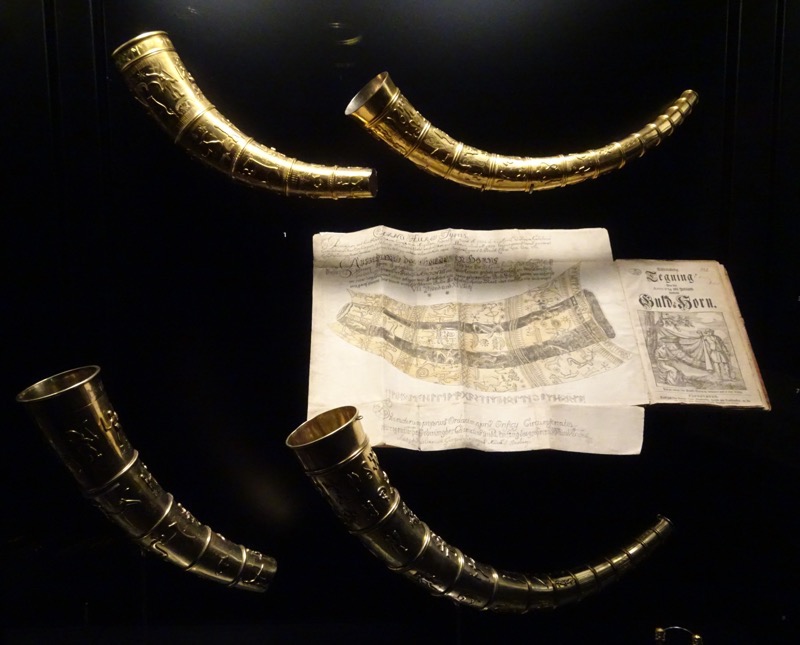 Pictures of the 4thC Golden Horns were preserved in the work of antiquarian Ole Worm that was published in 1641, and in a later publication by J.R. Paulli in 1734 (copy above).  On the basis of these pictures, King Frederick VII had the pair of reconstructions made in 1861.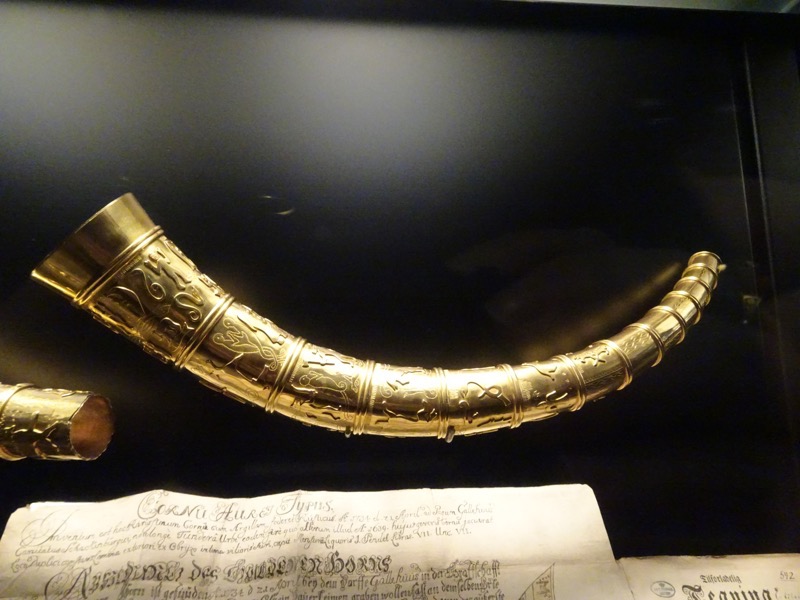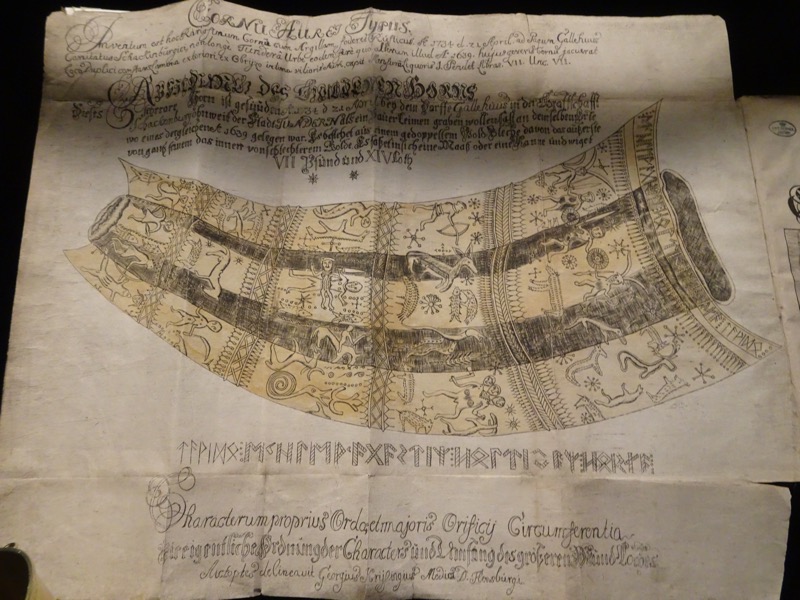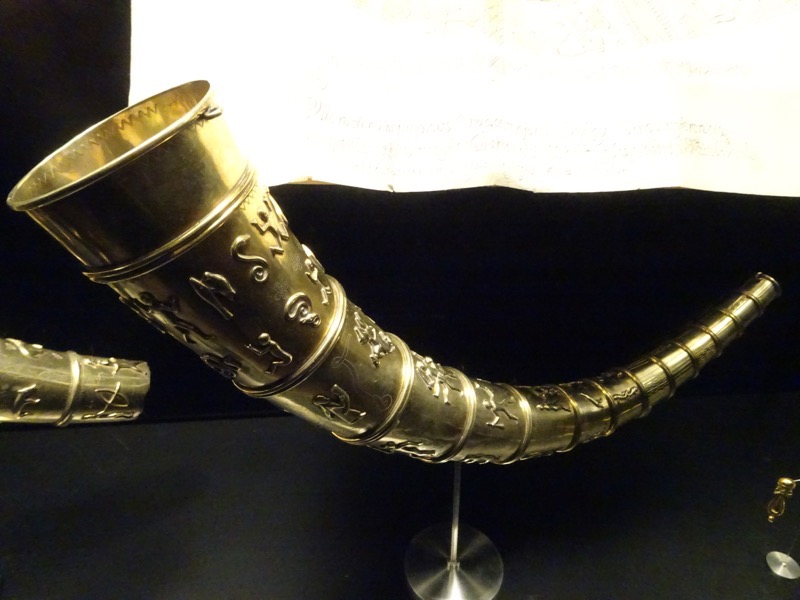 Bracteates with stylized animal figures from various find spots.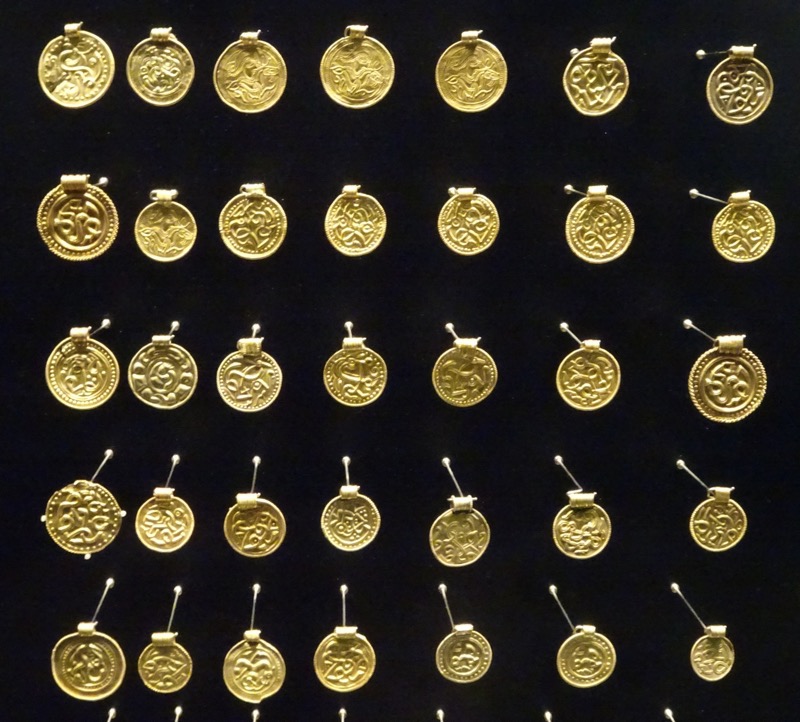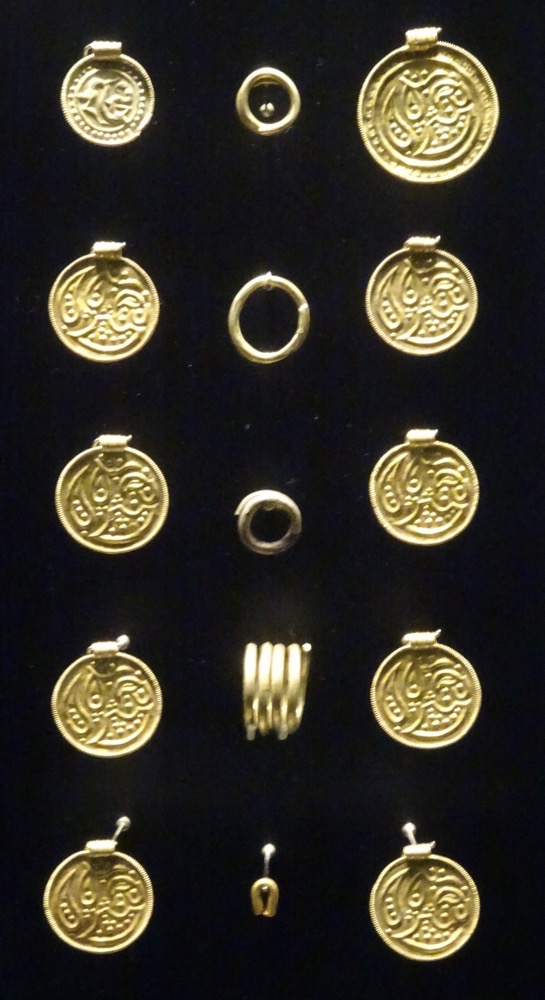 Neckring and bracteates from Hesselager (no date noted).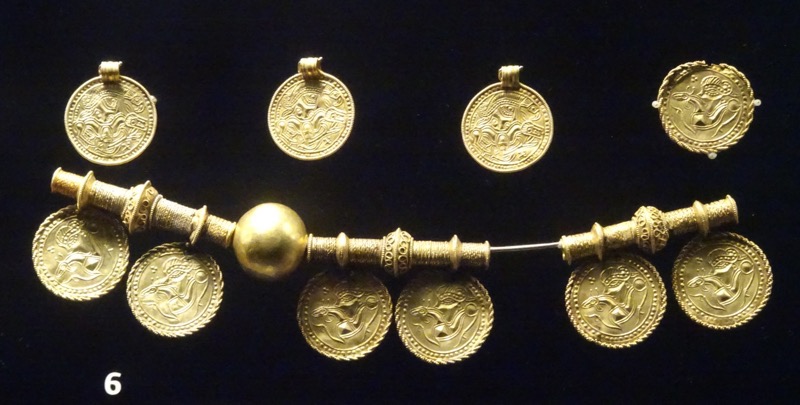 Hoard find from Elsehoved with coin pendants, a bar and a finger ring.  First half of the 6th century AD.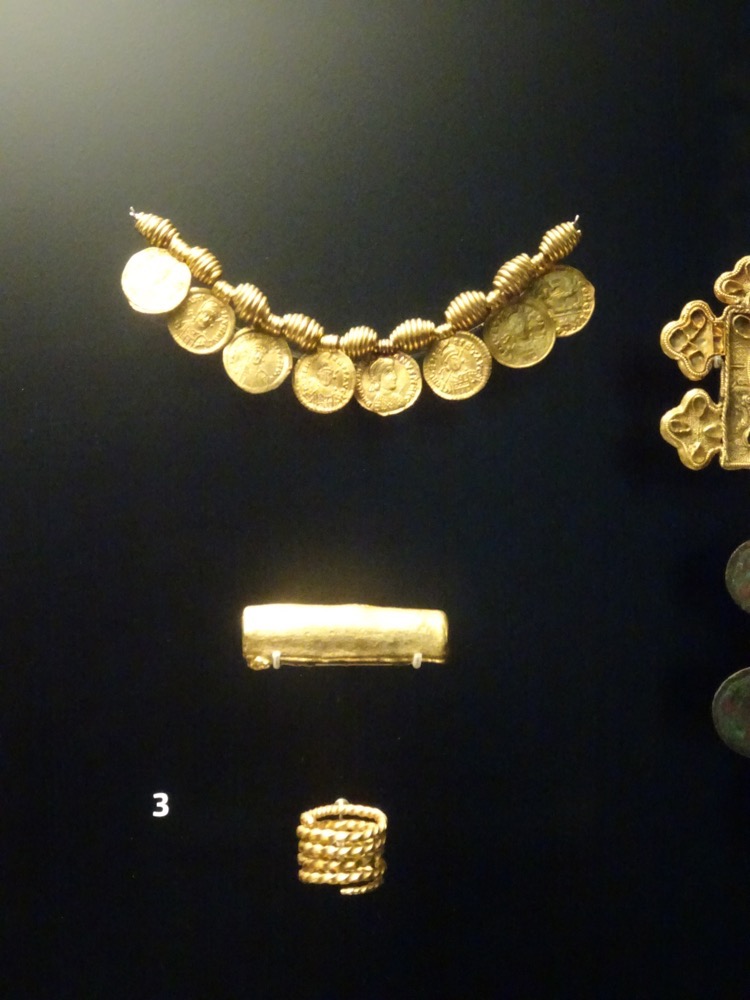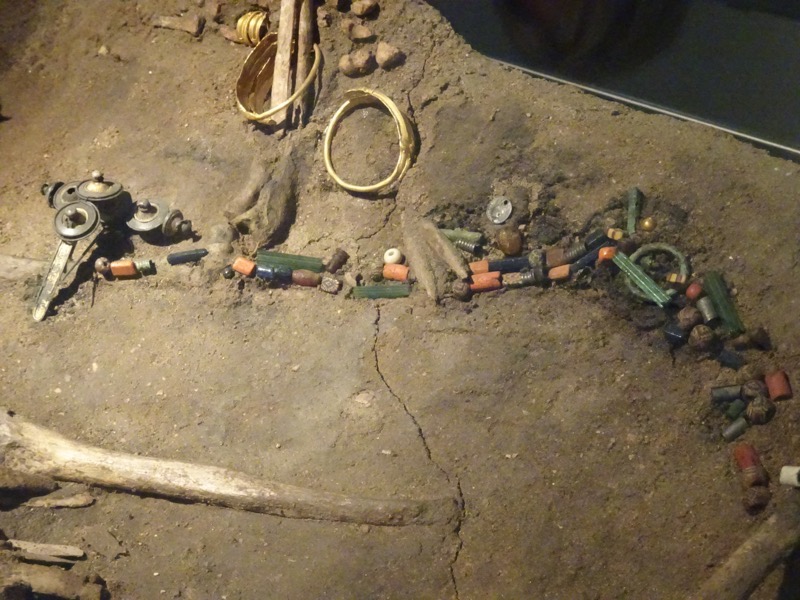 Above & Below: Undisturbed grave finds to demonstrate how archaeologists extrapolate context, period use, and subsequent display in accordance with how objects are found.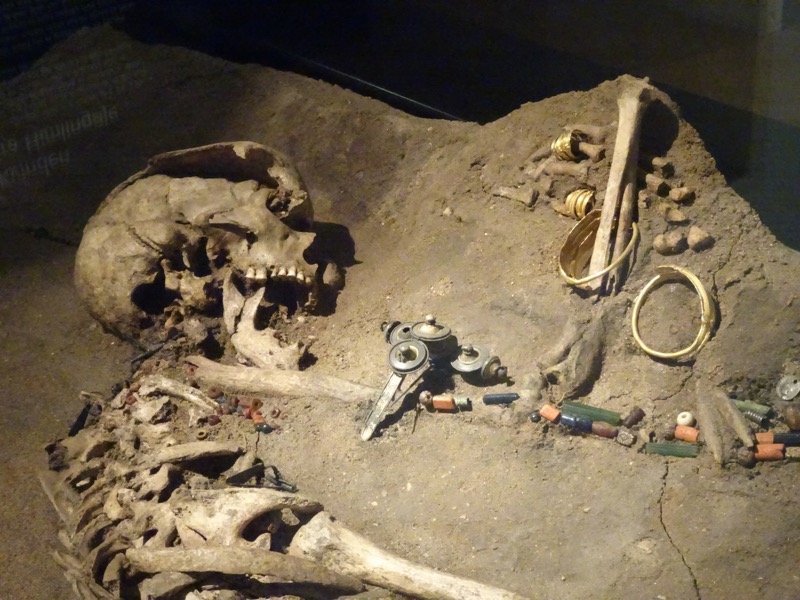 The famous Jelling cup.  Silver with niello inlay and gilding.  the animal motifs on the cup are in the Jelling style.  From the burial chamber at the North Mound, Jelling.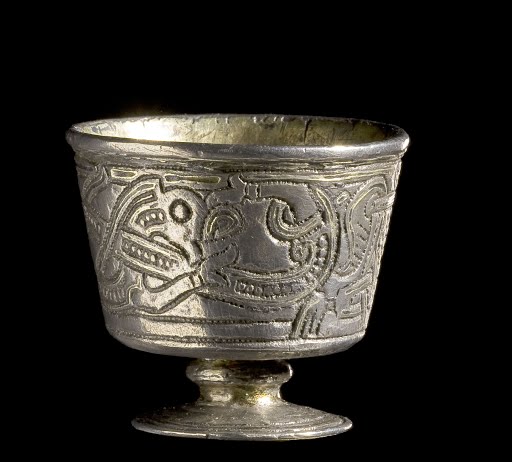 Design unwrapped: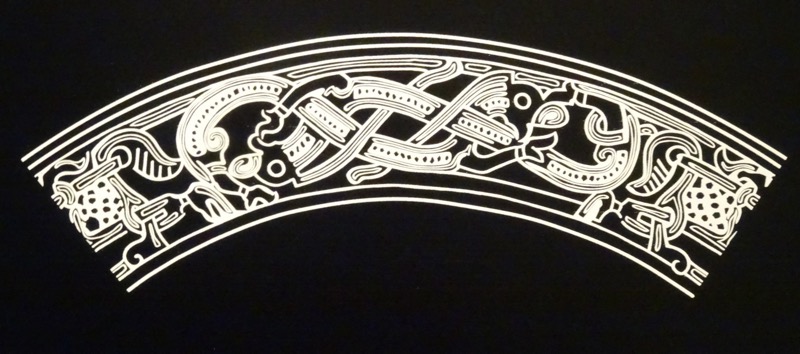 The Medieval Galleries were not as well patronized, nor so well organized, nor so well labeled.  It seems people here are far more interested in their prehistory, dark ages and iron ages history.
Altarpiece triptych made in North Germany, from the former Hospital-Church of the Holy Spirit in Faborg, c.1511 AD.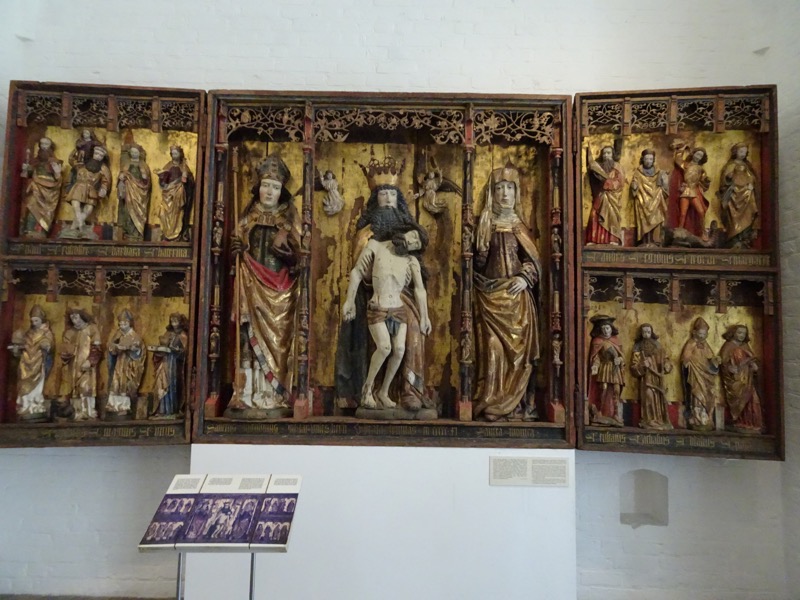 Detail: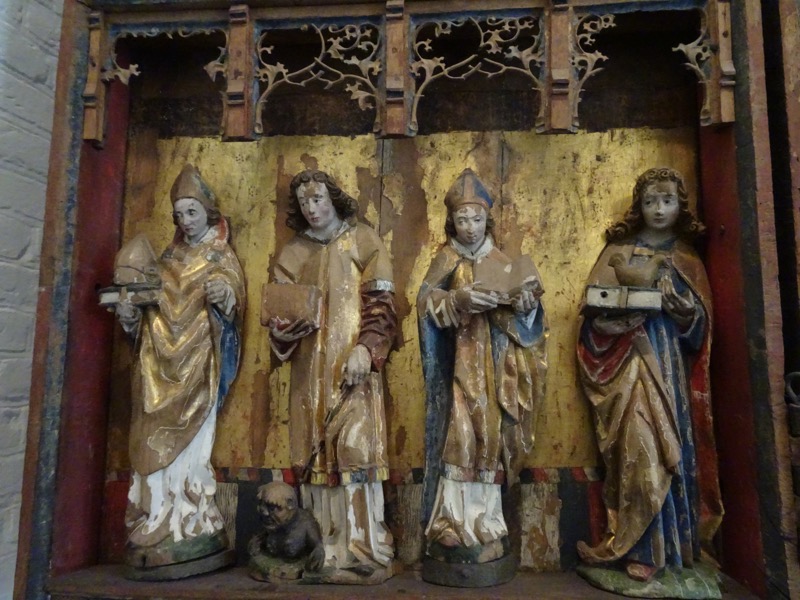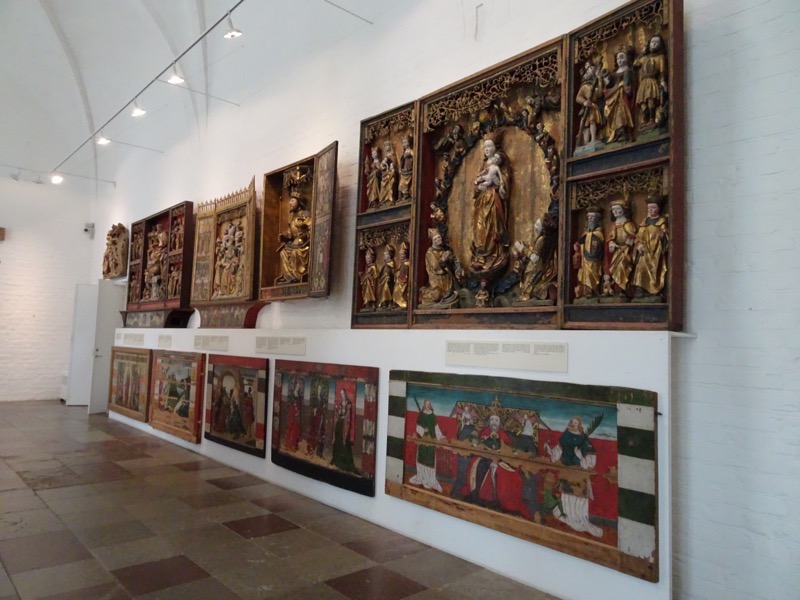 Altar frontal, Boeslunde Church, Sjaelland, c.1525 AD.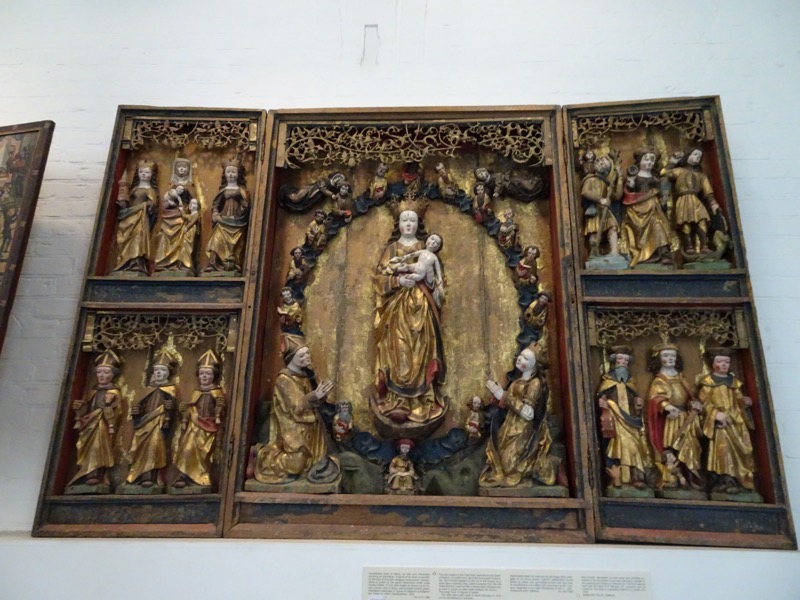 Detail: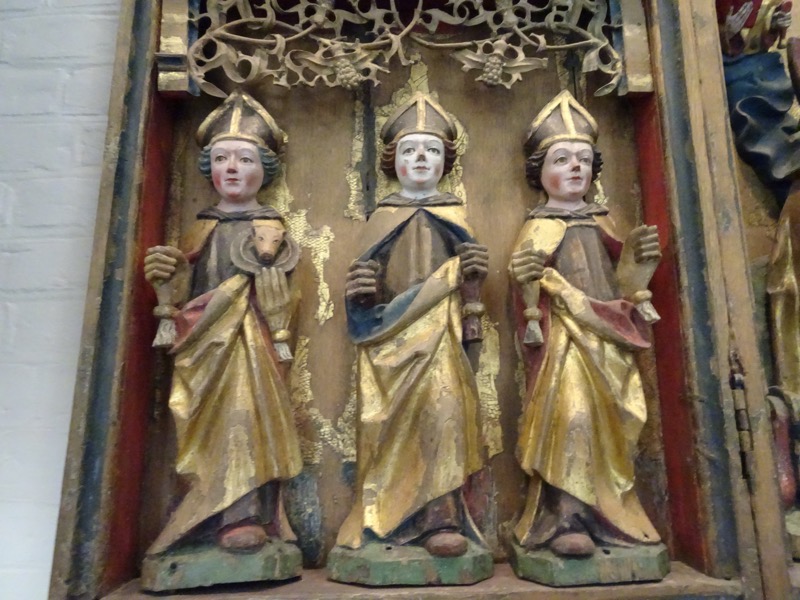 Brass box for relics from an altar table, Skovby Church, Fyn, 15th C.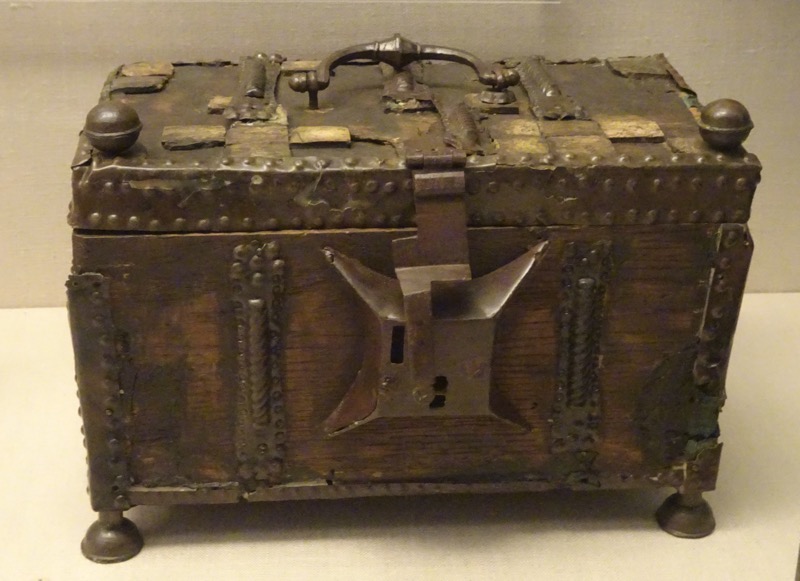 Altarpiece with a painting of the Holy Family. Kneeling person in the foreground was a late addition to the central painting, probably Bo Madsen, the priest who commissioned the piece.  The original church of the triptych is unknown.  Last used Omo Church, Storebaelt, c.1578 AD.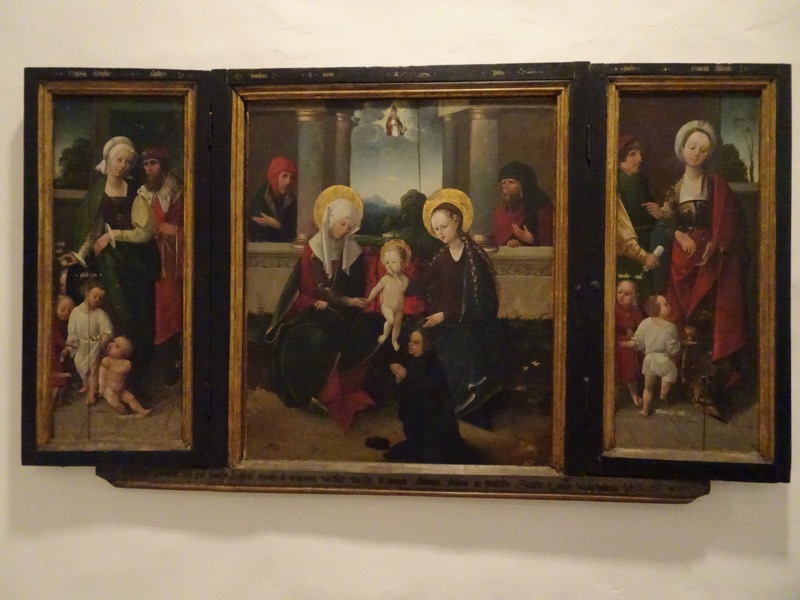 Full armour for horse and man.  The armour is a masterpiece made in a workshop in Innsbruck Austria.  The date 1545 is engraved on the breastplate under a cruicifx.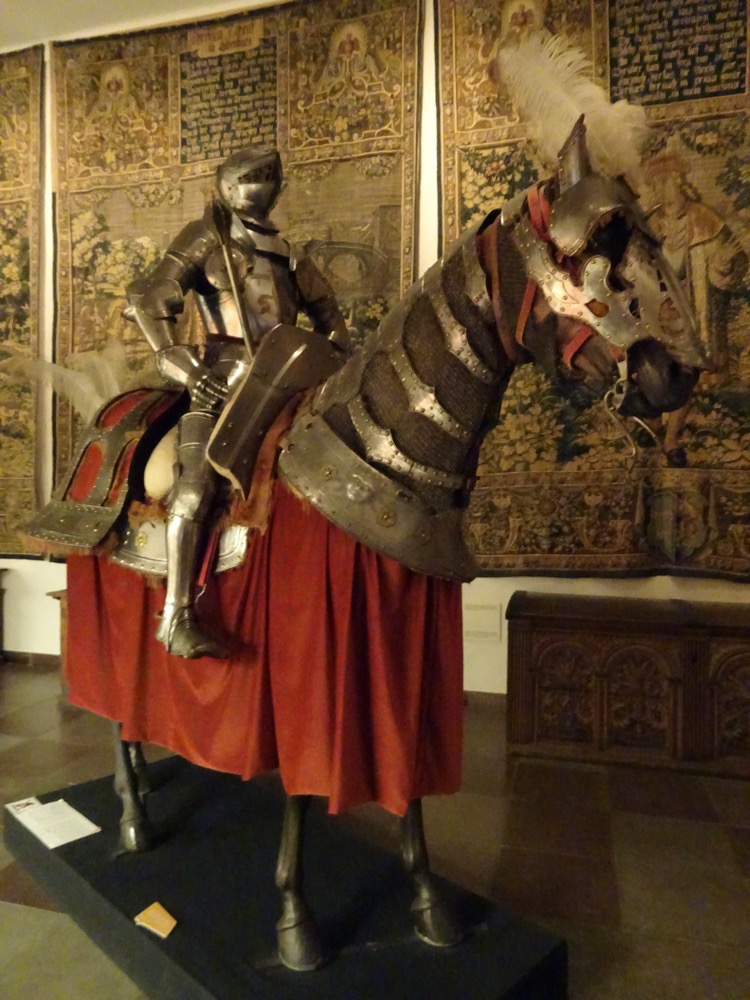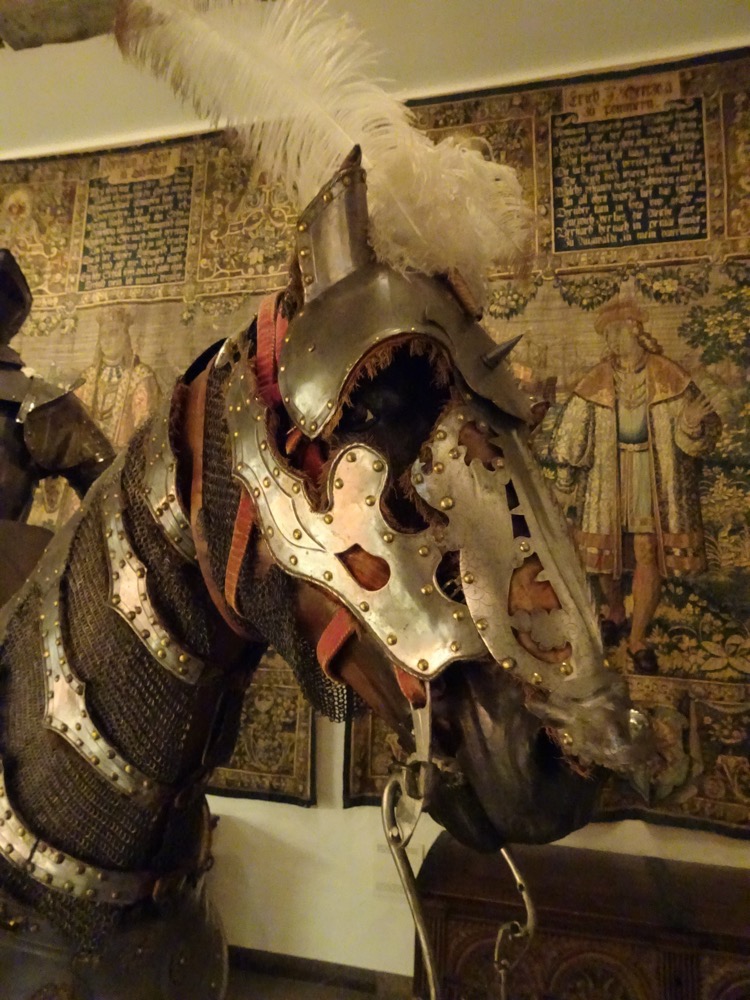 Tapestries in the Medieval gallery – no plaque could be found denoting provenance.  :/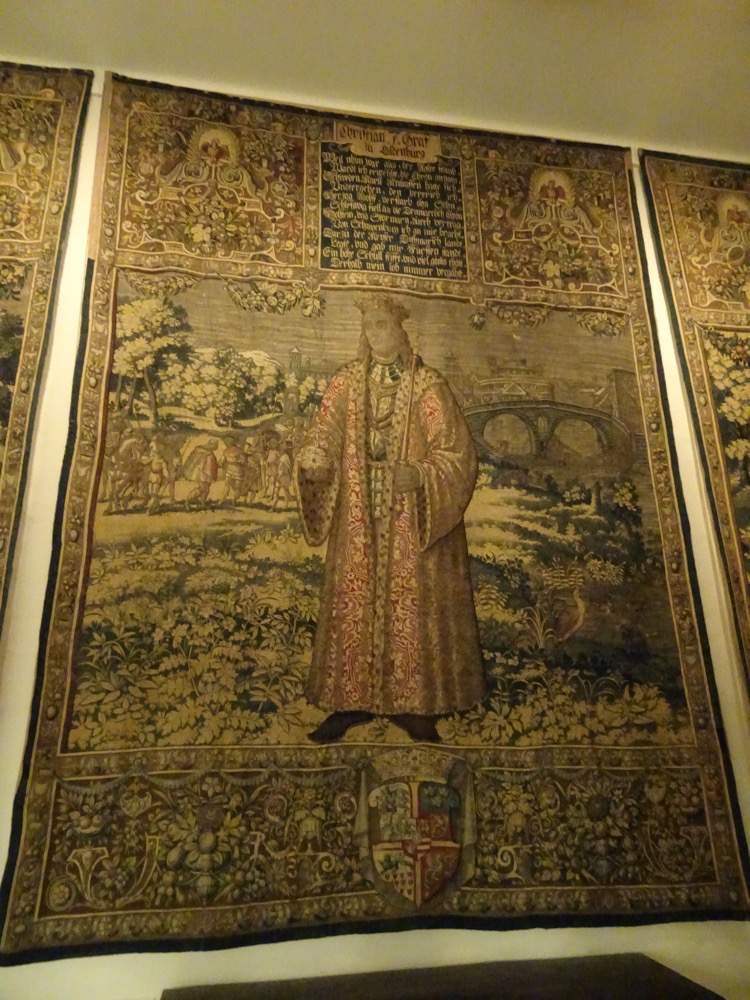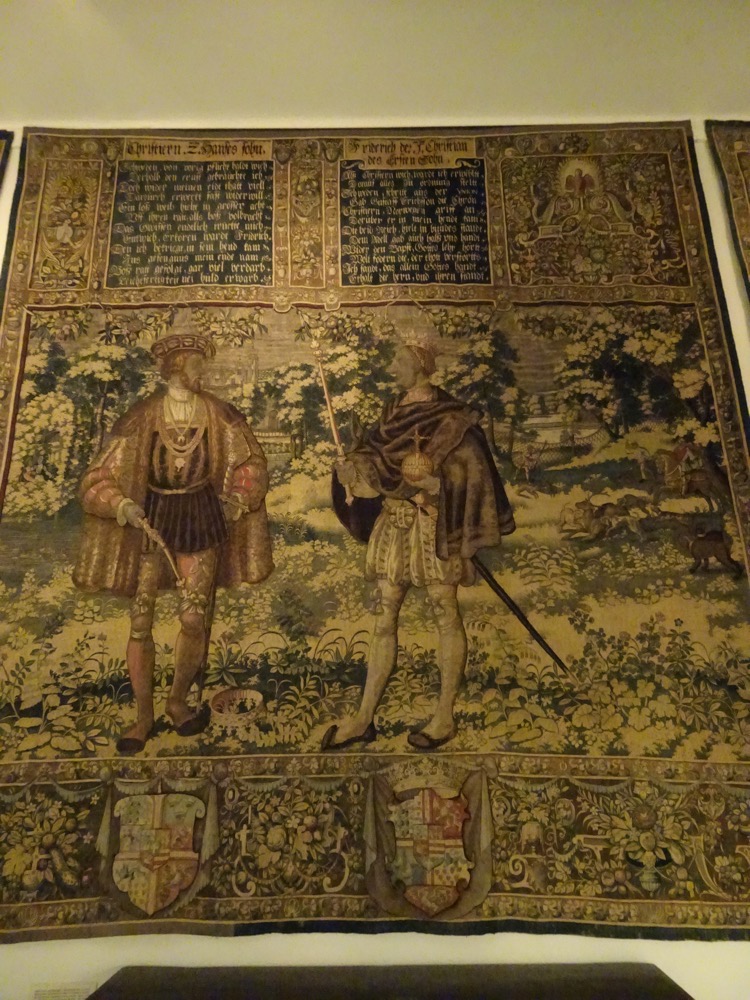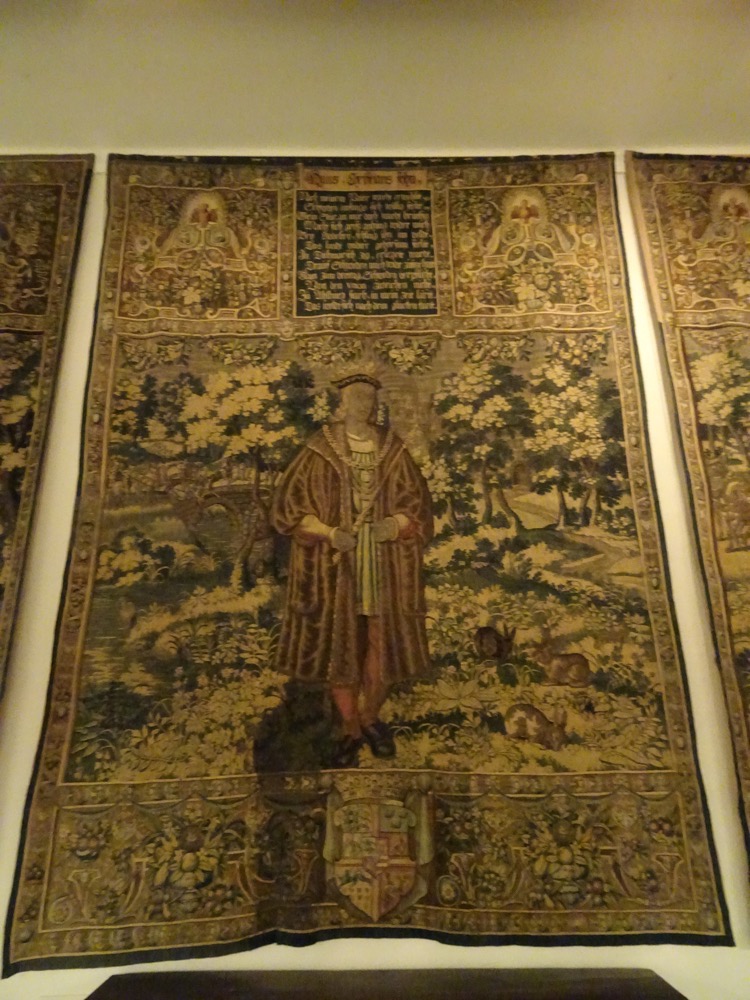 Dower chests in the Renaissance style, decorated with coats of arms, masks and portrait medallions.  Brides assembled large trousseau before marriage, a wealthy bride would bring many dower chests with her when joining her new husband's manor. All c.1500s AD.
Crossbow with intact string and sights.  Germany c.17th century.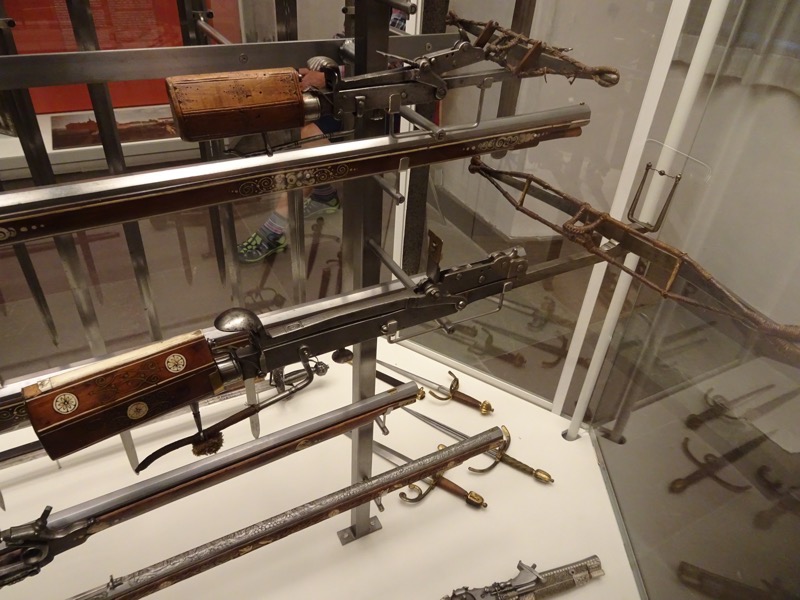 Small crossbow of steel, Germany. c.17th century.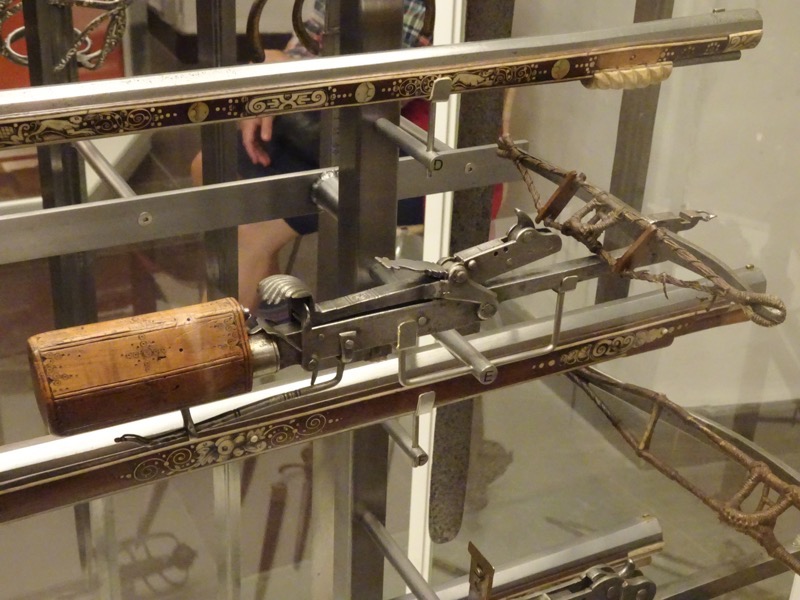 Pair of wheel lock pistols, Germany c.1600 AD.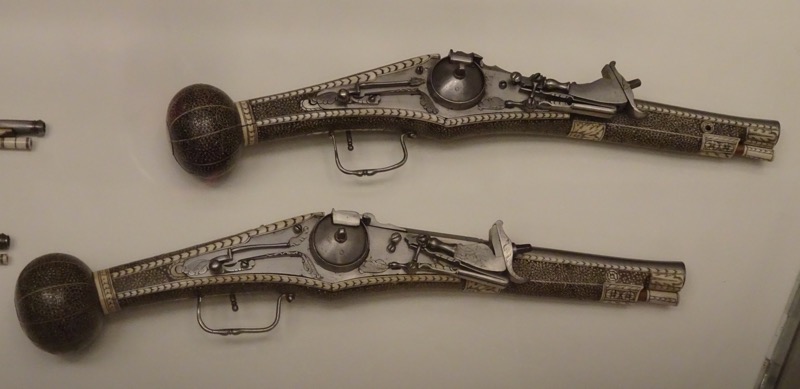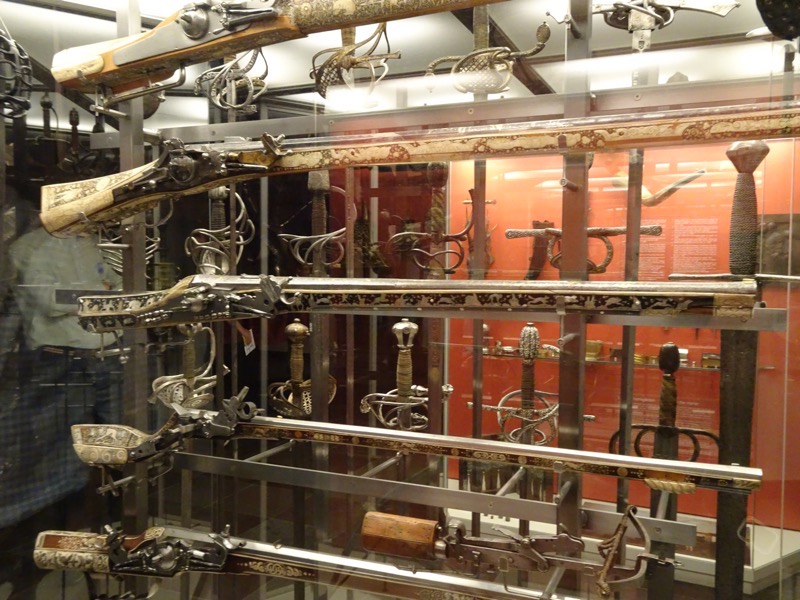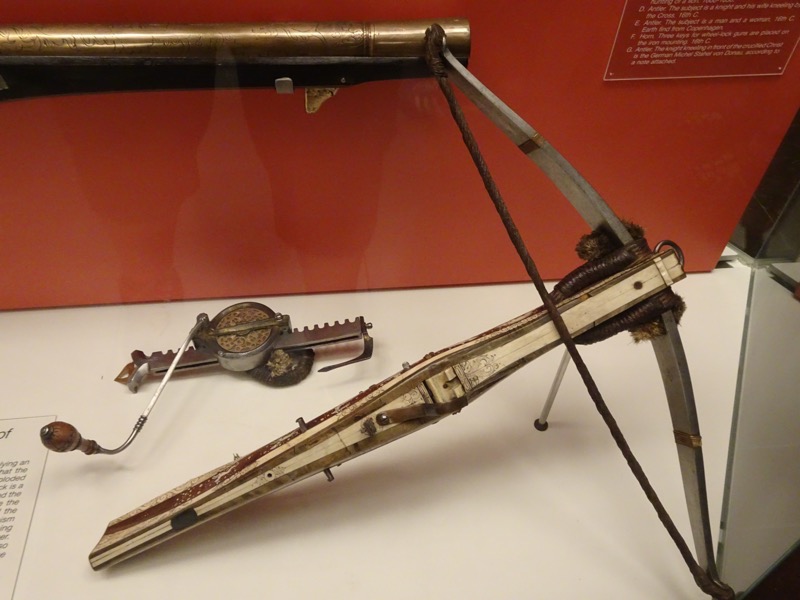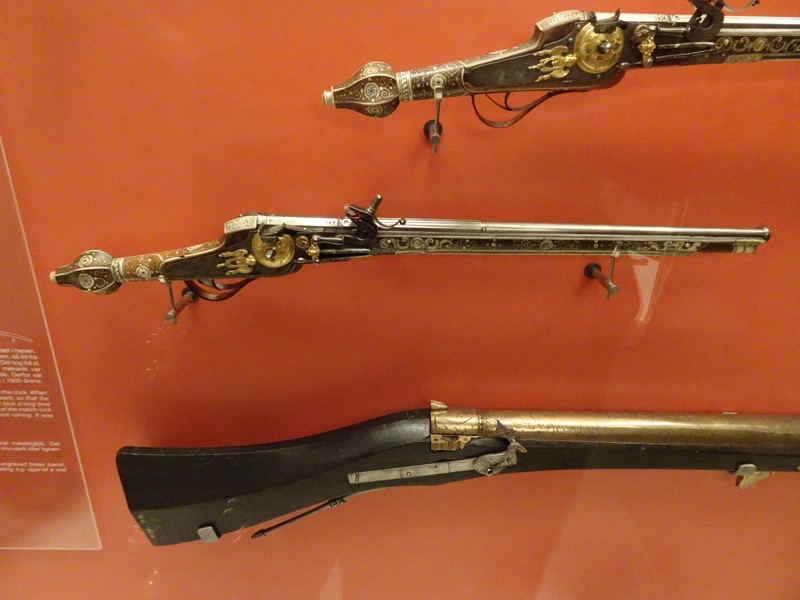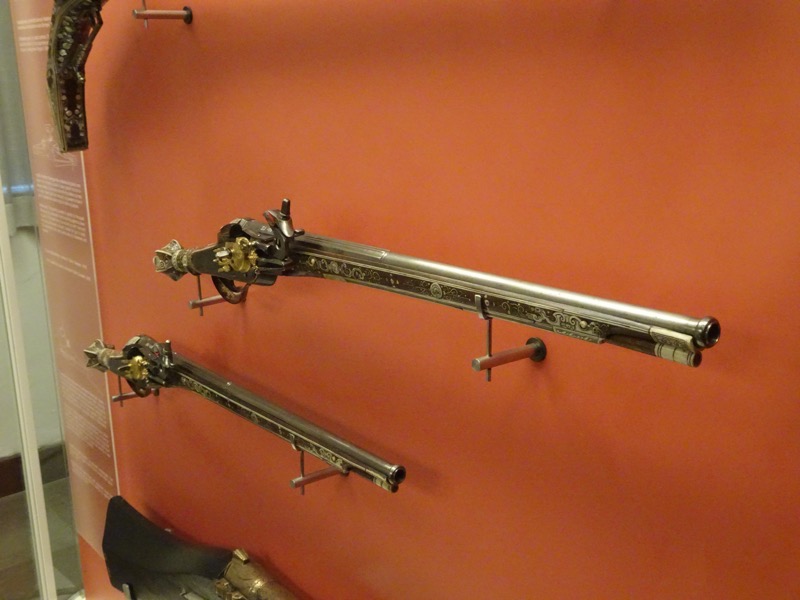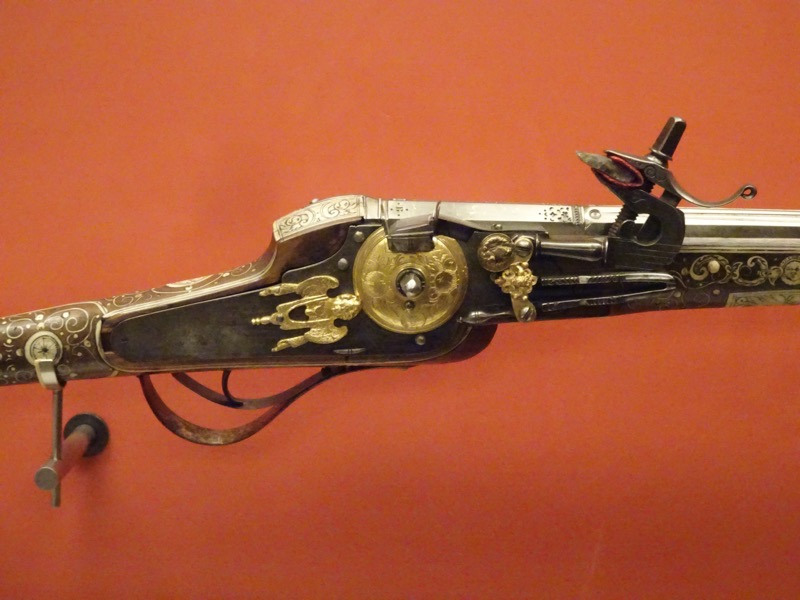 Powder horns.
A. Gilded brass, with a key for a wheel-lock gun in its base. Decoration from Roman legend. 16thC
B. Gilded brass and velvet on wood. Subject is Diana, Goddess of hunting, the back depicts a battle scene. 1600-1650.
C. Gilded brass and velvet on wood.  Subject is the hunting of a lion.  c.1600-1650 AD.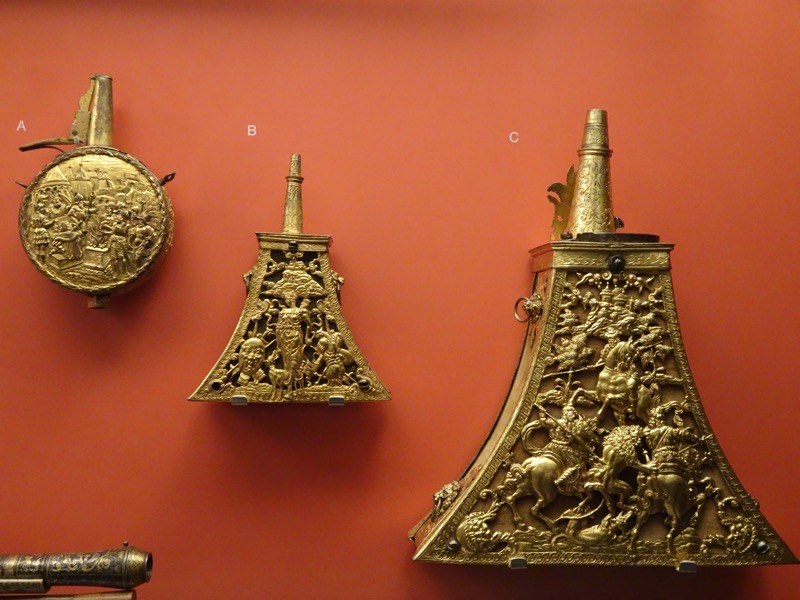 D. Antler. Subject is a knight and his wife kneeling by the cross. 16thC.
E. Antler. Subject is a man and woman 16thC. Earth find from Copenhagen.
F. Horn. Three keys for wheel-lock guns are placed on the iron mounting. 16thC.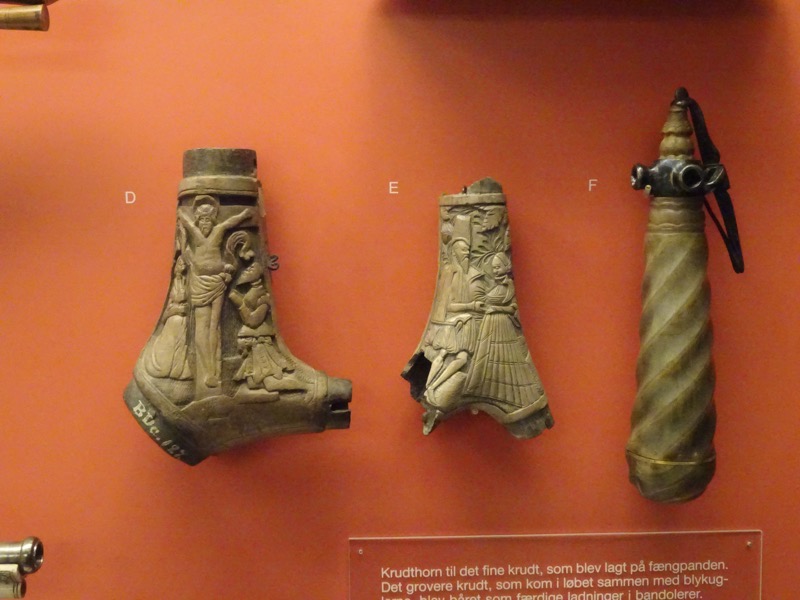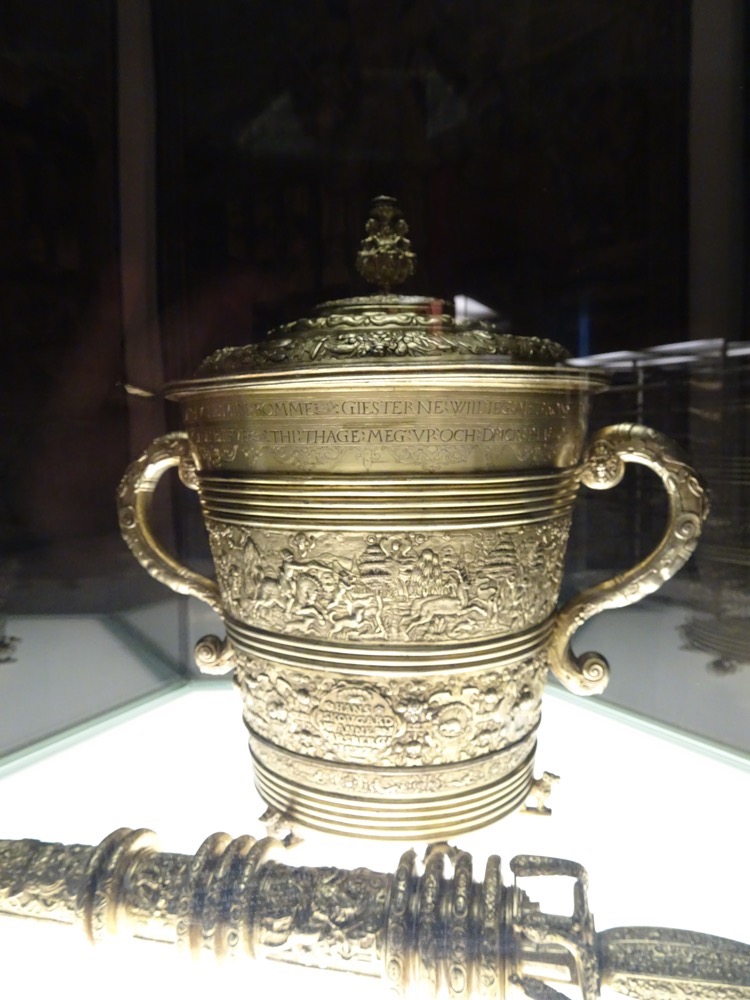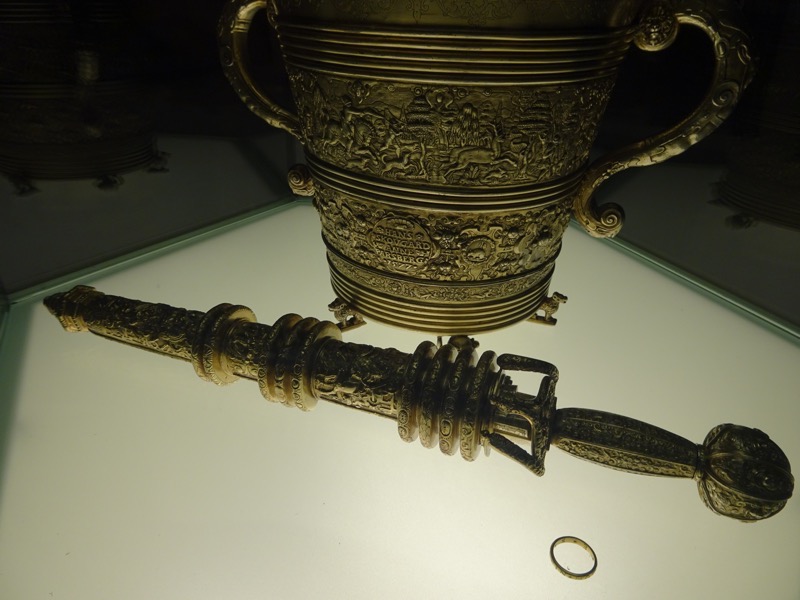 Figures of eight saints, Paul, Peter, John, Andrew, Catherine, Barbara, Mary Magdalene, and Dorothea.  Embroidered on linen with silk and metal threads.  Split stitch, shaded satin stitch and couching).  Figures probably originate from embroidered bands on a cope.
St Knud's Church, Odense.
Silk embroidered linen cloth.  Probably intended as a chalice veil, but the 18thC saw it repurposed to a christening robe sewn together from several similar smaller cloths.  Design shows the hunting of a unicorn (Annunciation motif).  Possibly Scandinavian or northern German c.1550.  Fine line tabby, embroidery with floss, s-plyed silk, thread of silk spun round linen core; split stitch, couching).  Granlose Paris, north-west Zealand.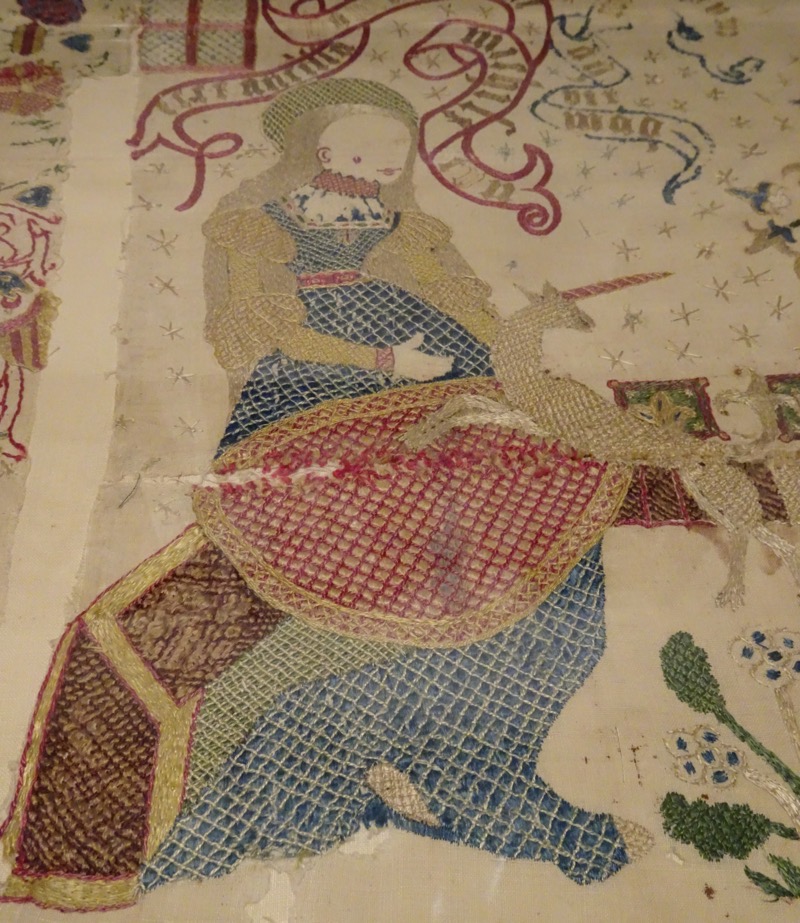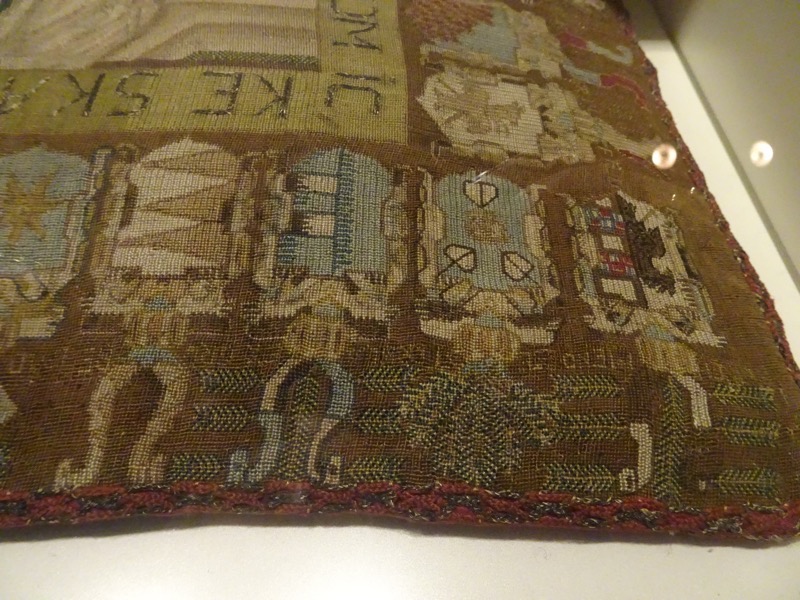 Embroidered pillow case showing Christ in the house of Mary and Martha encircled by the words from Luke 10:42: "Mary hath chose that good part…"  Linen; tent stitch, double running stitch, stem stitch in s-spun silk, silver thread, and human hair.  Framing the centre motif are 32 coats of arms with the initials of the ancestors Ove Gedde and his wife Dorthe Urne.  Sperstrup Manor, Jorlunde Parish, north Zealand.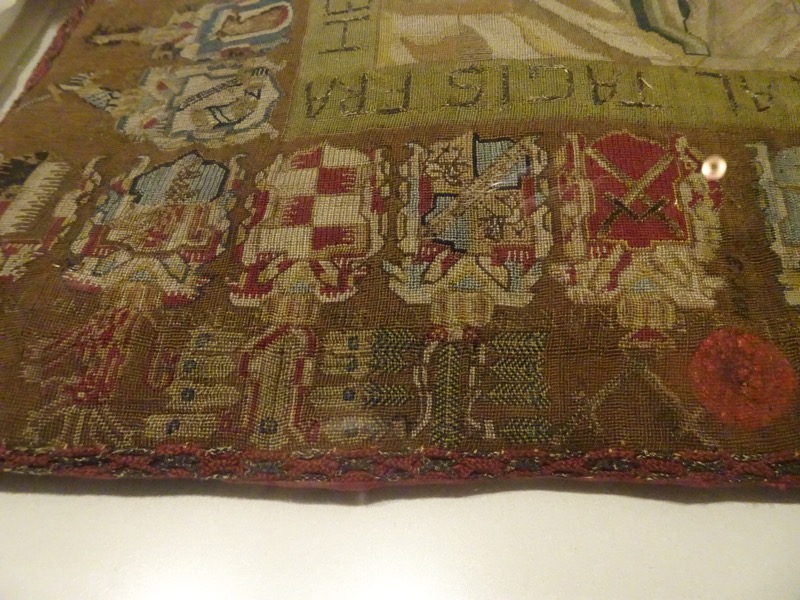 Brides crown from typical Scandinavian Medieval household.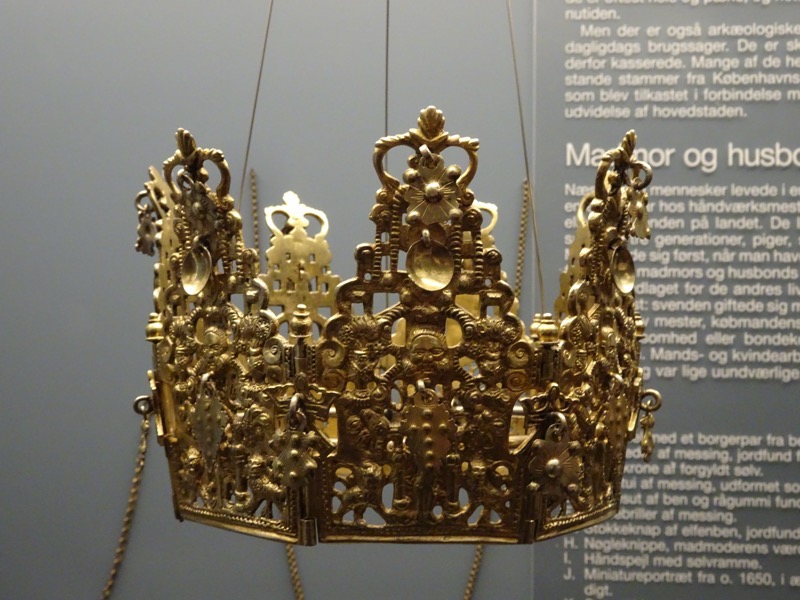 SHOEMAKERS:  Wooden lasts from earthfinds in Copenhagen.  Leather shoes and slippers for adults and children c.16th-17thC, also from Copenhagen.  Tools used by shoemakers (knife with half moon blade, tongs for stretching leather over lasts, smoothers to smooth seams).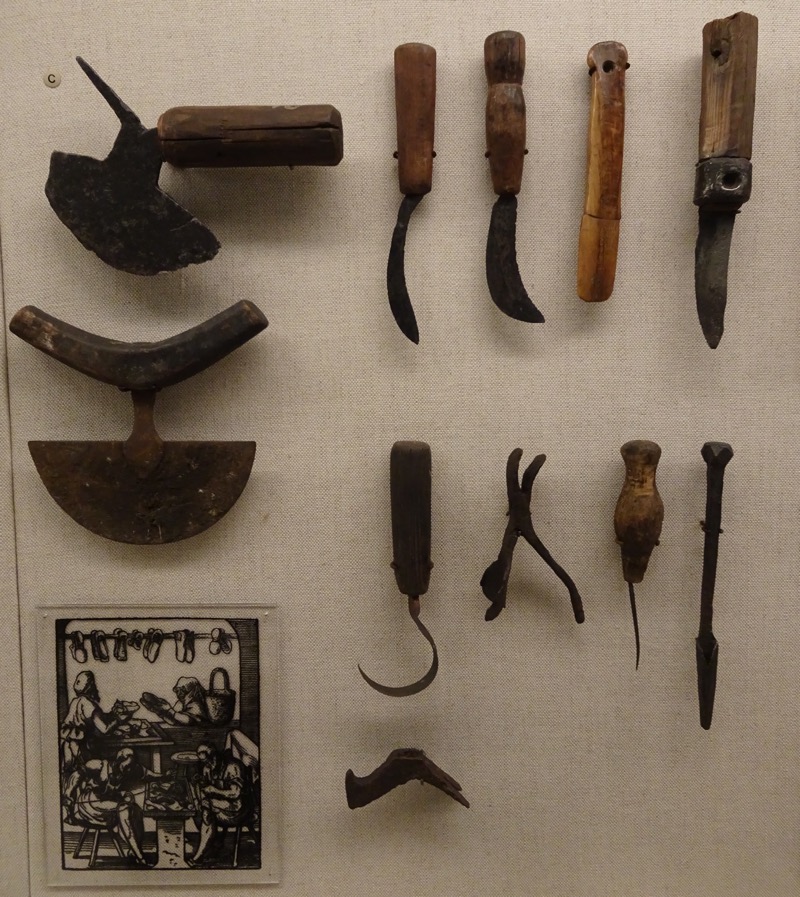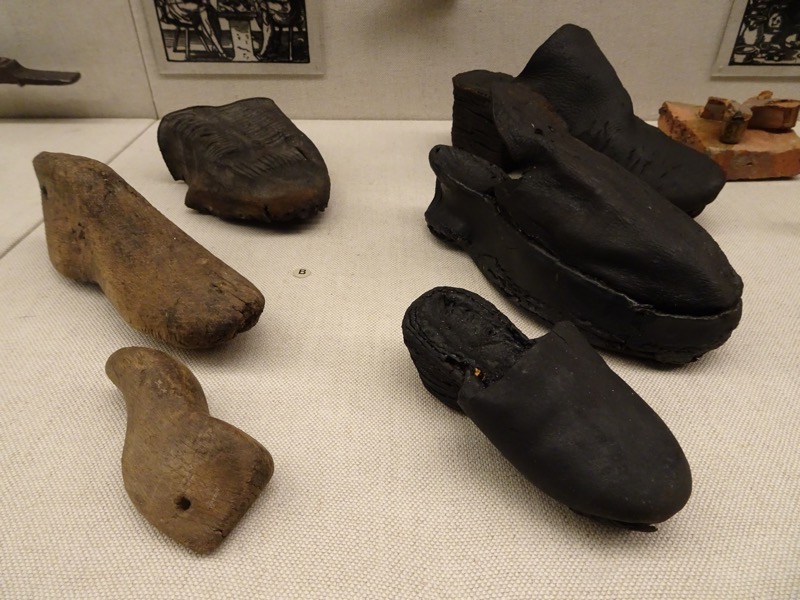 BUILDERS:  Painters, masons, carpenters, smiths and wood carvers.  Various items: paint pots, paint brushes, axes, trowels, wood carving iron, soldering irons, compasses, gimlet, tongs, pincers, saws, hammers, anvil, chisels, etc.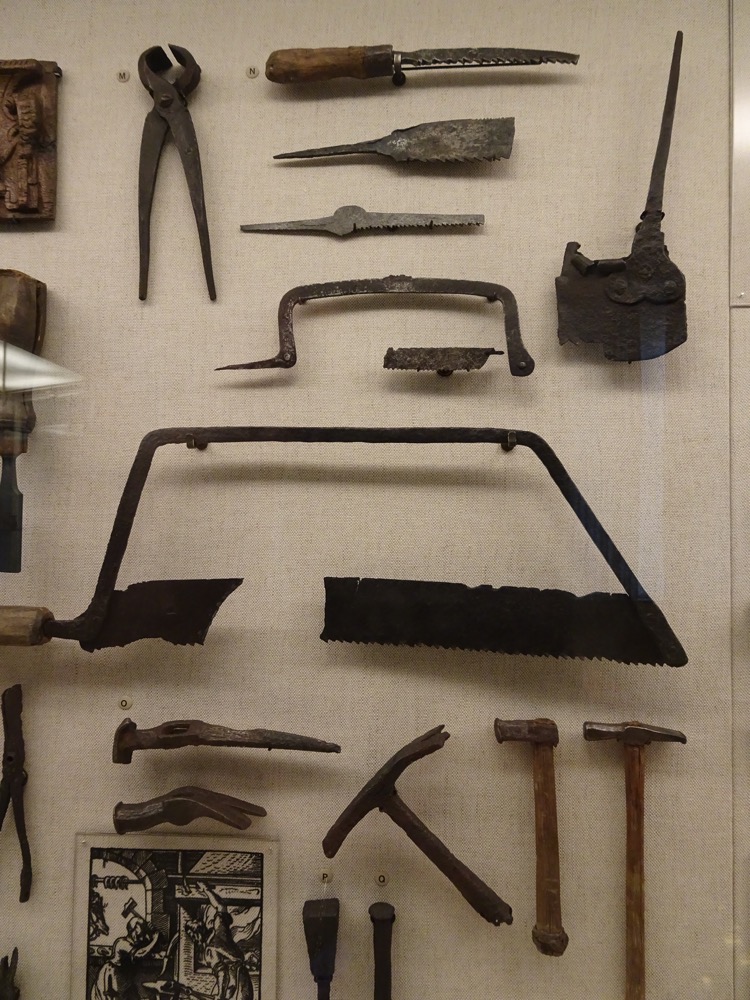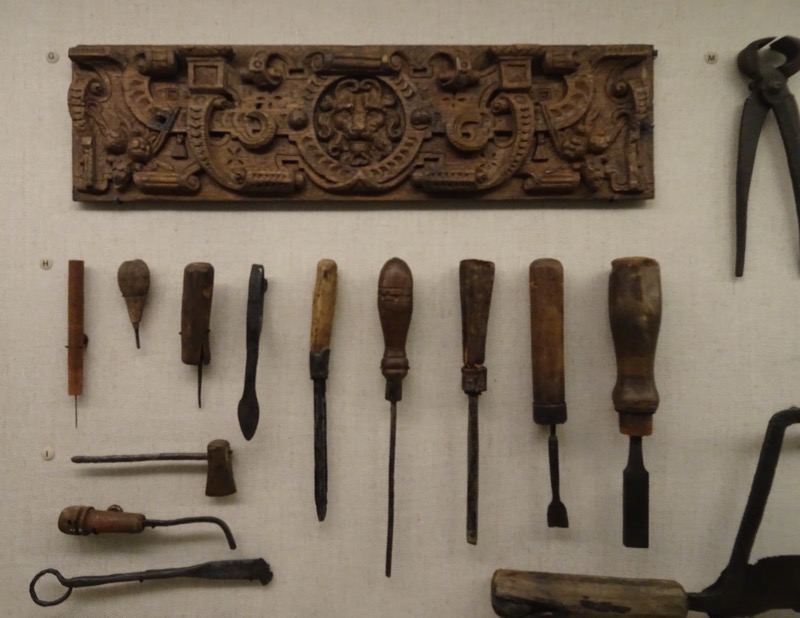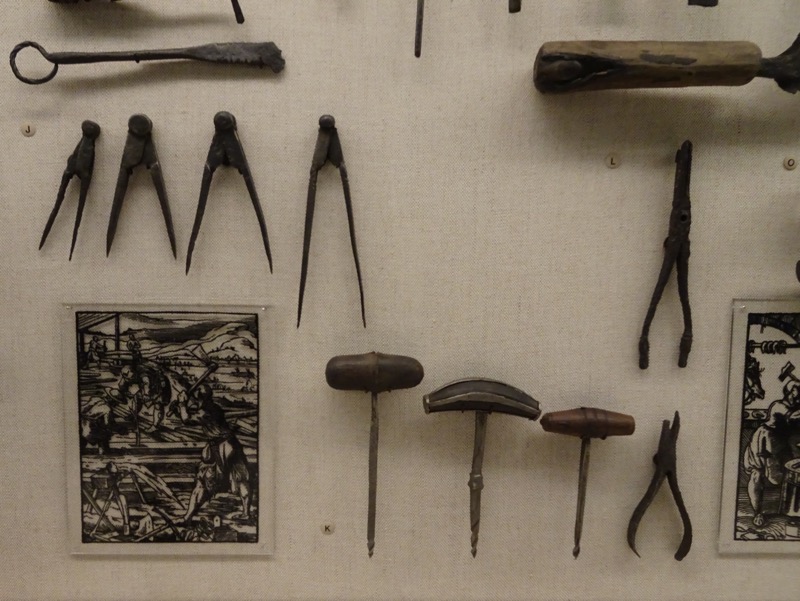 BOOKBINDERS AND PRINTERS:  Copperplated used for printing the frontispiece of King Christian IV's Bible in 1647.  Book binders tools from Copenhagen c.1600.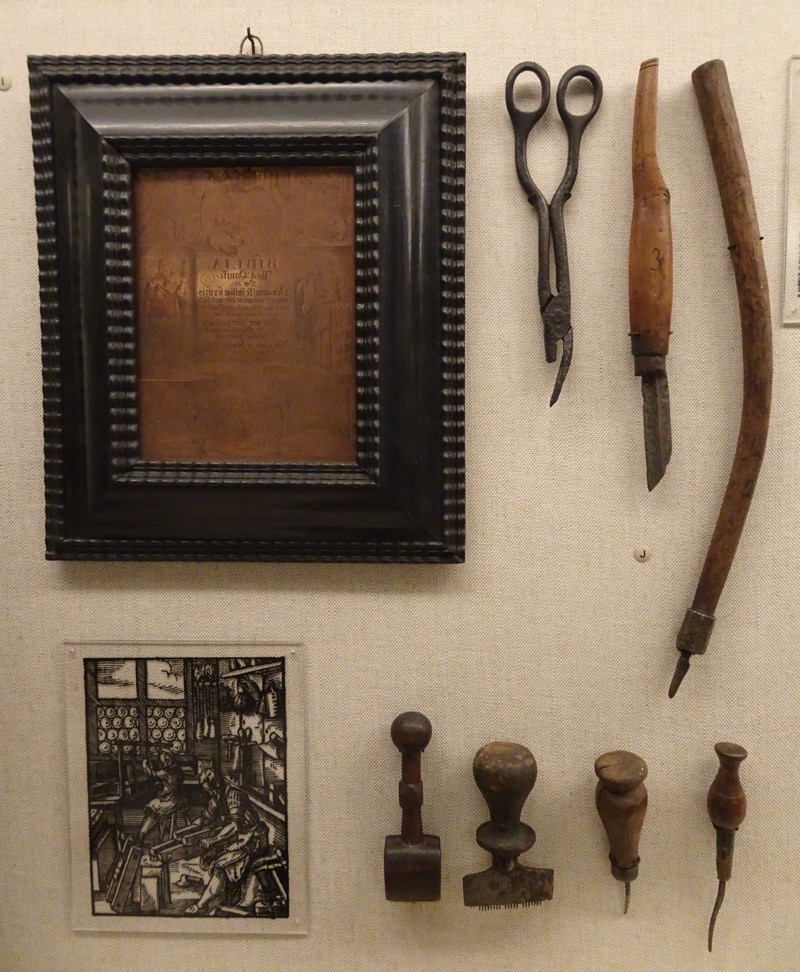 Until 1835, these two books, bound in pigskin were chained to their place in the library of Our Lady's Church in Kalunborg.  The larger book contains a text by Calvin, Geneva, 1551 AD.  and the smaller book contains a text by Henricus Mollerus, Wittenberg, 1573 AD.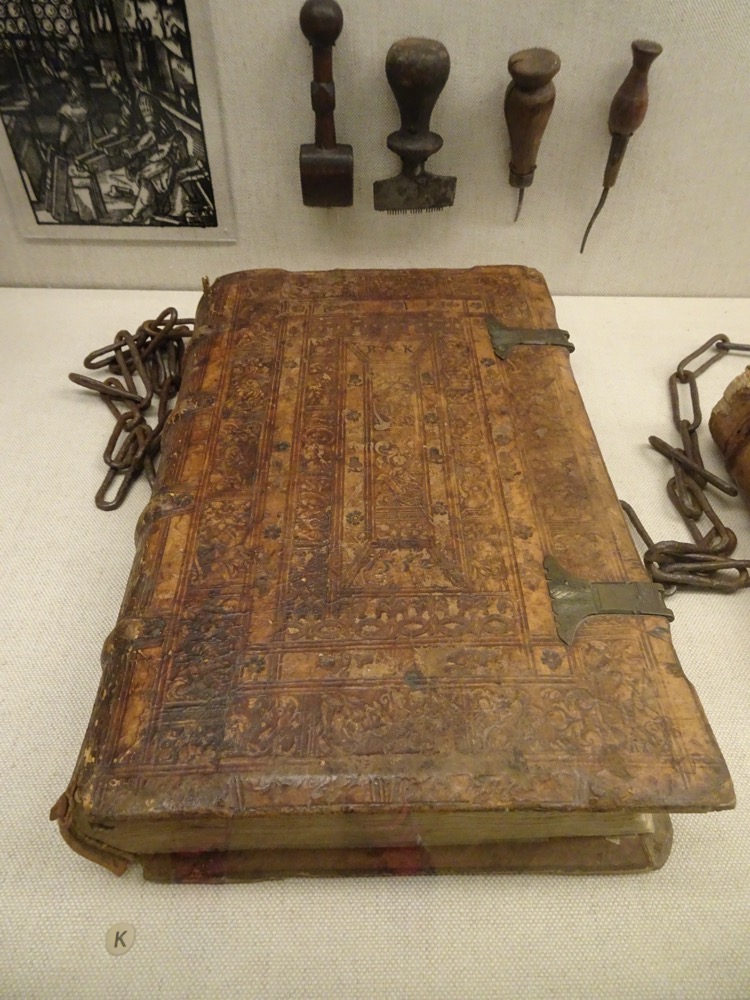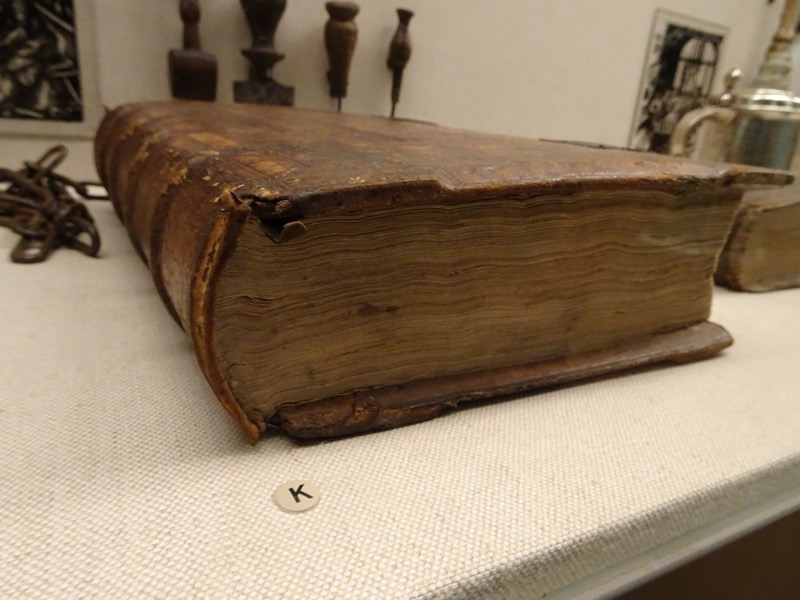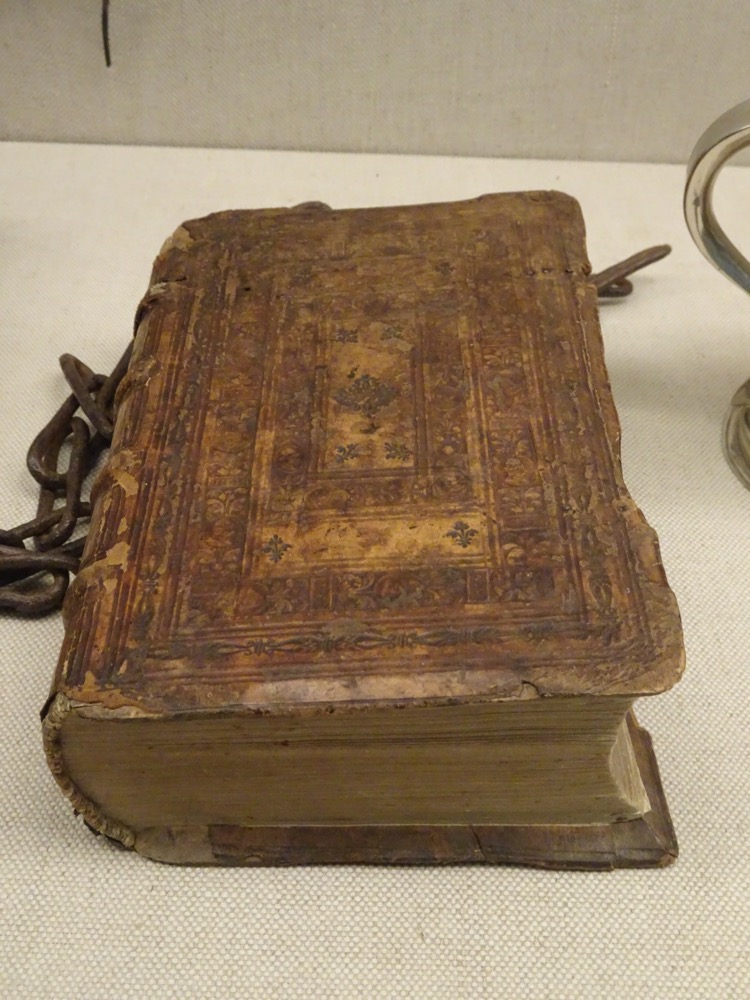 Stoneware from the traditional potteries on the Rhine reached Denmark in vast numbers.  Hard fired ceramics were richly ornamented and used as decorations in many Danish homes.  Faience was imported to Denmark from the Netherlands and North Germany but was relatively uncommon.
Faience from 1600-1650 includes a Portuguese jar, with a Danish owner's name and the date 1624.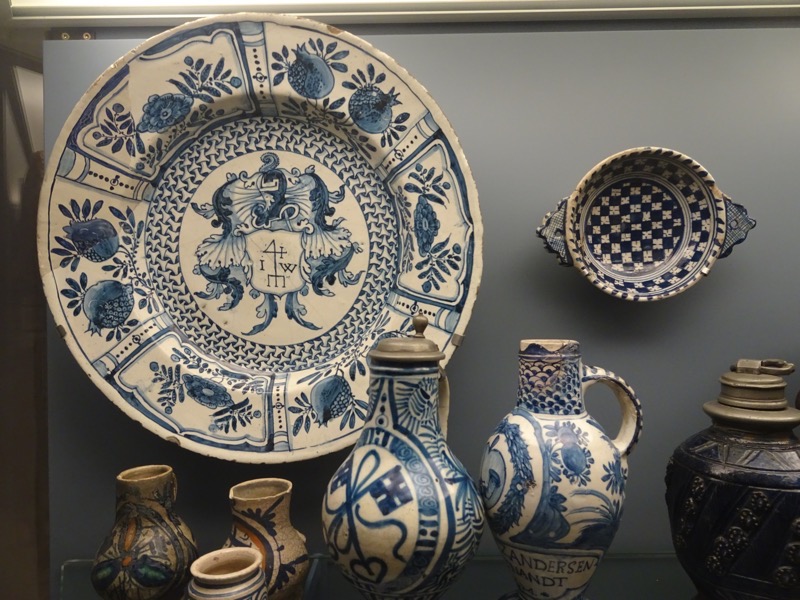 Stoneware from various production sites.  Dark jug with rings from Dreihausen in Hessan (17thC).  Blue glazed bottle with pewter lid from Raeran (17thC). Polychromatic glazed jug from Saxony with lid (c.1679).  "Terra-sigiliata" jug from Gabel in Bohemia (c.1649).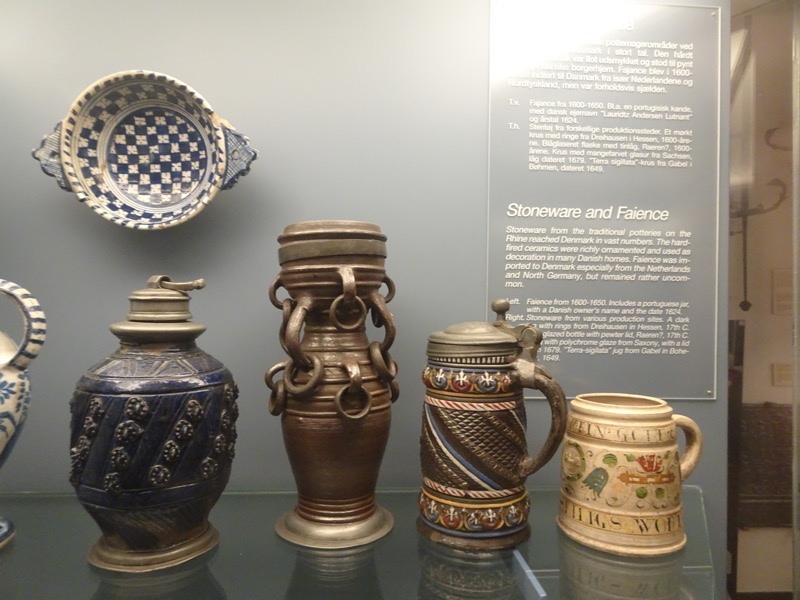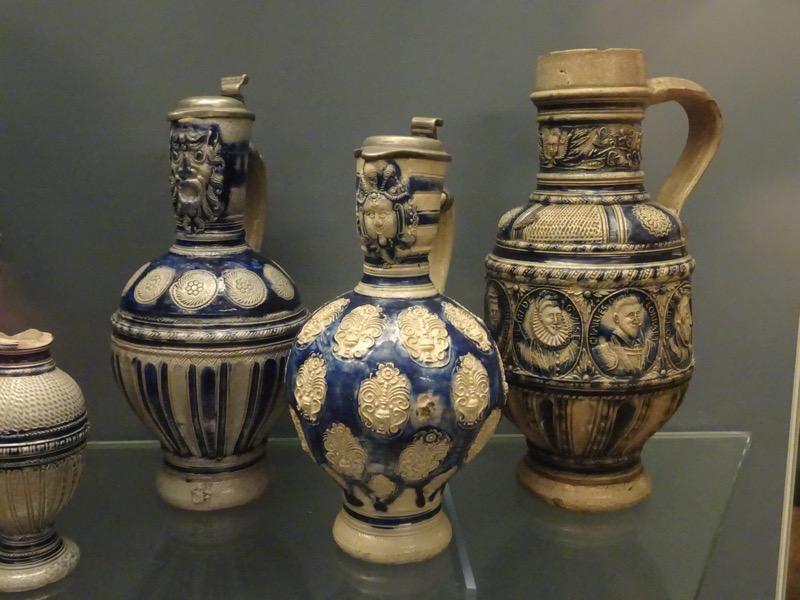 Stoneware from Westerwald, 17th C, salt glazed with blue paint.  Pieces may be from Raeren c. 1580s.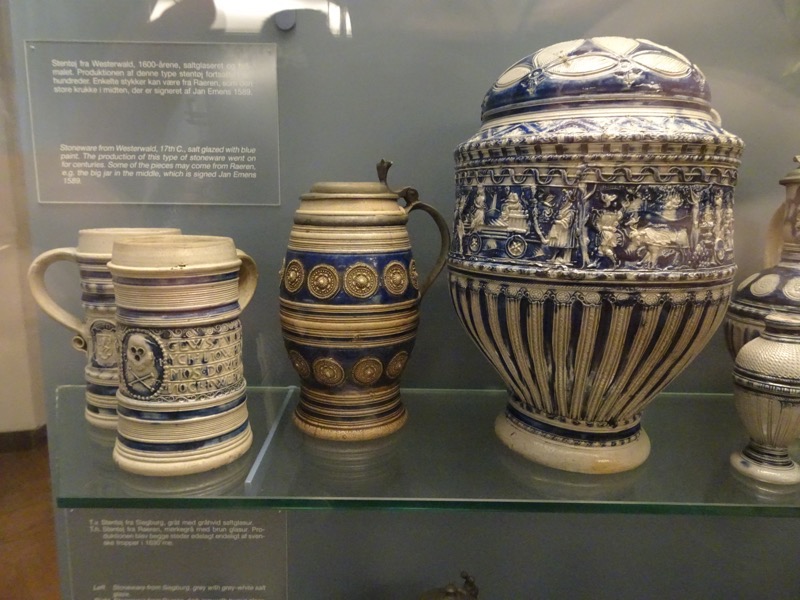 Recreation of a Medieval room using extant furniture and household objects.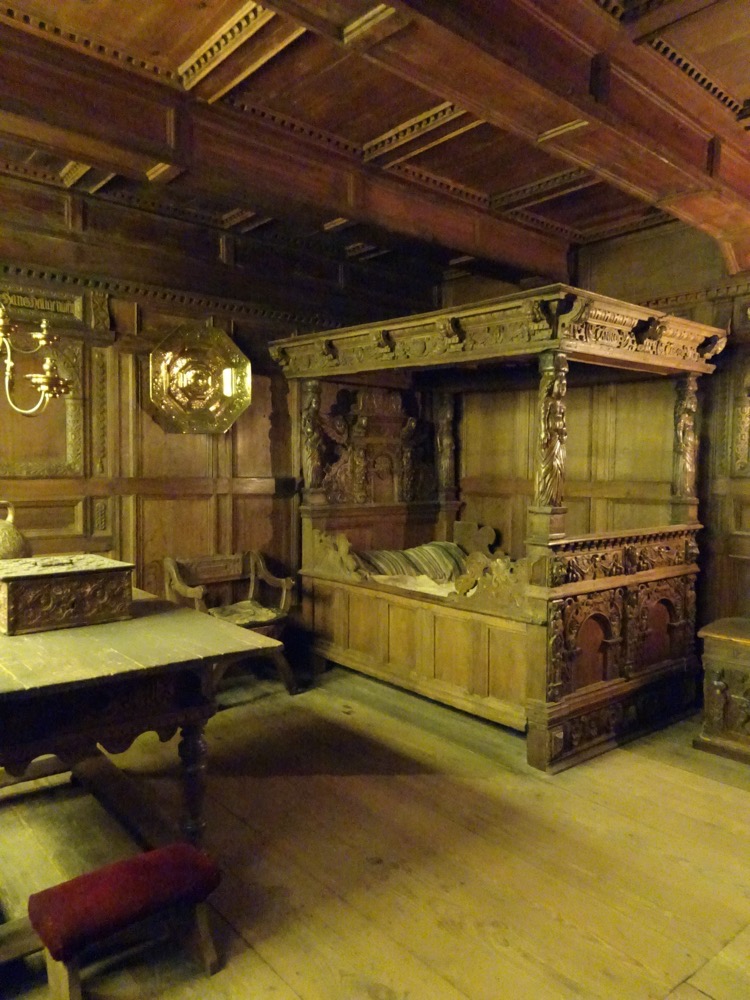 Caps of coast felt with sewn up frayed ends imitating a pile of fur caps.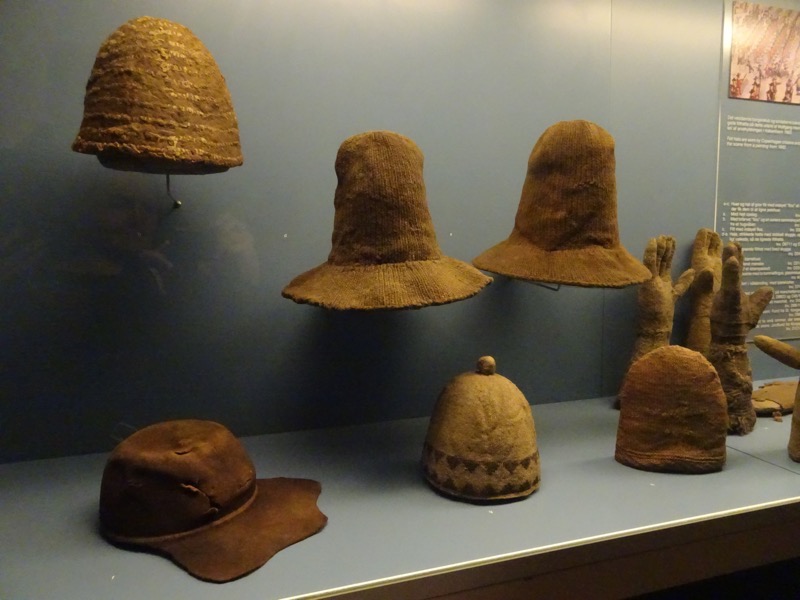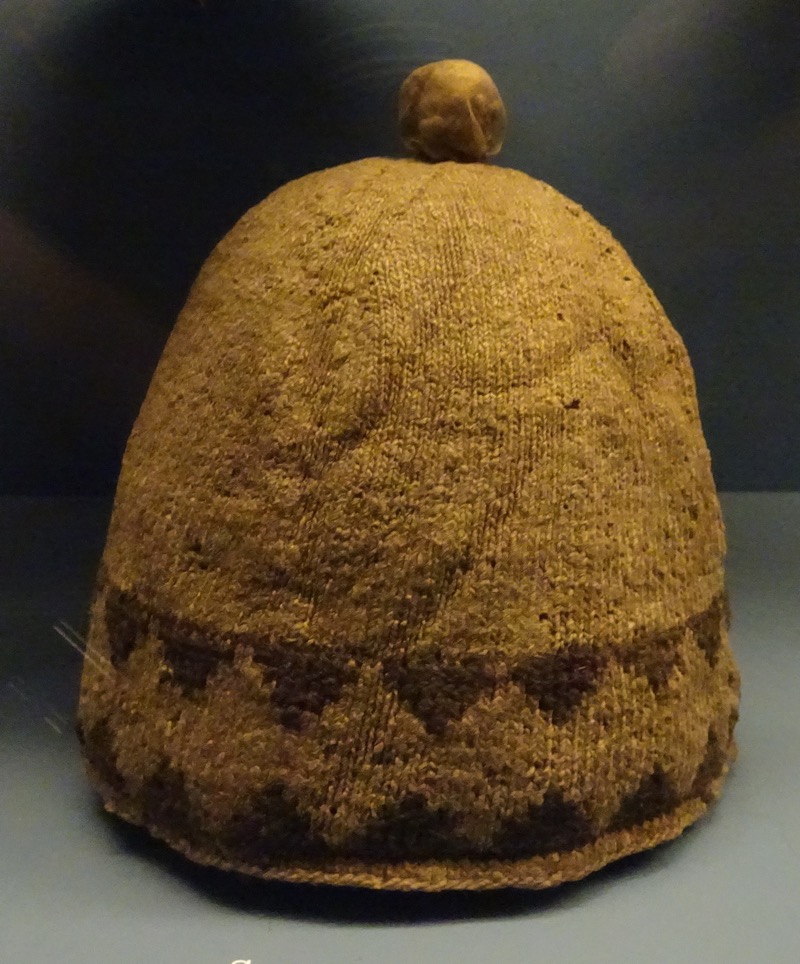 High crowned knitted hat with double brims, originally fulled to resemble felt hats.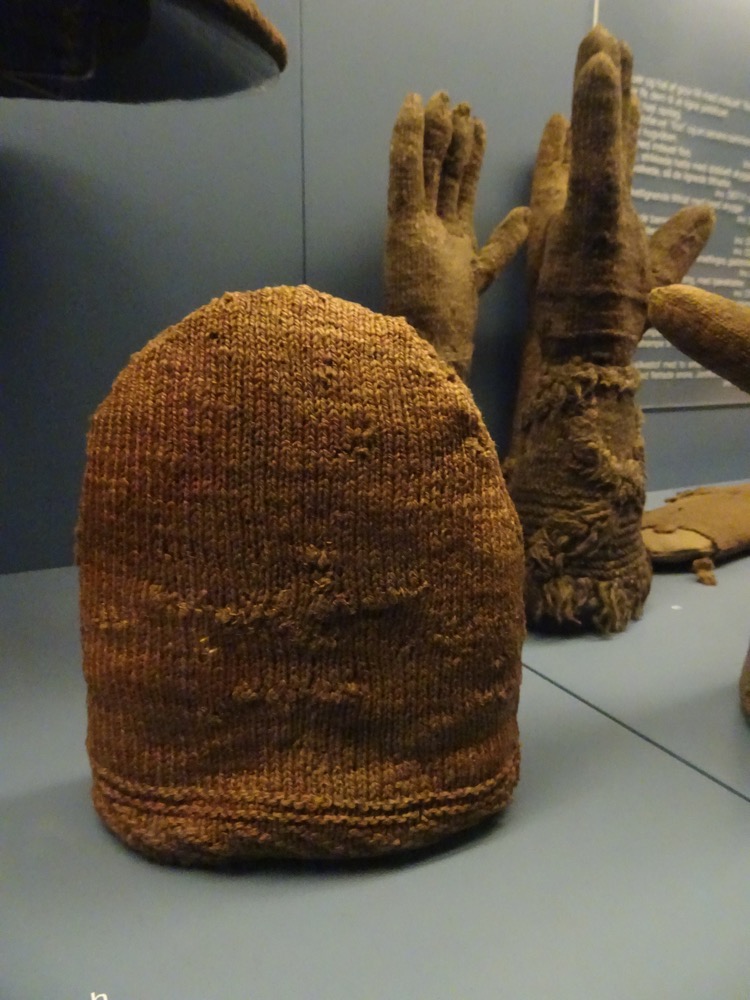 Seaman's mittens with two thumbs, knitted in stocking stitch (from Iceland).  Gloves a with cuffs striped as imitation fur.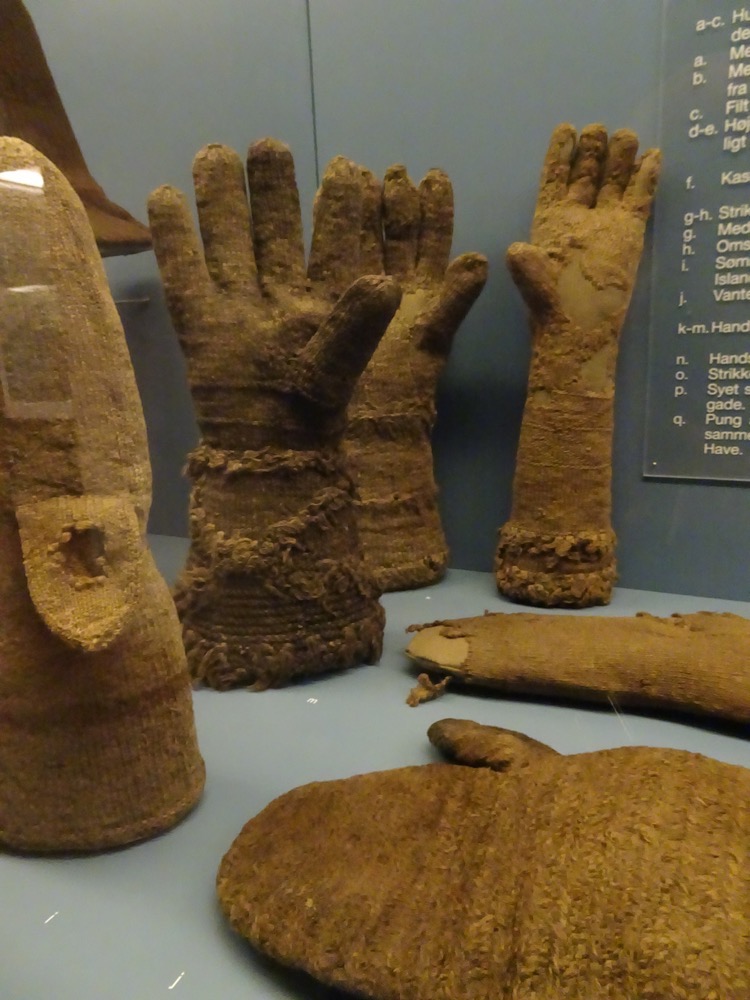 Burial caps of silk brocade.  Satin border with pearl embroidery and silk and silver threads. c 1624.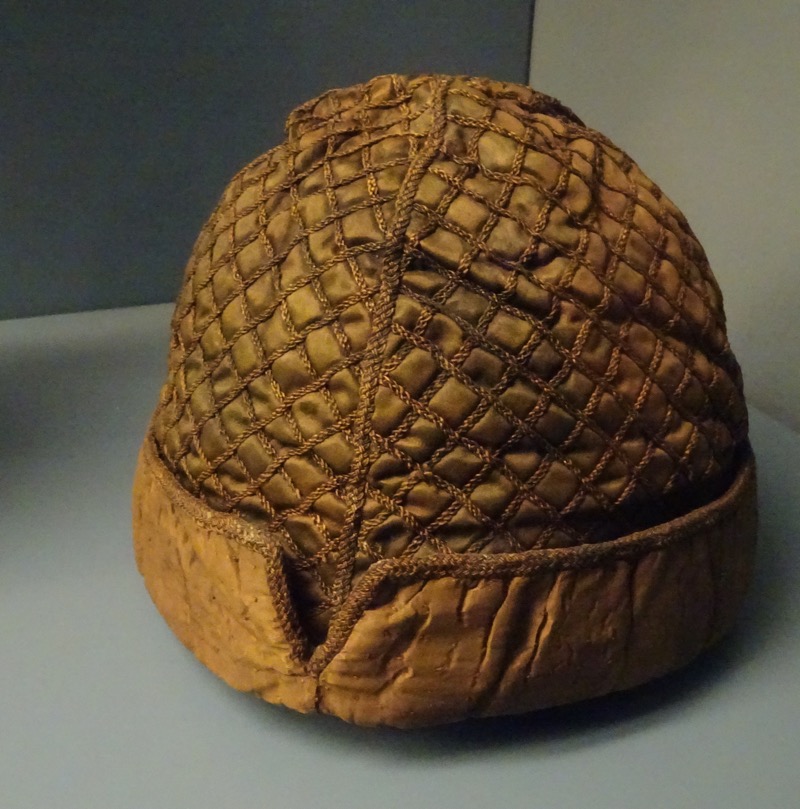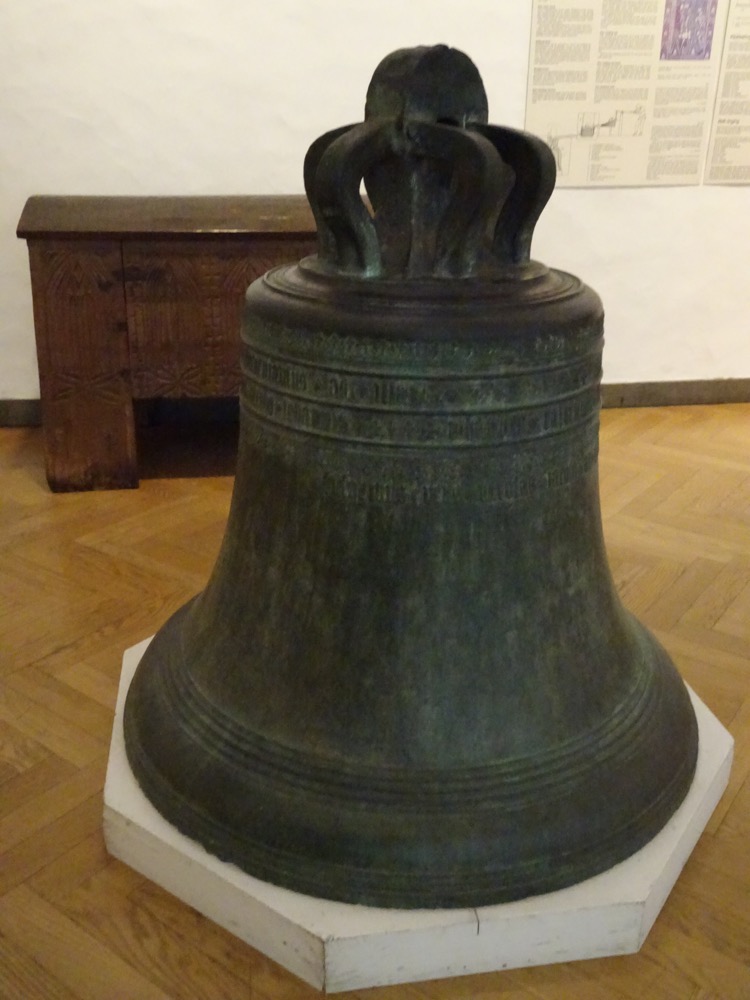 Iron bound chest, both the inside of the chest and its lid are divided in two and arranged so that two keys (presumably kept by different persons) had to be used so the chest could be unlocked.  Ferring Church, Jylland, 15th century.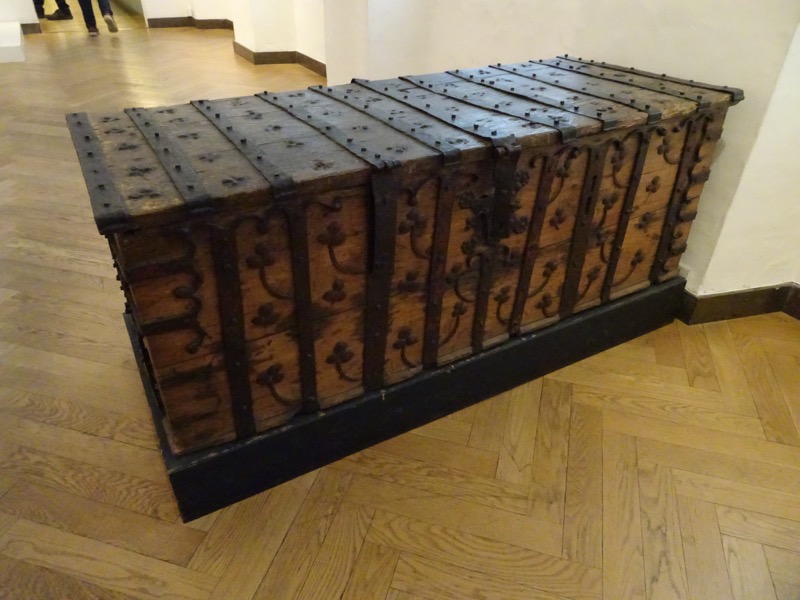 Floor tiles from church floors with decorative patterns and lead glazing.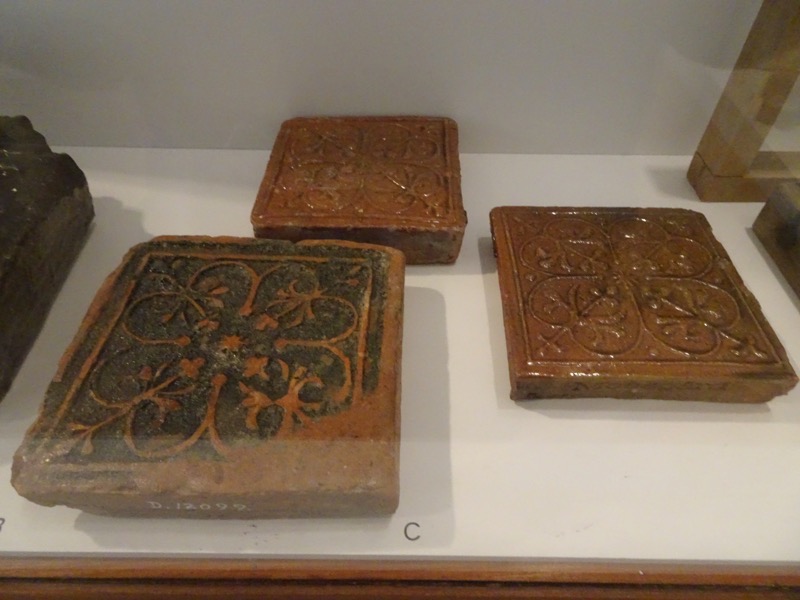 Body of a spherical pot, concealed c.1230 AD, containing almost 16,000 coins.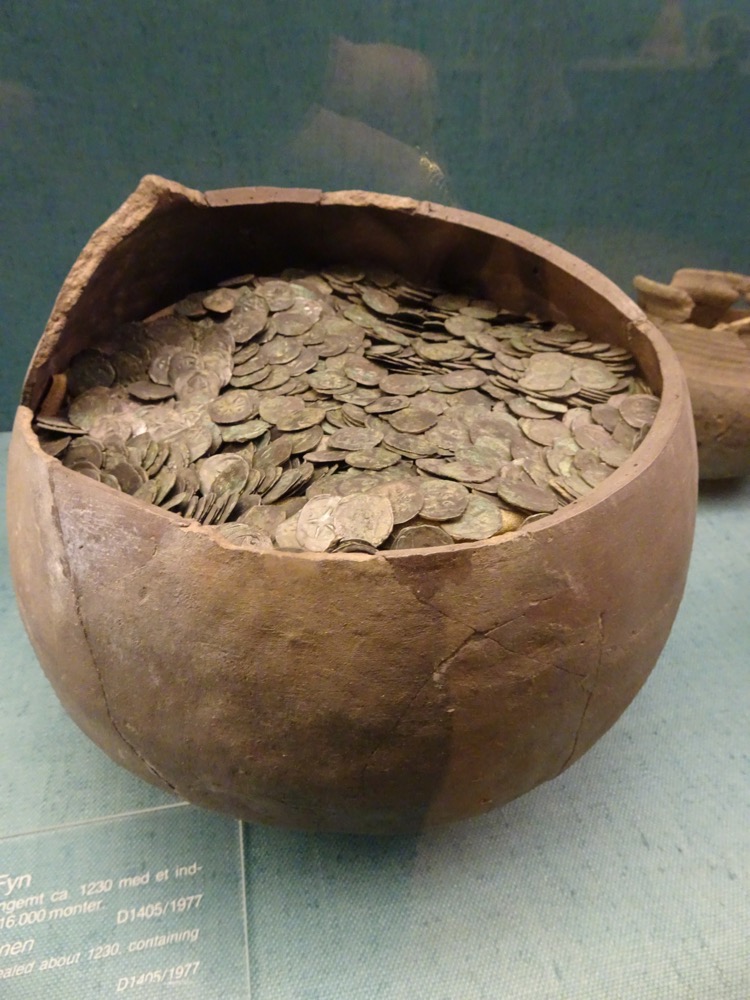 Bronze cauldrons, made in Germany, c.15th century.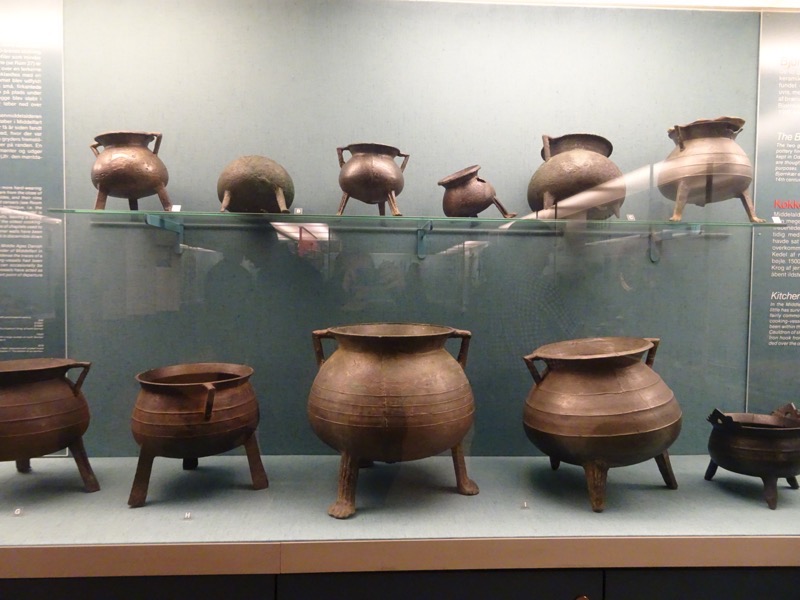 Silver spoons, Germany c.15th century.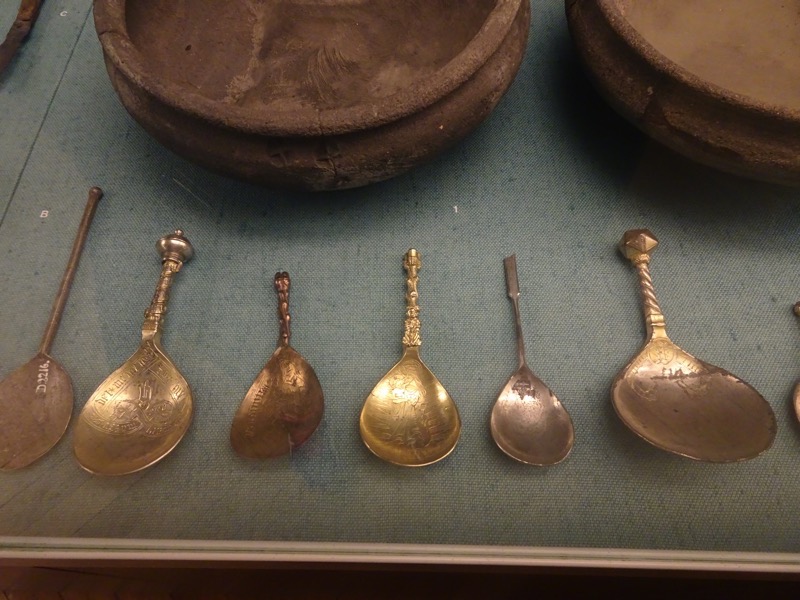 Pewter jugs, norhter Germany, c.15th century.  Recent excavations have established that there were pewterers working in Goltand during this period making items much in this style.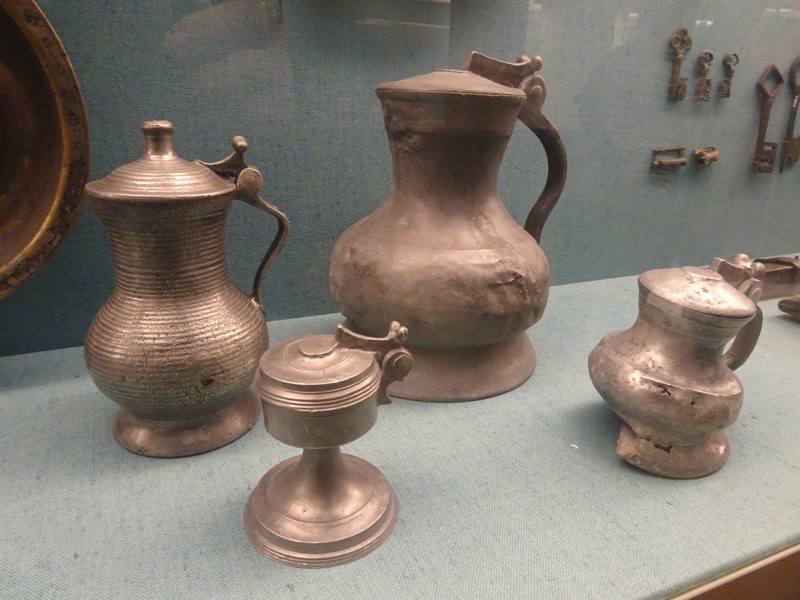 Locks and keys, Scandinavian, 15th century.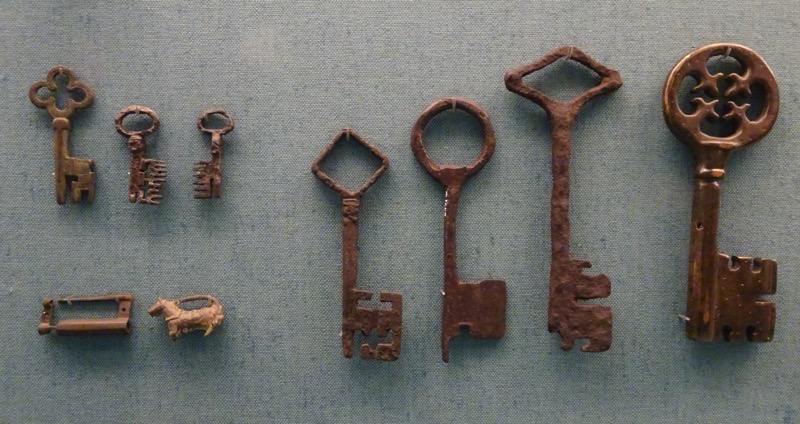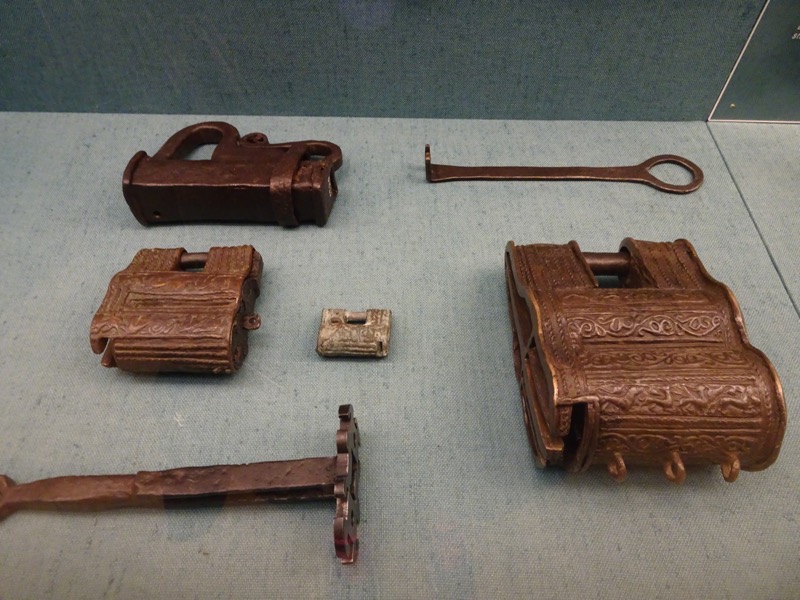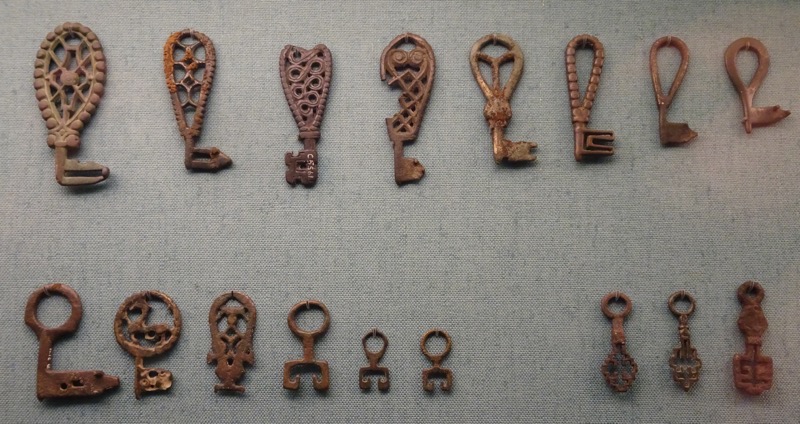 Crossbow.  Likely drawn up by a belt hook c.1450.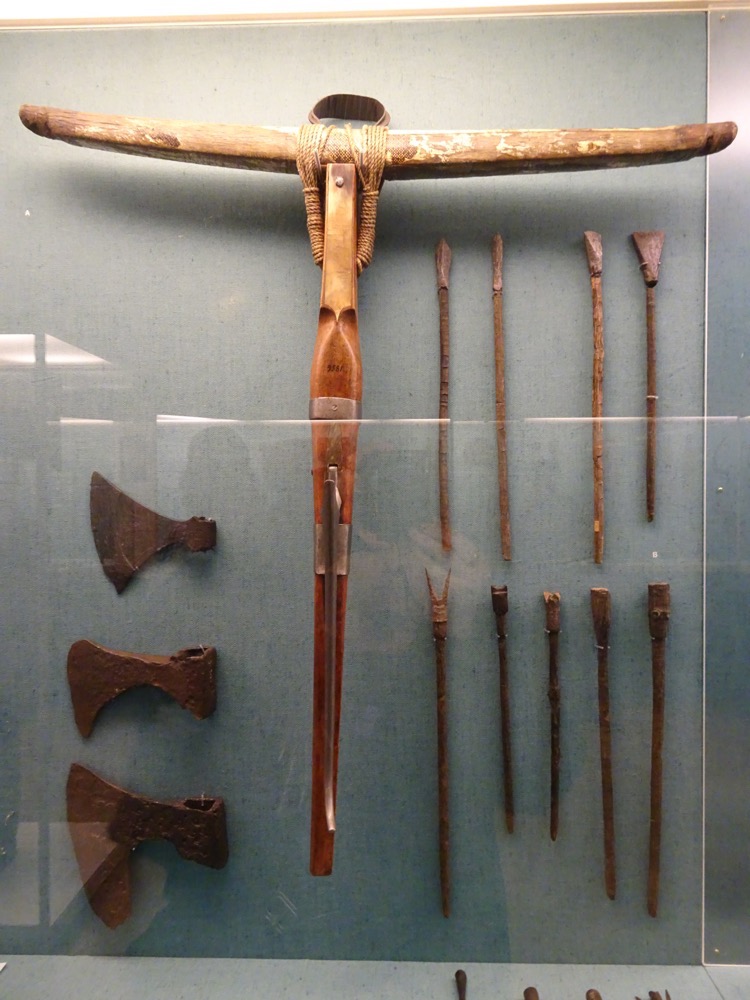 Crossbow arrows or quarrels for various types of bird and big game hunting. c.1500.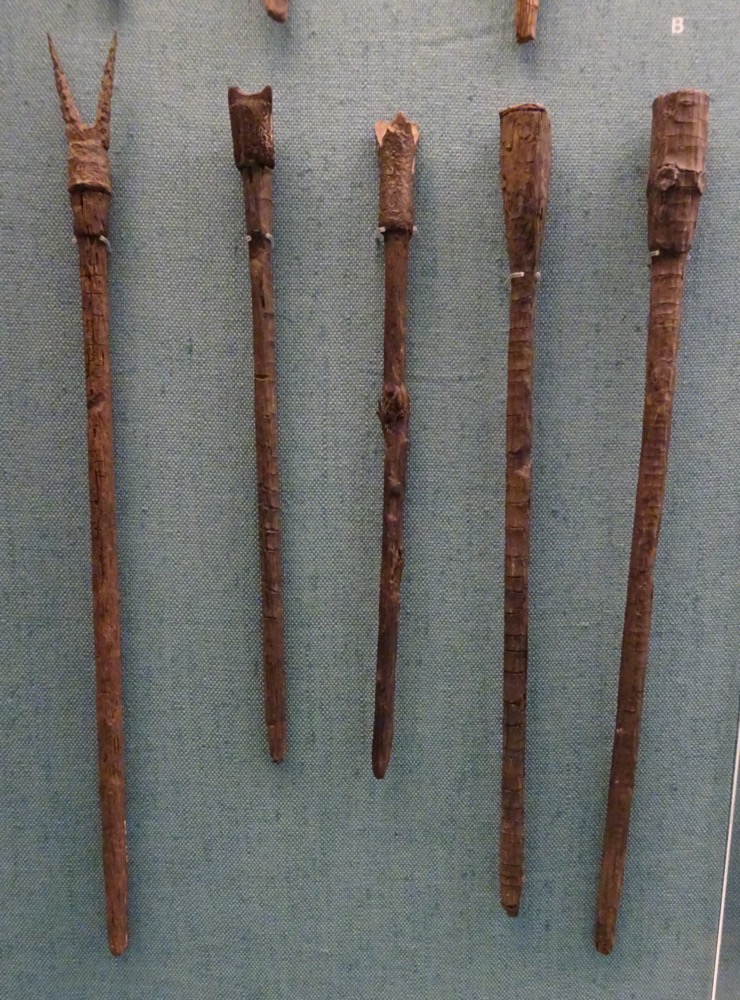 Parts of the crossbow trigger mechanism with space for the bowstring and slide bar with a groove for the quarrel.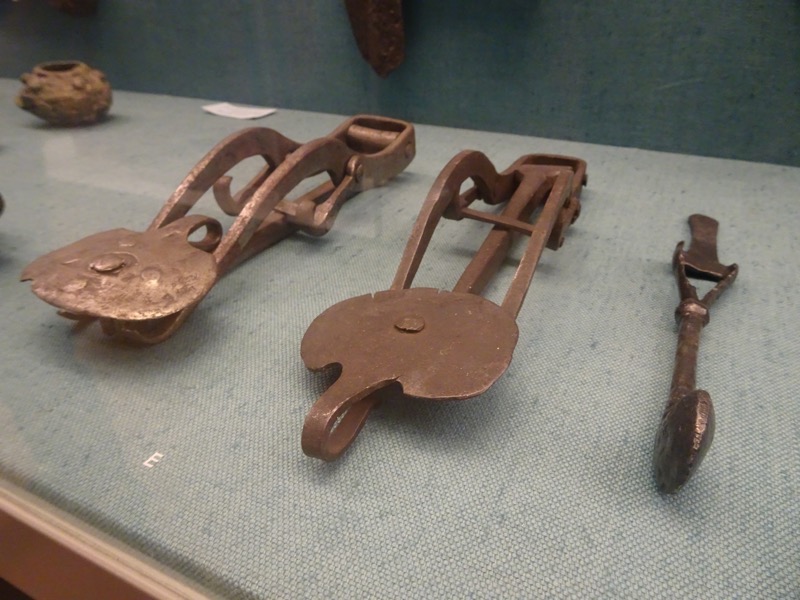 Early in the 14th century, daggers became popular weapons and were used in the art of fencing as a lefthand weapon.  Daggers were known as "misericordia" because they were used to administer death blows when an armoured knight was knocked down.
Typical Danish daggers from the 14th century – kidney or bollocks daggers.  Handles of root wood and brass mountings.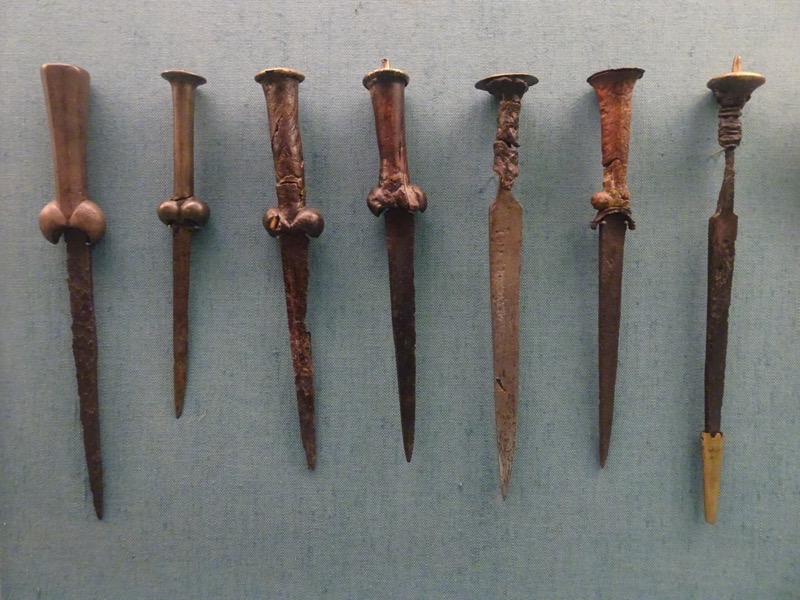 Spurs from a similar time period.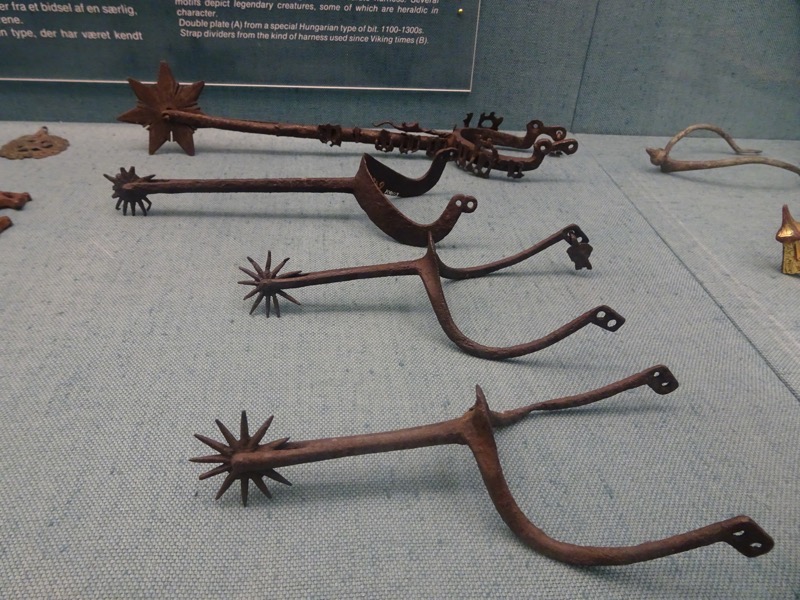 Collection of swords from the 14th to 15th centuries.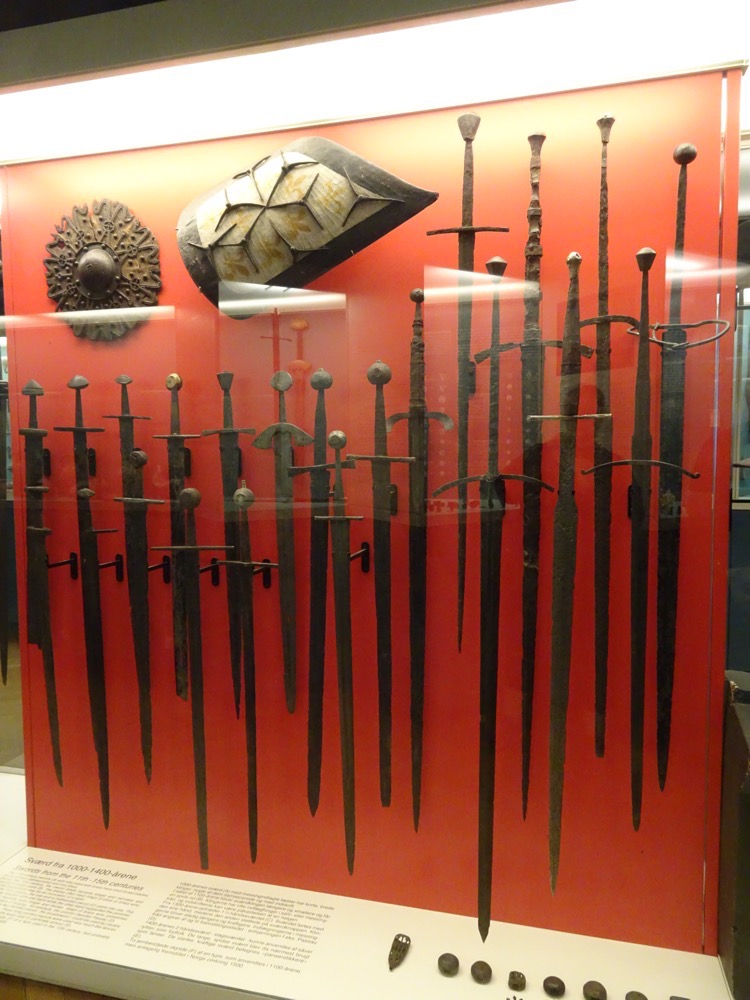 Various jewellery items and ornaments 15th century Scandinavian.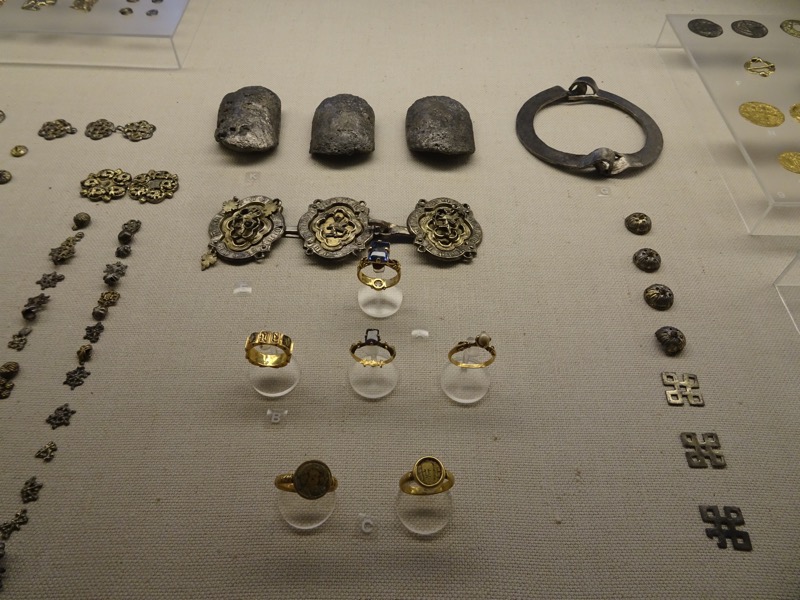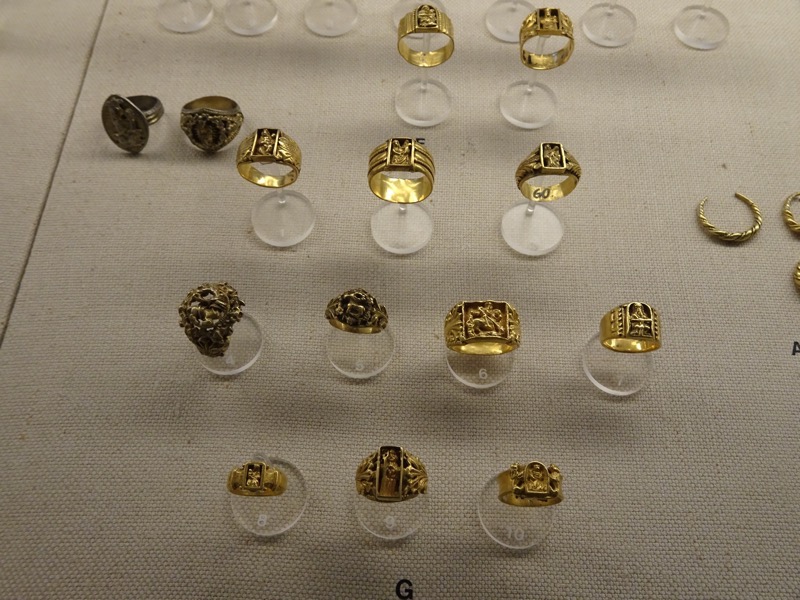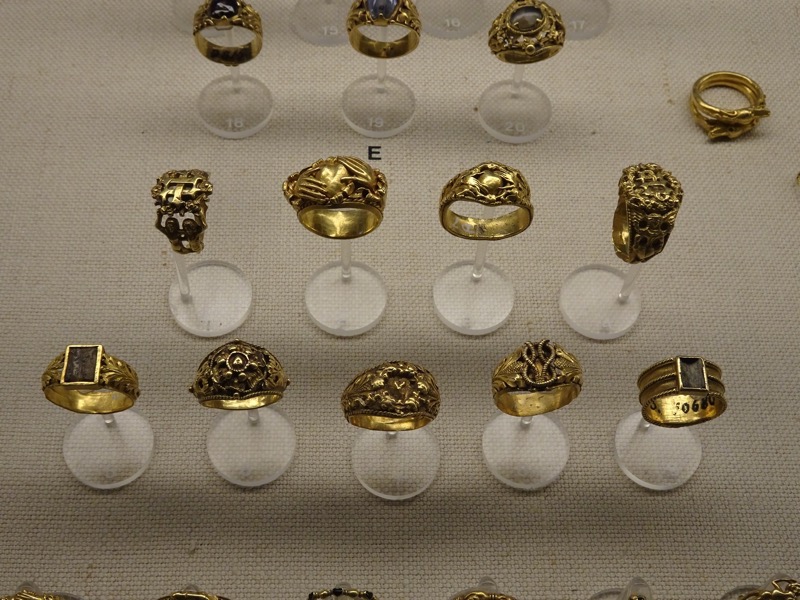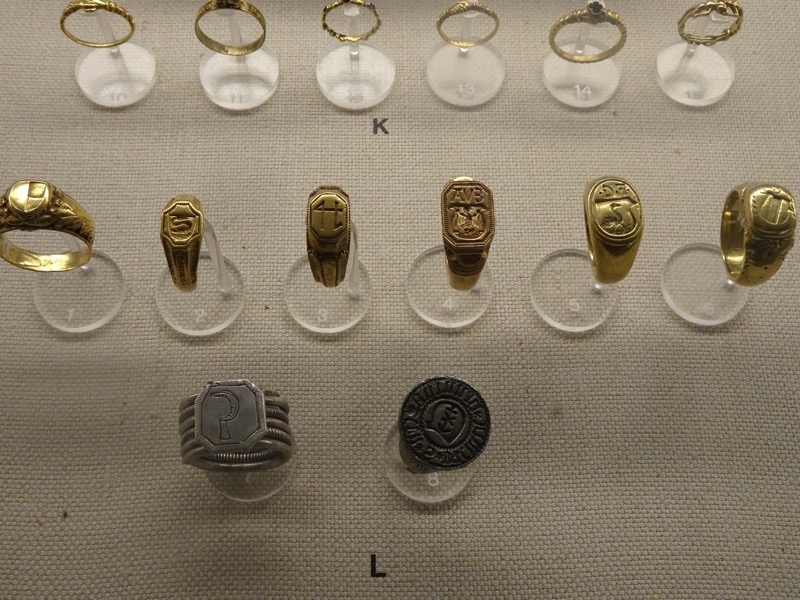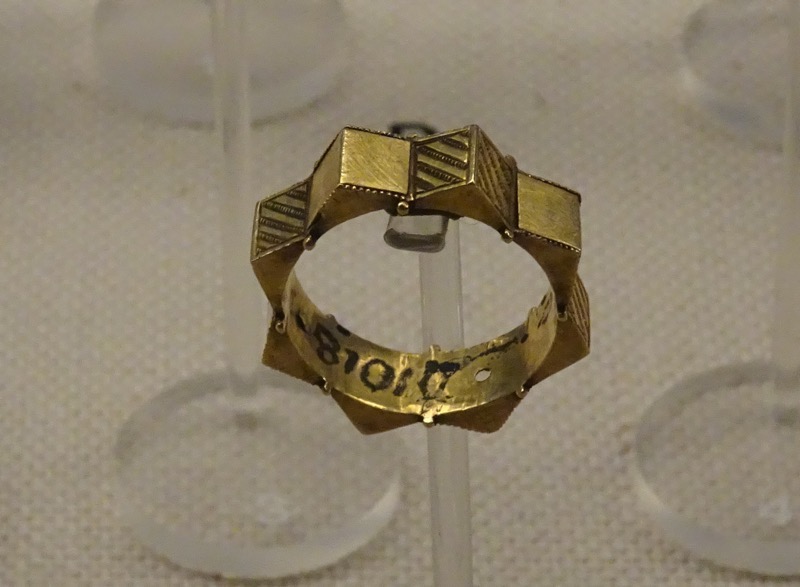 Drinking horn with gilded silver rim mount and an original enameled escutcheon depicting an abbot.   Probably from Soro Monastery, c.1400.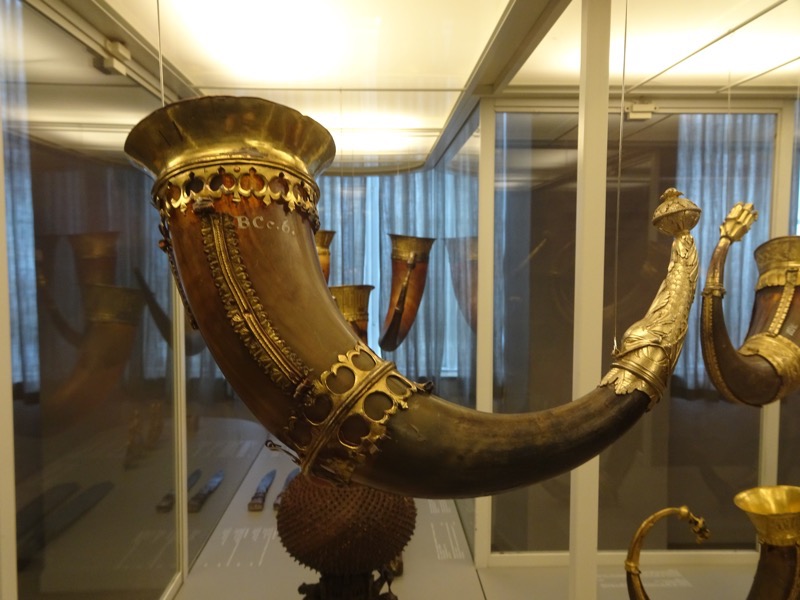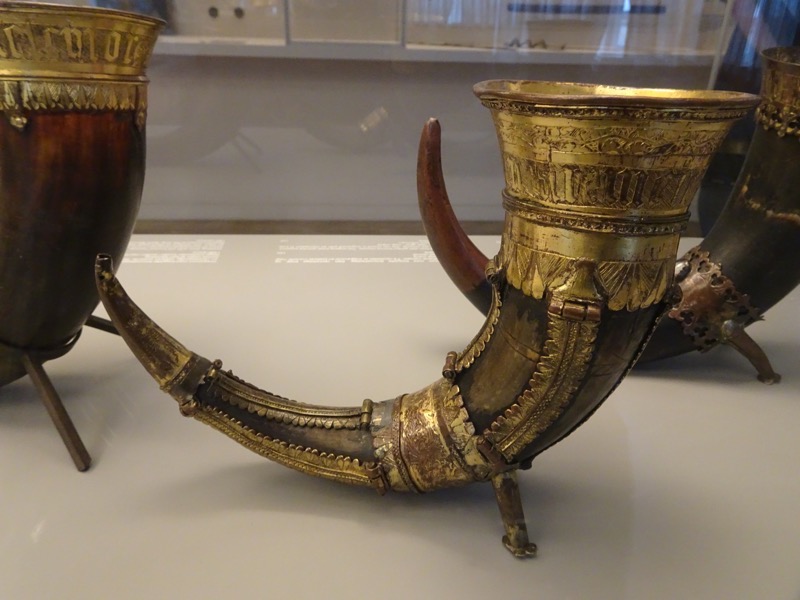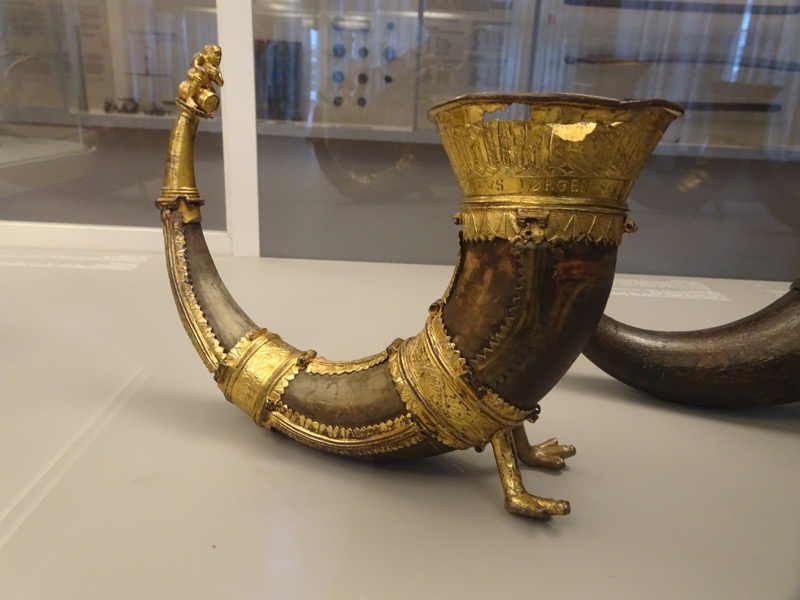 Carving knives:
Handle of rock crystal.  Inscription on the silver mount reads:  Ave Maria Gratia Plena.  Royal Art Museum, c.1450-1500.


Silver spoons, Germany c.1500s.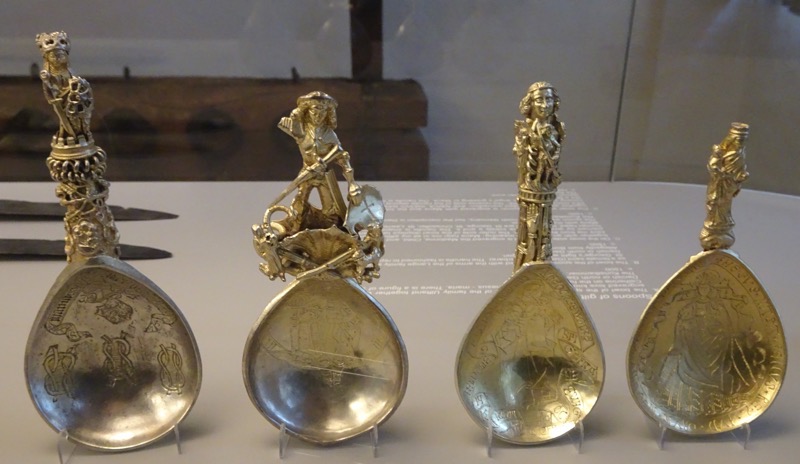 Wine ewer from Paris.  Translucid enamels cover the delicately engraved reliefs.  Motif depicts the story of the prodigal son. Fantastical beasts are also depicted as well as games such as Blind Mans Bluff.  Brought back from the war against the Ditmarshes by Frederick II in 1550.  c.1310-1320 AD.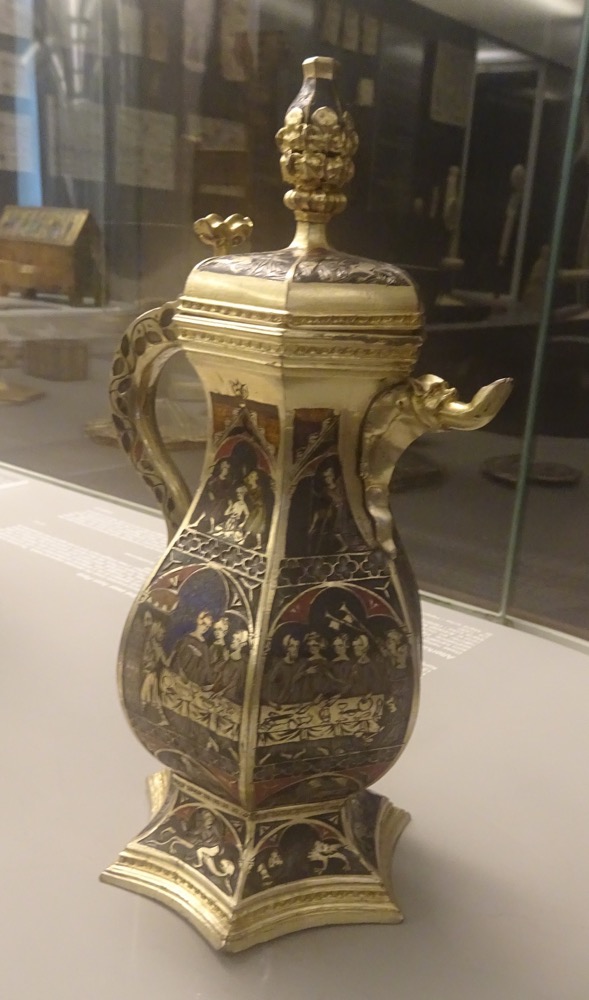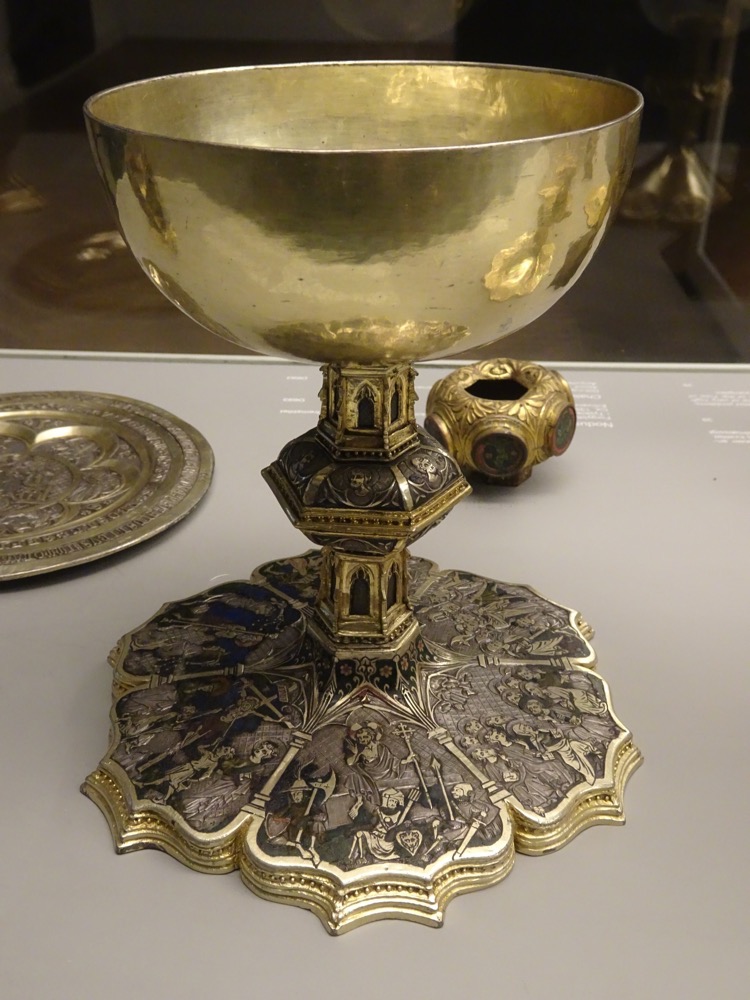 Above & Below: Chalices presumably executed in Paris.  Dated on the edge as 1586 to the Church of St Marie in Elsinor.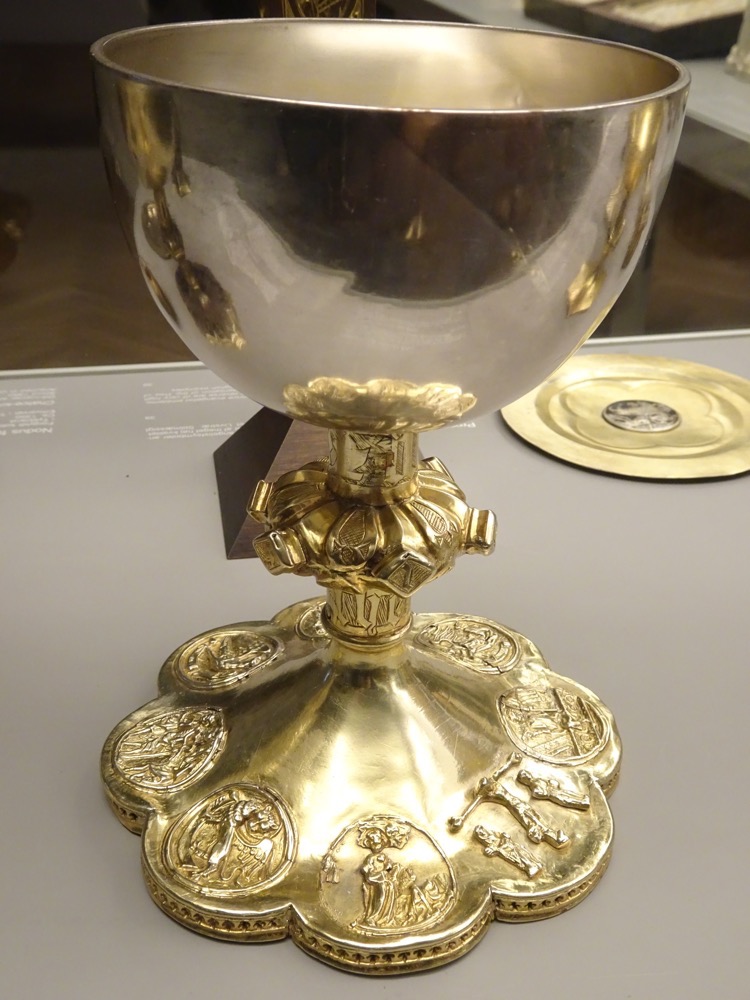 Reliquary.  Christ with the Evangelists.  c.1200 AD.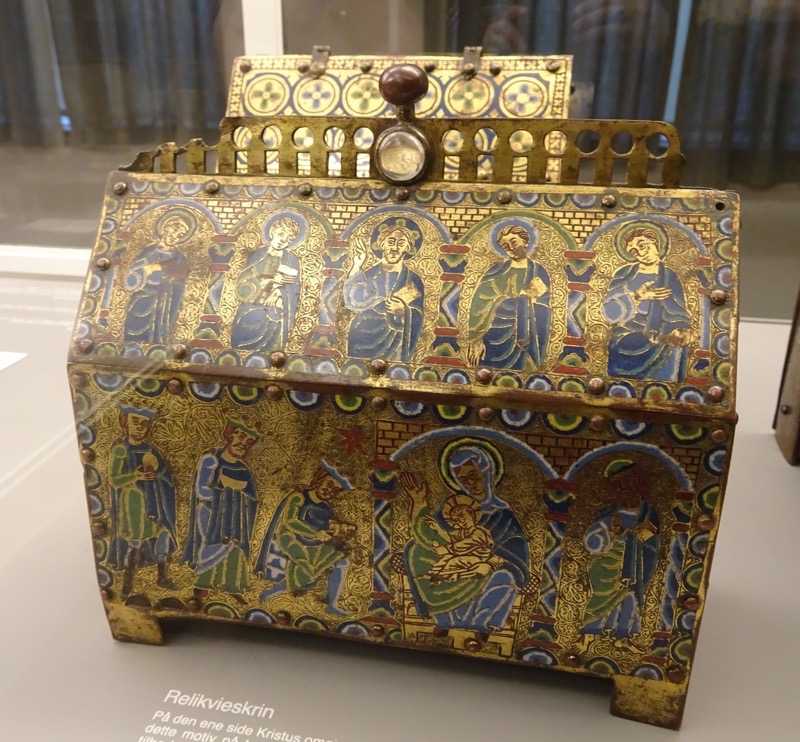 Largest reliquary in the collection.  One one side, Three Magi above the Adoration of the Magi on their way to Herod.  Other side, the Flight into Egypt.  c.1200-1250.  Believed to be from Soro Abbey.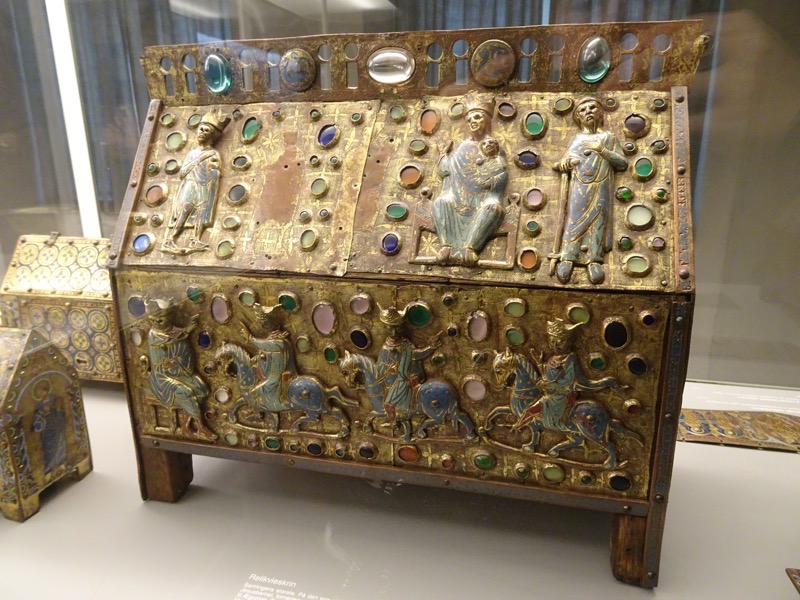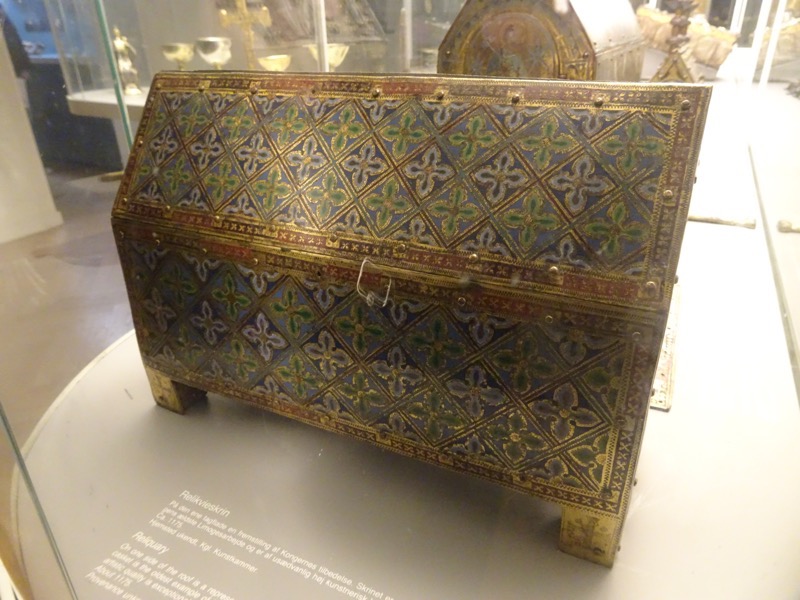 Reliquary.  On one side of the roof is a representation of the Adoration of hte Magi, the casket is the oldest example of Limoges enamel work in the collection and the artistic quality is exceptional.  c.1175 AD.  Provenance unknown.
Ewers with spout.  Northern German or Danish.  14th C  Toline Church in north Jutland.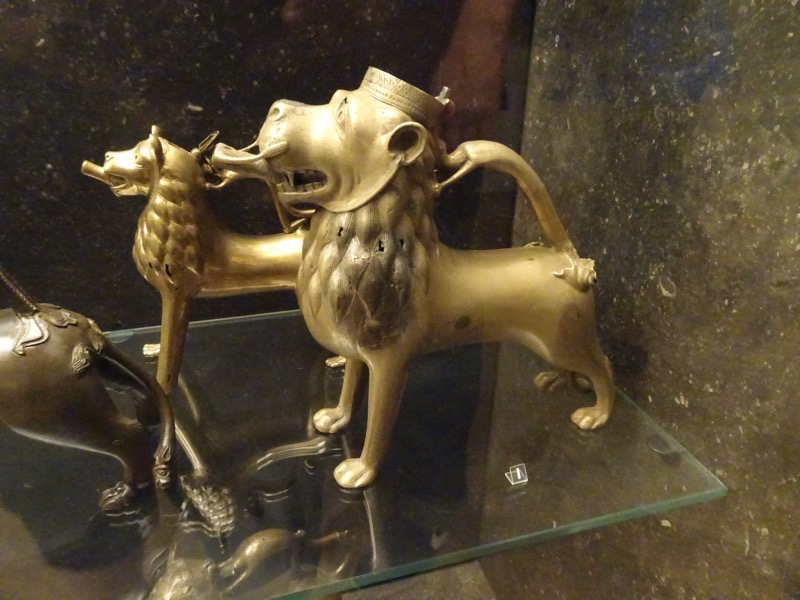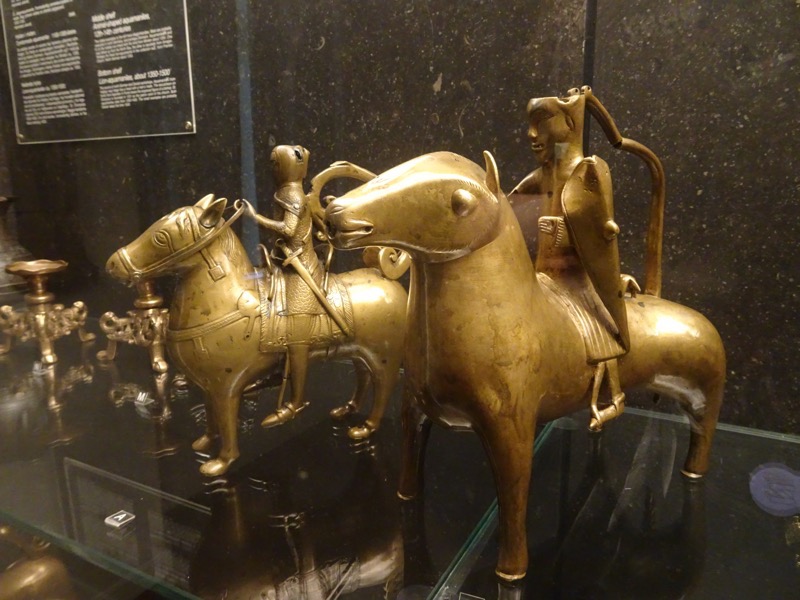 Renaissance style jewellery – c.15thC to 16thC.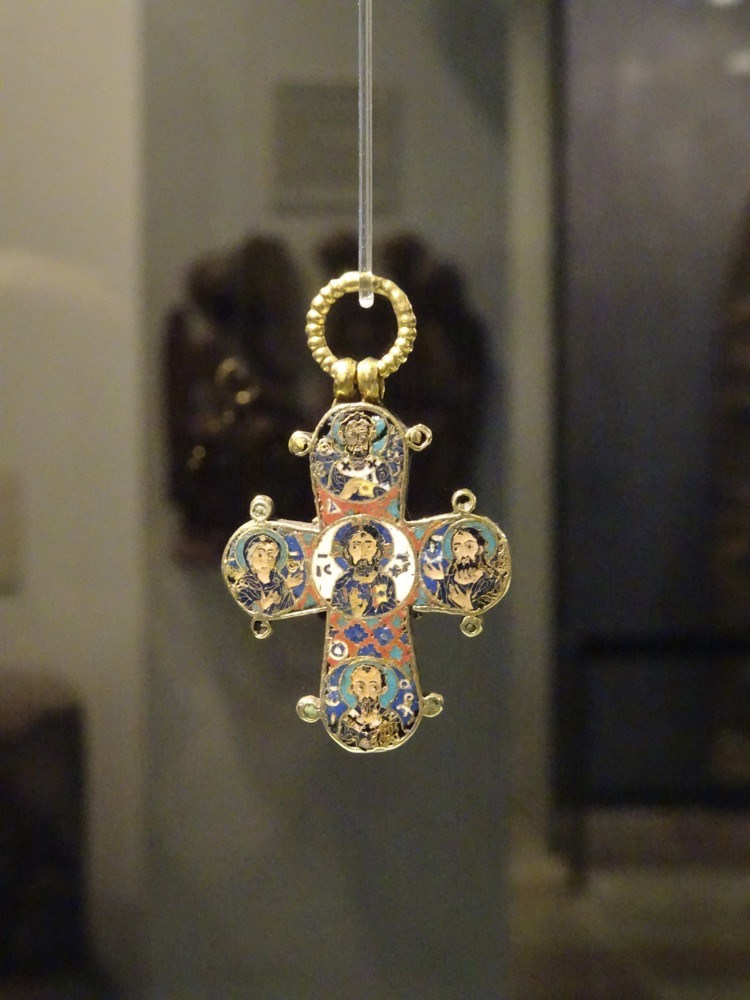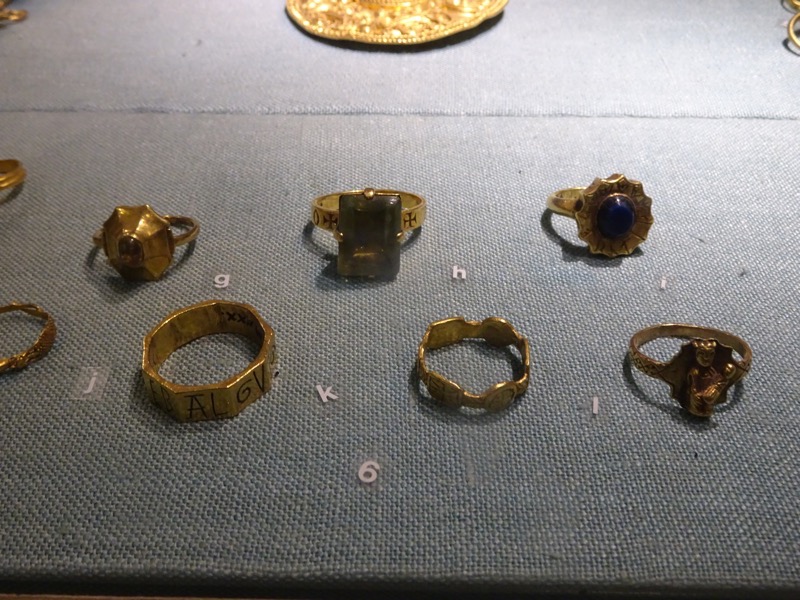 And last one – this one is for Leofric.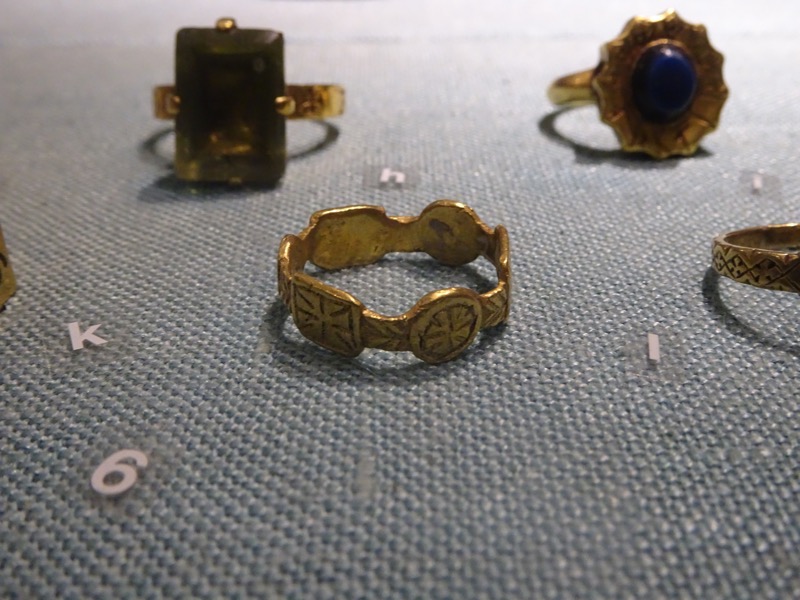 Now after all that… I am really quite tired!