Copenhagen turned on its usual weather today, so I was very glad we went chasing some Forgotten Giants yesterday in the sunshine.  The plan for the day was to stay inside in museums!  So off we went to the National History museum first.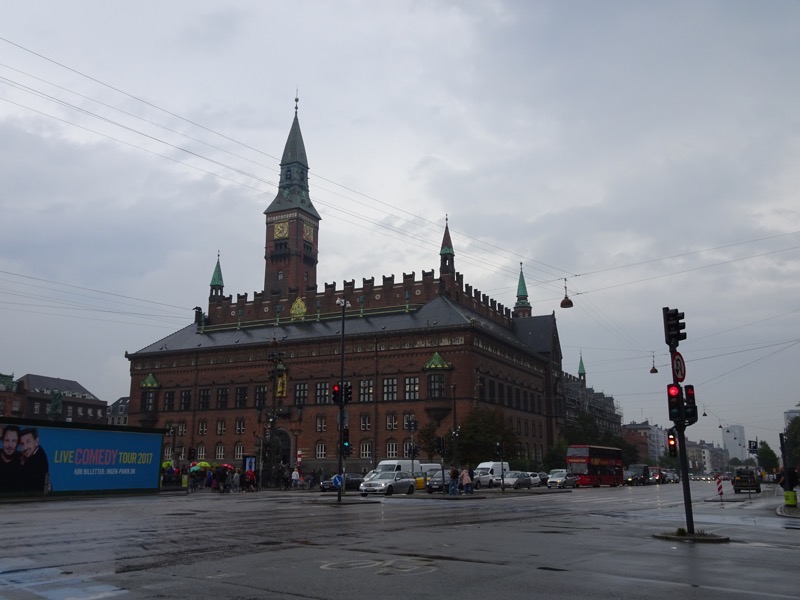 Bit dismal, but the rain didn't bother Hans Christian Anderson over there.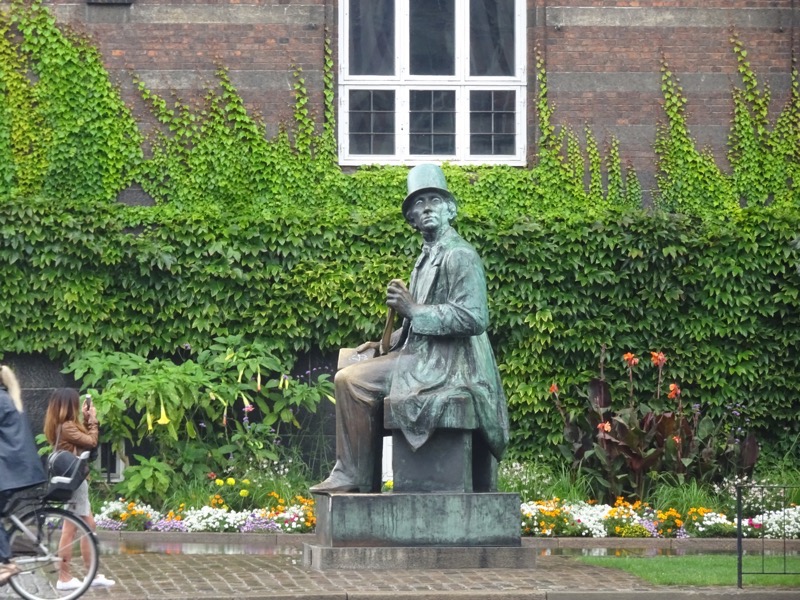 The museum is amazing!  So many wonderful artefacts to wander through and a lot of it well signed in English.  I am half way through doing up a separate post about all the things I saw there for my dark ages and medieval history friends so I won't go into too much detail or include too many photos in this post.
Amber from 1500BC.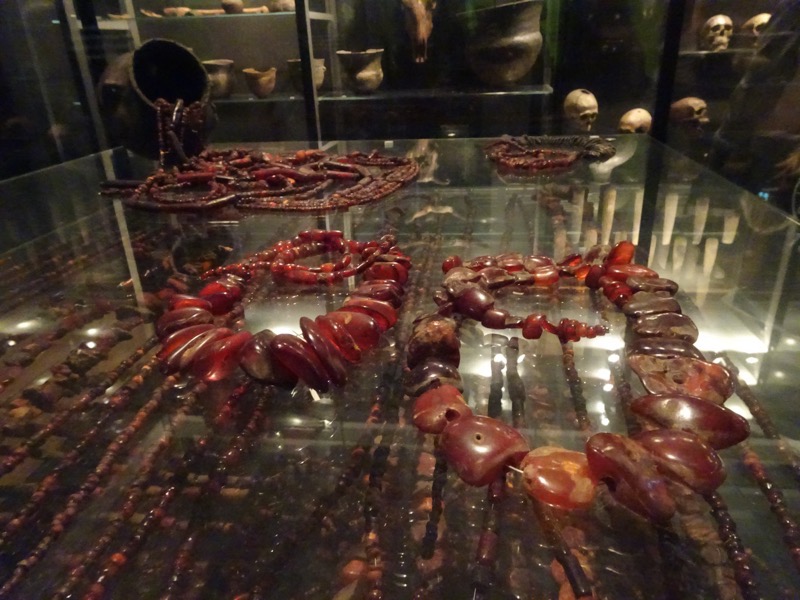 Some horned helmets from around the same period…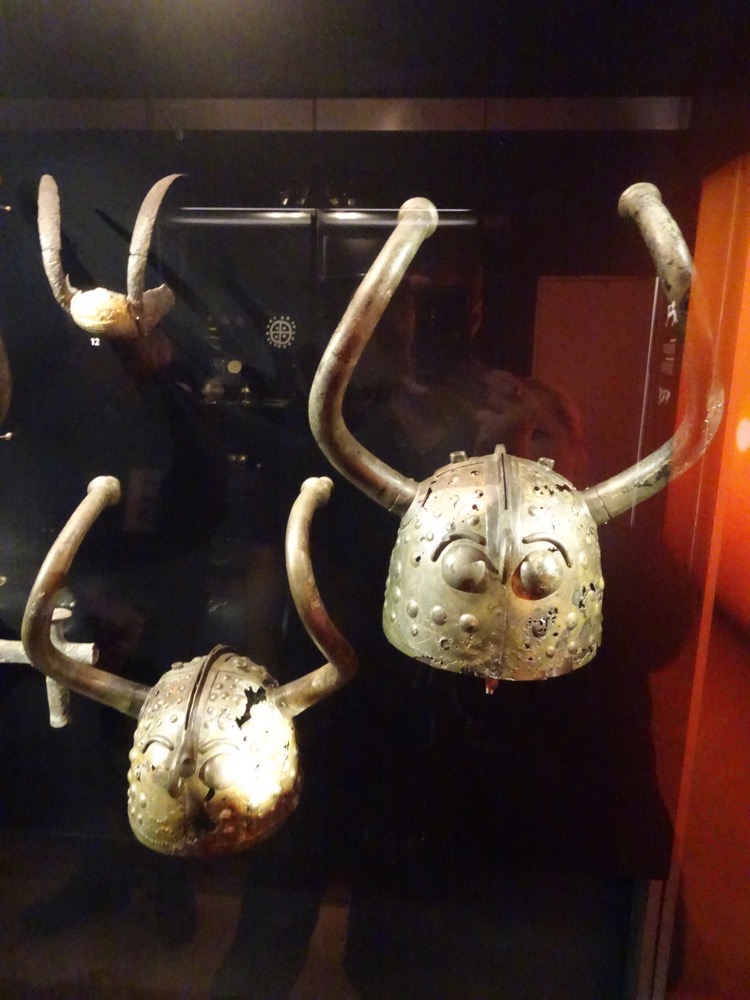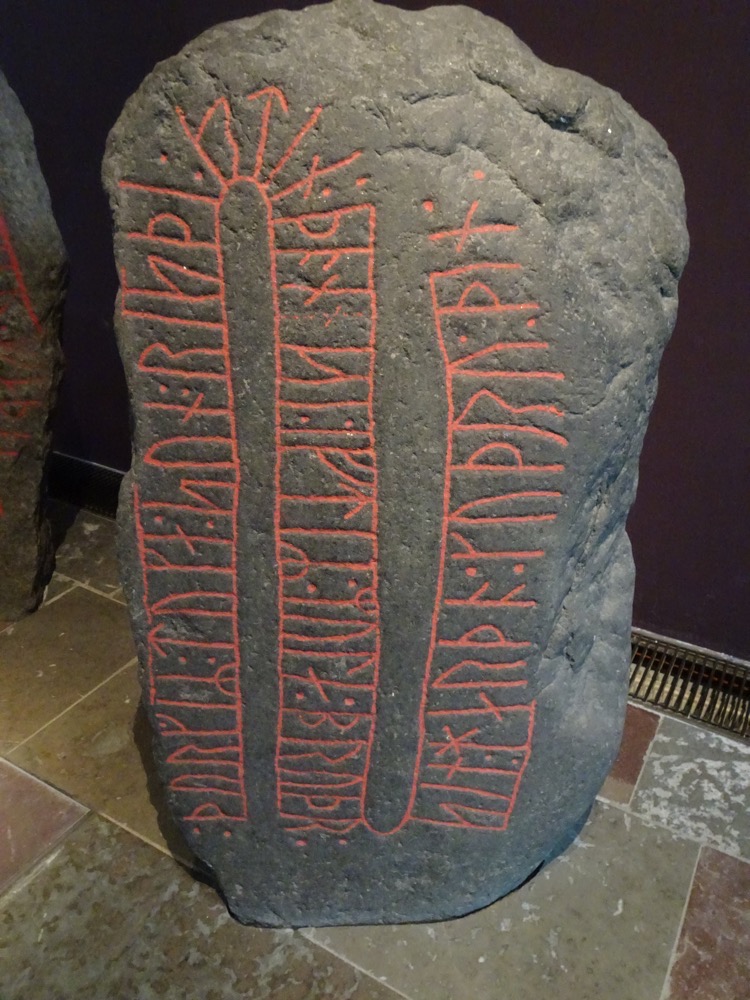 Runestones of varying sizes – above: about 120cm tall; below: Mr K for scale.  🙂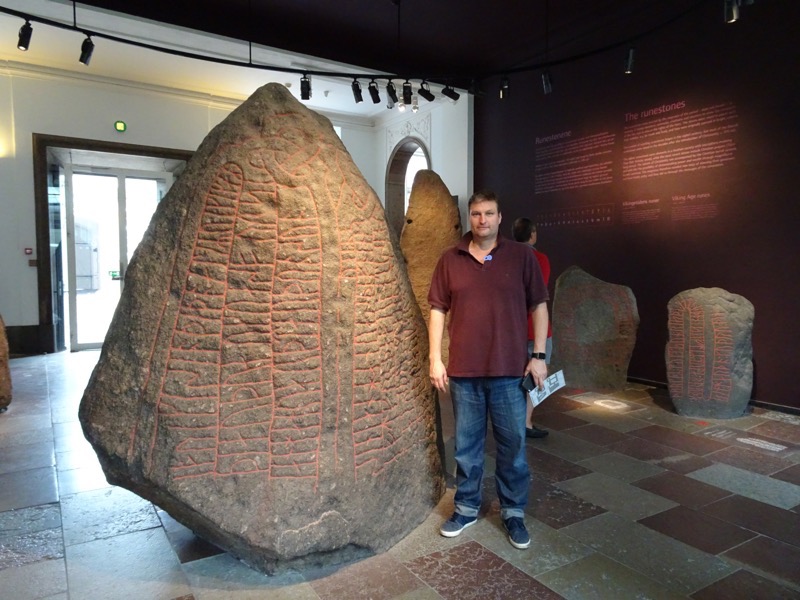 The Gundestrup Cauldron.  Found in a Jutland bog, its origins are unknown, definitely created in the south, depictions of elephants and what not, possibly Viking loot or a gift.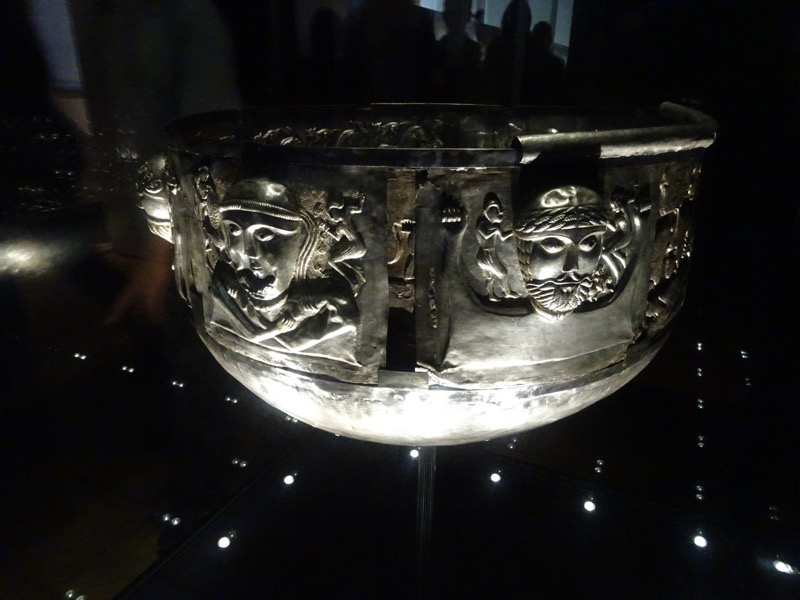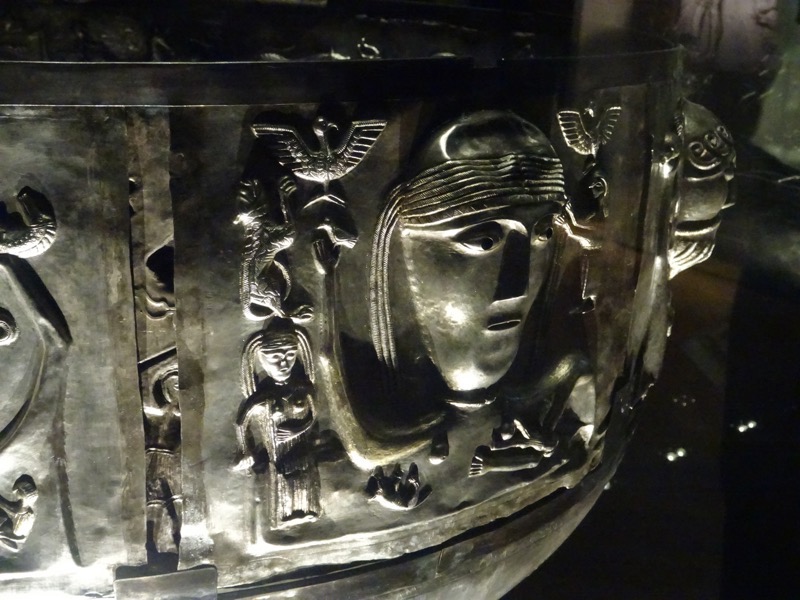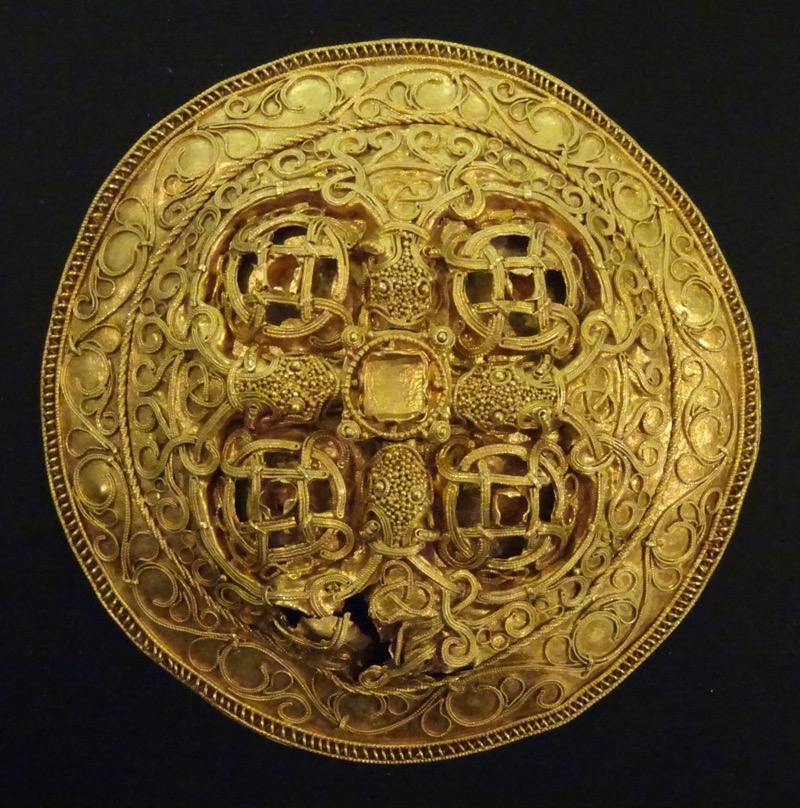 Beautifully filigreed and granulated brooches incorporating Christian art and Norse designs, made by Danish artist in 10th century AD.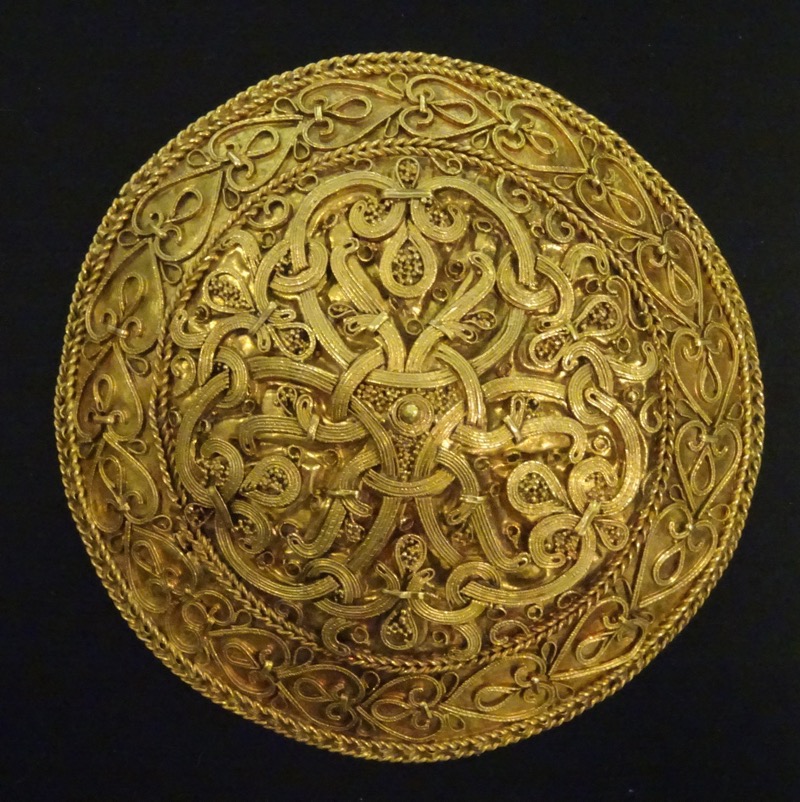 Gold finger rings from the 2nd to 4th centuries AD.  Collected from various finds.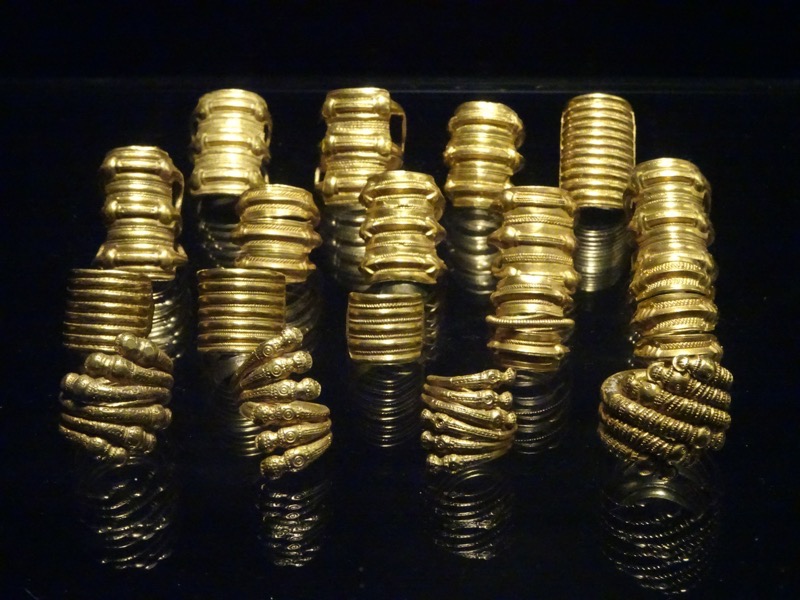 Golden Horns – reconstructions made in 1861.  These golden horns were recreated from the drawings of antiquarian, J.R Paulli who documented a find that was later stolen and melted down.  King Frederik VII had these copies made for the musuem, based on Paulli's drawings and descriptions.  I can't imagine who would steal and melt down such treasures!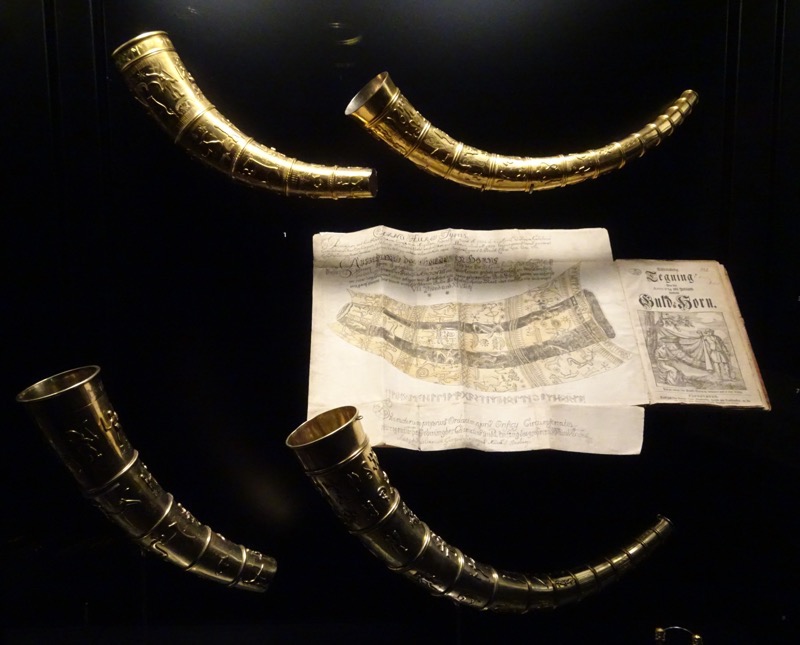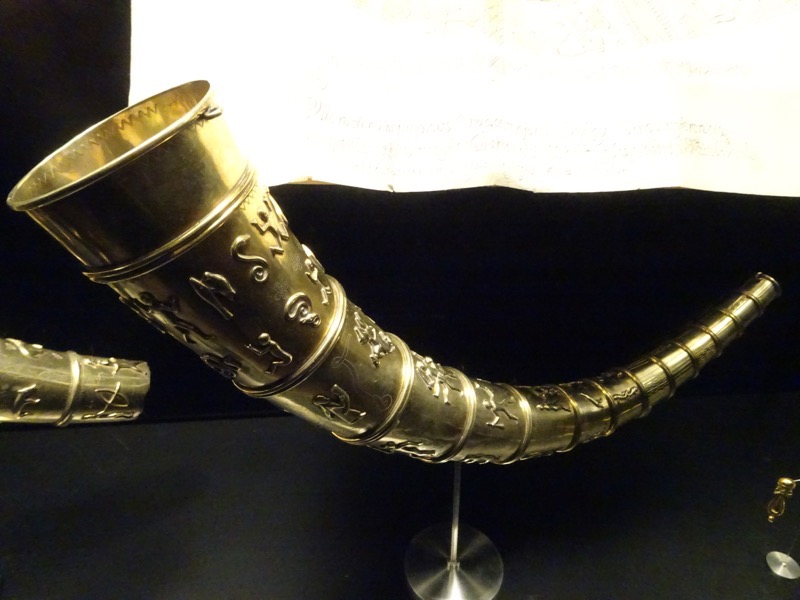 The famous Jelling cup… you can buy a recreation in the gift shop – approximately $60 for a silver plated pewter one, or approximately $950 for a solid silver one!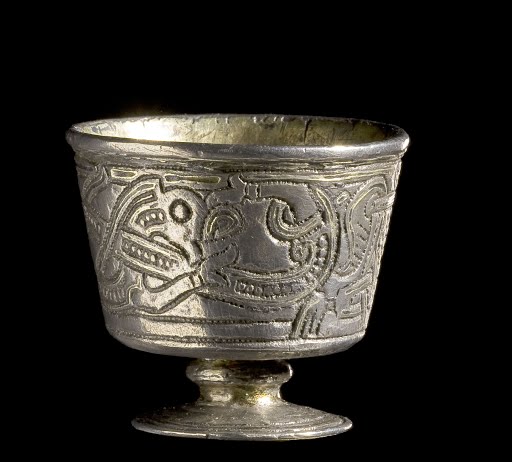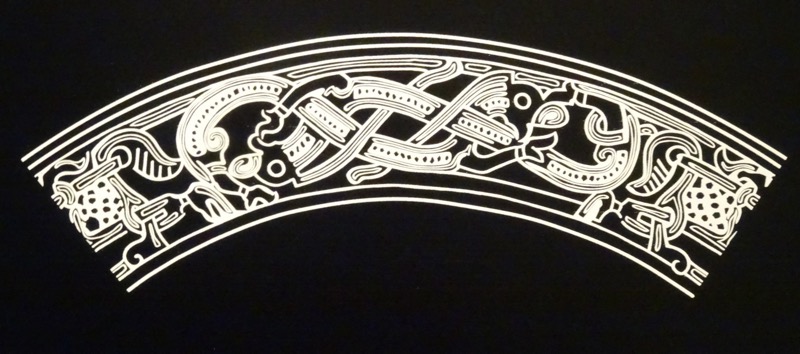 The Medieval galleries were not so well kept (or well labeled!) in comparison to the prehistory and iron age galleries.  But still full of beautiful items.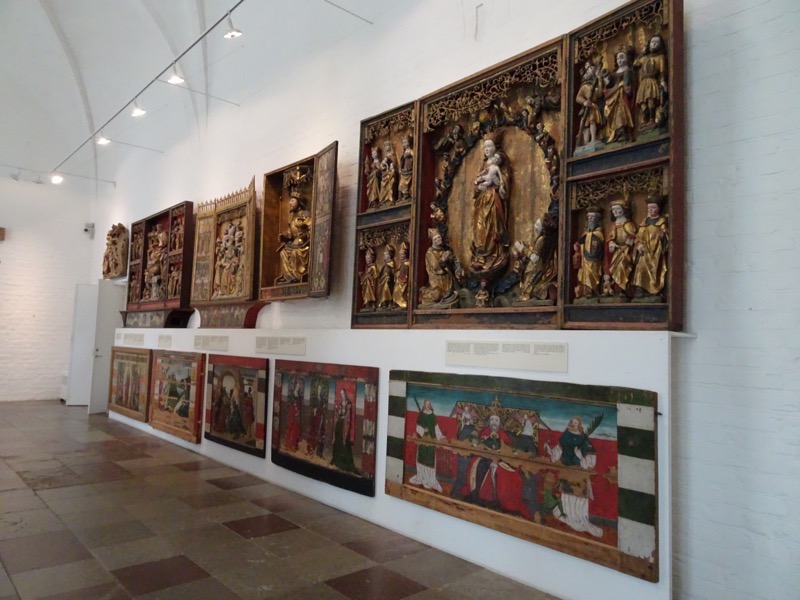 Altarpiece Northern Germany c.1511 AD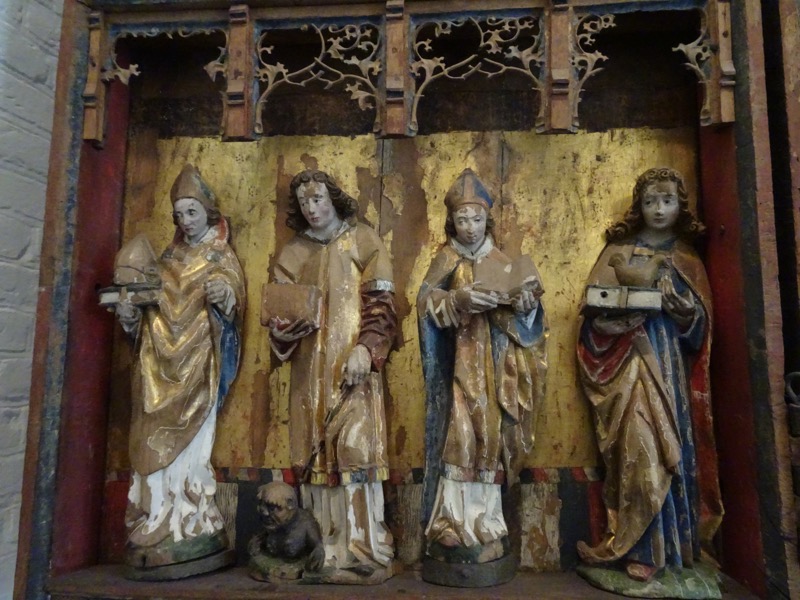 Altarpiece depicting the Holy Family. c1522 AD.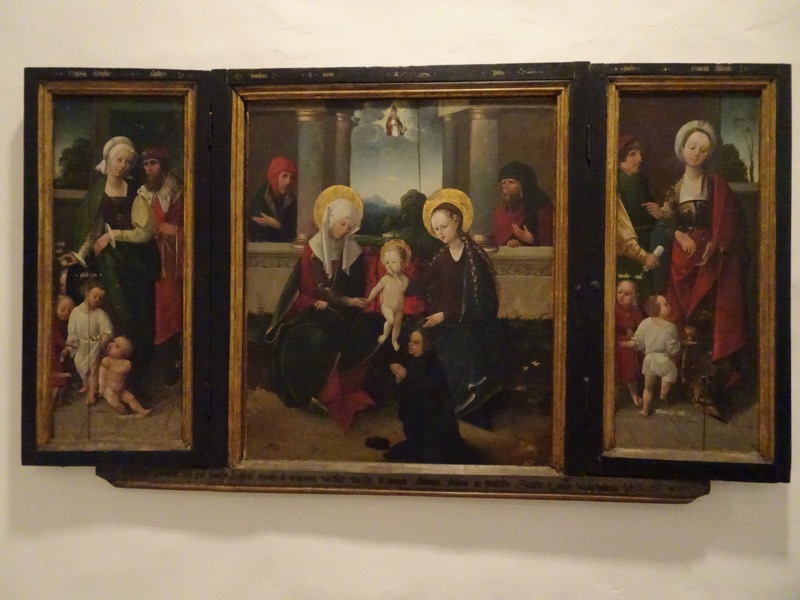 detail: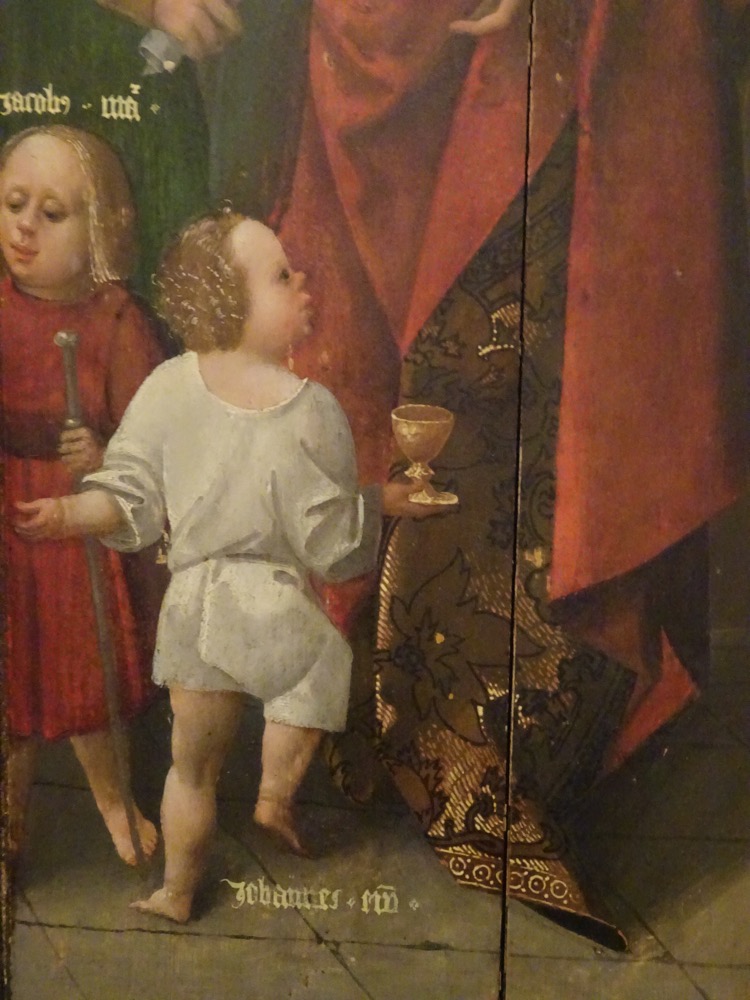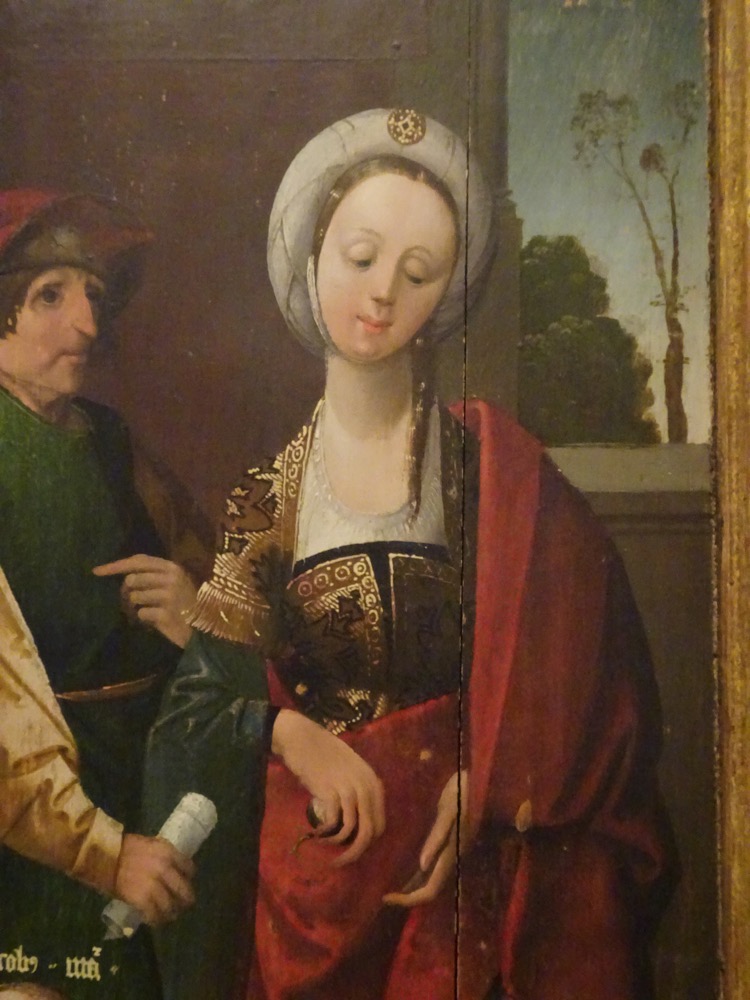 Full armour for horse and man.  Innsbruck Austria, c.1545 AD.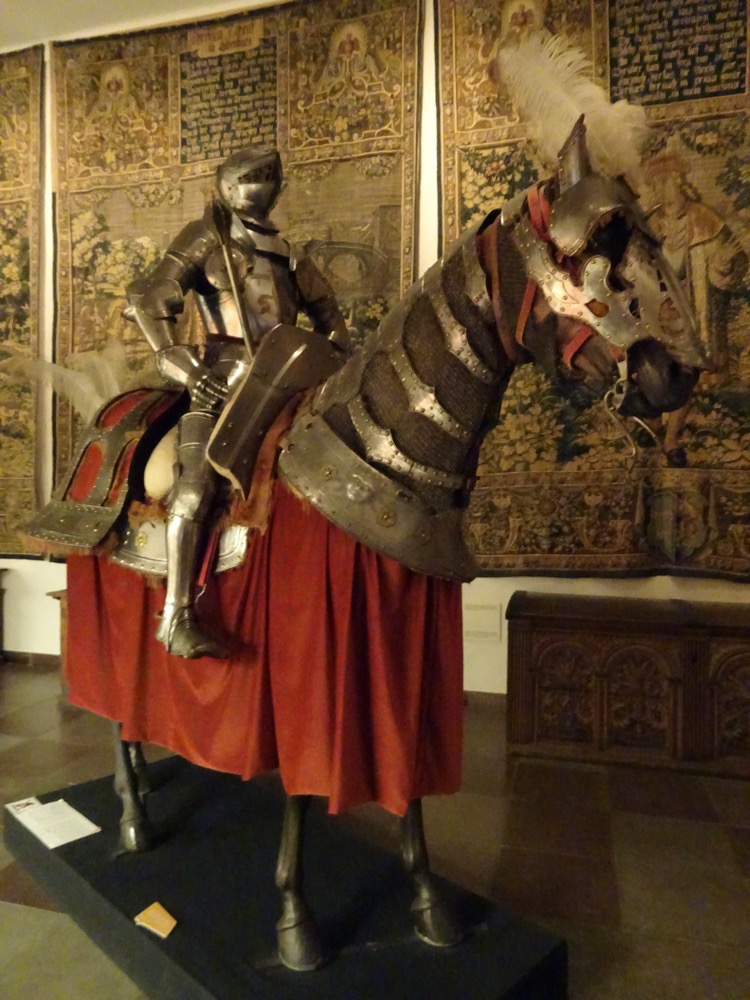 Dower chest or hope chest designed to hold a trousseau.  Renaissance style, c.1549.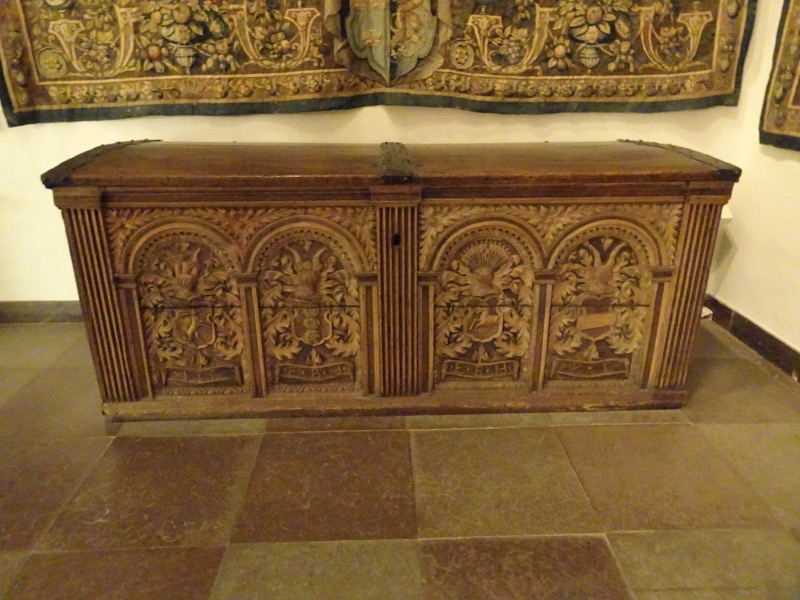 Faience Portuguese jars, c.1641.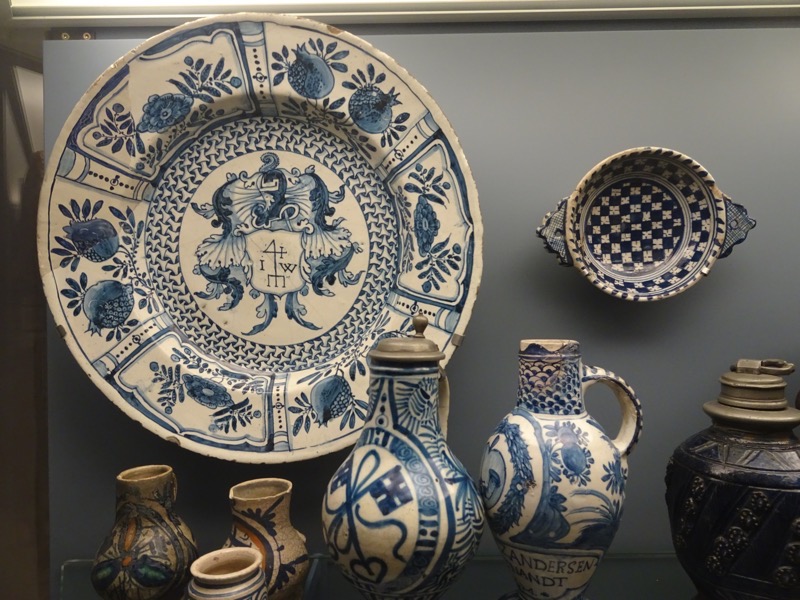 Recreation of a medieval room with extant artefacts.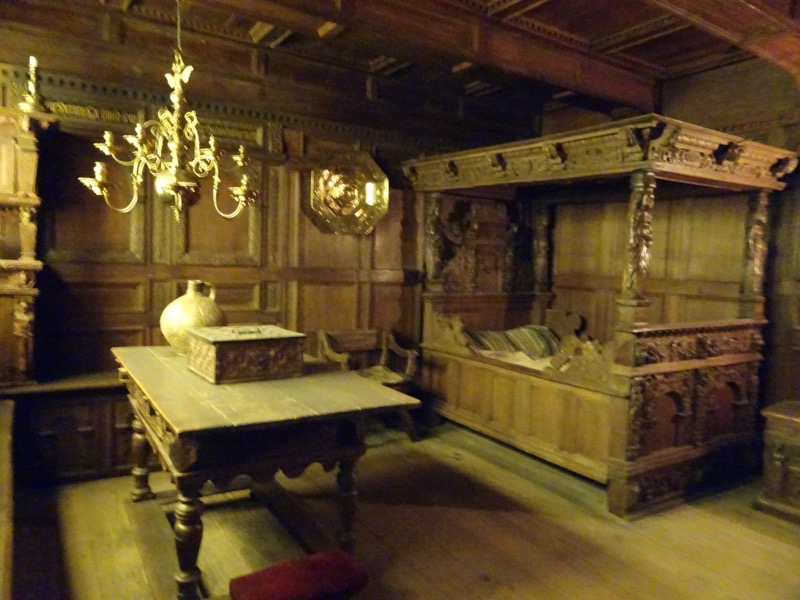 Cooking cauldrons.  c.15-16th centuries.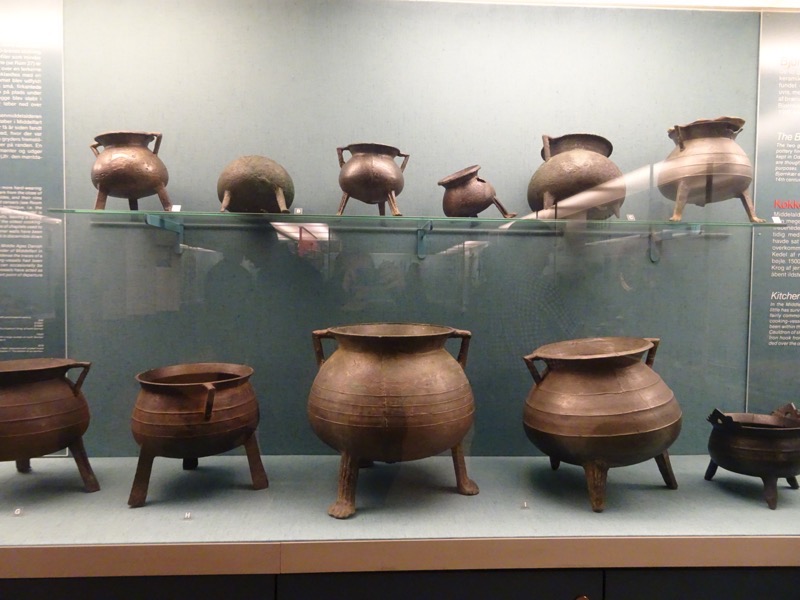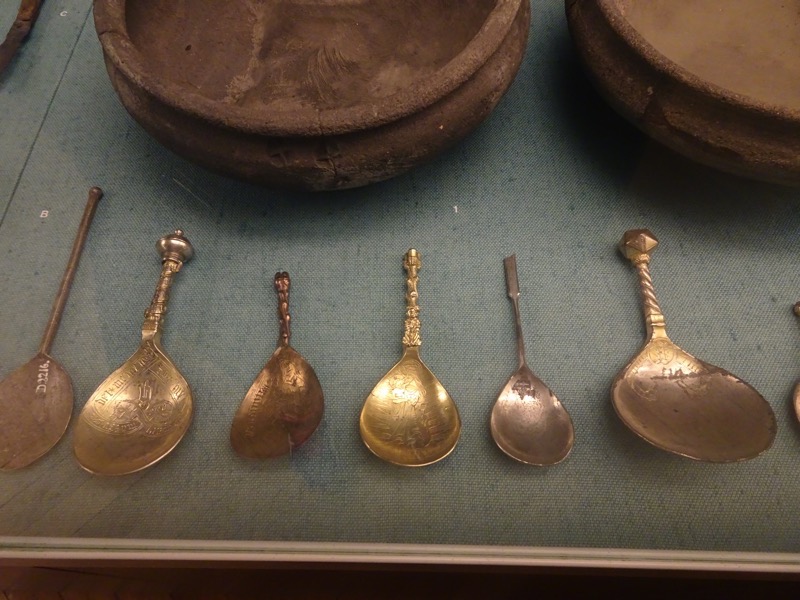 Reliquary boxes. c.1200s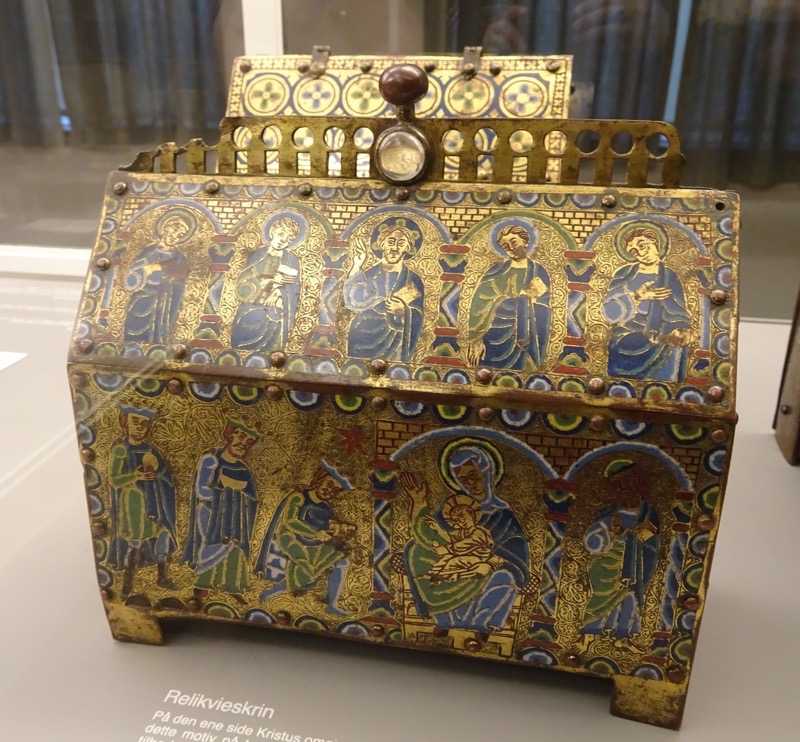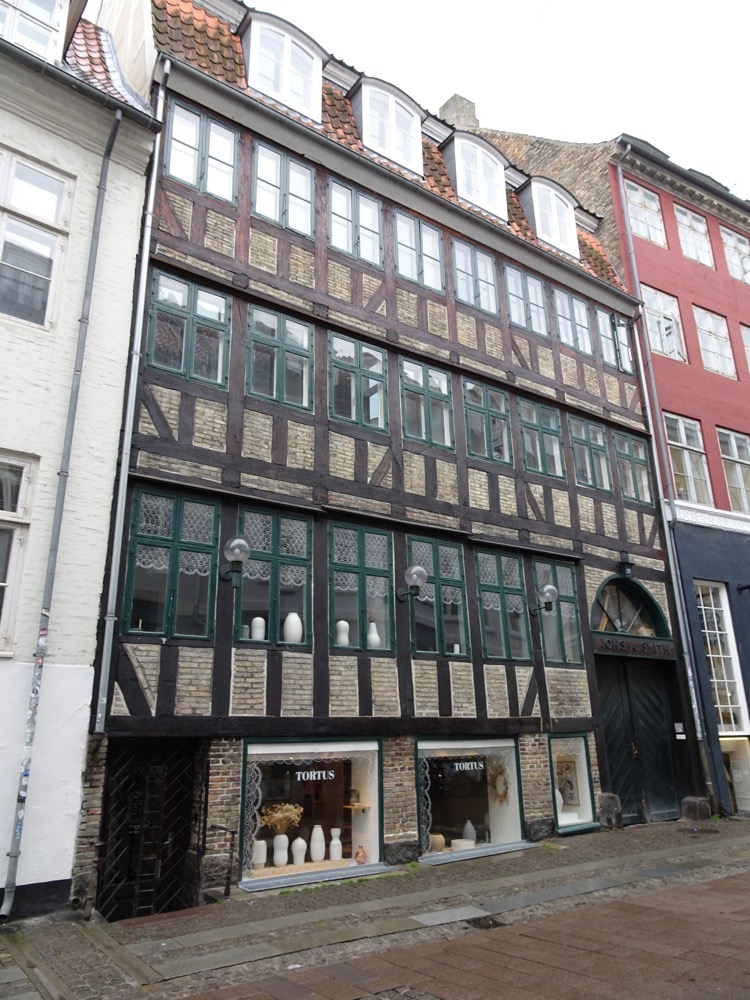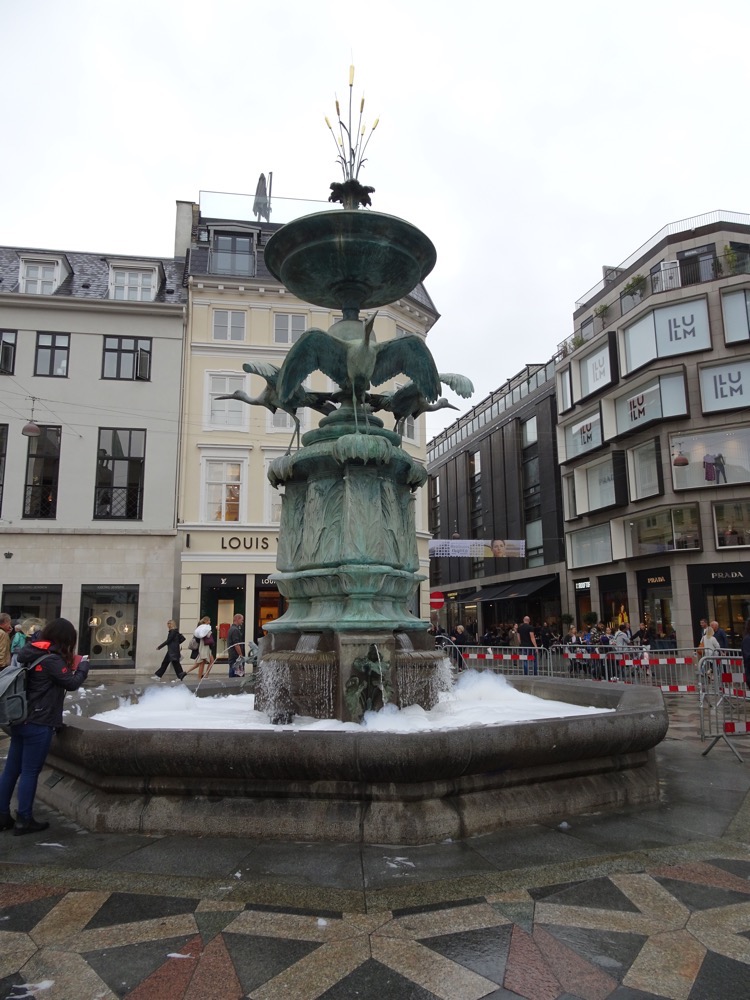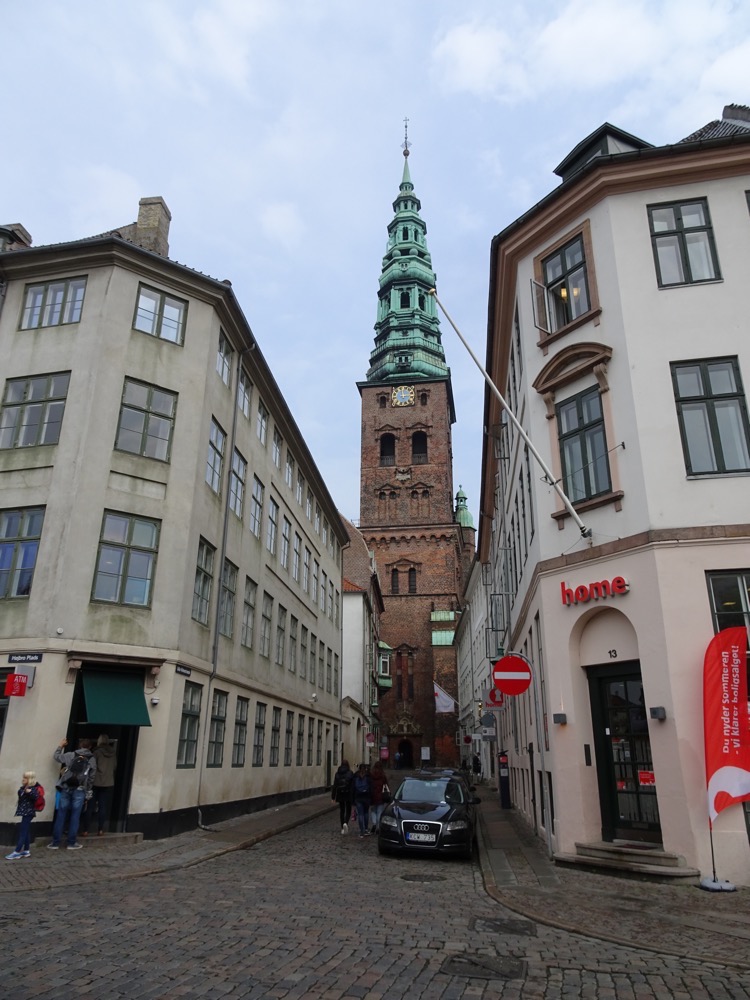 After spilling out of the amazing museum and spending no small amount of time in the gift shop, lamenting the lack of English catalogues, I might add (I could have cried!), we wandered the streets of Copenhagen for a while until we found another Irish pub for lunch – the Irish Rover, where we had a weird Danish smorgasbord lunch and massive pints of cider and beer, as you do!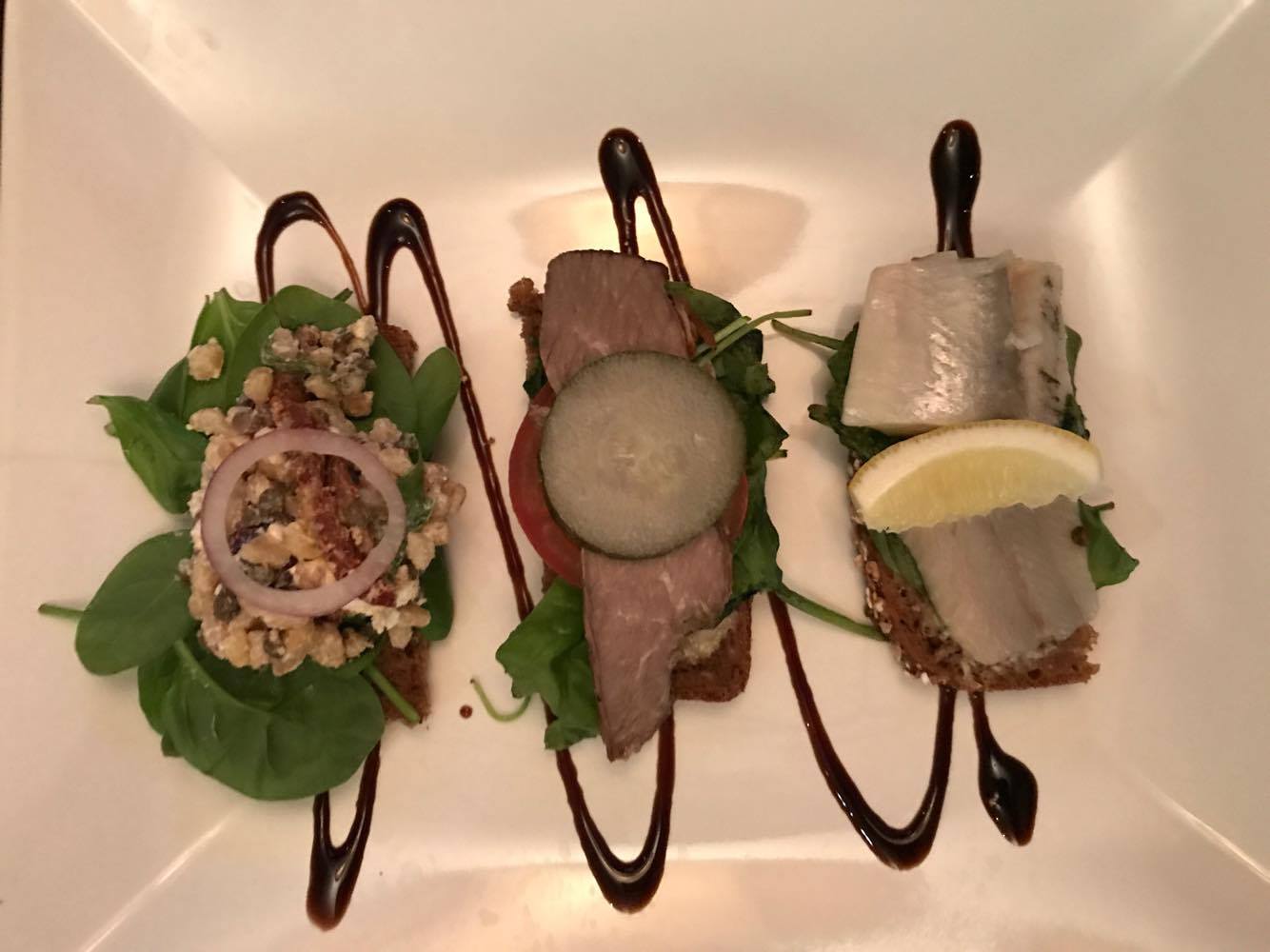 Then it was off to Christiansborg Palace.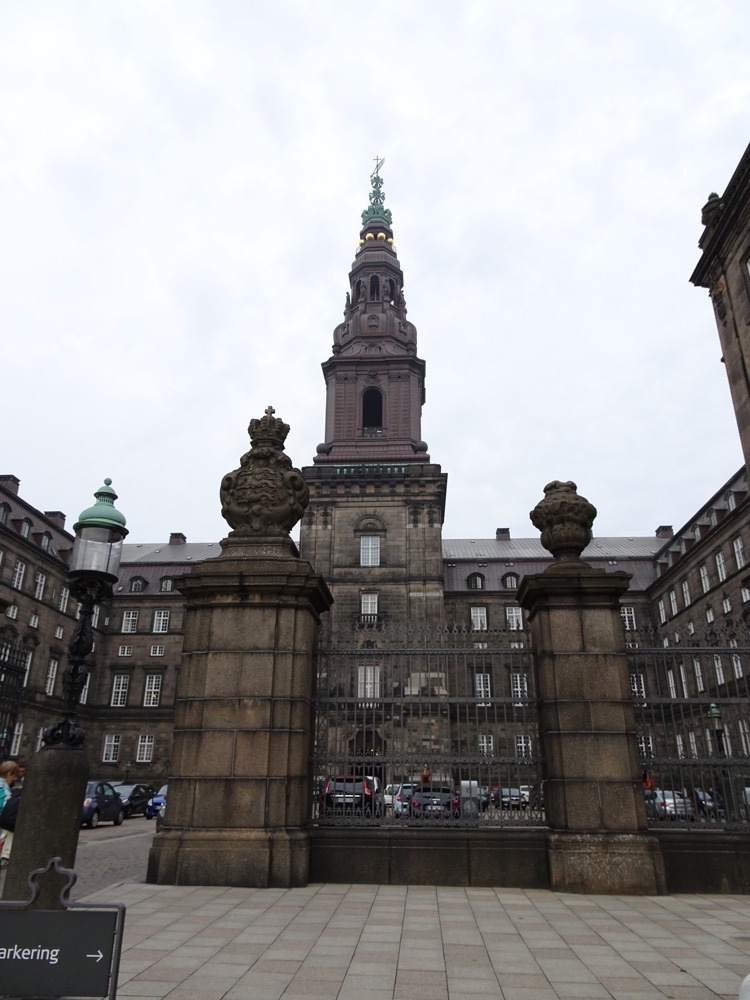 Christiansborg Slot (or Christiansborg Palace) is both palace and government building on the island of Sltosholmen in the middle of town.  It is the seat of the Danish Parliament, contains the Prime Minister's Offices, and also the Supreme Court of Denmark is here.  Several parts of the palace are also still used by the Danish monarchy, including the Royal Reception Rooms and Royal Stables.  Interesting tidbit for the day – this is the only place in the world where the executive, legislative and judicial branches government are contained all in one building/complex.
The current palace, is the third building called Christiansborg, with the last two having died in a fire, and the first being constructed on top of a medieval castle built on this site in 1167.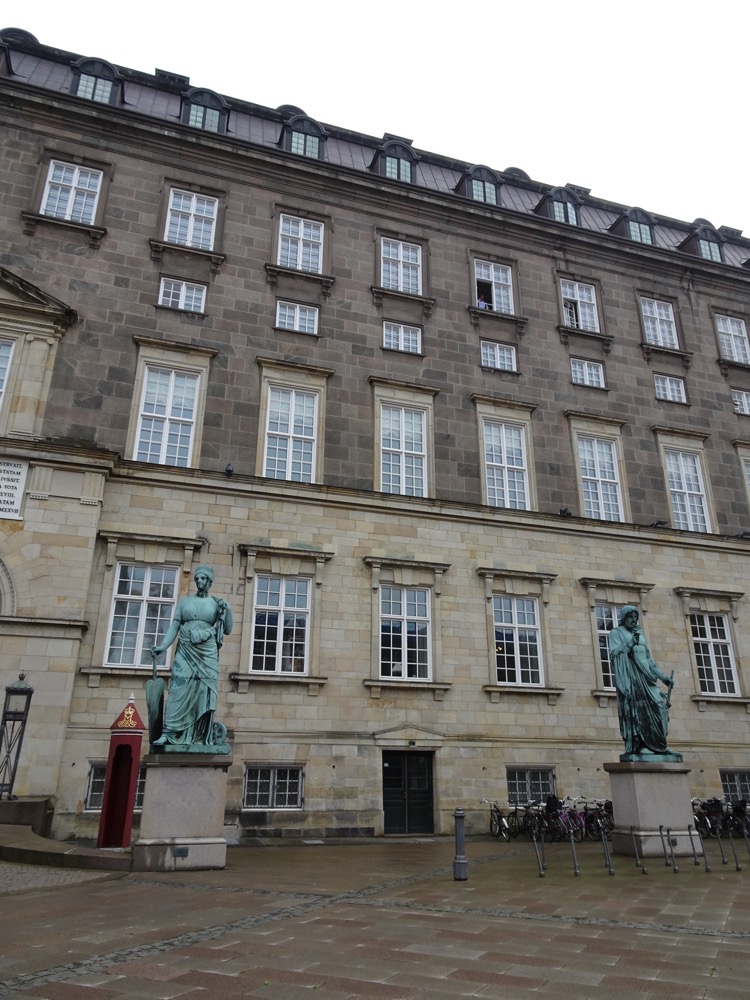 Grand Hallway leading to the Royal Reception Rooms, also known as the Queen's Staircase (though I know not why).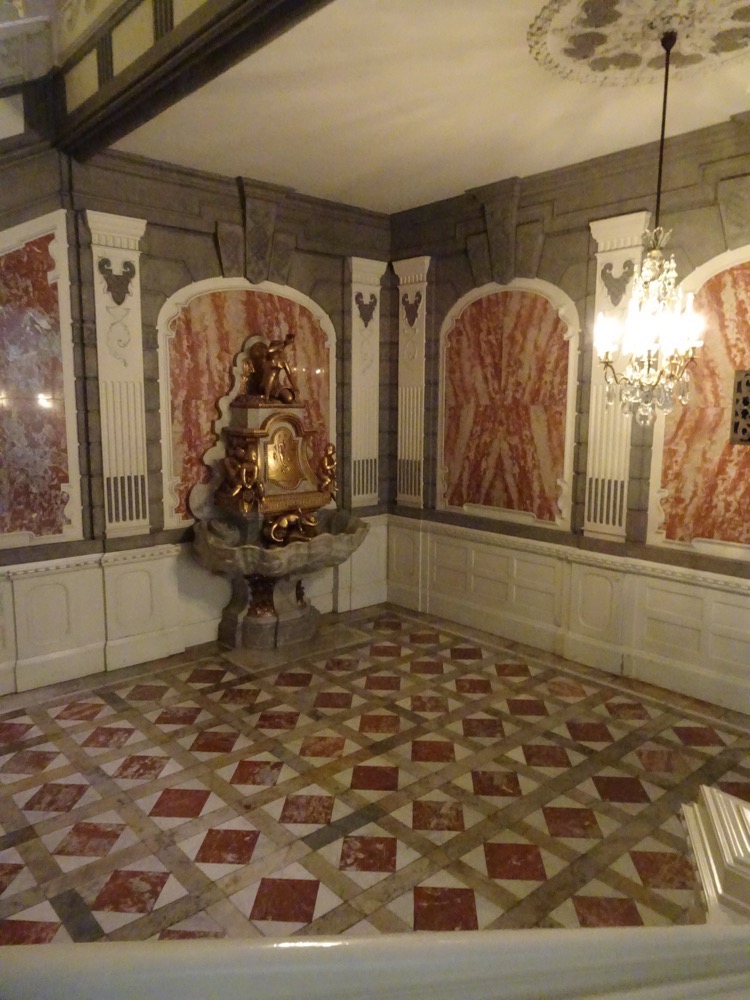 The Alexander Hall.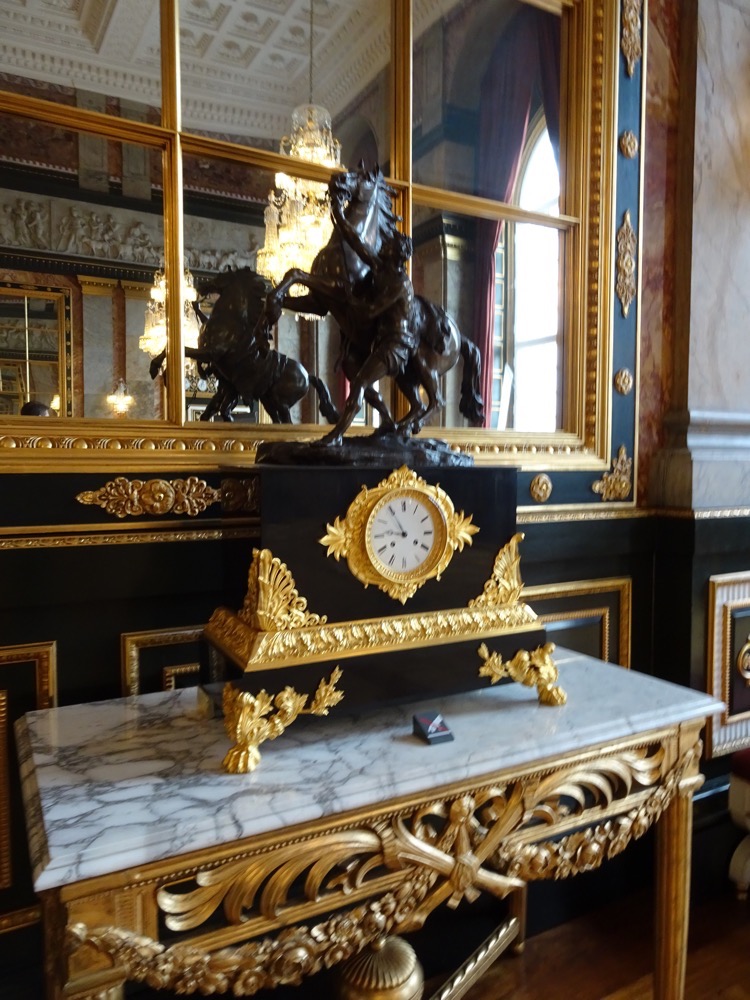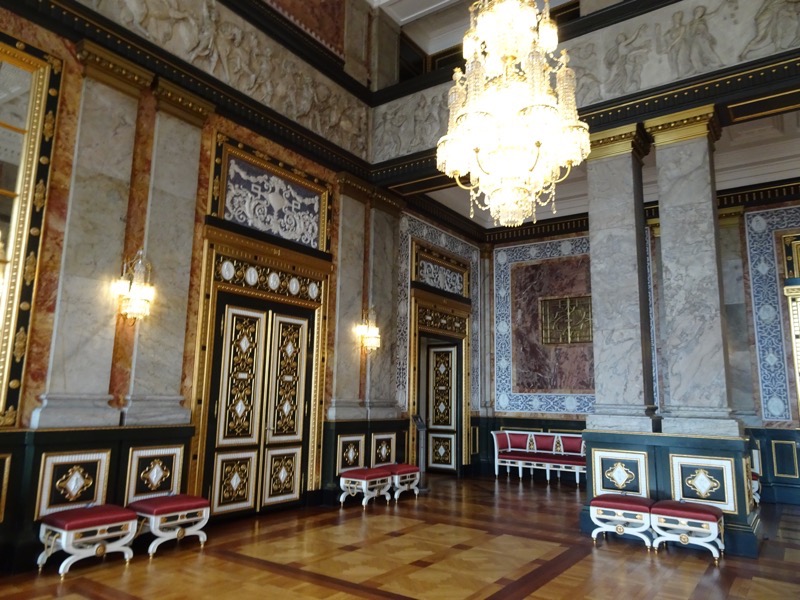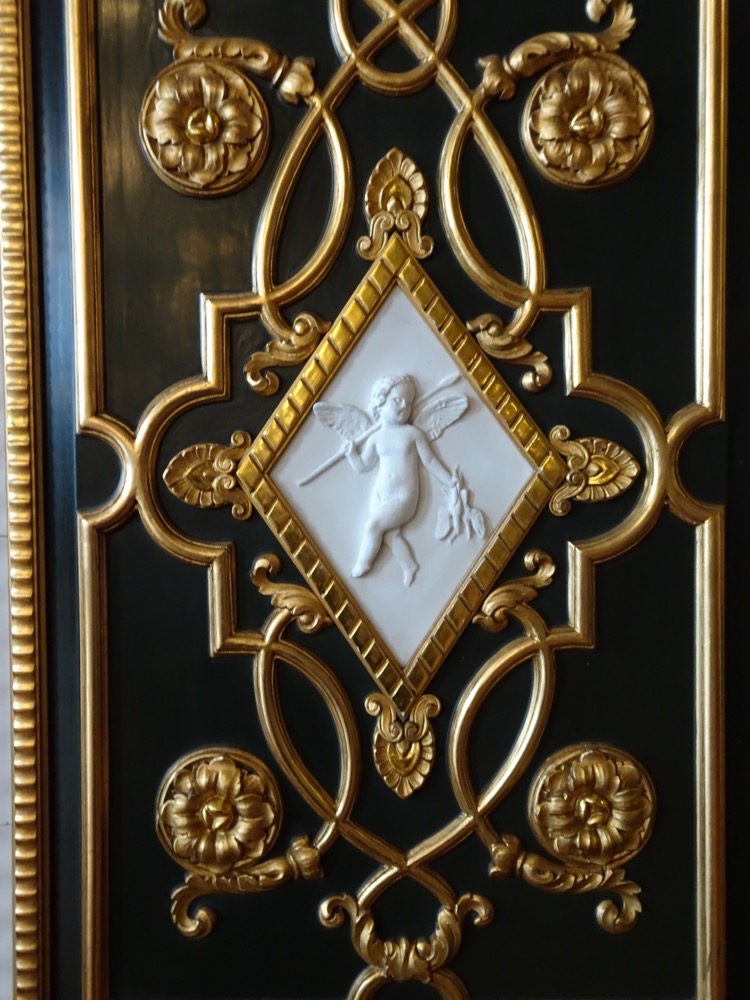 The Flora Danica Cabinet containing all the royal flatware.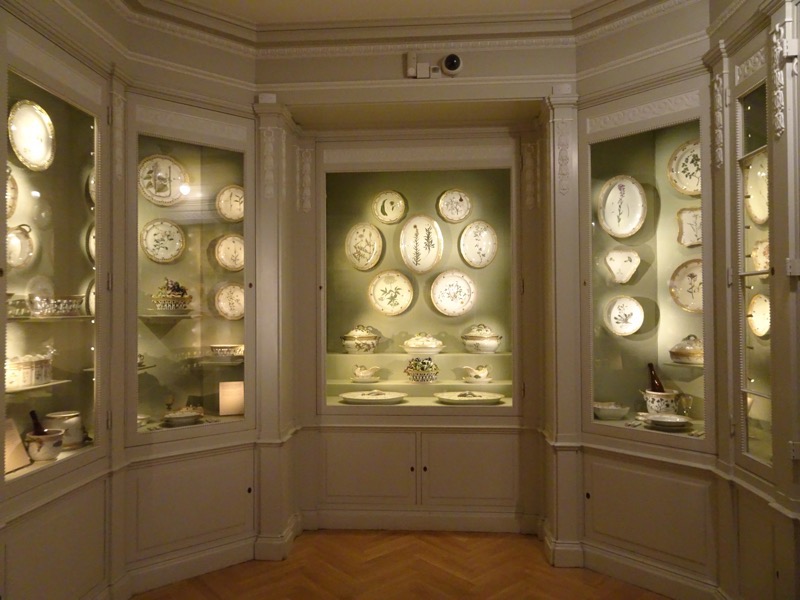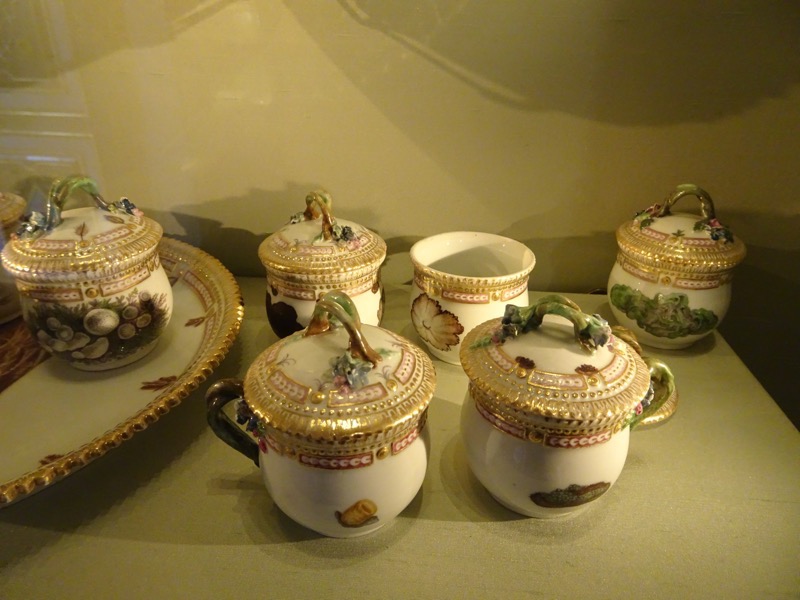 The Princess Chamber.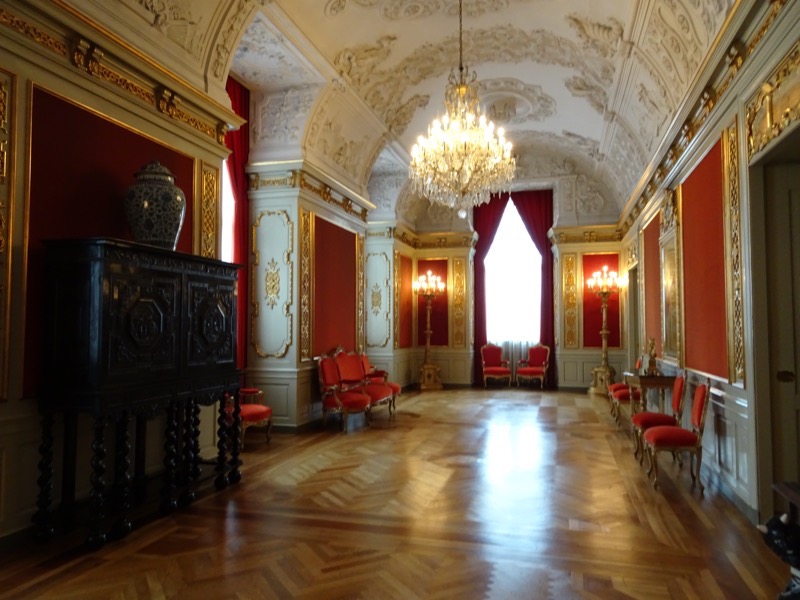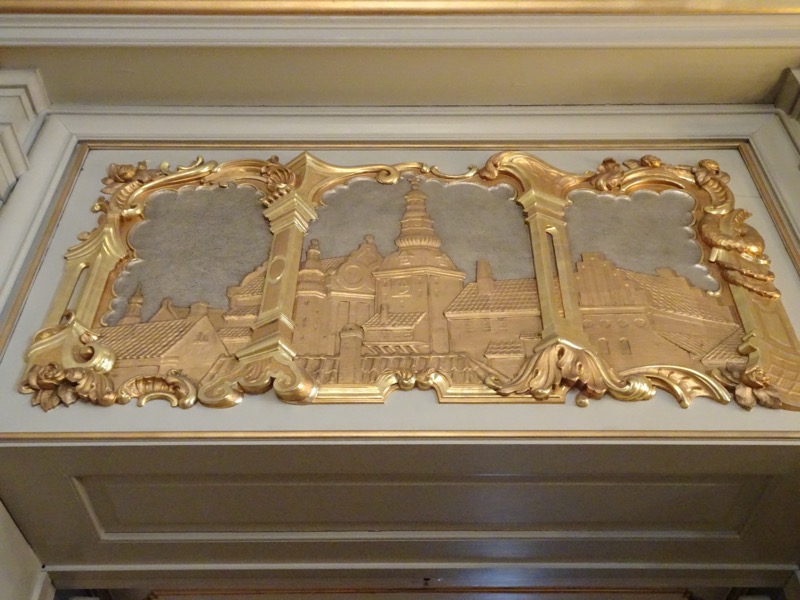 The Queen's Library – never been jealous of a Queen before, but I would LOVE a library like this!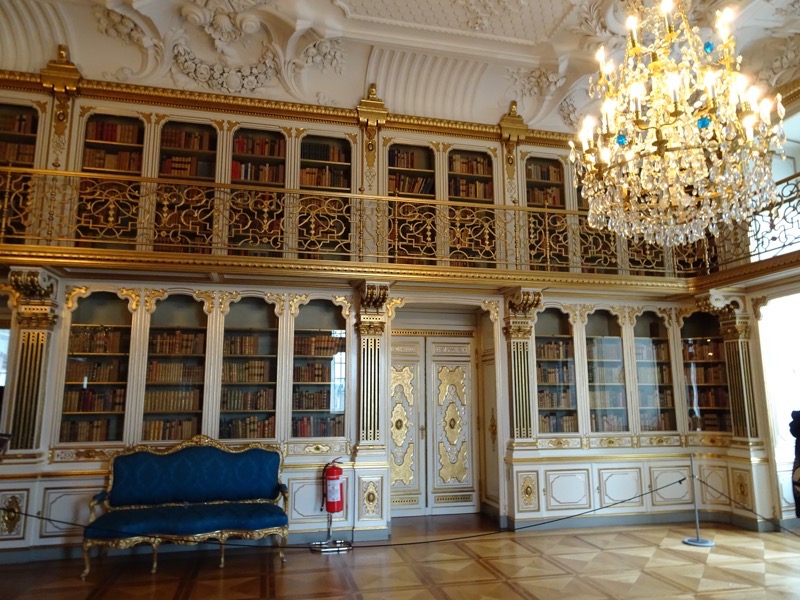 Gorgeous, and so much space for books!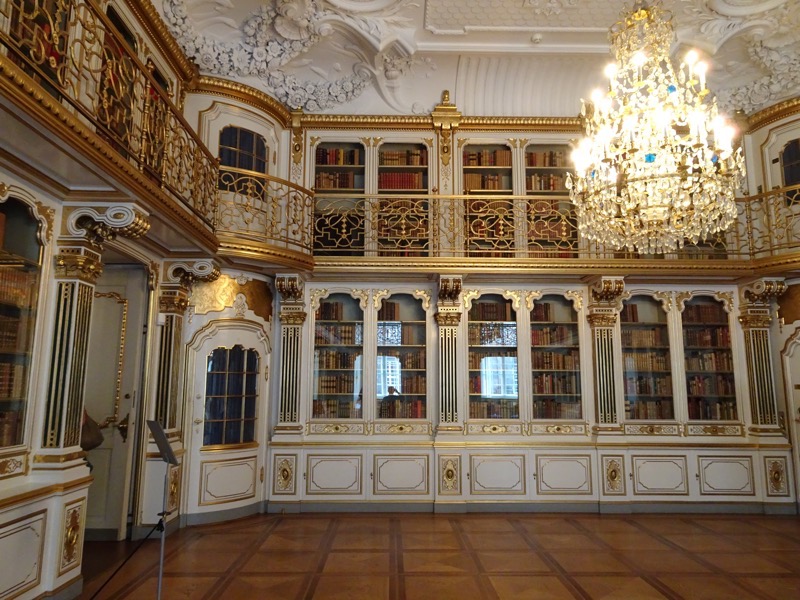 The Abilgaard Room.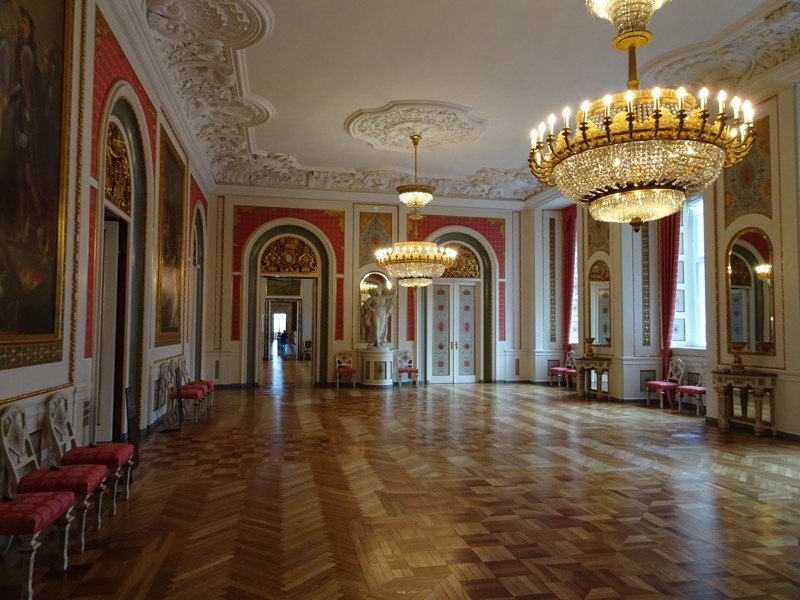 The Dining Hall, which has a beautfiul table that can comfortably accommodate fifty guests.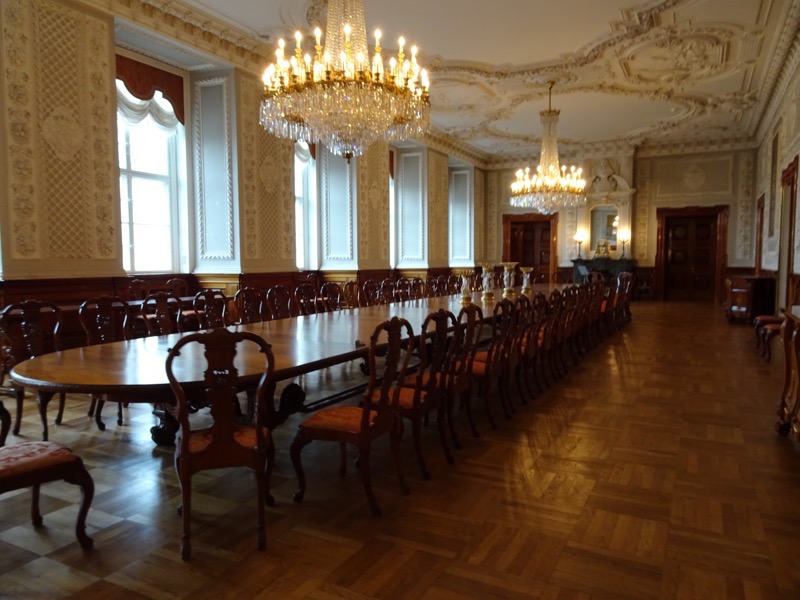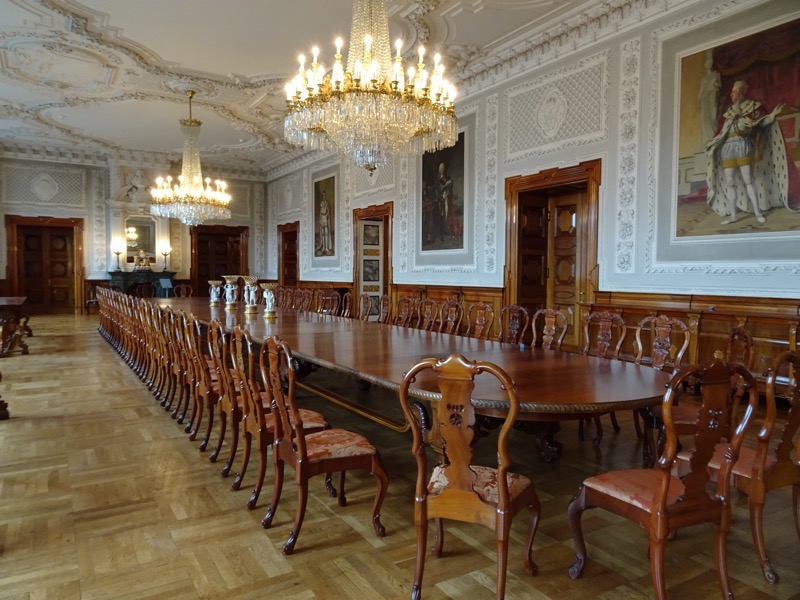 The Green Room (I do not know why so many of these palaces all have a 'Green Room' a 'Red Room' a 'Blue Room' etc, but it seems to be de rigeur for European castles.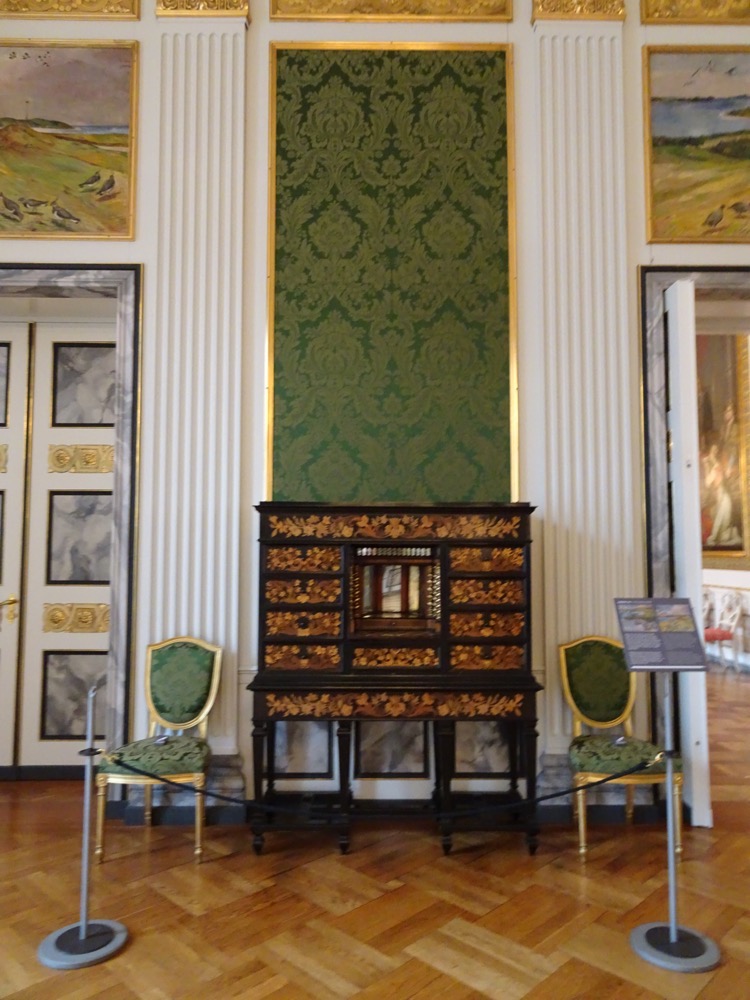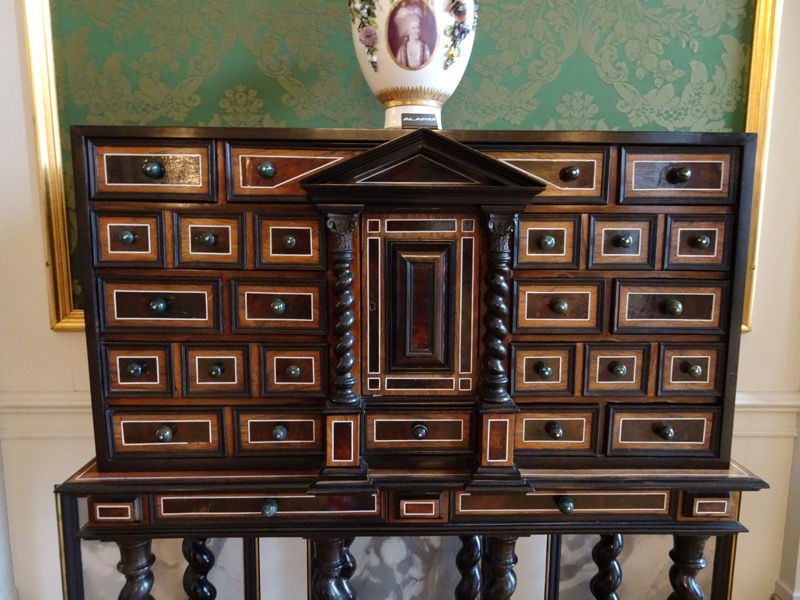 The Swedish Gallery.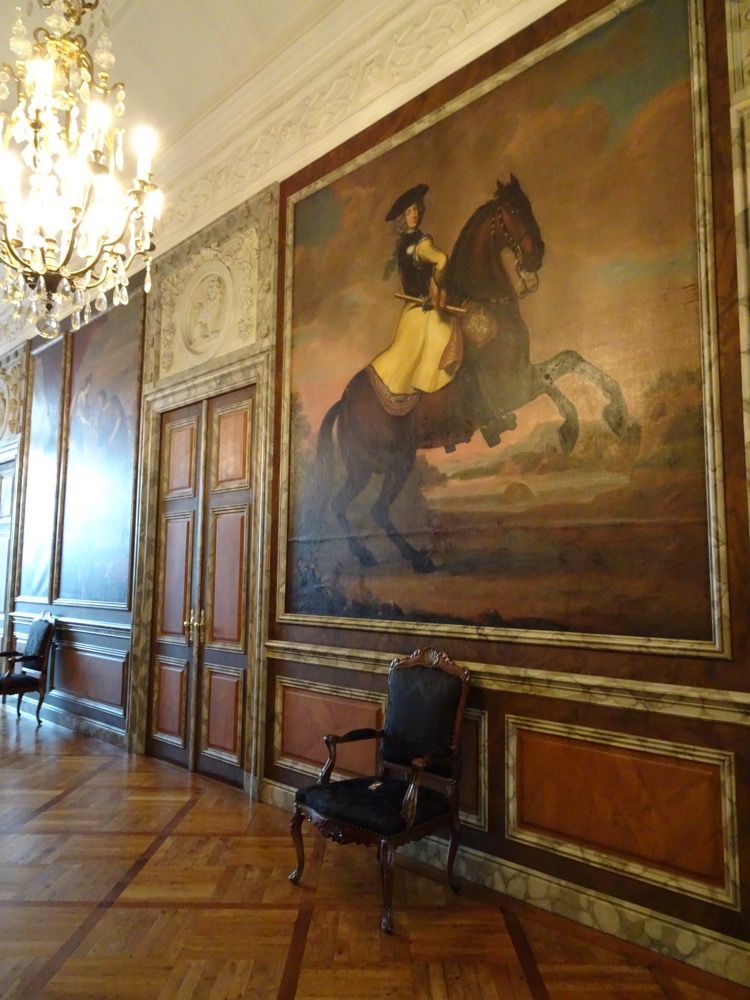 The Great Gallery – whereupon we were greeted by a Great Surprise.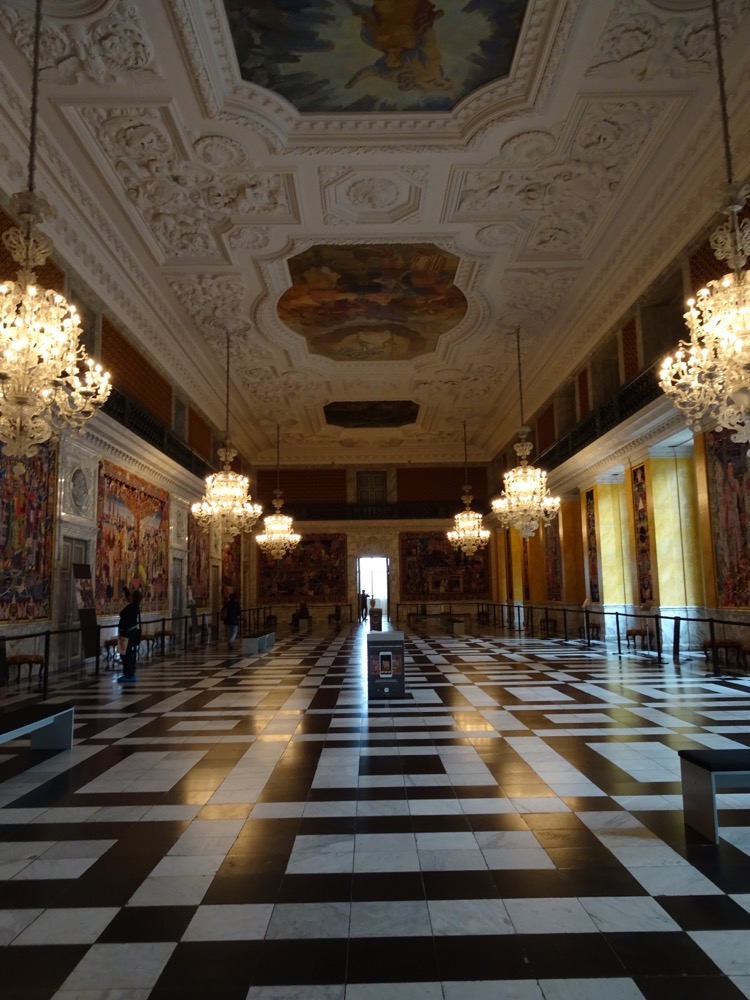 Tapestries.  Oh dear God, SEVENTEEN of them.  The Great Hall is decorated with '17 richly coloured, modern tapestries'.  The tapestries were a gift from Danish companies, organisations and foundations to mark Queen Margarethe II's 50th birthday on 16th of April, 2000.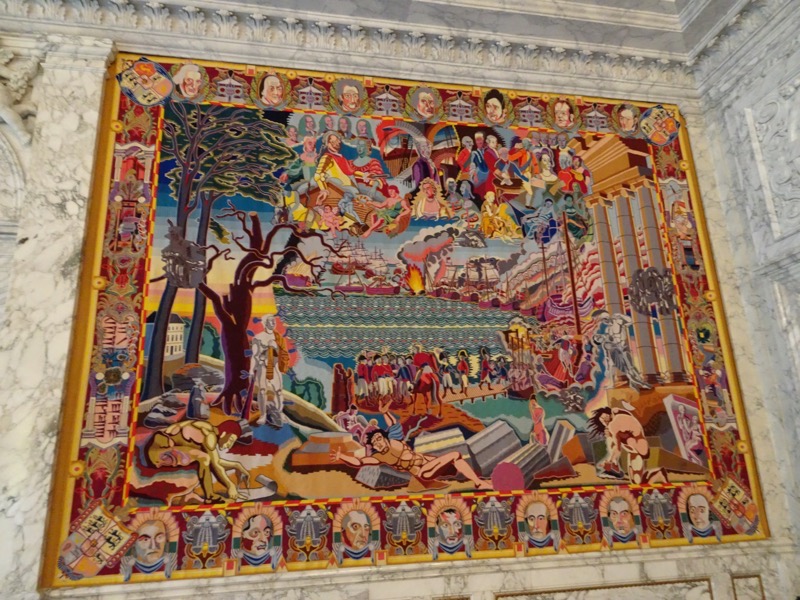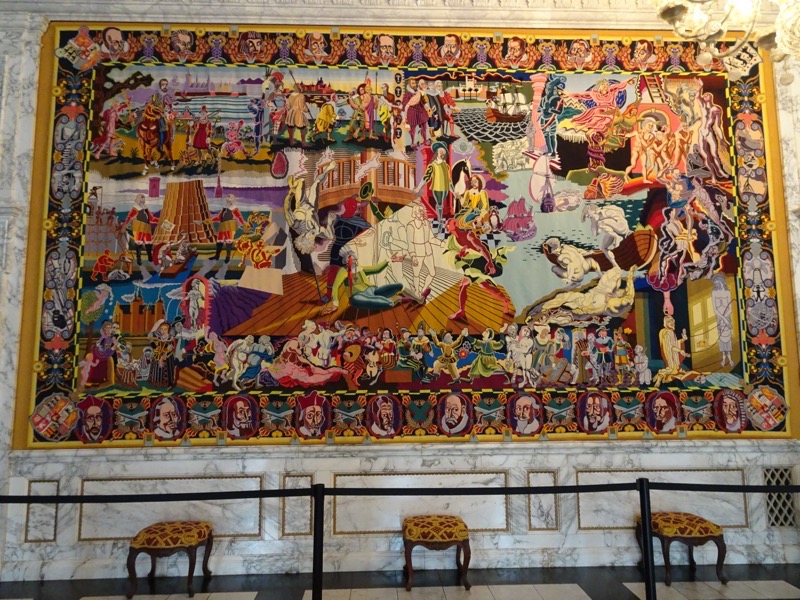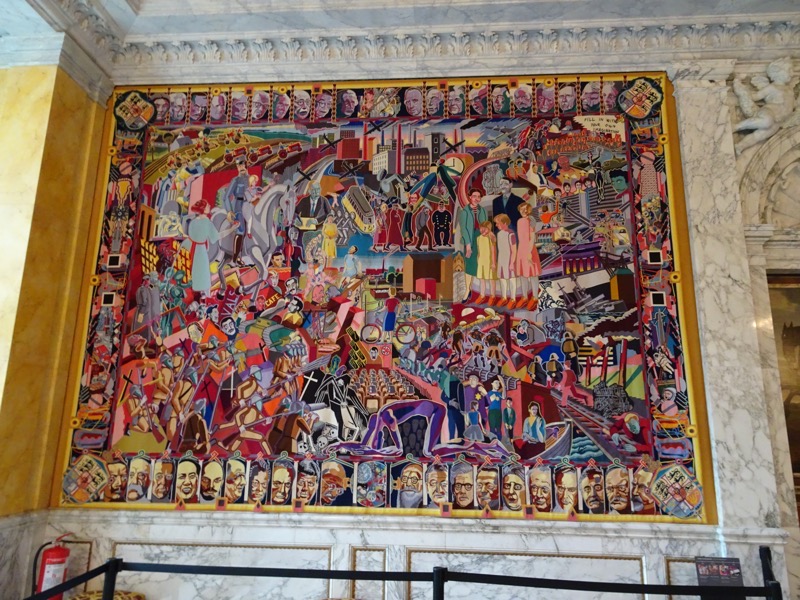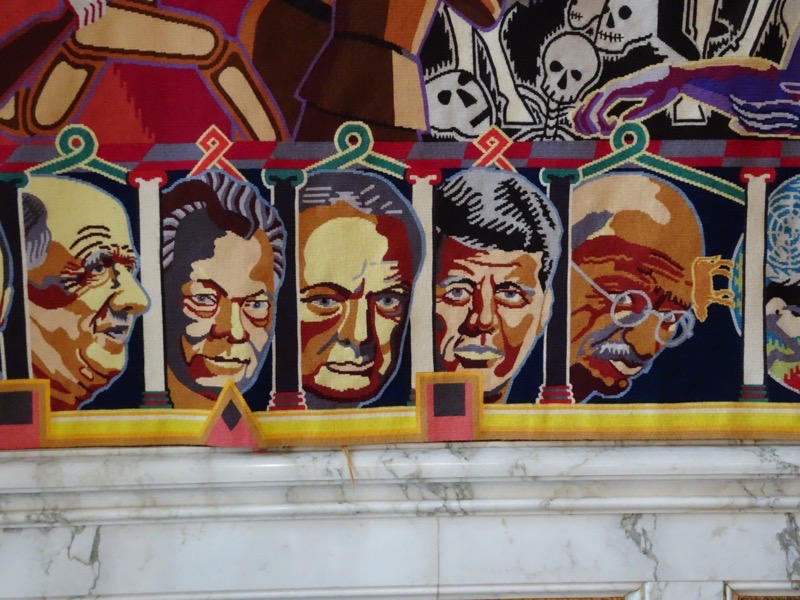 It was at this point that I stopped being jealous of Queen Margrethe's fabulous library… if the cost of owning that fabulous library is also having to receive things, like these tapestries, with some form of grace and decorum, well, there goes my pretensions towards Queenliness!  I think if someone presented me with something that had obviously taken so much work but was so positively hideous, I could not possibly have received it with any other expression, other than incredulity.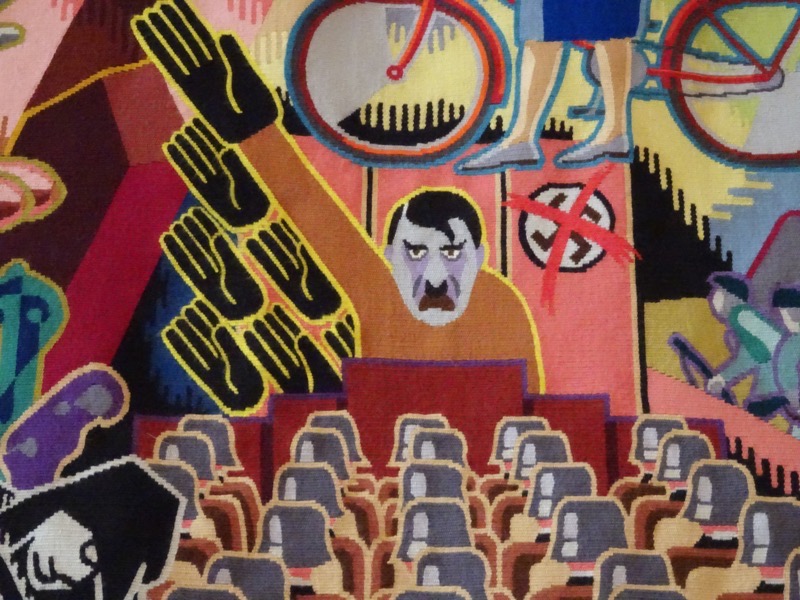 BUTT FUCKING UGLY!  It makes me sad to think so much time, energy and work went into making something like this.  🙁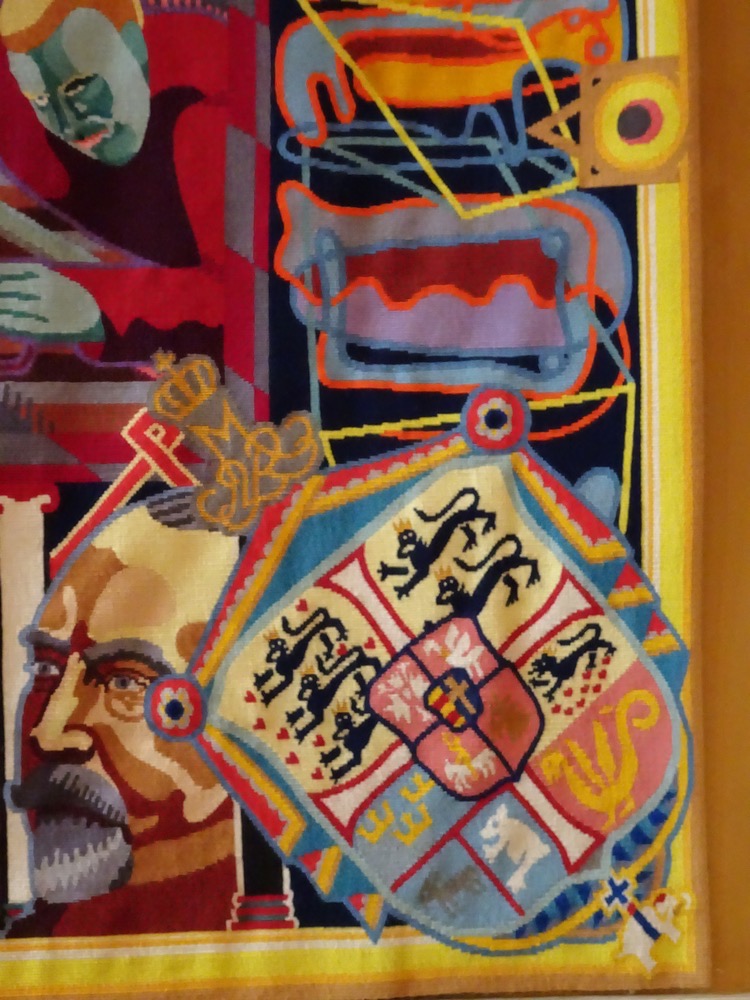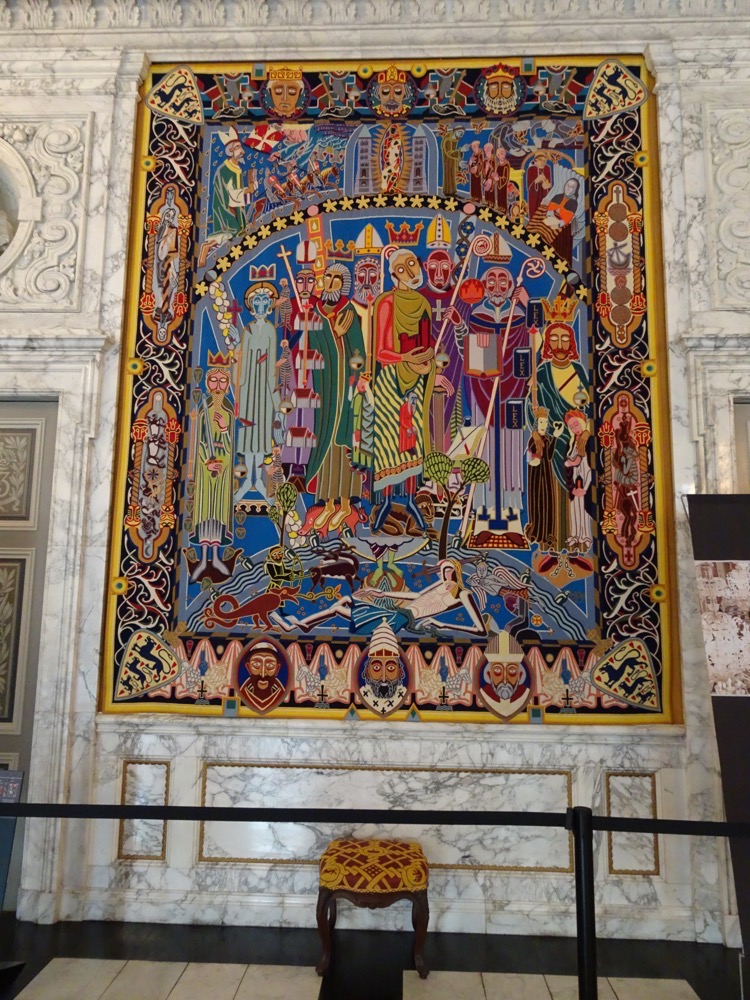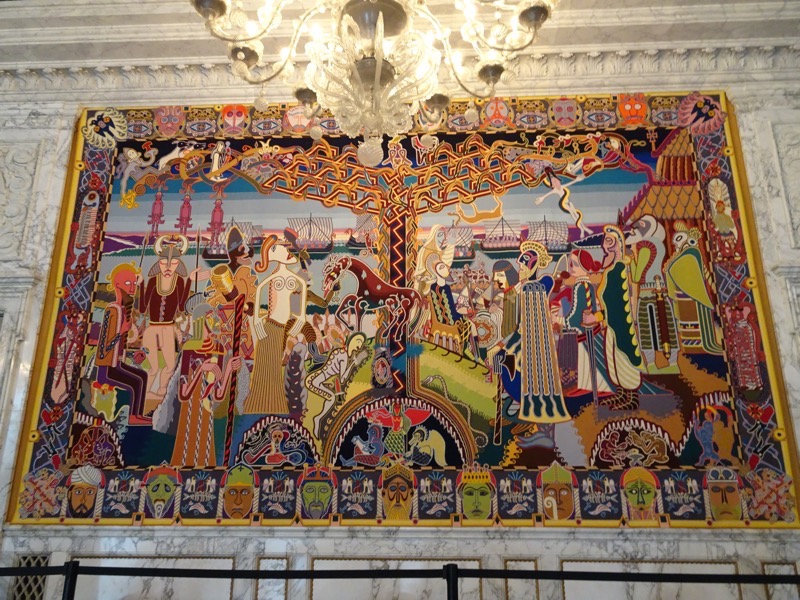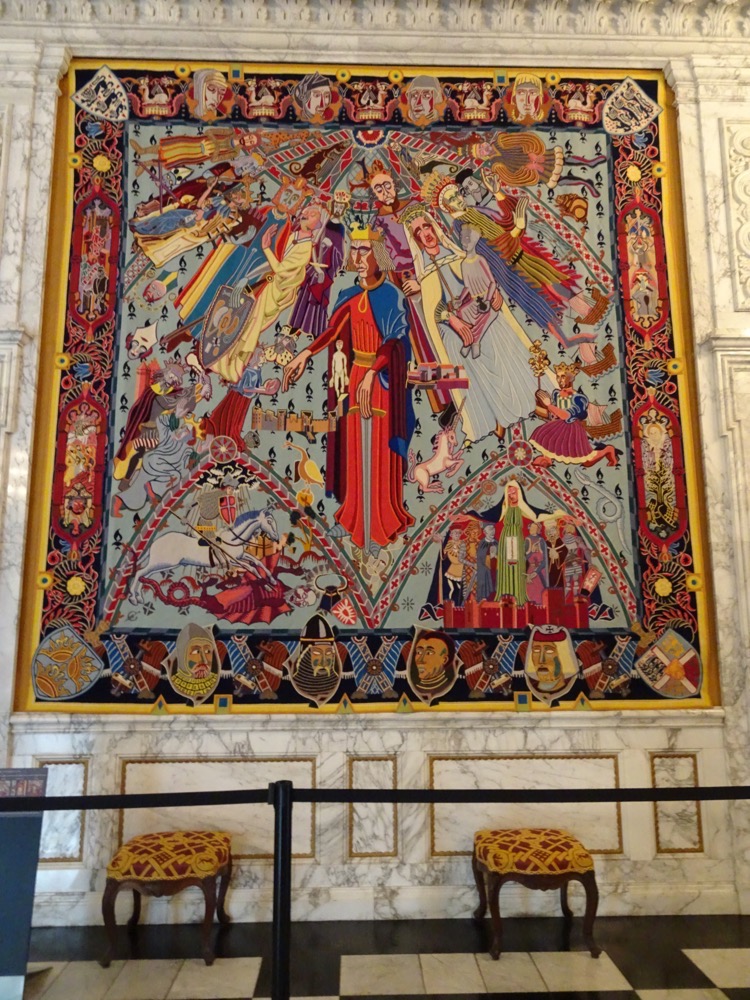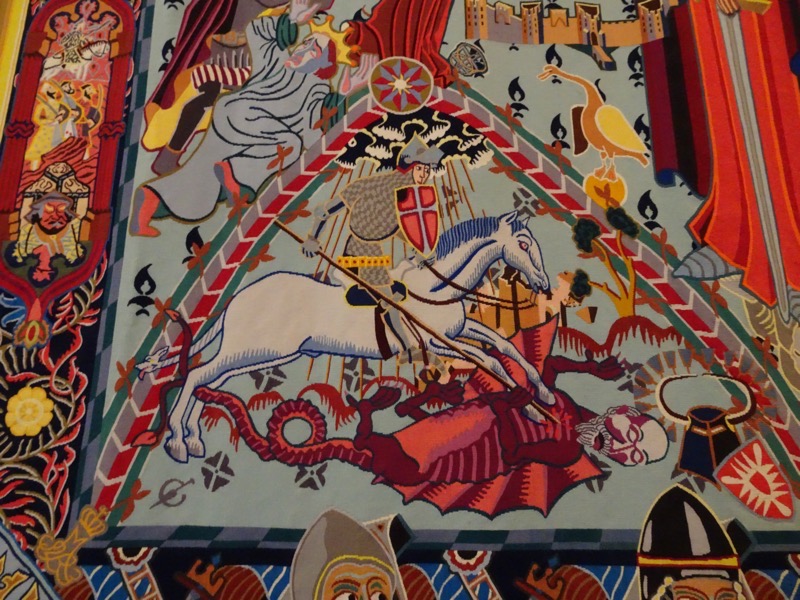 Seriously.  I'm sure someone likes them, but me and my fine arts degree, and my love of historical textiles are just rocking and crying quietly in a corner somewhere.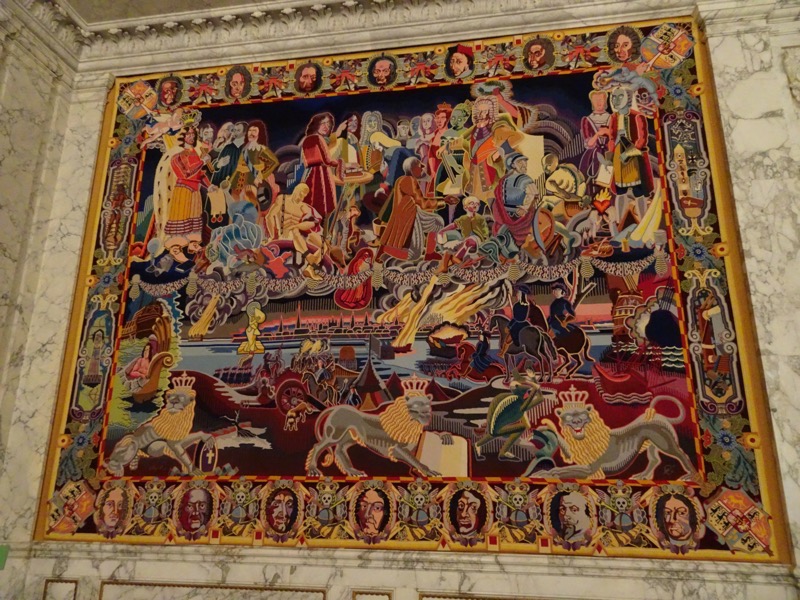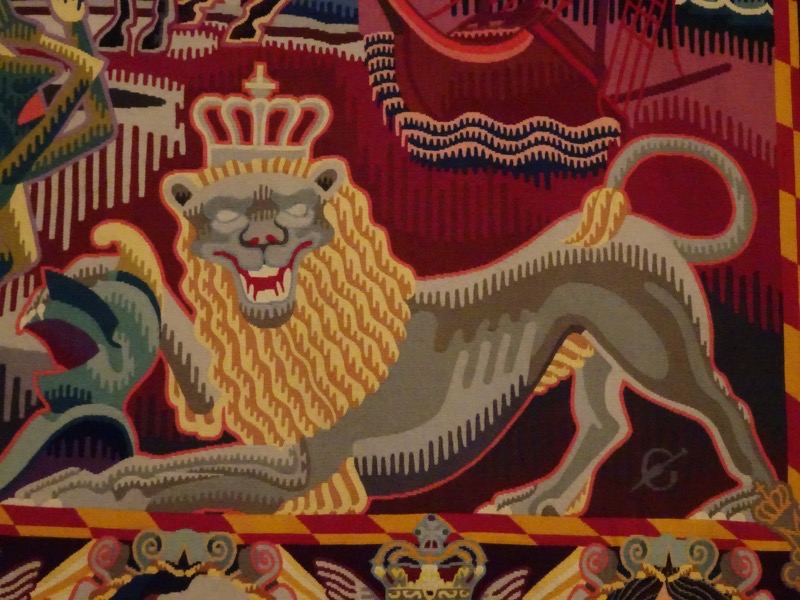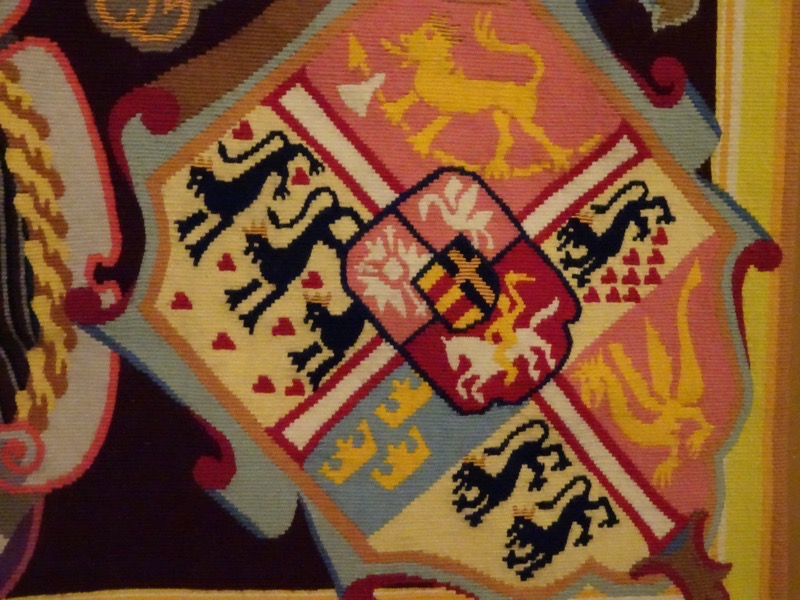 FFS… who ever thought it would be 'nice' to represent 1100 years of Danish history in cartoonish tapestry to the Queen of Denmark on the occasion of her 50th birthday, needs their bloody head read.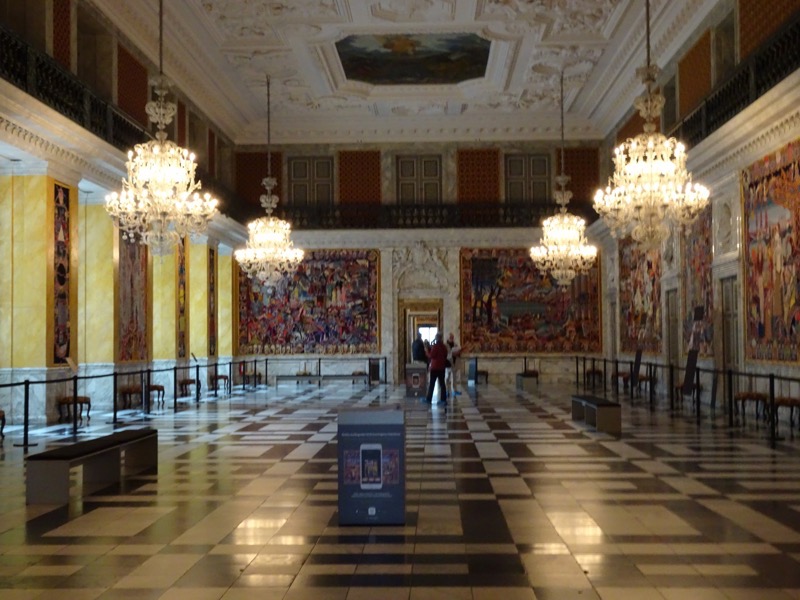 Alright, snobbery begone!  Moving right along we found ourselves in the Velvet Room which has covered in lovely cut out brocade velvet wallpaper.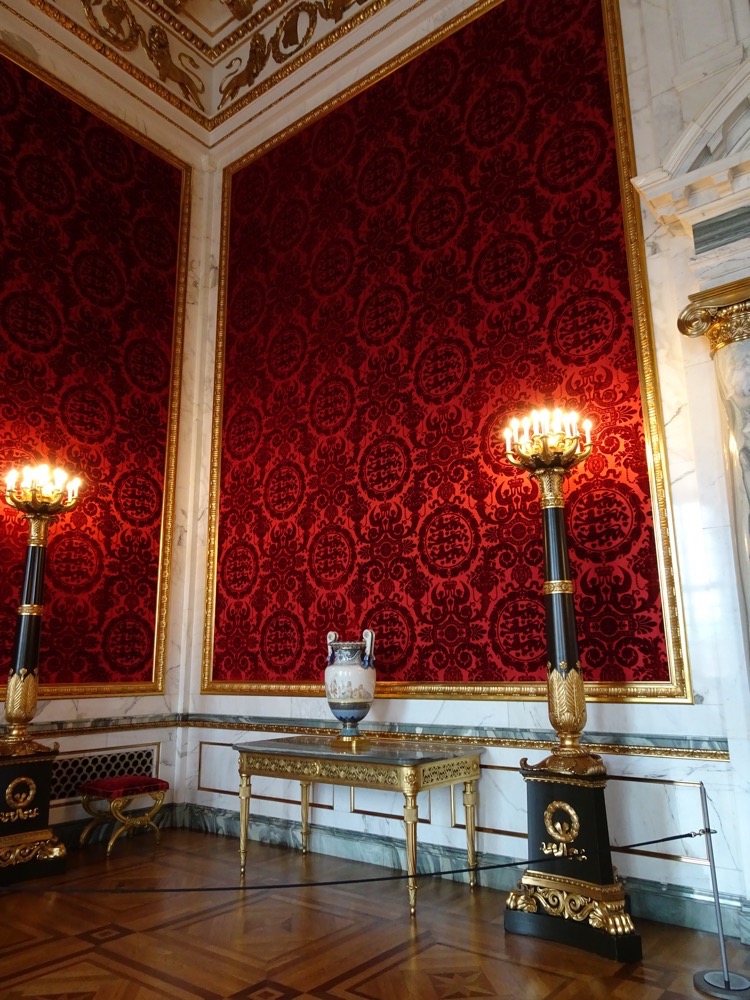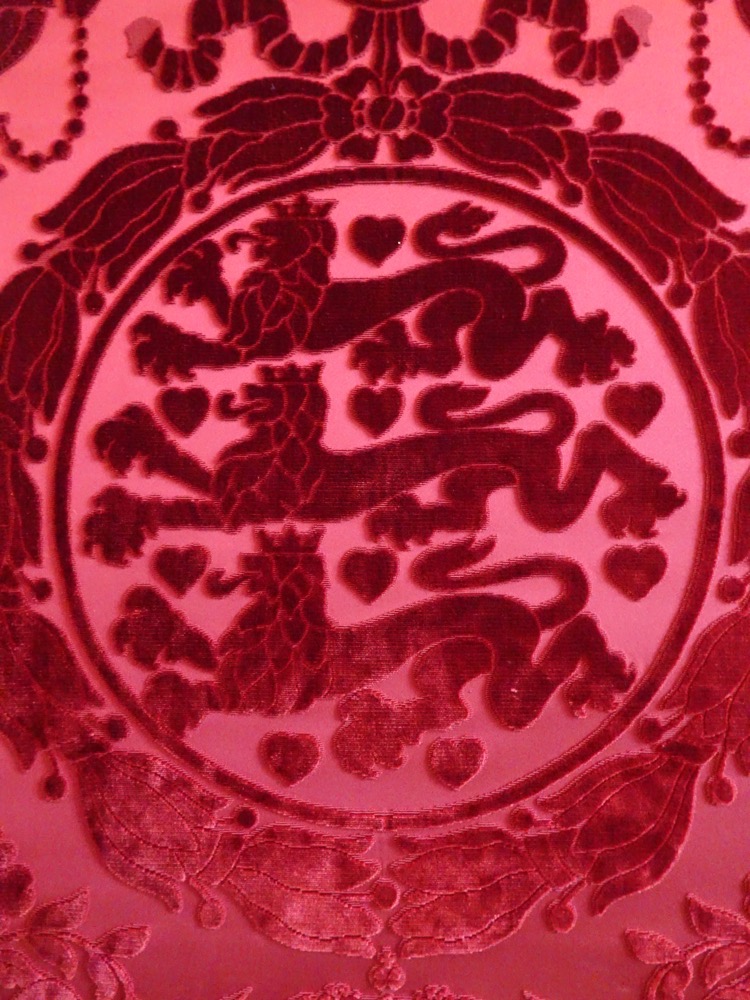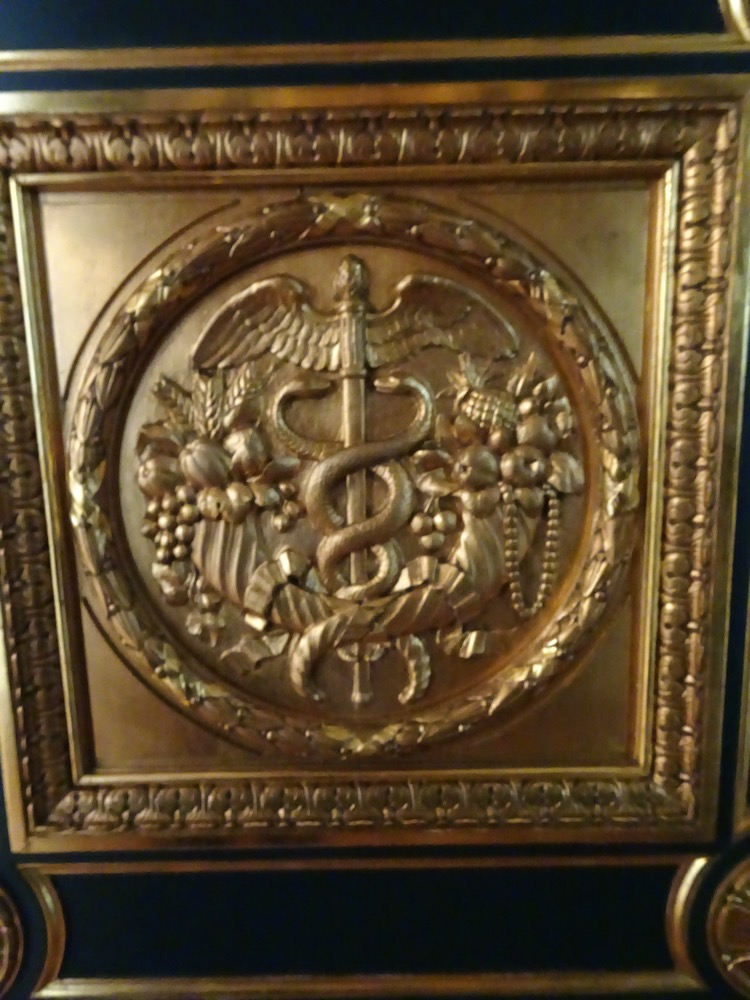 Which leads into King Fredrik VI's Room that contained some family tree information for the Danish Royal family, and where Mr K learned that all the European monarchy have heavily intermarried through the efforts of the Empress Maria Theresa and the Emperor Franz Joseph in a time honoured tradition that was then carried on by Queen Victoria of England, who also married all her offspring to other European aristocracies.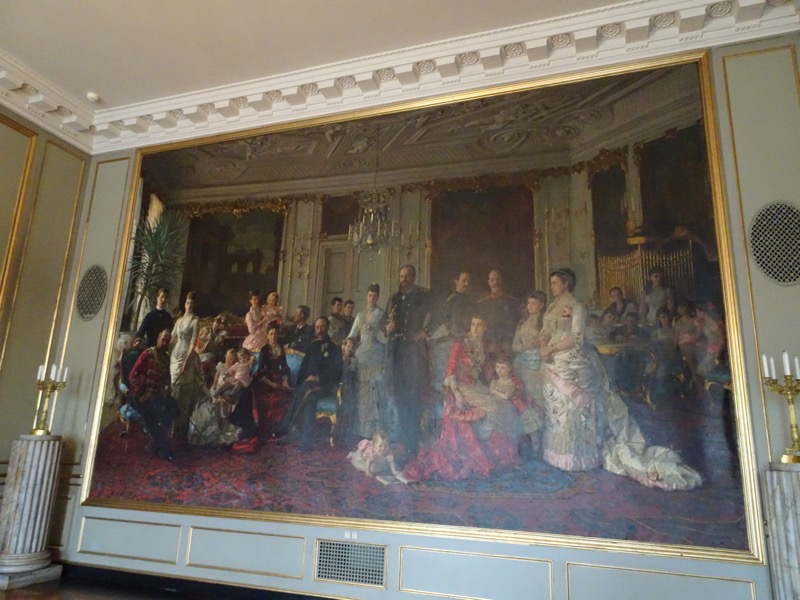 Next, King Christian IX's Room – gorgeous and resplendent in blue, and with very modern carpets.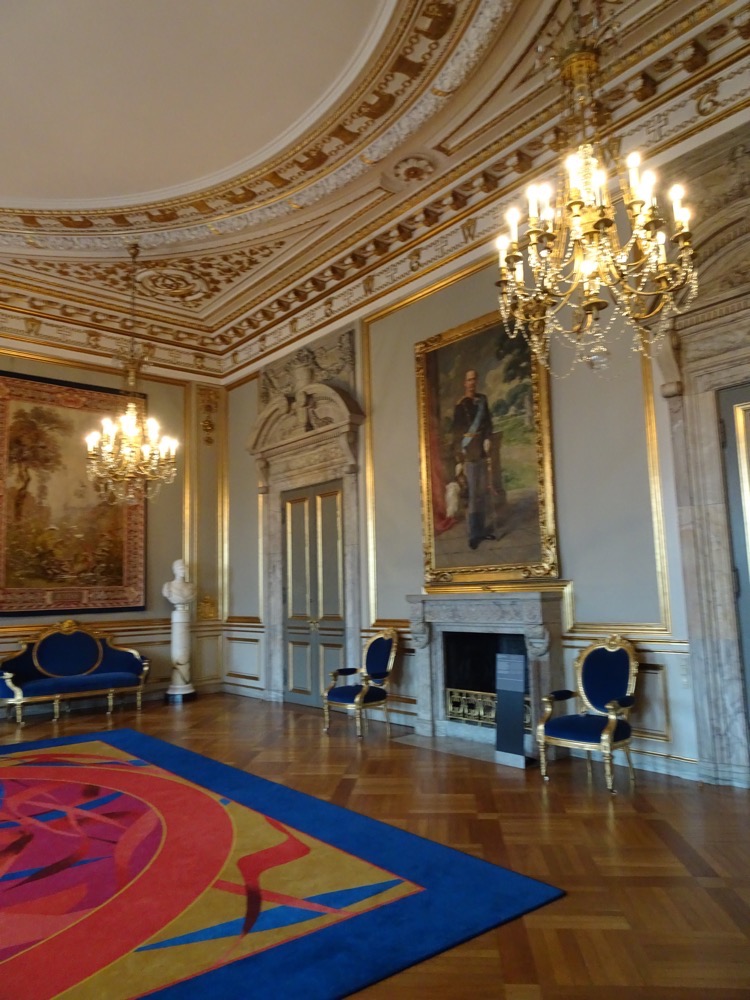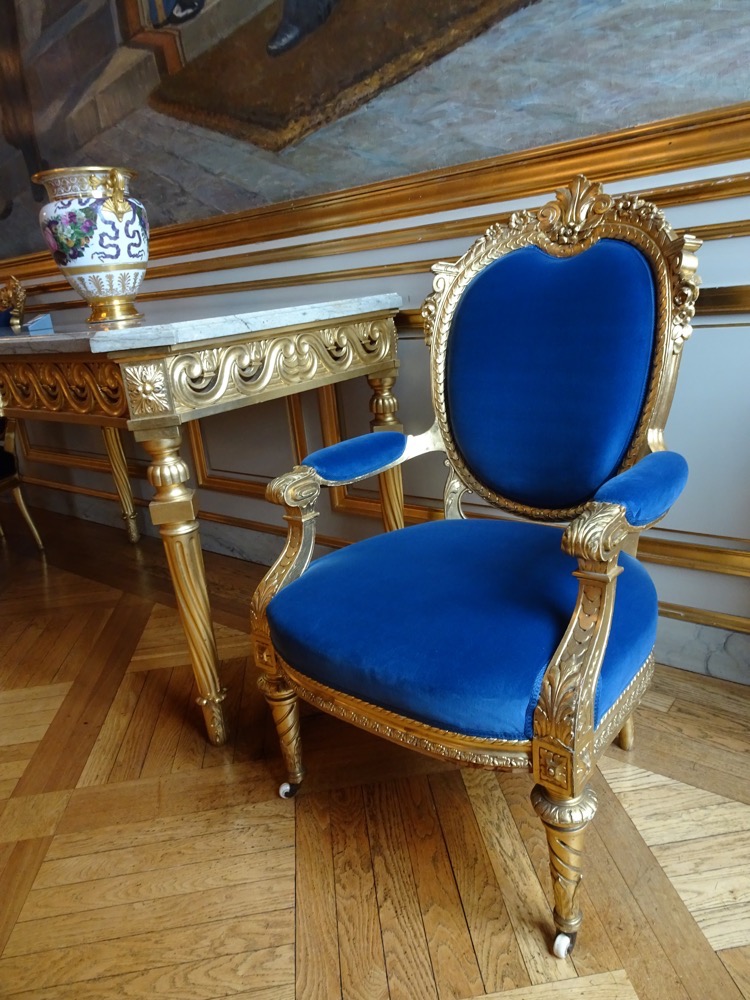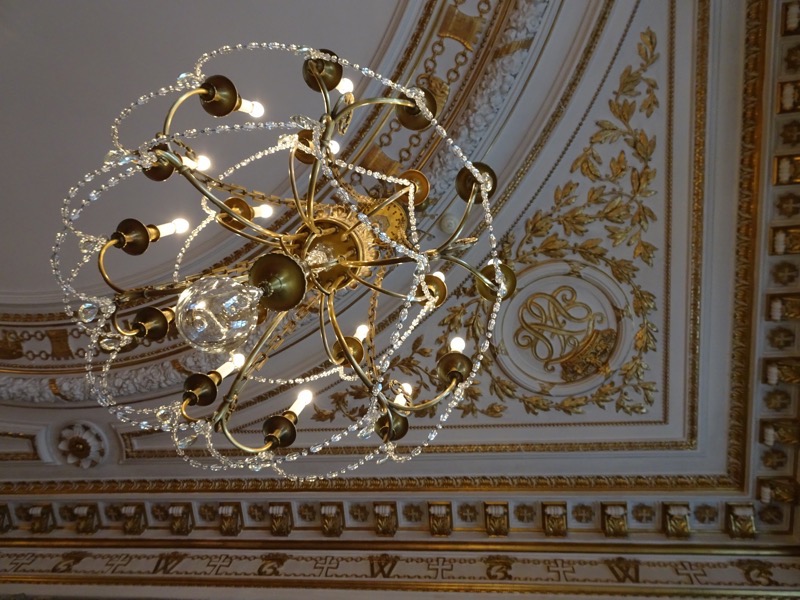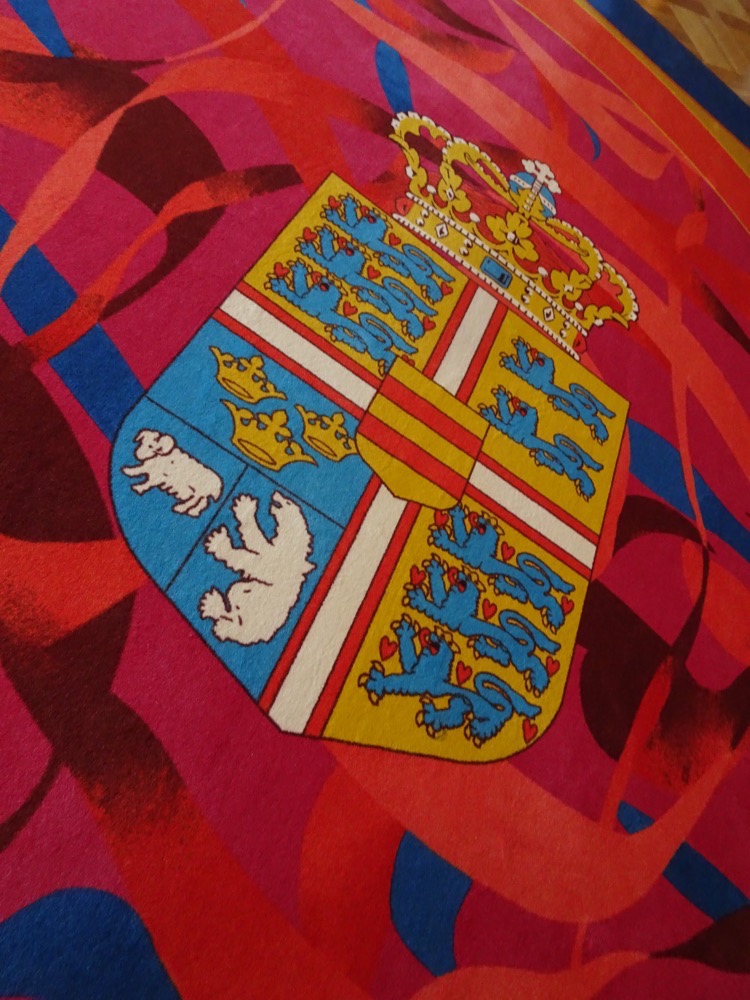 Through which, you gain entrance to the Throne Room, which is very fancy indeed (and no ugly tapestries in sight!).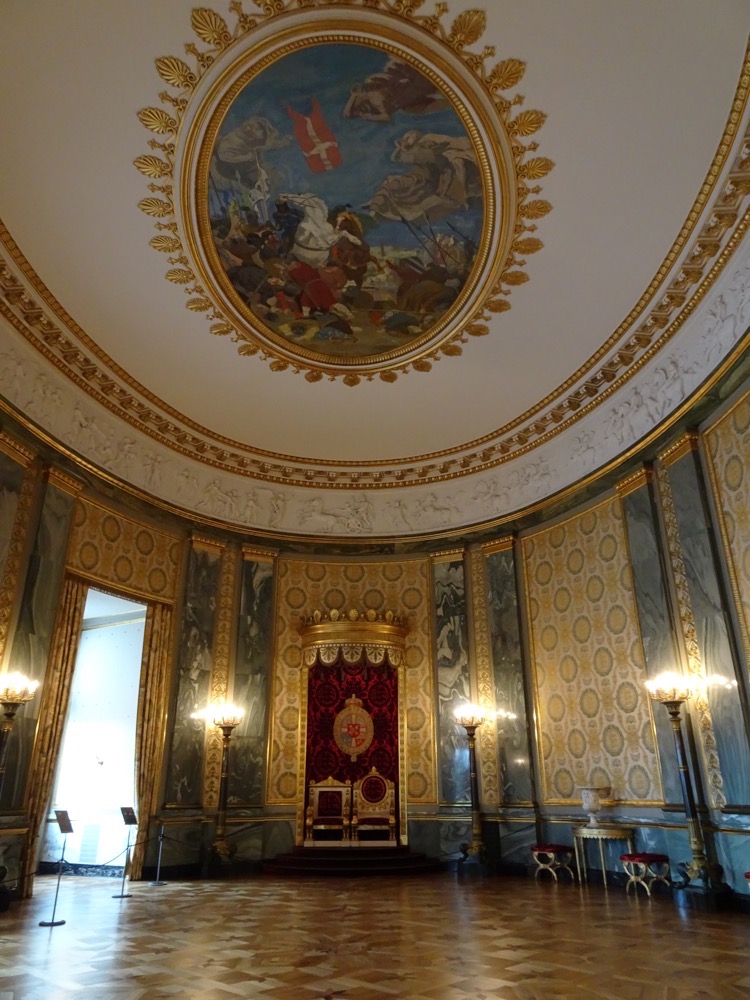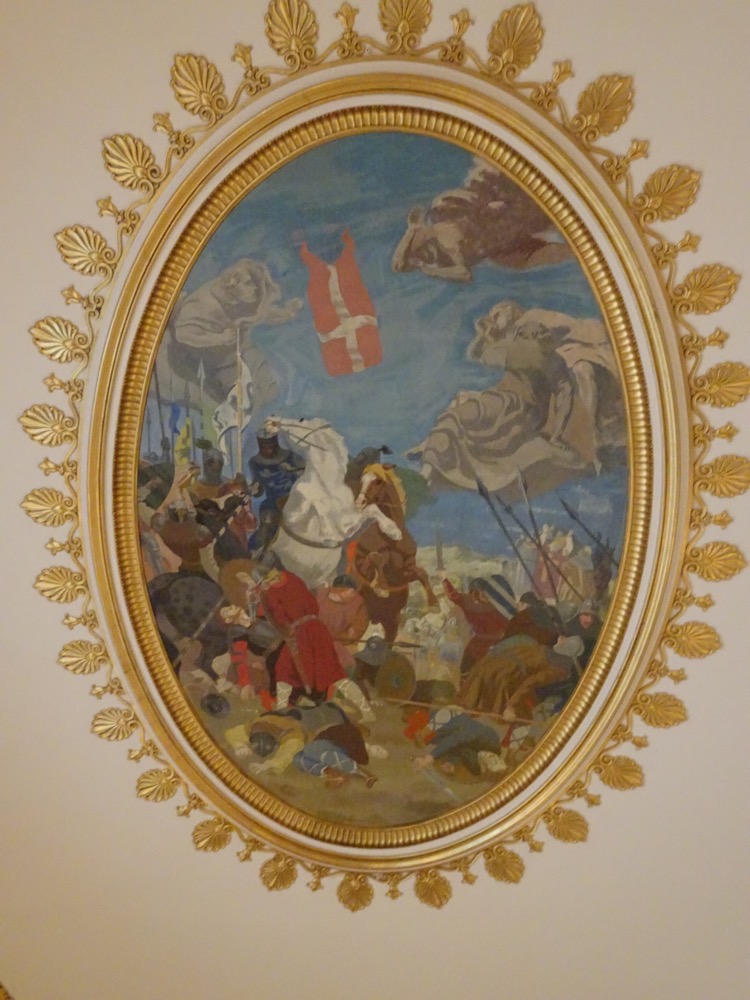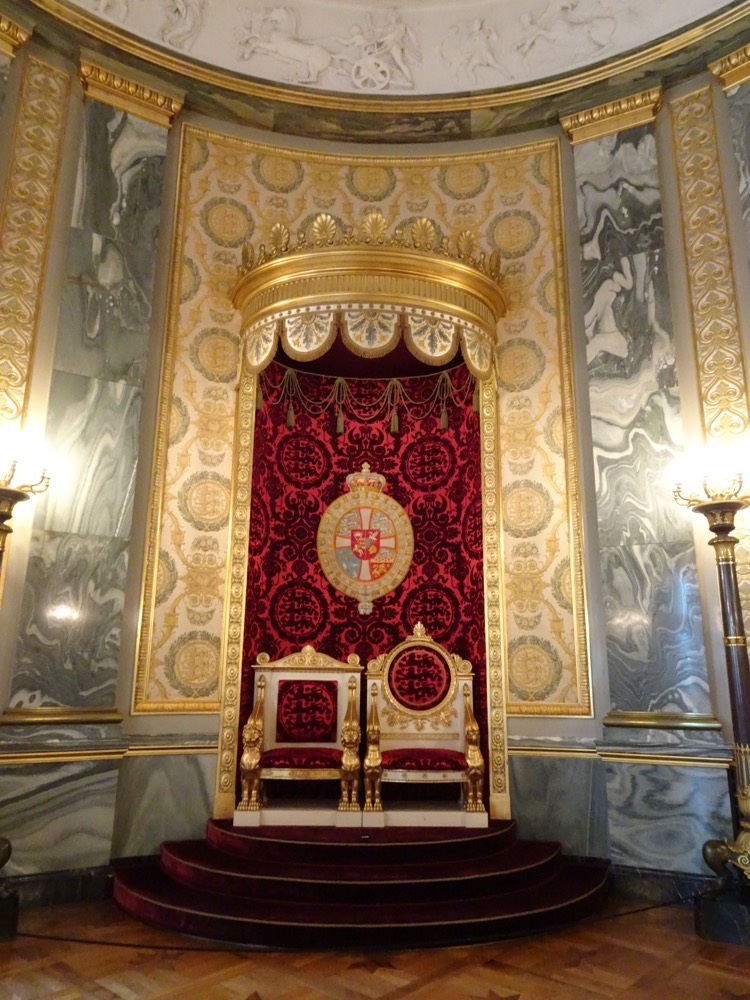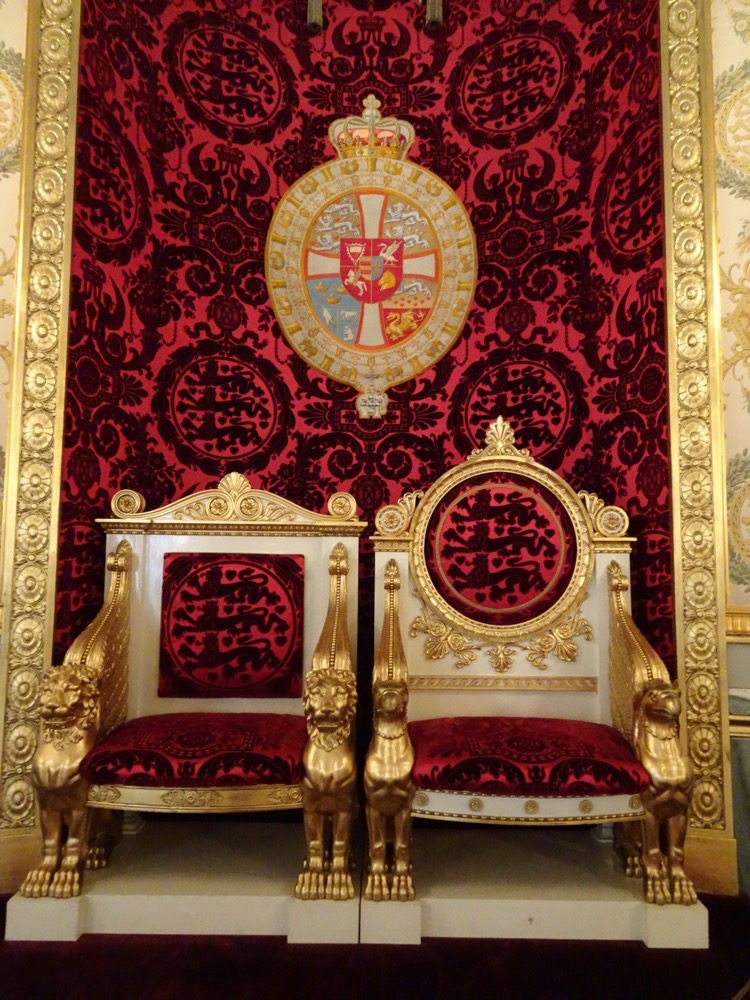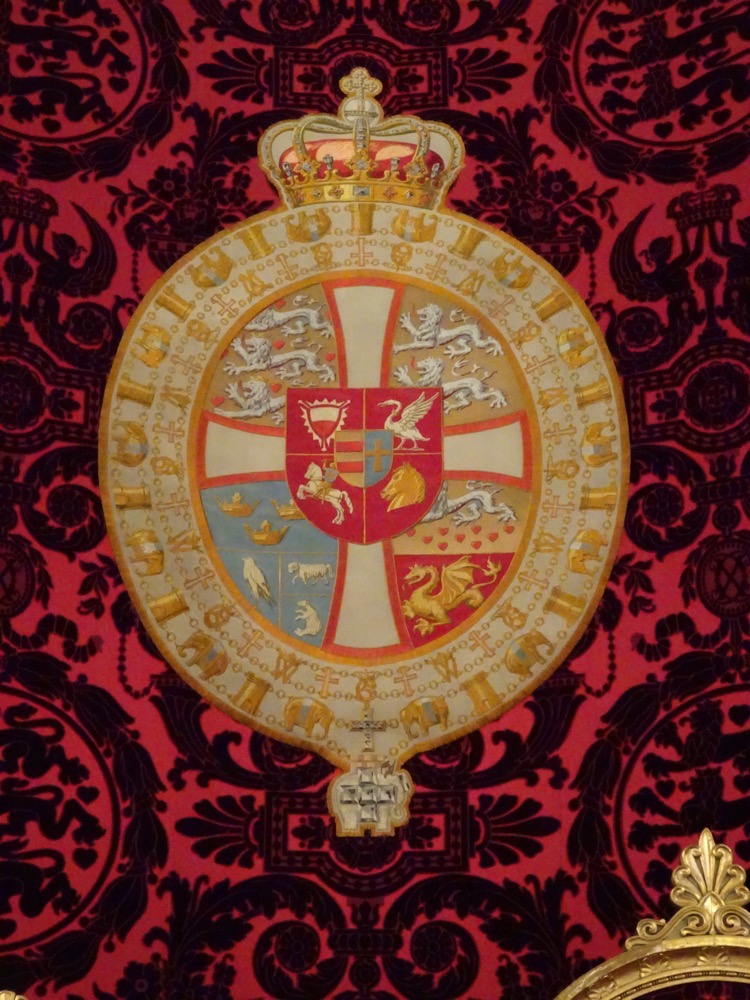 Around the corner from the Throne Room is The Tower Room.  I walked in here and was met with a beautiful room containing another series of tapestries that were this time created in the 1920s.  Again, a swing and a miss here – they look like they are trying to be 15th-16th century tapestries of the Gobelins or Flemish workshops or something, but they look just… nope.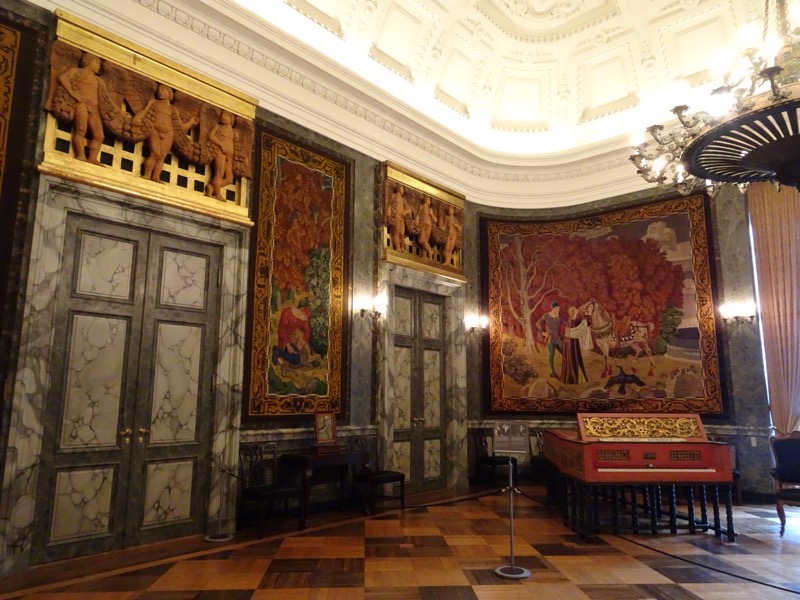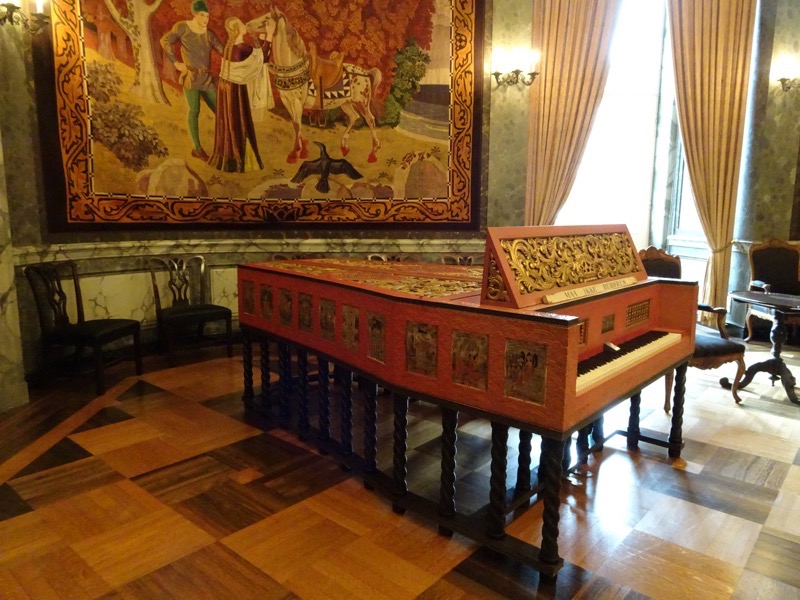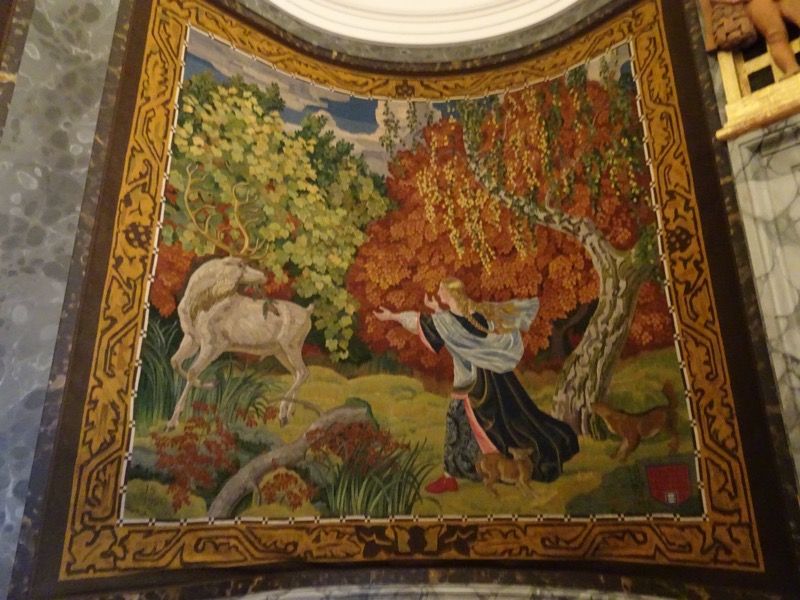 So much work!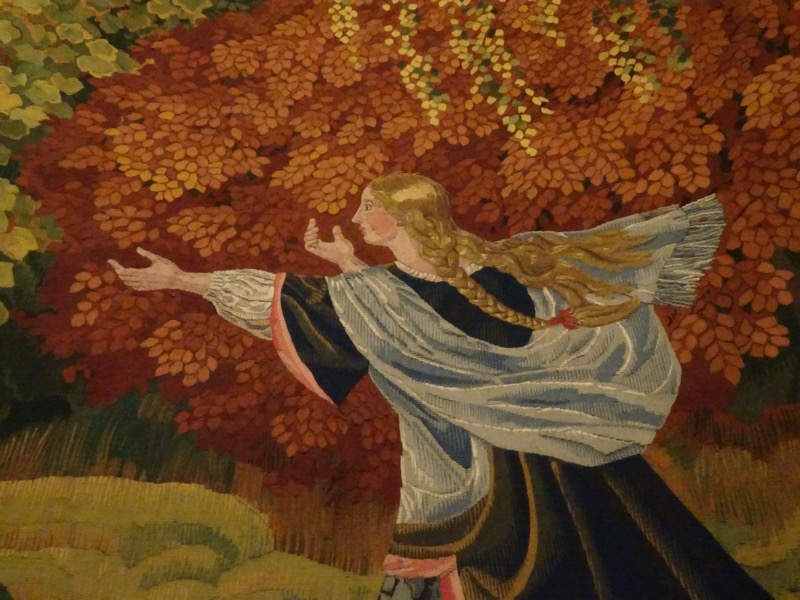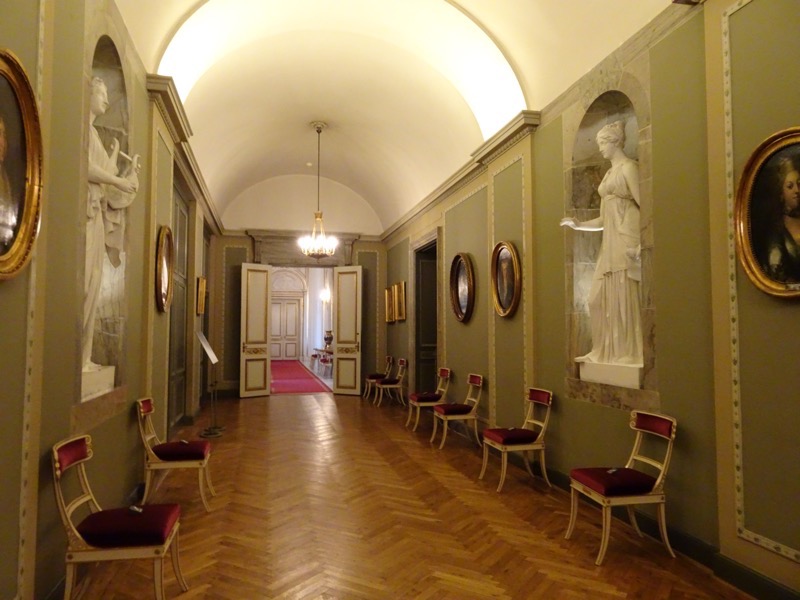 The King's Staircase at the opposite end of the wing…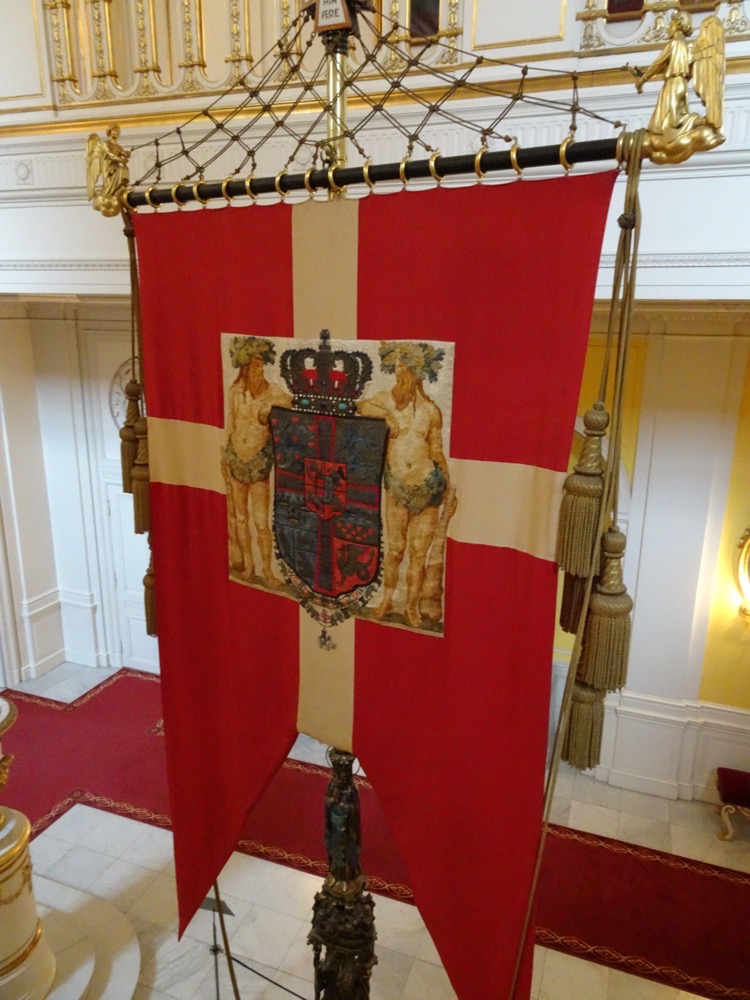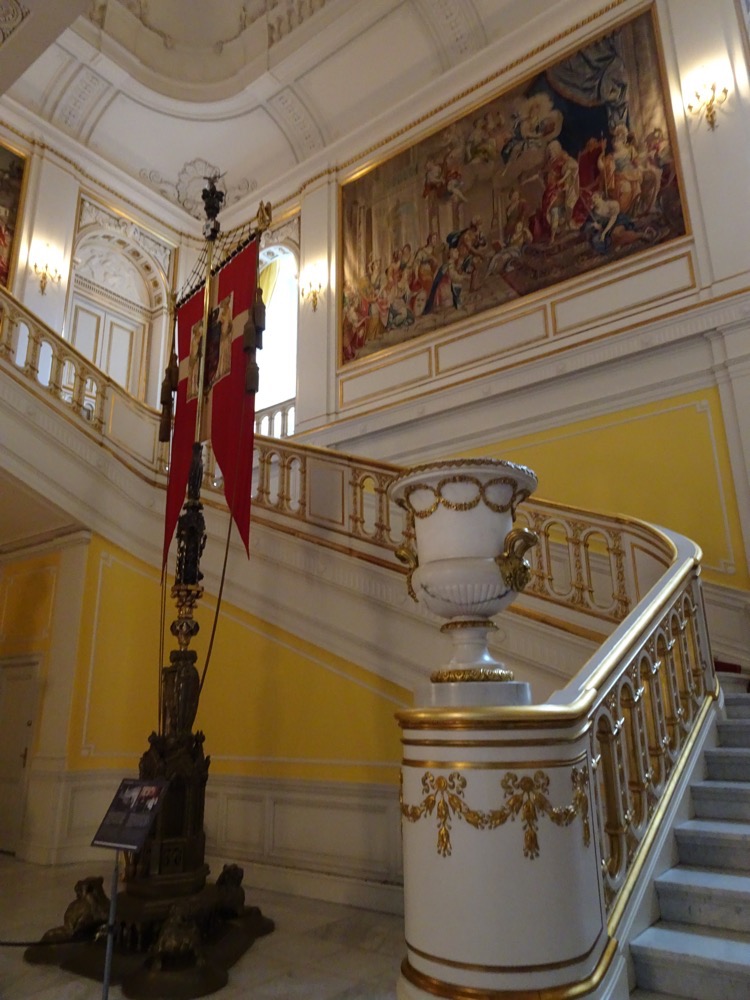 The next area we decided to explore was the Royal Stables.  On the way there, Mr K says to me, "I can't wait to see the horses."  My jaded I've-seen-so-many-castles-reply was, "There will be carriages and horse stuff, but no actual horses… If there are horses in here, I'll eat my hat!"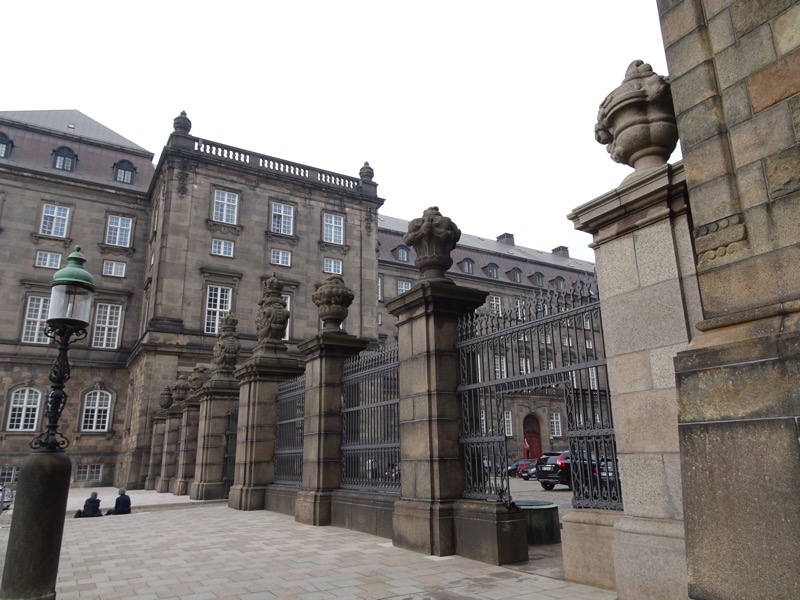 We walked a little further, and I started to think, "Uh oh, I can smell horse shit, there might actually be horses in the Royal Stables! That'll be a first."  Right at that moment, Mr K asks me what sort of sauce goes nicely with 'hat'.  Cheeky bugger.
Anyway, we get to the Royal Stables, and they are indeed working stables with an exercise yard right in the middle of the courtyard, but not a horse to be seen except for this poor stuffed fellow named Perlen…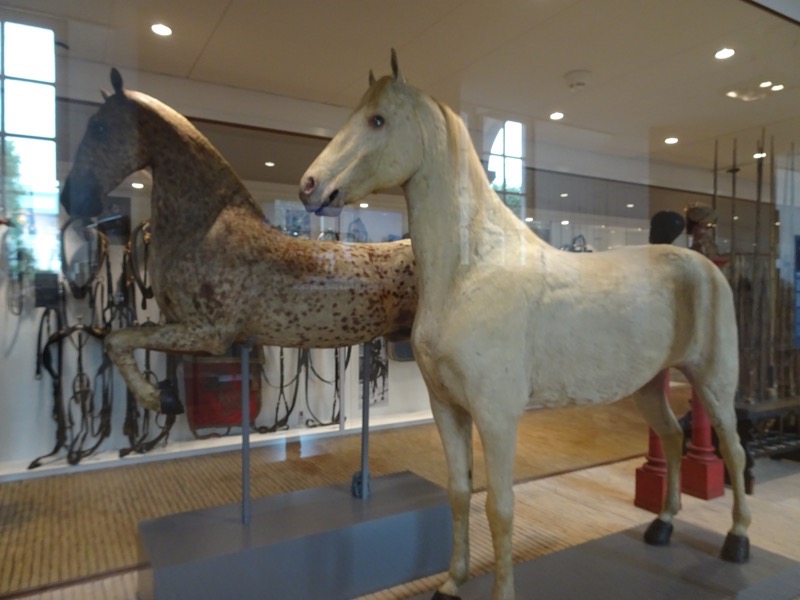 As I expected, lots of horsey stuff, tack, saddles, and royal regalia…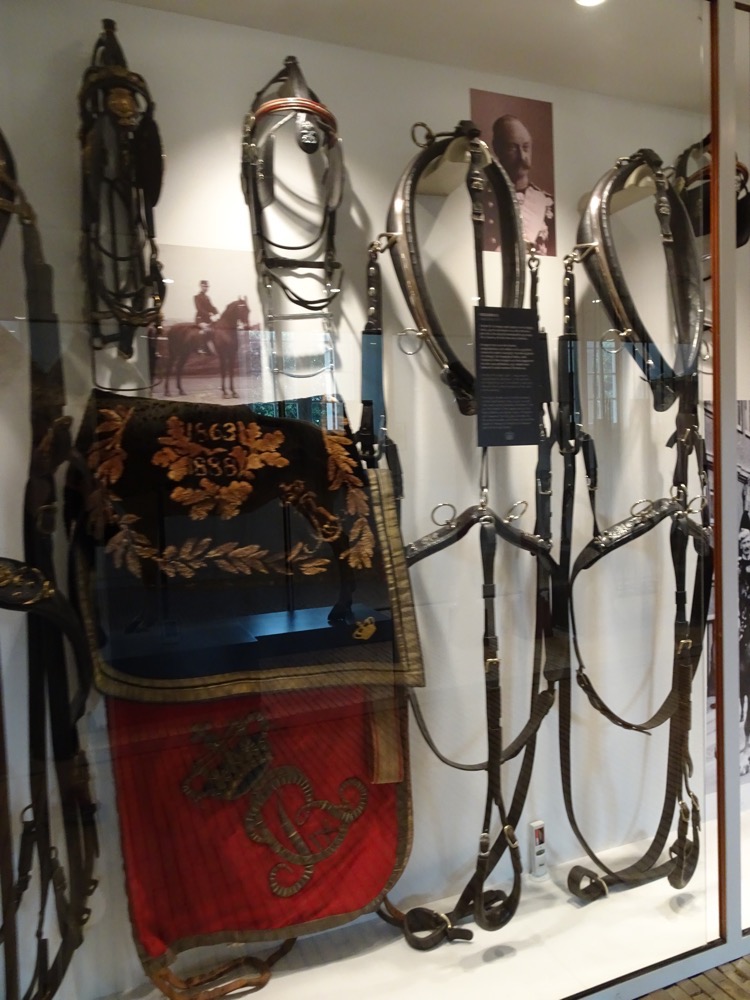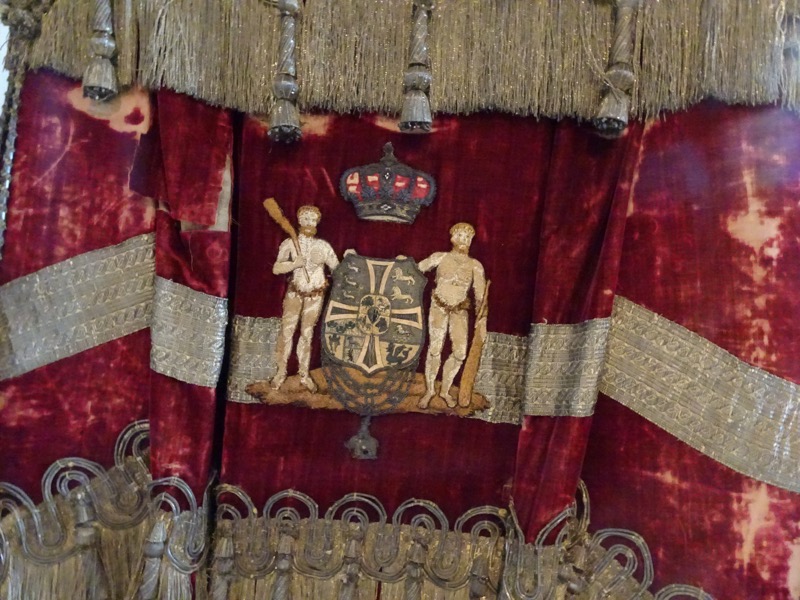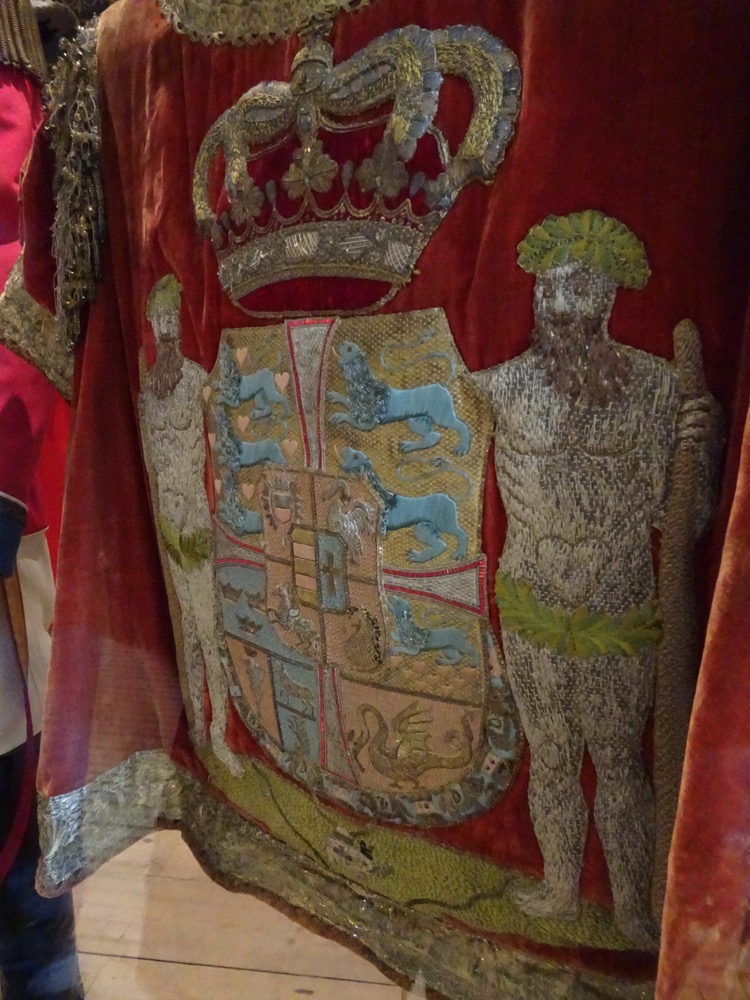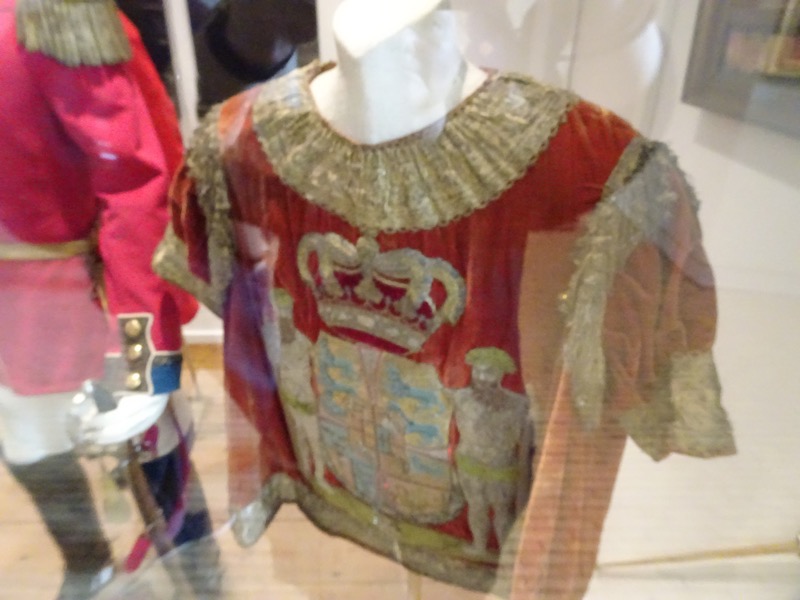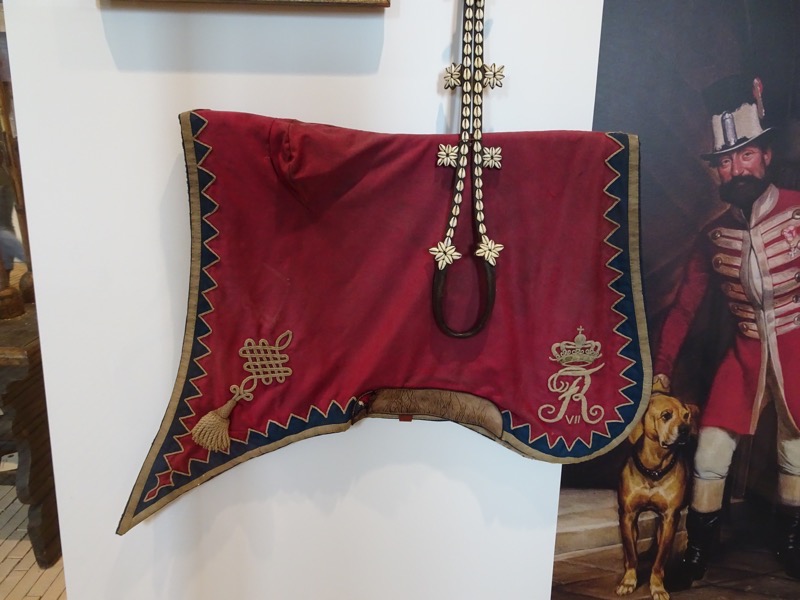 And through to the actual stables, where the smells were coming from.  These are obviously working stables, but there were no horses here at present.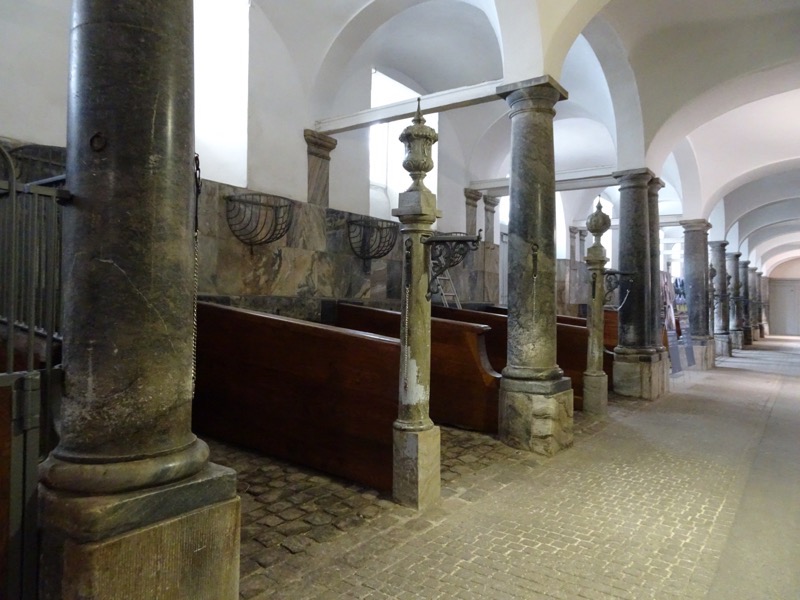 Lots of different Royal Carriages though that have seen all sorts of special royal occasions – coronations, weddings, baptisms and the like.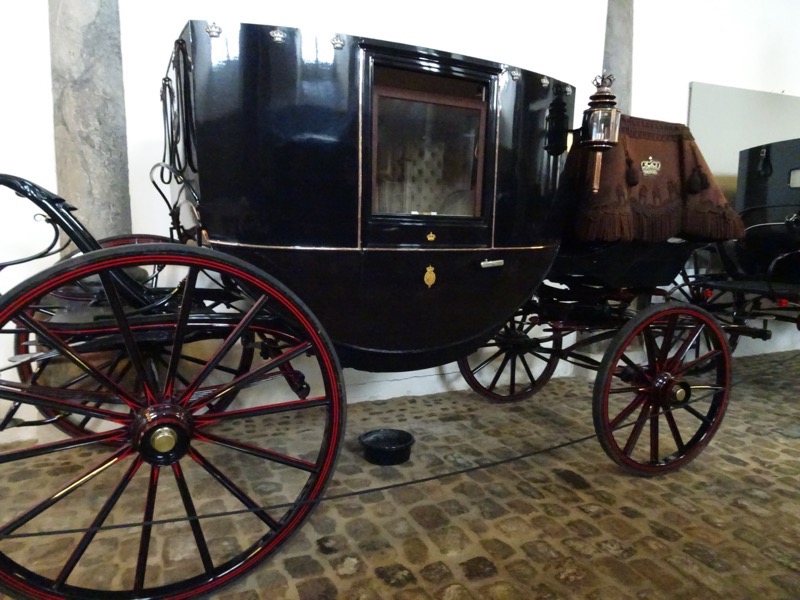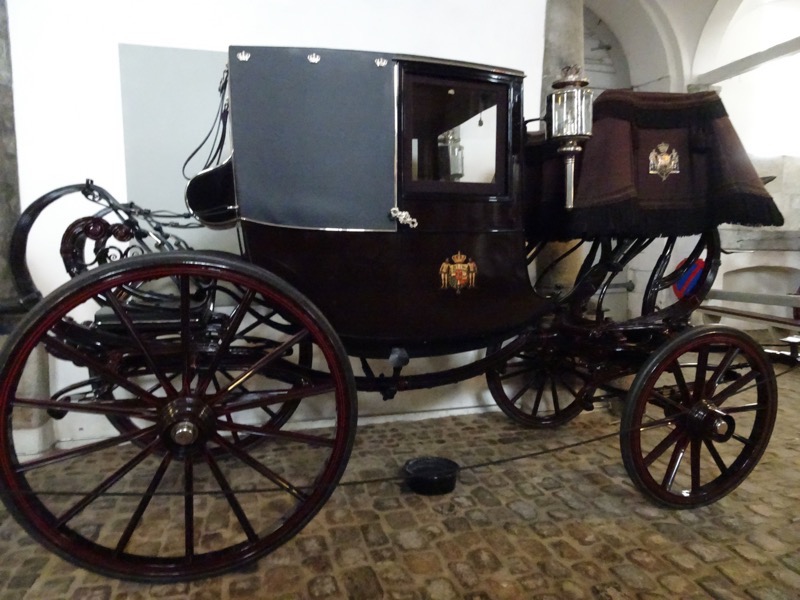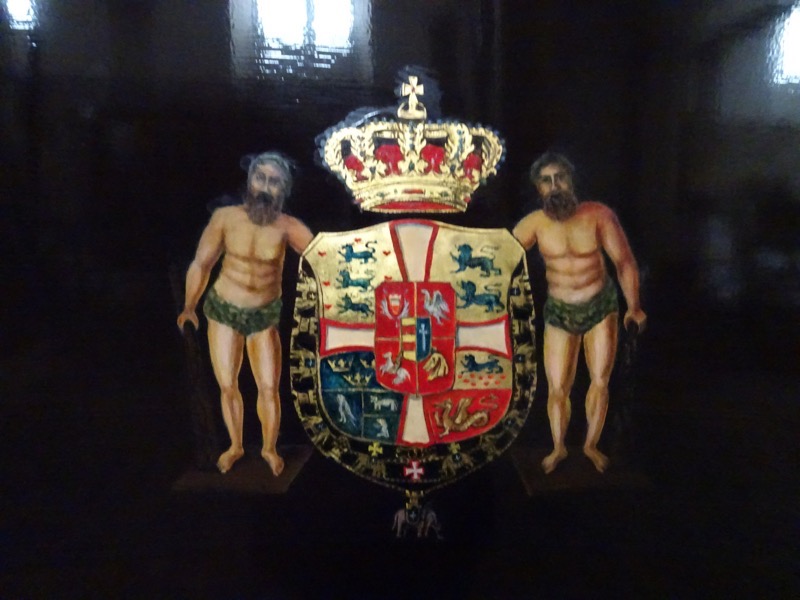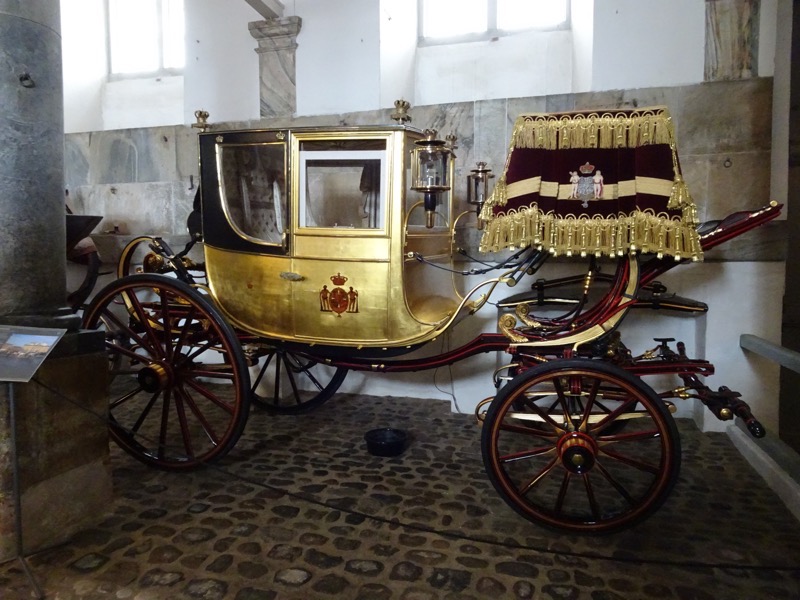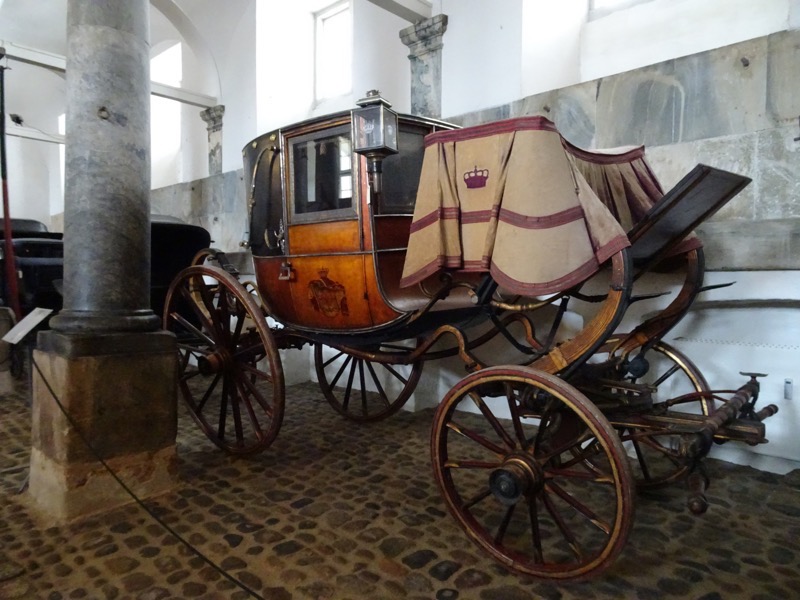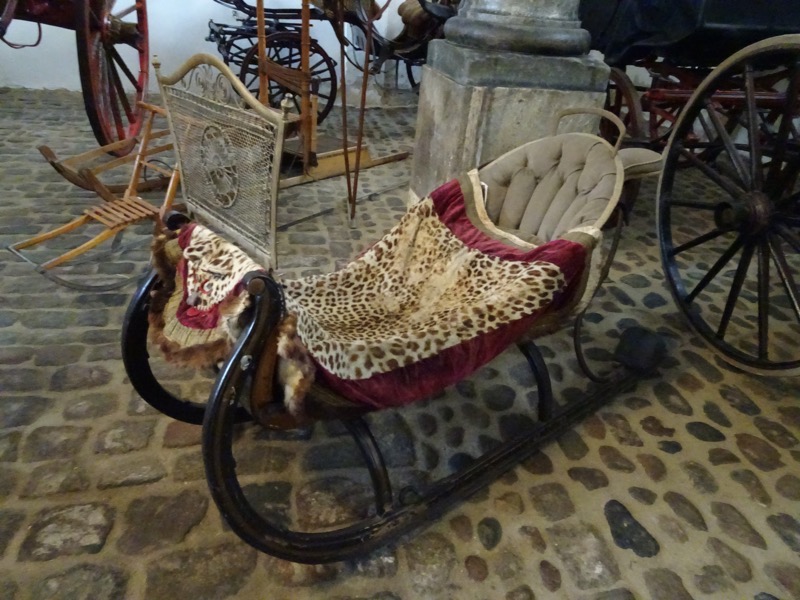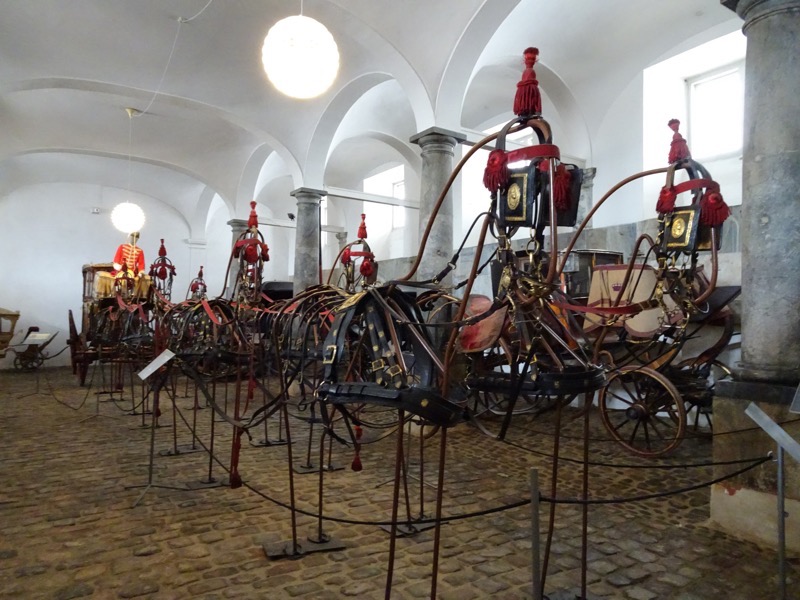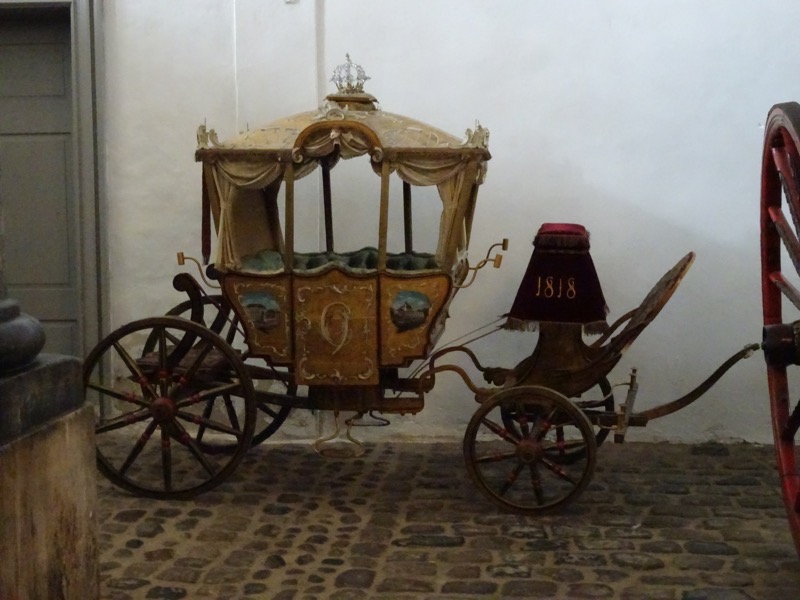 Another part of the palace that is open to the public is the 12th ruins of the original castle that was built on the site called Absalon's Castle.  According to the Bishop Absalon of Roskilde, a Danish chronicler, a castle was built here in 1167, and it comprised of a stone wall, that encircled an enclosed courtyard and several buildings, including the bishop's palace, a chapel, and several minor buildings.
When Absalon died in 1201, ownership of the castle AND the entire city of Copenhagen, passed to the bishops of Roskilde.  It seems though that was short lived, and a bitter feud erupted between the church and the crown, and then for the next two hundred years, the actual ownership of the castle was contested between the bishops and the kings. On top of that, the castle was frequently attacked by Wend pirates and the Hanseatic cities that variously occupied and plundered the city in the mid-1200s.
The castle had long been an annoyance to the Hanseatic League's trade in the region, but it wasn't until 1369 when King Valdemar IV of Denmark engaged in a conflict with the Hanseatic League, that they finally sent 40 stonemasons to demolish the castle stone by stone.  You can now go underneath the current palace to see the 12th century foundations.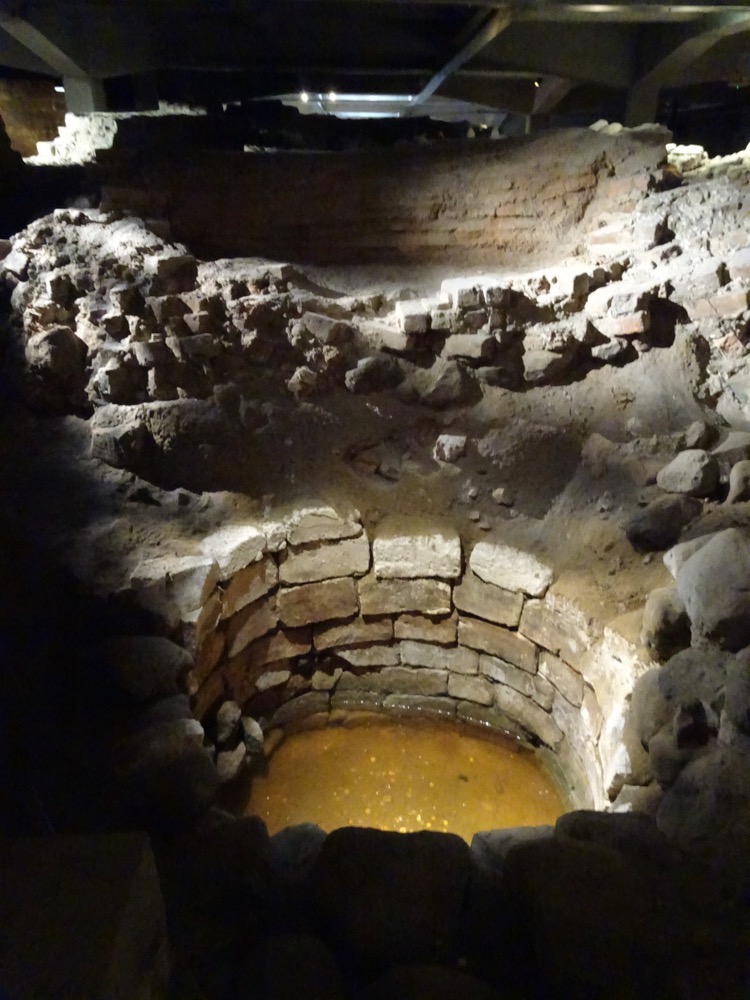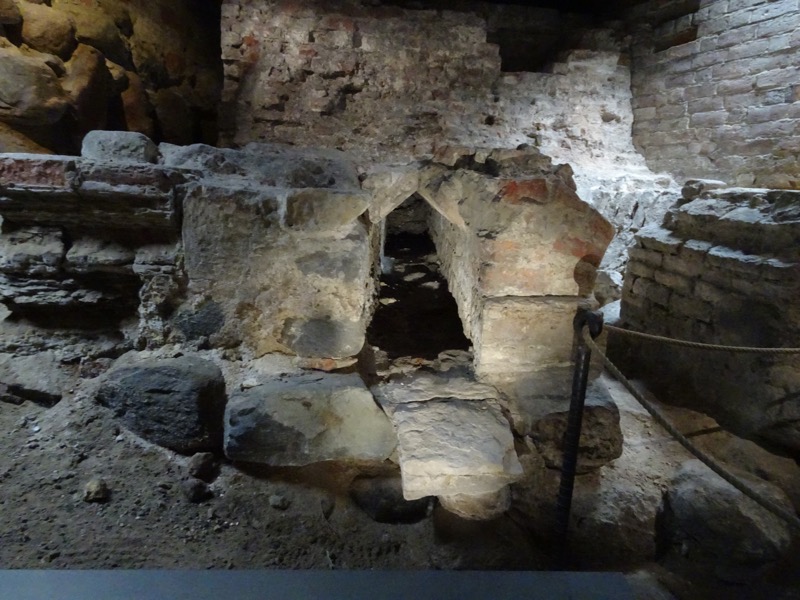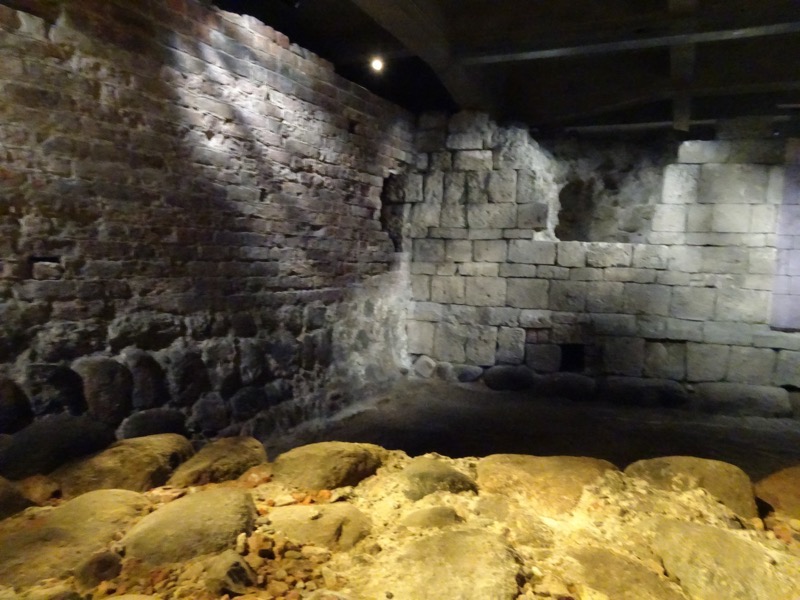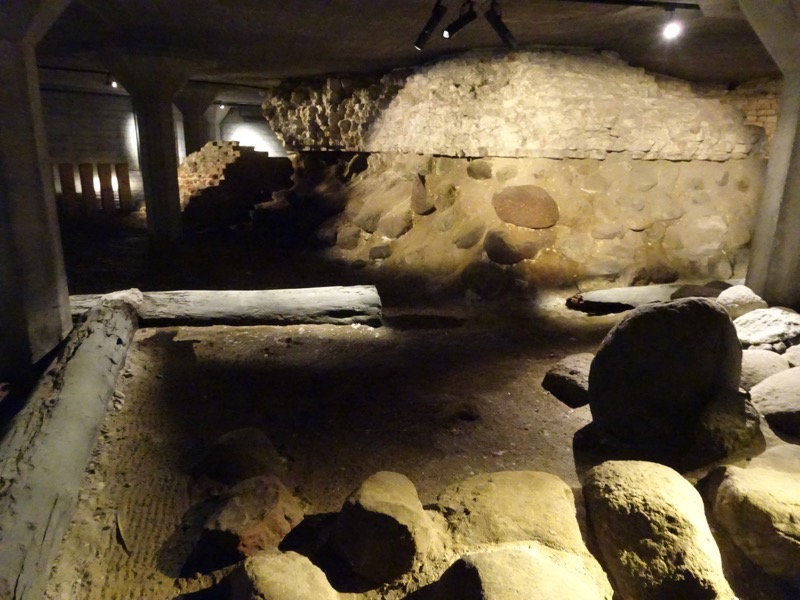 Another area of the Palace that is open for public entrance are the Royal Kitchens… not sure what to say about the kitchens really, they are there.  They look like period kitchens.  They can serve 400 odd people in the Great Hall and that's about it really.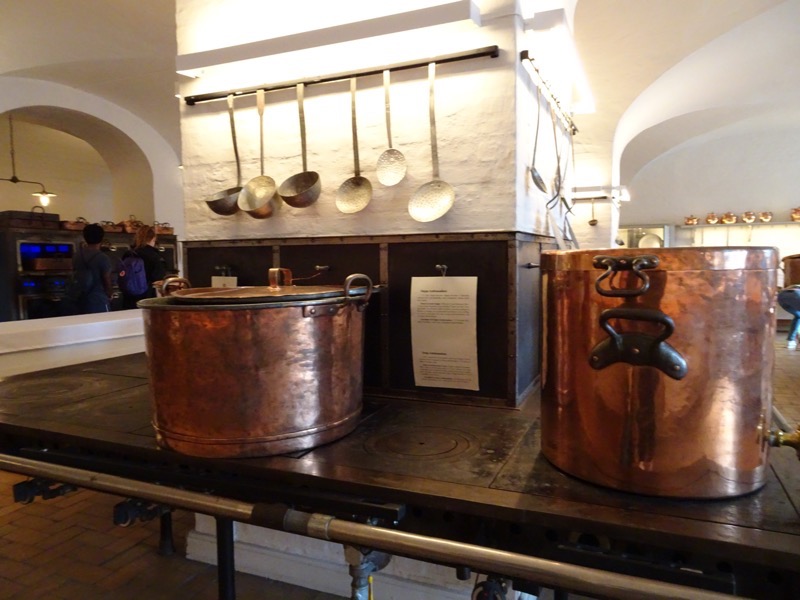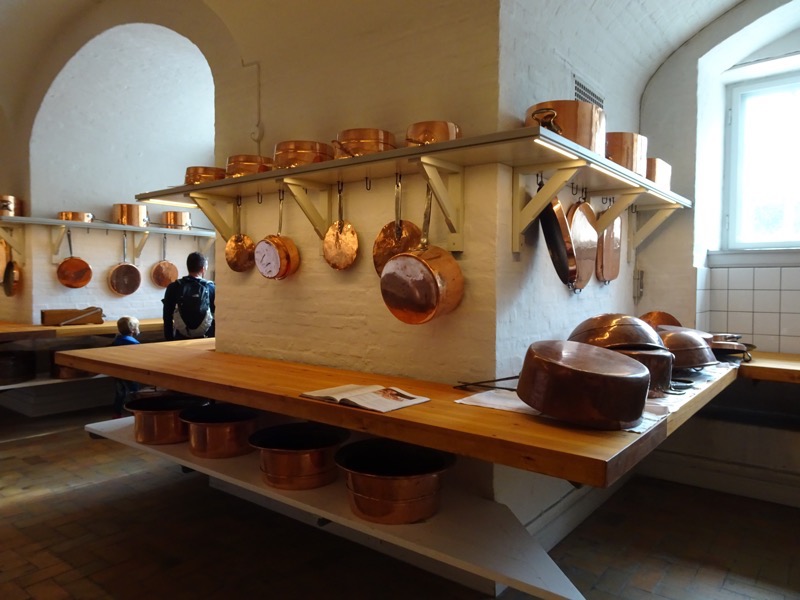 Lots of shiny copper pots.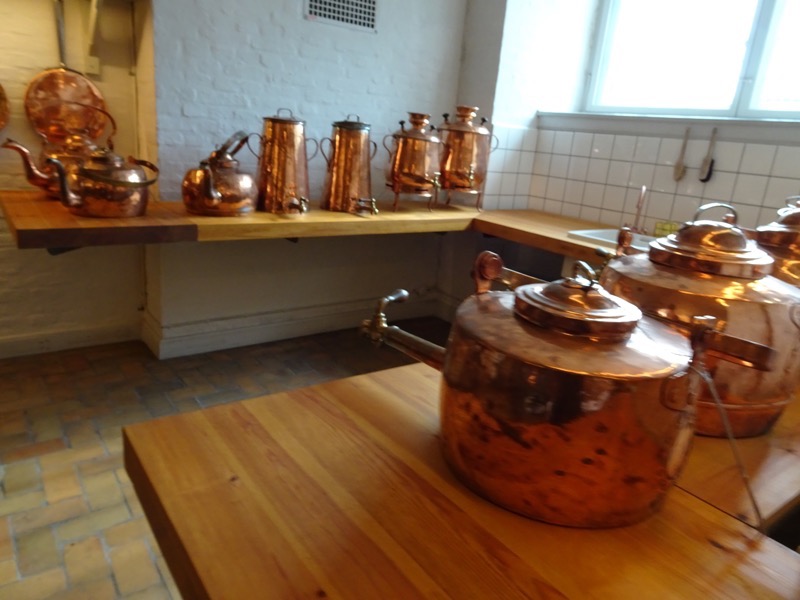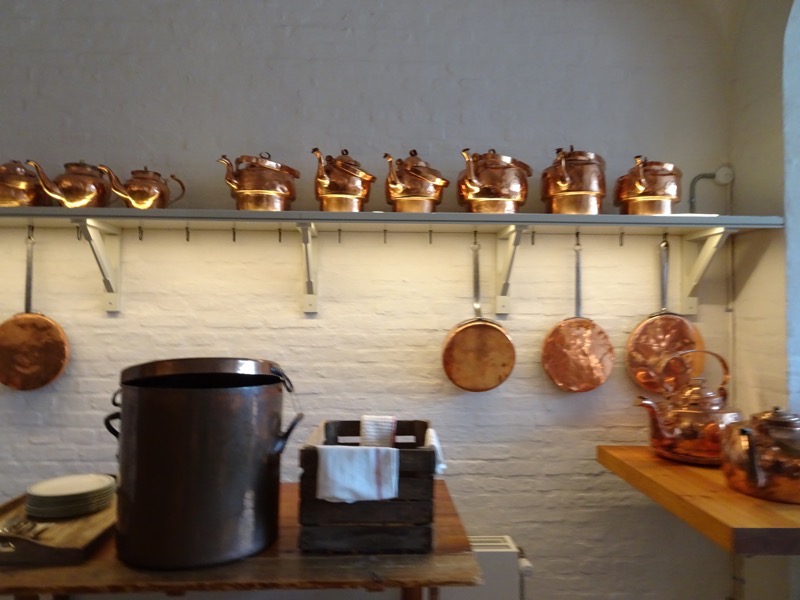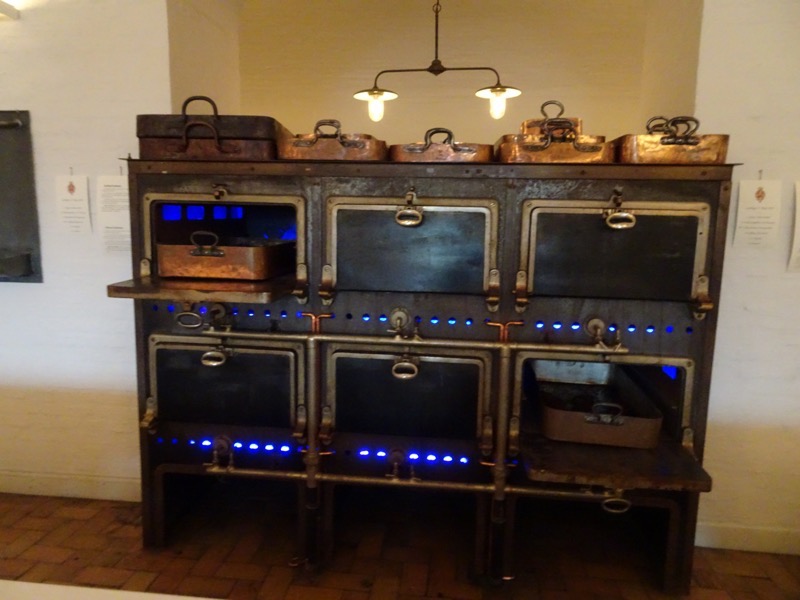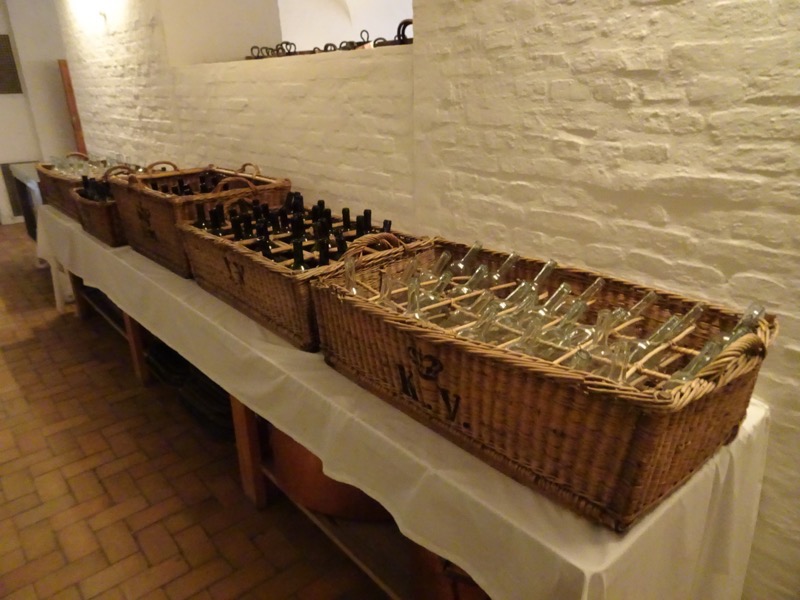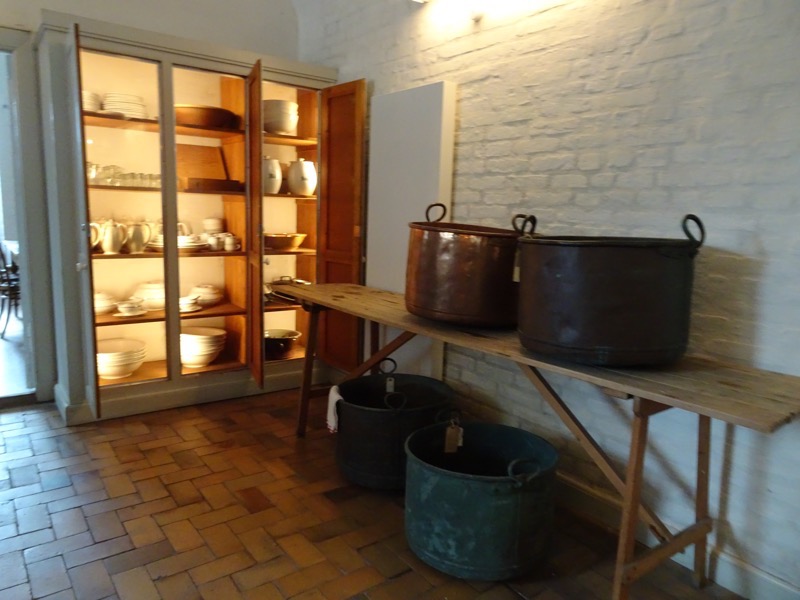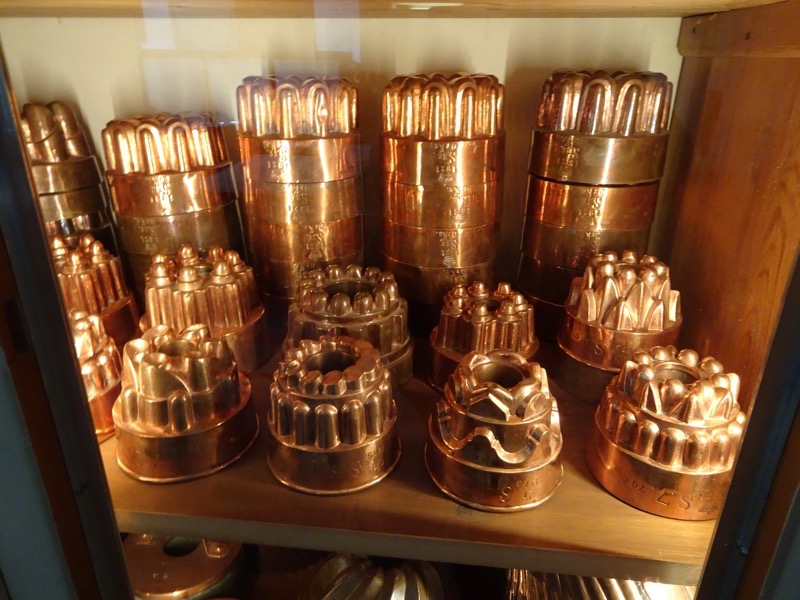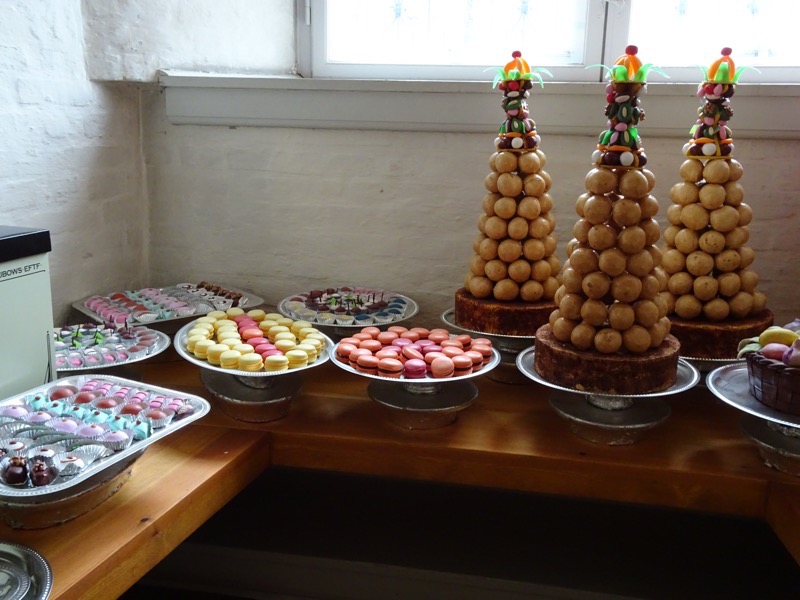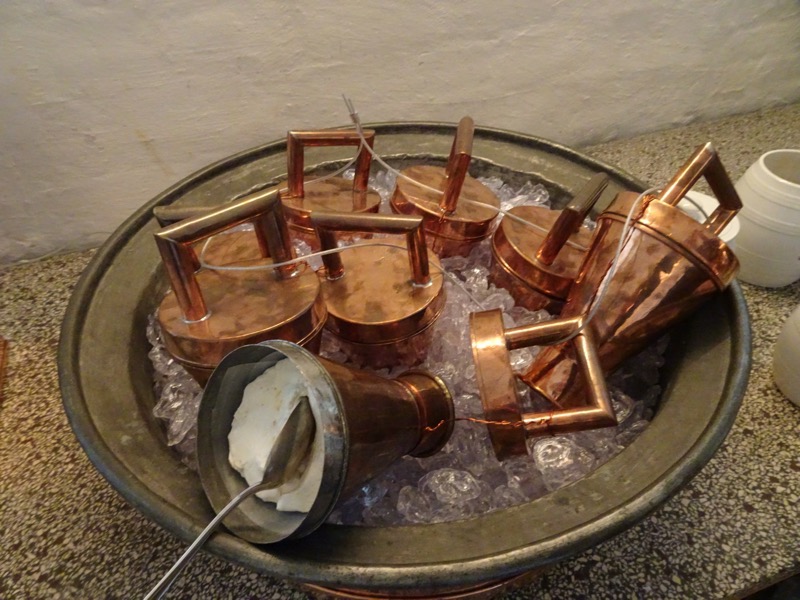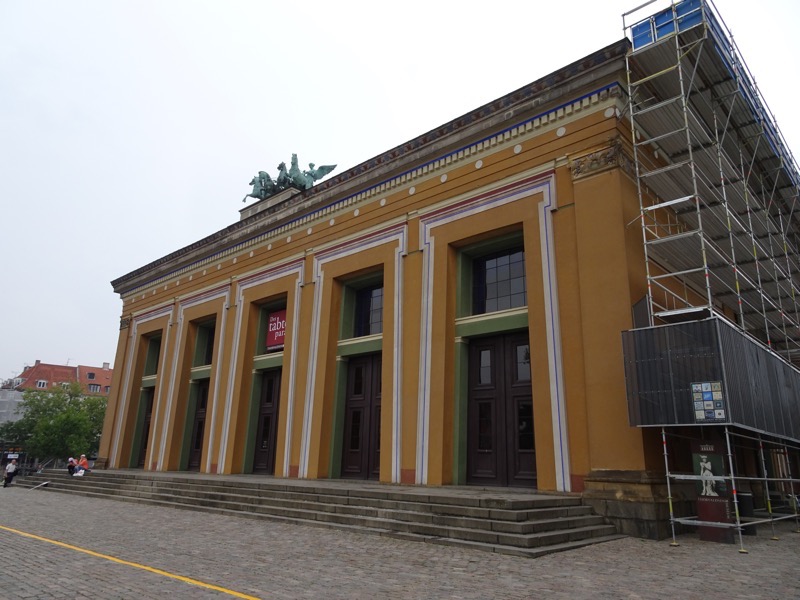 We walked back to the hotel via the canals that we toured yesterday, and noted that in the overcast and occasionally damp weather, there was a shocking lack of tourists in canal boats compared to yesterday!  Seems the bad weather is keeping all the tourists indoors today.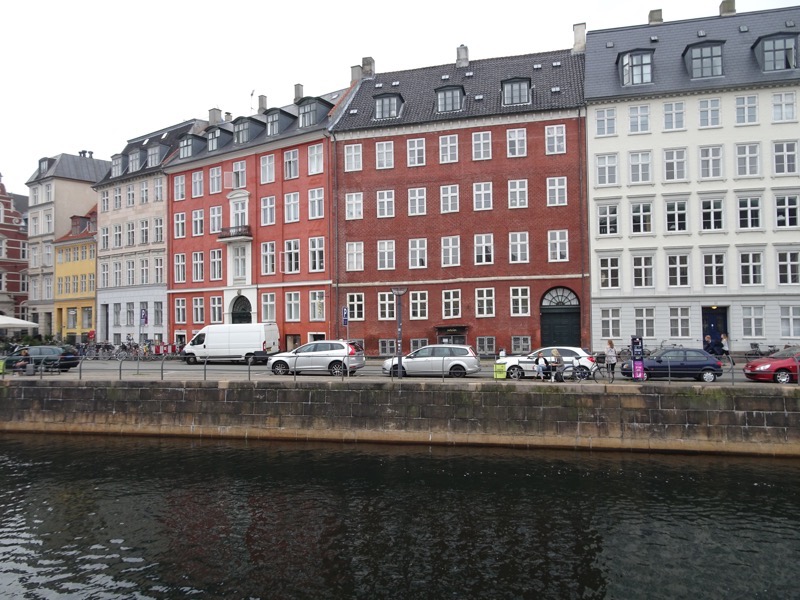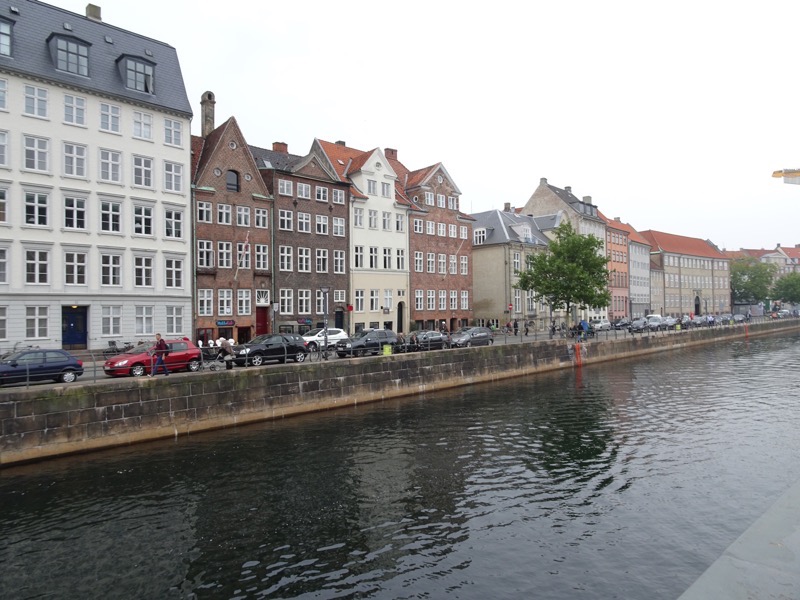 Lastly but not leastly, we went for a wander through the Tivoli after dinner to have a look at the famous gardens at night.  The Tivoli Gardens is a famous amusement park and pleasure garden created in 1843.  It is the second oldest theme park in the world (the oldest one is in Denmark somewhere too).  The Pantomime theatre…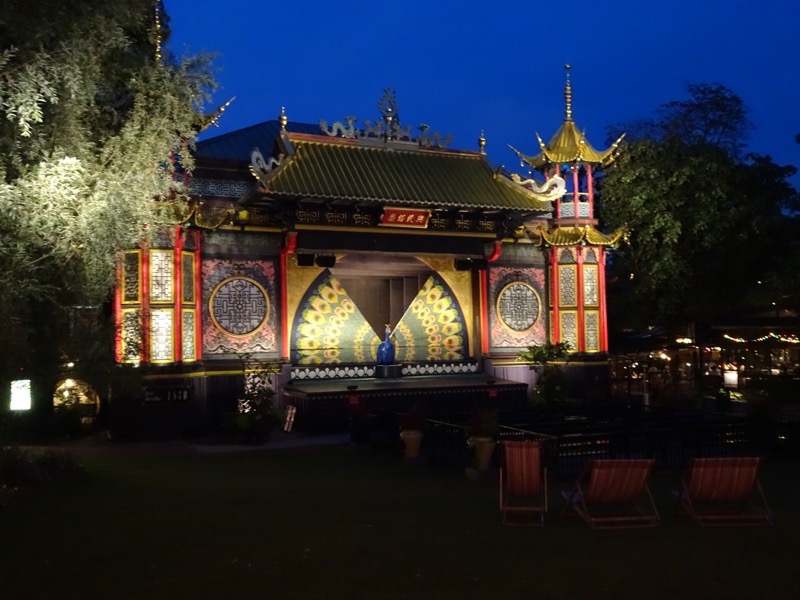 Tivoli's Moorish Palace.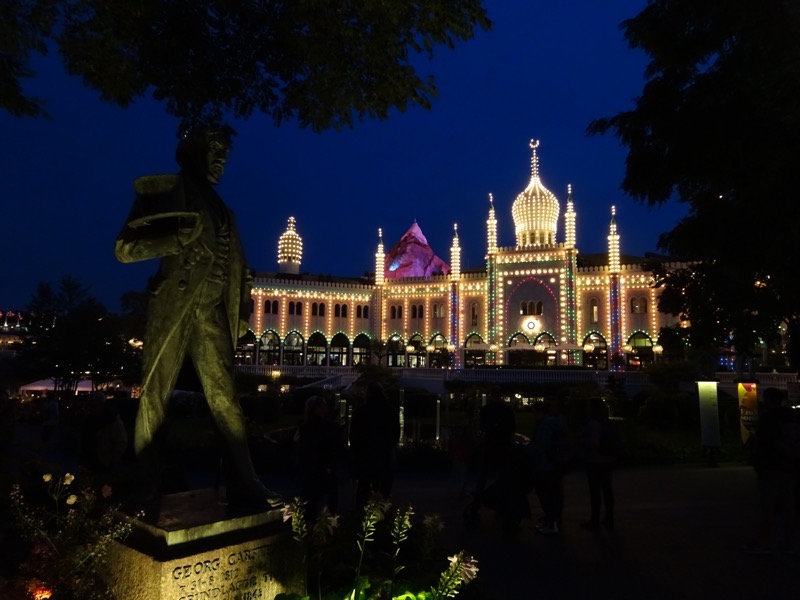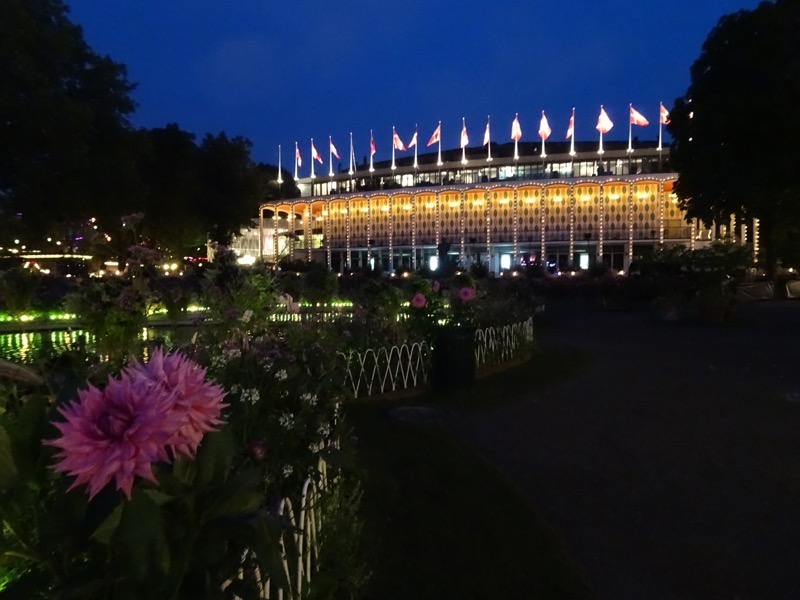 Sideshow alley…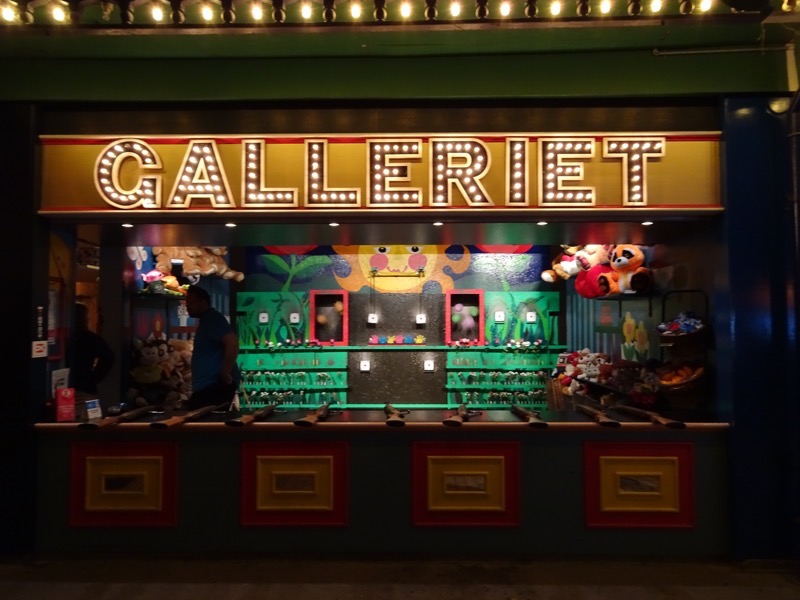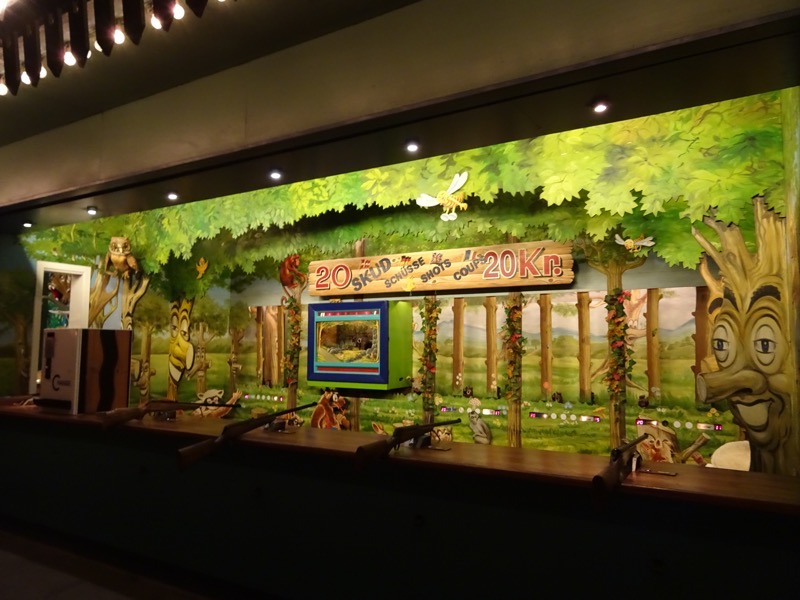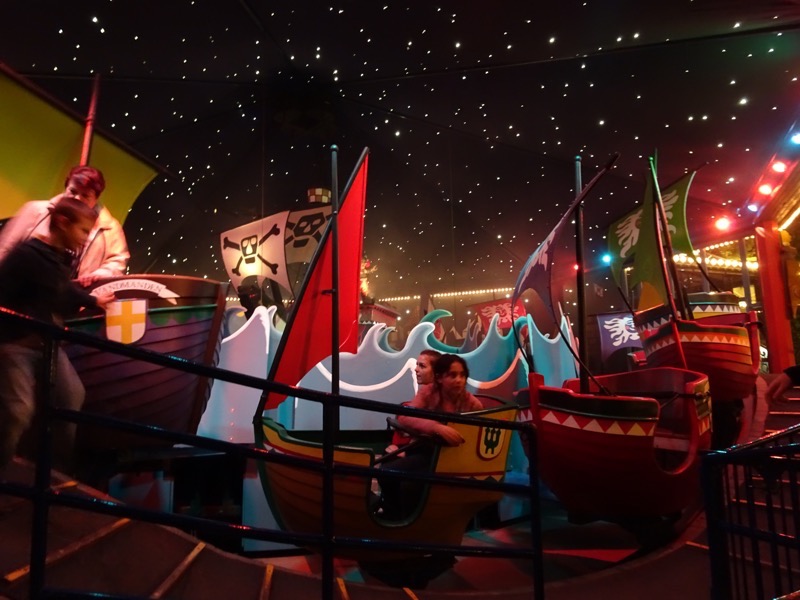 A statuette with Swarovski accents that I nearly brought home for my sister… it's fancier than a black velvet Elvis painting!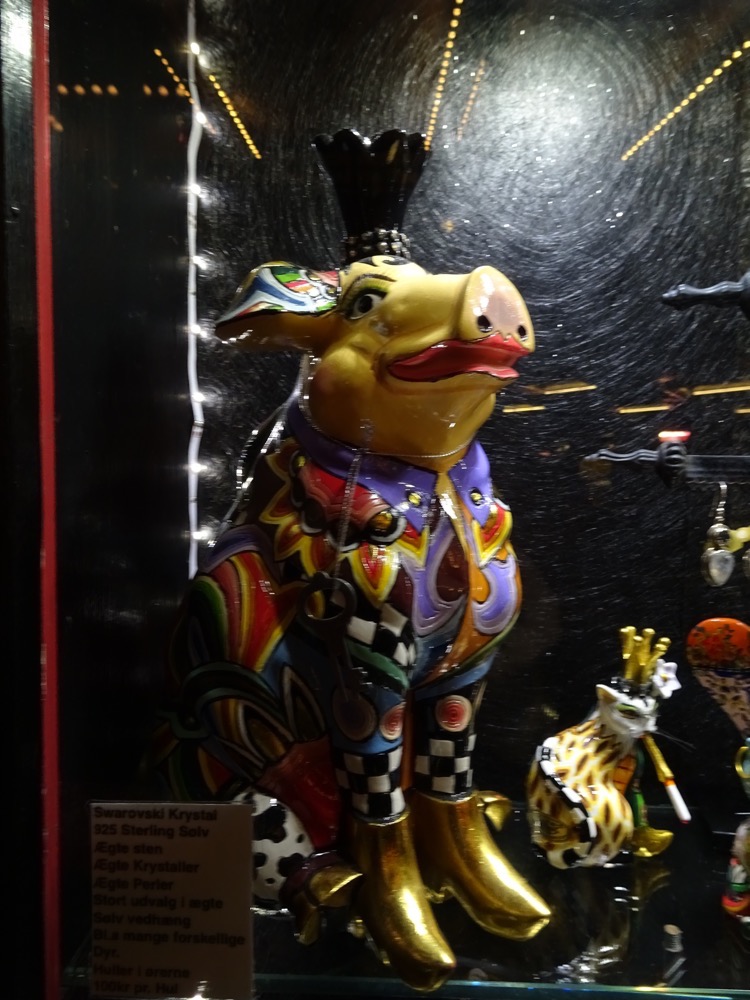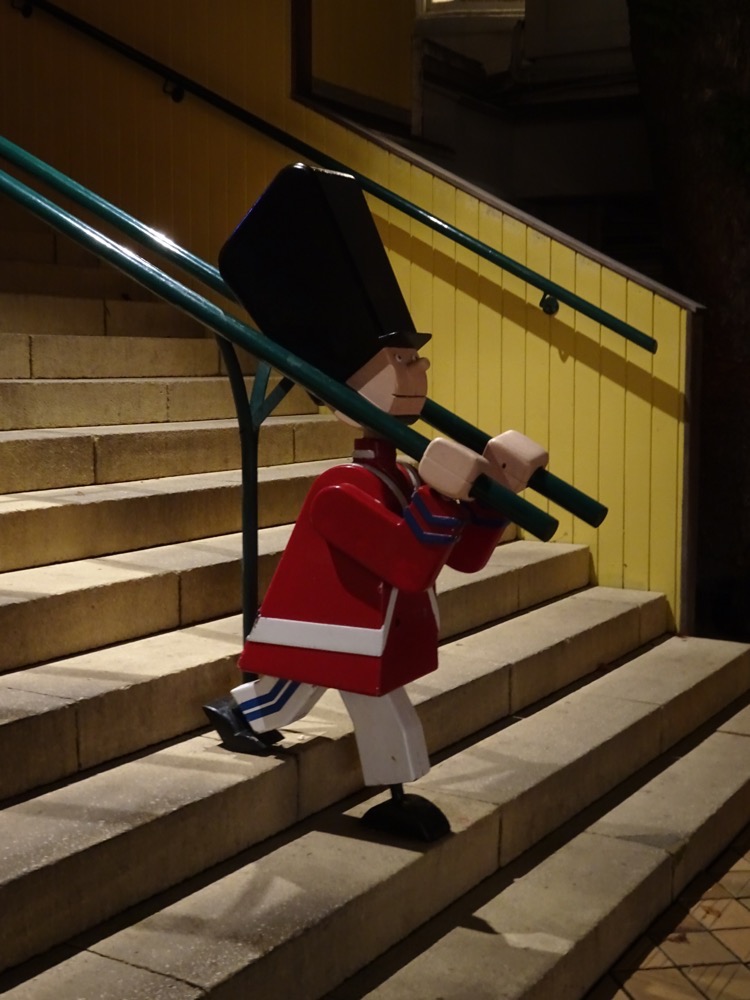 The park is famous for its old wooden roller coster, the Rutschenbanen, or the Bjergbanen (the Mountain Coaster).  It was built in 1914 and is one of the world's oldest operating wooden roller coasters.  Mr K wanted to take a ride on it so we bought tickets.  I did suggest we go separately so that our son wouldn't end up completely orphaned if something happened to the rickety old thing!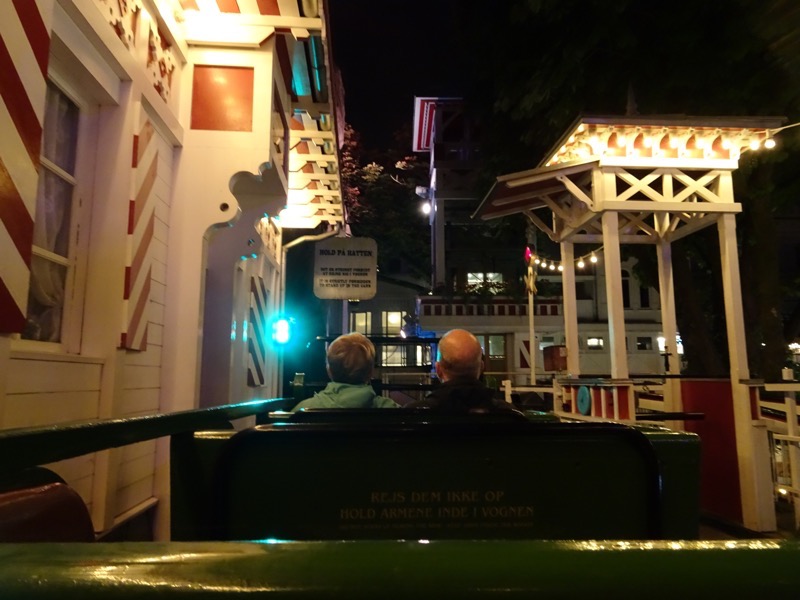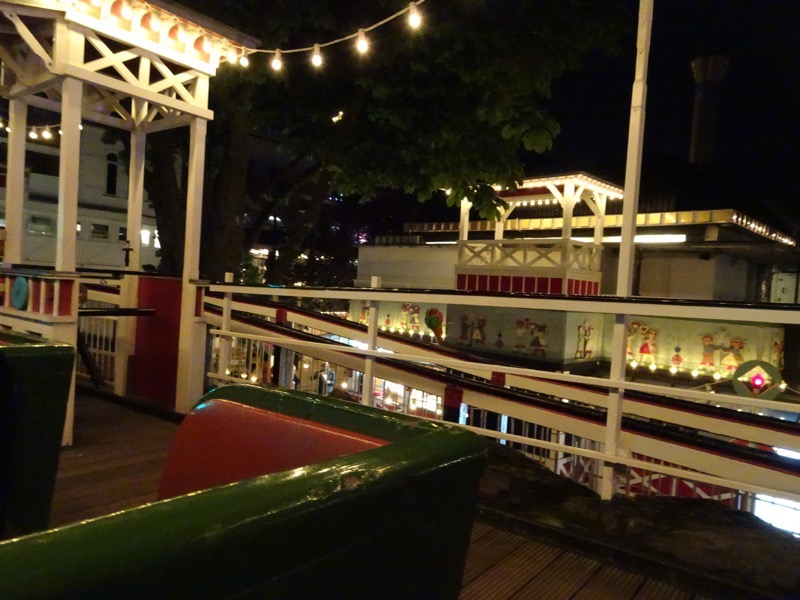 It reaches a speed of 50km/h on a 720m track and goes to a height of 13 whole meters! The ride runs around inside a small man made mountain and is almost completely in the dark, which was interesting… bit jerky as you would expect, and the seats could use a little padding for when you hit the bottom of those dips, but there was a little guy sitting behind us who was operating a brake to make sure it doesn't go too far down hill. . Themed around a mountain, train 2×12.An operator controls the ride by braking down the hills so it won't gain too much speed.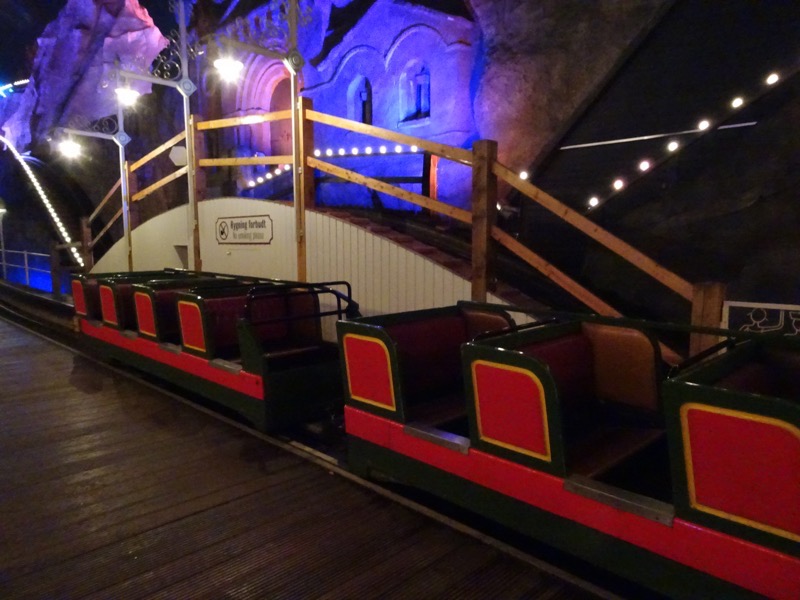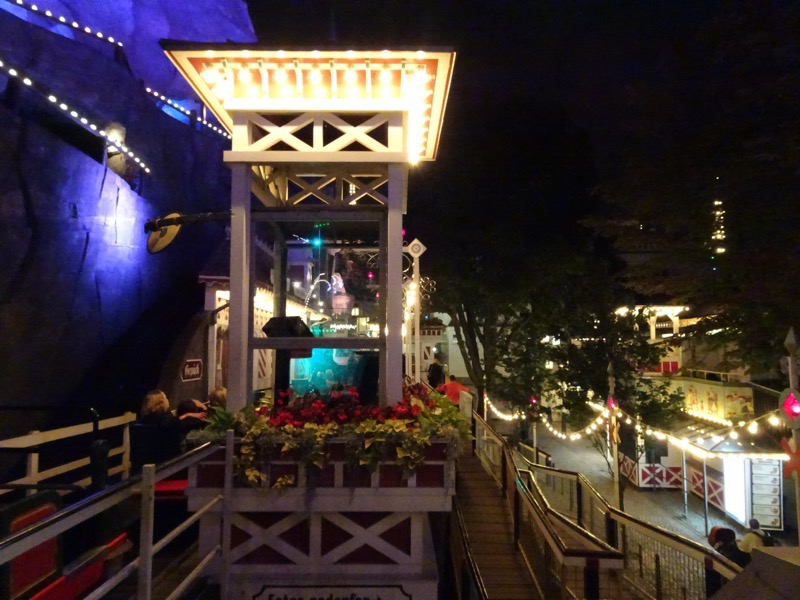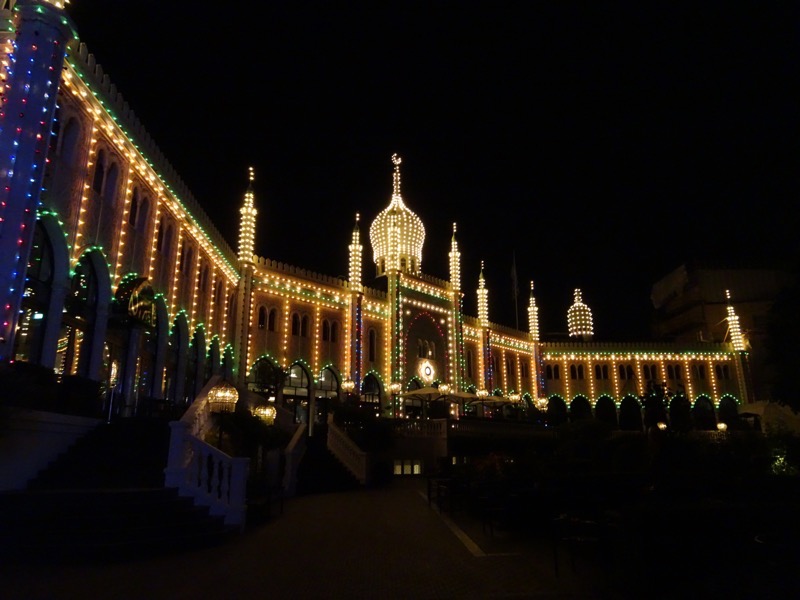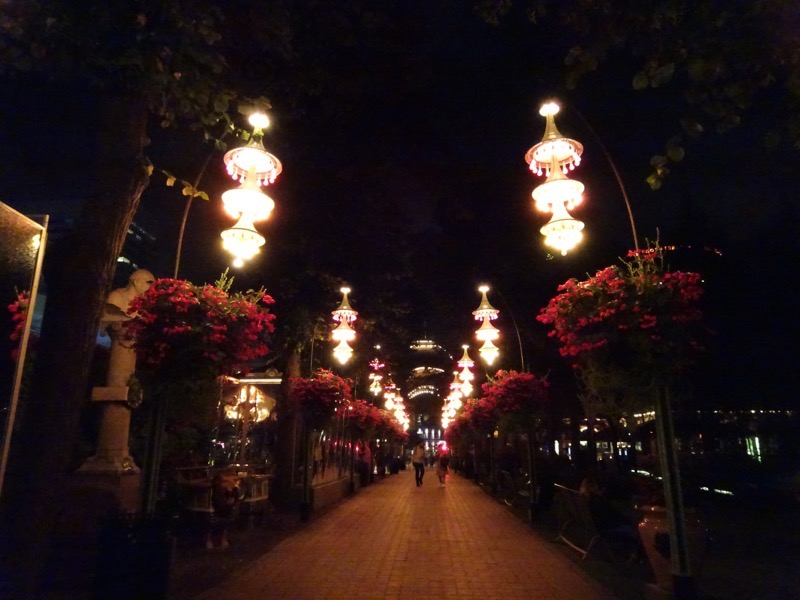 It was a rather long day and now, dead on our feet we were heading back to the hotel for some well-deserved rest.