Usually, we like to have a late traditional sitting in the Main Dining Room – but for some reason, when we booked this Baltic cruise from Australia using an Australian travel agent, we were unable to select traditional dining and the TA wasn't able to alter it either.  So we were down for Anytime Dining whether we liked it or not.  We thought we'd change it when we got onboard but turns out that was not as easy as I had hoped.  There were plenty of options to change to early sitting traditional, but late sitting, not so much.  Oh well.  Our first night in the MDR, the first thing I noticed was the HUGE portions.
I remember this from the Royal Princess in the Mediterranean, the meal sizes are much bigger than we are used to Down Under.  This rib-eye steak meal, for example, was roughly about 60% this size on the Sea Princess earlier this year… maybe that is because when you're on the ship for 80 day, they know you are not going to eat that big?  🙂  Or perhaps the Royal and the Regal are catering to a different demographic.  Who knows?

We had a couple of underwhelming experiences in the MDR this trip, partly because the rhythm of the anytime dining just doesn't suit us – the wait staff don't get to know you and your preferences, everyone at the tables near you are at varying stages of their meals, so the servers are often coming back and confirming what you are waiting for.  It's just a bit weird, and must be a lot of additional work for the wait staff compared to the traditional sittings.
We were planning on going to some of the specialty restaurants anyway, so we made some bookings early in the piece.
CROWN GRILL
The Crown Grill is a nice casual space near the Wheelhouse Bar on this ship, the only downside of its location is that it can be a bit noisy.  And when seated near large groups of diners it can be even noisier still.  All good though, the service this visit was a little rushed (they had three tables of 10+ near us), but the food of course, is wonderful.
Current Menus: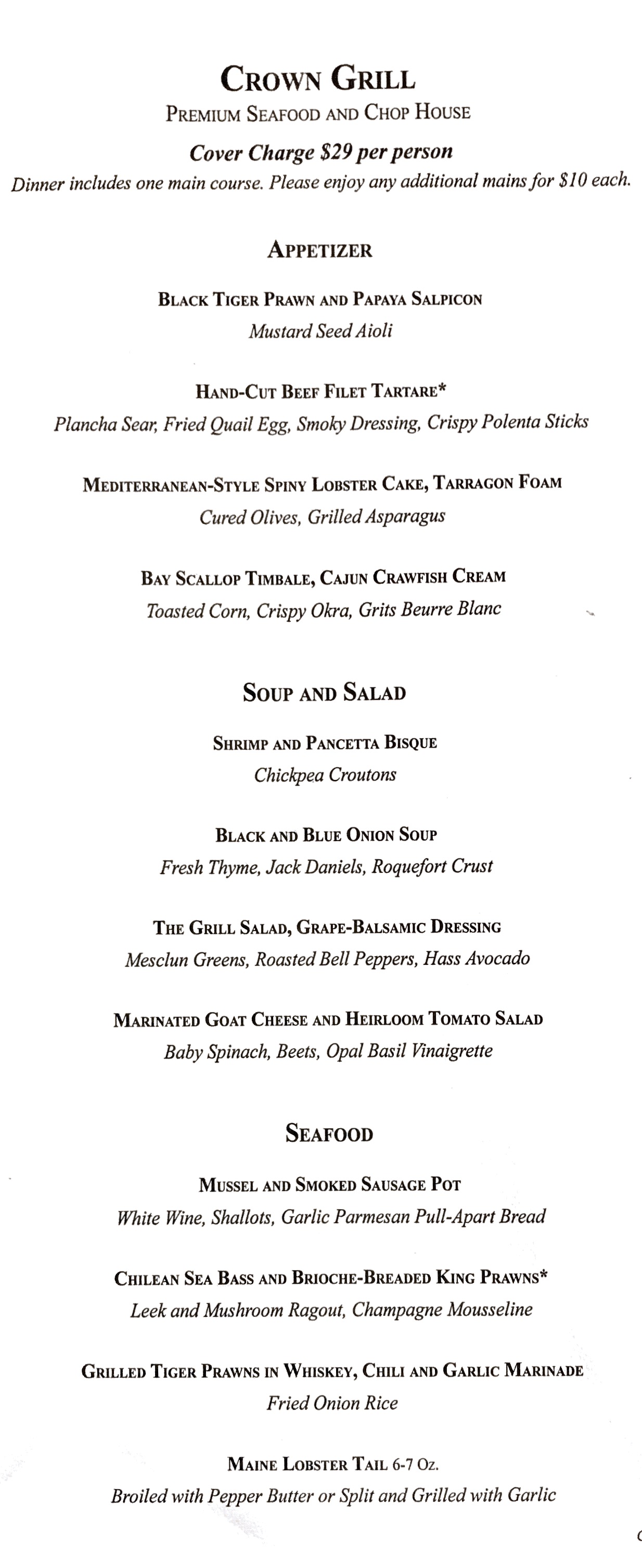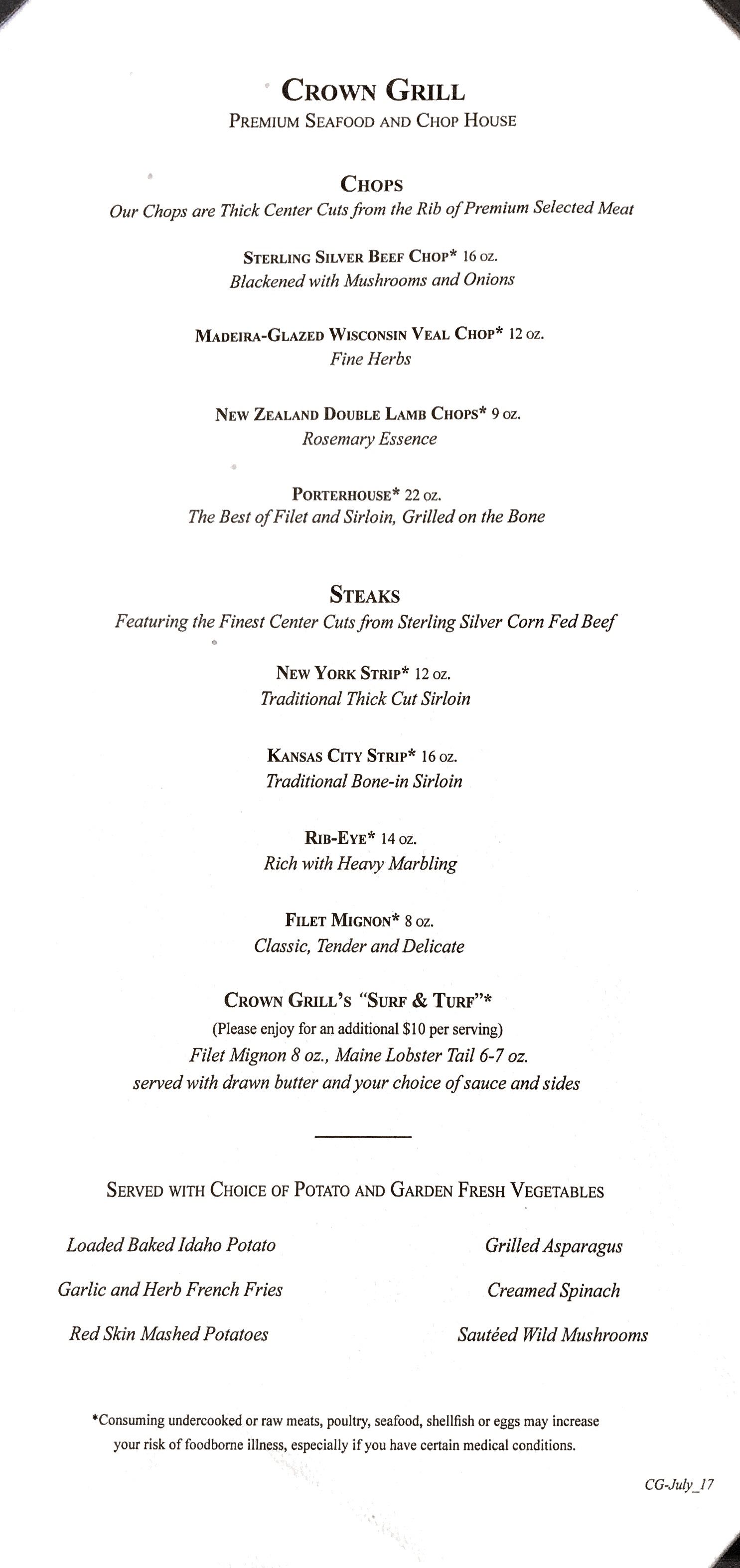 Mediterranean Style Spiny Lobster Cake…
Black Tiger Prawn and Papaya Salpicon…
The Grill Salad with Grape Balamic Dressing…
Black and Blue Onion Soup…
14oz Rib Eye…
Filet Mignon…
The Crown Dependence Dessert Selection…
Lemon Meringue Pudding Tart…
(which btw, might be the best lemon meringue pie I've ever tried!)
SABATINI'S
We always love Sabatini's, and have dined there on the Royal, the Diamond and now the Regal.  I have heard rumours that they are going to update or change Sabatini's somehow, but I hope they don't diverge too much from the wonderful Italian restaurant they're known for.  Everything was delicious, the service was excellent and the ambiance in the restaurant was quieter and less rushed. Love it!
Current Menus: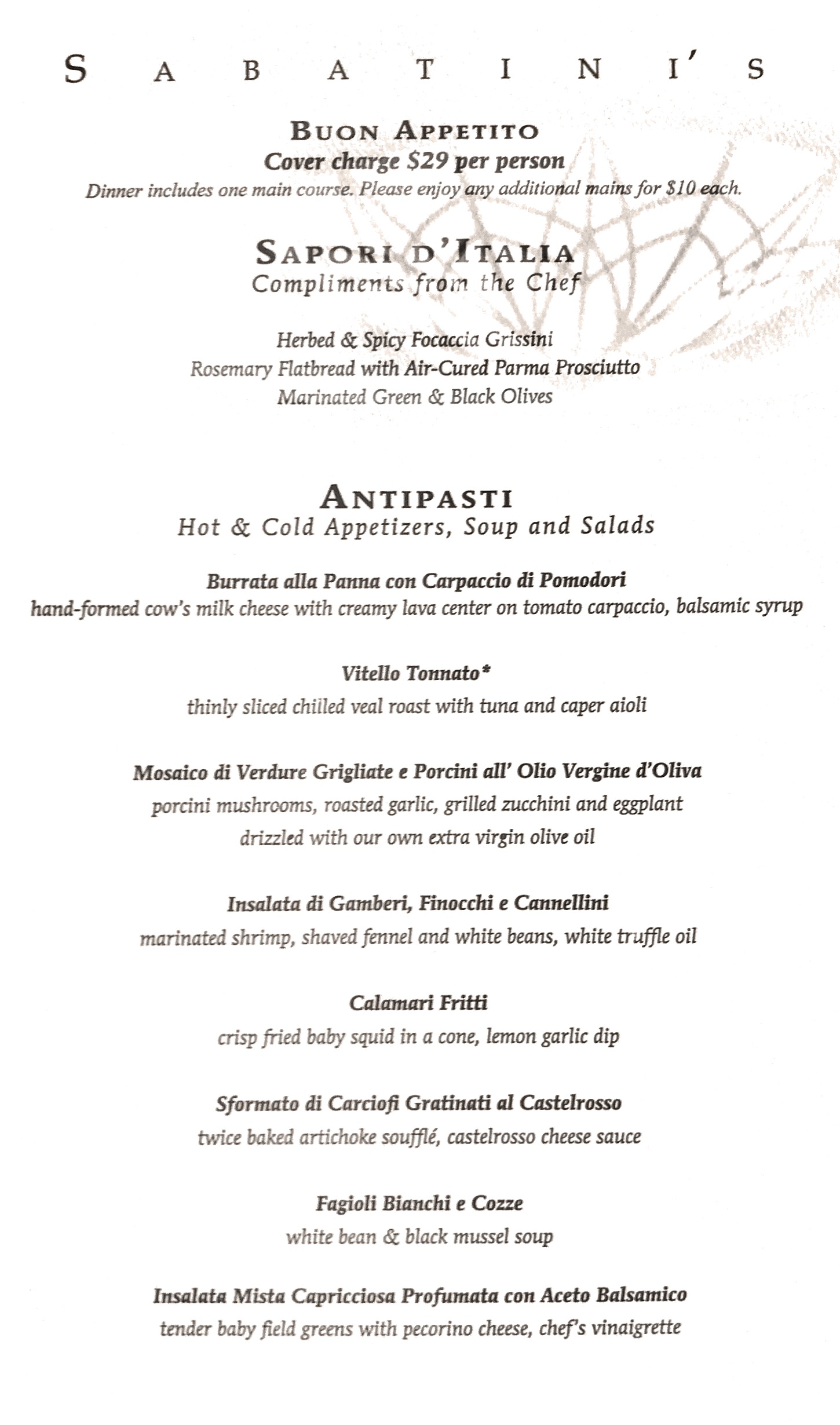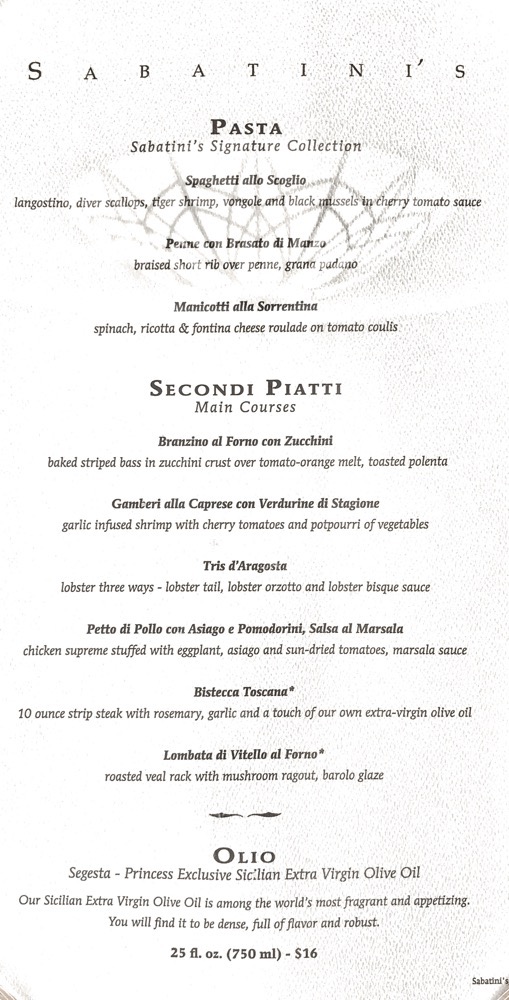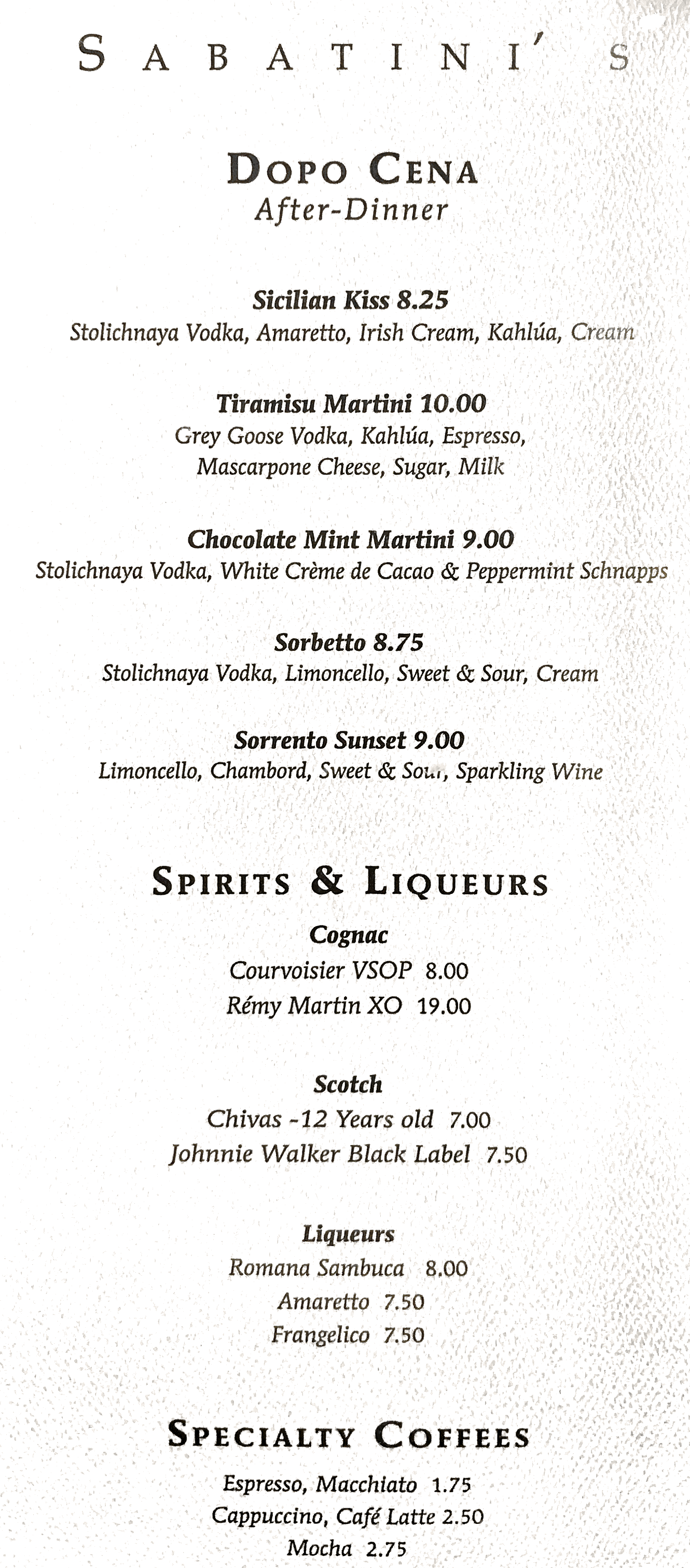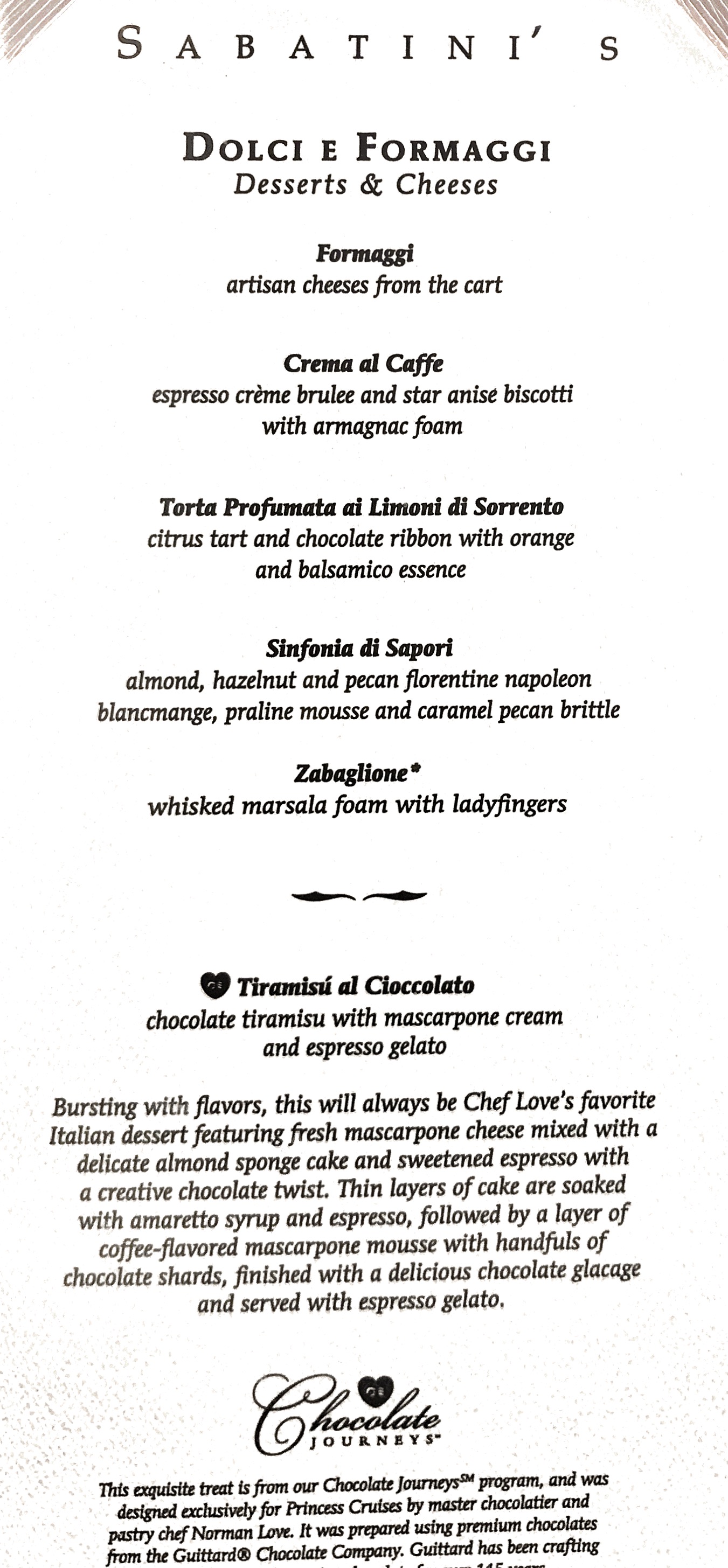 Burrata alla Panna con Carpaccio de Pomodori…
Vitello Tonnato…
Spaghetti allo Scoglio…
Penne con Brascato de Manzo…
Tris d'Aragosta…
Lombata di Vitello al Forno…
Zabaglione…
Torta Profumata ai Limoni di Sorrento…
AFTERNOON TEA IN THE CABIN
We did get back to the ship after one of our ports at 3:30pm, as per the scheduled itinerary, and I called Room Service to request some Engish Breakfast tea for two (as is our habit after a long day ashore).  I had forgotten about the hour, and when I was offered Afternoon Tea in the room, I thought – why not?  Afternoon Tea in the cabin is one of those little loyalty perks that Princess offers their Elite passengers, but it's one of those things we rarely remember. So when all this, turned up… I was somewhat surprised.  A little bit of overkill for two people, but a nice touch.

My husband loves his pizza slices up on the Lido deck, and usually, goes for a few slices of pepperoni on each cruise.  Personally, I prefer the pizza from the pizzeria.  Thankfully Princess is loudly applauded for having the best pizza at sea – so hopefully these options won't change anytime soon.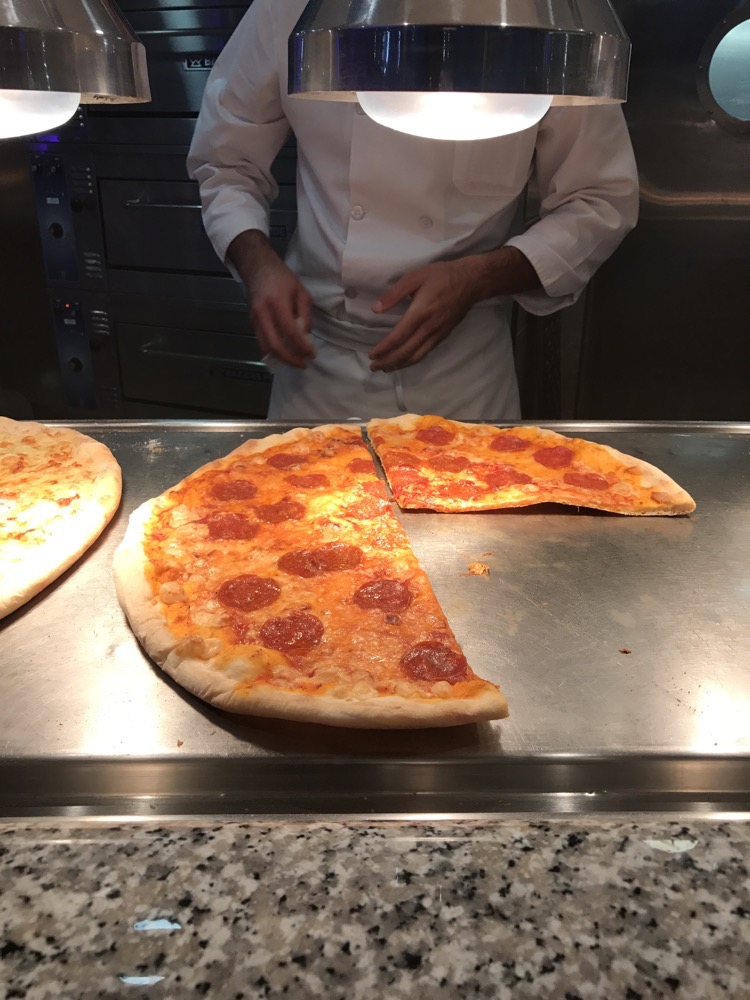 Made to order – Hawaiian with shrimp and anchovies!  😛 
CHEF'S TABLE, LUMIERE
This cruise, to celebrate Mr K's birthday, I had wanted to book us onto the Chef's Table.  I've done it before on the Caribbean Princess, and it was an enjoyable evening of seeing behind the scenes, having some interesting conversations with other foodies, and getting to know the Executive head Chef and Maitre D'Hotel.  So I had called to request a booking on the Chef's Table as soon as we boarded the ship – literally, got to the room, put some things in the safe and called Dining Reservations, first thing.  It was a wonderful evening to celebrate a special occasion.
It starts in the galley with an introduction to the head chef, some champage and canapes.
Carving displays.
Working hard hustling out up 1200 meals at a time!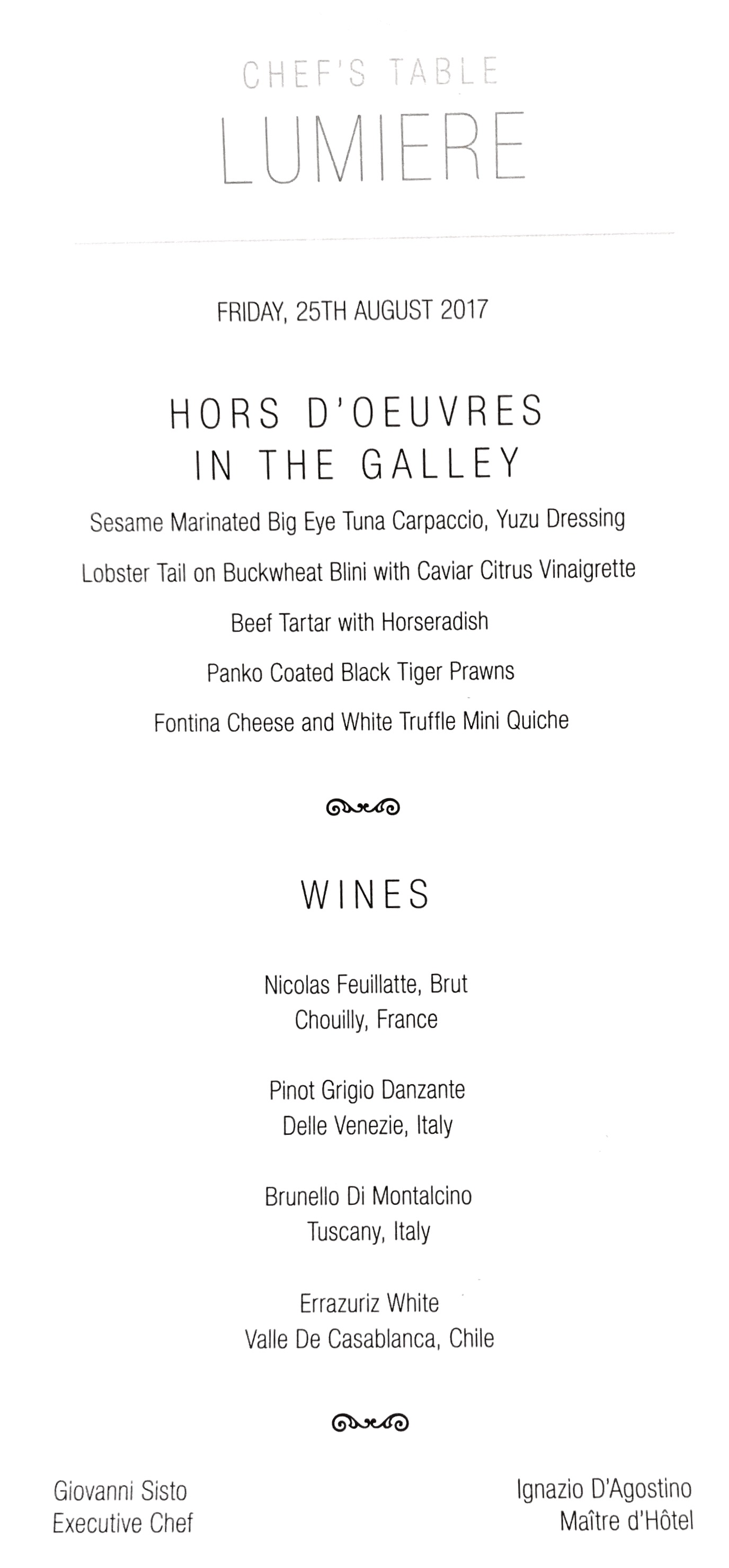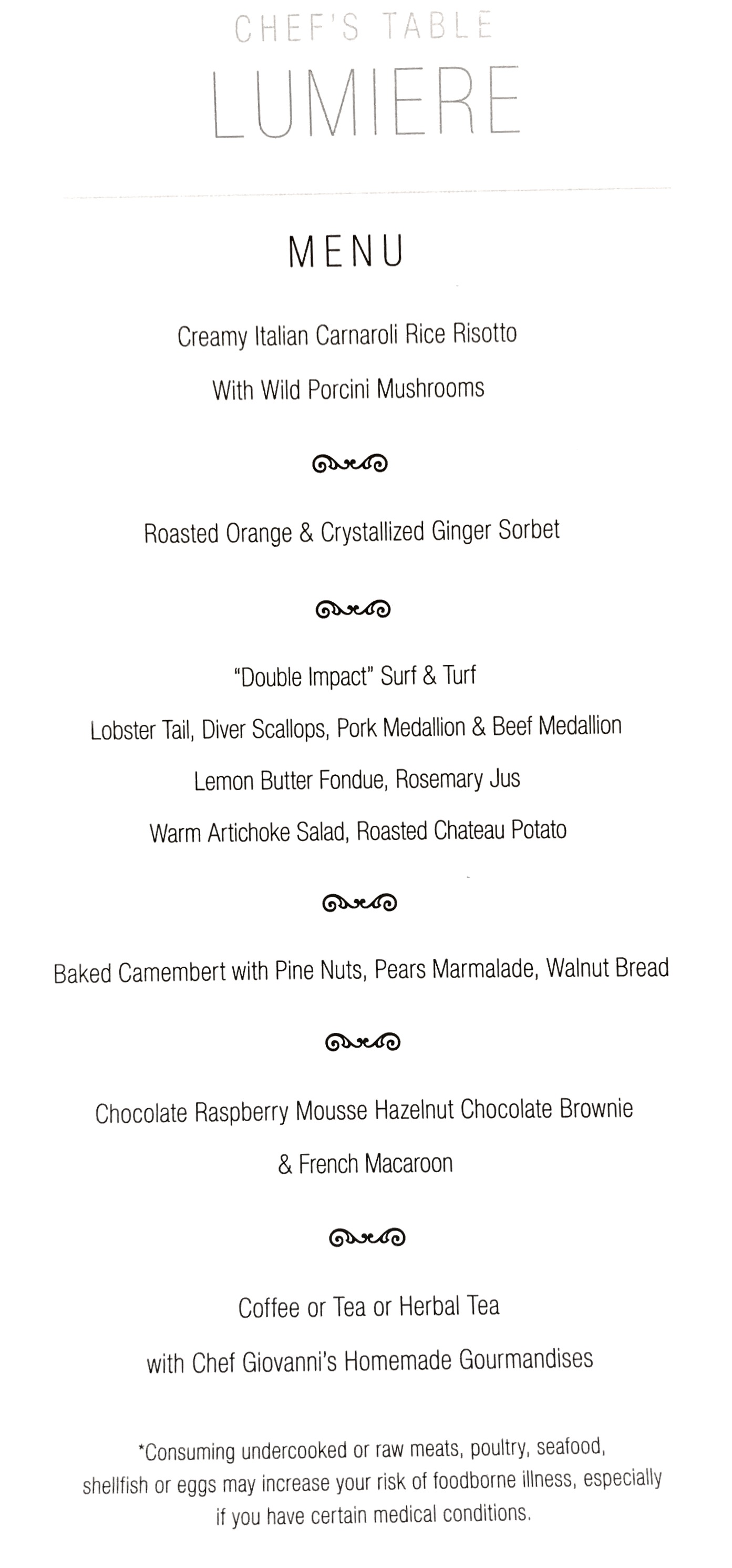 Sesame Marinated Big Eye Tuna Carpaccio, Yuzu Dressing…
Lobster Tail on Buckwheat Blini with Caviar Citrus Vinaigrette…
Beef Tartar with Horseradish…
Panko Coated Black Tiger Prawns…
Fortina Cheese and White Truffle Mini Quiche…
Creamy Italian Carnaroli Rice Rissotto with Wild Porcini Mushrooms…
Roasted Orange & Crystallized Ginger Sorbet
Double Impact Surf & Turf
Baked Cambert with Pinenuts…
Chocolate Raspberry Mousse and Hazelnut Brownie, and French Macaroon…
And this?  Well I have no idea what this is.  The Maitre D' was speaking to some people about dietary requirements (we had one vegetarian and two no seafood and two no lactose on the table), he turned to me and asked if I had any dietary requirements, and I said to him, "No allergies at all, sir. Though I have a particular dislike for all things chocolate!" Which 1) raised some looks of incredulity from my fellow diners, "How can you not like chocolate?", and 2) was information that was obviously filed by the Maitre D' and they made me a special non-chocolate dessert!  I have no idea what it was, but it was fabulous, something vanilla mousse-like in layers of soft caramel biscuit thing.  Delicious, and so very thoughtful. 
And of course, Chef Giovannis' Homemade Gourmandises…
It was a lovely evening, we met some lovely people, felt thoroughly spoiled by the staff and tried some truly delicious things.
This trip, is the first time we have been invited to the 'Most Travelled Lunch'.  Each cruise, the Princess Captain's Circle host arranges a lunch for the 40 most travelled people on the ship – these invitations go out to people according to those in the program who have the most days at sea with Princess.  And this trip out of 3800 passengers on the ship, we were lucky enough to be invited.  The luncheon was held in the Sabatini's restaurant, and we were seated with Ralph, who is the Customer Service Manager of the entire ship – he is repsonsible for the purser's desk, the shore excursions department, photography department and more.
Lovely custom napery…
Personalized menus…
Tian of Seafood…
Butter Poached Lobster Tail…

Norman Love Fantasy Delight…
It was a lovely luncheon actually, and a wonderful opportunity to discuss ship related things with a knowledgeable member of the staff.  Ralph was intimately involved in the launching of the last three Royal Class ships, and is back on the Regal getting ready to launch of the Ocean Medallion innovation.  We had very interesting conversations.
All up the dining has been superb!