We have a couple of days in Hong Kong now for Mr K's big Norty Forty birthday. It feels good. It feels… like China, but not like China – in a good way.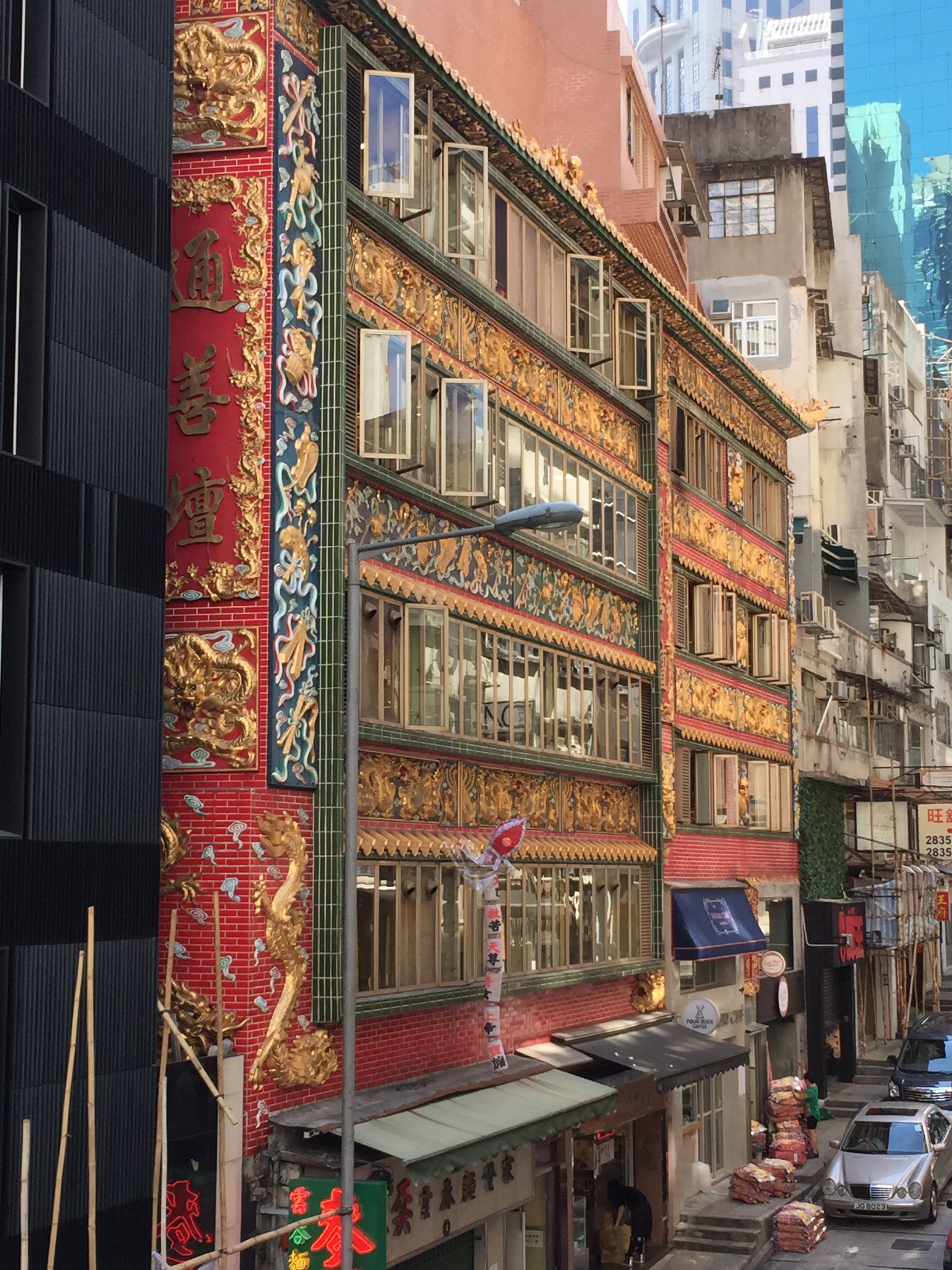 First things first, recover from the last of our Chinese airlines experiences. Then, go hunting for dinner, and found a quaint little Italian place that did the most delicious mushroom and seafood risotto. Followed by a good night sleep with no need to get up and transfer the next day.
Woke up feeling not at all refreshed, and thanks to my now screaming bad back, still waking around 5am even though I have no where I need to be until about 10am.
This morning, we went off to a tailor to get Mr K fit for some new work suits. Now, I hate shopping, and this probably would have been particularly tedious were it not for the loads and loads of fabrics swatches to look through. 🙂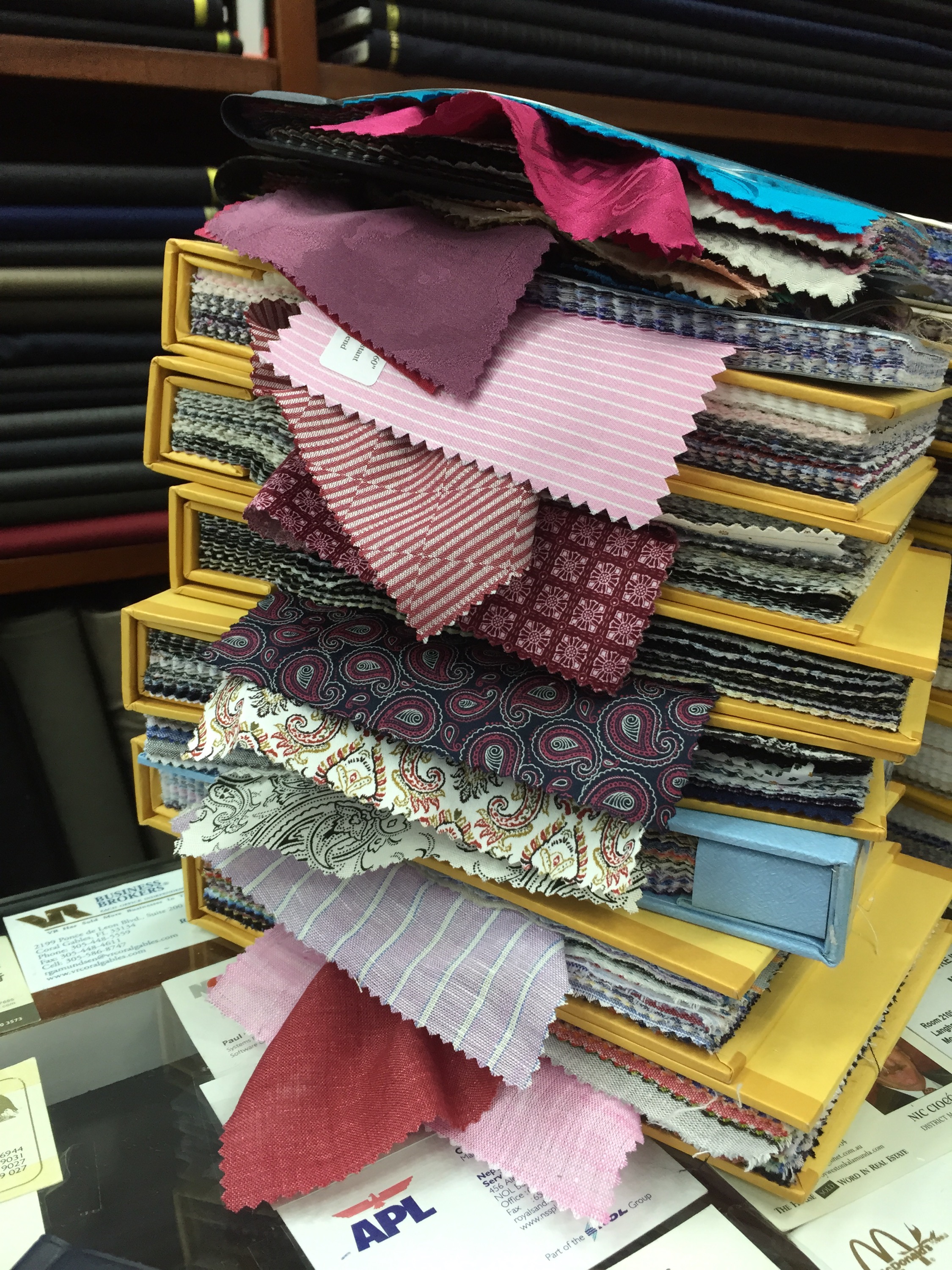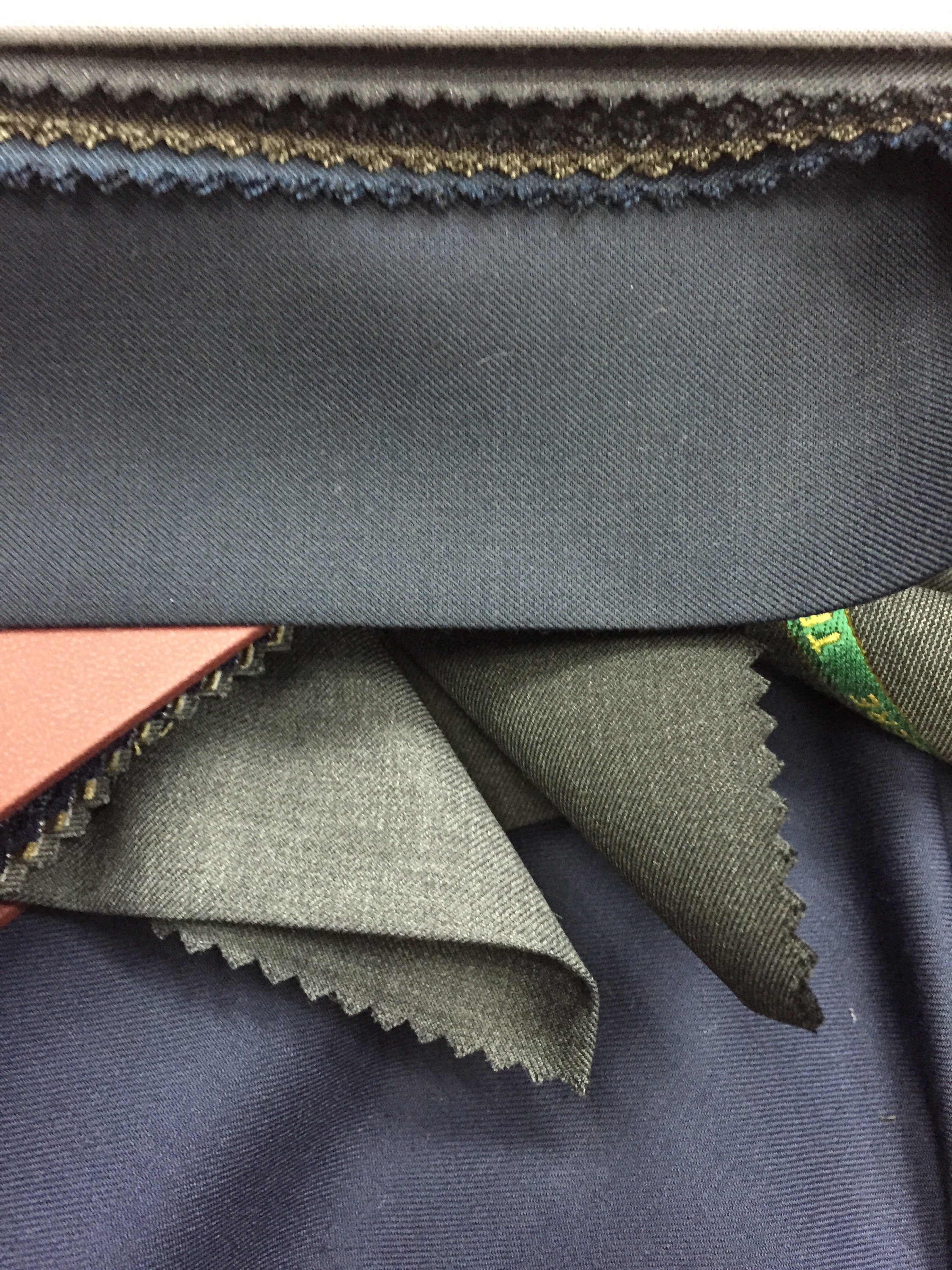 A couple of hours later and a measurements taken for a few suits and plenty of shirts, and it was off to find lunch. As fortune would have it, Gaylords, a Michelin starred Indian restaurant was just up the street, and we thought a curry would make a great change from all the Chinese food we've been consuming. They do a fantastic buffet lunch for barely AU$20 each, and the curries were awesome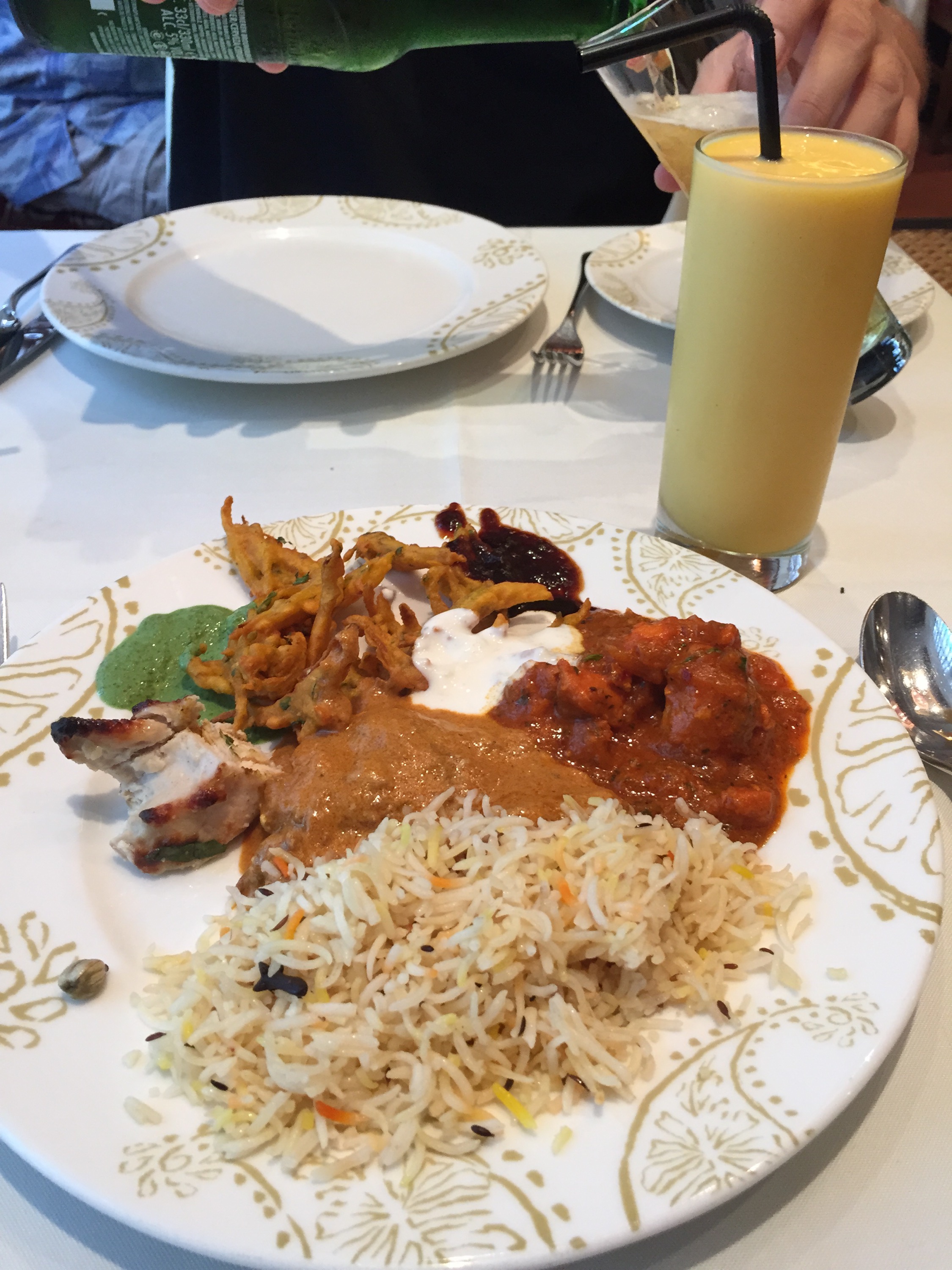 After lunch it was on to Sneaker Street. Mr K when he decides to shop, really decides to shop – it's rather alarming actually. Sneaker Street, much as the name suggests is an entire street comprised on nothing but sports shoe stores with the occasional other shoe store in between. Adidas, Nike, New Balance, Converse, Asic, Reebok, Sketchers, blah blah blah – you name it they are all here in spades. We were expecting some good outlet sort of prices, to to be honest, prices were roughly what we pay at the DFO at home. I thought I'd take on the challenge of trying to find yaleman some Asic or New Balance size 15 shoes – odds were if there was a pair floating around somewhere they would be hard for them to get rid of and might be on the cheap. But no such luck. The FIVE stores I asked for size 15 shoes actually had the store clerks laughing at me, and saying they only stock up to 11. Not so surprising in a country of short people. Sorry yale, I tried.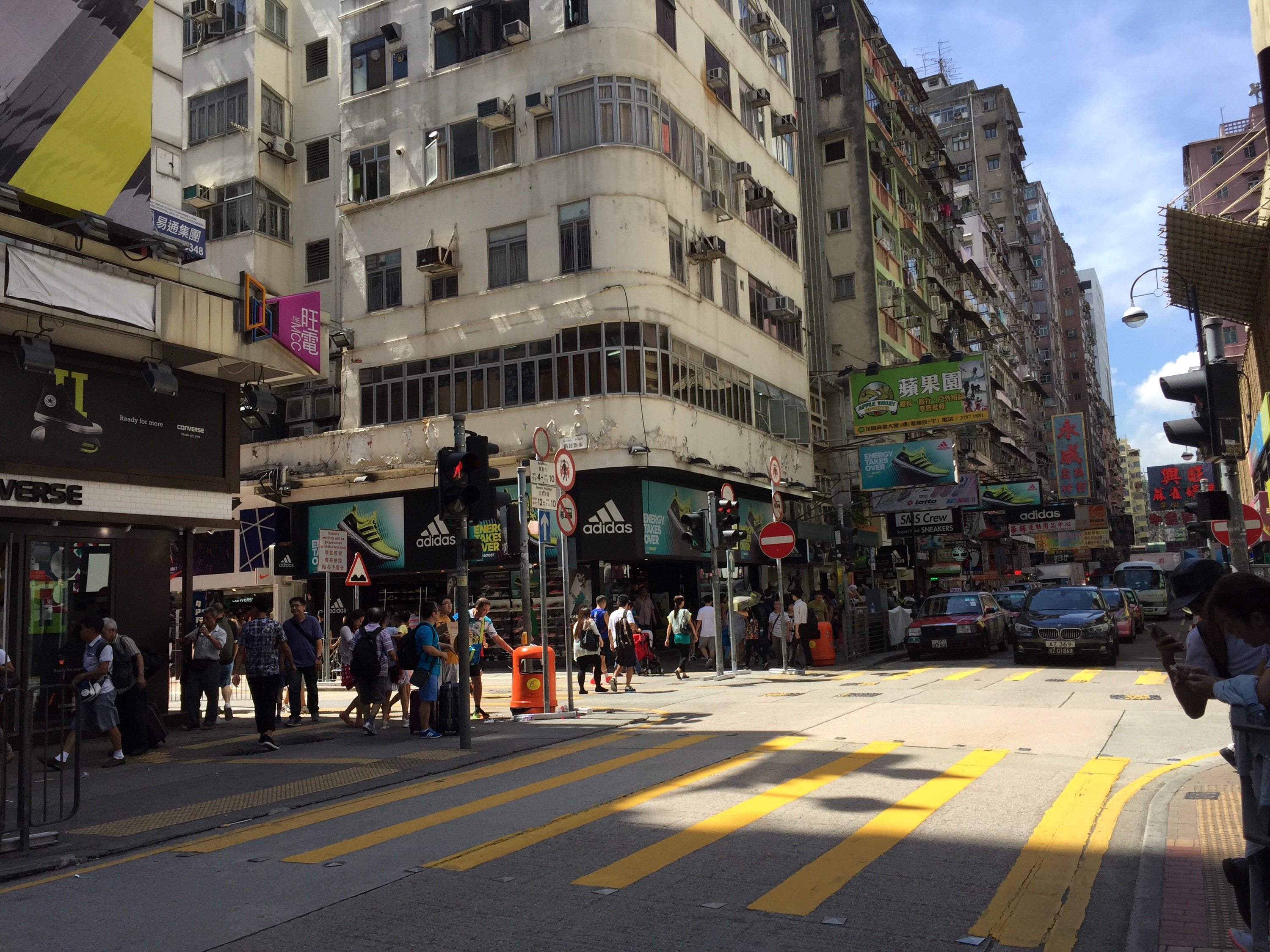 After wandering around Sneaker Street, we had a bit of a wander around the Ladies Market, so named for being the women's clothing district, but mostly what we saw was souvenirs, electronics and what we like to call ShitForSale markets. Picked up a few knick knacks for the kids, but that's about it really.
Came back to the hotel for a bit of an afternoon siesta before heading out again in the evening for a cruise on the Aqualuna. The Aqualuna is a replica of a Chinese junk and spends its evenings sailing around Victoria Harbour ferrying tourists about to enjoy the view. The trip was bout 45 mins (we chose to go at sunset) and costs about $33pp, and there is a complimentary wine or beer when you get on. It was lovely to see Hong Kong Island and Kowloon from the water actually, and such a lovely time of day to capture it. We had a relaxing little jaunt and got off on the Kowloon side to watch the Symphony of Light thing that Hong Kong puts on every night.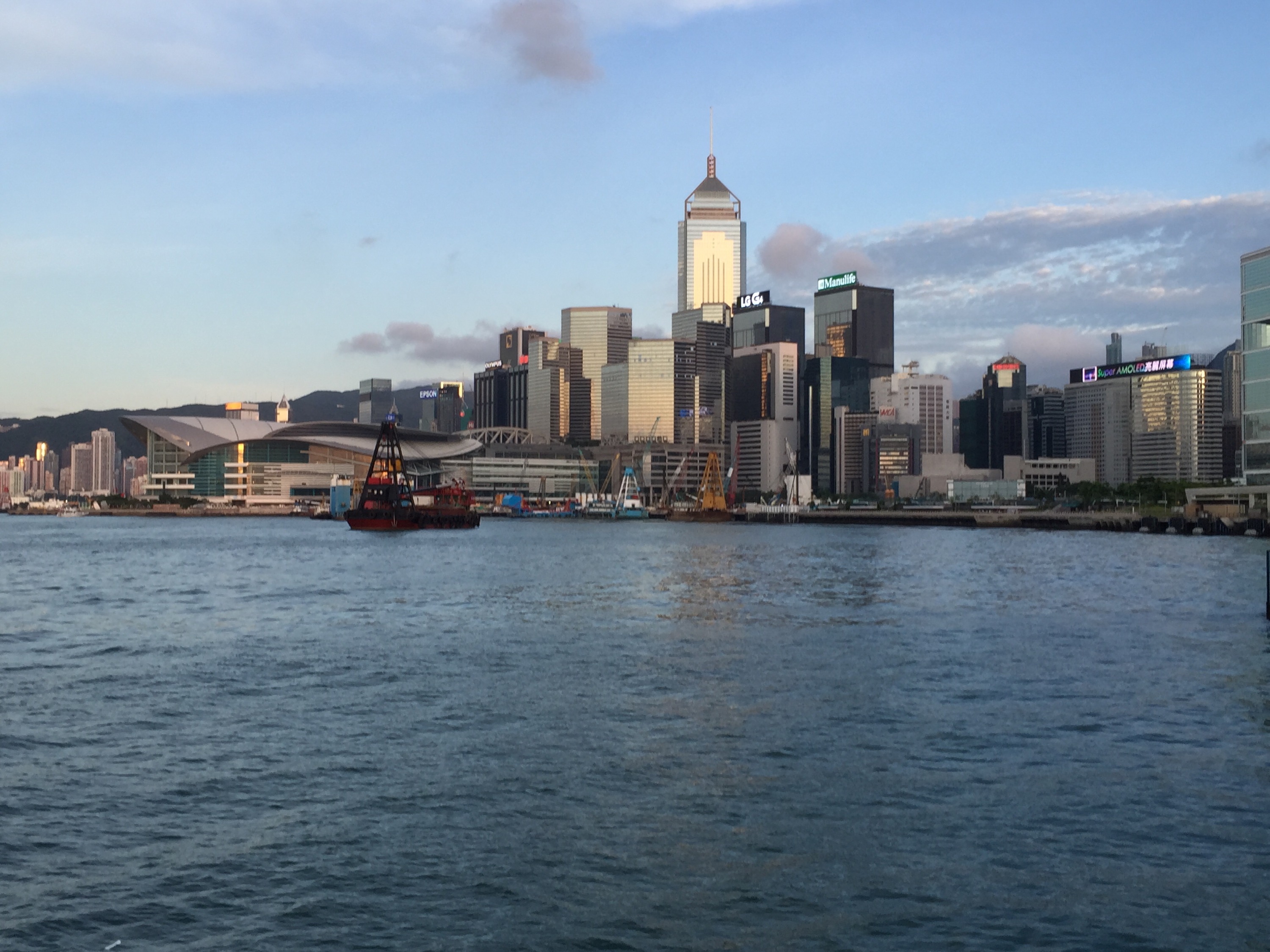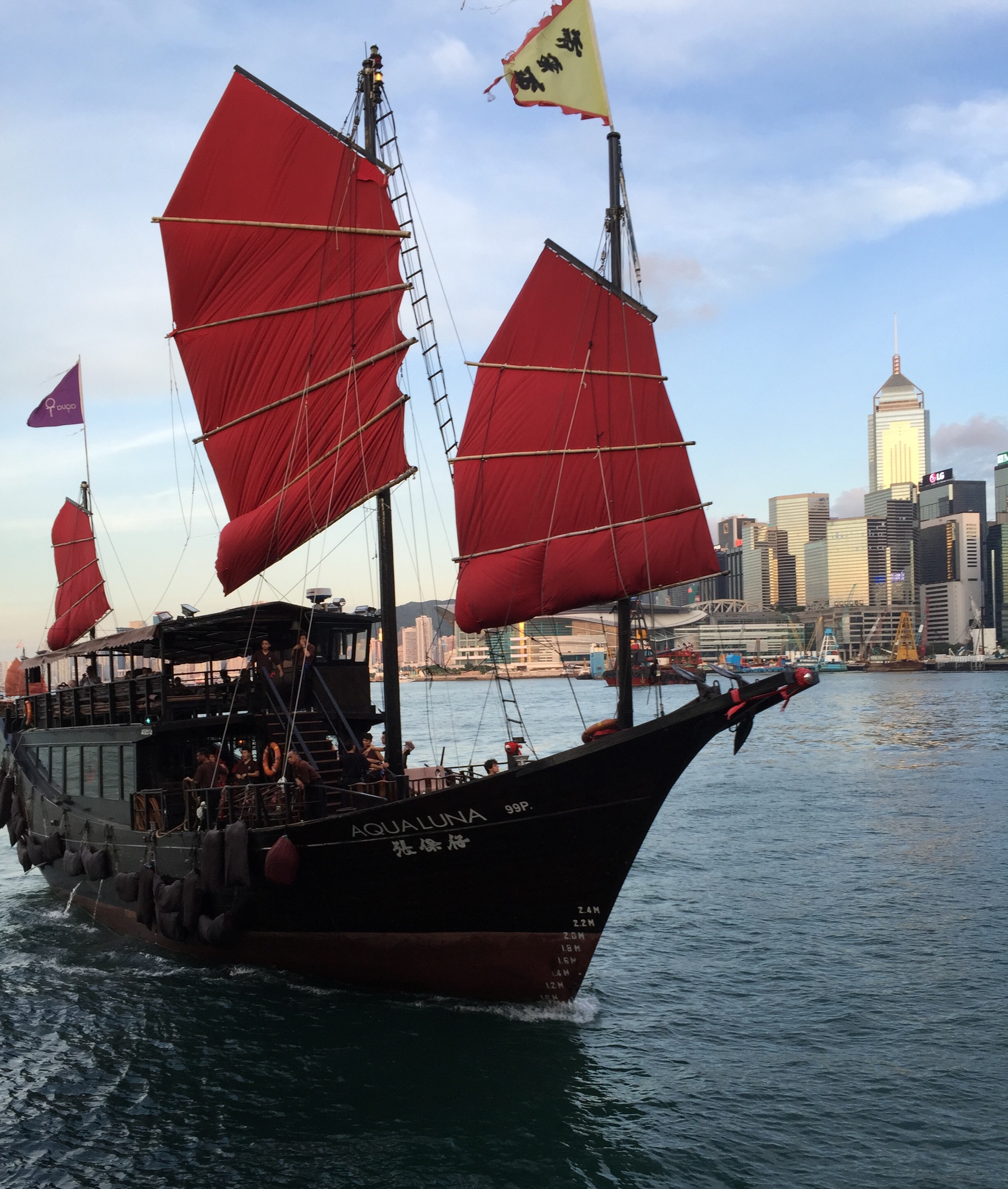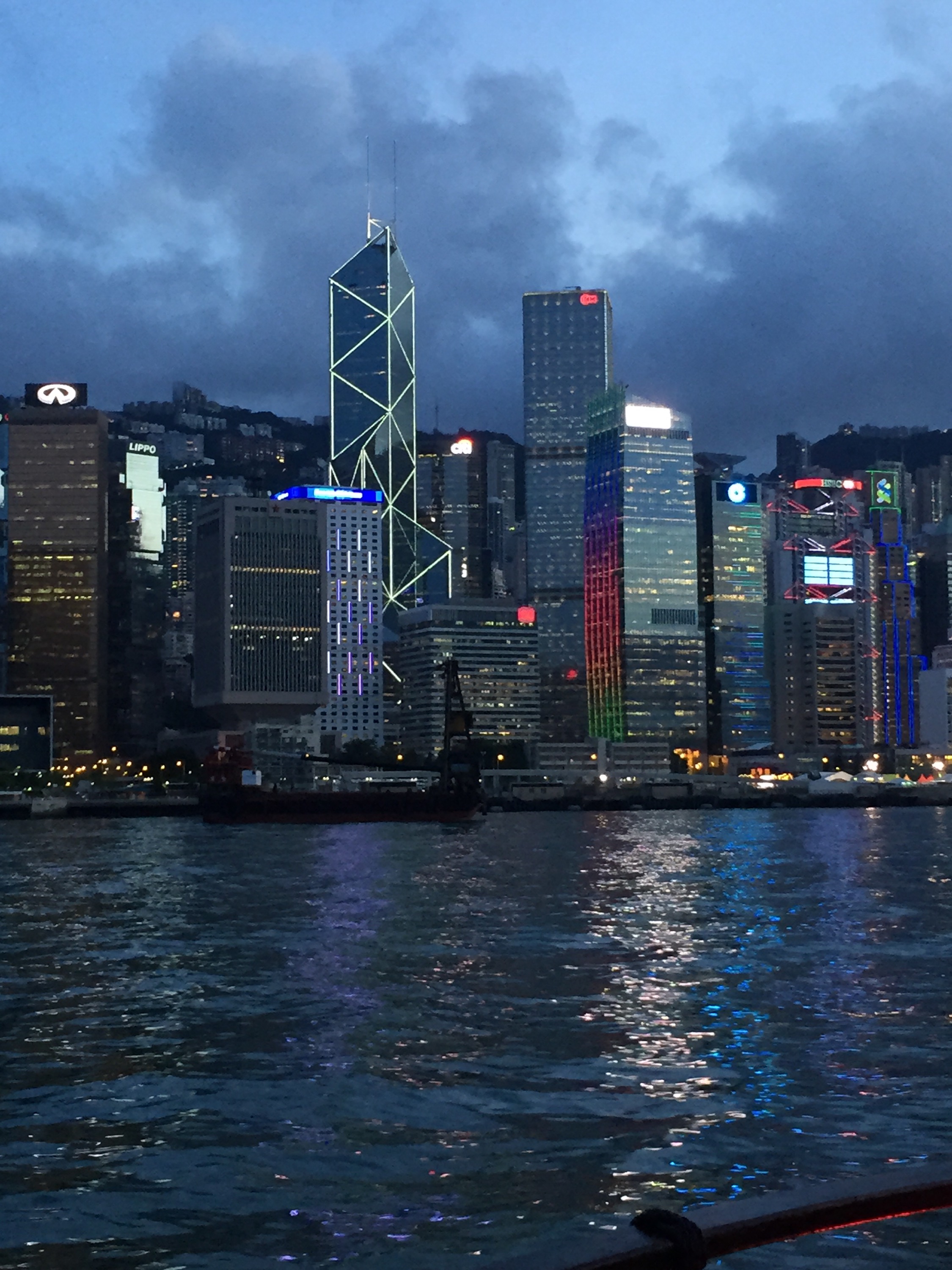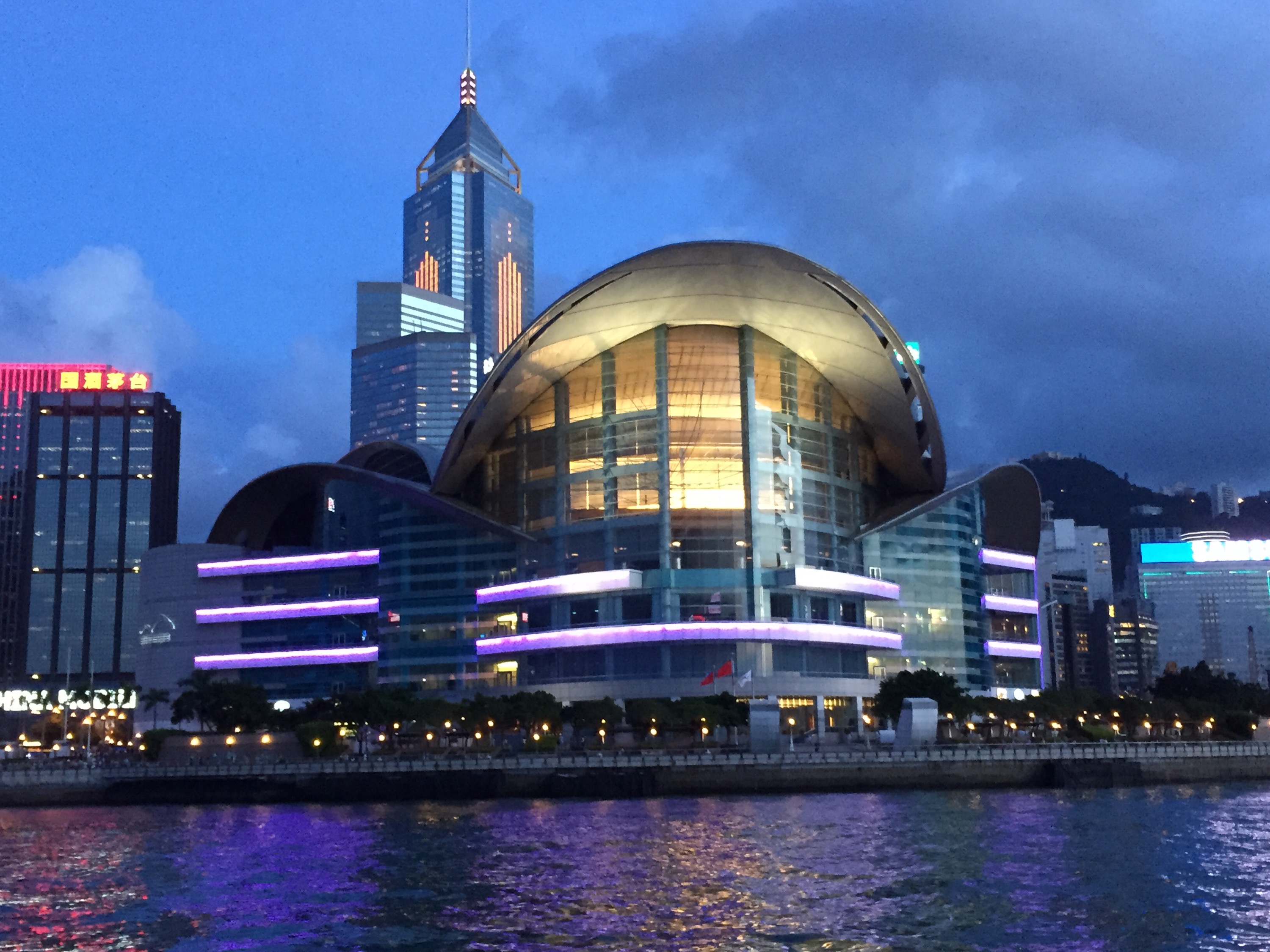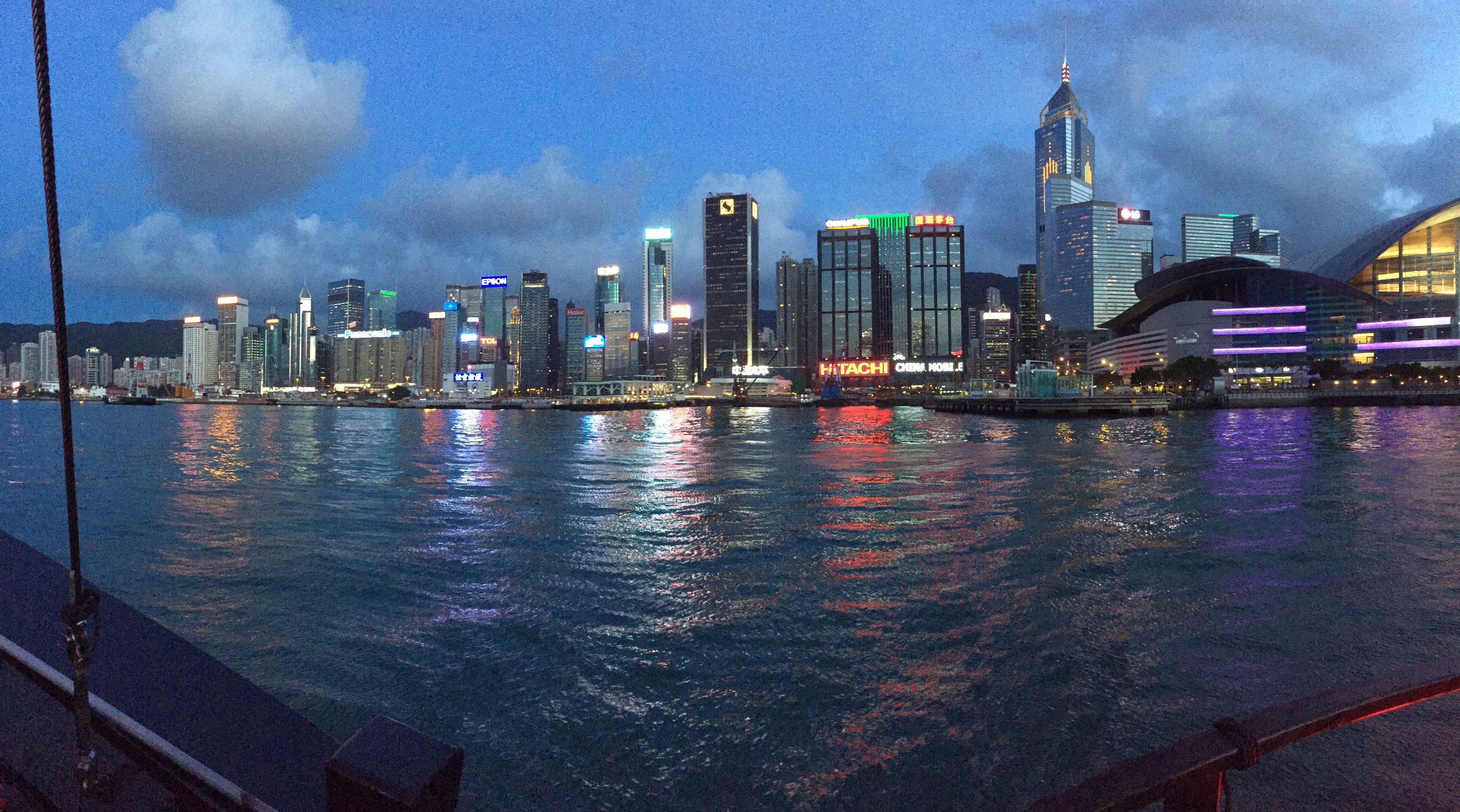 The sailing trip was lots of fun, bobbing around on the choppy Victoria Harbour (mostly so choppy due to the sheer volume of boats and ships passing each other in every different direction), but the Symphony of Light show was somewhat underwhelming. Not sure what we were expecting, but with a Disneyland just around the corner and a world renown landscape like the Hong Kong skyline to work with, I think they could do much better. Just need a decent designer/choreographer and some better buy in from the all buildings on the Island's waterfront.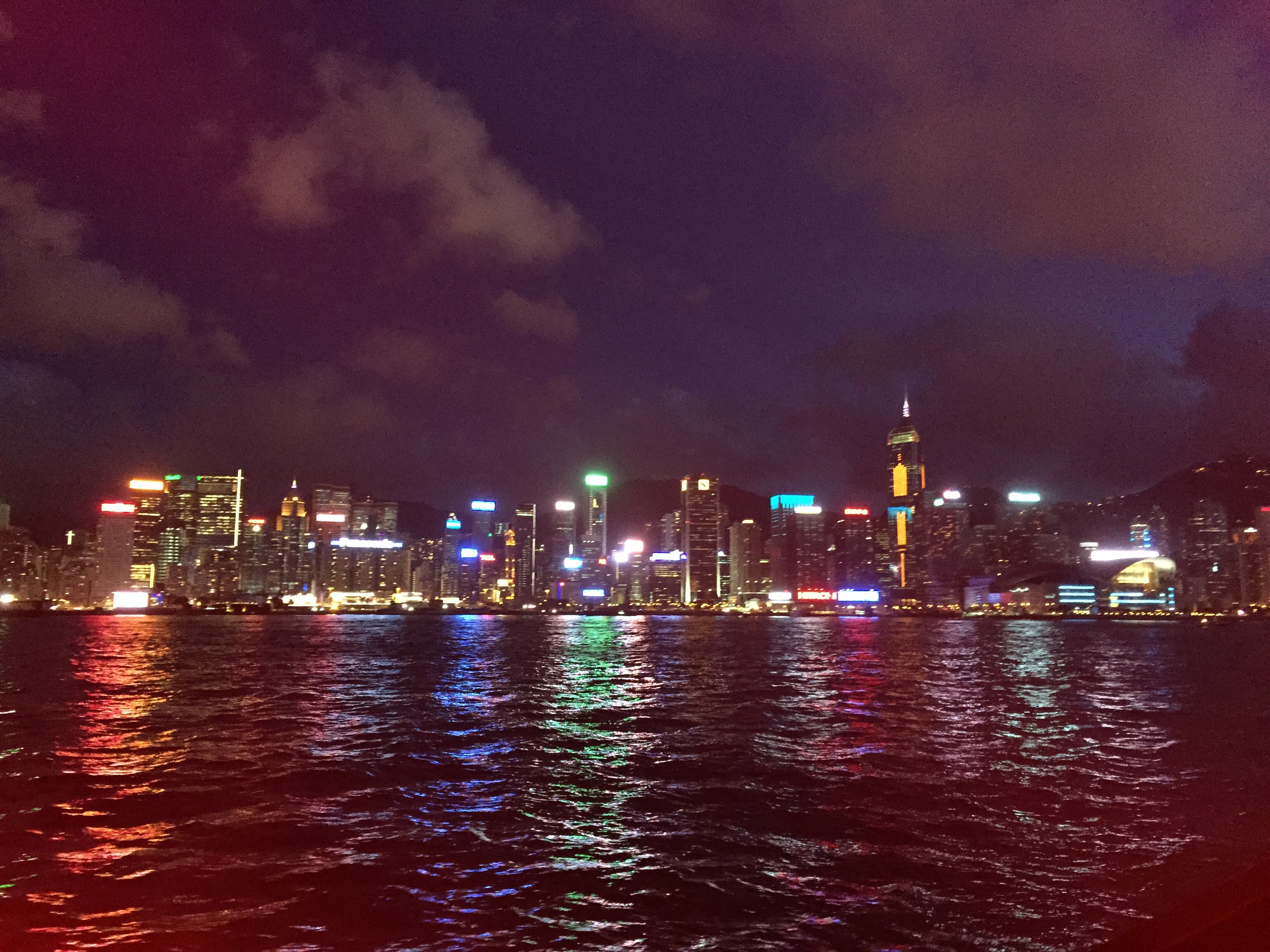 After that, a quick ferry ride back to the hotel and our 'quiet day of pottering around Hong Kong' (scoff!) came to an end.