I have a tattoo on my left shoulder that was done by Gary Davis when I was younger… quite a bit younger.  In about 1991 to be precise.  It is a pixie and it used to always remind me of Edouardo.  Anyway I am much older, and so is she – and both of us have aged, rather poorly.  Lately, I've been thinking about getting her a face lift (I'll worry about getting me one later!).  So ideas, what to do with a fairy that I don't exactly dislike, but would like to see freshened up?
I don't want to get her covered by a large hibiscus, or a Japanese carp, or an owl (don't ask… there appears to be a weird trend for them lately) or something just because these sorts of designs can lend themselves well to covering old ink, because I still rather like her actually.   And it occurred to me that she could very easily be converted into looking like a Cirque du Soleil character and keep much of her previous charm.  Now, I know this is probably taking the whole Cirque obsession a little far… but surely this option is a bit more personal and more interesting than just putting the fairy on a big mushroom or in a crescent moon or with some other fairy related object that is equally common?!  I dunno.   I have been gathering pics as inspiration for her transformation, but the Cirque is so wild and creative, you could literally go with anything.
UPDATE (June 5):
I've been talking with Kenny Morrissey, the tattooist who is going to do my cover up, and from what he is saying the blurred lines and deep colours of my current fairy are not going to translate well into the pic that I hastily sketched out.  But I can look at having a total cover up done which really opens up the possibilities in design.  I sort of landed on a Cirque concept due to wanting to keep the fairy, but now I am kinda attached to the idea.  But with so much inspiration though – where to start?  I've been thinking about this:
  Decisions, decisions.
FURTHER UPDATE (June 26):
Well, after very little ado and not much debate, I decided that I love the Dralion dragon/lion…  and given I had a few weeks to live with it, and was still enamoured with the idea, so today I went to have it done.  This is how the grey work thing goes: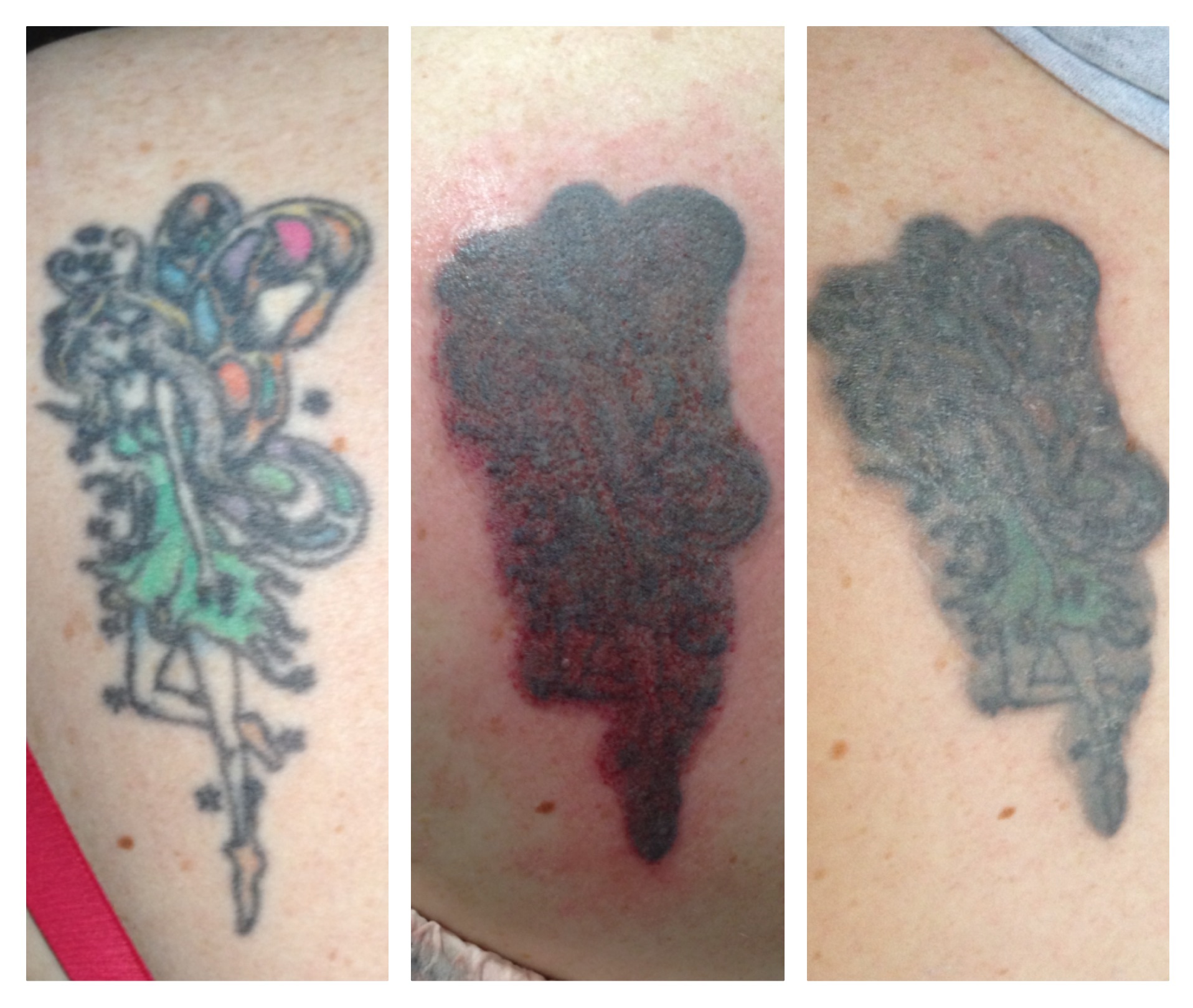 It's basically to lighten up some of those darker lines and to smooth out the tones and colours to allow a new design to be laid over the top.  The photo shows the original fairy, the grey after it was applied and the piece as it was healing – it was a lot smoother and clear by the time went back for the cover up (about three weeks we let it heal).  So today I got it done.  First the outline, which always hurts like a bitch!  Especially that bit high on my shoulder and round section of the ball…

Then Kenny started with the colouring in bit, and we got this far before needing a break for some lunch and for Kenny to hang with some students that were coming in.  I could really *feel* the sections that were going over the recently healed grey work.  I definitely recommend leaving three to four weeks between grey work and final work…

Then back to it after lunch.  Now, I am not sure why, but as you sit there traumatising you skin you kind build up a tolerance to that particular type of pain, so when you bugger off for half and hour and let it start to recover, when you start in again, it's like 'what the fuck?', and shit does it hurt.  Best bit about that though – while Kenny was working his magic, I totally couldn't feel any of my normal back pain.  Better than morphine!   😀
And at the end of the day, I have this gorgeous dragon tattoo based on the Cirque du Soleil's Drailon poster… and I love it!  It looks fantastic and totally covers up the old pixie.  Kenny Morrissey at Morrisey's Tattoo Couture – you've excelled yourself and absolutely exceeded expectations!  Thank you, I am a very happy camper!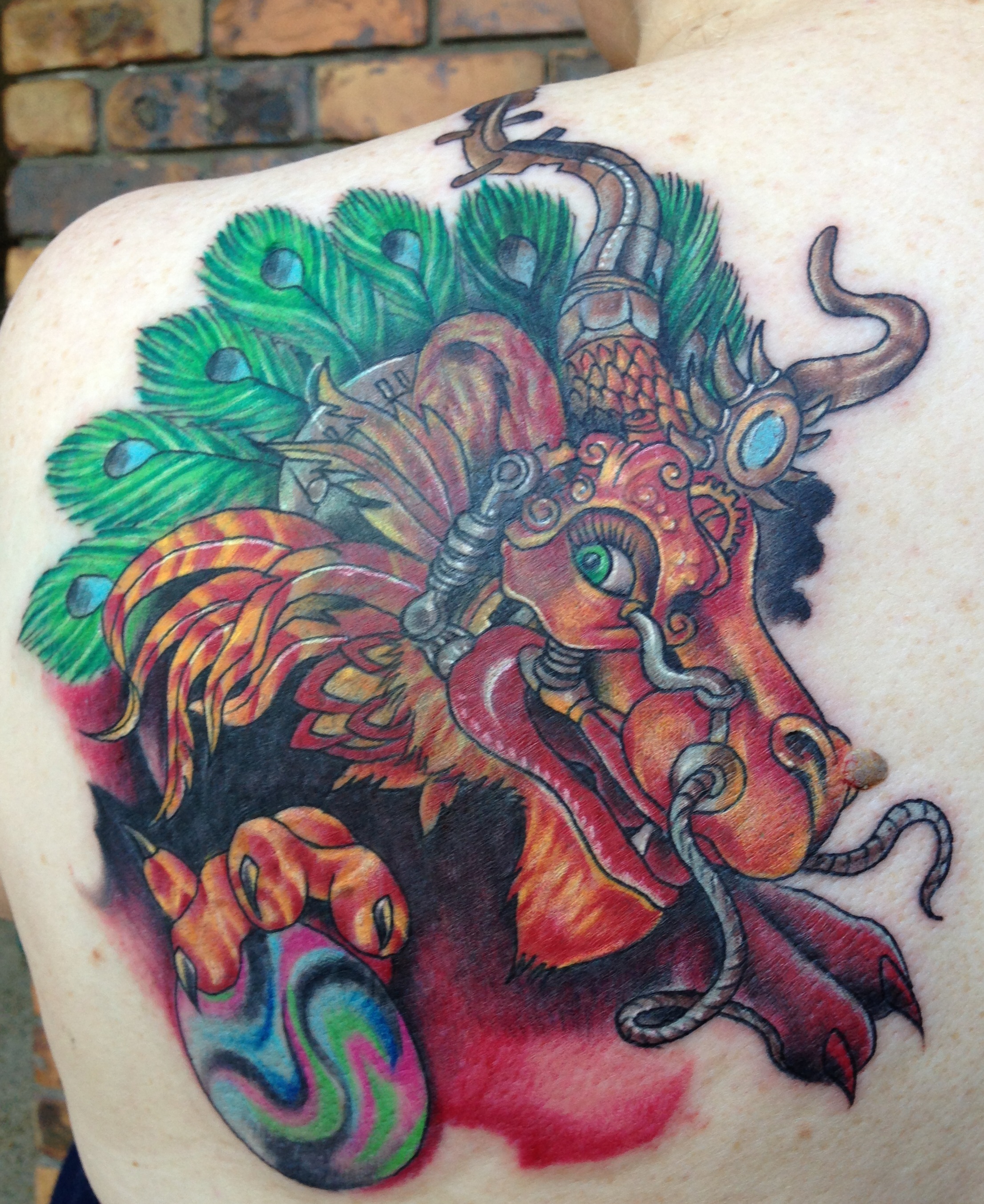 I think I am officially Cirque obsessed now… certifiably so.  🙂