Alaska (+)ves
Most unbelievably gorgeous scenery I have ever seen in my life.
Glacier Bay is remarkable… watching the massive chunks of ice fall off the face of the glacier into the water was simply amazing – and made me worry about global warming at the same time.
The state has a rich and vivid history from their ownership by Russia and acquisition by the US, through to their Gold Rush days.
The crazy flora and fauna are really interesting (says the girl from the country known for having the most bizarre flora and fauna in the world!).
Most people were really nice and friendly and helpful (which the exception of some people in Anchorage, where there seems to be a large white trash population and an unusual number of people talking to themselves while sitting in a puddle of urine… so obviously some social problems going on there).
Licences must be produced to buy alcohol and people with DUIs convictions, which are subsequently recorded on their driver's licenses, may be refused alcohol at the point of sale.
No sales tax! On anything! Yay!  We love this. Mining royalties being ploughed back into the pockets of the state instead of into the pockets of big oil.
Alaska (-)ves
Outside the main tourist drags, everything looks kinda run down and like it needs a lick of paint and some TLC… and by everything I mean most houses, most places of commerce, even most people's cars.
I swear Princess owns the entire state. Well, the Denali interior at any rate. They cruise in the customers, put them on Princess trains, put them up in Princess Hotels, send them shopping on the main drag, most of which is owned by Princess and set the up on Princess tours. Can we spell 'monopoly' much?
No one drives at the speed limit. Ever.
Even the best highway going north in Alaska is completely shit, full of potholes and not even remotely flat. They have really aggressive rumble strips and the line markings are so bad that if you overtake when the lines tell you that you are safe, you pull out and find out you can't see for shit.
The US Postal Service sucks arse up here… 4 days for a parcel to get from Anchroage to four hours down the road? I don't think so.
Pennies… (that's really a US thing) don't need 'em don't want 'em, fuck 'em off. Come to think of it $1 bills are a pain in the butt too.
Tipping. Fucking hate it. Make the price the price, and be done with it.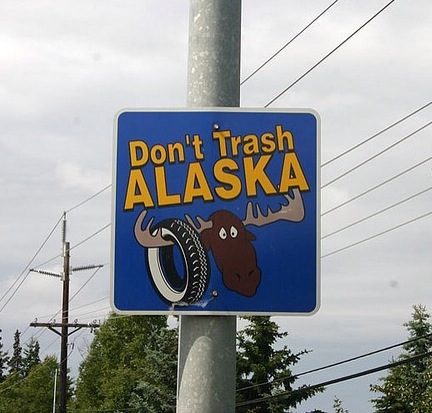 Other than that, I totally love Alaska though and would love to come back, maybe in March to see the Iditarod mushing dog race 🙂 Now THAT would be really something to see.