Oh my God.  Such poignant, gutwrenching drama… the sadness is almost overwhelming.  The sheer grief, the copious sense of loss, the unlauded heroism and the unbelievable humanity I watched last night, has left me feeling like a wrung out dishrag.  Anyone would think I was foolhardy enough to have spent the evening watching a couple of seasons of Grey's Anatomy back to back again… which for the record, I strongly recommend against doing!  Especially if you happen to be recovering from a recent surgery – been there, done that… not a good plan.  But I haven't.  This was worse, so much worse, because it was real.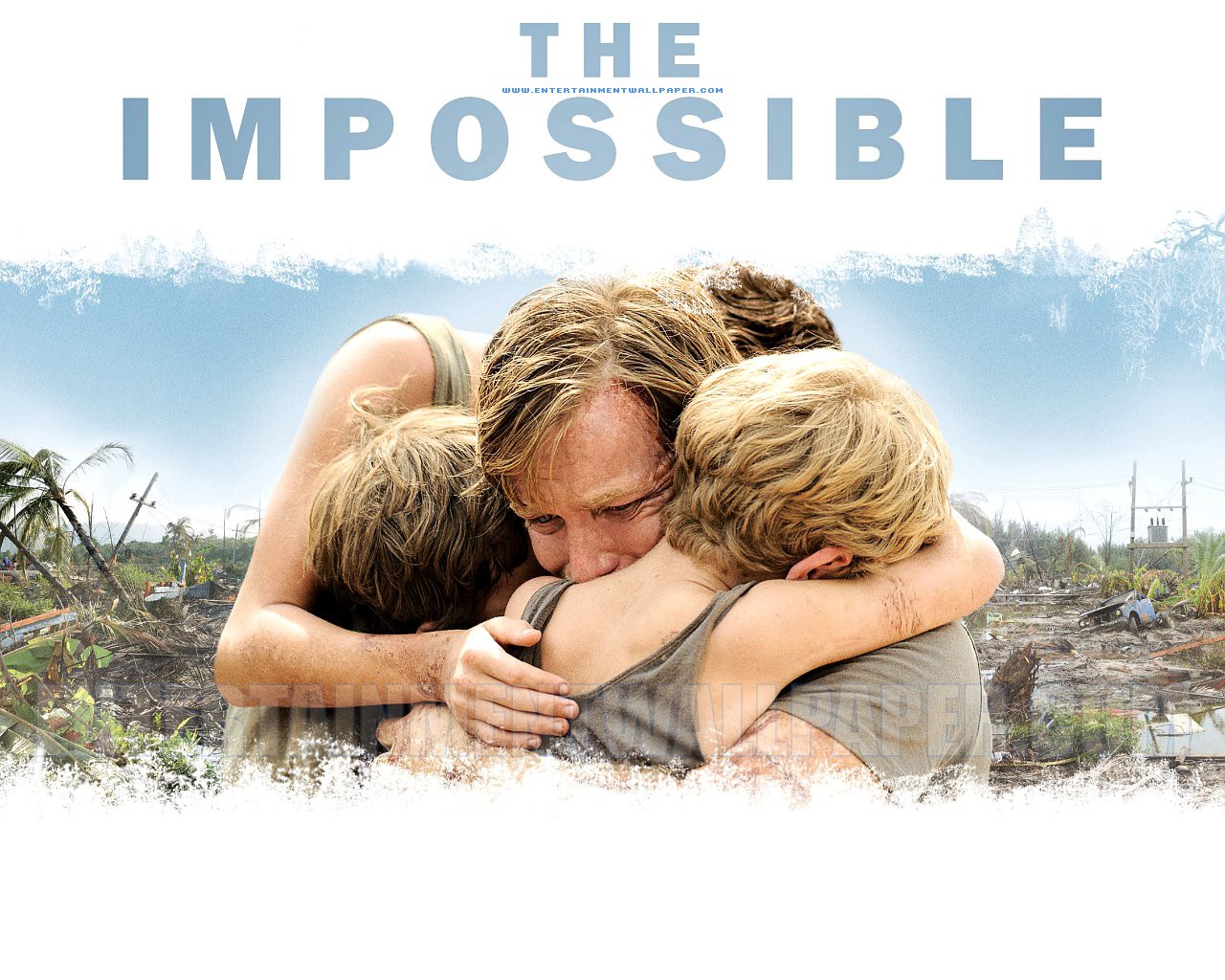 Last night we saw The Impossible starring Naomi Watts and Ewan McGregor. It's the story of one ordinary family's horrifying experience of the tsunami that hit Indonesia and Thailand on Boxing Day in 2004 (was it really that long ago?).  It's one of those movies where you know you're in for a heartbreaking cinematic experience as soon as you see those seemingly innocuous little words come up on the screen during the introduction… 'based on a true story'.
I can't imagine what it must have been like for the people (locals and tourists alike), who were swept up, and many swept away, by this enormous display of the sheer brutal power of nature.  So many died.  So many families ripped apart, some not reunited for years, and some never to be reunited, with hundreds of thousands missing, presumed dead, especially in Indonesia, families and individuals from every country in the world were effected by this disaster.
This movie is most definitely not your typical Hollywood disaster flick.  This is an intense and compelling film about the very real, and emotionally charged, account of one family's experience living through one of the world's worst ever recorded natural disasters… and, as you might imagine, it is absolutely harrowing.  The characterisations of the individuals who were in the middle of this tragedy are so convincing, full of complexity and human frailty that you find yourself thinking…  What if that was my family?  My husband? My child? My wife? What would I do if that happened to me, or the people I loved?  And you come away with no answers.  It's unthinkable.
The family behind this remarkable story are Maria Belon and Quique Alvarez, and their three sons Lucas, Thomas and Simon (if you are planning on seeing this film, I'd click that link later).  I can't imagine the bonds that hold this family together after everything they went through – but the sheer stubbornness, determination and resilience displayed by all of them in the film, especially the children, no doubt contributed to their survival when faced with the most disastrous and horrifying scenario imaginable.  It is difficult to say you 'enjoyed' a film like this due to the horrendous human tragedy it portrays… but I am glad I saw it.  Even though it brought me to tears several times.  It really makes you think about how incredibly strong the human instinct for individual survival is – and that it is prevalent in all of us – regular everyday people.  It also made me think about the invisible but indestructible emotional bonds between spouses, between parents and their children and between siblings, and how formidable those ties can be, even amidst so much confusion, suffering, pain and loss.
On top of that, never have I seen a movie before that made me feel like those of us living in 'the lucky countries' have our day to day priorities so screwed up.  Money, houses, cars, material 'stuff'… ultimately none of is important.  Our families, the people we love – those are the only things that truly matter when the shit hits the fan.  I thought this movie was extremely powerful, hard hitting and emotionally exhausting, but well worth watching.