Music has always played a bit part in my life.   I always choose music to play in the house or in the car based on what sort of mood I'm in or what sortr of day I'm having.  I know I often deliberately try to pick things to listen to when I'm not really in the mood for it, in an obvious attempt to change how I'm feeling.  Occasionally it works but sometimes it's a a bit much to expect to immediately become all Cat Empire when you're actually feeling all Pink Floyd.
There's a meme going around at the moment to come up with 20 albums, CDs, LPs whatever… that affected you or changed your life in some profound way or another.  I don't know if many albums have 'profoundly affected me' but I have lots of artists/songs that evoke memories and associations with certain people – some of them painful, some of them joyful, some of them comforting and some of them erotic even.
Keeping it to only 20 may be the challenge…
01.  Meatloaf – Bat Out of Hell (learning to drive music)
02.  The Clash – London Calling (first boyfriend's fav band)
03.  The Eagles – Best of (staying with the cousins)
04.  Simon & Garfunkel – Greatest Hits (living at Birdwood Rd)
05.  ABBA – anything (dancing in the back yard as kids)
06. The Riptides – Resurface (Sundays at Fisherman's Wharf)
07.  Alannis Morrisette – Jagged Little Pill (speedway days)
08.  Soundtrack – Top Gun (lost my virginity)
09.  Bert Kaempfert – Swinging Safari (every family dinner party)
10.  Marillion – Misplaced Childhood (teenage broken hearts)
11.  The Cat Empire – Two Shoes (loud. after late shifts to stay awake)
12.  James Blunt – Back to Bedlam (hanging out with Dazzles)
13.  Garth Brooks – The Hits (on repeat all over Europe in '95)
14.  Violent Femmes – Violent Femmes (cadet camps with Two Trucks)
15.  Dramarama – Cinéma Vérité (getting ready to go out with BigSal)
16.  Beautiful South – Carry on up the Charts (holiday in Ireland)
17.  Bruce Springsteen – Born in the USA (AM's Bedford van)
18.  Enya – Paint the Sky with Stars (singing the Small Child to sleep)
19.  The Waifs – Up All Night (missing absent friends)
20.  Madness – Complete Madness (Schoolies '88/'89)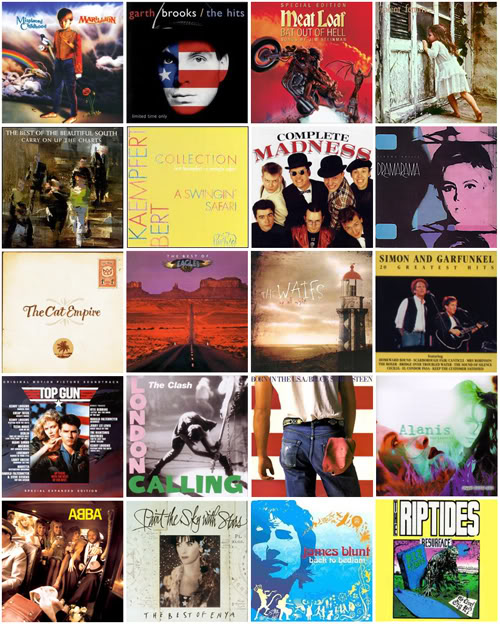 .